Tittle Tattle is a new 24-hour bistro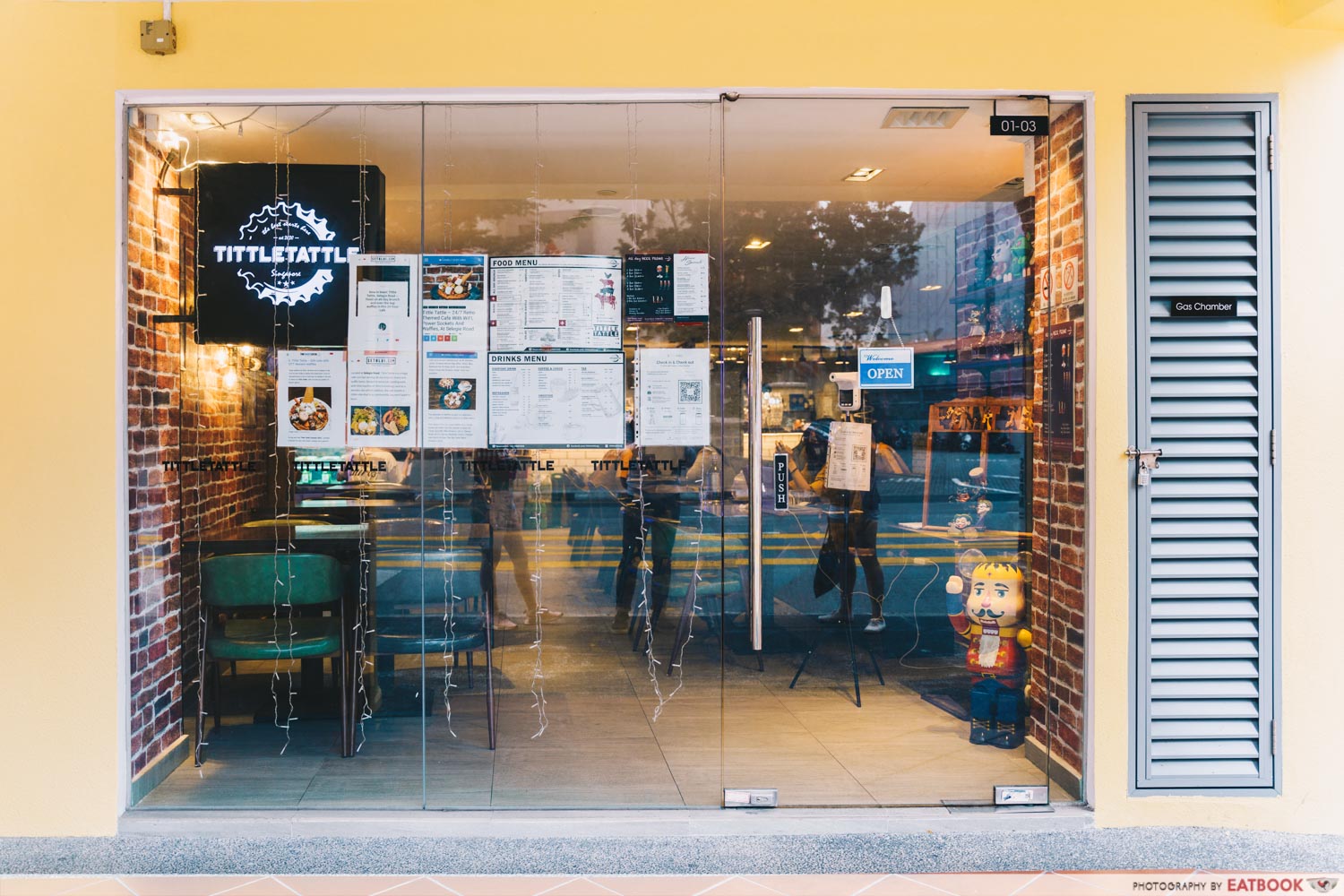 Once upon a time, hanging out overnight meant being at Mr Bean's Cafe, or Xin Wang Hong Kong Cafe at Cineleisure. These are both relics of the past now, but for my Gen-Z padawans, retro-themed Tittle Tattle on Selegie Road will fit the bill just fine, with its menu of all-day brunch choices, waffles, and bar bites.
8ASH Review: Riverdale Pop's Diner-Lookalike Serves Katsu Burgers And Scallop Somen
Food at Tittle Tattle
Ever since my friend visited Tittle Tattle on his own, he would not stop raving about three things: Tittle's Wings ($20), Fried Broccoli ($12), and the Signature Carbonara ($18). Naturally, we couldn't leave without trying them.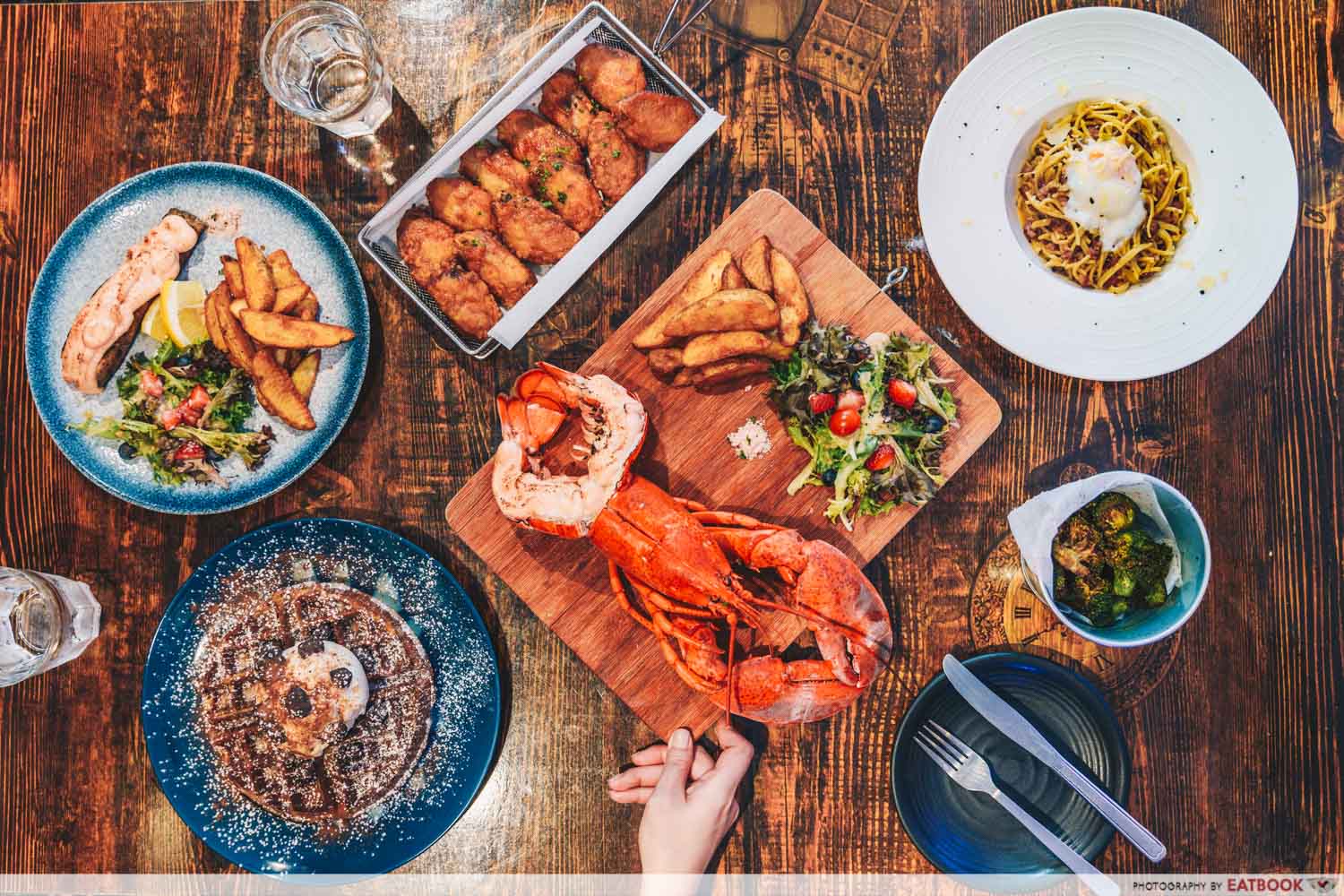 Deep-fried broccoli, dashed with the magic lok lok powder of questionable, MSG-laden origin, has to be one of the most satisfying deep-fried foods invented. I was sceptical before I first tried lok lok in JB, but I've never looked back since.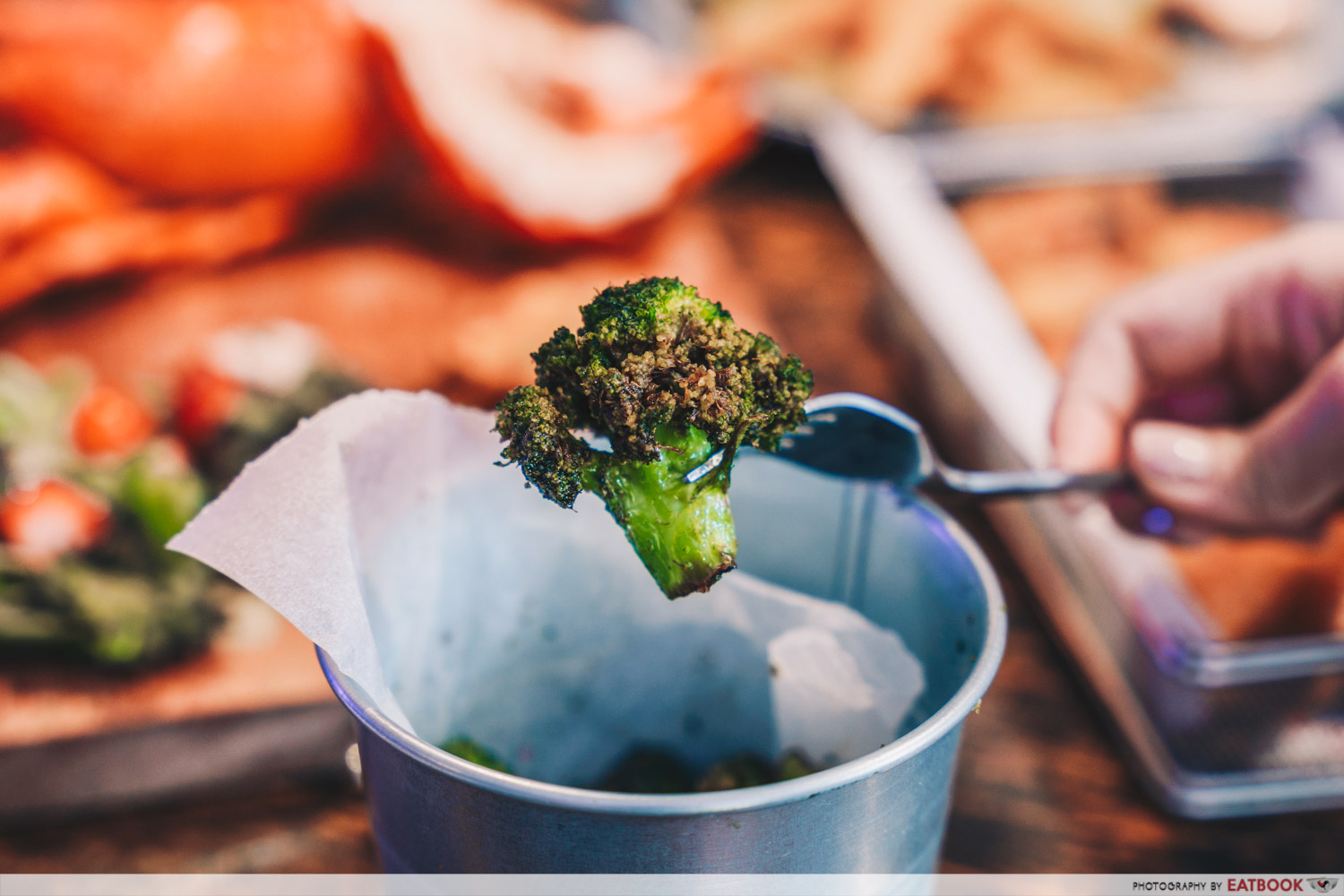 Tittle Tattle's Fried Broccoli is much less questionable but no less delicious. Looking at the way my non-vegetable-eating dining companion went for seconds and thirds, I'd say she agrees.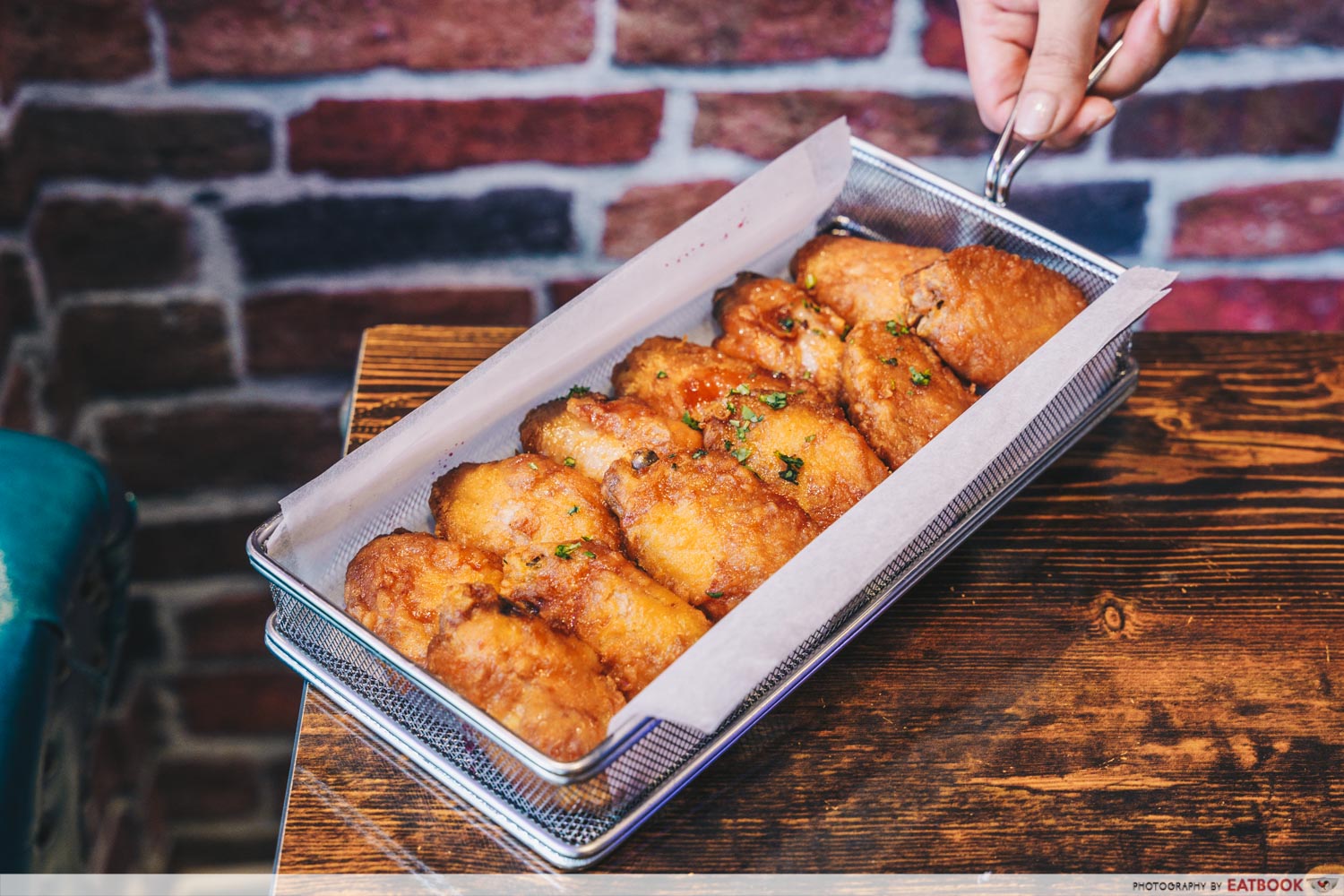 When it came to the wings, my friend mentioned that it was glazed with raspberry, but I couldn't imagine how that would ever be good. For context, I don't like sauce on my fried chicken, and sweet and sour anything isn't my favourite too.
As it turns out, it's not raspberry, but a "fruity sweet and sour sauce". Surprisingly, it wasn't unpleasant. The chicken wings were tasty inside and out, indicative of a thorough marinating process, and they remained crispy in spite of the very light glaze.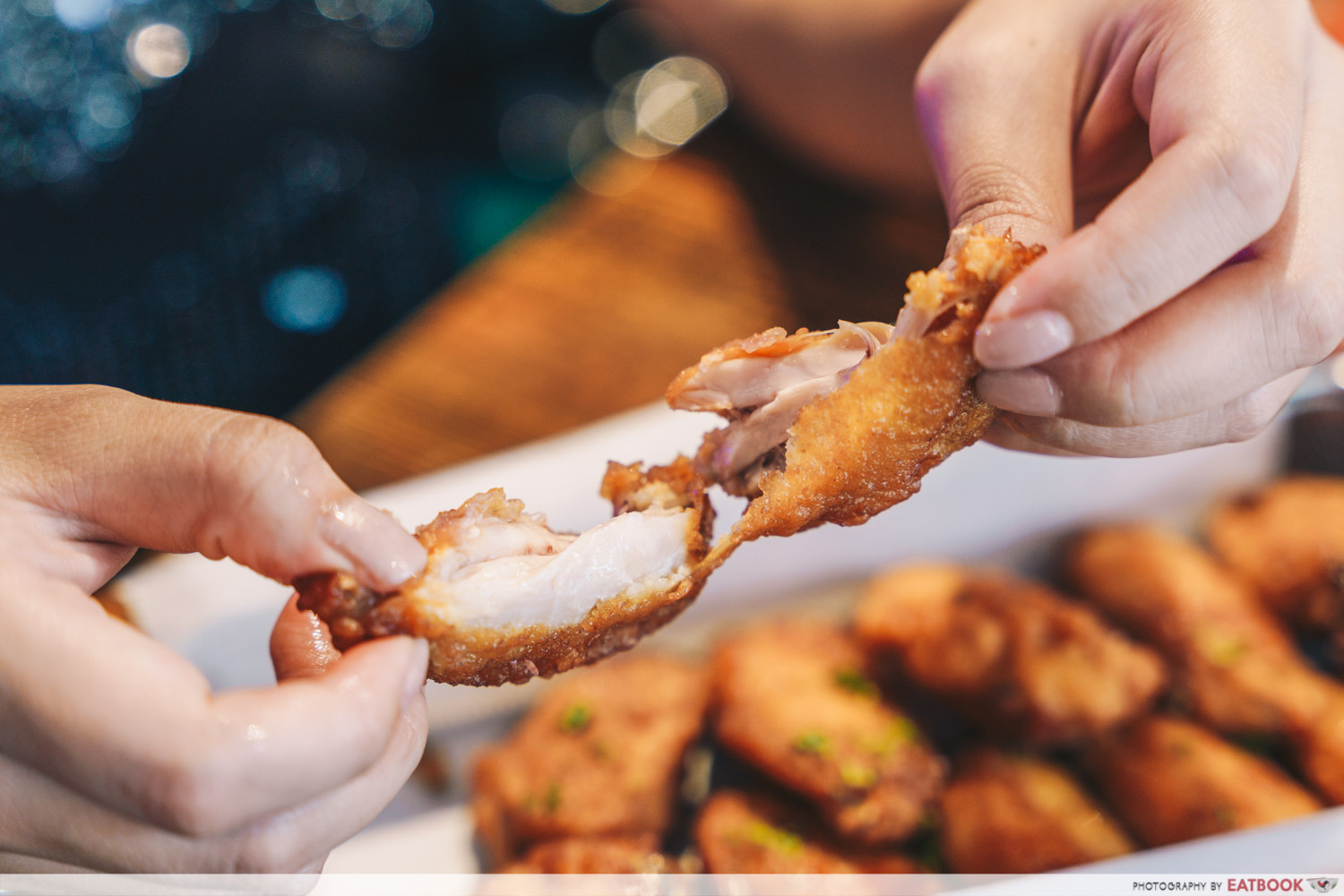 In fact, this glaze took away from the jelak-ness of eating fried chicken.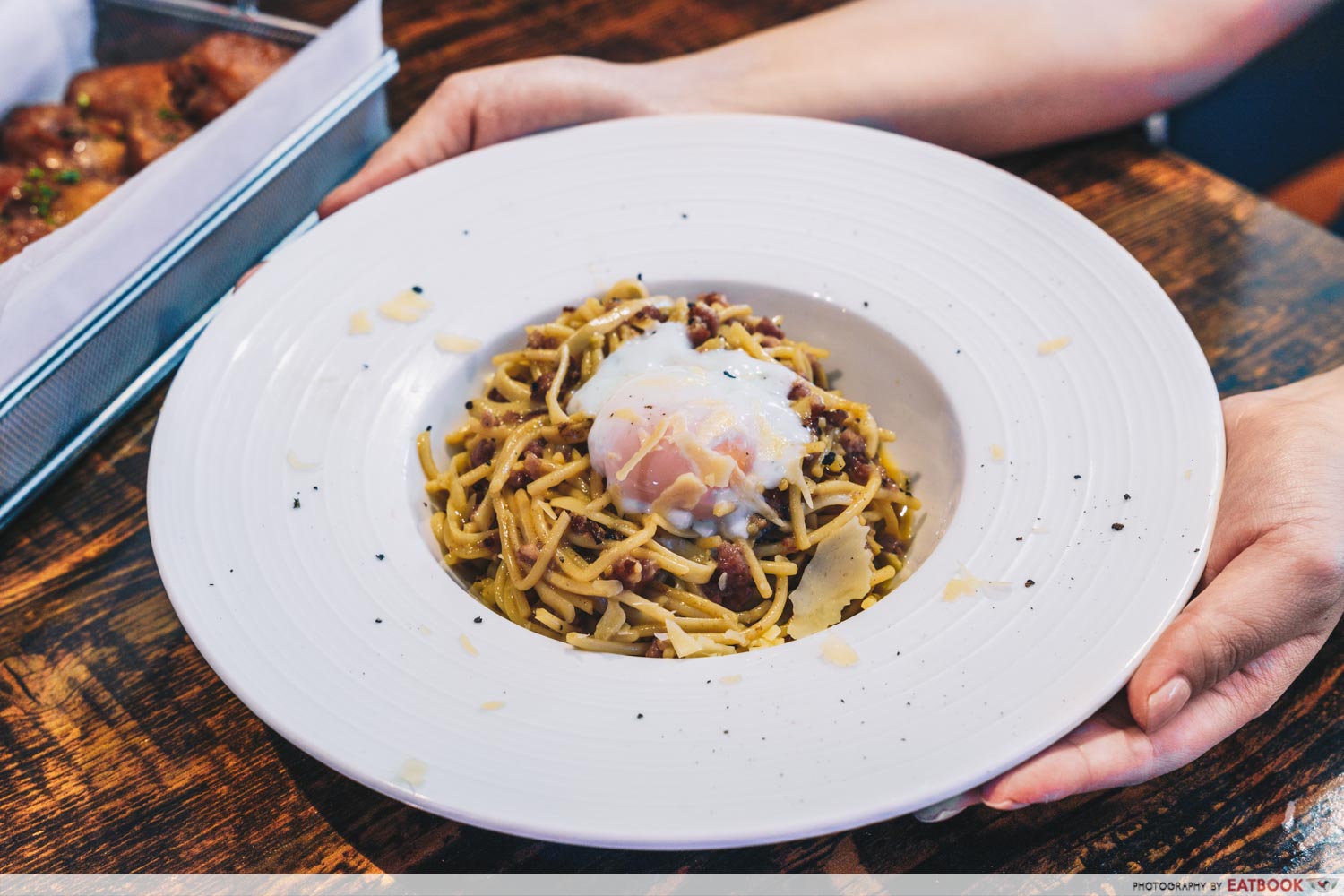 After two tasty starters, the Signature Carbonara was a touch disappointing. I had high hopes when I heard it was made in the traditional way without cream, but the over-soft, broken-up pasta noodles left me dismayed.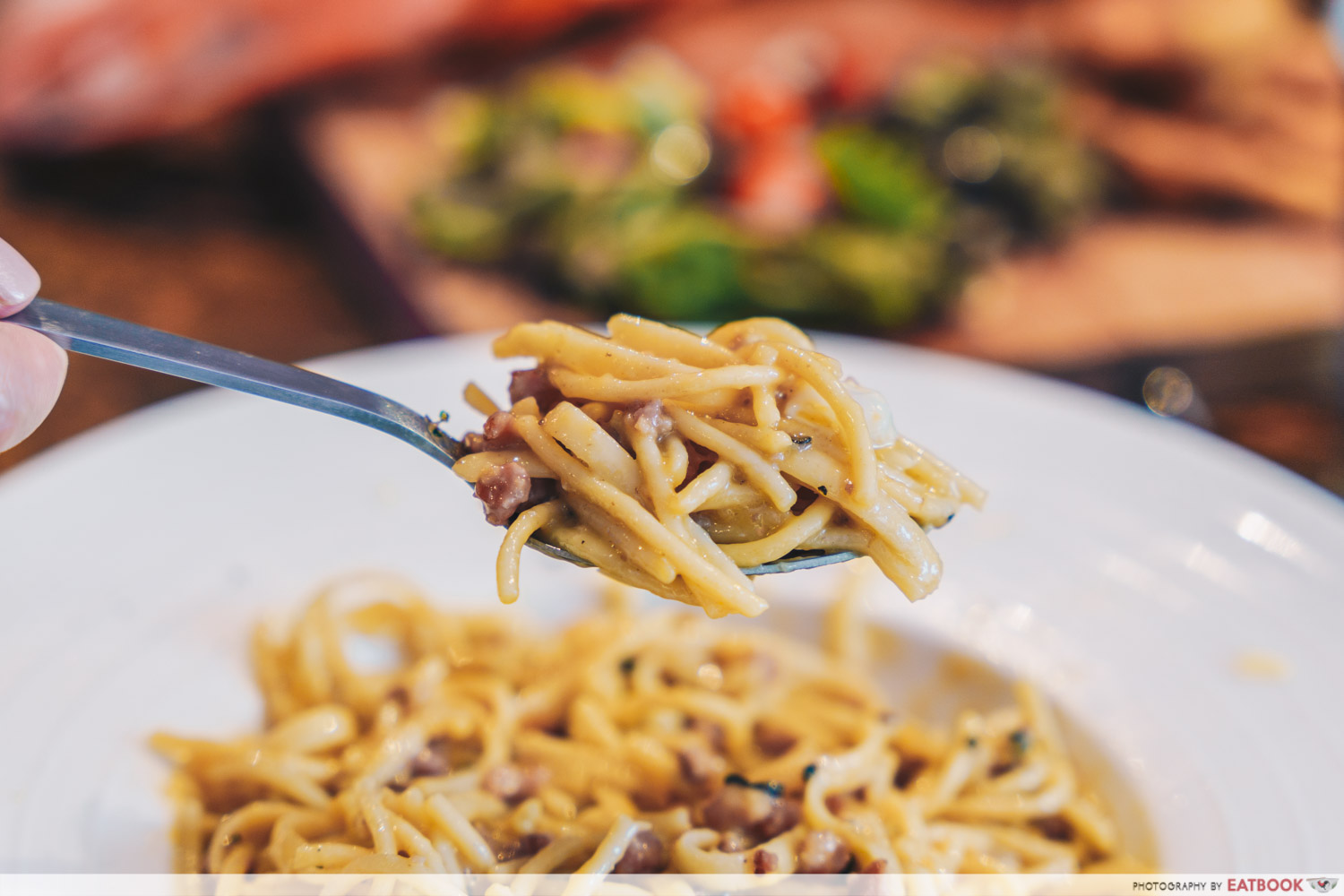 It was tasty, and interestingly made with a combination of linguine and spaghetti. I was also assured that the broken-up strands of pasta noodles were not the usual standard. Given that their other dishes weren't shabby, I'm inclined to give them the benefit of the doubt.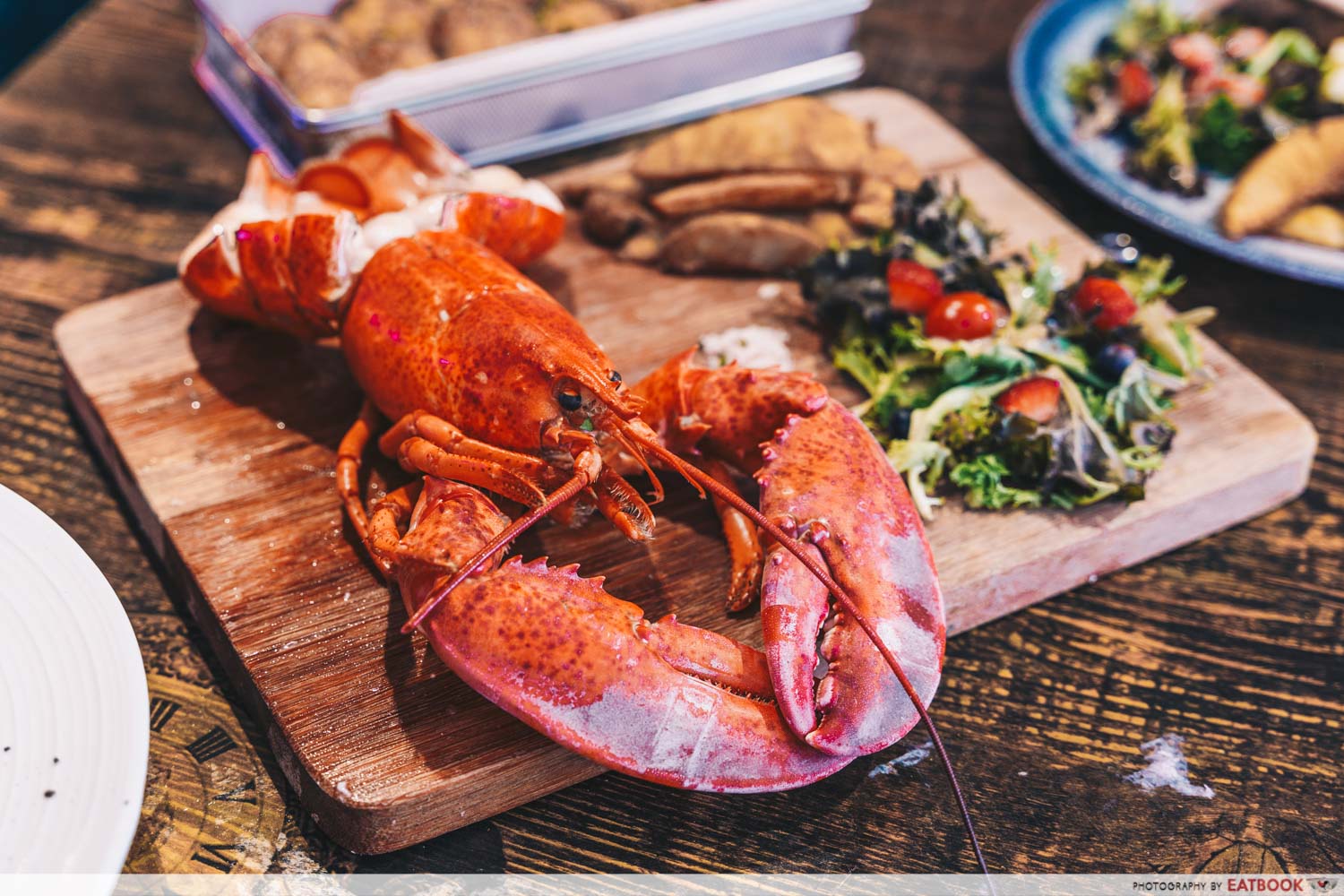 We were also served the Lucky Boston Lobster ($58), a 500-600g whopper of a crustacean on a massive wooden board. As showstoppers go, this made quite a bang.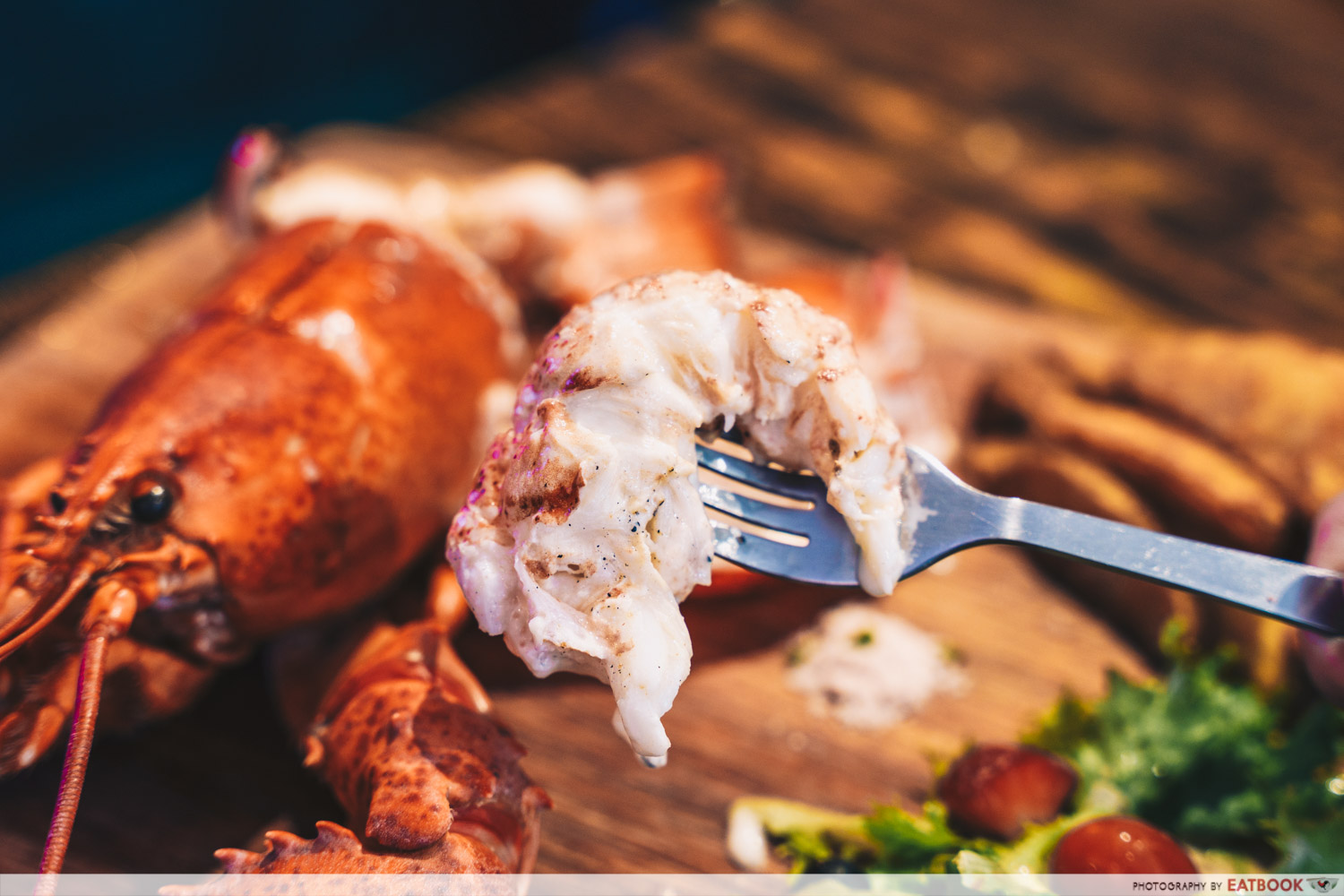 Split and grilled with a generous lashing of mentaiko sauce, the lobster flesh was extremely plump and fresh. The saltiness of the mentaiko and pink Himalayan salt dip brought out the natural sweetness of the succulent meat.
We also appreciated the addition of blueberries and cut strawberries to the side salads, dressed with sesame sauce. They lent sweetness and additional freshness to the greens.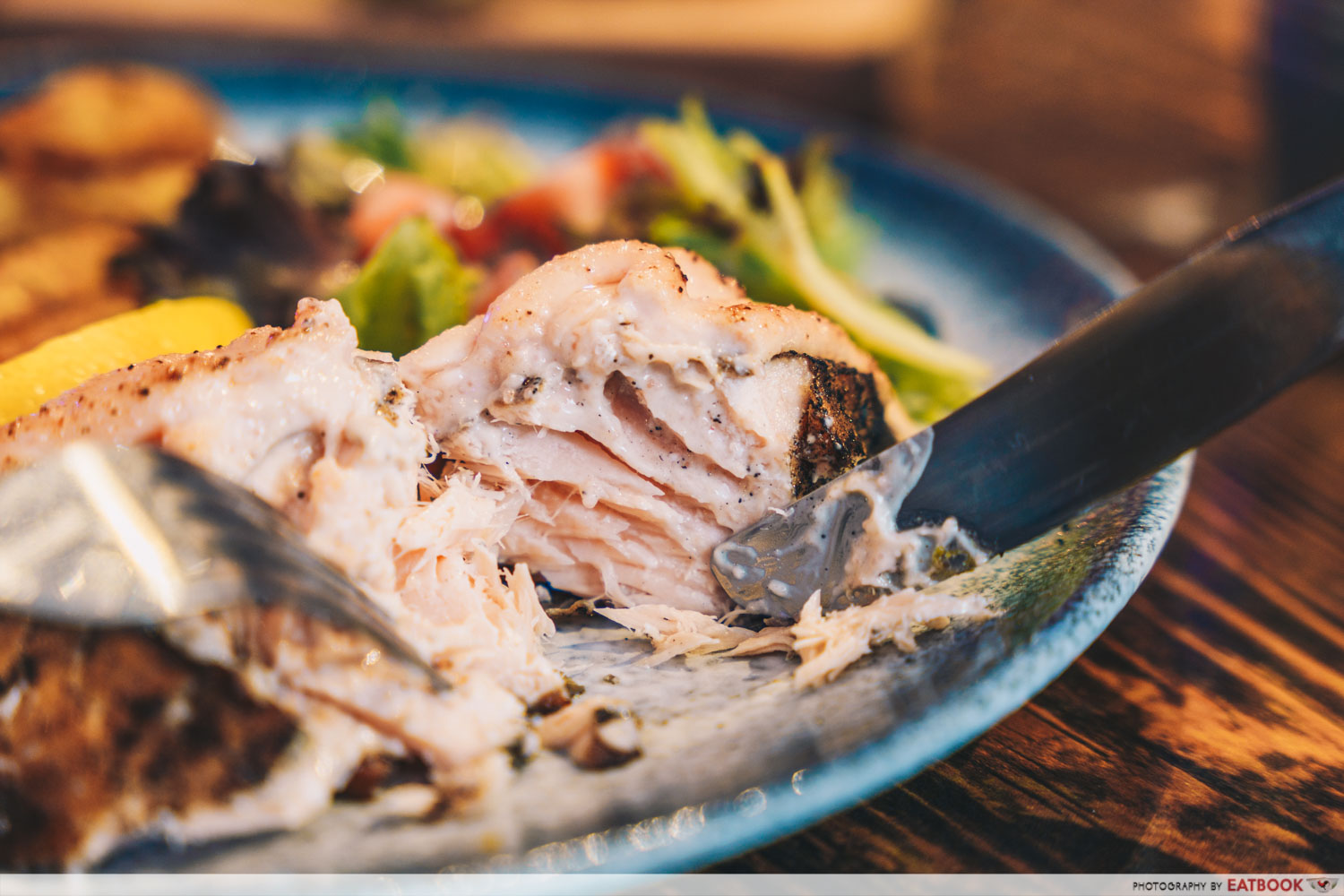 If lobster's a little out of your budget, you can't go wrong with the Pan Seared Salmon Mentaiko ($22). I personally prefer my salmon a little less done, but this was still moist and flaky on the inside, a stark contrast to the slightly charred exterior. It would have been better if the frying pan and oil were cleaner.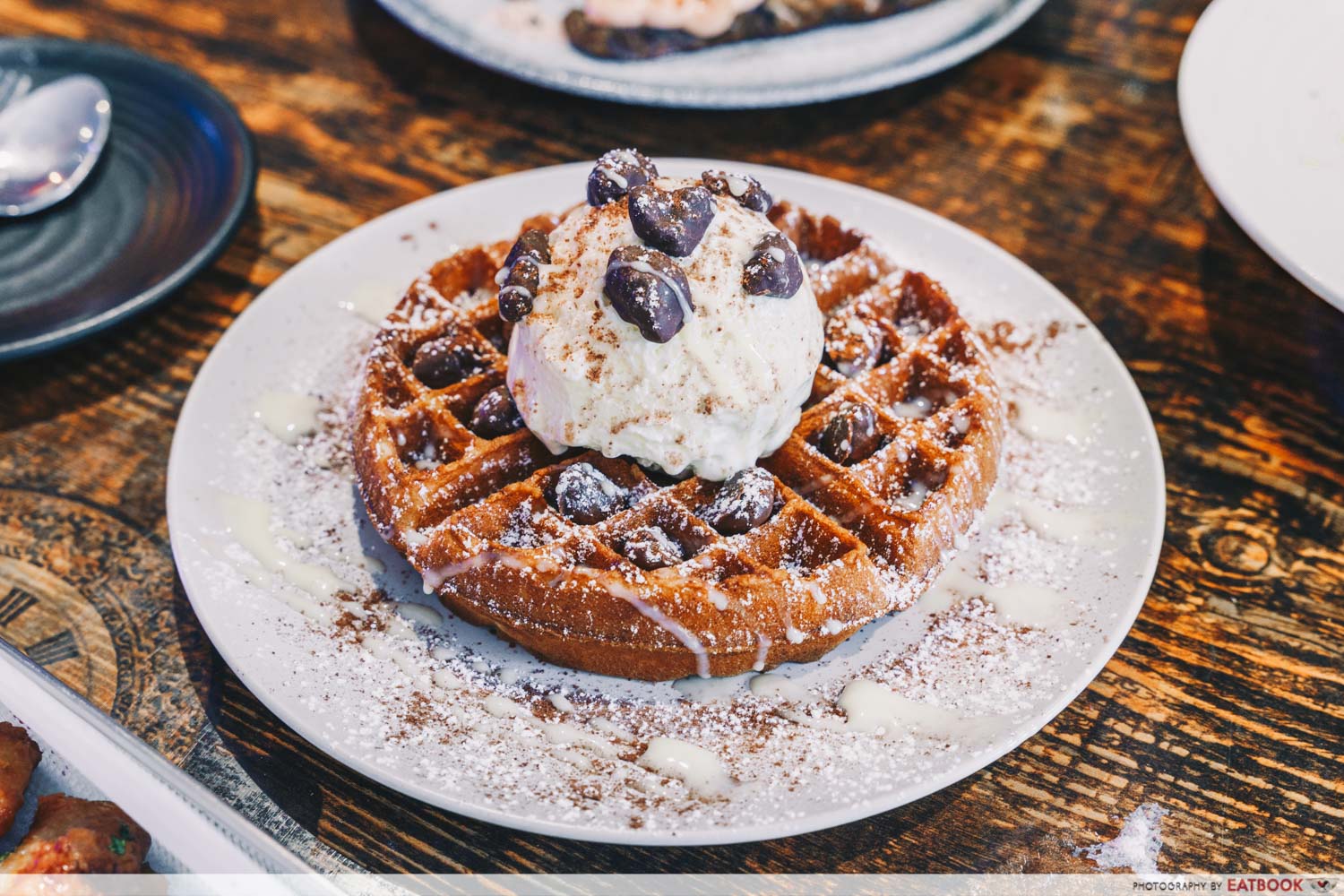 For dessert, we went with the Dinosaur Waffle ($12), drawn to the combination of Milo powder and condensed milk.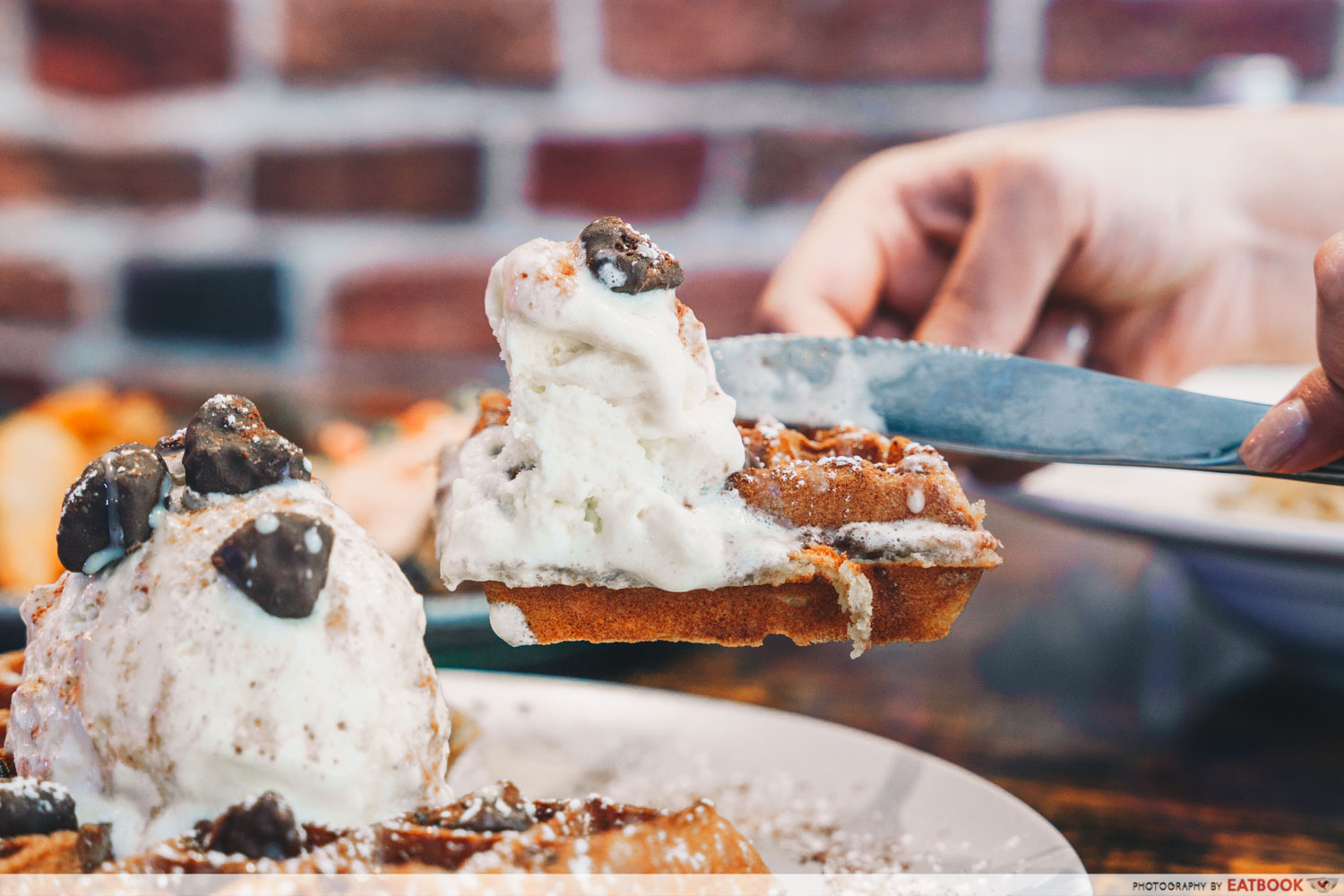 If you like thick, denser and cakier waffles, this one's for you. Otherwise, Milo powder and condensed milk make everything taste better. 
Paris Baguette Opens At Northpoint City With Macaron Ice Cream, Nutella Banana Danishes And More
Ambience at Tittle Tattle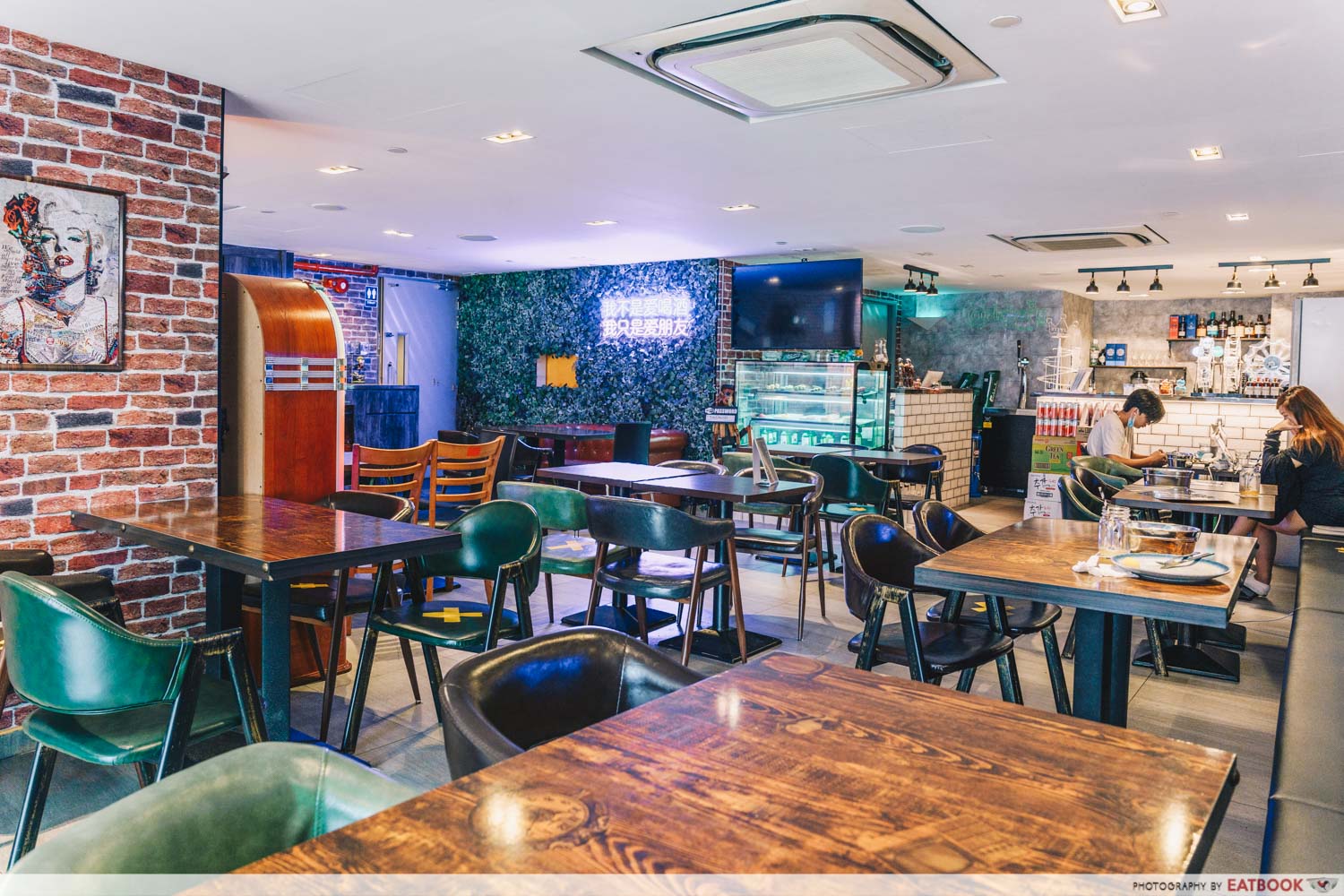 At Tittle Tattle, there's an old-school jukebox, neon signage, and vintage wall decor on red-brick wallpaper─a cosy diner that you won't mind spending all night in, whether you're on a date, hanging with friends, or just looking for a spot to mug through the night.
Located along Selegie Road, closer to Little India MRT than Dhoby Ghaut MRT station, it's safe to say that Tittle Tattle is pretty centrally located, and convenient to get to.
The verdict
The food here is generally above average, although some items could do with little tweaks. Kudos to the team keeping Tittle Tattle running 24/7, giving night owls a new place to be. If nothing else, I'll be back for the Tittles Wings and Fried Broccoli, especially now that we can't go on regular JB jaunts for lok lok.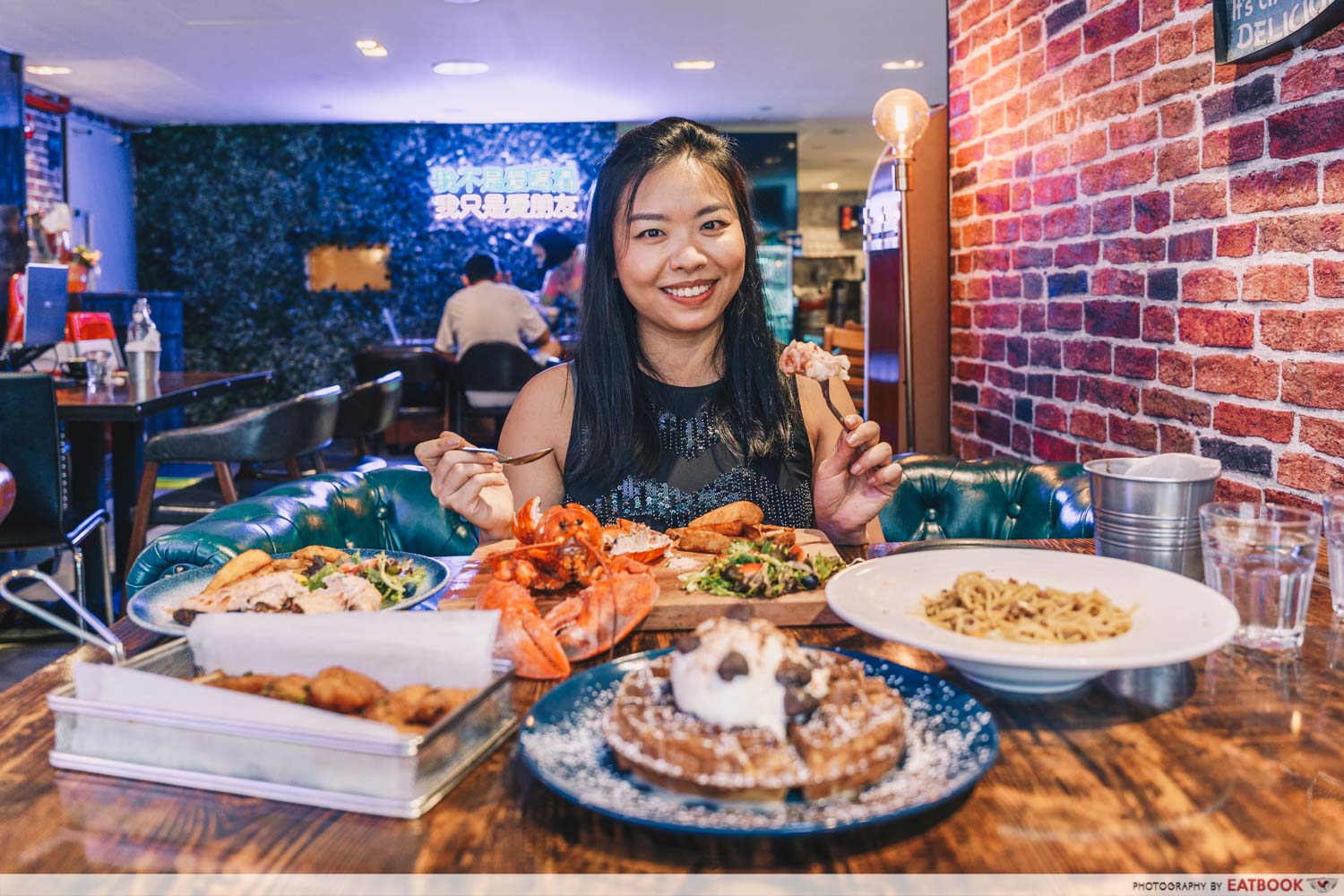 More than that, the extensive menu at Tittle Tattle gives everyone plenty of options to choose from, whether to have alone or share. It may be a little on the pricier side, but this is usually the case at restaurants that are open 24 hours a day.
Kki Sweets Review: Hidden Cafe For Beautifully Plated Desserts From $9.50 In City Hall
The bistro-bar is also running promotions such as 1-for-1 mains and brunch items every Monday, and 15% off all items for students every Monday to Friday, from 12am to 4pm. This promotion does not include alcoholic beverages, but Happy Hour lasts all day every Tuesday, and from 3pm to 7pm for the rest of the week!
Otherwise, you could head to TamJai SamGor for extremely spicy noodles, or visit Kki Sweets to try some very Instagrammable desserts!
Address: 183 Selegie Rd, #01-03, Singapore 188329
Opening hours: Daily, 24 hours
Tel: 9488 7035
Website
Tittle Tattle is not a halal-certified eatery.
Photos taken by Lery Villanueva.
This was a media tasting at Tittle Tattle.
Tittle Tattle Review: 24-Hour Bistro-Bar At Selegie With Waffles And Mentaiko Lobster
Summary
Pros
– Open 24 hours a day
– Generally tasty food
– Accessible location
Cons
– Some dishes could be improved
Recommended dishes: Tittle's Wings ($20), Fried Broccoli ($12), Lucky Boston Lobster ($58)
Opening hours: Daily, 24 hours
Address: 183 Selegie Rd, #01-03, Singapore 188329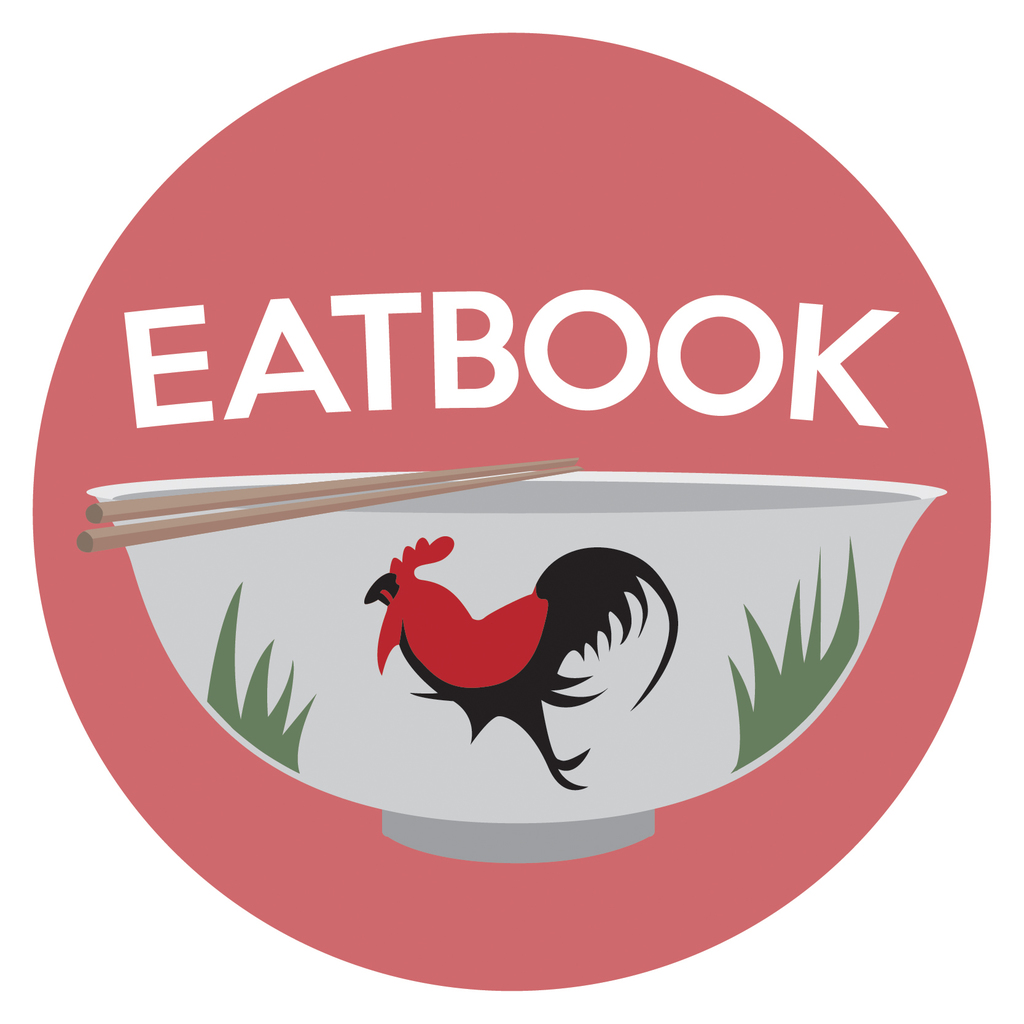 Drop us your email so you won't miss the latest news.