Tasty XO seafood noodles at Try Fresh XO Seafood Noodles 长鲜
Update (13 July 2022): Try Fresh XO Seafood Noodles has now relocated to Bistro 8 on Kelantan Lane.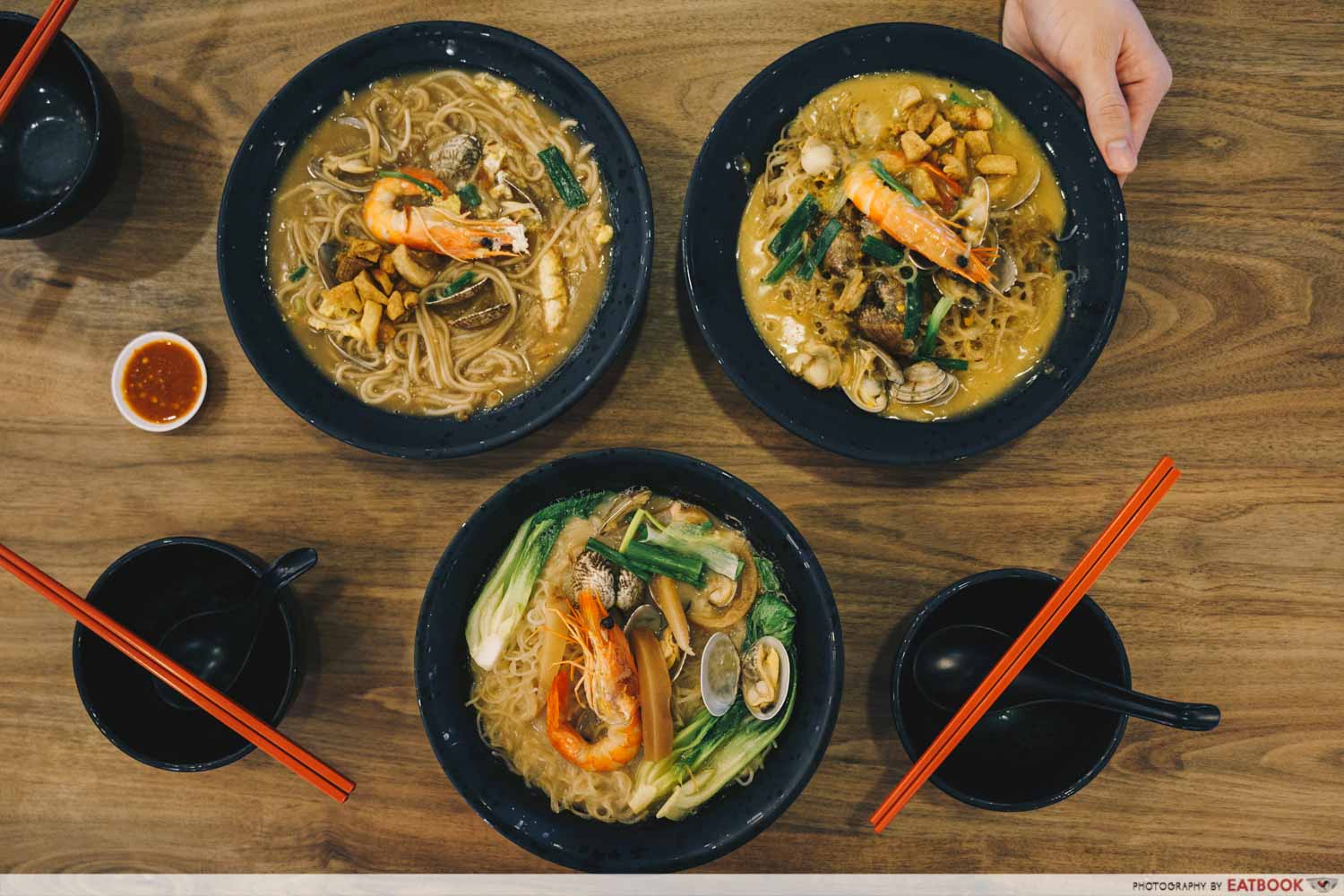 Incorporating alcohol into dishes is tough. It has to subtly elevate the flavours of the food and yet, not overpower the taste buds. When I first heard of the soup-based XO bee hoon at Try Fresh XO Seafood Noodles 长鲜, I was slightly sceptical, and had expected a gimmicky dish with a non-existent alcohol kick. This outlet is Try Fresh XO Seafood Noodles's first overseas venture, and they proudly have over five stalls in Malaysia!
Food at Try Fresh XO Seafood Noodles 长鲜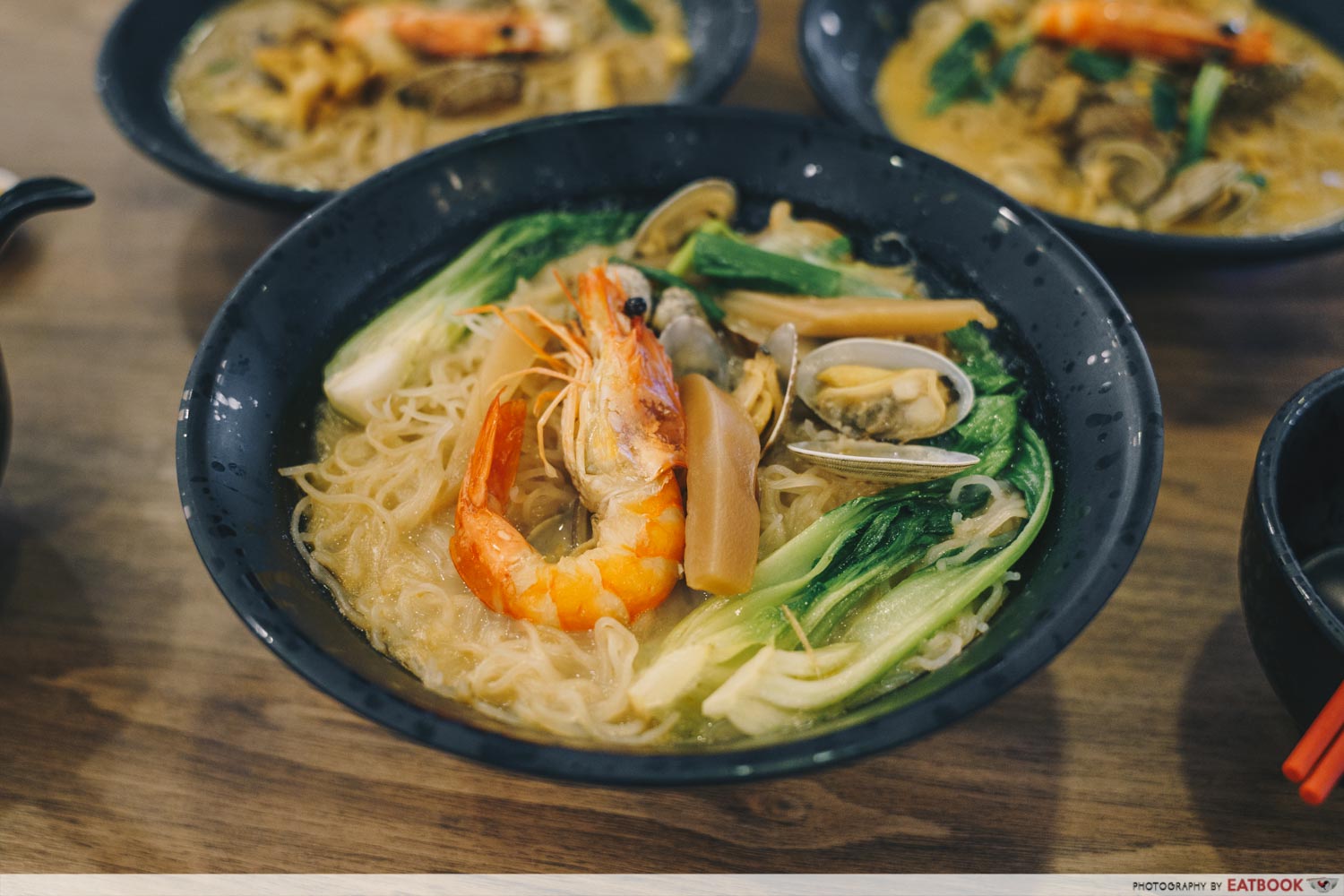 We wasted no time in ordering their signature dish, the XO Seafood Beehoon Soup ($8.90), which was filled with a generous amount of seafood such as prawns, clams, and cuttlefish slices. Copious amounts of Hennessy VSOP cognac are used in the seafood broth, which do not come cheap! This fact became stunningly obvious when the bowl of bee hoon was brought to us. We could make out the distinct fragrance of alcohol right when it was set in front of us, and the pleasant aroma further triggered my already ravenous appetite.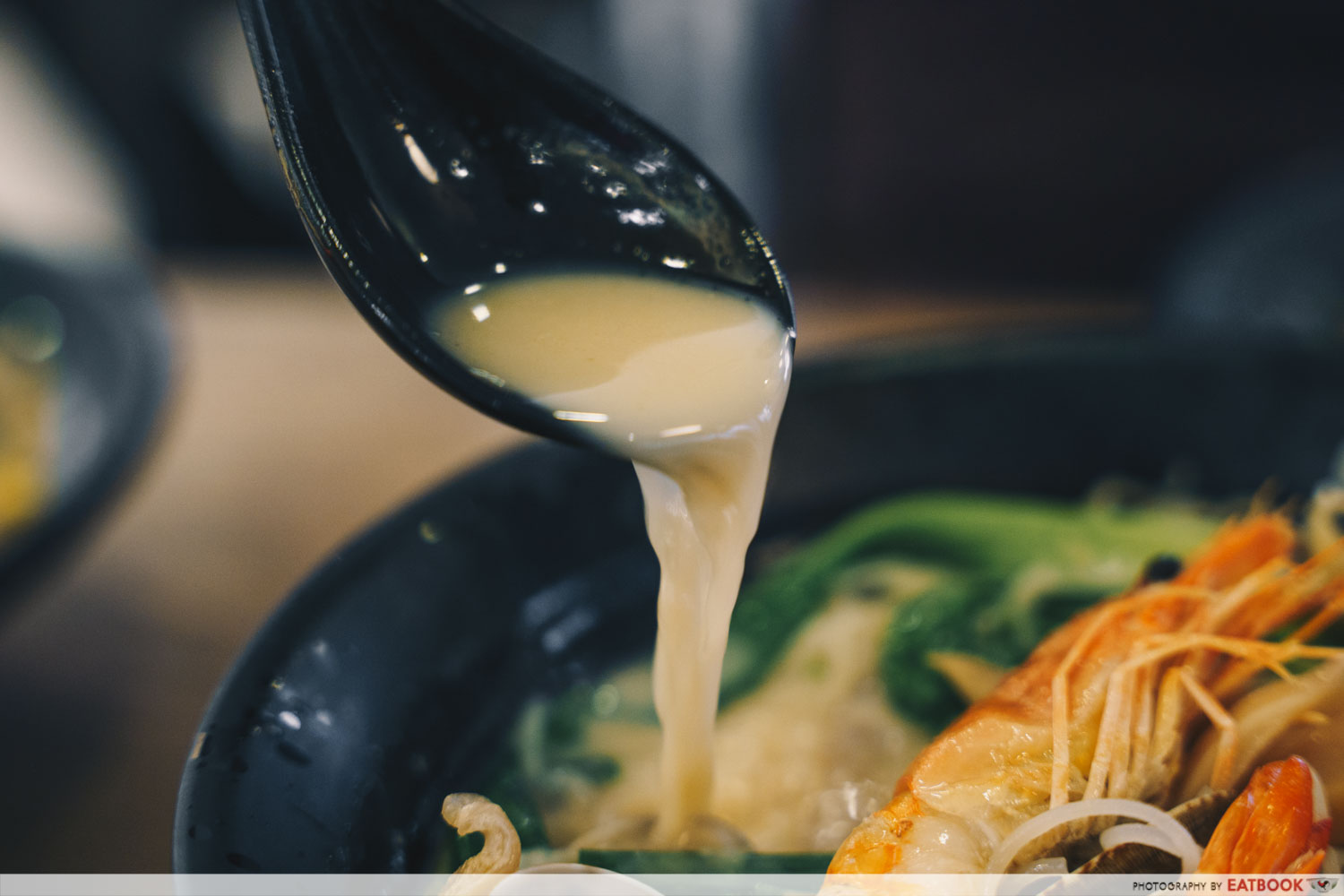 The pièce de résistance of this bowl was the seafood broth. Its alcohol taste was strong yet not too overpowering, elevating the dish to a whole new level. Each spoonful was immensely flavourful, yet smooth and light on the palate. The alcohol had deepened the flavour profile of the cognac-spiked broth, which produced a subtle 'burning sensation' that somehow made the dish extra appetising.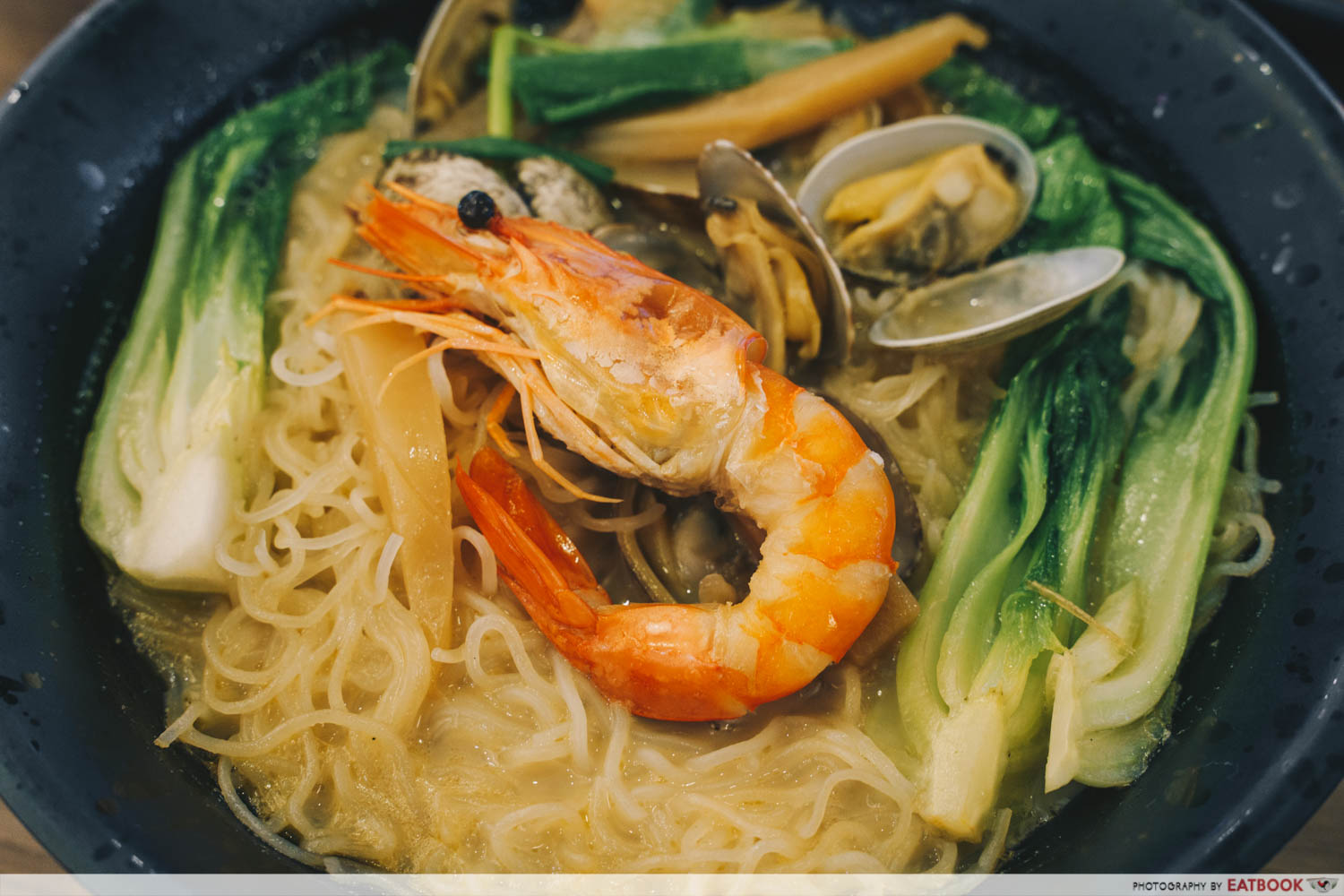 Bountiful chunks of seafood can be found within the bowl. The seafood selection consisted of clams, cuttlefish slices, and a single prawn. The clams and cuttlefish slices packed a punch, and weren't too chewy for my liking. Sadly, the prawn tasted mediocre, and had a tough rubbery mouthfeel.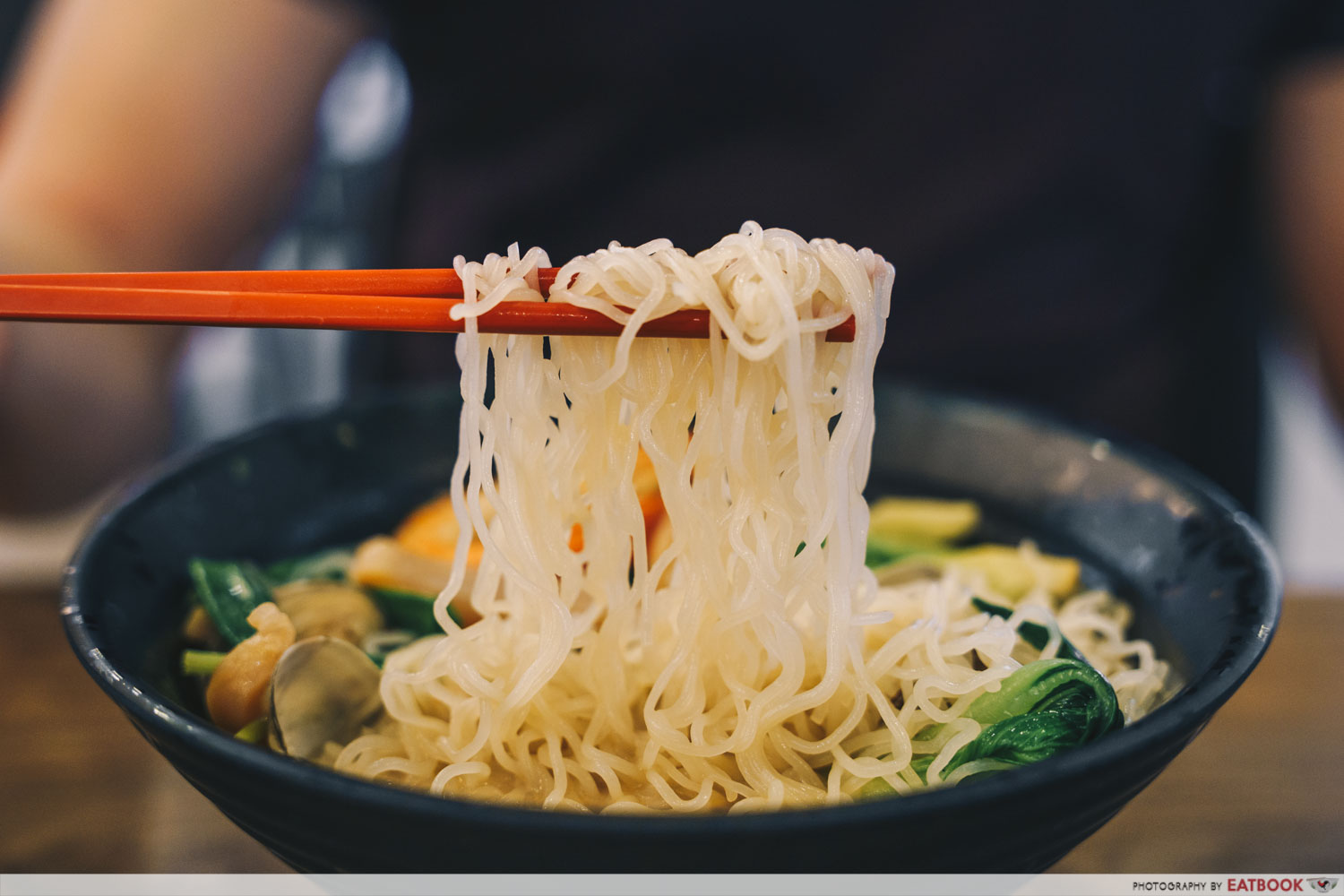 The special crystal bee hoon in this bowl was splendid. These mildly translucent noodles were delightfully chewy and had a slippery texture, which made slurping them up an easy task. I appreciated that its flavour was rather mild as compared to other noodles, and did not engulf the more prominent flavours in this bowl, namely the broth and seafood.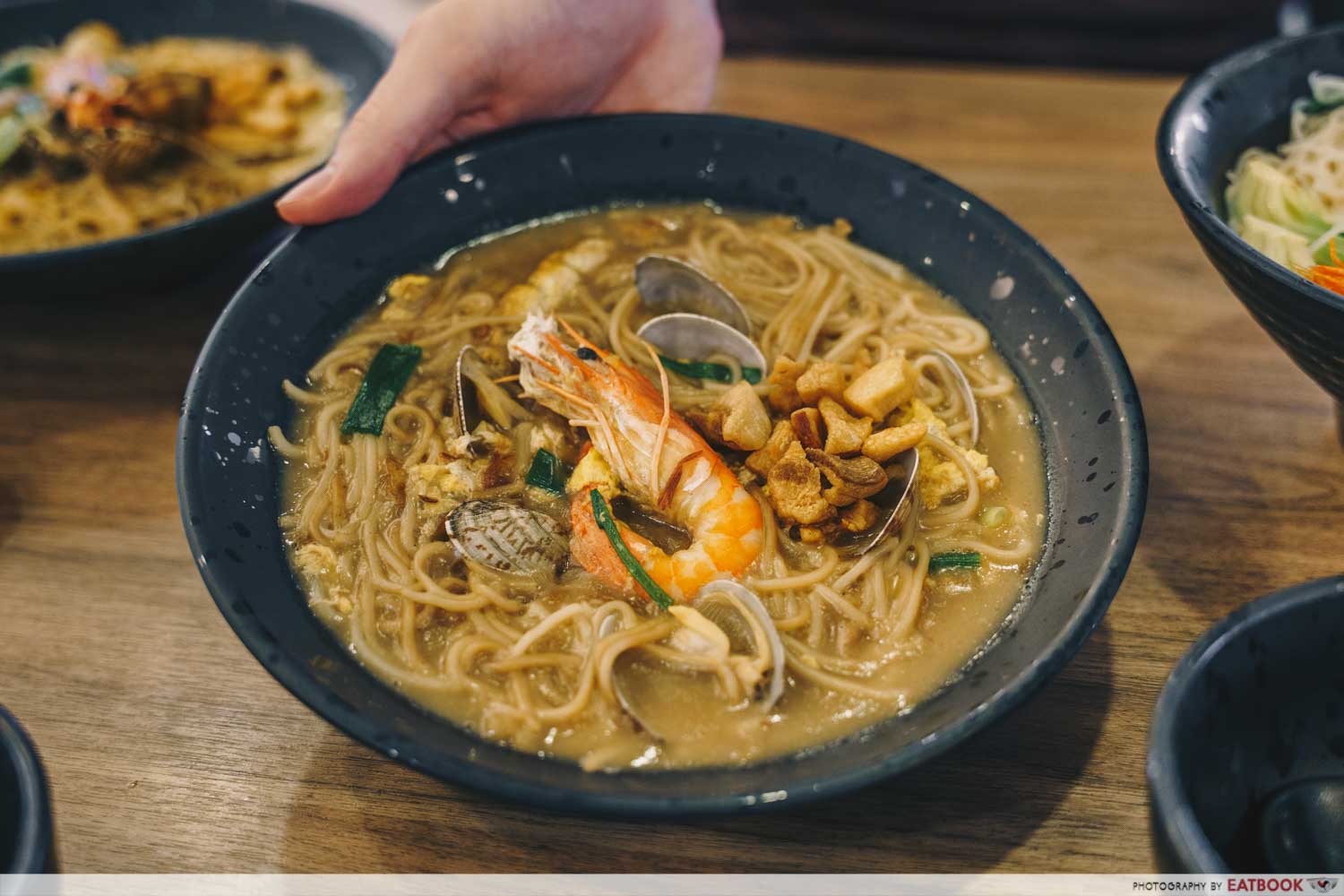 I've heard many positive reviews about their Hai Huang Mee Sua ($5), and I couldn't wait to dive right into it. On first glance, the plate definitely looked hefty, as it was brimming with noodles, seafood, and pork lard. The same types of seafood in the XO seafood bee hoon soup were also found here.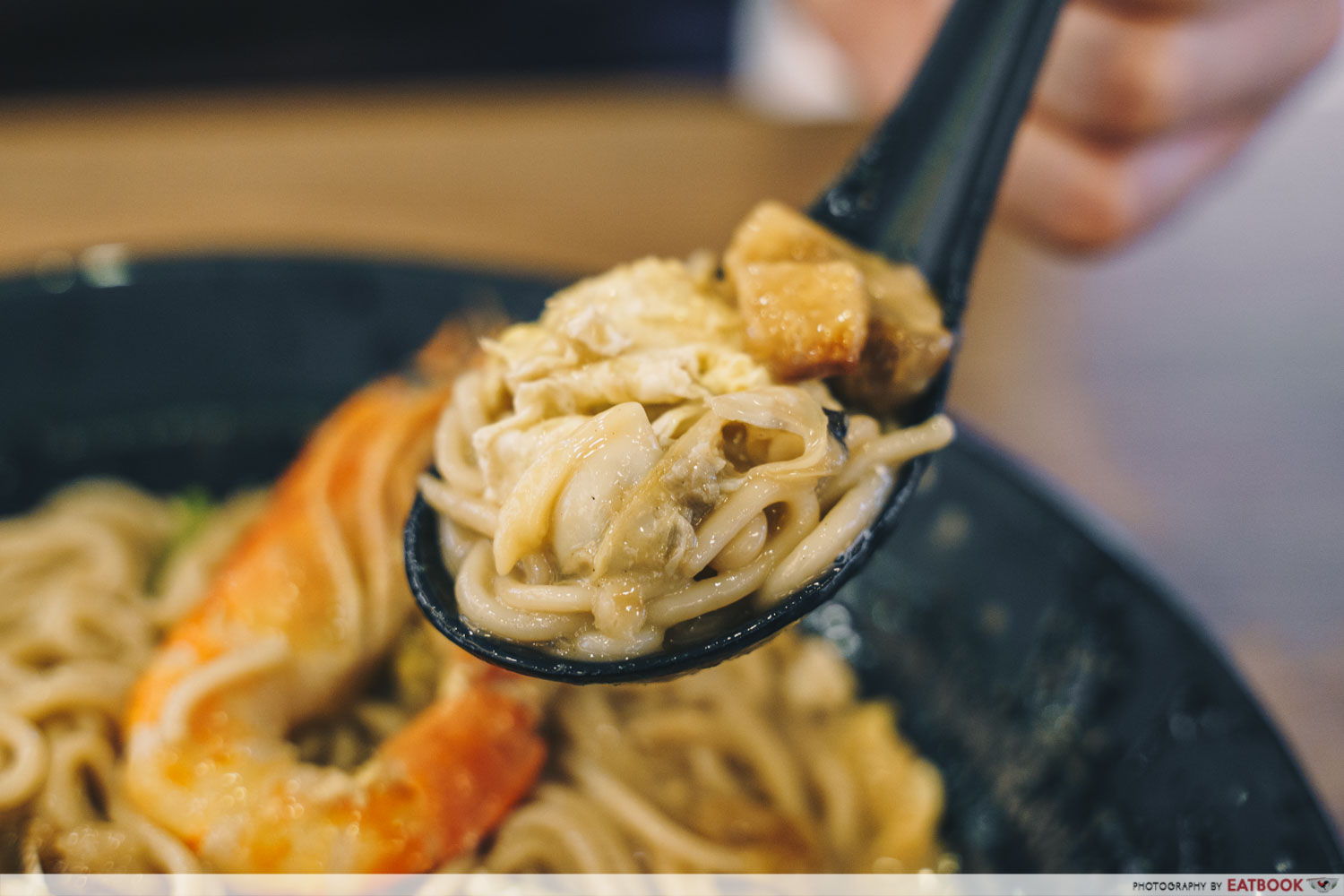 Instead of crystal bee hoon, thicker mee sua noodles are found here. These noodles were specially imported from Malaysia, and I liked that they were chewy and soaked up all of the piquant gravy. The chef incorporates blue swimmer crabs and clams into the preparation of the gravy, making it teeming with oceanic goodness.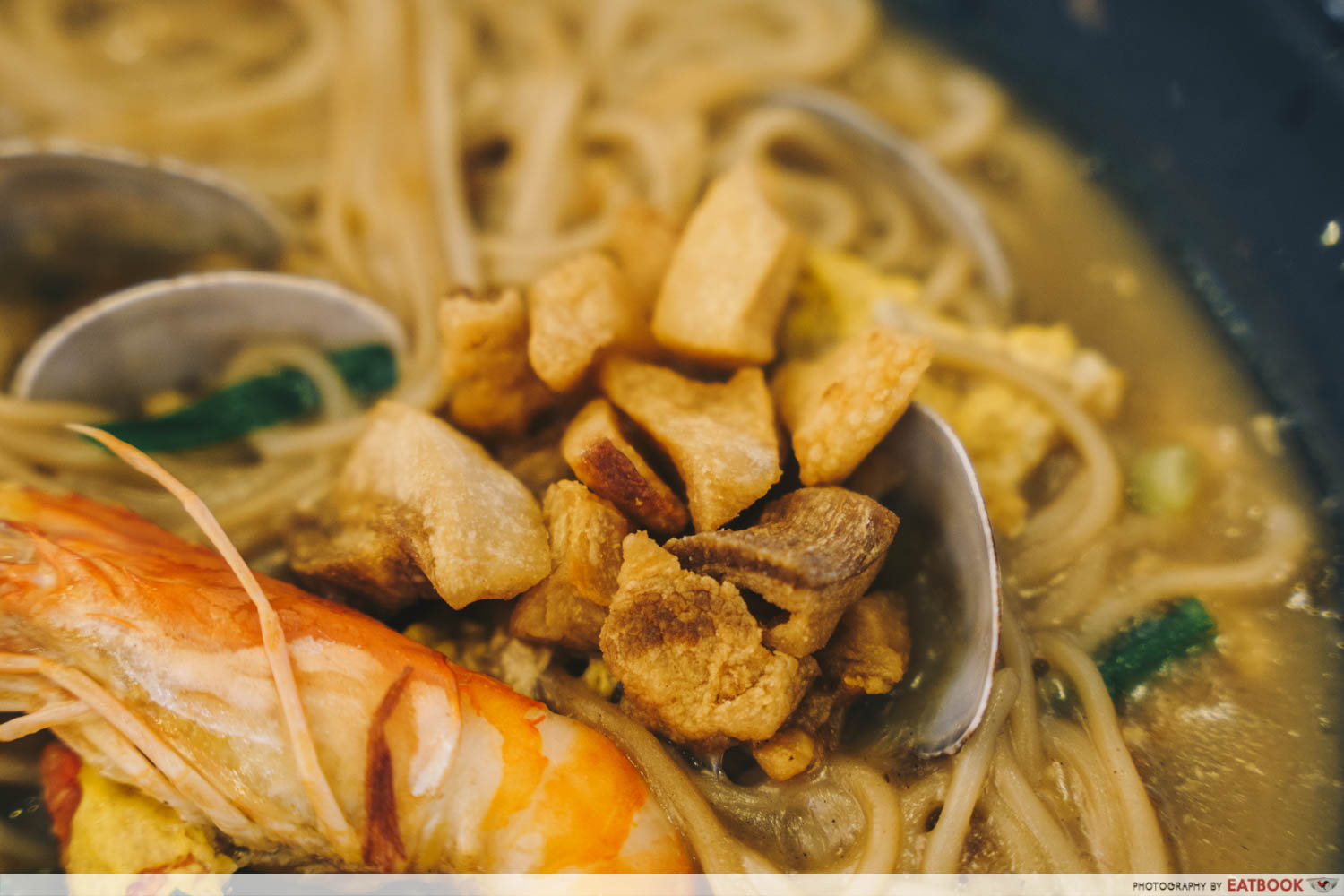 The plate was decorated with a mini mountain of crispy pork lard, which provided a more full-bodied mouthfeel. Each miniature sac contained umami-licious oils that elevated the dish and provided an additional depth of flavour.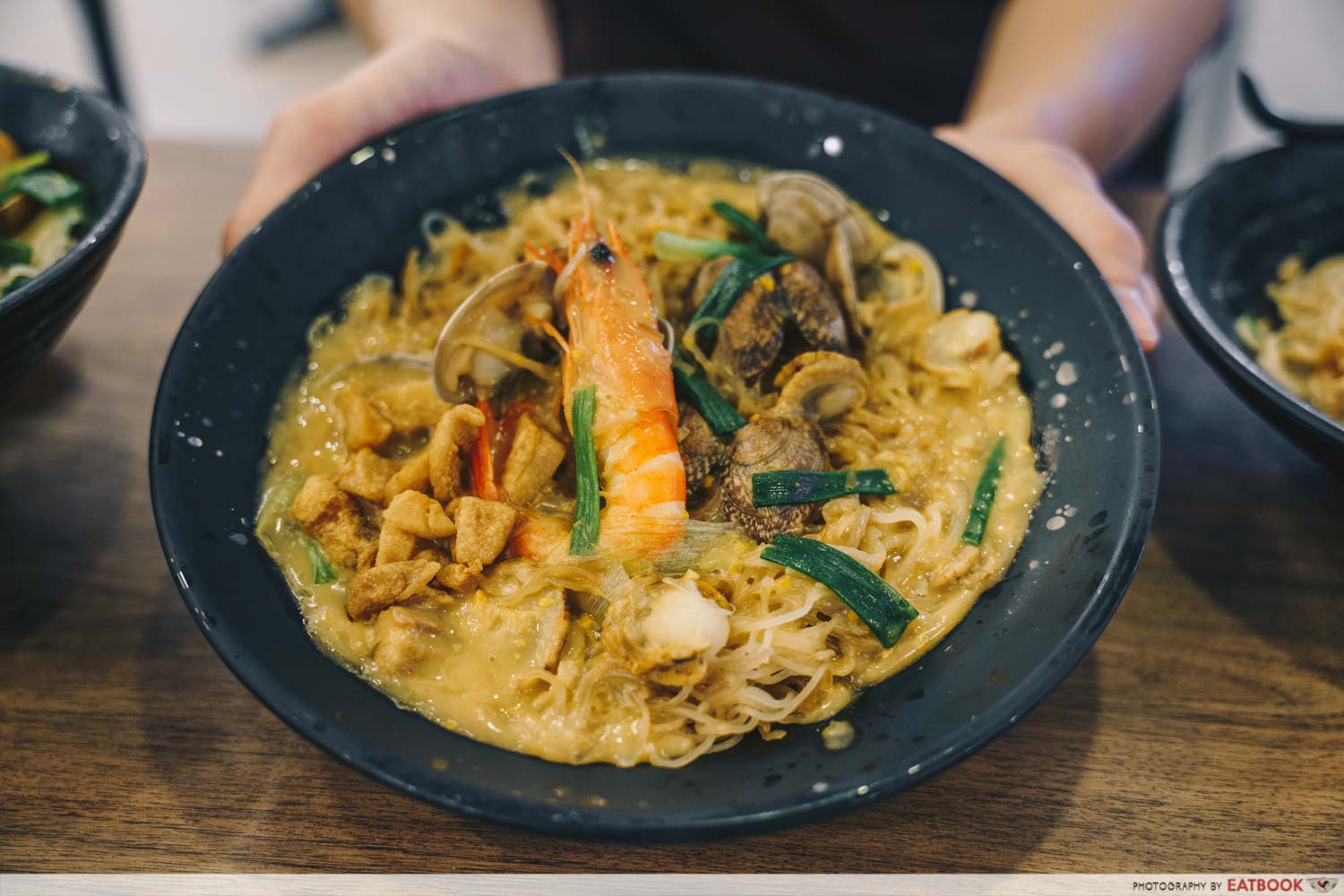 Most salted-egg-laden dishes are either typically lacking in taste or leave diners feeling too jelak. After tasting the Salted Egg Seafood Beehoon ($8.90), I had mixed feelings about it.
Crystal bee hoon is used once again, and this time it's slathered in a generous amount of salted egg sauce. Though flavourful, the sauce lacked the richness of salted egg, and I had hoped for more savoury punches and salted egg yolk bits within.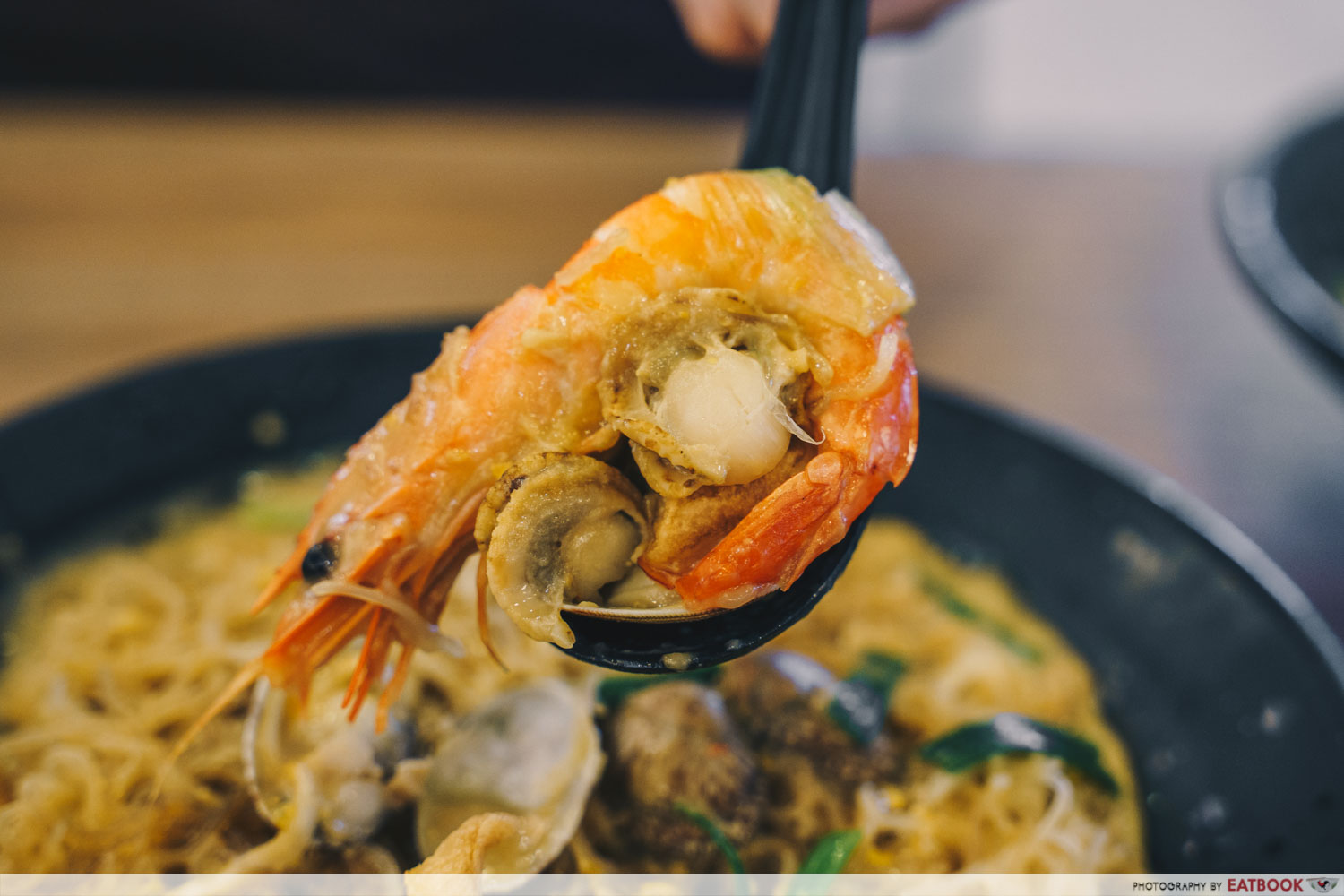 Surprisingly, the salted egg sauce elevated the seafood with its earthy, eggy flavours, and provided a more luxurious mouthfeel.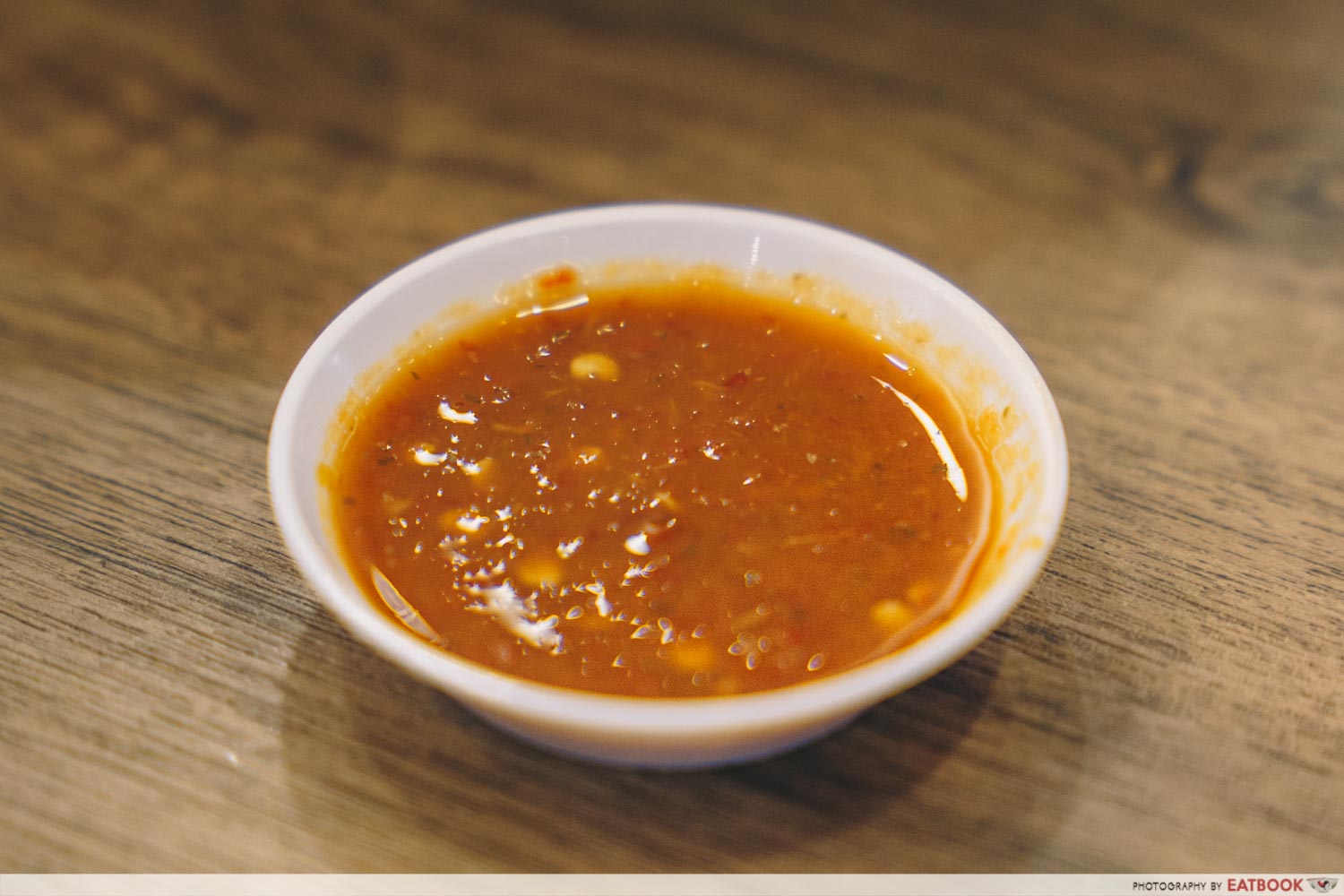 The stall's house-made chilli sauce has got to be their wild card, and I enjoyed it despite not being a fan of spicy food. The sauce possessed a citrusy tang and a fiery kick.
Ambience at Try Fresh XO Seafood Noodles 长鲜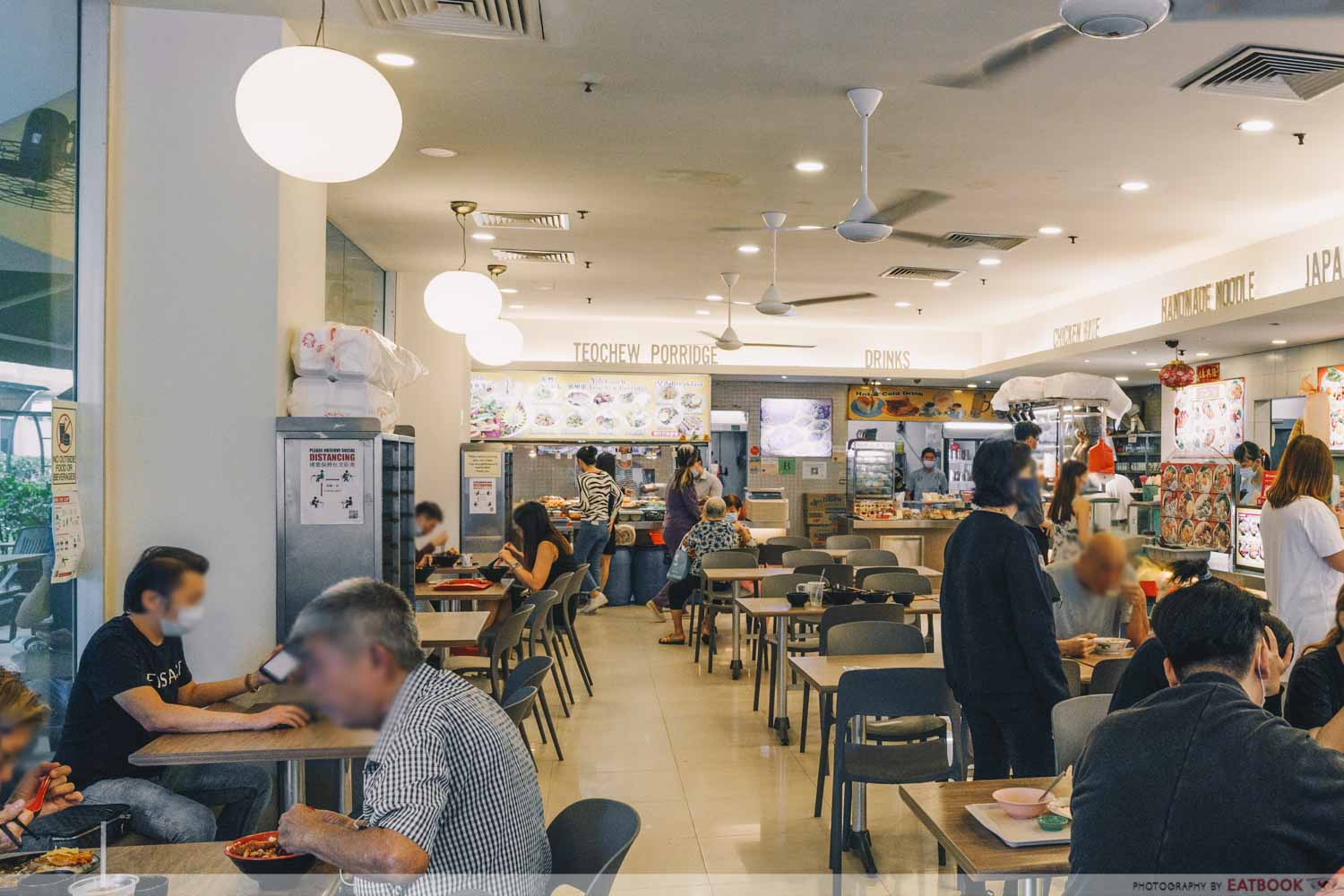 Though the stall is situated within an elusive food court in Sultan Plaza, it still receives a consistent stream of customers even during non-peak hours. As the food court gets pretty packed during the lunch hours, don't fret as there are more seats outside if you fail to snag a seat indoors. With clean tables, spacious seats, and an air-conditioned environment, you will be able to enjoy your meal in comfort.
The verdict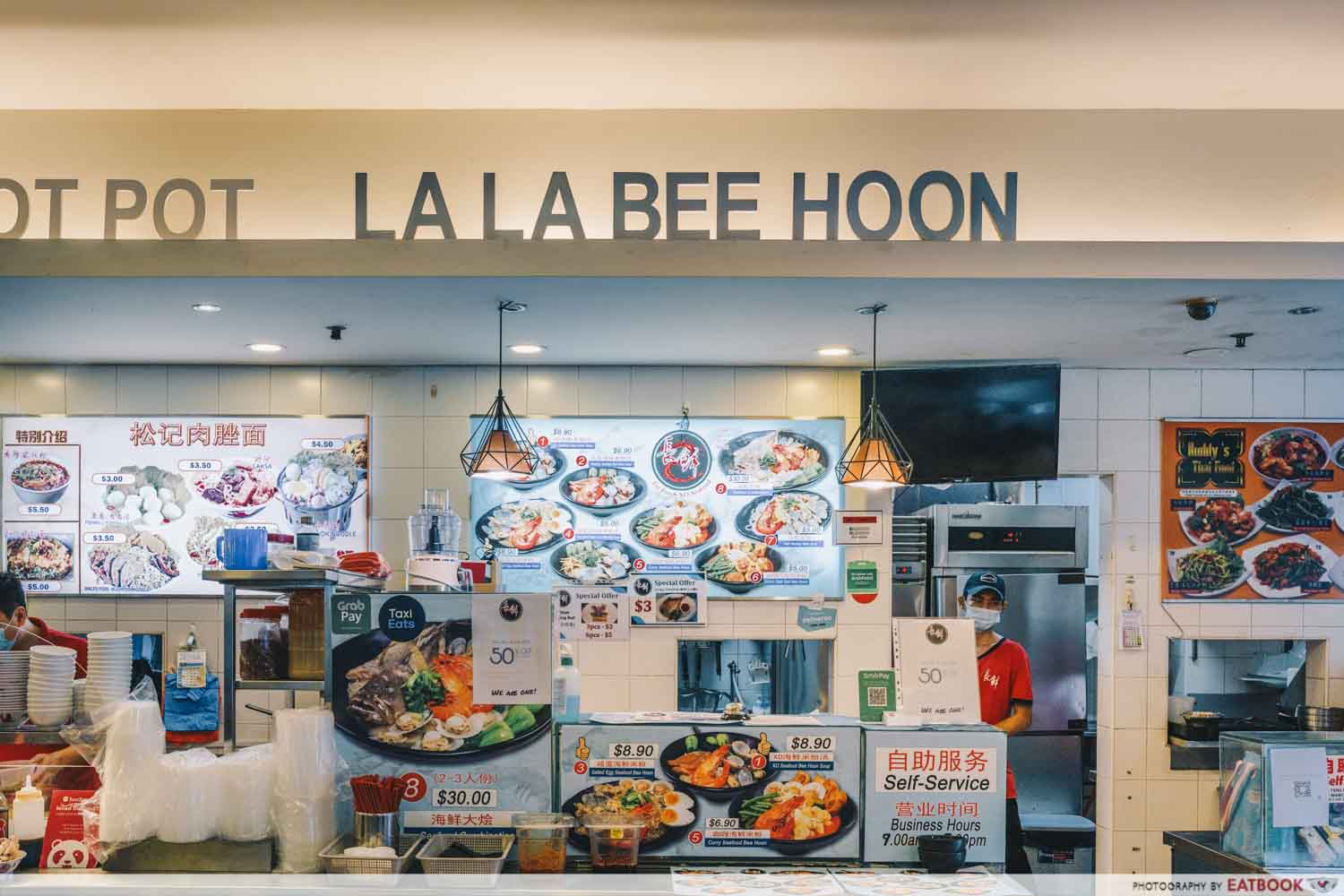 As evident from their tasty noodle dishes, the folks at Try Fresh XO Seafood Noodles have certainly placed thoughtful care into the preparation of their food and sauces. Not only did their soup-based XO bee hoon stand out, but so did their other dishes. With big portions and tasty food, l will be back for their tasty mee sua and more boozy seafood noodle goodness. 
For more unique noodles, check out Ramen Taisho for their salted egg tonkotsu ramen. Another alternative is Soon Heng Pork Noodles which serves soup-based bak chor mee.
Address: 31 Kelantan Lane, #01-12, Bistro 8, Singapore 200031
Opening hours: Tue-Sun 10am to 8pm
Website
Try Fresh XO Seafood Noodles 长鲜 is not a halal-certified eatery.
Photos taken by John Lery Villanueva.
This is an independent review by Eatbook.sg.
Soon Heng Pork Noodles Review: Tasty Soup-Based Bak Chor Mee At Tanjong Pagar
Try Fresh XO Seafood Noodles 长鲜 Review: Famous KL Seafood Noodles With Cognac-Infused Broth
Try Fresh XO Seafood Noodles 长鲜 Review: Famous KL Seafood Noodles With Cognac-Infused Broth -

8/10
Summary
Pros
– Tasty seafood broth
– Toothsome mee sua gravy
– Noodles complement the dishes well
– Chilli sauce was flavourful
Cons
– Salted egg sauce lacking in flavour
– Prawn was tough
Recommended dishes: XO Seafood Beehoon Soup ($8.90), Hai Huang Mee Sua ($5), Salted Egg Seafood Beehoon ($8.90)
Opening hours: Tue-Sun 10am to 8pm
Address: 31 Kelantan Lane, #01-12, Bistro 8, Singapore 200031