Hearty soupy bak chor mee at Soon Heng Pork Noodles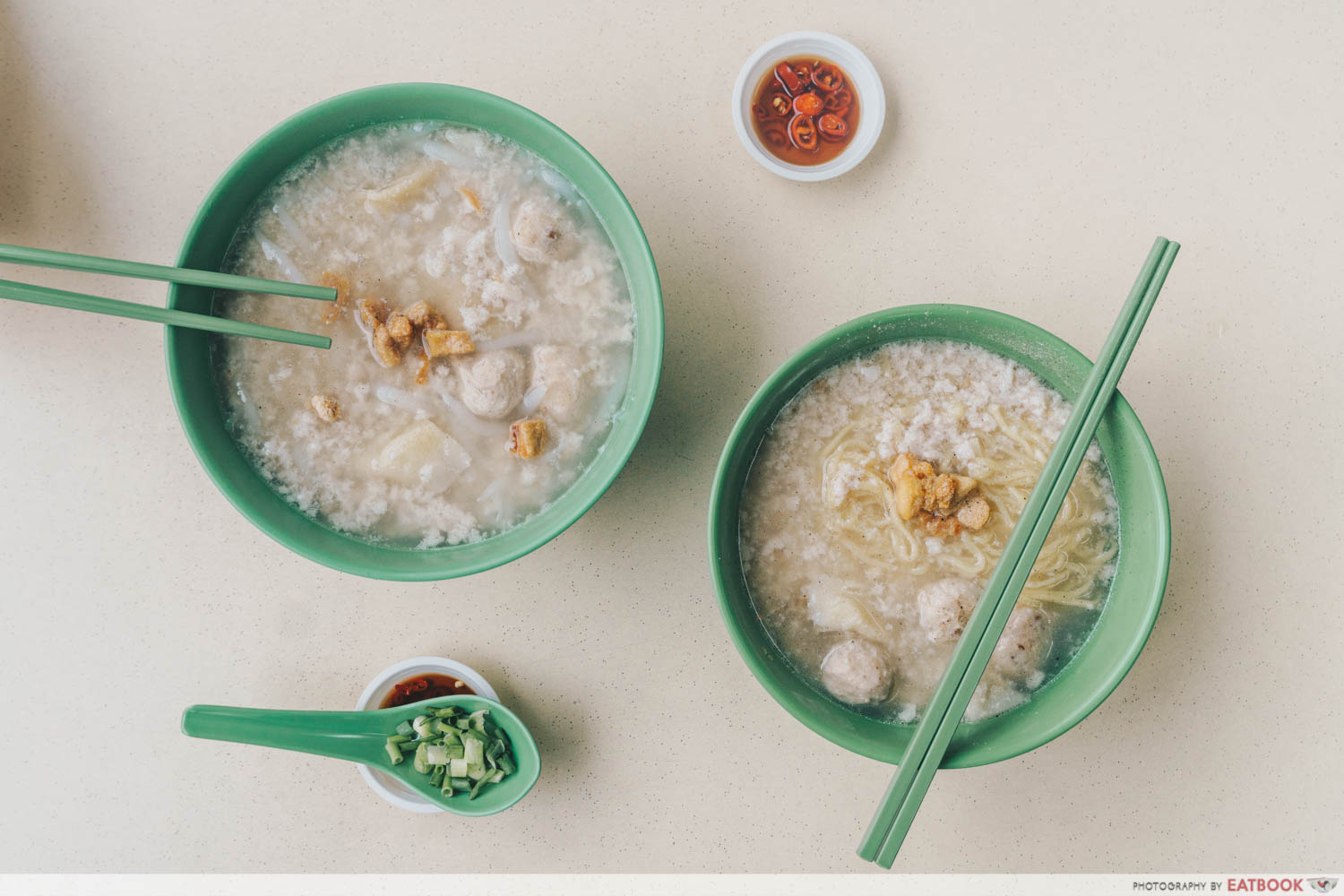 Most Singaporeans are familiar with its dry cousin, yet very few stalls sell it. I'm talking, of course, about soupy bak chor mee. It's warm and comforting, and combines the rich flavours of dry bak chor mee with a piquant broth.
Battle Of Bedok 85 Bak Chor Mee: We Asked The 2 Neighbours About The OG Stall
Spearheading the soupy bak chor mee movement are two legendary bak chor mee stalls at Bedok 85 Fengshan Food Centre. They have generated a cult-like following over the past few years, and
I am a big fan of their food. When I heard of Soon Heng Pork Noodles at Tanjong Pagar, I couldn't wait to see how their food matches up to the ones at my fav' bak chor mee stalls at Bedok 85.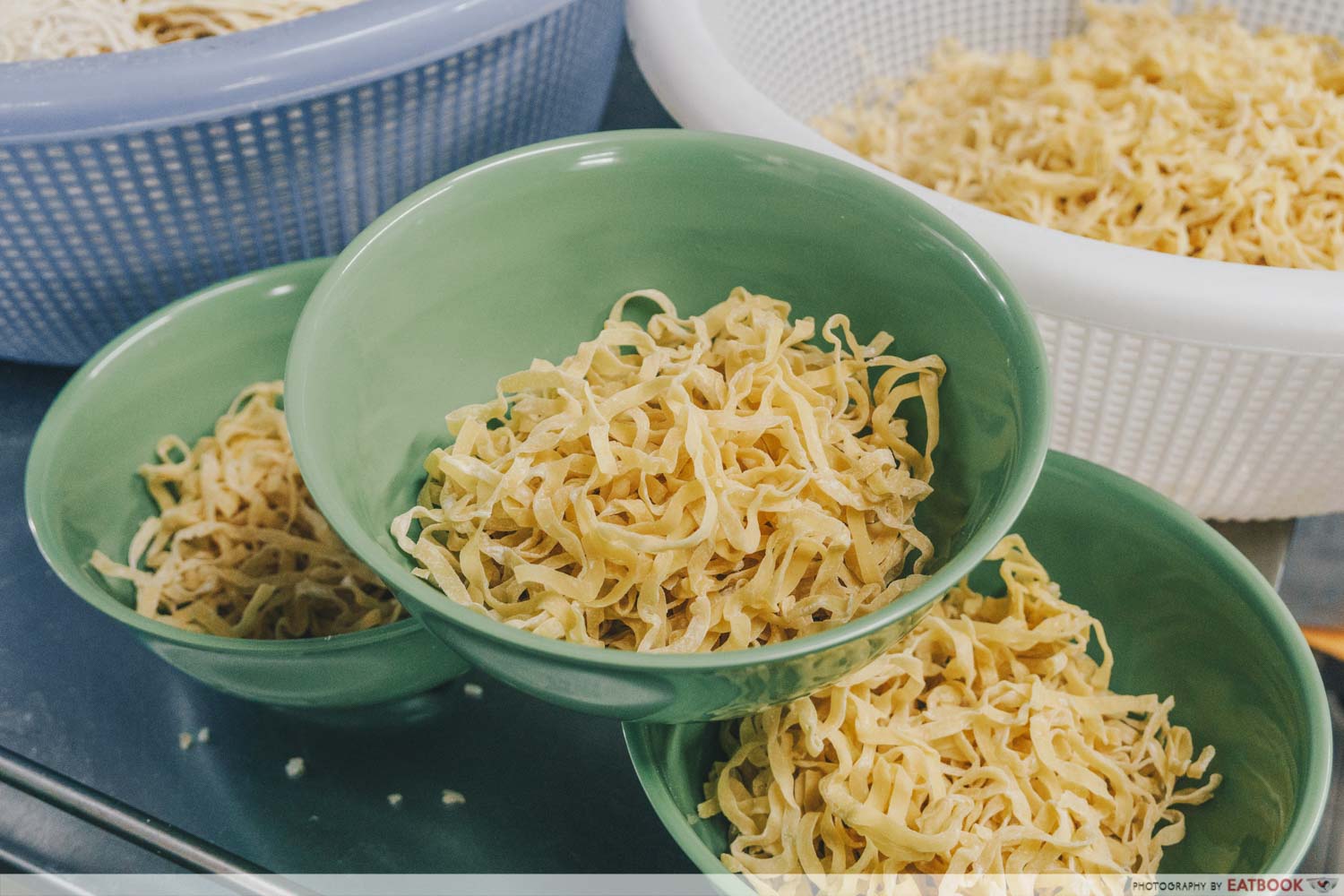 The sole menu item at Soon Heng Pork Noodles is their soup-based bak chor mee, and this should simplify your ordering process. Simply select your ideal portion size, small or big, and choose from four types of noodles to go with your bak chor. These include mee kia, mee pok, mee tai bak, and kway teow, with mee kia being the most popular option.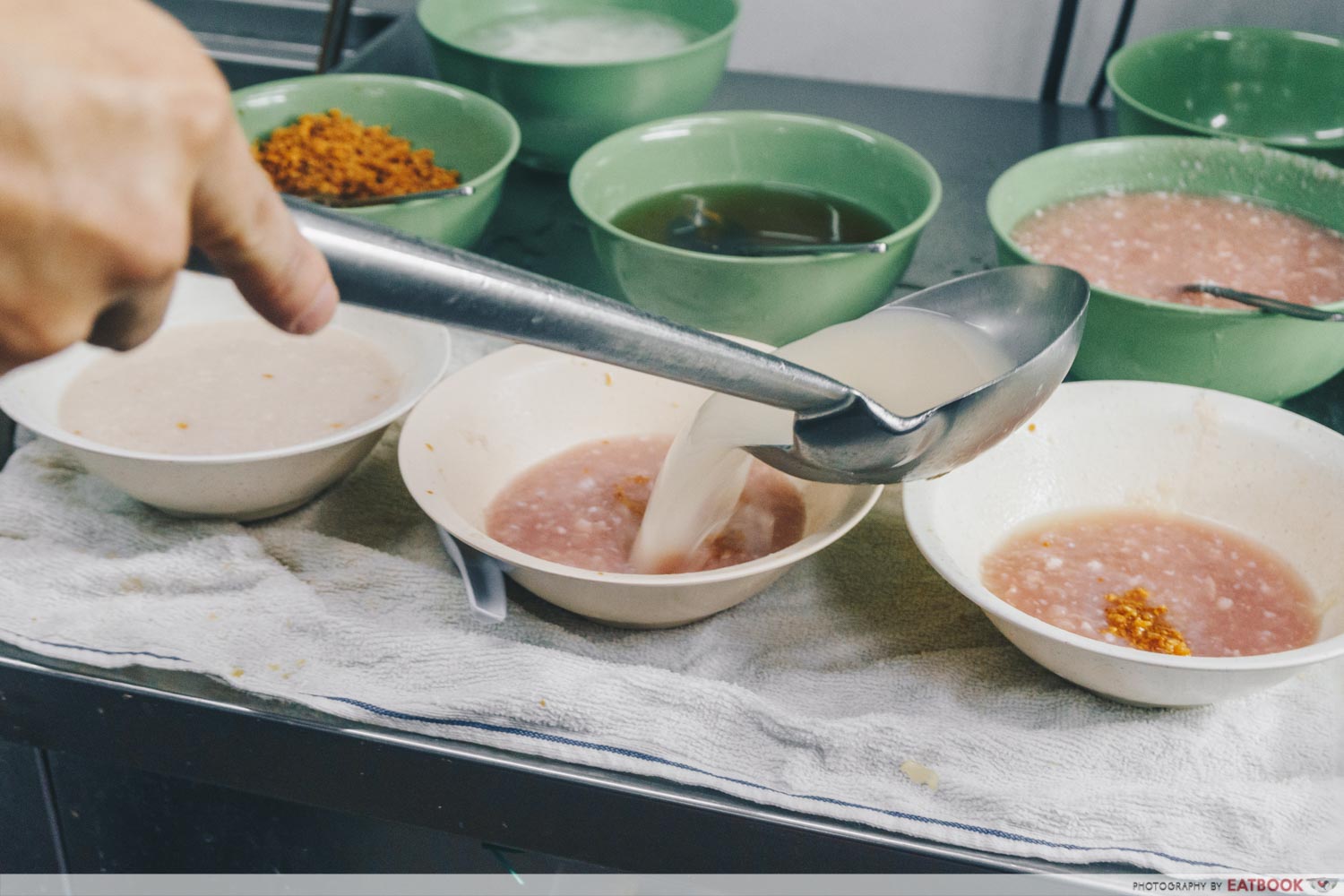 My dining companion and I watched in anticipation as the chef poured copious amounts of steaming-hot broth into each bowl, before proceeding to add the noodles and various ingredients. The broth is made by simmering pork bones overnight to give a full-bodied taste with a deep flavour profile.
Food at Soon Heng Pork Noodles
To start, we opted for a small bowl of Bak Chor Mee ($4/$5) with my fav' mee kia noodles. I immediately noticed that the broth had a chalky appearance and was unlike other soup-based bak chor mee bowls that typically come with a clear broth.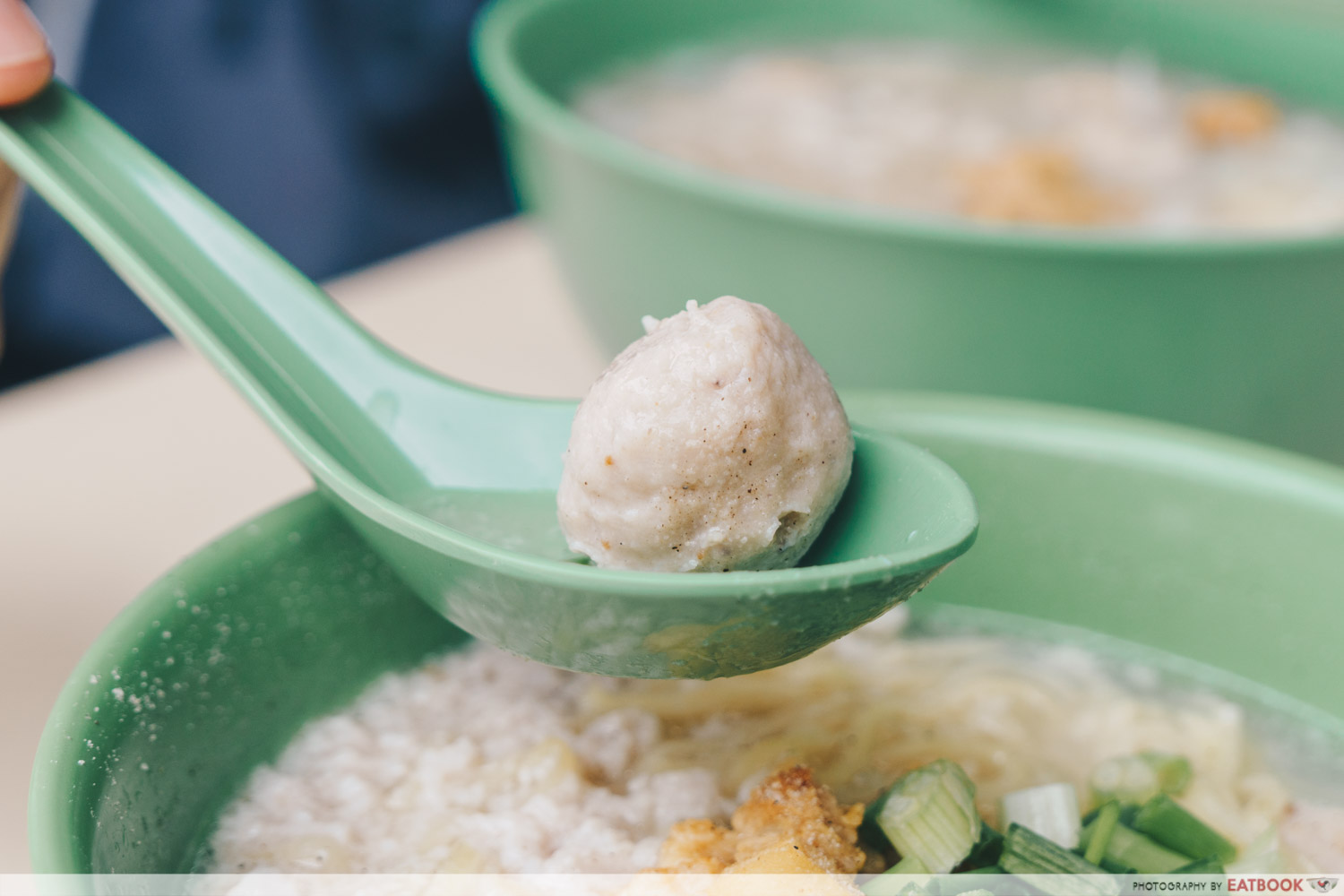 The meatballs were delicately handmade, which showed as they were not perfectly spherical. They were firm yet bouncy, and had just the right amount of chewiness to them. I also liked that they weren't too big, which made it easy to keep popping them into my mouth. Sadly, I was slightly disappointed at the meagre amount of meatballs as I only spotted four of them in my bowl. After all, what's soupy bak chor mee with only a few meatballs?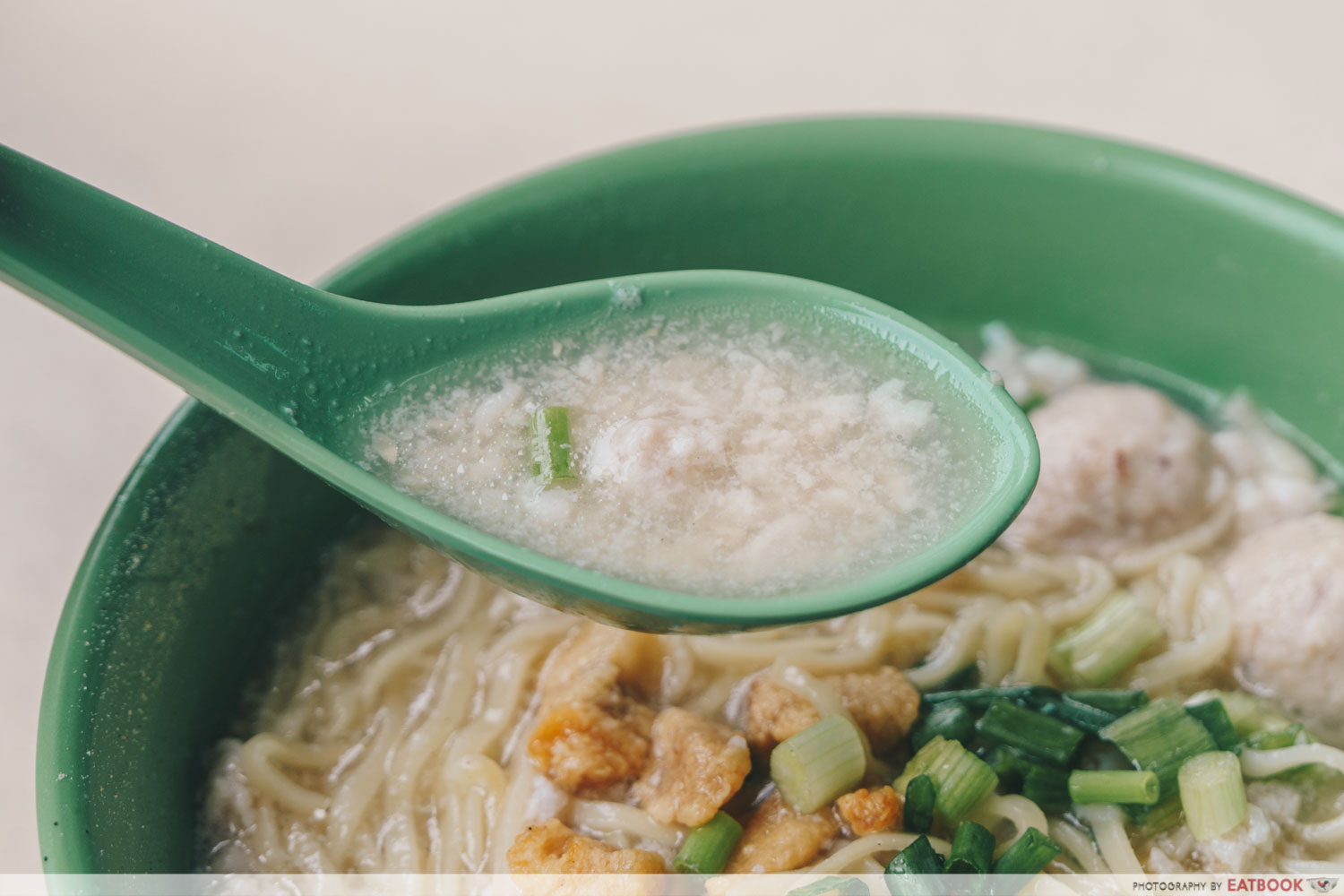 Traditional Teochew soup bak chor mee bowls usually contain a light-tasting yet flavourful broth, but this one overpowered my palate. Its flavour was intense, and I would've preferred a milder-tasting broth that did not drown out the other ingredients. 
On the other hand, chewing on the bak chor while sipping on the broth made for an enjoyable experience. The minced meats possessed a good chew to them, and were soft and tender.
The noodles were nice and springy, and I was glad that I could pull off this classic "noodle pull" shot with ease.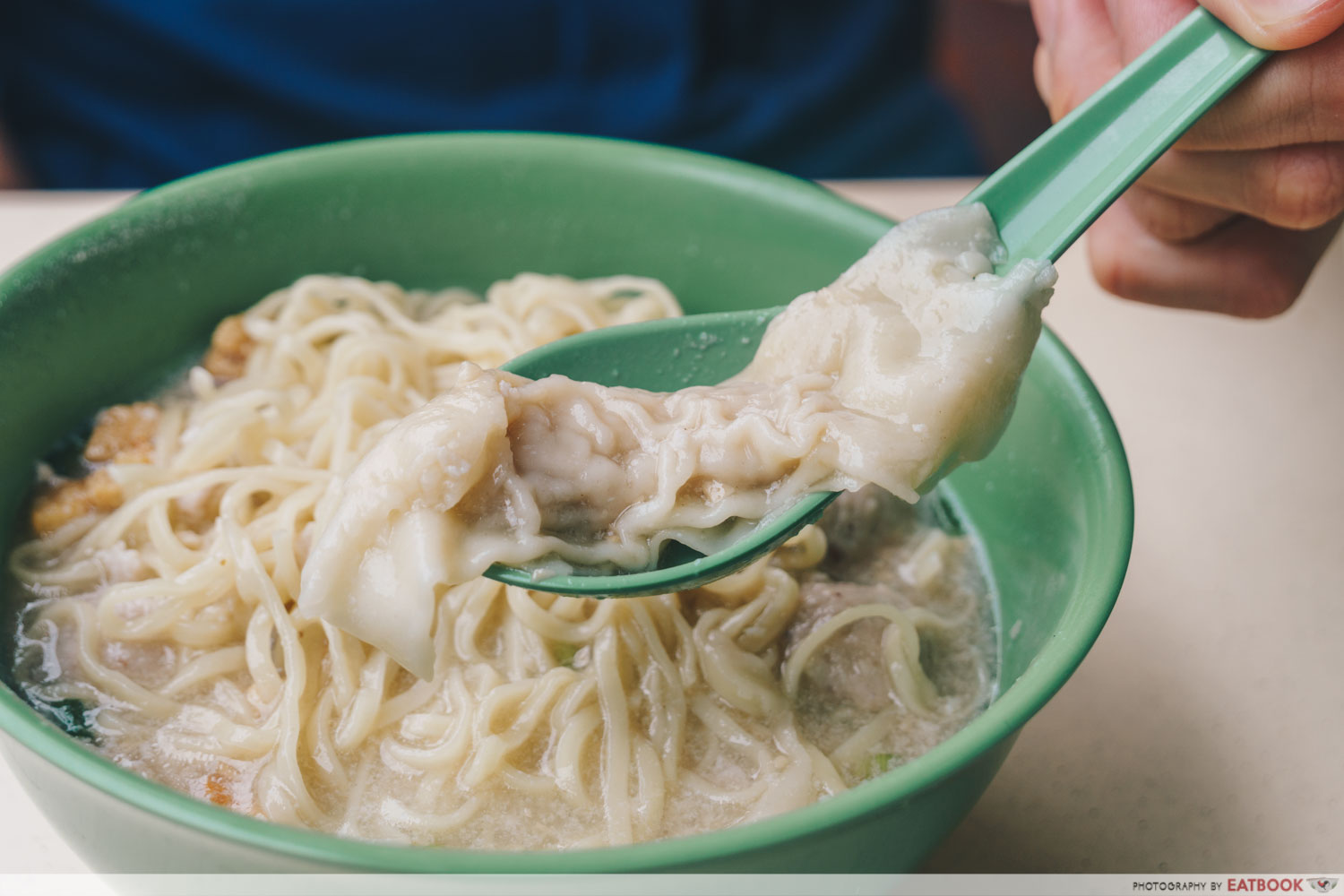 Each bowl also contains plump wontons that feature juicy meat encapsulated by a smooth and silky dumpling exterior. I was not surprised by that as I heard that the wontons are thoughtfully handmade every day.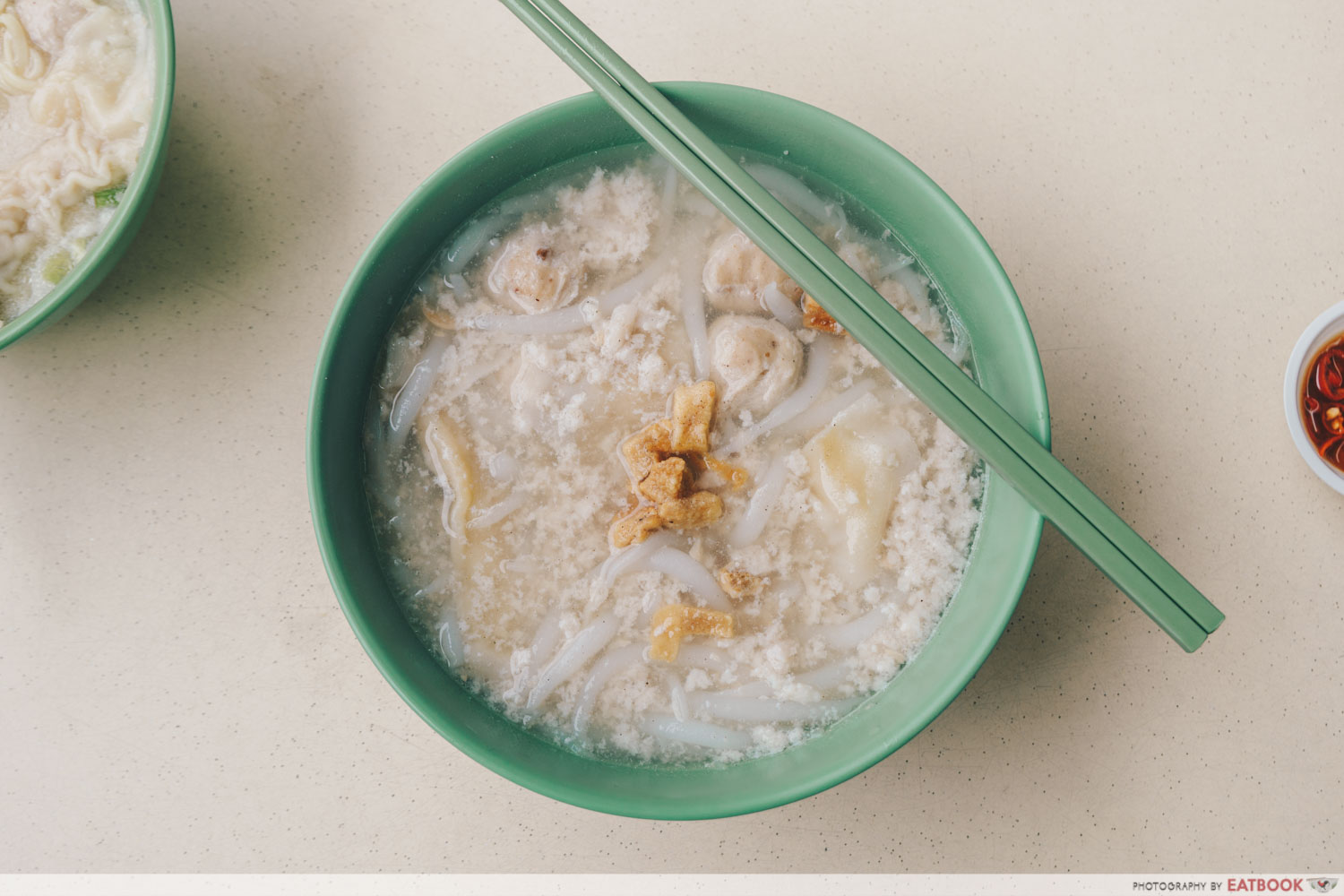 Next, we got a big bowl of Bak Chor Mee ($4/$5) with mee tai bak noodles to see if the type of noodles would affect the dish's overall taste. This larger bowl came with slightly more ingredients and noodles, and is the right size for big eaters like yours truly.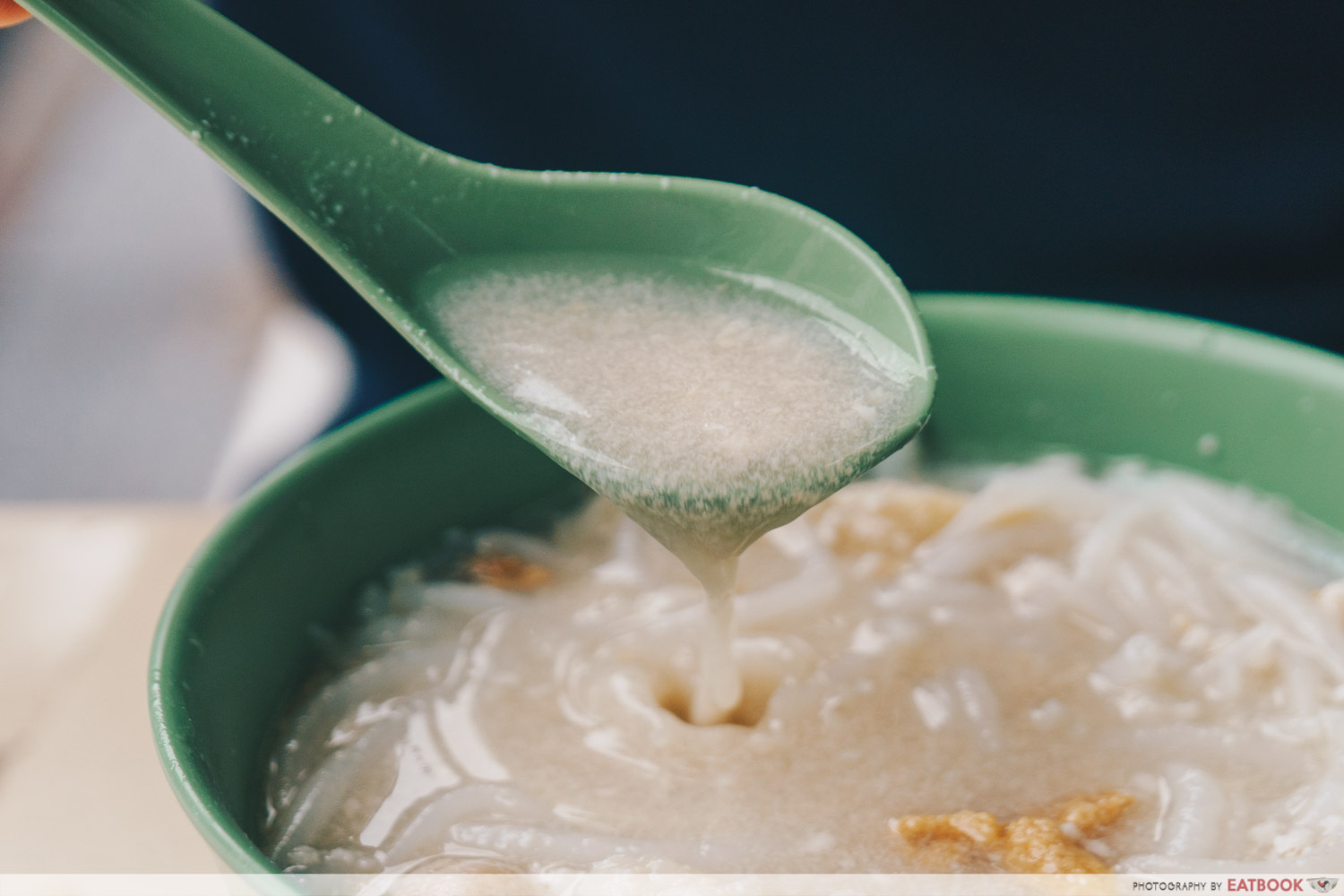 The type of noodles affected the taste of the broth, and I very much preferred this variant. It was smooth, light-tasting, and uber-flavourful. Mee tai bak noodles are widely known to have a lighter taste as compared to mee kia noodles.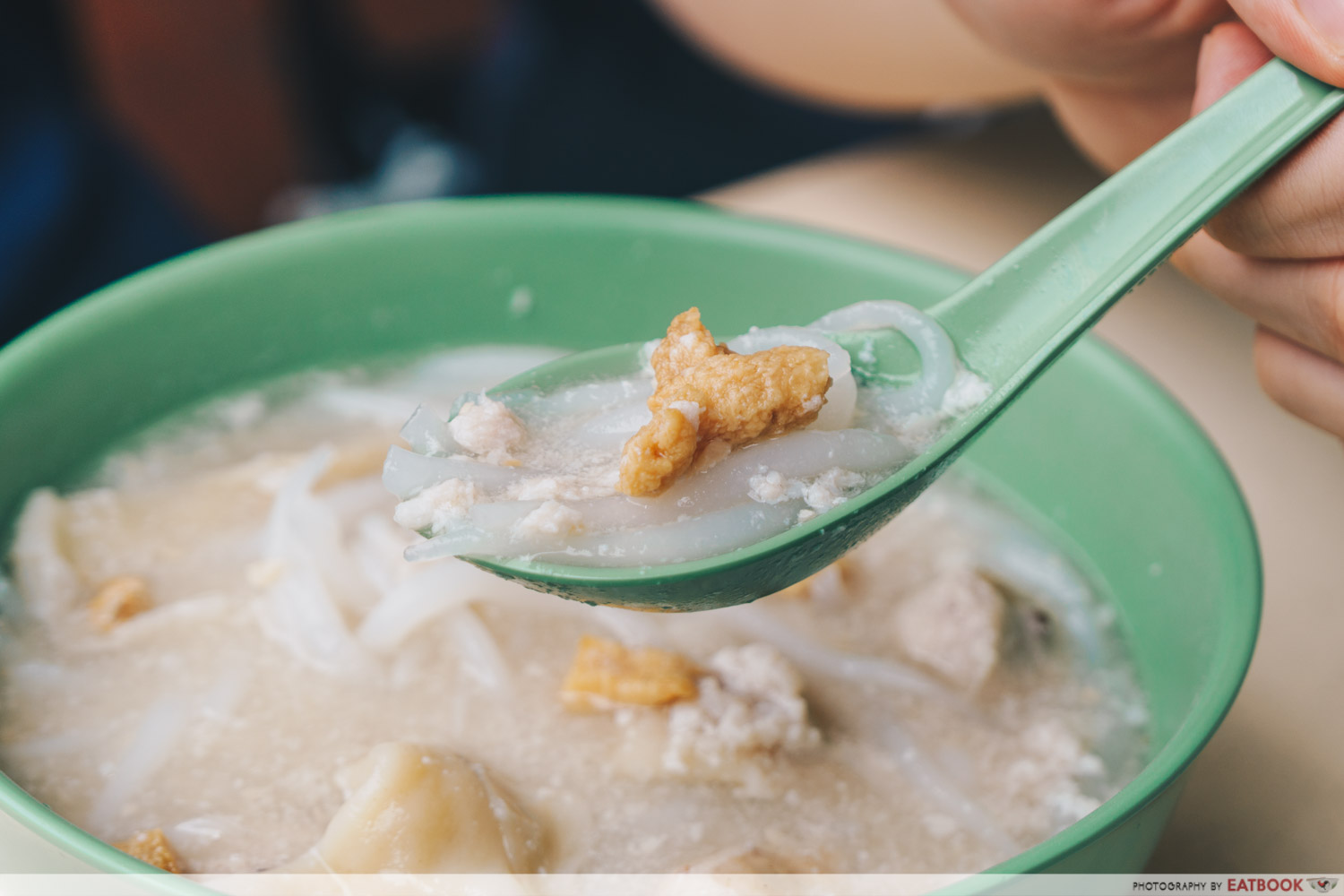 Crispy pork lard is my weakness, and my eyes lit up when I spotted that each bowl was topped with a generous amount of it. Each piece was a sinful delight, and I was met with a burst of creamy oils upon shattering the crispy exterior. The oils coated my tongue beautifully, and its deep flavour profile elevated this noodle dish.
Ambience at Soon Heng Pork Noodles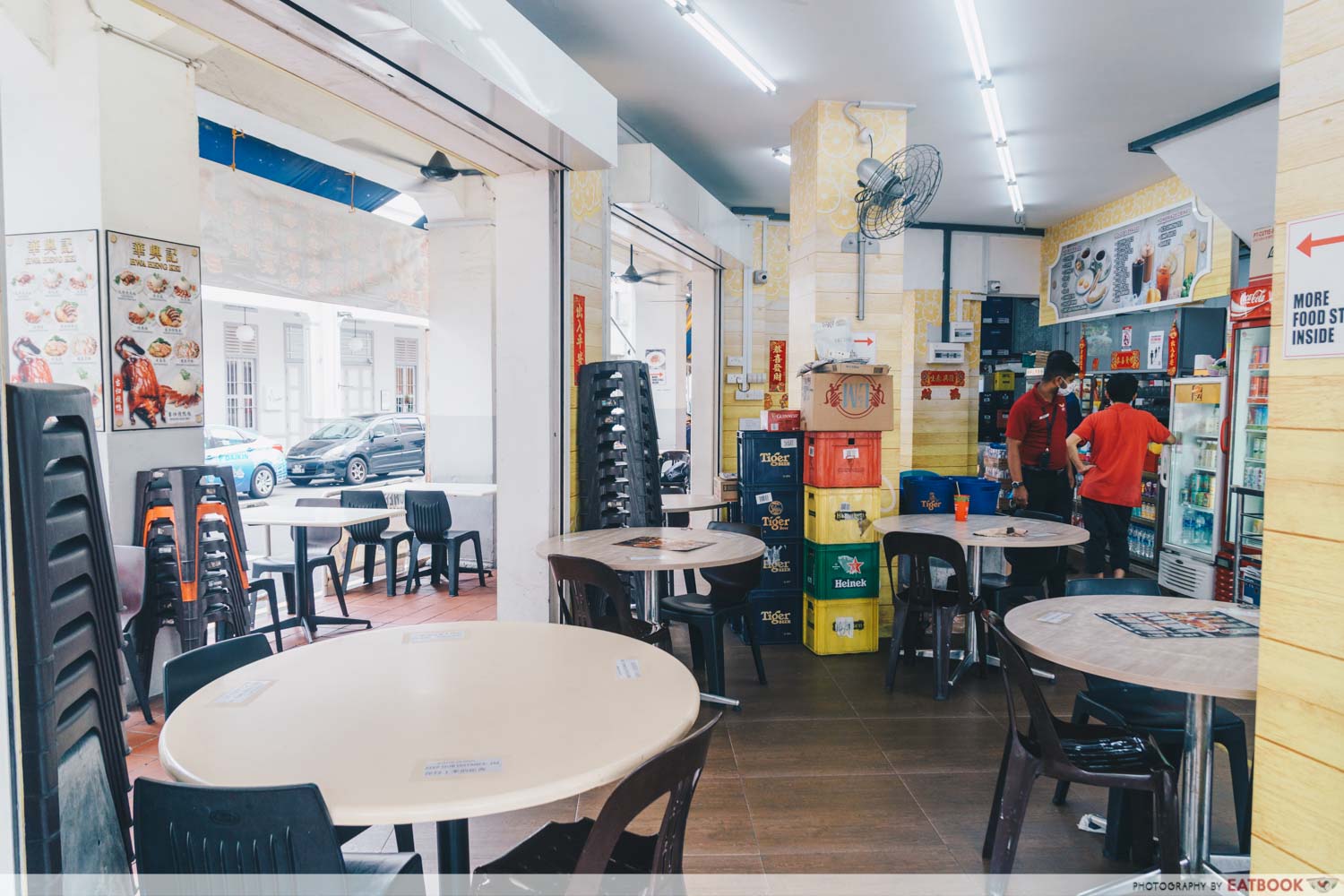 Soon Heng Pork Noodles is housed in a cosy coffeeshop that exudes a laid-back charm. With spacious tables and squeaky clean floors, it's one of the cleanest and quietest coffeeshops in Singapore for a comfortable meal. While enjoying your food, you can take in the pleasant views of the timeless shophouses in the vicinity. FYI, Soon Heng Pork Noodles is situated right next to Mr Lorbak within the same coffeeshop! The latter dishes out solid braised pork rice bowls at very affordable prices.
Mr Lorbak Review: Cheap And Good Lu Rou Fan With Egg At $3.50 At Ubi
The verdict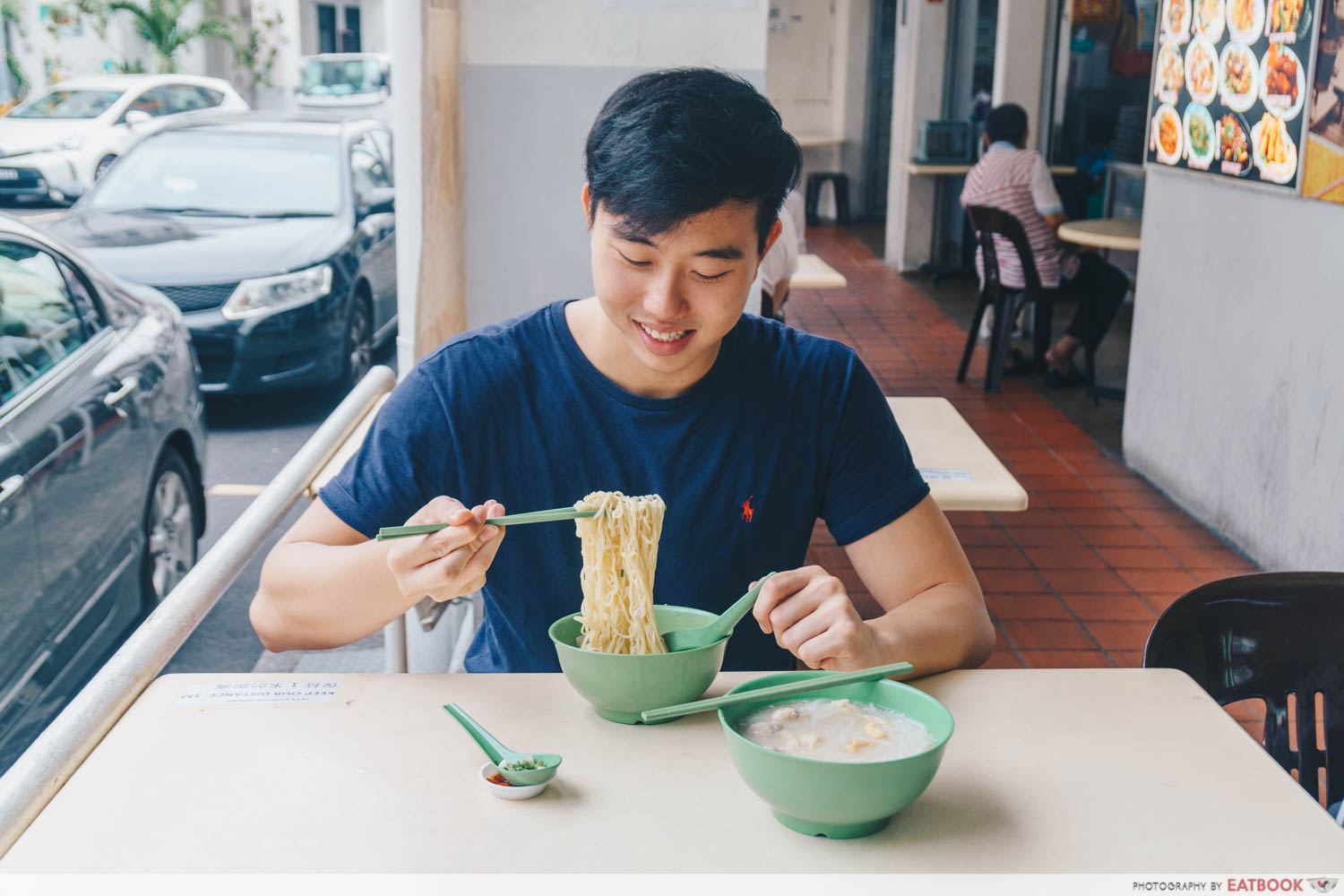 It's hard to find soupy bak chor mee, let alone delicious ones, and Soon Heng Pork Noodles do them pretty well. I'll be back for their tasty and comforting noodle bowls if I'm around the Tanjong Pagar area. However, Bedok 85 remains my go-to bak chor mee place. If you do decide to visit, you can pop by the nearby Shake Shack outlet to satisfy your burger and milkshake cravings. 
To enjoy Soon Heng Pork Noodles's food in the comfort of your own home, check out their GrabFood, Foodpanda, and Deliveroo pages. 
10 Soup Bak Chor Mee Hawker Stalls In Singapore To Warm You Up On Sick Days
For more delicious soup-based bak chor mee bowls, check out these 10 soup bak chor mee hawker stalls. If you prefer its dry variant, check out our review of Hosay Mee Pok.
Address: 120 Neil Road, Singapore 088855
Opening hours: Mon-Sat 8am to 3pm
Tel: 9792 8106
Website
Soon Heng Pork Noodles is not a halal-certified eatery.
Photos taken by Chng Jia Yan.
This is an independent review by Eatbook.sg.
Hosay Mee Pok Review: Seafood Mee Sua And Scallop Mee Pok From $4 At Bukit Merah
Summary
Pros
– Tasty meatballs
– Affordable prices
– Springy noodles
Cons
– Taste of broth is inconsistent
– Very few meatballs
Recommended dishes: Bak Chor Mee ($4/$5)
Opening hours: Mon-Sat 8am to 3pm
Address: 120 Neil Road, Singapore 088855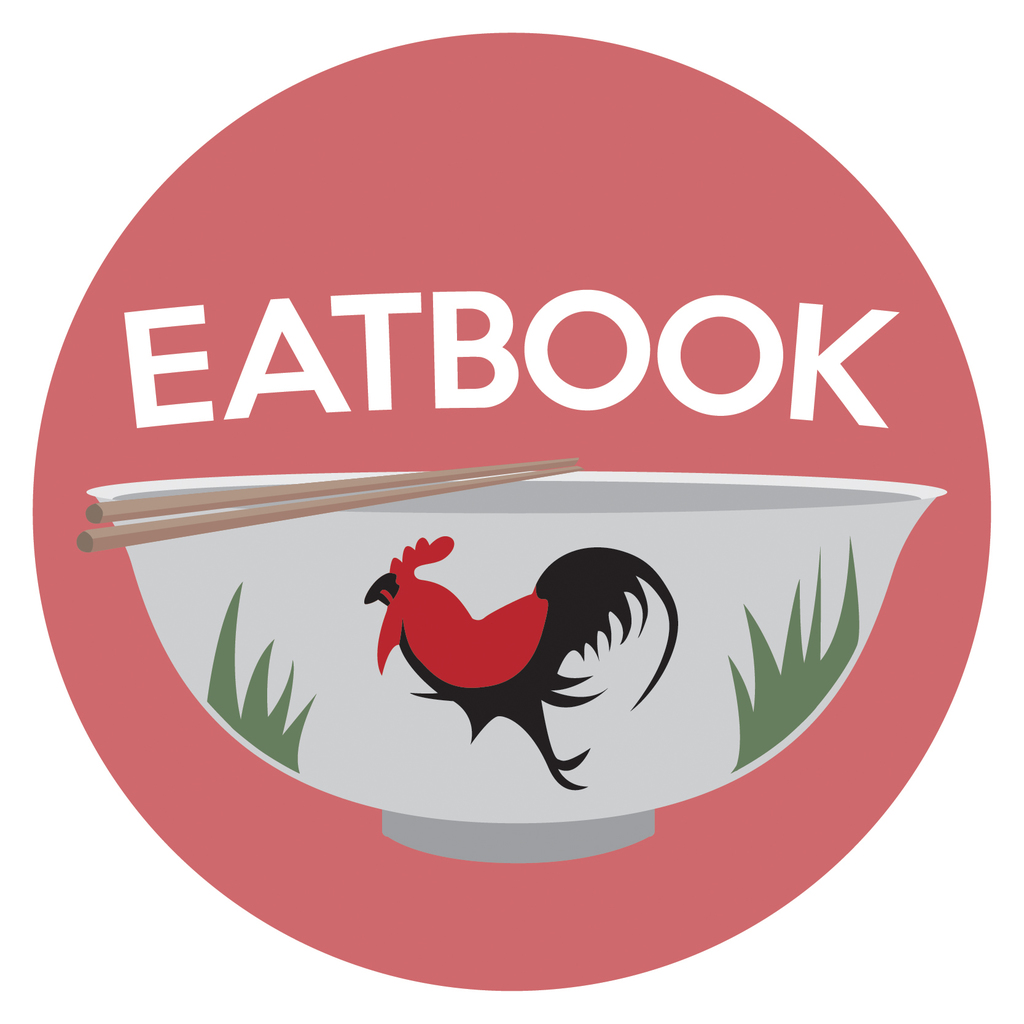 Drop us your email so you won't miss the latest news.