Tsui Wah at Clarke Quay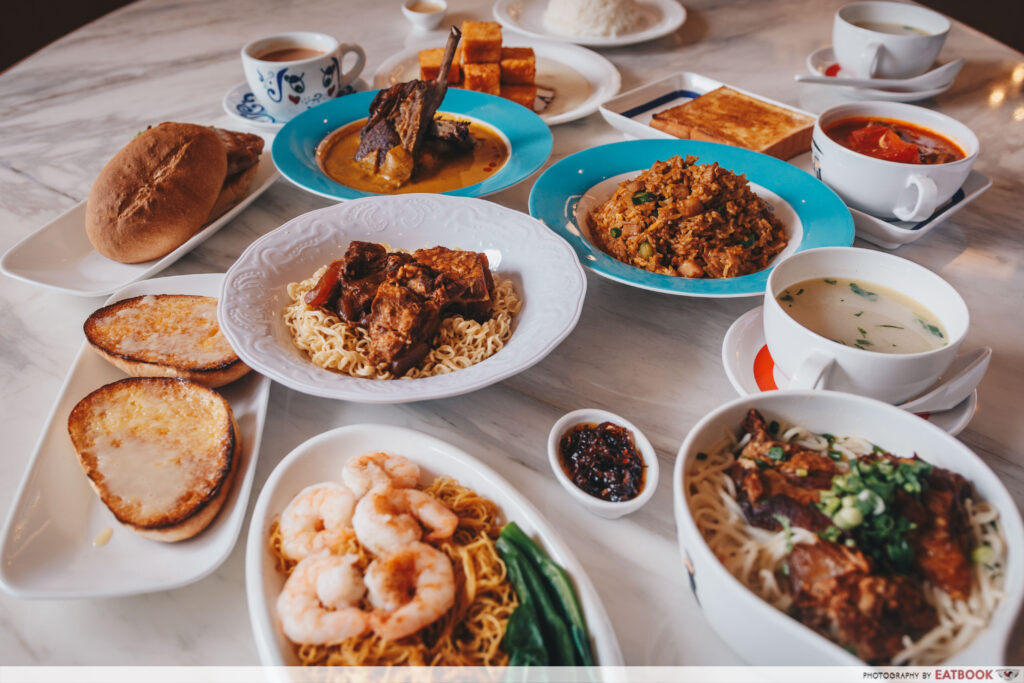 One of the fondest memories I have of my family trips is one where we had a one-hour layover in Hong Kong International Airport and ran to Tsui Wah to dapao their condensed milk bun and beef brisket noodles for our next flight. Ever since the first time I visited this chain restaurant as a kid, I could never leave Hong Kong without having their food at least once. A few weeks back, my Facebook feed was continuously bombarded with the best news – Tsui Wah will be opening their first outlet in Singapore.
Food at Tsui Wah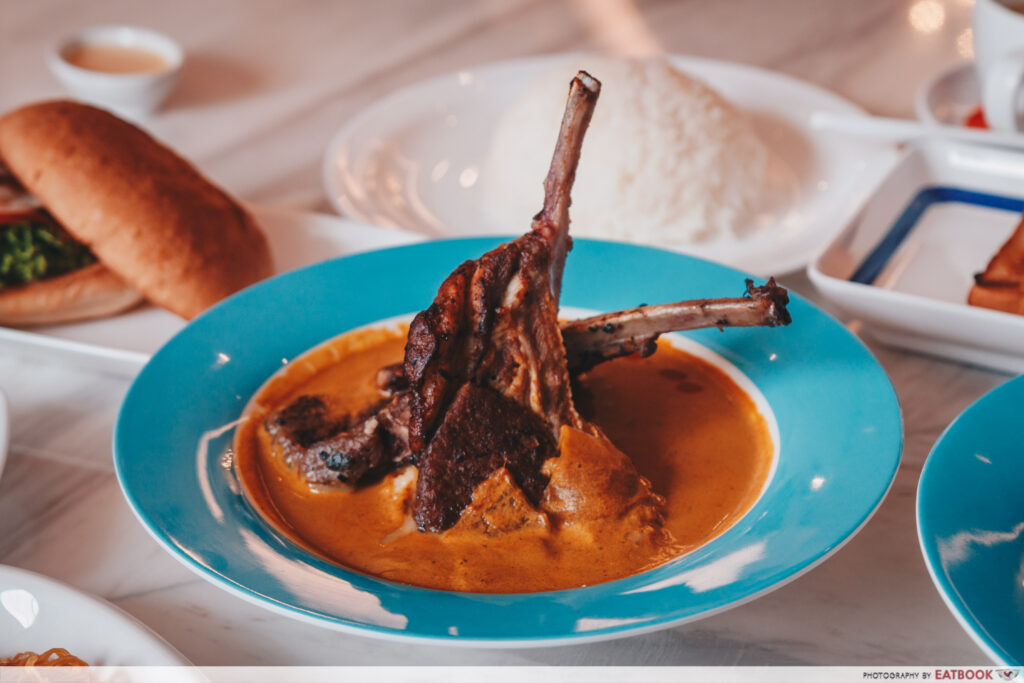 From noodles to rice and buns, you can expect to find most of the dishes from their Hong Kong outlets here. We tried a wide variety and choosing our favourites was no easy feat. One of the more memorable dishes would be their Lamb Chop Curry with Steamed Rice ($29++). This dish consists of two Australian lamb racks sitting on a heap of buttery mashed potatoes that are entirely doused in curry sauce.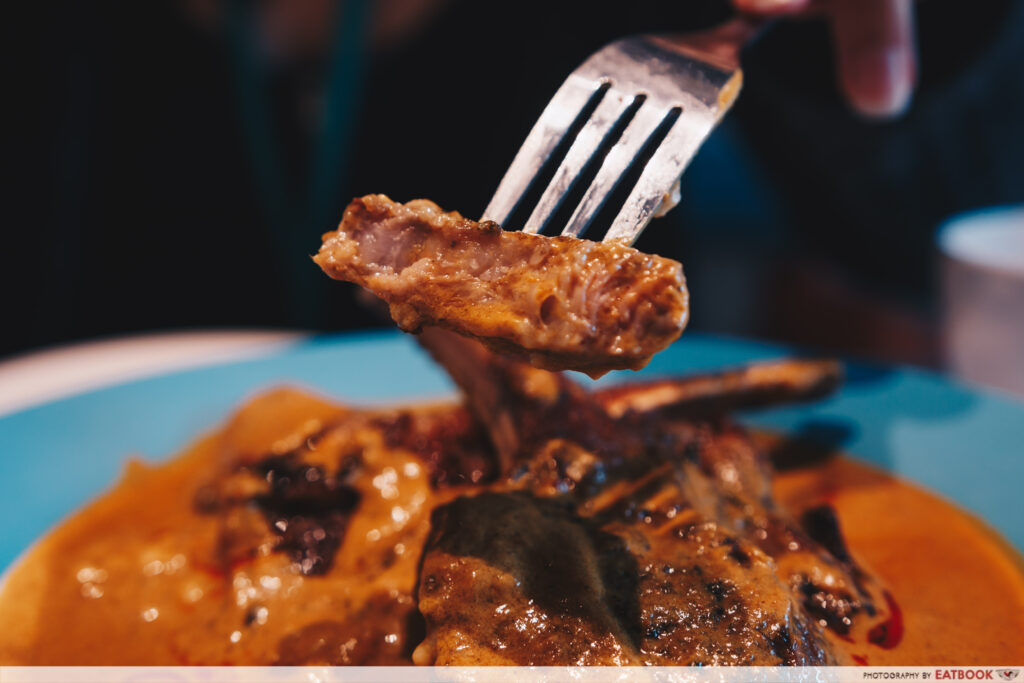 Finding grilled lamb racks in a Chinese eatery isn't exactly common, and so for this, my expectations weren't too high. When I finally tasted it, I was shook. Even with the thick curry sauce coating the meat, it retained a distinctive mutton flavour and was tender and juicy. With a texture reminding me of medium-well steak, it also had some charred ends that were crispy.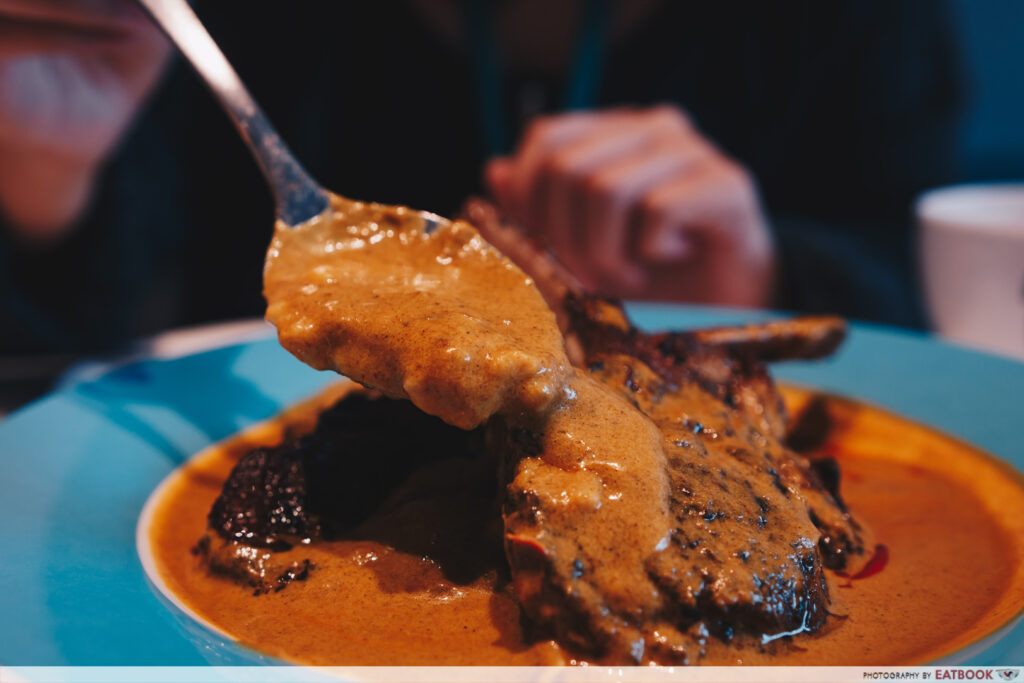 The curry was mainly savoury and spicy. As someone who doesn't take spicy food well, this left me sniffling a little, but that also added to the shiok factor.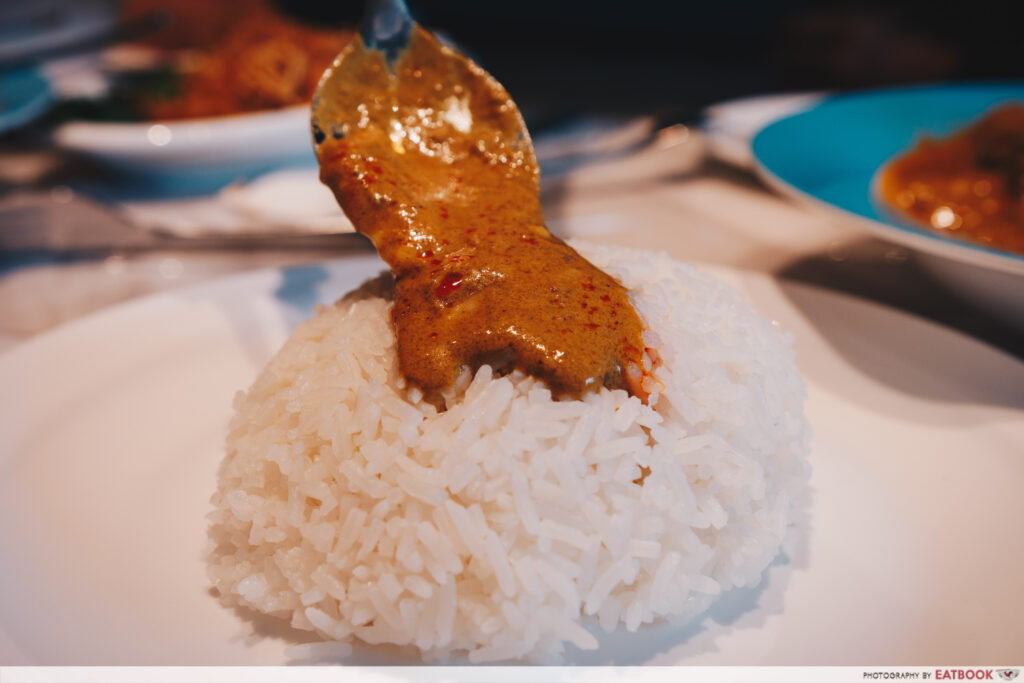 Delicious as the dish was, I got a little sick of it halfway through. While the spiciness of the curry did help to balance out the heaviness of the dish, this is still something I suggest sharing with another friend. The dish comes with rice but you can also choose to have bread to go with the curry!
Another favourite of mine would be their Kagoshima-style Pork Cartilage with Tossed Instant Noodles ($9.50++). This one is a bowl of nicely cooked dry instant noodles topped with a generous portion of thoroughly marinated pork cartilage.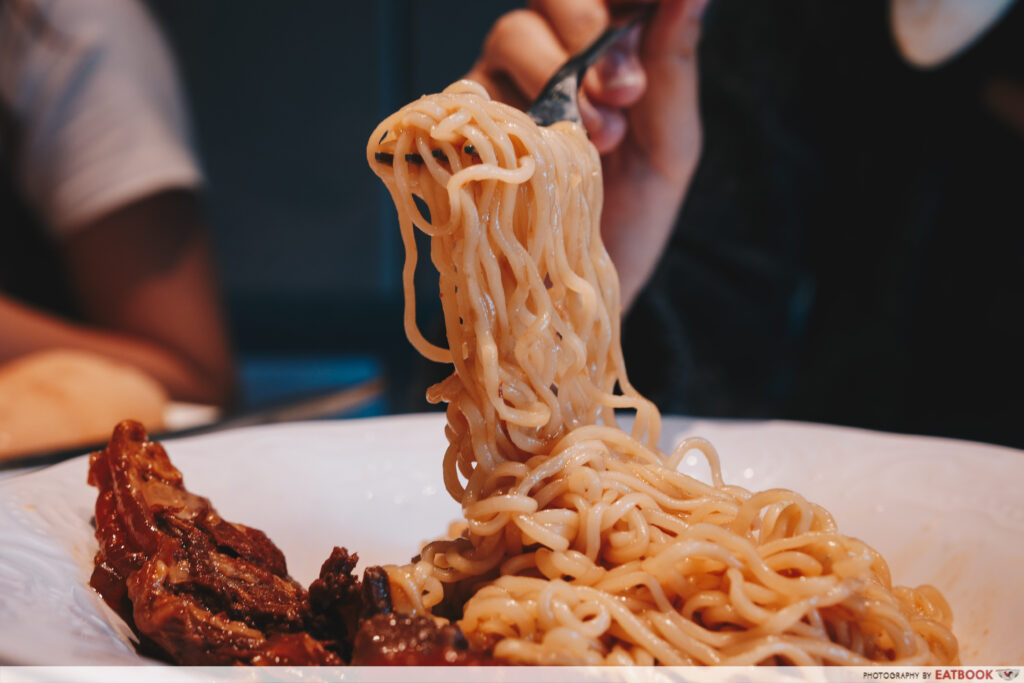 Besides a little bit of sauce from the meat, the noodles were generally plain. Though it looked dry, tossing the noodles was easy and every strand of noodle remained springy even after sitting out for a while.
Taste-wise, the noodles were slightly seasoned and firm to the bite. Once you go on to the meat, however, the noodles would become bland in comparison. Nonetheless, the two still made a delicious combination.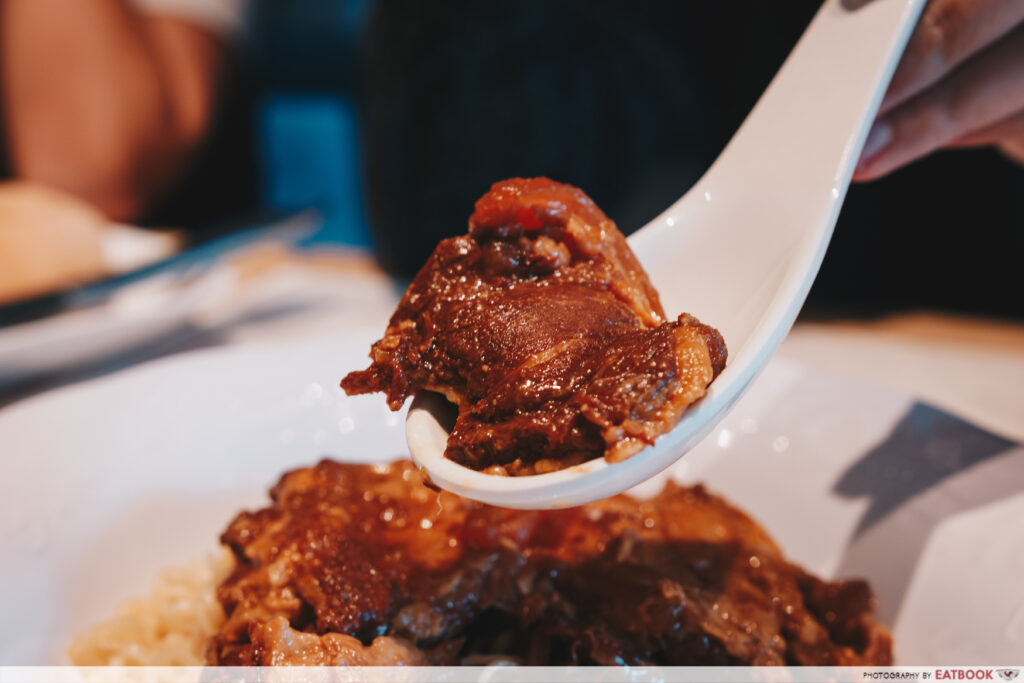 As for the star of the dish, the pork cartilage was just like I remembered – tender, juicy, and well-marinated. While it wasn't dripping with sauce, the meat was not lacking in taste in any way. Besides being slightly salty from the marinade, the pork also carried light herbal tastes, drawing the dish apart from similar ones elsewhere.
As a result of being stewed for many hours, the bones in the cartilage were so soft that they could be easily chewed. The rubbery texture of the bones also gave a slight melt-in-the-mouth sensation, creating a nice change from the leaner parts of the meat.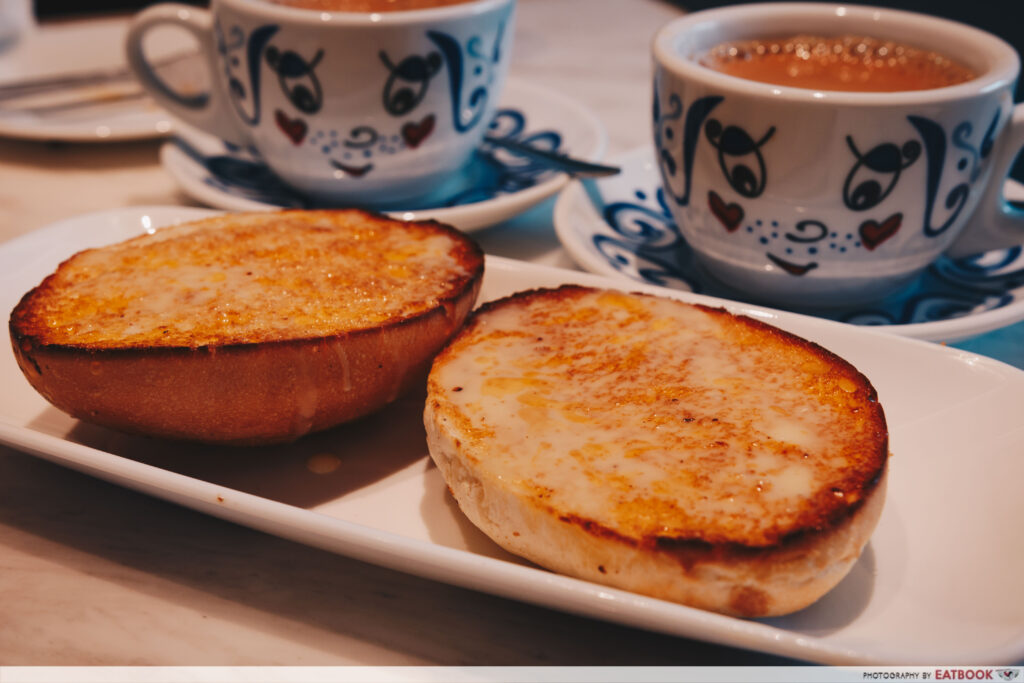 My most anticipated dish was the famous Crispy Bun w/ Condensed Milk ($4++). Served in two halves, the caramelised faces of the toasted buns glistened from sugar and condensed milk. Overall, the bun was sweet, intensely milky, and the best part was the middle area where the toppings were the most concentrated. Although I'd have liked the bread to be fluffier, the crispy exterior still gave it an overall great texture. To go with the buns, a must-have is their iconic Hot/Iced Milk Tea ($3.50++ for hot, $4++ for iced). The hot milk tea is served without sugar, while the iced milk tea comes sweetened.
Ambience at Tsui Wah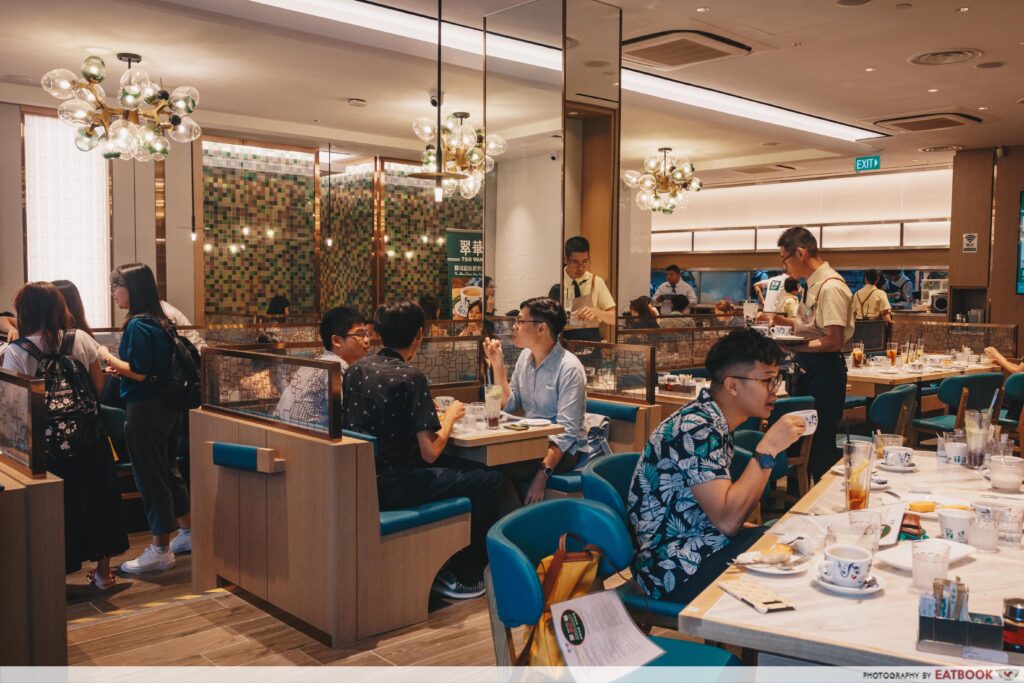 Featuring booth seats with Cantopop music playing in the background, Tsui Wah's Singapore outlet checks the two essential elements of a Hong Kong cha chaan teng. Like most cha chaan teng in Hong Kong, you can expect Tsui Wah to be fast-moving and loud. Getting there, however, may be a little tricky. Tsui Wah is tucked between many eateries at Clarke Quay and it may be easy to miss it if you're not paying attention. From the bridge linking Swissotel Merchant Court to the main area of Clarke Quay, a one-minute walk will get you to Tsui Wah!
The verdict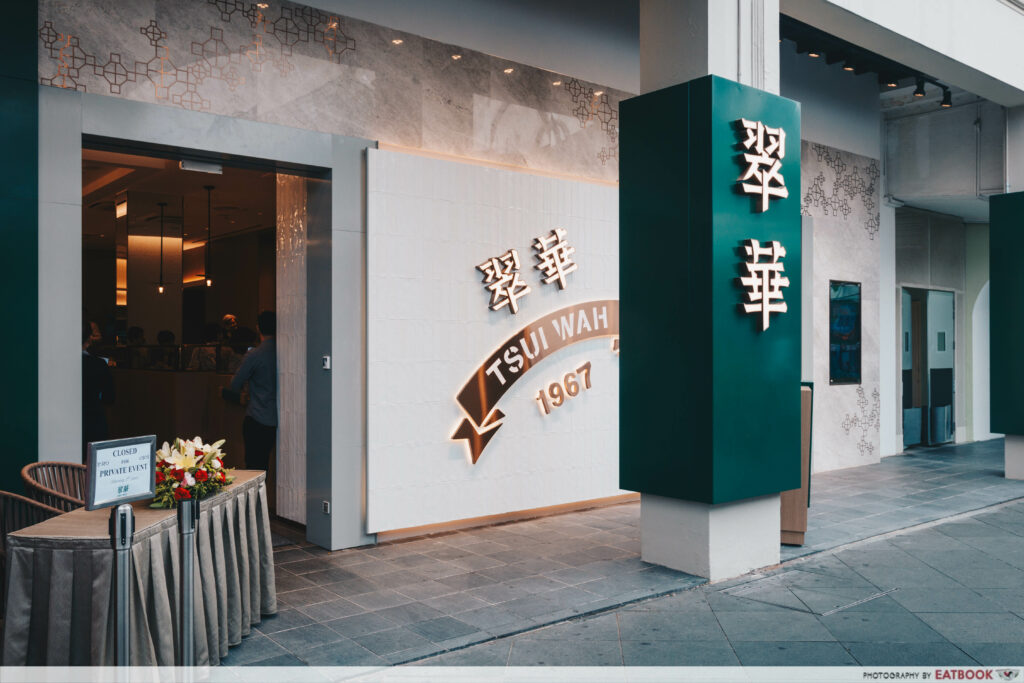 I went to Tsui Wah with high expectations and left satisfied. From the service to the ambience and food, I enjoyed every bit of my experience there and am already planning my next visit – hopefully without having to queue for long. On top of the dishes mentioned above, I also can't wait to be back for their Tsui Wah Signature Pork Chop Bun ($7.50++) and Braised Abalone Rice with Diced Chicken and Kale ($14++)!
Address: 3A River Valley Road, #01-03, Clarke Quay, Singapore 179020
Opening hours: Daily 11am to 11pm
Tel: 6250 9270
Website
Tsui Wah is not a halal restaurant.
This was a media tasting at Tsui Wah. 
Summary
Pros
– Delicious food
– Efficient staff
Cons
– Getting to the restaurant may be a little confusing
– Expensive
Recommended Dishes: Lamb Chop Curry with Steamed Rice ($29++), Kagoshima-style Pork Cartilage with Tossed Instant Noodles ($9.50++), Crispy Bun w/ Condensed Milk ($4++).
Operating Hours: Daily 11am to 11pm
Address: 3A River Valley Road, #01-03, Clarke Quay, Singapore 179020