New menu at Tsuta Ramen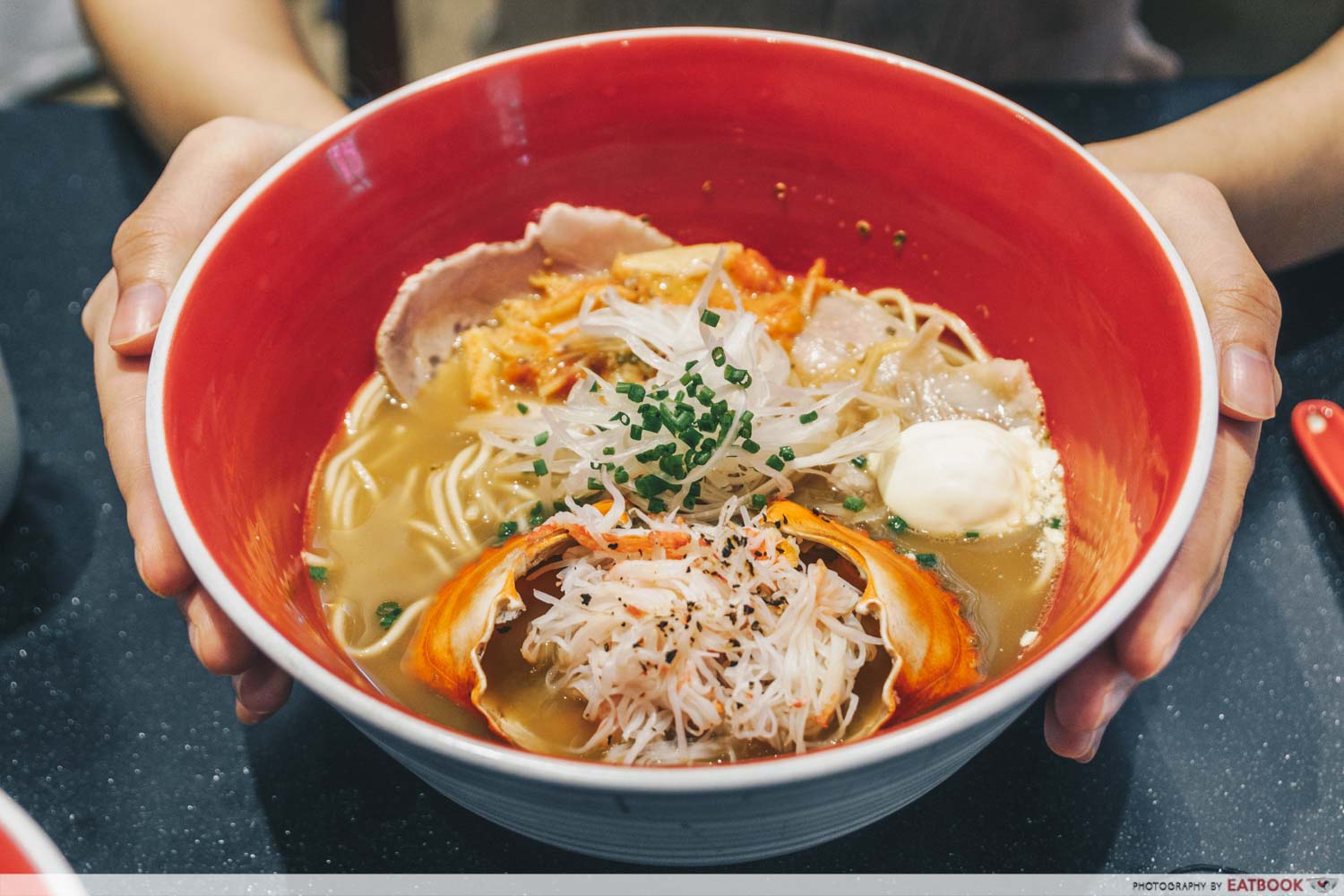 It hasn't been too long since Tsuta last offered 1-for-1 bowls of hearty ramen. Come 29 October 2020, the Michelin-starred ramen chain will return with a revamped menu including new items and improved versions of their old dishes. Additionally, they will also have 1-for-1 promotions from 29 October to 3 November 2020.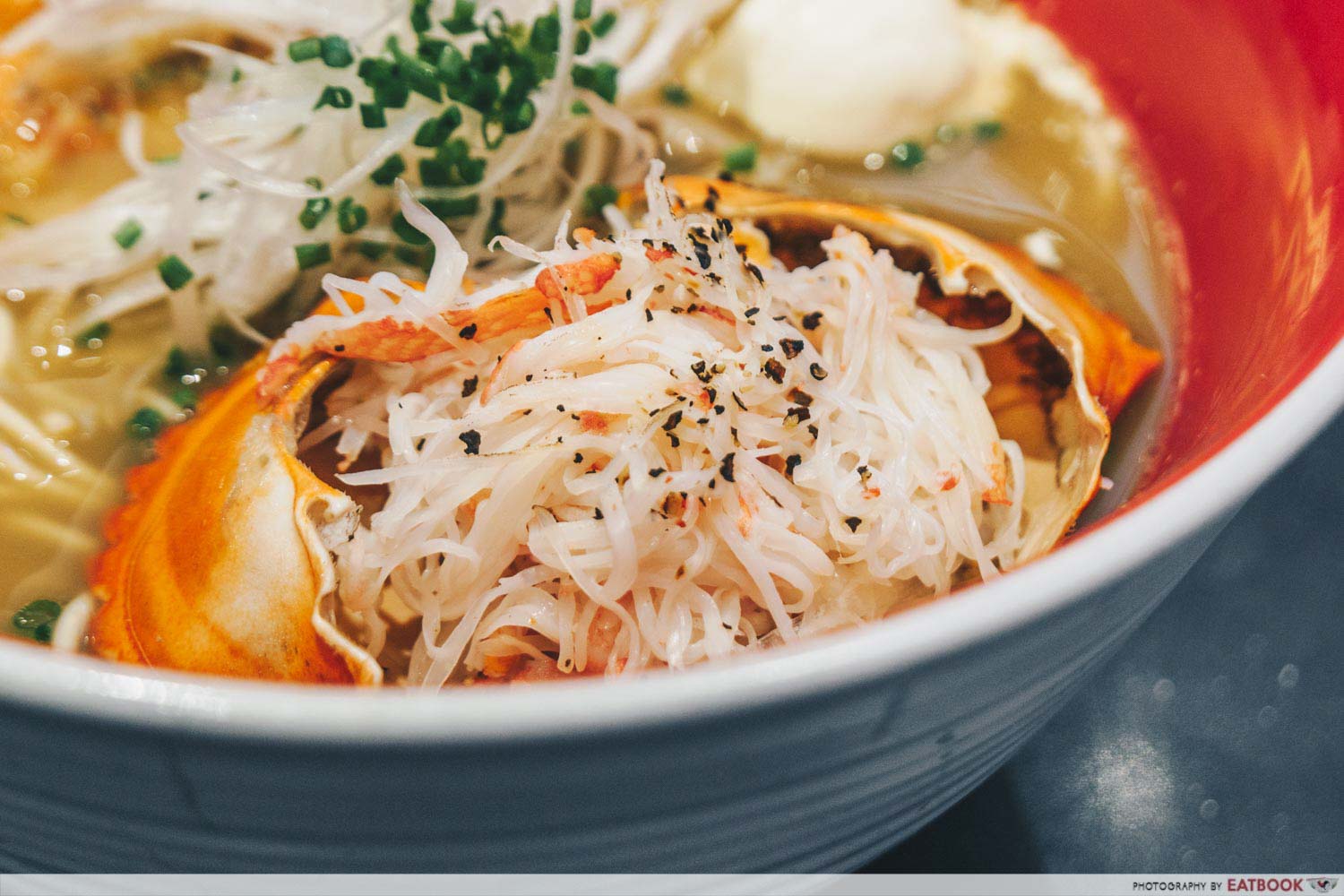 Tsuta's revamped menu includes an array of items. Seafood lovers can look forward to the new Crab Soba with Premium Char Siu & Crab Shell ($23.80++). This piping hot bowl of ramen has liberal amounts of Japanese snow crab meat and tender, melt-in-the-mouth pork belly. Also expect a flavourful broth mixed with tomato paste and sour cream for extra richness. If you prefer your soba without crab meat, the Soba with Char Siu ($16.80++) is available as well.
18 Japanese Buffets In Singapore From $18.90++ For Unlimited Sashimi And Wagyu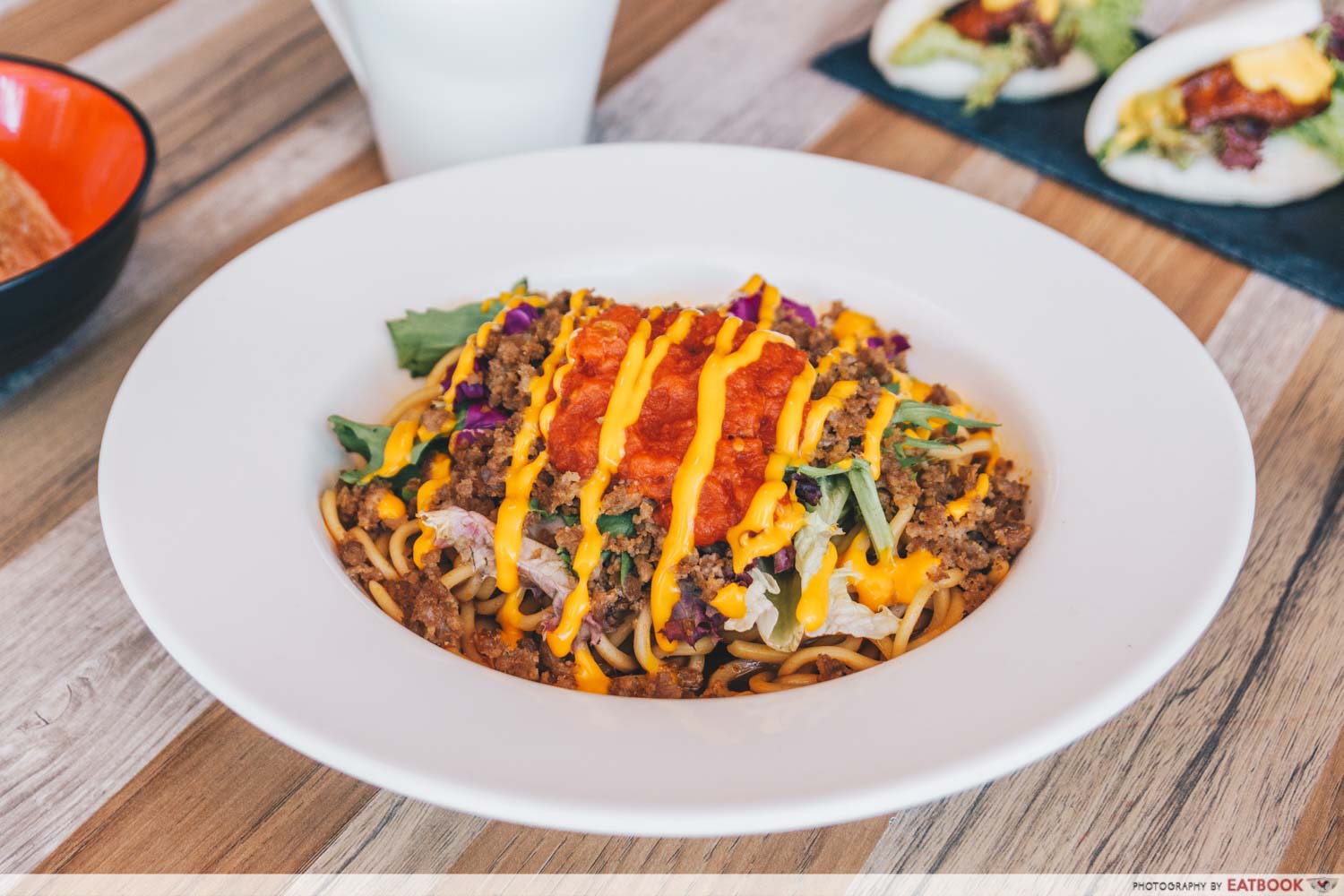 Tsuta also has a new R.H.C.P Mazesoba ($11.80++), a soba version of hamburg steak. Fun fact: this dish was fondly named after Red Hot Chilli Peppers, the favourite band of Chef Yuki—the chef behind Tsuta's menu. Expect a deconstructed version of the hamburg steak with minced beef atop thick soba, finished with tomato sauce, and house-made cheese sauce.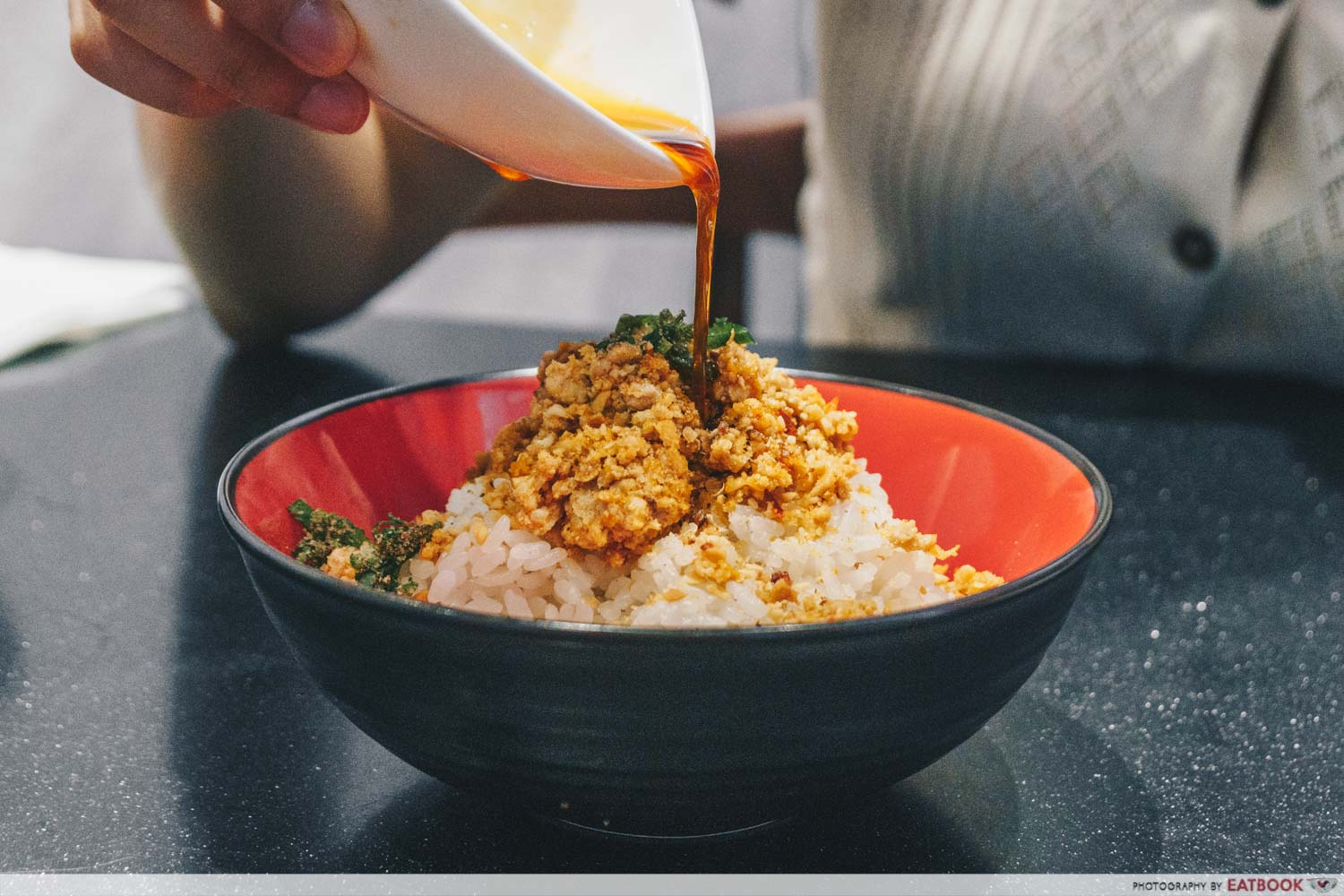 If rice is your preferred carb, the Soboro Meshi ($6++) is basically Tsuta's take on the classic Taiwanese lu rou fan. This dish packs some heat with ma la braised meat on top of fluffy rice. Fret not if you prefer even more spice. Simply douse your dish in Tsuta's in-house mala sauce, conveniently served on the side.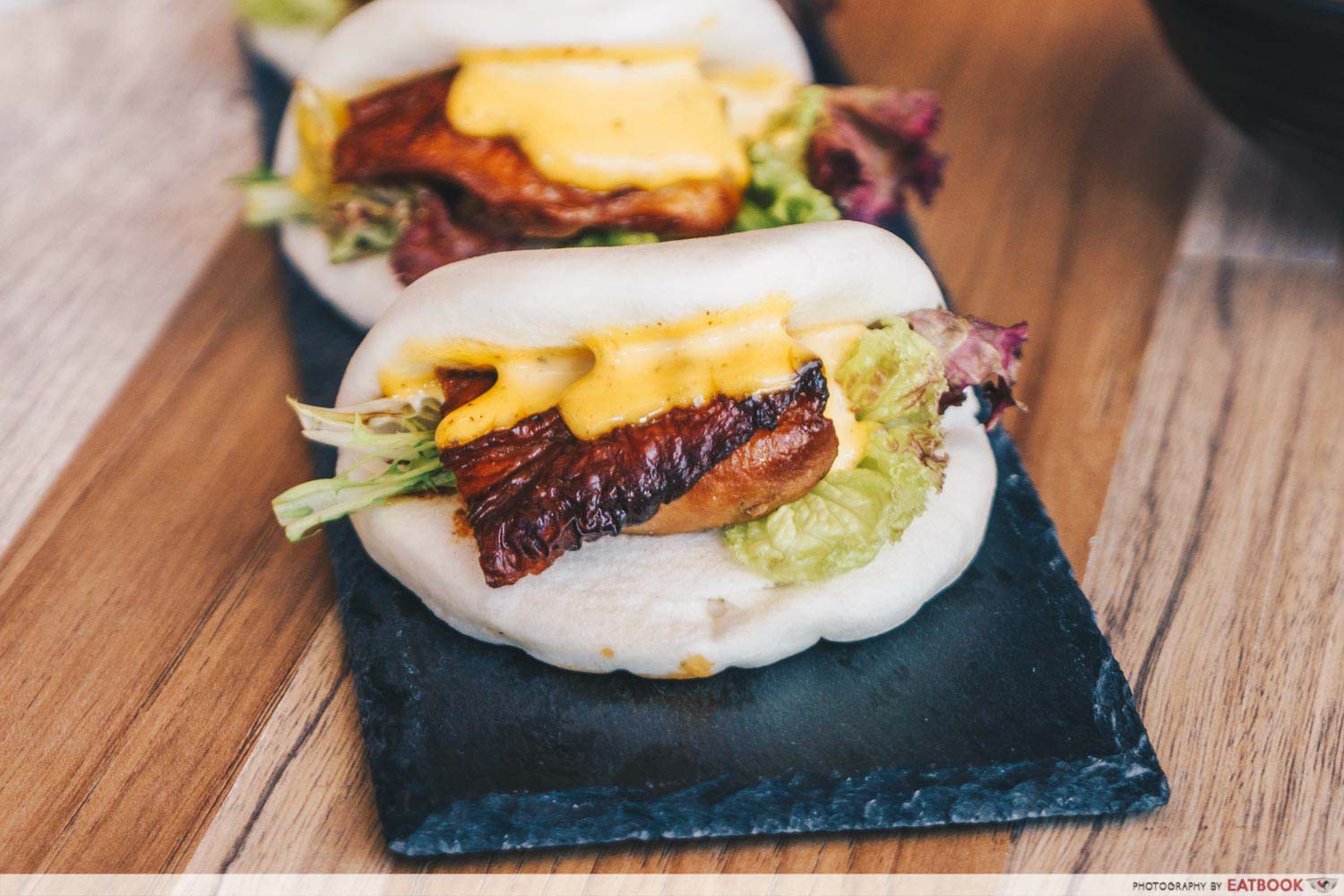 For a light bite, the new Teriyaki Chicken Bao ($2.80++ for one, $6.80++ for three) is a pick-me-up which reminded us of braised pork buns. This bun comprises tender teriyaki chicken drenched with creamy housemade mayonnaise sandwiched in a soft, fluffy bun.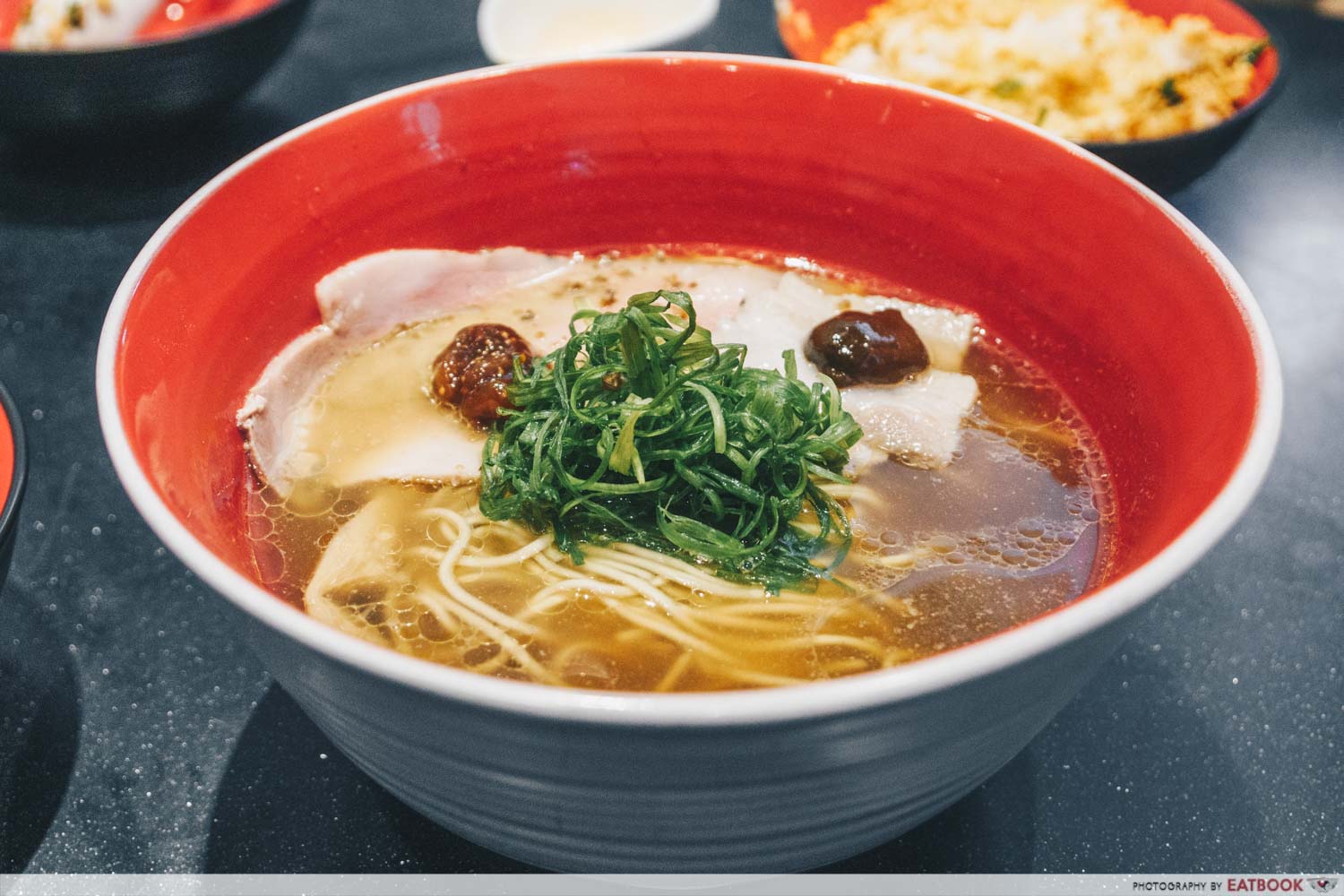 If you're still a fan of Tsuta's old menu, fret not. They have simply upgraded their classic ramen with improved recipes. We enjoyed the Shoyu Soba with Char Siu ($16++) which had the same flavourful soy-based broth enriched with dashi. This comforting bowl of noodles came with the addition of earthy balsamic black truffle sauce, giving a creamier broth.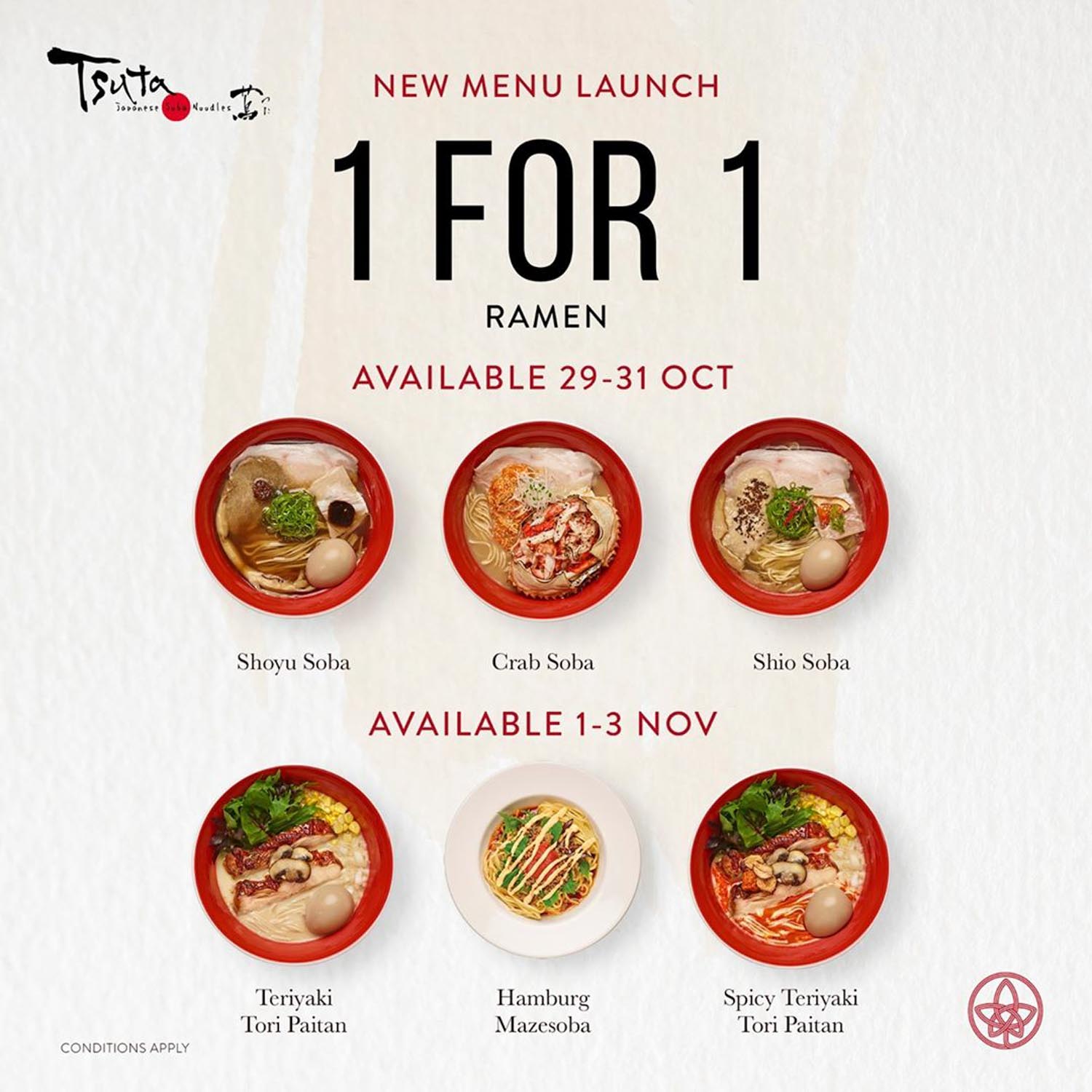 Image credit: Tsuta Singapore 
While the new menu at Tsuta is exciting enough, nothing beats a good deal. In celebration of the launch, there will be a 1-for-1 promotion for their Crab Soba, Shoyu Soba, and Shio Soba from 29 October to 31 October 2020. Additionally, the Hamburg Mazesoba, Teriyaki Chicken Paitan, and Spicy Teriyaki Chicken Soba will be up for 1-for-1 promotions too, from 1 November to 3 November 2020. It's also worth noting that these offers are only applicable for basic ramen without additional toppings.
For more Japanese food deals, Ikura Japanese Restaurant has daily 1-for-1 offers on chiraishi don and more.
Ikura Japanese Restaurant Has Daily 1-For-1 Offers On Chirashi, Sashimi, Unagi Don And More
Website | Full list of outlets
Photos taken by Hay Thi.