Two Bake Boys Cafe in Bugis
Update: Two Bake Boys Cafe is no longer operating in Bugis. They will open a flagship store in Balestier in February 2023, followed by a kiosk in Clementi in March 2023!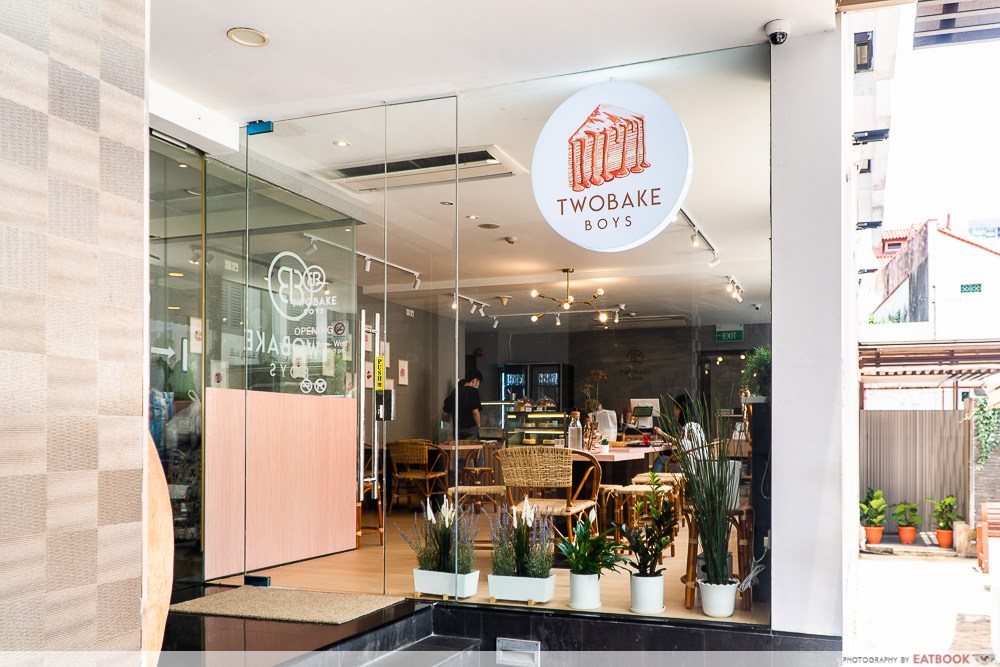 Fans of IG-famous crepe cake bakery Two Bake Boys can look forward to visiting the homegrown business' new dine-in concept: Two Bake Boys Cafe. The full-fledged cafe has officially opened in Bugis, with a whole slew of mains, sides, as well as desserts, including the OG crepe cakes they're most known for.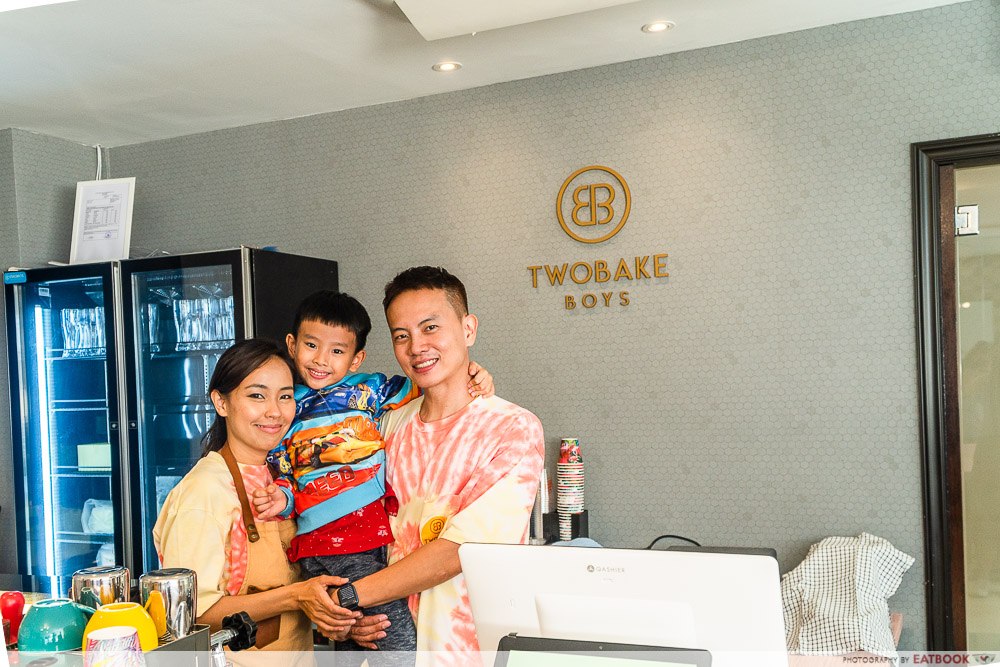 Two Bake Boys has an interesting backstory. Ex-cabin crew members Kitty and Philip first launched the home-based business at the peak of the pandemic in 2020. The husband-and-wife duo started selling handmade crepe cakes in their kitchen, before upgrading to a takeaway kiosk in Lavender. In March 2022, they launched a second outlet—this time, a cafe with an all-day dining menu and a beautiful space to boot.
Two Bake Boys: Popular Crepe Cake IG Baker Opens Takeaway Stall Serving Taro And Thai Tea Mille Crepes
Food at Two Bake Boys Cafe
The expanded dine-in menu covers a decent range of savoury mains and sides, including Truffle Fries ($9), fusion pastas, and even an in-flight menu-inspired Business Class Breakfast ($18).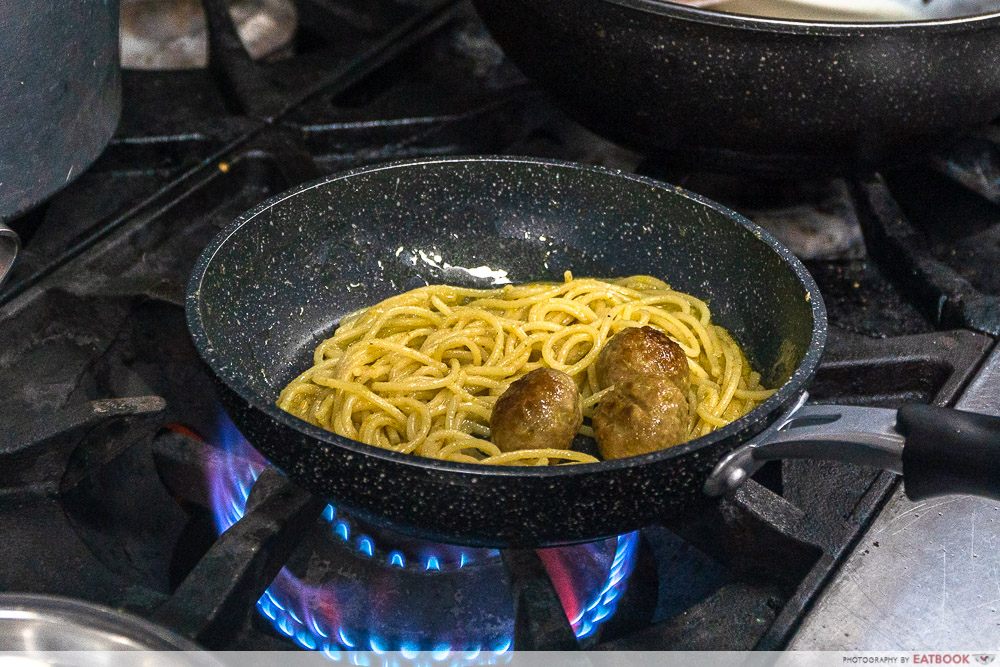 Thailand-born Kitty is vegetarian, so she included a couple of meatless items. You'll also find some Thai influences dotted across the menu, including a Truffle Green Curry Spaghetti ($16) and the cafe's famous Thai Tea Gelato ($4.90). The former features al dente spaghetti tossed in a fragrant green curry and truffle oil mixture, and served with plant-based Quorn chunks that somewhat resemble meatballs.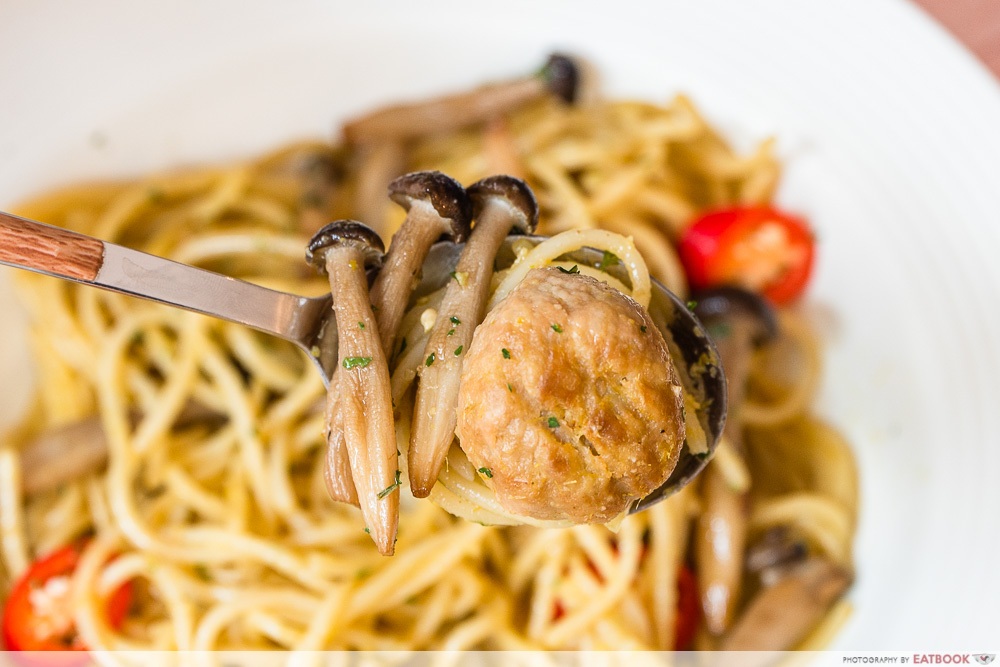 I really enjoyed the strong notes of basil and heavy-handed spices, though you can opt for less chilli if you prefer. Even though it's a dry pasta dish, the sweet and creamy green curry flavour was surprisingly prominent. The plant-based chunks added a "meaty" texture to the dish—a welcome addition for a meat lover like myself—while the juicy shiitake mushrooms had a good bite too.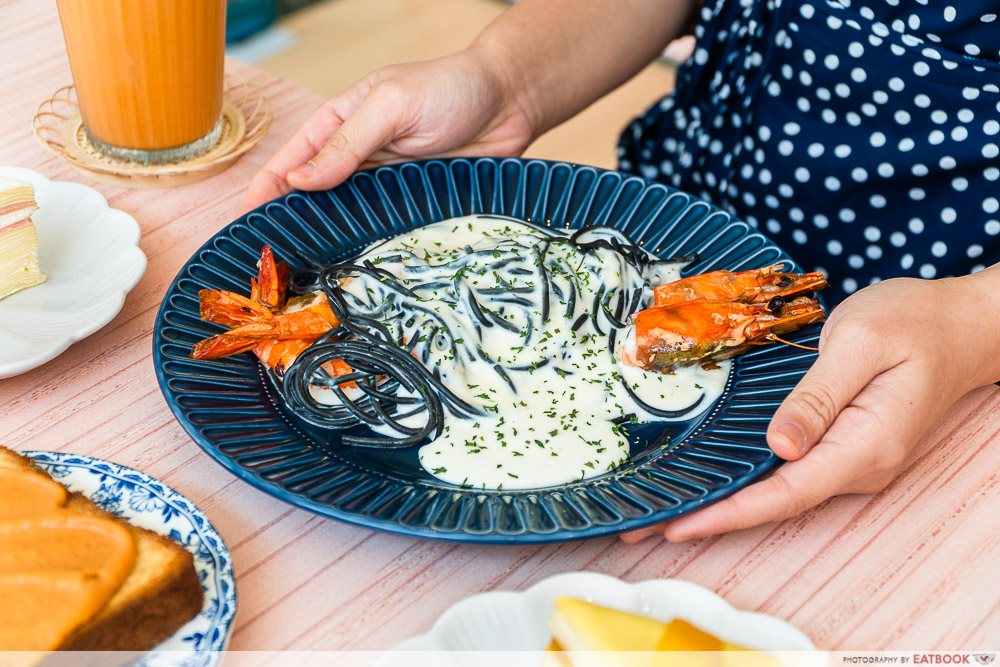 Also new on the menu is the TBB Tiger Prawn Squid Ink Cream Sauce ($18): squid ink pasta topped with a rich cream sauce, paired with juicy grilled prawns.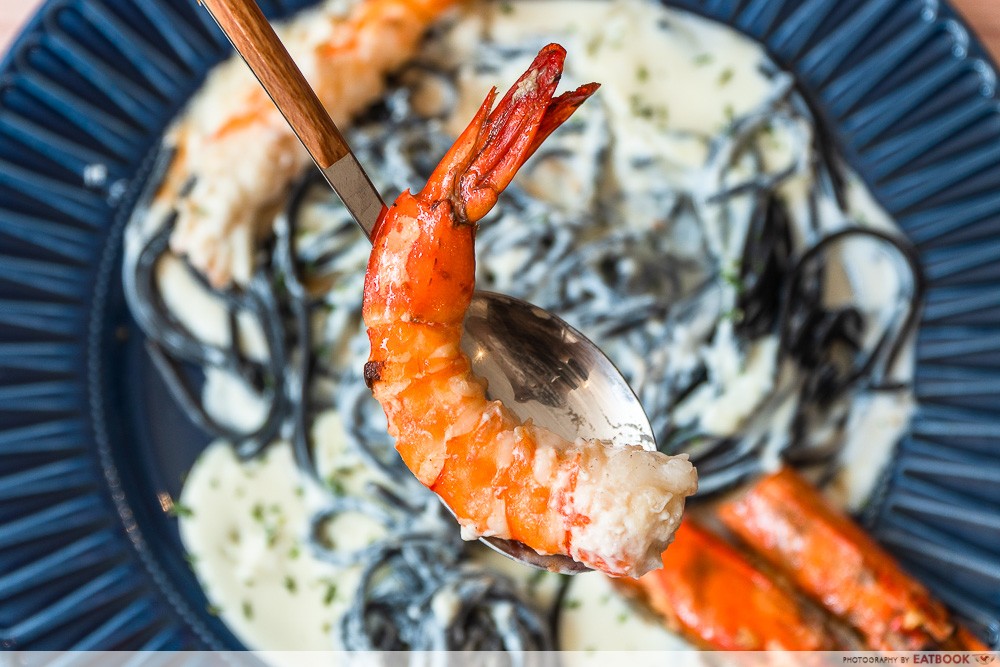 Unfortunately, the dish turned cold after our long shoot, which made the sauce clumpy. While I appreciated the flavourful squid ink pasta, the creamy sauce was rather bland. Thankfully, the fresh and plump prawns saved this dish, as they were grilled to perfection.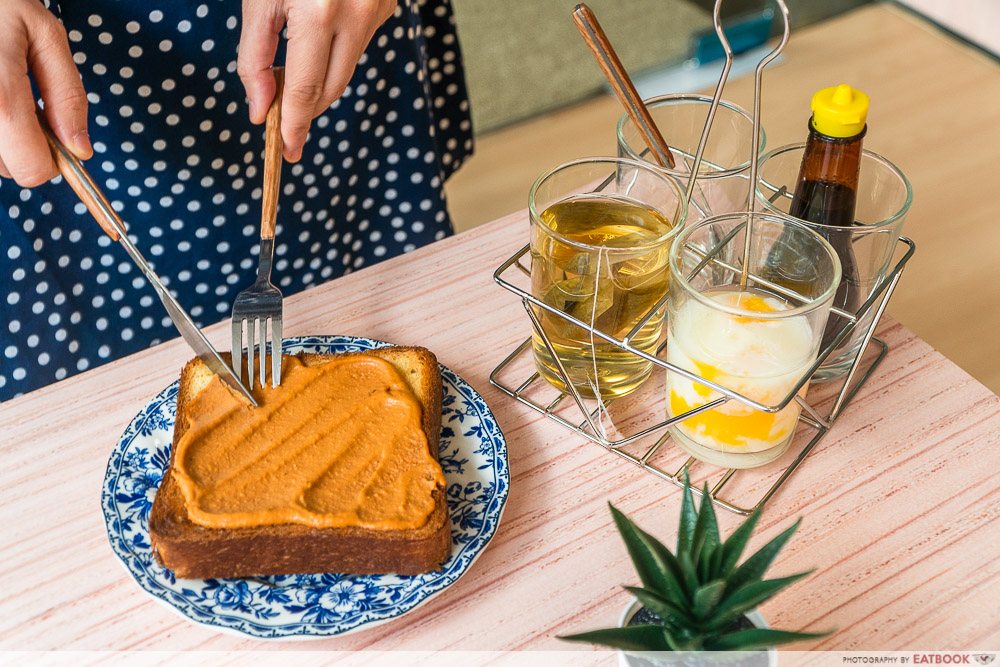 Those looking for a lighter dish can try the Thai Style Breakfast ($8). Served in a cute metal stand, this set was inspired by the popular coddled egg and toast sets found on the streets of Thailand. Here, the casual street food is elevated with a thick slice of brioche and generous lashing of house-made Thai milk tea kaya.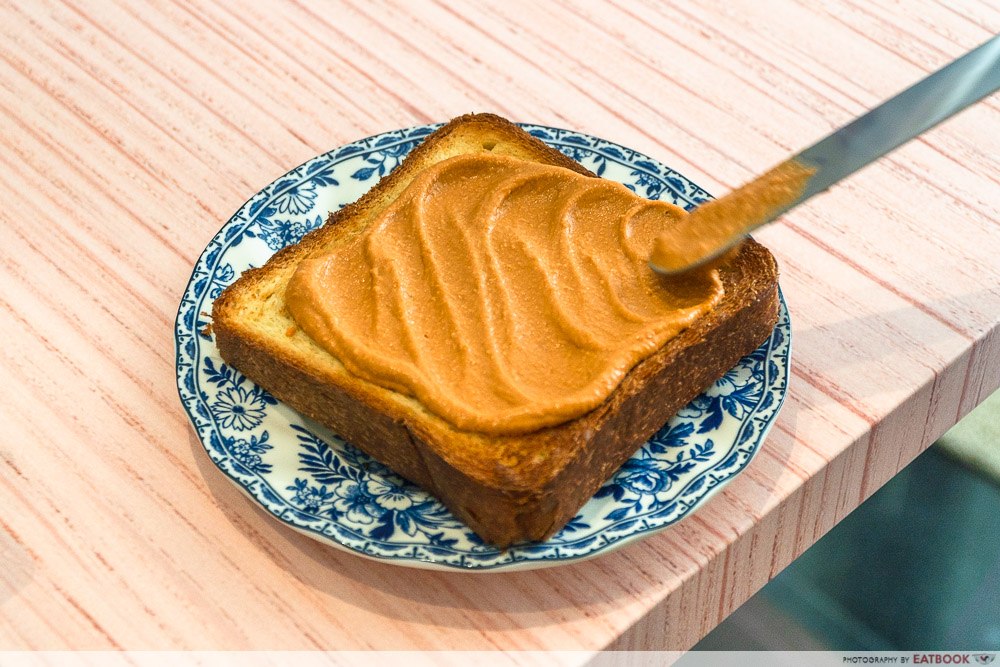 The crusty toasted bread went well with the orange-hued spread, which was surprisingly light with pleasant floral notes. Thankfully, the tea-infused kaya wasn't too sweet, so we devoured it in no time.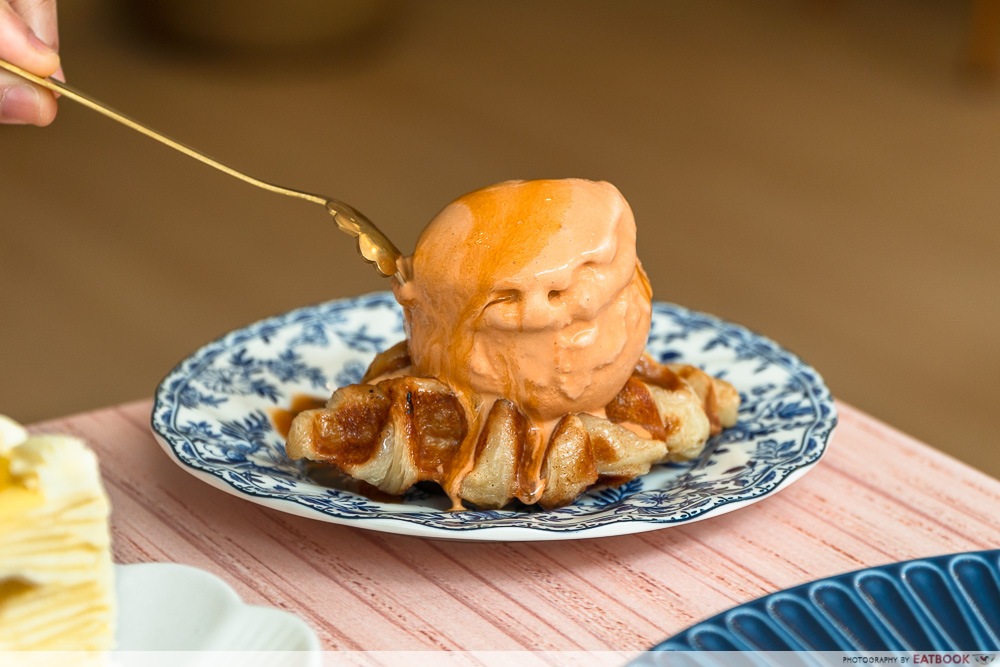 Another must-try is the TwoBakeBoys Croffle ($4.90), perfect for tea time or dessert. One-up your snack game by getting the Croffles Krub ($8), which comes with a generous scoop of Thai milk tea gelato. The freshly baked croffles, which went excellent with the sweet and creamy gelato, boasted crisp edges with a slightly chewy centre.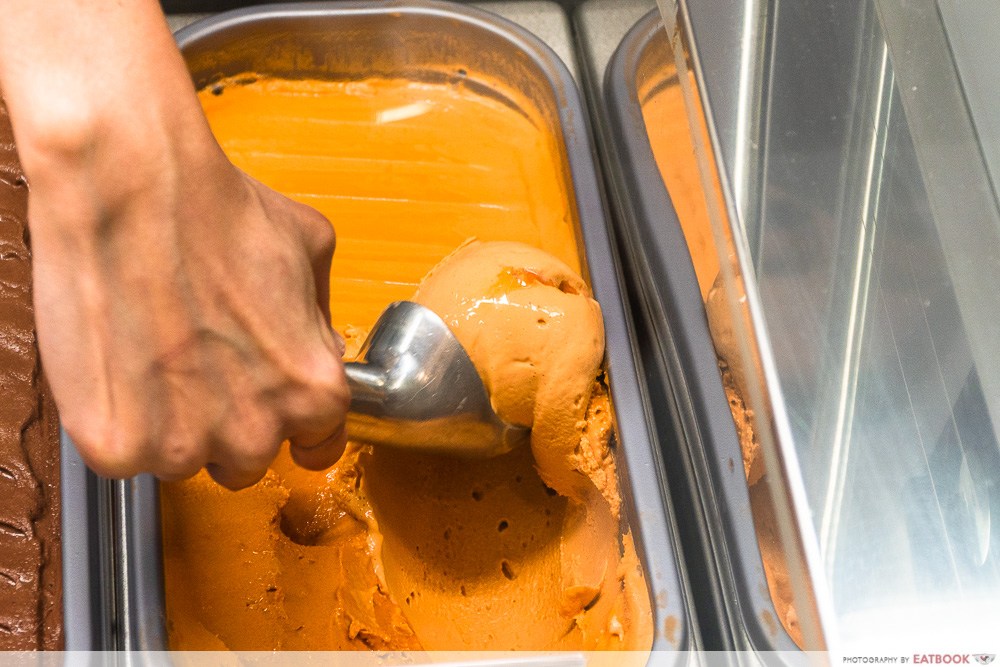 For gelato flavours, besides the classic Thai milk tea flavour, other popular options include Hokkaido Milk ($4.90), Milo ($3.90), and Blue Pea Lemongrass ($4.90)—for those with an acquired taste.
Otherwise, you won't go wrong with a slice of their Signature Crepe Cake (from $7.40). The Mango Crepe Cake ($9) is a must-order if you enjoy fruity flavours.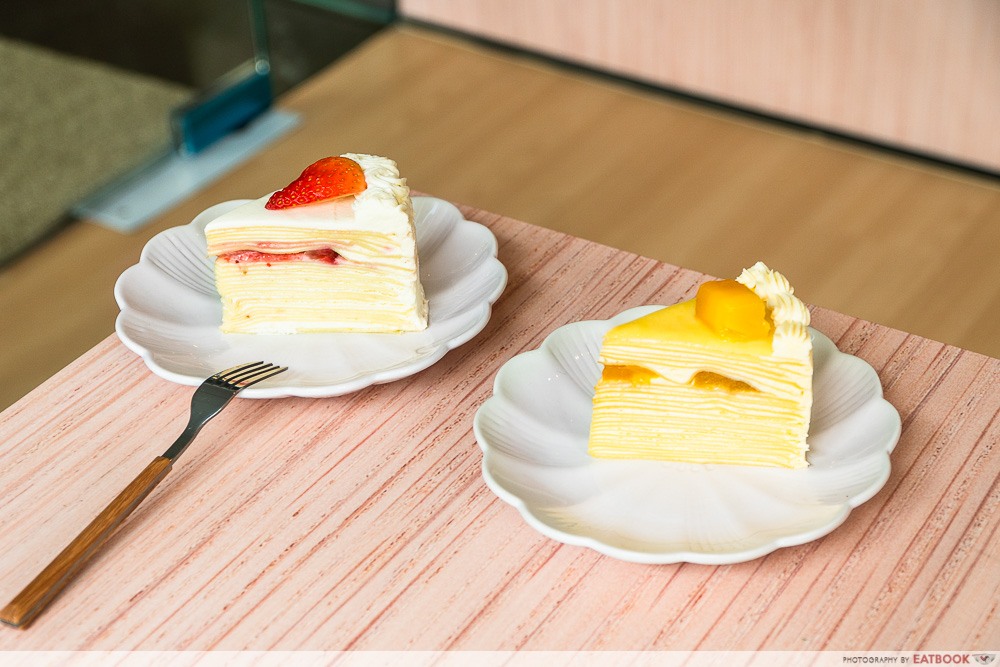 This was my second time trying Two Bake Boys' crepe cakes, and it was a better experience than before. Previously, I recalled that I wasn't a fan of their thicker-than-usual crepe sheets and liberal slatherings of cream. This time, the layers were elegantly thin and delightfully light, sandwiched by just the right amount of cream. It's not the cheapest cake out there, but considering the amount of work involved—each crepe cake takes up to six hours to assemble—I think it's worth it.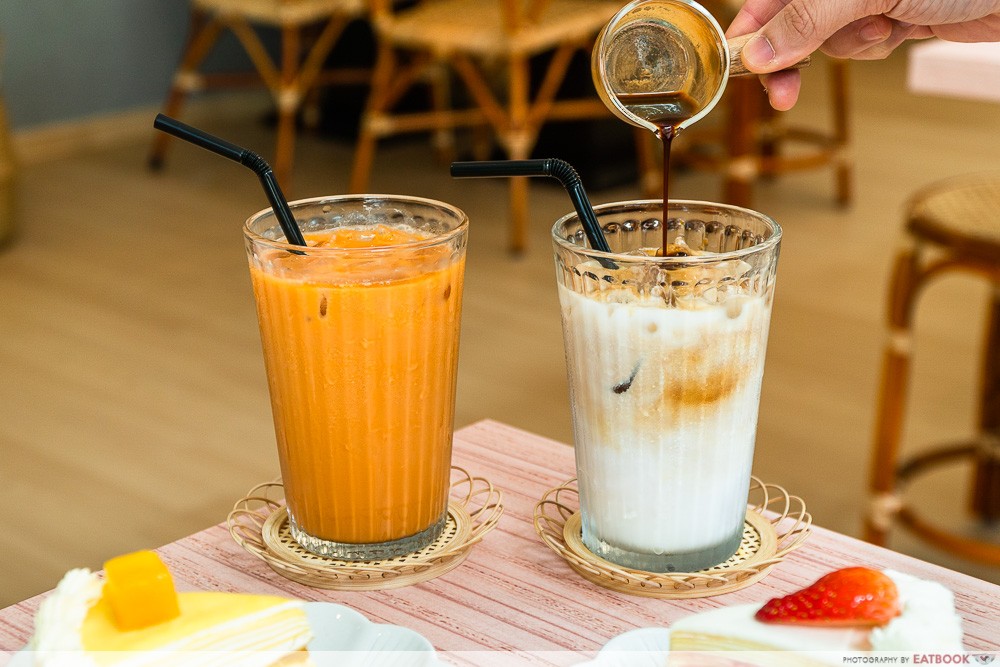 Wash it all down with a Thai Milk Tea ($4), or get your caffeine boost with a Long Black ($4) or White ($4.50) instead. I found the Thai Milk Tea a tad milky for my liking, but thankfully, it wasn't too sweet, which made it easy to drink. The iced latte was also deliciously creamy, with the ideal milk-to-espresso ratio that suited a caffeine addict like me.
Ambience at Two Bake Boys Cafe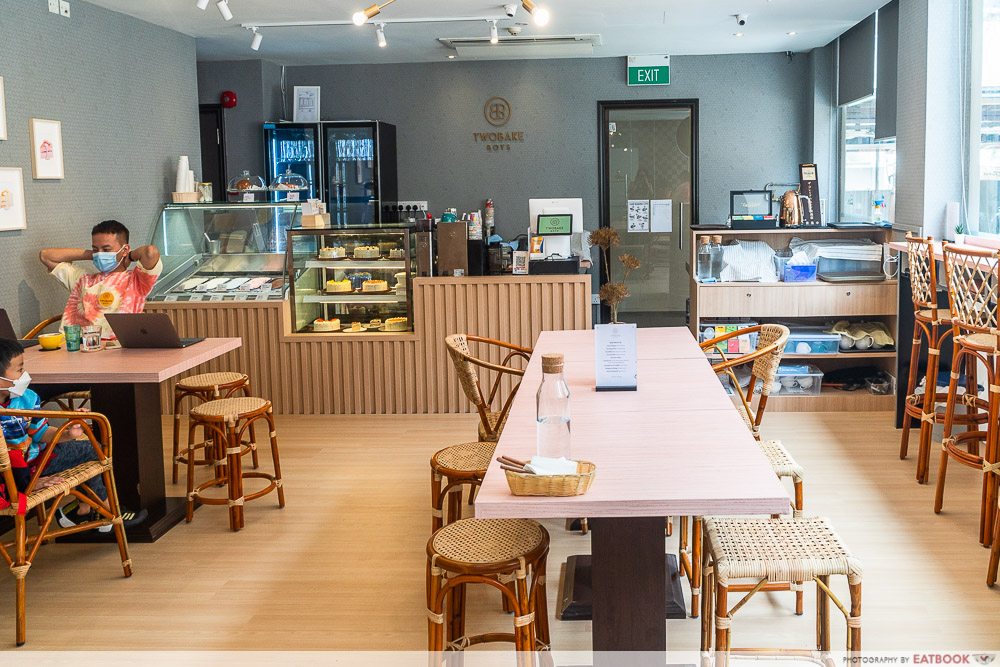 The aesthetic-looking cafe is conveniently located within the compounds of Rest Bugis Hotel, which is an eight-minute walk from Bugis or Lavender MRT Station. 
Rattan chairs and potted plants fill up the bright and airy space, which sees plenty of natural light streaming in from the countertop windows. Choose to sit by the counter for that perfect IG shot, or grab a table if you're visiting with friends. 
The verdict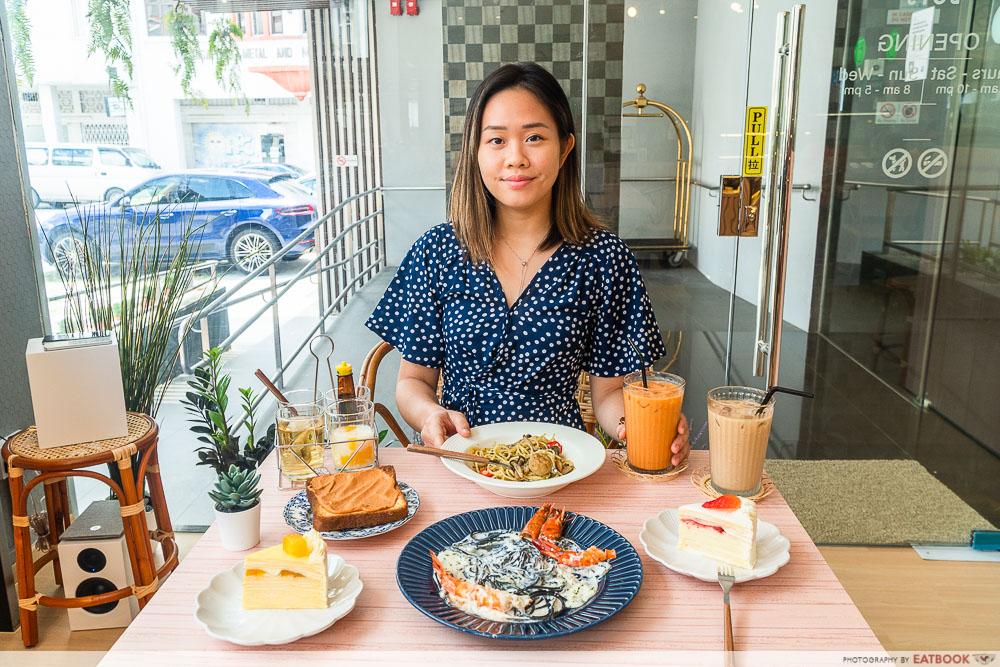 Two Bake Boys scores for their accessible location and casual, resort-like ambience. Prices are nett and nothing on the menu crosses the $20 mark, so you won't have to splurge to enjoy a meal here. I'd love to see them expand their food range to infuse more Thai flavours into their dishes. Longer operating hours would be nice too, once the team irons out any opening kinks.
For more Thai-inspired food, check out The Three Elephants review for affordable braised pork trotter rice in Bukit Merah. Otherwise, head to the nearby Fluff Bakery at North Bridge Road for your dessert fix!
Address: 8 Jalan Kubor, Singapore 199207
Opening hours: Daily 10am to 5pm
Tel: 8782 6566 (WhatsApp only)
Website
Two Bake Boys is not a halal-certified eatery.
Photos taken by Yi En Chew.
This was a media tasting at Two Bake Boys Cafe.
The Three Elephants Review: Thai Braised Pork Trotter Rice And Duck Kway Teow From $5.80
Two Bake Boys Cafe Review: Thai Tea Croffles, Green Curry Pasta And More By IG-Famous Crepe Cake Shop
Two Bake Boys Cafe Review: Thai Tea Croffles, Green Curry Pasta And More By IG-Famous Crepe Cake Shop -

8/10
Summary
Pros
– Nett prices
– Desserts were not too sweet
– Unique Thai fusion dishes
Cons
– Pricey crepe cakes
– Short opening hours
Recommended dishes: Croffles Krub ($8), Truffle Green Curry Spaghetti ($16), Mango Crepe Cake ($9)
Opening hours: Daily 10am to 5pm 
Address: 8 Jalan Kubor, Singapore 199207