---
Unique croissants to try
---
Fridays have always been always my favourite, even way back in kindergarten. They signalled pain au chocolat as an after-school treat from grandma, and I remember peeling away at the pastry layers as I silently anticipated the next Friday.
Croissants used to be a luxury for me, and they only came in two flavours: plain or chocolate. But times have changed and it was only a few months ago that salted egg yolk croissant was all the rage. Now that it seems to be fading out of fame, it's time to rob that throne with 10 other unique croissants!
---
1. Chilli Crab Croissant 
---
Nestled within the Hougang neighbourhood, Foxhole Cafe is a cosy hideout that specialises in brunch items. A standout would be their Chilli Crab Croissant with Raspberry Chips ($14.90). The croissant is stuffed with chunks of crabmeat and egg that is mixed with rempah, delivering a mild kick that cuts through the buttery croissant.
Address: 1189 Upper Serangoon Road, #01-18, The Midtown at Hougang, Singapore 534785
Opening hours: Wed-Mon 10am to 10pm
Tel: 6385 5587
Website
---
2. Duck Rillette Croissant 
---
Similar to pȃté, duck rillette is made by cooking duck meat slowly in fat till it resembles a paste. One Man Coffee uses this in their Duck Rillette Croissant ($12), topping it with sliced pickles for tang and crunch, and mustard to pull the whole dish together. Crispy sweet potato fries are served on the side.
Address: 215R Upper Thomson Road, Singapore 574349
Opening hours: Daily 9am to 5pm
Tel: 9658 1685
Website | Info on other outlets
---
3. Earl Grey Croissant 
---
Brawn & Brains' Earl Grey Croissant ($3.50) is a crowd-pleaser. The croissant is fluffy, chewy, and topped with earl grey glaze as well as crushed roasted hazelnuts for a finishing touch. The earl grey adds a refreshing fragrance to the buttery pastry, making this croissant a great afternoon snack!
Address: 100 Guillemard Road, #01-02, Singapore 399718
Opening hours: Mon-Fri 9am to 7pm, Sat-Sun 9:30am to 7pm
Tel: 6348 0501
Website
---
4. Running Egg Savoury Croissant 
---
Inspired by ramen, Tiong Bahru Bakery created Running Egg Savoury Croissant ($4.50). Plain croissant is shaped to hold molten ramen eggs topped with bonito and chilli flakes, which are held together by Japanese mayonnaise. A bite rewards you with fudgey yolk and flaky croissant – oishi!
Address: 56 Eng Hoon Street, #01-70, Singapore 160056
Opening hours: Sun-Thur 8am to 8pm, Fri-Sat 8am to 10pm
Tel: 6220 3430
Website
Menu
Click here for more info on Tiong Bahru Bakery outlets.
---
5. Matcha Salted Egg Croissant 
I know I was going to dethrone salted egg yolk, but this is an exception because of how well Asanoya Boulangerie executes their Matcha Salted Egg Croissant ($4.90). The flavour combination may sound a little strange, but the rich salted egg yolk is balanced out by bitter notes of the matcha, giving it a unique and addictive flavour.
Address: 15 Queen Street, #01-03, Singapore 188537
Opening hours: Daily 8am to 8pm
Tel: 6703 8703
Website
Click here for more info on other Asanoya outlets.
---
6. Cruffin Matcha   
---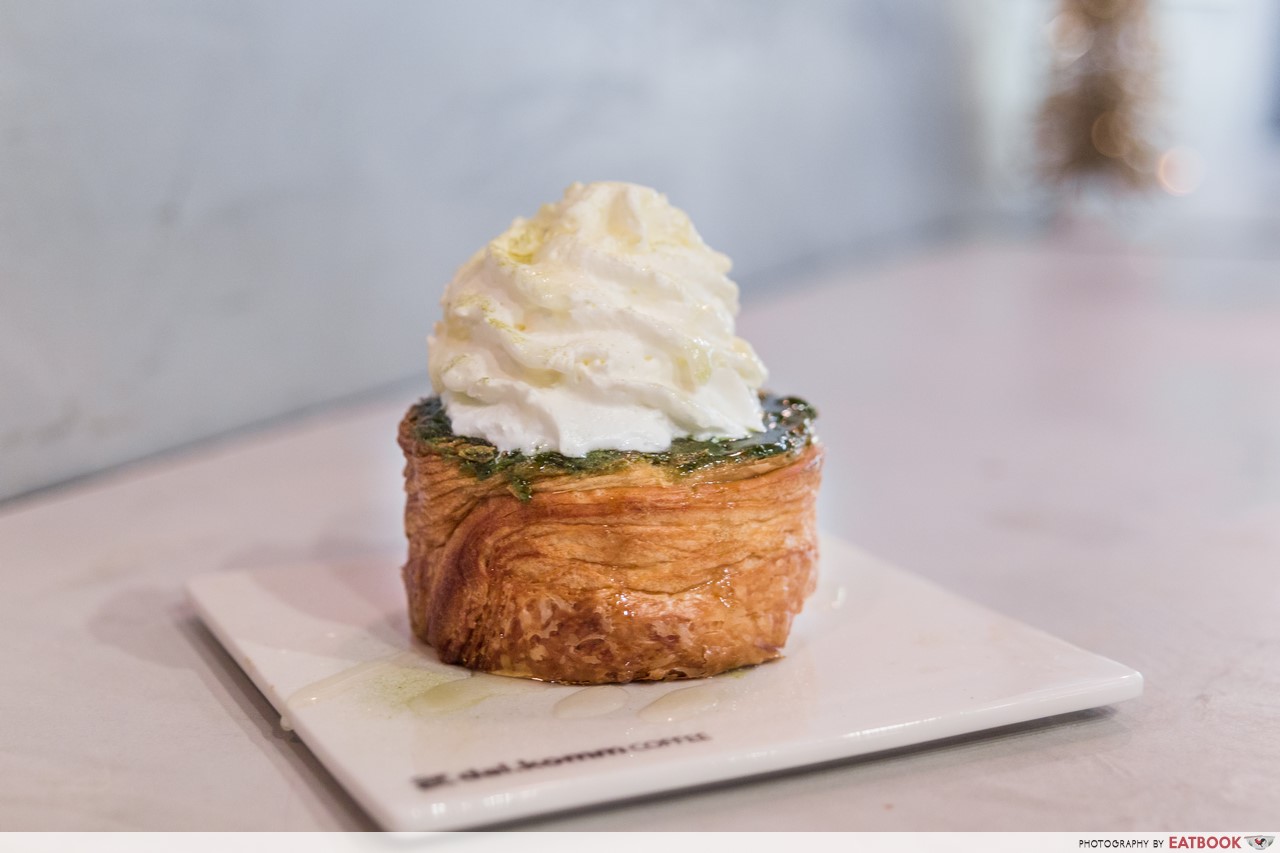 To create Cruffin Matcha ($11.50), Dal.Komm Coffee baked a buttery croissant in a muffin mold, filled it with matcha curd, then topped it with whipped cream and honey. This croissant-muffin hybrid is defo a show-stopper, and we think it deserves to star as a main character in DOTS.
Address: 176 Orchard Road, #01-01/06 and #01-102/103, The Centrepoint, Singapore 238843
Opening hours: Daily 10am to 10pm
Website
Menu
Check out our full review of Dal.Komm Coffee.
---
7. The Populus Scramble

---
The Populus Coffee and Food Co. has brought us The Populus Scramble ($18.50). It comes with eggs scrambled with chilli padi and dill, adding a touch of heat and freshness to the classic breakfast dish. Together with the crisp, salty bacon and fluffy croissant, it's a bullet train straight to croissant heaven.
Address: 146 Neil Road, Singapore 088875
Opening hours: Mon, Wed 9am to 7pm, Tue 9am to 4pm, Thur-Fri 9am to 10:30pm, Sat 9:30am to 10:30pm, Sun 9:30am to 7pm
Tel: 6635 8420
Website
Menu
---
8. Charcoal Kaya Croissant

---
Antoinette's Charcoal Kaya Croissant ($6++) is inspired by Singapore's traditional kaya toast. Their house-made Queen's Kaya ($8++ per jar) is hidden within a croissant made with bamboo charcoal powder. This fragrant dish is not only appealing to the eyes, but is also packed with the familiar taste of coconut jam.
Address: 30 Penhas Road, Singapore 208188
Opening hours: Mon-Thur 11am to 10pm, Fri 11am to 11pm, Sat 10am-11pm, Sun 10am-10pm
Tel: 6293 3121
Website
Menu
Check out other places in Singapore that serve black food.
---
9. Duck Leg Croissant  
---
Symmetry is no doubt a well-known brunch spot in Bugis, and their Duck Leg Croissant ($23++) explains their good reputation. Juicy shredded duck confit and creamy scrambled eggs are sandwiched between a crispy croissant, while a touch of apricot jam adds a streak of tartness to the dish. Served with a side of fries, this dish makes a satisfying meal. It's available on weekdays, from 11am to 5pm.
Address: 9 Jalan Kubor, #01-01, Singapore 199206
Opening hours: Mon 10:30am to 9pm, Tue-Thur 10:30am to 11pm, Fri 10:30am to 12am, Sat 9am to 12am, Sun 9am to 7pm
Tel: 6291 9901
Website
Menu
---
10. Croissant Bread Pudding
---
KUVO pushes boundaries with this quirky combination of bread pudding and croissant in their Croissant Bread Pudding ($16++). A wobbly custard core is wrapped in thin filo pastry, which is drizzled with salted caramel sauce and dusted with icing sugar. Creamy vanilla gelato is served alongside, providing a contrast of texture from the crispy pastry.
Address: 321 Orchard Road, #02-01, Orchard Shopping Centre, Singapore 238866
Opening hours: Mon-Thur 5pm to 1am, Fri 5pm to 2am, Sat 12pm to 2am, Sun 12pm to 1am
Tel: 6733 8272
Website
Menu
---
Croiss-(my heart)-ant hope to die
---
There's no butter option than this crescent-shaped pastry for your next meal or snack. Leave a comment below if we missed out on your favourite croissant!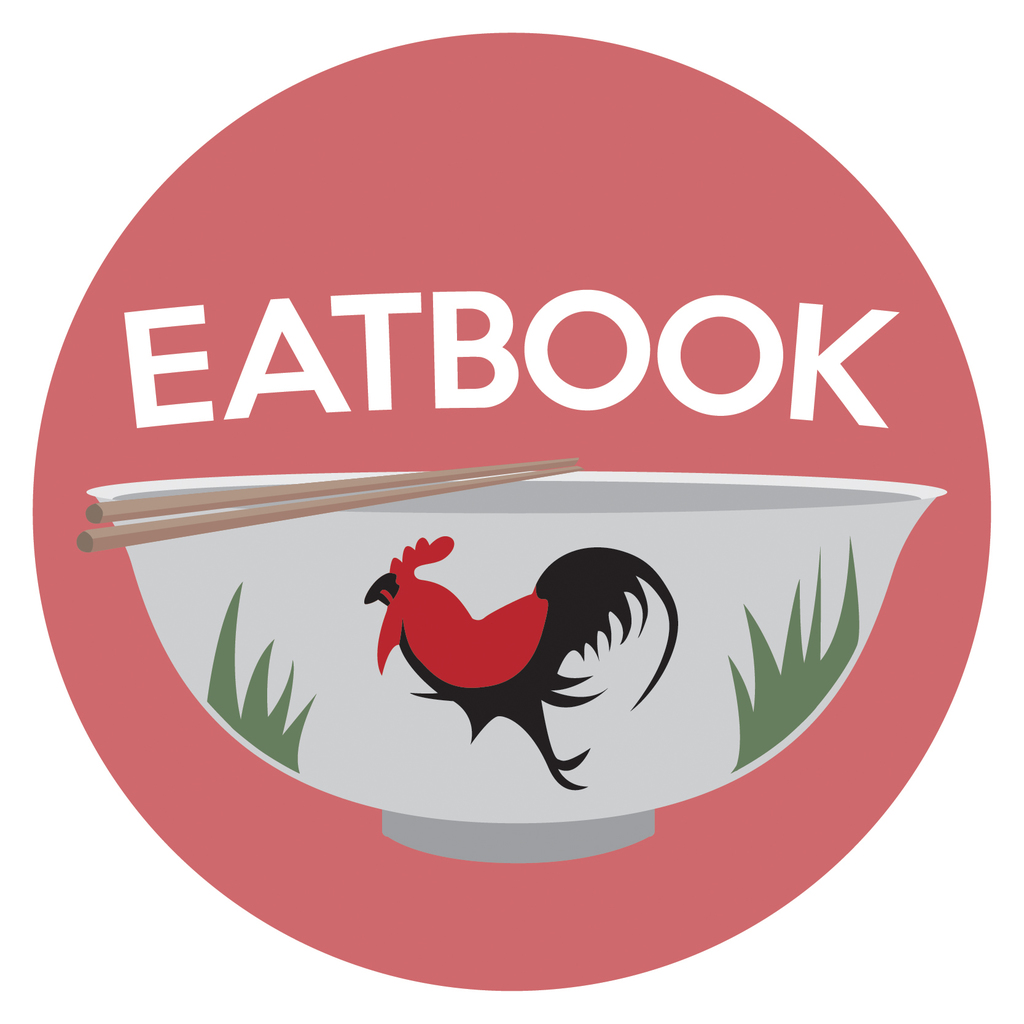 Drop us your email so you won't miss the latest news.