---
Updated CNY snacks for Chinese New Year 2018
---
For most people, the endless supply of bak kwa, ang bao and the opportunity to buy new clothes make Chinese New Year their favourite festival of the year. For some, CNY is nothing but awkward family gatherings filled with even more awkward questions from kaypoh relatives. No matter which category you fall into, one thing that no one can hate when it comes to CNY would be the snacks. Whether CNY is your thing or not, you can still make this year's a memorable one with these IG-worthy and updated CNY snacks. From Nutella kueh lapis to tutu kueh cookies, here are 10 places where you can stock up on these updated CNY snacks!
---
1. Ollella
---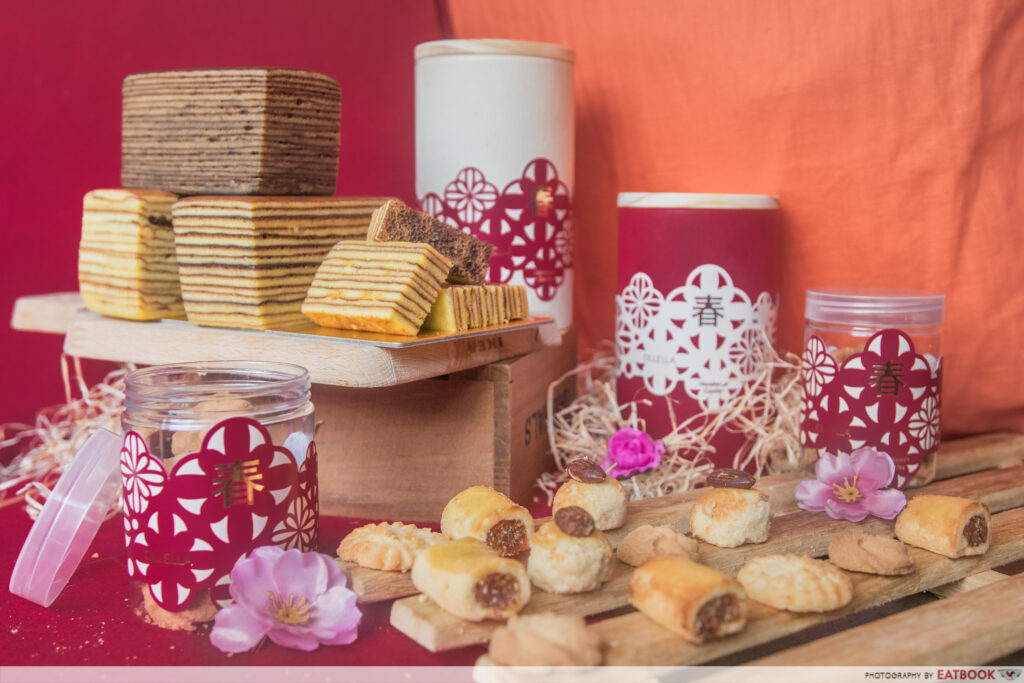 It is hard for anyone to not love kueh lapis but if you want to further impress your family and friends, try Ollella's Salted Egg Yolk Kue Lapis (from $24 for 350g) or Nutella Kue Lapis (from $24 for 350g). The former hides chunky bits of salted egg yolk while the latter is made of layers of Nutella sandwiched between the cake! My favourite from Ollella is their Almond Cookies ($6 for 10, $20 for 25 pieces). These vegan and dairy-free cookies are made using almonds and canola oil. Beside almond cookies, they also have Pineapple Pillows ($8 for eight, $22 for 25 pieces) and Butter Cookies ($6 for 12, $18 for 30 pieces). 
Address: 3 Petain Road, #01-01, Residence@Somme, Singapore 208108
Opening hours: Daily 10am to 9:30pm
Tel: 6291 4076
Website
---
2. Antoinette
---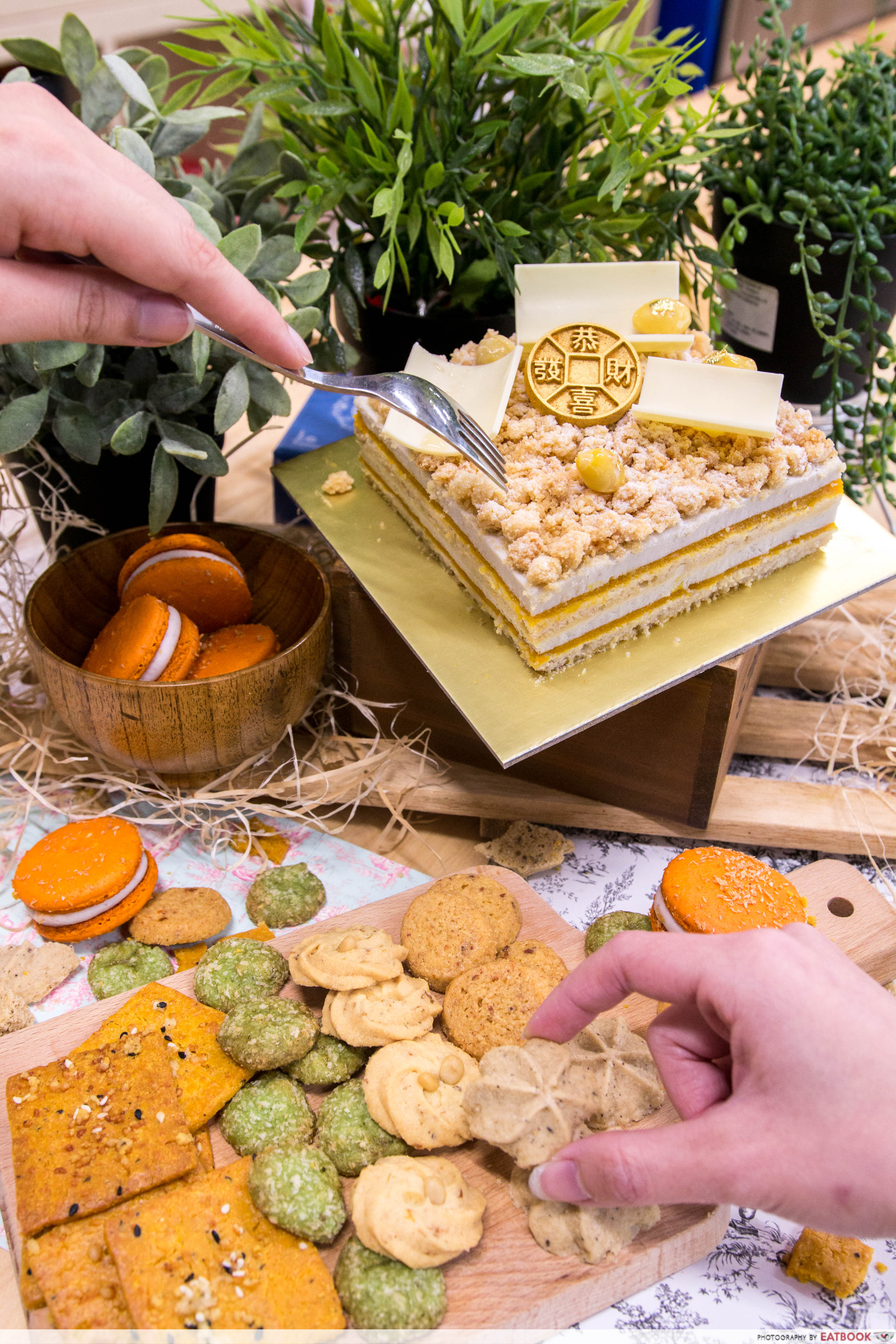 Antoinette offers some of the most beautifully designed pastries and this time, they made sure they won't disappoint with their CNY sweet treats. The most interesting creation would be their Orh Nee Cake ($10 per slice, $45 for a whole cake). Made up of layers of yam-flavoured sponge, pumpkin cremeux, and gula melaka, the cake is topped with almond crumble and candied gingko nuts. Their Antoinette "Singapura" Cookie Tin ($24) offers 10 different types of cookies with flavours including ondeh ondeh, kopi susu, hae bee hiam, and salted egg yolk. 
Address: 30 Penhas Road, Singapore 208188
Opening hours: Mon-Thur 11am to 10pm, Fri 11am to 11pm, Sat 10am to 11pm, Sun 10am to 10pm
Tel: 6293 3121
Website | Full list of outlets
---
3. The Golden Duck Co.
---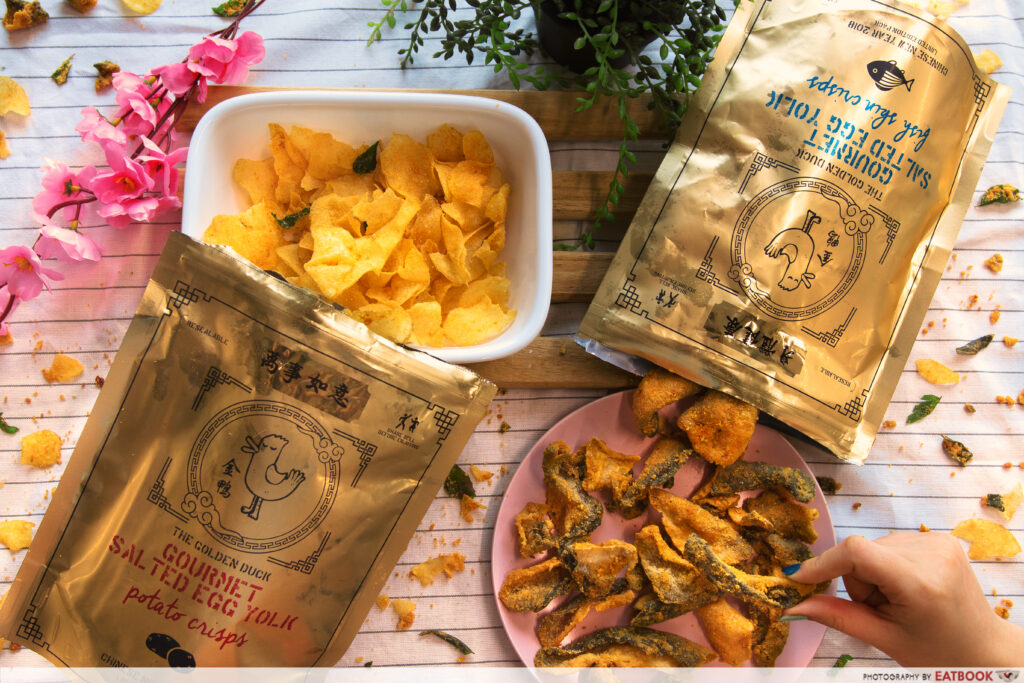 While salted egg yolk is no longer be the hottest trend, receiving a bag of The Golden Duck Co's Gourmet Salted Egg Yolk Potato Crisps ($7) or Gourmet Salted Egg Yolk Fish Skin ($7) from anyone is still an absolute joy. To celebrate CNY, The Golden Duck Co further upped their game with limited edition gold packaging that has different auspicious phrases printed on them.
Address: 252 North Bridge Road, #B1-K15A, Raffles City, Singapore 179103
Opening hours: Daily 11am to 9pm
Website
---
4. Prima Deli 
---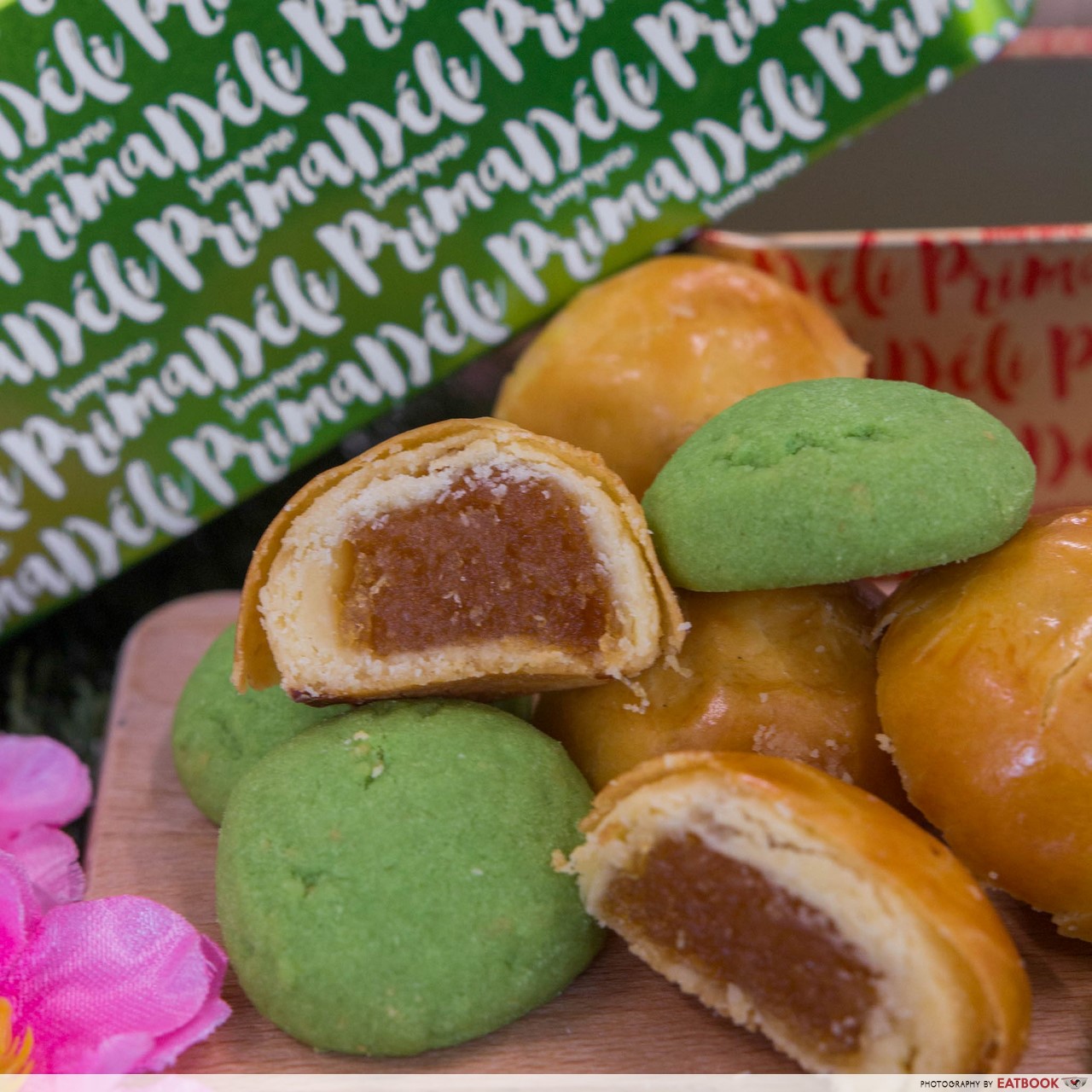 Whether it's for their waffles or puffs, Prima Deli is one brand that most of us are more than familiar with. If you have always been a fan of their CNY goodies, you'll know that you will not go wrong with their Supreme Pineapple Tarts ($25.80 for 16 pieces) and Traditional Love Letter ($21.80). Prima Deli also launched a few new nibbles including Pandan Chiffon Cookies ($19.80) and Cashew Nut Cookies ($19.80). Those looking for gifts can consider their Prosperity Hamper Set ($43.80) that comes with the Supreme Pineapple Tarts, Pandan Chiffon Cookies, and Pillow Pineapple Tarts ($19.80)!
Address: 1 Harbourfront Walk, #B2-K1&K3, VivoCity, Singapore 098585
Opening hours: Daily 10am to 10pm
Tel: 6276 3333
Website | Full list of outlets
---
5. Cheeky Banana

---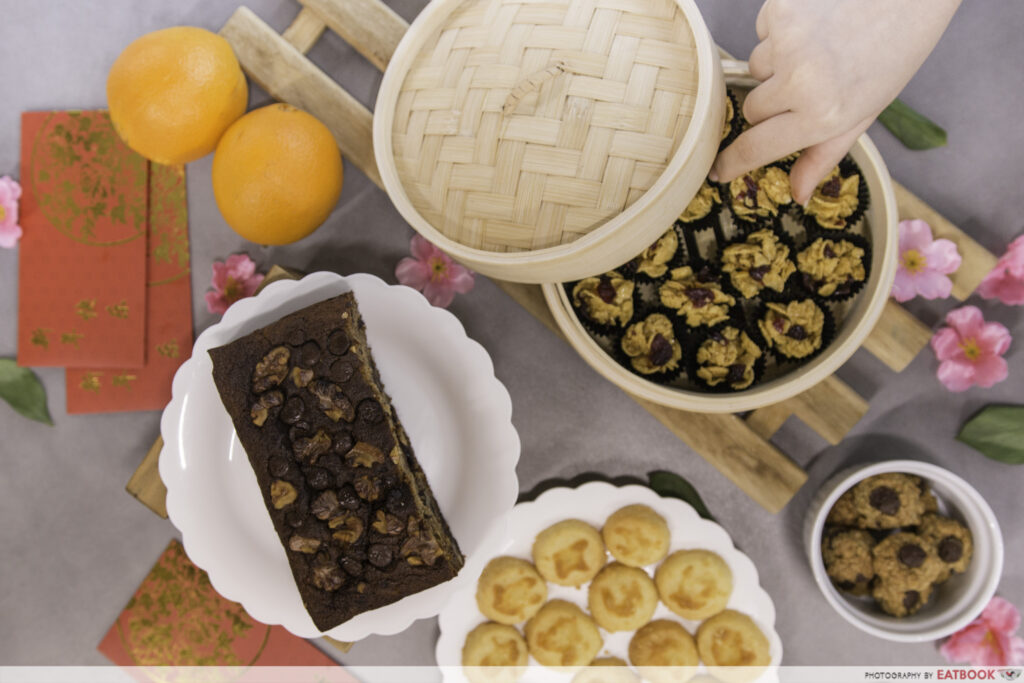 If you have tried Cheeky Banana's 6" Signature Banana Chocolate Cake ($30) or 6" Banana Walnut Cake ($32), you will be glad to know that they have come up with a CNY Edition Banana Cake ($38). This square 6-inch cake is a combination of the two signatures cakes and is packed with both crunchy walnuts and chocolate chunks. While it tastes good on its own, up the shiok factor by reheating the cake and pairing it with either butter or Nutella! Other CNY snacks that this online shop offers include Banana Cake Cookies ($22), Cheese Shortbread ($22), and Cranberry Cornflake Cookie ($20). In the name of celebrating the Year of the Dog, you can also look out for their Puppy Poo Cookies ($22) which is vanilla meringue with cocoa powder!
Address for pick-ups: 8 Temasek Boulevard, #42-01, Suntec Tower 3, Singapore 038988
Opening hours: Mon-Fri 8:30am to 5:30pm
Tel: 8299 4399
Website
---
6. The Kettle Gourmet
---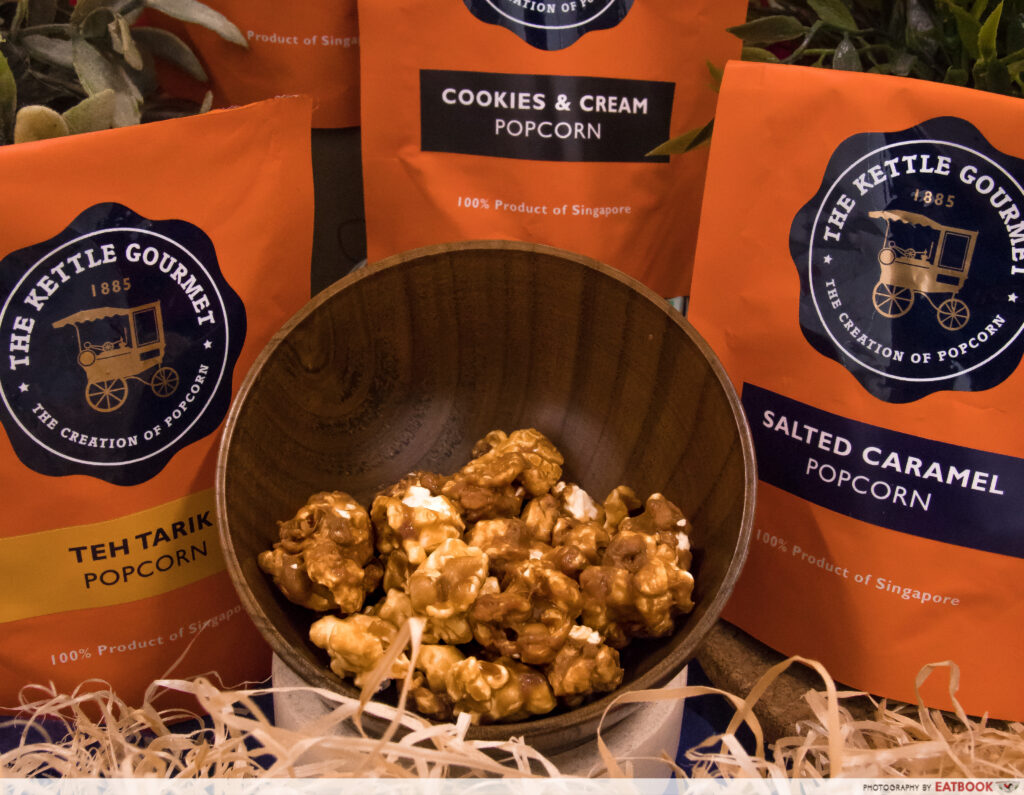 This may not be a common goodie you'll find during Chinese New Year but no one's going to complain about a bagful of addictive popcorn. Introduced to the market only in July 2017, The Kettle Gourmet is a local brand that specialises in popcorn with interesting flavours. Their four main flavours – Cookies And Cream, Bailey's, Salted Caramel, Teh Tarik – are sold in sets of 3 Popcorn Bags ($10). We heard they're coming up with a bak kwa flavour for CNY! You will not be able to find these in any physical stores but you can check out their website and have the popcorn delivered to you for free for orders above $30.
---
7. Bakerzin

---
Bakerzin has an Assorted Pineapple Tarts ($22.24) set which comes with 18 pieces of tarts in three different flavours – Chrysanthemum, Golden Ingot Original Pineapple Tarts, and Hae Bee Hiam. In their Good Luck Cookies ($22.24) series, you can also find interesting flavours such as Cereal Salted Egg Yolk, Coconut Chia Seed, and Long Jin Tea. Of the eight different flavours available in the set, our favourite two were Charcoal Black Sesame and Thai Milk Tea!
Address: 101 Thomson Road, #01-07/60, United Square, Singapore 307591
Opening hours: Mon-Fri 10am to 10pm, Sat-Sun 9am to 10pm
Tel: 6251 5550
Website | Full list of outlets
---
8. Old Seng Choong

---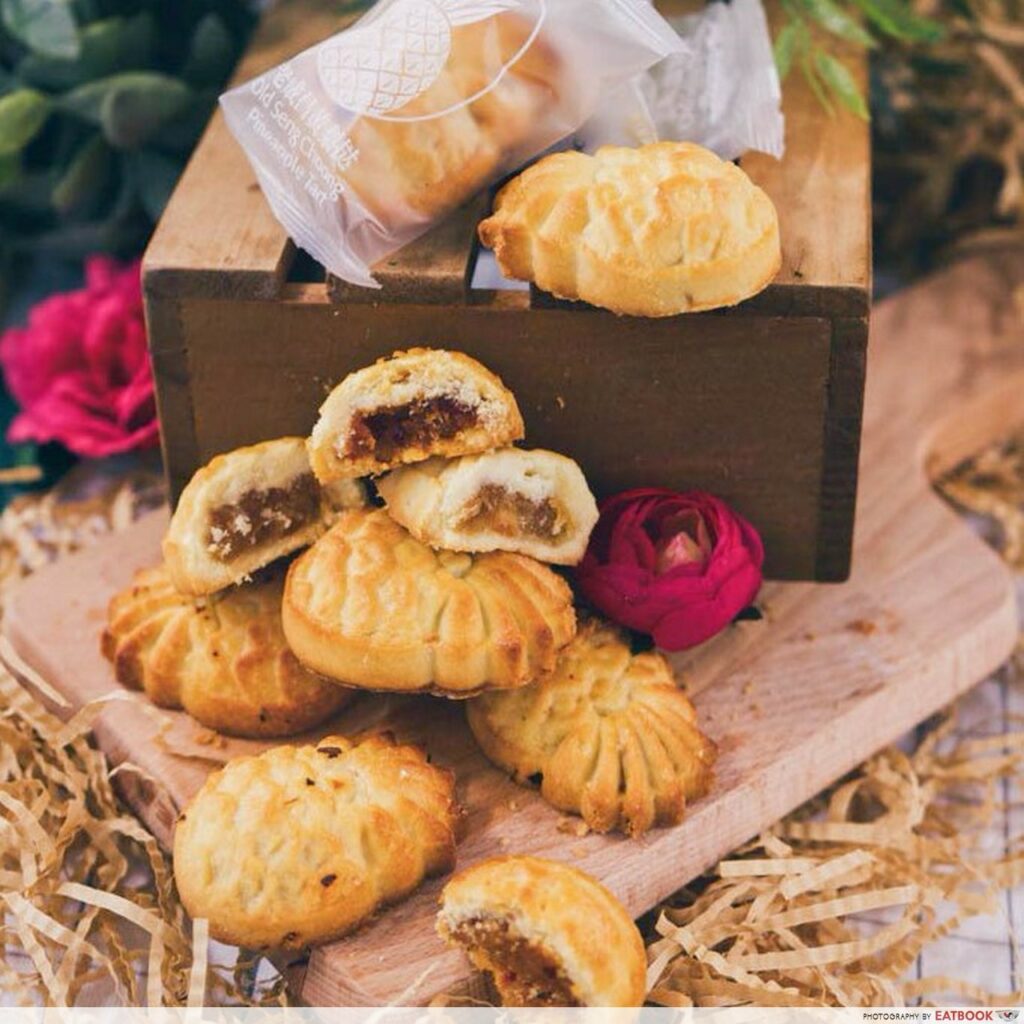 A sister company of Cat & The Fiddle, Old Seng Choon is known for their traditional old-school baked goods. For their CNY specials, the bakery offers classics such as Nian Gao ($17.35), Carrot Cake ($17.35), and Yam Cake ($17.35). What comes with a touch of uniqueness is their variety of pineapple tarts. Besides the usual Original Pineapple Tart ($17.35 for 10 pieces) that comes in the shape of an ingot, they also have flavours such as Yuzu ($18.75 for 10 pieces), Orange Peel ($20.15 for 10 pieces), Bakwa ($20.15 for 10 pieces), and Spicy Nyonya ($18.75 for 10 pieces), which is a combination of hae bee hiam and pineapple jam .
You can also find Bak Kut Teh Cookies ($19.80), Smokey Bakwa Cookies ($19.80), and Laksa Cookies ($18.80) among many other flavours that Old Seng Choon offers. Before you head down to their stall though, check out their online store and reserve them to get some of the pastries at a discounted price!
Address: 6 Eu Tong Sen Street, #01-48, The Central @ Clarke Quay, Singapore 059817
Opening hours: Daily 11am to 10pm
Tel: 6282 0220
Website | Full list of outlets
---
9. Ah Mah Homemade Cake
---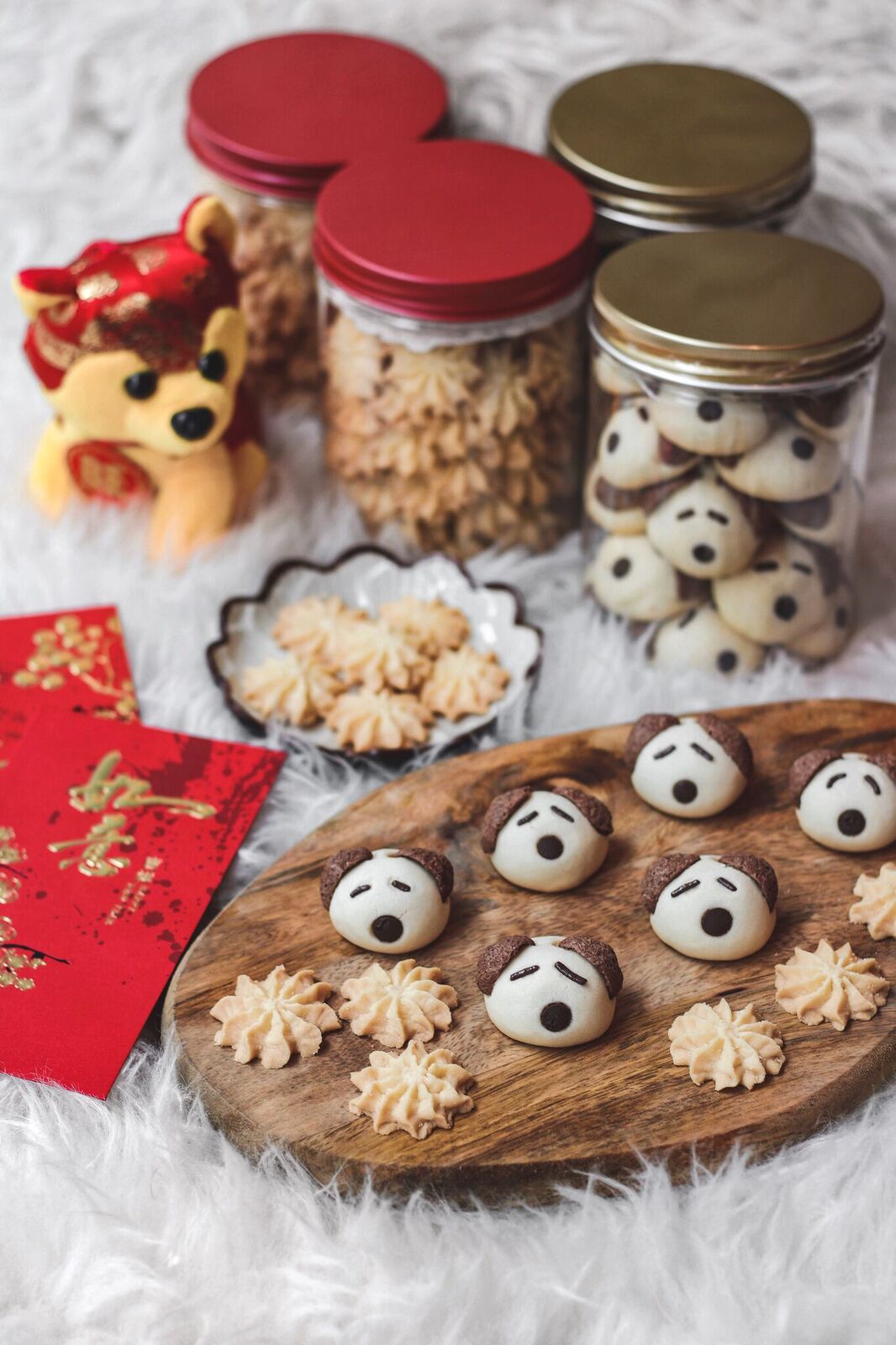 Besides going home with the famous castella cakes from Ah Mah Homemade Cake, two other snacks that you can look out for at their store would be their Fatt Choy Cookies ($10) and Wang Wang Cookies ($12). Created specially for Chinese New Year, the Fatt Choy Cookies are simple butter cookies made with Danish butter while the Wang Wang Cookies are dog-shaped ones with Koko Krunch and chocolate chips. For those who cannot wait for CNY to start officially and are already feasting away, get your hands on their Bah-Whooo Chicken Floss Cake ($15) that is only in stores till 14 February 2018. This is a castella cake with a punch of savoury flavours coming from chicken floss, mayonnaise sauce, and roasted white sesame seeds.
Address: 1 Harbourfront Walk, #B2-K7, Singapore 098585
Opening hours: Daily 10am to 10pm
Tel: 6324 4508
Website | Full list of outlets
---
10. Baker's Brew
---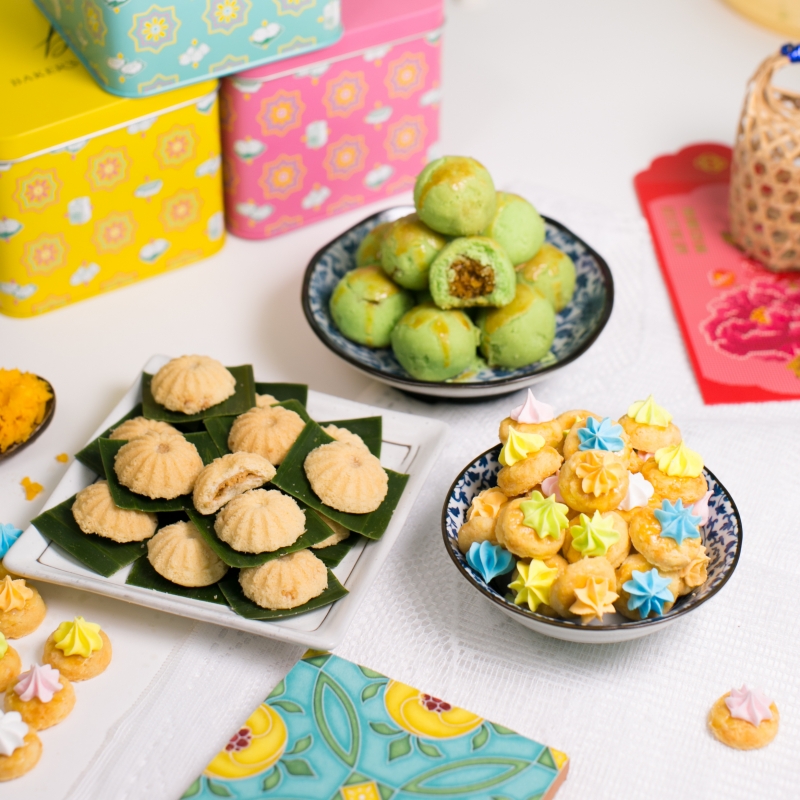 Image credit: Baker's Brew
For something that will impress your grandparents but also cater to the young ones, get Baker's Brew's Peranakan Nostalgia Chinese New Year Cookies. At $26.80 per tin, Baker's Brew has come up with three CNY specials – Ondeh Ondeh Cookies, Tutu Kueh Cookies, and Iced Gem Cookies. Each tin of Tutu Kueh Cookies comes with 55 to 65 pieces of cookies that are baked with pandan leaves and filled with ground peanut while a tin of Ondeh Ondeh Cookies have 22 to 25 pieces of hand-rolled pastries stuffed with gula melaka coconut filling. 
Address: 290 Orchard Road, #05-46, Paragon, Singapore 238859
Opening hours: Daily 10am to 9pm
Tel: 6909 0669
Website | Full list of outlets
---
Updated CNY snacks for the entire fam
---
At this time every year you'll probably chance upon those Facebook posts reminding you of how many minutes of workout you'll need to burn off that one pineapple tart or that slice of bak kwa. With these unique goodies that are pleasing not just to the eyes but also the stomach, every piece of these snacks will be worth that run. Besides CNY goodies, we also have a list of CNY reunion dinner spots if you still haven't planned yours!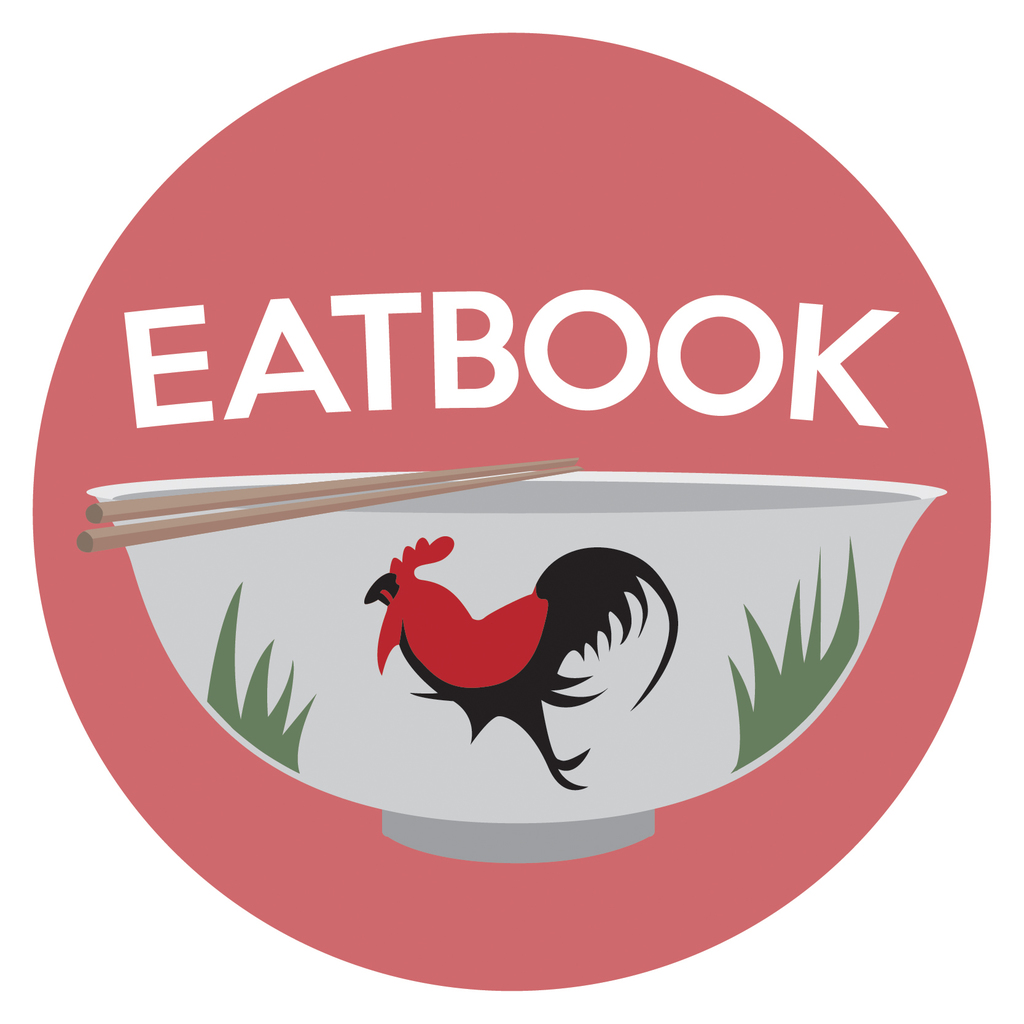 Drop us your email so you won't miss the latest news.