---
Updated ice-cream desserts to excite your sweet tooth
---
We've gone through Insta-worthy ice-cream desserts before, but ice-cream cafes keep coming up with new ways to serve their daily scoops, so here's an updated list of what they've been doing. Whether your favourite flavour is chocolate, vanilla or salted caramel, the fat ice-cream-loving cat in you will enjoy these new ways to indulge. So grab your friends, partner or folks this Sunday to sink your teeth into these updated ice-cream desserts!
---
1. Doughnut waffle
---
Not to be confused with the froyo bar that has the same name, Milk & Honey Gelato specialises in a wide range of gelato made in-house. Exclusive to their Bukit Batok outlet are doughnut waffles that come in five flavours including Peanut Butter Jelly ($6.20) and Mud Ball Pie ($5.90). The latter features a doughnut waffle seated atop a pool of vanilla sauce, and a huge scoop of Cookie Monster gelato drizzled in thick chocolate sauce.
Address: 2 Bukit Batok West Avenue 7, #01-01/02/03, Bukit Batok Hometeam NS Clubhouses, Singapore 659003
Opening hours: Tue-Thur 12pm to 12am, Fri-Sat 12pm to 1am, Sun 12pm to 12am
Tel: 9822 5043
Website
Menu
Click here for more info on Milk & Honey Gelato's Bedok oulet.
---
2. Chimney cake
---
Chimney Singapore is the first store in Singapore to serve this Hungarian pastry that features delicious baked dough covered in cinnamon sugar. A Chimney Cake with Soft Serve ($4.50) is rolled and baked on the spot, and the warm dough is then sprinkled with cinnamon sugar, peanuts or Oreo bits. This sweet treat is completed with a swirl of vanilla or chocolate soft serve. For those who want something more, add Nutella or peanut butter spread in the cone for an additional $1.
Address: 2 Orchard Link, #02-02, *SCAPE, Singapore 237978
Opening hours: Mon-Fri 11am to 3pm, 5pm to 10pm, Sat-Sun 11am to 9pm
Tel: 9478 3164
Website
---
3. J-cone
---
Aside from bingsu, there's another Korean dessert that deserves attention. Jipangyi, or J-cone, is a long corn snack that's injected with soft serve, so every cold, sweet bite comes with a crunch. Get one from Insadong Korea Town in Sentosa for $6. Be warned, eating this can be a huge mess!
Address: 26 Sentosa Gateway, #01-30/31/32/33, Insadong Korea Town, Singapore 098138
Opening hours: Daily 11am to 10pm
Tel: 6238 8221
Website
---
4. Egg waffle
---
Egg waffles make an Instagram-worthy addition to Hvala Waffle Bar's soft serve. Tsubu ($7.80) is a cup of matcha soft serve with toppings such as torched dango balls, seaweed senbei (rice crackers), as well as gula melaka sago. You can add an egg waffle, AKA puffle, for $3. As if this dessert doesn't look spectacular enough, the puffle is then drizzled in chocolate or Speculoos sauce.
Address: 313 Orchard Road, #B3-50, Somerset 313, Singapore 238895
Opening hours: Daily 11:30am to 10pm
Website
---
5. Japanese purple yam

---
Hong Kong's famous Small Potatoes Ice Creamery opened an outlet in Singapore last June, and their desserts revolve around Japanese purple yam. Small Potato Party ($9.50) is the most decadent of the lot, and features Japanese purple yam paste, warabi green tea mochi and Japanese rice balls atop – you guessed it – Japanese purple yam soft serve.
Address: 10 Sinaran Drive, #B1-131, Square 2, Singapore 307506
Opening hours: Daily 11am to 10pm
Tel: 6352 2661
Website
Read our full review of Small Potatoes Ice Creamery here.
---
6. Popcorn
---
Despite their tagline "American festival sweets", Sweet Monster is actually a Korean brand. They opened two outlets in Singapore about a year ago, and Popcorn Monster ($6.80) became one of their best-sellers. It features a tower of popcorn, which comes in flavours such as strawberry, chocolate and caramel, embedded in soft serve. Talk about upgrading your movie snack.
Address: 68 Orchard Road, #B2-49, Plaza Singapura, Singapore 238839
Opening hours: Daily 10:30am to 10:30pm
Tel: 6333 4154
Website
Menu
---
7. Over-the-top cone

---
Hinging on to the OTT trend is 5 The Moments' Freaky Cone ($8.60 for single scoop, $10.80 for double scoop), which features gelato on a cone with more toppings than you can imagine. Many go there for their waffles ($12.80 with a scoop of gelato) that come in flavours such as green tea, charcoal, and red velvet. Fans also swear by gelato flavours such as Truffle Chocolate, Ferrero Rocher, and Earl Grey.
Address: 73 Tanjong Pagar Road, Singapore 088494
Opening hours: Sun-Thur 12pm to 11pm, Fri-Sat 12pm to 11:30pm
Tel: 6493 1839
Website
---
8. Mochi doughnuts

---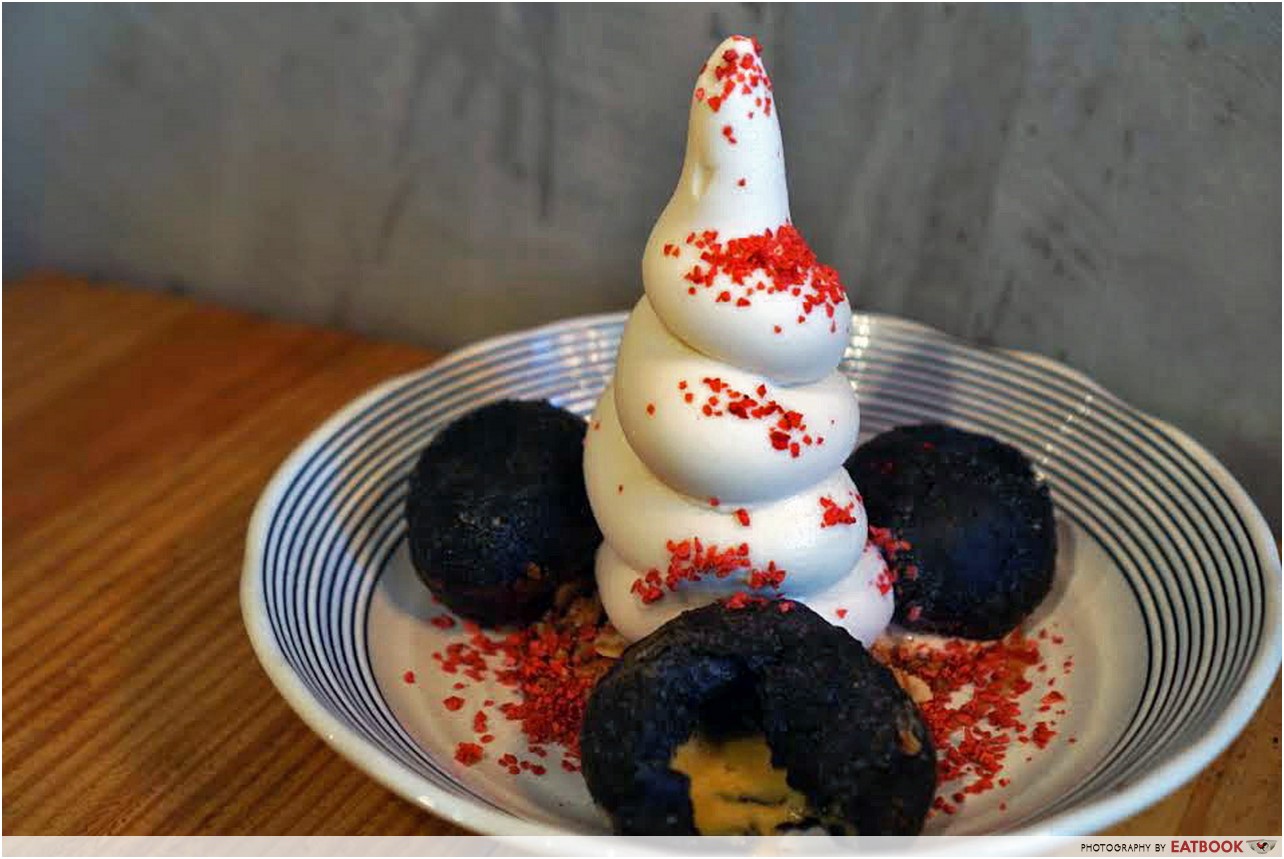 Found within Stateland Cafe, Brother Bird specialises in soft serve that come in interesting flavours such as avocado and cookie butter. Their much-raved about dessert is Classic ($12.90++), which is soft serve seated atop a doughnut that has a slightly chewy, mochi-like texture. 'Liu Sa' ($14.90++) features doughnut balls with salted egg yolk within it, though I felt it could've liu-ed (flowed) a bit more.
Address: 30 Bali Lane, Singapore 189866
Opening hours: Mon 12pm to 10pm, Wed-Sun 12pm to 10pm
Tel: 9800 7628
Website
---
9. Thyme cone
---
The gelato flavours at Birds of Paradise echo its minimalist theme. Infused with various herbs and spices, you can get flavours such as strawberry basil, lemongrass ginger and white chrysanthemum with cacao nibs. A single scoop is priced at $4.70 and a double is at $7.70. They also managed to spice up the traditional waffle cone by infusing it with thyme. You won't regret trying their Thyme Cones ($1 each), which are made daily and adds a refreshing fragrance to your gelato.
Address: 63 East Coast Road, #01-05, The Red House Katong, Singapore 428776
Opening hours: Tue-Fri 4:30pm to 10pm, Sat-Sun 12pm to 10pm
Tel: 9678 6092
Website
---
10. Tea
---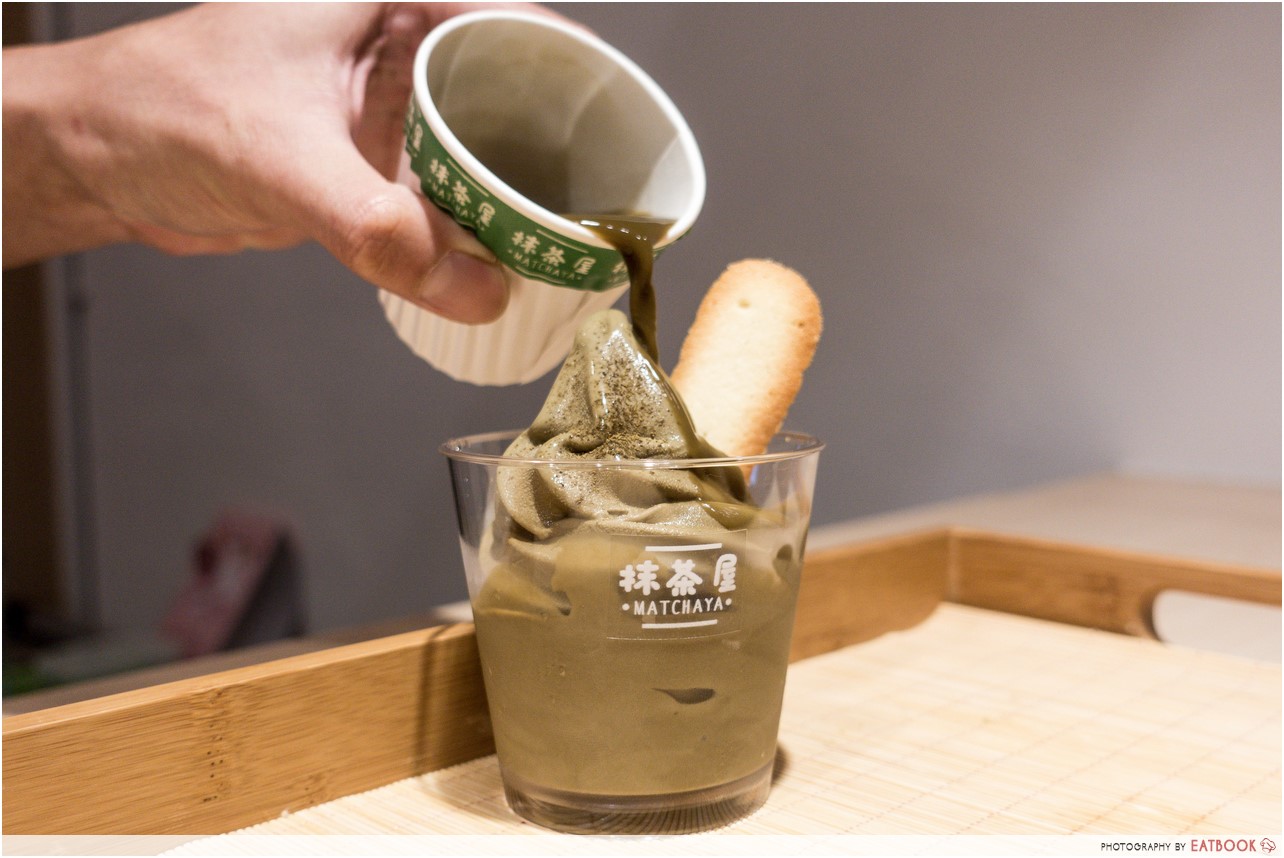 Instead of pouring espresso into your ice-cream to make it an affogato, Matchaya lets you drown your soft serve in a shot of tea. Featuring flavours that rotate seasonally, soft serve at this little takeaway is rich and exceptionally strong in flavour. It comes in a small plastic cup and is served with langues de chat (cat tongue cookie) that's made in-house. Check out their Facebook page to find out what flavour they are serving currently!
Address: 12 Gopeng Street, #01-72, Icon Village, Singapore 078877
Opening hours: Daily 12pm to 8pm
Tel: 9837 3187
Website
Check out our full review of Matchaya.
---
Make dessert even better
---
The combination of ice-cream and waffles just doesn't cut it anymore. Let us know if you have any other interesting ice-cream creations to recommend!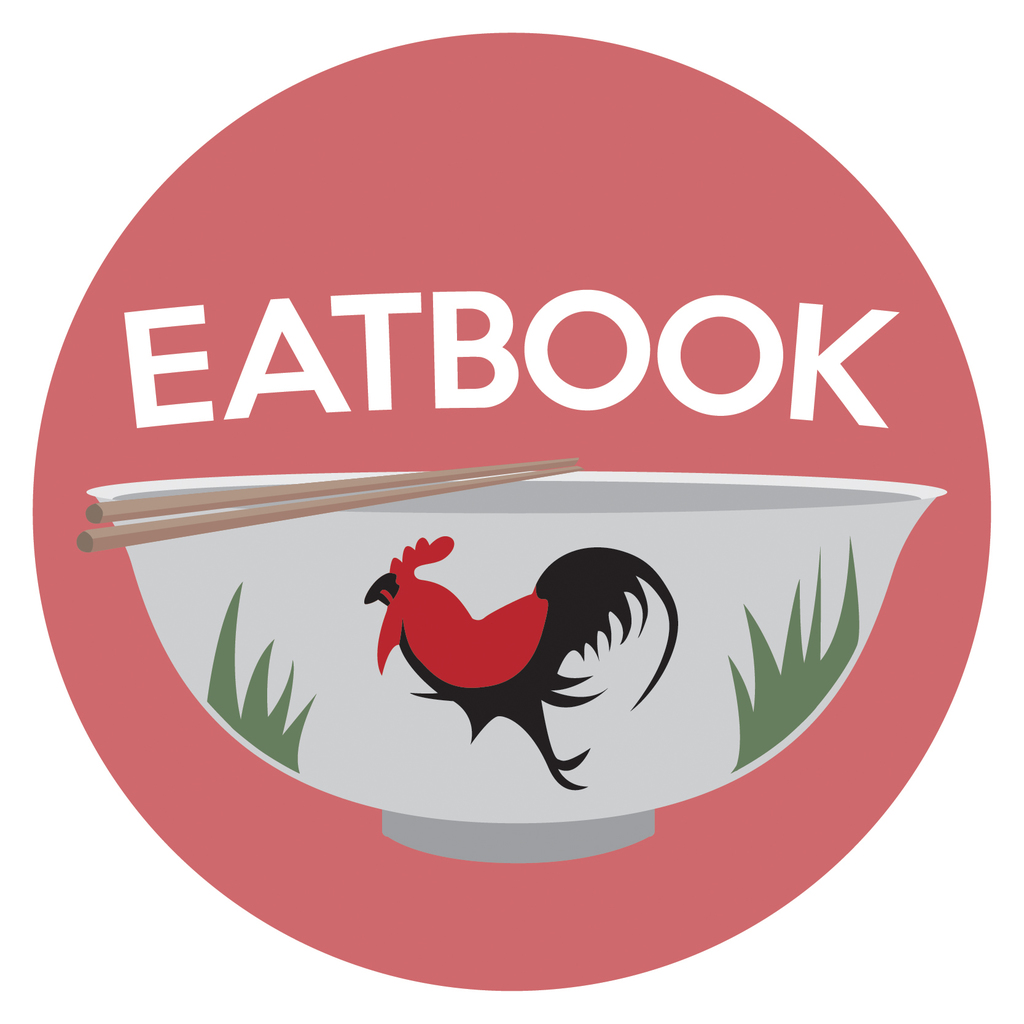 Drop us your email so you won't miss the latest news.