Pretty In Purple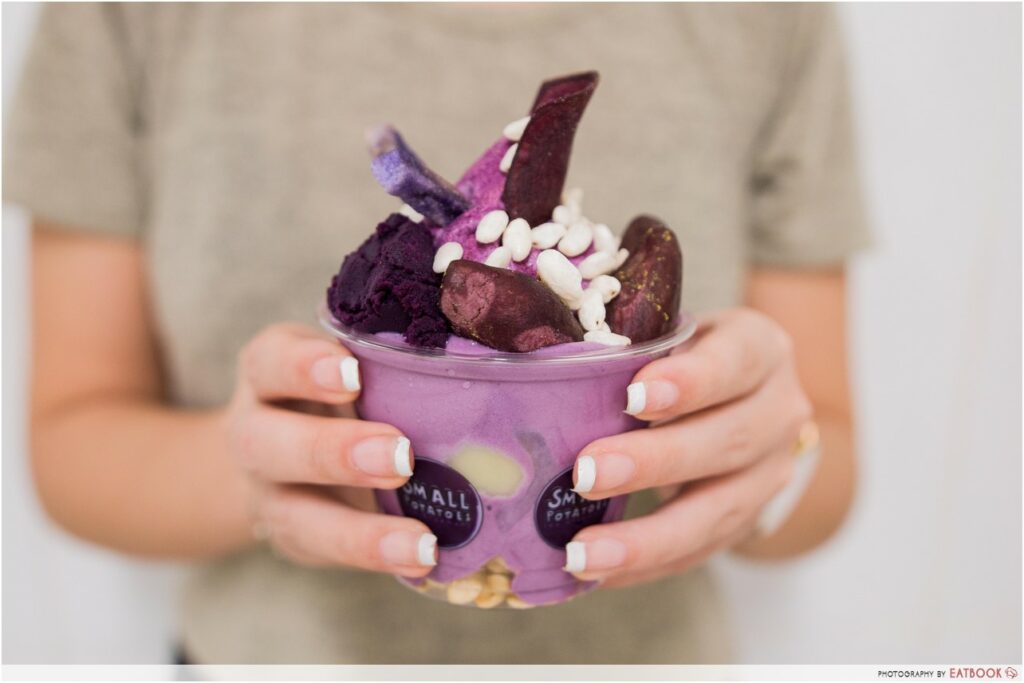 Let it be known, I LOVE ALL PURPLE FOODS. From the moment I saw all the super photogenic snapshots uploaded onto Small Potato Ice Creamery's geotag on Instagram, 2 years ago, I KNEW that I had to try it at least once in my life.  Known for serving up oodles of pretty, topping-laden purple sweet potato dessert parfaits, this place is the definition of a purple dessert overdose.
Unfortunately, Small Potato Ice Creamery is located all the way across the waters, in Causeway Bay, Hong Kong. As such, I had to put my dreams on hold, until I could figure out how to score myself a ticket to Hong Kong.
Until…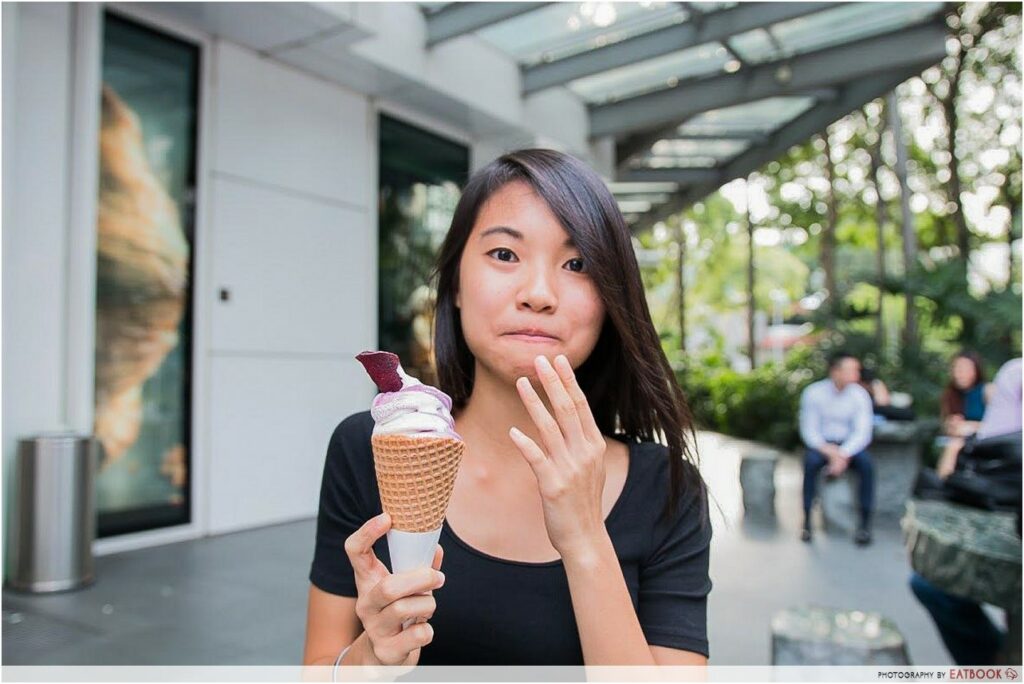 THEY ARE HERE IN SINGAPORE! EXCITED.
It looks like yet another famous Hong Kong eatery has made its way over to our sunny shores. You can now get your fix of this iconic purple soft serve here in Singapore for the very first time! Their take-away kiosk, with a slight name change to Small Potatoes Ice Creamery, was opened on 12th June this year, at the food basement of Novena Square 2.
It was like all my dreams come true.
I know that looks can be deceiving, especially when it comes to ultra-pretty desserts that risk looking much better than they taste. However, that knowledge didn't stop me from being super excited about making a trip down to try their signature soft serve ice-cream for the very first time.
Small Potato Party ($9.50)
Small Potatoes Ice Creamery only sells 2 flavors of soft serve: Japanese Purple Kumamoto Yam, and Himalayan Sea Salt.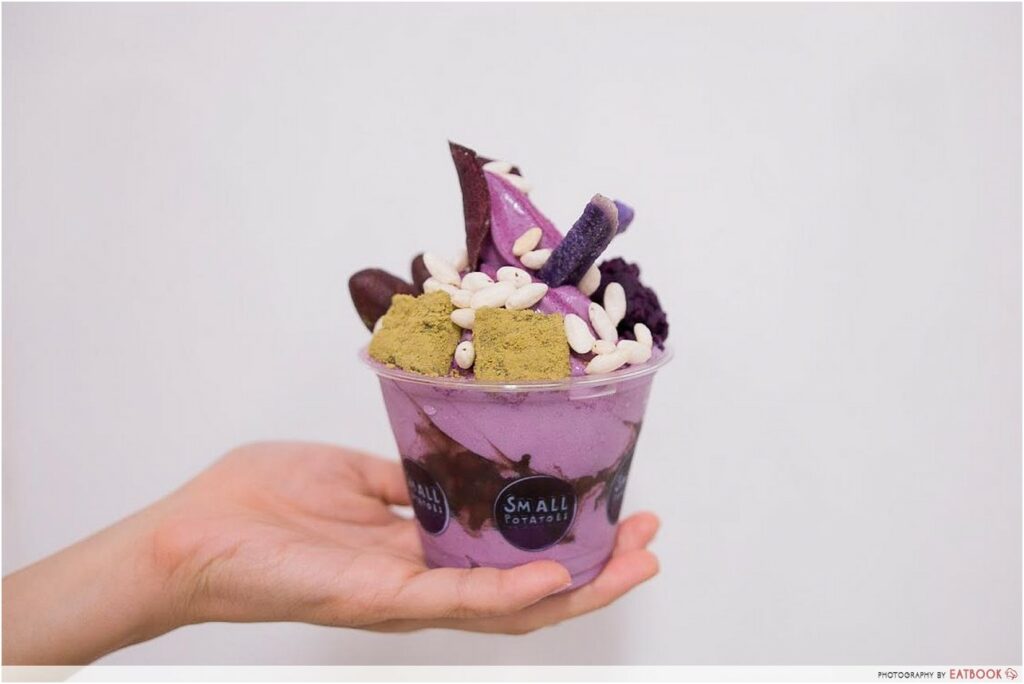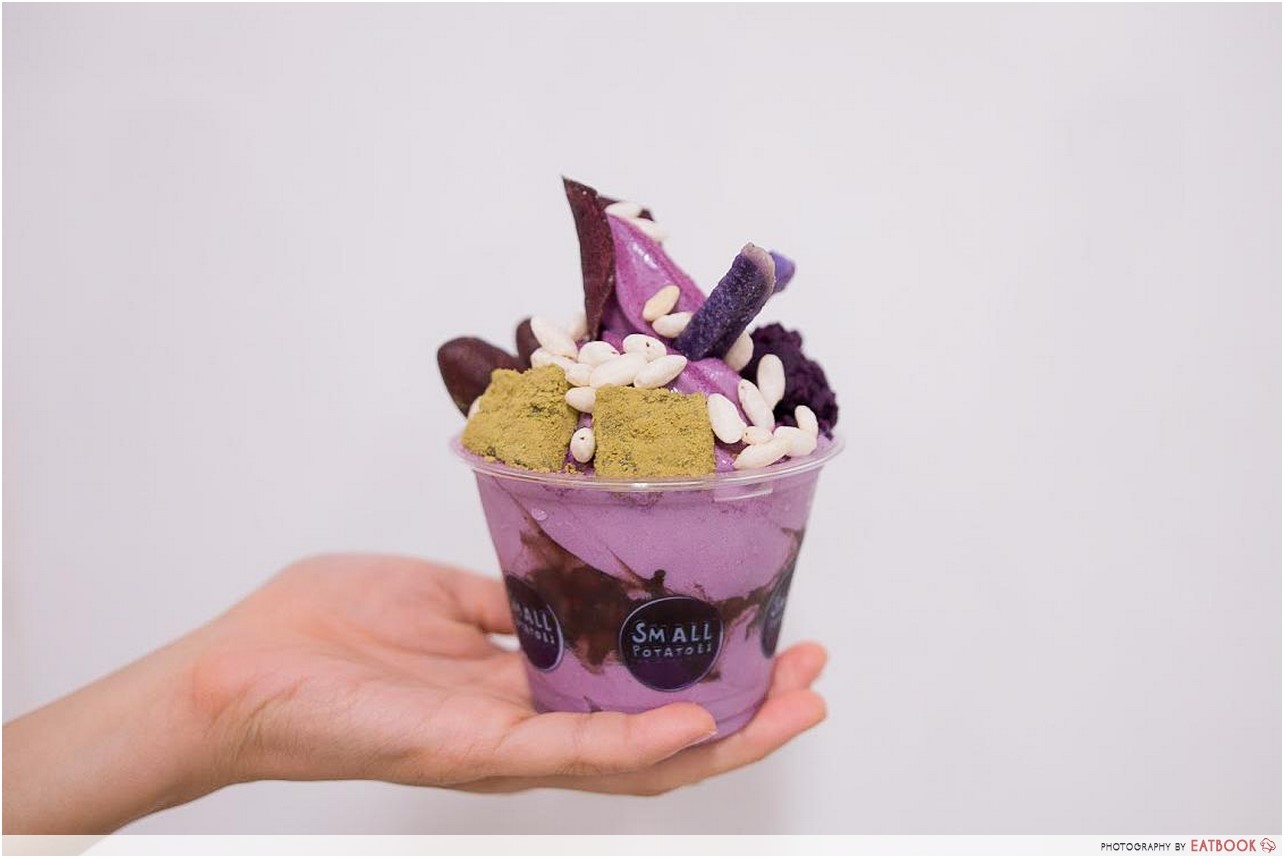 We went straight for their signature parfait, the Small Potato Party. This came topped with crispy rice, baby Japanese purple sweet potatoes, purple sweet potato paste, green tea warabi mochi, and purple potato sticks. As we dug in, we discovered shiratama (Japanese rice balls) and azuki beans beneath the layers of purple soft serve ice-cream.
This is very unlike the usual potong yam ice-cream that you'll find here in Singapore. The flavor of the sweet potato soft serve was mild – too mild to leave much of a lasting impression. We felt that it was pretty pricey for the small serving size, with the toppings being nothing to shout about.
However, I did appreciate how it was light with no artificial, overpowering sweetness. The purple sweet potato ice cream tasted yummy, with a perfectly smooth texture to boot. If you love sweet potato and yam desserts like me, you'll like this.
Be warned, it'll melt FAST, especially if you head outside the shopping mall to enjoy your ice-cream, as we did.
The White Tower ($8.50)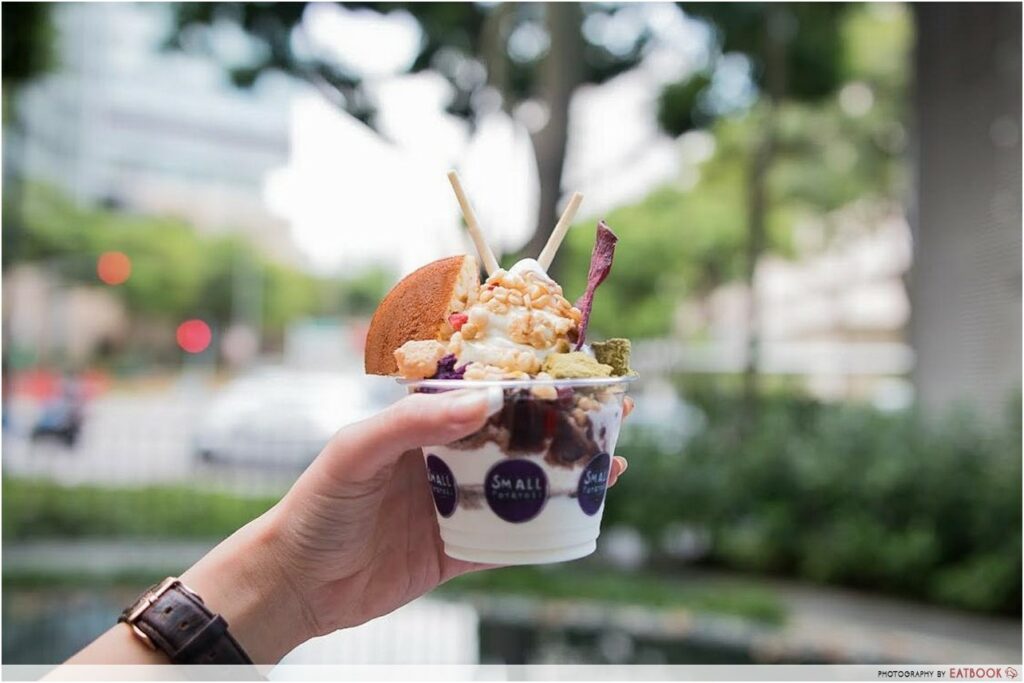 This snow-white Himalayan sea salt parfait comes with almost all the same toppings as the Small Potato Party, aside from the purple potato sticks which have been replaced by 2 sticks of caramel Pocky. We also got an extra wedge of azuki dorayaki (red bean pancake), for a top-up of $0.80.
The Himalayan sea salt soft serve was pleasant at first taste. The distinct taste of salt in the soft serve made for a sharper, brighter flavor, which was quite refreshing.
However, this got too salty for my liking after a few bites. You may start feeling thirsty halfway through as well, so have some water on hand!
Mixed Ice Cream Cone ($5.50)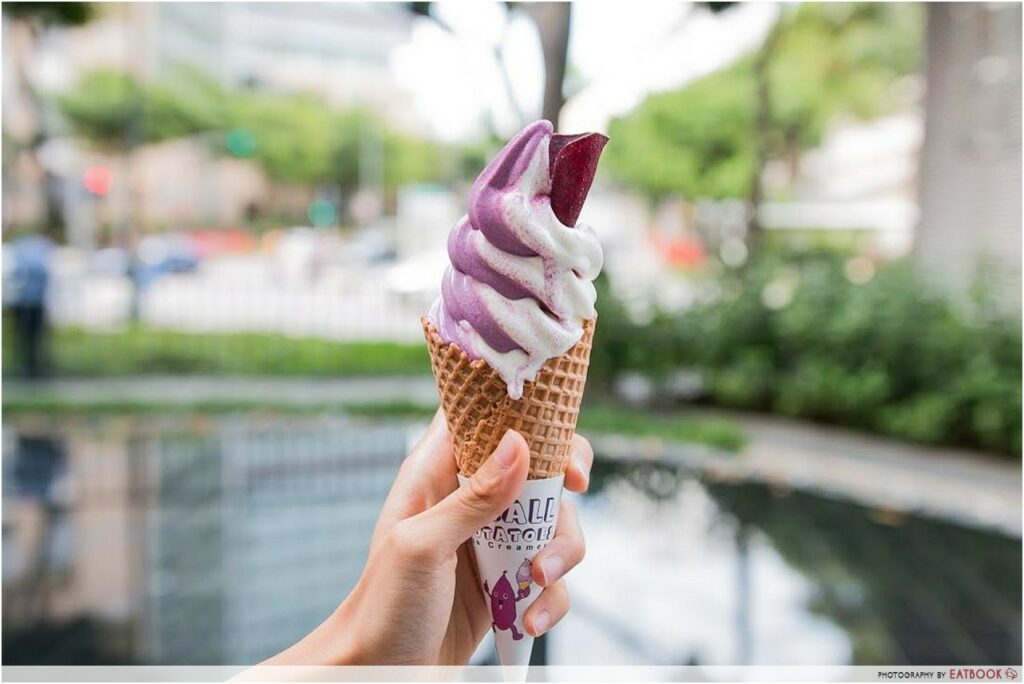 The Mixed Ice Cream Cone combines both the Kumamoto Yam and Himalayan Sea Salt flavors into a white-and-purple twist, which is generously swirled into a big waffle cone. According to their boss, this is one of their most popular items.
Portion size-wise, the soft serve cone is more value for money, compared to the parfaits.
Surprisingly, this combination soft serve was my favorite – the salty-sweet edge in the sea salt ice cream somehow highlighted the subtle sweet potato flavor, making it more pronounced. This unusual combination worked wonders, and I savoured this super-smooth soft serve to the last lick.
This also melts quickly. Even more quickly than the parfaits. Eat fast and don't dally, especially if it's a hot day!
The Verdict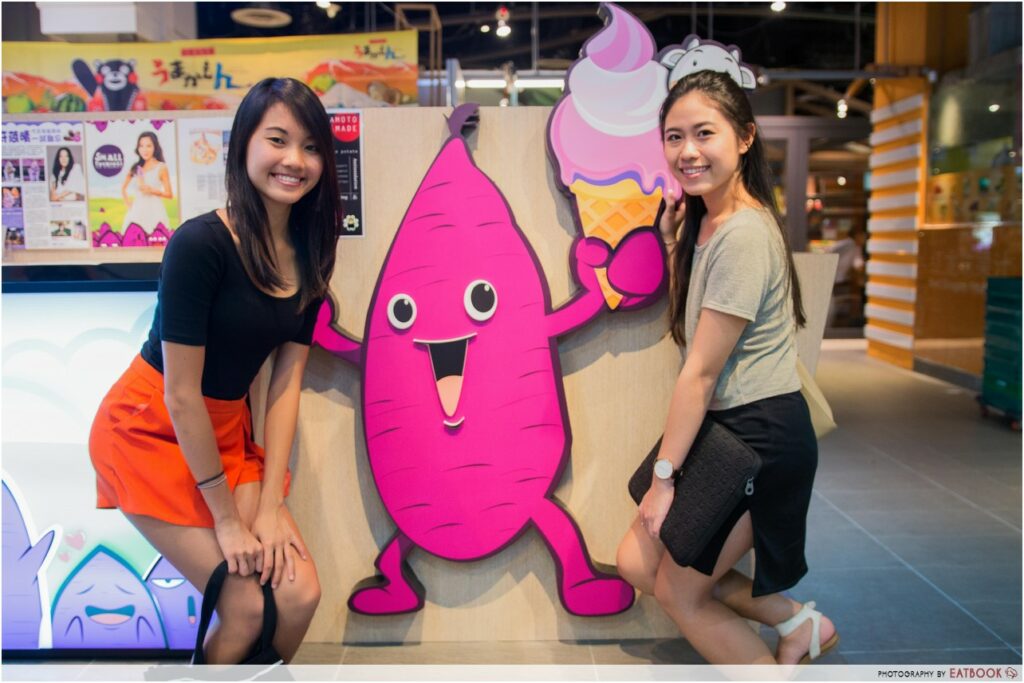 I won't lie – the sweet potato parfaits are prettier than they taste, being quite pricey as well.
However, the quality of the creamy soft serve ice cream is good, with the Mixed Ice Cream Cone leaving the strongest impression. I appreciate how the sea salt and sweet potato flavor build upon each other, as the single flavored parfaits can get rather one-dimensional if you're polishing one off on your own.
As someone with an unabashed love for yam-flavored foods, I thoroughly enjoyed my experience at Small Potato Creamery – snapping photos of the almost-too-pretty-to-eat purple desserts before they melted in the heat. If you're a fan like me, this place is worth the visit.
Summary
Pros
– High quality soft serve
– Very aesthetic
Cons
– Expensive for portions given
– Melts quickly
Recommended Dishes: Mixed Ice Cream Cone
Operating Hours:
Daily, 11 AM – 10 PM
Address: #B1-131 Square 2, 10 Sinaran Drive, Singapore 307506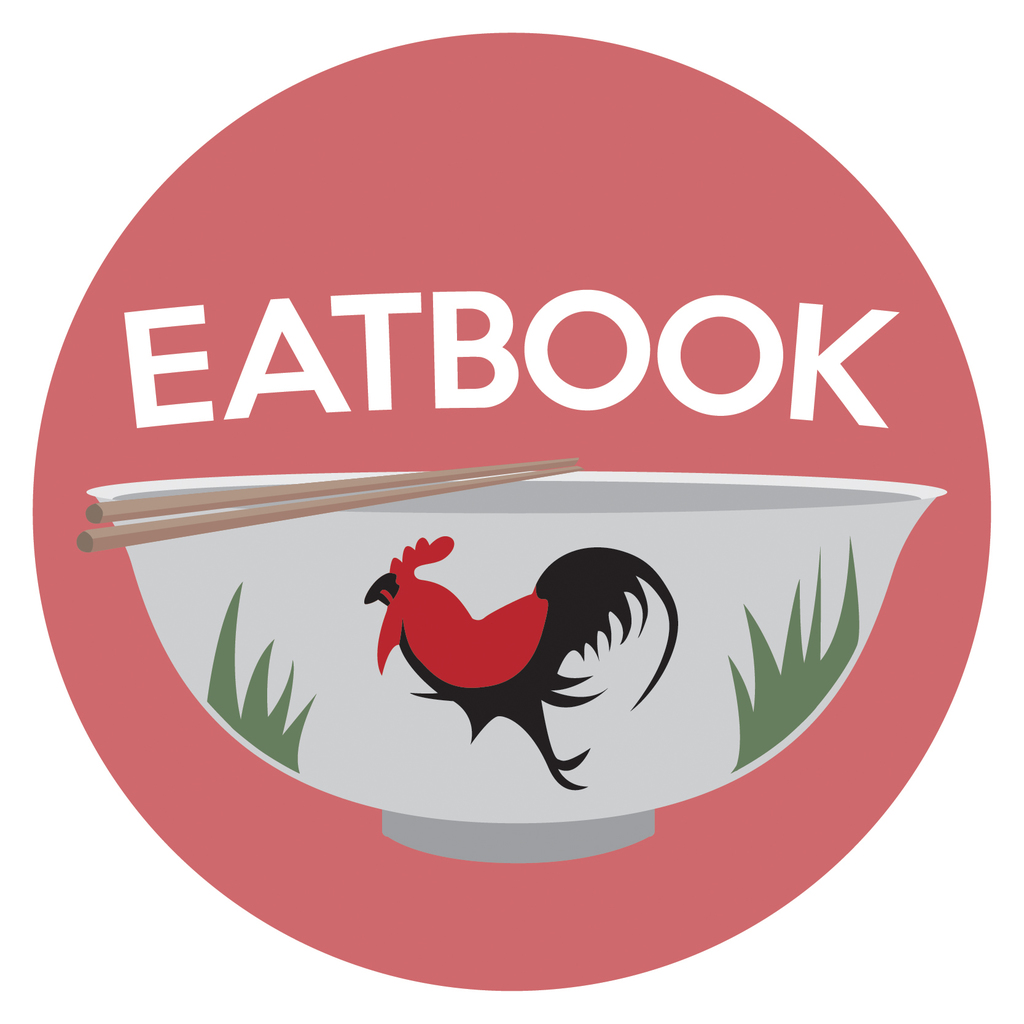 Drop us your email so you won't miss the latest news.