Xin Peng La Mian Xiao Long Bao in Clementi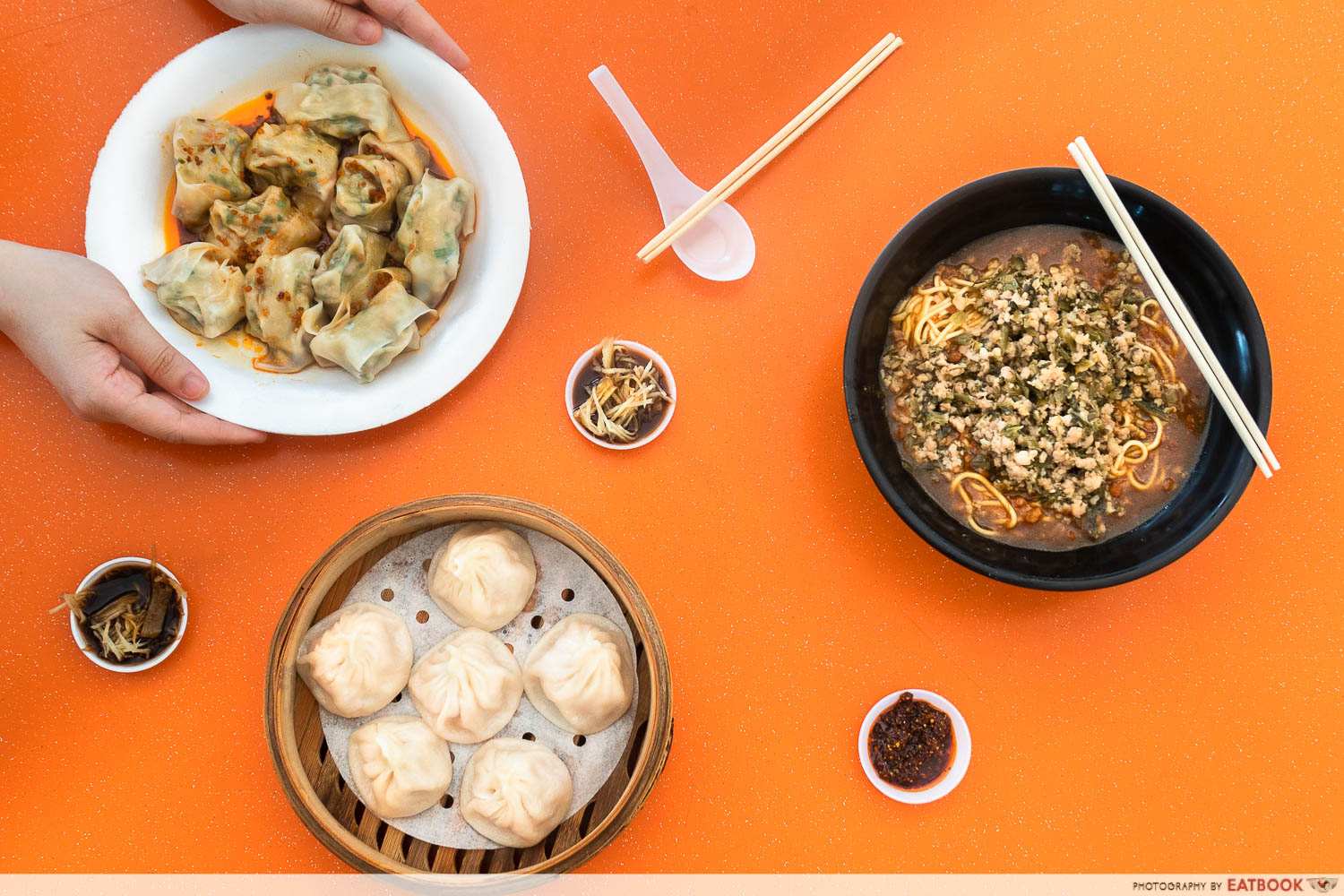 I love xiao long bao (XLB), so I tend to be picky about it. But as with most dishes, what constitutes a good XLB is largely subjective. Some love a thicker bao skin with a heavy pork flavour, while others, like me, are on Team Din Tai Fung—think paper-thin exterior encasing delicately flavoured meat. Whichever camp you belong to, Xin Peng La Mian Xiao Long Bao is worth checking out for their affordable prices and legit Shanghainese fare. This west-side gem doles out basket after basket of piping hot soup dumplings, massive bowls of la mian and more.
Da Shao Chong Qing Xiao Mian Review: Legit Chongqing-style Mala Beef Noodles At Boon Keng
Food at Xin Peng La Mian Xiao Long Bao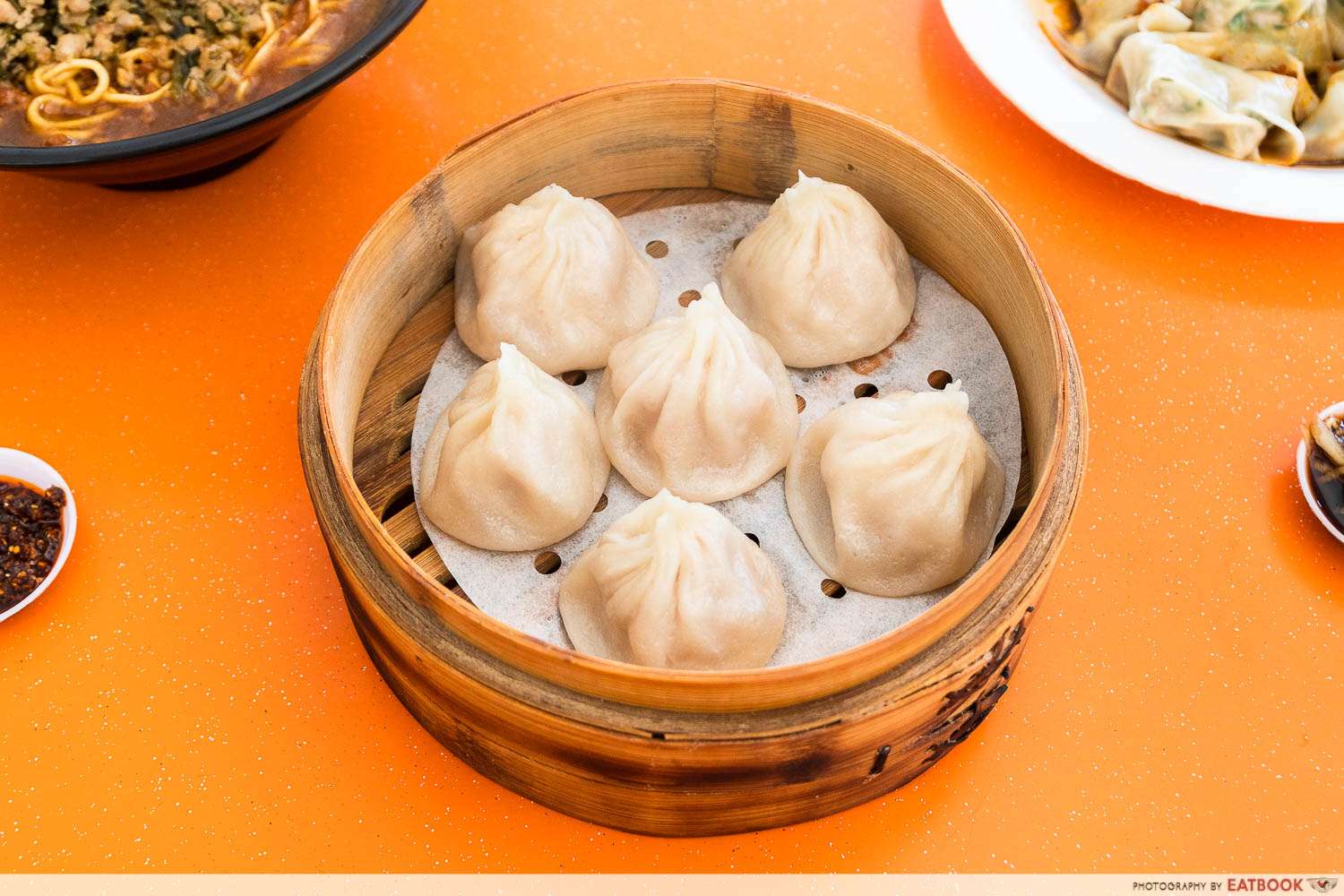 I was pleasantly surprised when I collected my order. The Shanghai Xiao Long Bao ($4.50) were larger than I'd expected, each at least double the size of a Din Tai Fung XLB. You also get six pieces in one basket, which works out to less than $0.80 a pop—well worth the 10-minute wait.
There was a small team of Chinese natives behind the counter, working at godlike speed and churning out one dumpling after another with their nifty fingers. It's important to note that here you're getting Shanghainese-style dumplings, which differ from the tiny, bite-sized soup dumplings from the famous Din Tai Fung. Don't expect the same level of precision and delicate folds as what you'd get at the Taiwanese institution.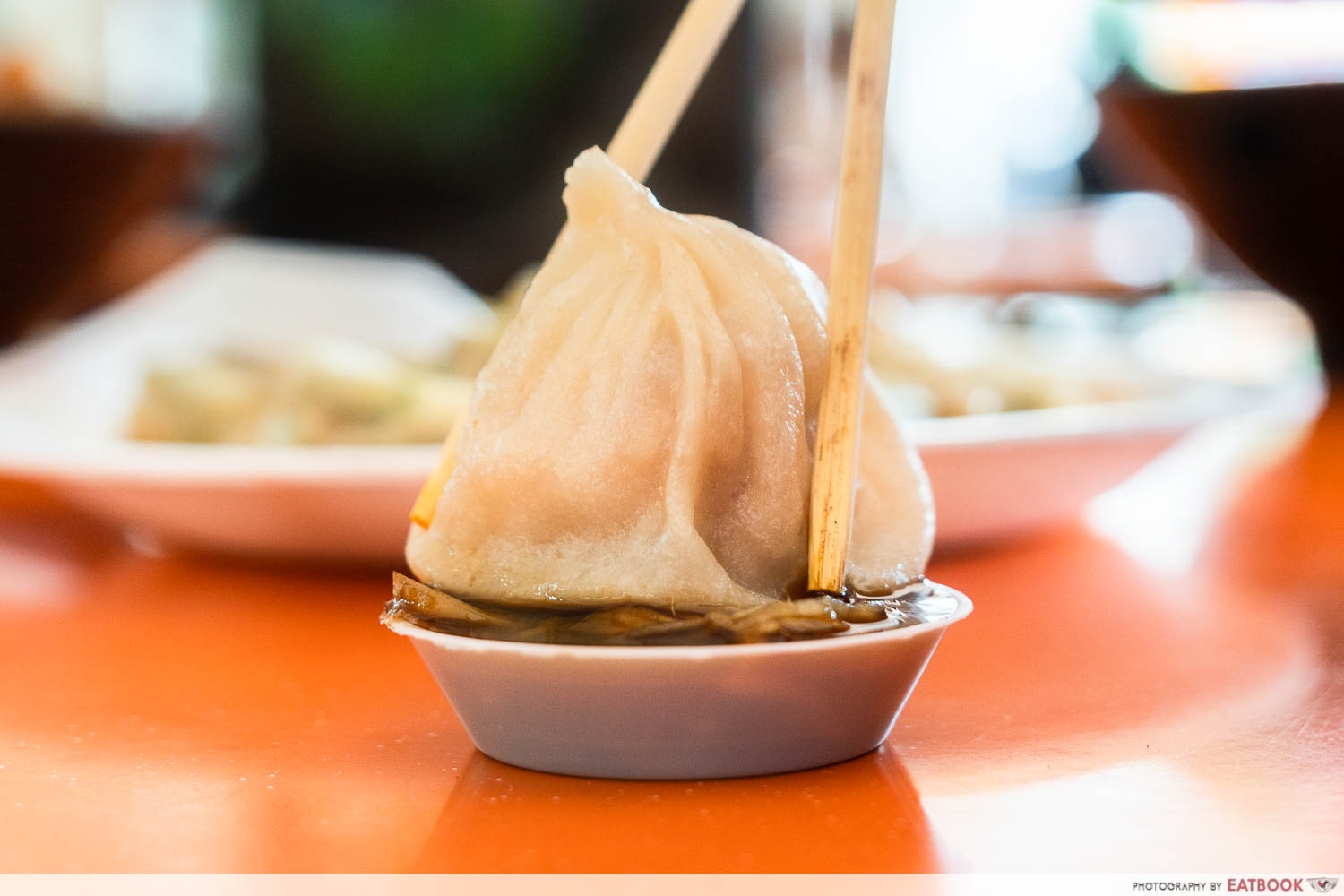 These hefty dumplings featured uber flavourful pork filling, securely tucked in a handmade bao skin that was slightly thicker than the ones I'm used to. Although I would have preferred if the skin was slightly thinner, it had a good bite that held up well against the juicy meat, so I didn't really mind it that much.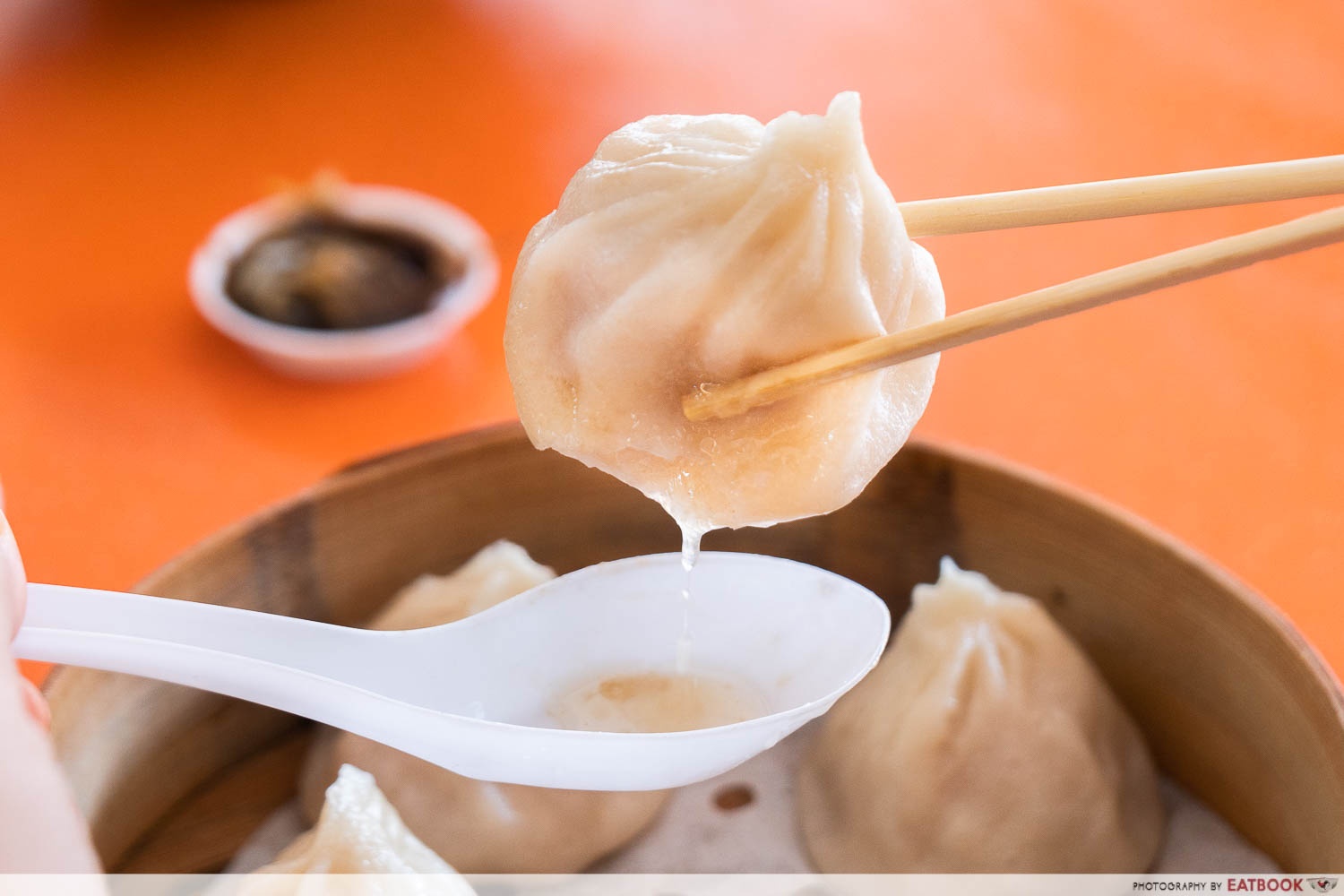 Thankfully, the pork filling wasn't too salty. It was packed with intense pork flavours, making each bite a delicious one, but I started to feel jelak after my third piece. Perhaps this is more suitable as a dish for sharing. If only there was more broth in each bao to counteract the meatiness!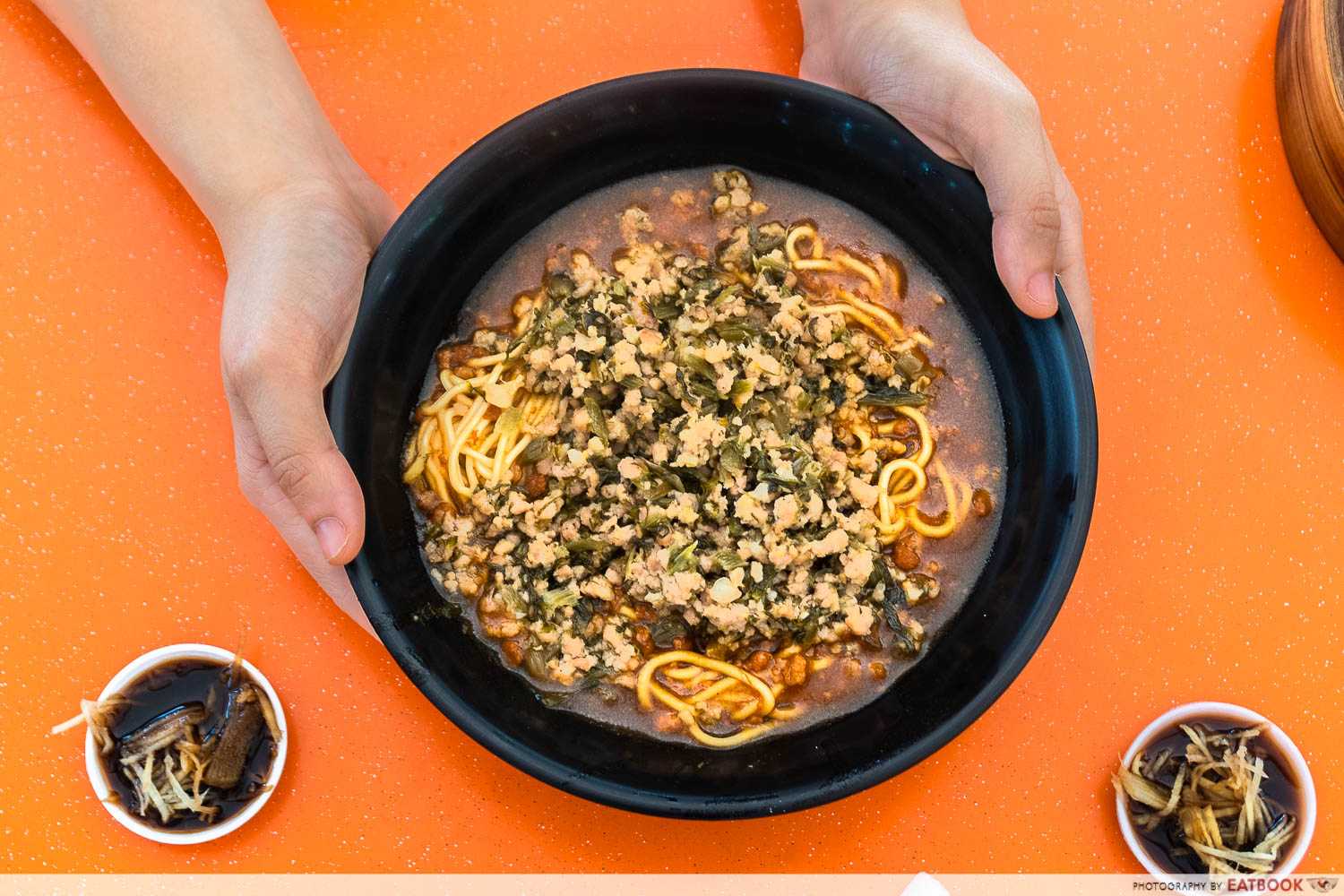 If you're carb-loading, you'll appreciate the generous portion of noodles in the Preserved Veg Shredded Meat La Mian ($4). This was the cheapest item on the menu, but no less impressive in terms of giving you bang for your buck.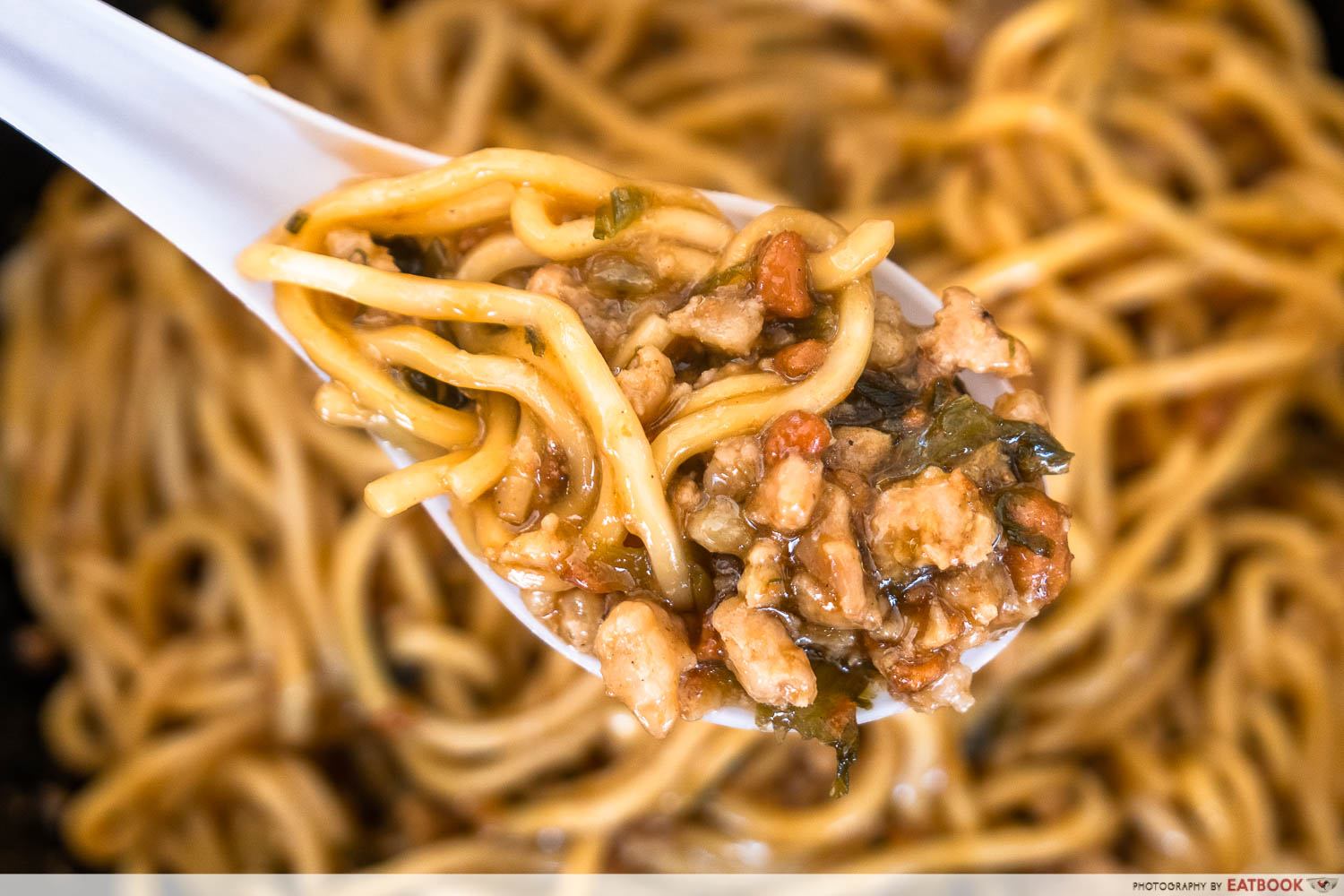 You get a mountain of housemade minced meat and preserved vegetables sitting atop a massive pile of la mian. The noodles, a smidgen overcooked, were doused in a starchy, savoury sauce that was too thick for my liking, so I think the soup version would have fared better for me.
Although the meat topping was too salty on its own, it complemented the plain noodles after mixing both elements well.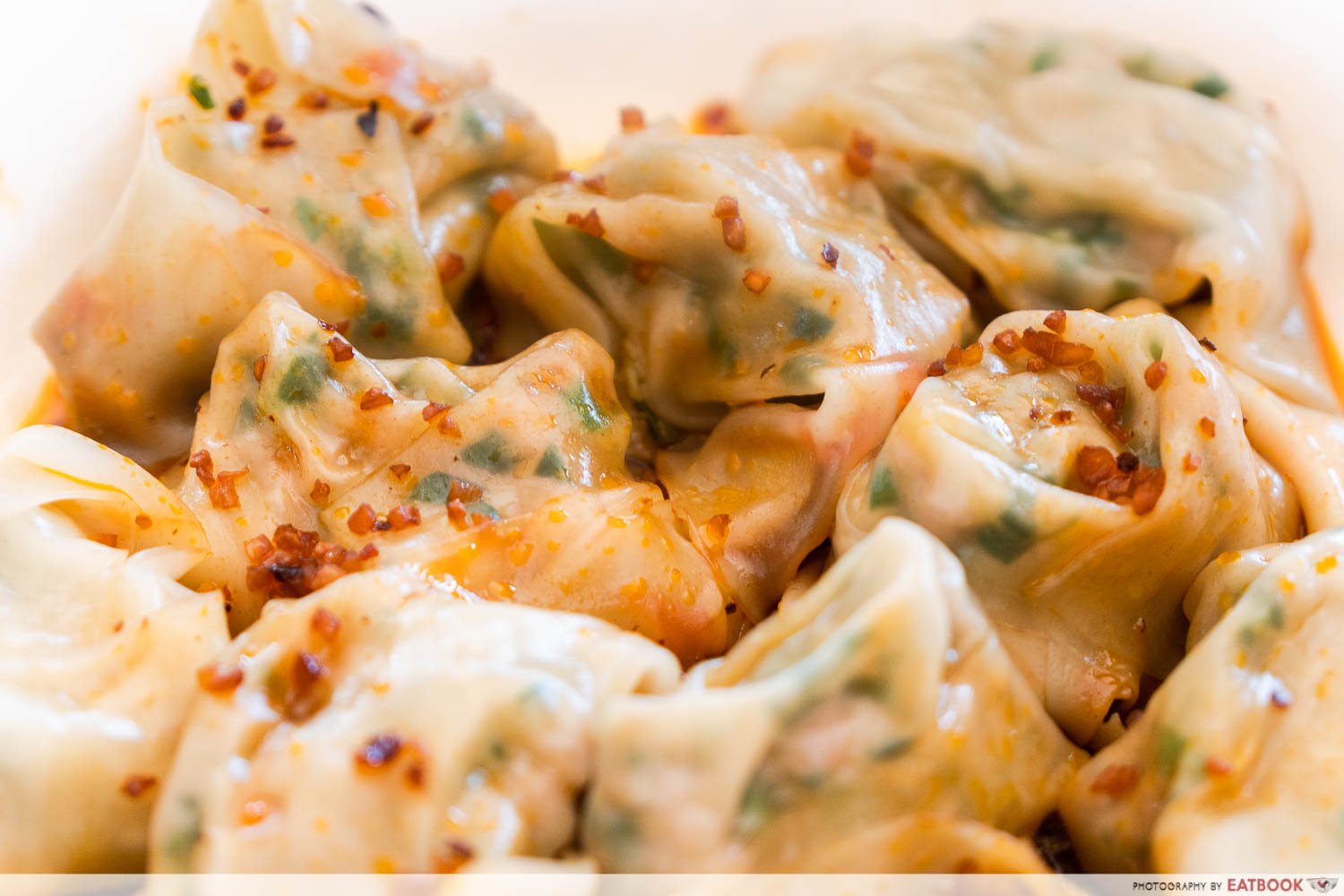 Chilli oil wonton, AKA hong you chao shou, is one of my favourite dumplings to ever exist. The Red Oil Wanton ($4) at Xin Peng La Mian Xiao Long Bao includes 10 decently sized wontons coated in a fragrant chilli oil and vinegar blend. The sauce, which was a good combination of sweet, sour, and savoury, was only mildly spicy, so it's palatable even if you're not big on heat.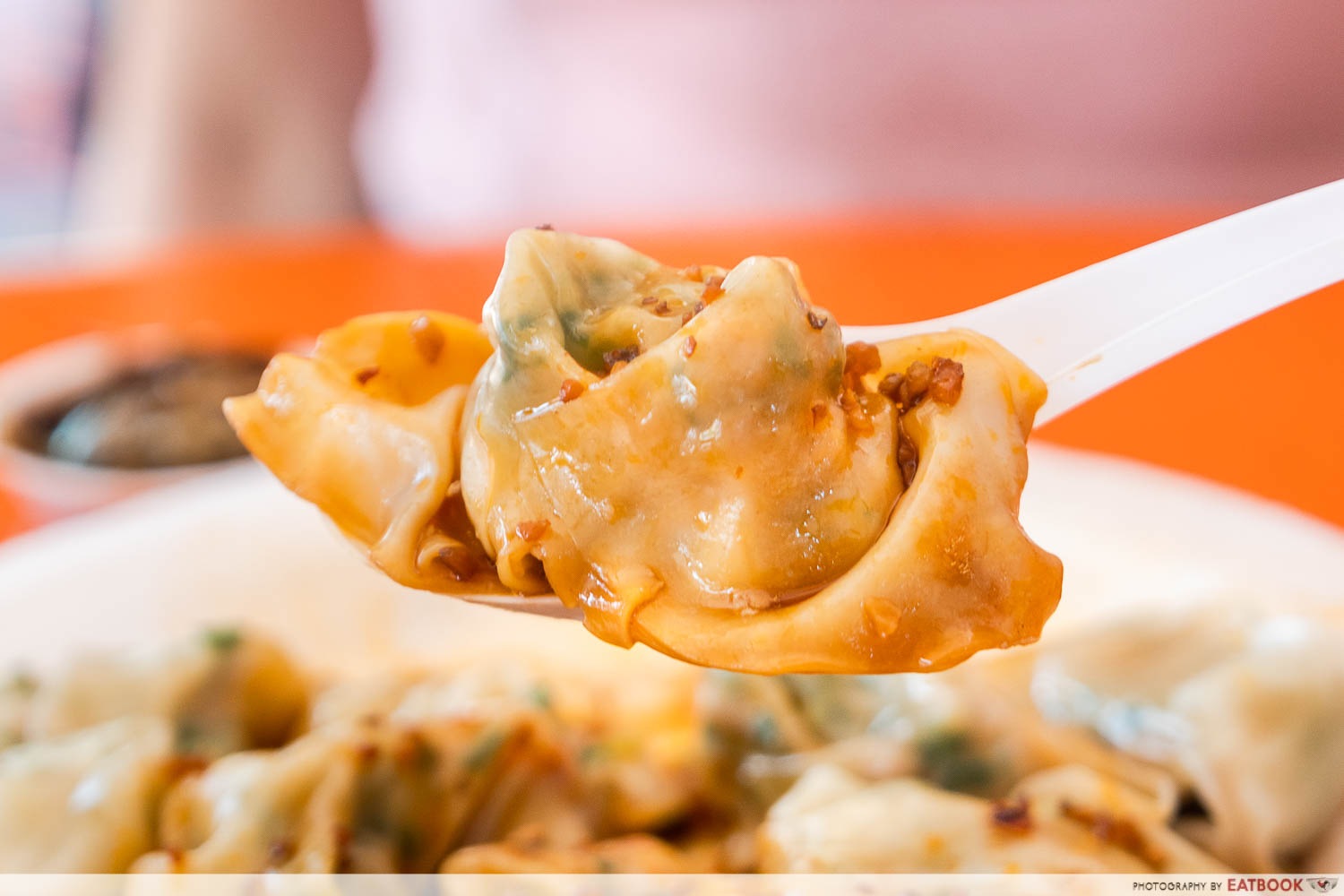 Stuffed with a juicy pork and chive filling, each wonton resembled a little ingot, with a silky layer of hand-rolled dumpling skin neatly folded to the middle. The vinegar lightened up the sauce, pairing well with the well-marinated meat filling, while the chives dotted throughout added freshness to each morsel. It was hands down my favourite item of the lot.
Yanan Ban Mian Review: Ex-St Regis Chef Opens Hawker Stall With Handmade Dumplings And Seafood Ban Mian
Ambience at Xin Peng La Mian Xiao Long Bao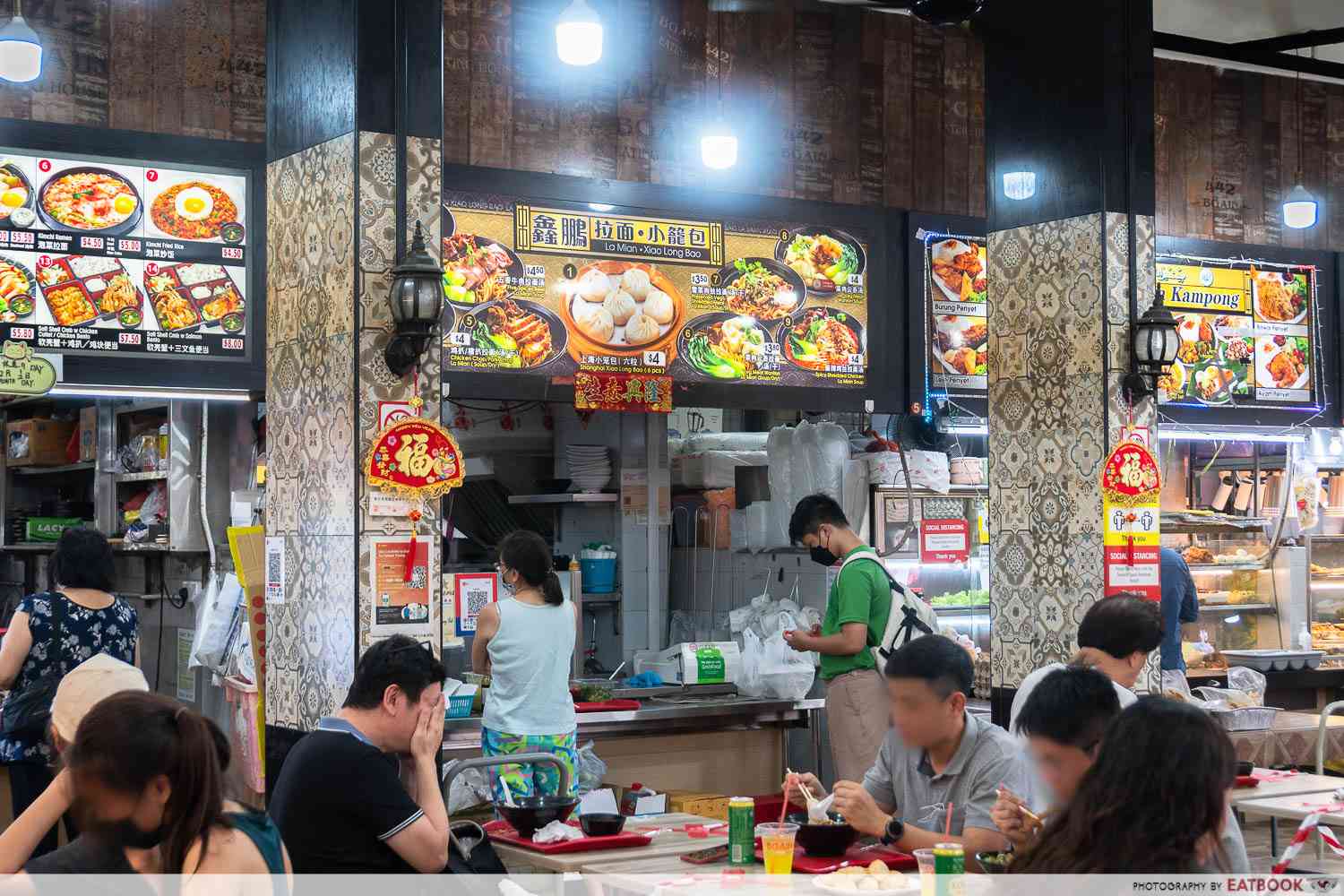 Xin Peng La Mian Xiao Long Bao is situated in a nondescript coffeeshop right across from the popular Clementi 448 Food Centre. It's a five-minute walk from Clementi MRT Station, which makes it rather convenient, especially if you're a Westie.
We were there on a weekday for lunch and the stall was fairly crowded with a constant queue. Even though the coffeeshop is relatively small, we found a table in no time. It can get pretty warm in the afternoon, which explains why most folks opt for takeaway instead.
The verdict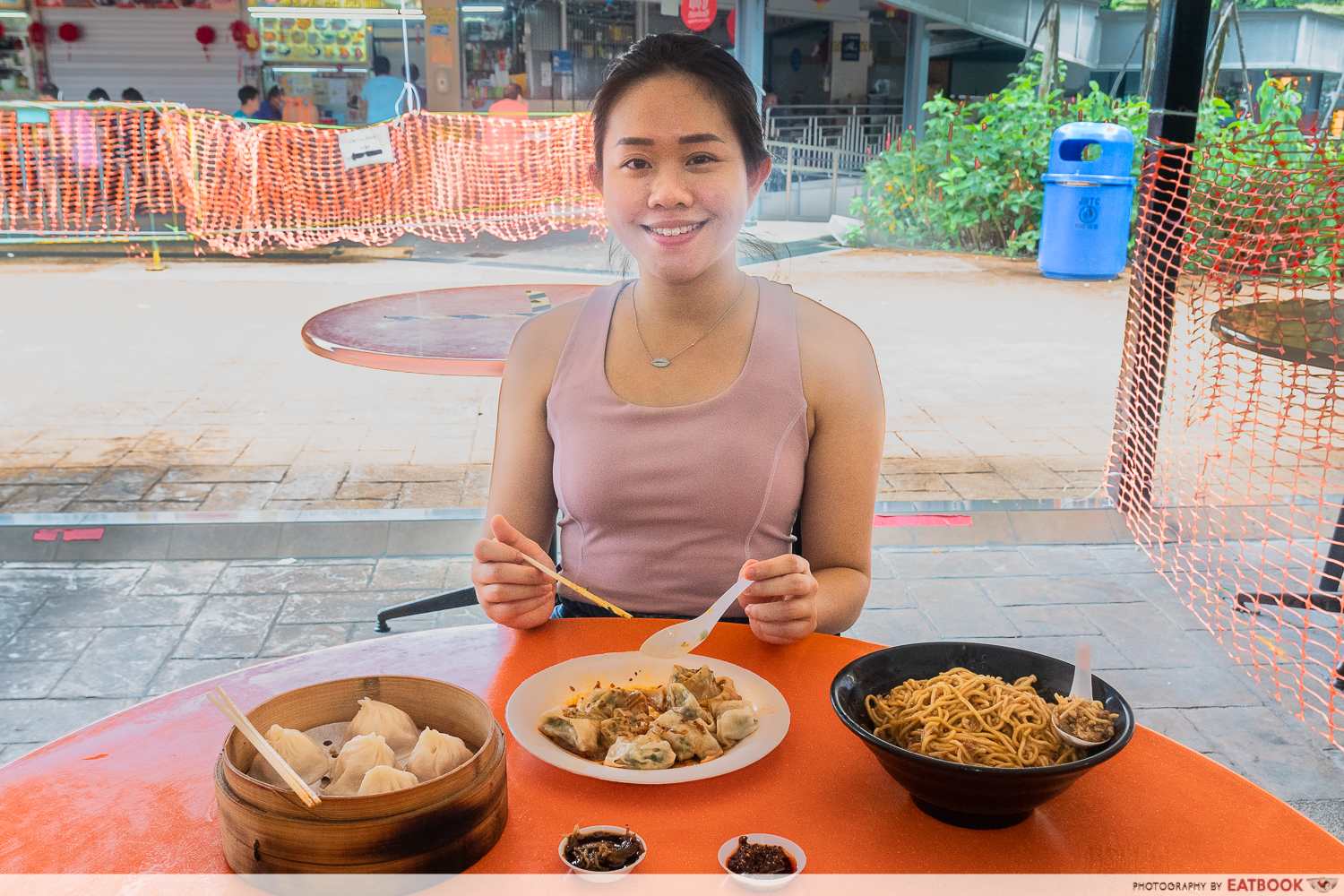 With its attractive prices, massive portions, and a fairly accessible location to boot, Xin Peng is definitely one stall to bookmark if you're in the mood for a no-frills carb fest. I foresee myself returning in the near future for my dose of tasty dumplings that don't break the bank!
If you're looking for more food in the area, check out our Clementi Mall food guide. Otherwise, visit King of Fried Rice at Clementi for affordable pork chop fried rice.
Address: 442 Clementi Avenue 3, Singapore 120442
Opening hours: Wed-Mon 10am to 10pm
Tel: 9795 9827
The Clementi Mall Food Guide: 10 Places For Korean Hotpot, Ramly Burger And More
Photos taken by Zadelin Wong
This was an independent review by Eatbook.sg
Xin Peng La Mian Xiao Long Bao Review: $4 Handmade XLB, Chili Oil Wonton And More In Clementi
Xin Peng La Mian Xiao Long Bao Review: $4 Handmade XLB, Chili Oil Wonton And More In Clementi -

8/10
Summary
Pros
– Affordable prices
– Generous portions
– Convenient location
– Freshly prepared on site
Cons
– Noodles were slightly overcooked
– Some items leaned towards heavy and greasy
Recommended dishes: Shanghai Xiao Long Bao ($4), Red Oil Wanton ($4)
Opening hours: Wed-Mon 10am to 10pm
Address: 442 Clementi Avenue 3, Singapore 120442