Yanan Ban Mian at Telok Blangah Food Centre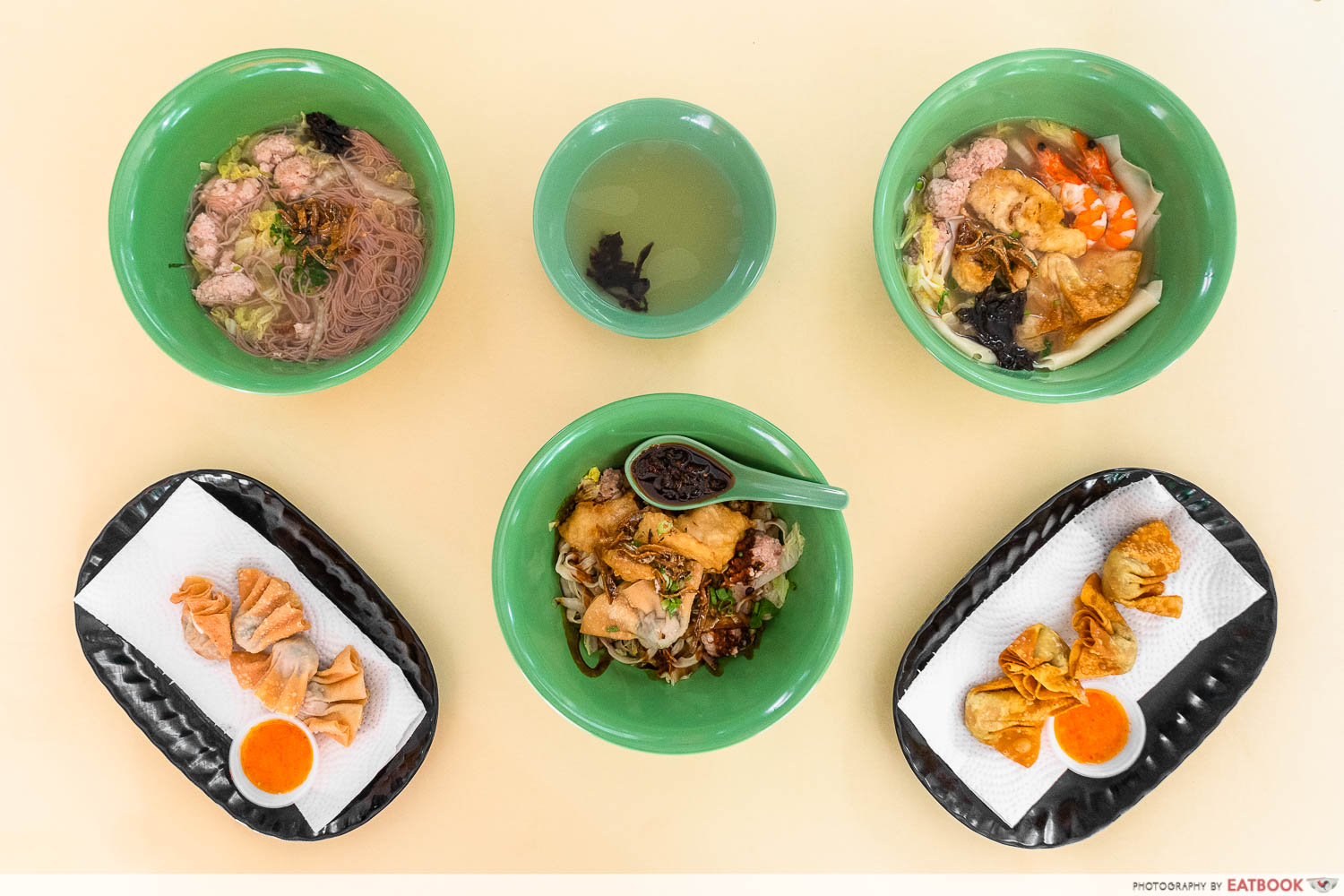 After watching a viral YouTube video about this new hawker ban mian store, I was curious to find out if it was really worth the hype. Located at Telok Blangah Food Centre is Yanan Ban Mian, and it is owned by ex-executive sous chef, John Yeo, who used to cook at the St Regis hotel. 
Chef John prides himself in making everything from scratch, from the seafood-based broths to crispy deep-fried dumplings.
Jiak Song Mee Hoon Kway Review: Delicious Handmade Mee Hoon Kueh By Ex-MasterChef Finalist
Food at Yanan Ban Mian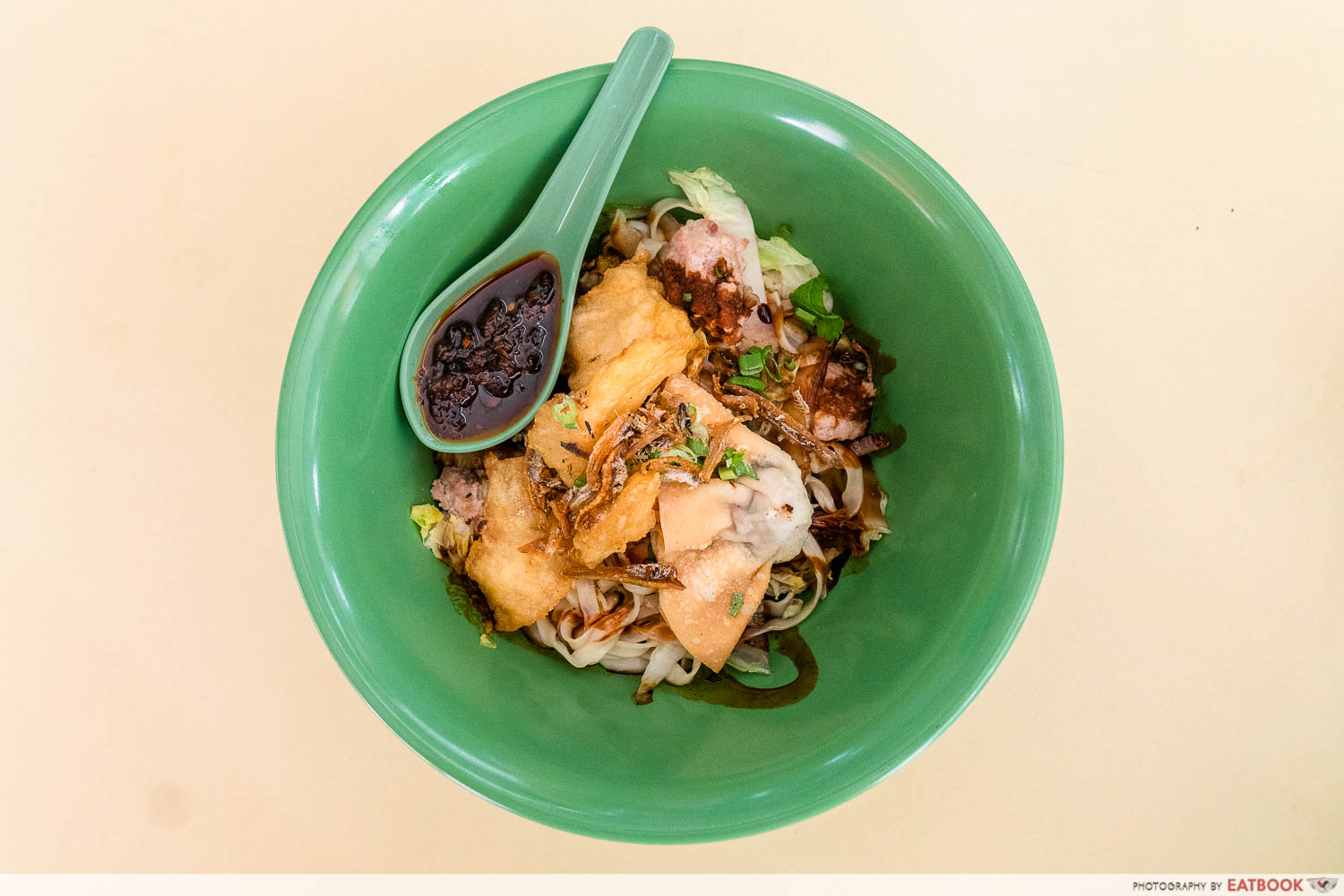 I started off with the Seafood Combo Premium Soya Sauce Toss Noodle ($5.50) that comes with fried fish, dumplings, minced pork balls, and boiled prawns. It is topped with savoury ikan billis, chopped spring onions, alongside a heaping portion of aromatic chilli. 
I opted for their handmade ban mian noodles, amongst the six different noodle options that you can choose from.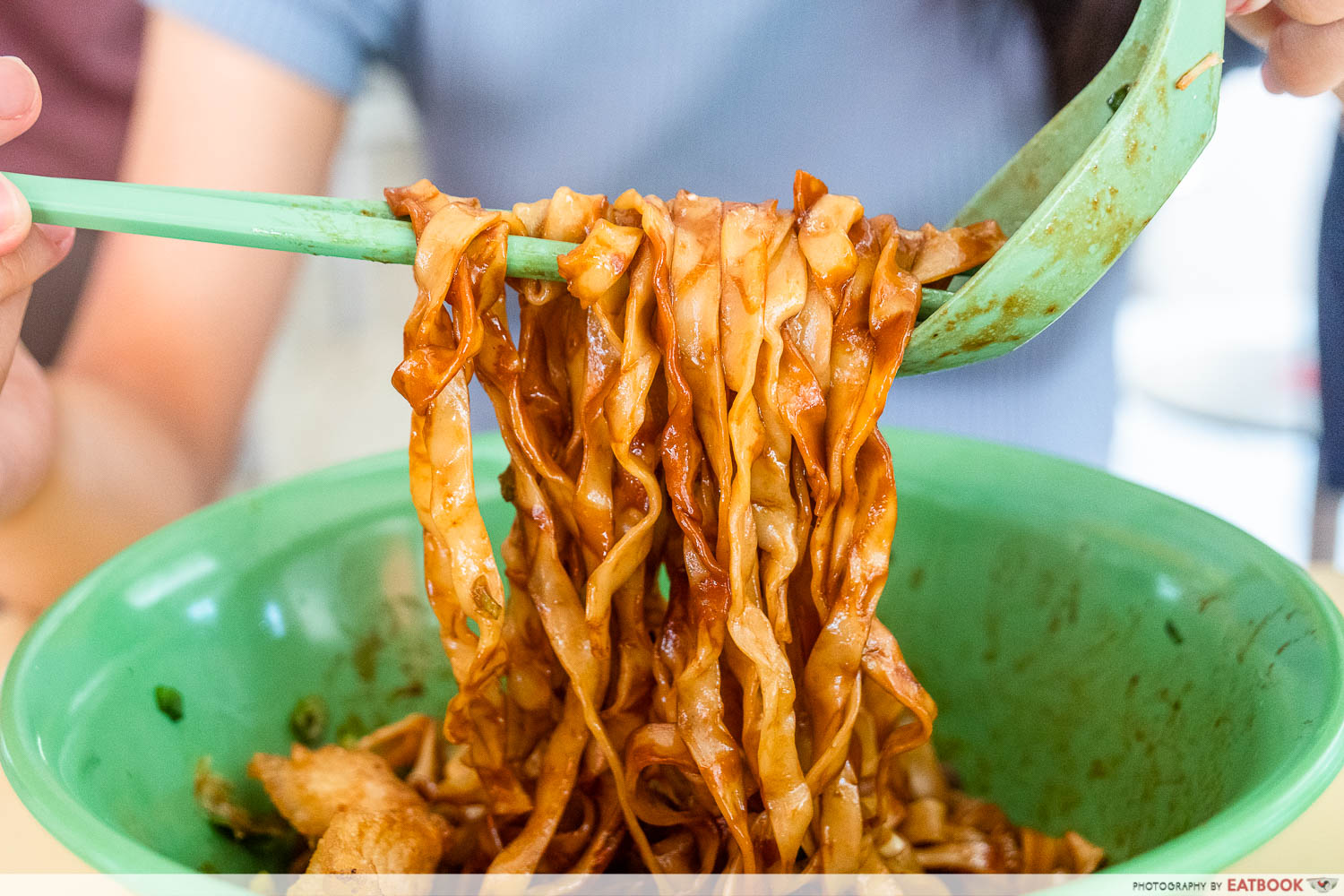 Upon slurping the noodles, I could taste a distinct hint of sweetness, possibly from dark soya sauce within the mix. The handmade noodles were QQ, but I would have appreciated it to be a little thicker. 
As for the proteins, the prawns were succulent with a good bite, but the fried fish pieces were too limp for my liking. Their batter lacked crispiness, but this may have been due to us leaving it out for too long. The minced pork balls were juicy and not too hard, while the dumplings were filled with a good amount of meat filling.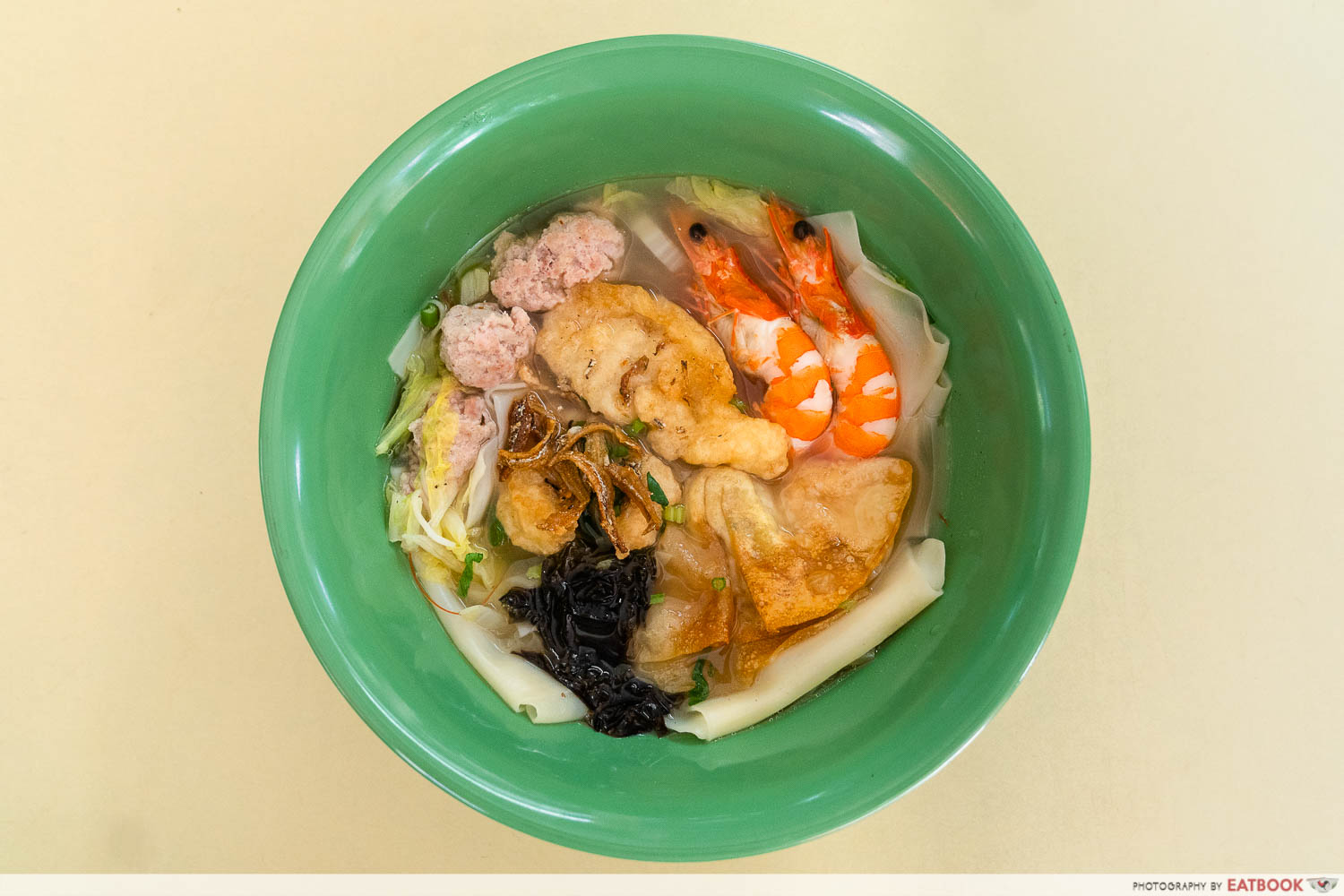 I moved on to the Seafood Combo Noodle Superior Soup ($5.50) that comes in a flavourful seafood broth that is boiled for four hours daily. It is topped with the same ingredients as the dried noodles, however, I opted for their thinly sliced mee hoon kuay this time.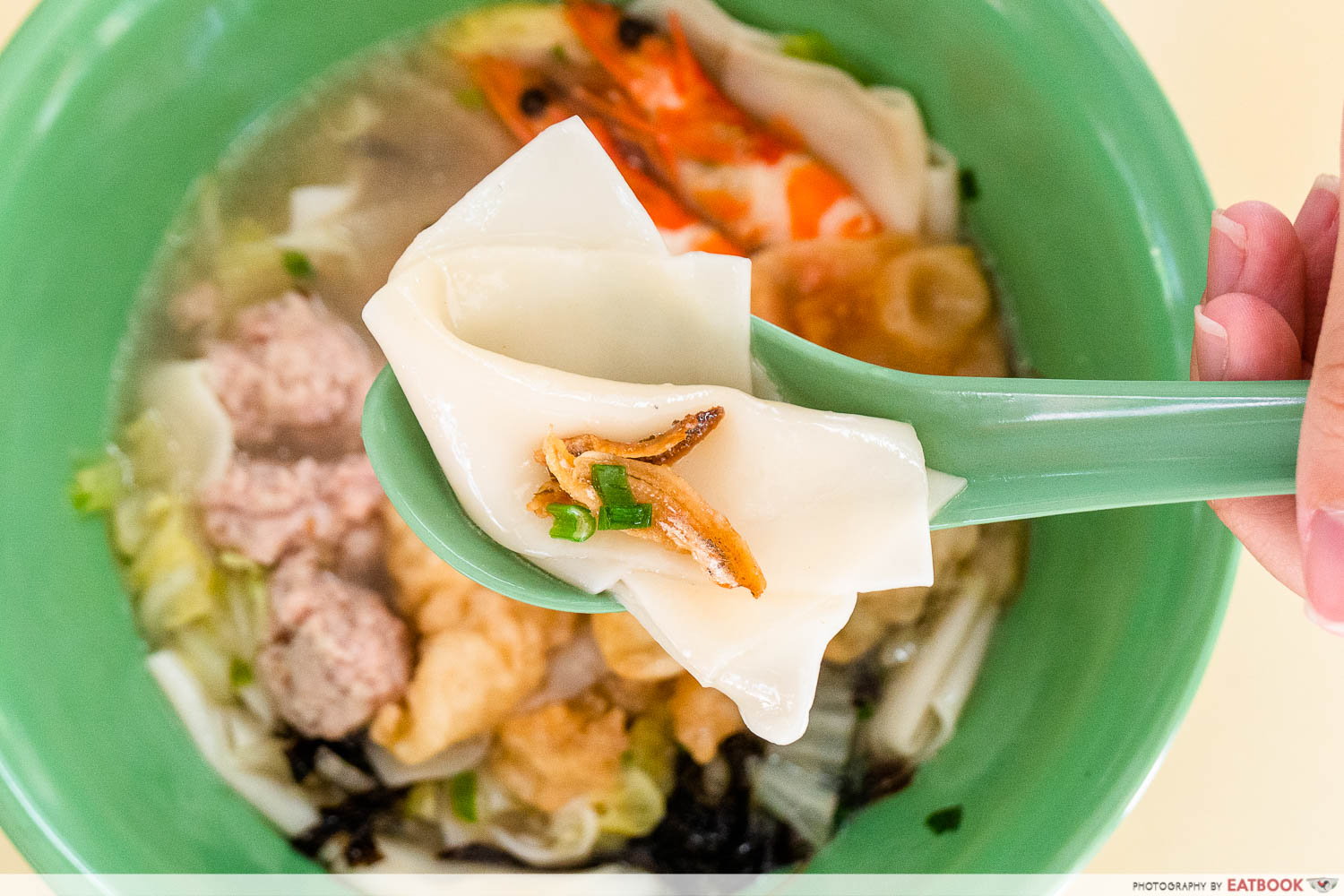 Despite the light colouration of the broth, it was packed with umami flavours, and had a pleasant sweetness from dried seafood. 
The mee hoon kuay was a little too thin for my liking, and lacked the chewy bite that I usually associate handmade noodles with. Despite the underwhelming mouthfeel, each piece was extremely smooth, allowing it to glide down my throat with ease. Having a spoonful of noodles alongside the good variety of ingredients was truly a hearty mouthful.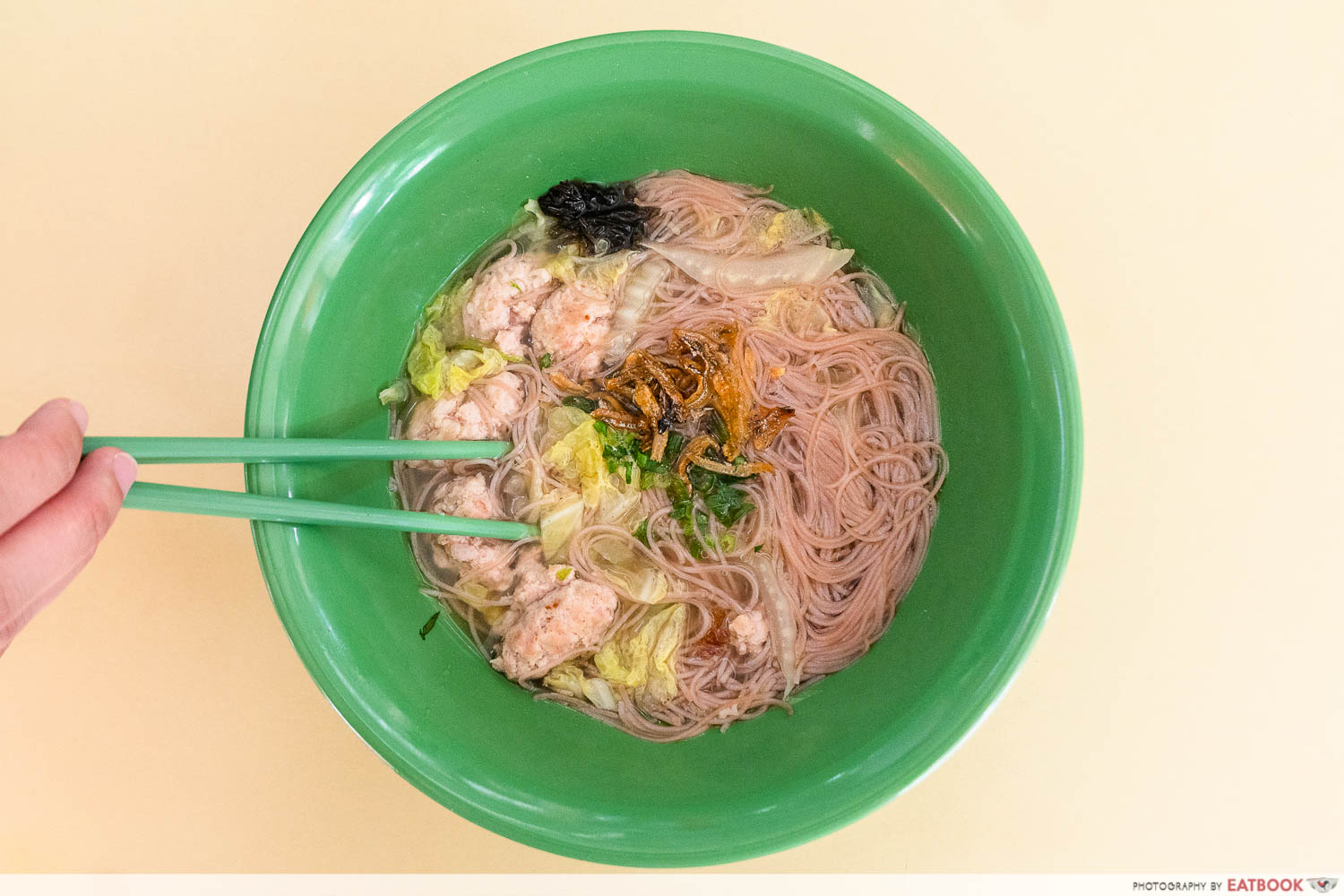 Moving on to one of their healthier options, the Handmade Pork Meatball Noodle Superior Soup ($3.50) was unlike the other noodle options. Instead of seafood, this bowl comes with numerous pieces of succulent pork balls, small slices of cabbage, and seaweed. 
Contrary to the grainy texture that I expected the brown rice noodles to have, they were surprisingly smooth with a nice bite to them.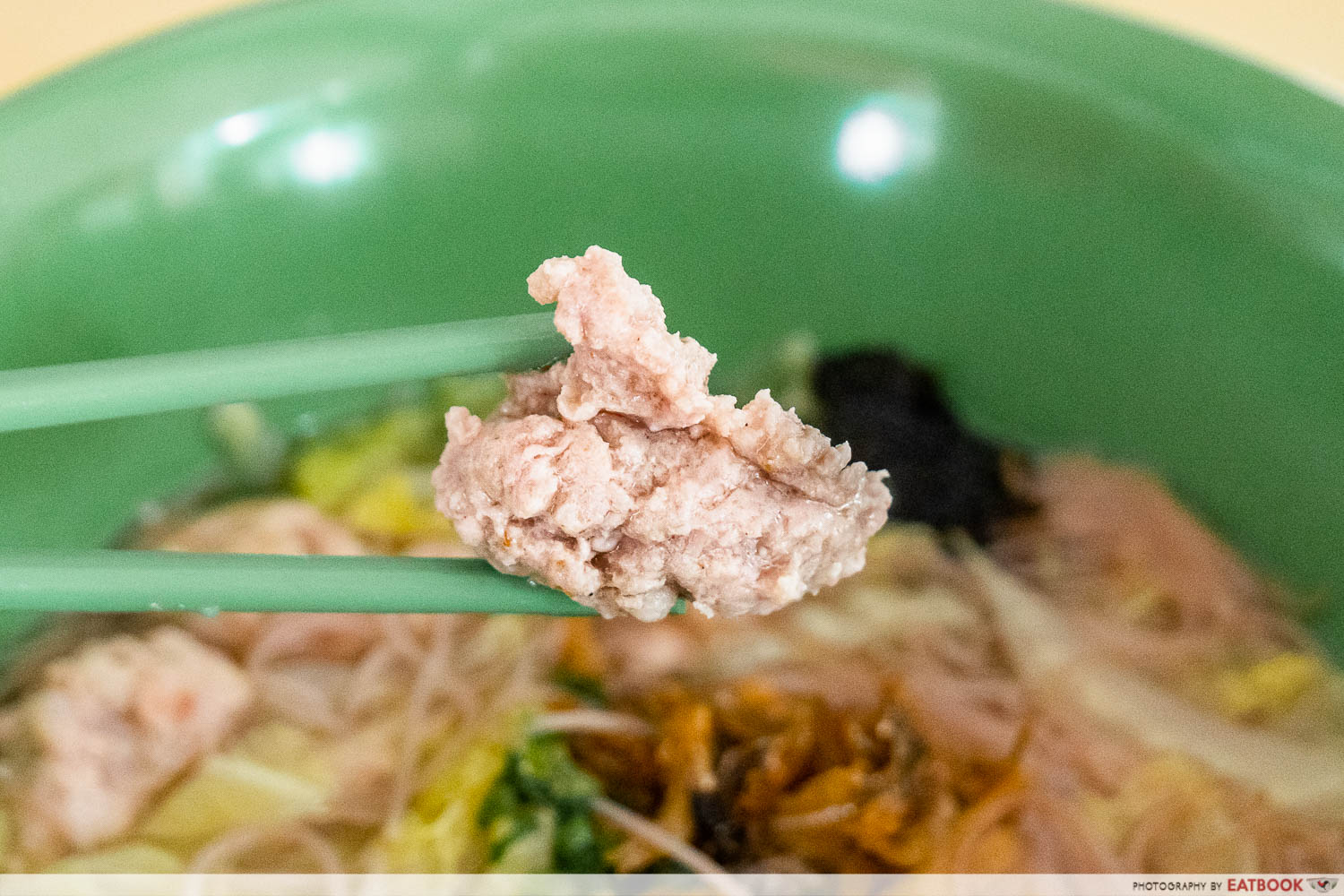 The meatballs all came in different shapes—testimony to them being handmade by the chef-owner himself. They were succulent and well-seasoned, making them addictively enjoyable. I highly recommend this bowl of noodles for those who prefer something lighter on the palette, or those looking for a light fix on a rainy day.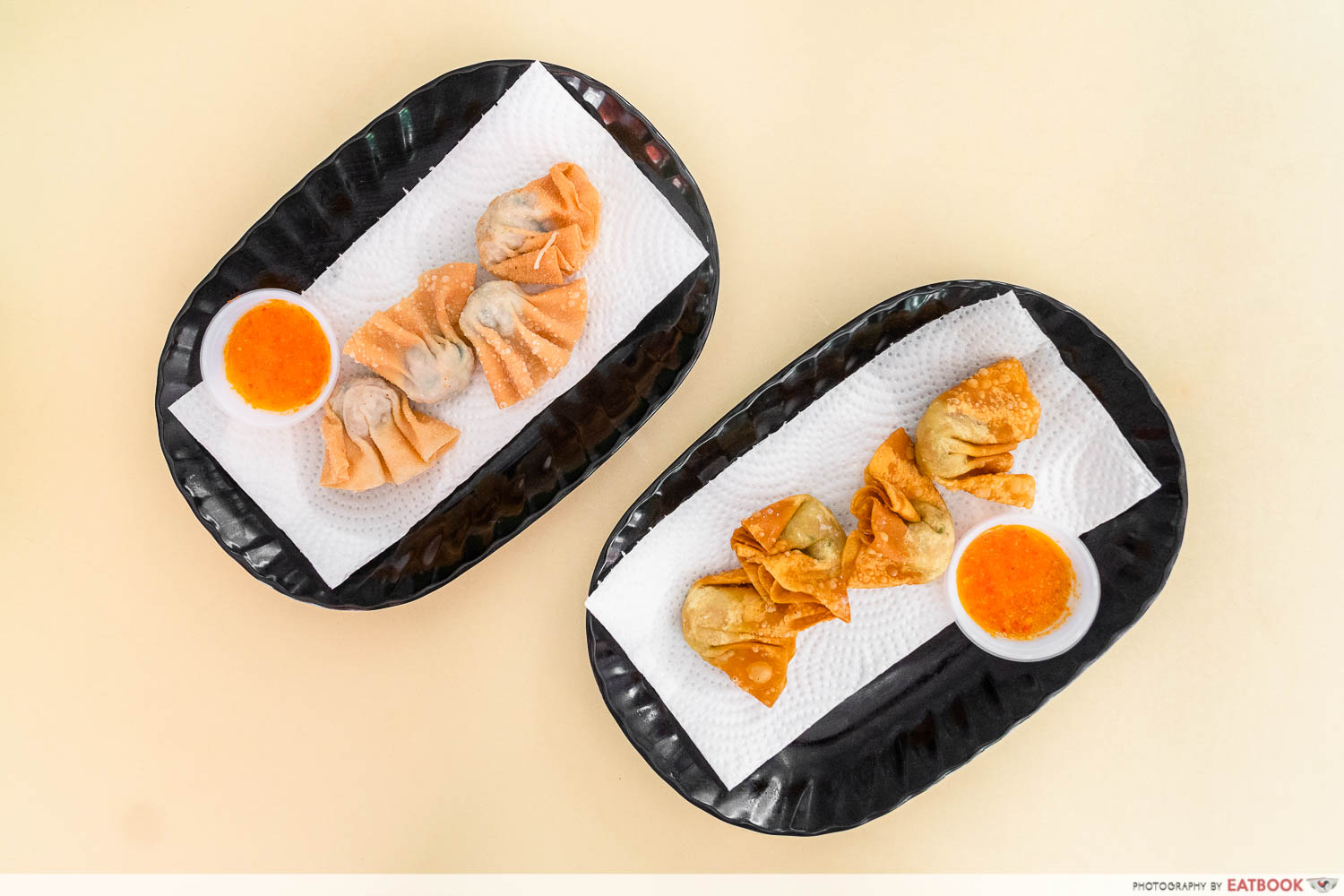 Finally, I went for the Chives And Pork Dumplings ($5 for eight) and the Celery And Onion Pork Dumpling ($5 for eight). They each came with a side of a bright orange chilli that was sourish and tangy, strikingly similar to chicken rice chilli.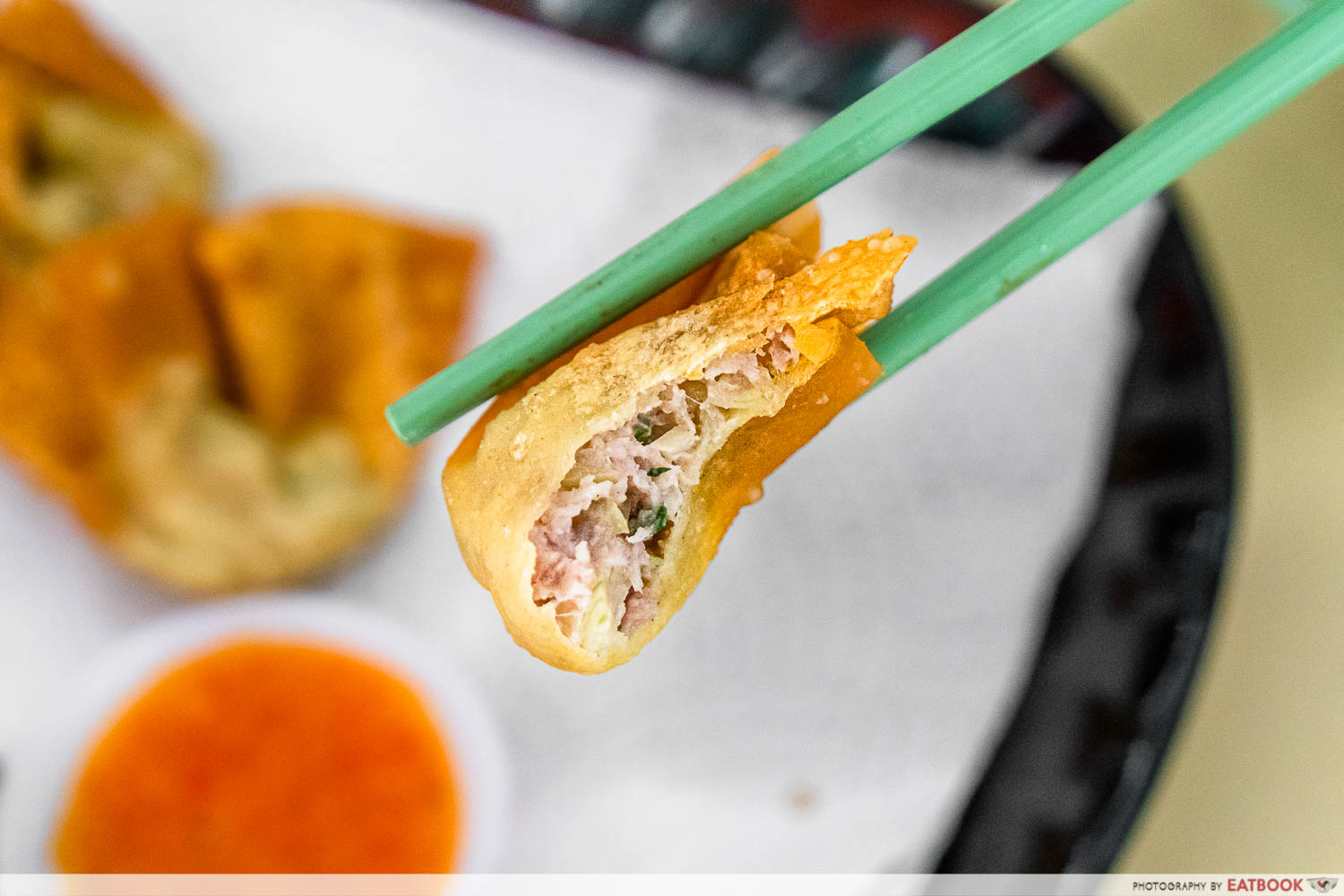 The Celery And Onion Pork Dumpling were crispy on the outside, with a savoury and juicy interior. The celery and onions added an extra burst of sweetness and crunch to the dumplings, making this a side dish with a good variety of textures and flavours.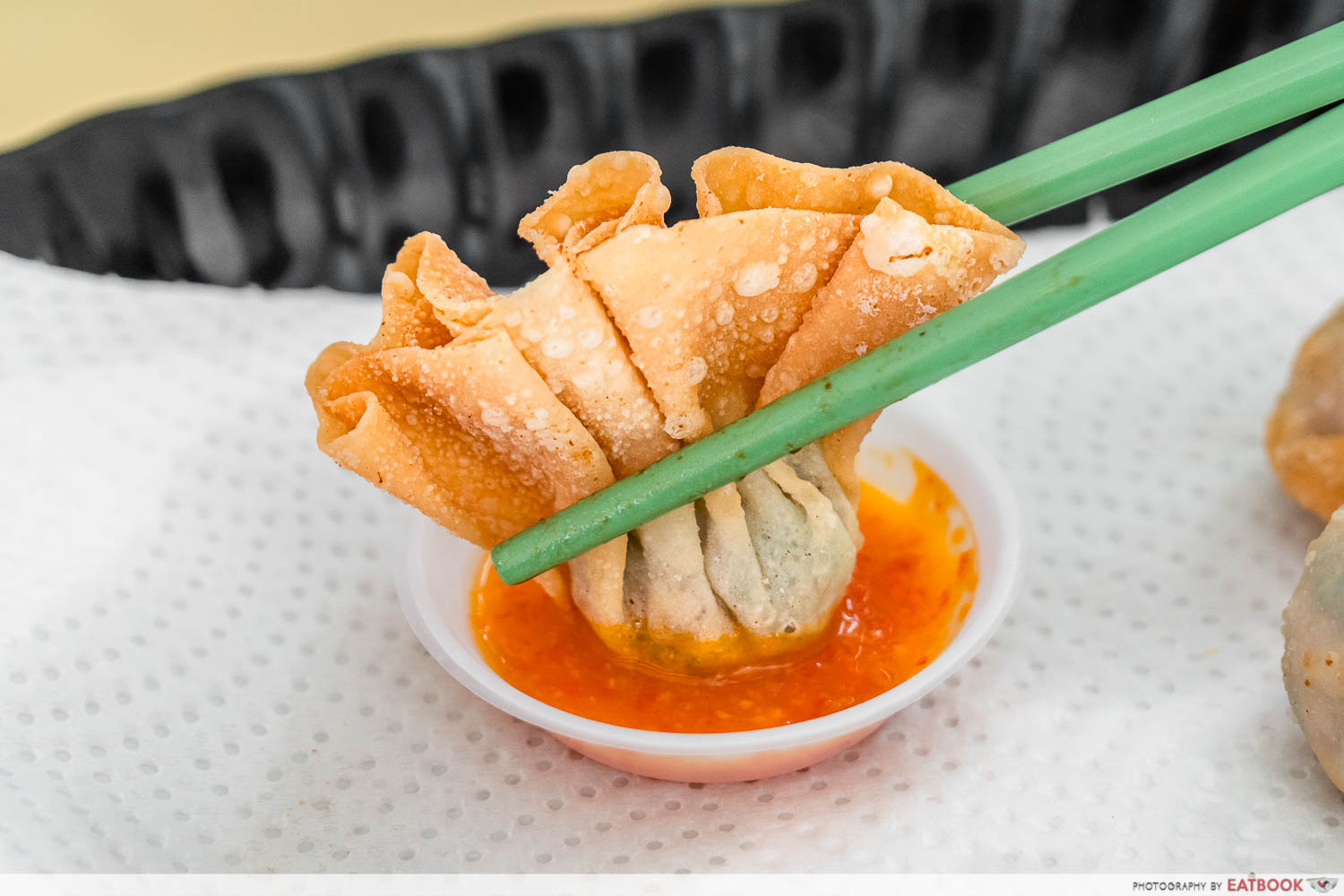 Taking on a lighter colouration was the Chives And Pork Dumplings, a familiar combination that I usually see at dim sum restaurants. The bright green chives gave off a highly aromatic flavour, which complemented the marinated minced pork within. 
Sin Heng Kee Porridge Review: Famous Congee With Generous Ingredients From $4.50
Ambience at Yanan Ban Mian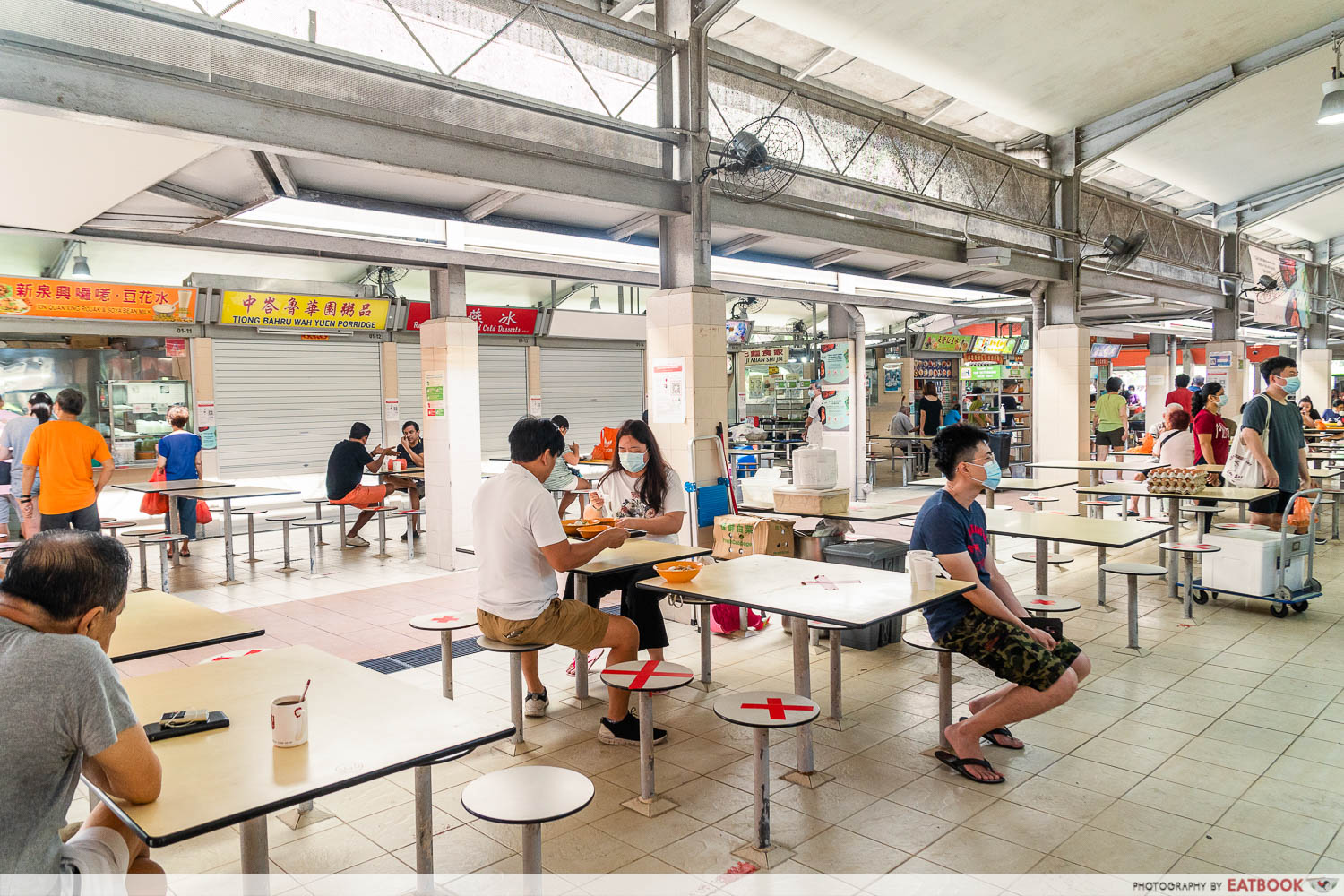 Located within Telok Blangah Food Centre, it is a five- to 10-minute walk from Telok Blangah MRT Station. There are quite a number of famous hawker stalls here, giving you a good variety of food options to choose from. 
You will definitely notice the bright blue signage of Yanan Ban Mian as soon as you enter the food centre, along with Chef John, who will be standing right outside the store to welcome customers.
The verdict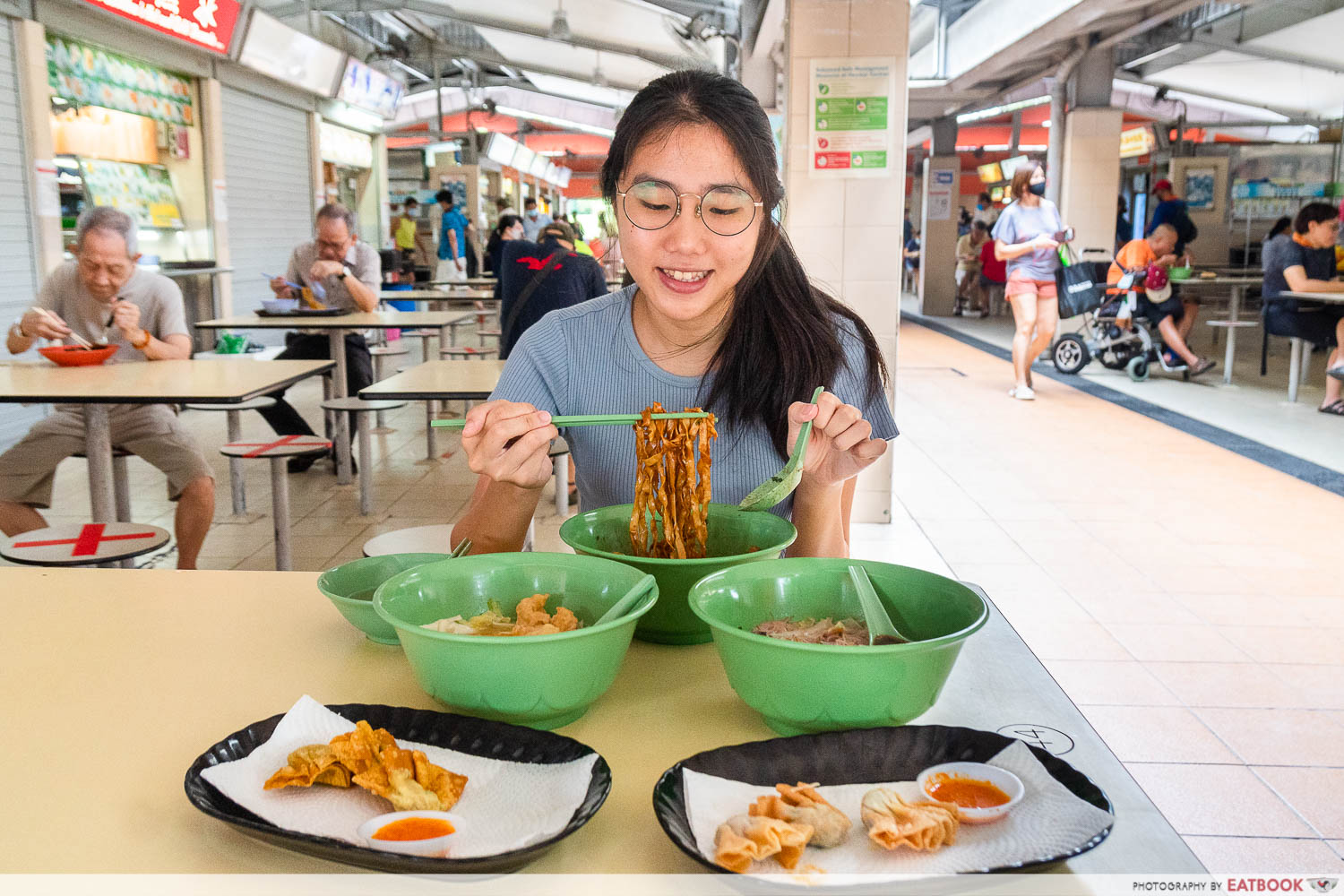 I thoroughly enjoyed the food here at Yanan Ban Mian, especially at its affordable price point. I truly appreciated how most of the dishes here were made from scratch, giving them a hearty home-cooked flavour. The noodles here are definitely worth a go, especially if you happen to be in the area, and I can safely say that an Eastie like me will travel down for a fix of their handmade noodles on a cold, rainy day. 
For more food reviews, check out our Butter Bread review for egg tart croissants, mochi scones and more! Alternatively, there is also our Sin Heng Kee Porridge review for affordable congee under $4.50. 
Address: 79 Telok Blangah Drive, #01-29, Telok Blangah Food Centre, Singapore 100079
Opening hours: Mon 7:30am to 4:30pm, Tue-Wed 7:30am to 6:30pm, Thurs-Fri 6:30am to 6:30pm, Sat-Sun 7:30am to 3:30pm
Website
Yanan Ban Mian is not a halal-certified eatery.
Photos taken by Tan Zi Hui.
This was an independent review by Eatbook.sg
Butter Bread Review: Ex Shangri-La Hotel Chef Opens Bakery With Egg Tart Croissants, Mochi Scones And More
Yanan Ban Mian Review: Ex-St Regis Chef Opens Hawker Stall With Handmade Dumplings And Seafood Ban Mian
Yanan Ban Mian Review: Ex-St Regis Chef Opens Hawker Stall With Handmade Dumplings And Seafood Ban Mian -

8/10
Summary
Pros
– Affordable pricing
– The broths were very flavourful and hearty
– Generous portion of seafood 
Cons
– The fried fish batter was a little too soft
Recommended dishes: Seafood Combo Premium Soya Sauce Toss Noodle ($5.50), Handmade Pork Meatball Noodle Superior Soup ($3.50)
Opening hours: Mon 7:30am to 4:30pm, Tue-Wed 7:30am to 6:30pm, Thurs-Fri 6:30am to 6:30pm, Sat-Sun 7:30am to 3:30pm
Address: 79 Telok Blangah Drive, #01-29, Telok Blangah Food Centre, Singapore 100079