Yi Ke Guan offers mee siam steamboat and radish fried hor fun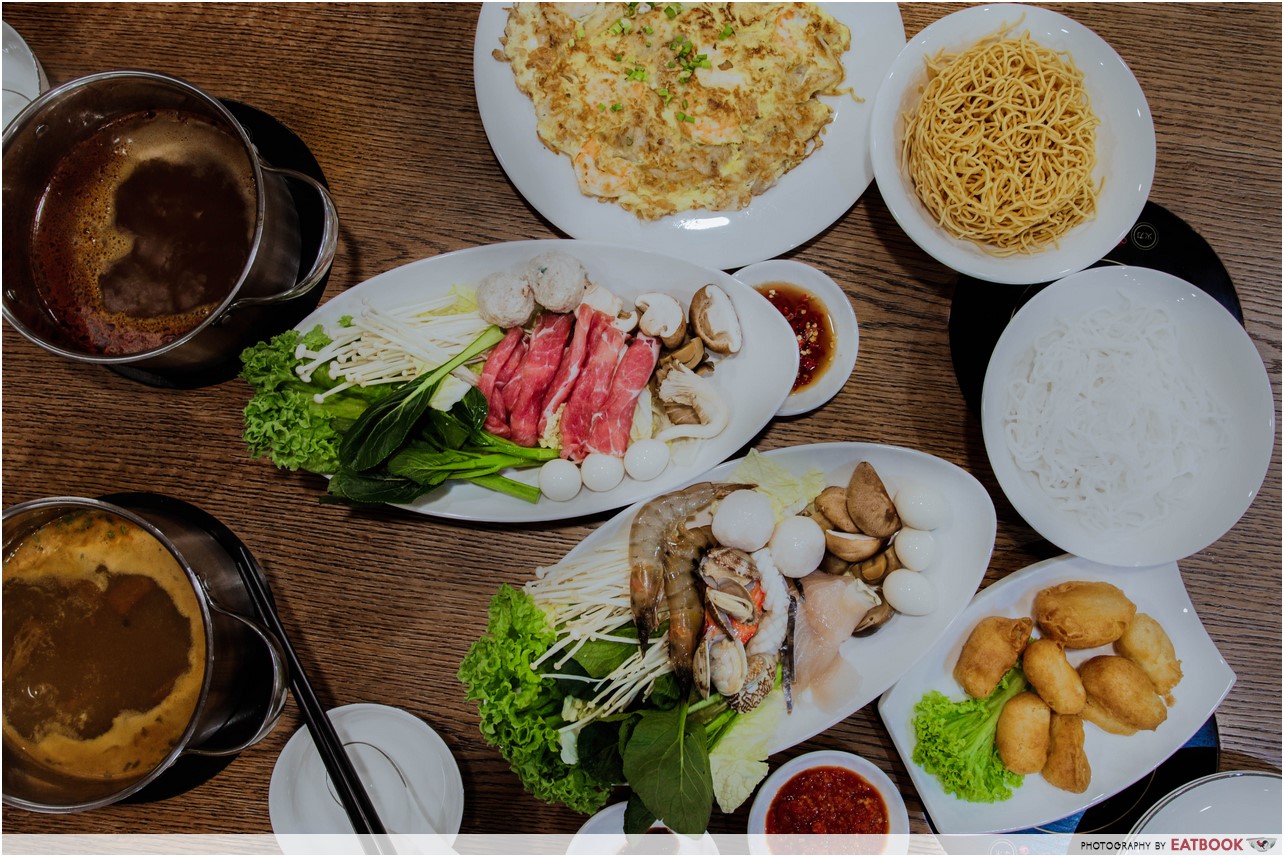 Zi char meals excite my tongue, fill my tummy, and warm my heart. A tinge of envy sometimes hits me when I see families at zi char joints. My parents and I hardly eat together, so the rare zi char dinners with relatives are when I get to sit with them, and share dishes from the same plate. While the flavours of the classics are key, the test of a good zi char stall is the variety they wrestle out of limited ingredients. Yi Ke Guan is a newly opened zi char restaurant with Singapore's first mee siam steamboat, and interesting dishes like an omelette filled with chai tow kway (carrot cake) and hor fun.
Food at Yi Ke Guan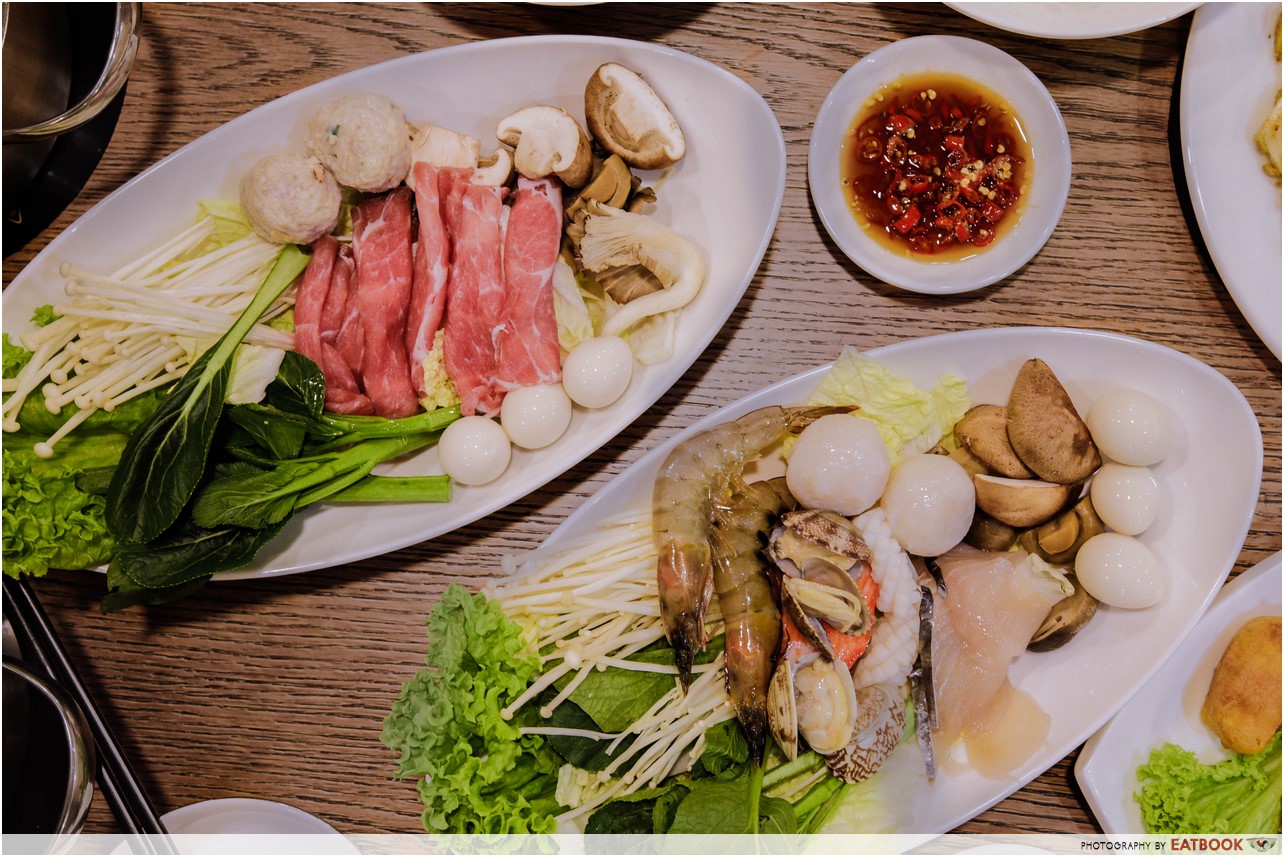 We went straight for Yi Ke Guan's Mini Steamboat ($18+). With a 1-for-1 store opening promotion on weekdays, not including public holidays, we arrived ready to fill our bellies. They offer mee siam, chicken, and tom yam broth options, as well as seafood, pork, and beef sets.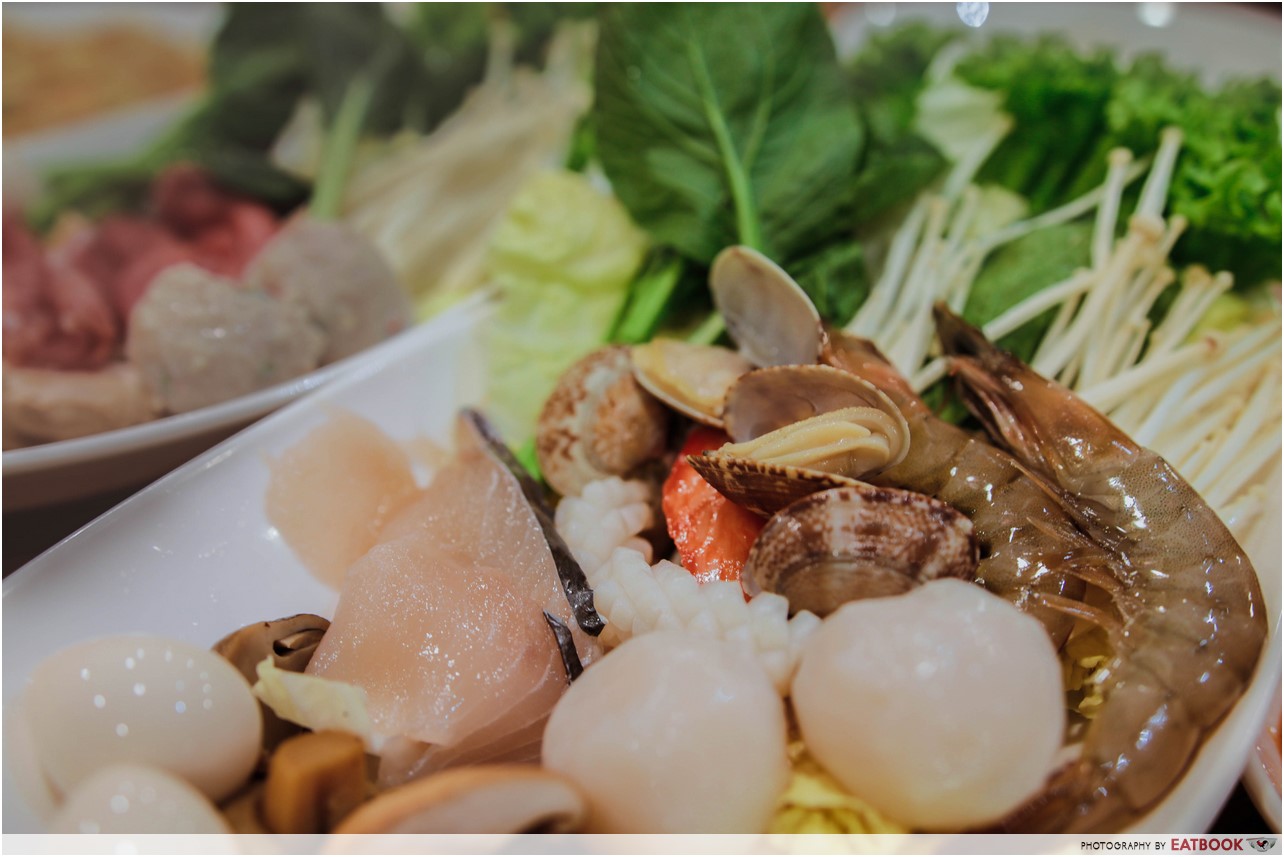 We paired mee siam broth with a seafood set for our first pot. The set included two medium-sized grey prawns, a crab stick, two fish balls, a couple slices of squid and fish, and three clams.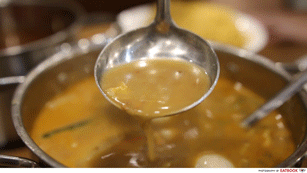 Half a metal pot that was filled with orange soup was placed on an electric stove on the table. Small slices of taupok were swimming in it as it started to boil, and the steam began to carry up the smell of mee siam. We emptied the ingredients into the pot and gave it a stir.
The broth was thin but sweet and flavourful, just like mee siam in the form of soup. I loved chewing into the tau pok because they oozed with soup.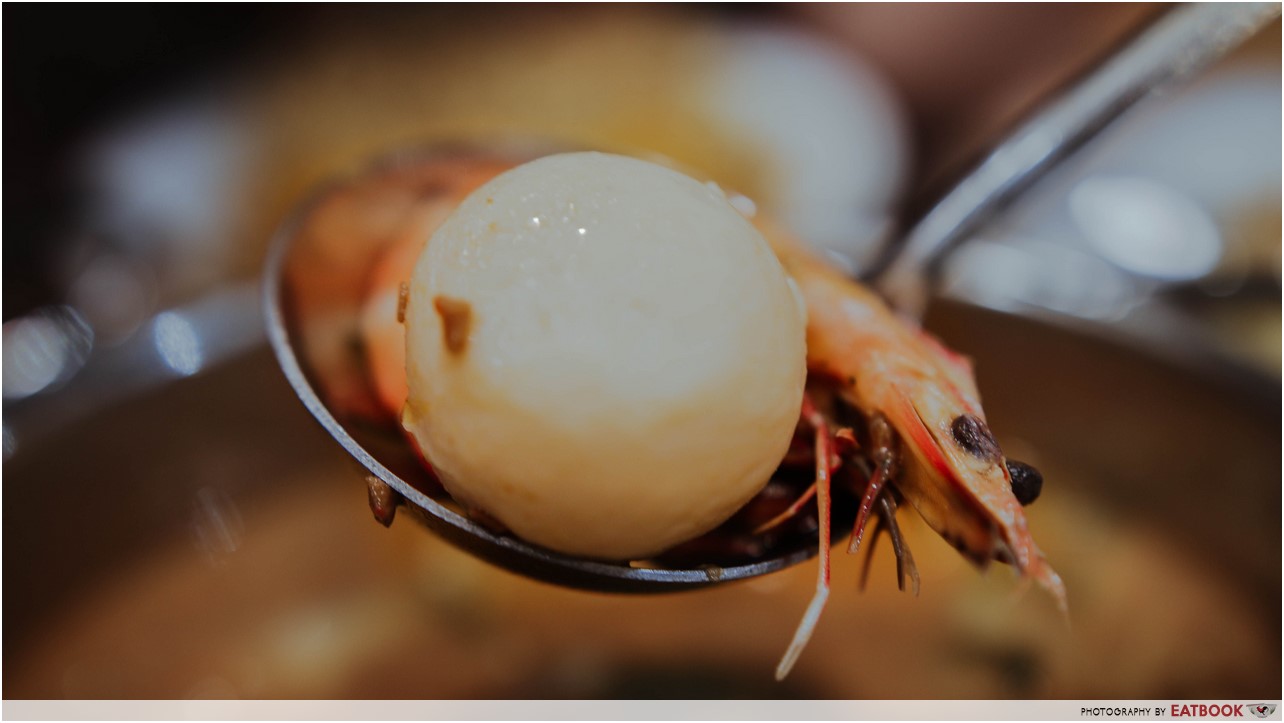 The ingredients cooked quickly but retained most of their own flavour. The fish balls didn't have a strong smell of fish, and the prawns tasted sweet.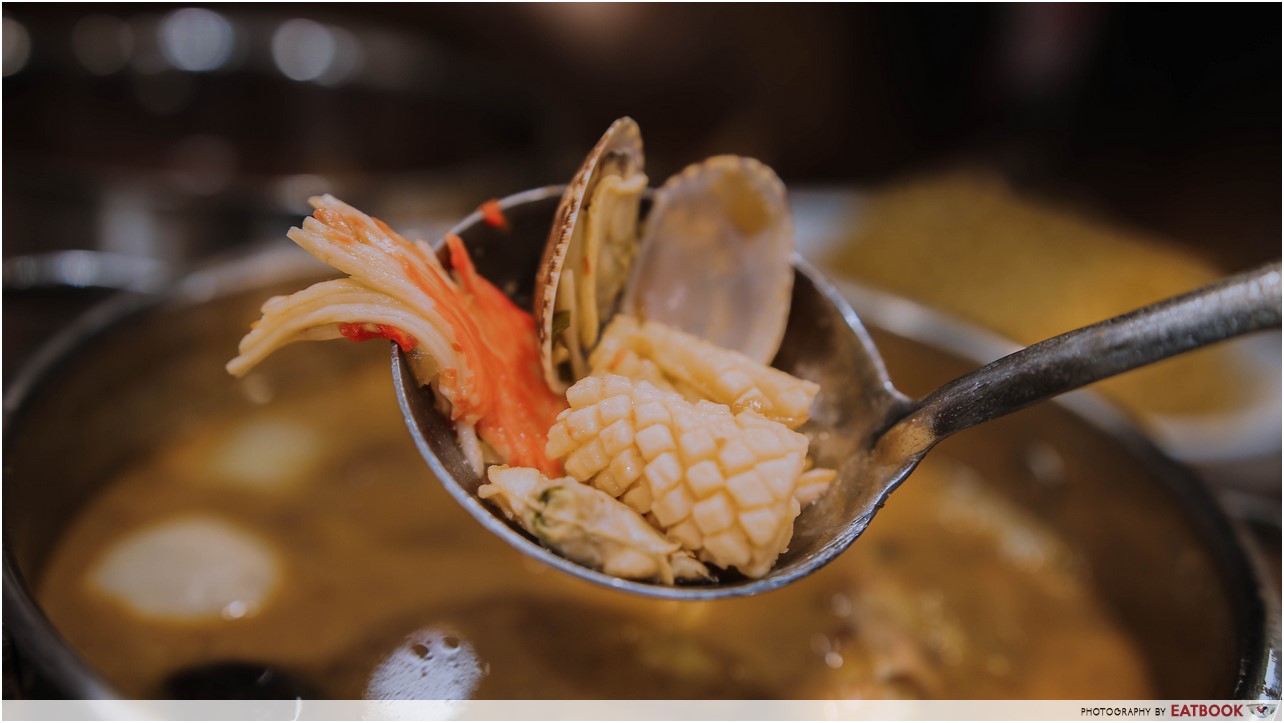 The rest of our food started to overcook and were hard to scoop up as they broke into bits. Perhaps taking the pot off the stove once the food's cooked would be a better idea the next time.
All three of their ingredient sets also come with lettuce, wong bok, chye sim, a few types of mushrooms, and three quail eggs.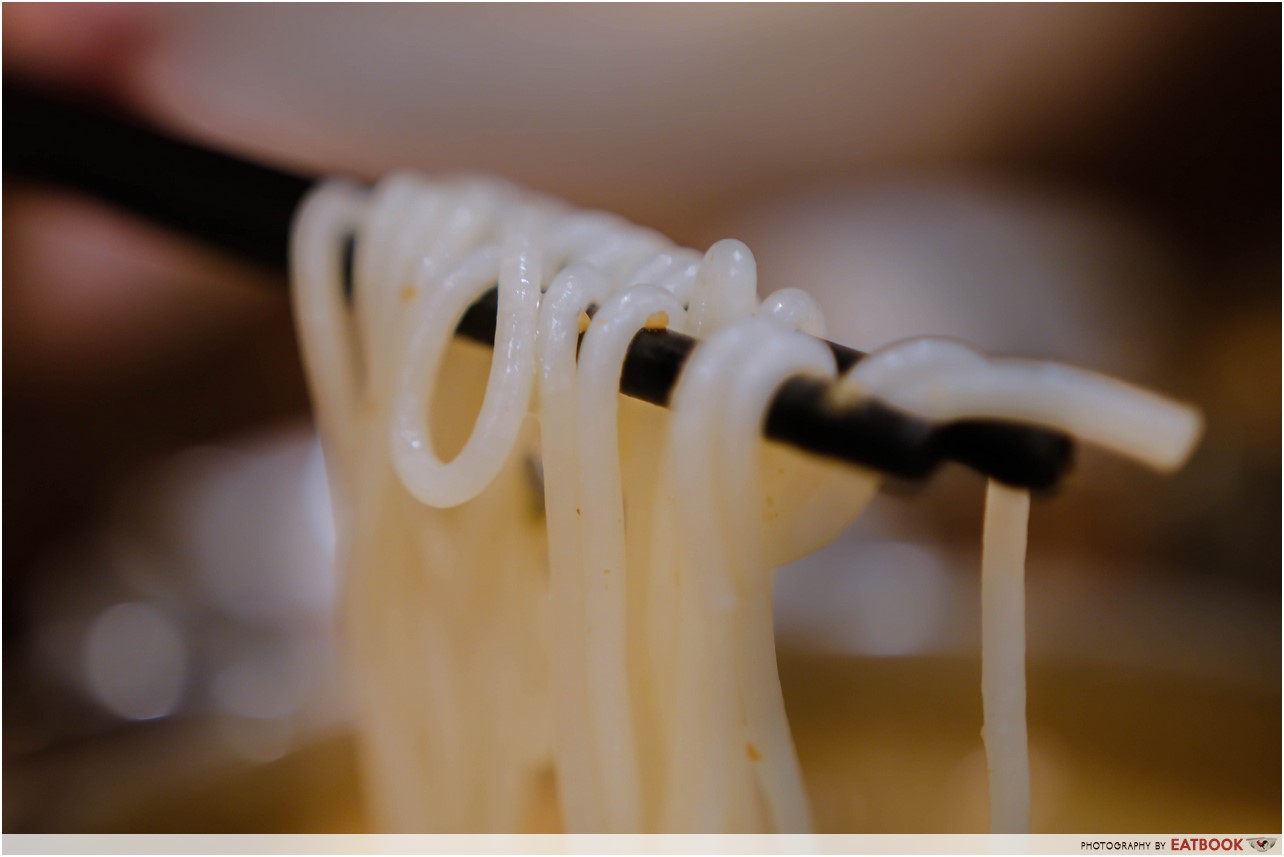 With a bowl of Thick Beehoon ($3+) to cook in our mee siam steamboat, it felt like a filling meal. I wasn't shy to request for their free refills to slurp up with the chewy noodles.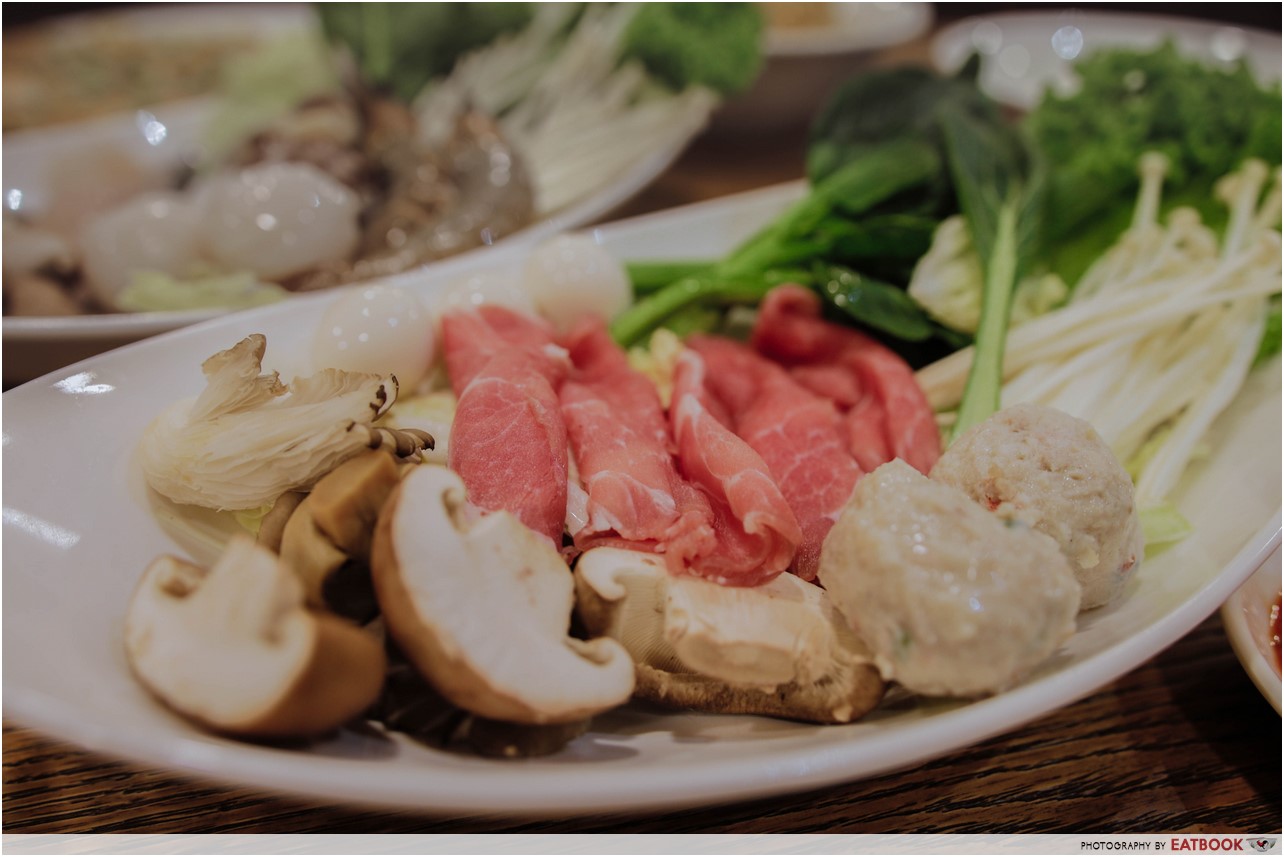 For our complimentary steamboat, we decided on tom yam broth with a pork set. It was served with five slices of pork, two large meatballs, and the same vegetables and mushrooms.
The broth had the same consistency, but had an odd taste that was like a cross between the sourness of tom yam and the savoury spiciness of ma la.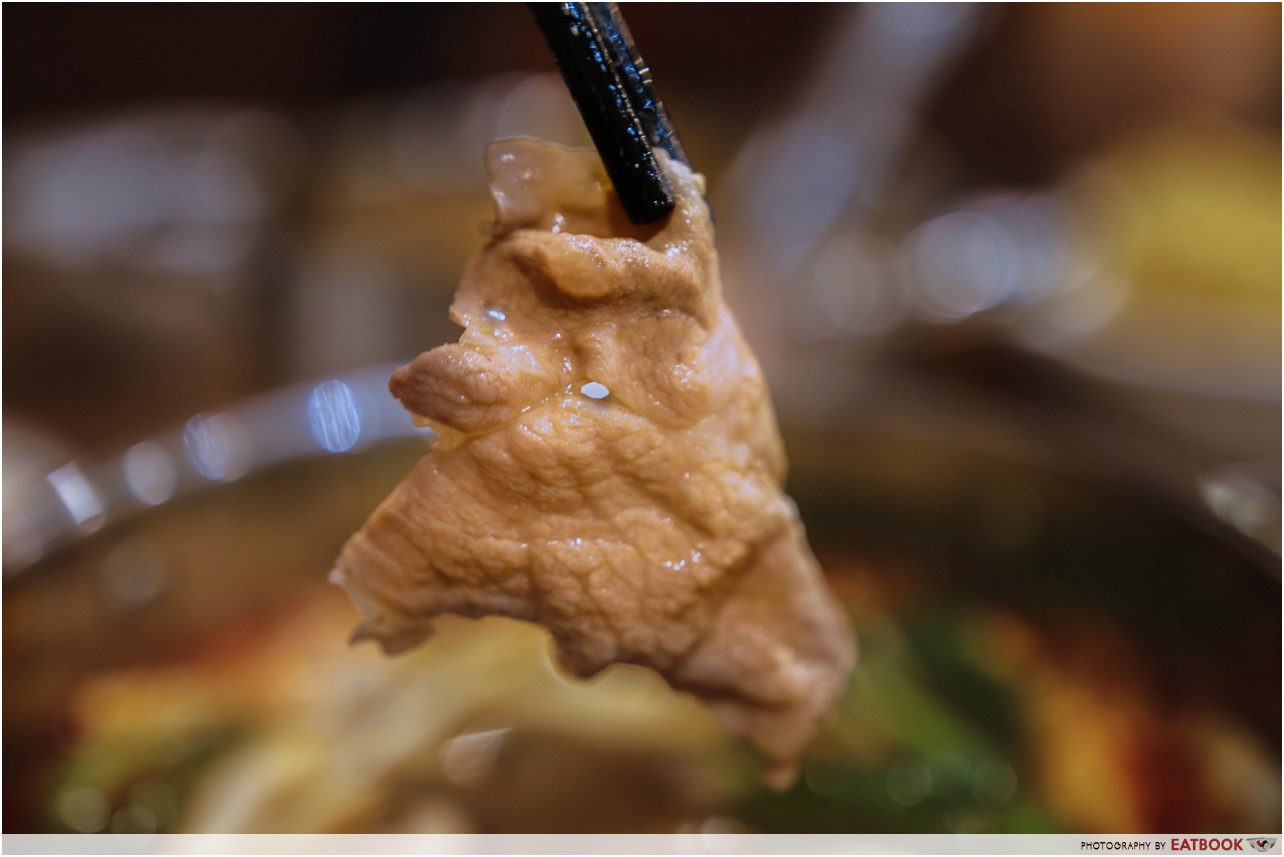 The pork was rather lean with little fats and had a little meaty flavour. We were careful to not overcook it, so it wasn't too tough.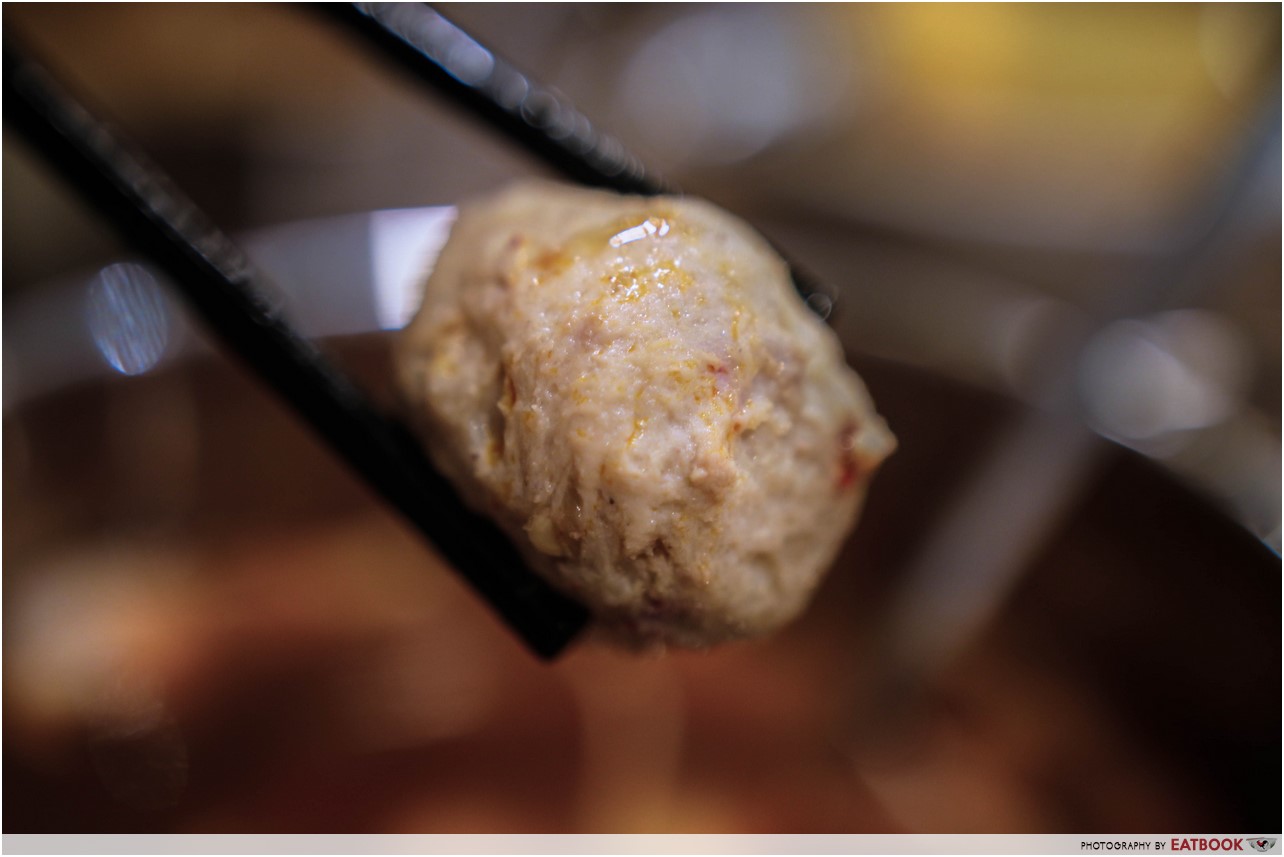 The meatballs reminded me of the taste of fish balls, but textured with bits of meat. After the seafood set, this felt lacking in quantity, especially since it looked more substantial in the menu, with twice the slices of pork.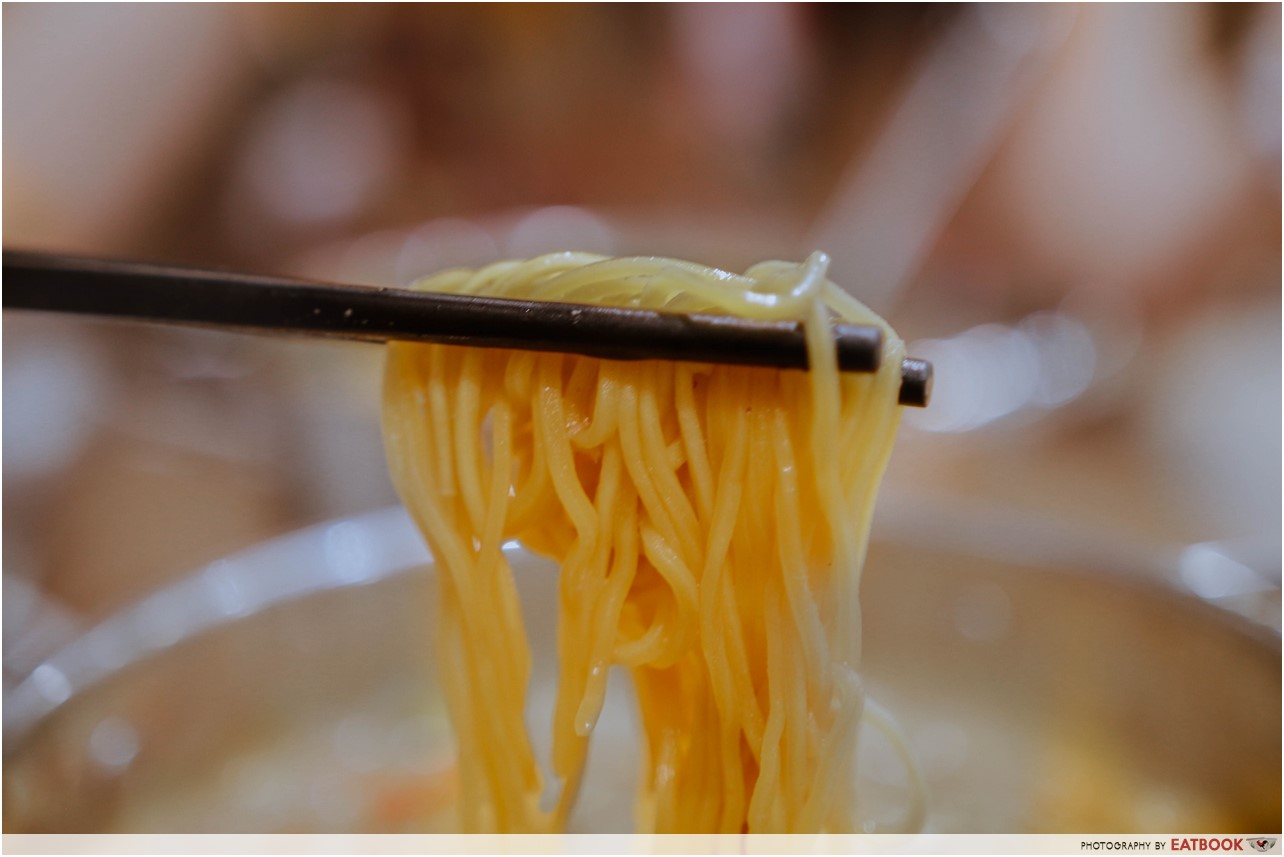 We tried Wok Noodles ($3+) with this and ate it as it cooked, so we felt its texture change with each new spoonful we pulled up. Both noodles didn't absorb the flavours of the broth, so I'd encourage you to eat them with the soup to make your meal yummier.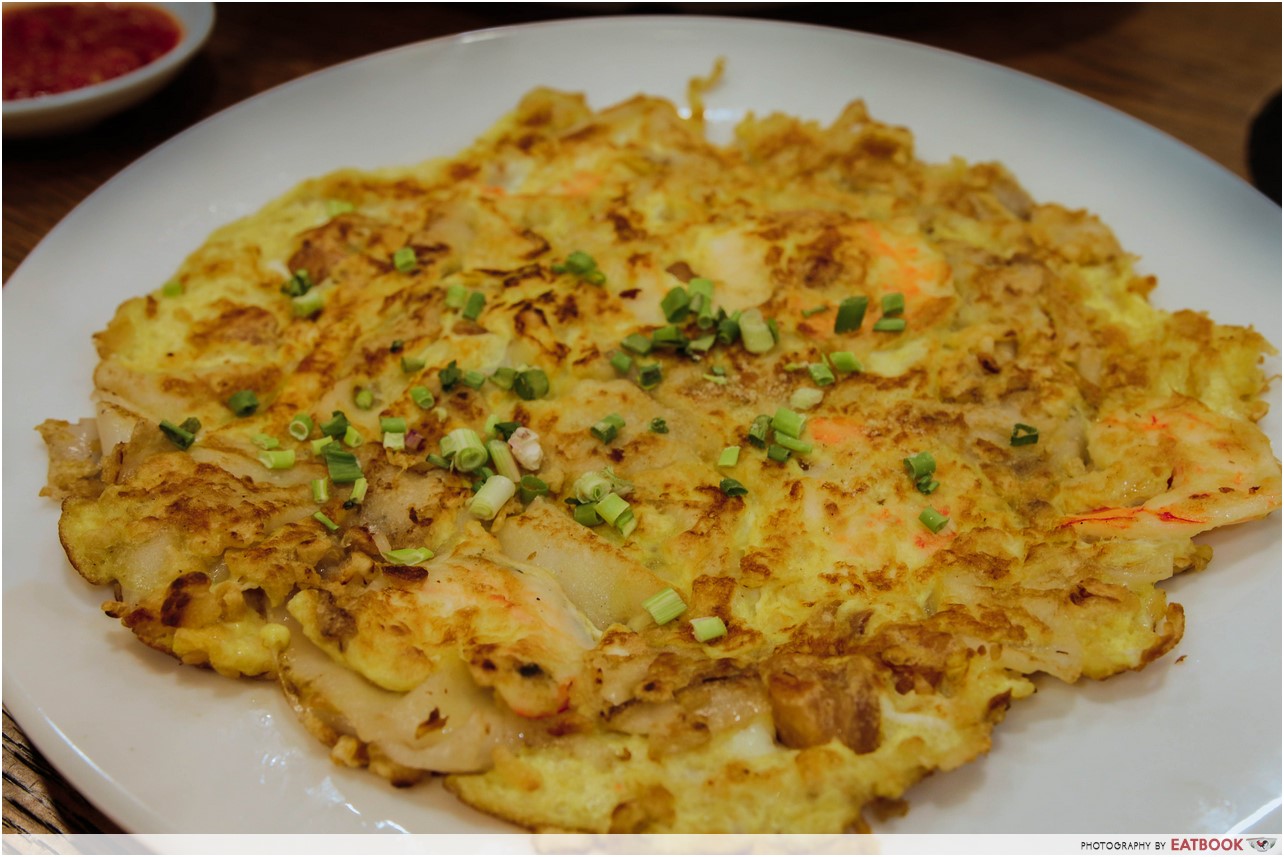 It was the first time we heard of Radish Fried Hor Fun ($8+/$10+) so ordering it was an absolute must. What came looked like a large omelette, fried till golden brown, garnished with shallots. It looked like a lot of eggs were used because of its rich yellow colour. Six prawns sliced into halves, chunky radish cakes, and hor fun were held together by it. The aroma of this dish was alluring.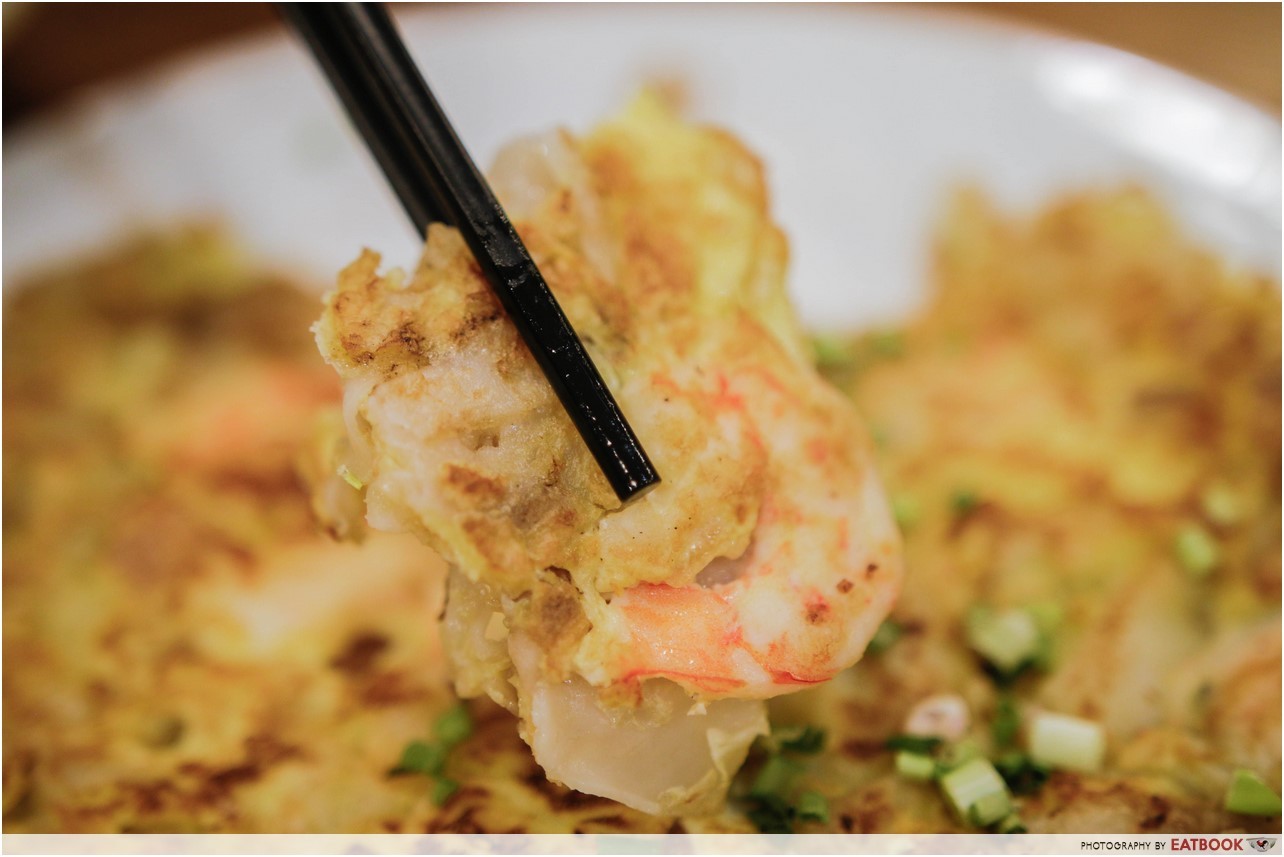 My chopsticks tore it apart easily, showing that every part had a good mix of fillings. In my mouth it was sweet, yet slightly savoury, tasting of both black carrot cake and hor fun, with distinct wok hei. They remained moist and soft although parts of the omelette's surface were fried till crusty, with edges that were slightly crispy.
The prawns were evenly spread out, so it was easy to get a bite of meat in my mouthfuls. The prawns felt satisfying with their firm flesh, and they weren't too thick because they were halved.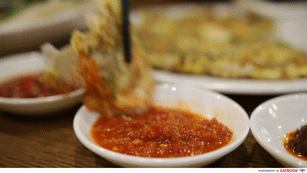 Their condiments rack had sauces, chopped garlic, and about five types of chilli. The saucy chilli was the best, as its tang deepened the flavours of the omelette, making it savoury while keeping it from feeling jelak. The chilli's sharp spiciness reached the back of my throat, and made a nice burn.
Our order for a small portion of Radish Fried Hor Fun looked quite large, but felt like one meal on its own. Nevertheless, I would personally prefer sharing this dish.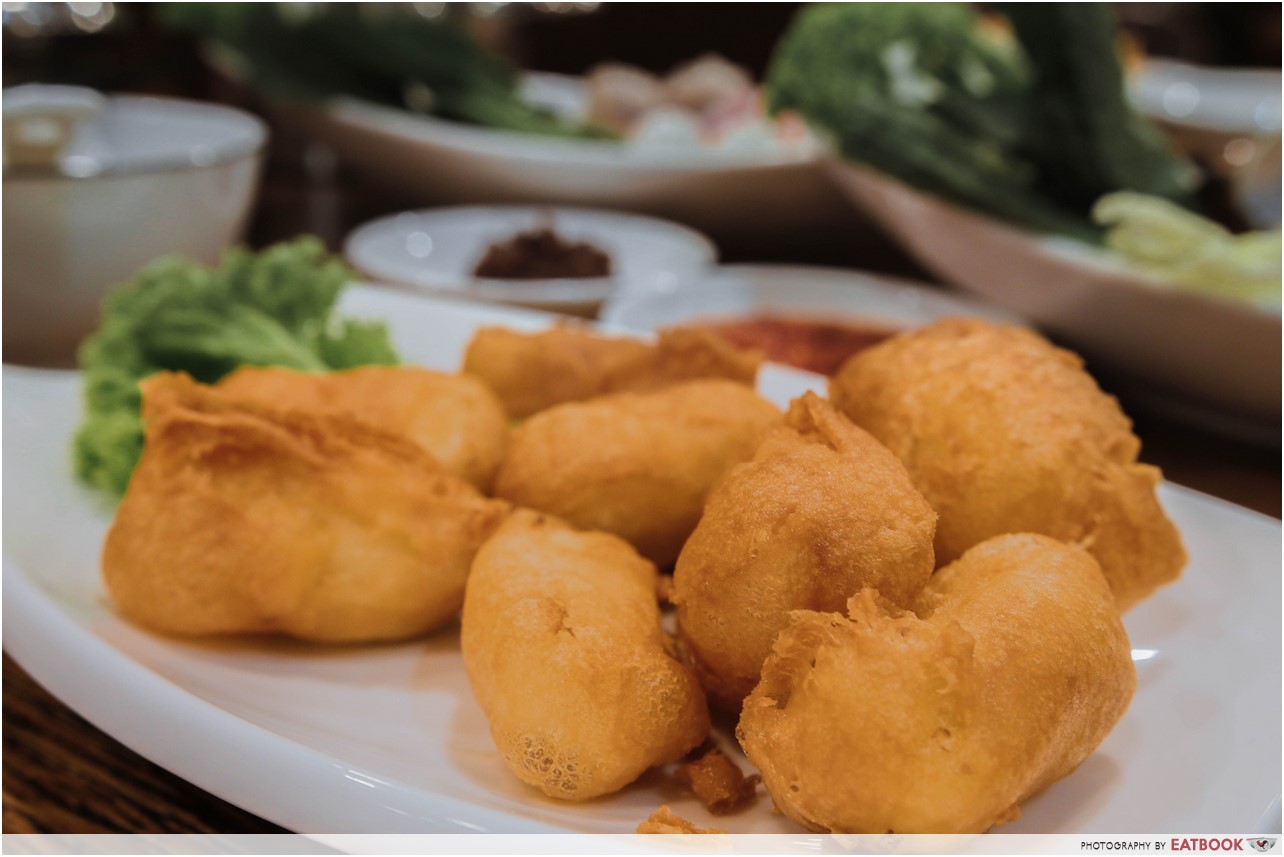 Fried milk is less common in zi char stalls so we were interested to try it. A small portion of their Fried Milk Puff ($6+/$10+) has six golden-brown pieces, each with an airy casing.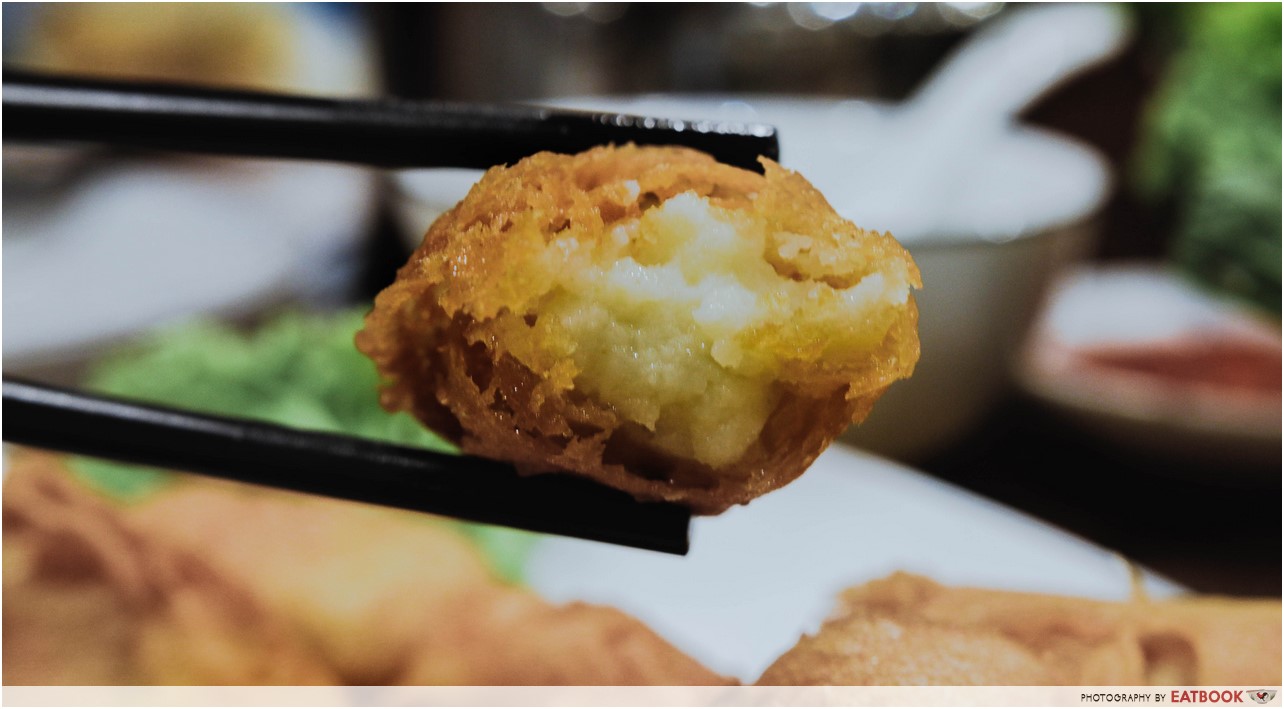 They were very crispy, with a deliciously sweet custard centre that had a strong flavour of milk. I felt like a child enjoying a milky dessert. It would have been easier to enjoy though, if the fried shells had a lighter flavour, as they were rather greasy. Our throats quickly felt heaty, but that didn't stop me from popping in the remainders.
Ambience at Yi Ke Guan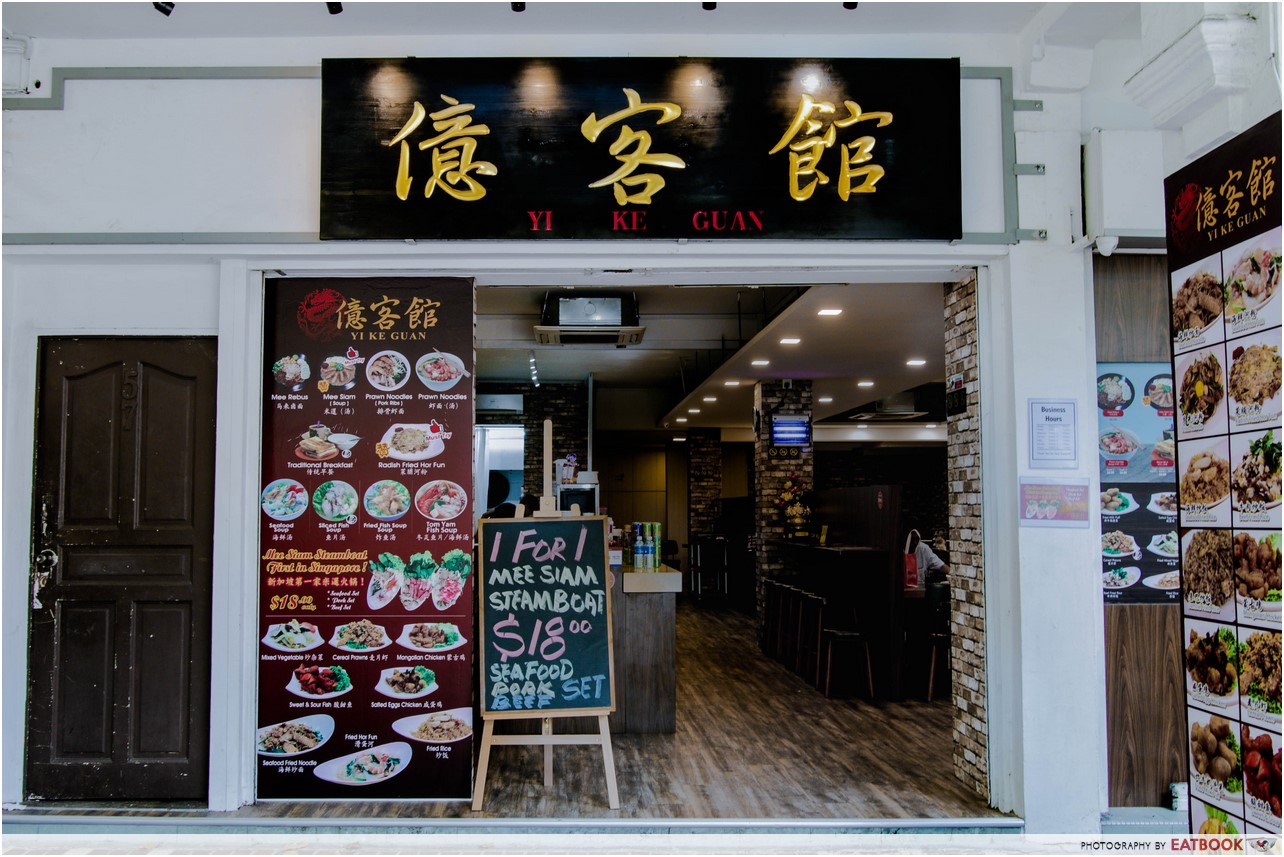 Yi Ke Guan is a stall along East Coast Road. We headed down to Dakota MRT Station, before taking a bus ride, and then a short walk. You can ring them up for reservations, but the restaurant seemed rather empty when we were there, which I assume is due to how new they are.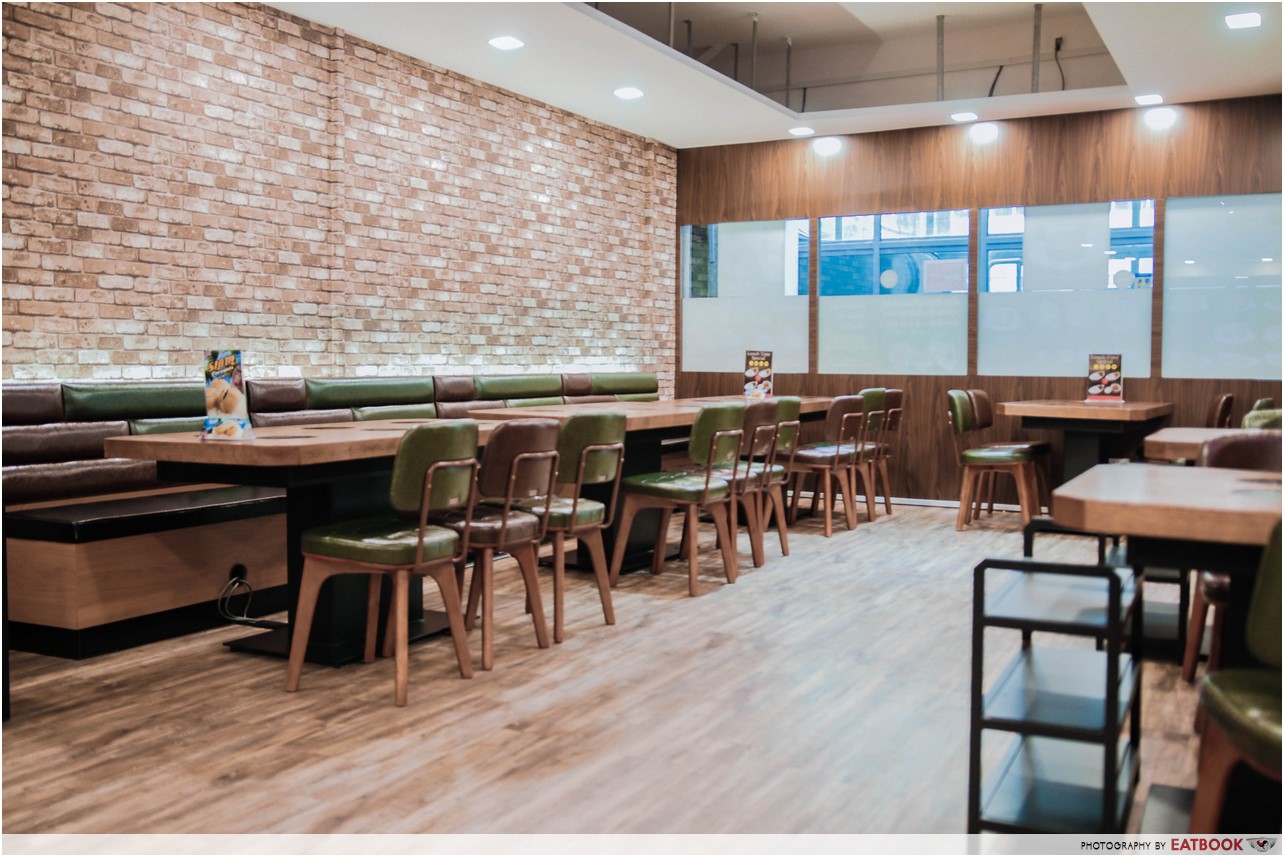 Inside, it was spacious and bright. I liked the muted colours and the warmth of their woody furniture. I can imagine it feeling even cosier when business picks up and more families fill the seats. The air-conditioning was a plus since steamboat is their signature.
The verdict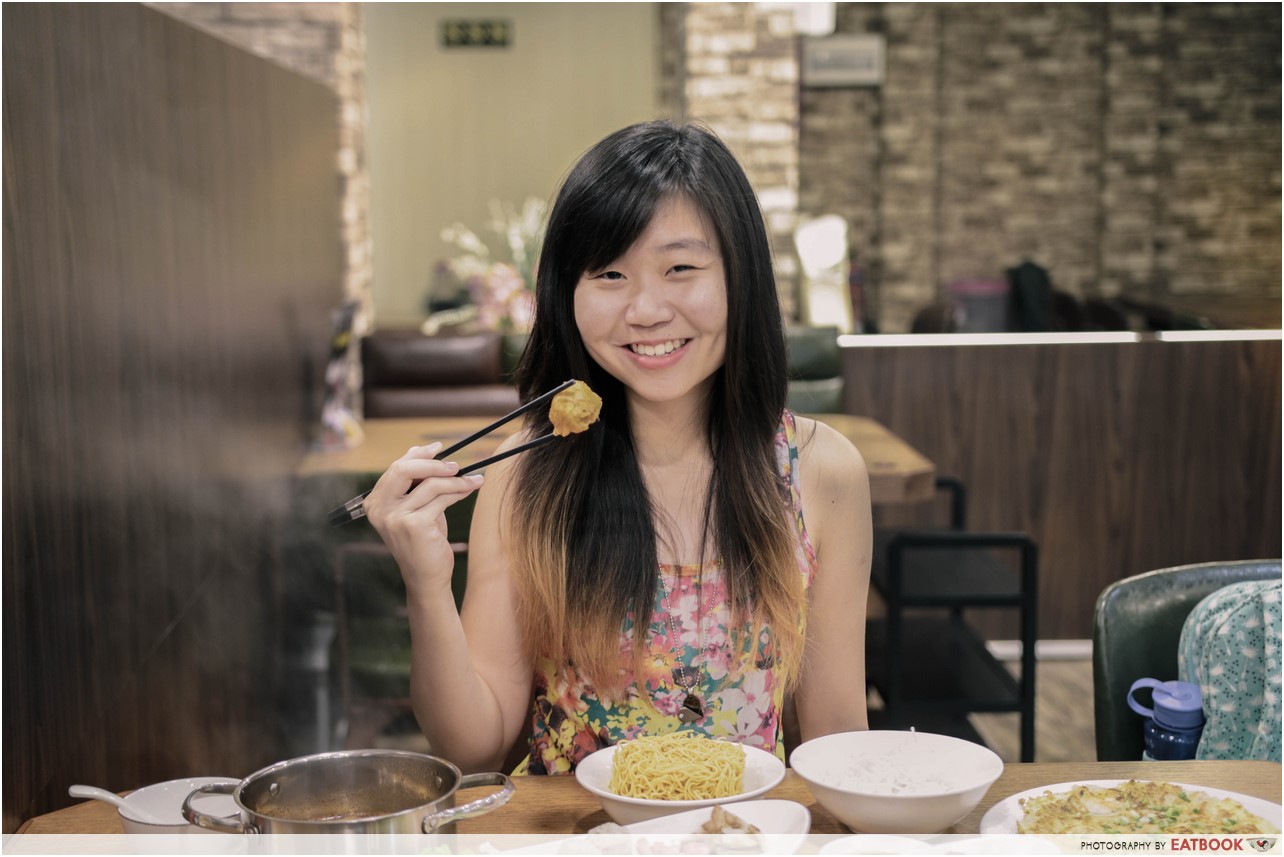 Despite some areas that Yi Ke Guan could improve on, their better dishes were interesting and tasty. How I wish their Radish Fried Hor Fun was closer to where I live! We don't go to any eatery expecting them to score on all dishes, but as long as there are a few outstanding ones, and most aren't bad, I'd say, they're worth a travel. For more zi char stalls, check out these east-side zi char spots or these famous zi char eateries!
Address: 57 East Coast Road, Singapore 428775
Opening hours: Daily 7:30am to 10pm
Tel: 9689 0510
Website
Yi Ke Guan is not a halal eatery.
This is an independent review by Eatbook.sg.
Summary
Pros
– Interesting and tasty dishes
– Comfortable ambience
– Refillable broth
– Wok hei in Radish Fried Hor Fun
Cons
– Inconvenient location
– Beef and pork sets can have more meat
– Tom yam broth can be improved on
Recommended Dishes: Mini Hotpot with mee siam broth and seafood set ($18+), Radish Fried Hor Fun ($8+/$10+), Fried Milk Puff ($6+/$10+)
Operating Hours:
Daily 7:30am to 10pm
Address: 57 East Coast Road, Singapore 428775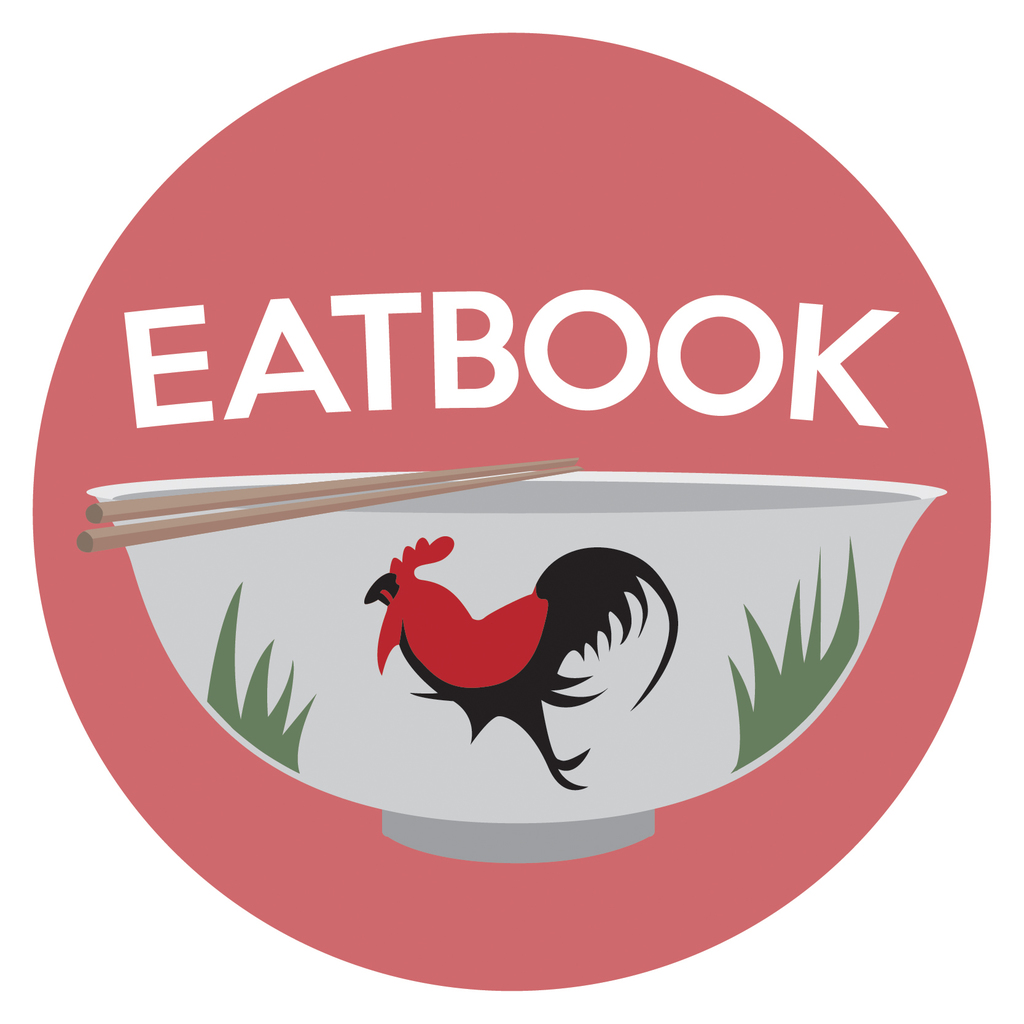 Drop us your email so you won't miss the latest news.