Yili Farm is a vegetable farm run by Gen Z siblings
There's a tendency for us city dwellers to romanticise the farming life. It's why farm stays are on everyone's bucket list, and why video games such as FarmVille and Stardew Valley are so popular. And even though I wouldn't have admitted it before, I was a little guilty of that, as I came to realise the moment I stepped out of my Grab ride and onto the four-hectare compound known as Yili Farm.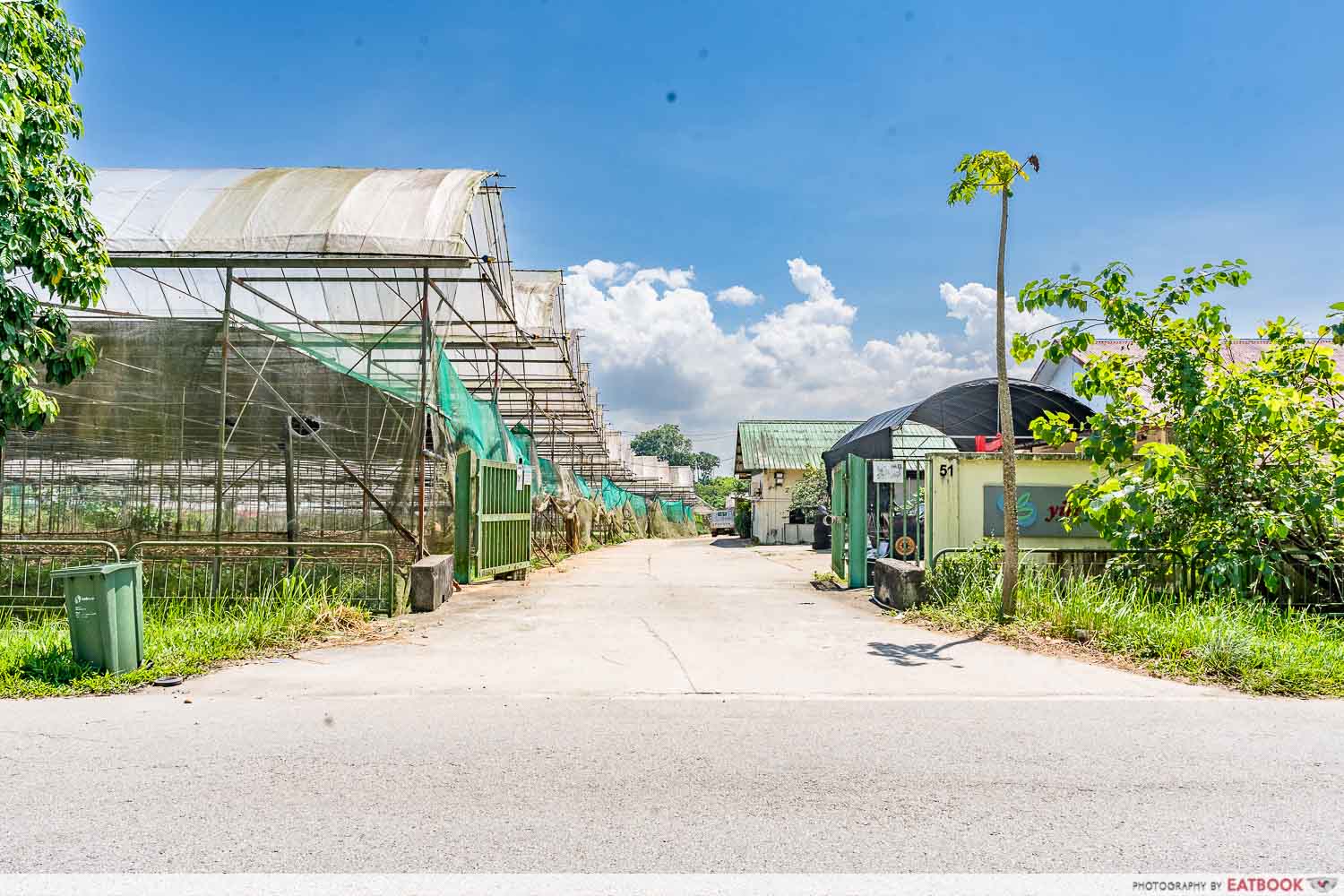 It felt like I was rousing from the slumber of city life; no, it was more akin to being jolted awake. The Singapore sun felt even more excruciatingly hot without the usual shade of tall concrete buildings, it was mostly green as far as the eye could see, and the smell of fertilisers—which, as you'd imagine, is far from the most pleasant—was everywhere. The place looked beautiful in that rustic way, but being there was quite physically uncomfortable. This isn't FarmVille, I had to remind myself as we were greeted by a young silver-haired woman, who was gesturing at us to follow her.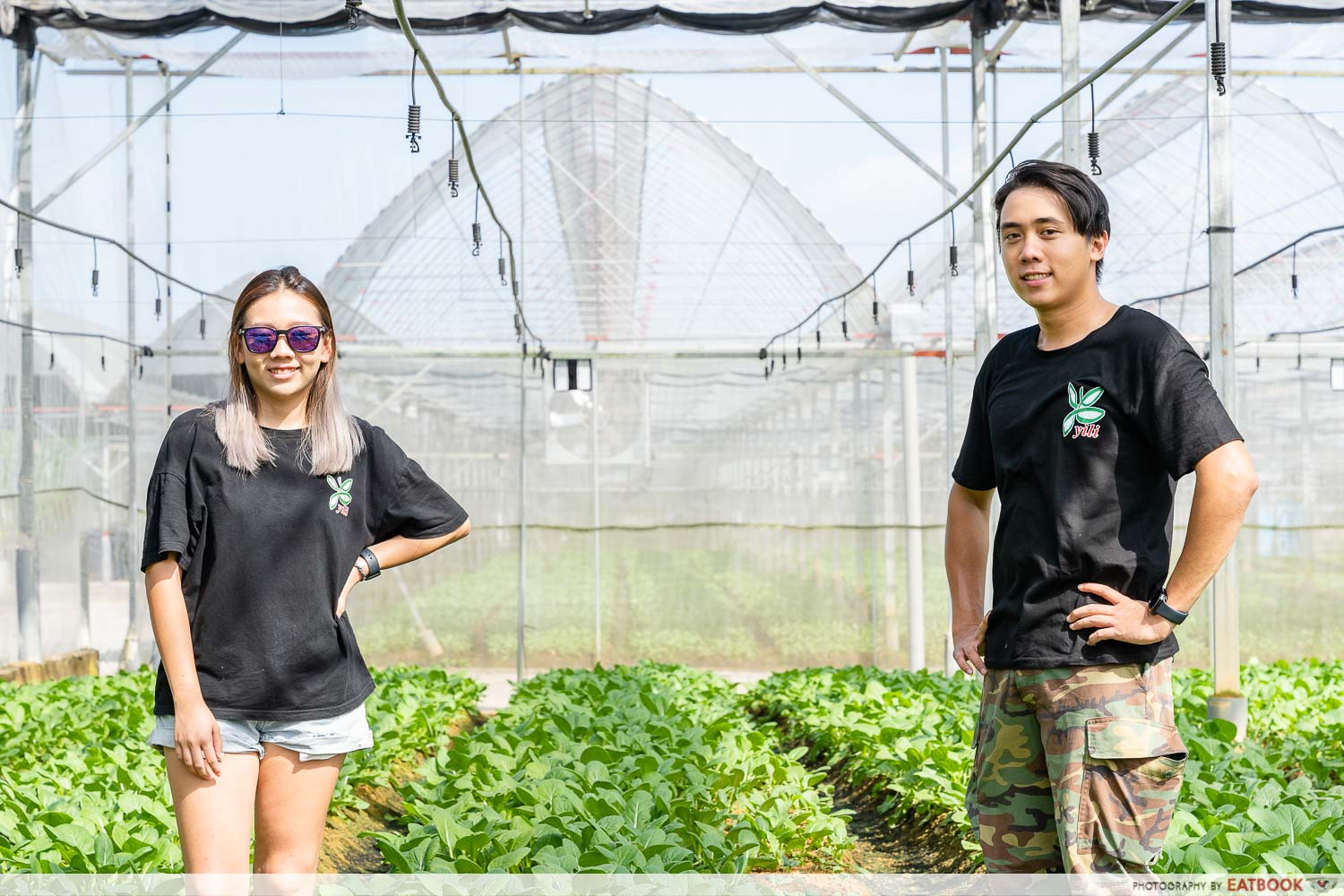 Toh Yingying (left) is in charge of the administrative side of things, while Toh Zhengjie (right) handles farm operations.
She was Toh Yingying, 27, the woman who runs Yili Farm along with her brother, Toh Zhengjie, 26, and their father. The siblings have traded a life of working comfortably in an office for one that requires them to be out in the sun all day, ensuring their produce—cai xin, kang kong and more—make it to the shelves of major supermarket chains such as FairPrice and Sheng Siong. Who said all Gen Zs were soft and easily bruised?
But their career choice isn't the only thing that makes them stand out. Today, Singapore imports most of its vegetables from countries such as Malaysia and Indonesia, while most of its local produce comes from farms that have wholly embraced hydroponics. Yili Farm is one of the few remaining farms in Singapore that grows their vegetables in soil.
And so my photographer and I were there that sweltering day to bear witness to how their vegetables are grown, and to better understand the effort it takes for their greens to find their way onto our plates. This, dear reader, is what happens on the daily at Yili Farm.
9:30am: Transplanting
Operations usually begin at 7:30am, which is when the farmhands prepare the soil bed. We arrived at nine in the morning, however, so we were taken to see what was happening at the time: the transplanting process. Transplanting is the technique of moving seedlings from their nurseries, where they can germinate in ideal conditions, to a location where they can grow to fruition.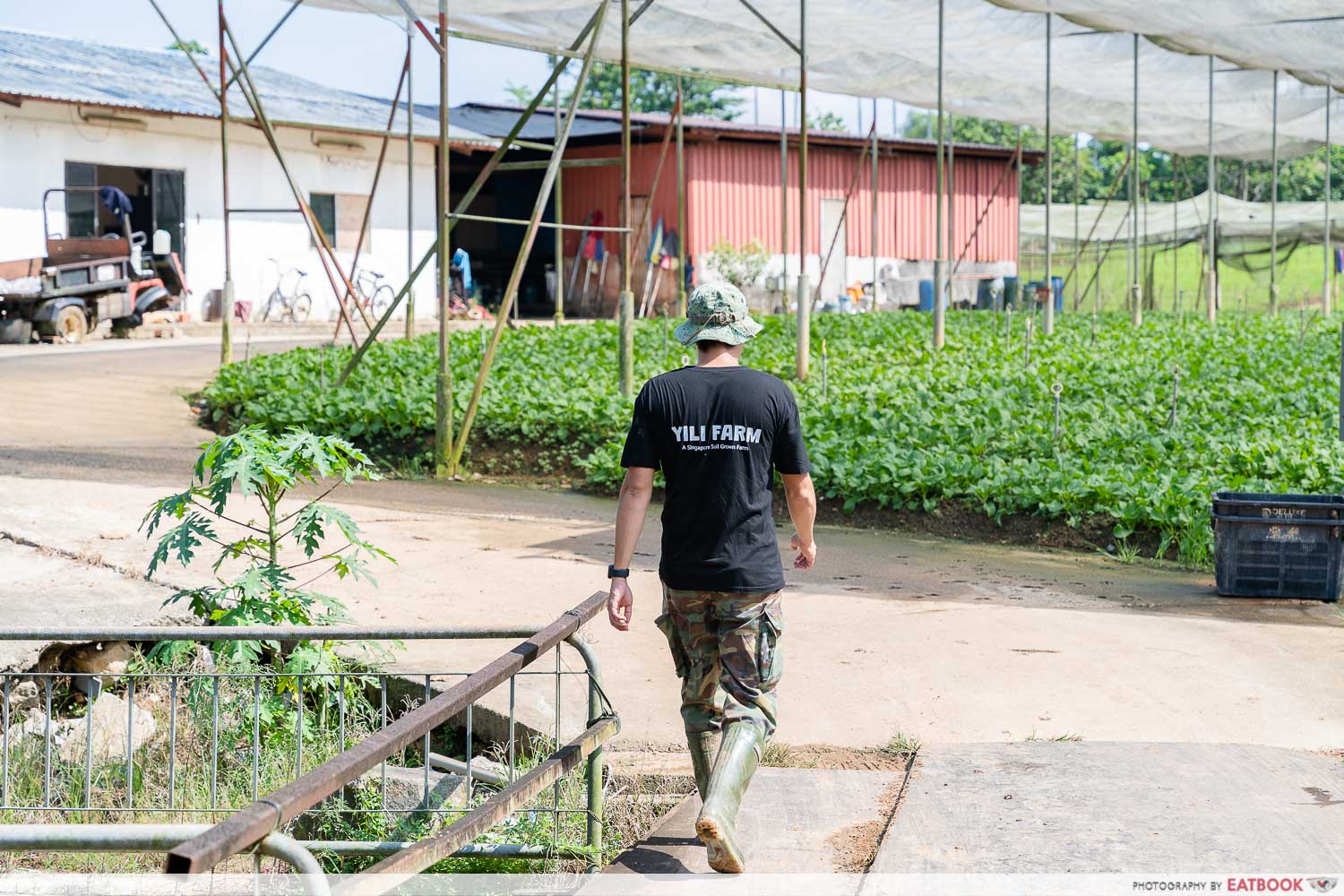 Walking through the farm to get to where the farmers were working, I couldn't help but marvel at the many greenhouses—an environment with regulated temperature and humidity for plants to grow in—that sprawled along the land. These tall skeletal structures were juxtaposed with older shadehouses, which appeared to be netted tents held up by wooden poles.
"Our greenhouses are semi-automated. They let us control temperature, ventilation, and shelter crops from rain. The nets, though, aren't sheltered, so if it rains too heavily, the plants could grow to be misshaped," explained Zhengjie as we entered one of those older shadehouses.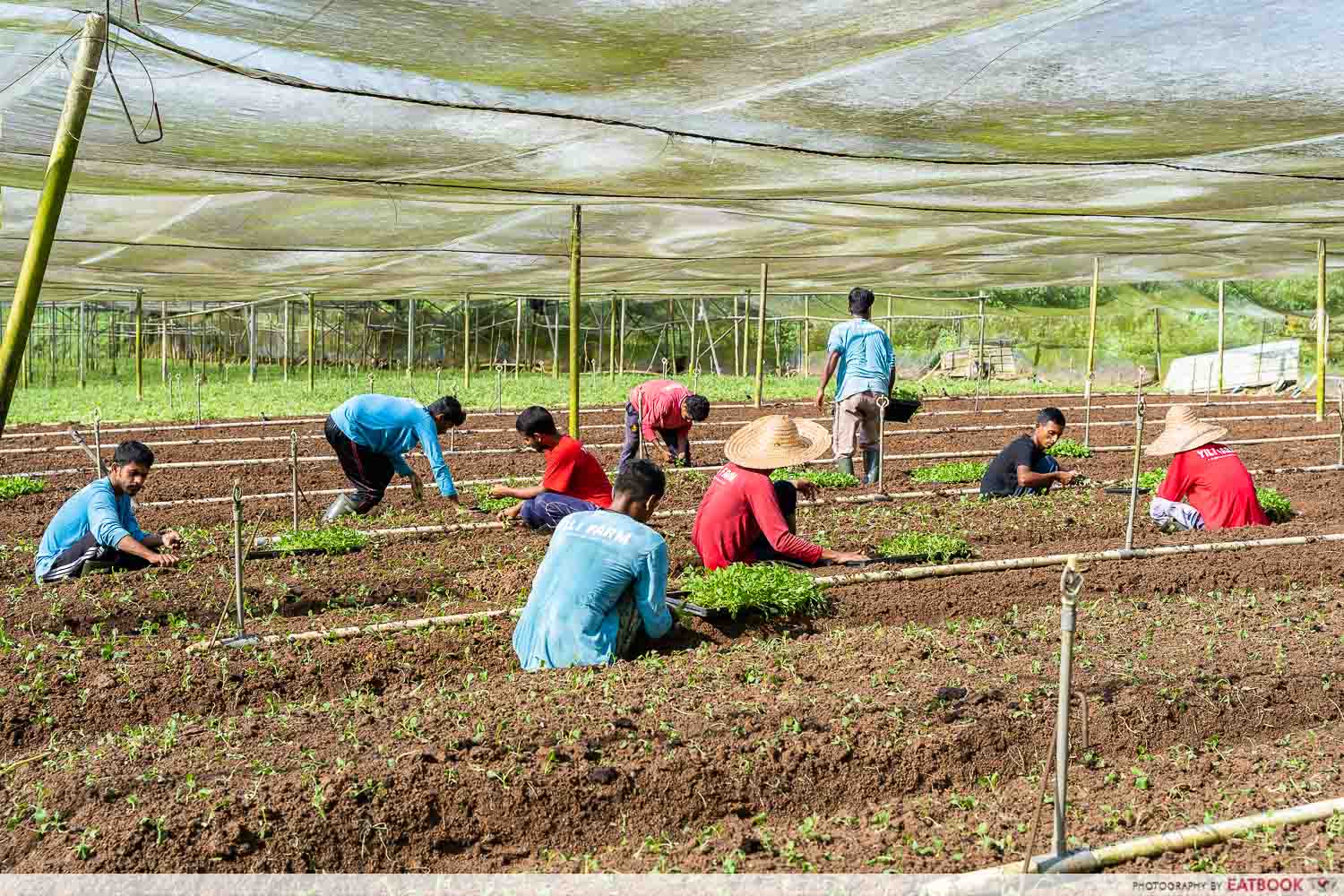 The scene couldn't be much different from how it was in 1996, when the siblings' father first started the farm. A thin layer of netting was all that shielded the earth from the elements, and on that very earth, farmers were nestling little spinach seedlings, with the hope that they would soon grow into lush crops.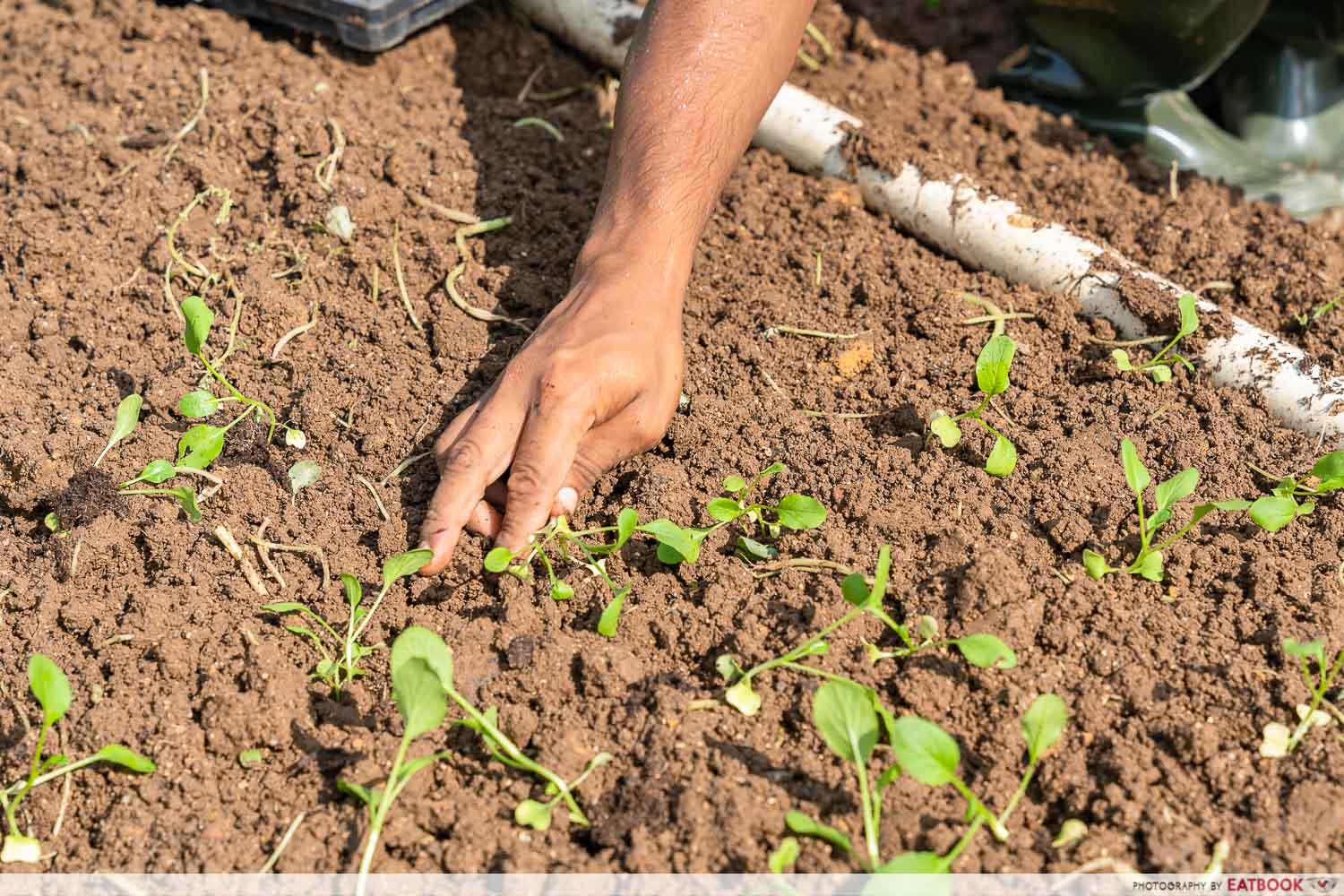 I asked Yingying what would be done with these vegetables if they were hit by a thunderstorm. "We have to throw them all away," she replied.
All that hard work, left to the whims of the weather.
11am: Harvesting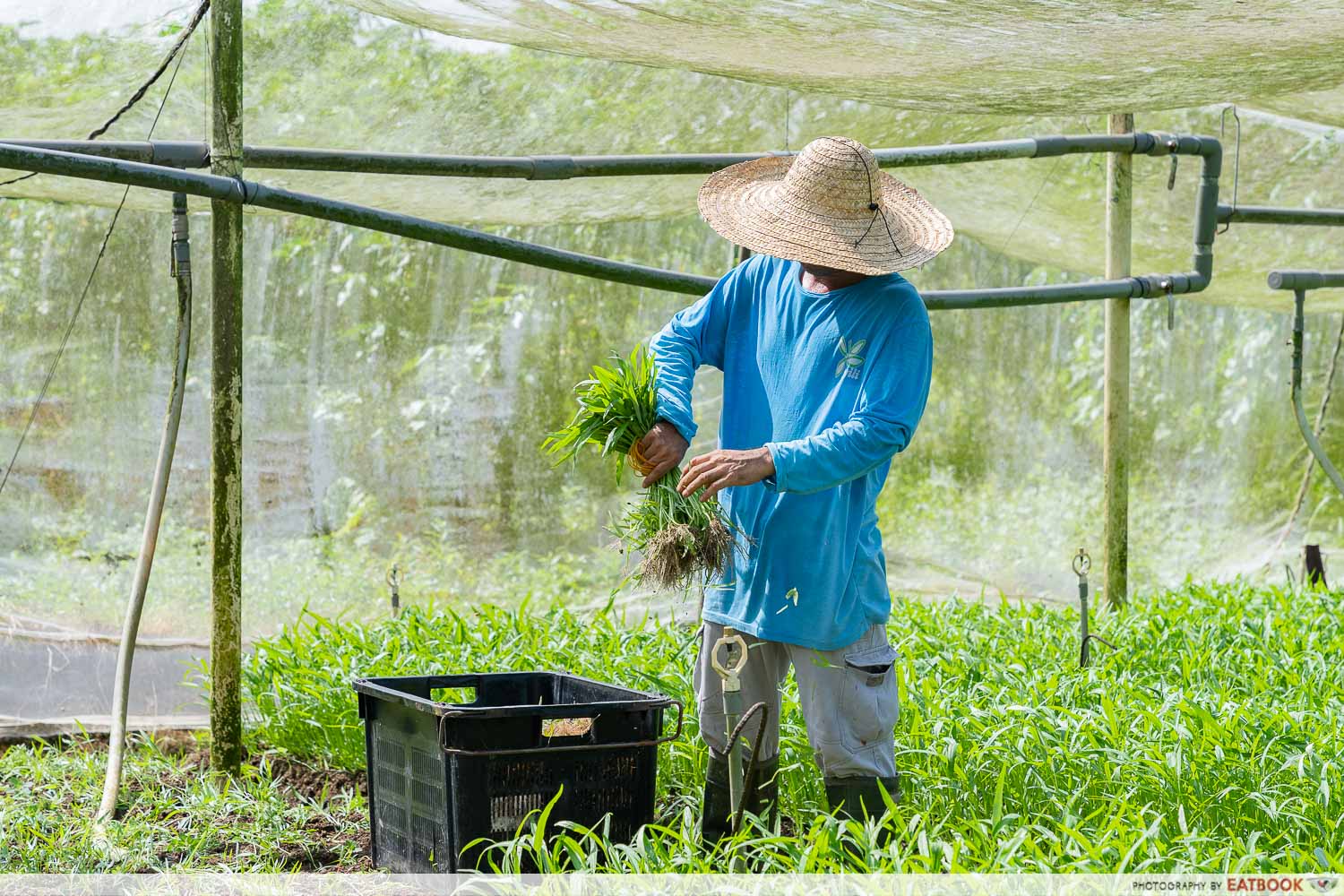 We moved on to a greenhouse where farmhands were engaged in a different activity—harvesting.
Zhengjie listed the five types of vegetables that are currently grown at the farm: cai xin, kang kong, xiao bai cai, and round and sharp spinach. These vegetables require different techniques to cultivate and harvest.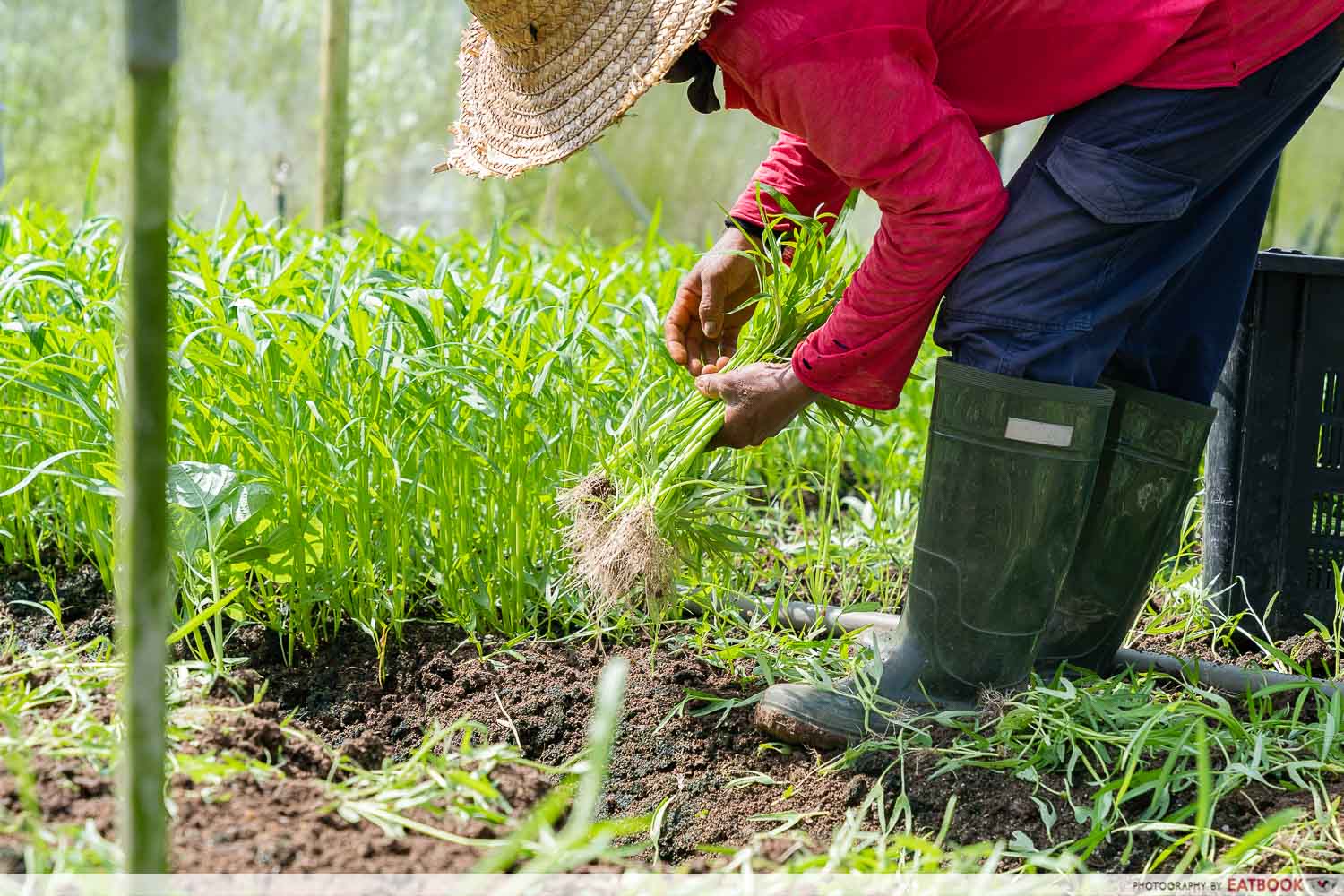 In the above image, the farmhand extracts kang kong from the earth by simply yanking it out.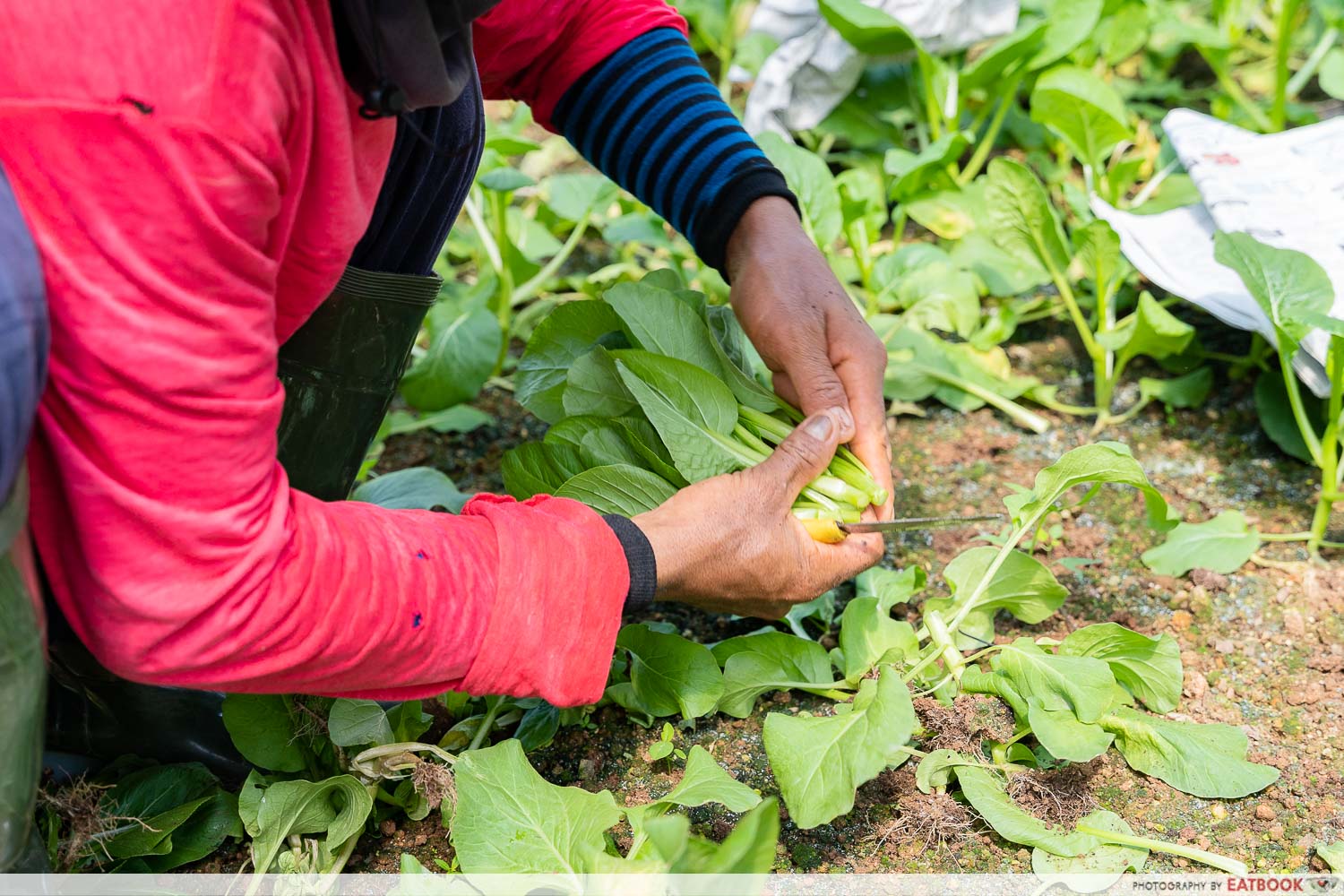 And in this picture, the farmhand wields a delicate blade to chop off healthy cai xin leaves. This is because, unlike kang kong, which is washed upon harvesting, cai xin is immediately packaged to extend how long it can be kept by consumers. Its roots are thus cut away to prevent soil and other unwanted particles from making it into the packaging.
This process of cultivating and harvesting soil-grown vegetables is considerably slower than with hydroponics, a system many newer farms use wherein plants are developed in a water-based nutrient solution. But such systems are also much costlier.
"Purely using hydroponics is much more expensive. It's difficult to keep our prices low for consumers if our operating costs are too high," Yingying said.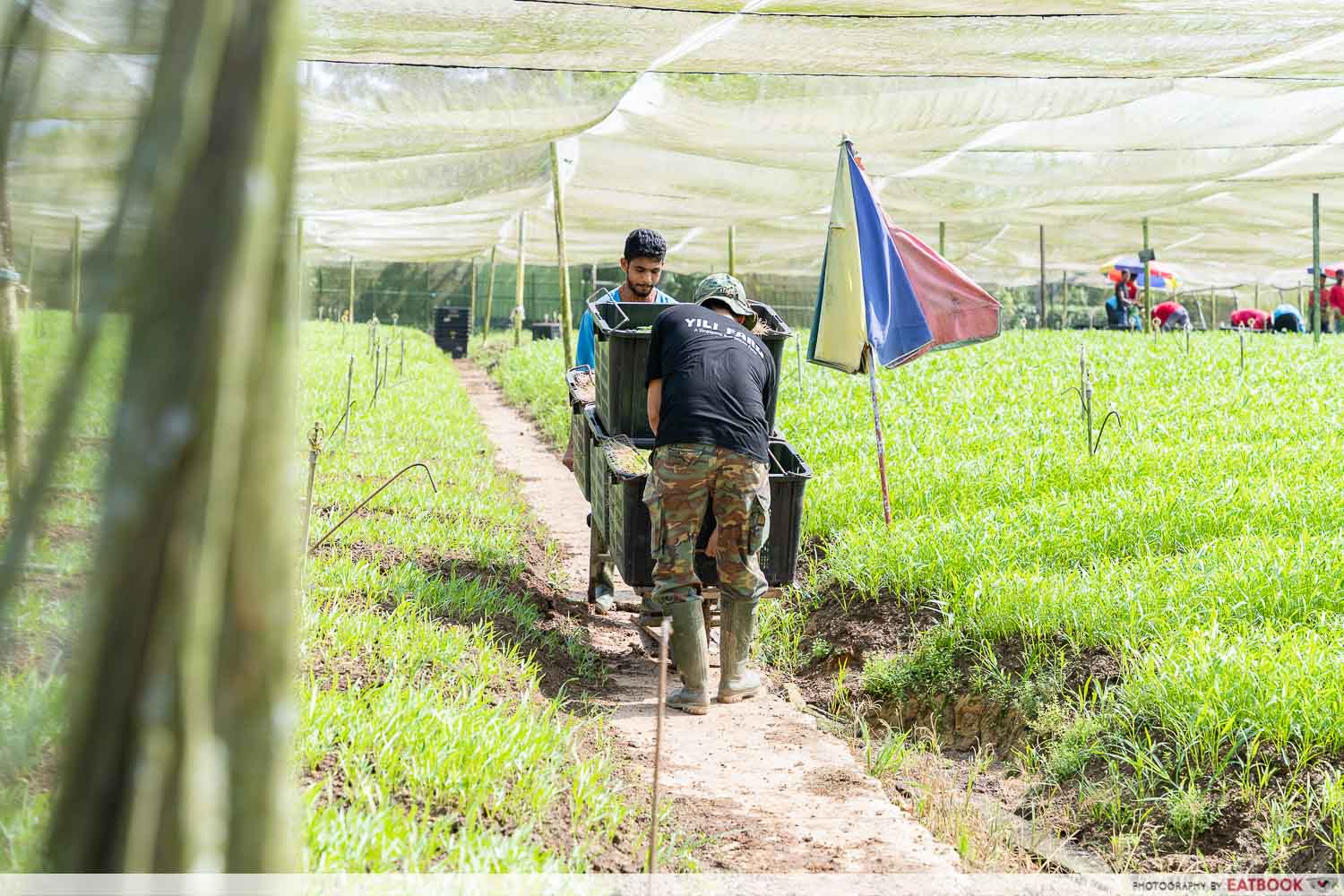 Even to onlookers like myself, farming seems as much art as it is science. The farmers combine deft skill with clearly defined methods, and with the two siblings and their father overseeing everything, the farm runs smoothly more often than not.
How long have you been working on the farm? I asked Yingying.
"We started helping our dad when we were in secondary school, mostly during holidays la," she said. "But even before that, we spent a lot of time around the farm, especially since Dad was so busy with it in the early days. He didn't really have time to spend with us at all."
"I recall that, instead of going to Sentosa to enjoy the beach, we would be here on the farm, playing with the sand as our father worked. It may not seem like a lot, but we had fond memories growing up here."
1:30pm: Packing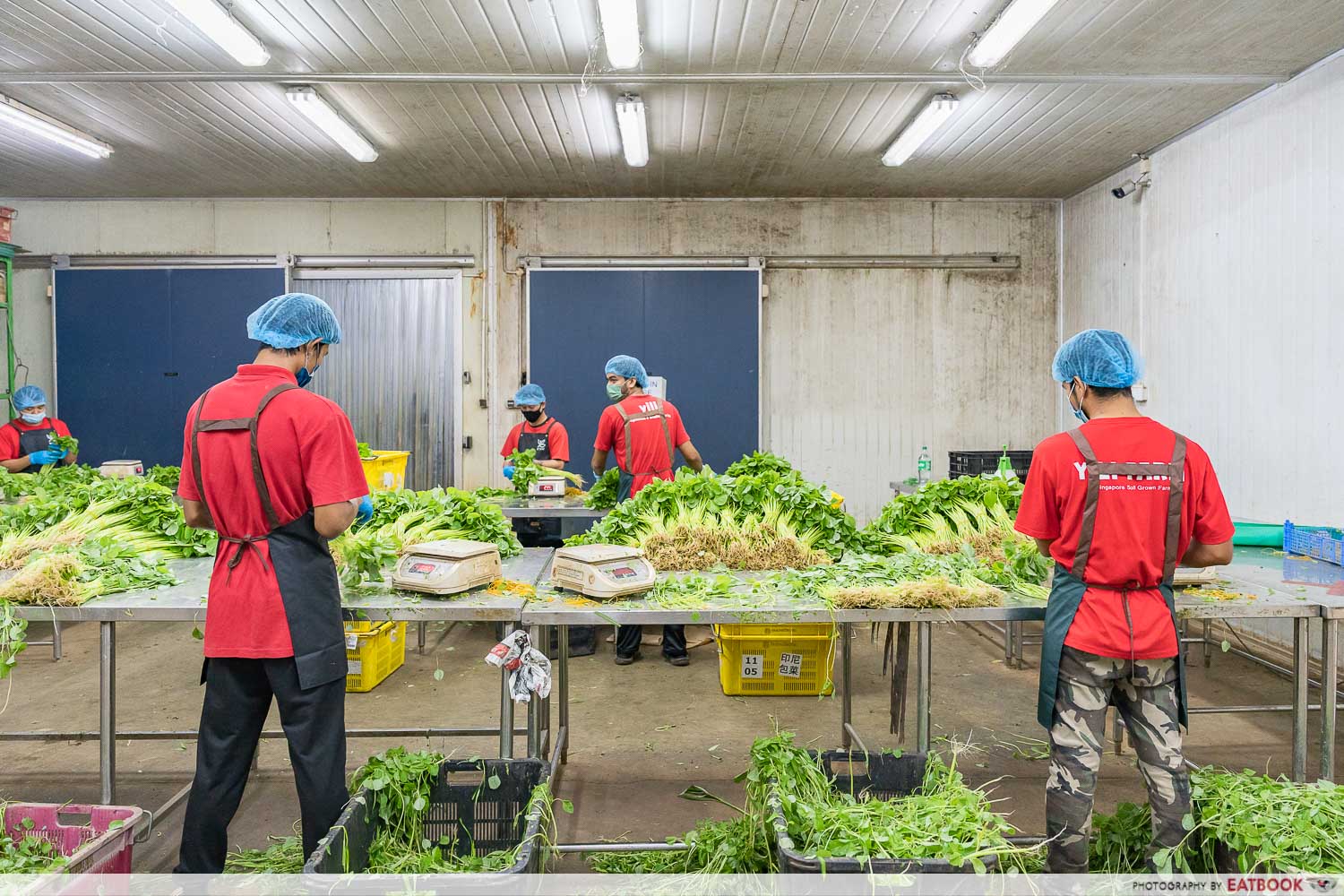 After washing and sanitising, the vegetables were sent to the packing room, where a group of workers performed quality checks on them before packing them into plastic wrappers. The former was done by hand, while the latter was aided by machinery.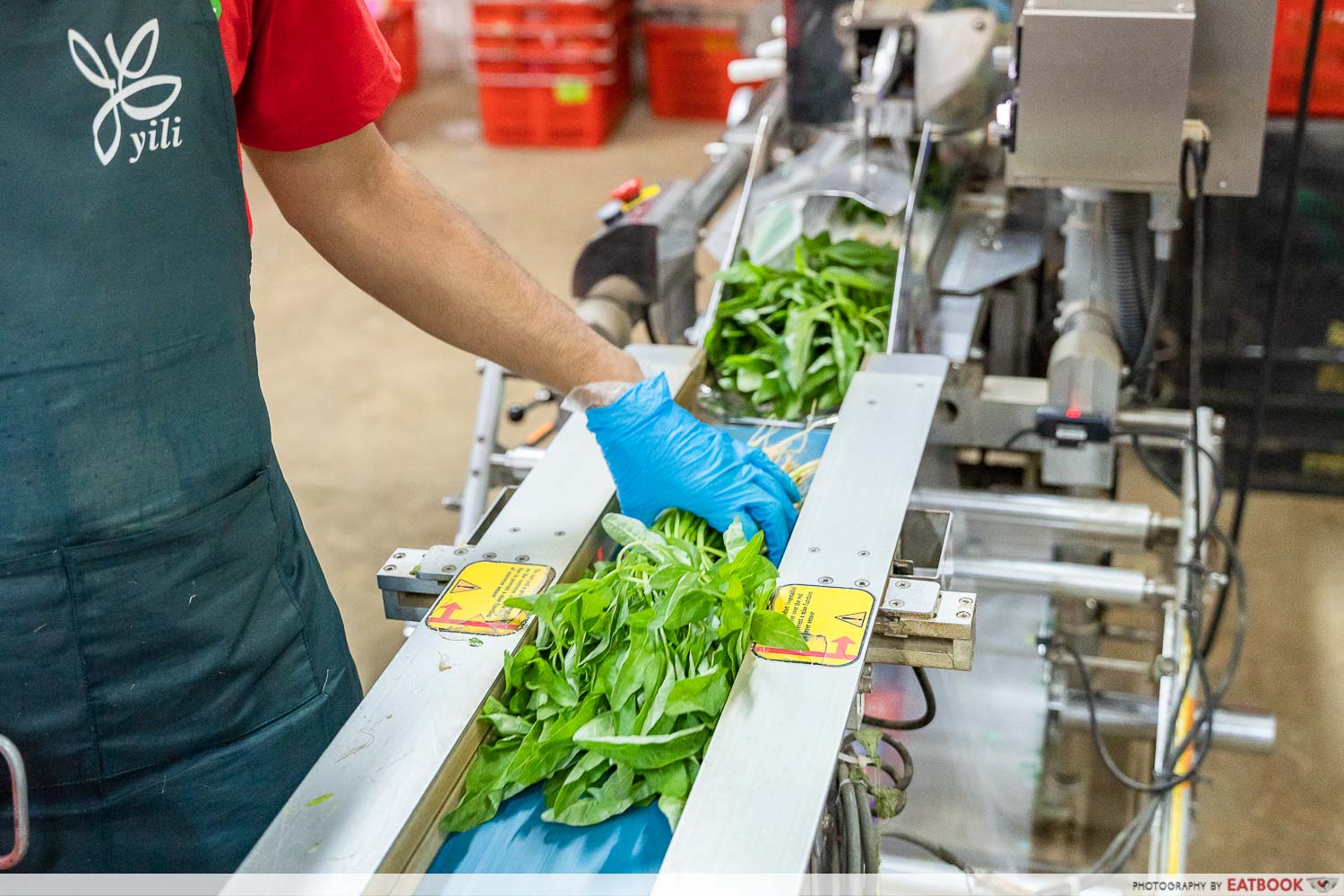 We watched as batch after batch of veggies were placed on the machine, and soon, they came out the other side wrapped in Yili Farm's packaging.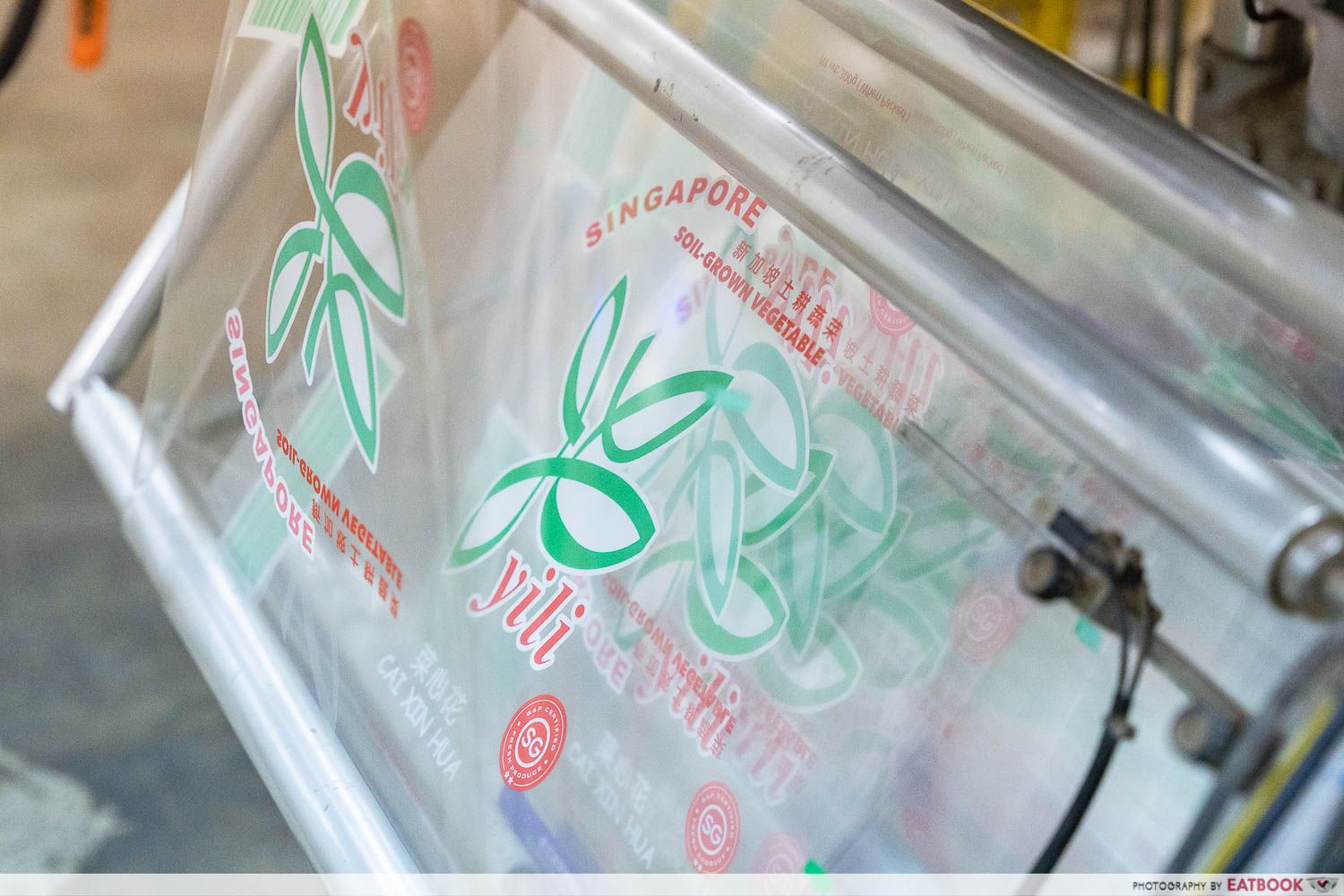 As previously mentioned, Yili Farm's produce can be found in major supermarkets around the country. How did they rise to such prominence?
"At first our farm mostly supplied wet markets, which means even though there were people buying our products, they may not know where it comes from. But then my dad decided to create a brand for us," Yingying explained.
"I'm not sure if FairPrice approached us first or the other way around, but basically we started supplying them vegetables with our logo on the packaging. That helped us become an established brand."
3:30pm: Out for delivery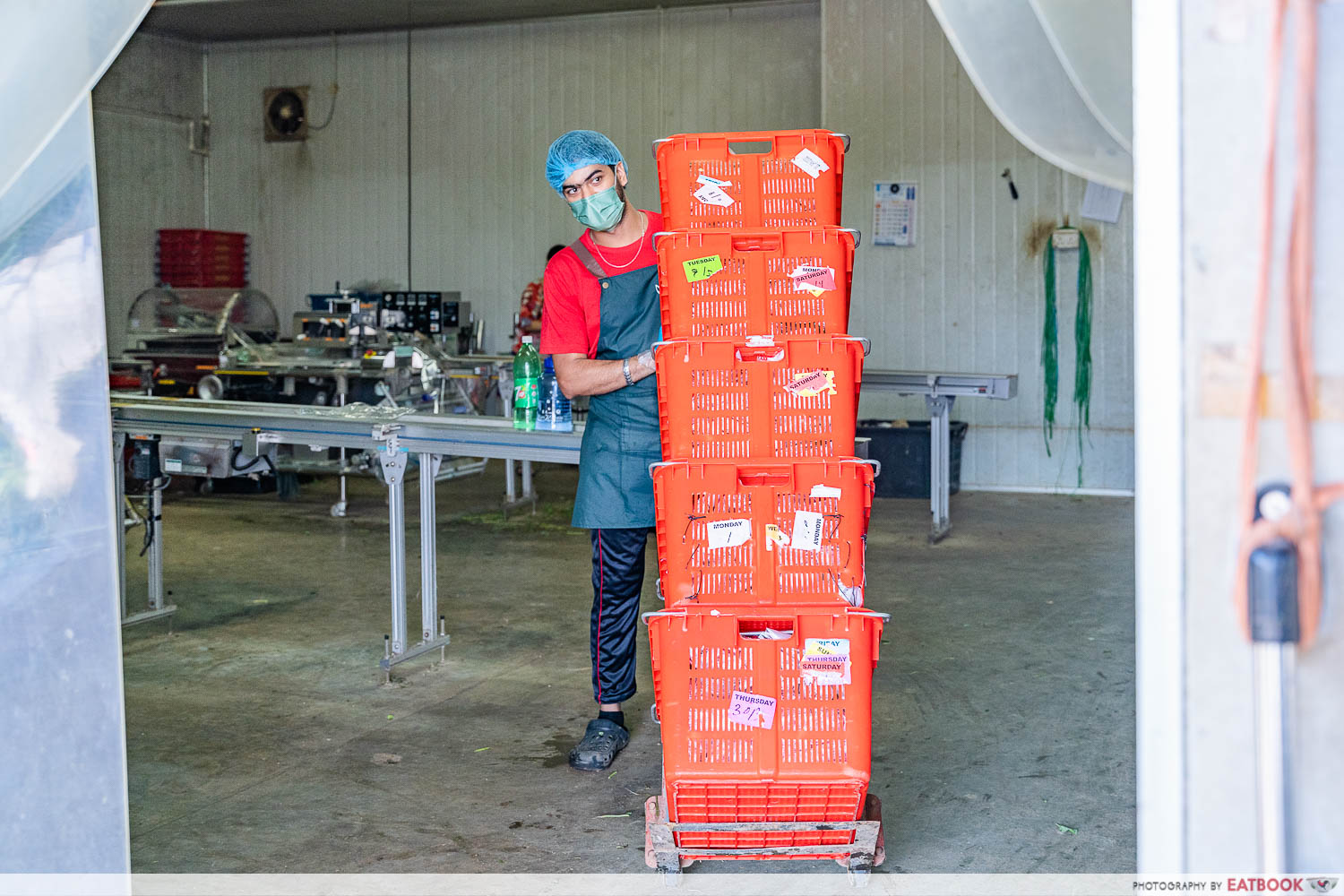 Cleaned up and ready for delivery, the products were then loaded onto the farm's several trucks. As you can probably tell from the picture above, it's quite the herculean feat to lug crate after crate of vegetables around.
Let us take a moment to appreciate the efforts of these workers who have made vital contributions to our agri-food sector. It was heartening to see the siblings treat them like family, too.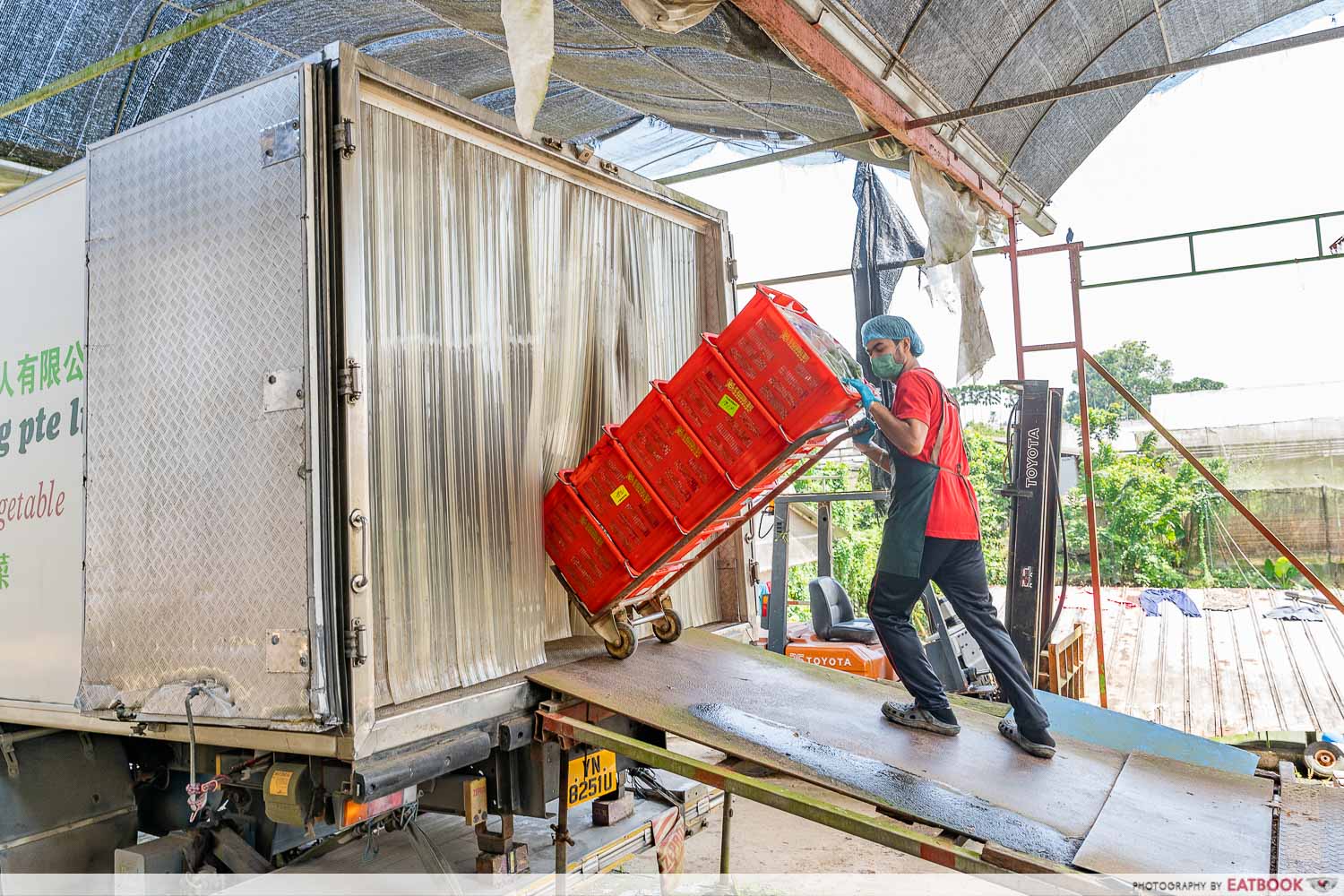 The crates are then transported to the central warehouses for Singapore's prominent supermarket chains, before they make their way to local outlets. And that, dear reader, is how local produce such as Yili Farm's ends up on your supermarket shelves.
4:30pm: Visiting the new farm
In a country that never stands still, change is always on the horizon. The lease for Yili Farm is finally up, after several extensions. Zhengjie confides that they're moving to a bigger plot.
We all got into a van, and Yingying drove us to the site of the new farm, just a few miles away.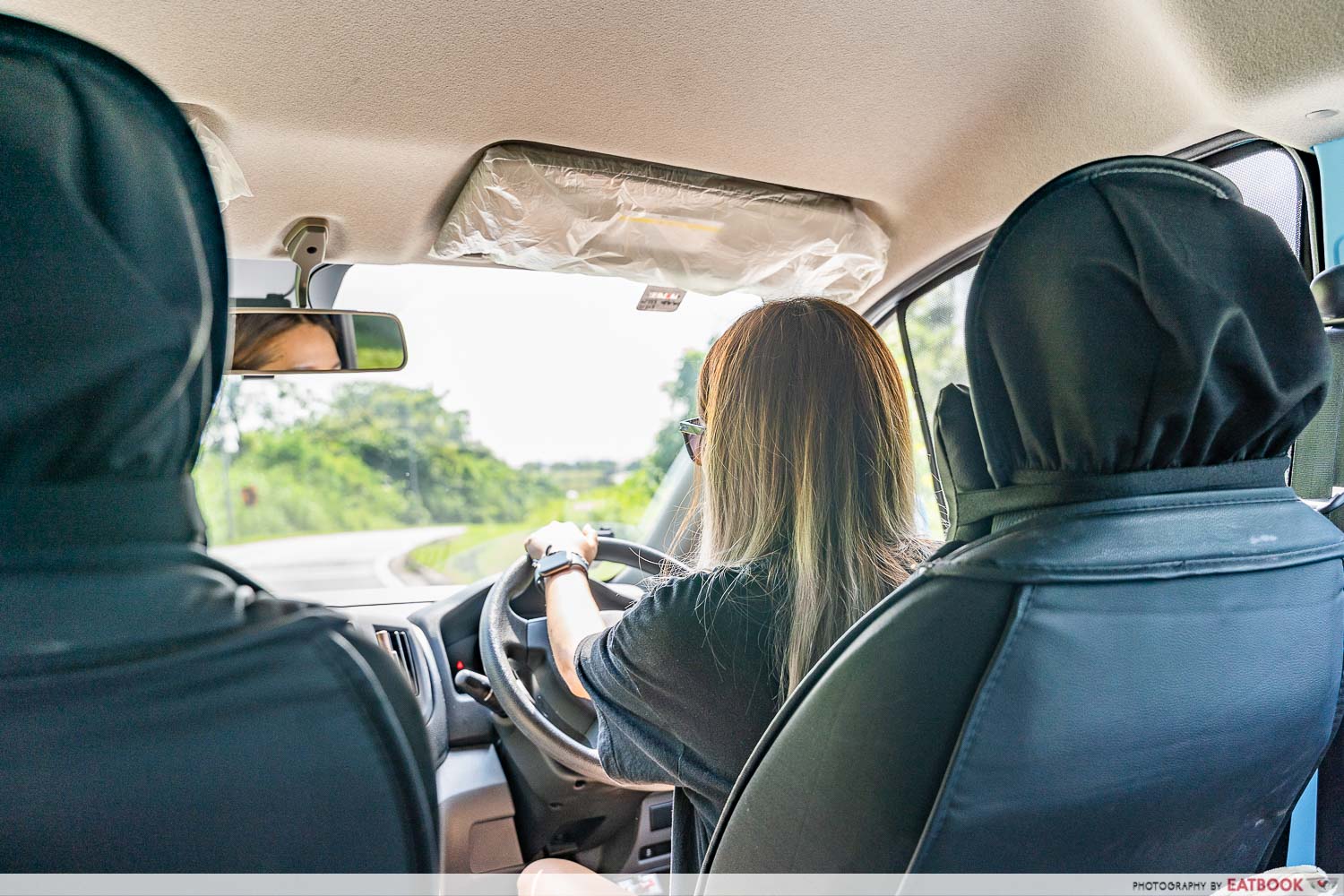 On the way, I mostly saw winding, narrow roads flanked by a multitude of trees and other greenery, with not a single tall building in sight. It's quite the cliche, but Lim Chu Kang really does feel like you're in another country.
I asked the two siblings how they felt about spending much of their time away from the city.
"It can be quite tiring to maintain a social life," Yingying said. "If I want to meet my friends, they end work at six, but we end at 7:30pm at least, and then I still have to drive out to the city. They have to wait for me to have dinner together!"
But does working here feel like a significant break from the city? "Not really. If we drive out for just five minutes, we can see HDBs already. We also hear planes flying by every day. Singapore, being Singapore, is only that big."
I guess you can never truly escape the city.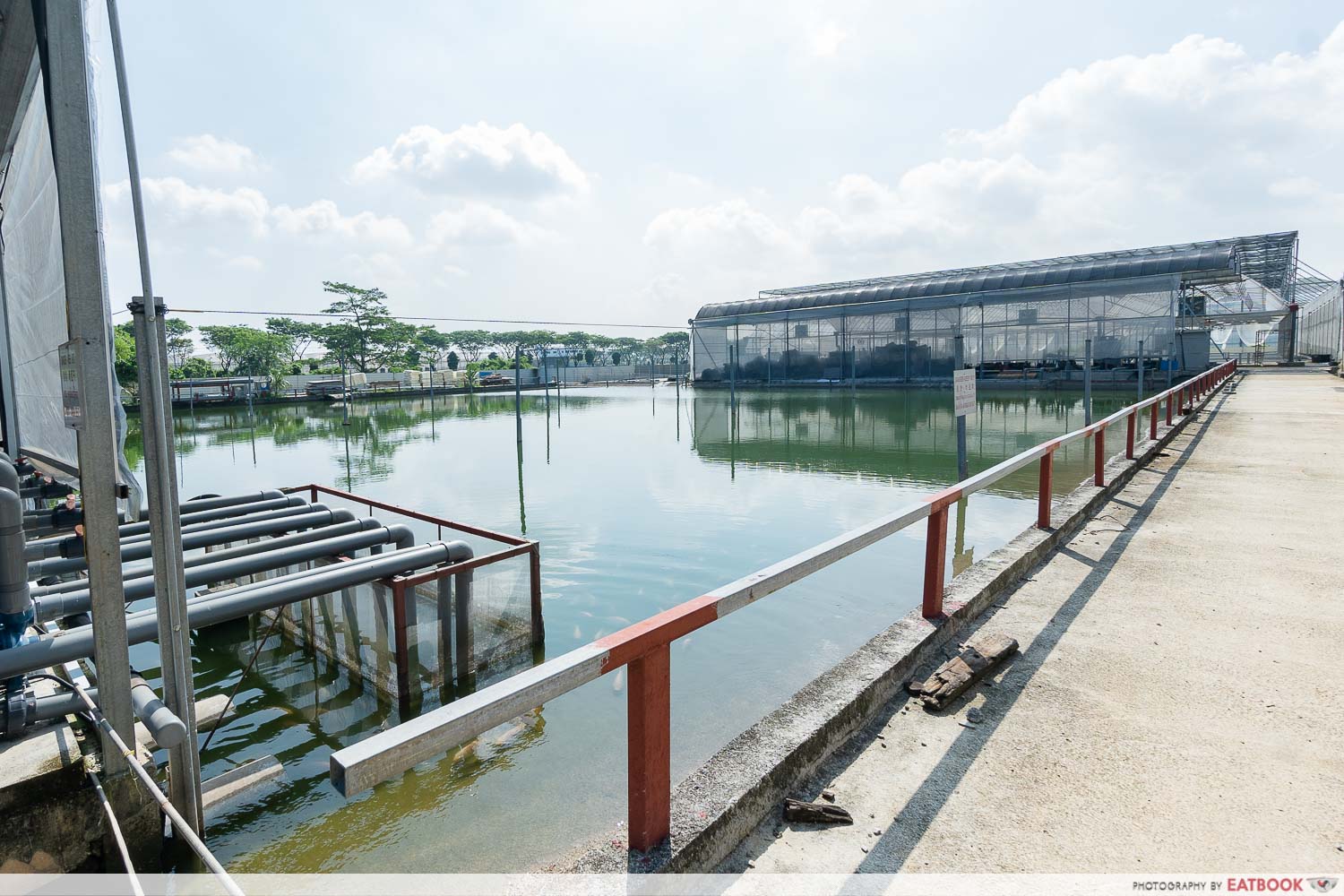 The new farm has not yet been completed, but based on the areas we were able to enter, it is clear that Yili Farm has further modernised their processes. For instance, the new farm has a pond for rainwater harvesting, where the water collected would be filtered then used for irrigation.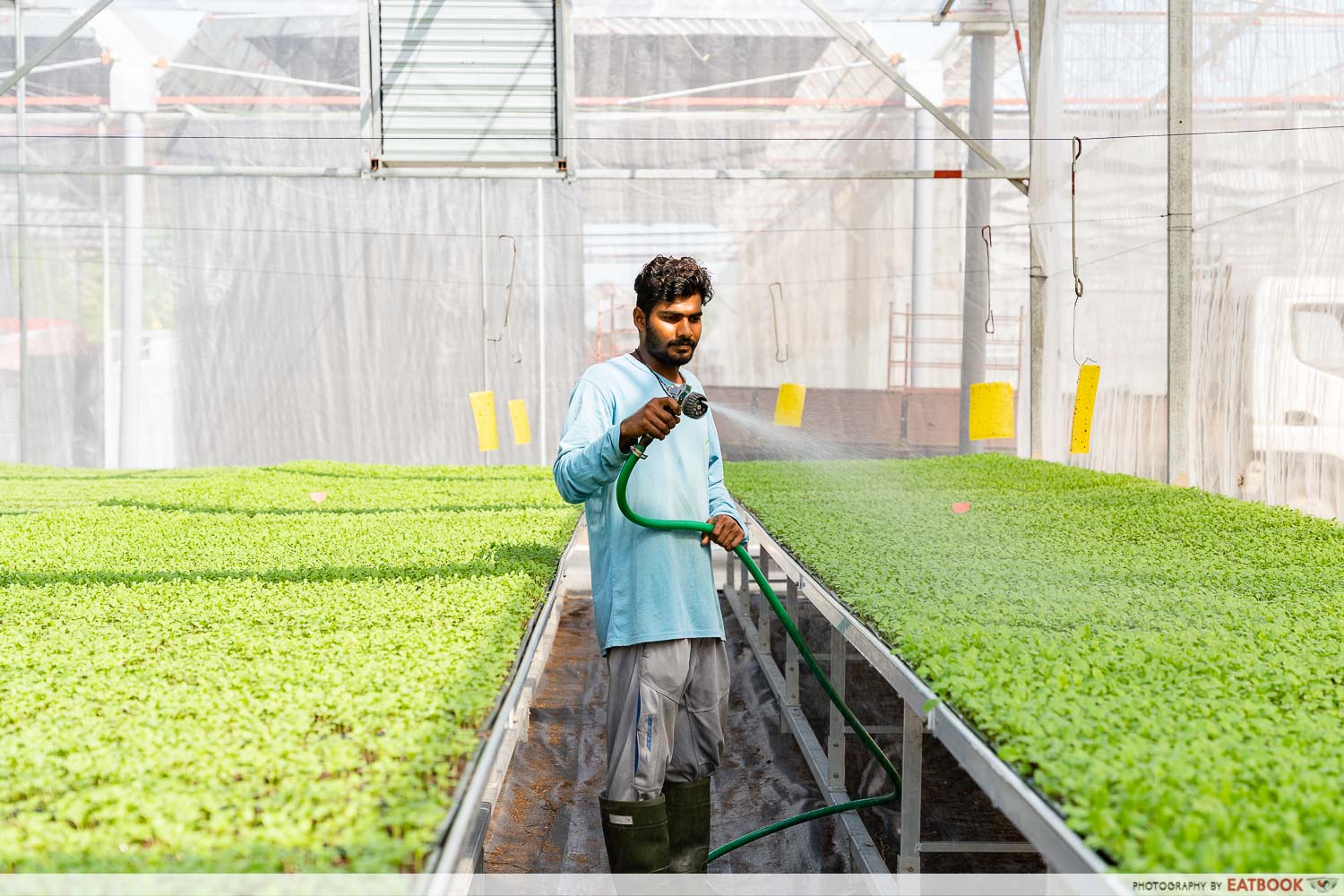 There is also a new nursery that allows Yili Farm to cultivate young plants in a more controlled environment, and soon, hydroponics and indoor vertical farming will be added to the equation. Soil-grown vegetables will still be a mainstay, but a greater diversity of methods should lead to greater yield.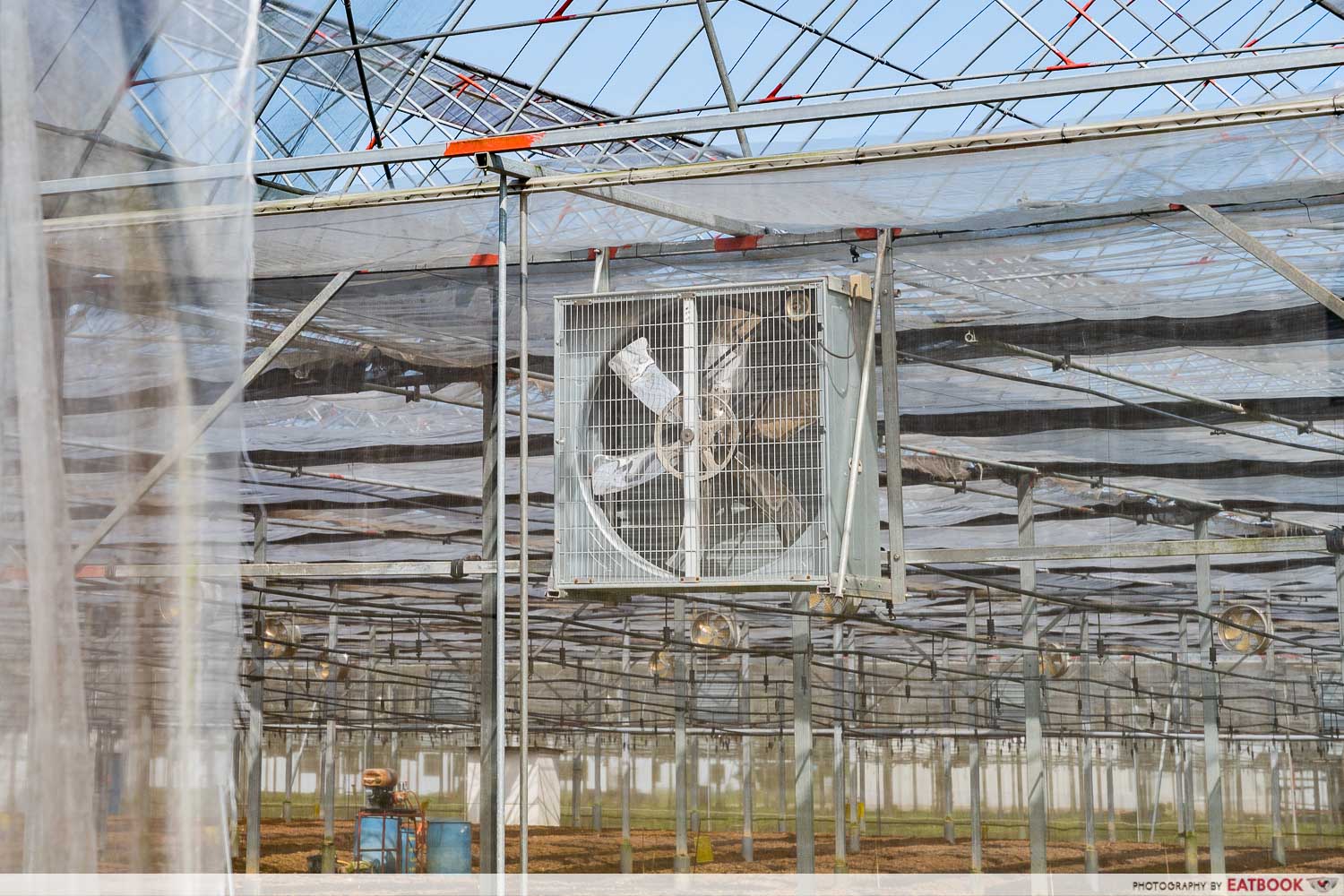 The greenhouses here were noticeably more spacious and neat, and according to the siblings, they are equipped with temperature control systems and data collectors. To go from worn tentages to these modern structures is quite the evolution.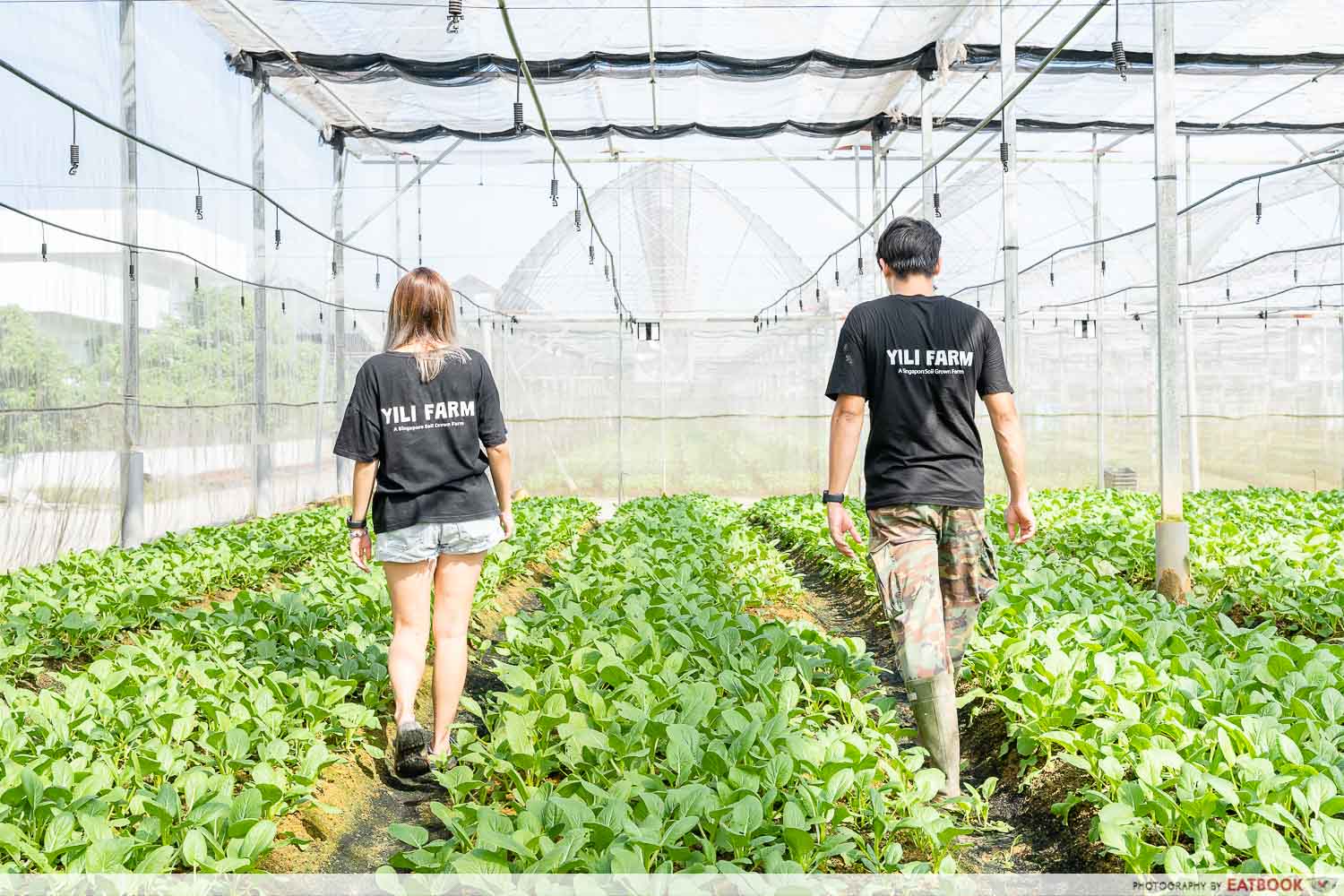 By choosing to run Yili Farm, Yingying and Zhengjie are able to continue their father's legacy after he retires. But their efforts do not merely go toward this perpetuation—they are an important part of Singapore's push for the 30 by 30 goal, where 30 per cent of our nutritional needs are to be met by local produce.
"Imported produce is just a lot cheaper, and businesses are always looking for cheaper alternatives. But if something like COVID happens again and imports stop coming in, businesses will rush to us local farms for vegetables," Yingying said.
Our food security is in the hands of farmers such as Yingying and Zhengjie. It just so happens that those hands are remarkably young.
For a story about Singapore's oldest hawker and her famous wonton mee, read our Nam Seng Wanton Noodles feature. For a tale about the last survivor of the historical Satay Club, check out our Original Alhambra Satay feature.
Address: 51 Lim Chu Kang Lane 1, Singapore 718840
Website
Nam Seng Wanton Noodles: The Story Of Singapore's Oldest Hawker And Her Famous Wonton Mee
Photos taken by John Lery Villanueva.
This was an independent feature by Eatbook.sg.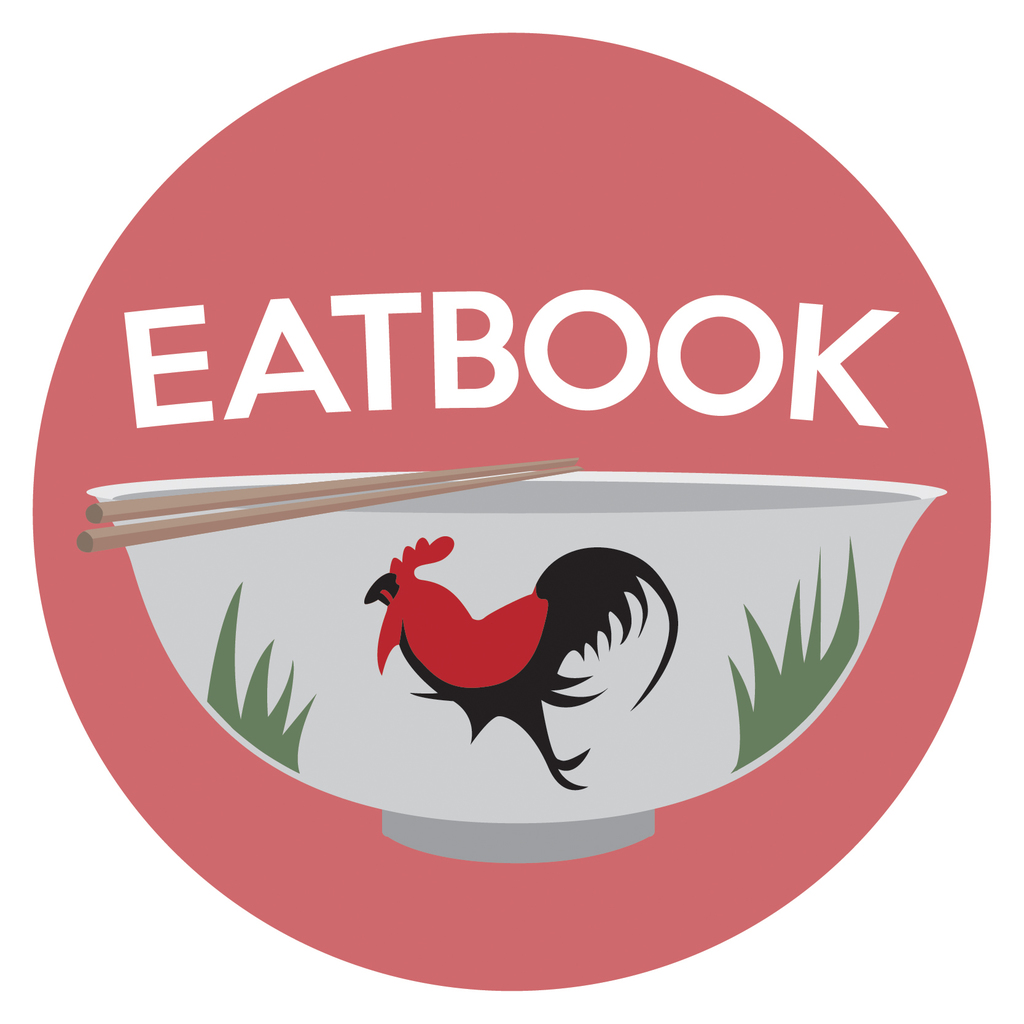 Drop us your email so you won't miss the latest news.