Affordable xiao long bao at You Peng Noodle Dumpling House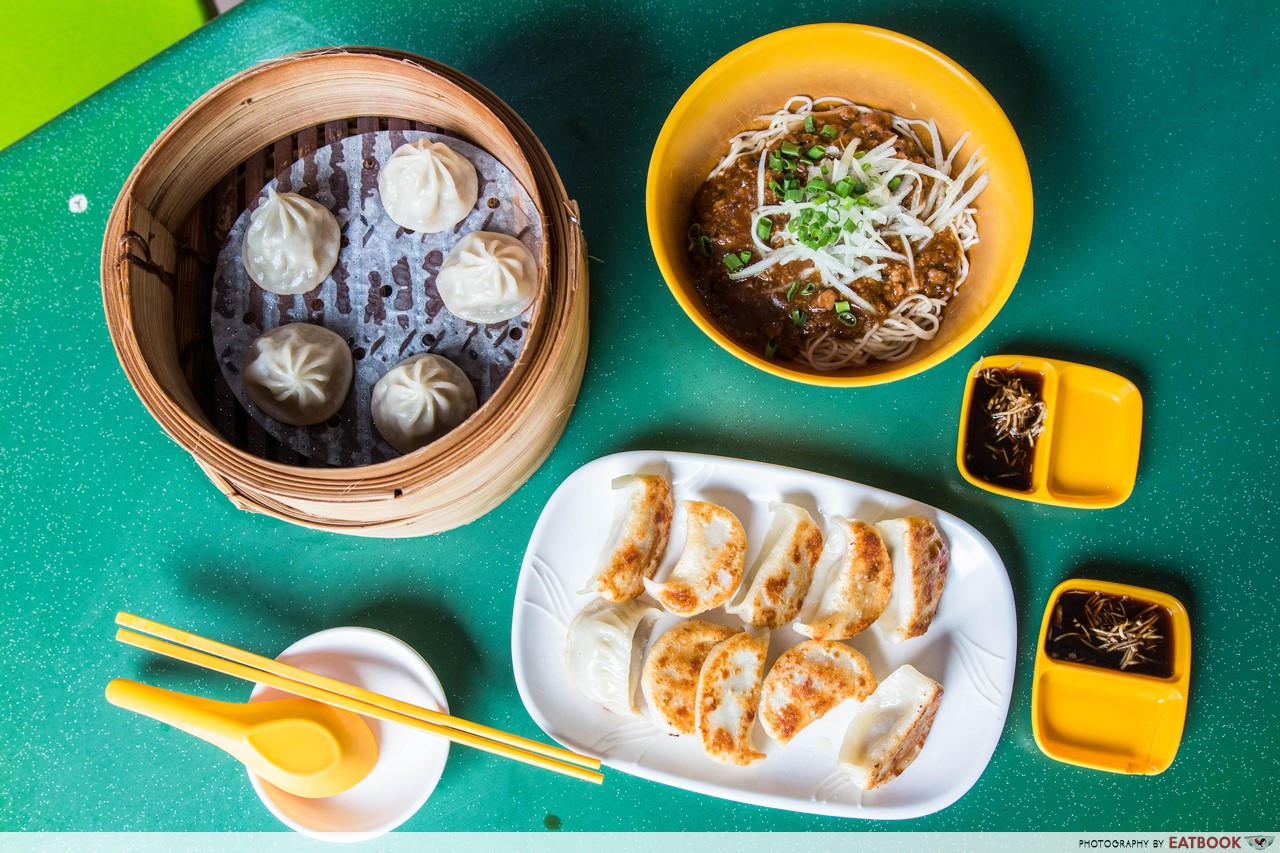 When I was still a kid, I used to eat up to eight xiao long bao in one sitting and never gave much thought about how the little gem was made or what exactly it was made of. The day I realised that the soup I've been devouring was made of pork fats, I was horrified. However, that didn't lessen my love for the soup dumpling and at most, I hesitate a second or two but will still end up ordering one basket when I see any eatery selling xiao long bao. So when I came across You Peng Noodle Dumpling House at Beauty World Food Centre, I had to give up my clean-eating streak for it.
Food at You Peng Noodle Dumpling House
At the tiny stall that You Peng Noodle Dumpling House occupies, they serve quite a variety of dishes. Besides having dumplings prepared in various ways, the stall also offers many different types of noodles such as Sour & Spicy Noodle ($4.80), Sze Chuan Dan Dan Noodle ($4.50), and Egg & Tomato Noodle ($3.80).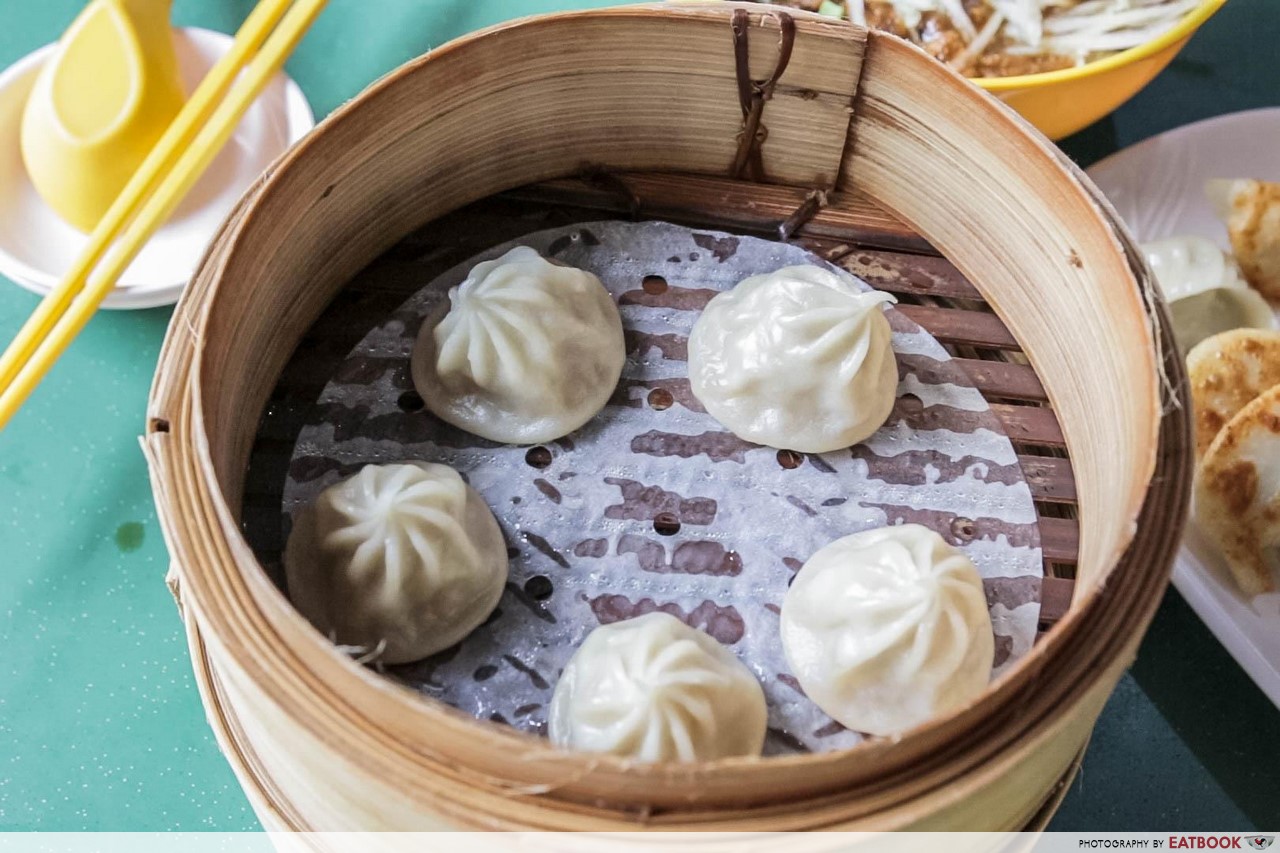 Immediately after we found ourselves a table near the stall, we quickly went to order their specialty, Shanghai Fresh Meat Juicy Steamed Buns ($7.50 per set). Unlike most restaurants that serve xiao long bao in a steaming basket of three to five dumplings, this stall sells them in sets of 10 pieces.
Based on what we saw on their signboard menu, we were expecting to be served with one single basket filled with huge puffy dumplings. However, they came in two separate baskets and the dumplings were much smaller than expected. Nonetheless, they were steaming hot and looked as legitimate as those you would find in restaurants. The dumplings also came with a small serving of shredded ginger soaked in vinegar.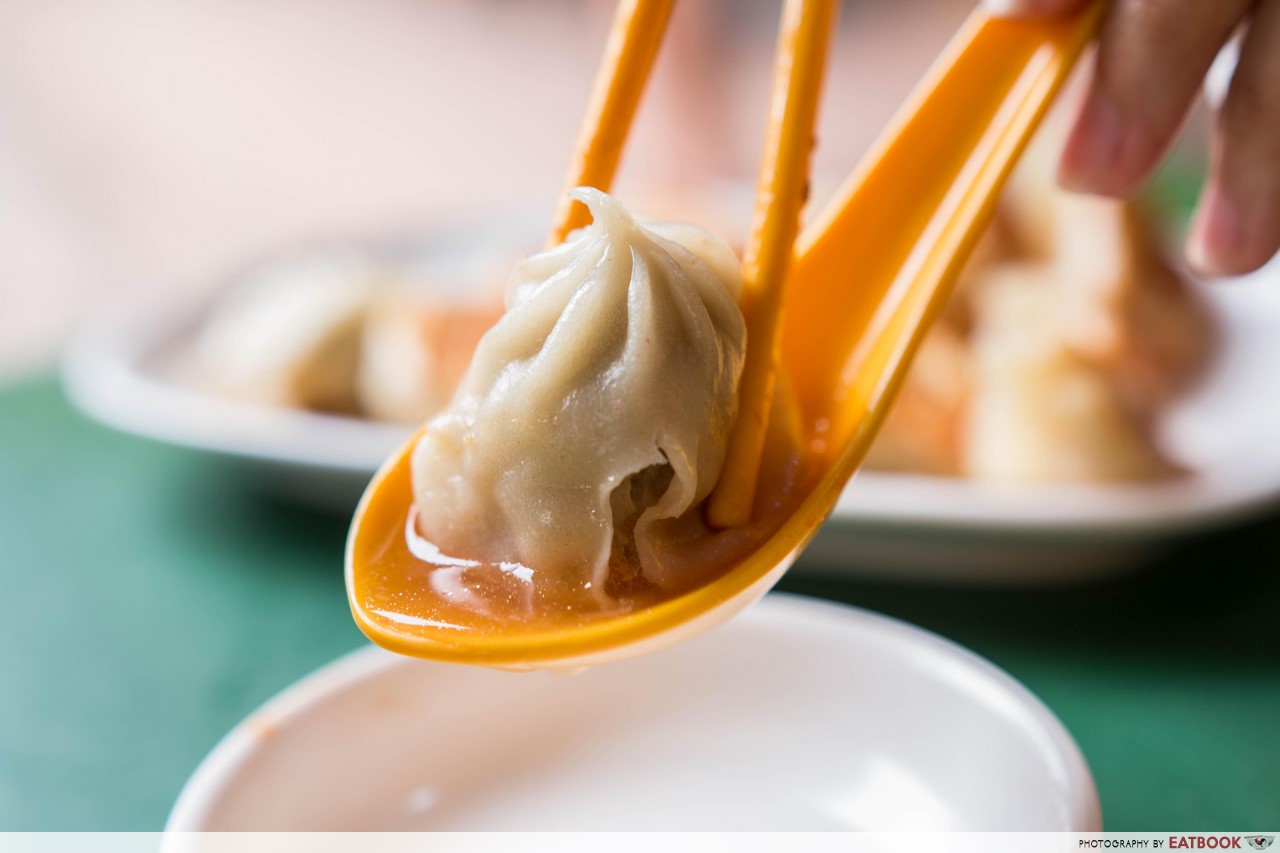 Gingerly and excitedly, we reached for our first xiao long bao and were surprised to find out how firm the skin was. Firm enough for a lousy chopsticks user like me to pick the dumpling up without tearing the skin, I was also glad that it was not overly thick and doughy in a bad way.
Not knowing what to expect, I took a small bite off the skin and held my breath for the moment of truth. The soup spilled onto my spoon continuously – that is one off the list of what makes a good xiao long bao. Still steaming hot, the soup was flavourful with a strong taste of the decadent melted pork fats.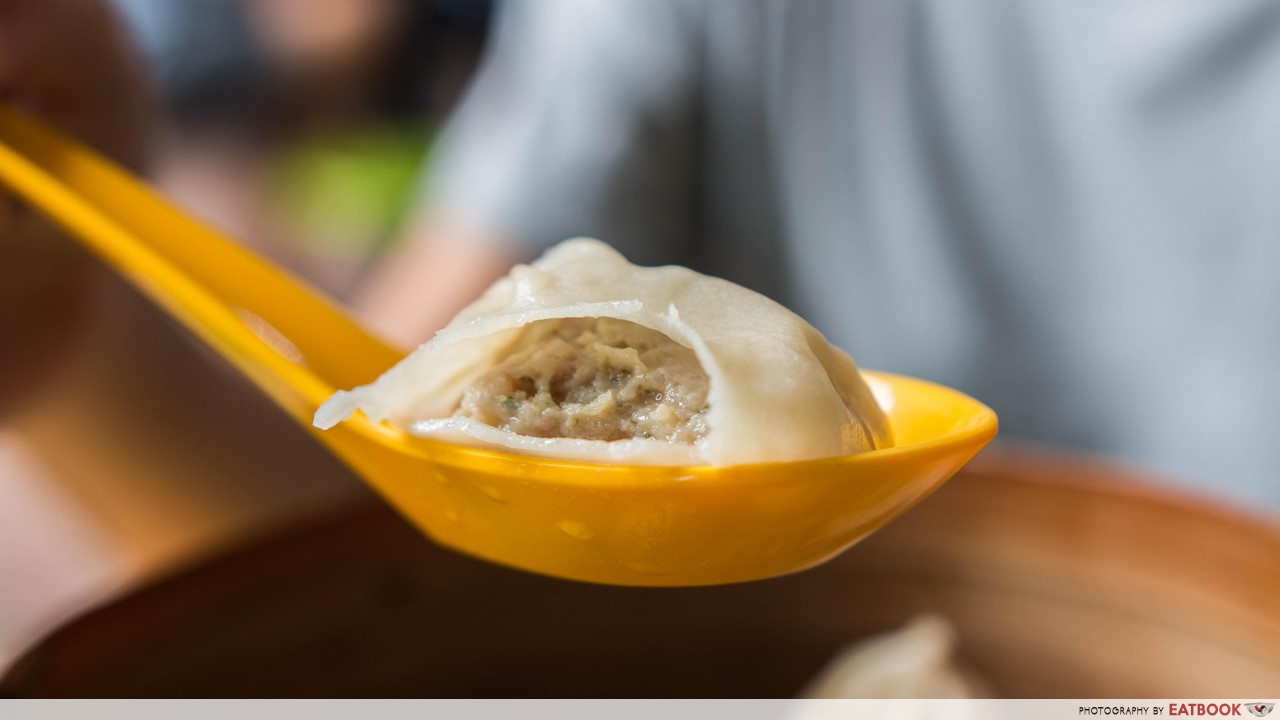 As for the meat, the taste didn't come across as strongly as the soup but was still generally well-seasoned. Chunks of pork fats were especially prominent in the dumpling, giving it a mushy texture. It would have been better if the meat was firmer and chewier.
Overall, the soup of the xiao long bao impressed me but the taste and texture of the meat were slightly underwhelming. For something found at a hawker stall and priced at $0.75 per piece though, I'd say it was still quite a steal!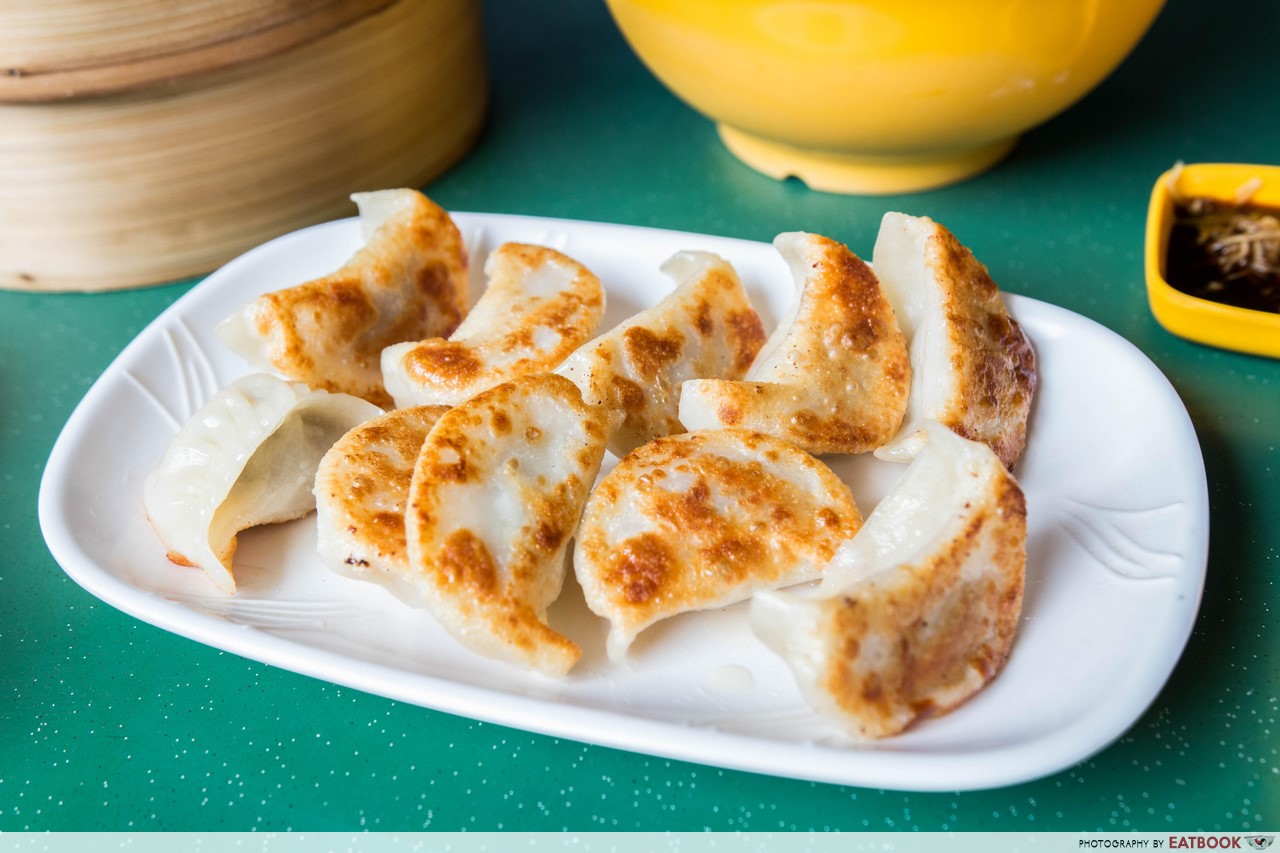 The other dish that we tried was their Fried Dumplings ($6.50). More commonly known as guo tie, the dumplings also came in a set of 10. Pan-fried upon order, the aroma of this one was inviting but one off-putting aspect was the thick layer of oil that sat between the folded layers of the dumpling skin.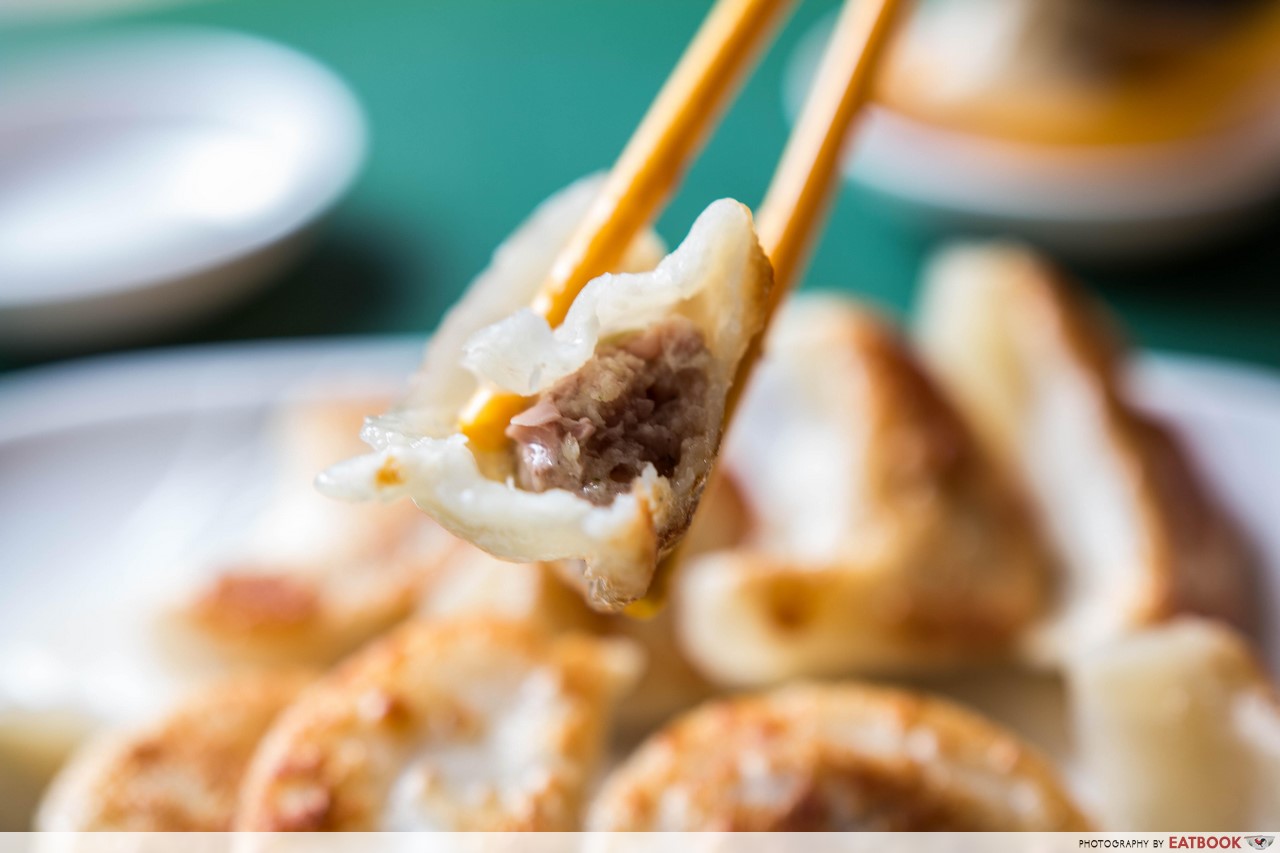 Compared to the meat inside the xiao long bao, the flavour of the guo tie's pork was unappetisingly strong. Fatty and with a strong stench, the taste reminded me of red fermented bean curd and did not sit well with me.
Although the skin was fried to a nice golden-brown, it was not as crispy as I would like it to be and was a little too thick as well. With a layer of oil coating the skin combined with the fats inside, the dumpling became jelak quickly and I couldn't bring myself to go for more than two pieces.
Overall, the fried dumpling could be improved in many ways. For something that is similar-tasting but better executed, I would go for their xiao long bao.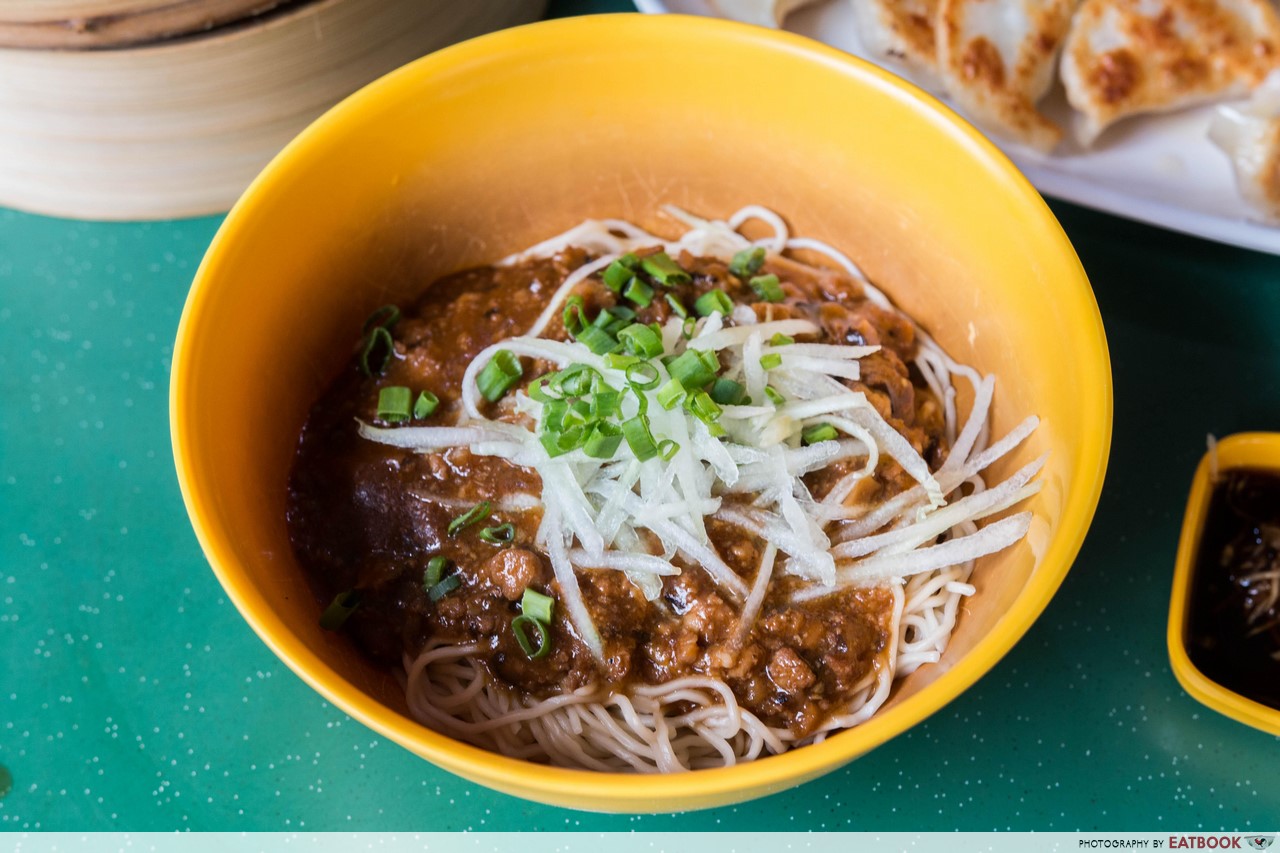 Lastly, we also ordered their Special Sauce Noodle ($4.50), which the stall owner said is one of their most popular dishes. Called zha jiang mian in Chinese, this is noodles tossed in soybean paste, minced meat, and mushroom bits. Our bowl was also topped with sliced radish and chopped scallions.
Eager to find out what makes their sauce so special, we quickly mixed the noodles and sauce together but that took way longer than expected. With a thick layer of gooey sauce on top, the heap of noodles was lumped together stubbornly.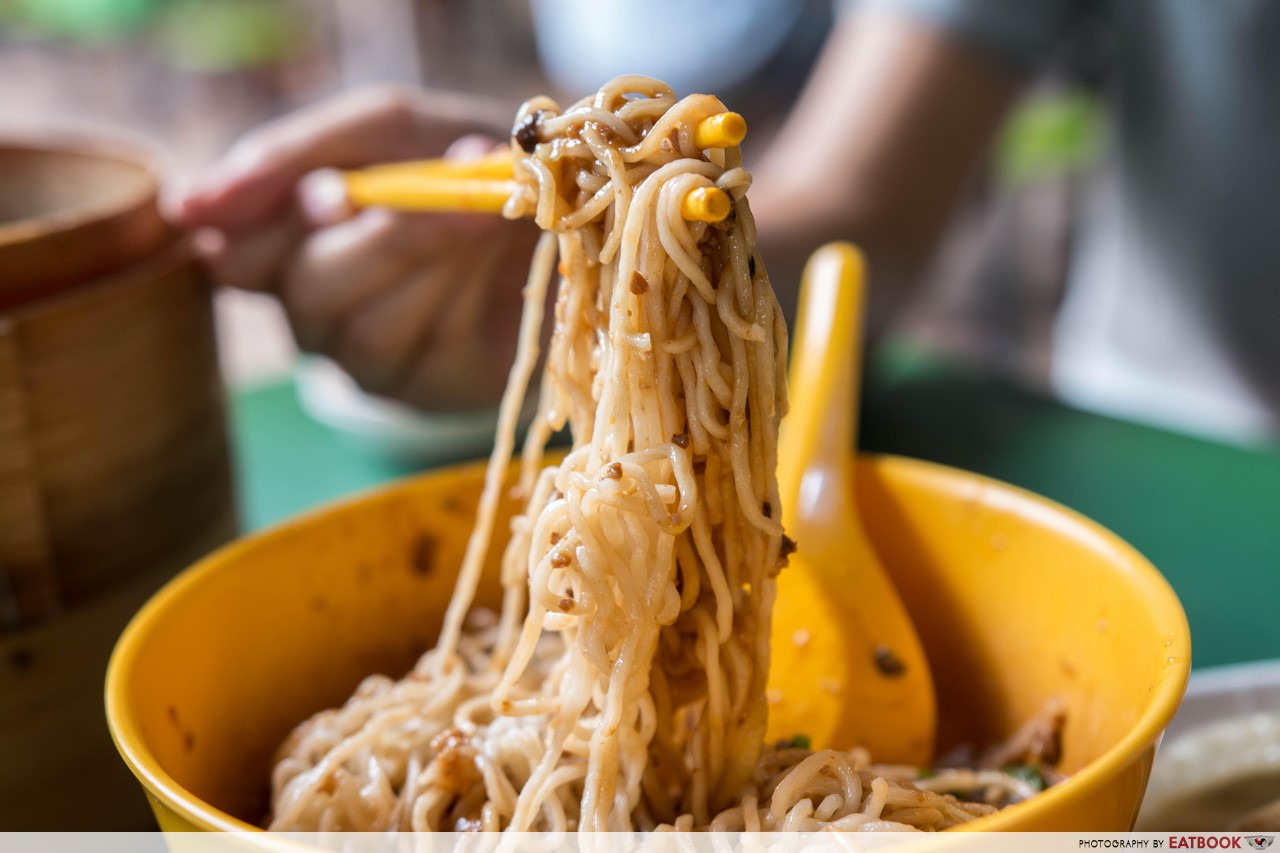 After much effort, the sauce was finally incorporated into the noodles. More or less. Given all the hassle involved in pulling the lump of noodles apart, I thought it would be dry, doughy, and tasteless. However, I was surprised that it was none of that.
Despite looking dry, the noodles were delightfully springy and even the parts not coated with sauce was tasty. Like Shanghainese la mian, the al dente noodles had a nice bite and even though I was not particularly fond of the sauce, I found myself devouring the entire bowl of noodles quickly.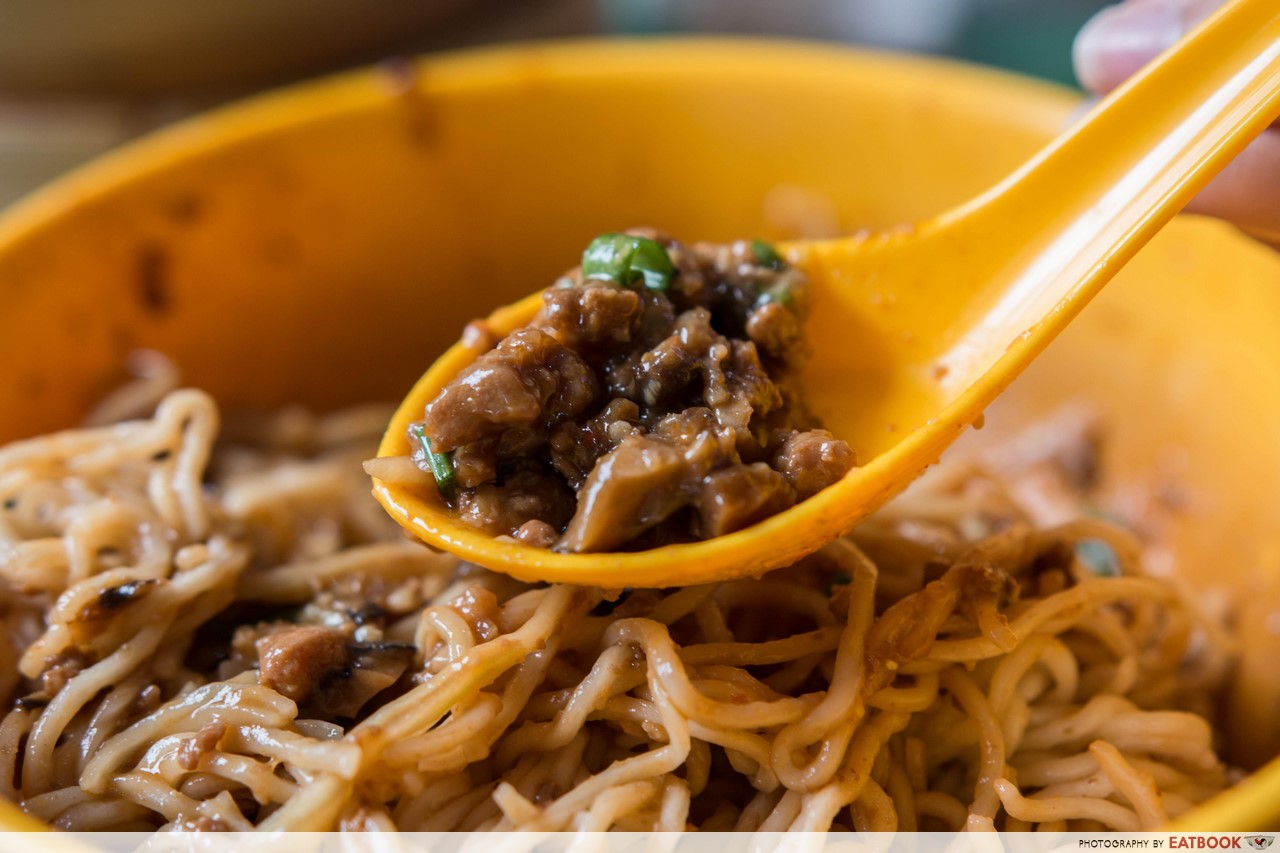 As for the sauce, it carried a strong sour and salty flavour which was overpowering even with the big portion of noodles. Usually, ingredients like the meat and mushrooms are like gems that I savour slowly. But for this, the sourness of the sauce was so intense that I left most of them out and focused on the noodles instead.
In terms of texture, the mixture of diced mushrooms, lean minced meat, and pieces of fats gave a good mix to the dish.
Ambience at You Peng Noodle Dumpling House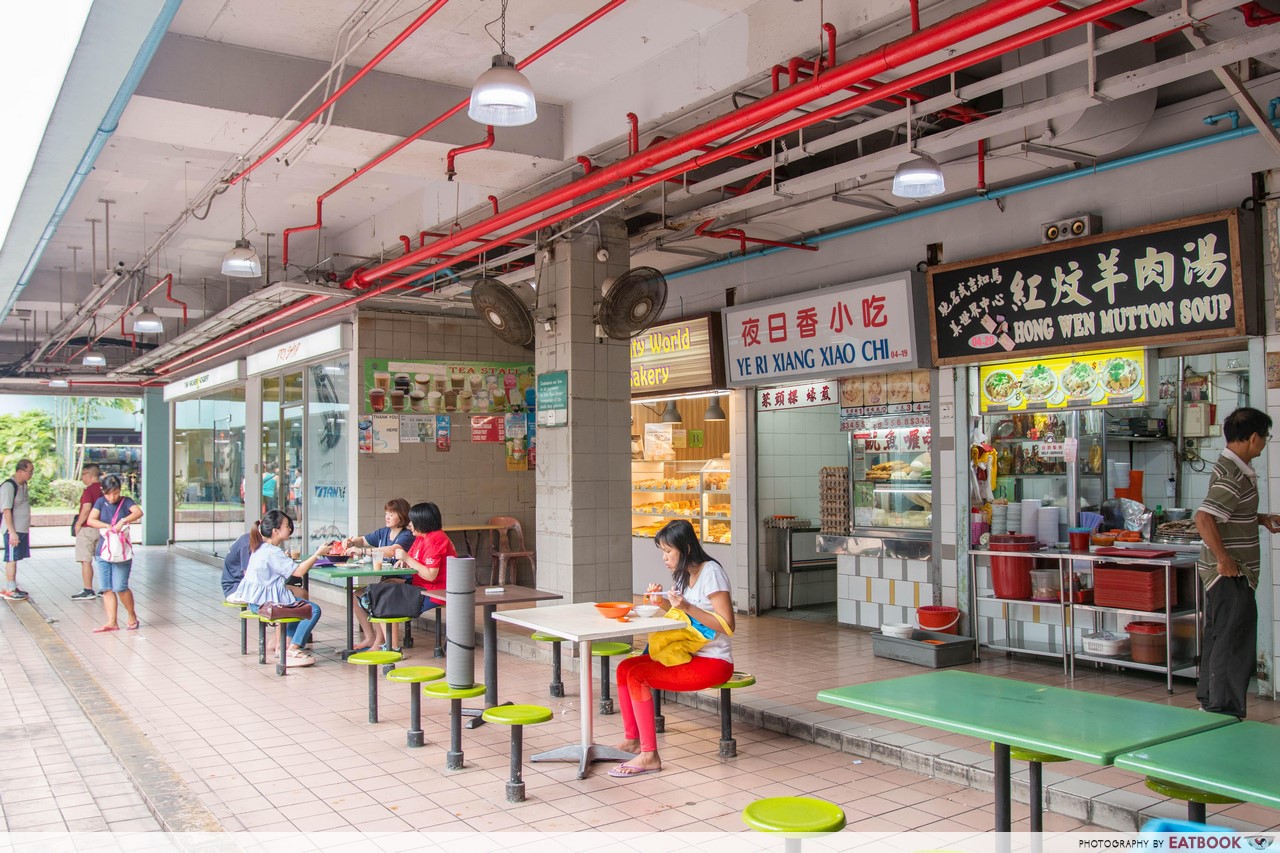 You Peng Noodle Dumpling House is found at Beauty World Food Centre, which is located on the fourth level of Beauty World Centre. Occupying one of the stalls nearest to the unsheltered part of the hawker centre, the tables around You Peng Noodle Dumpling House are well-ventilated. However, that also means that on the sunnier days, you will have to brave the relentless heat while sitting there.
One thing that struck me during our visit to the stall was the buzzer system that they used to let us know when our food was ready. As the dumplings are either steamed or pan-fried on the spot, a waiting time of about five to 10 minutes is required. After ordering, you will be given a buzzer which means you can get food from other stalls without having to worry if your dumplings are ready for collection!
The verdict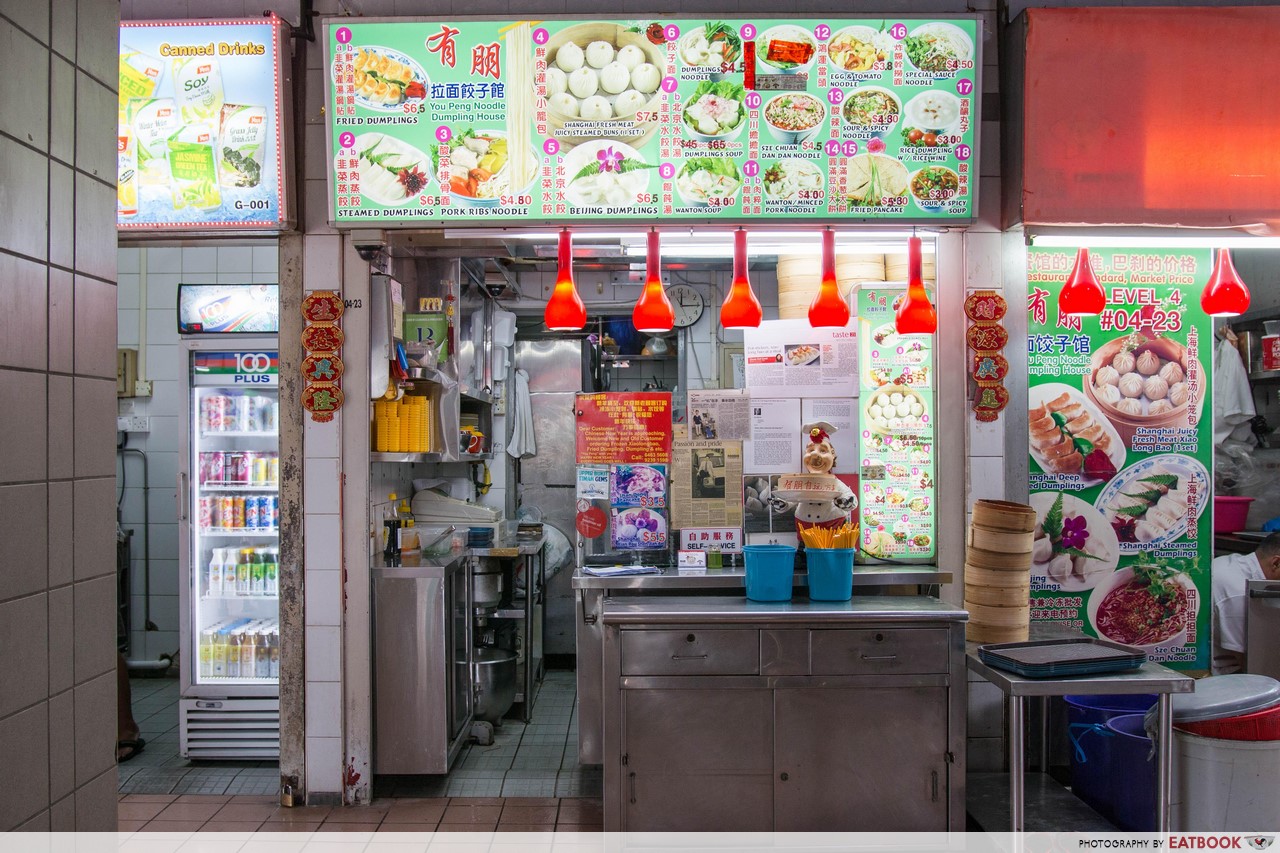 Overall, I wouldn't consider my experience at You Peng Noodle Dumpling House a particularly memorable one. While the xiao long bao exceeded my expectations for something found in a hawker stall, the fried dumplings were disappointing. If you're really craving xiao long bao, this stall will satisfy but not impress, and the next time I visit Beauty World Centre, I will probably go for even better deals such as Buta Kin or Hambaobao!
Address: 144 Upper Bukit Timah Road, #04-23, Beauty World Centre, Singapore 588177
Opening hours: Daily 10:30am to 9pm
Tel: 6463 5608
You Peng Noodle Dumpling House is not a halal-certified eatery
This is an independent review from Eatbook.sg
Summary
Pros
– Affordable
– Wide variety of Chinese food
– Xiao long bao was value for money
Cons
– Food is quite oily
Recommended Dishes: Shanghai Fresh Meat Juicy Steamed Buns ($7.50 per set), Special Sauce Noodle ($4.50)
Opening Hours:
Daily 10:30am to 9pm
Address: 144 Upper Bukit Timah Road, #04-23, Beauty World Centre, Singapore 588177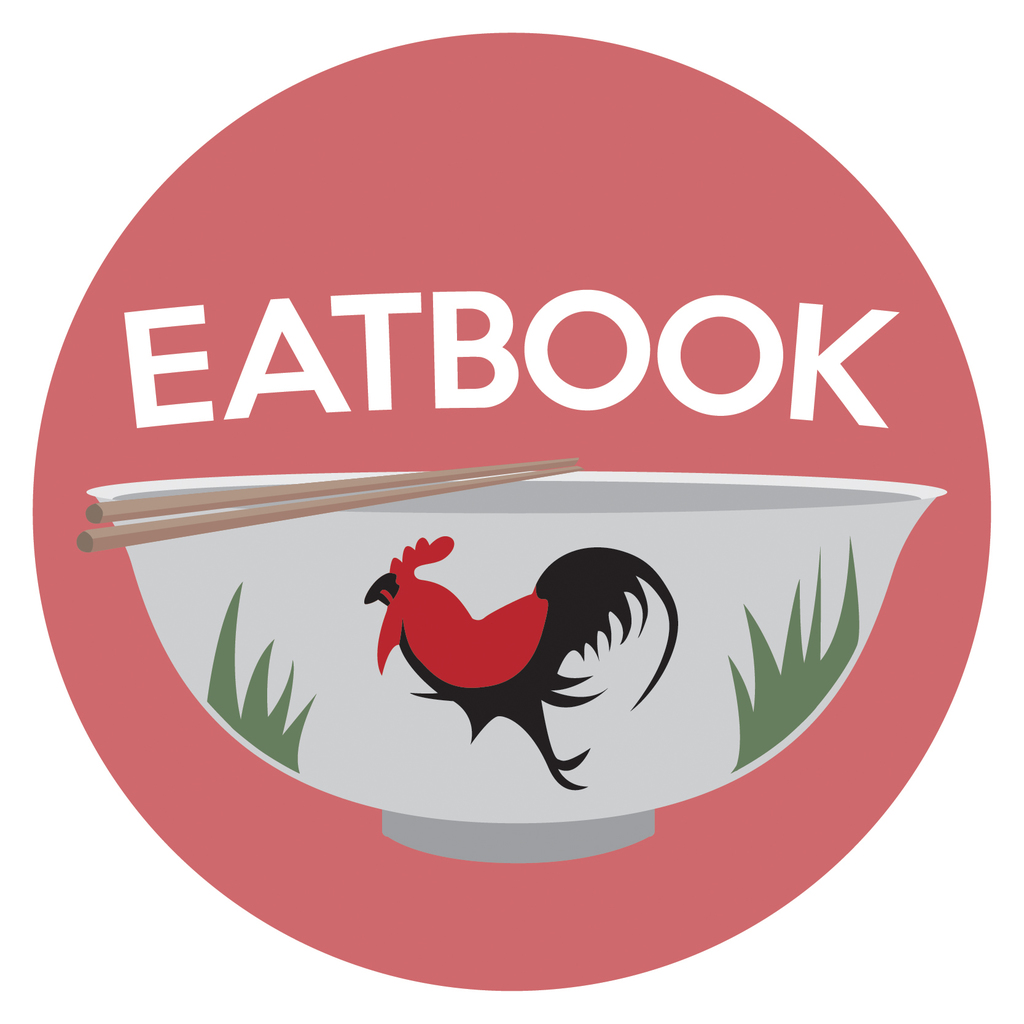 Drop us your email so you won't miss the latest news.