Ma la chicken rice with a big chicken leg at 13 Stages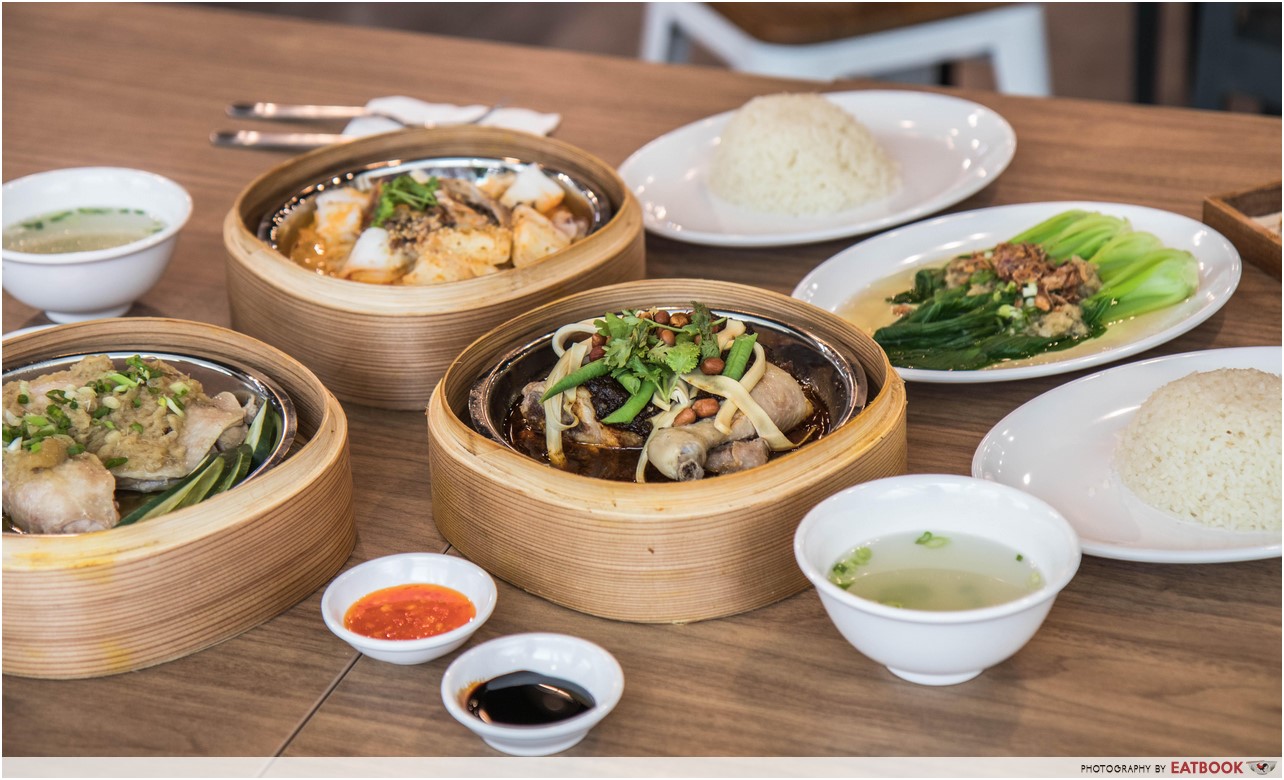 I never used to enjoy meat because my mum always prepares them well-cooked. It was tough and tiring to chew but that is how she likes it. Sometimes, I would take a break in the middle of dinner to rest my jaw. As a kid, I ate whatever my mum cooked, so I always thought that was the only texture to meat. It was only after I grew into my teens that I discovered meat can be tender, silky, and can even melt in your mouth.
Chicken rice was never one of my favourite food because my mum always ordered it with chicken breast. I've since realised that requesting for ji wei (meat from the tail end of the chicken) makes it more palatable. 13 Stages only serves steamed chicken legs with their chicken rice that comes in seven flavours. This new restaurant is a revamp of the now defunct HotCakes, and is run by Singaporean celebrity Mark Lee, his wife, and two of his close friends.  
Food at 13 Stages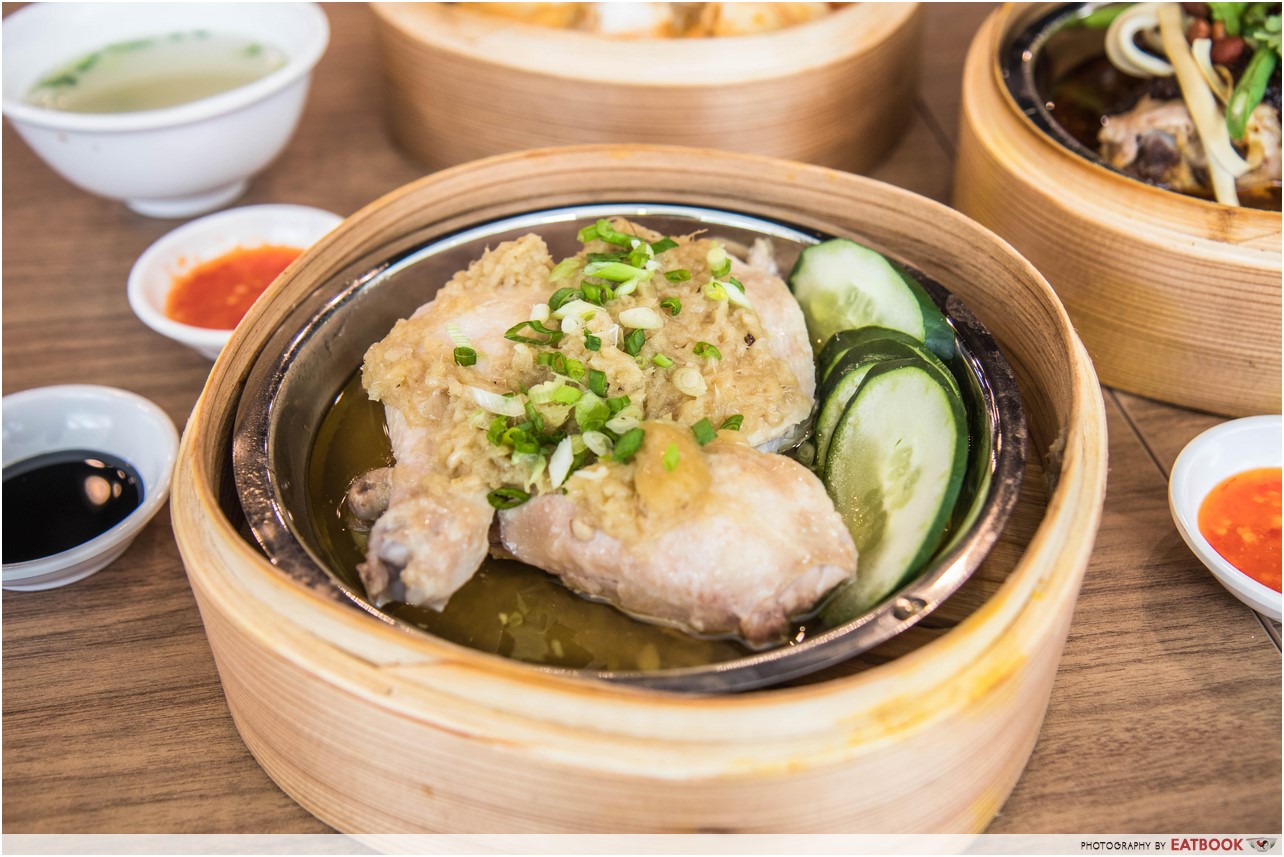 We couldn't miss their most popular chicken rice set so we ordered their Samsui Chicken ($8.90). In a bamboo basket came a big piece of chicken leg and a chicken drumstick that were steaming. The chicken was generously garnished with a thick ginger paste, and decorated with cucumber slices.
Eagerly, I dived first for the highlight. The meat tore apart easily and was tender and juicy. A shallow pool of golden liquid under the chicken kept it succulent, and infused the savoury meat with a delicate sweetness. Avoid the chicken skin if you prefer, but I wouldn't, because the bouncy fats were the tastiest part.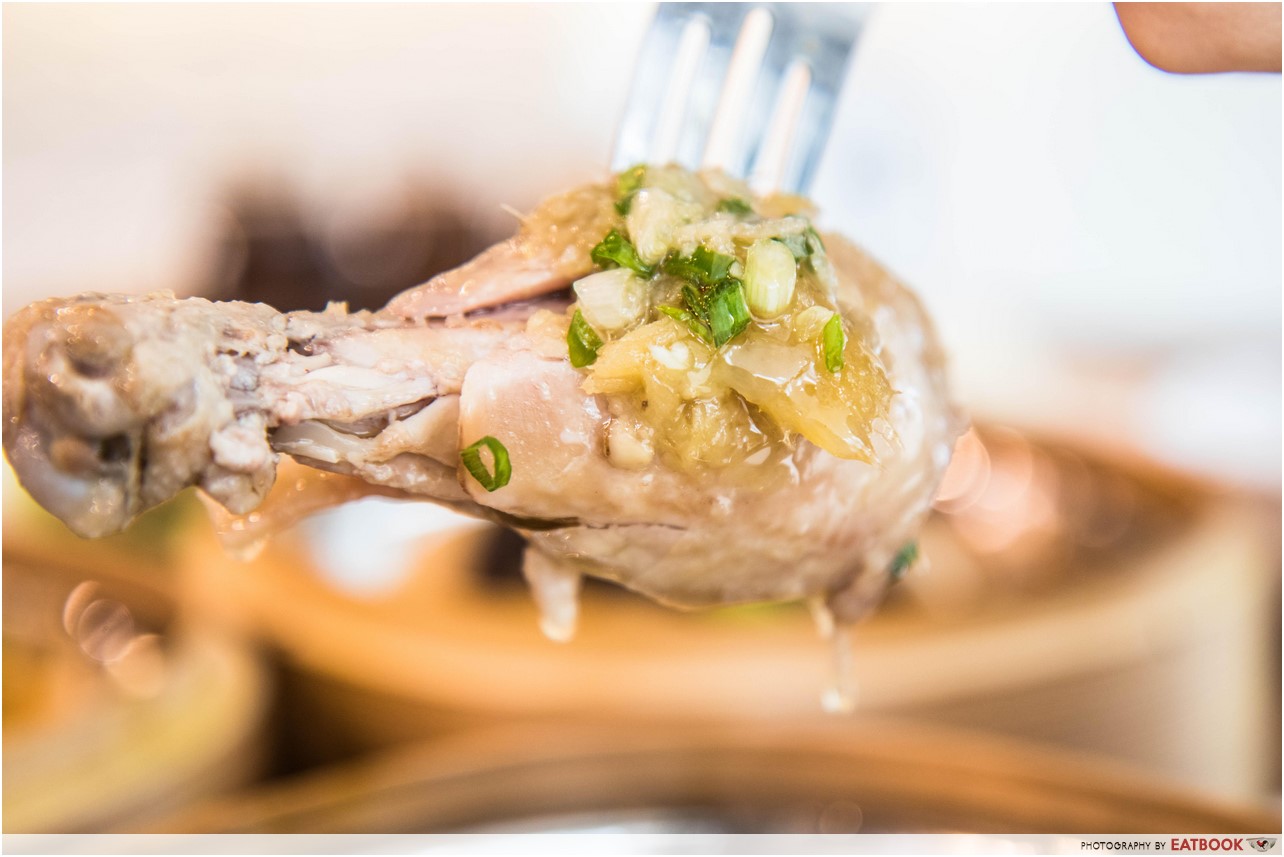 The finely mashed ginger was mixed with spices and tasted unexpectedly sweet. It was the main component that flavoured the dish so we were glad the chefs didn't stinge on it. Though I usually prefer my mains to be completely savoury, this was a toothsome pairing. It's delicious enough on its own, but for more depth in flavour, dab on their chilli that is sweet, tangy and moderately spicy.
Their rice was decent, though not as moist and fluffy as I had hoped. It was firm, fragrant and not too greasy. The large chicken leg made this a heavy meal, so I liked that the chicken stock in the rice wasn't overpowering. The soup was light but not diluted, making it a good palate cleanser.
We managed to catch their lunch special which offers Beansprouts or Seasonal Greens for $1 with every chicken rice set. Our side was kai lan topped with ginger paste and deep-fried shallots. The vegetables were steamed, then placed in a plate of oil, so the topside of it wasn't soaked in grease. Using the same ginger paste, the crunchy vegetables were sweet, and the shallots lifted it with their aroma.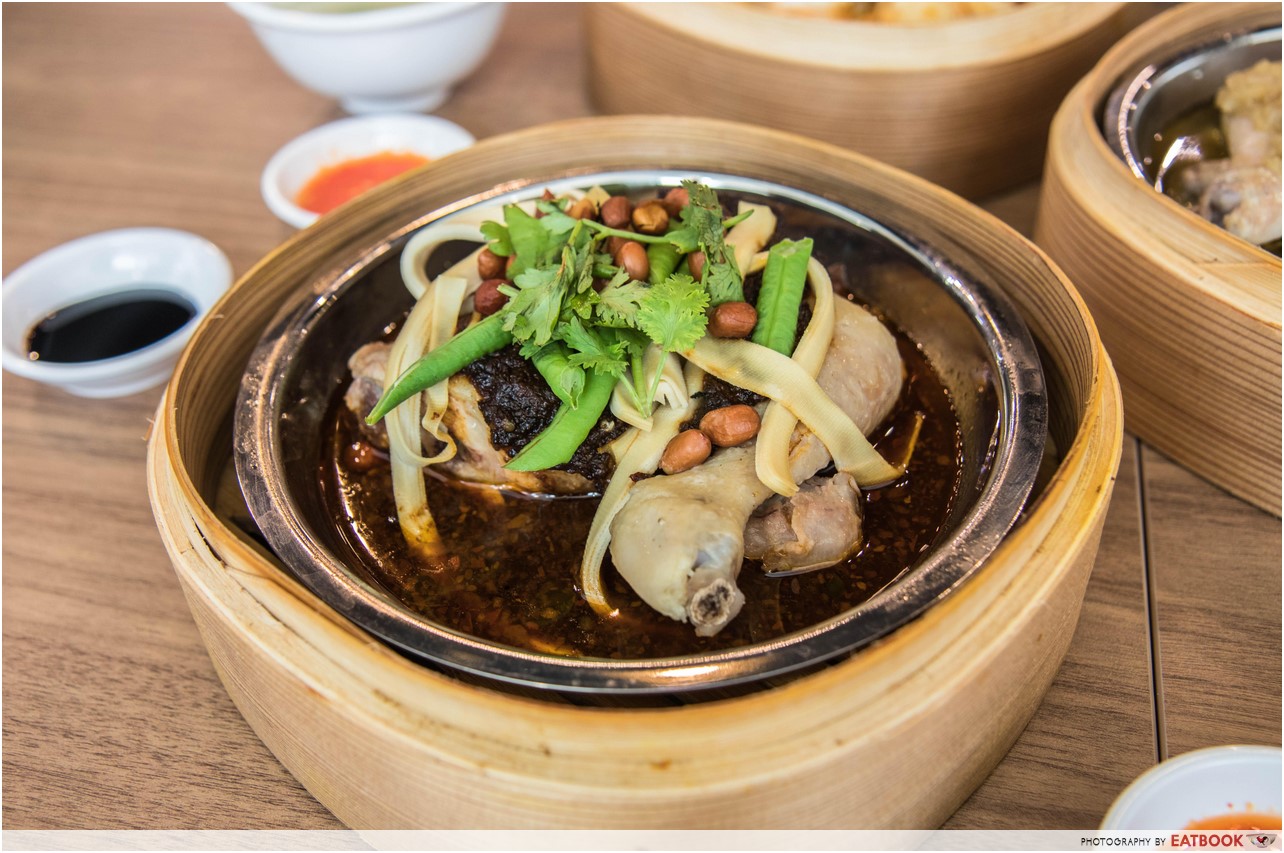 We also ordered Mala Chicken ($8.90) and weren't disappointed. The sizeable portion of chicken that sat in chilli oil was covered in Sichuan spices and garnished with roasted peanuts, strips of bean curd skin, and long beans.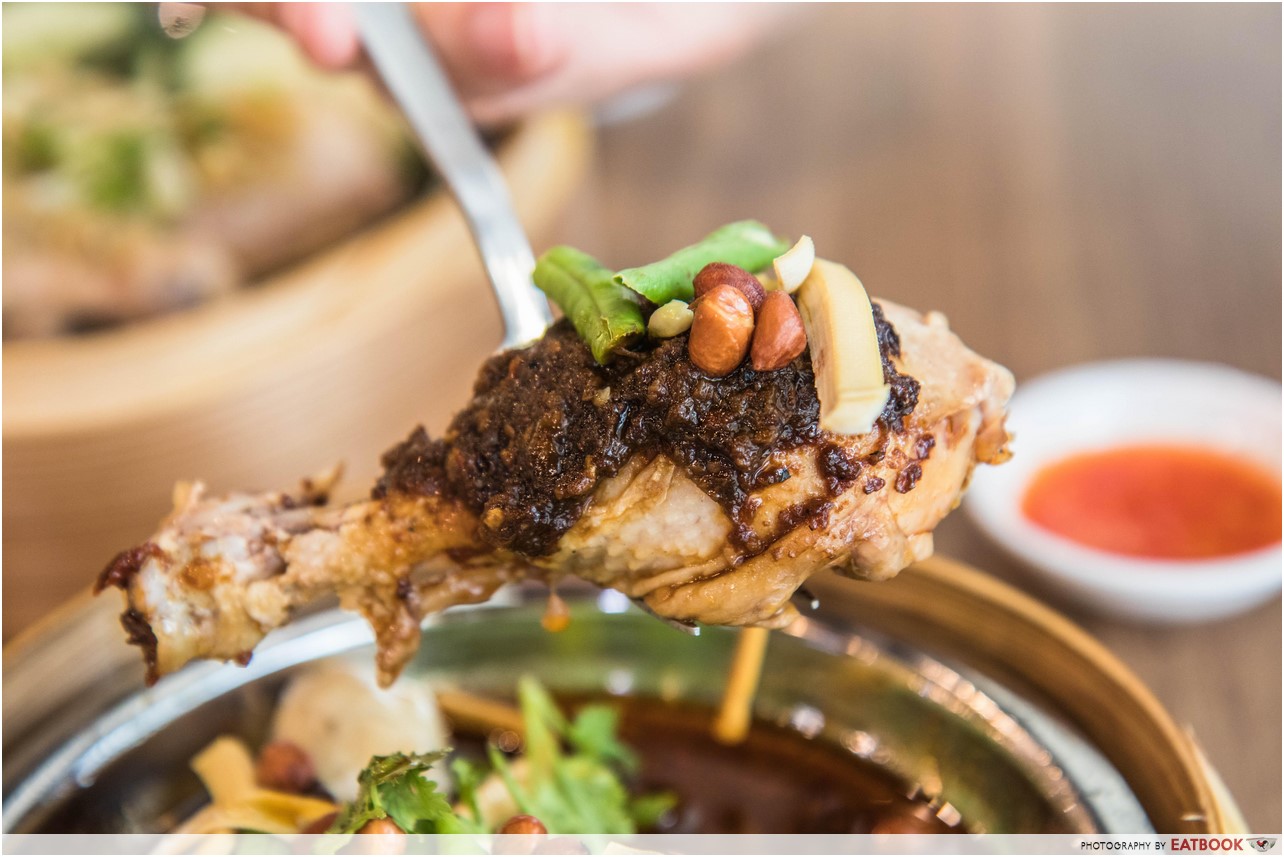 I felt slightly apprehensive of the fiery-looking spice paste, but it surprised me with sweetness. About half a minute later, though, a slow burn crept up the back of my throat. It was less spicy than a xiao la (slightly spicy) at ma la stalls and didn't quite numb my tongue. The chicken wasn't marinated in the spices, allowing the subtle chicken flavour to come through.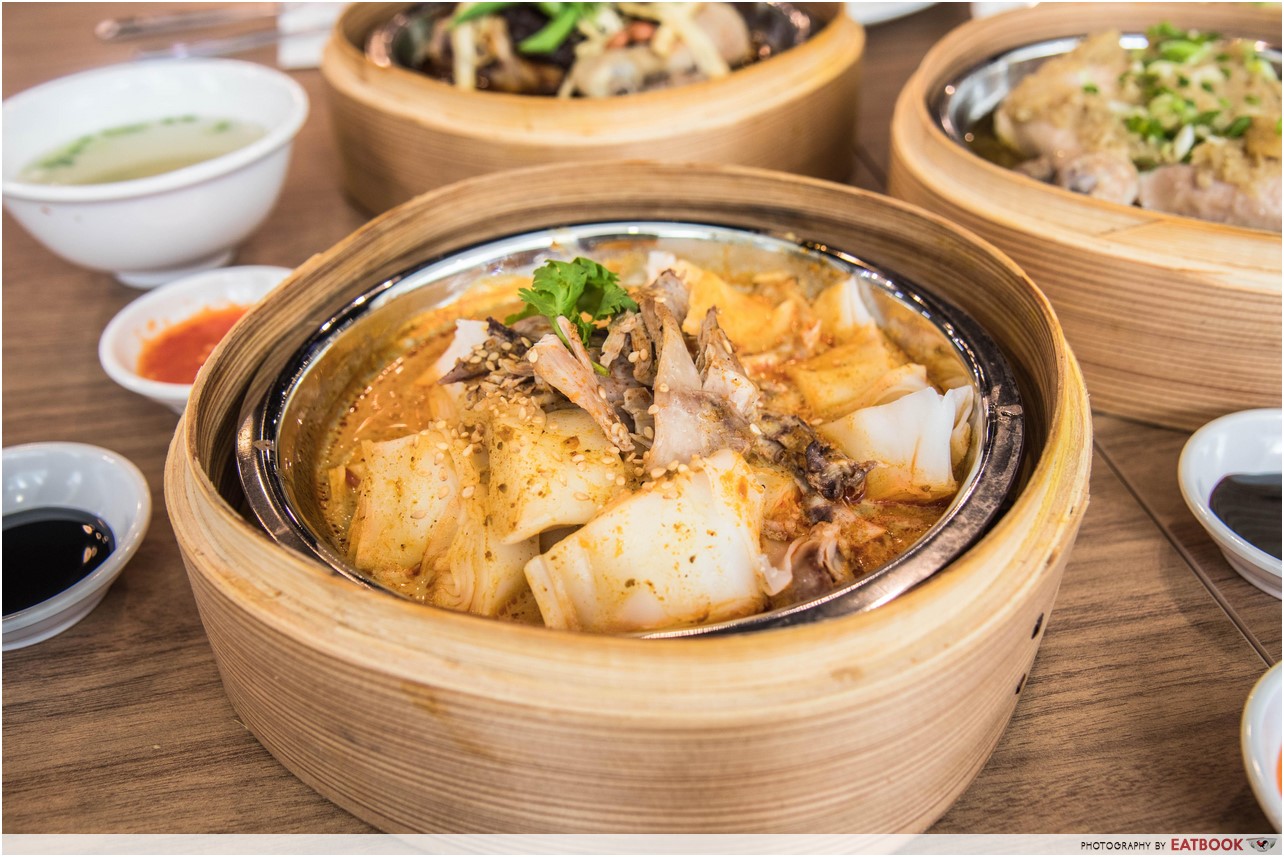 For something lighter, 13 Stages also serves snacks that are under $5, as well as six wraps that were on the menu of HotCakes. We tried their Curry Chicken Chee Cheong Fun ($4.90) which was topped with small chunks of chicken meat, drenched in curry sauce, and sprinkled with sesame seeds.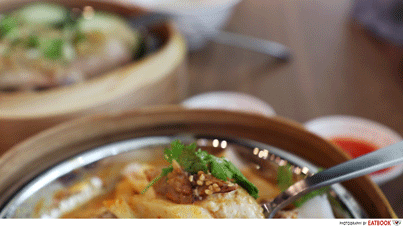 The rice rolls were easy to pick up and the chicken had only slight resistance to the bite. The different degrees of softness kept the dish from being boring. Taken with the savoury curry, the rice rolls reminded us of curry chicken noodle soup with kway teow and flavourful chicken meat. The curry was thin but rich with coconut milk, so this dish can feel jelak despite the small amount of gravy. Although this dish is meant to be a snack, it could make a meal for me.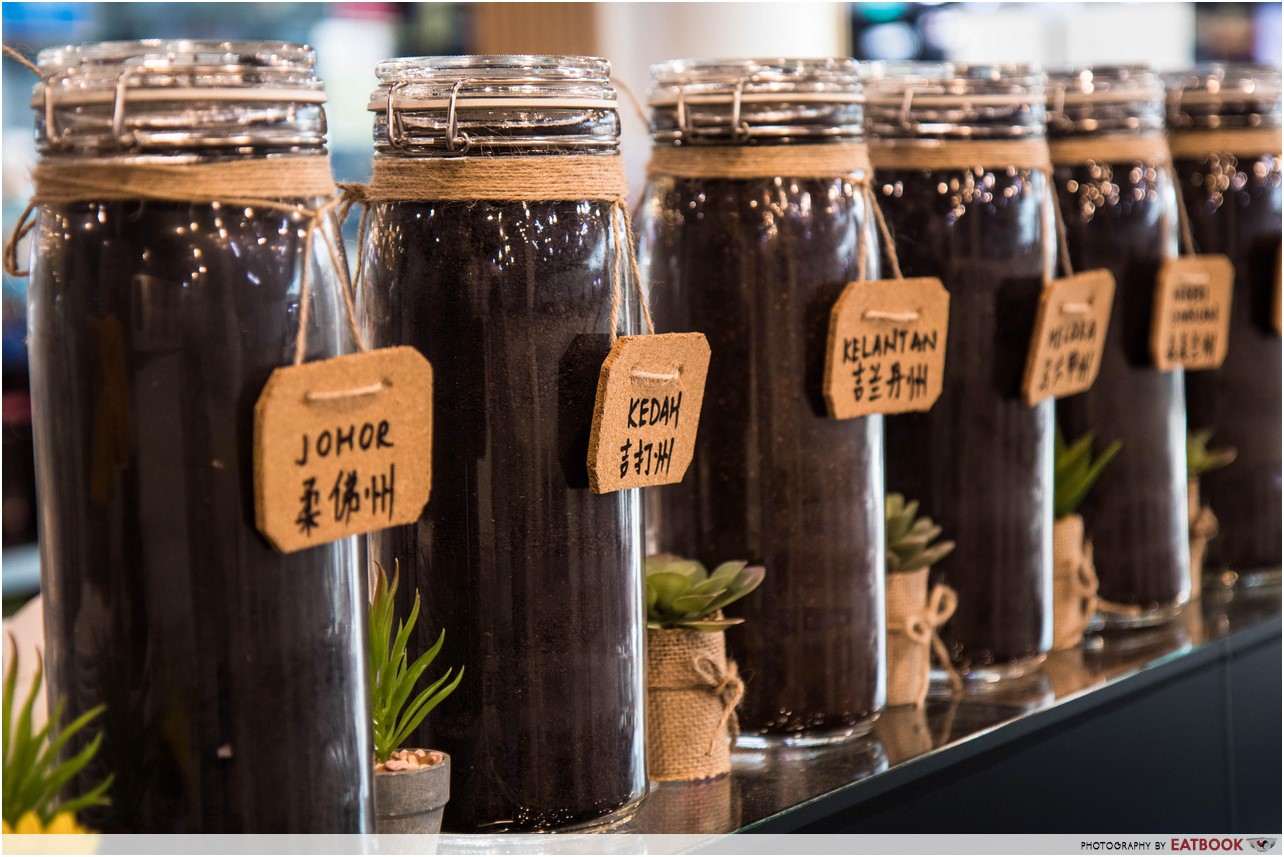 For a pick-me-up, choose from their 13 coffees which are from 13 different states in Malaysia. You can have your coffee hot or cold and even customise your own brew with your favourite two. That said, the restaurant name, 13 stages, also represents Mark Lee's 13 personas through the stages of his career.
Ambience at 13 Stages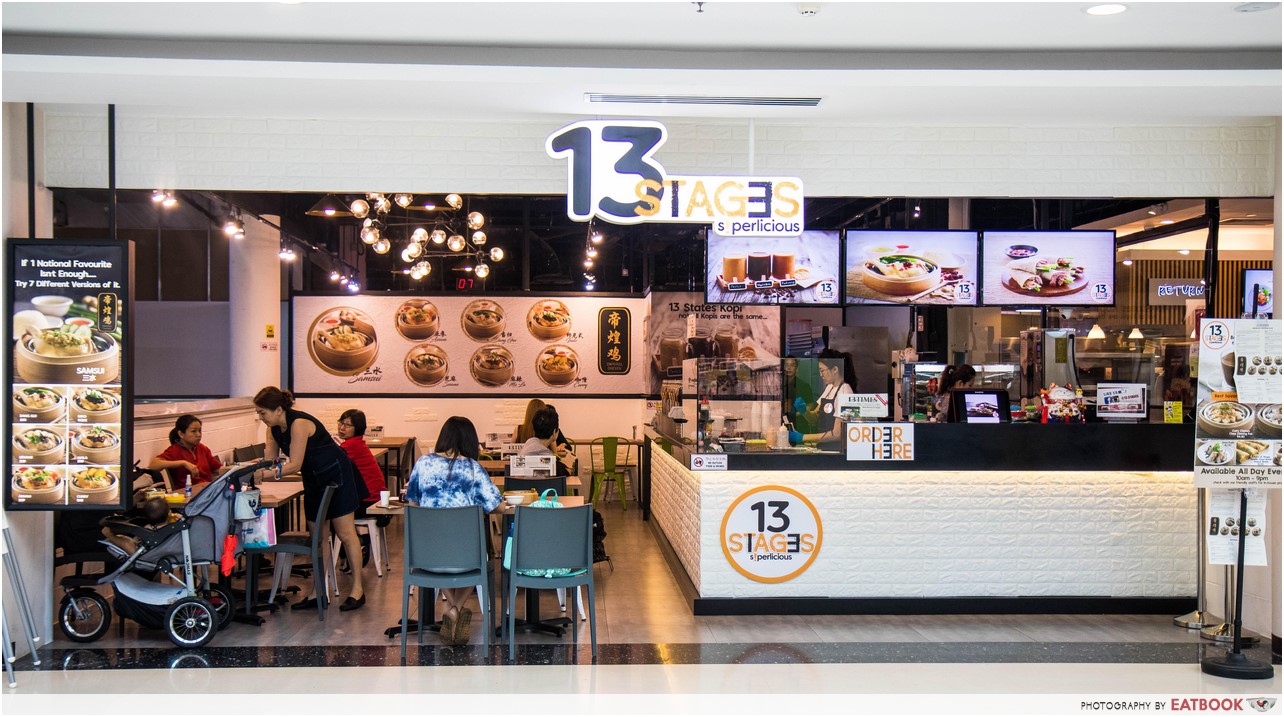 13 Stages is located in Kallang Wave Mall, just outside Stadium MRT Station. The quiet location would explain why the restaurant was empty when we dropped in on a late weekday afternoon. While it feels welcoming to a casual diner, it's not a place I'd linger at for a chit-chat because next to it is an arcade. There are no walls separating them so it gets quite noisy.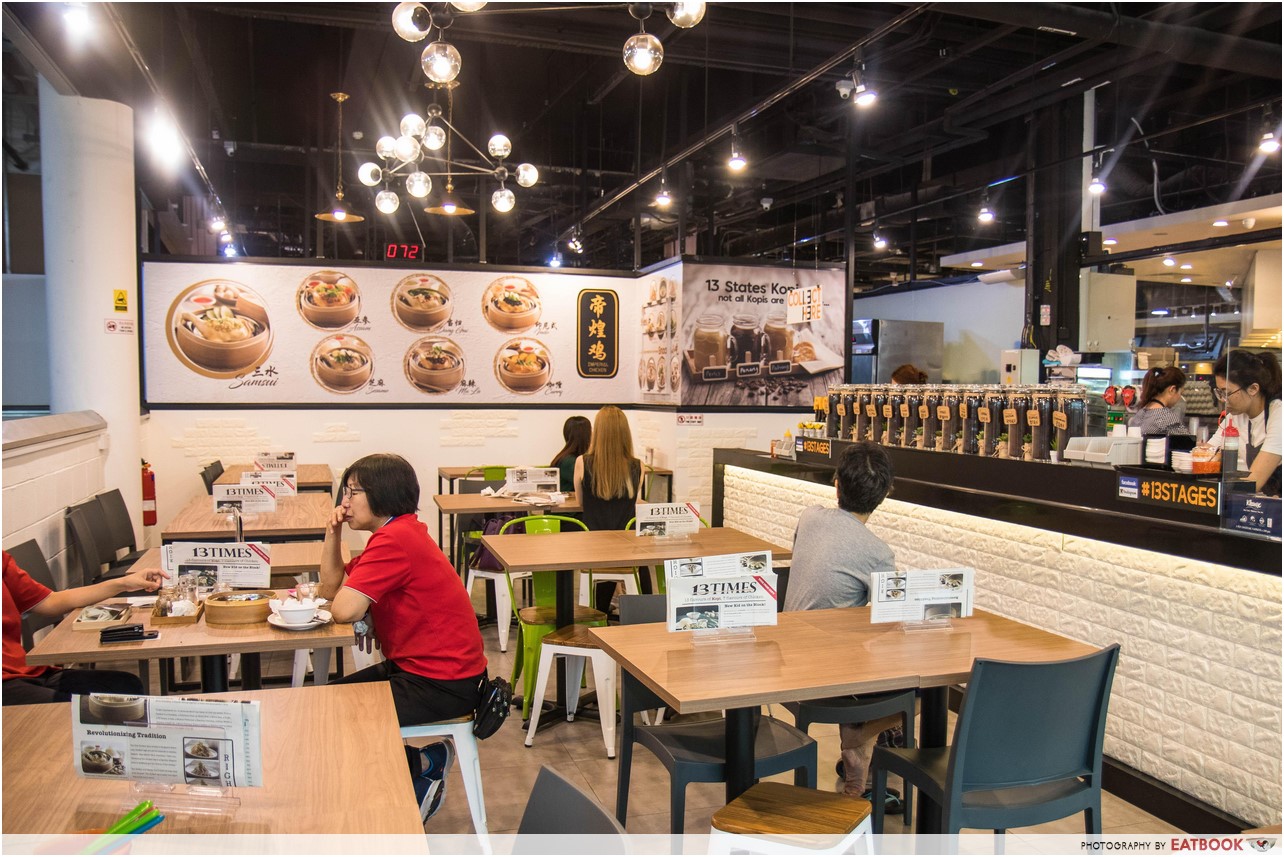 The interior is simple and functional with enough seating space for small groups. It's a self-service eatery so you can make your order and payment at the counter, then collect your meal at the end of the aisle.
The verdict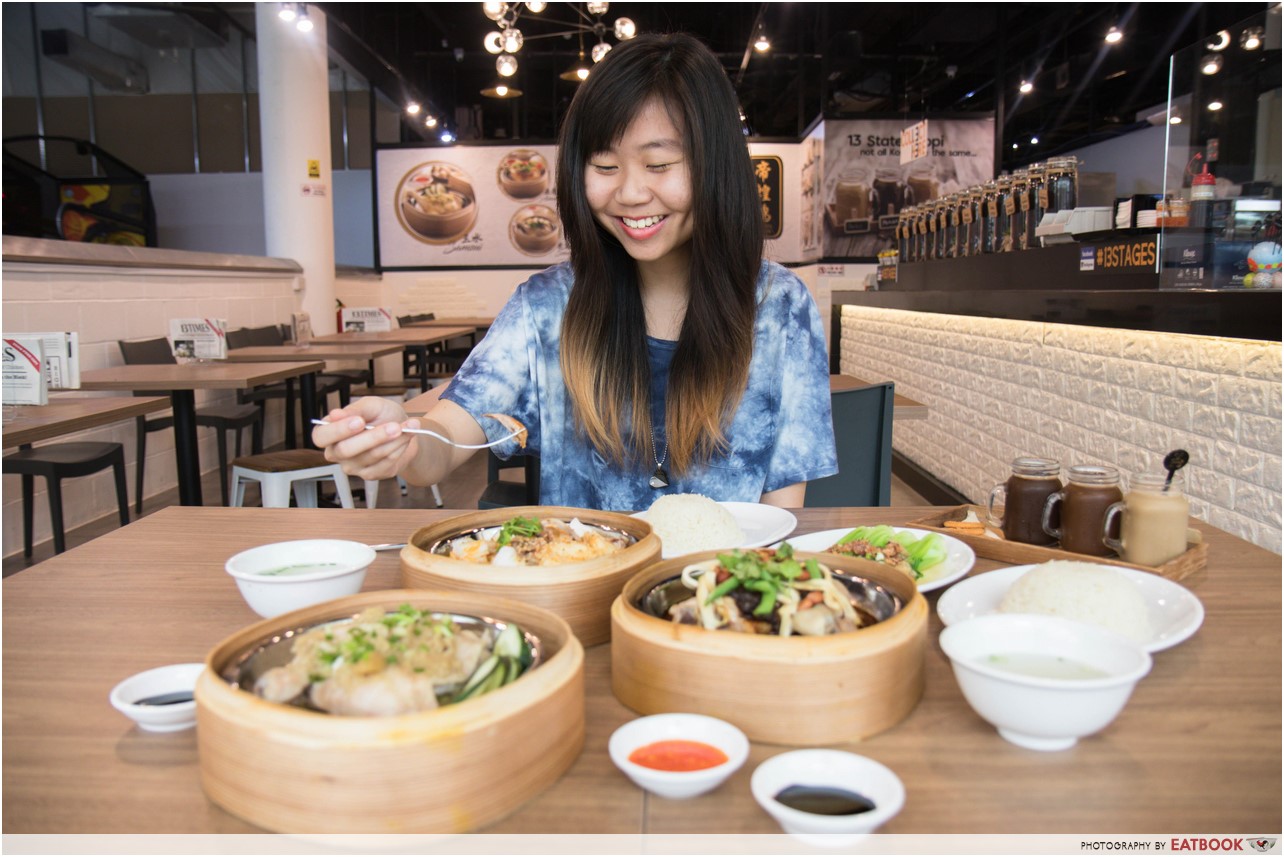 Chicken rice restaurants are aplenty, but 13 Stages differentiates themselves by tweaking the dish. Despite being out of the way, the big portions of tender chicken leg and delectable spices left an impression on me. I enjoyed how they give the familiar taste of chicken rice a novel twist without compromising on the main ingredients of our national dish. Check our more celebrity-owned restaurants in Singapore or old-school chicken rice balls opposite Sim Lim Tower! For more modern takes on chicken rice, visit Roost, which has deep-fried chicken rice balls and chicken rice sushi!
Address: 1 Stadium Place, #01-41, Kallang Wave Mall, Singapore 397628
Opening hours: Daily 10am to 9pm
Tel: 6384 0502
Website
13 Stages is not a halal eatery.
This is an independent review by Eatbook.sg.
Summary
Pros
– Large portions
– Value for money
– Friendly service
– Chicken had a nice texture
Cons
– Noisy ambience
– Texture of rice can be improved on
Recommended Dishes: Samsui Chicken ($8.90), Mala Chicken ($8.90), Curry Chicken Chee Cheong Fun ($4.90)
Operating Hours:
Daily 10am to 9pm
Tel:
6384 0502
Address: 1 Stadium Place, #01-41, Kallang Wave Mall, Singapore 397628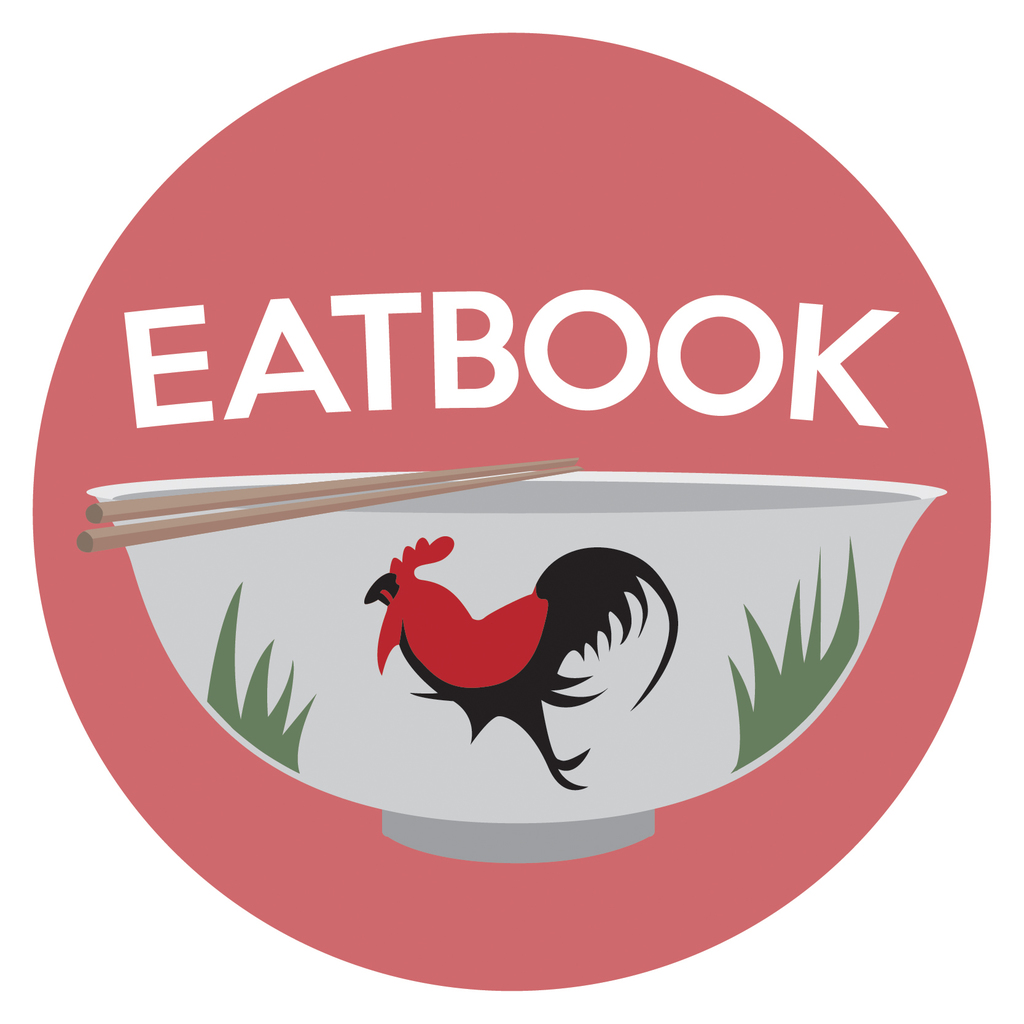 Drop us your email so you won't miss the latest news.