Halal western food at Ang Mo Kio
Tucked away at a tiny little coffeehouse in Ang Mo Kio, Abang Gemuk is a halal-certified Western food stall from the same people behind Fatty Bom Bom. Just like their brother, they serve up affordable Western fare at humongous portions. 
And brother they are, Abang Gemuk—'fat bro' in Malay—sports the same recognisable chubby chef logo as Fatty Bom Bom. Being a regular of Fatty Bom Bom's East branch, I had to see if Abang Gemuk was worth the same kind of hype. 
Halal Western Food With Huge Portions At Ang Mo Kio

Tucked away in a coffeeshop at Ang Mo Kio, Abang Gemuk is a halal-certified food stall from the people behind Fatty Bom Bom. Here, you'll find humongous Western fare at affordable prices!Find out more: https://eatbook.sg/abang-gemuk-ang-mo-kio/Address: 446 Ang Mo Kio Avenue 10, Singapore 560446Opening hours: Daily 11:30am to 3:30pm, 4:30pm to 10pm

Posted by Eatbook.sg on Sunday, July 12, 2020
Food at Abang Gemuk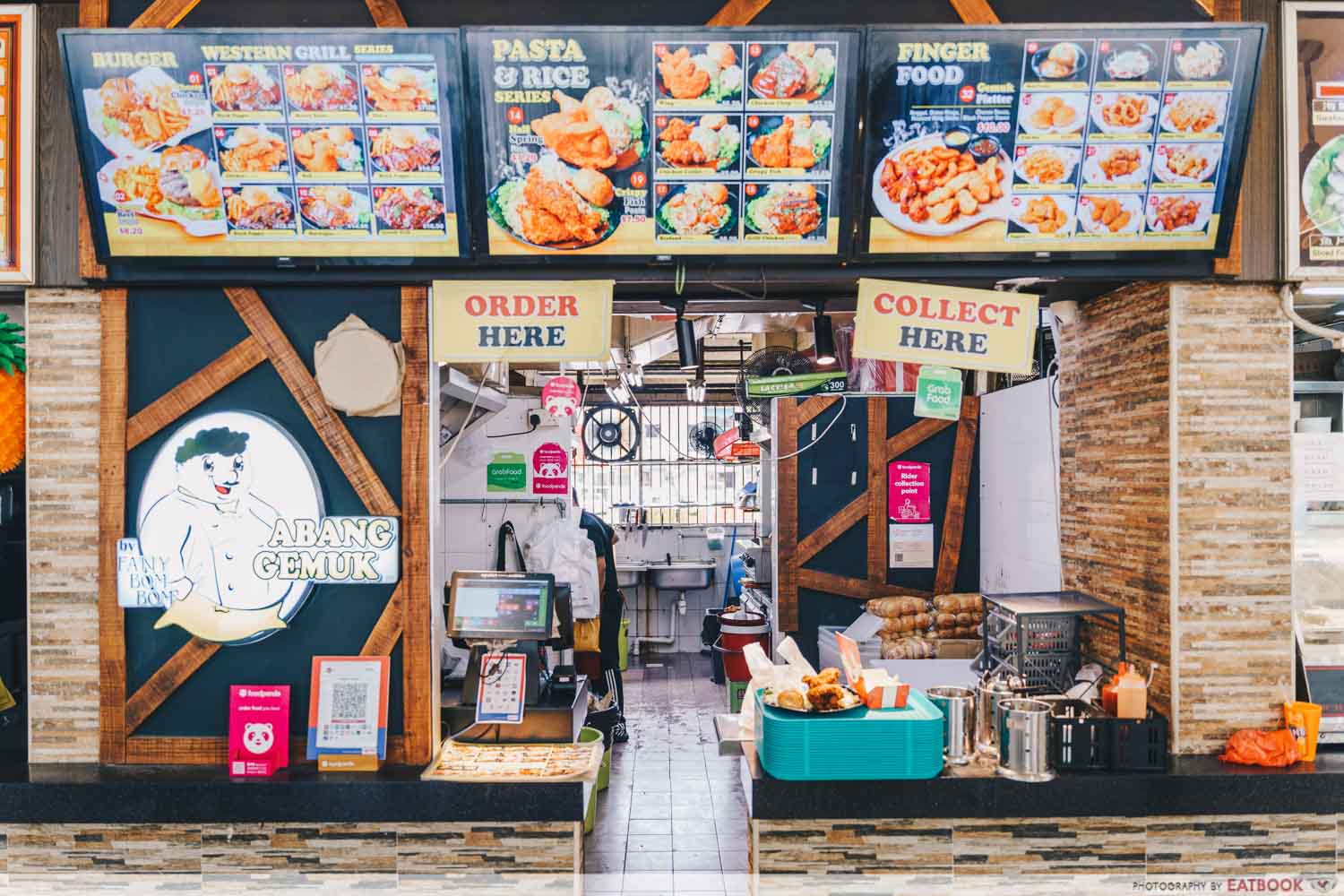 At first glance, the menu at first glance seemed to have the same affordable price points and XXL sizes as Fatty Bom Bom. Each 'Western Grill' set comes with a portion of meat, a portion of Cajun fries, coleslaw, and a bun. The fries can be subbed for rice or pasta, but the rest of them are set. 
I ordered three dishes for my colleague and myself: Brown Sauce Chicken Chop, Half Spring Chicken, and the Cheesy Beef Burger.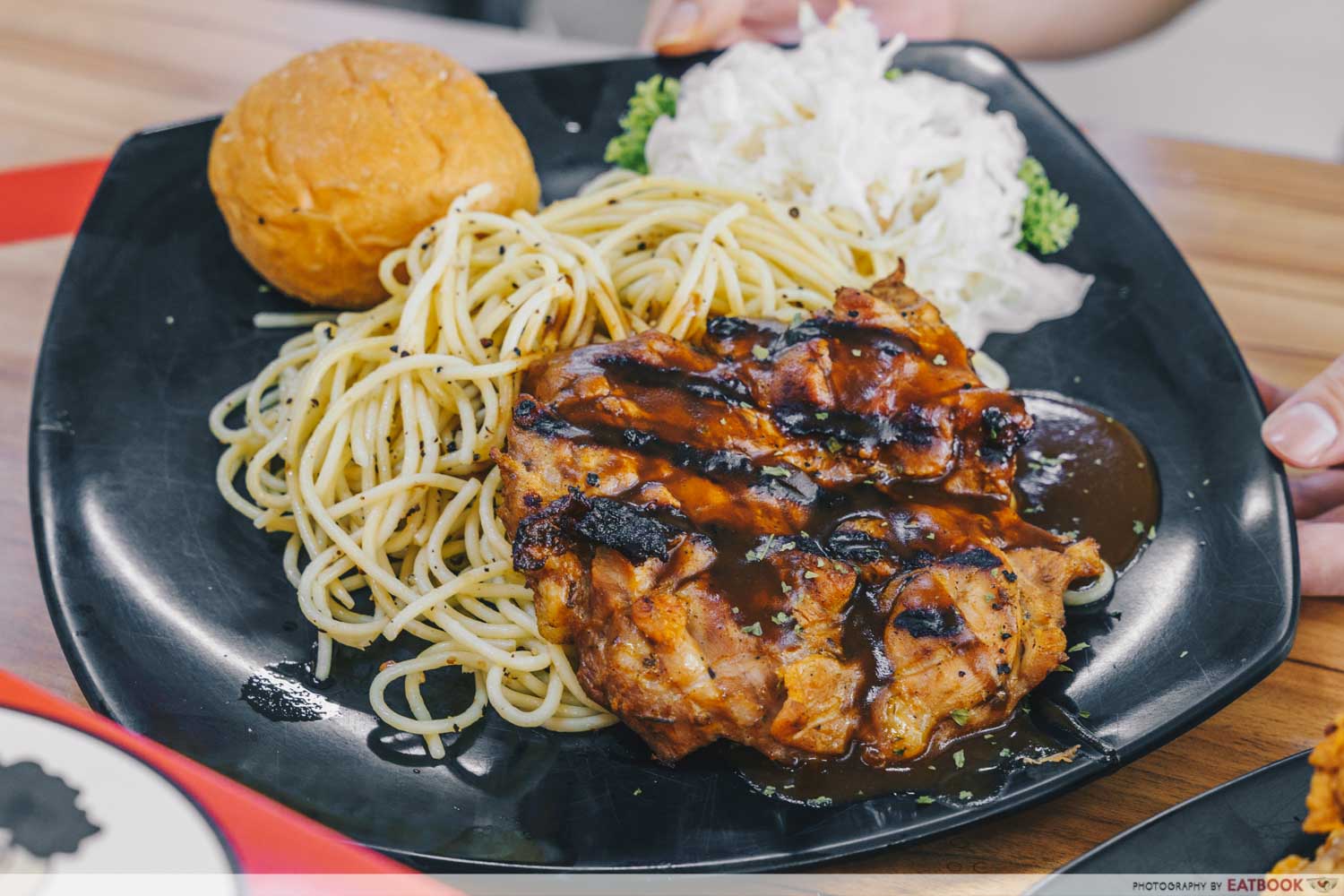 I had to try the Brown Sauce Chicken Chop ($7.20) that sounded quite similar to the order I usually got from Fatty Bom Bom. The notable difference was the portion. The portion at Abang Gemuk was even bigger. The spaghetti was also different; an aglio e olio, rather than the usual tomato and cream that's seen in most branches of Fatty Bom Bom.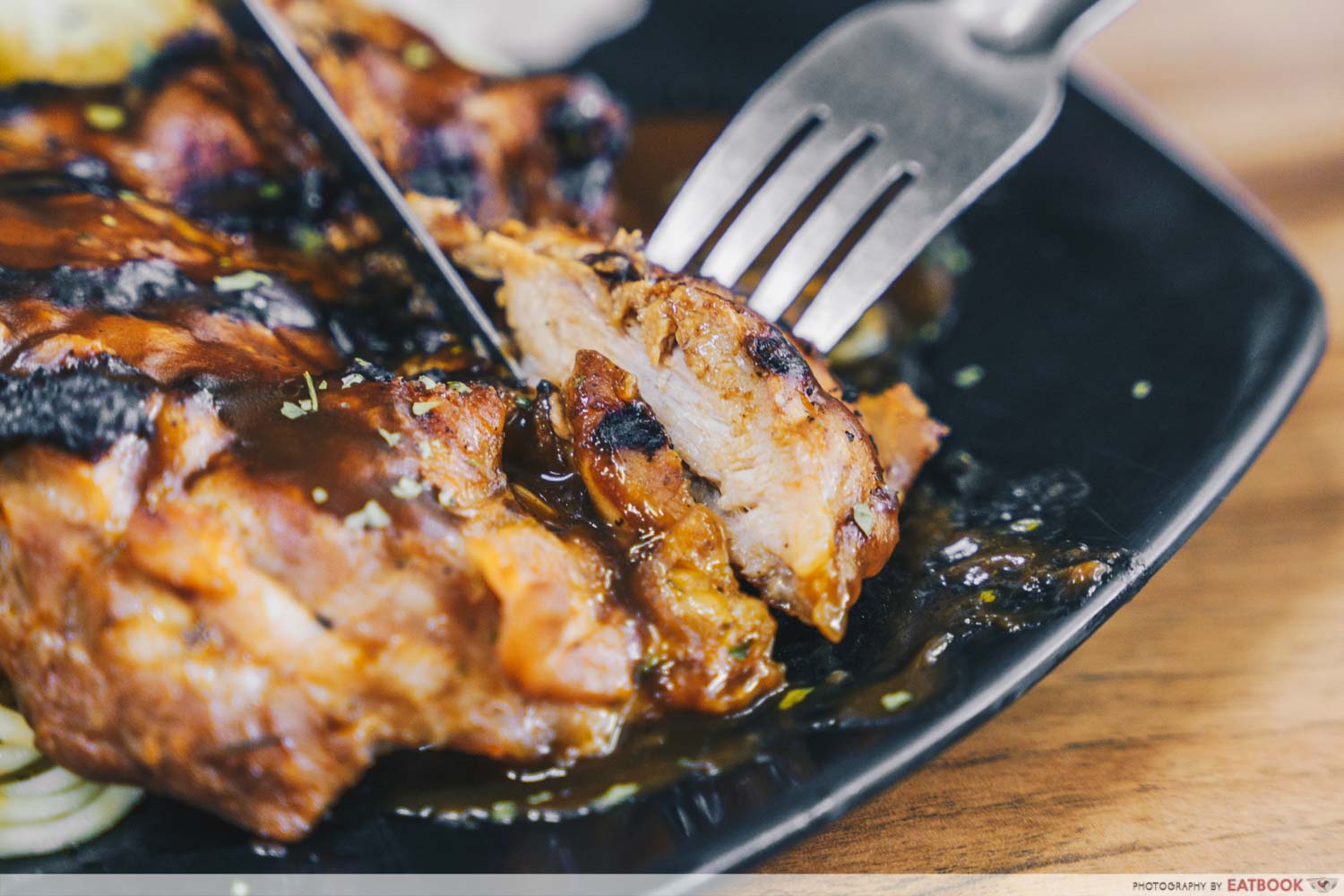 The chicken was seasoned in an array of Cajun spices, and covered with what they call 'brown sauce'. The brown sauce in question seemed to be a mild chicken gravy that was not at all heavy.  I appreciated that the chicken was not drowned in sauce, allowing the flavours of the seasoned chicken to shine through. The chicken was flavoursome with gorgeous grill marks that gave a lightly charred aftertaste to the chicken.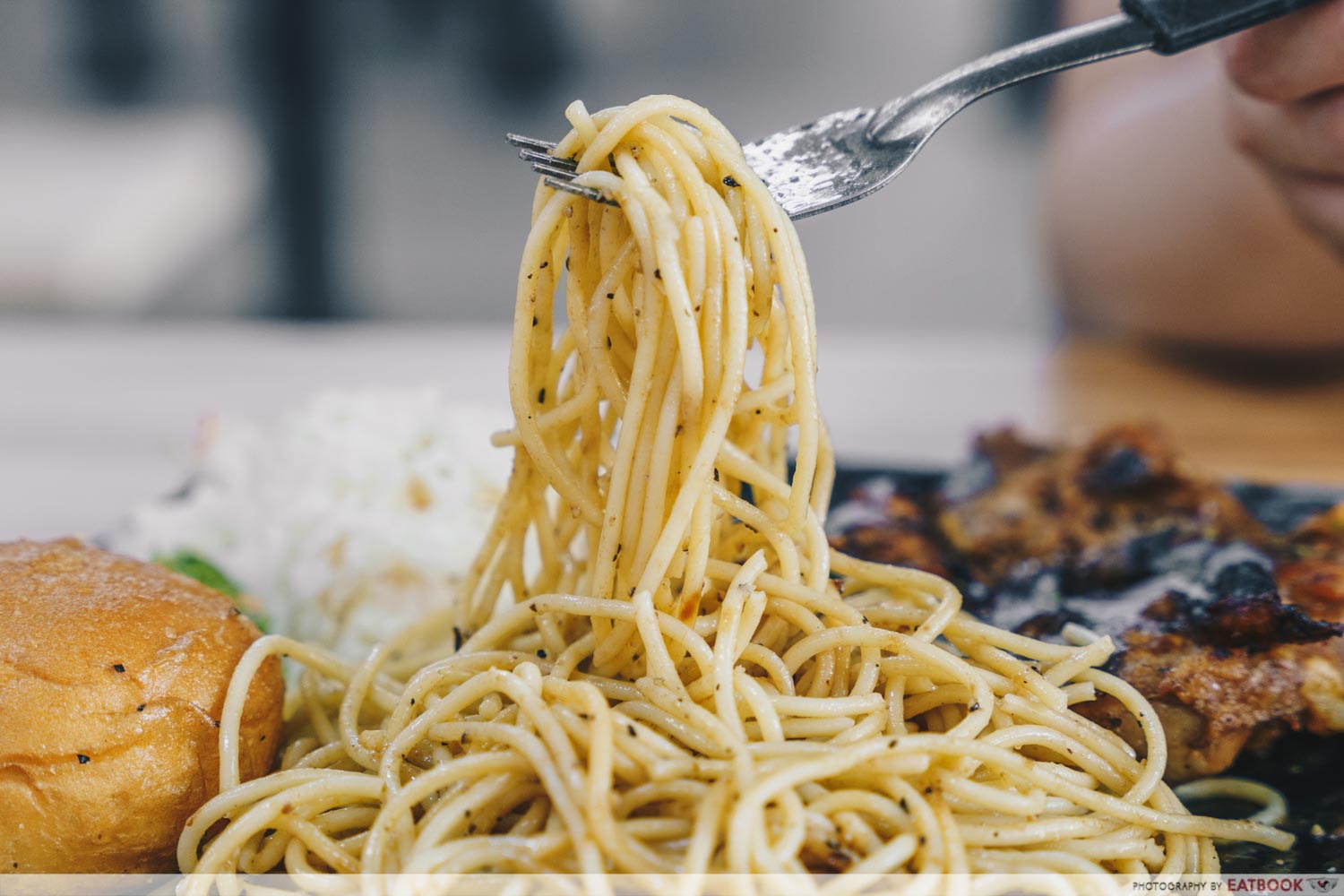 The spaghetti was another winner. I actually didn't have high expectations with this, as the spaghetti from Fatty Bom Bom has often been a little overcooked. I also never liked the idea of having pasta with gravy-like chicken chop, but this dish really did it for me. 
The pasta was cooked al dente, and not was jelak at all. Slightly garlicky, it didn't disrupt the flavour profile of the rest of the dish. It was so good, I finished the spaghetti before I moved on to anything else. I would easily return to Abang Gemuk just for this.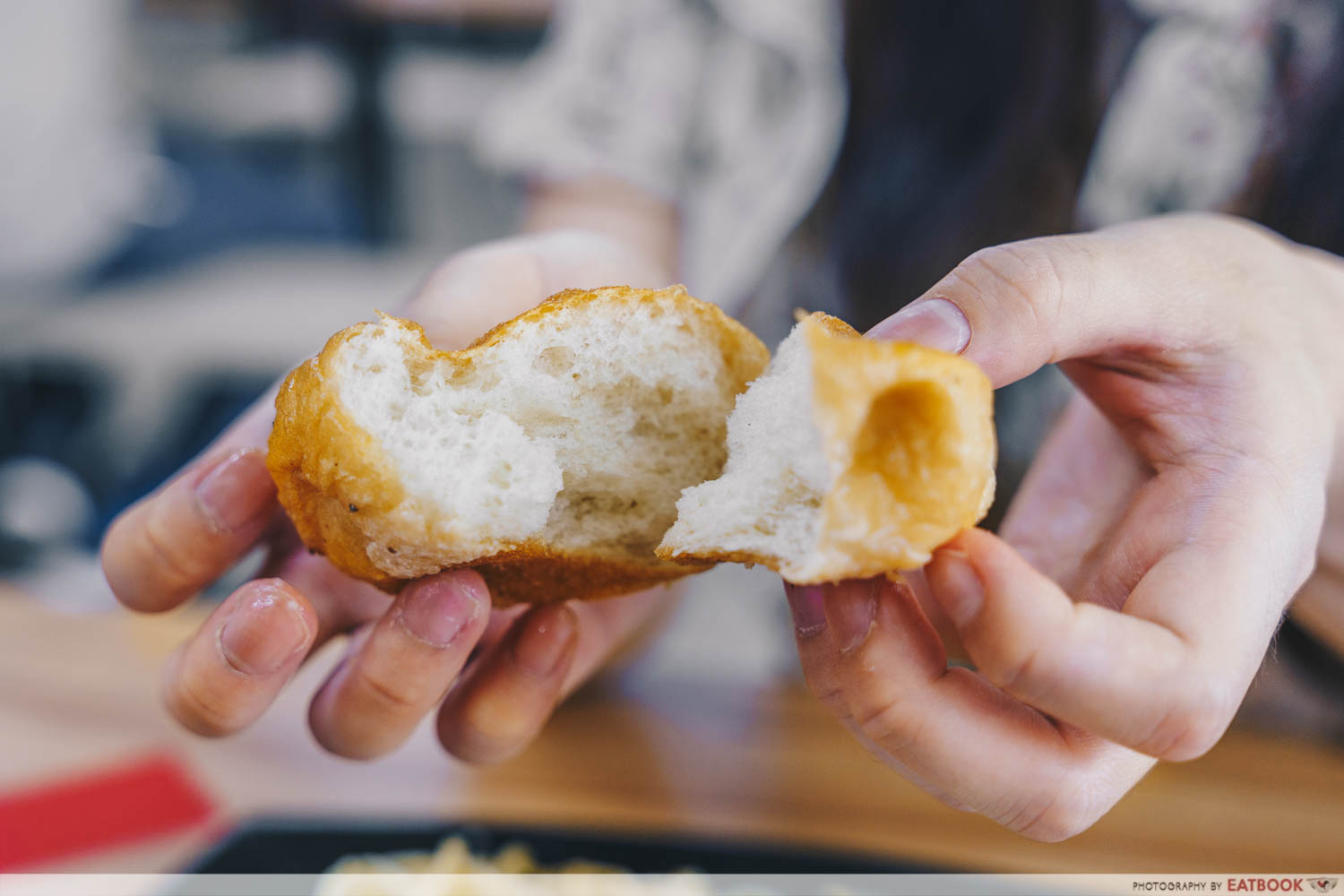 The bun was pretty much the same soft and warm brioche-like bun that I loved from Fatty Bom Bom. The bun was lightly grilled and basted with seasoned oil. The top of the bun is studded with little crinkles on the top to prevent oil from seeping into the bun.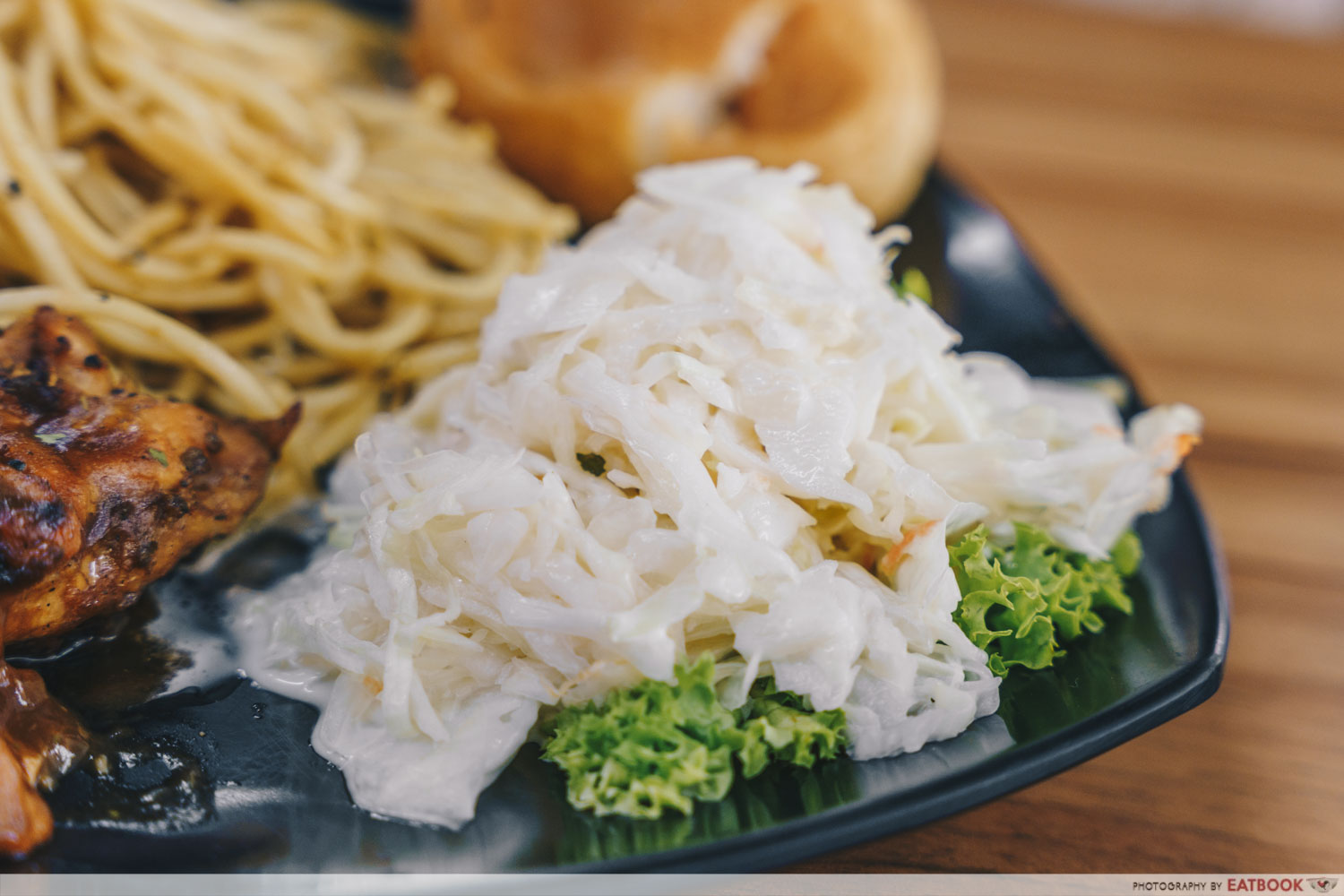 The huge portion of coleslaw was pretty much the same 'slaw found at Fatty Bom Bom. Creamy with crunchiness from the cabbage, it's one of the better 'slaws you will find at this price point.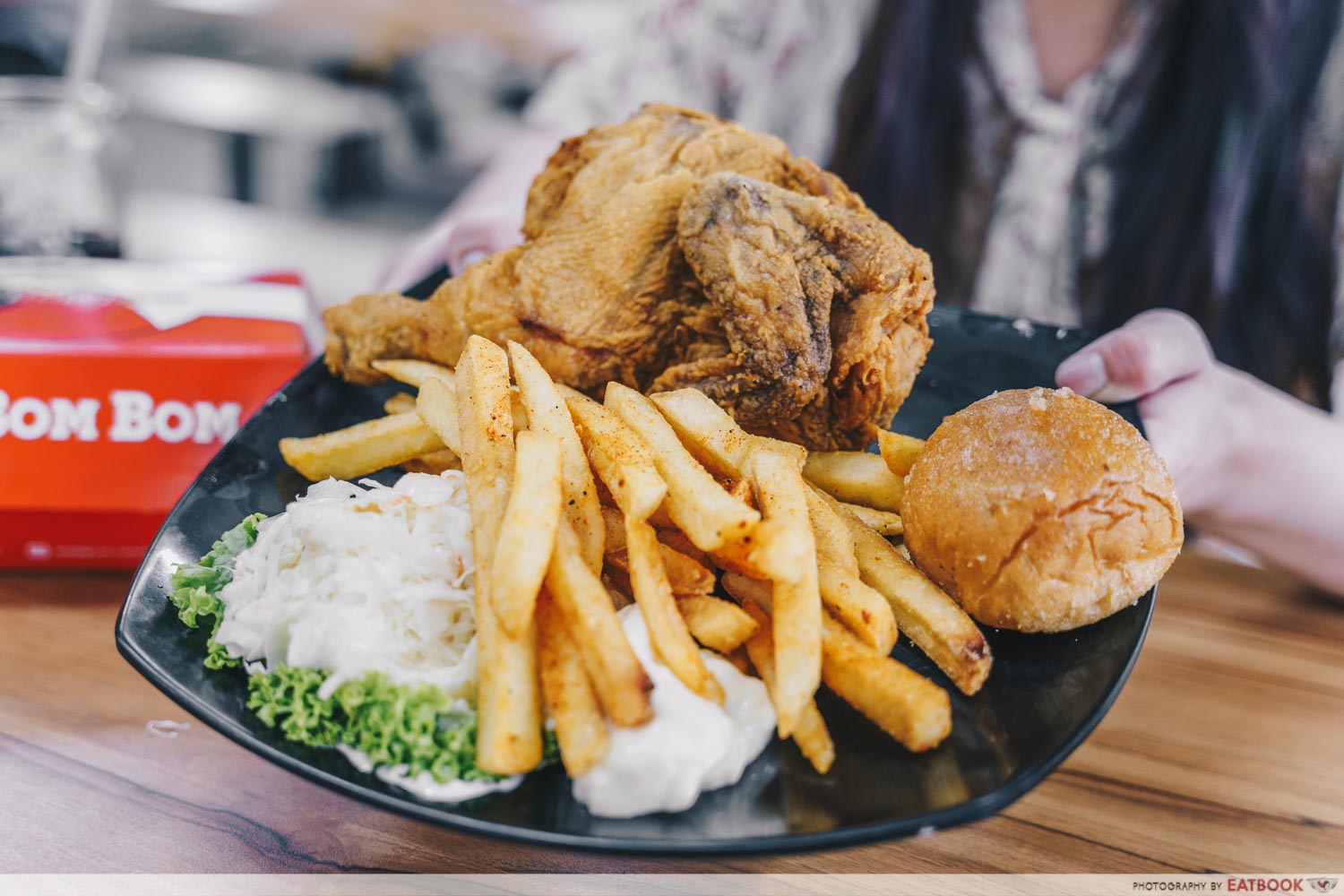 The Half Spring Chicken ($6.90) was colossal. The images don't do it justice in showing how big this thing was. The chicken took so much space on the plate that the fries got pushed into the coleslaw and mayo. At $6.90, it's an incredible steal!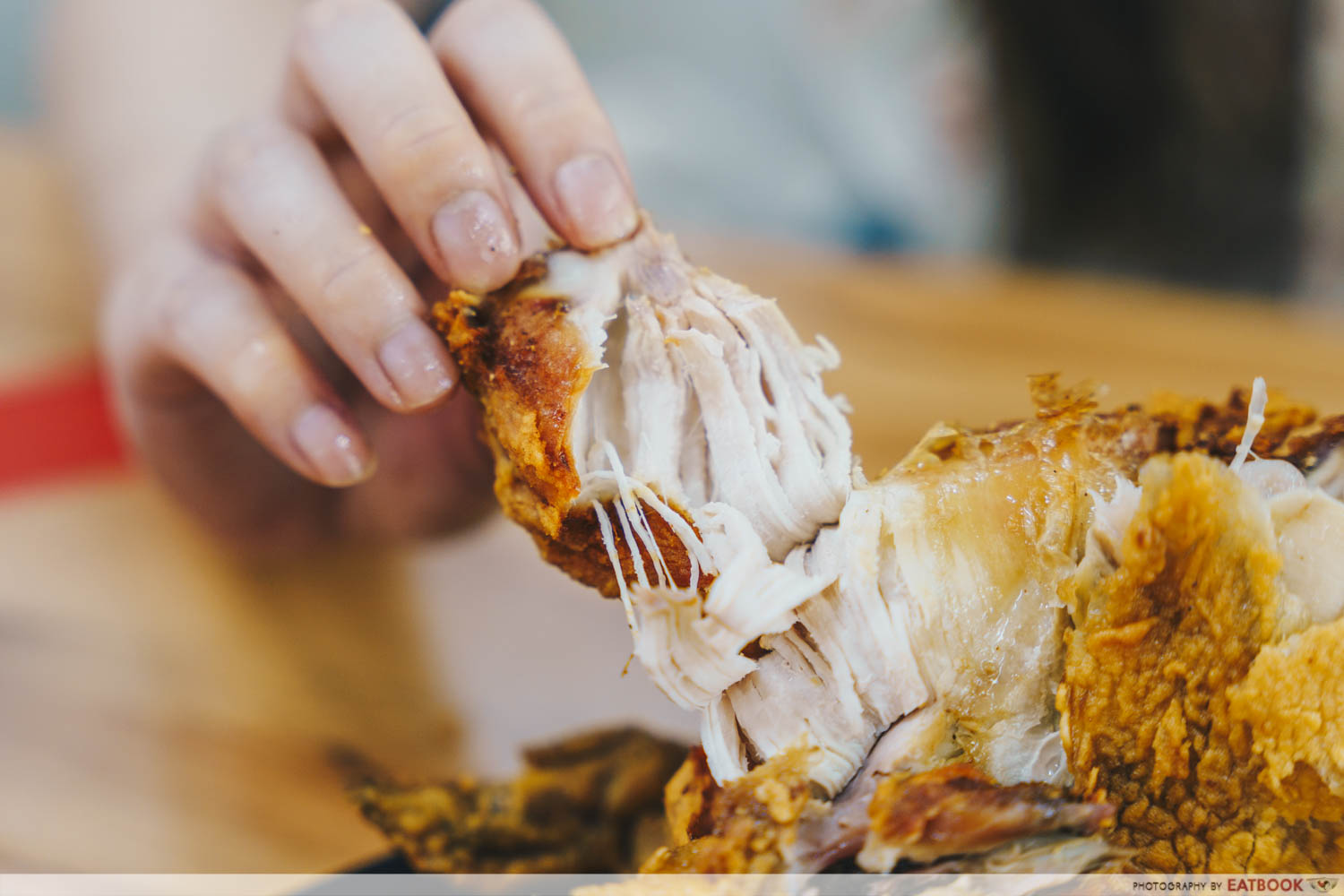 The portion certainly was huge but sometimes, that can be a problem as was the case here. The outer parts of the chicken were dry, and the meat was pretty bland. Unless you enjoy over-dipping into heaps of sauce or you're just simply really hungry, you won't particularly enjoy this meal.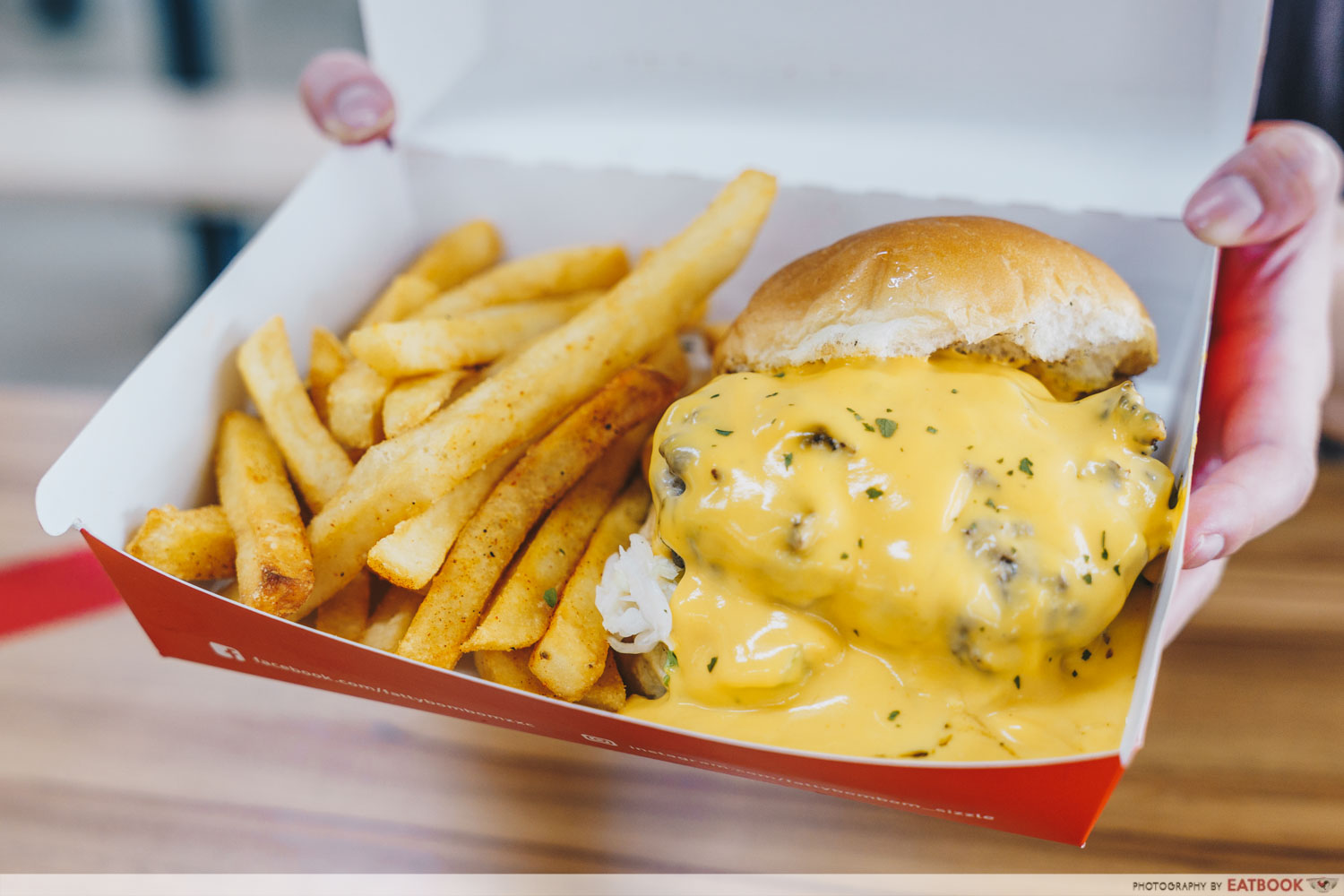 My colleague's choice, The Cheesy Beef Burger ($8.20), was a mess of cheese and meat. The patties were huge—double the size of the actual buns. The buns seemed to be slightly bigger versions of the other brioche buns, which was a welcome thing if the cheese wasn't overwhelming it. 
Around the time we got to the middle of the burger, the bottom bun became soggy enough to disintegrate into the sauce. My colleague loved it but since I'm not a huge fan of cheese sauce, I wasn't as keen.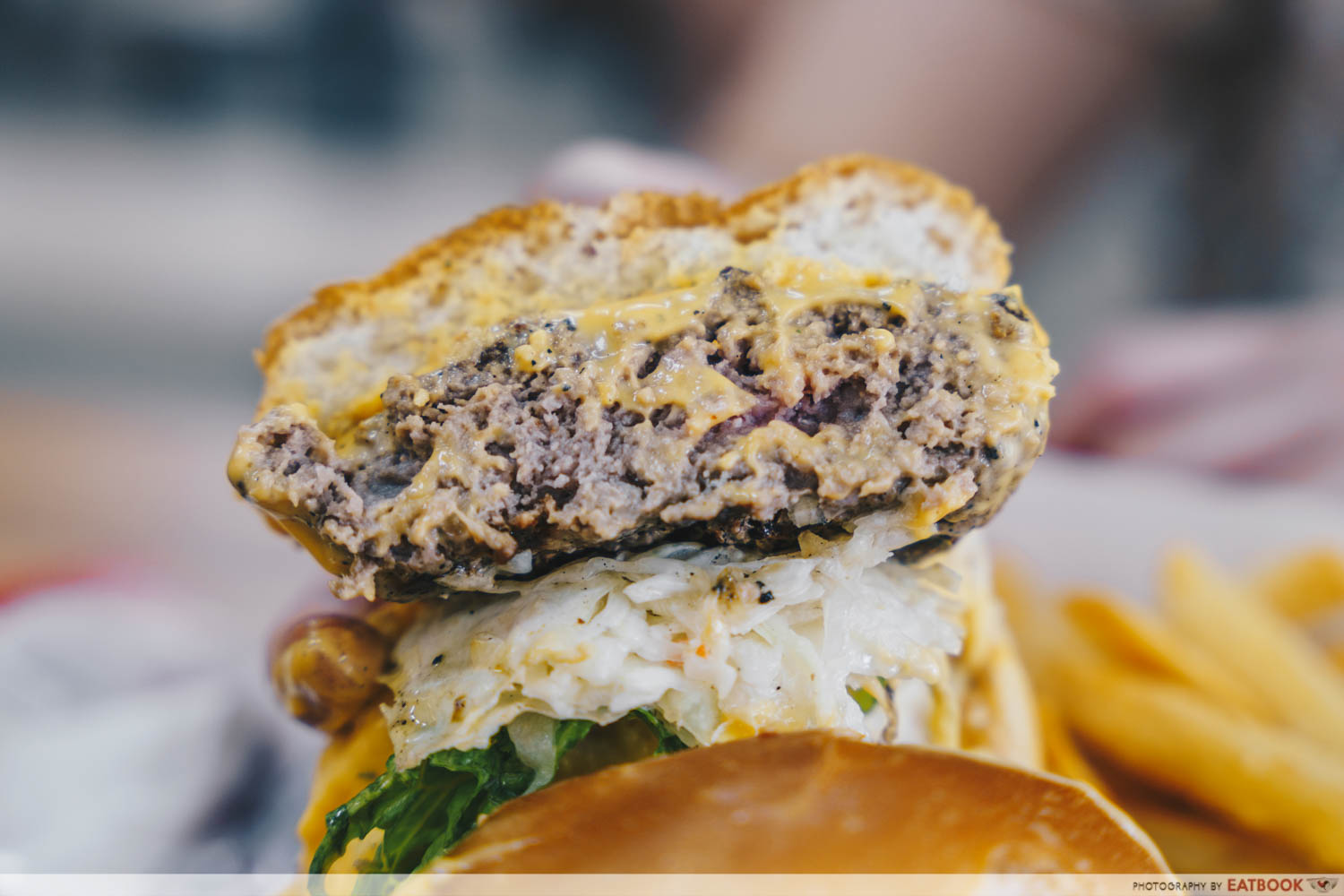 Overall, the burger patty itself was cooked and seasoned beautifully, with some parts sporting pink hues. The coleslaw and vegetables did not fit the cheese sauce at all, and made the bottom bun even soggier. 
All these mixed into one strange flavour that eventually made me pull out all the vegetables. That aside, the patty and bun were quite delicious.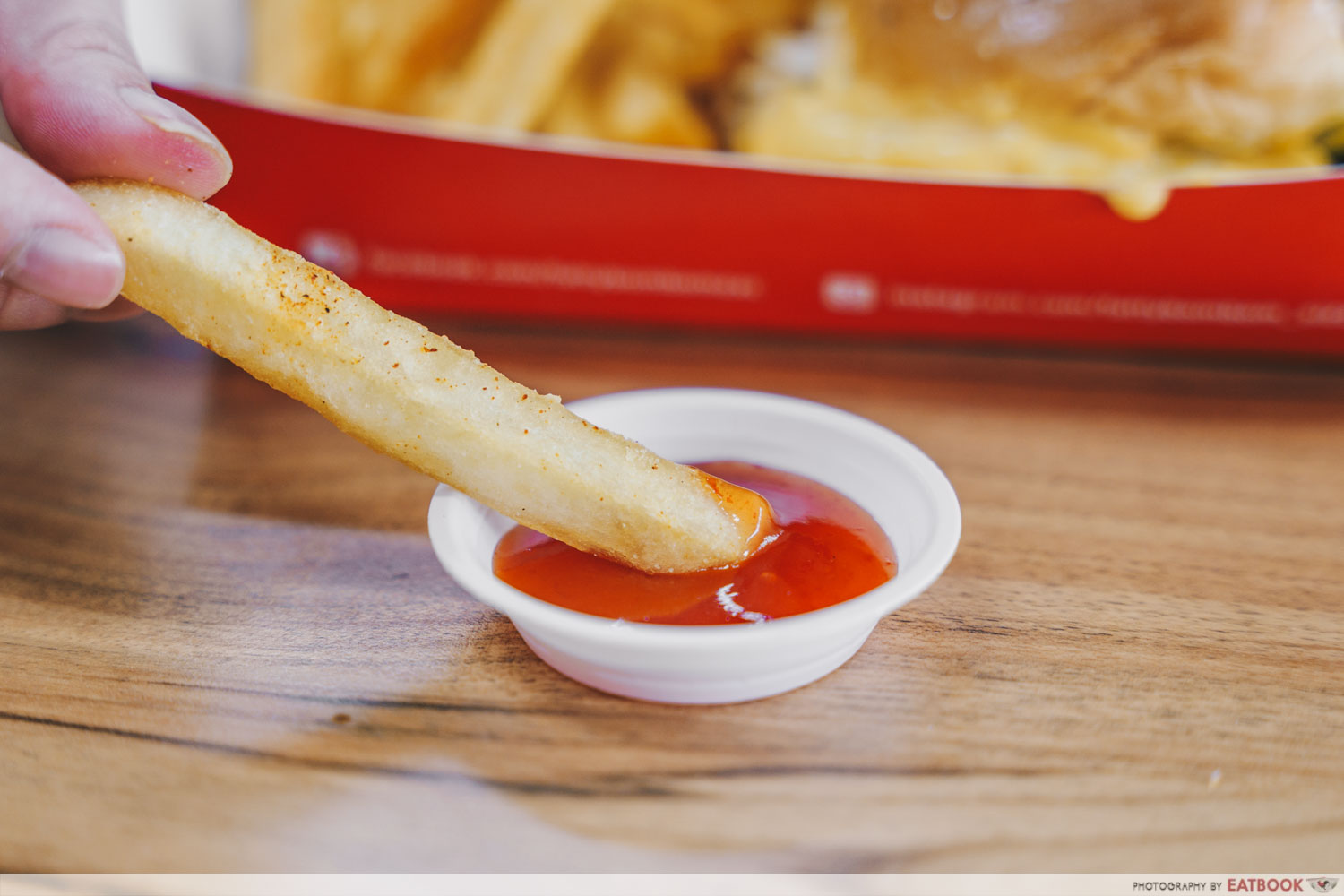 The fries came covered in Cajun seasoning that went really well with the sweet chilli available at the counter. Some of the fries were slightly overcooked, while some were fine. I suppose it just depends on your luck with this one. However you cook them, fries are always good in my book.
Ambience at Abang Gemuk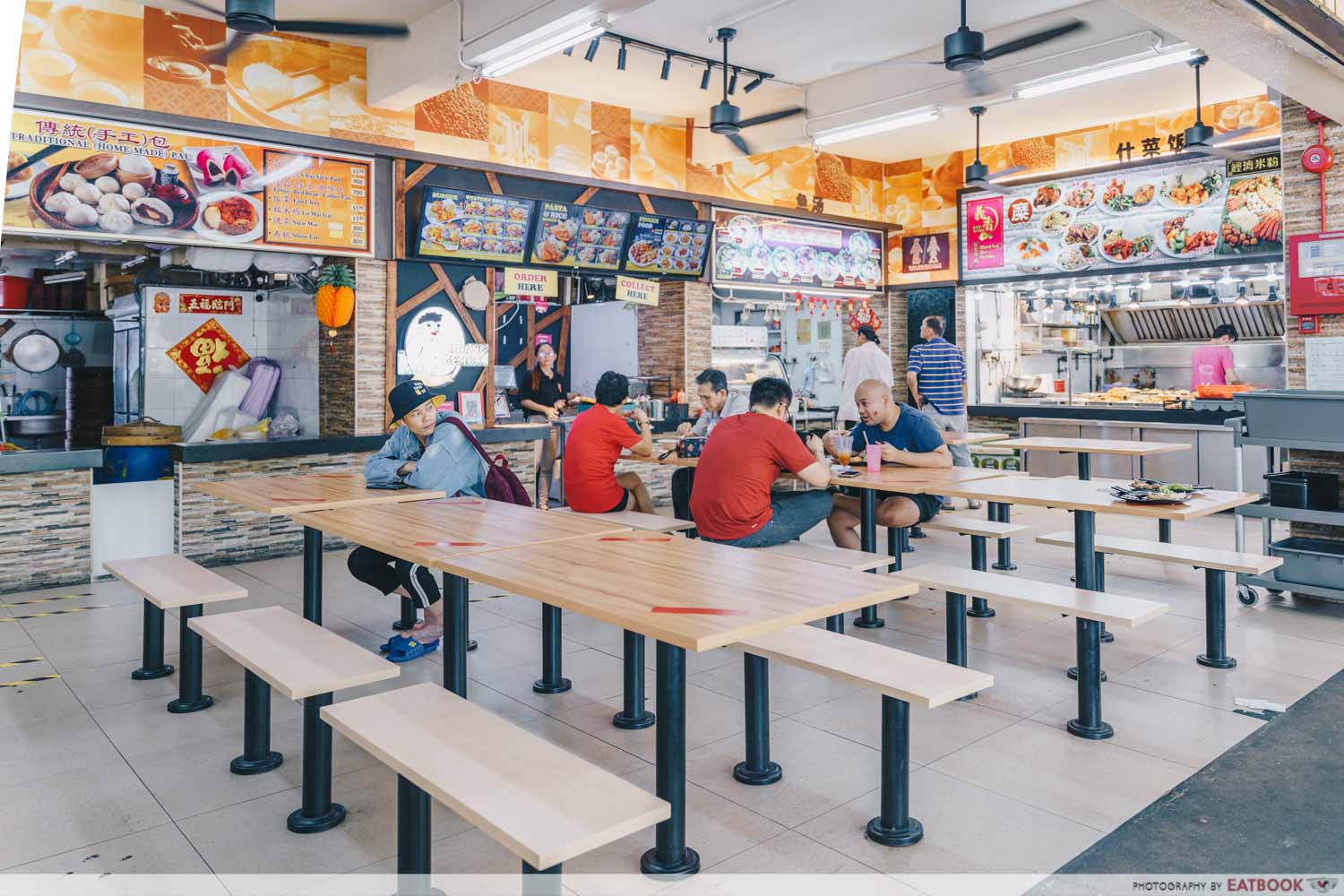 The stall is tucked away in an inconspicuous coffee shop at Ang Mo Kio. Relatively crowded at most times, Abang Gemuk is one of the more popular stalls in the area. The tables here are very clean and the whole place is kept tidier than most. It's also close to Ang Mo Kio MRT Station, so you could easily walk here or take a quick bus ride. 
The verdict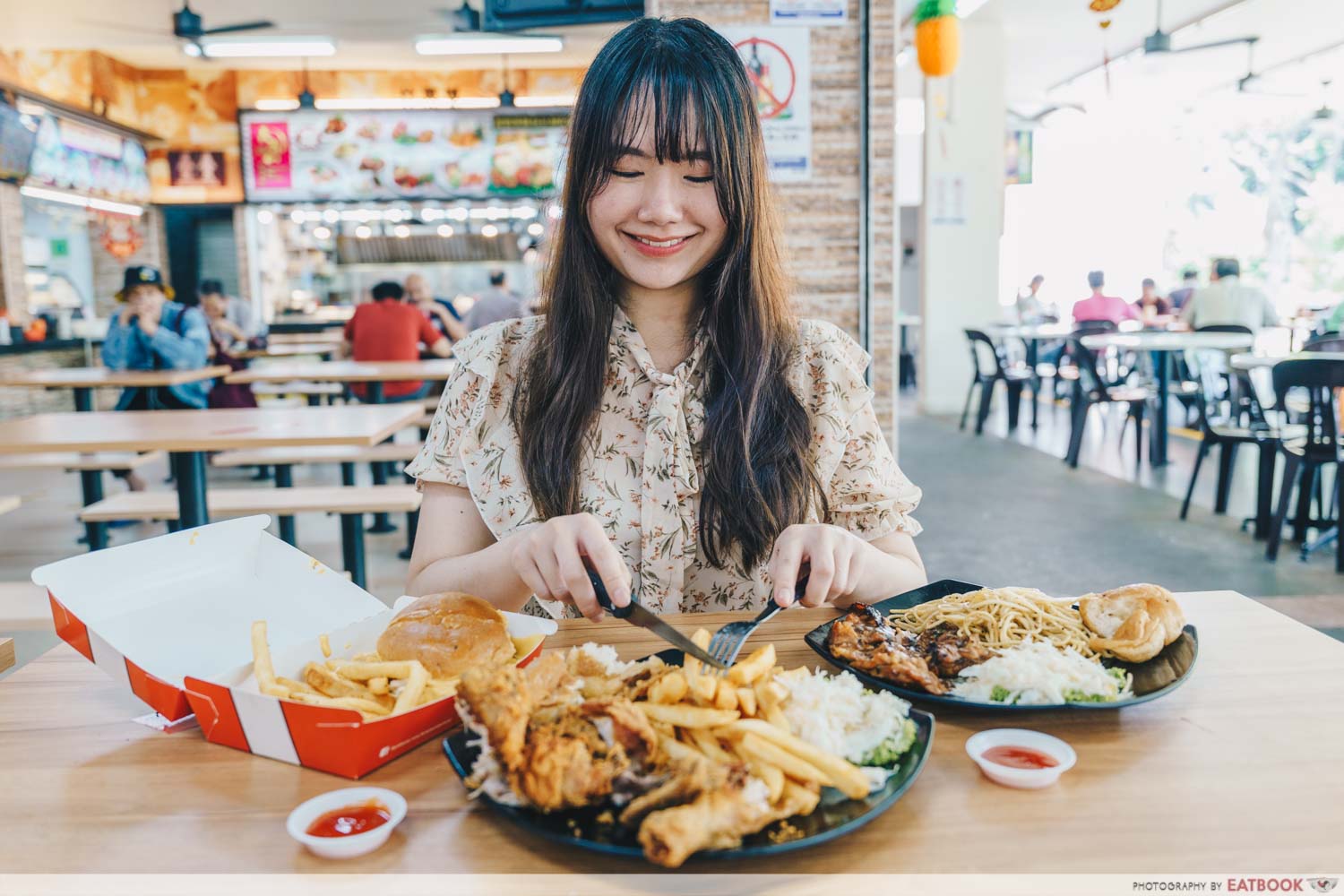 There weren't many differences between Abang Gemuk and Fatty Bom Bom. That being said, fans of the latter will easily love this one. It has all the same tricks of Cajun fries, cheesy burgers, and gravy-glorified chicken but with a few twists. Personally, I feel like the trip here is only worth it if there's no Fatty Bom Bom outlet near you. 
For more Western food options, check out our list of steak delivery options for affordable cuts from SteakGrill, free-flow fries at Braseiro, and Wagyu don at The Burning Oak!
The Burning Oak Review: Wagyu And Foie Gras Dons At A Hawker Centre
Address: 446 Ang Mo Kio Avenue 10, Singapore 560446
Opening hours: Daily 11:30am to 3:30pm, 4:30pm to 10pm
Website
Abang Gemuk is a halal-certified eatery.

Photos taken by John Lery Villanueva.
This is an independent review by Eatbook.sg, and was written before the Circuit Breaker measures.
Summary
Pros
– Cheap
– Really good alio e olio spaghetti
– Clean and comfortable coffeehouse
– Soft pillowy bun
Cons
– Bland and dry chicken
– Overcomplicated burger that's good for Instagram but not so good for eating. 
Recommended dishes: Brown Sauce Chicken Chop with Aglio E Olio on the side ($7.20)
Opening hours: Daily 11:30am to 3:30pm, 4:30pm to 10pm

Address: 446 Ang Mo Kio Ave 10, Singapore 560446