---
Aburi sushi all day, every day
---
As much as we love sashimi, there's nothing quite like a piece of toothsome aburi sushi that melts in your mouth as your savour it. Aburi, Japanese for "flaming", is a style of sushi preparation where raw fish is partially grilled using a blow torch to create a creamy texture and smokey fragrance.
Simple as it sounds, the result is a mouthful of robust flavour and well-balanced textures that leave you craving for more. We know how addictive it can be, so here are 10 restaurants you can get your fix at no matter the occasion. From an atas buffet spot to casual restaurants, this will make sure you get bae/the fam/your kakis to eat ALL the aburi sushi with you.
---
Less than $10
---
1. Japanese Curry Express
---
Despite their name, curry is not the only thing Japanese Curry Express is good at. This unassuming spot at Fortune Centre does a mean Salmon Mentai Maki ($9.60 for 6 pieces), and for those who want something more, they also have a great Salmon Mentai Don ($10). The maki dish runs out fast, so drop by early to chope yours!
Address: 190 Middle Road, #03-04, Fortune Centre, Singapore 188979
Opening hours: Mon-Sat 11:30am to 3pm, 4:30pm to 8:30pm
Tel: 9689 6314
---
2. Genki Sushi
---
Best known for their train conveyor belt concept, Genki Sushi is perfect for times you want some cute entertainment while eating. Their menu includes a variety of aburi sushi like Seared Salmon with Pollock Roe ($2.80++ for 2 pieces), Seared Shrimp with Pollock Roe ($3.80++ for 2 pieces) and Seared Fluke Fin ($2.30++ for 2 pieces). Long queues often form outside their outlet at Orchard Central, so pop by other locations at Chinatown, Bugis or Punggol if you don't wanna wait.
Address: 133 New Bridge Road, #02-33, Chinatown Point, Singapore 059413
Opening hours: Daily 11:30am to 10pm
Tel: 6702 0900
Menu
Click here for info on other outlets.
---
3. Standing Sushi Bar
---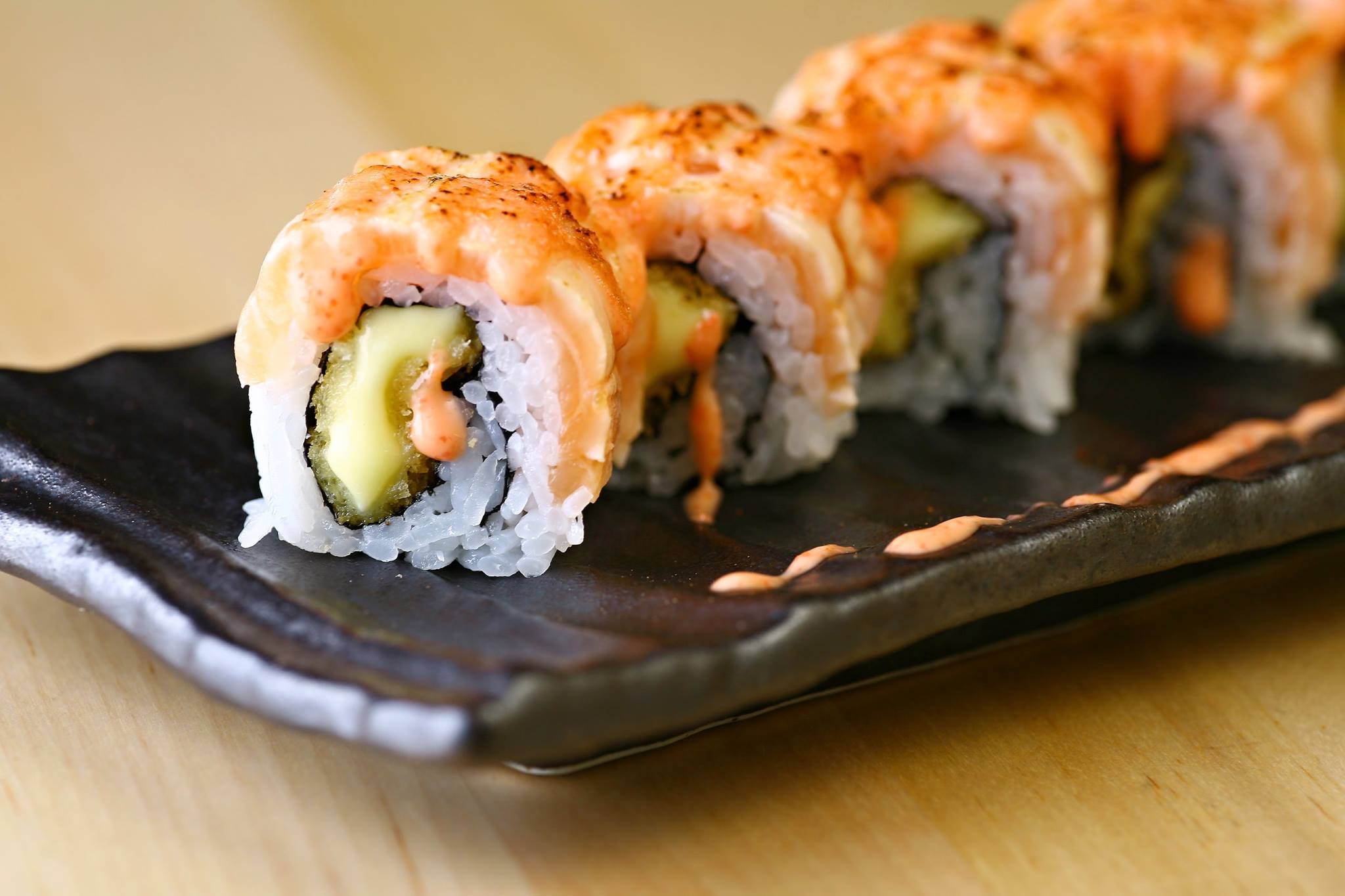 Source
Sashimi lovers flock to Standing Sushi Bar for their $3 salmon sashimi promos on Mondays and Thursdays, but aburi lovers go there for Rockstar Roll ($16.90++). Think of it as a classic aburi salmon roll with breaded gooey MOZZARELLA tucked in the middle. Cheese lovers, this is your cue. But don't rush down just yet, 'cause they dish out 50% off on all speciality sushi rolls on Wednesdays so you can have this for less than $10!
Address: 8 Queen Street, #01-03, Singapore Art Museum, Singapore 188535
Opening hours: Mon-Fri 12pm to 2:30pm, 6pm to 10:30pm, Sat-Sun 12pm to 10:30pm
Tel: 6333 1335
Click here for info on other outlets.
---
Less than $20
---
4. Kinsa Sushi
---
Drop by Kinsa Sushi to check out their interesting purple rice makis. Aburi Salmon Mentai ($15.80++ for 6 pieces) and Aburi Hotote Mentai ($17.80++ for 6 pieces) comes with purple rice instead of the usual short-grain Japanese rice to give these perennial favourites a twist. Hidden at HillV2 at Bukit Timah, this also makes a romantic and quiet restaurant to bring someone special to for date night.
Address: 4 Hillview Rise, #02-02, HillV2, Singapore 67979
Opening hours: Mon-Thurs 11:30am to 3pm, 5:30pm to 10pm, Fri-Sun/PH 11:30am to 10pm
Tel: 6710 7278
Find out where else to go for a romantic and quiet dinner here.
---
5. The Sushi Bar
---
Here's an oldie but goodie. The Sushi Bar is famed for their Salmon Aburi Sushi ($15.90++ for 8 pieces) that brings long queues all night long. This melt-in-your-mouth aburi salmon roll is accompanied by generous dollops of mentaiko sauce and filled generously with creamy avocado, crunchy cucumber pieces and thick slices of raw salmon. To mix things up, get some Soft Shell Crab Salmon Aburi Sushi ($17.90++ for 8 pieces) or Ebi Fry Aburi Sushi ($16.90++) as well!
Address: 14 Scotts Road, #04-28, Far East Plaza, Singapore 228213
Opening hours: Mon-Thurs 11:30am to 3:30pm, 5pm to 9:45pm, Fri-Sat 11:30am to 9:45pm
Tel: 9653 6464 (SMS Only)
Menu
Click here for info on their other outlet.
---
6. Rollie Olie
---
Taking a step away from rich and hearty flavours that usually accompanies aburi sushi, Rollie Olie serves a more refreshing version that still manages to maximise satisfaction. Sunkissed Salmon ($16.95) comes with our beloved aburi salmon slice accompanied by crunchy bits of ebiko sitting atop an uramaki (reverse maki) filled with crabmeat, avocado, cucumber and jicama (Mexican turnip).
Address: 1 Vista Exchange Green, #02-05, Star Vista, Singapore 138617
Opening hours: Mon-Fri 11:30am to 10pm, Sat-Sun 11am to 10pm
Tel: 8188 1525
Menu
Click here for info on their other outlet.
---
7. Koh Grill & Sushi Bar
---
Koh Grill & Sushi Bar's aburi brings all the boys AND the girls to the queue. Shiok Maki Version One ($16.80++) is filled with avocado and unagi enveloped under thick cuts of seared salmon slices drenched in a creamy umami sauce and finished with a generous serving of ebiko. For all you fried-food lovers, Koh Grill also dishes out an equally awesome Shiok Maki Version Two ($16.80++) that comes with a fried ebi filling instead!
Address: 435 Orchard Road, #04-23, Wisma Atria Shopping Centre, Singapore 238877
Opening hours: Daily 11:30am to 10pm
Tel: 9180 3805
---
Less than $60
---
8. Teru Sushi
---
If you're too hangry to queue at Koh Grill, try Teru Sushi's version of Shiok Maki ($20++). The main components are almost identical to Koh Grill's rendition: sweet and succulent grilled unagi paired with smooth and creamy avocado uramaki covered with a thick slab of torched salmon, ebiko and finished with their signature Shiok sauce. What's different about Teru's is its smaller size that makes it easier to pop the whole thing in your mouth. Less sauce is poured over here, so eating this won't be a messy affair either.
Address: 50 Tiong Bahru Road, Singapore 168733
Opening hours: Daily 12pm to 2:30pm, 6:30pm to 10:30pm
Tel: 6438 5394
---
9. Hana Japanese Restaurant
---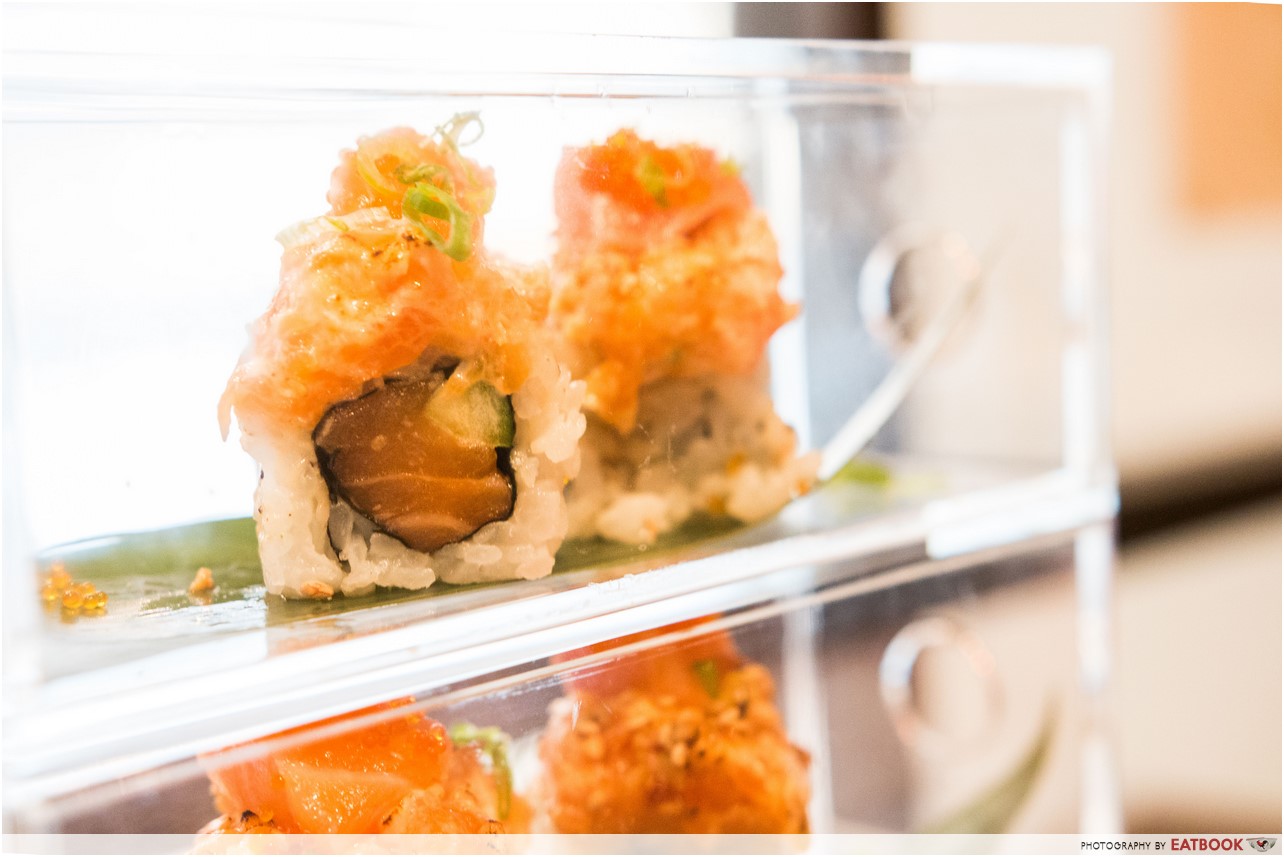 Hana may be famous for flying ramen that took Singapore by storm, but the sushi there is worth having too. Hana Signature Maki ($20++) comes with three layers of fresh salmon chunks: one is wrapped inside sushi rice with cucumber, before being topped with a dollop of torched salmon tartare. Another chunk of salmon is then plopped on top of the whole thing and garnished with ebiko. With such a generous amount of salmon in each maki, this is one aburi sushi that's worth your buck.
Address: 583 Orchard Road, #01-17, Forum The Shopping Mall, Singapore 238884
Opening hours: Daily 11:30am to 10pm
Tel: 6737 5525
Read our full review here.
---
10. Kinki Restaurant + Bar
---
Reserve Kinki Restaurant + Bar for days you wanna #treatyoself. Head down for their Bottomless Brunch ($52++) every Saturday to fill your tummy with salmon, hamachi (yellowtail) and hotote (scallop) aburi nigiri sushi! They usually go for $6++ a pop so this buffet definitely stretches your dollar.
Address: 70 Collyer Quay, #02-02, Customs House, Singapore 049323
Opening hours:
Restaurant
Mon-Sat 12pm to 2:30pm (last order), 6pm to 10:30pm (last order), PH 6pm to 10:30pm (last order)
Bottomless Brunch buffet hours: Sat 12pm to 3pm
Rooftop Bar
Mon-Thurs 5pm to 12am (last order at 11:30pm), Fri-Sat 5pm till late
Tel: 6533 3471
Menu
---
Aburi heaven
---
No matter what your budget is, you now have 10 places to go to for your aburi sushi fix. Let us know in the comments if you have any other places to recommend!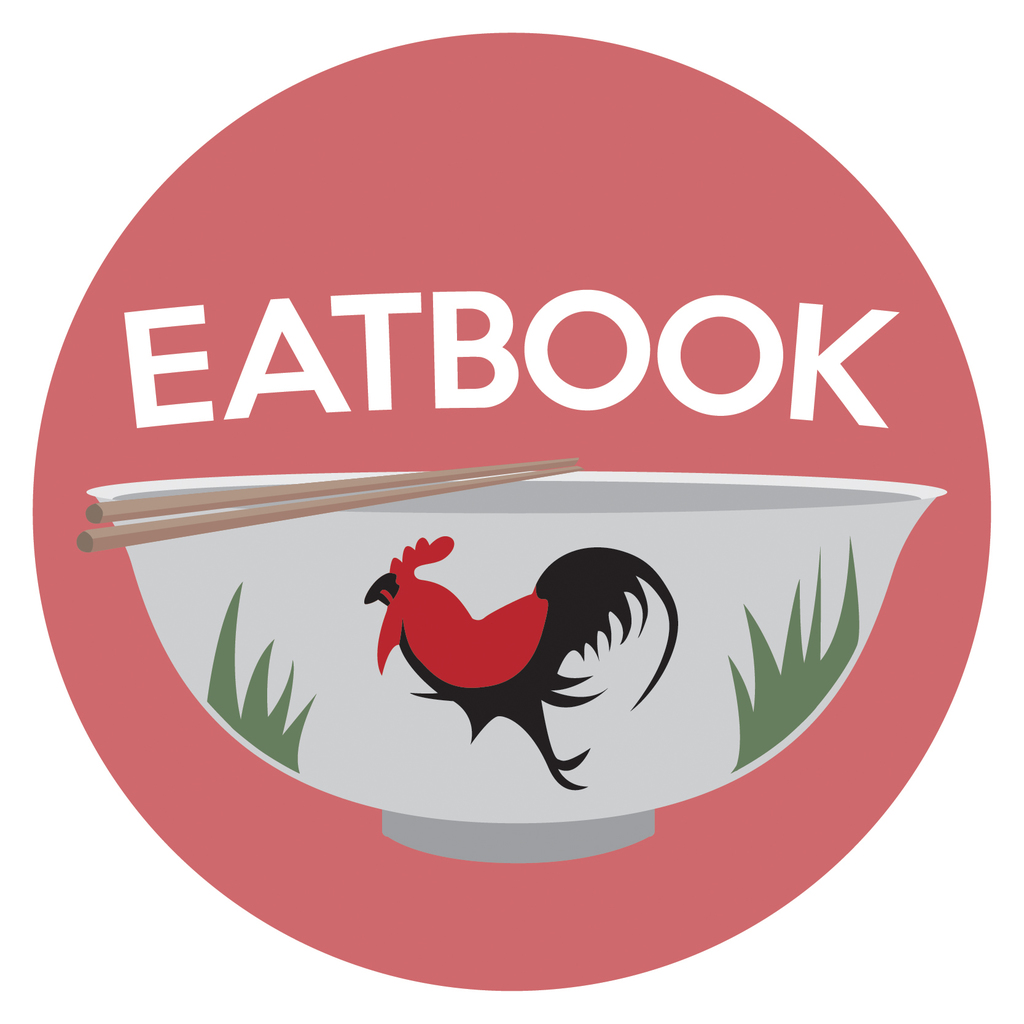 Drop us your email so you won't miss the latest news.