Comforting home-cooked fare at Ah Hua Assam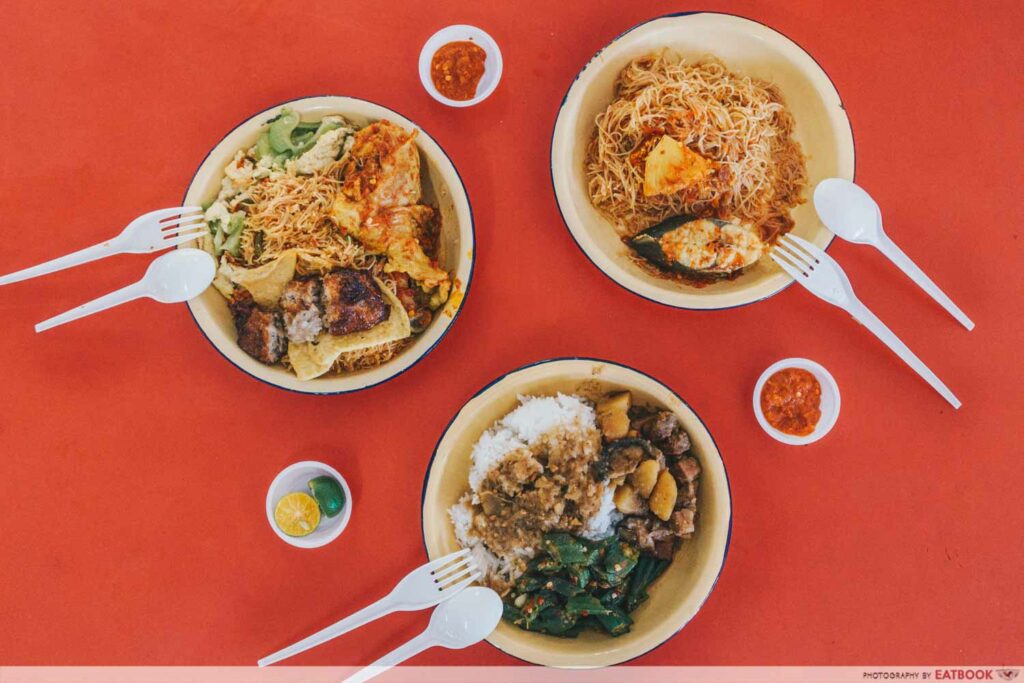 There's something magical about home-cooked food. These no-frills dishes always ooze off a sense of comfort that cannot be found anywhere else. My recent visit to Ah Hua Assam tasted close to the flavours I enjoy at home, and it was nice to know that such food can be found at a hawker centre. 
The store was opened up last August by Bryan Wong and his mother Ah Hua. Both of them are the only two people running the store, and you'll be able to catch them working hard at any time of the day. 
Although Bryan, a former sales manager, has no formal culinary training, he wanted to share his well-loved family's secret assam recipe to the masses. The recipe, which dates back to the '60s, took him four years to master, and the Wong family are extremely proud of their tangy and addictive assam. 
Assam chilli paste, which forms the core of the dishes here, is a tedious thing to whip up. It involves peeling loads of shallots and ginger, and carefully sweating them in oil to release their sweet and aromatic flavours. A precise amount of tamarind is also needed to give this dish its trademark sour tang. 
Food at Ah Hua Assam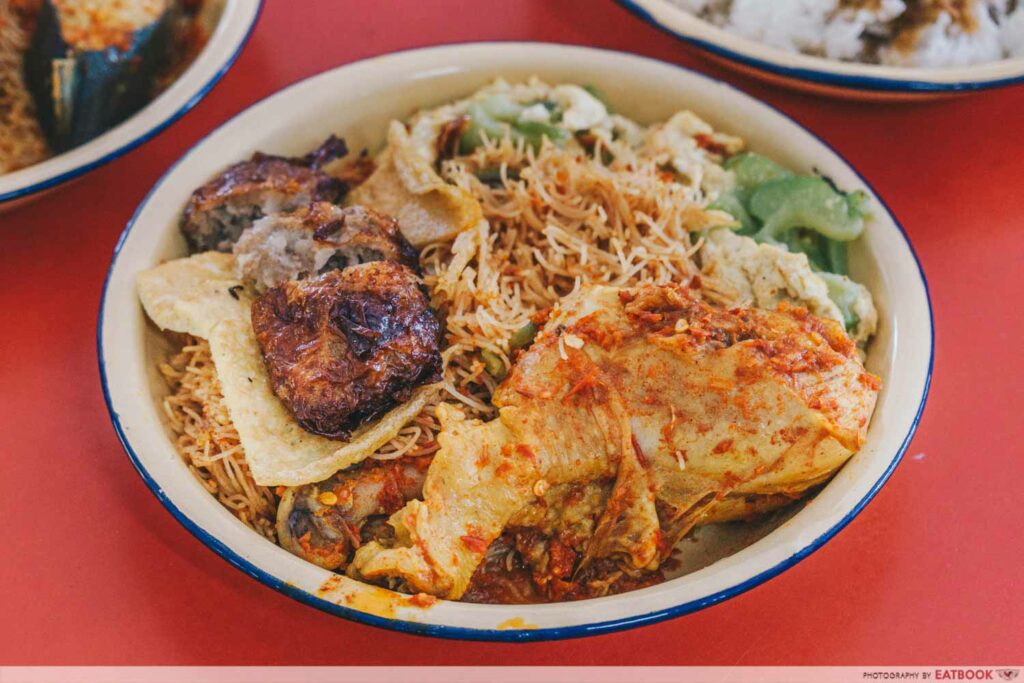 Each item is freshly prepared every morning. When I arrived at the store's opening time of 11am, Bryan was still painstakingly whipping everything up. The dishes are all prepared before the busy lunch and dinner crowd arrives, and are set up in a way that reminds me of an economical bee hoon store. 
We started off with the store's Signature Assam Chicken Set ($4.50) and a roll of their Homemade Ngoh Hiang ($1.50). The set meal comes with rice or bee hoon, a wedge of egg omelette, and a choice of two vegetables that get rotated often. I got the bee hoon and for good measure, asked for a generous scoop of assam curry to be drizzled all over it.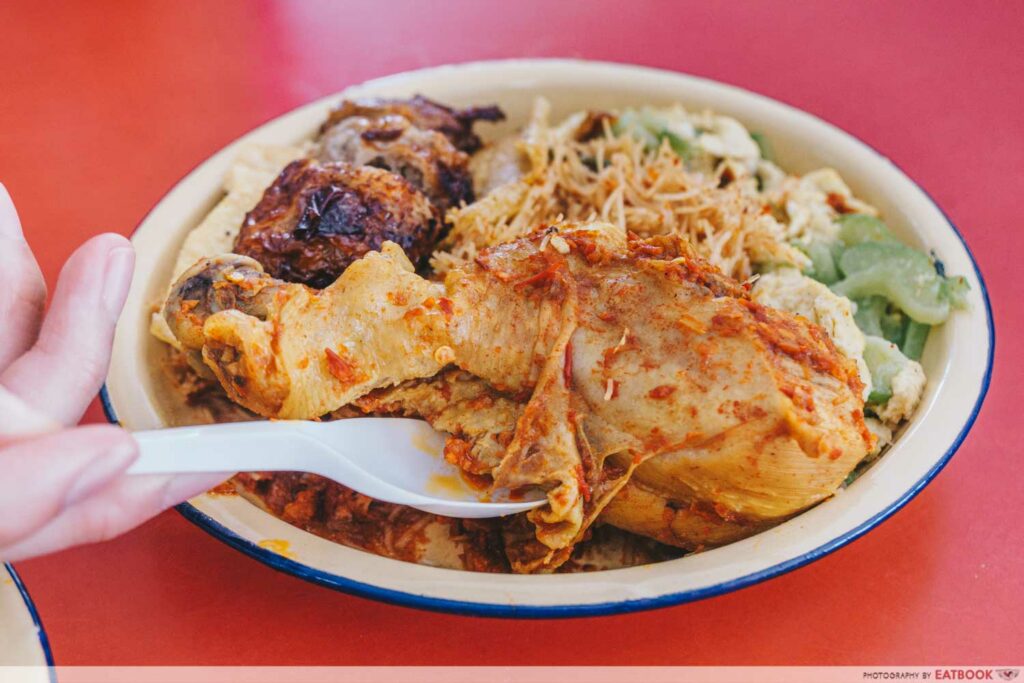 The huge chicken drumstick was a bit of a disappointment, as it felt frozen and lacked flavour. Its rubbery texture reminded me very closely of the ones that army boys might be familiar with. 
The assam paste fared much better. It had the golden trifecta of tanginess, spiciness, and being aromatic. There was a good bit of zing from the tamarind, a nice bit of spice that danced on the tongue, and a heavy depth of flavour that was incredibly addictive. The piquant assam was the main player here, and gave loads of flavour to the otherwise bland chicken.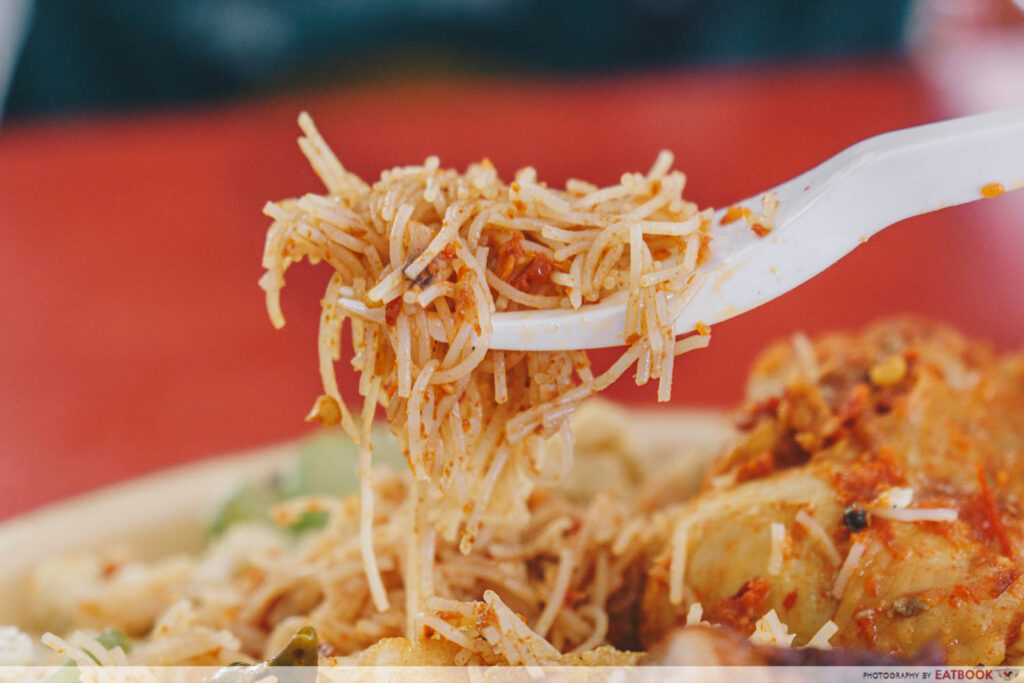 I liked how the bee hoon had a homely feel to it. It was not oily, and wasn't too dried out as well. They seemed to be cut shorter than usual, and that made it quite easy to eat with a fork. The bee hoon seemed to be the most popular carb option on the day I visited, with many customers choosing it over white rice.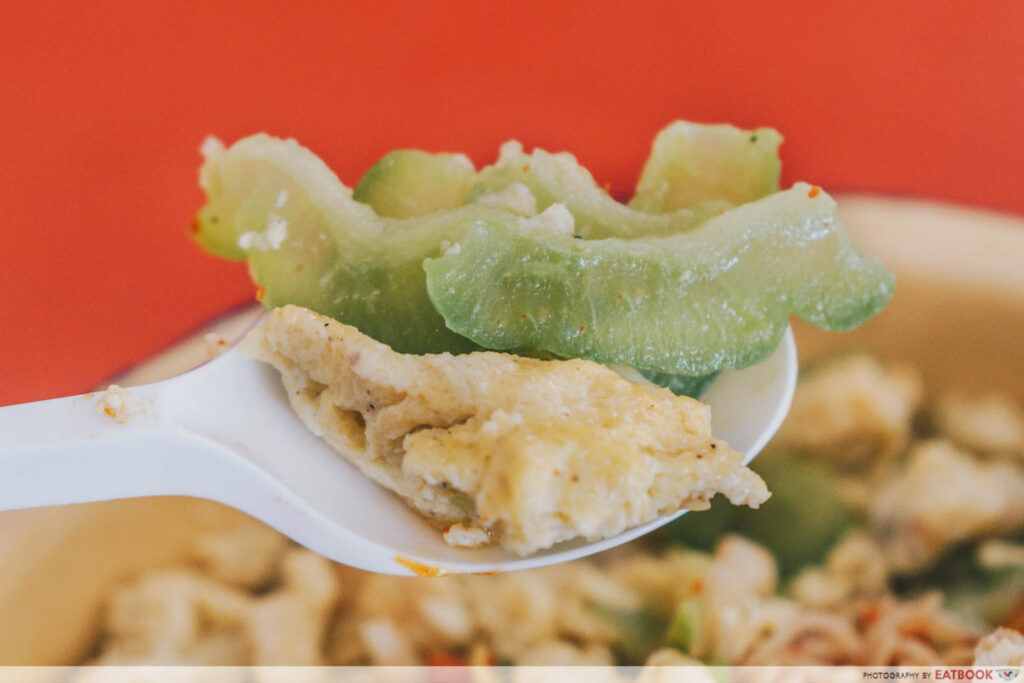 Vegetable options on the day that I visited were bitter gourd with egg and okra that were fried in the store's signature assam paste. Loads of egg were fried together with the bitter gourd, which made it quite a filling side dish.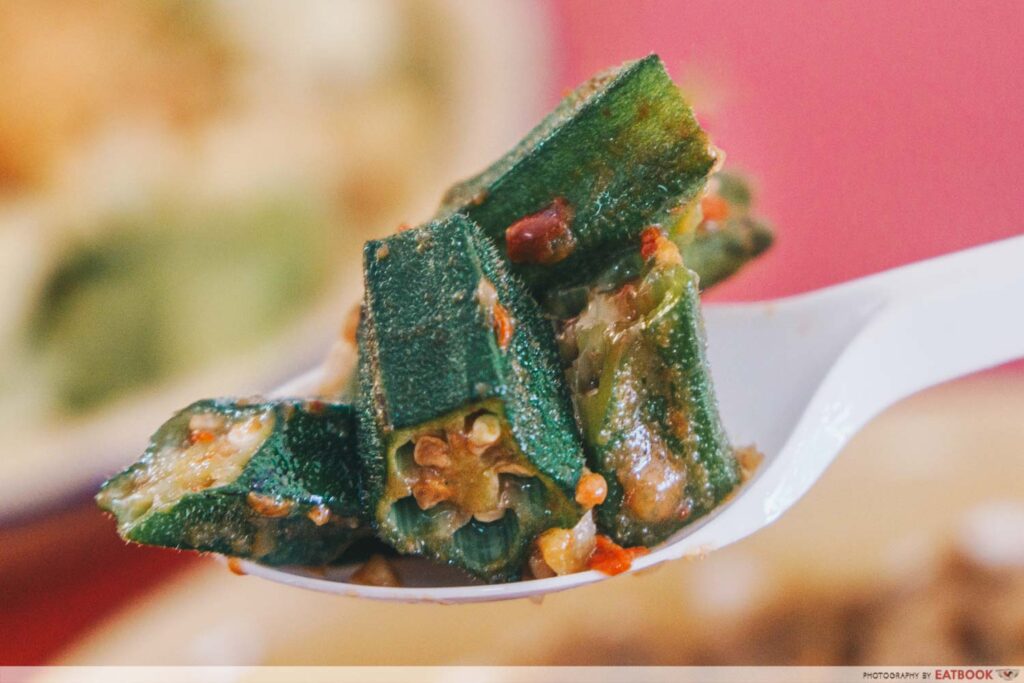 The slightly crunchy okra was equally tasty, mixing well with the flavourful assam paste.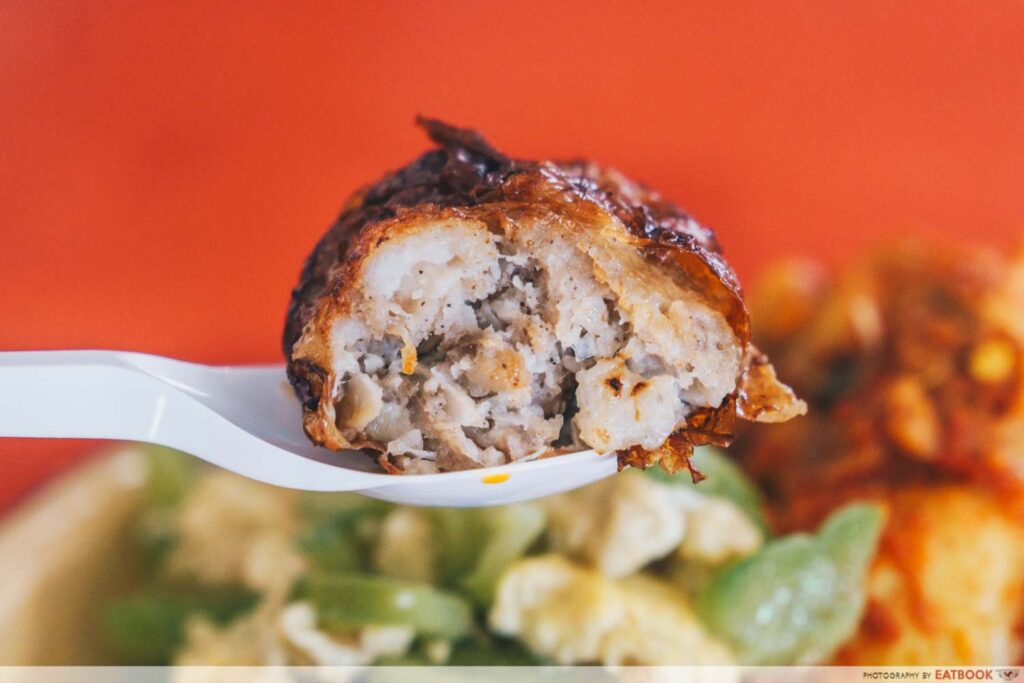 The ngoh hiang was another dish that impressed. It was cut into three thick pieces, and was generously filled with loads of meat and chestnuts. I liked how they were chunky inside, giving it a good variance in texture. They were even better when dipped with the piquant chilli, which gave a nice bit of heat as well. 
The Assam Fish ($4) also received the same treatment as the chicken, with Batang fish steaks that were cooked together with the assam paste. The fish tasted fishy, and its flesh was a little too soft.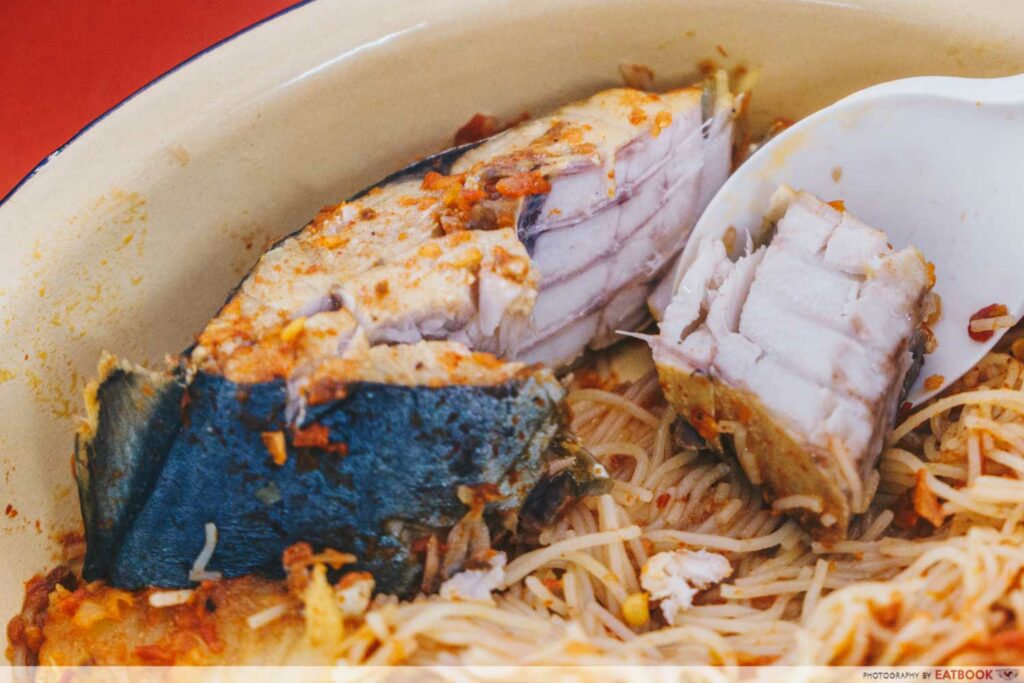 In the flavour department, it didn't have much of that coveted assam zing that makes it so incredibly addictive. I would find it difficult to recommend this dish to people.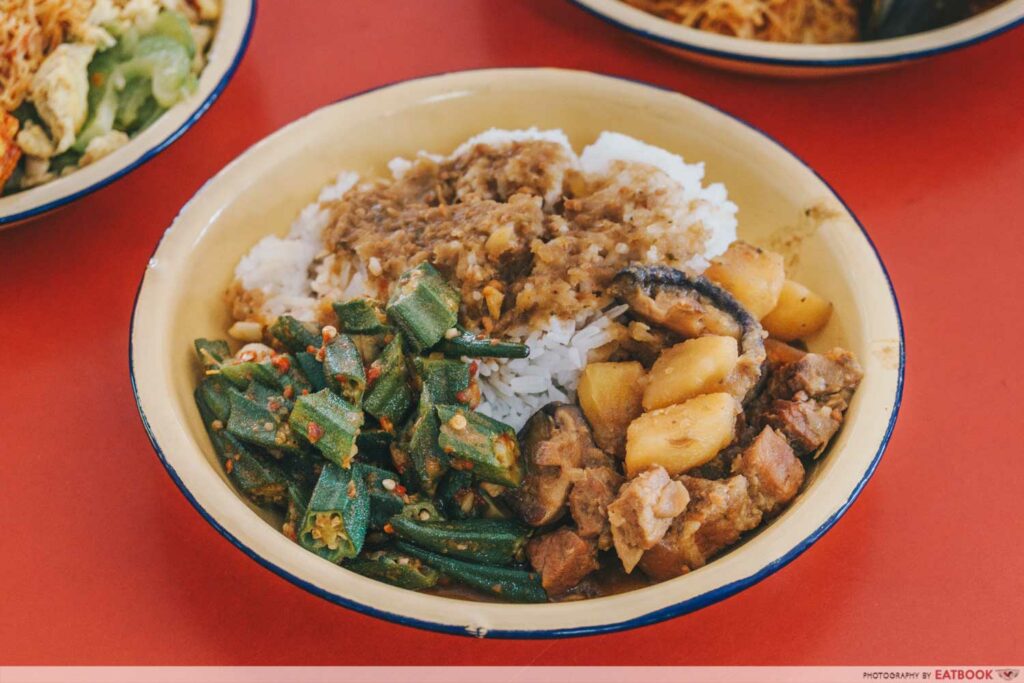 We rounded everything off with an order of their Babi Pongteh Set ($4.50). This popular Peranakan braised pork dish is famous for its fork-tender and flavourful meat, but the one at Ah Hua Assam failed to deliver.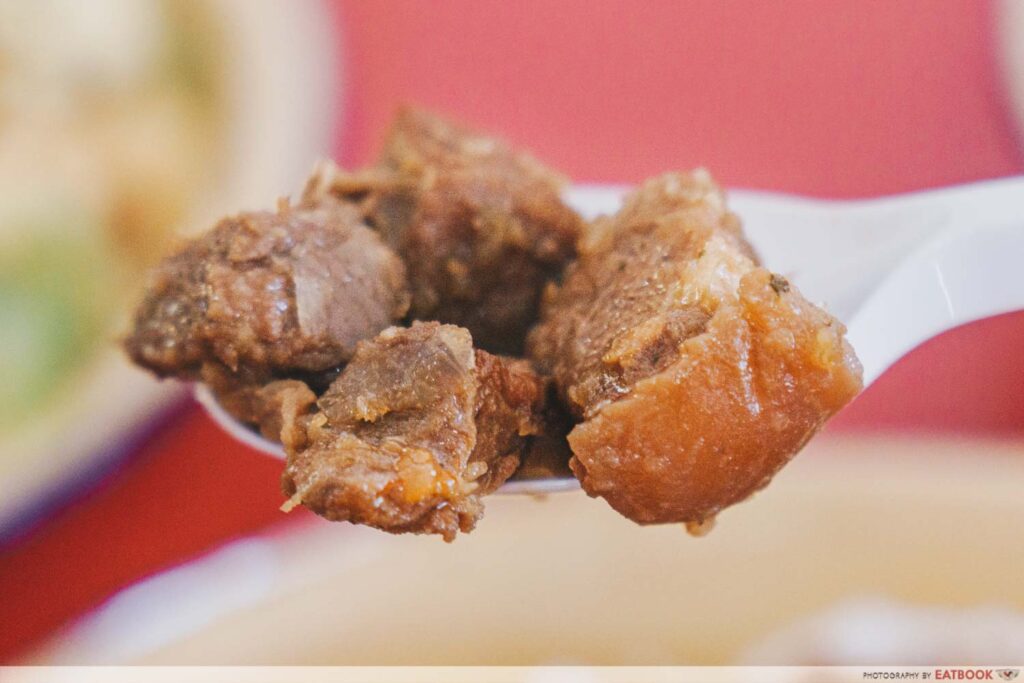 The pork cubes were rubbery, and while the taste of cinnamon was pronounced, everything else tasted one-dimensional and bland. This dish is a difficult dish to master, and requires loads of attention to detail. I will probably be sticking with the assam bee hoon the next time I'm here.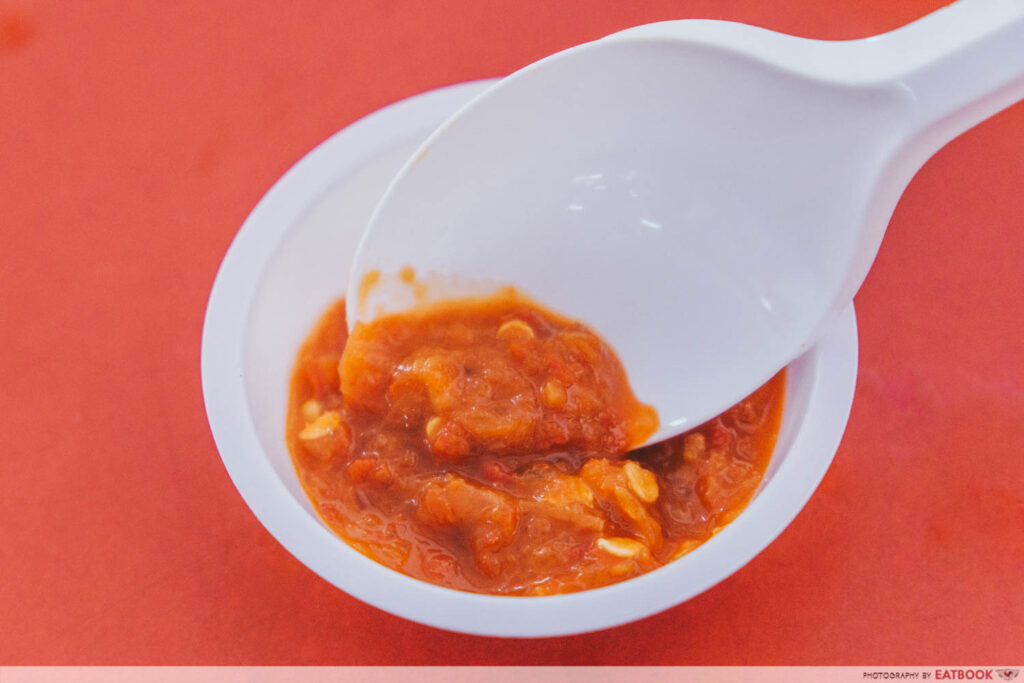 Ah Hua Assam also places great emphasis on their chilli. It was slightly sweet, and had a good bit of spice to it. Its consistency was slightly chunky and thicker, coating the meat nicely.
Ambience at Ah Hua Assam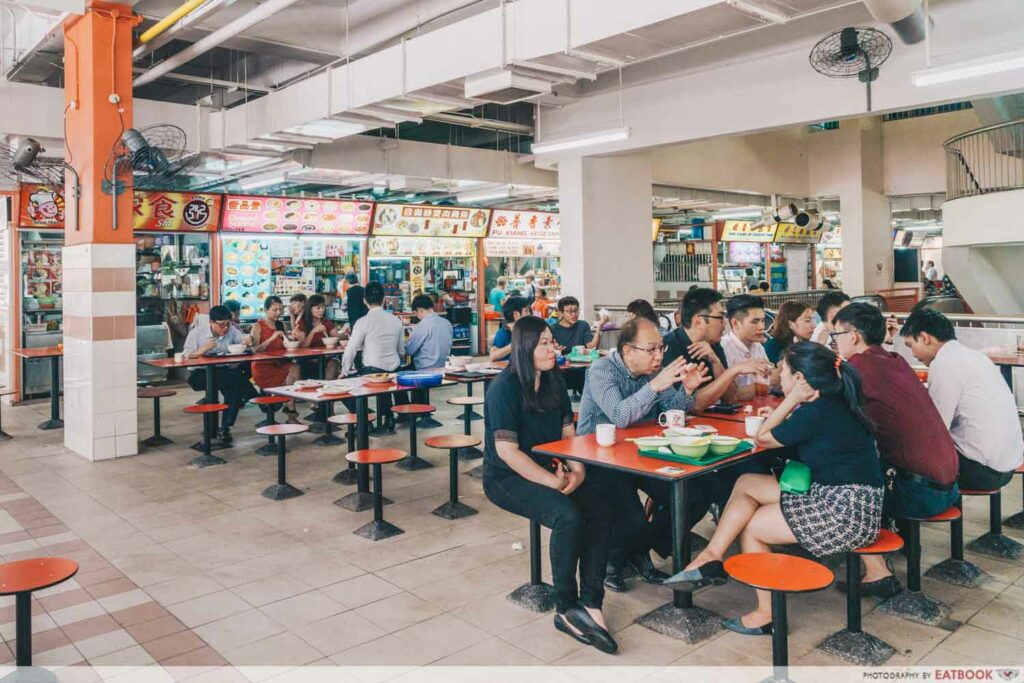 Ah Hua Assam is located at the sprawling Chinatown Complex. There are loads of tasty food here, and one can literally get lost in this mega hawker centre. We got our food pretty quickly, and the friendly owners are also quick to accommodate any requests. 
8 Chinatown Complex Food Stalls To Visit Including $2 Laksa And Beef Rice Bowls
The verdict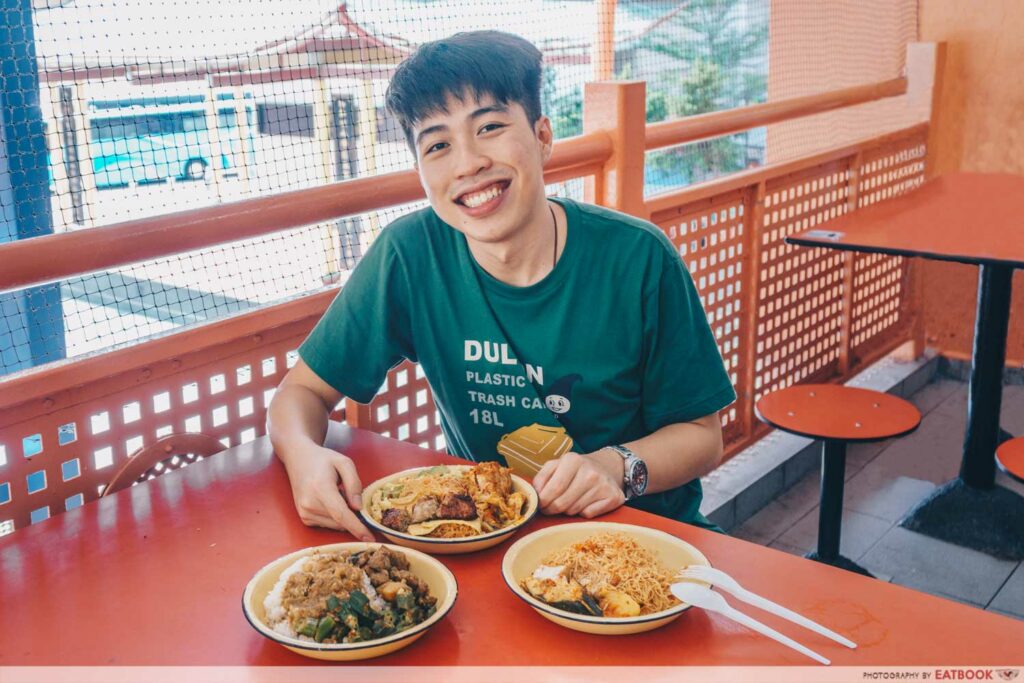 What makes home-cooked food special is the attention and care spent on it. While the assam paste went very close to delivering that experience, the rest of the dishes here were still a little far from it. 
While the store is still relatively young, they have nailed the most important bit of delivering a good-quality assam paste. This important component is the foundation of many great things ahead, and I look forward to seeing more from this exciting mother and son duo. 
Lian He Ben Ji Claypot Rice Review: Legit Claypot Rice At Chinatown With 40-Minute Queues
For more Chinatown Complex eats, be sure to check out Lian He Ben Ji Claypot Rice that comes with 40-minute queues and also the addictive dry duck ramen from Jin Ji Braised Duck!
Address: 335 Smith Street, #02-106, Chinatown Complex, Singapore 050335
Opening hours: Tue-Sun 11am to 8pm
Tel: 9368 5305
Website
Ah Hua Assam is not a halal-certified eatery.
Photos taken by Kerrianne Goh.
This is an independent review by Eatbook.sg.
Summary
Pros
– Tasty assam paste
– Delicious ngoh hiang
– Value for money
Cons
– Babi pongteh can be improved
– Assam fish is overly fishy
Recommended dishes: Signature Assam Chicken Set ($4.50), Homemade Ngoh Hiang ($1.50)
Opening hours: Tue-Sun 11am to 8pm
Address: 335 Smith Street, #02-106, Chinatown Complex, Singapore 050335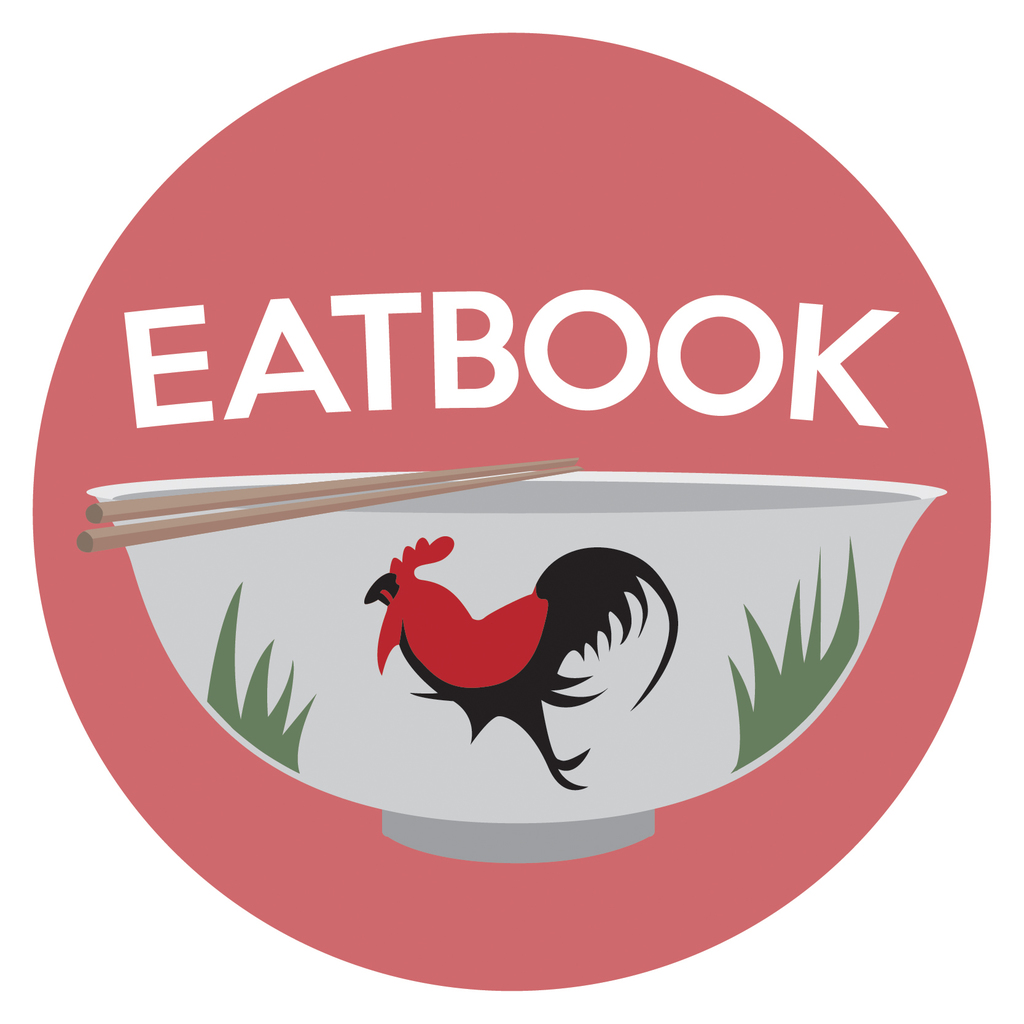 Drop us your email so you won't miss the latest news.