Ah Lipp offers traditional Penang prawn noodles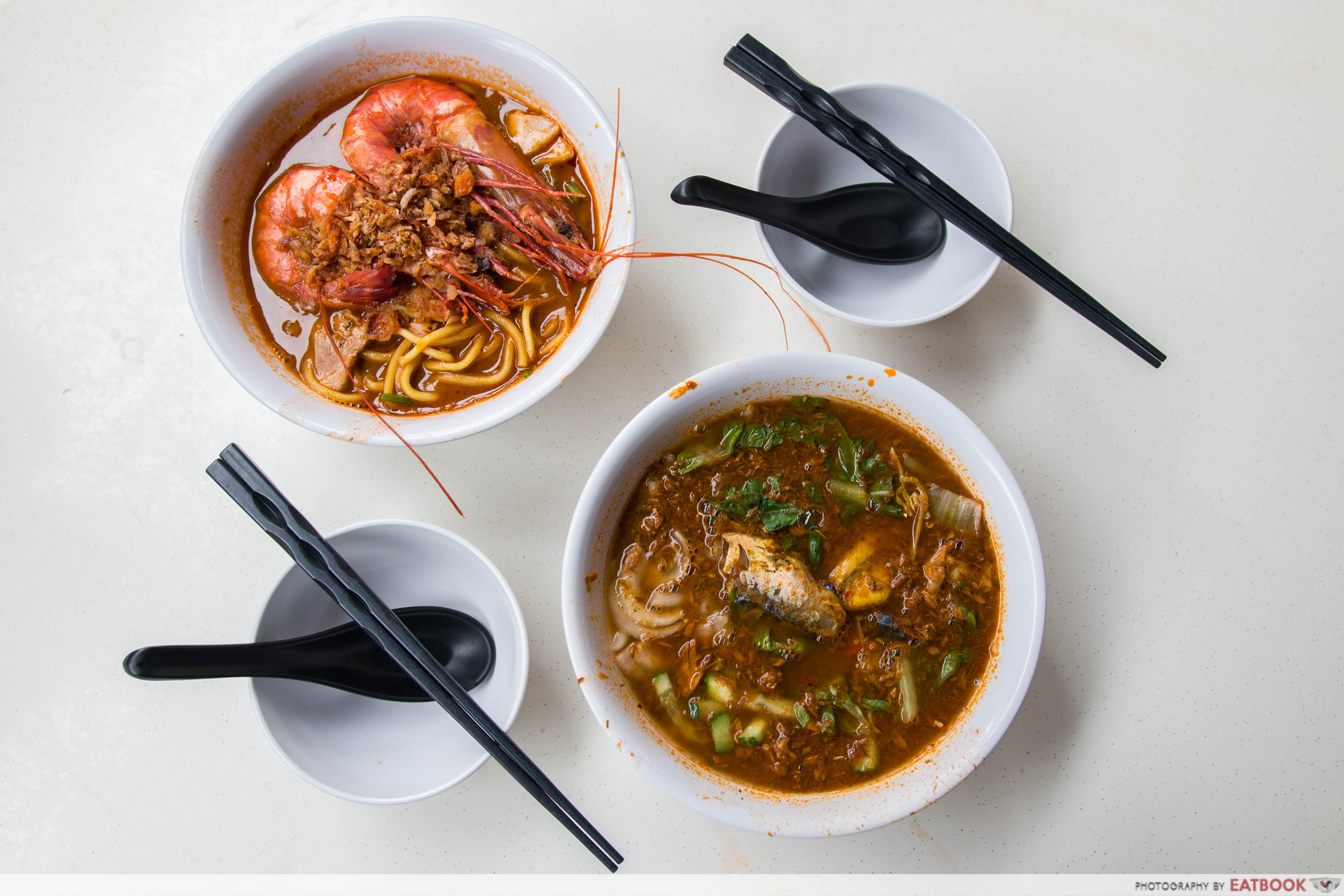 Fun fact: prawn noodles is the first dish that I learnt to order by myself when I started primary school and because I didn't dare to try anything else, I had prawn noodles every day for a year. But even after a year of prawn mee, I was hardly sick of it and it remains one of my favourite food.
So after chancing upon a picture of Ah Lipp Famous Penang Prawn Noodles' gigantic prawns, I made it top of my list of must-eats. Still, I procrastinated for months because, well, it's located on the opposite end of where I stay. This new year, I started it right and finally headed to Bukit Batok to give the noodles a try.
Food at Ah Lipp Famous Penang Prawn Noodles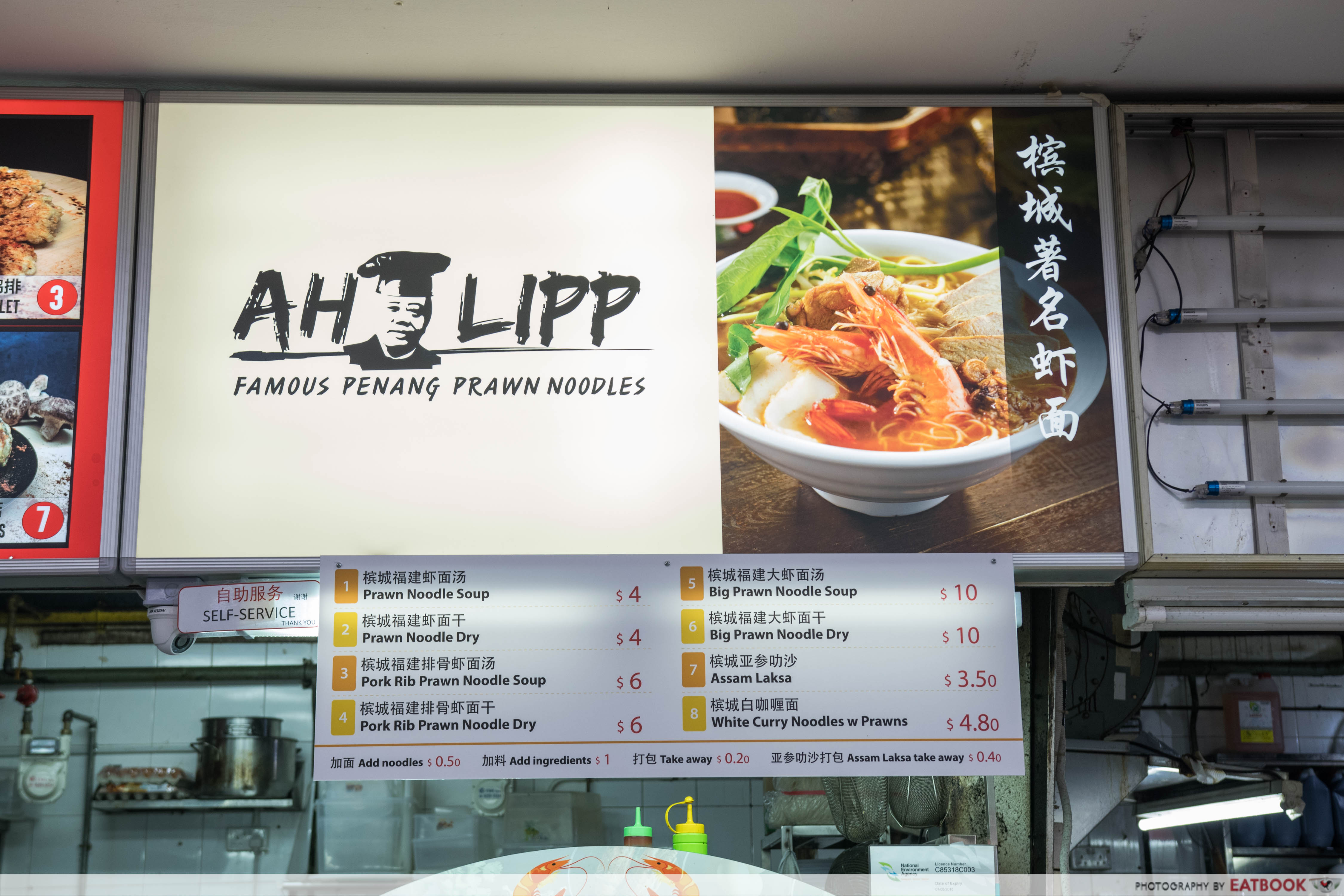 Occupying just half a stall at a coffee shop in Bukit Batok, Ah Lipp Famous Penang Prawn Noodles serves only four dishes – Penang Hokkien Prawn Noodles ($4/6), Penang Hokkien Big Prawn Noodles ($10/12), Penang Assam Laksa ($3.50), and Penang White Curry Noodles ($4.20).
When we ordered the Big Prawn Noodles, what stood out to me most was how the hawker immediately took out two giant prawns from the ice-filled freezer before cooking them upon order. At most prawn mee stalls that I've been to, the prawns are either laid in the open or already cooked.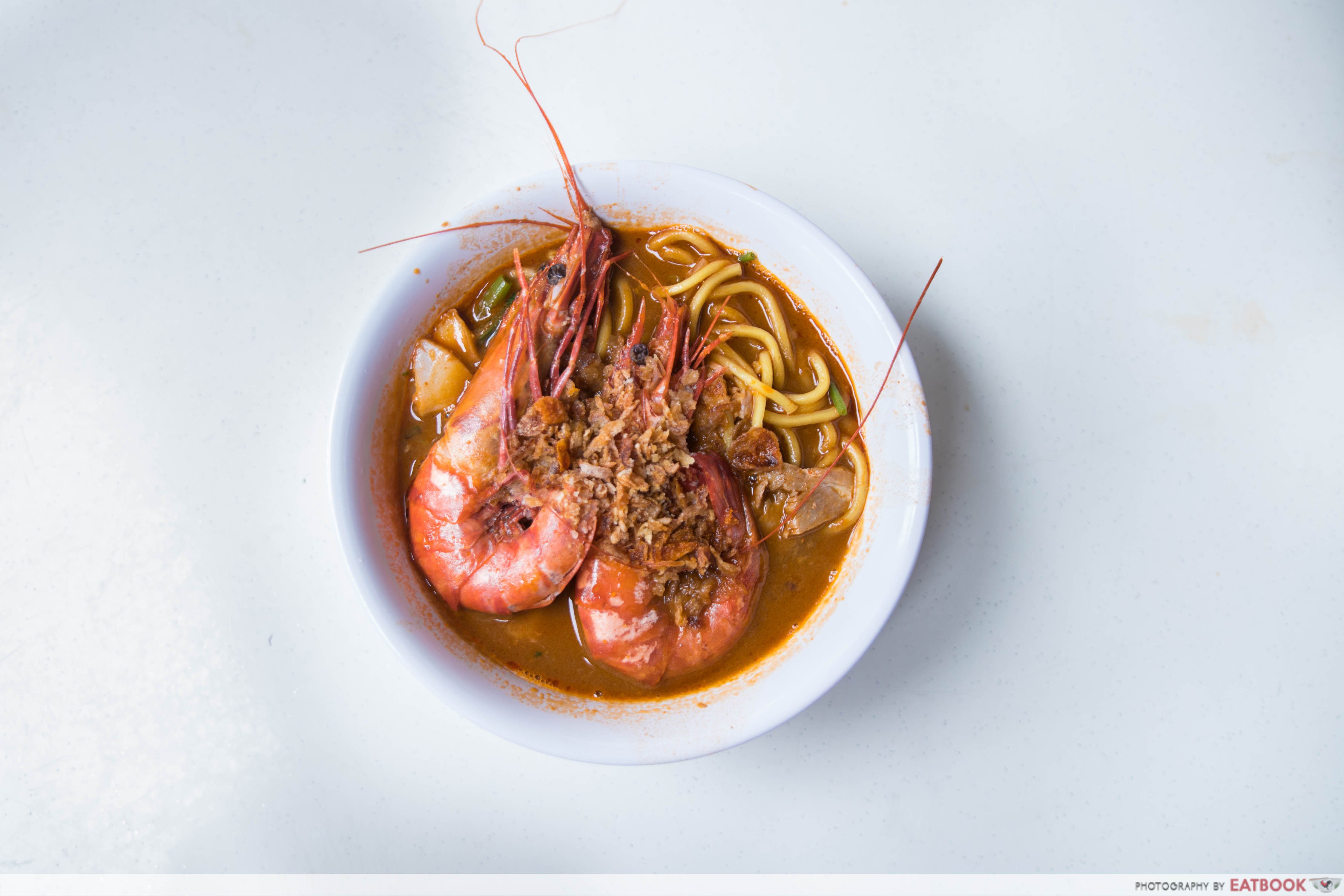 While we initially felt that $10 is pricey for a bowl of noodles found at a coffee shop, the price was justified when we saw the huge portion. Below the two big prawns, there was a generous mixture of yellow noodles and bee hoon along with ingredients such as lean pork meat, fish cake slices, and kang kong.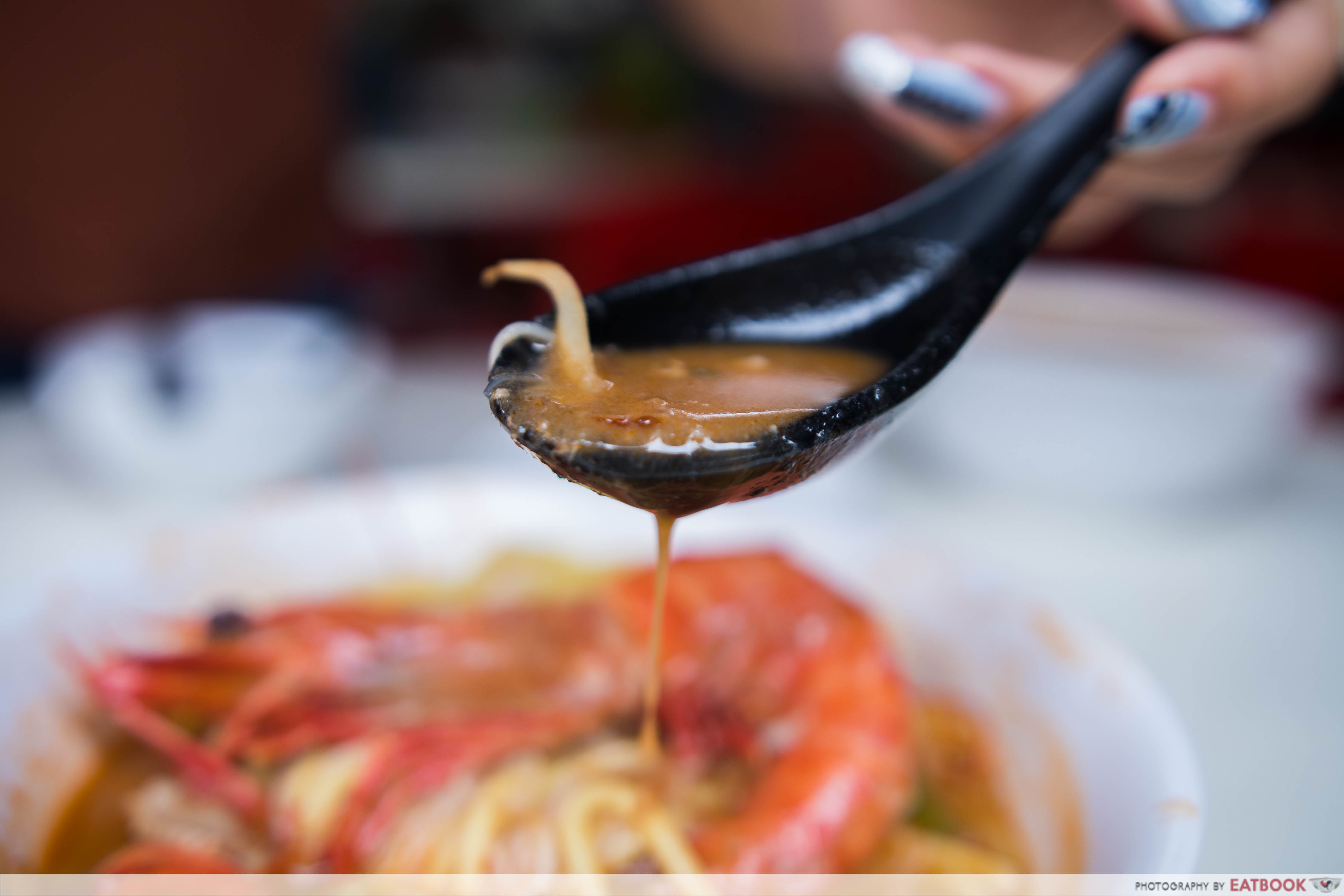 Simmered for four hours with pork bones, pork skin, prawn head, crabs and a variety of condiments, the soup was the highlight. While most prawn mee soups are lightly brown, this one was intensely dark and concentrated. Like what I'd expect from a bowl of good prawn noodles, the broth was intense in both its sweetness and saltiness, with a punch of spiciness kicking in after a while. The spiciness doesn't stay though, and what comes through most prominently was the rich seafood taste from the prawn roe.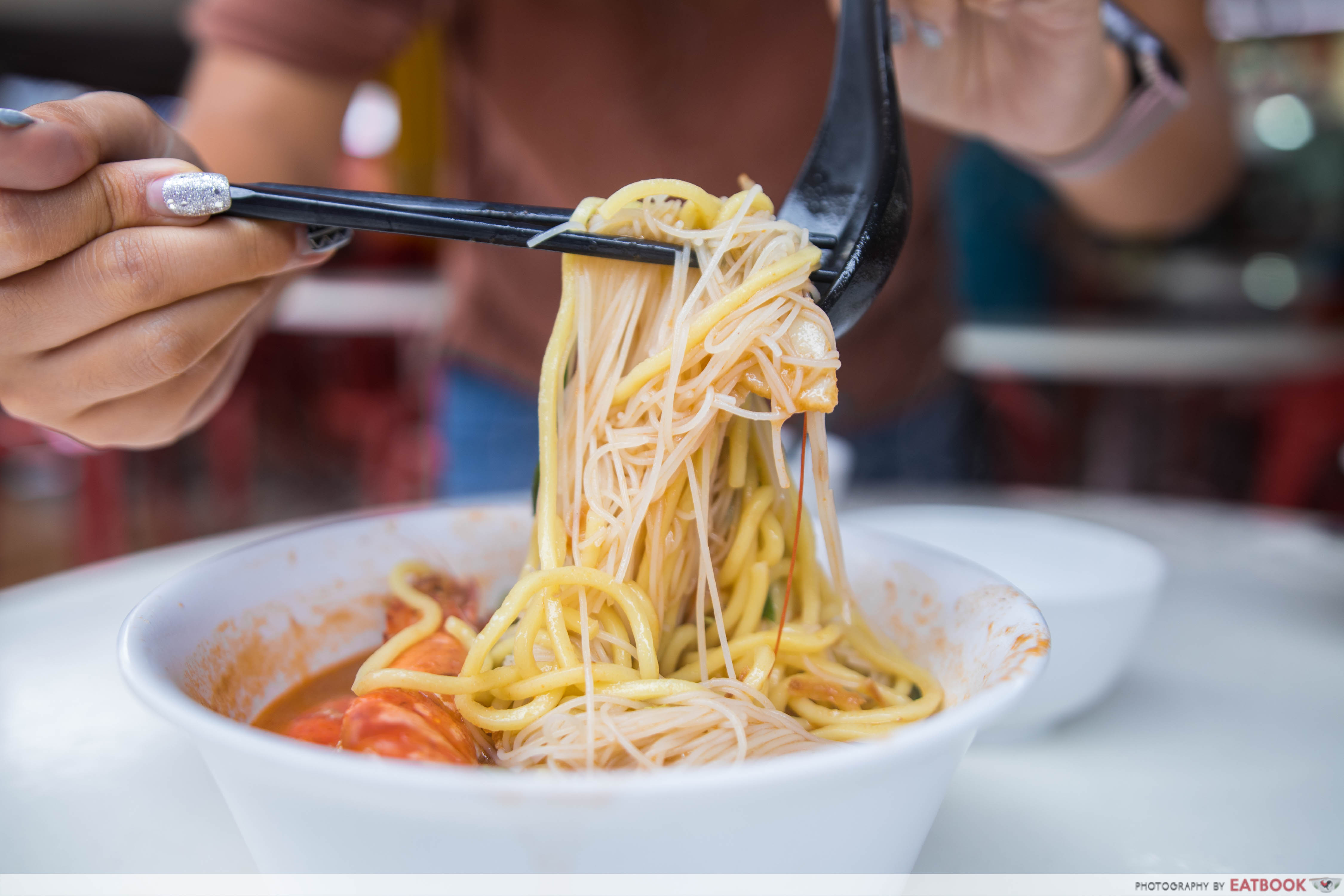 With the generous amount of noodles, the soup was absorbed very quickly, leaving a somewhat gao broth with strongly flavoured noodles after just a short while. The default bowl of noodles comes with a bee hoon-yellow noodles mix and I wouldn't recommend you asking for anything else as the combination gave a nice balance to the full-bodied broth.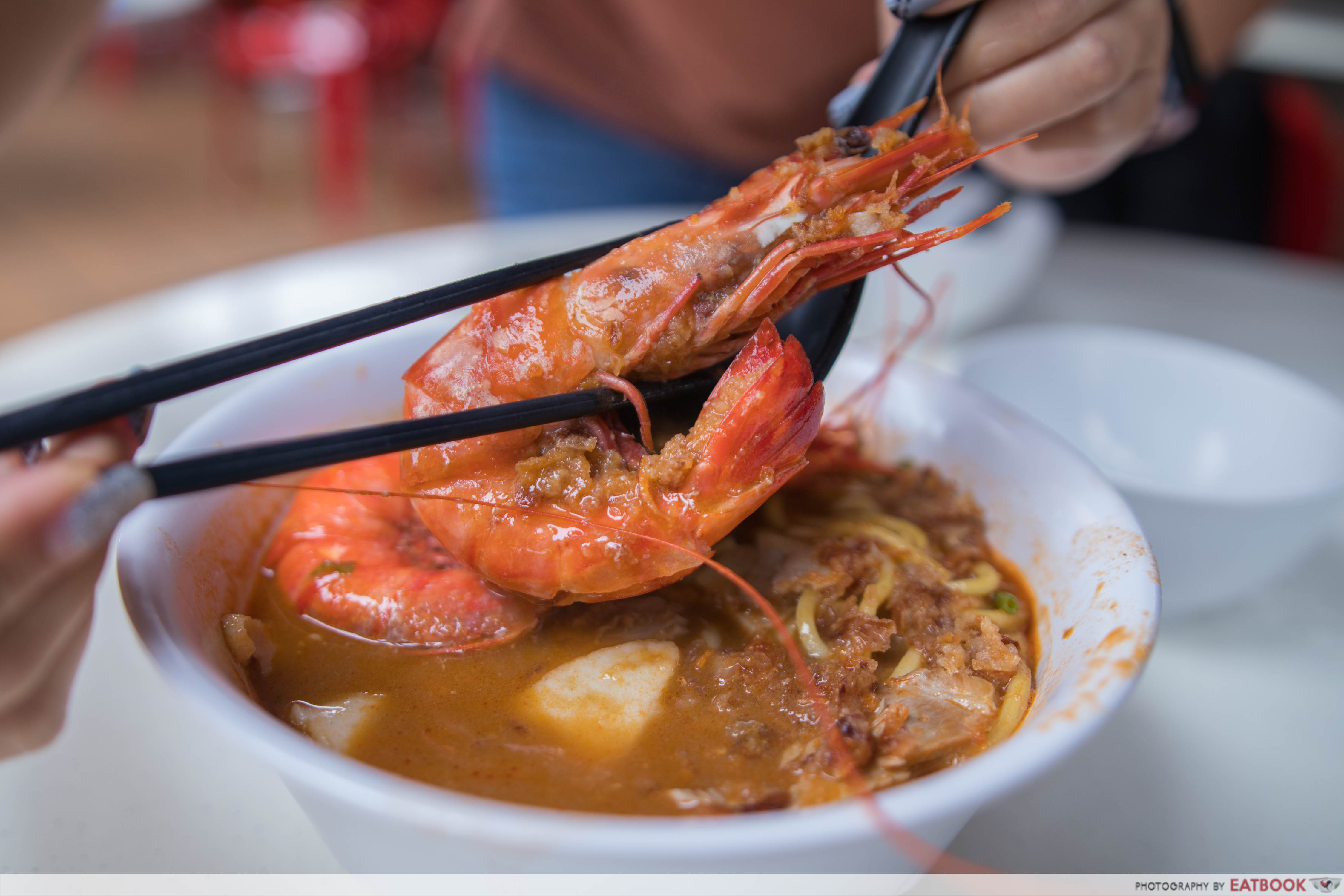 As for the star of the dish, the big prawns did not impress as much as the soup did. While it was decently meaty, its natural taste hardly stood out. The prawns were also slightly overdone, compromising on its texture.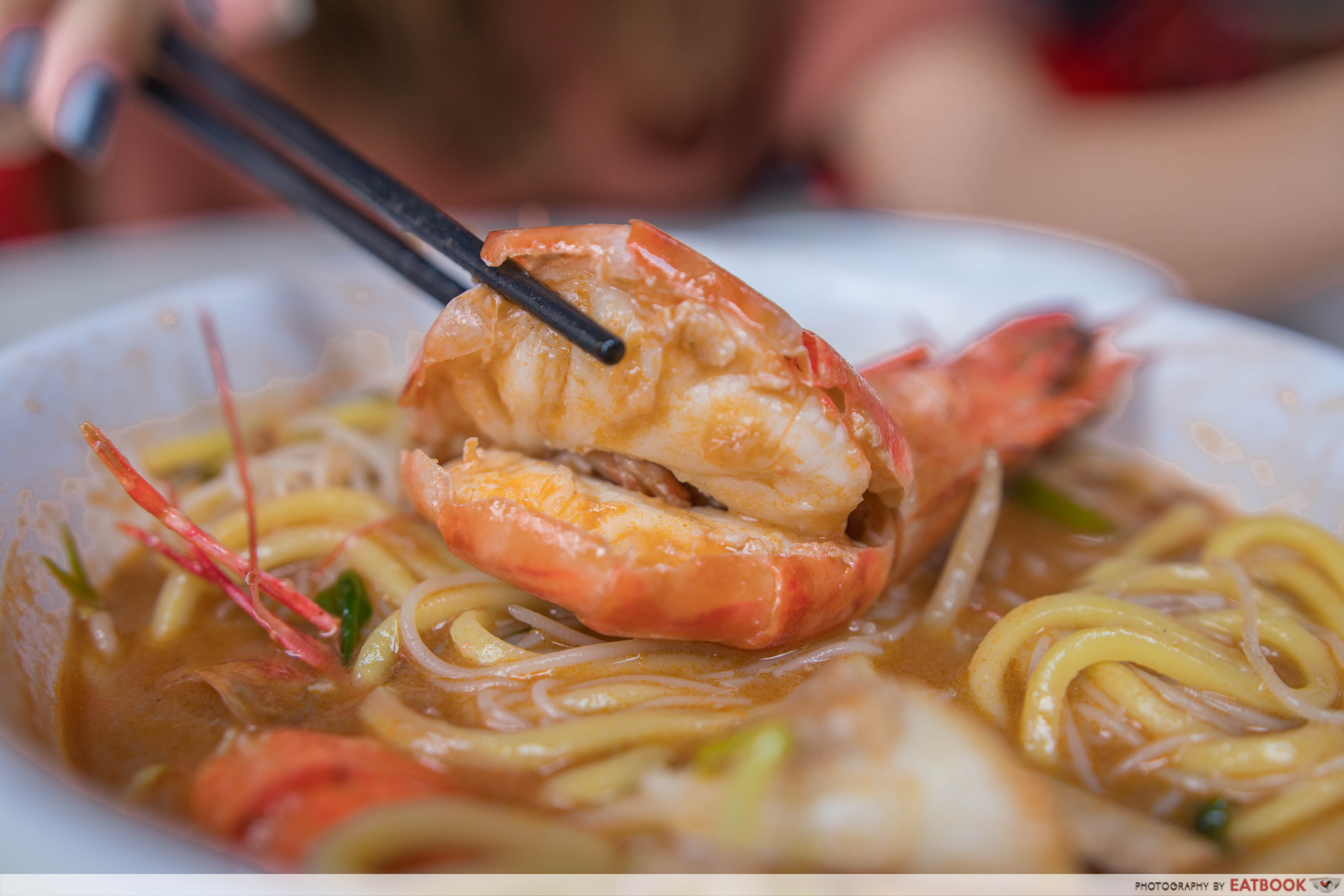 A plus point, however, was that the meat came off the flesh very easily. The size of the prawn was impressive too, so you won't be complaining that they only gave two!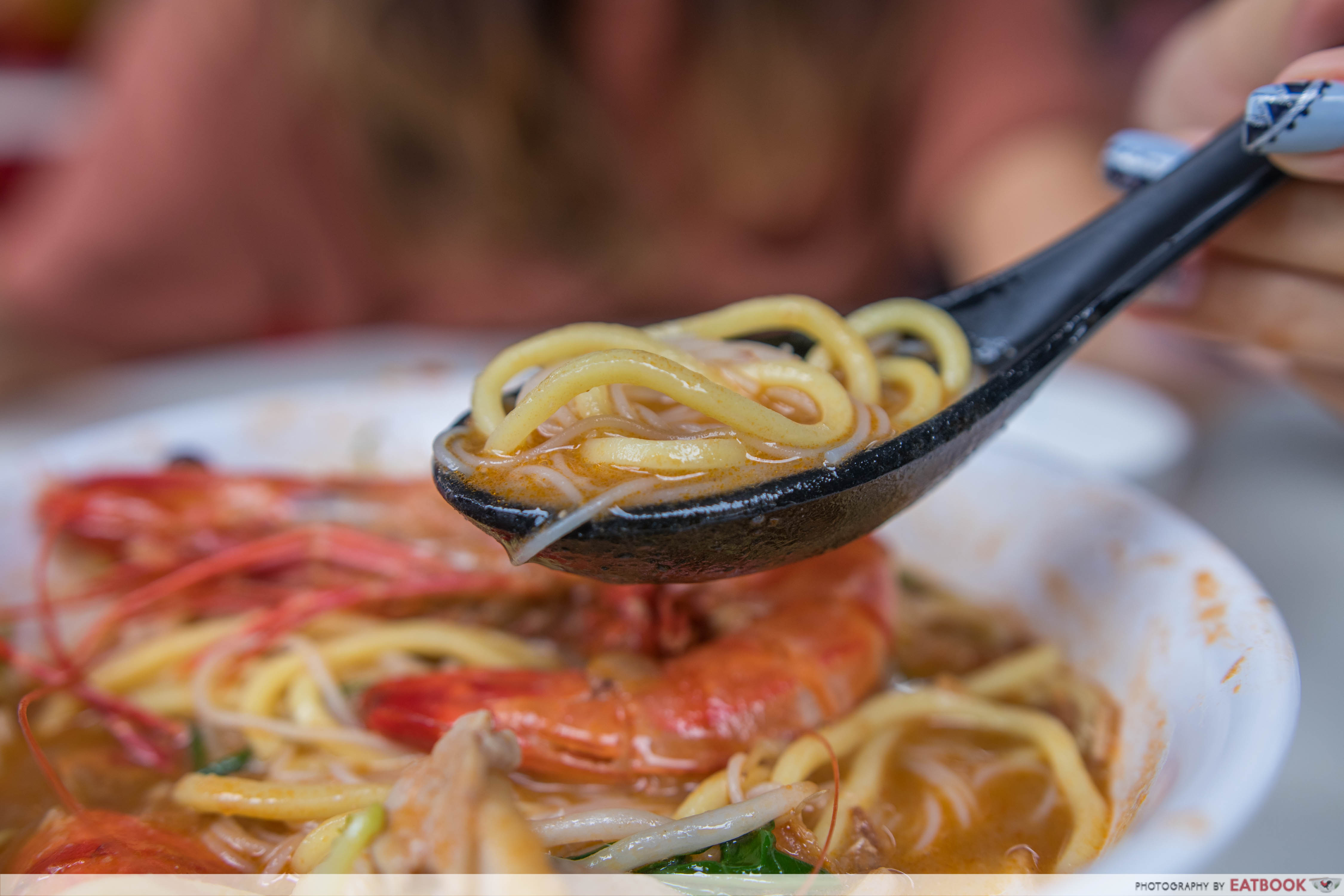 Overall, even though the prawns were not exceptional, the broth complemented the noodles well and made it worth the travel.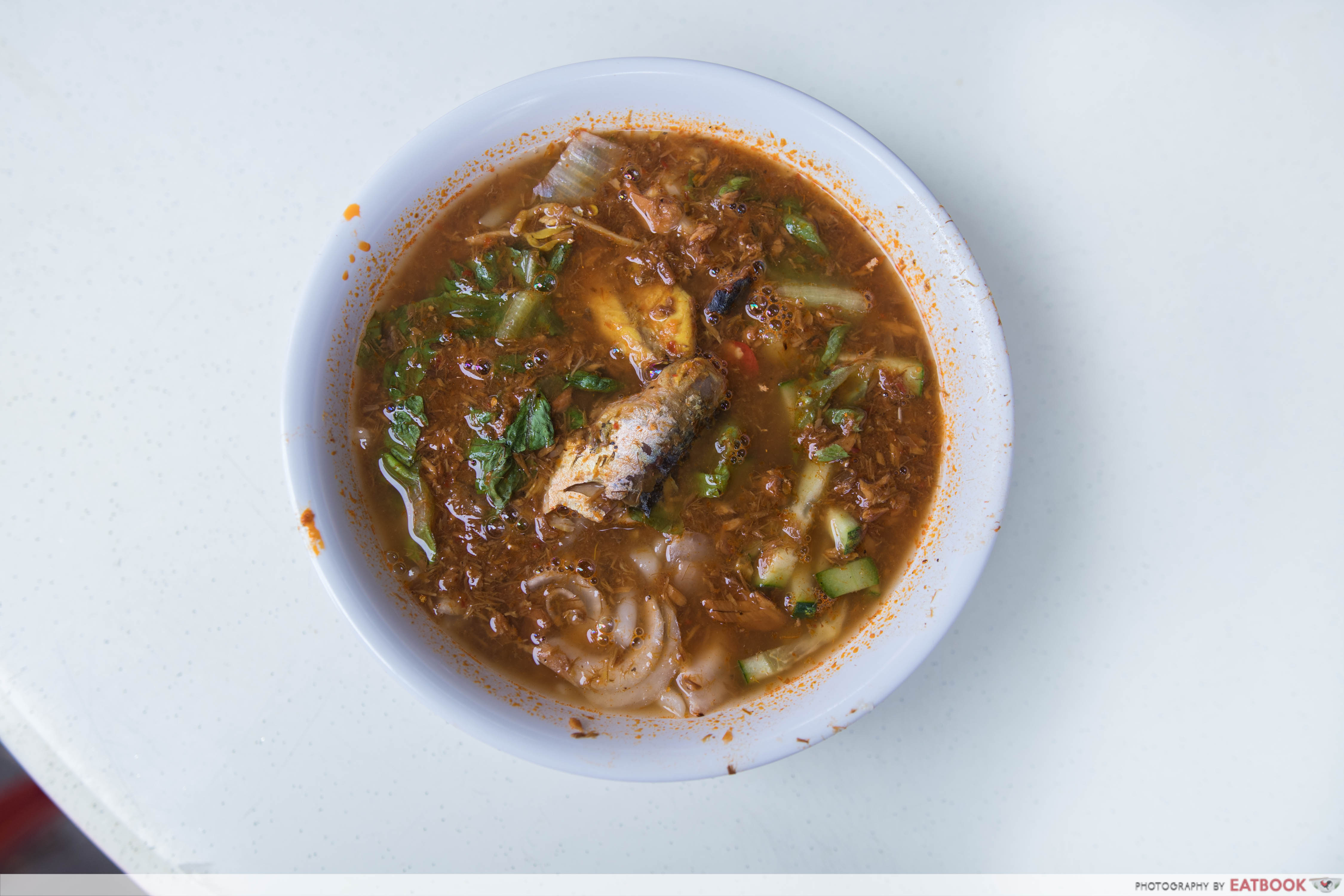 The other dish that we tried was their Penang Assam Laksa. Compared to the giant prawns, this simpler bowl was much less of a head-turner in terms of appearance. For $3.50 though, we got more than what we paid for. Served in an equally large bowl as the prawn noodles, the assam laksa was packed with thick bee hoon, sardine, as well as pineapple and cucumber slices.
Though I've never been a huge fan of assam laksa, the one I had at Penang Bagus got me hooked on it and I was excited to see if this would be as shiok.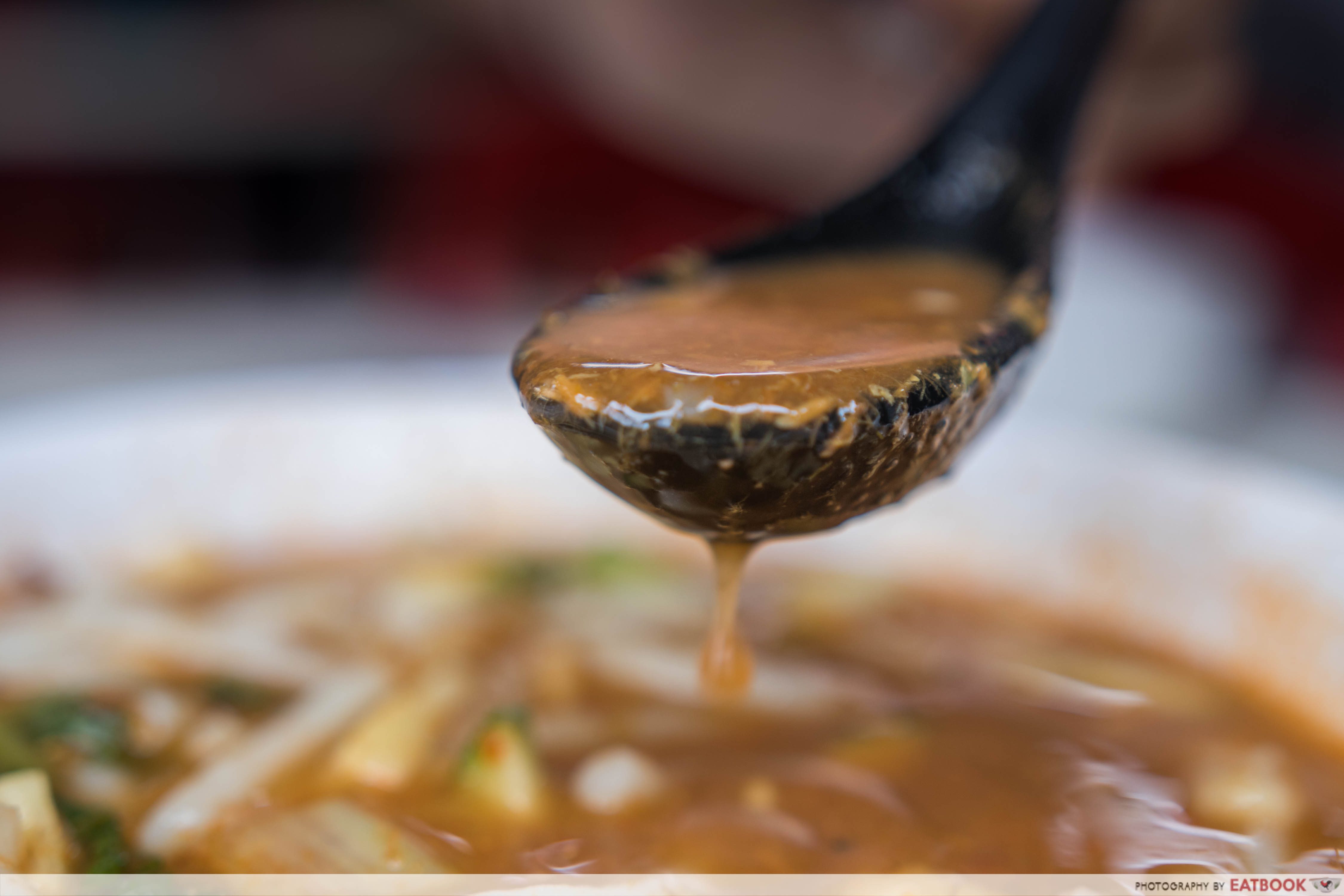 Going for the soup first, I found myself disappointed by the overall lack of both texture and taste. The sourness and spiciness of the soup was unmistakable, but lingered only for a short while. There was also a strong taste of unripe pineapple, making the broth unappetising.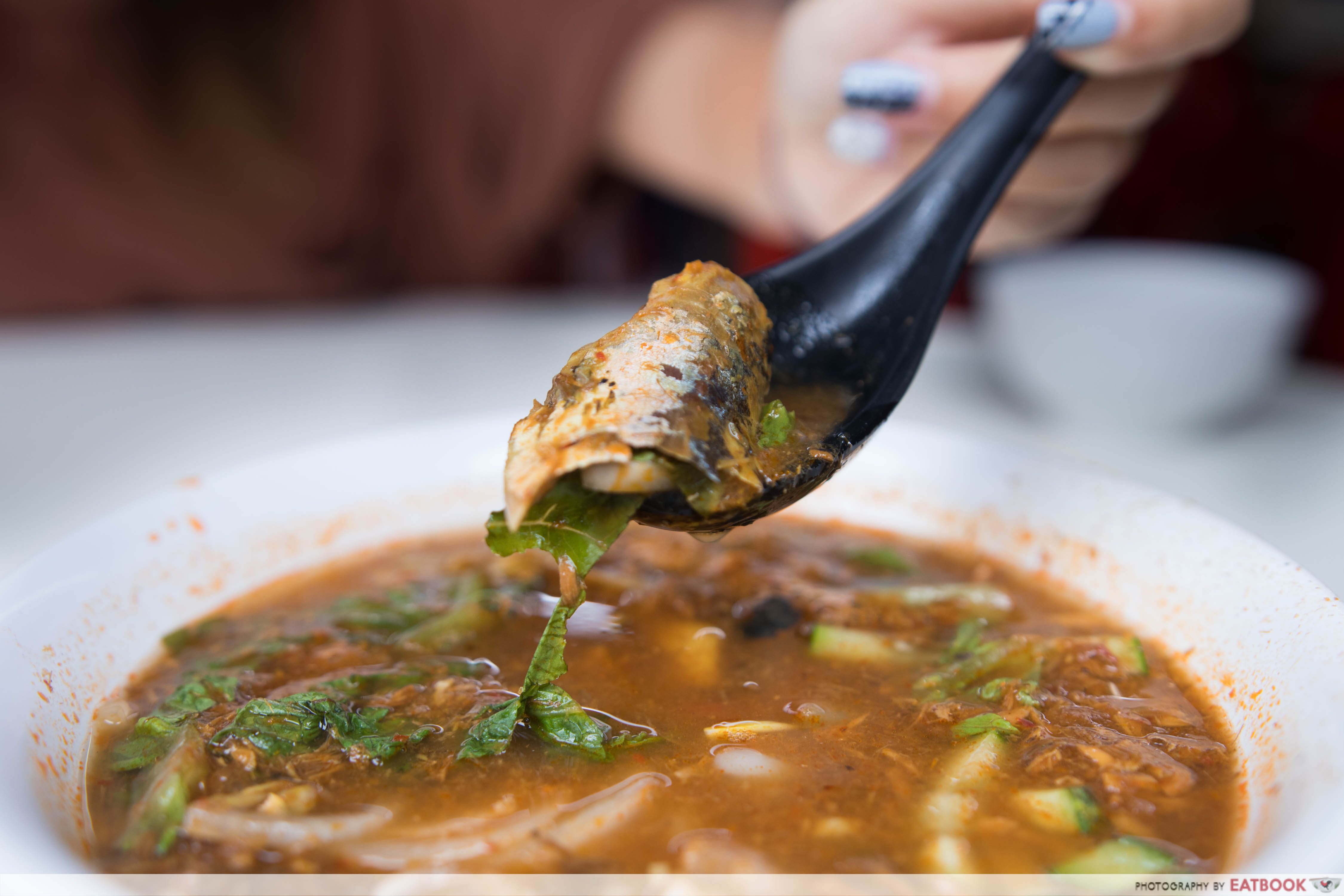 Although there were huge chunks of sardines in the soup, I would've liked it better if the sardine flesh was boiled down to combine with the soup so as to give it a more prominent taste and texture.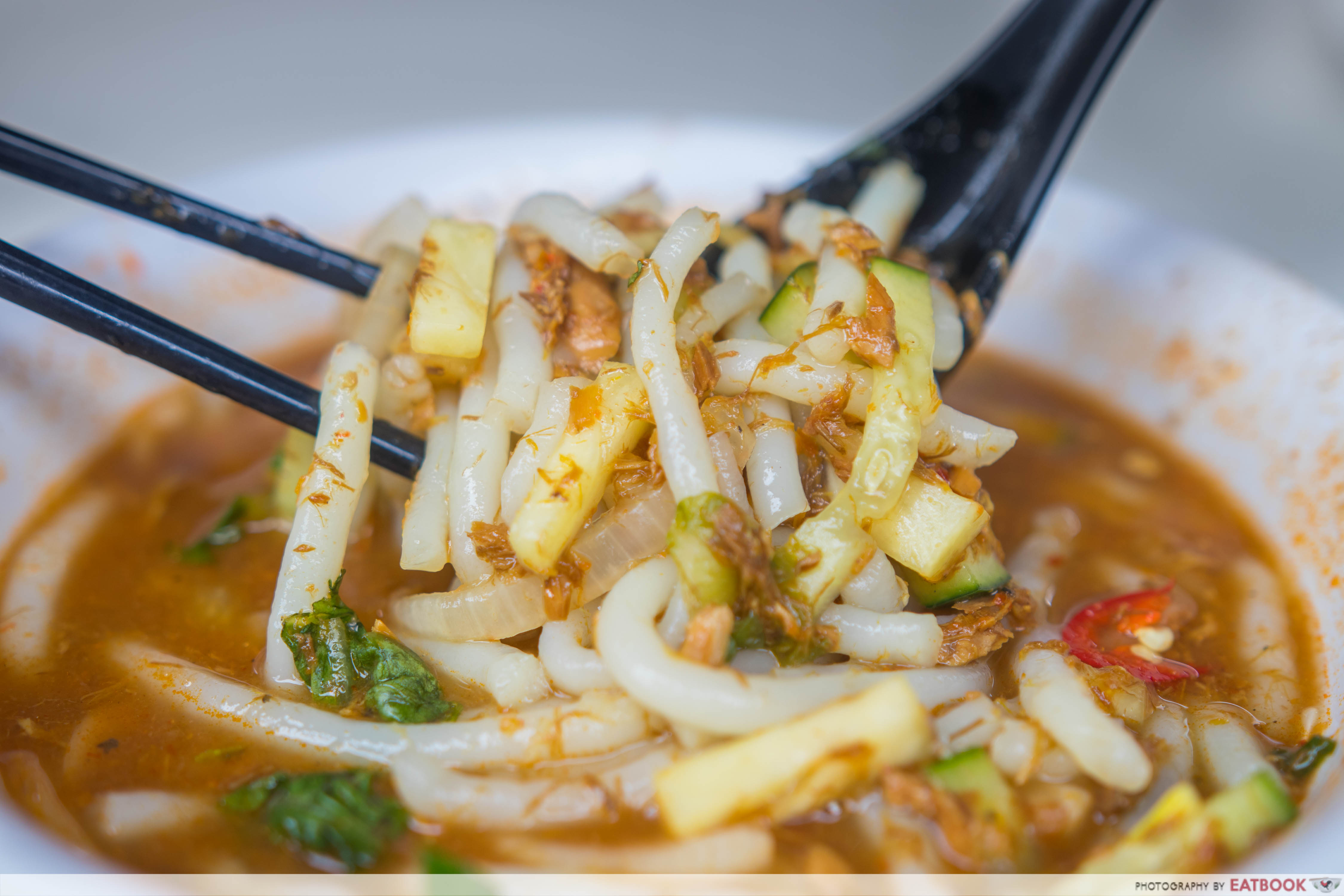 As for the noodles, they are brought in from Penang and differs from the local laksa noodles that are usually much thinner. There was nothing to rave about though, as the noodles were tasteless on its own and could not complement the broth that was already lacking in taste.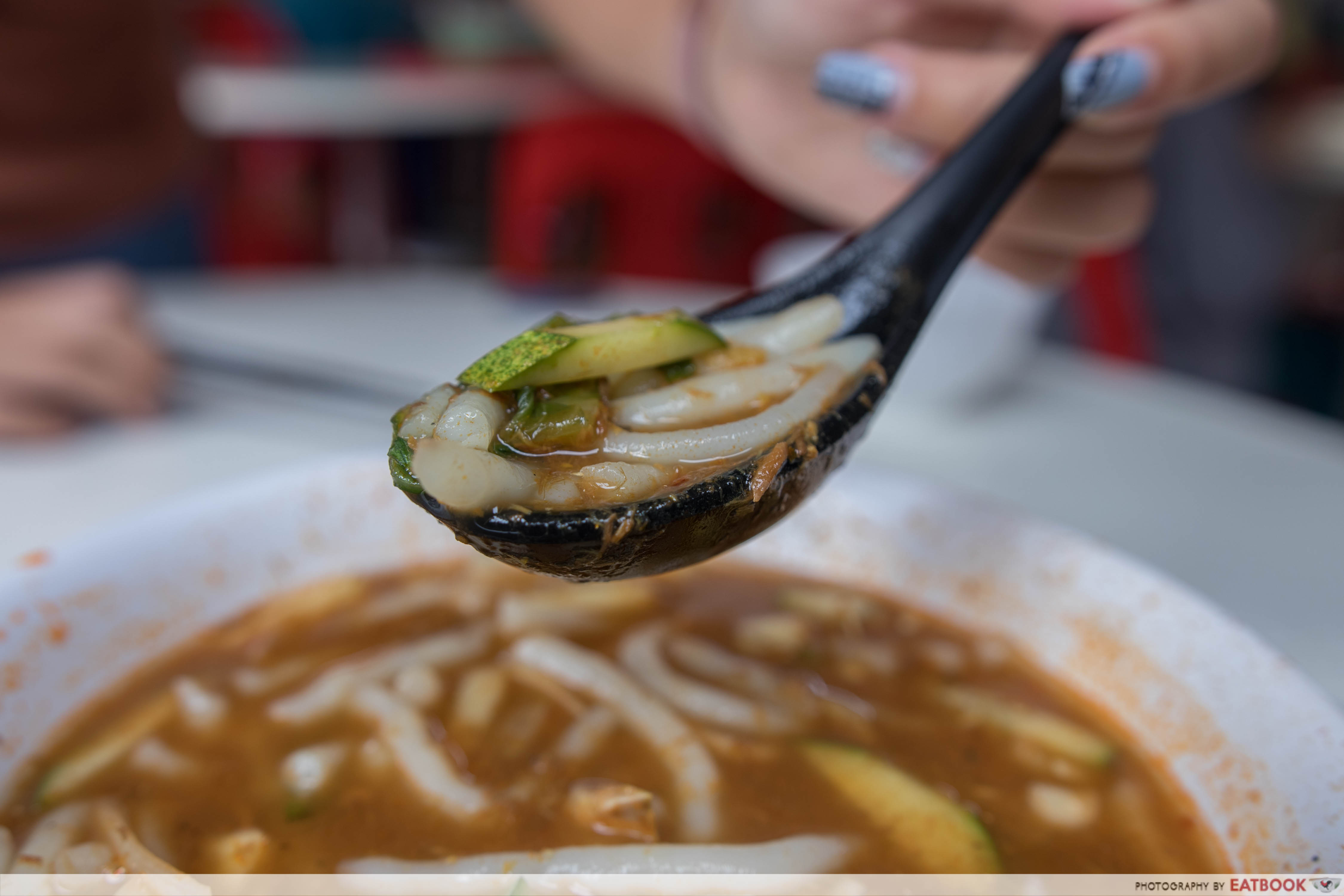 Compared to the prawn noodles, the assam laksa has much room for improvement. So if you're heading down, give the laksa a miss and go straight for their prawn noodles!
Ambience at Ah Lipp Famous Penang Prawn Noodles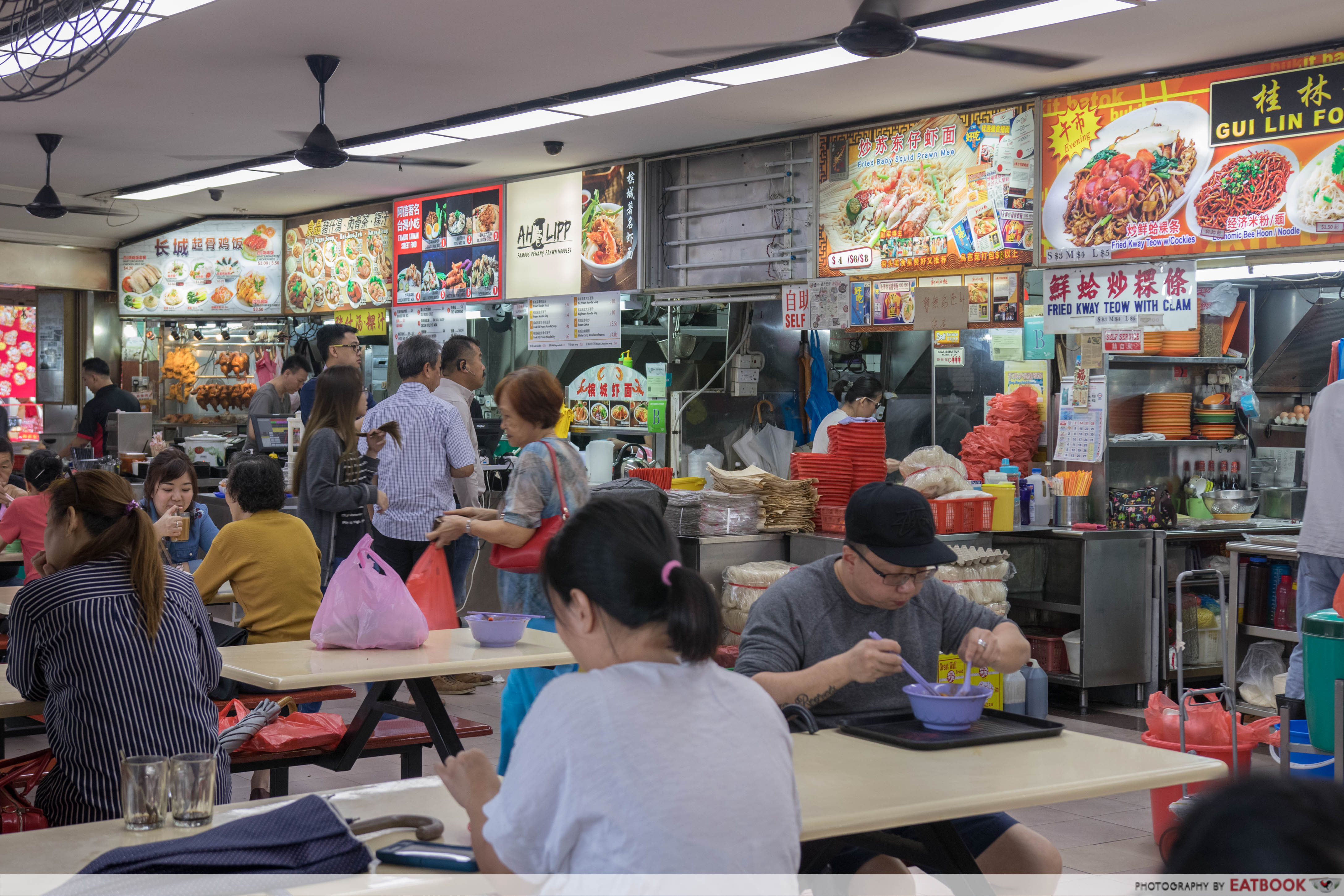 Ah Lipp Famous Penang Prawn Noodles occupies half a stall in the huge coffee shop found at Bukit Batok block 155. With more than 10 other stalls found in the same space, it may be easy to miss this stall unless you keep a keen eye out for it, so look out for a beige signboard with the words "Ah Lipp" found at a corner of the coffee shop.
Given the size of the coffee shop, you probably won't have much of a problem getting seats. While there are seats found nearer to the outdoor area, the entire coffee shop is pretty well-ventilated so you won't have to worry about the stuffiness or heat while dining there.
The verdict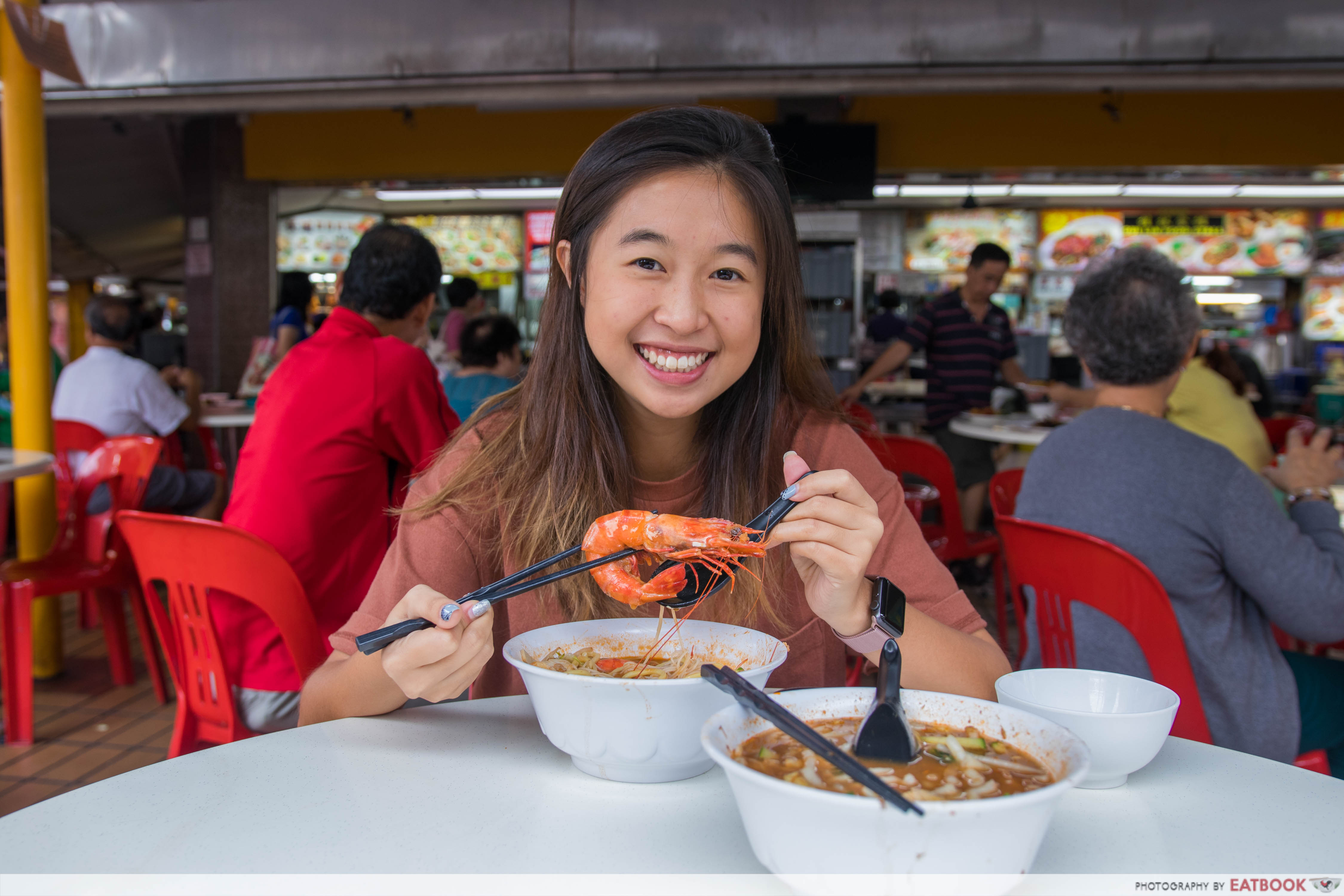 Overall, I went home more than satisfied with the prawn noodles. Although the assam laksa was disappointing and Bukit Batok is a painfully far trip away from home, I would be back just to have that rich prawn broth once again. Next time, I will probably give their White Curry Noodles a shot too.
If giant prawns like this one appeals to you, you'll like these next-level prawn mee dishes such as prawn mee steamboat! Otherwise, here is a list of no-frills prawn mee that are cheap and shiok to satisfy your cravings.
Address: 155 Bukit Batok Street 11, #01-324, Singapore 650155
Opening hours: Daily 7:30am to 8pm
Tel: 6924 9915
Website
Ah Lipp Famous Penang Prawn Noodles is not a halal eatery.
This is an independent review from Eatbook.sg
Summary
Pros
– Prawn noodle soup was delicious
– Generous portions
– Coffee shop was well-ventilated and has many seats
Cons
– Assam laksa was not impressive
Recommended Dishes: Penang Hokkien Big Prawn Noodles ($10/12)
Opening Hours:
Daily 7:30am to 8pm
Address: 155 Bukit Batok Street 11, #01-324, Singapore 650155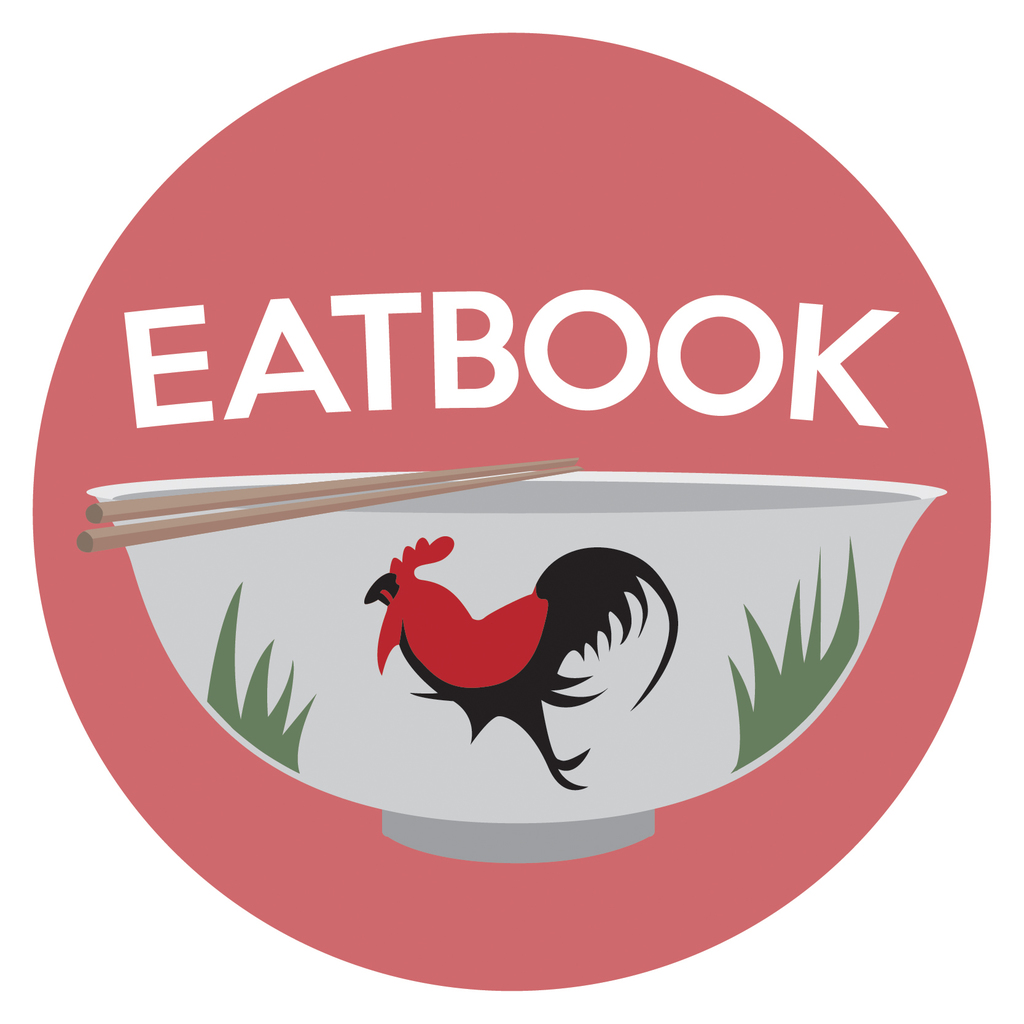 Drop us your email so you won't miss the latest news.