---
Next-level prawn mee dishes around Singapore
---
Whenever an option between prawn mee and bak chor mee surfaces at a hawker centre, my choice would always be the former. There is nothing not to love about a piping hot bowl of umami-filled soup, along with a mix of bee hoon and yellow noodles. Add a few straggly pieces of kang kong into the equation and you'll get a satisfying meal at less than $5.
While a classic bowl of prawn mee is good enough for me, the next-level prawn mee dishes that have been popping up left, right, top, centre caught my attention. These zhng-ed versions of the dish look real good on Instagram, and some have attracted queues that are longer than the queue for Nasi Lemak Burger. If you're as intrigued by these new creations as I am, here's a list of them to check out!
---
1. Big Wah! Kee Hotpot
---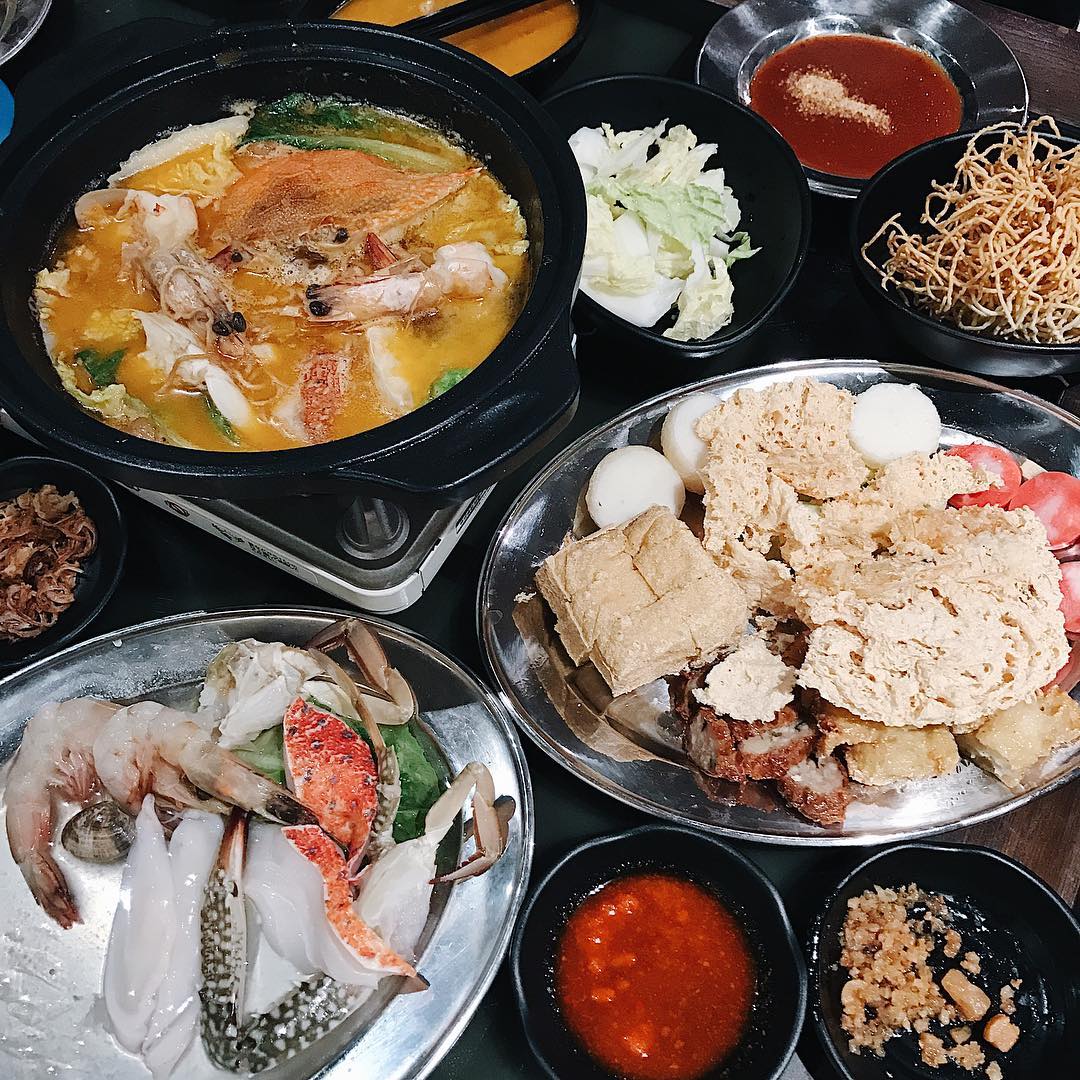 Image credit: @shermainexk
Already famous for their light yet intensely flavoured soup, Wah Kee Big Prawn Noodles took things to the next step with their new Big Wah! Kee Hotpot ($30). Each set is enough to feed two people, and comes with rice or noodles, veggies, egg, and an assortment of seafood, including a flower crab. It's only available at their Esplanade outlet during dinner service, and may get sold out if you're there too late!
Check out our full review of Wah Kee Big Prawn Noodles!
Address: 8 Raffles Avenue, #01-13C, Esplanade Mall, Singapore 039802
Opening hours: Daily 11am to 2pm, 5pm to 10pm
Tel: 6327 9187
Website
---
2. Halal prawn mee
---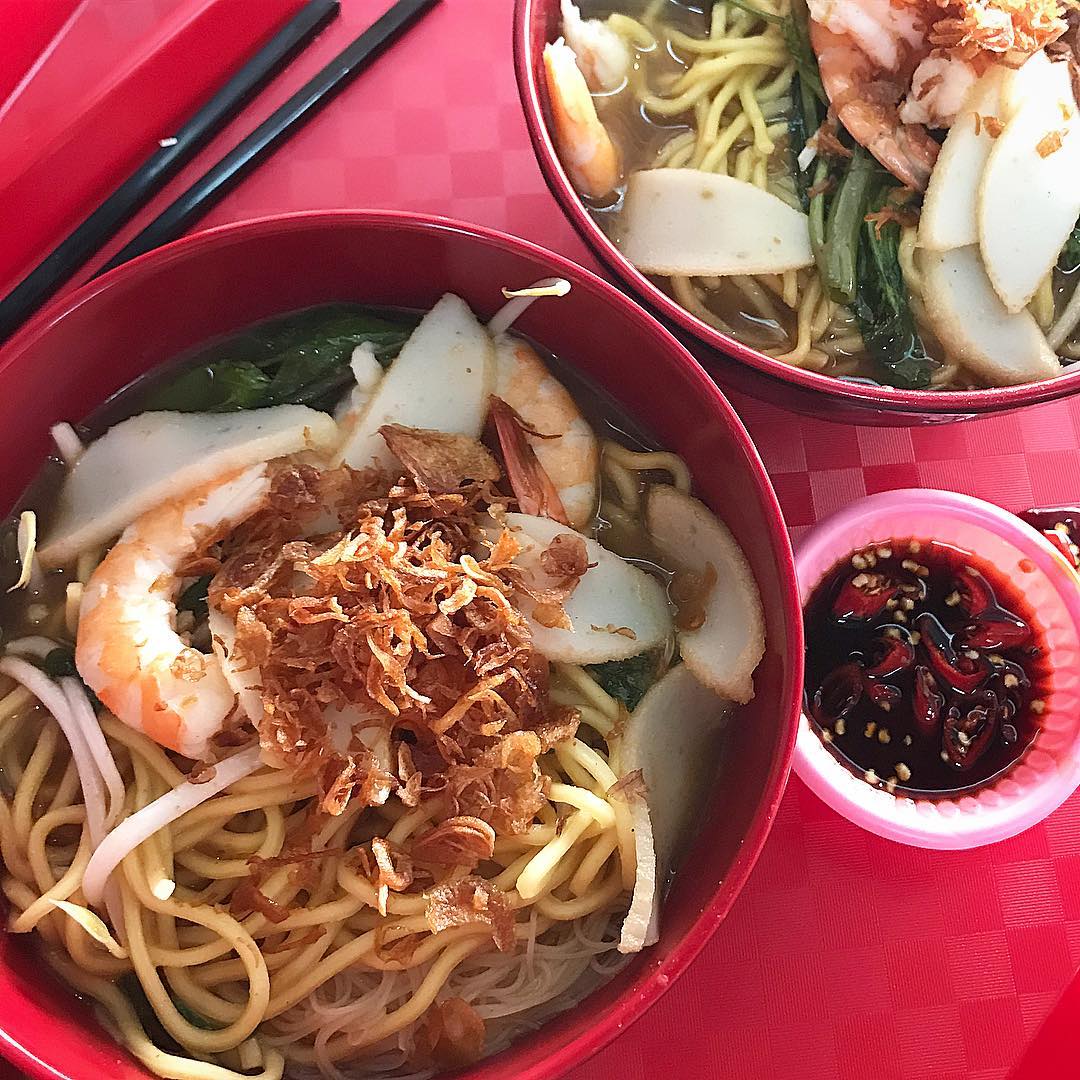 Image credit: @denisedeanna
This bowl of prawn mee from Deanna's Kitchen looks like any other prawn mee out there, but what makes it high-level is that is it made without pork ribs. This Muslim-owned stall boils their prawn stock for at least three hours, and it results in a flavourful soup that won't make you miss the more commonly seen recipe. A portion of Regular Prawn Noodles ($3.50) is enough to please, but you can always go all out by getting a bowl of Prawn Noodles with Crayfish ($12.50). They sell only about 300 bowls a day, and close once everything is sold out, so be sure to head over early!
Address: Blk 127 Lorong 1A Toa Payoh, #02-25, Toa Payoh West Market & Food Centre, Singapore 310127
Opening hours: Wed-Fri 10am to 8pm, Sat 9am to 8pm, Sun 9am to 3pm
Tel: 9424 5496
Website
Menu
---
3. Prawn mee steamboat
---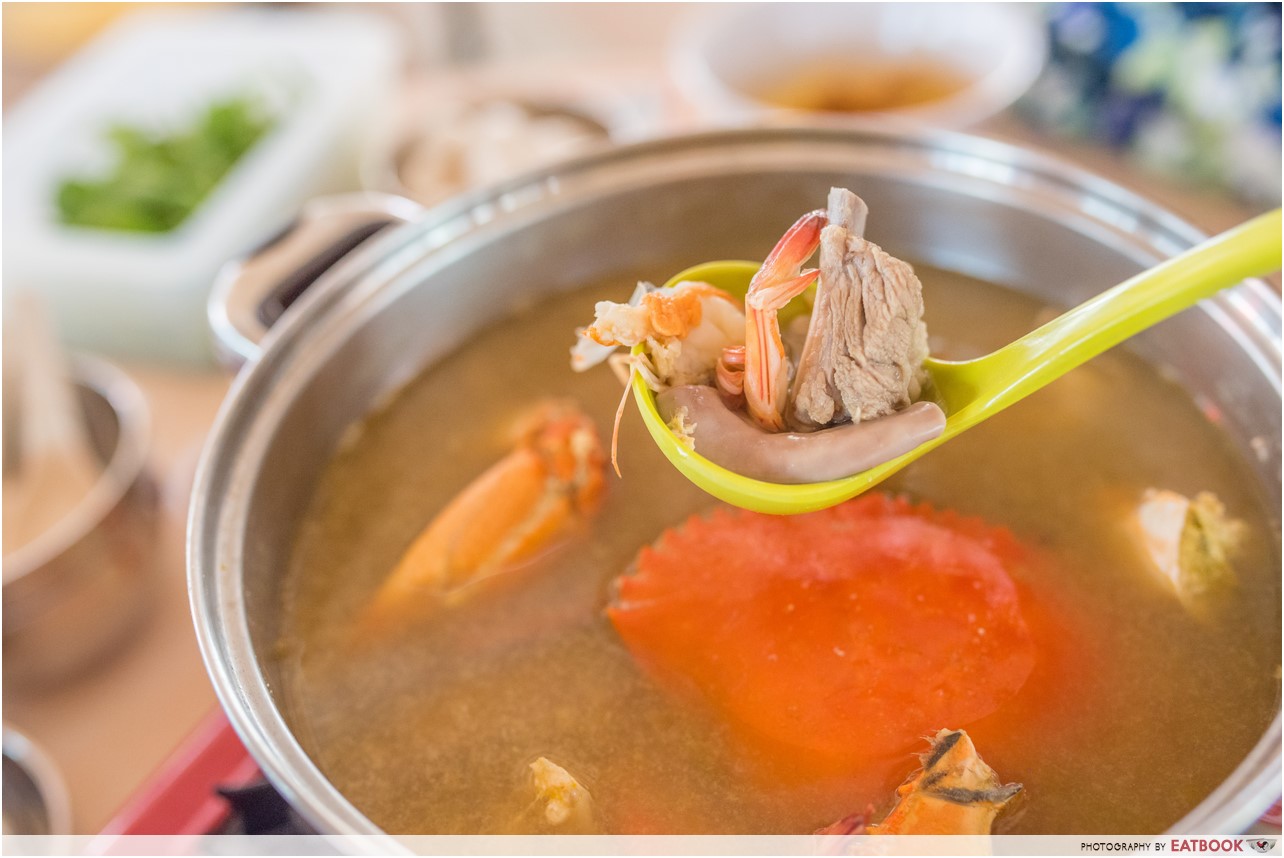 Wen Wen Pork Rib Big Prawn Mee is the OG of prawn mee steamboats. Found at Old Airport Road Food Centre, this hawker stall offers a huge pot of prawn mee broth with ingredients such as pork ribs, pig's intestines, and a whole crab. The best part is, you can bring your own ingredients to add to it at no extra charge! You'll also get a free flow of rice and noodles. This set costs $50 for two, $60 for four, and $80 for six people.
Check out our full review of Wen Wen Pork Rib Big Prawn Mee!
Address: Blk 51 Old Airport Road, #01-147, Old Airport Road Food Centre, Singapore 390051
Opening hours: Tue-Sun 12pm to 2pm, 5:30pm to 10pm
Tel: 9026 5983
Website
---
4. Singapore Dinosaur Prawn Mee
---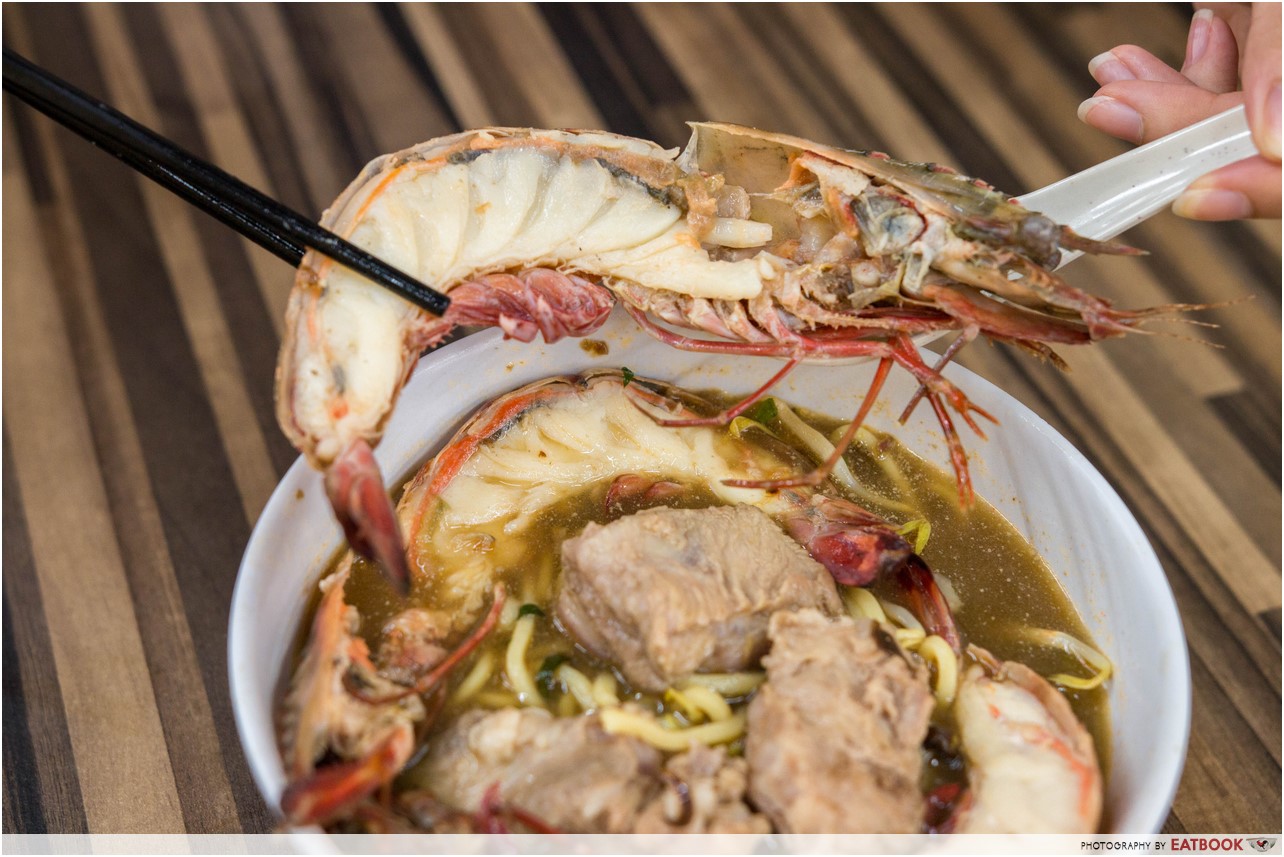 Old House's Singapore Dinosaur Prawn Mee ($15) is a hella expensive bowl of prawn mee, but for a reason. Each portion comes with three giant halved prawns and three huge pieces of pork ribs. The prawns and ribs are pretty bland, but the soup itself is flavourful. This is not a die die must try kind of dish, but it definitely is a sight to behold.
Check out our full review of Old House!
Address: 25 Neil Road, Singapore 088816
Opening hours: Daily 5pm to 4:30am
Tel: 6223 1633
Website
---
5. Crayfish Bee Hoon Soup

---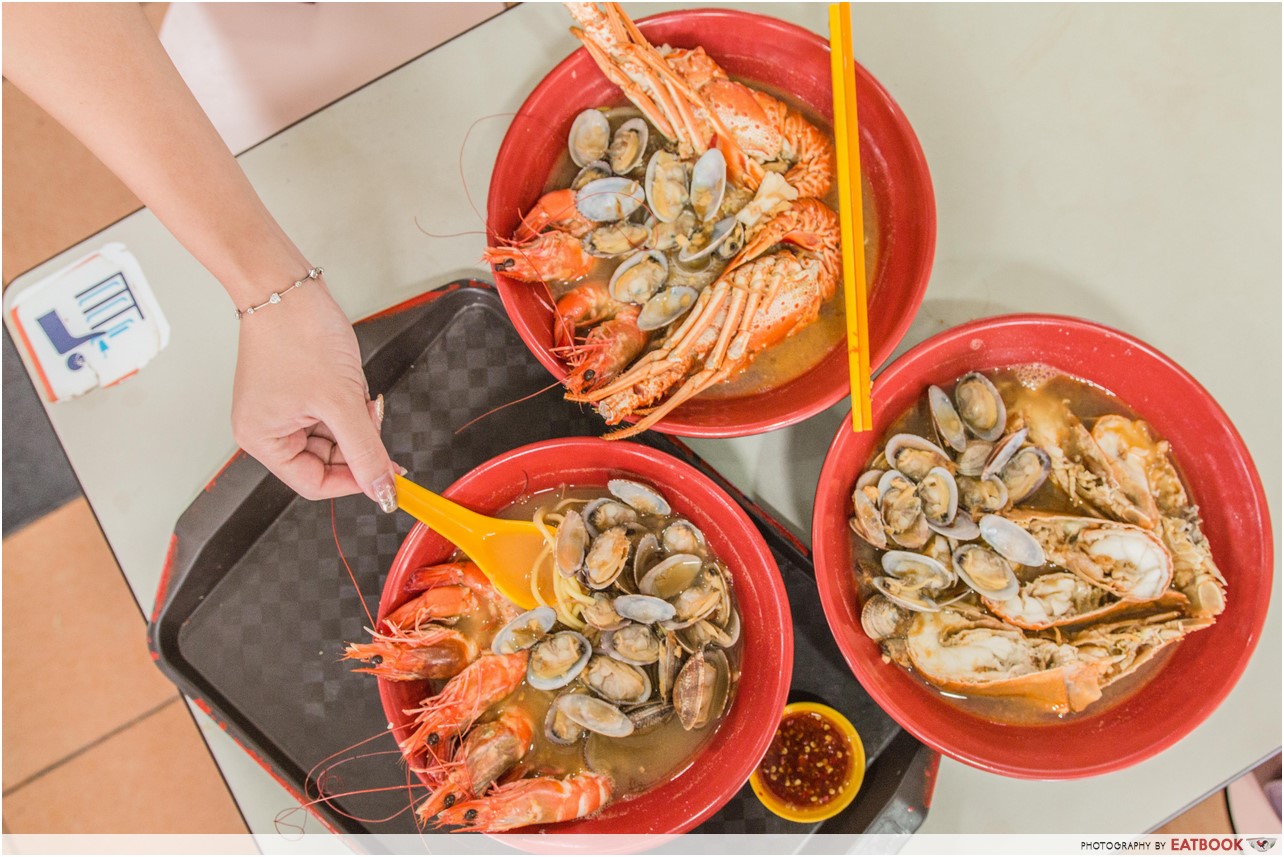 Sumo Big Prawn was one of the first to introduce lobster prawn mee into the scene, and it's not by chance that they're still getting long queues now. Garlicky, sweet, and filled with umami, the broth here is rich and absolutely addictive. Get a bowl of their Sumo Big Prawn Noodles ($8), which features prawns that are way bigger than what you'd usually get. They do crayfish better than lobster, so be sure to order their Crayfish Bee Hoon Soup ($13) as well.
Check out our full review of Sumo Big Prawn!
Address: 628 Ang Mo Kio Avenue 4, #01-72, Singapore 560628
Opening hours: Tue-Sun 9am to 9pm
Tel: 9299 2621
Website
---
6. King Prawn Udon
---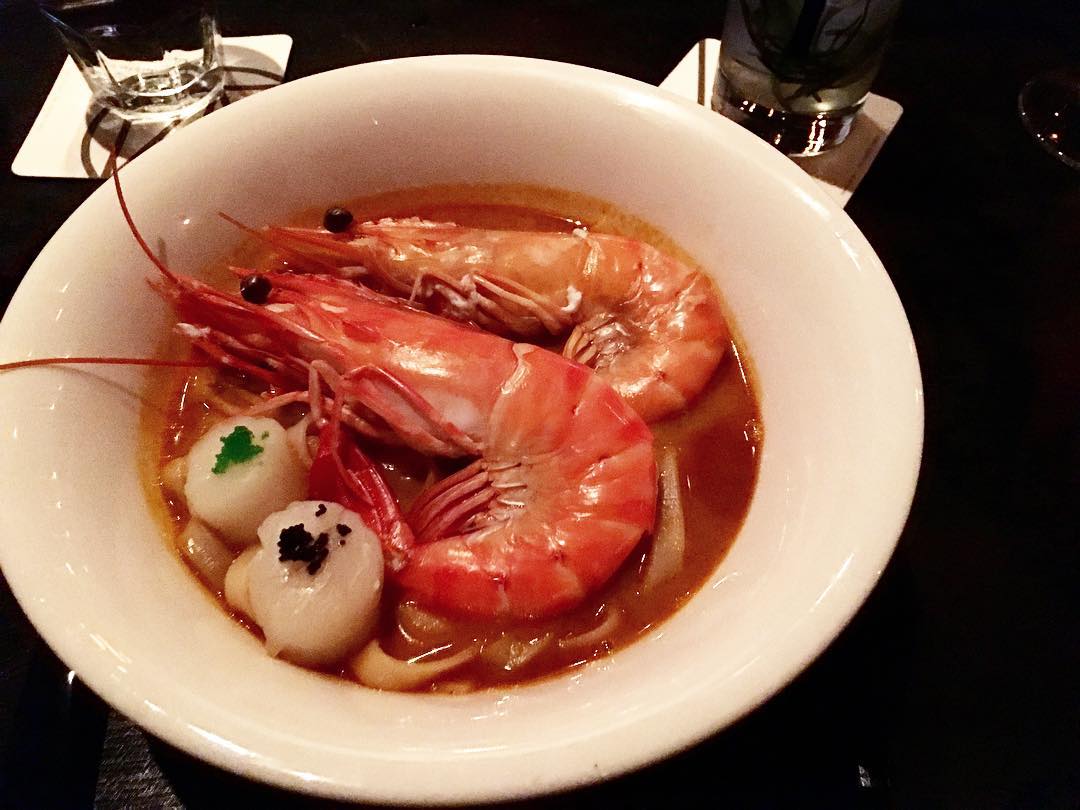 Image credit: @fernandusw
Most of the zhng-ed prawn noodles in this list come with giant prawns, and this one's no exception. Maison Ikkoku's new King Prawn Udon ($18++) comes with two huge prawns and two Hokkaido scallops. The udon here is flat, and it carries the flavour of the slightly spicy lobster broth well. This is only available from 6pm to 9pm daily, making it great as a pre-drinks meal.
Address: 20 Kandahar Street, Singapore 198885
Opening hours: Mon-Thur 10am to 4pm, 6pm to 1am, Fri 10am to 4pm, 6pm to 2am, Sat 10am to 5pm, 6pm to 2am, Sun 10am to 5pm, 6pm to 1am
Tel: 6294 0078
Website
---
7. Prawn mee with crab

---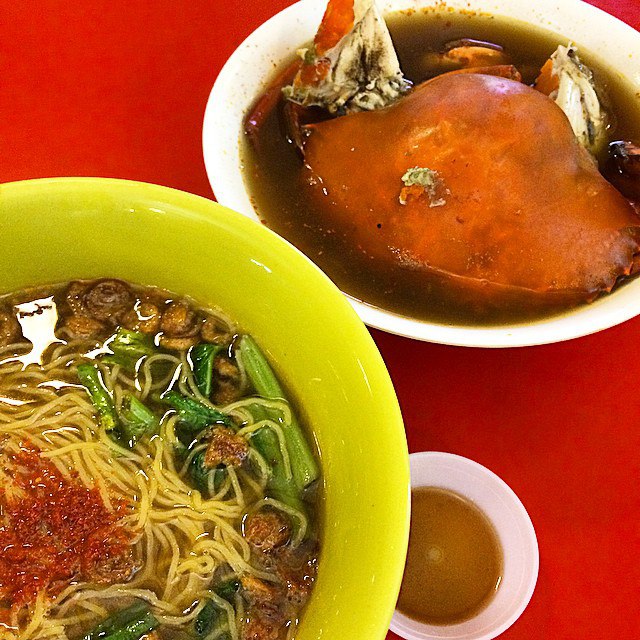 Image credit: @herfoodadventures
A prawn mee that doesn't come with prawn is on another level on its own. Noo Cheng Adam Road Prawn Noodle, which has always been famous for classic prawn mee, also offers lobster and crab. If you're lucky, you'll be able to nab one of these crustaceans to spice up your noodles. Prices start at $5 for a bowl of classic prawn mee, and be prepared to queue at this stall.
Address: 2 Adam Road, #01-27, Adam Road Food Centre, Singapore 289976
Opening hours: Daily 9:30am to 4pm 6:30pm to 2am
Tel: 9693 7961
---
Taking the crown in the prawn mee scene
---
While it's great to enjoy these high-level prawn noodles once in a while, it's good ol' prawn mee that we'd stick to on regular days. For a list of some of the best prawn mee in Singapore, check out our some of our favourite prawn mee stalls around Singapore!
---
Featured image adapted from Instagram user @fernandusw's post.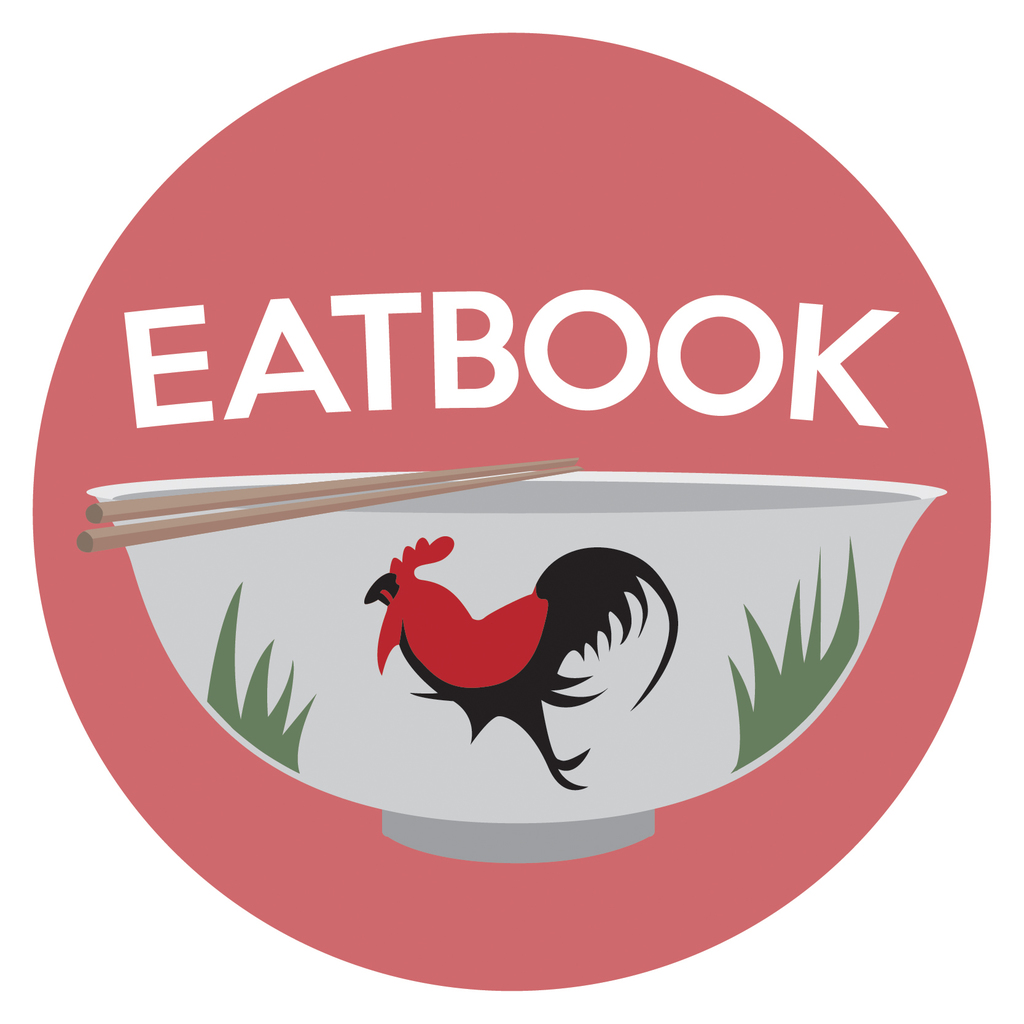 Drop us your email so you won't miss the latest news.