Freshly baked muffins at AJ Delights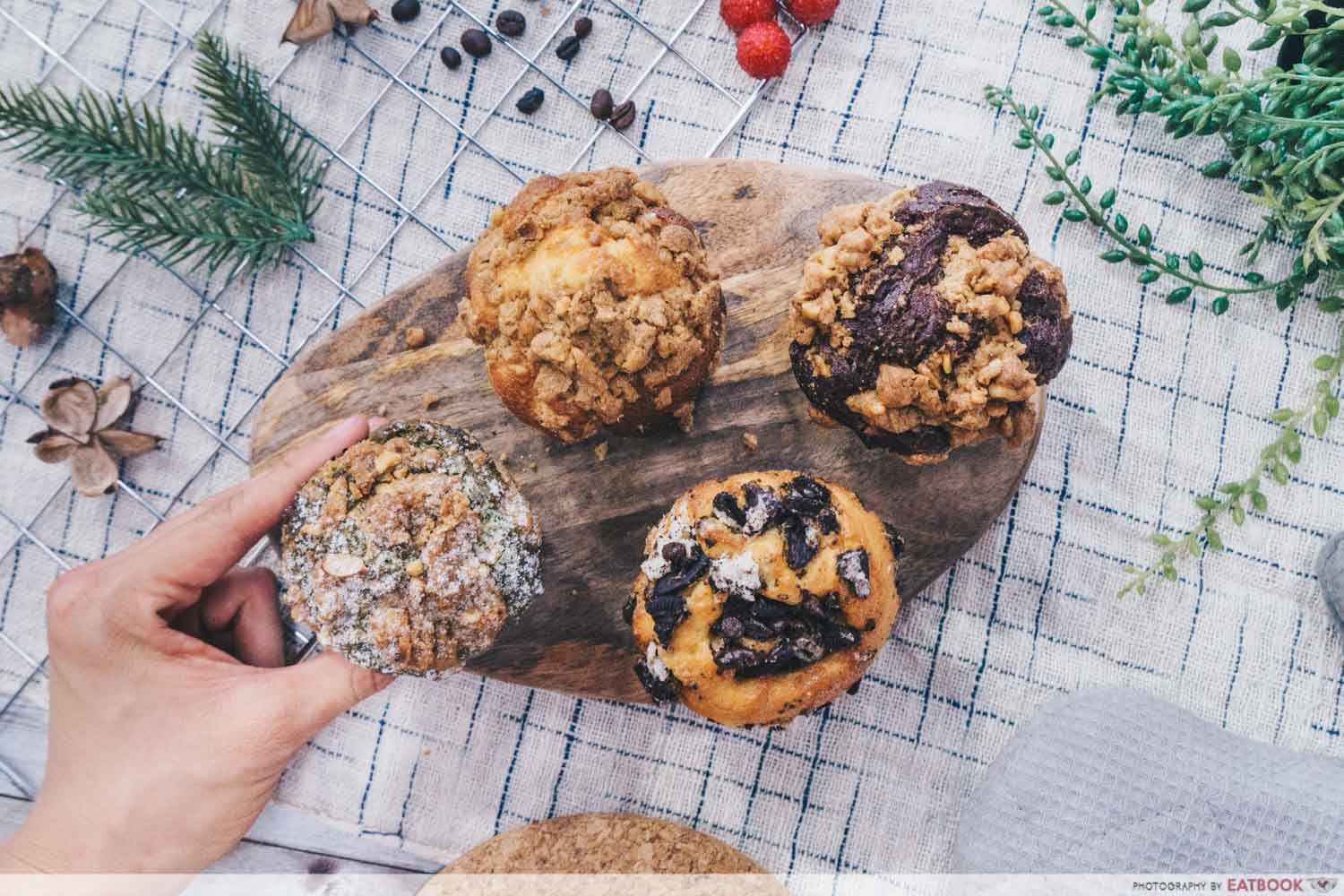 The best food comes from the heart, and for chefs who pour their soul into honing their craft, it greatly shows in their dishes. My recent experience at AJ Delights was an eye-opener. The food tasted homely, a quality that's hard to find these days. This can only be attributed to the great amount of tender care the owners place in their baking techniques and the quality of the ingredients used.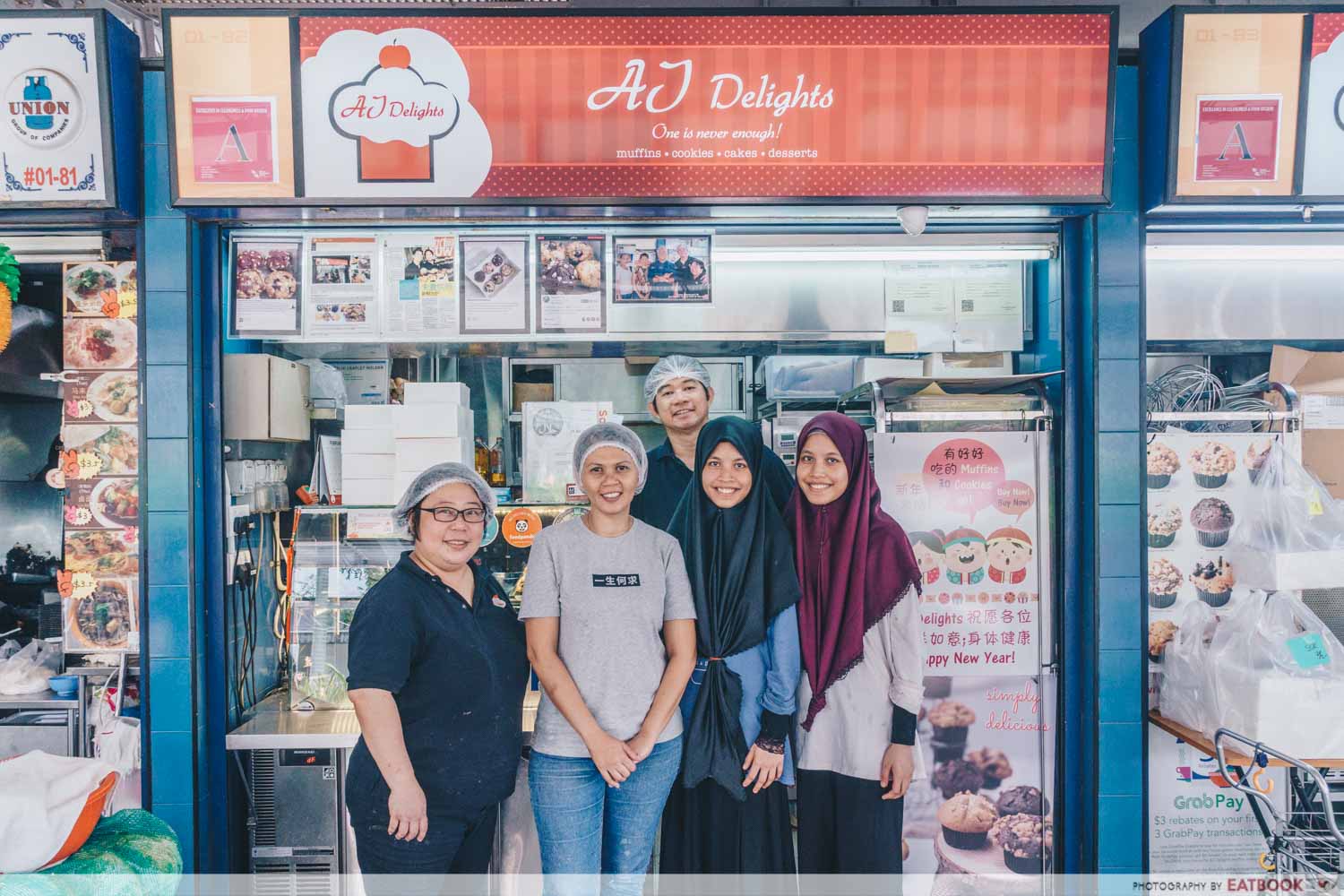 AJ Delights is the brainchild of Amy and Jerry, and the name of the stall comes from their initials put together. Fueled by their love and interest in baking, the jovial couple (wearing black polo tees in the photo) started baking Chinese New Year goodies for their relatives and friends year after year. Many lavished praises on their CNY goodies, and some even introduced their friends to get more goodies from them.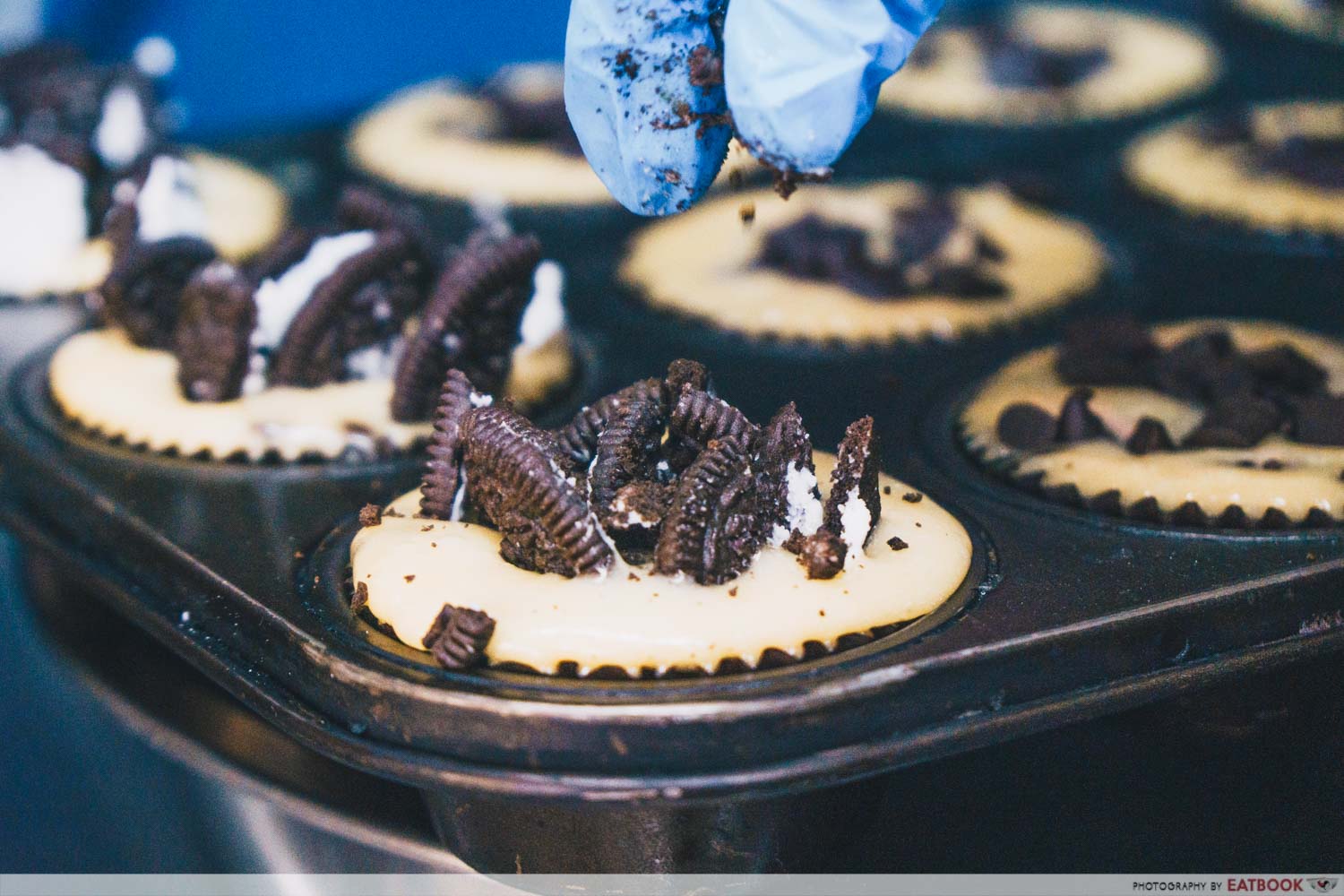 Amy and Jerry then realised they had an affinity for baking. The husband-and-wife duo, who were originally working office jobs, decided to take a leap of faith and pursue their interest in baking full time.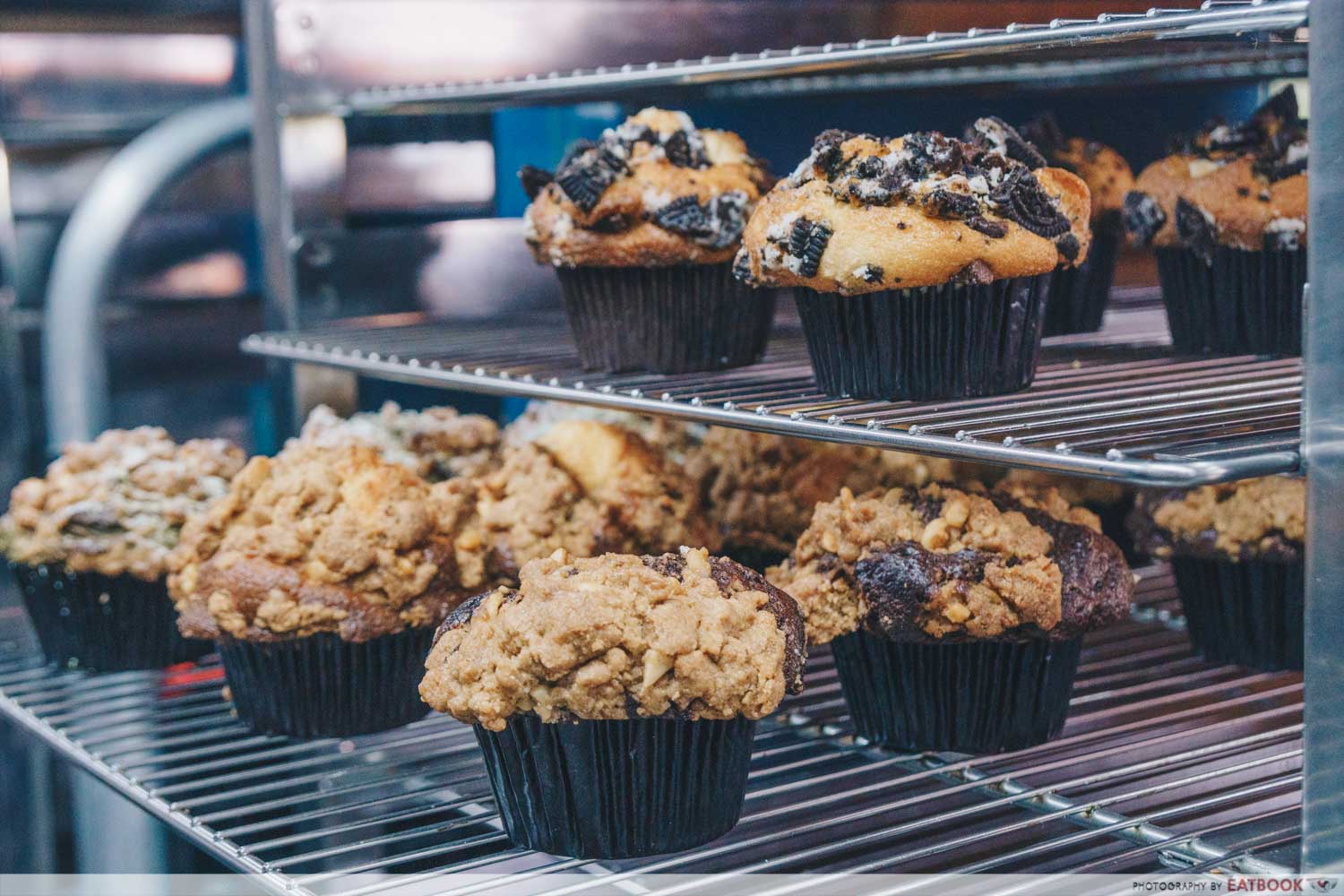 Since then, the business has been booming and AJ Delights has been opened for eight years to date! They specialise in house-made muffins, and take pride in baking all of their muffins in their two-unit hawker stall at Alexandra Village Food Centre.
Food at AJ Delights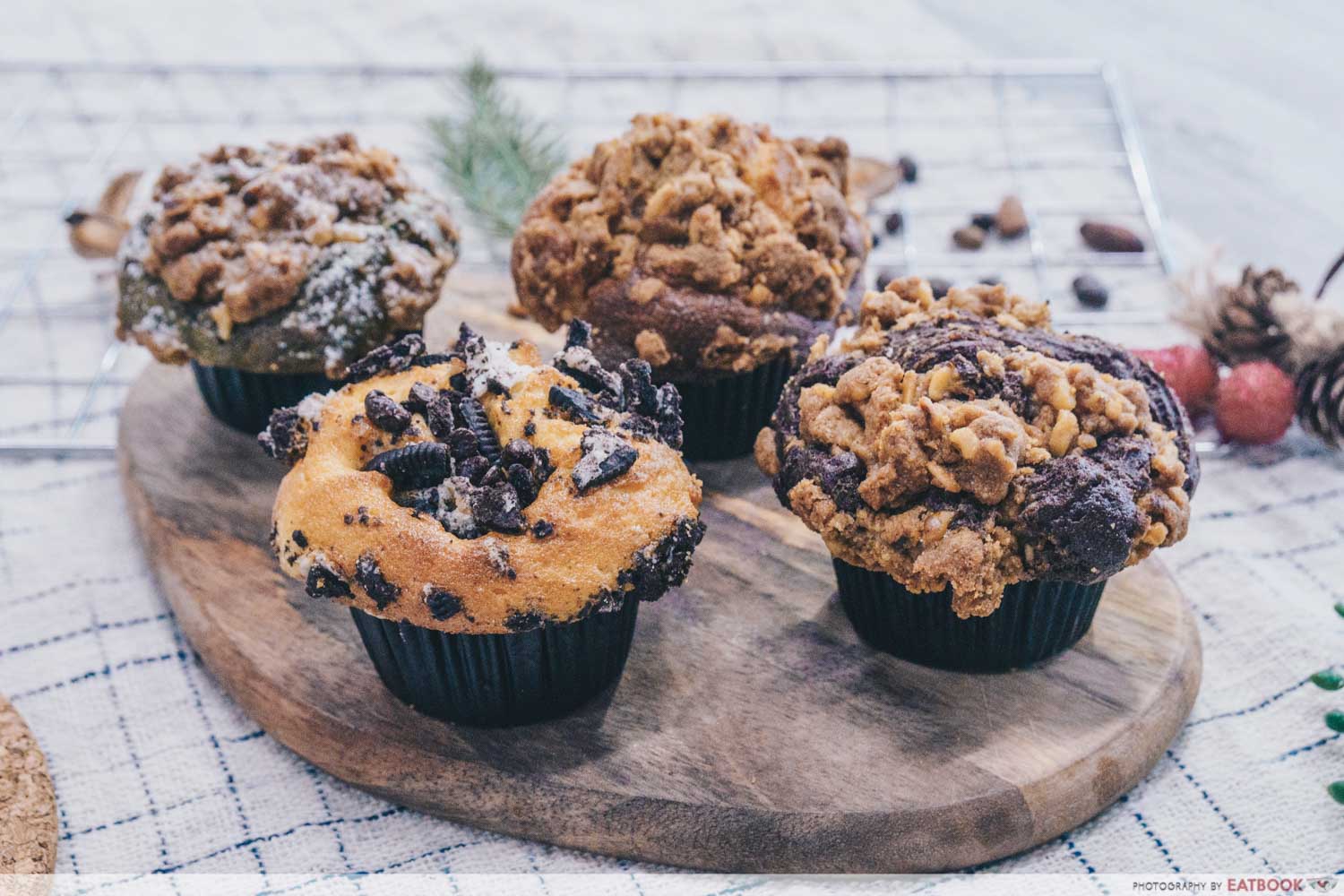 Upon Amy's recommendation, we ordered four of their specialities. Namely, their Green Tea Monster ($2.40), Cookies & Cream ($2), Apple Streusel ($2), and Walnut Streusel Double Chocolate ($2).
When the muffins were brought out to us, the comforting smell of baked dough wafted through our noses and made me salivate. It brought back fond memories of baking with my mother when I was younger, whereby the kitchen would be filled with the smell of freshly baked batter. Upon bringing our hands close to the muffins, we could sense the warmth that emanated from them.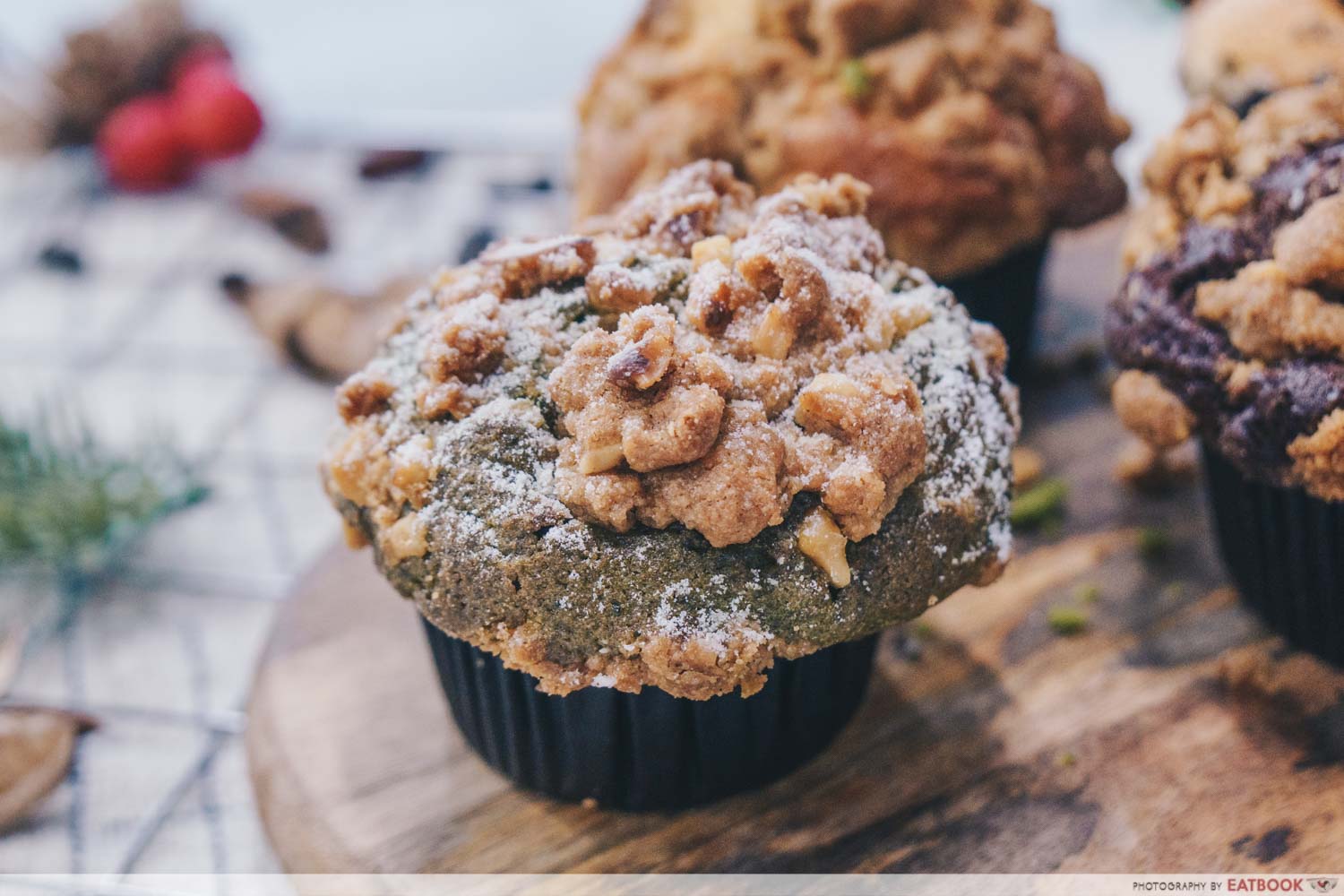 The Green Tea Monster ($2.40) is my personal favourite out of the four. The sweet but slight bitterness of the Japanese green tea mixed well with the buttery muffin to give a savoury and satisfying mouthful.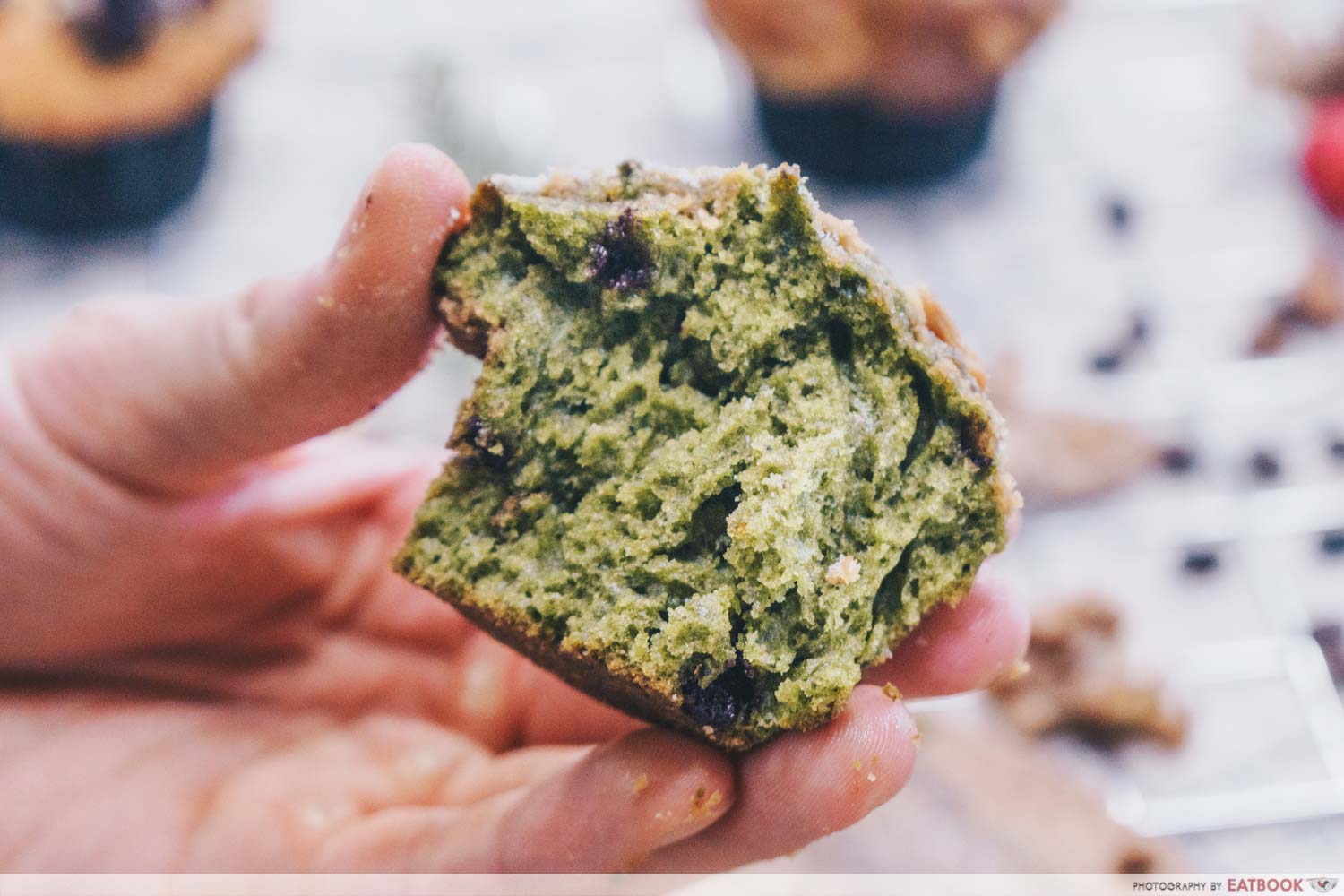 The muffin was fresh, with just the right amount of firmness. All of the muffins are freshly baked every morning by Amy and Jerry, and this was definitely shown through the rich flavour profile of each of their muffins.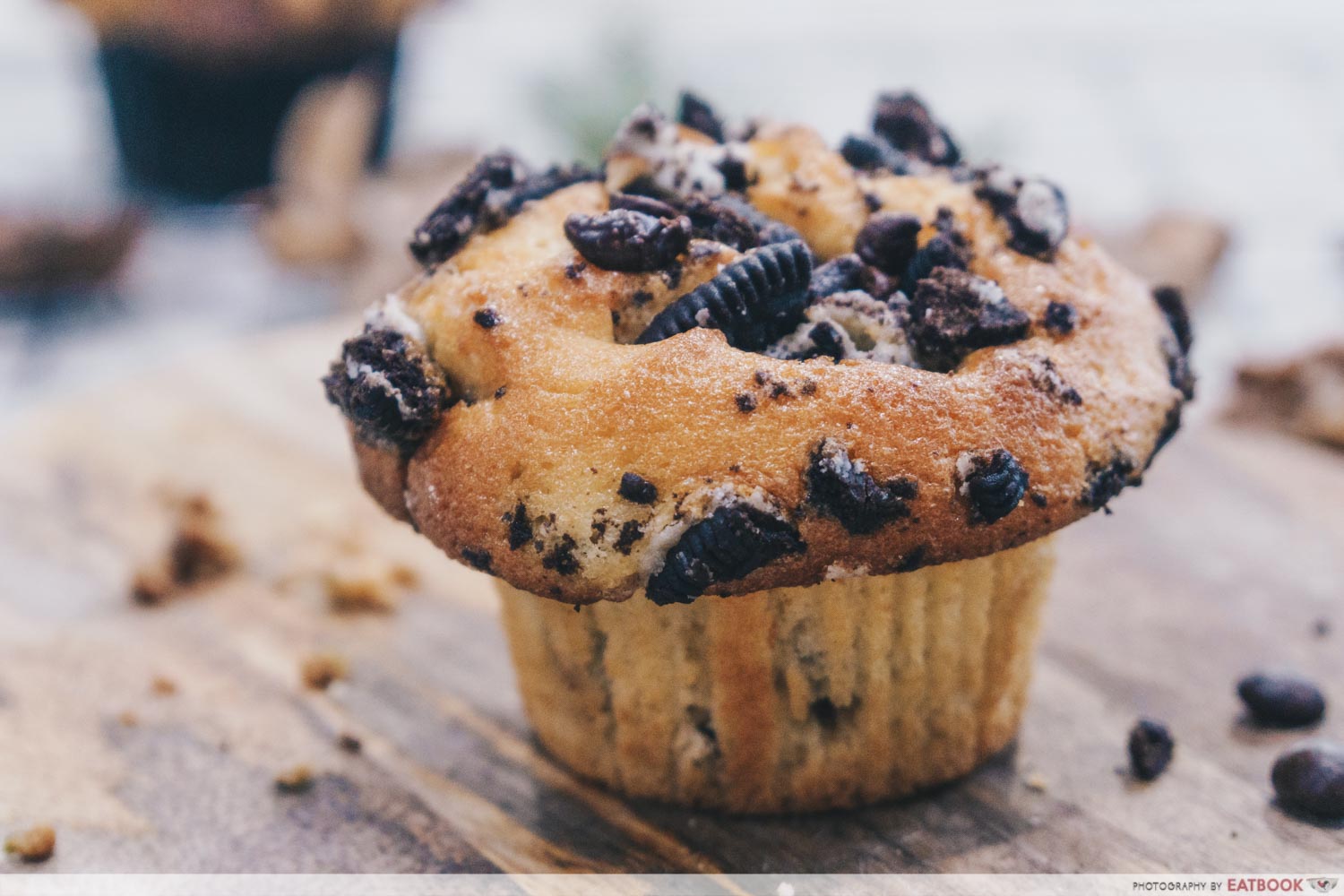 Having been an Oreo lover since I was young, I had to try their Cookies & Cream ($2). Yes, the child in me never grew up. The Oreos added a creamy chewy touch to the tasty muffin. However, it did not taste very special to us as a whole, as we mostly had mouthfuls of plain muffin instead of chocolatey and creamy Oreo.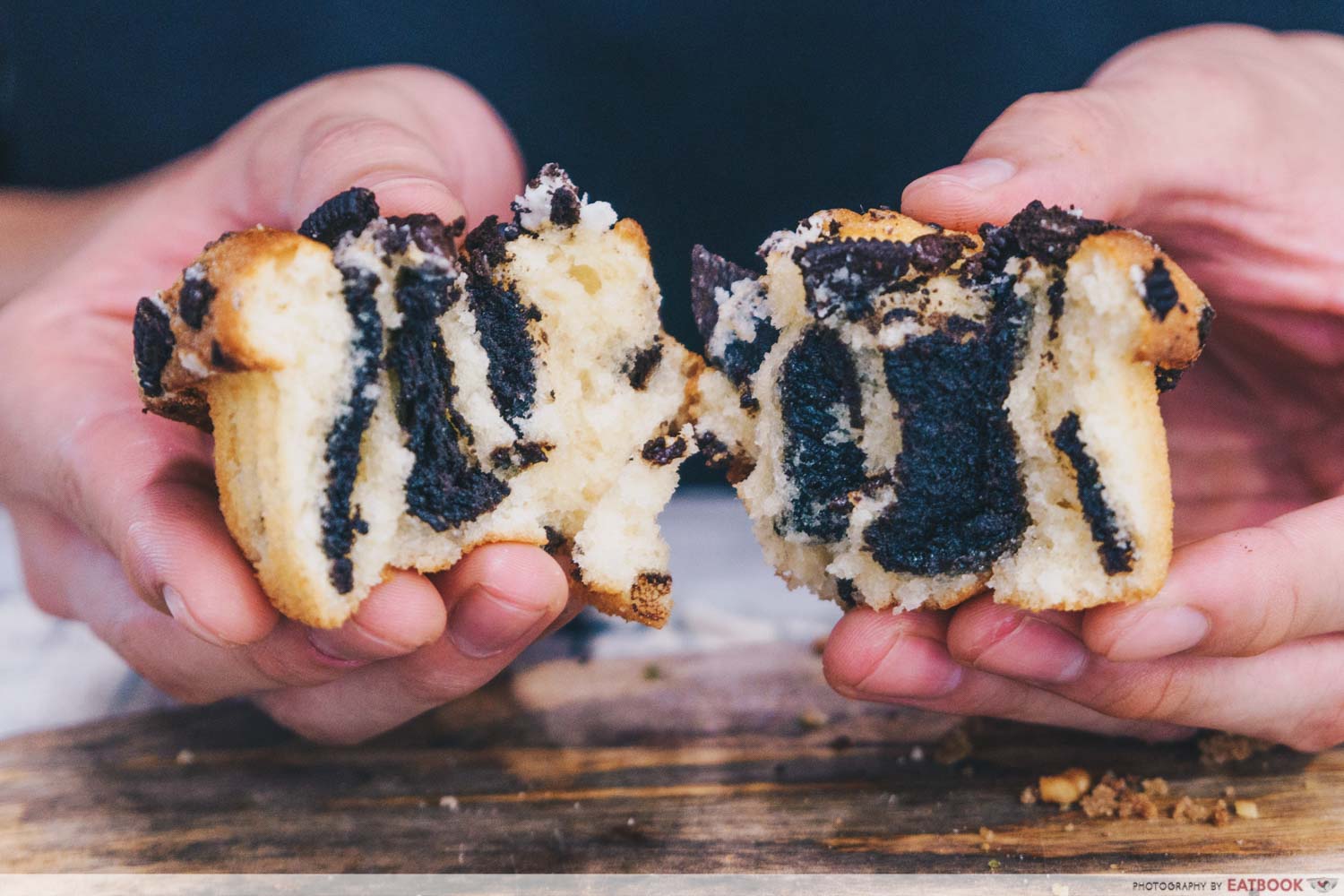 The muffin was easy to pull apart, exposing its delicate and lighter coloured inside. The centre was slightly warm to the touch, and the Oreos bits were nicely placed at its core. It was unfortunate that the amount of cream inside was rather modest, and I would have preferred more of it considering Oreos usually consist of both cookies and cream.
10 Alexandra Food Village Stalls That Prove This Hawker Centre Deserves More Hype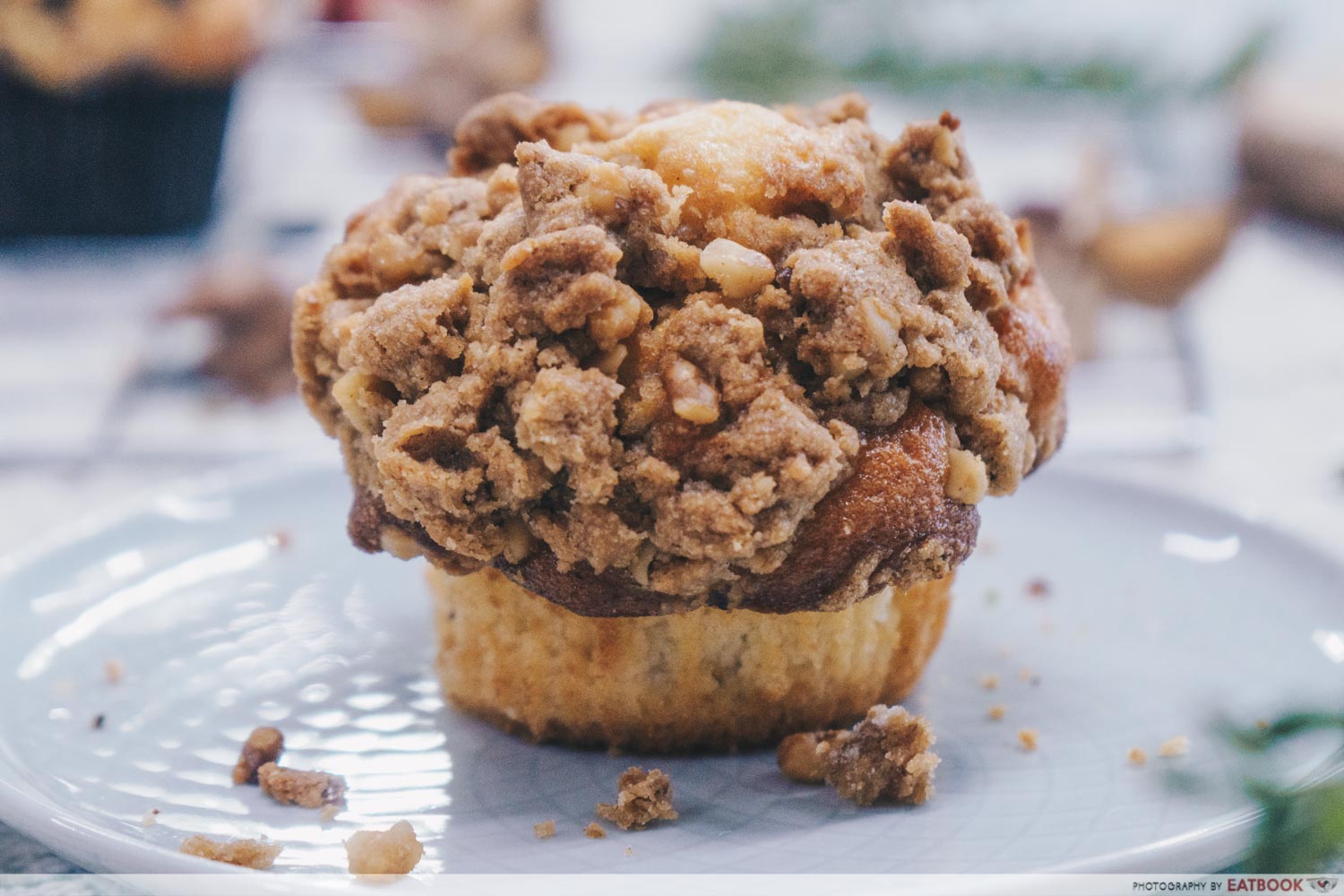 Next, we opted for their Apple Streusel ($2) as we're big fans of apple-filled desserts. The crisp crumbs at the top of each muffin were the winning factor. It felt like I was eating a hearty apple crumble.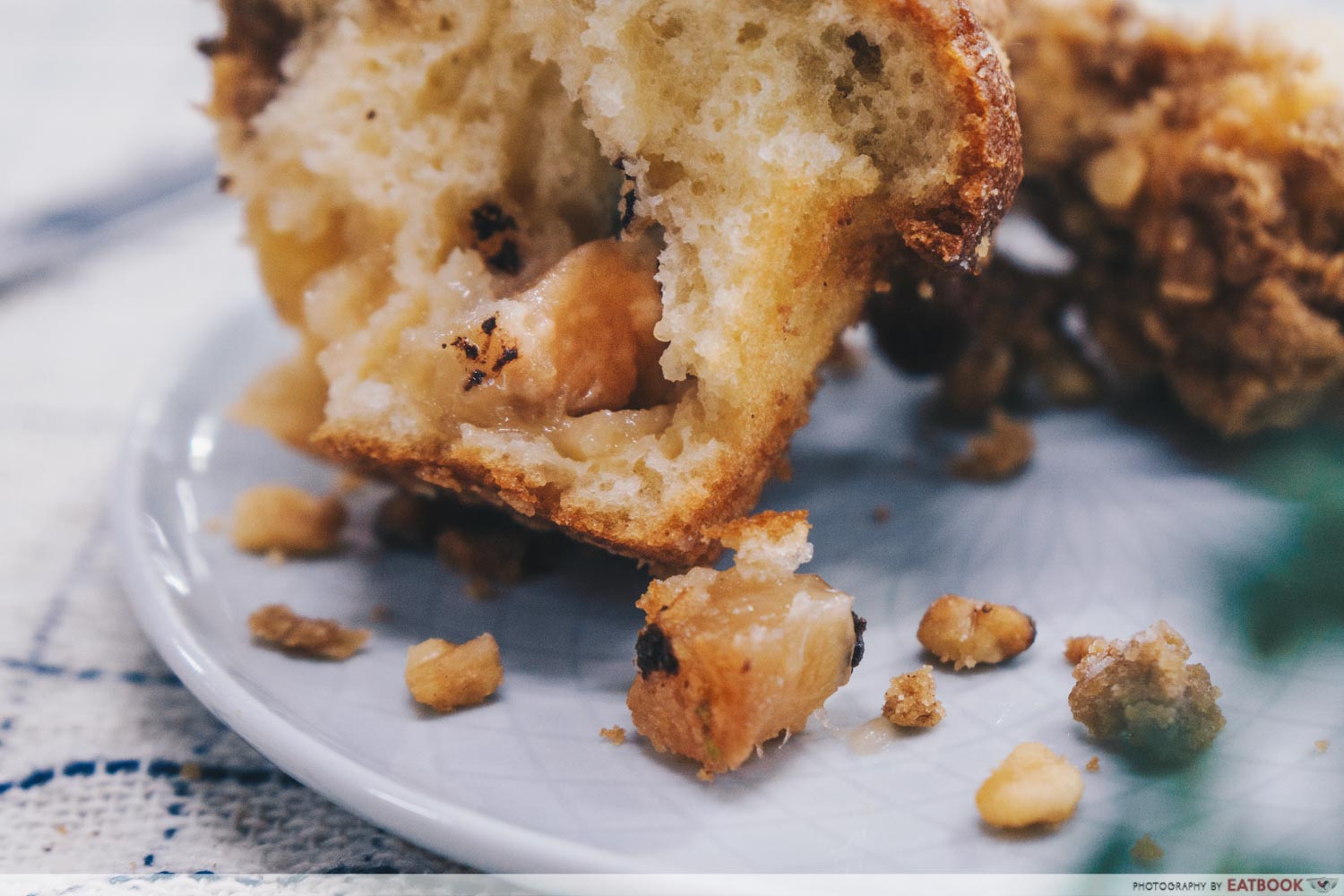 Juicy caramelised apple cubes can be found on the inside of the muffin. The apple's refreshing burst of sweetness paired well with the creamy muffin. Pleasant apple juices seeped through the whole muffin, creating a distinct and wonderful flavour.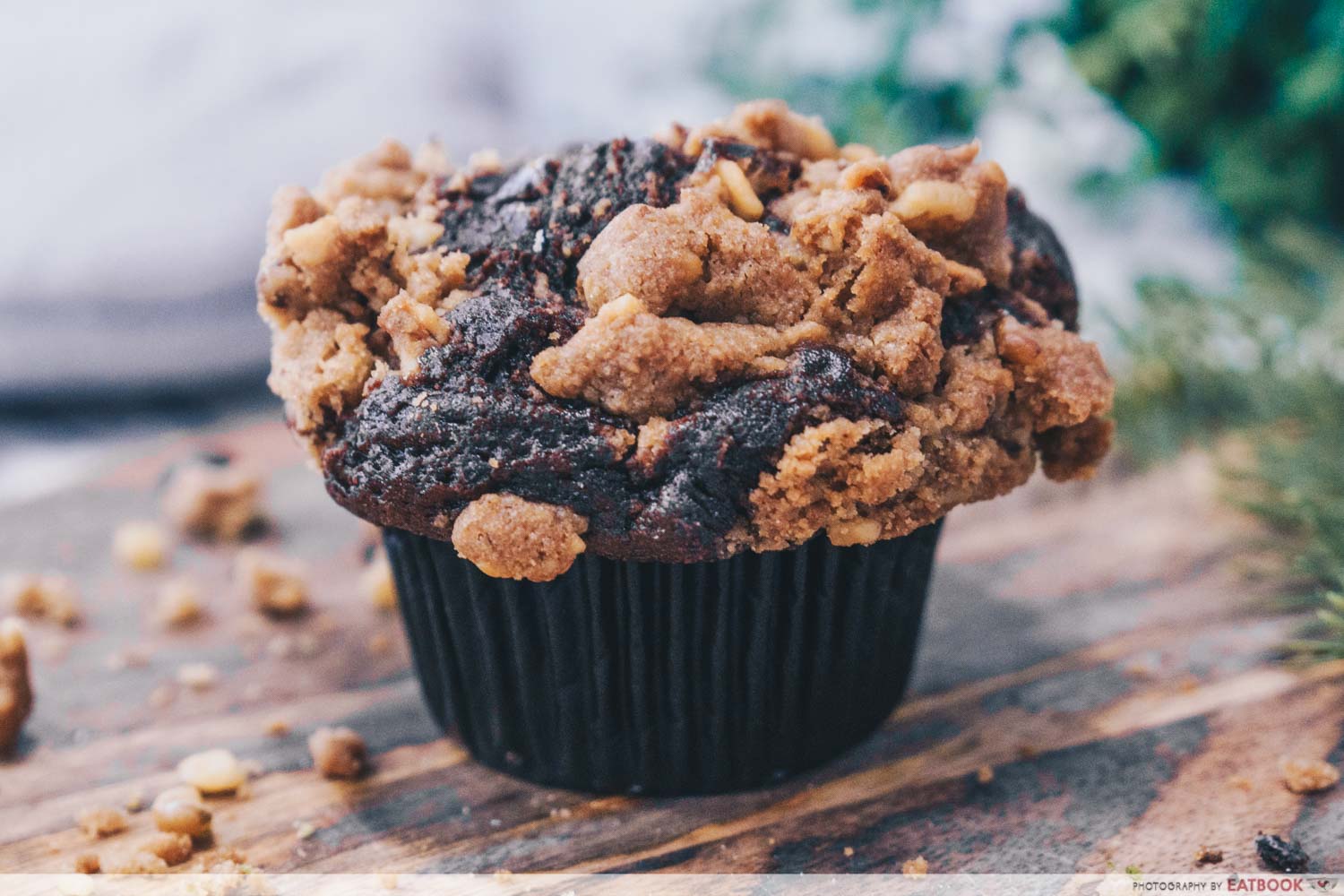 The Walnut Streusel Double Chocolate ($2) is a treat for all you nut lovers. AJ Delights sources for high quality walnuts from the US. Akin to rocks on an uneven cement road, the plump walnuts are strewn on top of the chocolate muffin.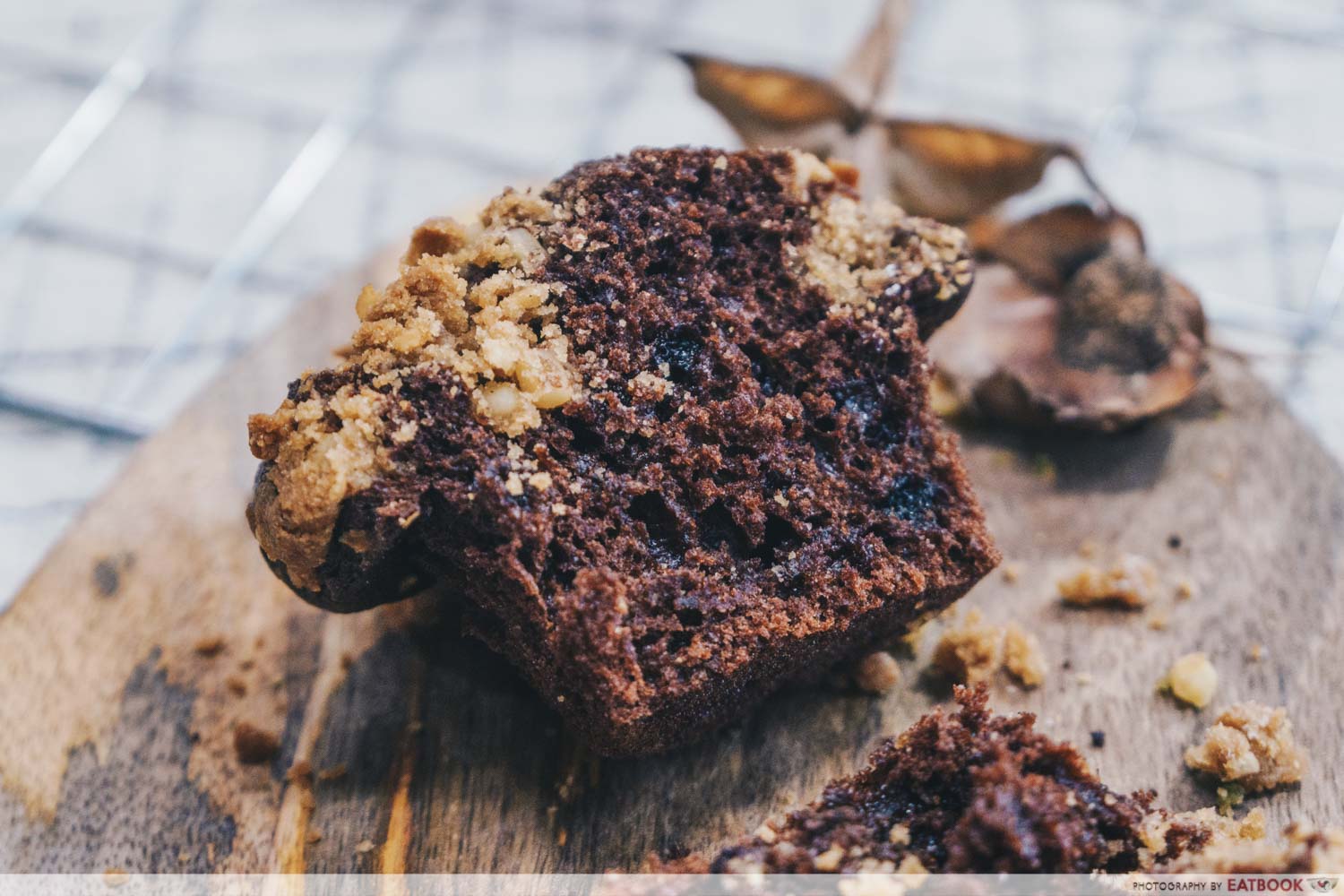 Upon holding the muffin, I was glad to see that it was not too soft as it did not fall apart easily. Its centre was moist and filled with generous portions of chocolate bits.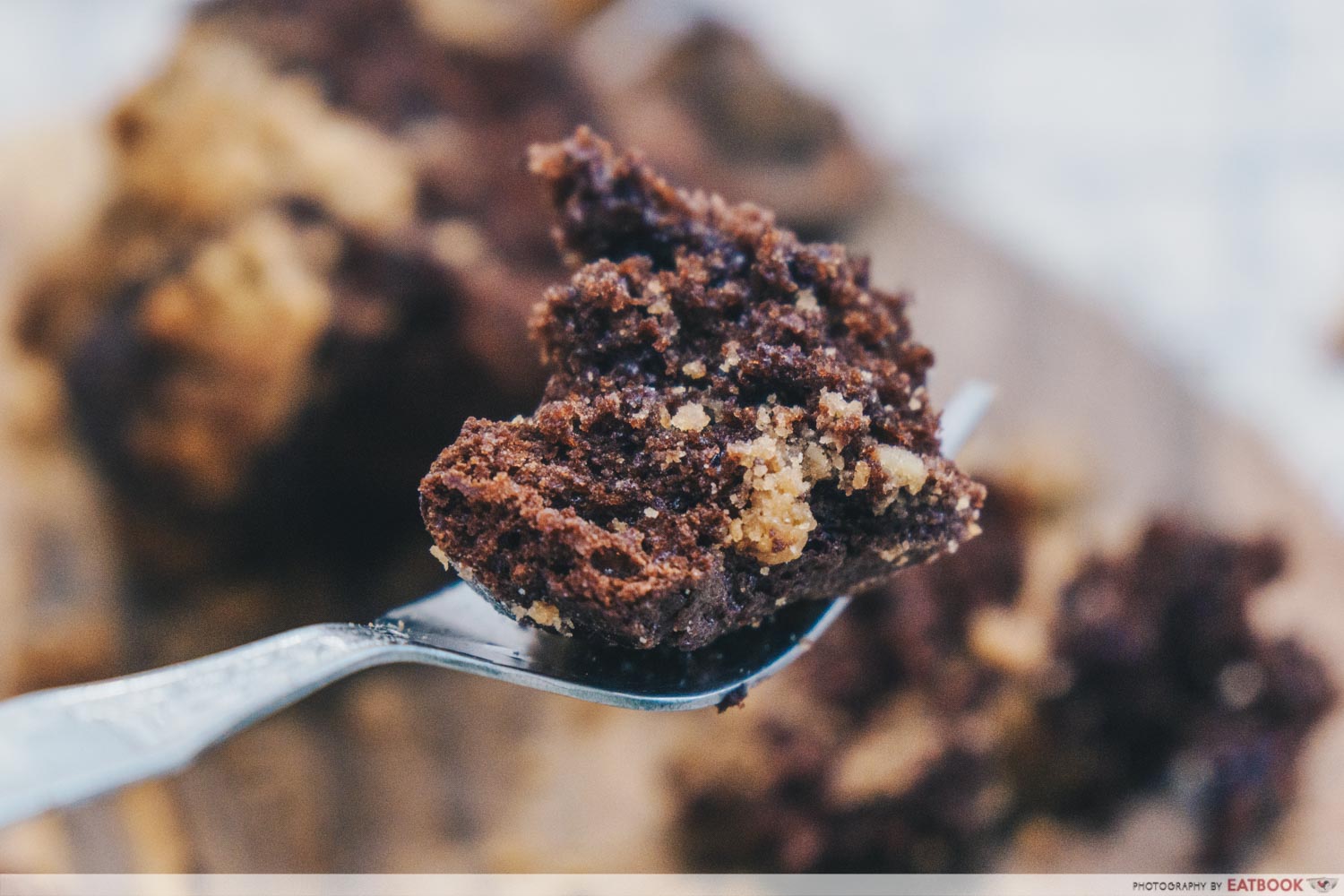 Chocolate muffins are generally too sweet for my liking, and I was happy that this was not the case for this baked delight. The earthy walnuts complemented the sweet and slightly bitter chocolate muffin. Each savoury-sweet bite was pretty addictive.
Ambience at AJ Delights
AJ Delights is situated in Alexandra Village Food Centre, which can get pretty crowded during mealtimes. The food centre is spacious and airy, especially since the stall is near the edge of the food centre. You would be sure to get a comfortable lunch no matter what time it is.
The verdict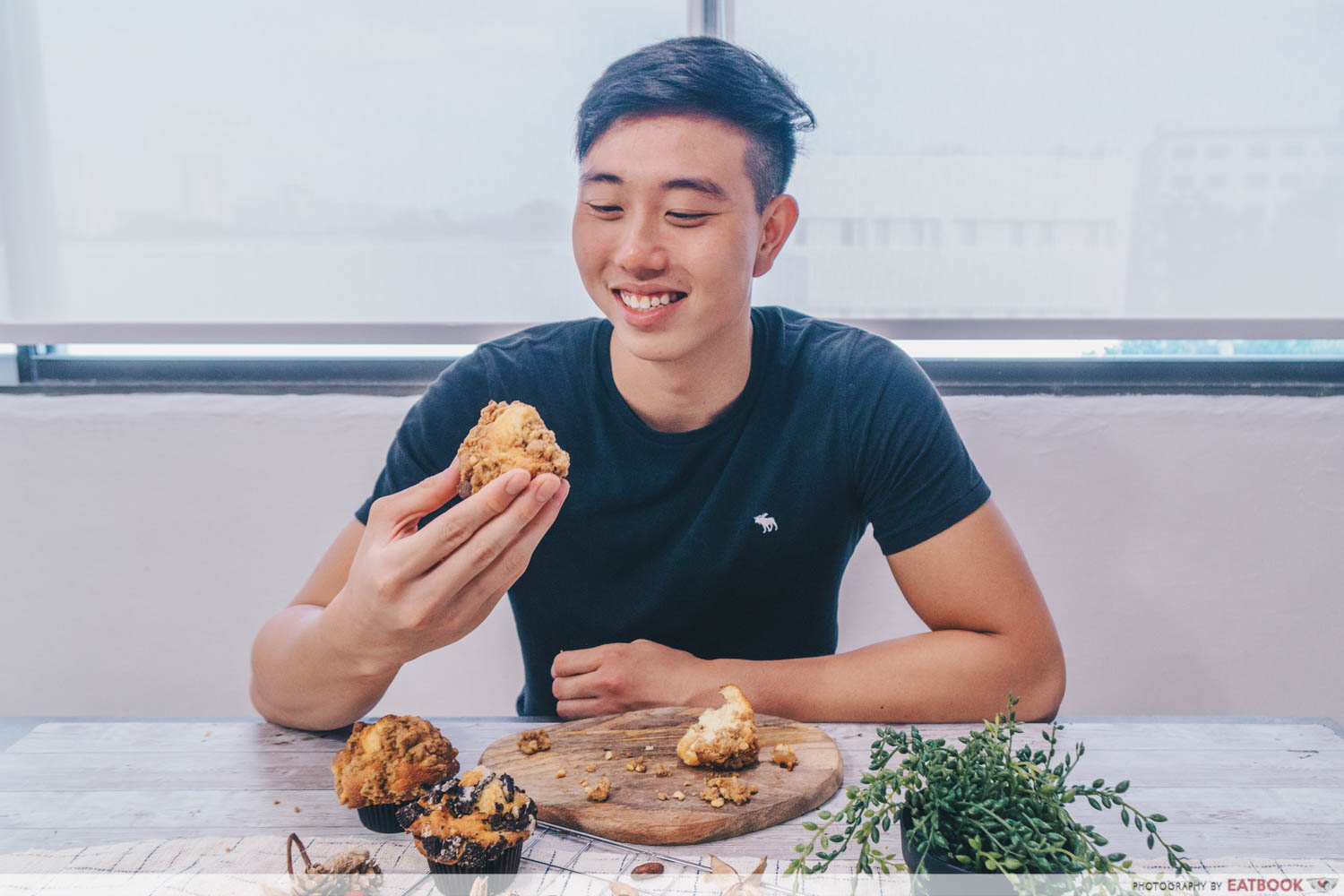 This seemingly run-of-the-mill bakery in Alexandra Village Food Centre is a wildcard in a food centre that's famous for their avocado drinks and delectable local food. Amy and Jerry's intense dedication and love towards putting out good food shows in their tasty muffins. I can see myself ordering their muffins either for special occasions or simply for my indulgence.
For more satisfyingly good pastries, check out these artisanal bakeries.
10 Artisanal Bakeries To Get Macaron Croissant, Chocolate Cruffins, And Fluffy Tom Yum Bread
Address: 120 Bukit Merah Lane 1, #01-82, Alexandra Village Food Centre, Singapore 150120
Opening hours: Tues-Sat 9am till sold out
Tel: 9752 5973
Website
AJ Delights is a halal-certified eatery.
Photos taken by Huang Xiao.
This is an independent review by Eatbook.sg.
Summary
Pros
– Fresh tasty muffins
– High quality ingredients used
– Friendly owners
Cons
– Popular flavours get sold out fast
– Does not come with plates, only boxes
Recommended dishes: Green Tea Monster ($2.40), Apple Streusel ($2), Walnut Streusel Double Chocolate ($2)
Opening hours: Tue-Sat 9am to 6:30pm
Address: 120 Bukit Merah Lane 1, #01-82, Alexandra Village Food Centre, Singapore 150120