Ami Ami dishes out onsen egg tempura
Update (4 April 2019): Ami Ami has permanently closed.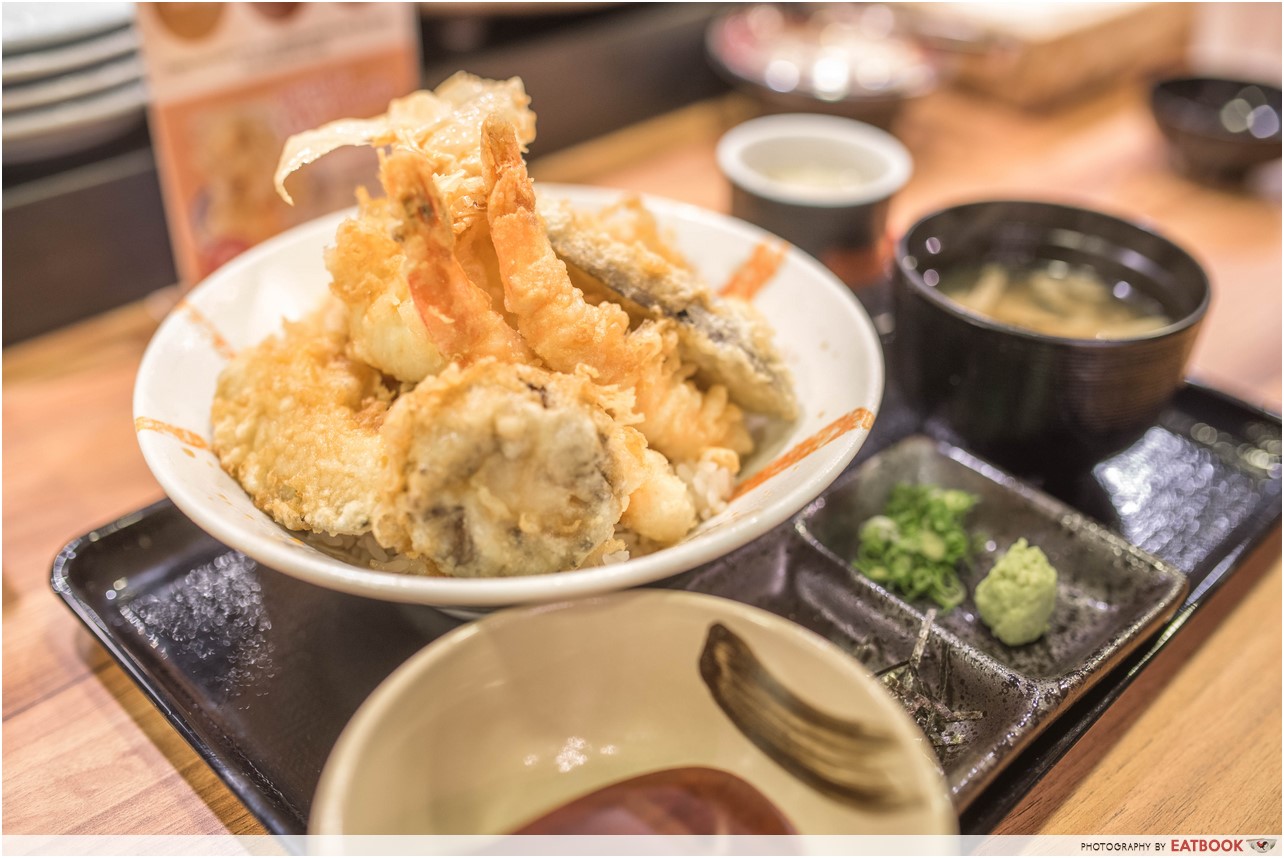 I ran out of moolah before I had the chance to check out Kuromon Market in Osaka, so when I heard Ami Ami dishes out charcoal-grilled seafood and bowls of tempura donburi, or tendon in short, it became the top restaurant on my to-go list. 'Ami' translates to 'net', and I found this quite apt given that the seafood used here are caught in nets before being air-flown from Japan thrice weekly.
Food at Ami Ami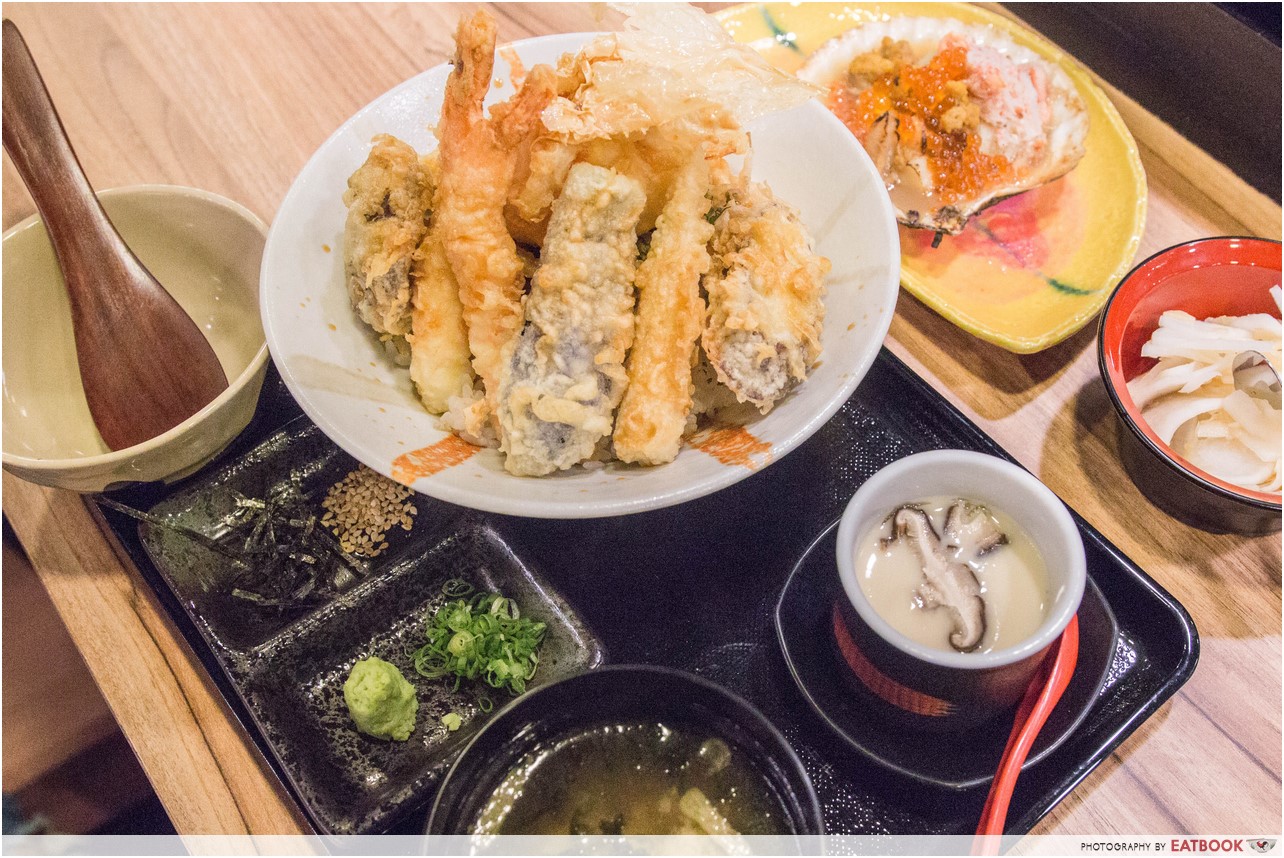 Ami Ami only serves 10 sets of tendon a day, so of course we had to lay our hands on one! Though everything here is cooked a la minute, our dish arrived surprisingly fast. We got the basic Ten Don Set ($23.80++), which came with miso soup and chawanmushi, and upgraded it to a Hitsumabushi Set (additional $3.50++) for a bottle of dashi broth and extra condiments on the side.
This instruction manual on how to enjoy the hitsumabushi came with the tray. Though more commonly sighted at unagi restaurants such as Man Man, hitsumabushi works well with tendon too. Hitsumabushi allows diners to consume the dish in different ways, such that the dish remains refreshing throughout and won't feel jelak.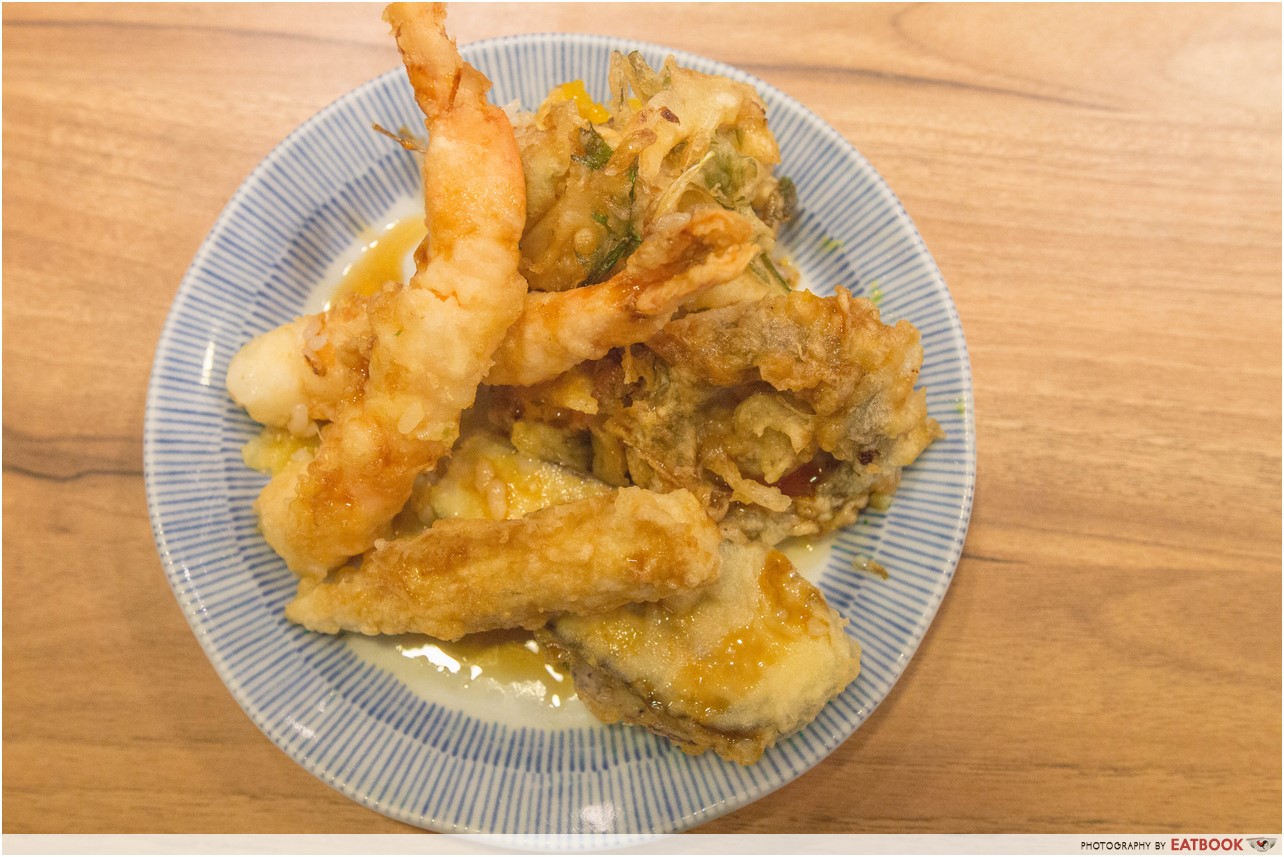 Because we didn't want to soak the rice in tendon sauce, we placed the individual tempura items on a plate before drizzling a hypertension-inducing amount of tendon sauce over the tempura.
Besides classic prawn tempura, the set also included eggplant, baby corn, kakiage (mixed vegetables), pumpkin, purple sweet potato, and – the best of the lot – onsen egg tempura.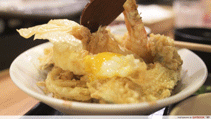 We started our meal by breaking the onsen egg tempura, and got all its liquid gold flowing out onto the rest of the ingredients. The deep-fried bean curd skin that encased the onsen egg remained extra crispy and provided a textural contrast from the gooey yolk and soft egg whites.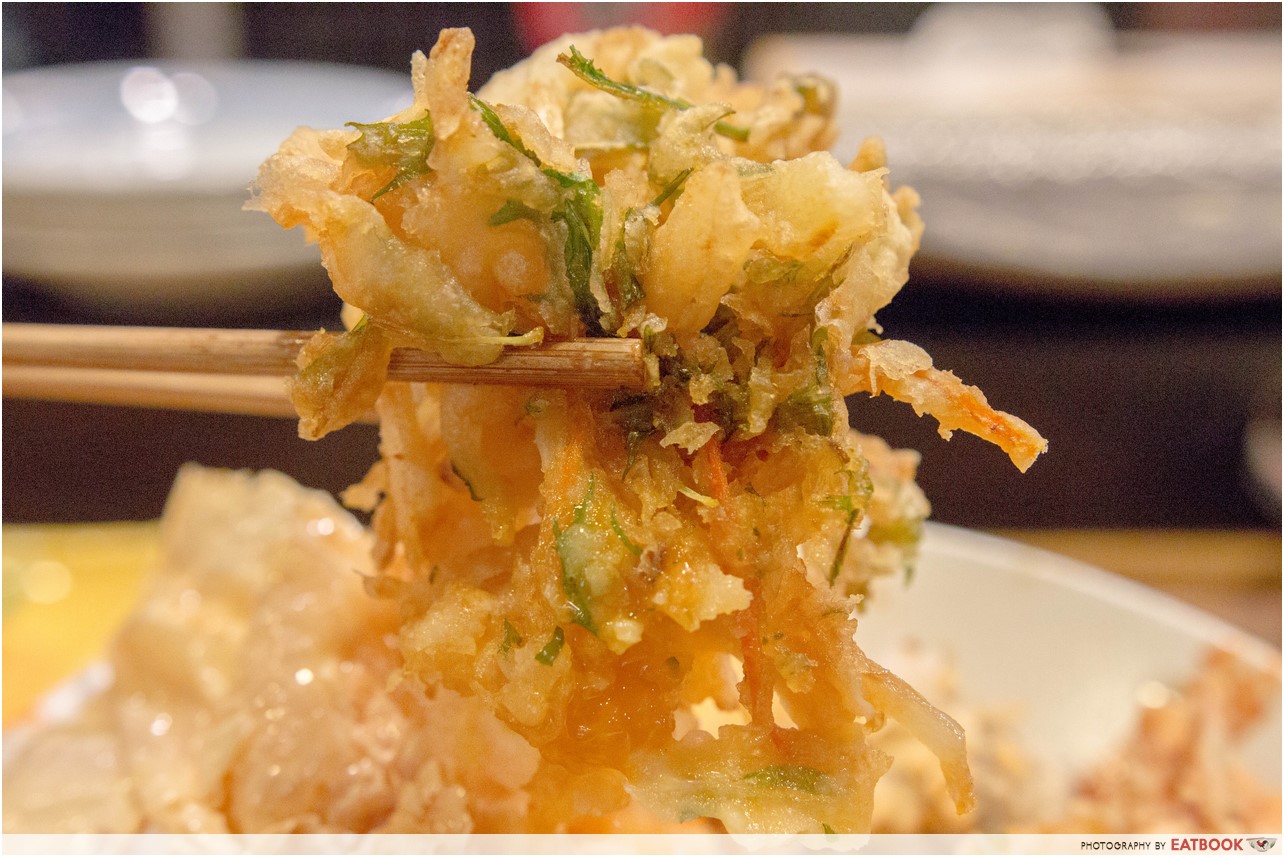 If I had to pick my favourite tempura, it would be the kakiage. Predominantly made of onions, there were also julienned carrots and spring onions in this fritter. The onions reminded me of caramelised onions, as it provided a mild sweetness. Meanwhile, the strips of carrots still managed to retain their crunch, and imparted a touch of freshness along with the spring onions.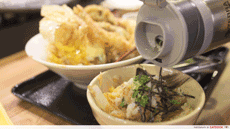 Next, we moved on to steps two and three of the instruction manual and savoured the tendon in a different method. We first poured a generous amount of dashi broth over the rice bowl and mixed in a small amount of wasabi, followed by sprinkling the dry condiments over it.
The steaming hot dashi broth imparted a mellow saltiness to the short-grain Japanese rice, which got soaked in no time to result in a comforting, warm bowl of carbs. The shredded nori, chopped spring onions, and white sesame seeds added crunch and nuttiness to the otherwise plain rice.
That being said, paying an additional $3.50++ for a bottle of dashi broth and some extra garnishes isn't exactly wallet-friendly, so I'll leave that out the next time I visit.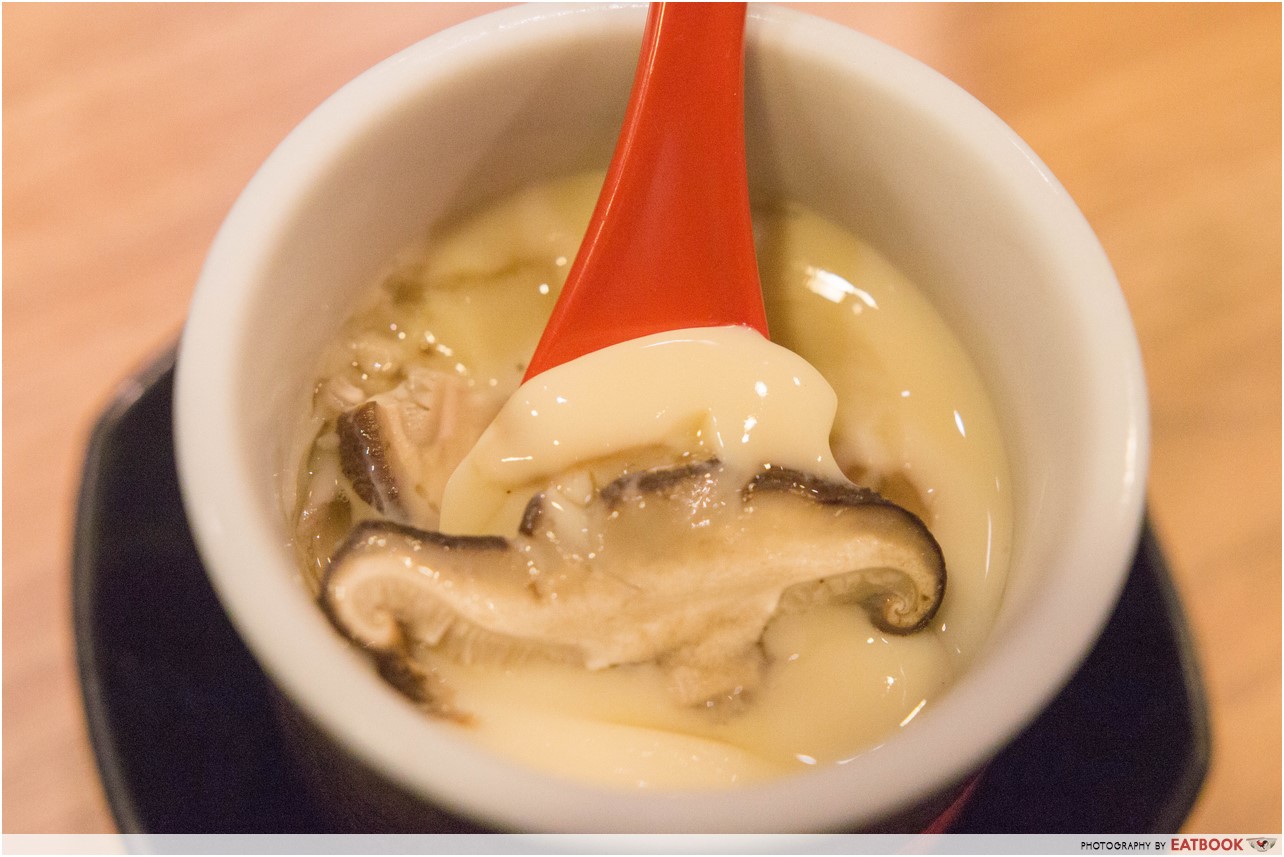 The chawanmushi that came along with our set boasts an even, creaseless top, and was gleaming from an excess of dashi broth. The custard itself was perfectly smooth and melt-in-your-mouth silky, but was bordering on the salty side. Mushrooms crowned the top of the chawanmushi and provided a layer of umami and juiciness that got me going back for a second bite almost instantaneously!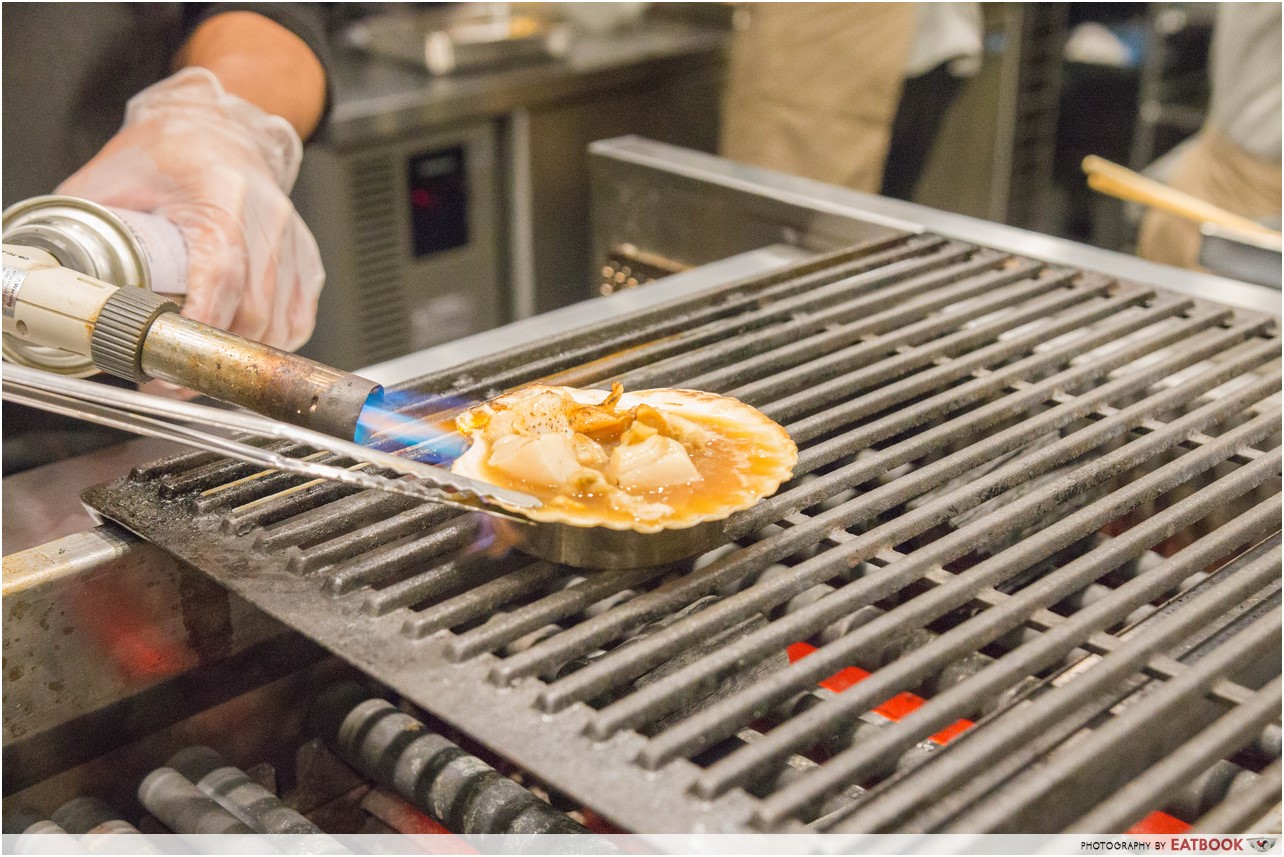 We decided to splurge, so we ordered Live Scallop Robatayaki with 3 Toppings ($19.80++) and got a chance to get a peek of the chef in action.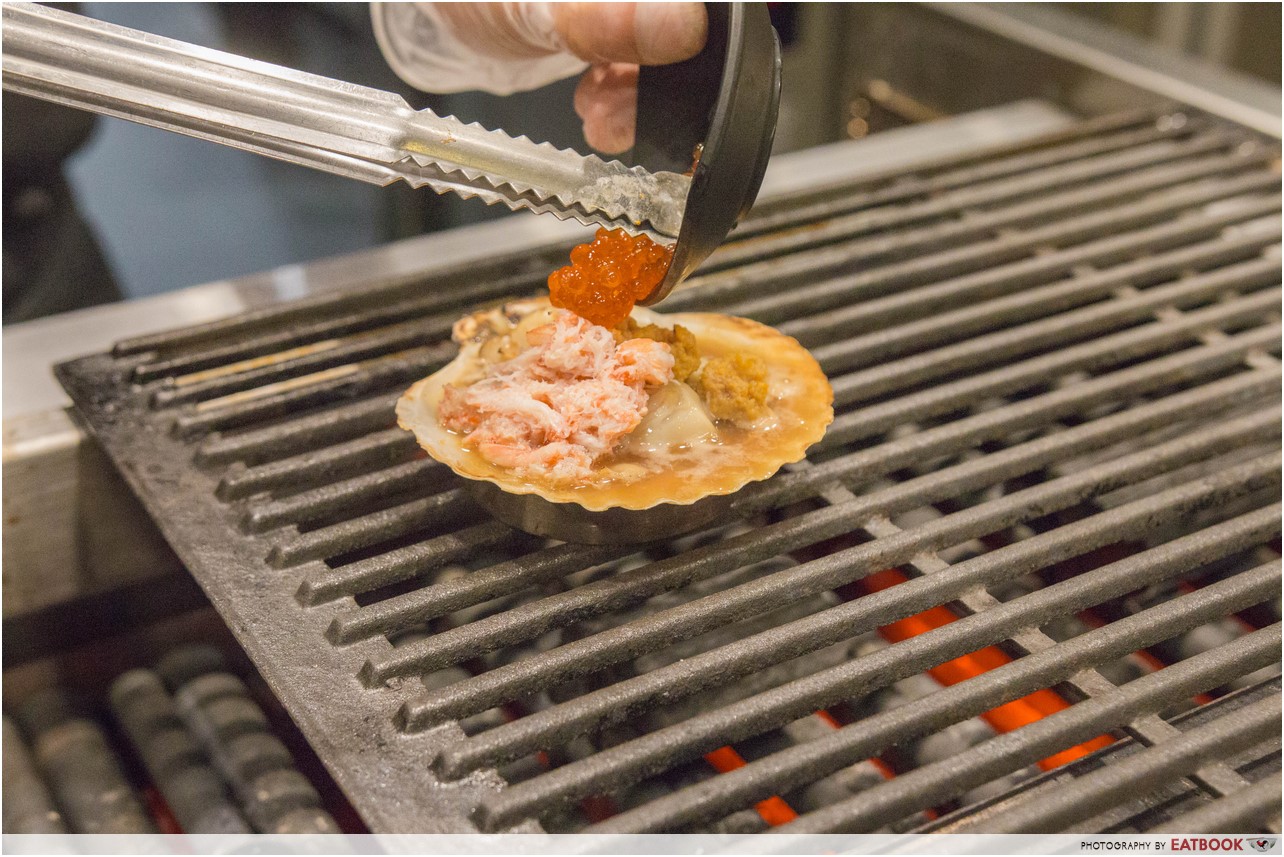 We watched the chef skillfully place the scallop, which was still swimming in its own juices, on a metal ring and above the charcoal grill. He proceeded to torch and add the toppings – crab meat, uni (sea urchin), and ikura.
The scallop along with its shell was then placed above a pink gel fuel and perched on a plate, before being served via a long wooden paddle. The inner-child in me couldn't help but feel excited when I saw wisps of blue flames peeking out from under the scallop shell.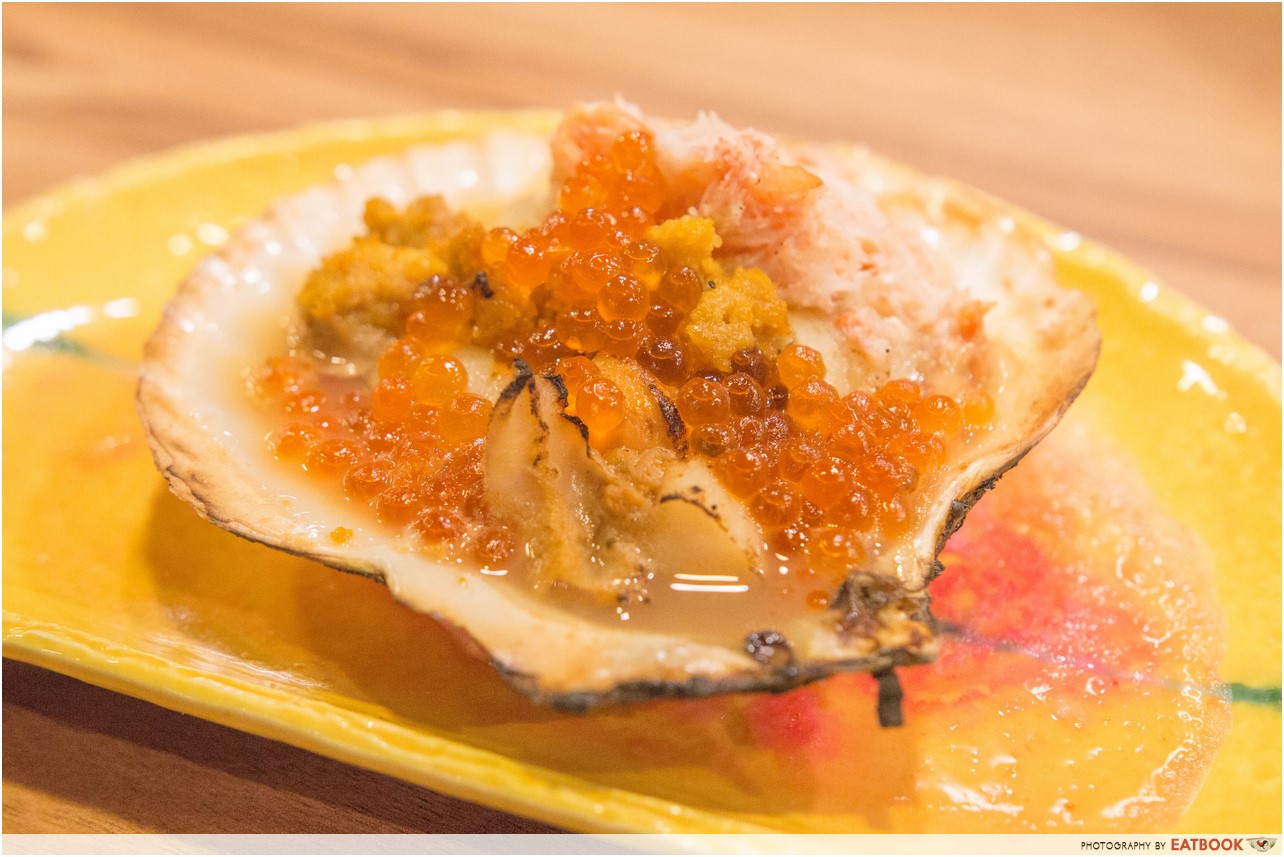 Unfortunately, the flames did not last as long as I thought it would. So if you're a 'gram addict like me, be sure to have your phone ready and snap a boomerang before it goes out!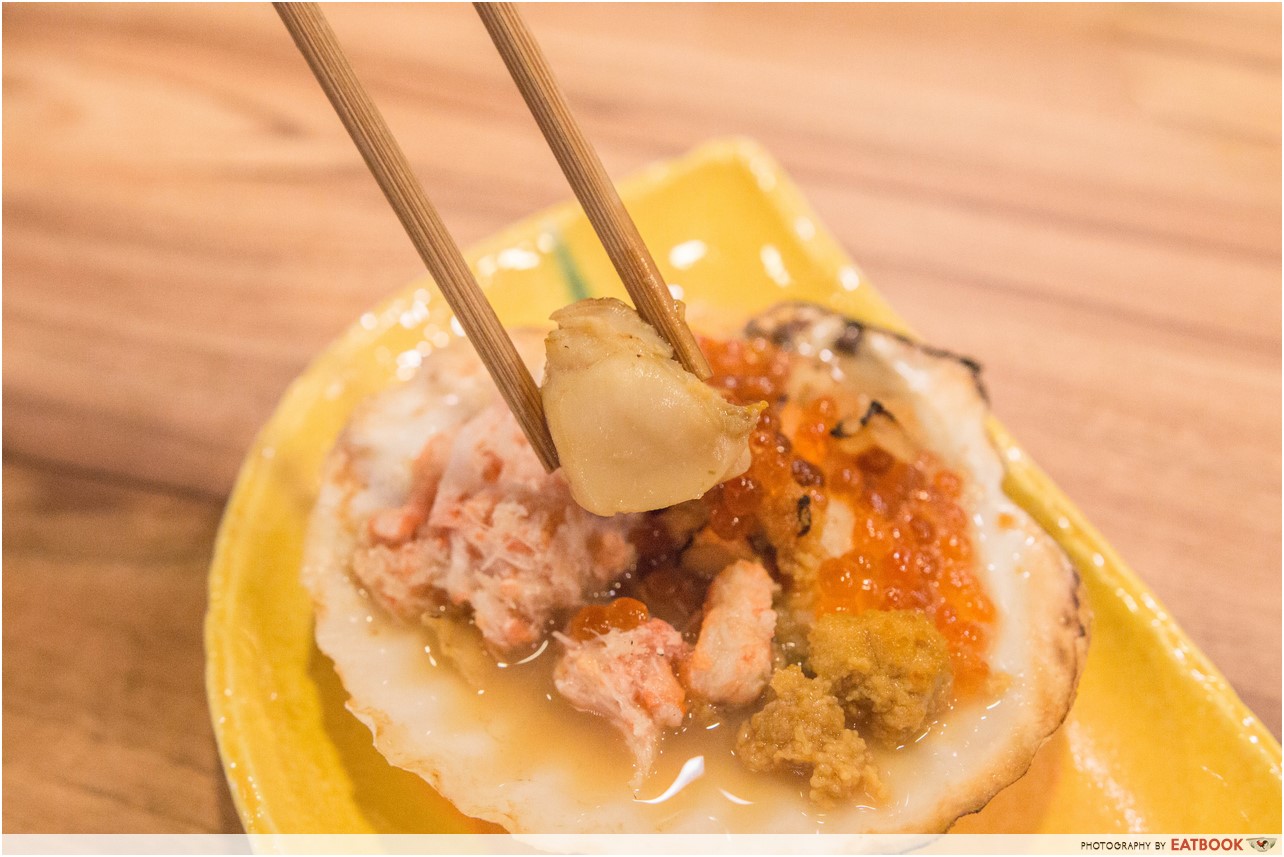 The scallop meat was sectioned into quarters, each being extremely juicy and plump. By itself, the meat had a subtle sweetness that complemented its soft and slightly chewy texture.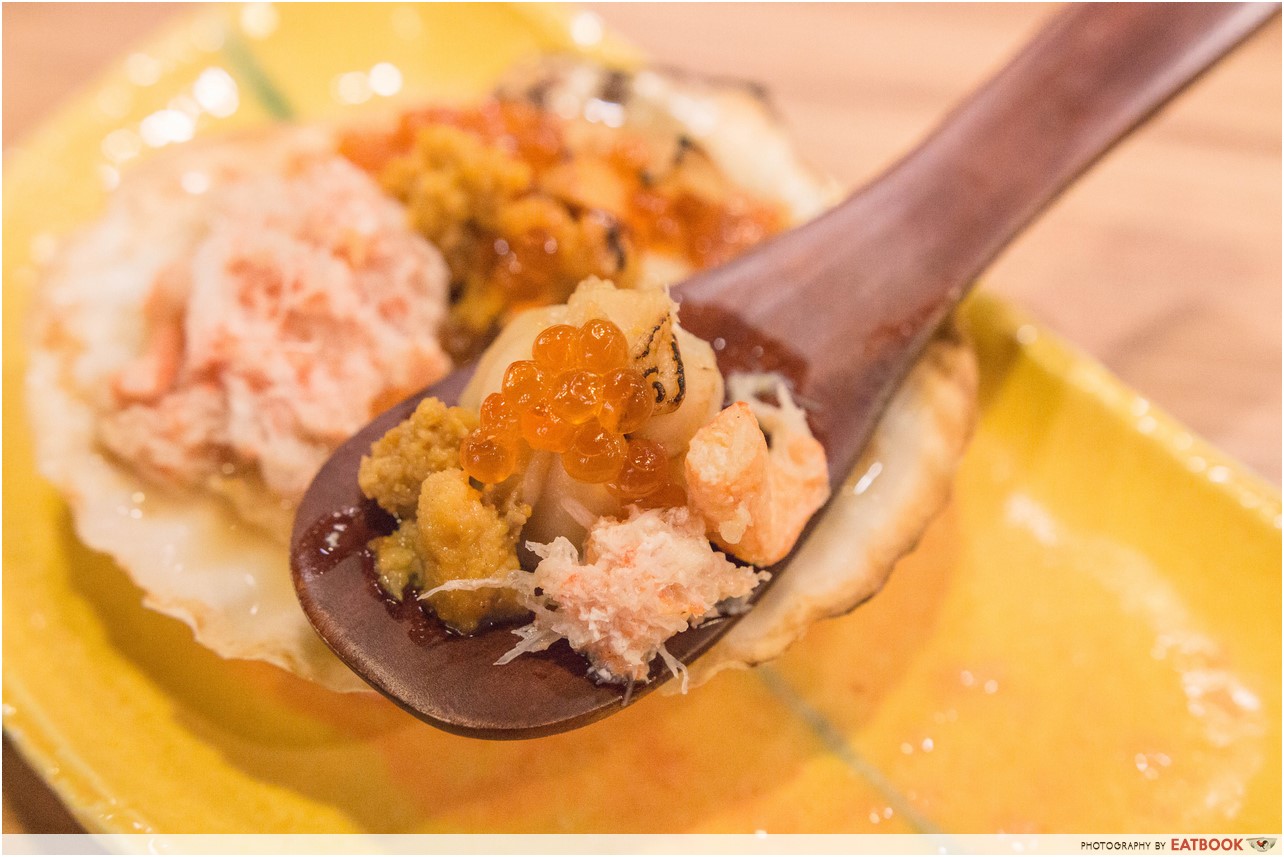 Other than lending a touch of saltiness to balance out the sweet scallop, the uni was a little underwhelming and lacking a savoury depth.
The best way to enjoy this dish is definitely to have all the ingredients in one mouthful. The layers of texture from the various components, along with the overall well-balanced flavours, made me wish we ordered another portion.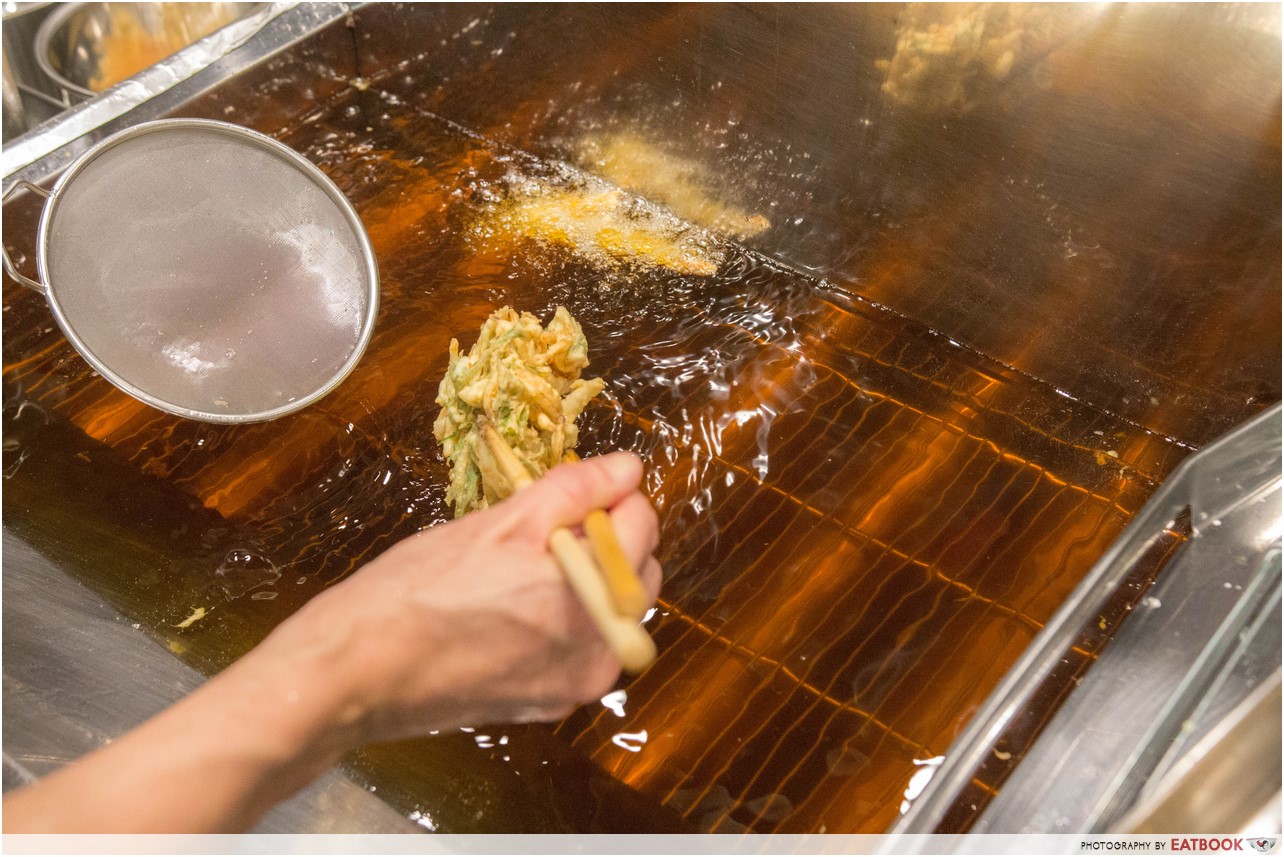 We also managed to get some behind-the-scenes shots of the kitchen, where the chefs fried the tempura and slow-grilled the seafood over hot charcoal.
Each chef was equipped with a pair of long wooden chopsticks, which they used to toss the battered tempura pieces into hot oil. Once the timer hit the designated time, they proceeded to fish out the tempura in one fluid movement and shook off the excess oil before placing it on a wire rack to cool.
Ambience at Ami Ami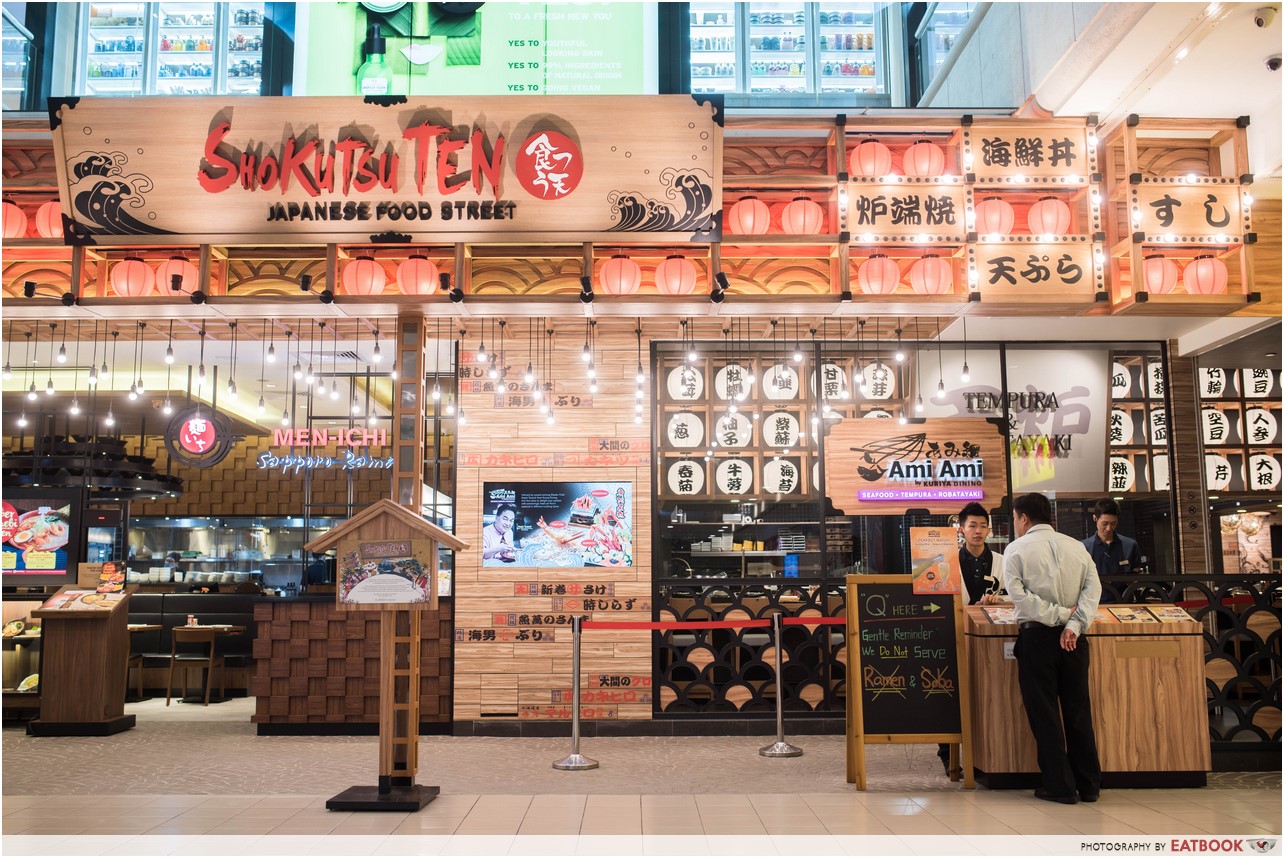 Ami Ami by Kuriya Dining is located in Shokutsu Ten Japanese Food Street at the basement of Great World City. We were asked if we wanted to have a private booth to ourselves or sit at the counter, and being the foodies we are, of course we chose the latter! But if you wanna have a gossip sesh with your squad, there are plenty of regular tables available too. Service was top-notch; all of the staff members were attentive to diners' needs.  
The verdict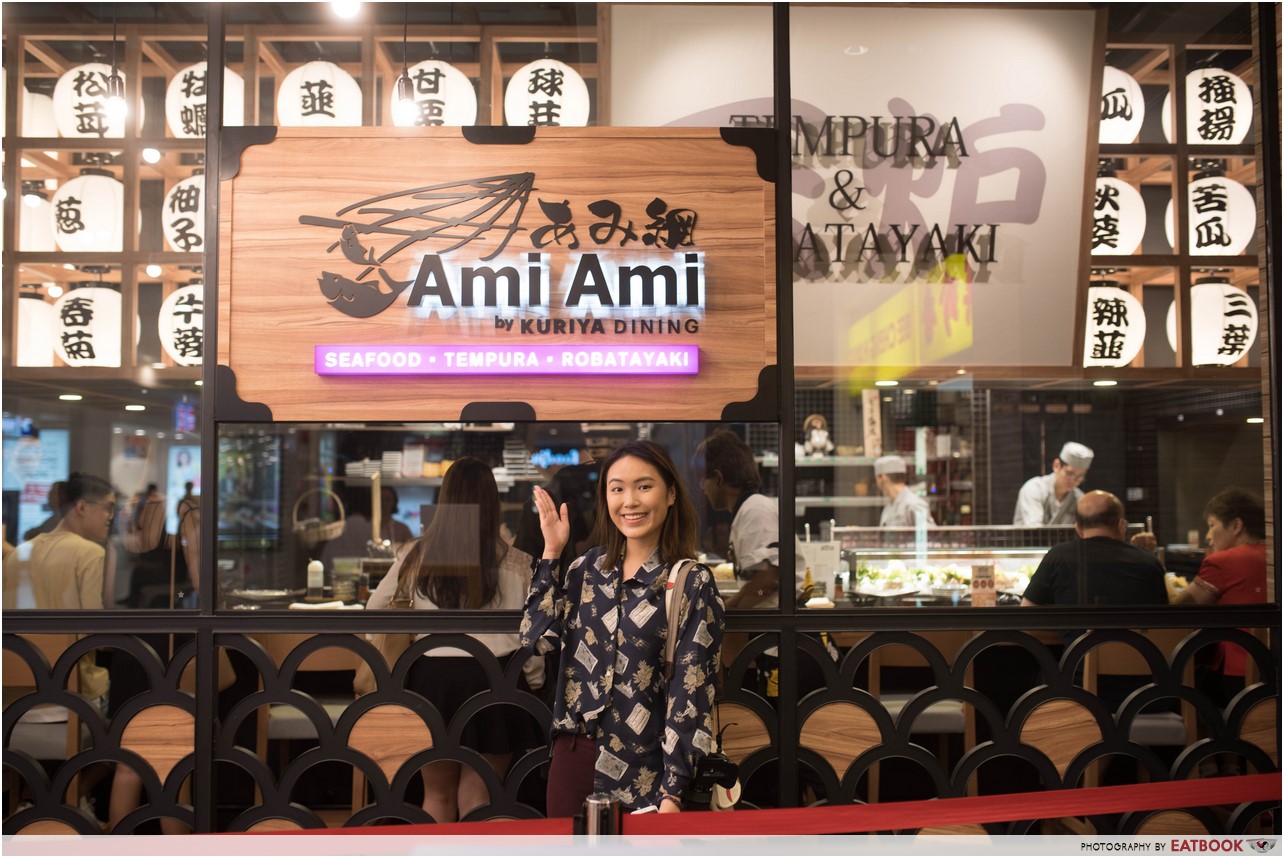 Japanese cuisine is my ultimate weakness, and I have absolutely no qualms about introducing my friends to this restaurant. Though the prices are steep, the dining experience that Ami Ami offers, in my opinion, is worth every cent.
If you're a fan of tendon, check out Don Meijin at Bugis as well. It is the first restaurant in Singapore to dish out chilli crab tempura don!
For those on a budget, Konomi Zen is a hawker stall that dishes out decent tempura don at $5.   
Address: 1 Kim Seng Promenade, #B1-03/04, Shokutsu Ten Japanese Food Street, Great World City, Singapore 237994
Opening hours: Daily 11:30am to 3pm, 5:30pm to 10pm (last order at 30 minutes before closing)
Tel: 6835 9071
Website
Ami Ami by Kuriya Dining is not a halal restaurant.
This is an independent review by Eatbook.sg.
Summary
Pros
– Great service
– Delicious food
Cons
– Expensive
Recommended Dishes: Live Scallop Robatayaki with 3 Toppings ($19.80++), Ten Don Set ($23.80++)
Operating Hours:
Daily 11:30am to 3pm, 5:30pm to 10pm (last order at 30 minutes before closing)
Tel:
6835 9071
Address: 1 Kim Seng Promenade, #B1-03/04, Shokutsu Ten Japanese Food Street, Great World City, Singapore 237994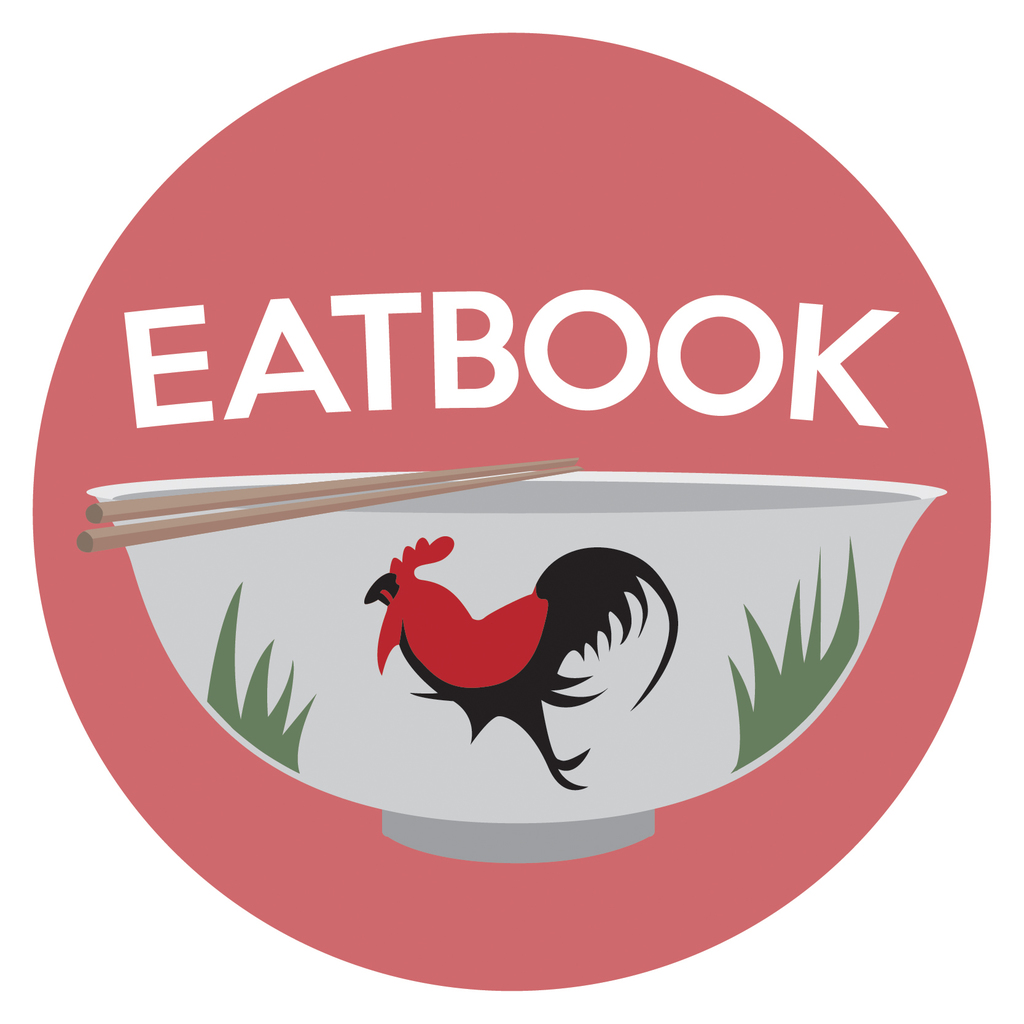 Drop us your email so you won't miss the latest news.