Annyeong Chicken at Clementi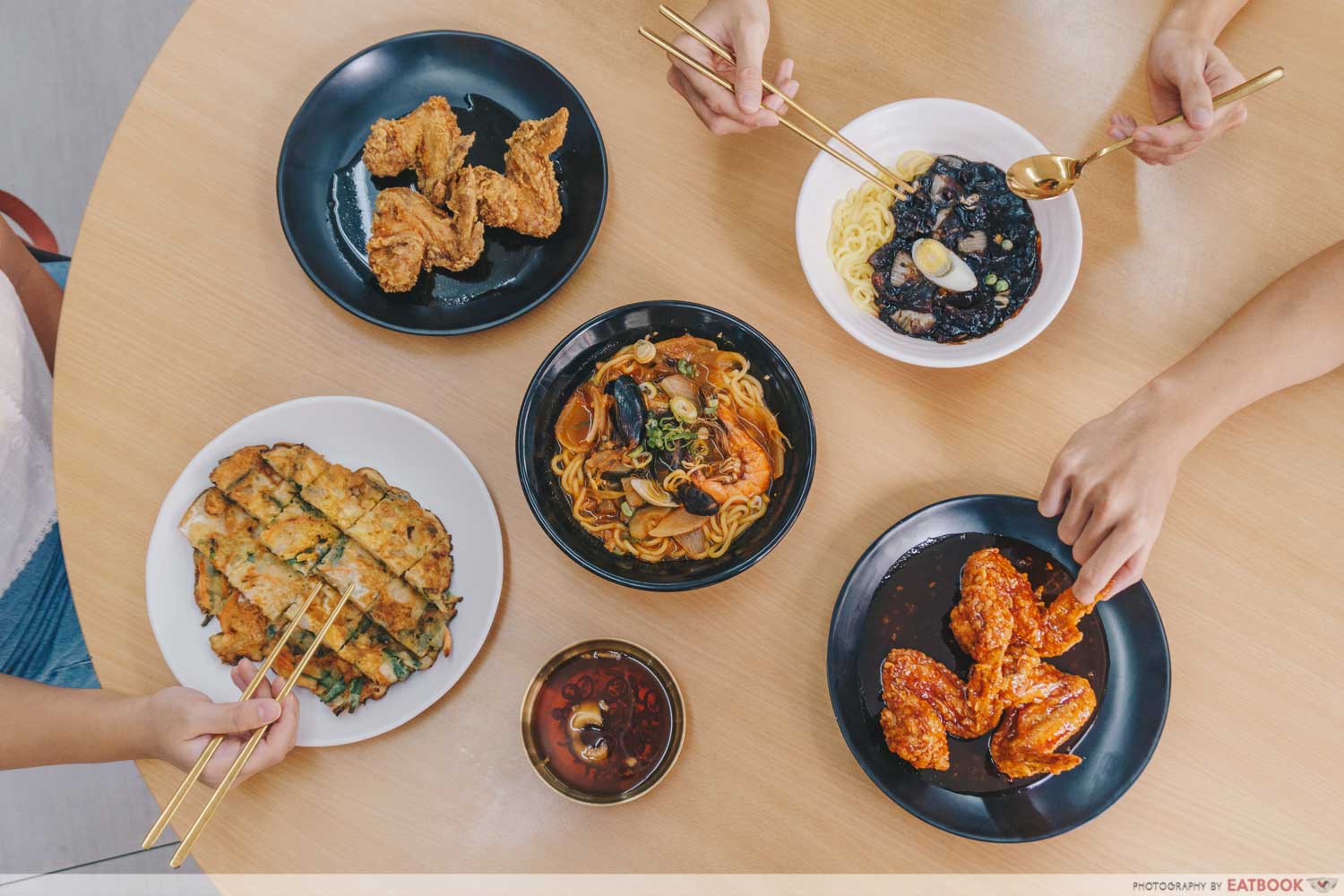 Yet to recover from my holiday binge of the K-drama Start-Up, I decided to visit this real-life entrepreneur couple in Clementi, who run a hawker stall known as Annyeong Chicken. Since opening, their Korean-Chinese dishes were a quick hit among the residents. In fact, operating hours had to be shortened as the one-man show in the kitchen could not keep up with the preparation work. 
Annyeong Chicken's dishes add vibrancy to the monotonous Korean hawker stalls in Singapore serving rice and meat sets on hotplates. It wasn't difficult to choose from the five-item menu that was streamlined through a poll by returning customers. 
Food at Annyeong Chicken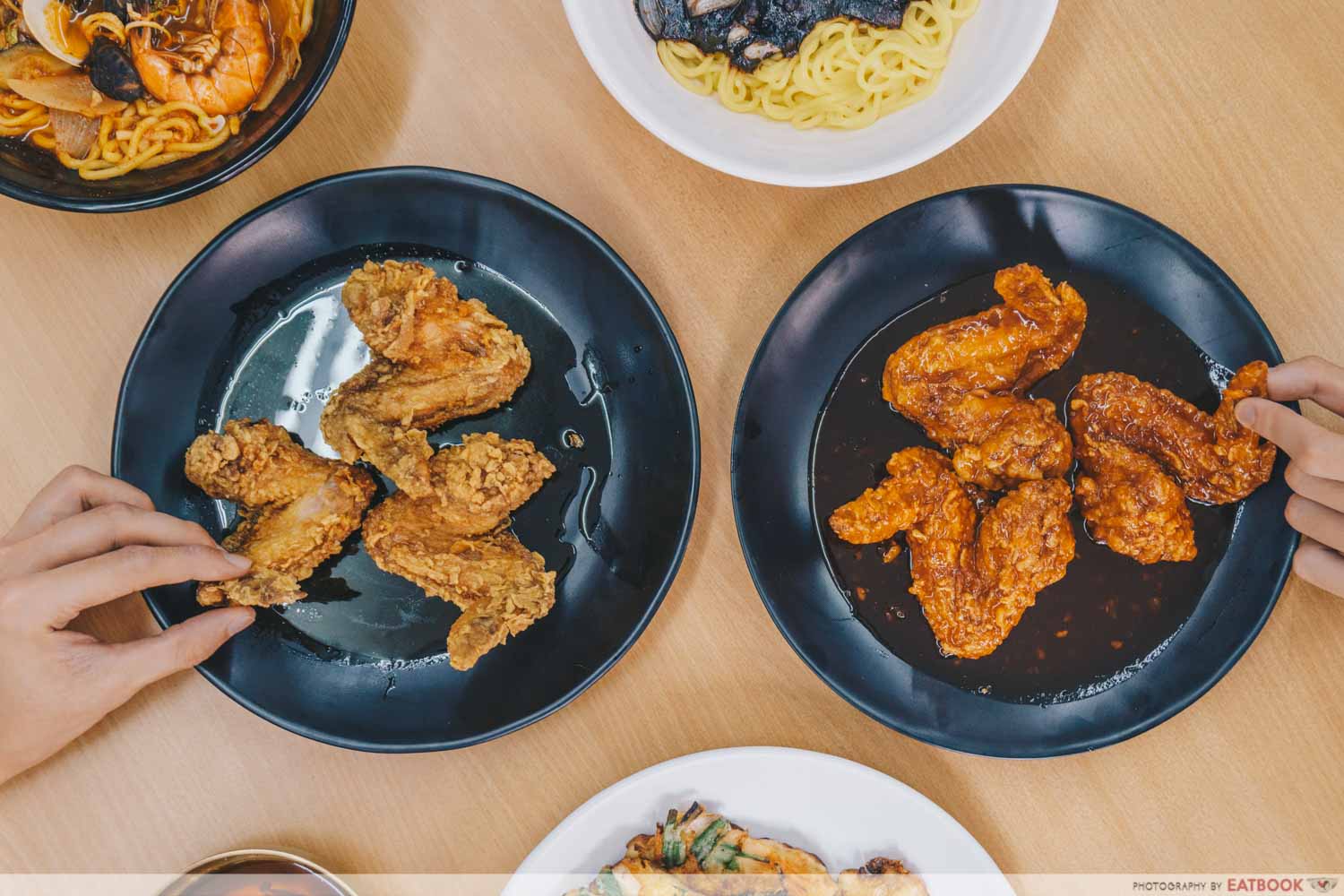 Considering the name of the shop, I felt obliged to give the Fried Chicken ($8.00 for three pieces) a try. They currently only have two options, Soy Garlic and Sweet-Spicy, and I ordered both. It was to my disappointment, that the more interesting flavours such as Volcano Spicy and Honey Butter Fried Chicken are currently unavailable due to a lack of supply of ingredients from Korea.
The wings were crispy and gave a satisfying crunch. They were both mouth-watering and well marinated with a sticky coat of sauces.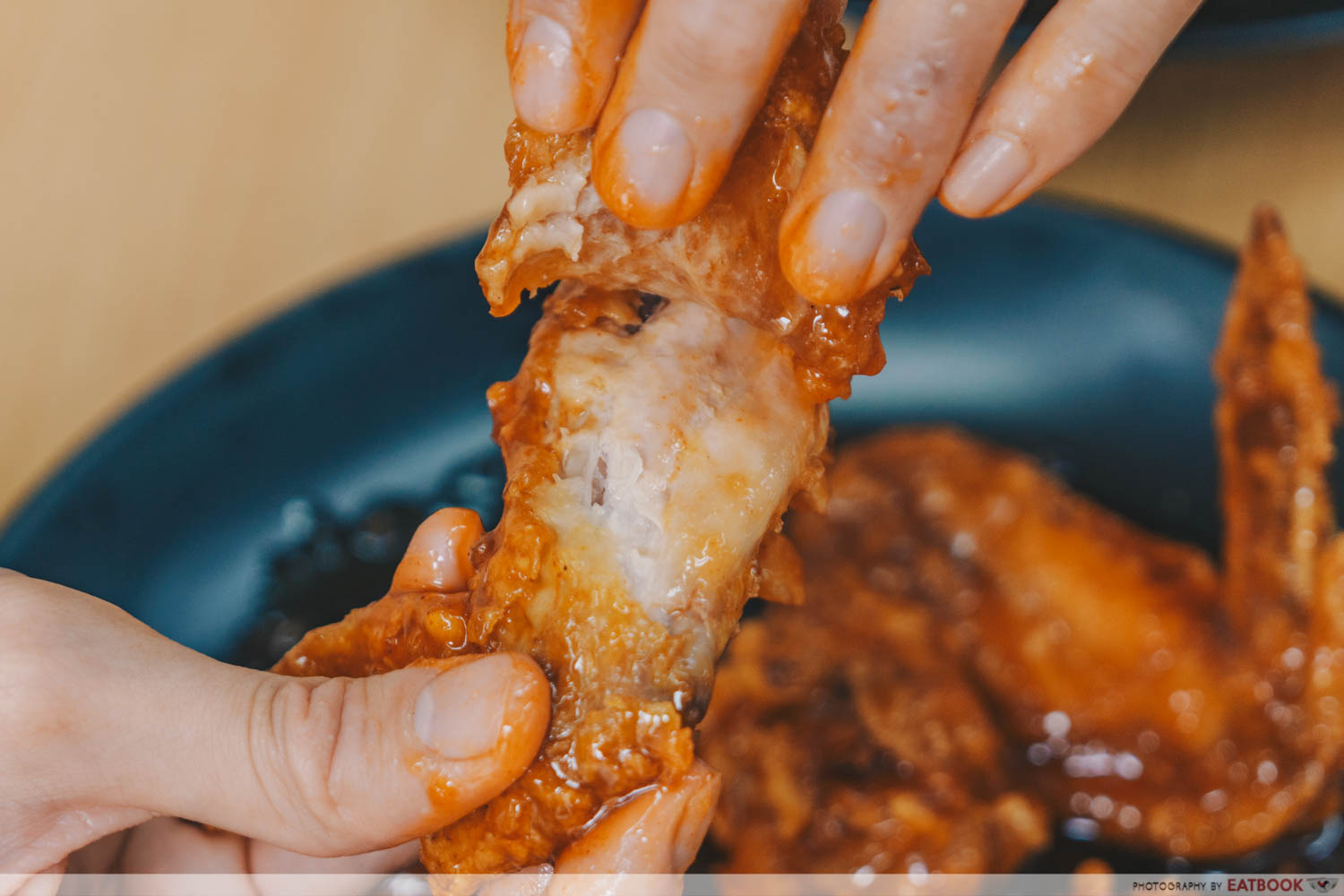 The chicken's interior remained juicy, and I suspect this was made possible by the double frying technique common with Korean fried chicken—a testament to the chef's commitment to not skimp on processes.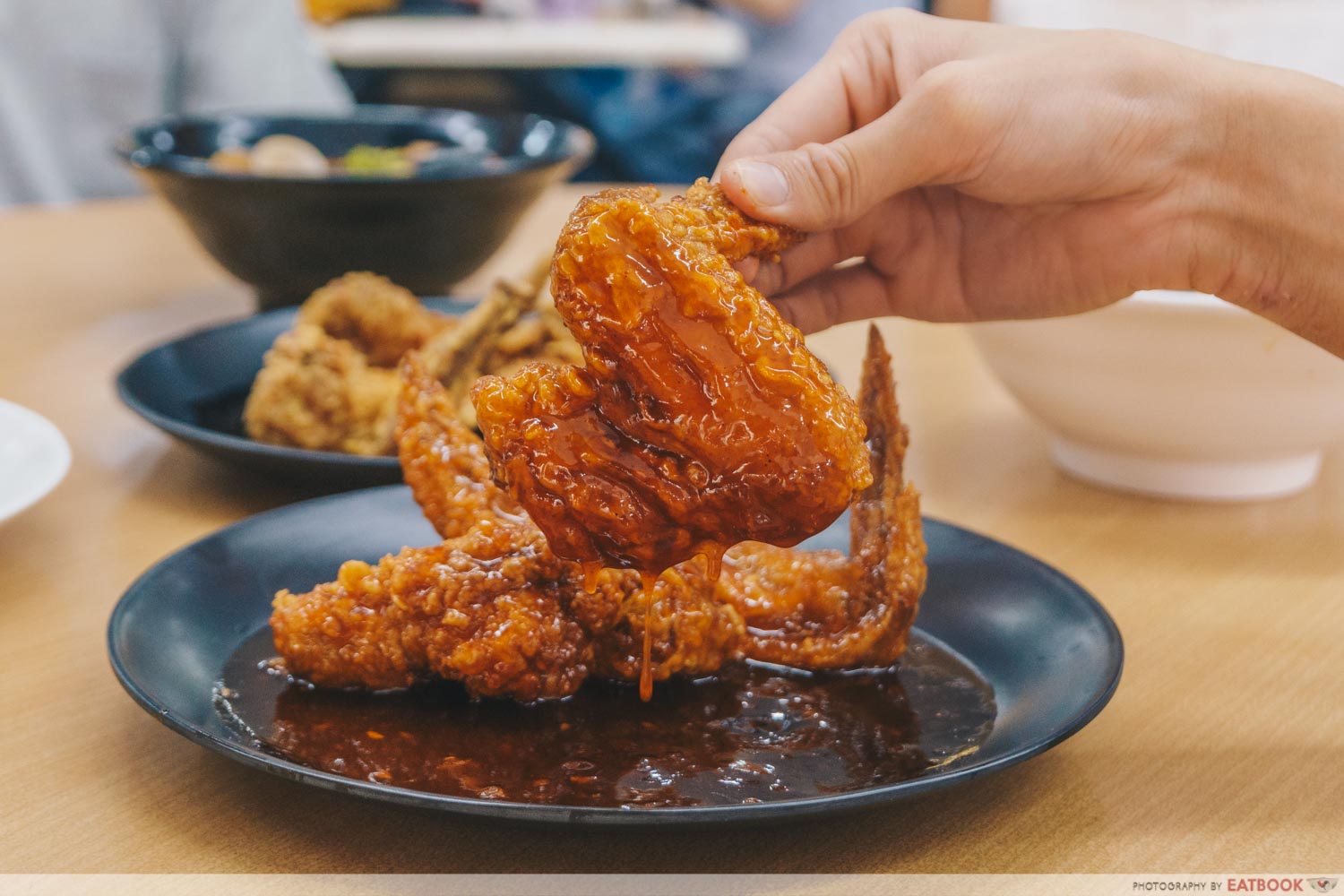 The fried chicken was served with a generous coating of sauce that gives an IG-worthy drip when picked up.
The sweet and spicy sauce was deceptively sweet on the first bite and quickly turned into a fiery spicy aftertaste—perfect if the extra spicy Samyang sauce is no kick for you.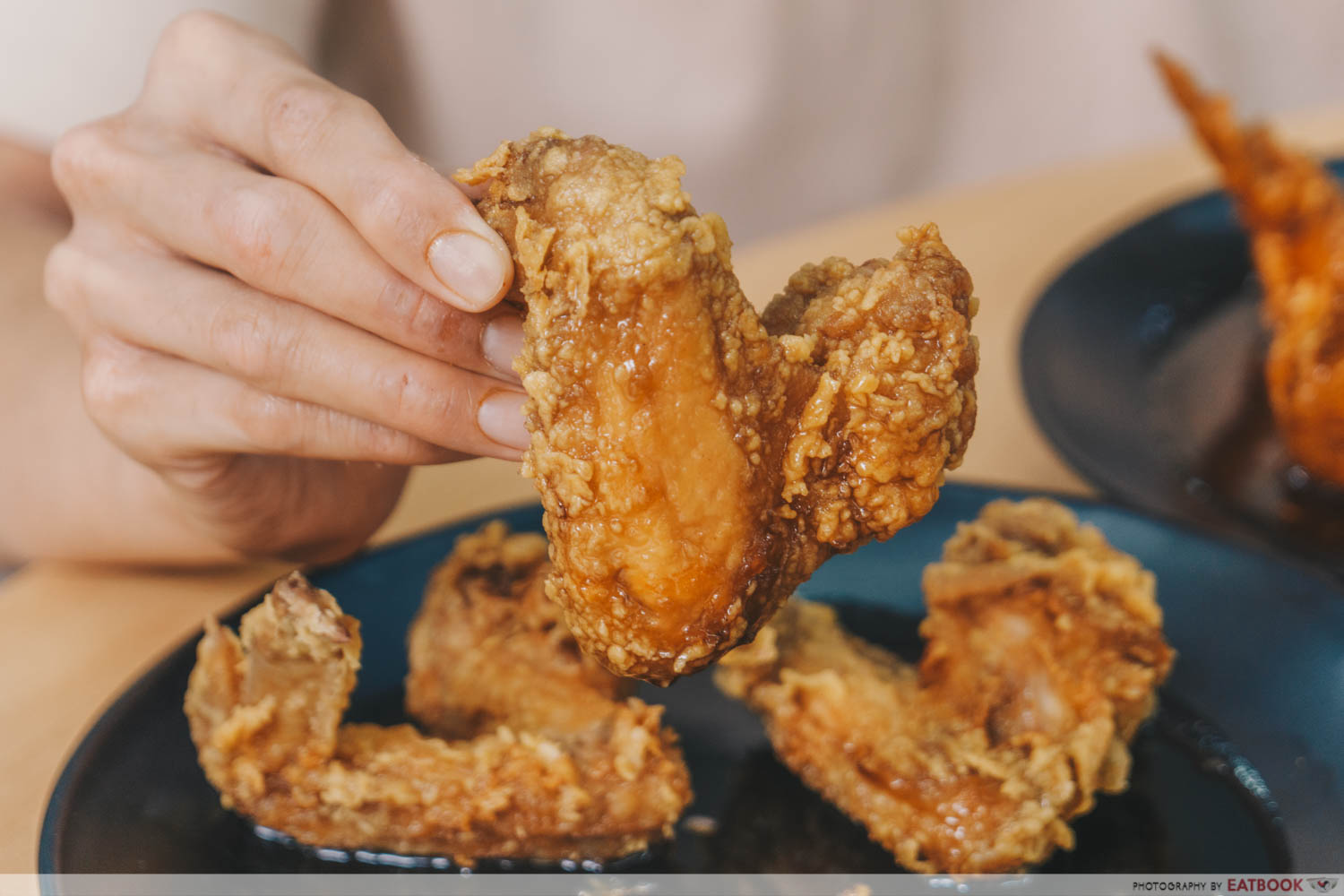 For those who are weak against spice, the store serves up another Korean favourite, the soy garlic chicken. The flavour profile of the sauce was salty, garlicky, and slightly sweet. The sweetness here is definitely more pronounced, making the taste of garlic barely noticeable.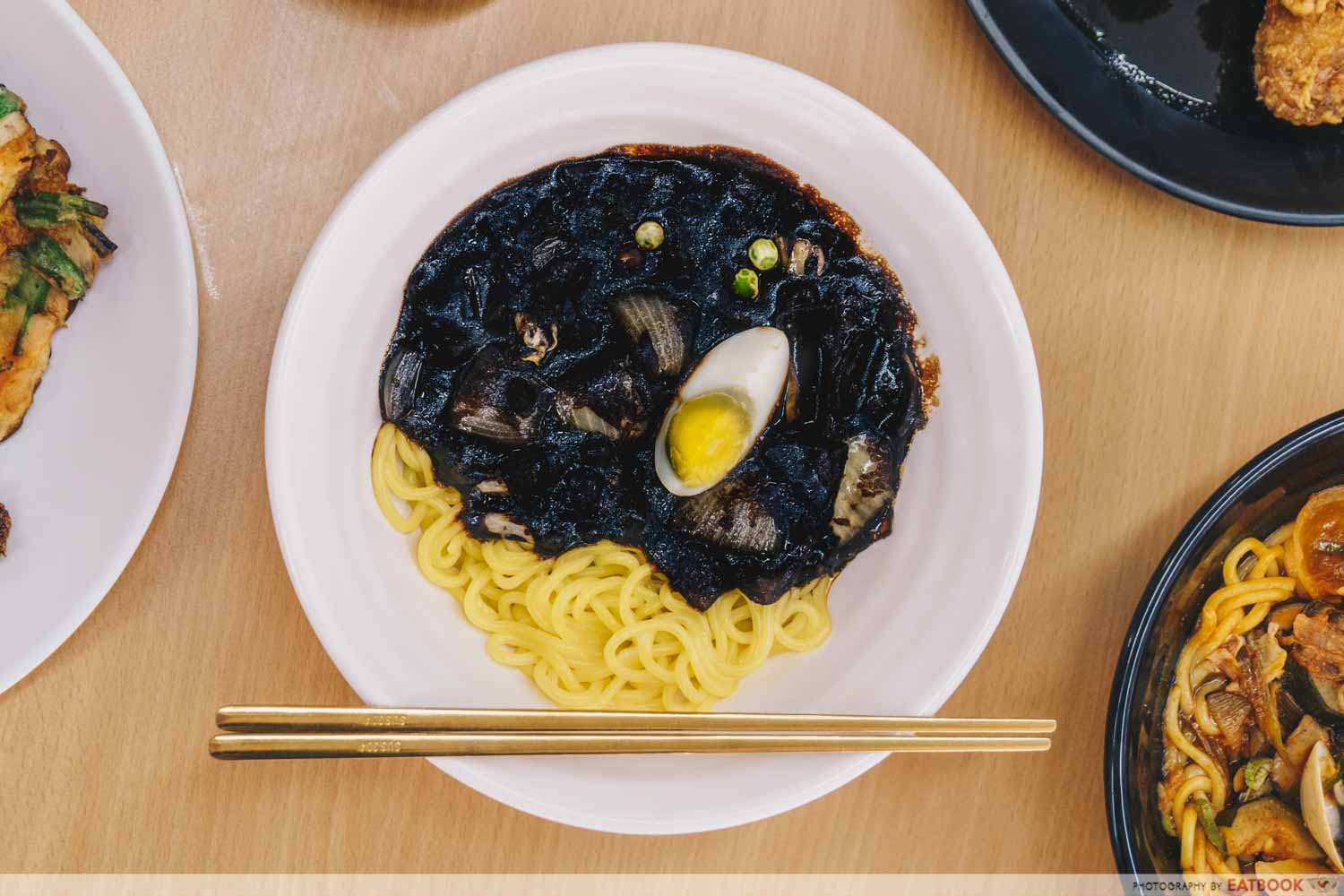 The Jajang Myeon ($7) here offers Obba Jjajang 'aesthetics' on a budget. Using golden cutlery and flat Korean-style chopsticks, the vibes you get here are similar to a Korean restaurant.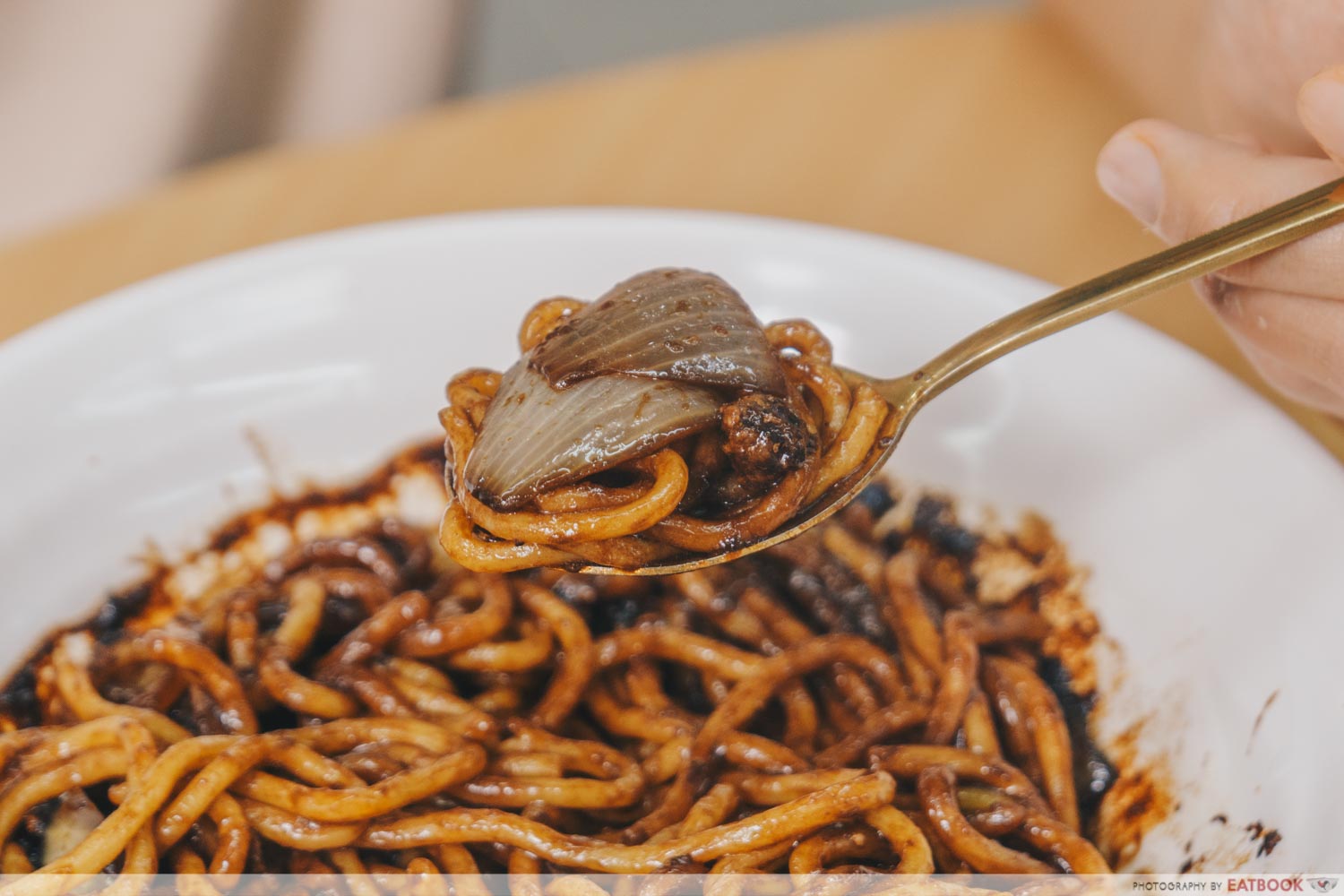 The black bean sauce coats the springy Korean yellow noodles evenly and the flavours permeate every bite. The strong onion flavour in the sauce might be a tad overpowering for some, but it was understandable as more onion than meat was used in the preparation of the sauce. The only thing it needed for a full Korean experience was a side of pickled radish to freshen the palette every once in a while.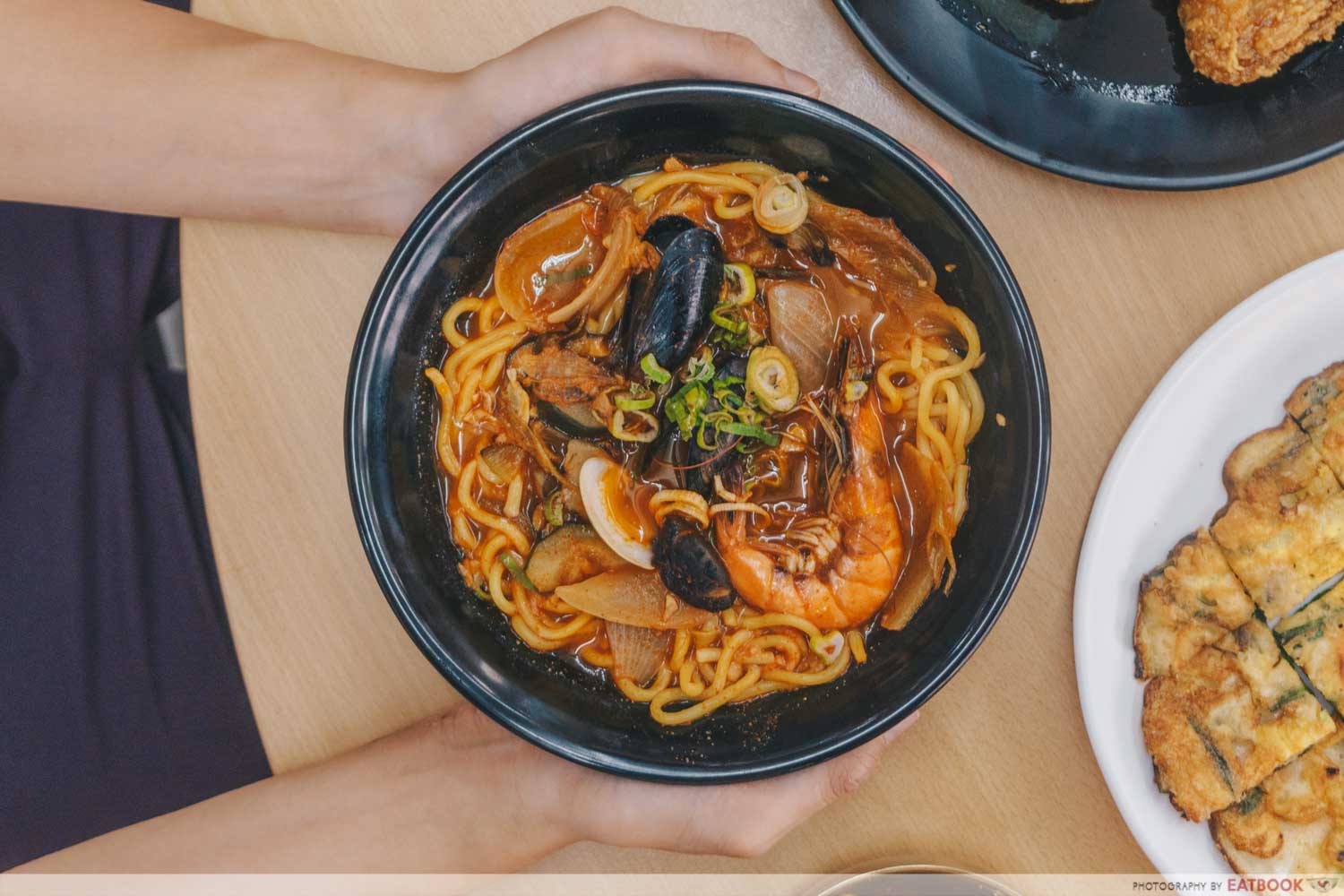 Known to Koreans as a healthy comfort food, the Jjam Ppong ($7) was served piping hot with an combination of seafood, vegetables and garnish. Jjamppong can bring comfort to you on a particularly rainy day. 
The seafood includes prawns, mussels, and clams. Textures hint that they might be frozen not fresh, but this is reasonable considering the low price point. It would require a visit to a jjamppong speciality store for anything better than this.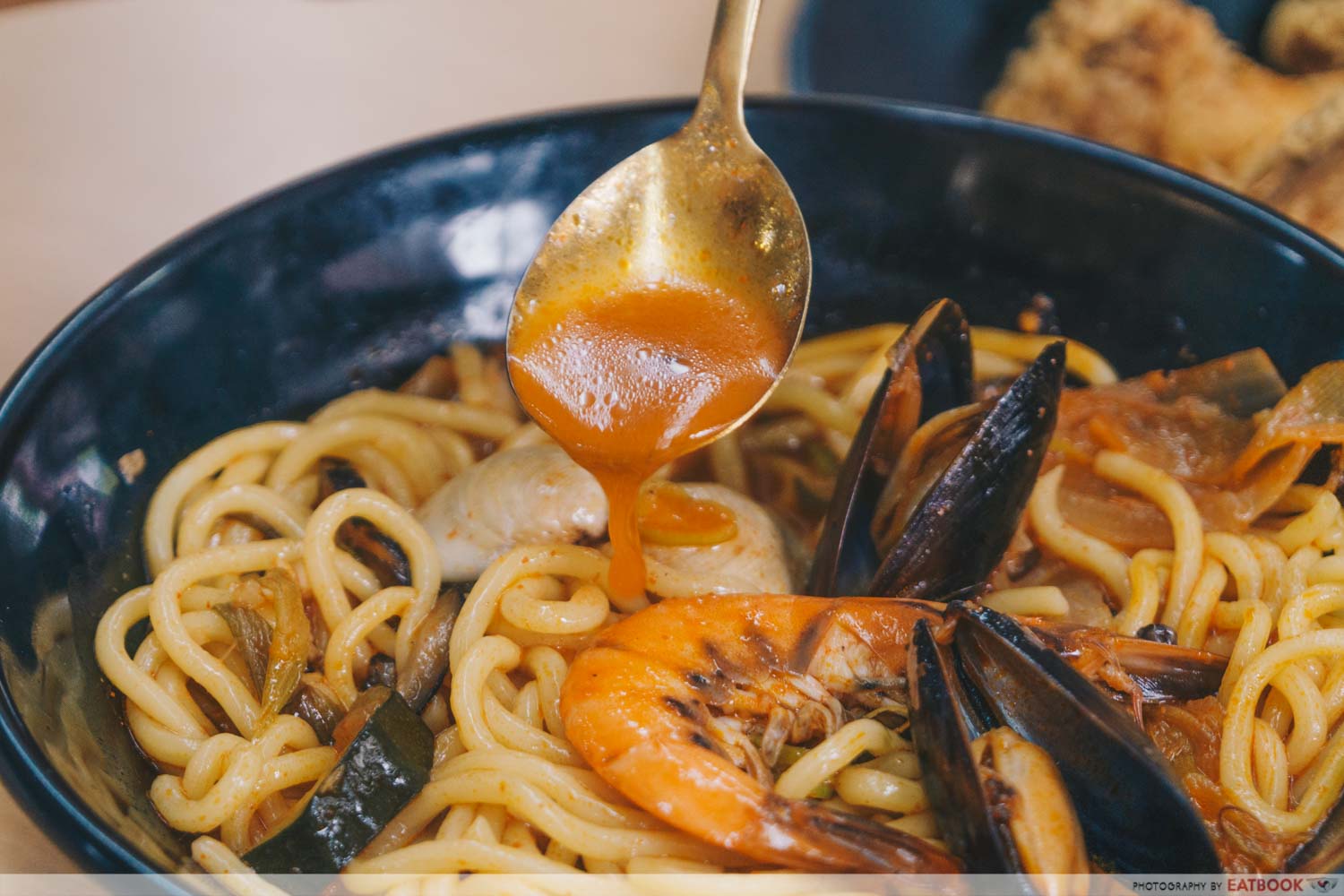 The soup tasted fresh and light but definitely not bland, thanks to the sweetness from the seafood and caramelised onions. I was looking forward to a slightly smoky flavour of the soup but it was absent from the dish. 
Meant to be a healthy dish, the soup is boiled from scratch using natural ingredients and only a little bit of MSG. At an affordable $6.90 a bowl, you can now fix your jjamppong cravings without your hair falling out.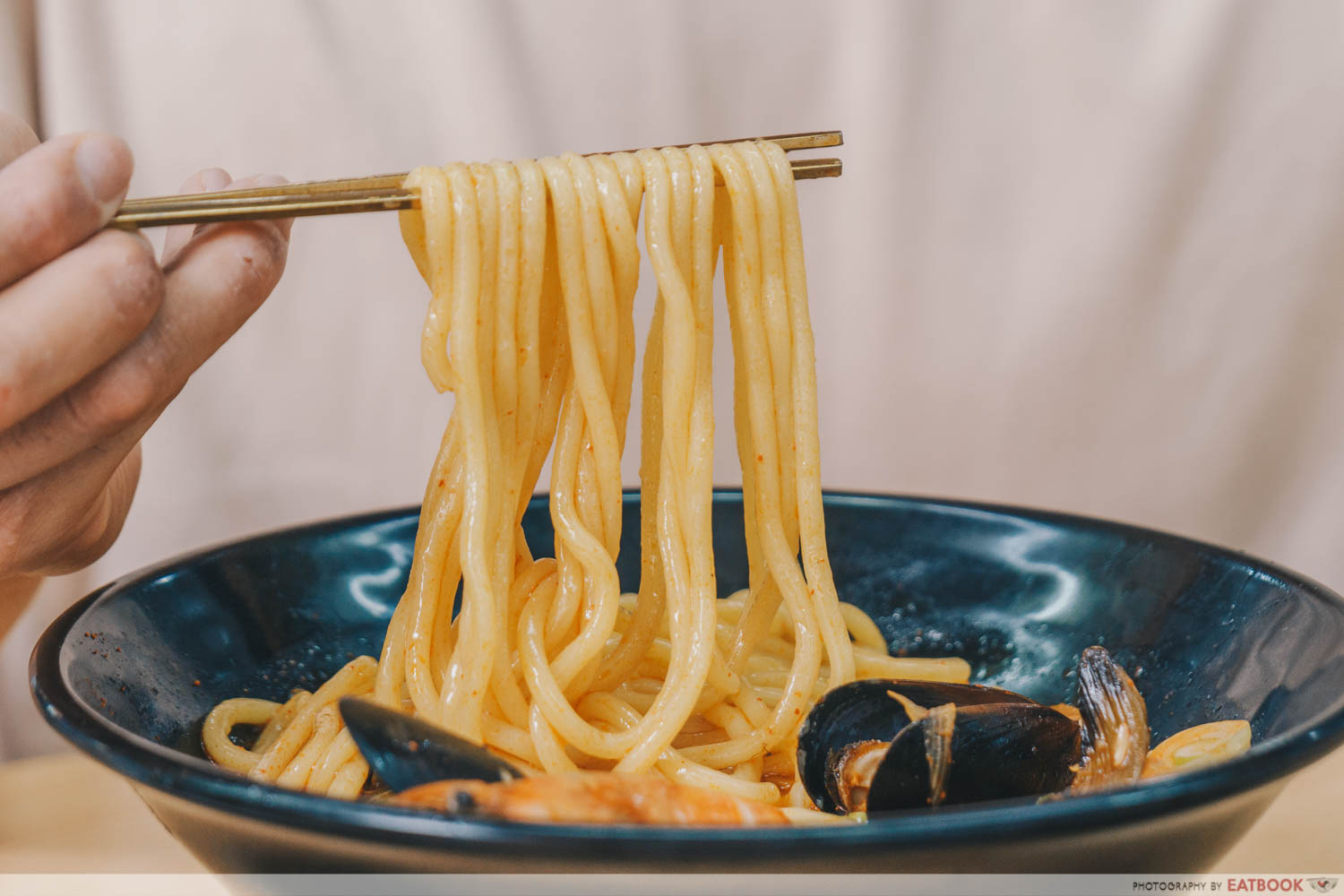 The same noodles as the jjajangmyeon were used, and it works well in the soup as it soaks up the broth without compromising on texture.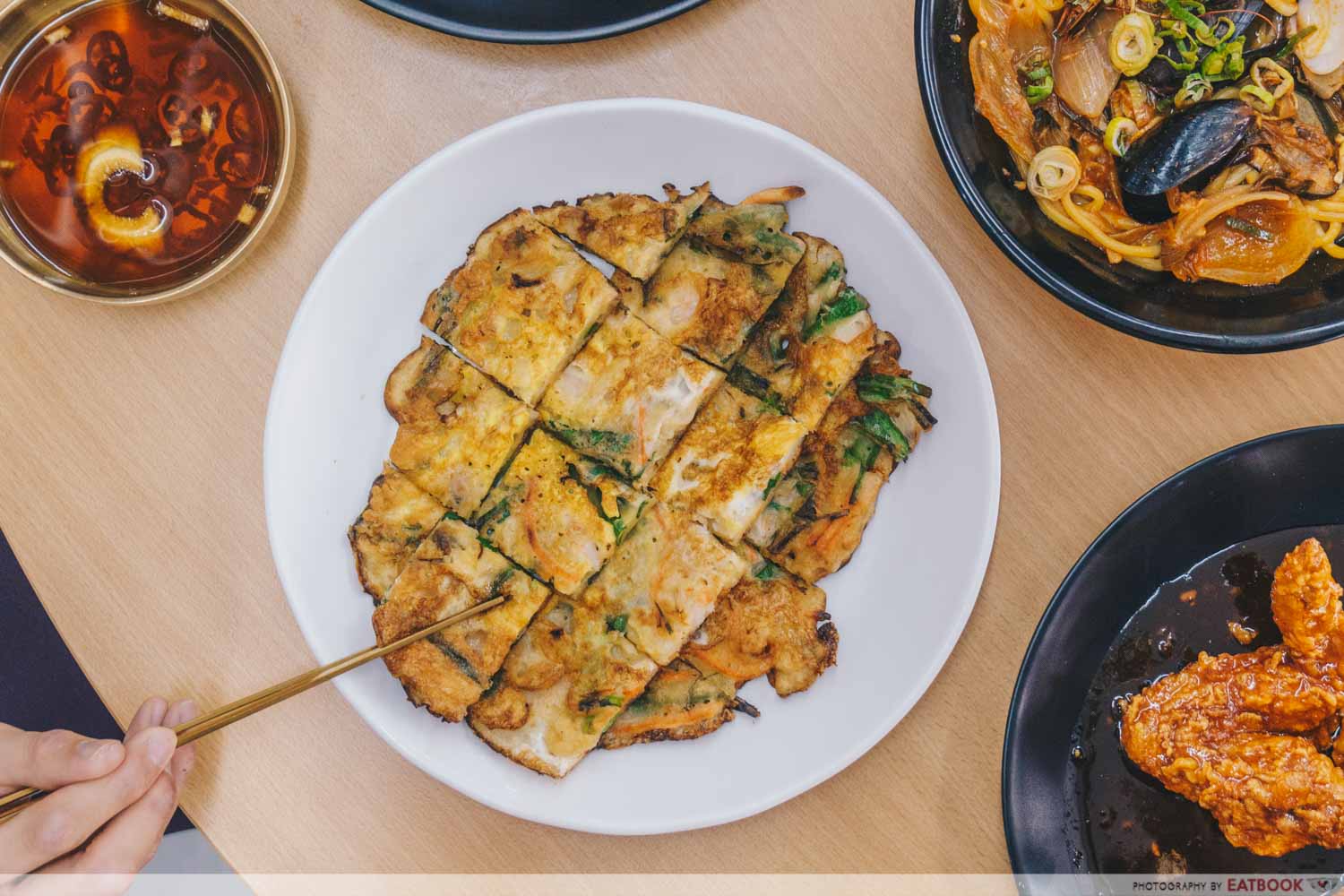 Taking a break from slurping noodles, I went for the Haemul Pajeon ($12 or $10), which introduced a crispy exterior and chewy interior with every slice. A popular street food in Korea, the seafood pancake goes well as a side dish or even on its own. The portion of the pancake was generous and sufficient for two to three to share.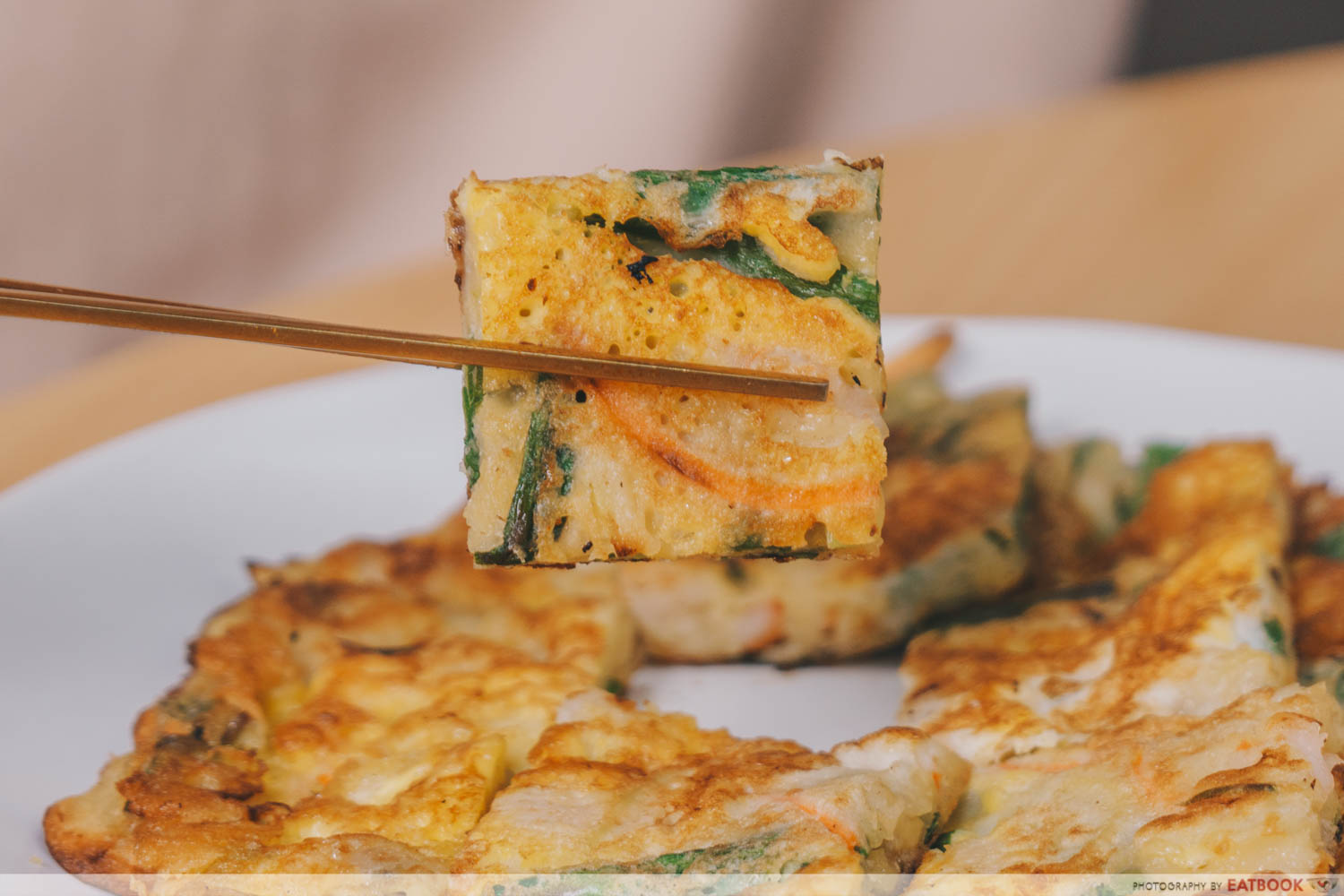 There is more than meets the eye for the pancake. The ingredients are largely concealed by the final step of cracking an egg over the ingredients—a necessary step to achieve the ASMR-worthy exterior.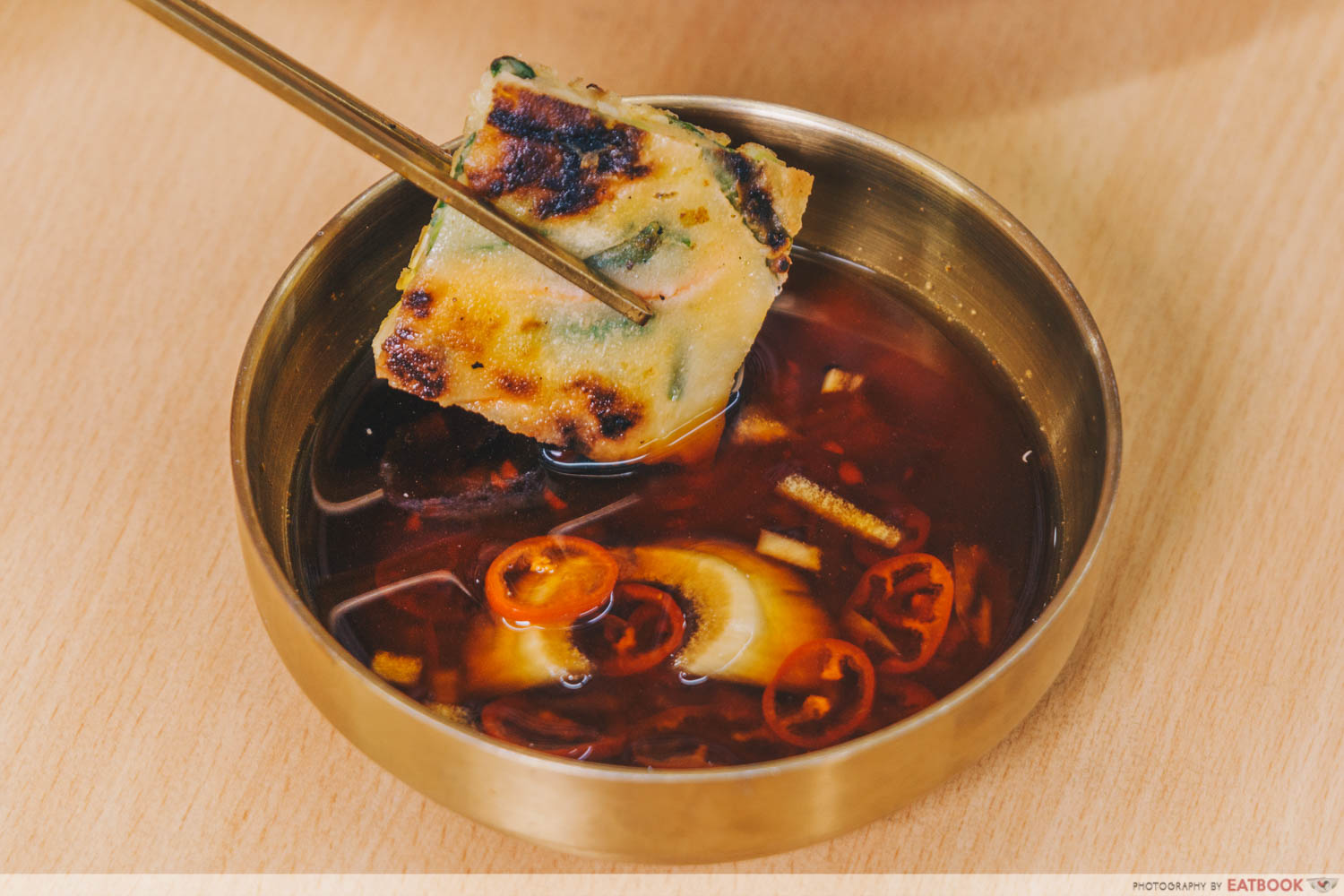 It comes with Chinese-style cut chilli and onions in soya sauce. I recommend skipping that as it masked the seafood and made the pancake soggy.
Ambience at Annyeong Chicken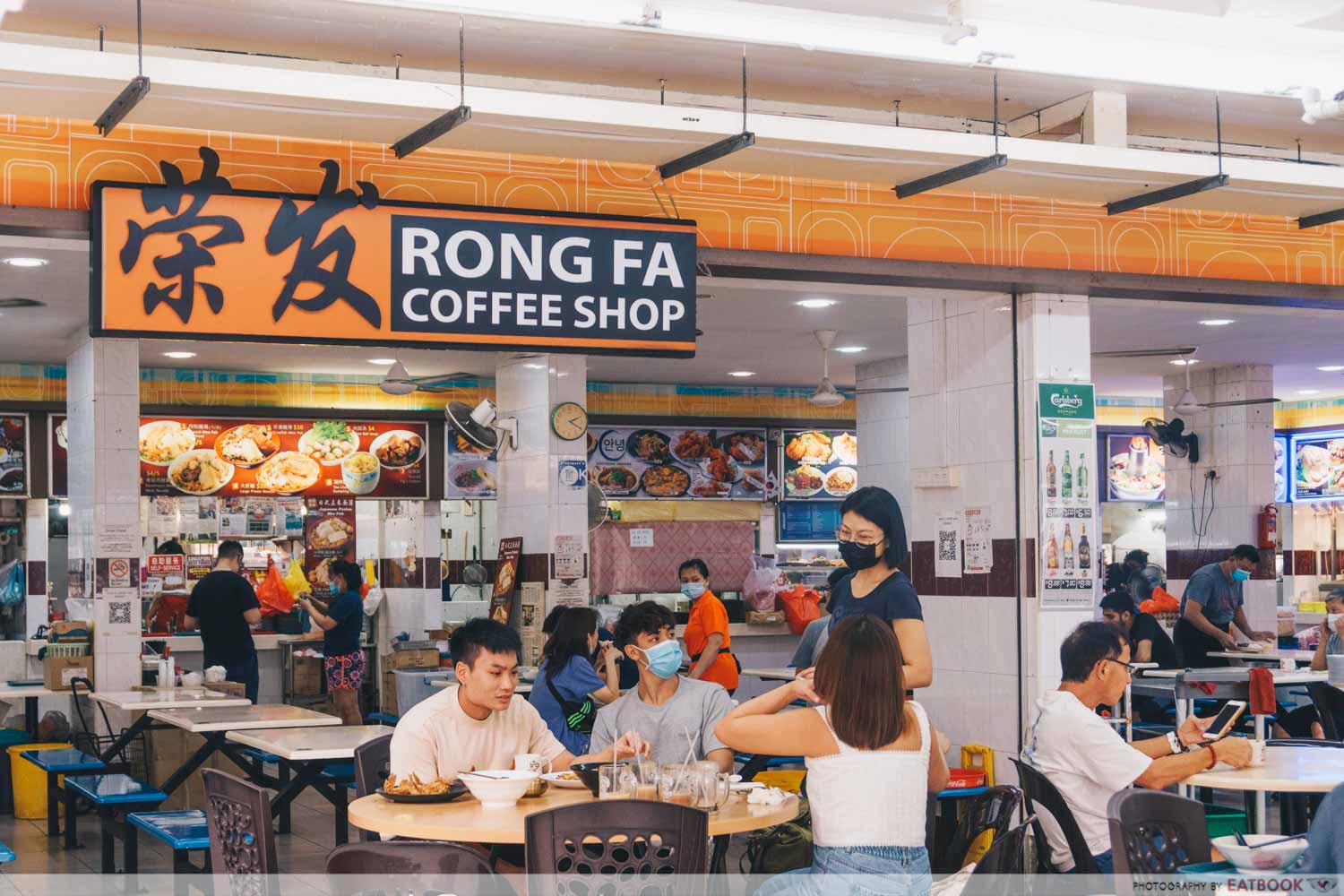 The area is a 15-minute bus ride from Clementi MRT Station and can get very crowded during meal times. The stall owners remained polite and friendly despite the busy lunchtime crowd. To avoid the bustle, I chose to sit at the sheltered outdoor to enjoy the light breeze. 
The verdict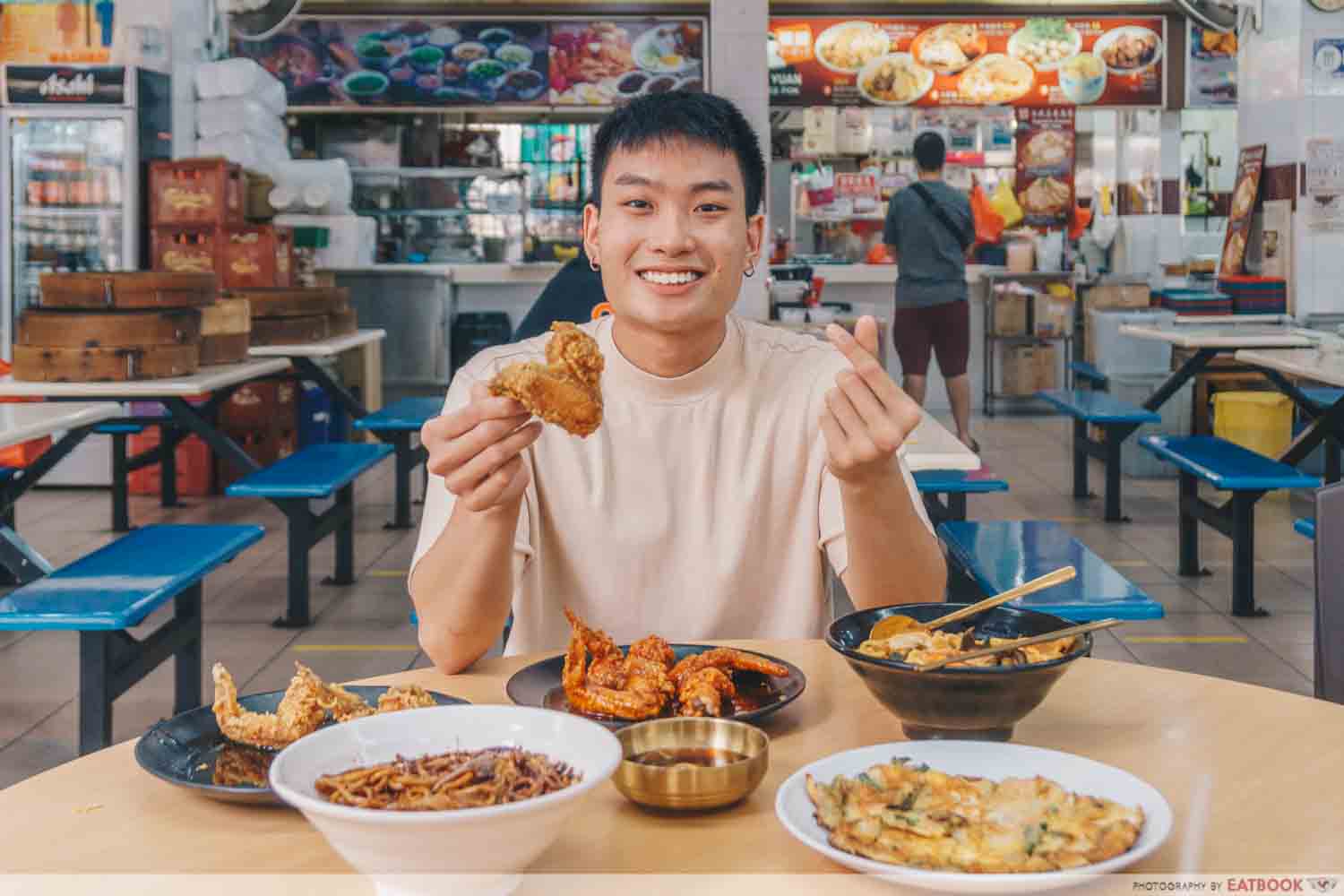 To me, the biggest edge of Annyeong Chicken is their ability to offer their food at affordable hawker prices, while still bringing something of quality to the table. The breath of fresh air in Clementi's hawker scene really boded well with residents here as seen from their popularity. They do have plans to open a restaurant eventually, but, for now, a new rotation of five other menu items is part of the plan. I will definitely drop by again for their Honey Butter Chicken and Tornado Fried Rice if I'm ever around Clementi.
If you're looking for another Korean hawker stall, check out our review of Pink Candy, which comes with a rooftop view. Otherwise, check out our Clementi food guide.
Address: Blk 710 Clementi West Street 2, #01-247, Rong Fa Coffee Shop, Singapore 120709
Opening hours: Mon, Wed-Sun 11am to 1:30pm, 5:30pm to 7pm
Website
Annyeong Chicken is not a halal-certified eatery.
Pink Candy Review: Affordable Korean Hawker With Rooftop Views Near Beauty World
Photos taken by Nur Syamira.
This is an independent review by Eatbook.sg.
Korean Hawker Stall Has Legit Jjajangmyeon, Fried Chicken And More From $6
Summary
Pros
– Unique Korean hawker food
– Well-seasoned dishes
– Good portions
– Reasonable price
Cons
– Limited menu items
– Far from Clementi MRT Station
Recommended dishes: Jajang Myeon ($7), Fried Chicken ($8.00 for three pieces), Jjam Ppong ($7)
Opening hours: Mon, Wed-Sun 11am to 1:30pm, 5:30pm to 7pm
Address: Blk 710 Clementi West Street 2, #01-247, Rong Fa Coffee Shop, Singapore 120709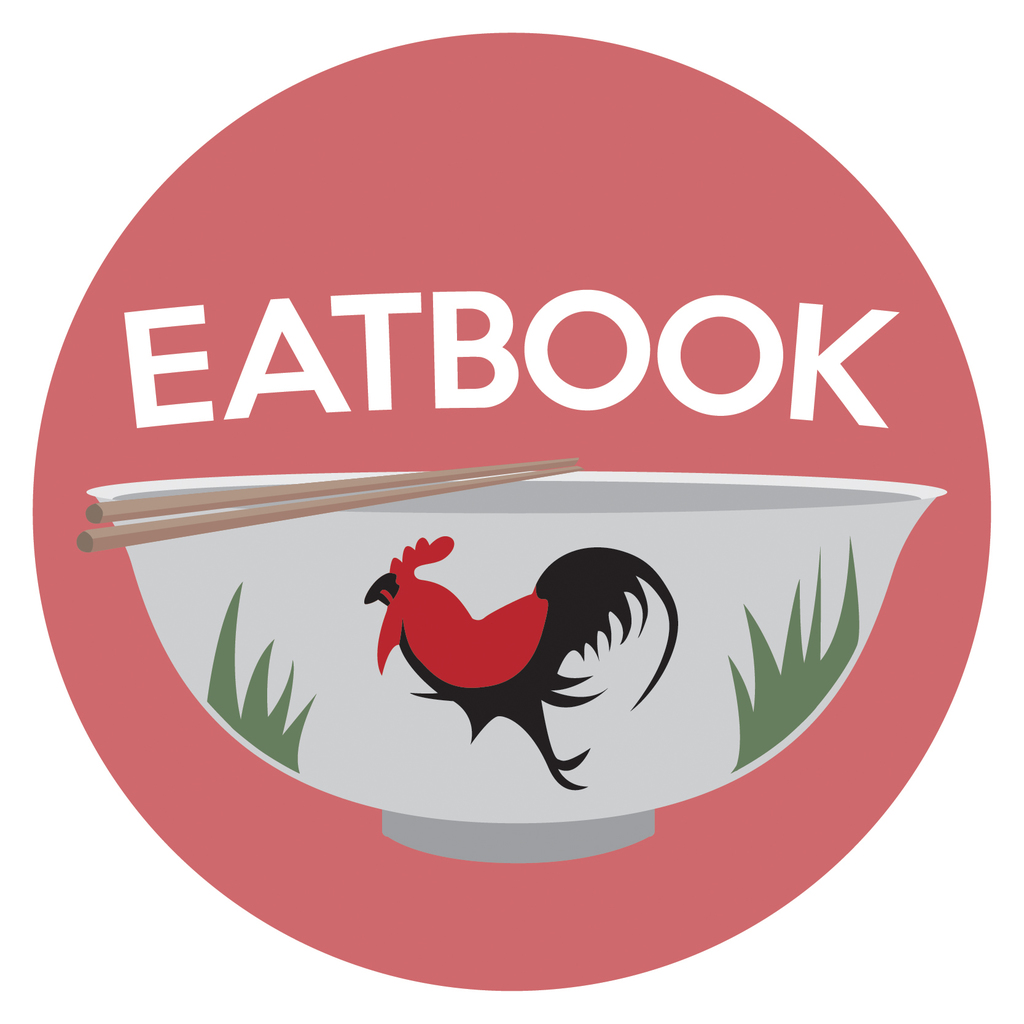 Drop us your email so you won't miss the latest news.