---
Food at Arcade @ The Capitol Kempinski
---
Sometimes, you don't need to be in the heartlands to discover a hidden gem. Located inside the iconic Capitol Building, Arcade @The Capitol Kempinski brings to mind Melbourne's famous laneways with its assortment of international restaurants, amidst sprawling flora. 
Aesthetics aside, the joints here have another thing going for them: good food at reasonable prices. From now till 31 January 2020, most of these places will have multi-course lunch sets going as low as $12 nett. From Katachi Style's omakase to Frieda's German nosh, here are all the restaurants you can visit at this food haven.
---
1. Frieda
---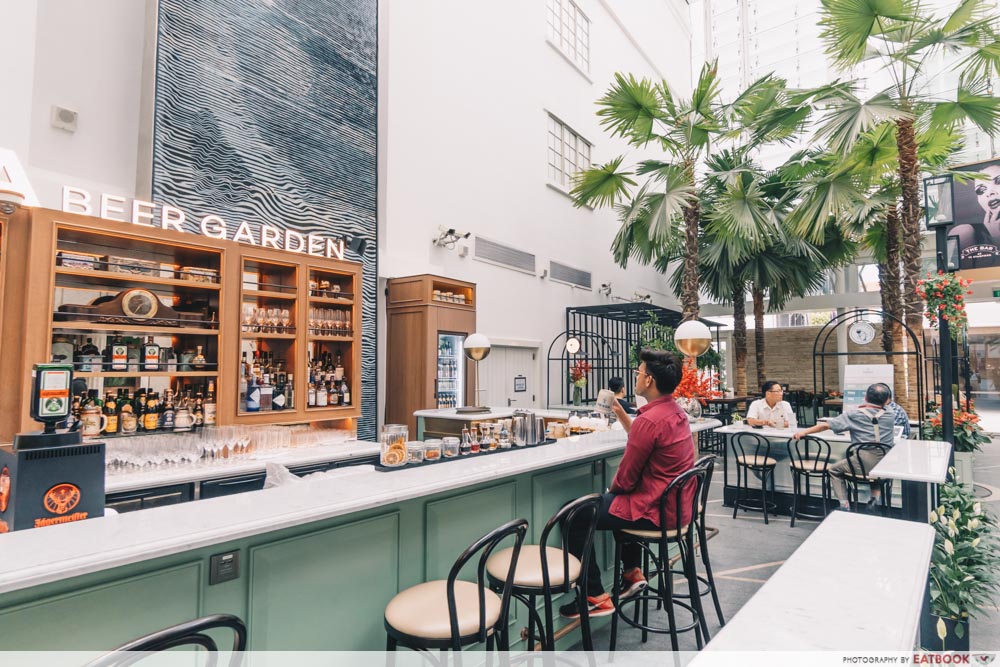 If there's one thing you can count on Germany to do right, it's their beer. Crack open a cold one with the lads at Frieda which has their very own beer garden and an insane happy hour deal that gives a pint of draught beer from just $5++.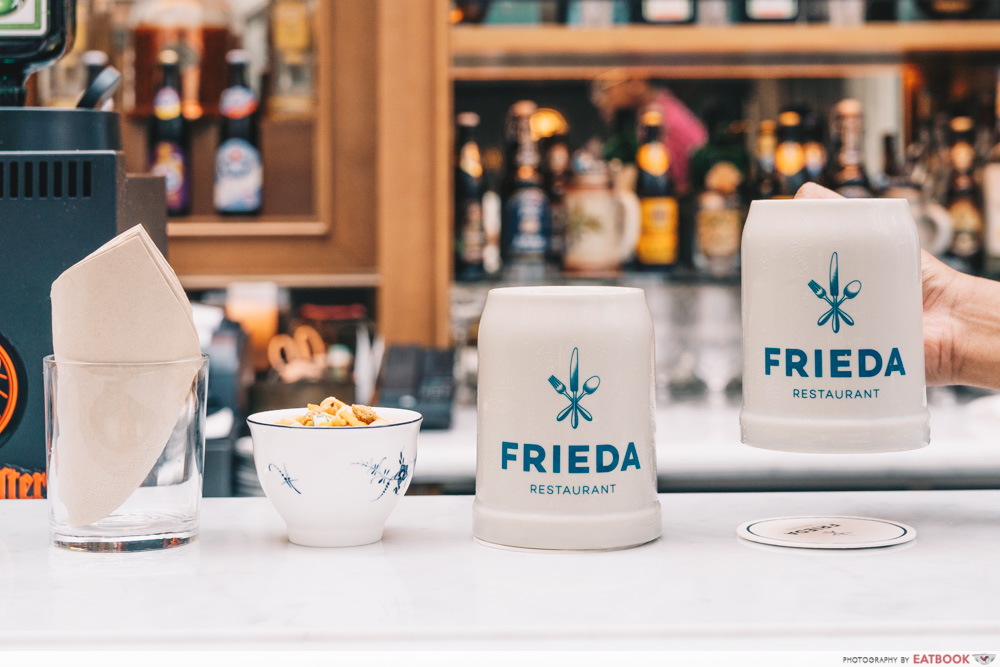 Available after 5pm every day, the deal lets you have a pint of their in-house German pilsner which has a medium body with a malty finish.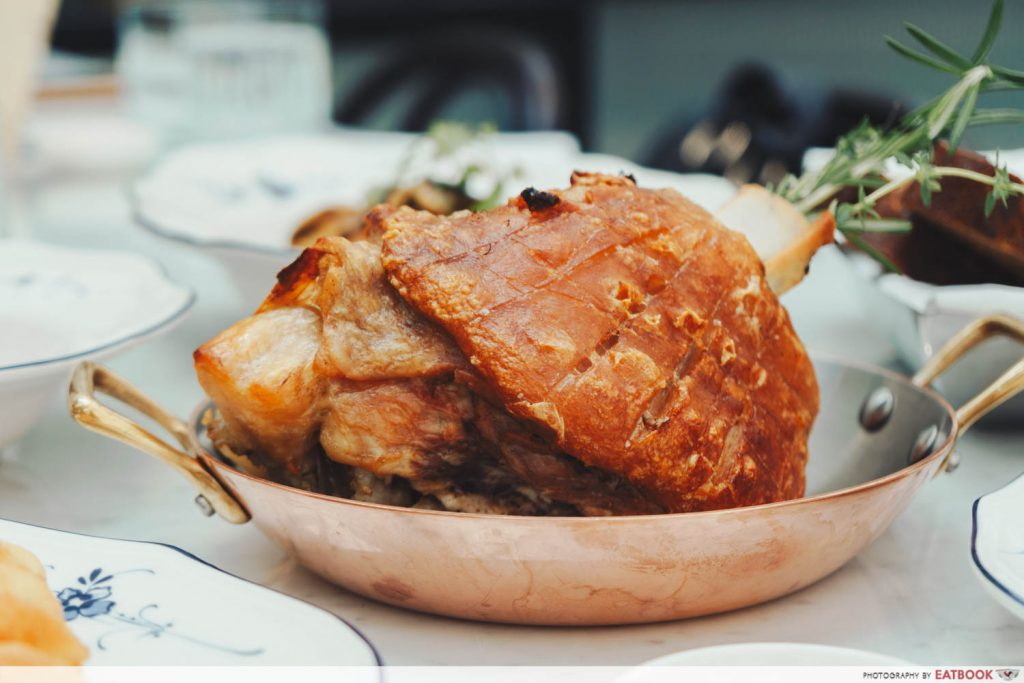 Of course, beer is best consumed after a heavy meal which is why you shouldn't miss out on Frieda's food. Their Oven Roasted Pork Knuckle ($49++) is slow-cooked for three hours in a herb-infused stock, resulting in soft and juicy meat.
Unit number: #01-87
Opening hours: Daily 11:30am to 2:30pm, 6pm to 10:30pm
---
2. La Scala Ristorante
---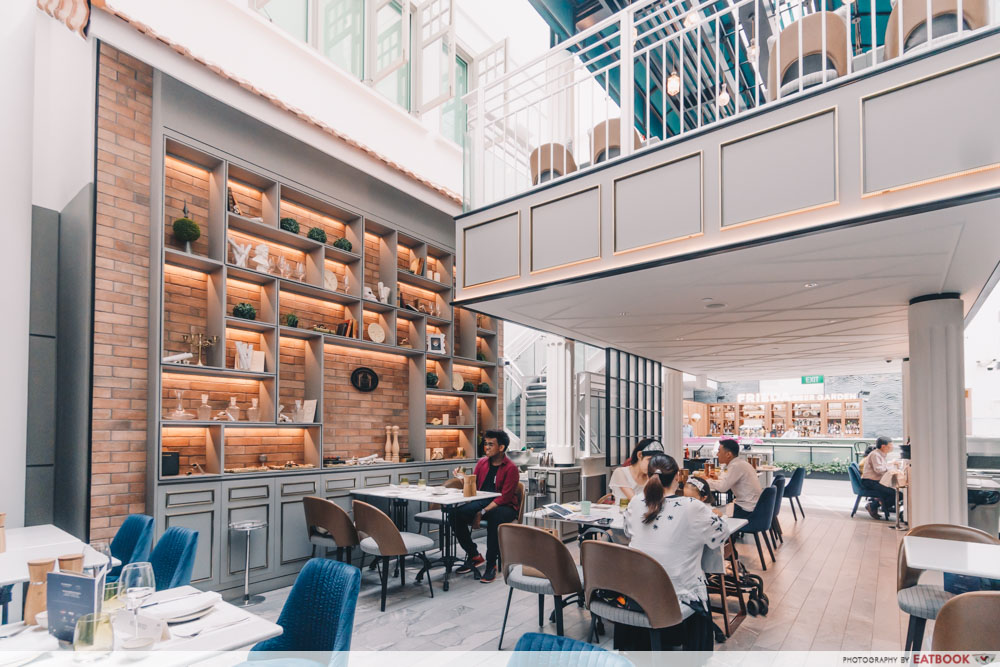 La Scala Ristorante has a homely vibe with its exposed red brick walls and wooden floors. This comforting feeling extends to their Italian nosh that fills you up by the fifth bite.
Just like most restaurants here, there is a $17++ set menu which comes with an appetiser and main or a main and dessert. For those with a larger appetite, we recommend springing for the three-course meal ($22++) which has an appetiser, main, and dessert.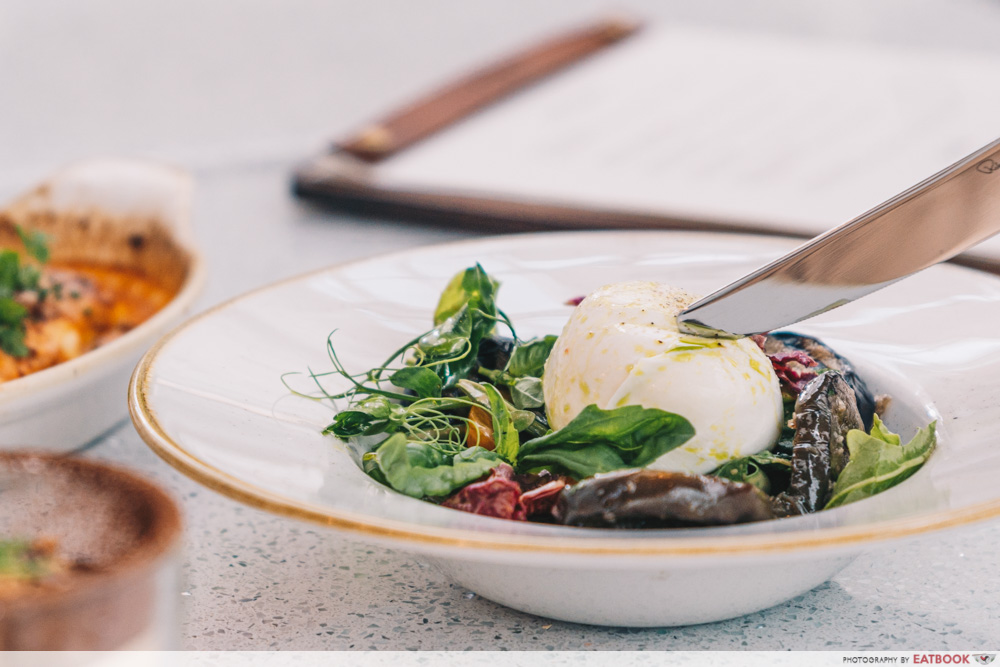 In addition to being beautifully plated, the Caprese Ortolana also bursts with flavours. The grilled eggplants have a peppery kick that's tempered by the mild Buffalo cheese. The cherry tomatoes are plump and juicy, with the basil lending some zest and crunch to the dish.
Meat lovers will be pleased with the Lasagna Classic that's heavy on beef and pork ragu. Together with the bechamel sauce, this pasta dish is the epitome of savouriness. Those who need a lil' buzz will enjoy the cookie-studded Tiramisu which has a strong alcoholic taste with floral and nutty notes from amaretto liqueur.
Unit number: #01-86
Opening hours: Daily 11:30am to 2:30pm, 6pm to 10pm
---
3. Chalerm Thai
---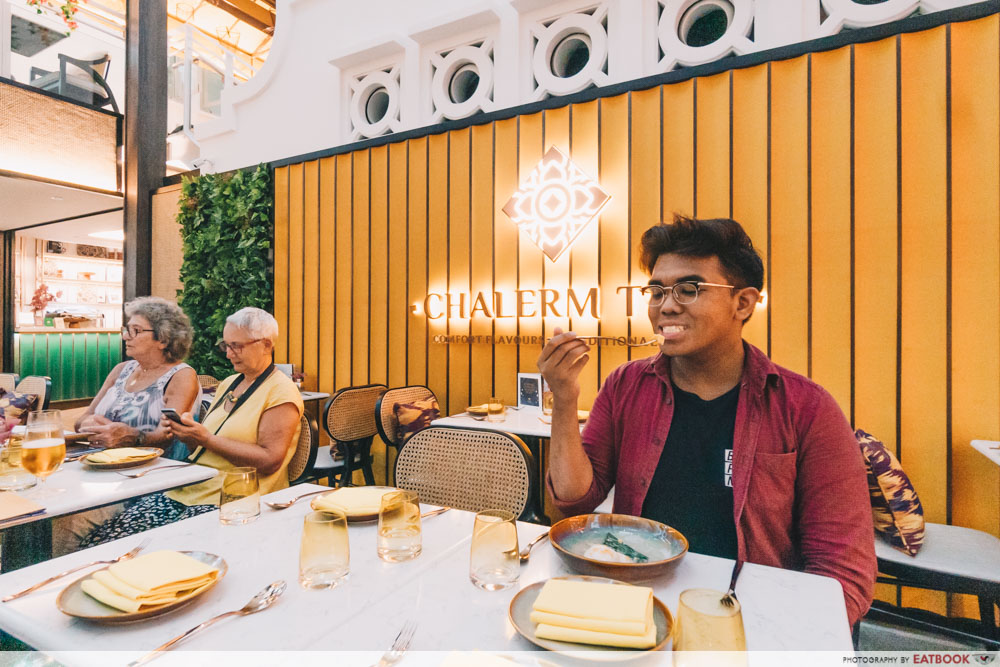 Helmed by Chef Roy Ng who's had 13 years of experience in Thai kitchens, Chalerm Thai sells an extensive range of Thai food. These include staples such as tom yum and pineapple rice, alongside unfamiliar items including pork neck.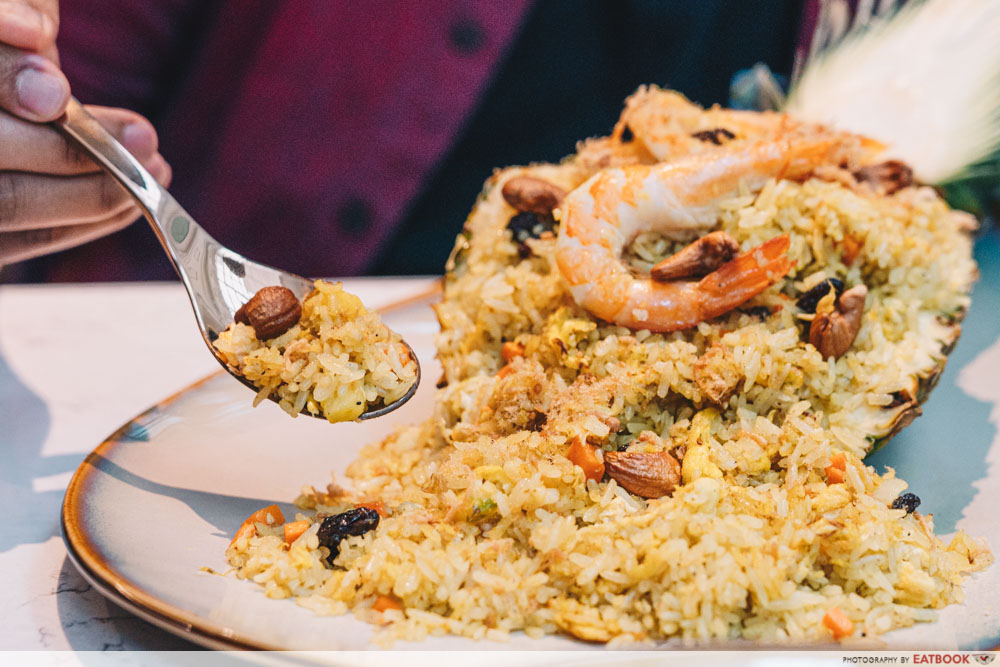 Their Kao Phad Sappoarod ($15++) is a step up from the usual pineapple rice, in that it's overflowing with carbolicious goodness. The rice grains are moist and not clumpy, trapping the nutty and sweet notes from the cashews, prawns, and pineapple well.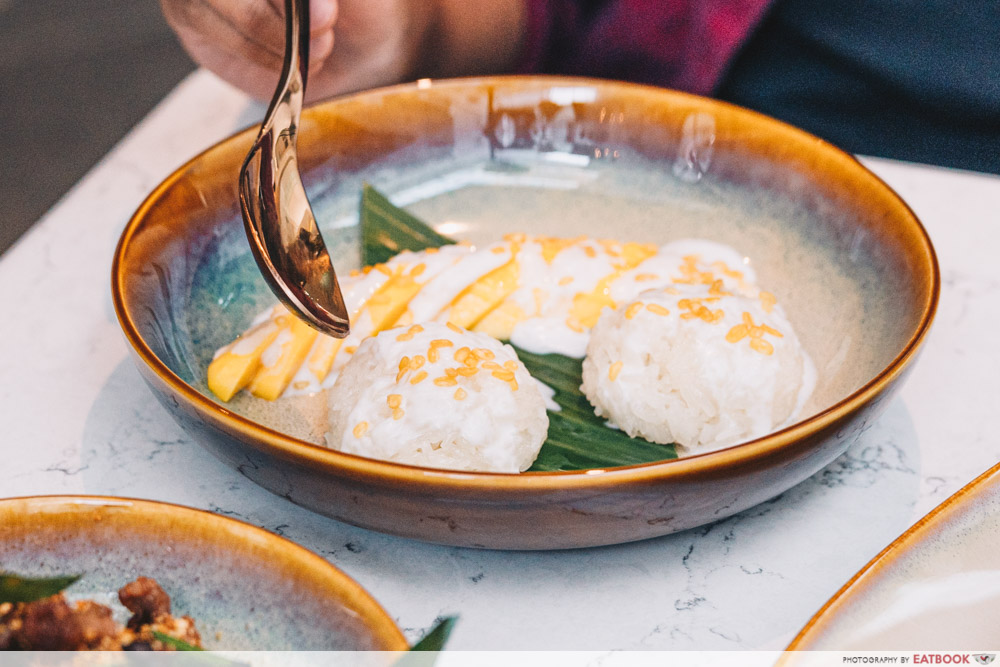 You can't go wrong with mango sticky rice, and the Khao Neow Muang ($10++) checks off all the boxes of this great Thai dessert with its beautiful balance of sweet and sour flavours, courtesy of the milk and mango respectively.
Unit number: #01-85
Opening hours: Daily 11:30am to 2:30pm, 6pm to 10pm
---
4. Capitol Milk Bar
---
A remnant of the old Capitol building, Magnolia Snack Bar has risen from the ashes and resurrected to become Capitol Milk Bar. The dessert spot now sports a retro American diner look, complete with leather seats—making it the spitting image of Pop's Chock'lit Shoppe.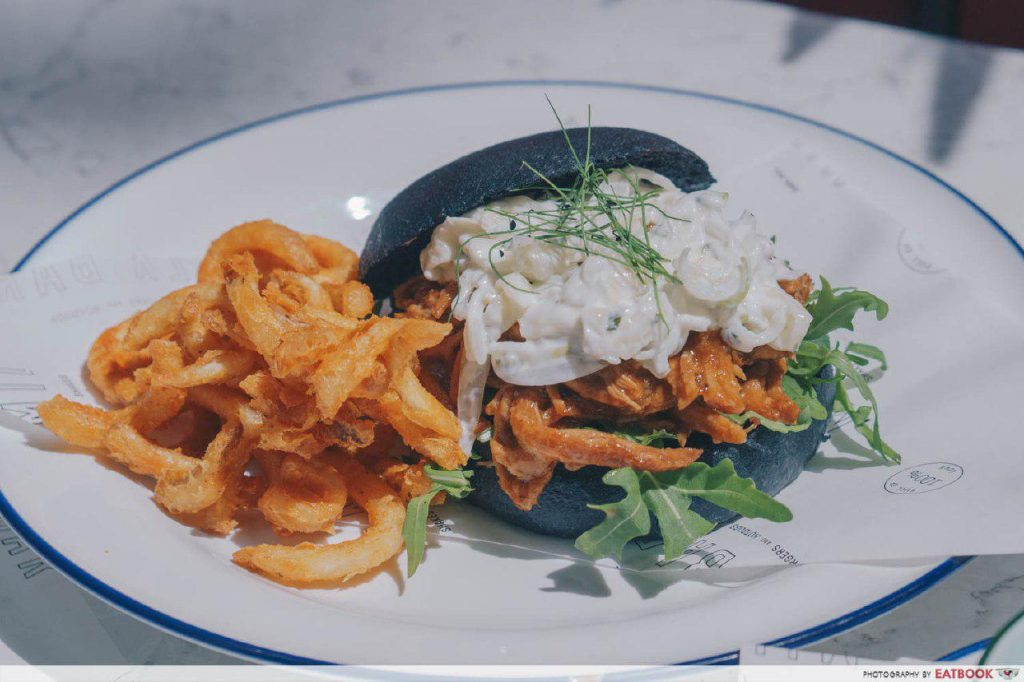 Inside, you'll find old-school tunes playing in the background as you peruse their menu of burgers and milkshakes. The Capitol ($19++) will satisfy those with a Jughead-sized appetite, thanks to its generous helping of pulled pork, apple butter BBQ sauce, and greens.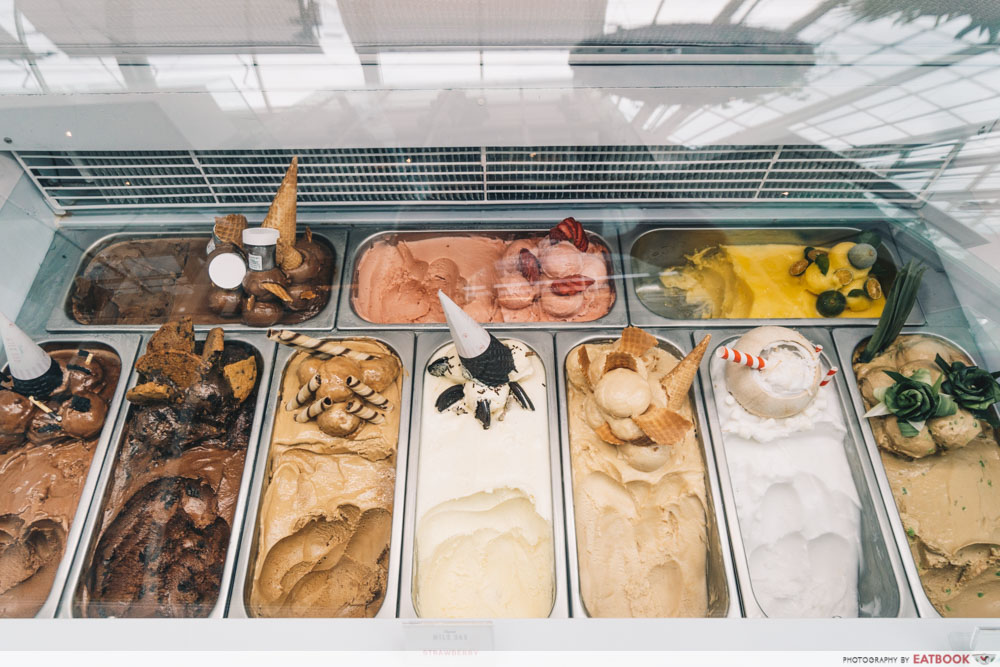 For those who wanna enjoy their sweet treats on the go, head to the ice cream bar for scoops as low as $4! Capitol Milk Bar's selection includes unique yet tasty flavours such as Thai coconut and calamansi.
Find out more about Capitol Milk Bar here!
Unit number: #01-84B
Opening hours: Daily 11:30am to 9pm
---
5. Berthold Delikatessen
---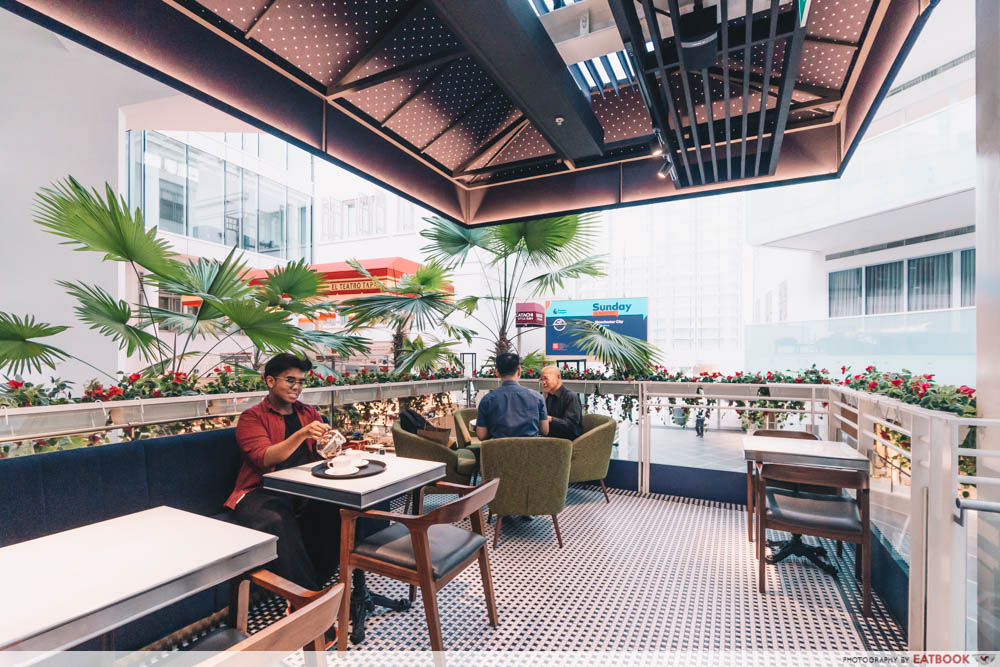 Boasting a navy facade and wide glass windows, Berthold Delikatessen gives you a taste of Europe's cafe scene—courtesy of its German deli sandwiches. Like all the restaurants in the Arcade, it has a mezzanine level that's decked with comfy seats, giving you a great vantage point for people watching.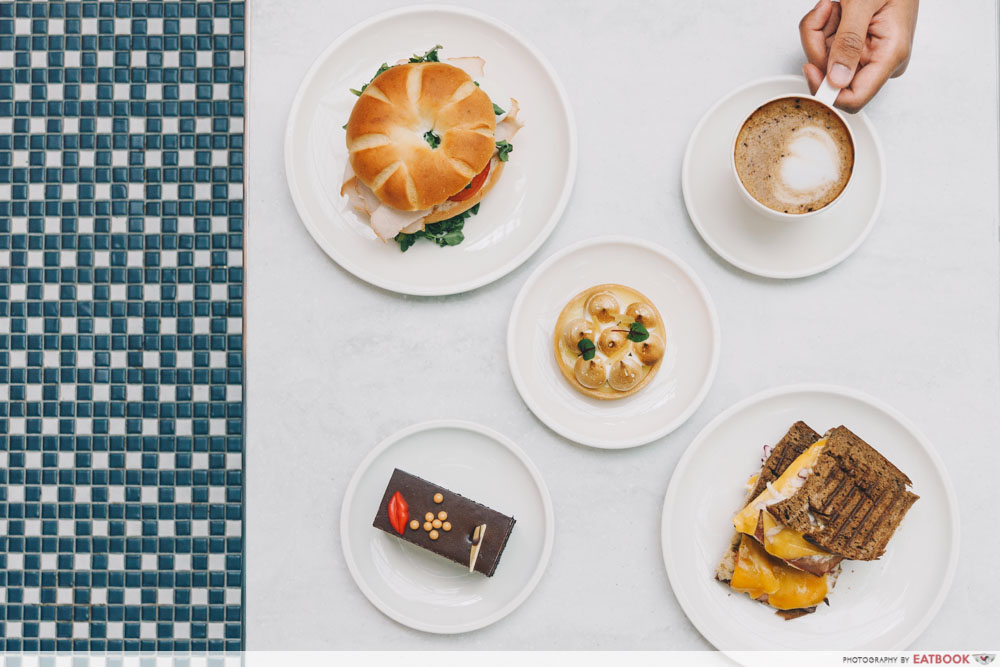 Speaking of tea, their lunch set ($12) is a value-for-money option that gives you a choice of coffee or tea, and any whole sandwich on their menu. These include the Parmesan Bagel with Smoked Chicken ($9+) and Air Dried Pastrami ($9+). The former is hefty and buttery, while the latter has more concentrated umami flavours.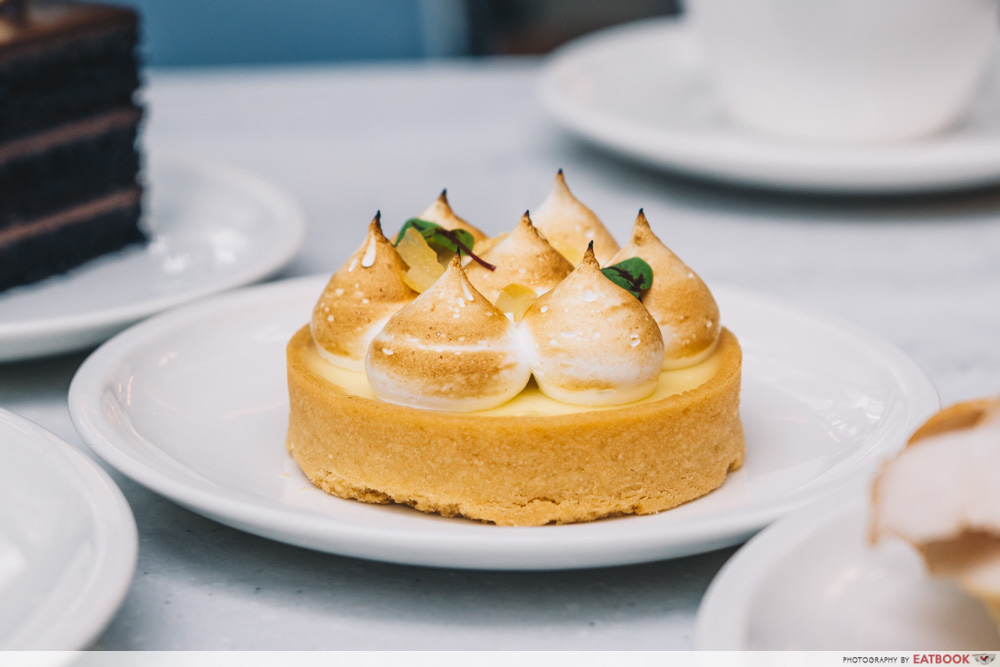 End your meal with their selection of desserts. We tried the Lemon Meringue Tart ($8+), and were impressed with its crumbly crust and citrusy lemon curd. The Chocolate Fudge Cake ($8+) will satisfy cocoa lovers, thanks to its dense and indulgent fudge filling.
Unit number: #01-84
Opening hours: Daily 8am to 9pm
---
6. El Teatro Tapas
---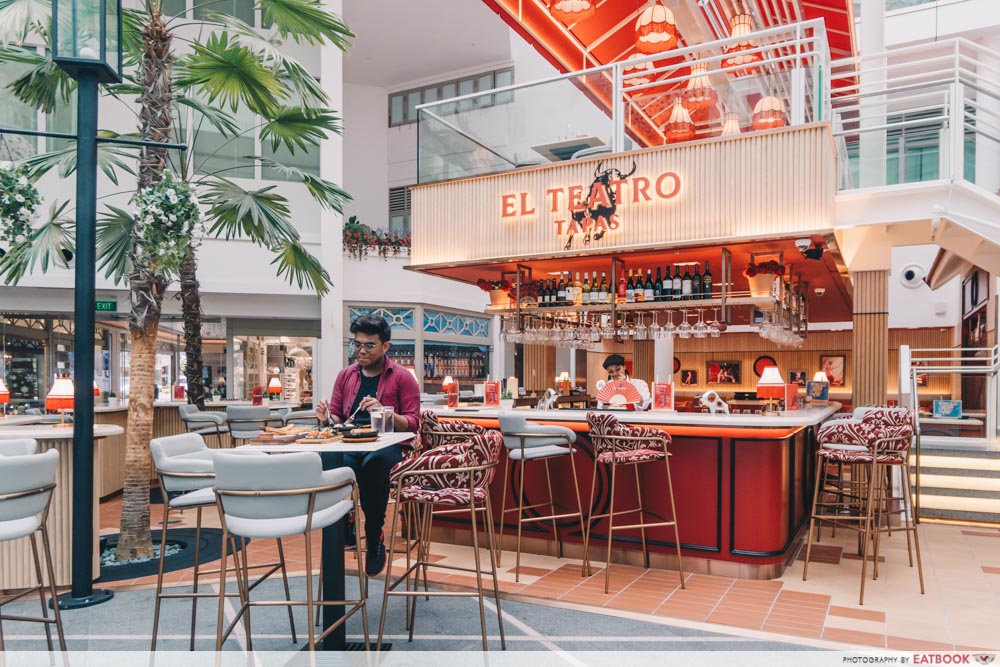 If your post-work routine consists of hanging out in bars with your mates, then El Teatro Tapas is the place for you. Modelled after a Spanish taqueria, the restaurant doles out a healthy mix of tapas, hearty mains, and booze—all the ingredients for a memorable night out. Although the restaurant has a myriad of seating options, we recommend sitting outside as you'll have a prime view of the jumbo screens showing live soccer matches.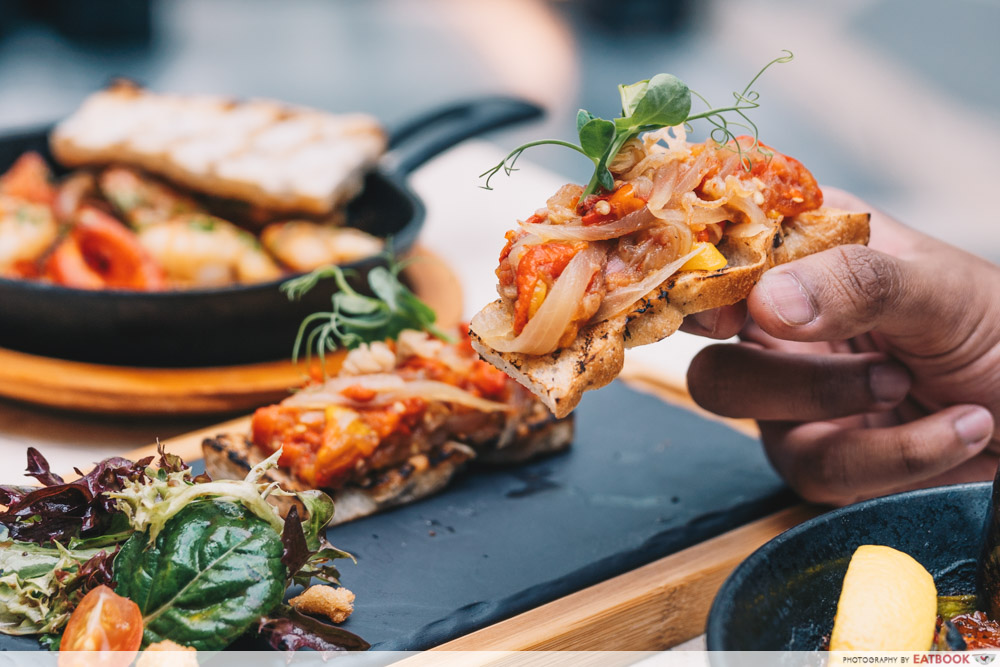 Their set menu costs $17++ and comprises either an appetiser and a main, or a main with dessert. The Tostas de Escalivada (grilled vegetables) makes for a good dish to whet your appetite with its fresh tomatoes, onions, and greens. Mixed in a vinaigrette, the veggies leave an acidic aftertaste that's addictive. That being said, the bread could have been toasted longer as it was too soft to hold its toppings.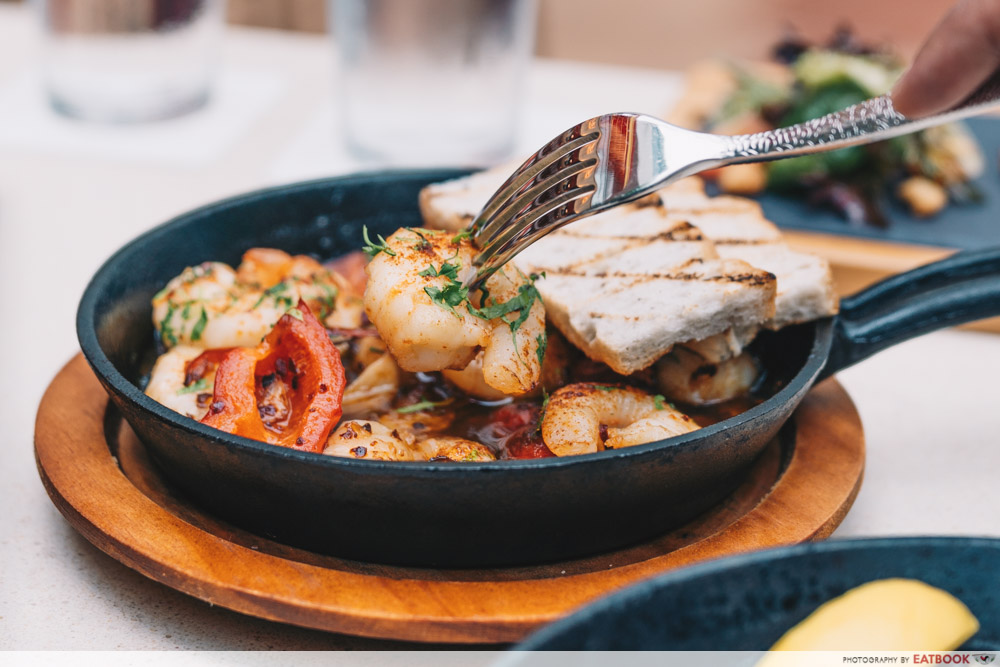 Seafood lovers will like the Gambas Al Ajillo that's filled with garlic prawns. Served with toasted bread, the olive oil-based dish has a smoky flavour with bursts of brininess from the tomatoes and prawns. End your meal with the Churros Con Chocolate which comes with four long churros and a decadent chocolate dip.
Unit number: #01-83
Opening hours: Daily 11:30am to 2:30pm, 6pm to 10pm
---
7. Katachi Style
---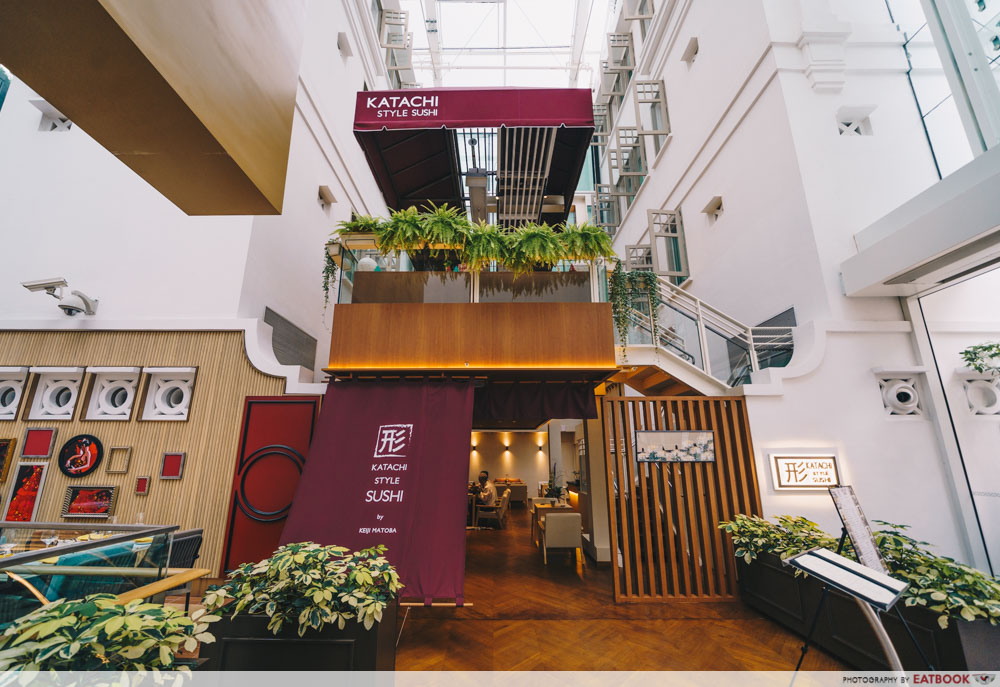 Katachi Style basically screams Japan with its maroon noren (fabric divider) hanging off its storefront and its Muji-esque interior. This brand new joint is operated by Chef Keiji Matoba who's worked in Michelin-starred restaurants, so you can expect high quality Japanese food here.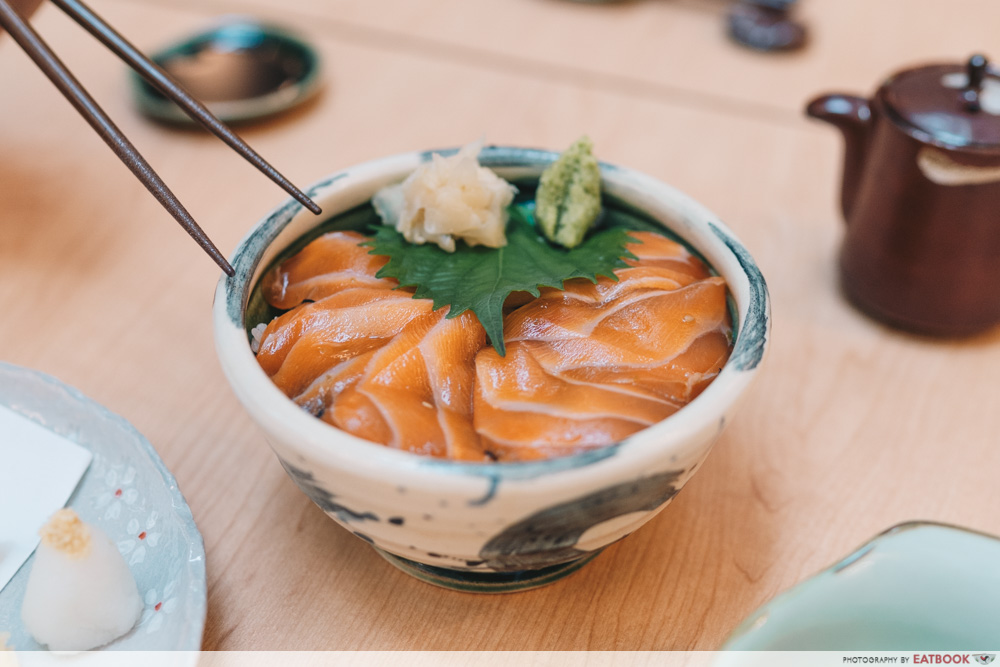 At $18++, the Yuzu Salmon Don is reasonably priced given that it is blanketed with thick slices of fatty salmon. Beneath all that rich delight is warm and fluffy Japanese rice mixed with salty nori and citrusy yuzu.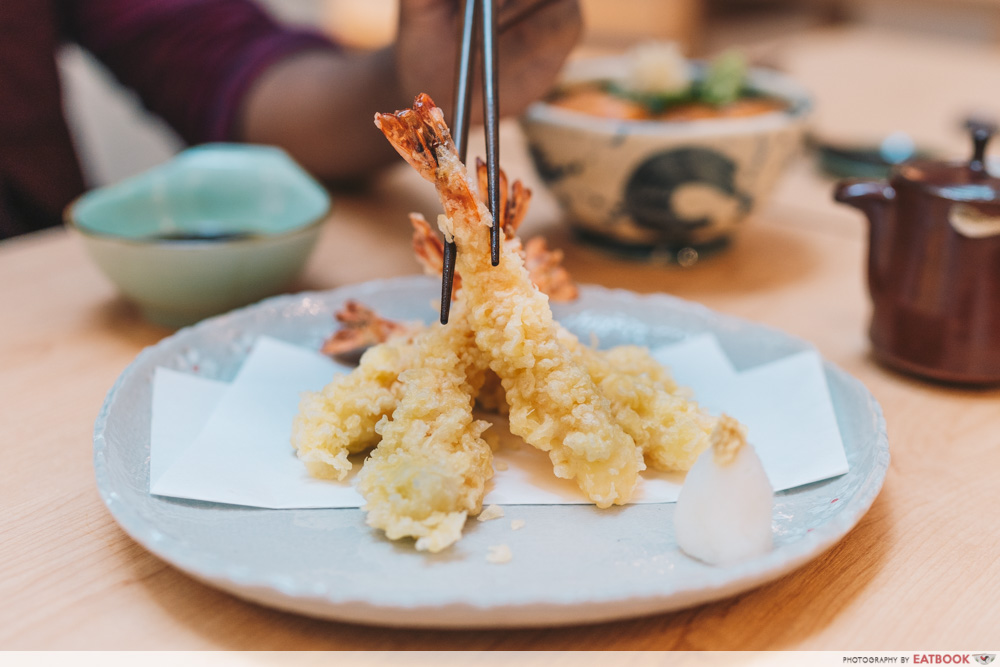 If you're coming here with a companion, get the Prawn Tempura ($28++) which comes with five pieces of beautifully battered ebi. Even though the breading was light, you could still feel the crunchiness of the batter which paired well with the juicy prawn. 
On that note, coming with a friend will also save you some moolah. The restaurant currently has a promo where you can order any lunch set, except the Karachi Style Lunch Omakase, and get 30% off on the second set!
Unit number: #01-82
Opening hours: Daily 12pm to 2:30pm, 6pm to 10pm
---
8. Katachi Sushi
---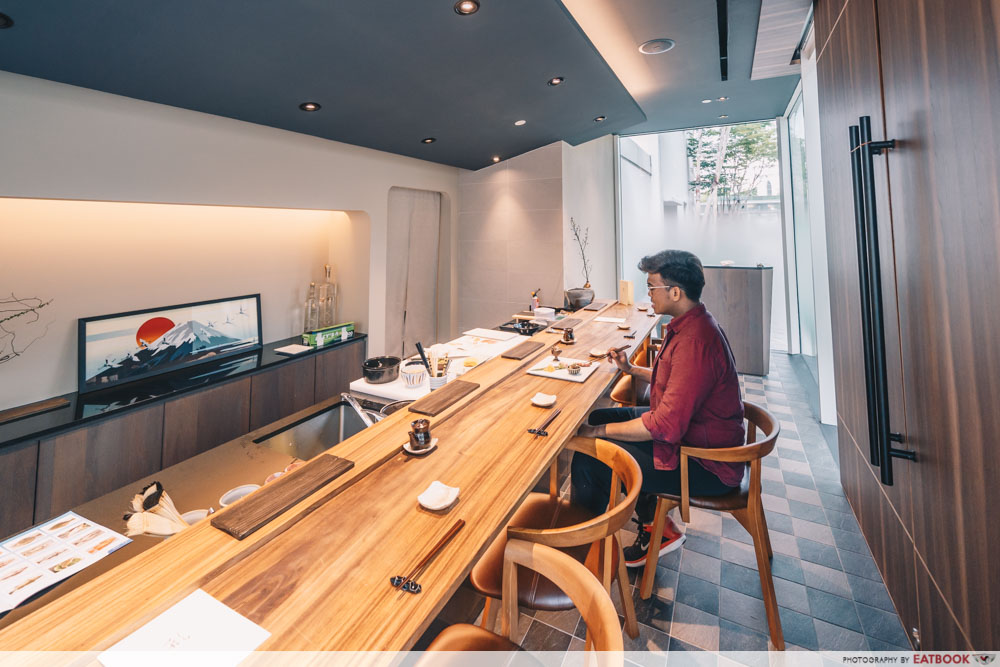 Hidden just outside Arcade @ The Capitol Kempinski, Katachi Sushi shares the same kitchen as Katachi Style. What sets it apart is its omakase concept which allows the chef to prepare the dishes he feels would suit you.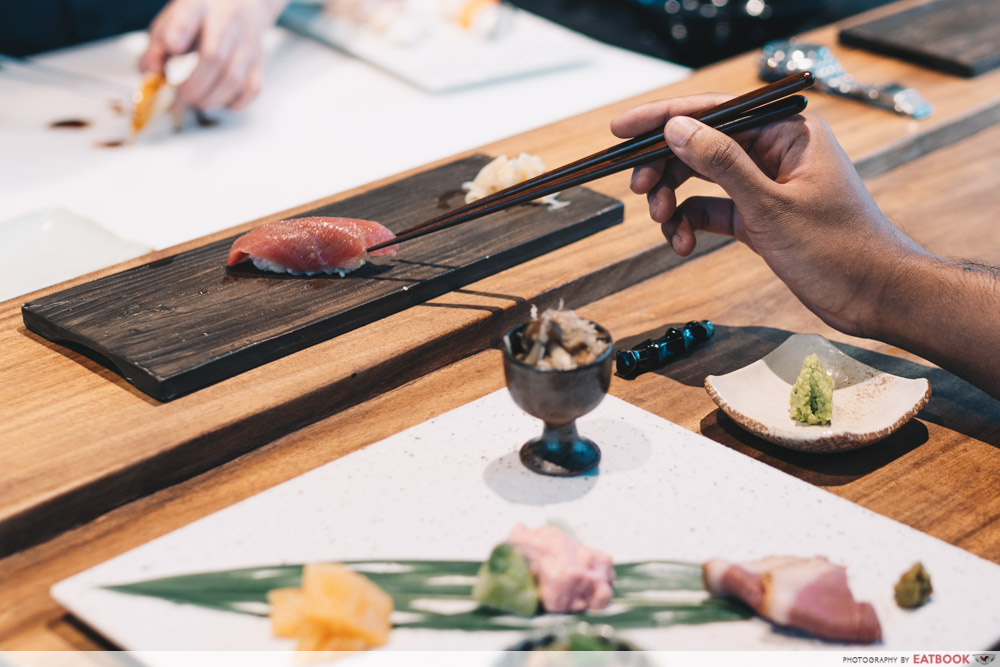 The cheapest omakase option, Matsuri, costs $98++ and comprises 18 items including three kinds of appetisers, three kinds of sashimi, and eight kinds of nigiri sushi—so you'll have a lot to eat.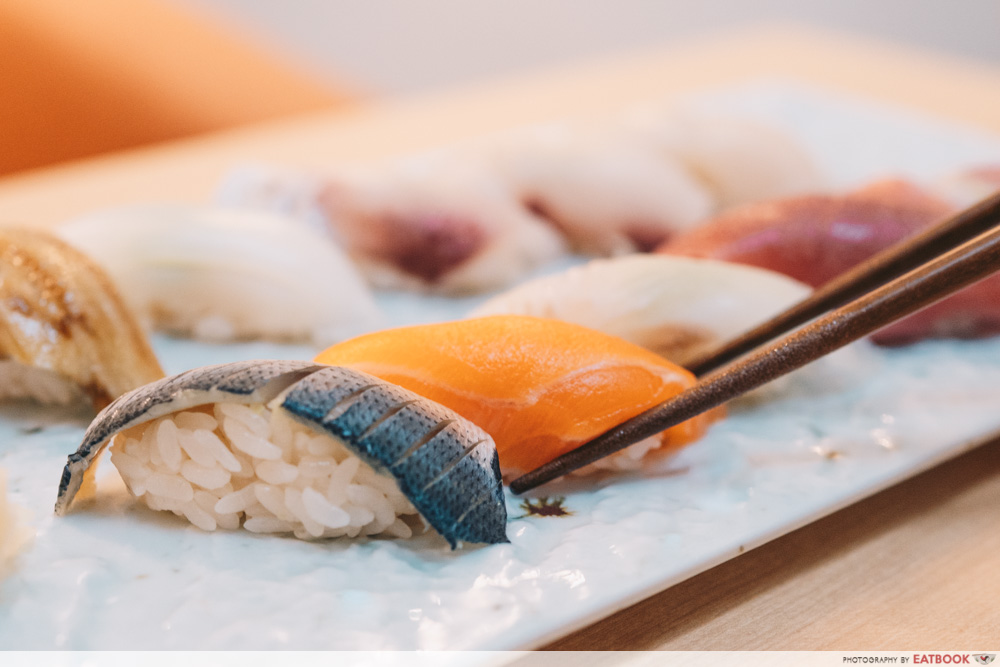 The nigiri sushi platter we tried had a few standouts such as the fatty tuna and sea bream. The former was soft with a butter-like taste, while the latter had a slight oiliness that was pleasant on the palate. 
We also enjoyed how a bit of wasabi was tucked between the sashimi and rice, just like in legit Japanese restaurants. You can tell the garnish was potent as a small amount was enough to have us reaching for water.
Unit number: #01-82
Opening hours: Daily 12pm to 2:30pm (last seating at 1:30pm), 6pm to 10pm (last seating at 8:30pm)
---
Enjoy good food in a garden at Arcade @ The Capitol Kempinski
---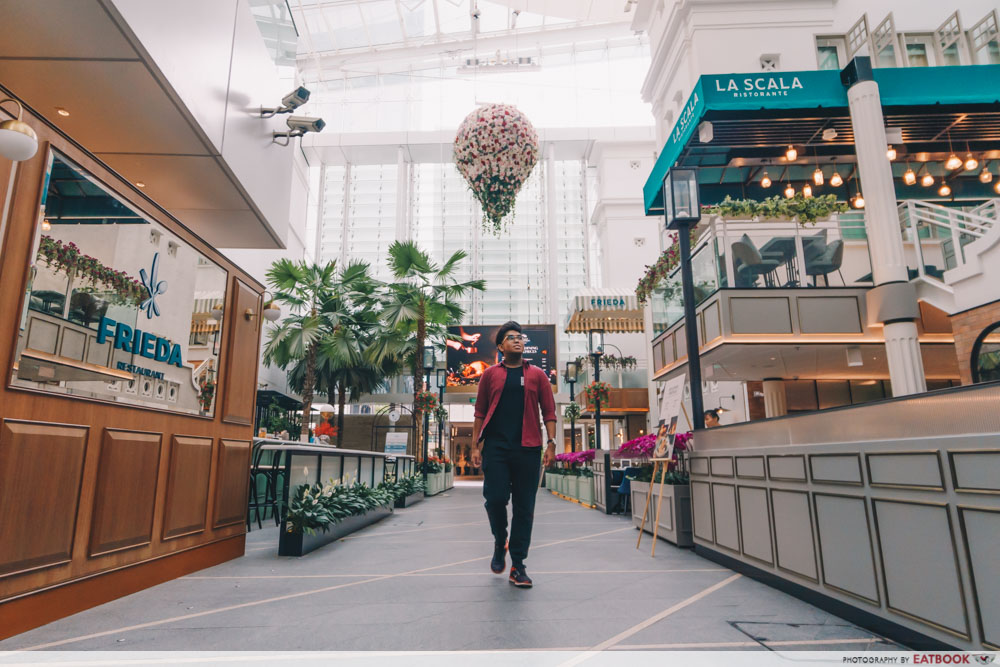 Those working near City Hall won't be hard-pressed for dining options at Arcade @ The Capitol Kempinski. It's home to a slew of international restaurants, meaning you can have a different cuisine here every day of the week while soaking in the beautiful garden vibes.
For a greater reason to splash the cash, the first 100 readers to spend a minimum of $10 at any of the restaurants listed here can redeem a $10 voucher. Simply show your receipt at Capitol Singapore's concierge counter, and you can use the voucher at participating outlets in Capitol Singapore or CHIJMES!
So if you're game for good food amidst an aesthetically pleasing environment, set your next meal at Arcade @ The Capitol Kempinski now.
Address: 13 Stamford Road, Arcade @ The Capitol Kempinski, Capitol Singapore, Singapore 178905
Photos taken by Faith Toh.
This post is brought to you by Capitol Singapore.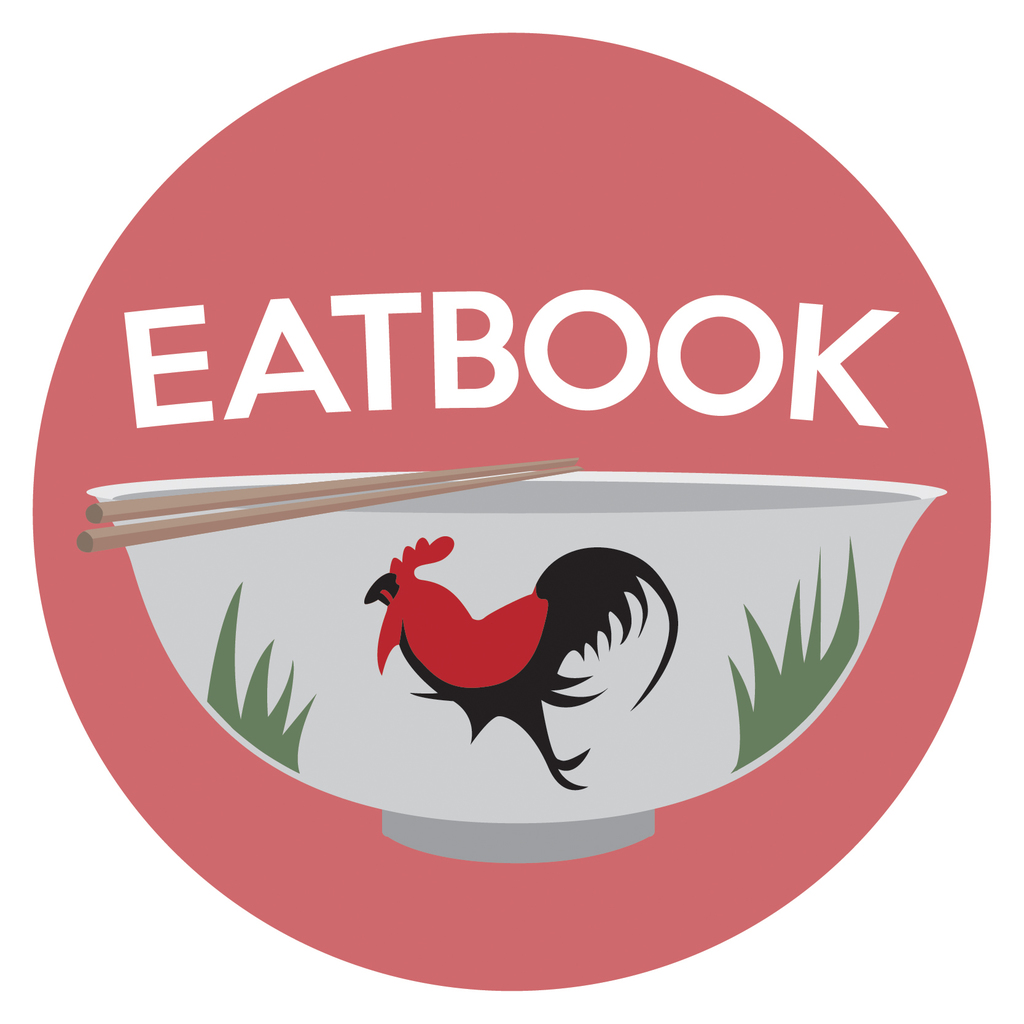 Drop us your email so you won't miss the latest news.