---
Best Japanese curry rice in Singapore
---
Fans of hearty comfort food will know that Japanese curry rice is one of the best dishes in the category. It's hard to beat the warming combo of curry, pearl grain rice, and fried protein, especially on a rainy day.
Unlike the spicier Southeast Asian curries, Japanese curry is built on a roux, and is therefore much thicker. When it comes to its flavour, Japanese curry rice also tends to be much milder and sweeter—not as spice-packed as your usual Thai curries or even the gravy you get in Hainanese curry rice. While the curry is key, it is not often the star of the dish—instead, it's the breaded and fried pork or chicken cutlet that adorns each plate of curry rice.
The next time you find yourself needing a bit of culinary TLC, bookmark this guide to the best curry rice in Singapore.
---
1. Maji Curry 
---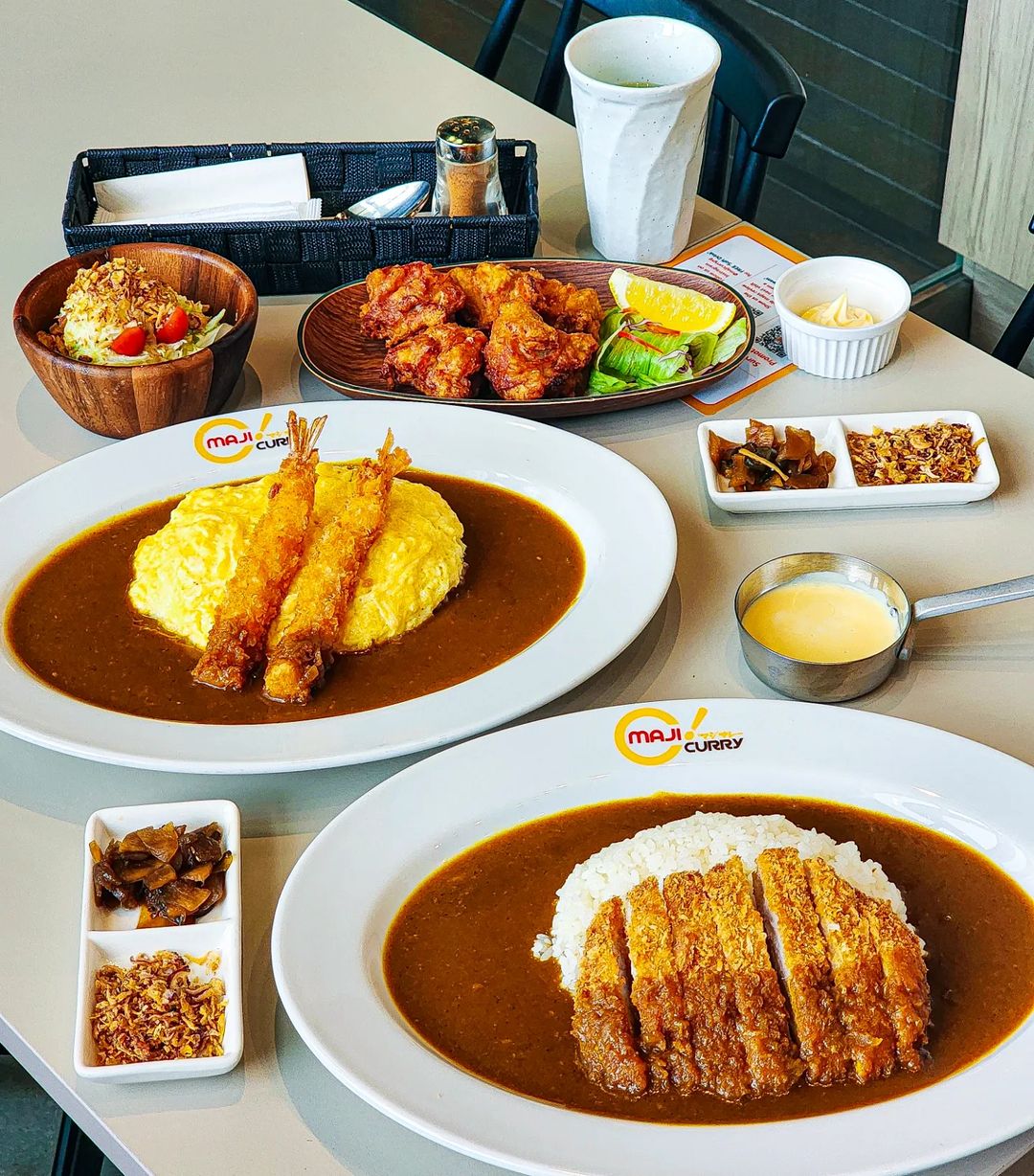 Image credit: @joycet.bell
Maji Curry is quite the well-known Japanese curry rice restaurant because they've won awards for their signature dish. The brand, which hails from Japan, has set up shop in Novena Square 2, where they offer a variety of their specialty curry rice sets. The eatery is small, so you may have to queue during peak hours, but service is quite fast. 
Start off by placing your order at the electronic kiosk outside the outlet, and pick from a variety of options. Popular picks include the Hamburger Steak Sauce Curry Rice (from $14.30) and the Tonkatsu Omelette Curry (from $14.50). Two sizes are available for their mains. The curry here is richer and thicker than your average Japanese curry, and spice levels are customisable to suit your palate.
Address: 10 Sinaran Drive, Square 2, #02-07, Singapore 307506
Opening hours: Daily 11am to 9:30pm
Tel: 9679 5404
Website
Maji Curry is not a halal-certified eatery.
---
2. Gochi-So Shokudo 
---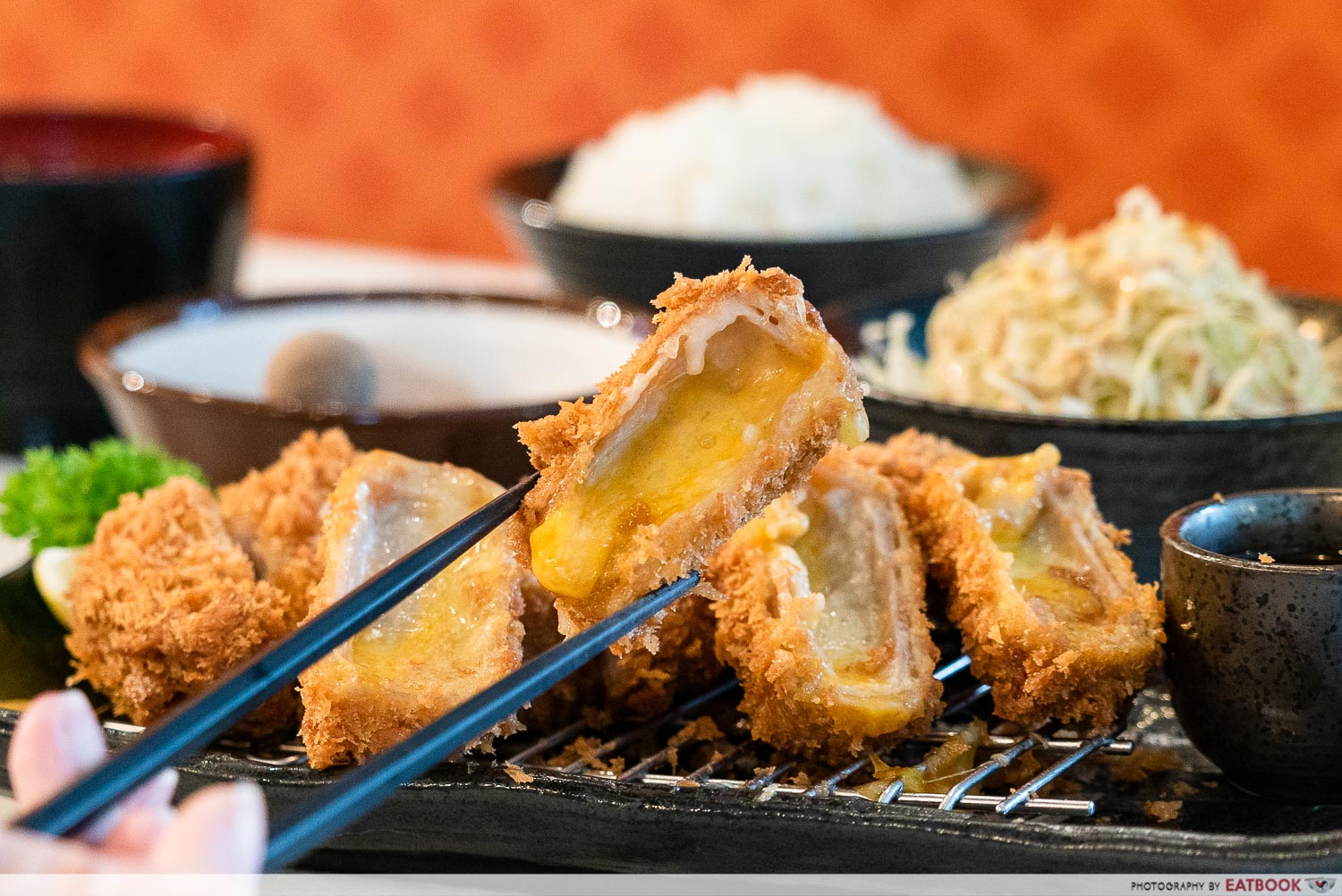 Gochi-So Shokudo is a specialty tonkatsu restaurant best known for using premium cuts of Iberico pork across their dishes. They're famed for their Mille Feuille Katsu, where pork cuts are smashed till it is thin, then layered before it is breaded and deep-fried. This cooking technique ensures the pork is cooked well, but still succulent. 
Try it for yourself with their Collar Mille Feuille Katsu Curry ($17.50++). Rice and a lighter Japanese curry are topped with a whole fried mille feuille cutlet, prepared with a tender pork cutlet. Otherwise, try their Bellota Loin Katsu Curry ($17.50++), which stars Iberico Bellota pork, an ultra-tender loin cut with just the right amount of fat to ensure that your katsu cutlet stays juicy after frying.
Website | Full list of outlets
Gochi-So Shokudo is not a halal-certified eatery.
---
3. Coco Ichibanya
---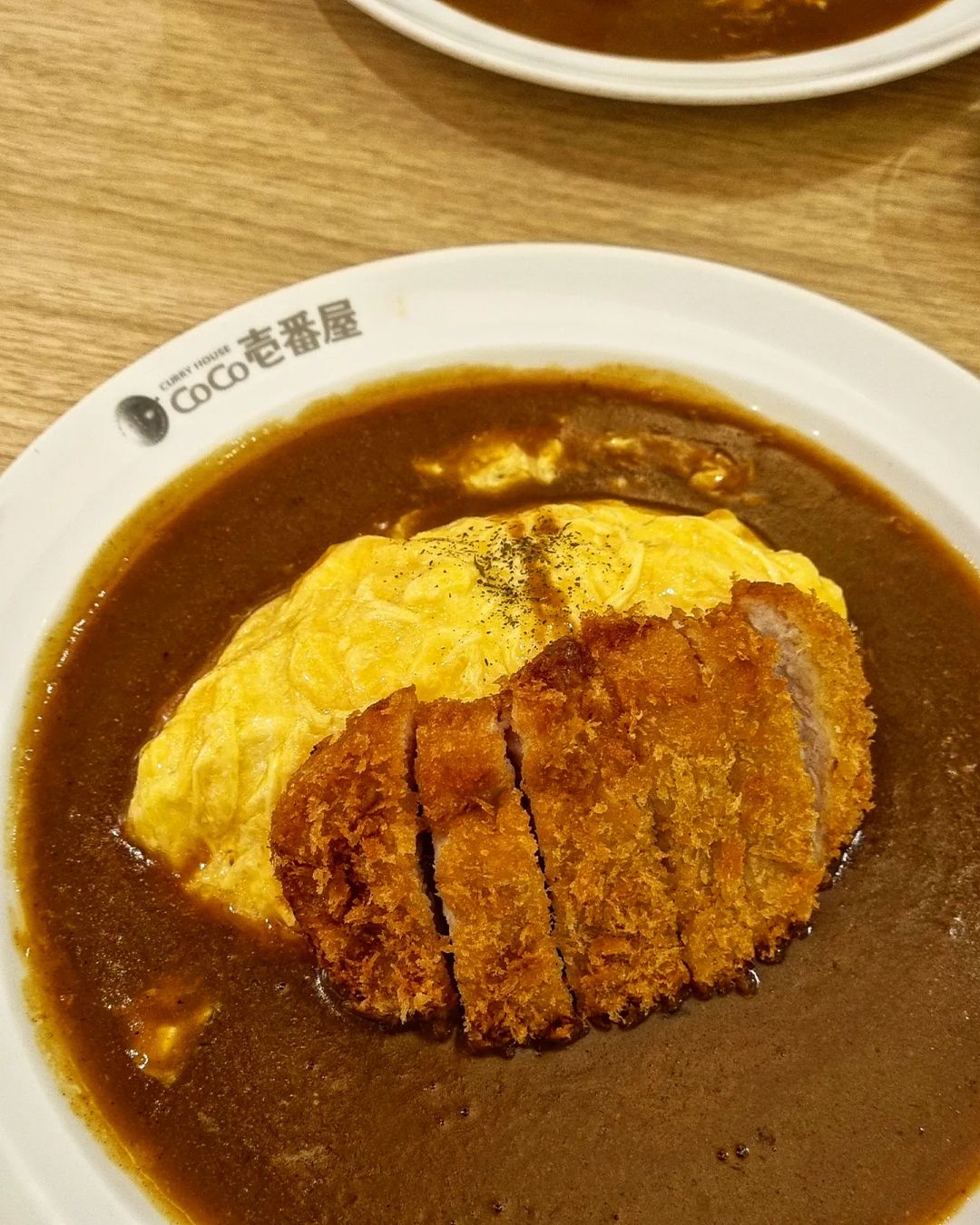 Image credit: @rickloh
Coco Ichibanya is the leading Japanese curry rice chain in Japan. They also have a fair few outlets in Singapore's malls, where they offer a variety of dishes, and also the option to DIY your preferred curry rice combo. The latter allows you to pick your topping, spice level, and amount of rice. It's said that there are over 40 different varieties available!
The Pork Cutlet and Cheese Curry ($16.50) is a crowd-fave—with this, you get a flavourful curry base laced with gooey shredded cheese and topped with a crispy-fried katsu cutlet. Expect a cheese pull with every bite. For vegetarians, or the more health-conscious, Coco Ichibanya also does their kare raisu with vegetable toppings, such as mushrooms, eggplant, or mixed veggies!
Website | Full list of outlets
Coco Ichibanya is not a halal-certified eatery.
---
4. Kuro Kare 
---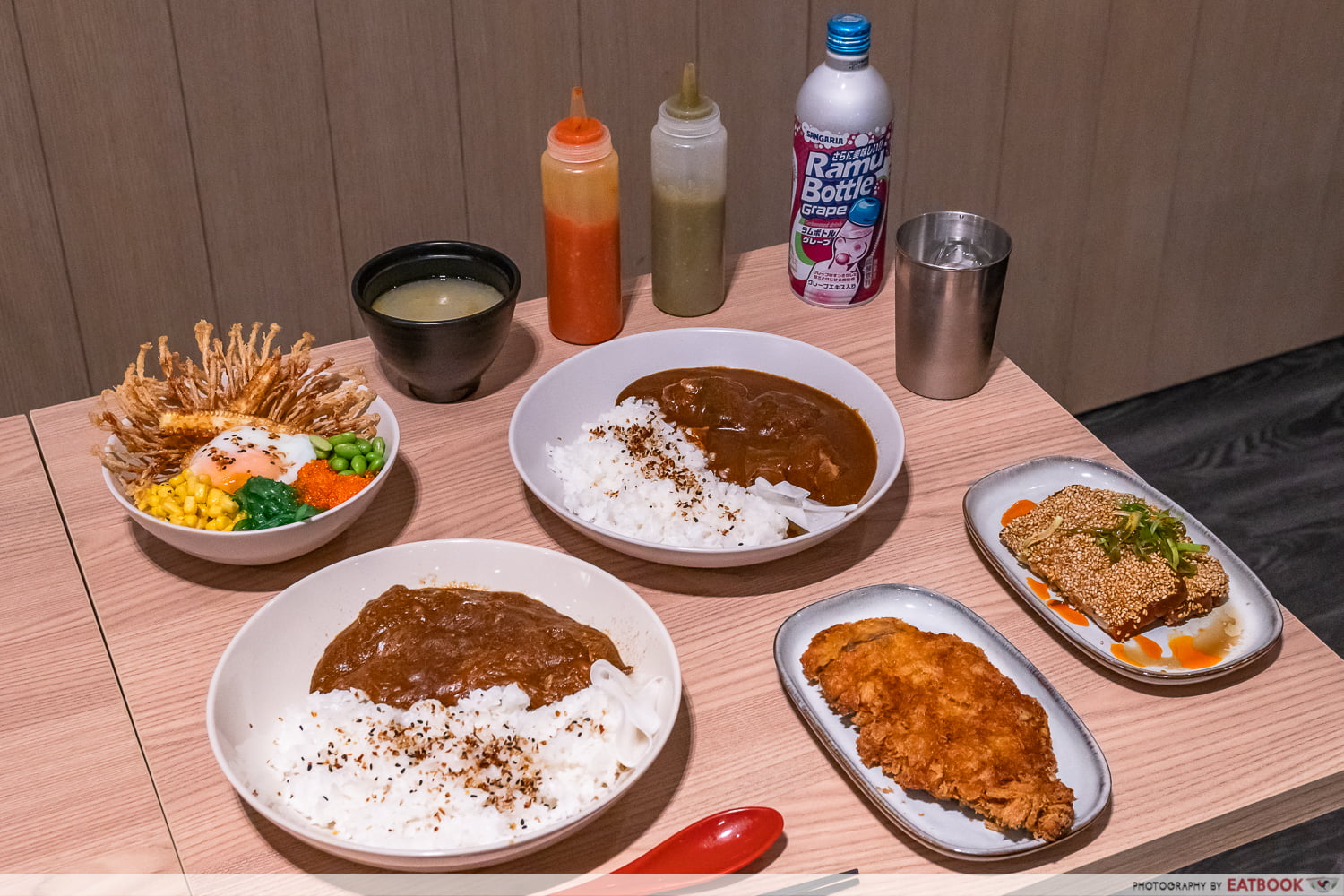 SMU isn't the first place you'd think of when looking for the best Japanese curry rice, but Kuro Kare proves to be an unexpected gem. The eatery is run by chefs who have previously worked at renowned fine-dining establishments, including the Michelin-starred Meta and the Japanese-French-Singaporean restaurant, Fleurette. The main attraction of this new venture is their curry rice, made with curry that's cooked for 36 hours minimum, with 25 ingredients. 
The Melty Beef ($16.90++) was our fave and is also the priciest item on the menu. A dark, sweet curry blankets cubes of black Angus short ribs, which are sous vide in beef jus for 28 hours before they hit the plate. 
Read our Kuro Kare review.
Address: 80 Stamford Road, #B1-65, SMU, School of Information Systems, Singapore 178902
Opening hours: Mon-Fri 11am to 8pm (refer to Google for further updates)
Website
Kuro Kare is not a halal-certified eatery.
Kuro Kare Review: 36-Hour Japanese Curry And More By Ex-Fine Dining Chefs
---
5. Maruhachi Donburi & Curry 
---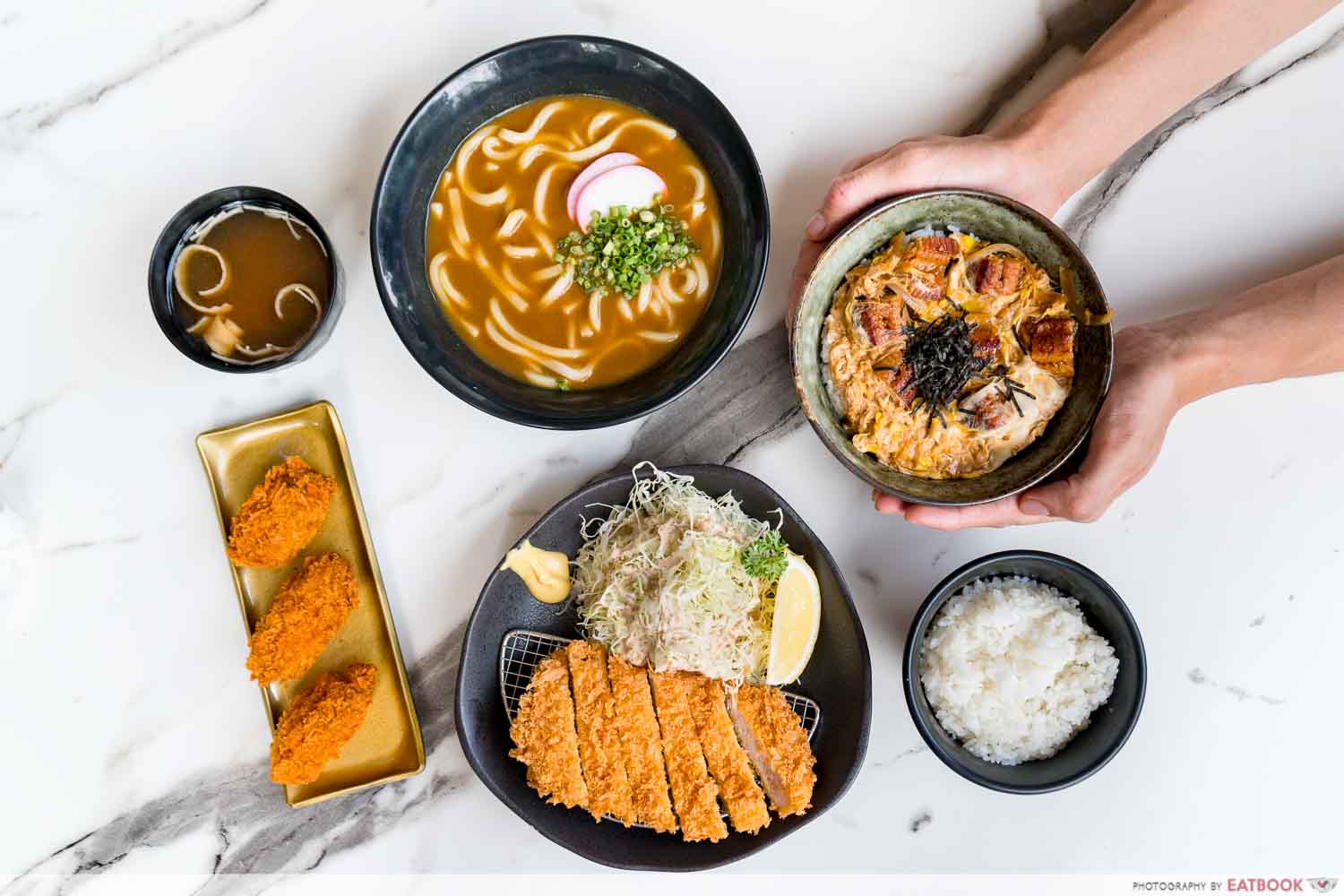 Popular katsu curry franchise, Maruhachi Donburi & Curry, has a fair few outlets across Singapore's neighbourhood coffee shops. Founded by a chef who has worked at several notable katsu restaurants, you can expect the dishes here to be top-tier, while prices are kept affordable. 
The regular Pork Katsu Curry ($9.80) here comes generously portioned, with a juicy pork cutlet and a well-balanced curry gravy. If you're big on seafood, we suggest trying their Kaki Fry Curry ($12.80), which comes with briney panko-crumbed fried oysters instead of pork katsu. The Smoked Sausage Curry ($9.40) is another bestseller.
Read our Maruhachi review.
Website | Full list of outlets
Maruhachi is not a halal-certified eatery.
Maruhachi Donburi & Curry Review: New Hawker Stall At Punggol With Iberico Curry Rice, Fried Oyster Udon And More
---
6. K.K Kitchen 
---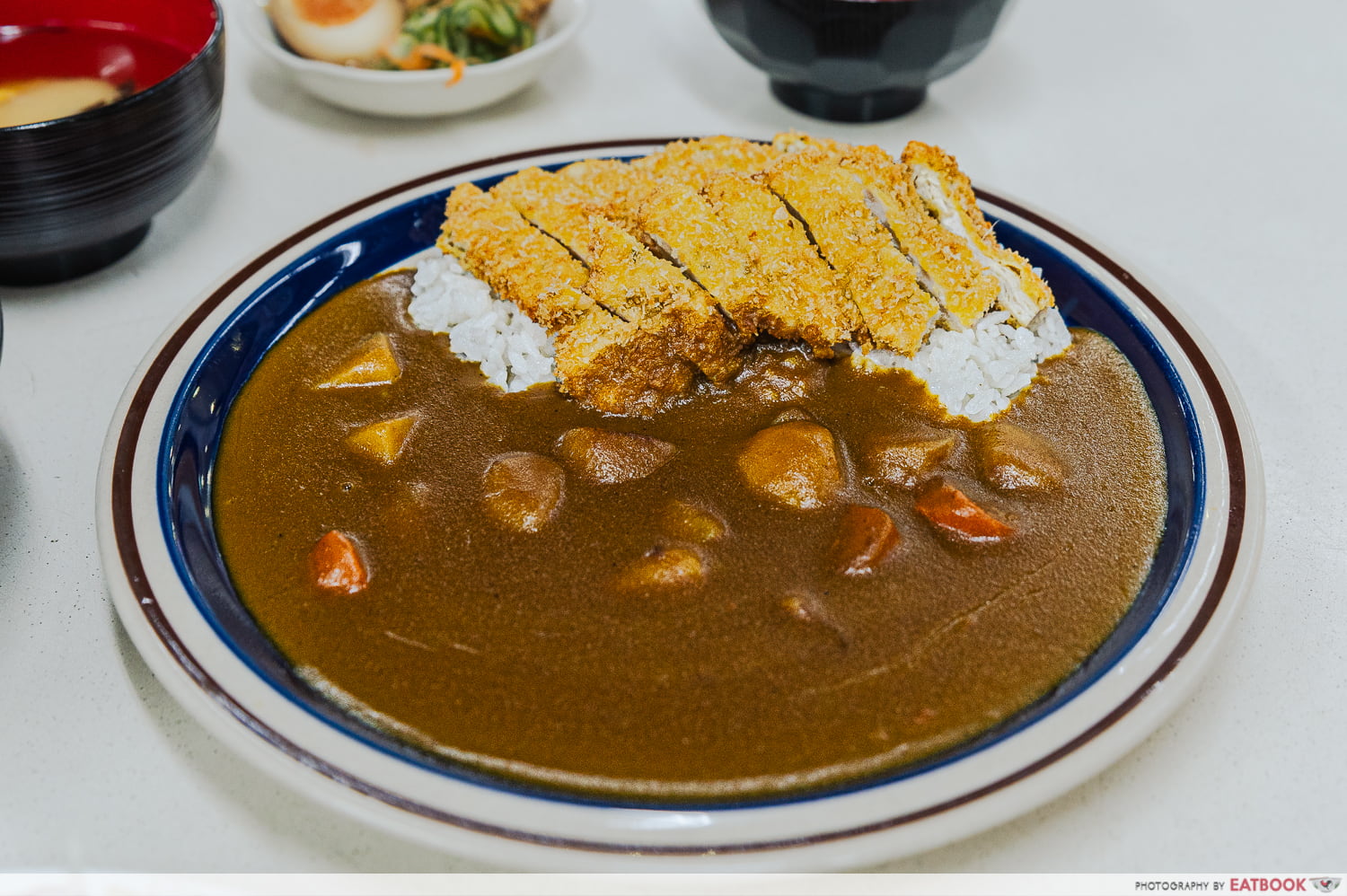 The folks that run the hawker stall K.K. Kitchen were formerly from Okinawan diner Nirai-Kanai. You'll find a couple of Okinawan dishes on the menu here, dwarfed by a staggering selection of over 100 items. Quantity and quality go hand in hand here, however, so you don't have to stress that the standard isn't up to scratch. 
You can expect a selection of classic Japanese dishes here, from bento sets to donburi, and even curry rice. The  Tonkatsu Curry ($7) is a popular pick amongst regular customers. The very affordable dish offers just the right amount of meat, rice, and curry, the latter loaded with chunks of potato and carrots for added sweetness.
Read our K.K. Kitchen review.
Address: Block 92 Lorong 4 Toa Payoh, #01-264, Singapore 310092
Opening hours: Wed-Mon 10:30am to 3pm, 4:30pm to 8pm
Tel: 9679 2503
Website
K.K. Kitchen is not a halal-certified eatery.
K.K. Kitchen Review: Unique Okinawan Dishes And Curry Rice By Ex-Restaurant Chef In Toa Payoh
---
7. Katsuya 
---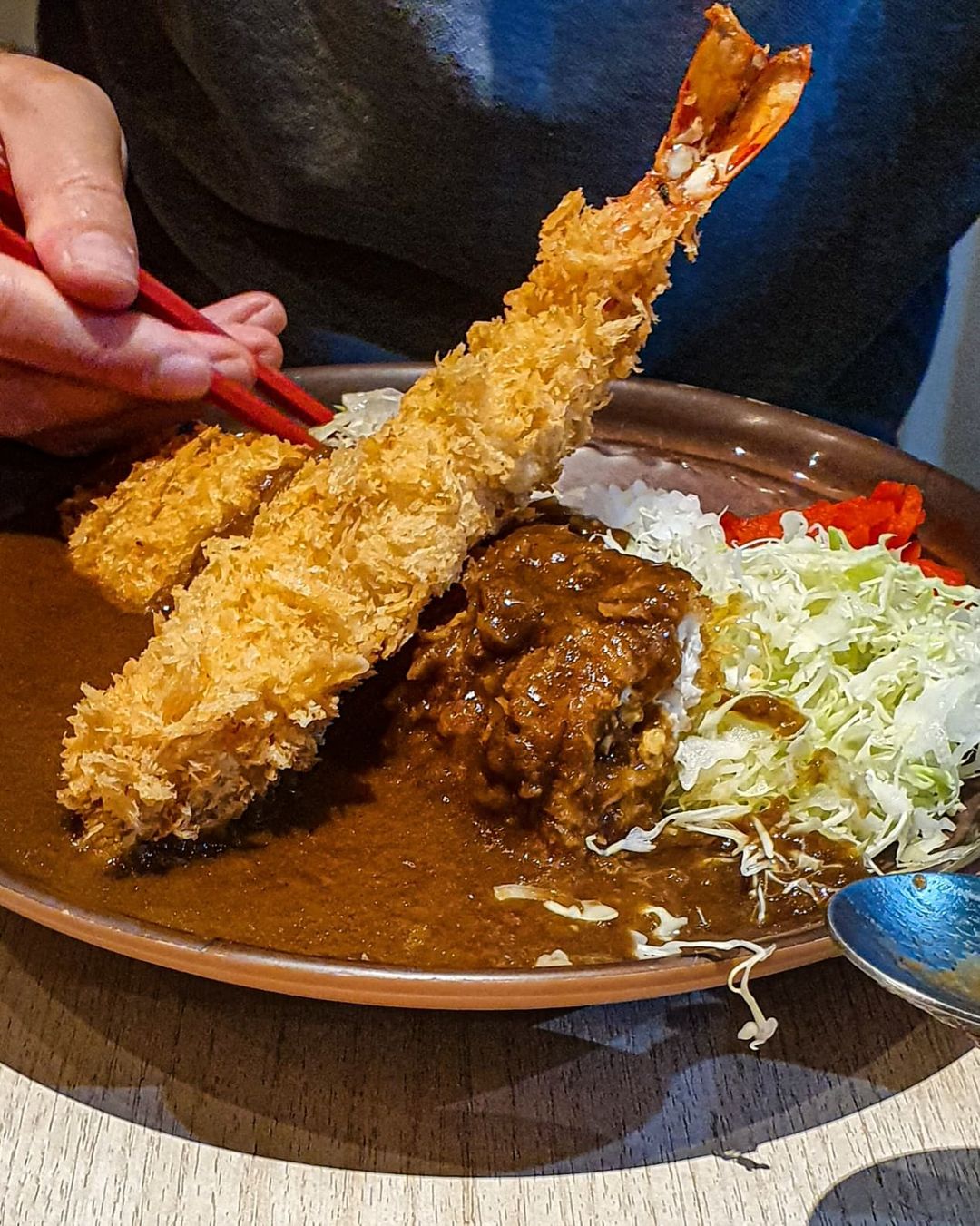 Image credit: @bookwormfoodie.24.7
Katsuya has long been a popular Japanese restaurant amongst Easties thanks to their delicious fried katsu offerings. They've been around since 2011, and offer a wide range of katsu-ed proteins, from Wagyu to unagi. Their rosu tonkatsu is a crowd fave, starring a fattier cut of pork. We suggest having that with your curry rice and ordering a set, so you get free-flow cabbage and rice to go with your meal. Prices aren't the cheapest here—a set can be priced anywhere around $25 to $60, depending on your meat of choice—but the quality is A+. It's best to make a reservation beforehand, as they can be quite busy. 
Address: 258 Tanjong Katong Road, Singapore 437046
Opening hours: Tue-Sun 12pm to 2:30pm, 6pm to 9:30pm
Tel: 6344 8183
Website
Katsuya is not a halal-certified eatery.
---
8. Otoko
---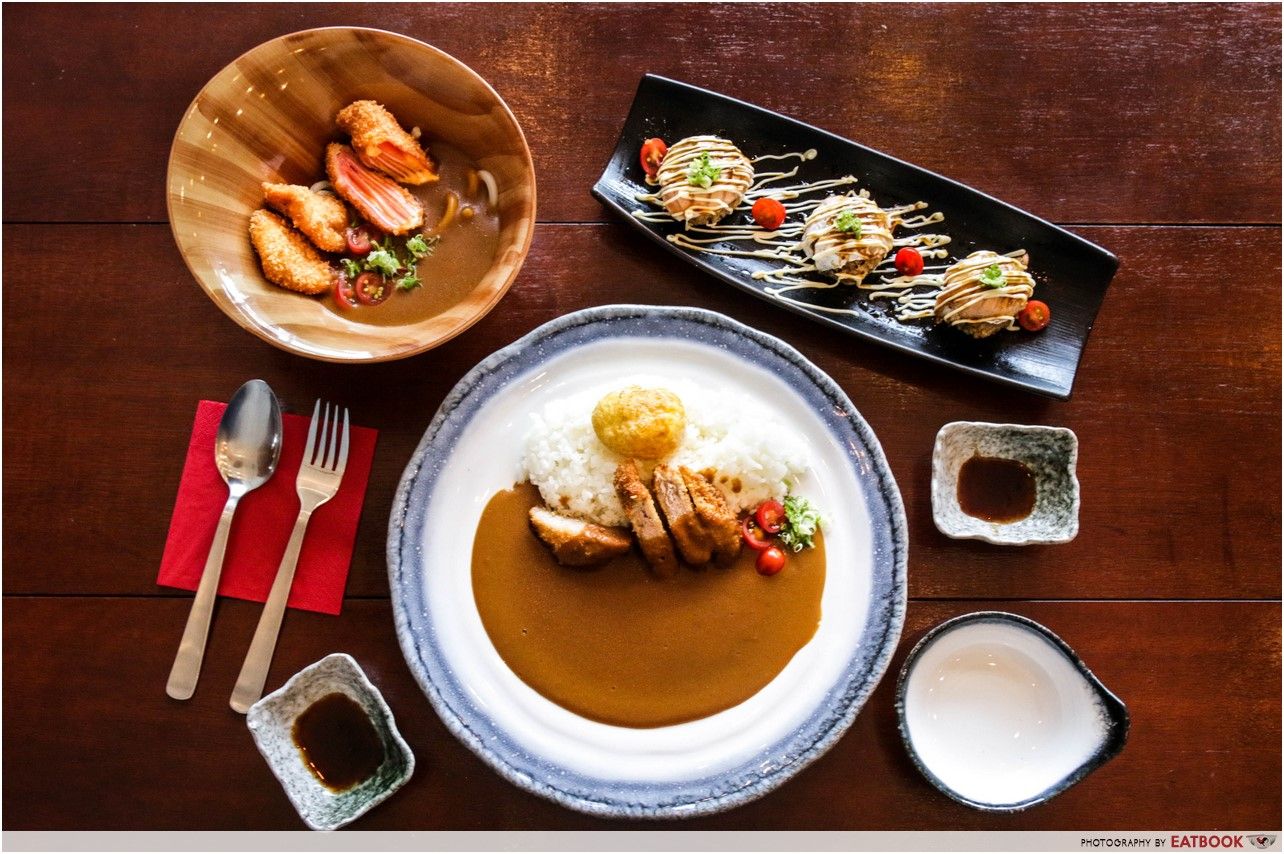 Another neighbourhood gem is Otoko, a Japanese curry rice spot located in Hougang. Curry rice is one of the eatery's bestsellers, and there's plenty to choose from. Prices start at $9.90 for their Chicken or Pork Katsu Curry, and go up to $12.90 for their Chicken and Ebi Fry Curry. The restaurant is really cosy, spans two floors, and is great for family dinners or date nights.
Read our Otoko review.
Address: 1187 Upper Serangoon Road, #01-20, Singapore 534785
Opening hours: Wed-Thurs, Sun-Mon 11am to 3pm, 5pm to 9:30pm, Fri-Sat 11am to 3pm, 5pm to 12am
Tel: 8302 3372
Website
Otoko is not a halal-certified eatery. 
Otoko Review: Customisable Japanese Curry Rice At This New Cafe At Hougang
---
9.  YAO Cutlet 
---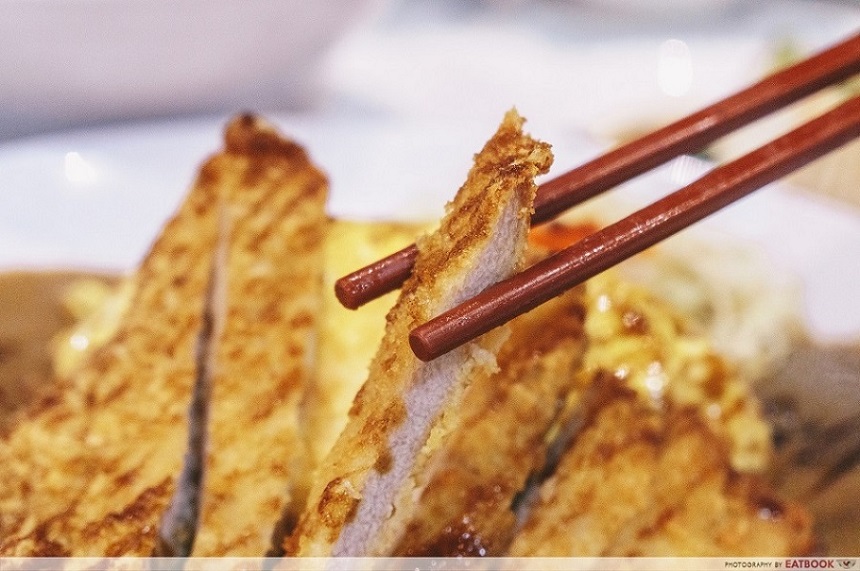 For a Japanese curry rice hawker stall in the CBD, try YAO Cutlet. The Tanjong Pagar hawker serves up a decent Japanese Curry Rice that's only $6.90, and for the price, you even get rice blanketed by an omelette. If you're not a fan of rice, you can also swap out the grains for scoops of Potato Salad, at no extra cost.
Address: 6 Tanjong Pagar Plaza, #02-05, Singapore 081006
Opening hours: Mon-Fri 9:30am to 3:30pm
Tel: 8323 8781
Website
YAO Cutlet is not a halal-certified eatery.
---
10. Romankan Yokohama 
---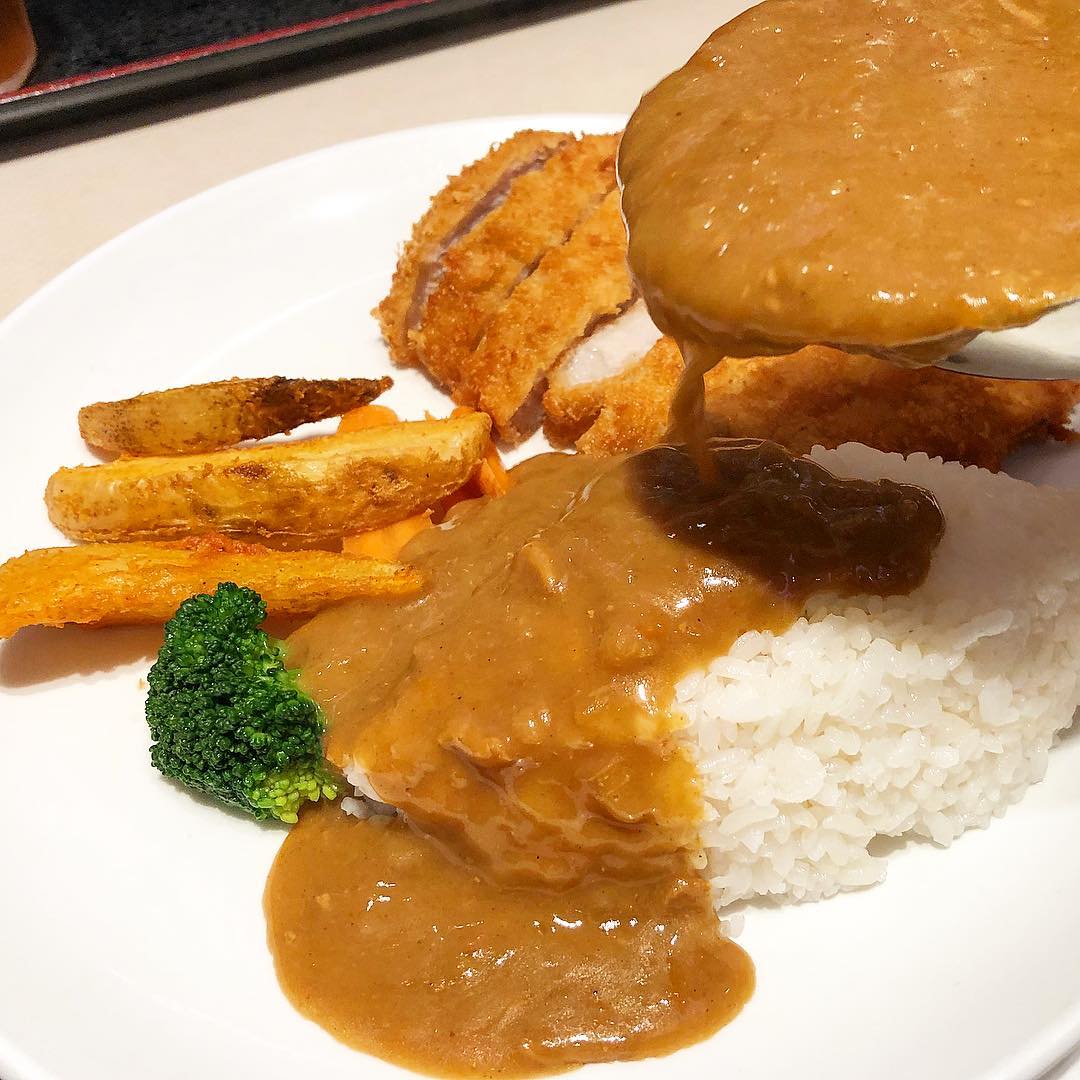 Image credit: @xiueyyy
Romankan Yokohama has been in Singapore for over a decade now, moving from Ngee Ann City to Millenia Walk. The highly-rated katsu joint is known for their teishoku sets, but don't dismiss their curry rice. A Katsu Curry ($18++) set here comes with rice, veggies, and a gravy boat full of their sweet, mild curry, as well as a golden-brown, crispy fried pork cutlet.
Address: 9 Raffles Boulevard, #01-88/89, Millenia Walk, Singapore 039596
Opening hours: Mon-Thurs 11am to 8pm, Fri-Sun 11am to 9pm
Romankan Yokohomo is not a halal-certified eatery.
---
Where to eat Japanese curry rice in Singapore
---
Here are all the best Japanese restaurants for curry rice in Singapore. For more Japanese eats, we've got our guide to the best Japanese restaurants. For more affordable picks, check out our guide to the best soba restaurants, and the best sushi restaurants.
Featured image adapted from @bookwormfoodie.24.7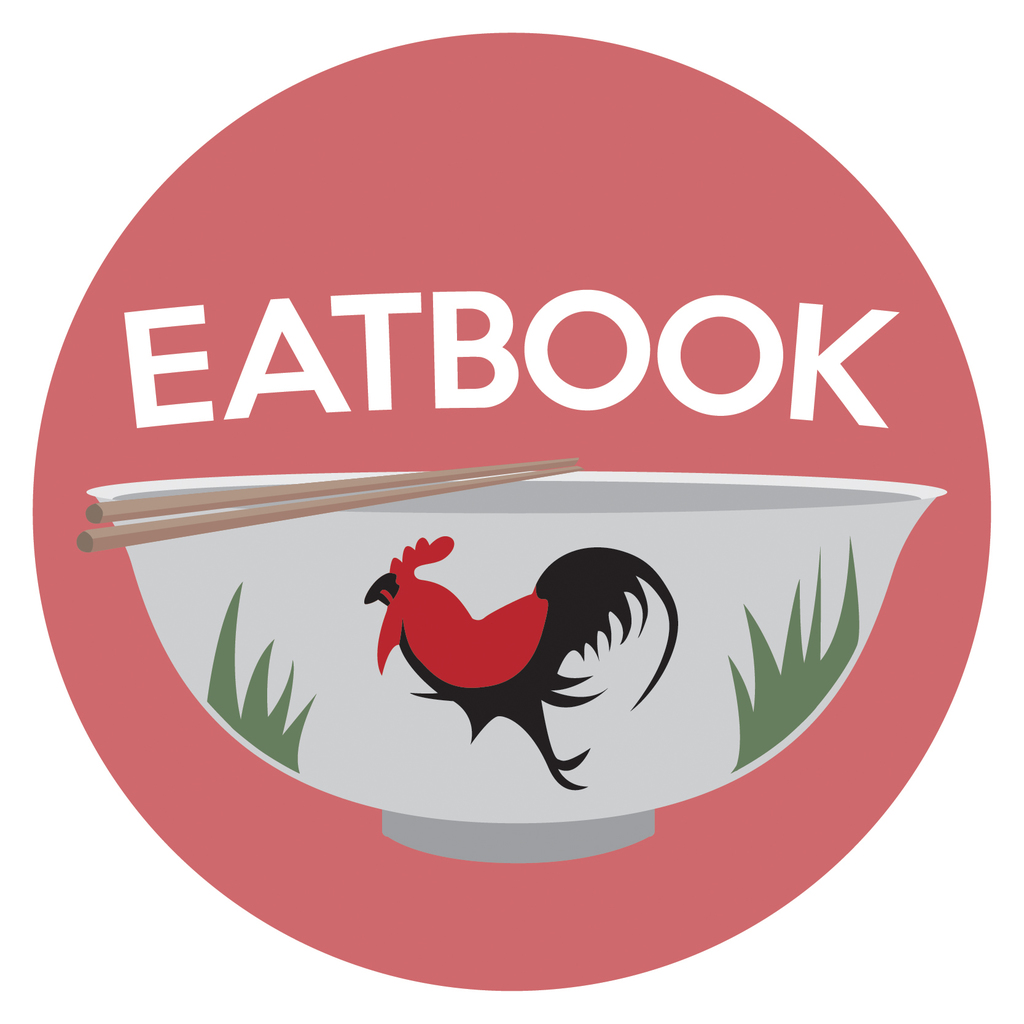 Drop us your email so you won't miss the latest news.