---
The best mooncakes for Mid-Autumn Festival 2023
---
With the Mid-Autumn Festival 2023 just around the corner, it's time to start shopping for mooncakes. Whether you're on the lookout for these treats for your loved ones or trying to find beautiful box sets to give to clients, our guide to the best mooncakes for 2023 has got you covered for the occasion.
---
1. Ding Bakery
---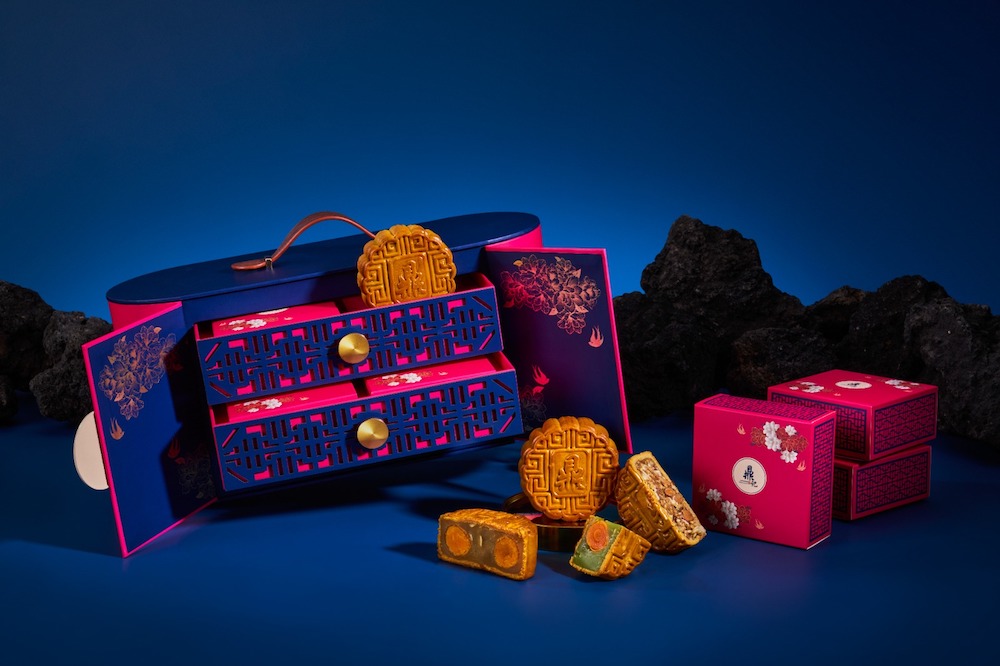 Image credit: Ding Bakery
If you're looking for mooncakes to gift your loved ones, look to Ding Bakery. They're offering 40% off their handmade mooncakes from now till the end of August, and have options ranging from snow skin to baked, all prepared using only real, high-quality ingredients. They are also completely free from preservatives. These are made to be lower in sugar too, so they're healthier than your average mooncake. All your orders also come in beautifully packaged boxes with leather handles and ornate Chinese accents.
The bestselling Signature White Lotus Double Yolk Mooncake ($79) stars a smooth, balanced white lotus paste that plays off the savoury egg yolk. If you prefer pandan, try their Traditional Pandan Double Yolk Mooncake ($82) instead, made with a filling perfumed with real pandan leaves. Those not a fan of egg yolks or looking to dial down on their cholesterol intake can get the plain mooncakes instead, available in Traditional Pandan ($69) and Signature White Lotus ($65) flavours. 
Get free same-day delivery when you spend above $100. Order here.
---
2. SunnyHills
---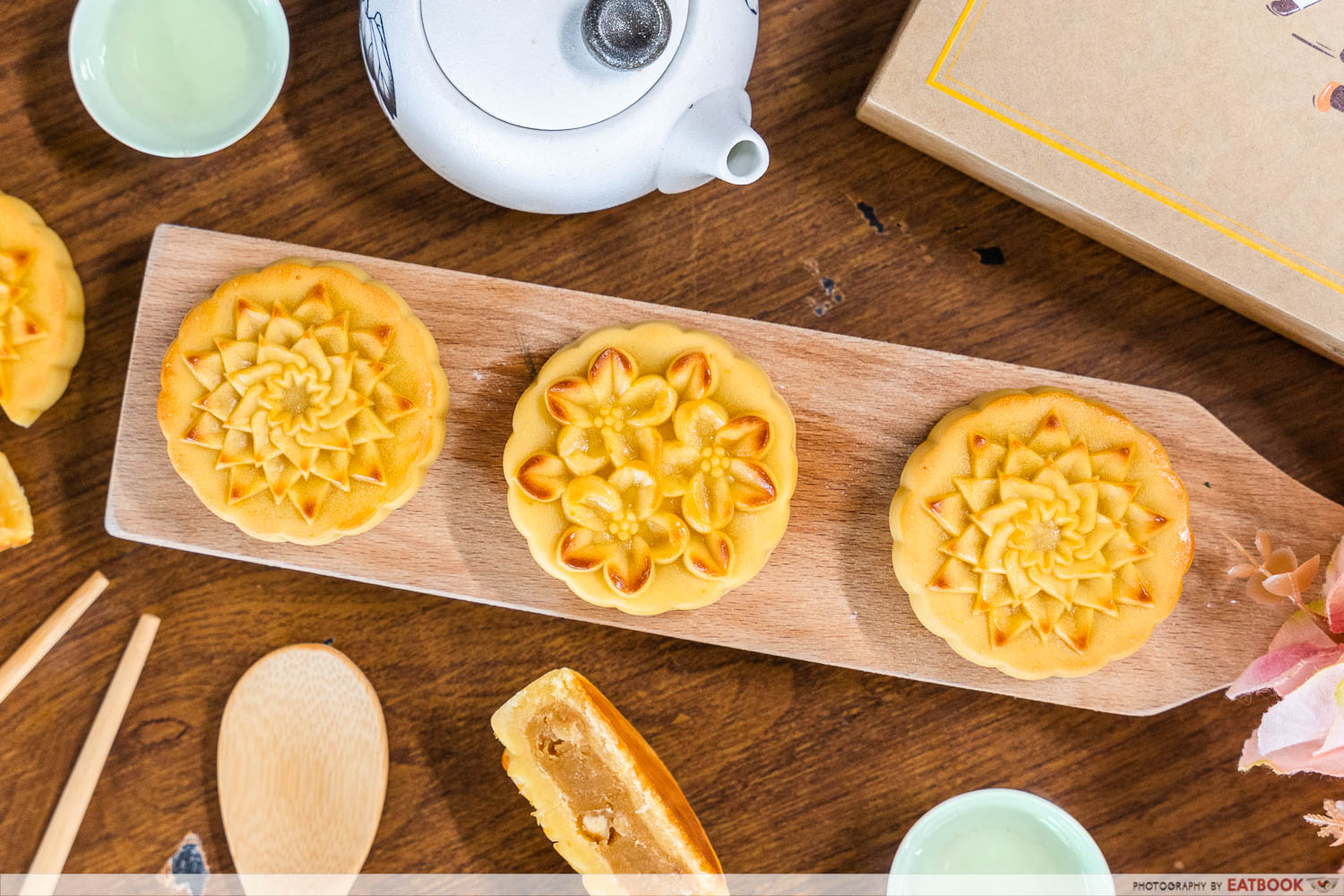 SunnyHills originates from Taiwan and is widely renowned for their delectable pineapple cakes. Come Mid-Autumn Festival, however, they offer a handful of signature fruity mooncakes that are highly raved about. What's more, they've got early bird promos running till 14 September, so be sure to grab them soon, especially if you're getting them as gifts.
The Pineapple Custard Mooncakes, available at $49 for a pack of six, is a bestseller. These baked treats are made with a tropical filling prepared from native Taiwanese pineapples, complemented by a moreish salted egg custard. If apples are more your jam, get their Double Happiness Gift Box ($50.80), which comes with three pieces of both the pineapple mooncakes, and the Kougyoku Apple Mooncakes. The latter is made with Japanese apples and roasted sweet potato. According to the brand, all the baked mooncakes in SunnyHills' range have 65% lower calories than your average baked mooncake—great for the health-conscious and the elderly. Those that prefer snow skin can, instead, get the Superfood Snowskin Durian Mooncakes, starring snow skin made with antioxidant-rich acai and freeze-dried coconut. If you purchase the acai snow skin, expect a rich durian filling made with MSW flesh from Pahang. For coconut lovers, your snow skin option comes packed with bittersweet D24 pulp. These are priced at $76 for four. 
Order here and get free delivery with a minimum of $120 spent, or a minimum of $180 if you've purchased durian mooncakes. 
---
3. Old Seng Choong
---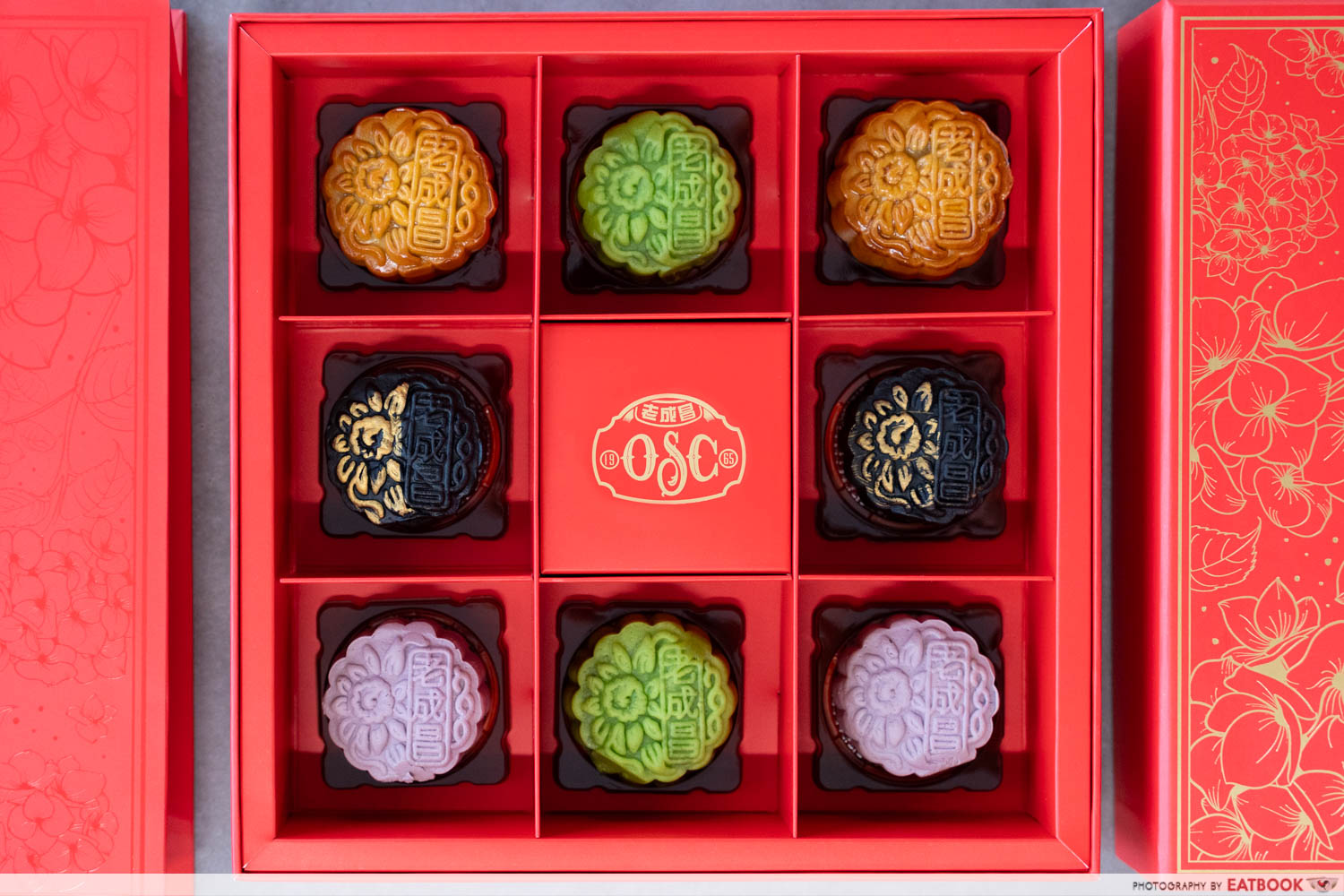 Old Seng Choong is known for their nostalgic bakes, and this Mid-Autumn Festival's offerings are no different. They've got an array of handcrafted mooncakes in flavours such as Yam with Olive Kernel ($68.80 for eight), where a rich yam paste filling is studded with bits of olive kernel for crunch, and Pandan Pulut Hitam ($66.80 for eight), where fragrant pandan snow skin wraps around an earthy pulut hitam filling. If you're looking for something both savoury and sweet, Old Seng Choong also has their Black Truffle Bak Kwa ($68.80) flavour, which definitely brings something new to the table. Order before 7 September via their webstore and enjoy 20% off these prices! 
Order here.
---
4. Dusit Thani Laguna Singapore
---

Image credit: Dusit Thani Laguna Singapore
If you've got family and friends who are a bit health-conscious, then Dusit Thani Laguna Singapore's mooncakes should fit the bill. The resort is offering four low-sugar baked mooncake flavours that offer you and your loved ones guilt-free indulgence. These flavours include White Lotus Paste, available plain ($73.80+) or with double yolk ($86+), Black Sesame with Single Yolk ($82+), and Red Bean with Single Yolk ($73.80+). You can also get an assortment of four for $86+.
What's more, you can purchase a hand-woven Carla Tote Bag for $25+ to house your mooncakes in for gifting. Besides being a reusable, stylish statement, proceeds from the bag go towards supporting the Penan Women Project, which aids indigenous women from Borneo. Members and those with select credit cards also get 25% off their order from 28 July till 27 August, then 15% off from 28 August to 29 September. Buy 25 boxes and you'll be given 25% off as well as free delivery to a single location—ideal if you're purchasing mooncakes as a corporate gift! 
Order here.
---
5. Paradise Group
---
Paradise Group's baked and snow skin mooncake lineup is one to look out for this year. Everything is made by hand without any preservatives, including their gorgeous Liqueur Snow Skin Mooncakes ($70). You get a box of eight pieces, two each for four unique flavours: Yuzu Sake with Chestnut Paste (Yellow), Cherry Brandy with White Lotus Paste (Purple), Grape Roku Gin with White Lotus Paste (Pink), and White Peach Prosecco with Jasmine Paste (Orange). In the middle of each mooncake is a crunchy chocolate shell made with premium Valrhona chocolate.
On top of these snow skin renditions, the group's baked mooncakes are also making a comeback. Highlights include their Mini Baked Custard with Molten Salted Egg Yolk ($68 for eight) and Teochew Yam Pastry with Double Yolk ($68 for four): classic flaky skin mooncakes with a house-made orh nee filling.
Order these mooncakes at any of Paradise Group's outlets.
---
6. Andaz Singapore
---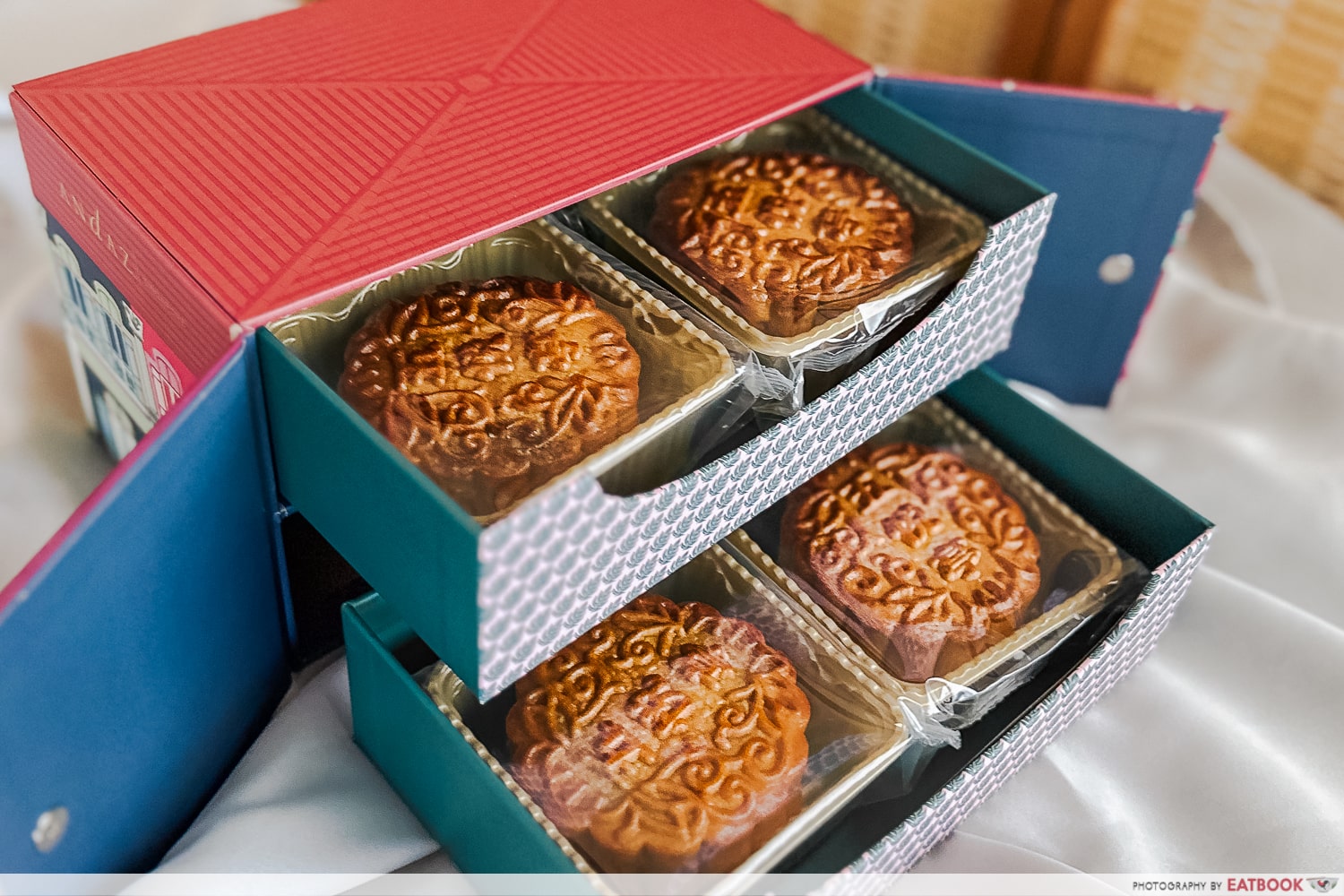 Andaz is bringing on the whimsy with their Cantonese mooncake selection, all handcrafted by the hotel's stellar pastry chefs. They've got your classic selection of baked flavours and new additions to that line-up. This includes the Citrus Surprise, filled with a caramel miso paste with accents of yuzu white chocolate, and the Gula Galore, where lotus paste is infused with gula melaka for added oomph. You can get these, alongside two other classic flavours in the Andaz Singapore line-up, in their 5 ON 25 Mooncake Set ($88 for four). Andaz Singapore also scores big points on the presentation front, as the mooncake comes in boxes designed to look like Kampong Glam's shophouses! The design was executed by local lifestyle brand, Binary Style.
Order here.
---
7. Resorts World Sentosa
---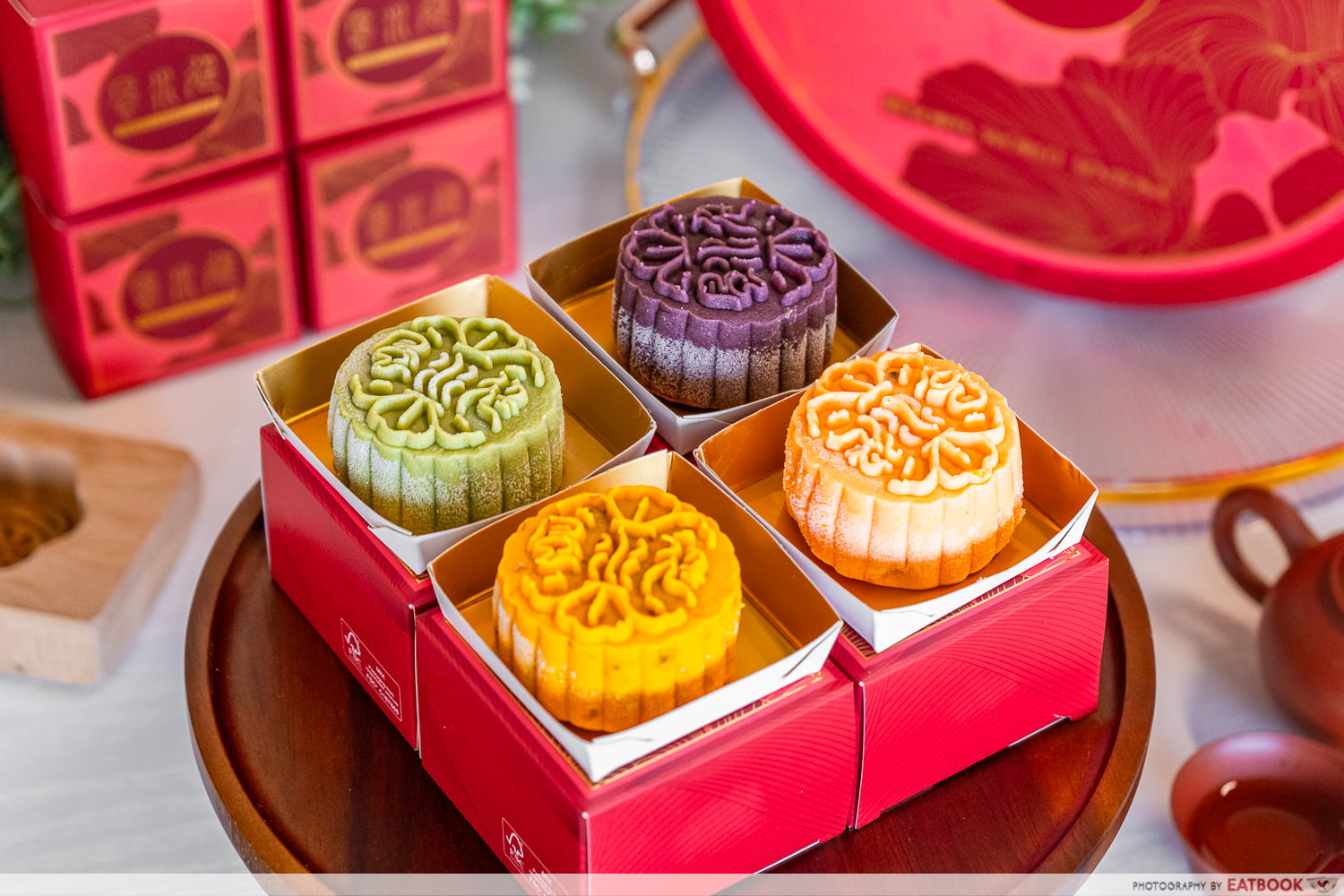 Feng Shui Inn at Resorts World Sentosa has a selection of mooncakes that'll please all palates this Mid-Autumn Festival 2023. If you're gifting mooncakes to your elders or those who prefer more traditional options, get their mini snow skin mooncakes, priced at $98 for eight pieces. All the flavours are inspired by classic teas, ranging from their  Oolong Tea Mooncake with Dates and Wolfberries to their Custard and Wild Honey Mooncake with Tangerine Peel.
If you're on team baked mooncakes, Feng Shui Inn has all the usual suspects, as well as some unique options: the Mala Mixed Nuts Mooncake with Bak Kwa, which comes in an assortment of four with the other baked flavours, ticks all the flavour boxes, from spicy to sweet. The baked assortment is priced at $98 for four pieces.
Order here.
---
8. Swensen's
---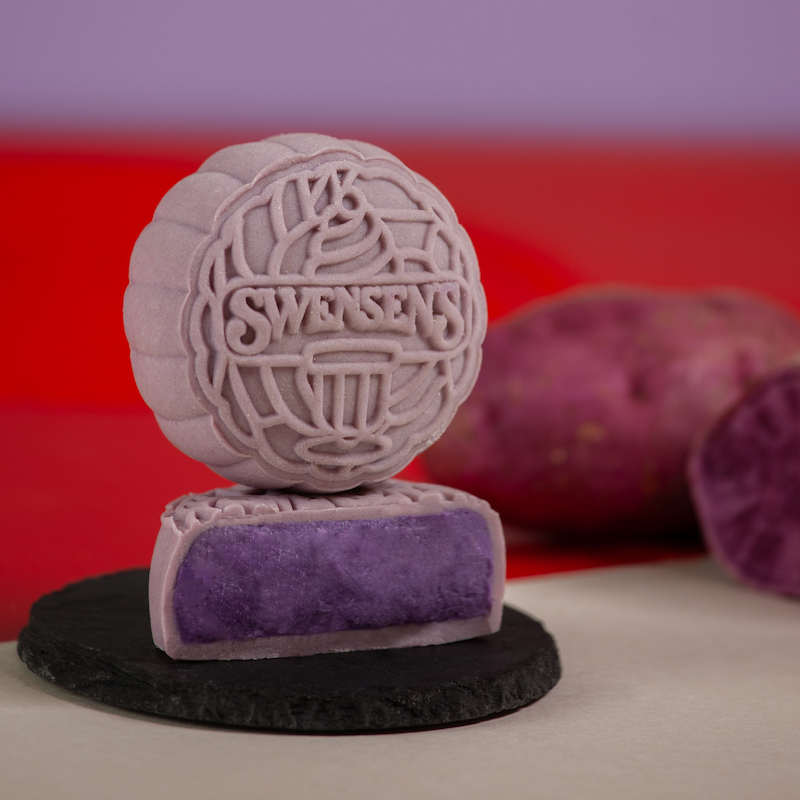 Image credit: Swensen's
Swensen's gets on the mochi bandwagon with their latest mooncake series. The brand has developed a snow skin that has all the chew and QQ-ness of mochi—great for fans of the Japanese treat. Each snowskin mooncake houses an ice cream filling, making them even more of an indulgent dessert. There are several flavours, ranging from the fruity Strawberry ($13.50), and Lychee Rose ($13.50), to the decadent Sticky Chewy Chocolate ($13.50) and Cookies N' Cream ($13.50). If you love durian, you'll be happy to know that Swensen's has two options available: the intense Mao Shan Wang ($16), or the subtle, but no less delicious Durian King ($13.50). The mooncakes are available at all of Swensen's outlets, and their online store.
Order here.
---
9. Mdm Ling
---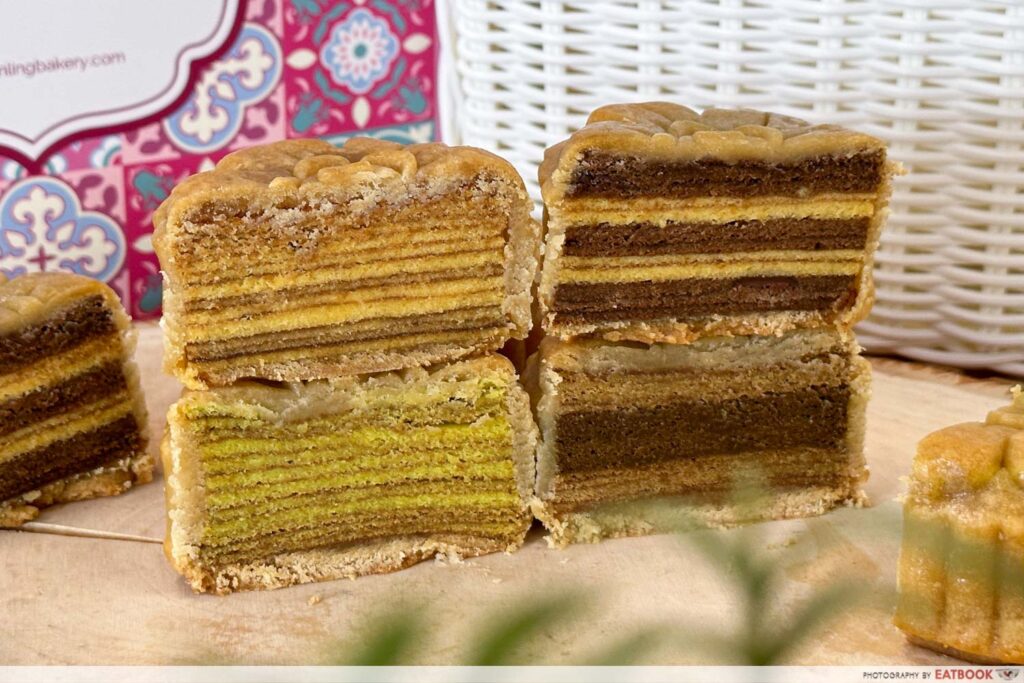 If you want something different this year, check out Mdm Ling's Kueh Lapis Mooncakes, available as a box of four at $76. You get four flavours: Original, Pandan, Chocolate, and Coffee. Each mooncake comes with actual layers of kueh lapis within, baked with a mooncake crust on the outside. For a midday pick-me-up, indulge in the Coffee flavour, which reminds us of kopi siew dai.
On top of these unique layered mooncakes, you'll also find more classic renditions on Mdm Ling's lineup this year. For example, the handmade Flaky Teochew Orh Nee Mooncakes ($76 for four) make for the perfect gift to those who enjoy traditional flavours.
Order here.
---
10. La Levain
---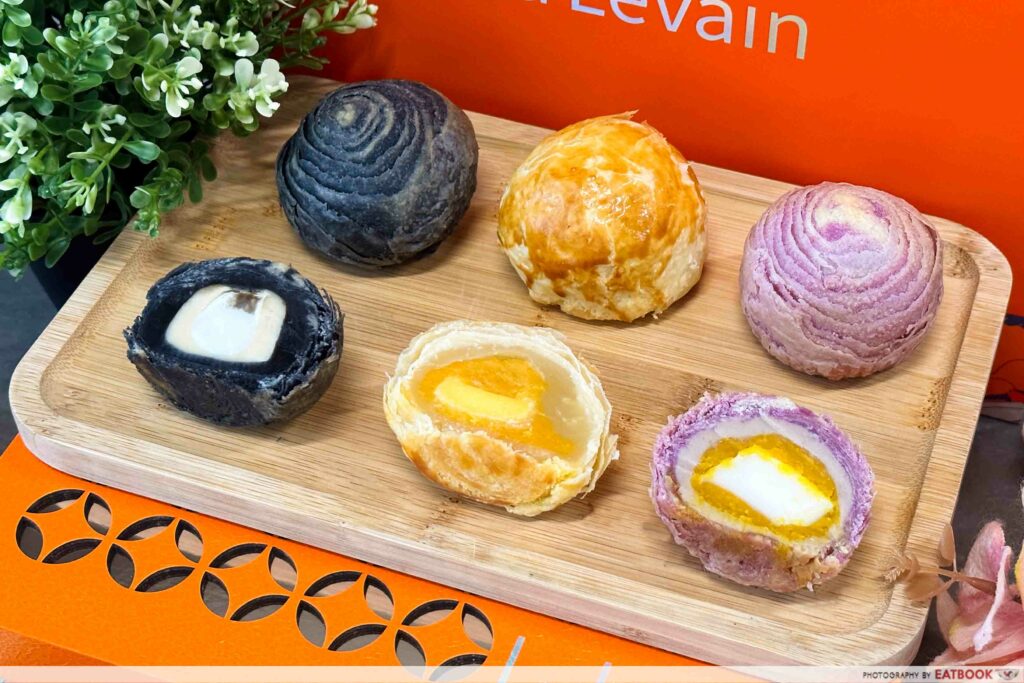 Homegrown bakery La Levain has some of the prettiest mooncakes in 2023. Impress your family with a box of Baked Teochew Mooncake ($82), which consists of six handmade mooncakes made with premium Lescure butter. There are three interesting flavours in each set: Molten Salted Egg Teochew Mooncake, Bobo Chacha Mochi Teochew Mooncake, and Black Sesame Latte Teochew Mooncake. Black sesame fans will love the latter flavour as it comprises a rich black sesame lotus paste, complemented by a Hokkaido milk filling and chewy mochi.
For a limited time only, get this at a special price of $62.50!
Order here.
---
11. Crowne Plaza
---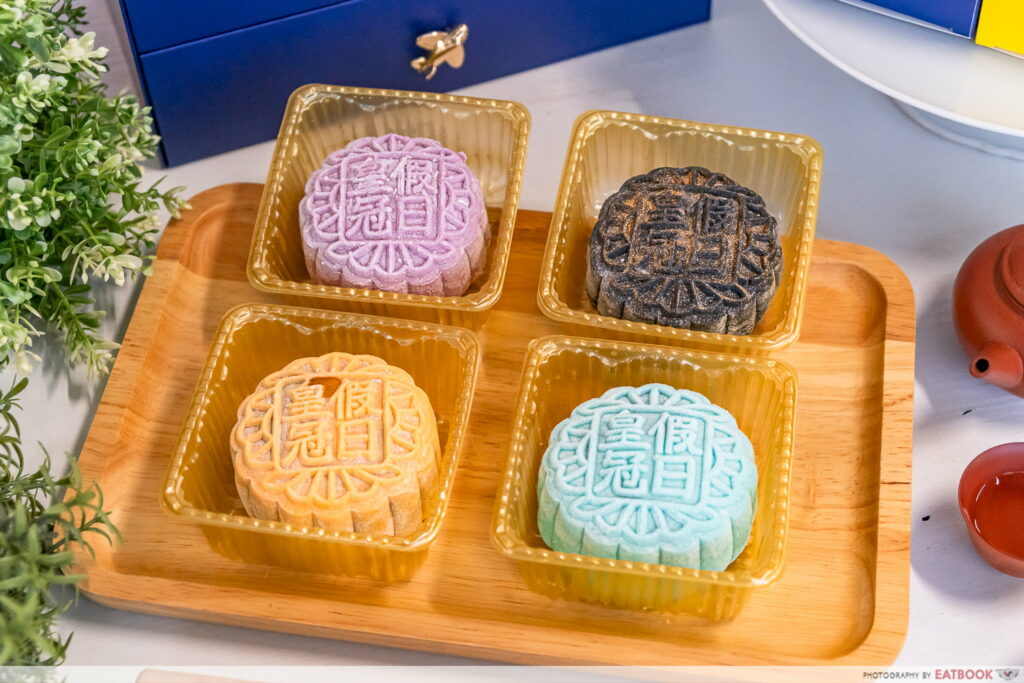 Another one to add to your mooncake list is Crowne Plaza's Assorted Snowskin Mooncake Collection, priced at $80 for four. Each box comes with four old-school-inspired flavours, namely Teochew Orh Nee Taro Lotus with Ginkgo Nuts, Pulut Hitam Roasted Dark Glutinous Rice with Coconut Cream, Black Sesame Paste with Peanut Crunch and Gold Dust, and Ondeh Ondeh Pandan Gula Melaka with Grated Coconut. Those who love orh nee would go gaga over the yam-infused flavour, a snowskin mooncake that stars a smooth yam-lotus paste and ginkgo nuts.
Each set is packed in a pretty box that's designed for upcycling as a jewellery holder!
Order here.
---
12. Lady M
---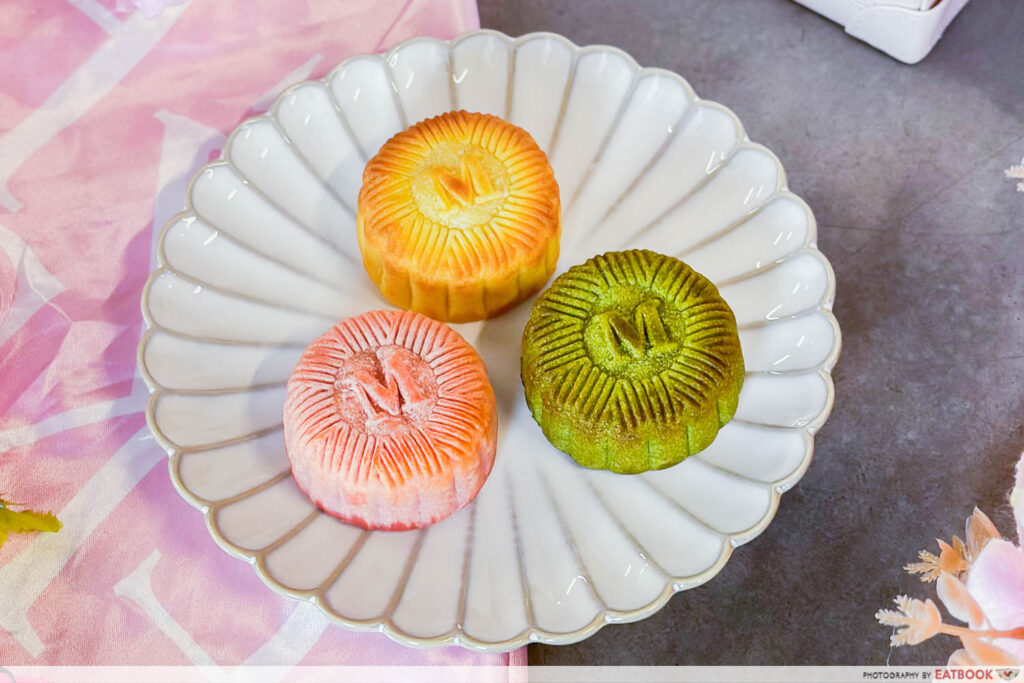 This Mid-Autumn Festival, impress your fam with the gorgeous Moonglow Gift Set ($99) from Lady M. The limited-edition kit comes with a reusable vegan leather jewellery box holder that holds six mini mooncakes. Launched in collaboration with the famous Kee Wah Bakery, you'll get to try three flavours in total—Yuzu Milk Custard, Matcha Pandan Custard, and Lychee Rose Custard, a delicate mooncake with soft floral notes.
The set also comes with a custom-designed gift bag with a matching greeting card, making it perfect for gifting to your beloved ones!
Order here.
---
What mooncakes to buy for Mid-Autumn Festival 2023
---
Here are all the mooncakes you can order if you're looking for options to purchase for yourself or your loved ones this Mid-Autumn Festival 2023. If you're more of a durian mooncakes fan, check out our guide to the best durian mooncakes to order.
This post was brought to you by Ding Bakery, SunnyHills, and Dusit Thani Laguna.
Featured image adapted from Swensen's and Ding Bakery.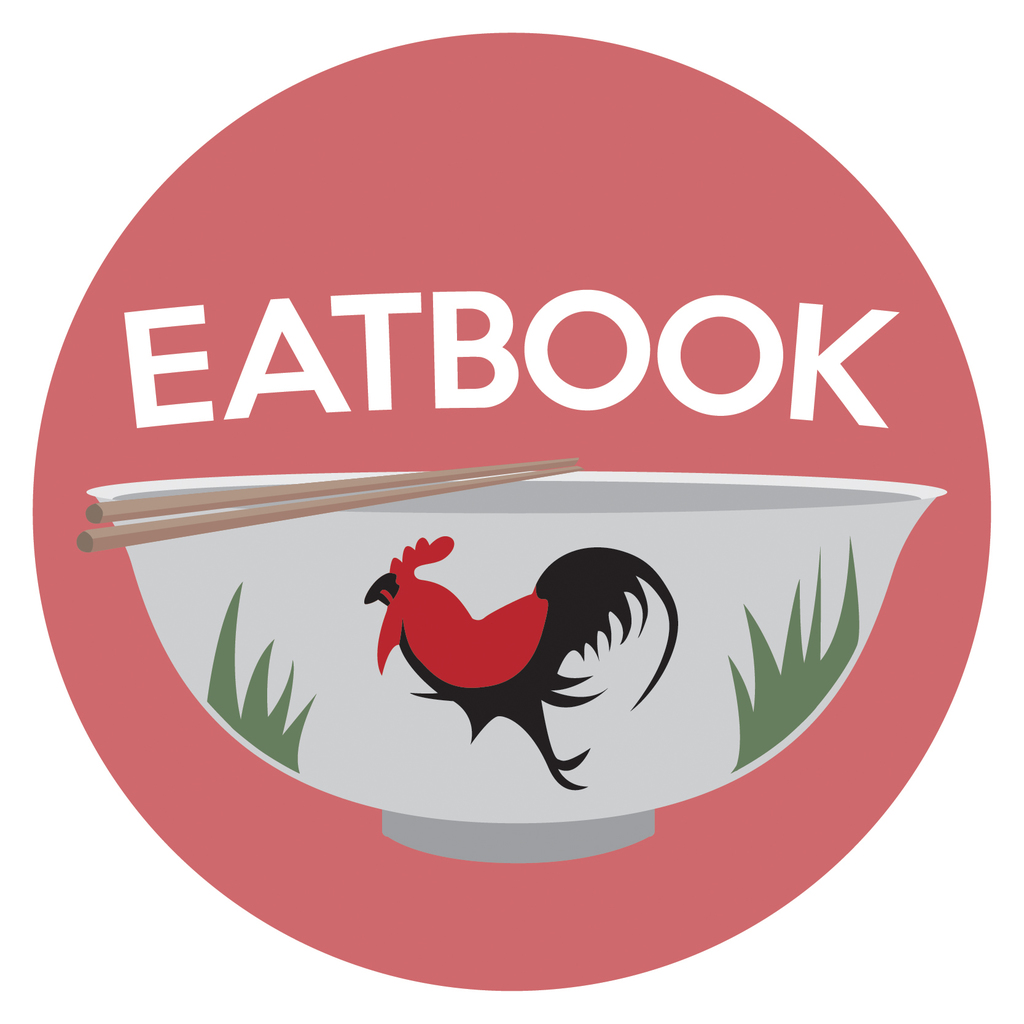 Drop us your email so you won't miss the latest news.