---
Best vegan restaurants in Singapore
---
More and more Singaporeans are becoming more conscious about their environmental footprint, which has led to a rising interest in plant-based food locally. Though this isn't to say more Singaporeans are turning vegan, there's definitely been an uptick in people integrating plant-based food into their daily diets. As a result, more restaurants in Singapore are offering vegan and vegetarian options, and more plant-based establishments have been popping up across the city.
If you're keen to try them out for yourself or are looking for a spot to dine with vegan friends, here is our guide to the best vegan restaurants in Singapore. From Western fare to Chinese and Indian dishes, we've got your plant-based food needs covered.
---
1. Afterglow
---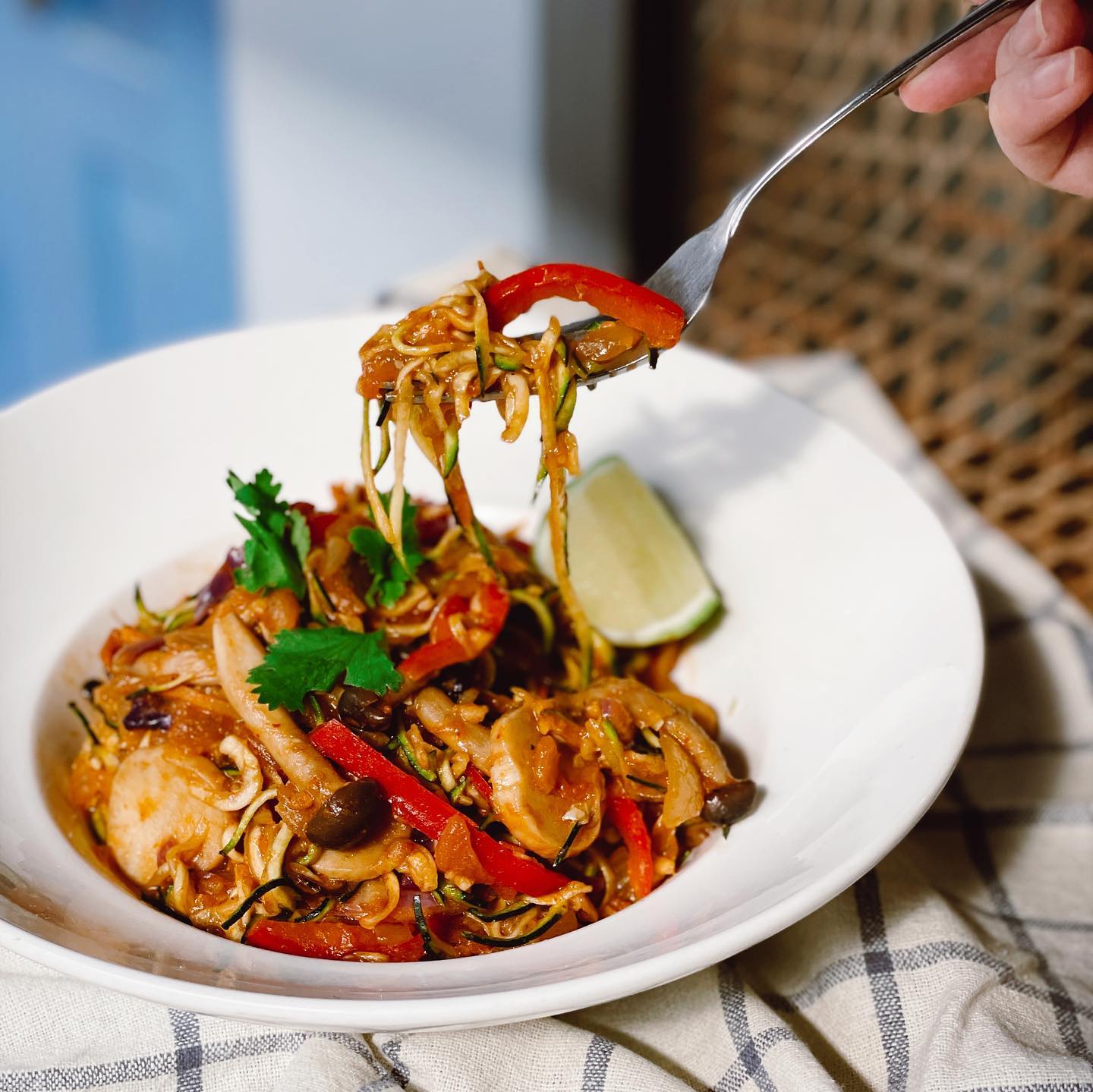 Image credit: @afterglow_sg
Afterglow is one of the OG plant-based restaurants in Singapore that goes the extra mile to make sure that their menu is mostly gluten-free too. They've got a broad selection of nutritious dishes, from light bites to start, to full-on mains and even sharing platters.
Spicy food lovers will enjoy their Tom Yum Zoodles ($23++), made with zucchini noodles, a mushroom medley, and a house-made tom yum paste. If you're dining with friends, order their Sharing Dip Platter (from $15++) to munch on alongside—this comes with your pick of hummus, "tuna" tartare, and tofu cream "cheese", served with crackers, carrots, and jicama fries. They've also got a range of plant-based desserts to end off your meal as well! 
Address: 24 Keong Saik Road, Singapore 089131
Opening hours: Mon-Sat 12pm to 10pm
Tel: 6224 8921
Website
Afterglow is not a halal-certified eatery 
---
2. Love Handle
---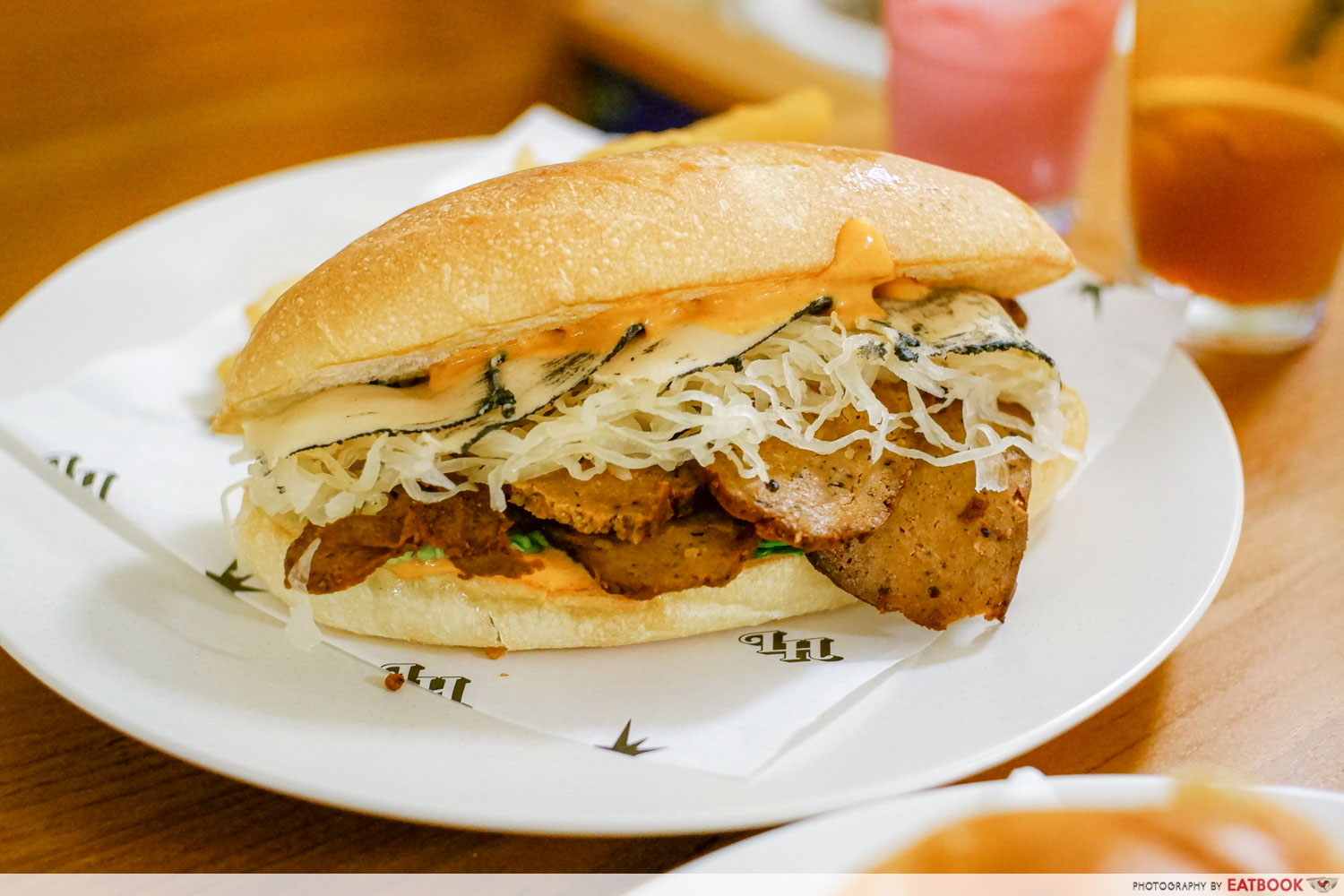 Located on Ann Siang Hill is Love Handle, a plant-based deli that also houses Asia's first vegan "butcher", serving up raw mock meats you can take home and cook in your own creations. If you're dining in, the menu offers a range of plant-based burgers and sandwiches, as well as vegan remixes on familiar dishes, such as Chicken Rice ($14++), Bangers & Mash ($26++), and Beef Ragu ($24++).
Read our Love Handle review.
Address: 8 Ann Siang Hill, Singapore 069788
Opening hours: Mon-Wed 12pm to 10pm, Thurs-Fri 12pm to 10:30pm, Sat 11am to 10:30pm
Tel: 8886 7112
Website
Love Handle is not a halal-certified eatery.
Love Handle: Plant-Based Deli With Menchi Katsu, Vegan Egg Mayo And More In Ann Siang
---
3. Green Common
---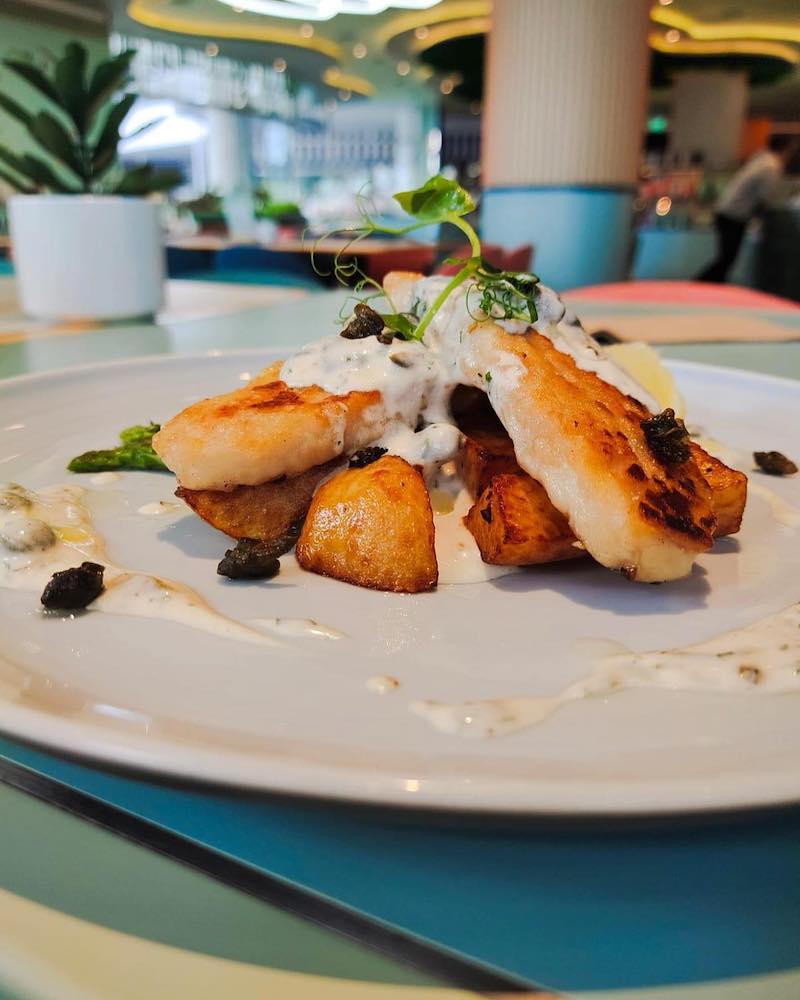 Image credit: Green Common
Another one-stop plant-based food haven is Green Common, located in VivoCity. Within the space is a plant-based grocery, which stocks produce from famed brands such as Minor Figures, OmniFoods, as well as their own house-made dessert range.
If you're there just to dine in, expect a wide range of vegan dishes that star plant-based meats. Swing by at lunchtime to enjoy their Lunch Set ($18++), where you get an appetiser, a main, and a drink. Options include their Omni Luncheon Fries, Potato Fries with Truffle Dip, Chilli Crabless Crab Pasta and plenty more.
Address: 1 HarbourFront Walk, #01-169/170, VivoCity, Singapore 098585
Opening hours: Daily 11am to 9pm
Tel: 6513 5808
Website
Green Common is not a halal-certified eatery 
---
4. The Boneless Kitchen
---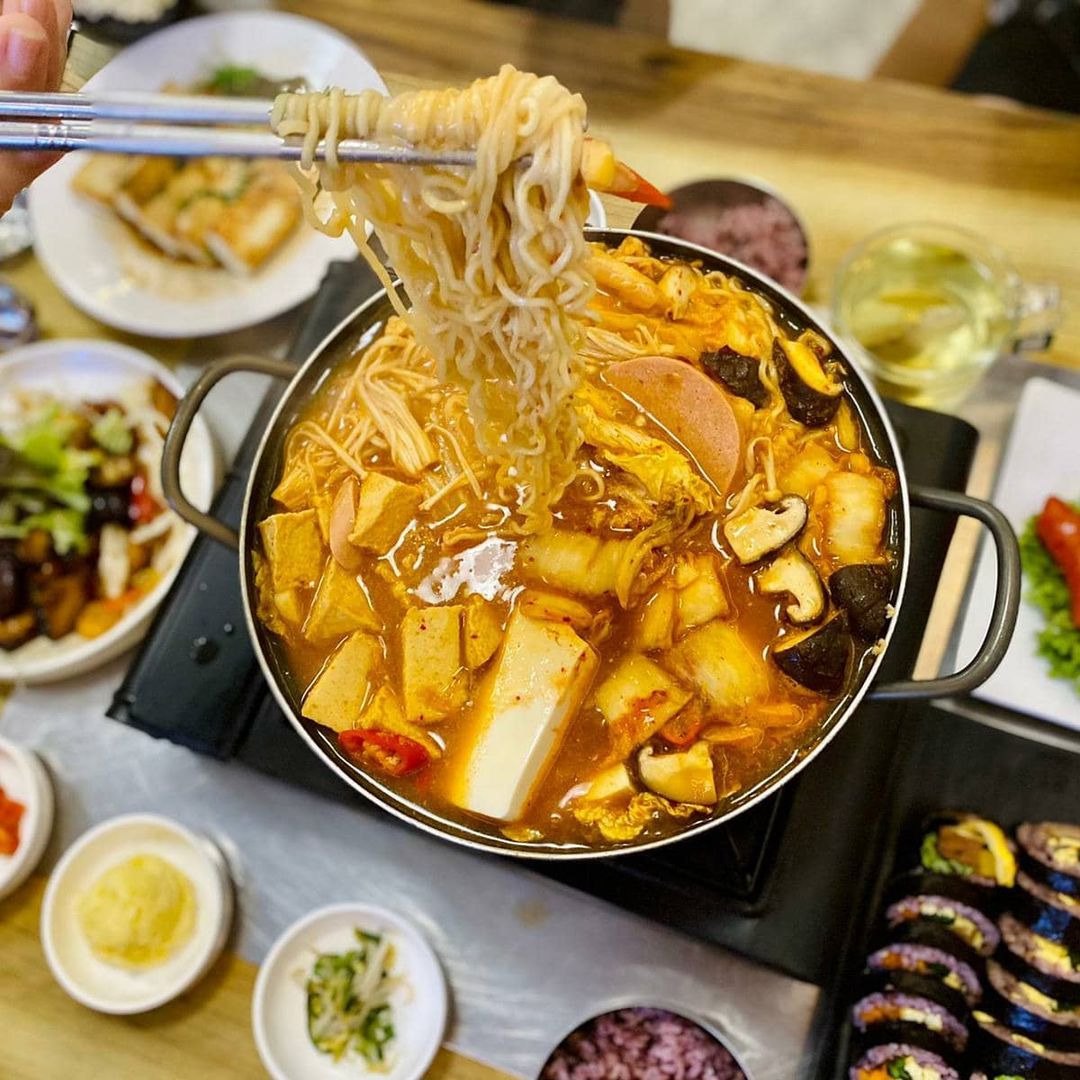 Image credit: @thebonelesskitchen
If you love Korean food but want a vegan alternative, then give The Boneless Kitchen a try. The eatery offers a wide variety of Korean classic dishes, from gimbap to stews, all sans meat, alliums, and MSG. All their ingredients are sourced from Korea as well, for maximum authenticity.
The Boneless Kitchen is also a restaurant with a socially responsible slant: they believe in celebrating different abilities, so their staff is comprised of 40% of individuals with special needs. Therefore, the owners seek your patience and understanding if there are any speedbumps in your service experience. 
Address: 1 Irving Place, #01-31, Commerze @ Irving, Singapore 369546
Opening hours: Tue-Sun 11:30am to 8:30pm
Tel: 8457 6464
Website
The Boneless Kitchen is not a halal-certified eatery.
---
5. WellSmoocht
---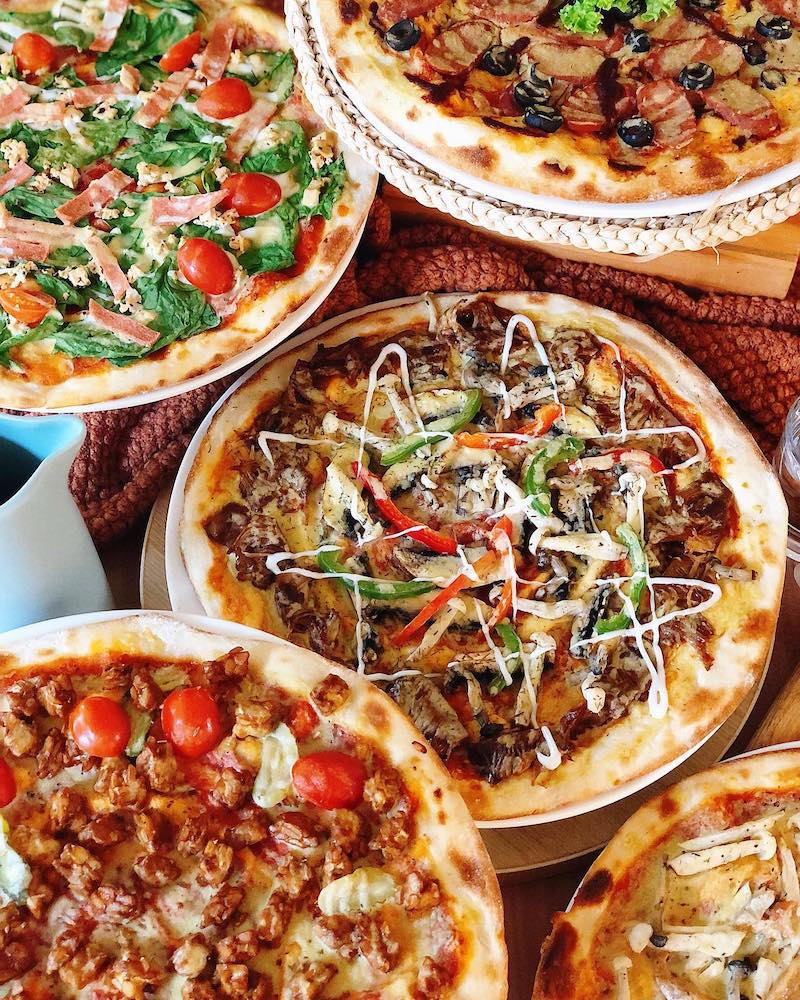 Image credit: WellSmoocht
West-siders looking for a vegan restaurant to dine at can head to WellSmoocht in Jurong East. The cafe offers vegan alternatives to your usual brunch dishes and Western options, and also serves vegan ice cream and waffles for dessert.
They're well-known for their thin-crust pizzas, so we recommend ordering these to share. The Truffle Porcini Funghi Pizza ($22++) is one of their bestsellers, where a crisp pizza base is topped with an umami mushroom medley, including shimeji mushrooms grown in-house.  
Address: 319 Jurong East Street 31, #01-58, Singapore 600319
Opening hours: Sun, Tue-Thurs 12pm to 9pm, Fri-Sat 12pm to 9:30pm
Tel: 6266 5691
Website
WellSmoocht is not a halal-certified eatery.
---
6. Real Food
---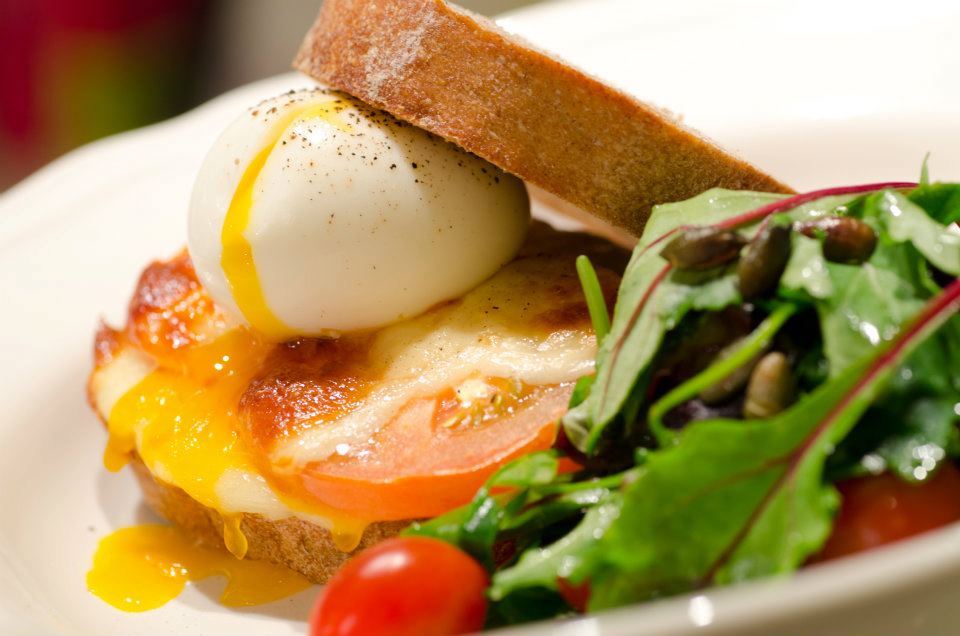 Image credit: Real Food Singapore
Real Food is not 100% vegan, for they do have some menu items with eggs, but in all, they've still got an extensive selection of purely plant-based dishes. We especially love the fact that they've got a vegan all-day breakfast menu, which includes Sweet Pumpkin Pancakes ($12..80++) and Sourdough Toast with Home-made Kaya ($2.80++), alongside the usual rice, noodles, burger, and pizza offerings.
Website | Full list of outlets
Real Food is not a halal-certified eatery.
---
7. Gokul
---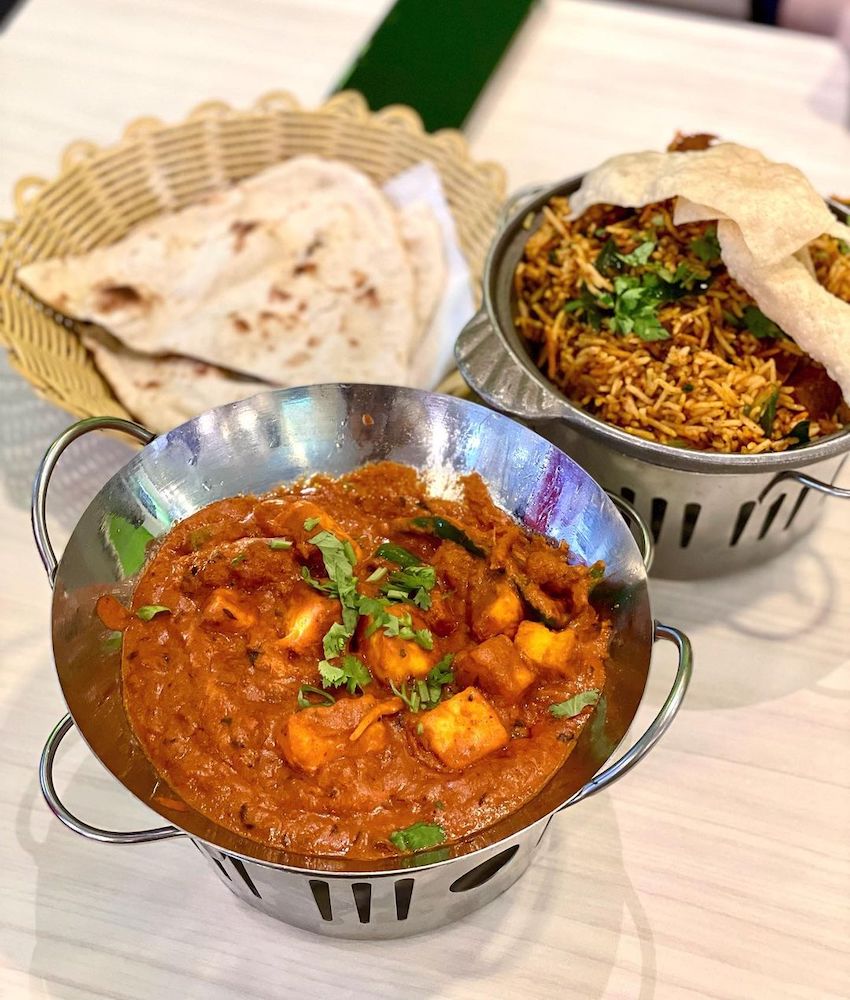 Image credit: @jiakzeh
There are many Indian restaurants in Singapore with a vegetarian slant, but not all of them have a substantial vegan range. Gokul does, however, and offers its vegan dishes with an interesting slant. There are plant-based jalfrezi hotplate curries, vegan fish head curries and spicy hotpots, as well as plant-based Singaporean dishes, from Hokkien Mee ($10.95) to Nyonya Laksa ($10.95). Their dishes are allium-free too
Address: 19 Upper Dickson Road, Singapore 207478
Opening hours: Sat-Thurs 10am to 9:30pm, Fri 10:30am to 10pm
Tel:  6396 7769
Website
Gokul is not a halal-certified eatery
---
8. Bodhi Deli
---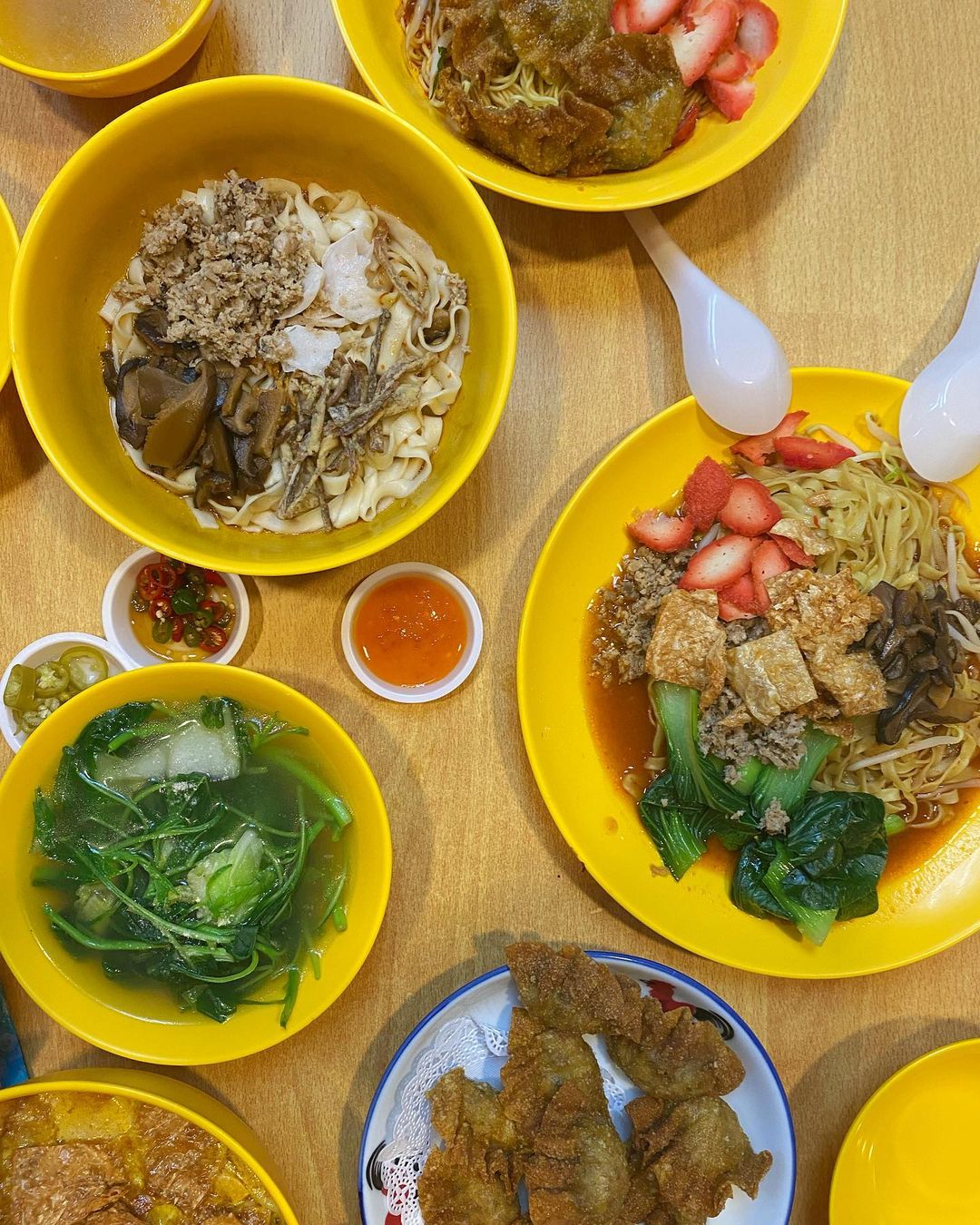 Image credit: @stoplookingatmyfood
Fortune Centre is home to many vegetarian-friendly eateries and vegan restaurants. Bodhi Deli is one of them, offering affordable plant-based and local dishes, mostly priced under $10. What's more, they sell a selection of their house-made frozen food in their eatery, so you can purchase their mock chicken cutlet, wonton, drumsticks and more to prep at home.
Address: 190 Middle Road, #03-26/27 Fortune Centre, Singapore 188979
Opening hours: Daily 10:30am to 3pm
Tel:  9005 6968
Website
Bodhi Deli is not a halal-certified eatery
10 Best Fortune Centre Food Places For Vegetarian Zi Char, Korean Corn Dogs And More
---
9. The Living Cafe
---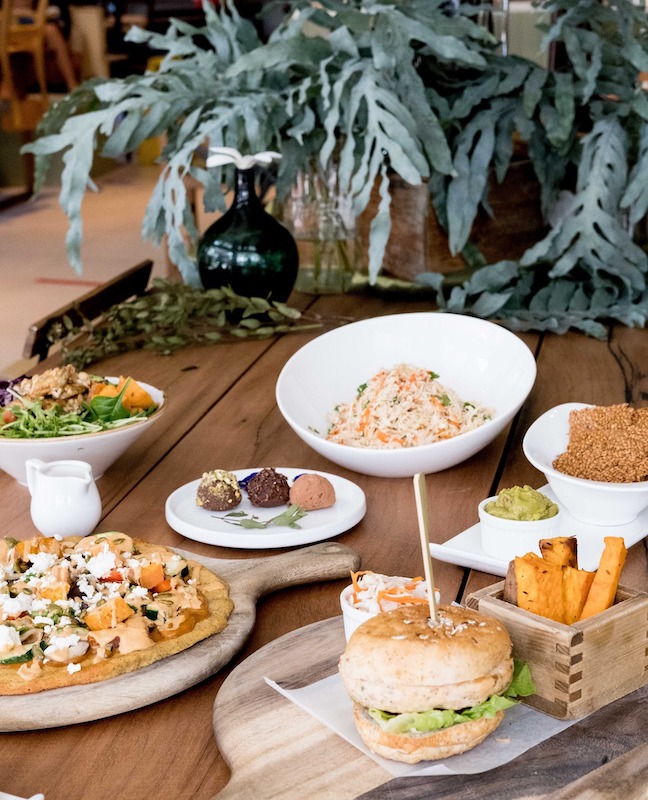 Image credit: The Living Cafe
Located right outside Sixth Avenue MRT Station is The Living Cafe, an eatery that primarily focuses on raw vegan dishes that are so tasty, you won't even feel like you're eating healthy.
The Zucchini Lasagne ($21++) is one of their best-sellers, where slices of zucchini "pasta" are layered with a macadamia cheese bechamel, house-made pesto, and fresh tomatoes to create a pretty delicious take on the Italian classic. Aside from this, the menu has a few Buddha bowls that are easy picks for a quick lunch, or all-day brunch options perfect for a lazy weekend. We love their Paleo Berry Waffles ($21++), which are topped with coconut yoghurt and a fresh fruit medley.
Address: 779 Bukit Timah Road, Singapore 269758
Opening hours: Tue-Sun 8am to 6pm
Tel: 9735 9404
Website
The Living Cafe is not a halal-certified eatery.
---
10. iVegan
---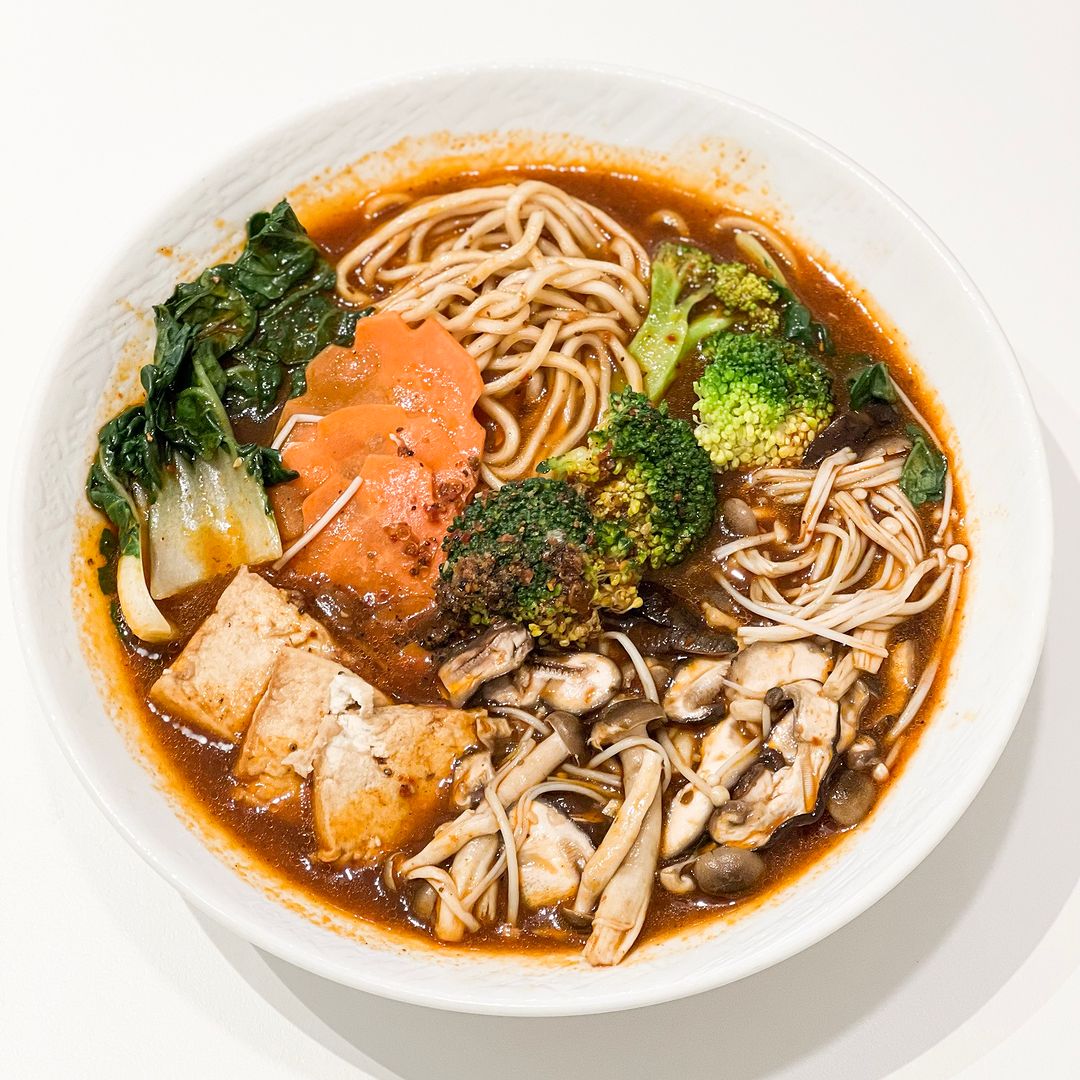 Image credit: @ivegansg
iVegan specialises in vegan food that's healthy, made with whole foods, and has no MSG. Everything is prepped with olive oil as well, so you're definitely getting those healthy fats in. Their Kimchi Tofu Soup ($8.90) is a great starter—a delicious, plant-based take on kimchi jjigae that's loaded with mushrooms and silken tofu. For mains, get their Veg Ramen ($12.90), made with la mian and a selection of Chinese greens, as well as mushrooms. They also have mala xiang guo that's vegan here too, priced from $9.90.
Address: 301 Upper Thomson Road, #01-109, Thomson Plaza, Singapore 574408
Opening hours: Daily 11:30am to 9:30pm
Tel: 6513 1790
Website
iVegan is not a halal-certified eatery.
---
11. Genesis Vegan Restaurant
---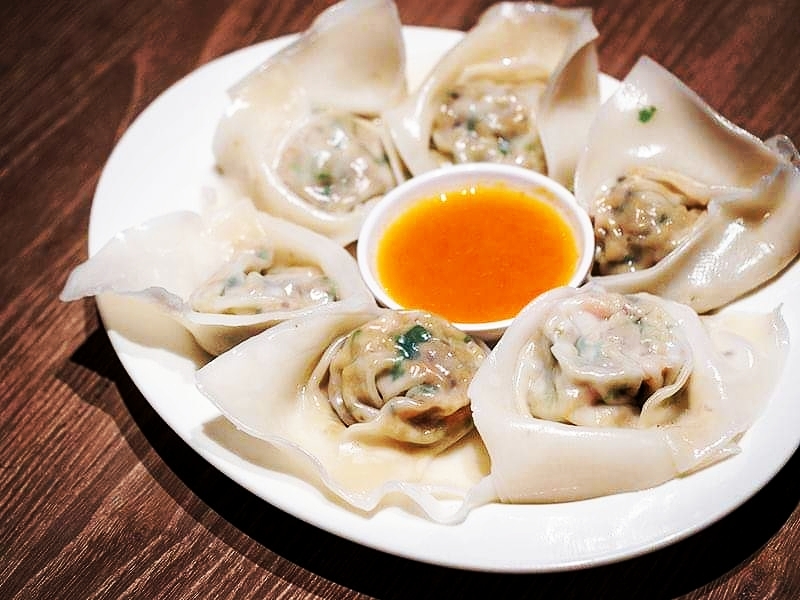 Image credit: @genesis.vegan.restaurant.sg
Genesis Vegan Restaurant offers a seriously extensive selection of plant-based eats, spanning Asian to Western dishes. The Dumplings ($6) here are a fan favourite, as well as their Bak Kut Teh Rice ($8.90), done herbal Malaysian style. Aside from these mains, Genesis Vegan Restaurant also sells vegan bakes, including buns that you can take home and enjoy as a snack!
Address: 2 Havelock Road, #B1-01 Havelock 2, Singapore 059763
Opening hours: Thurs, Sun-Tue 11am to 3pm, 5pm to 8:30pm, Fri 11am to 3pm, Wed 11am to 3pm, 5pm to 8pm
Tel: 6438 7118
Genesis Vegan Restaurant is not a halal-certified eatery.
---
12. Saute-San
---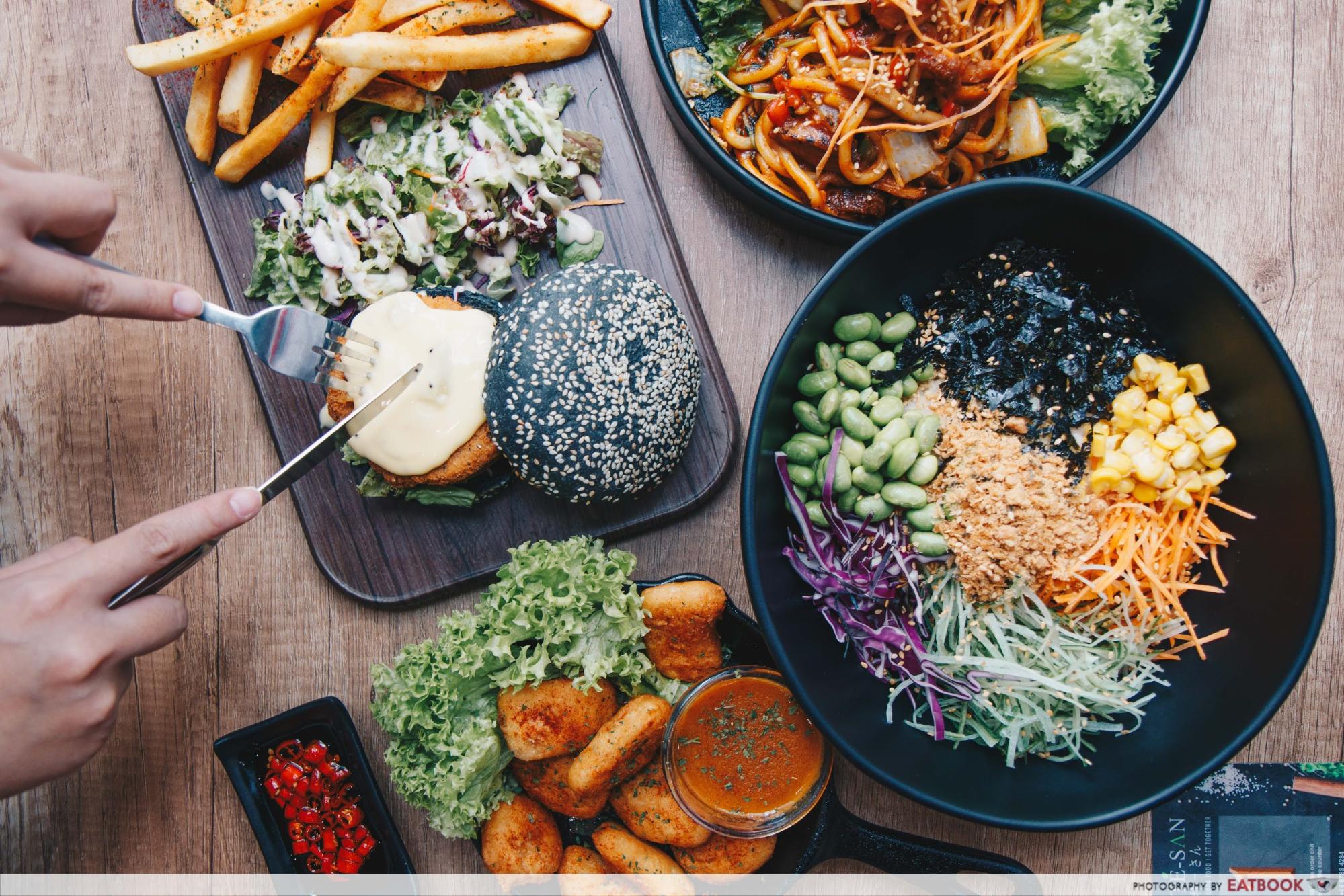 Saute-San is Singapore's first vegan sushi restaurant. Satisfy your Japanese food cravings here with plant-based spins on the usual sushi toppings, from vegan salmon nigiri to vegan unagi. Aside from maki rolls and handrolls, Saute-San also has a selection of affordable Japanese mains, from dry ramen topped with mock meat karaage to soupy udon noodles.
Address: 180 Kitchener Road, #03-23/24, Singapore 208539
Opening hours: Daily 11:30am to 9:30pm
Tel: 8788 4284
Website
Saute-San is not a halal-certified eatery
Sauté Sushi: Singapore's First Plant-Based Sushi Train Concept At Paya Lebar Square
---
13. VeganBurg
---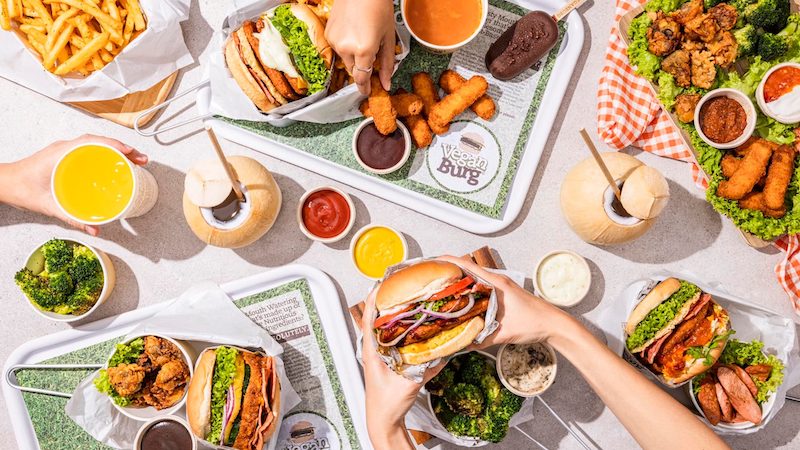 Image credit: VeganBurg
VeganBurg is one of Singapore's OG vegan restaurants in Singapore. They are the world's first 100% plant-based burger joint and have been around since 2010. Aside from operating out of their flagship in Eunos, VeganBurg has also opened an outlet in San Francisco.
Some of their famous burgers include the Char-Grilled Satay ($13.90) and the Chilli Krab ($13.90), both of which nod to Singaporean classics. Make your dish a meal with a top-up of $2.90. For the price, you get a side of seaweed fries or charred broccoli!
Address: 44 Jalan Eunos, Singapore 419502
Opening hours: Daily 11:30am to 9pm
Tel: 6844 6868
Website
VeganBurg is not a halal-certified eatery
---
14. Warung Ijo
---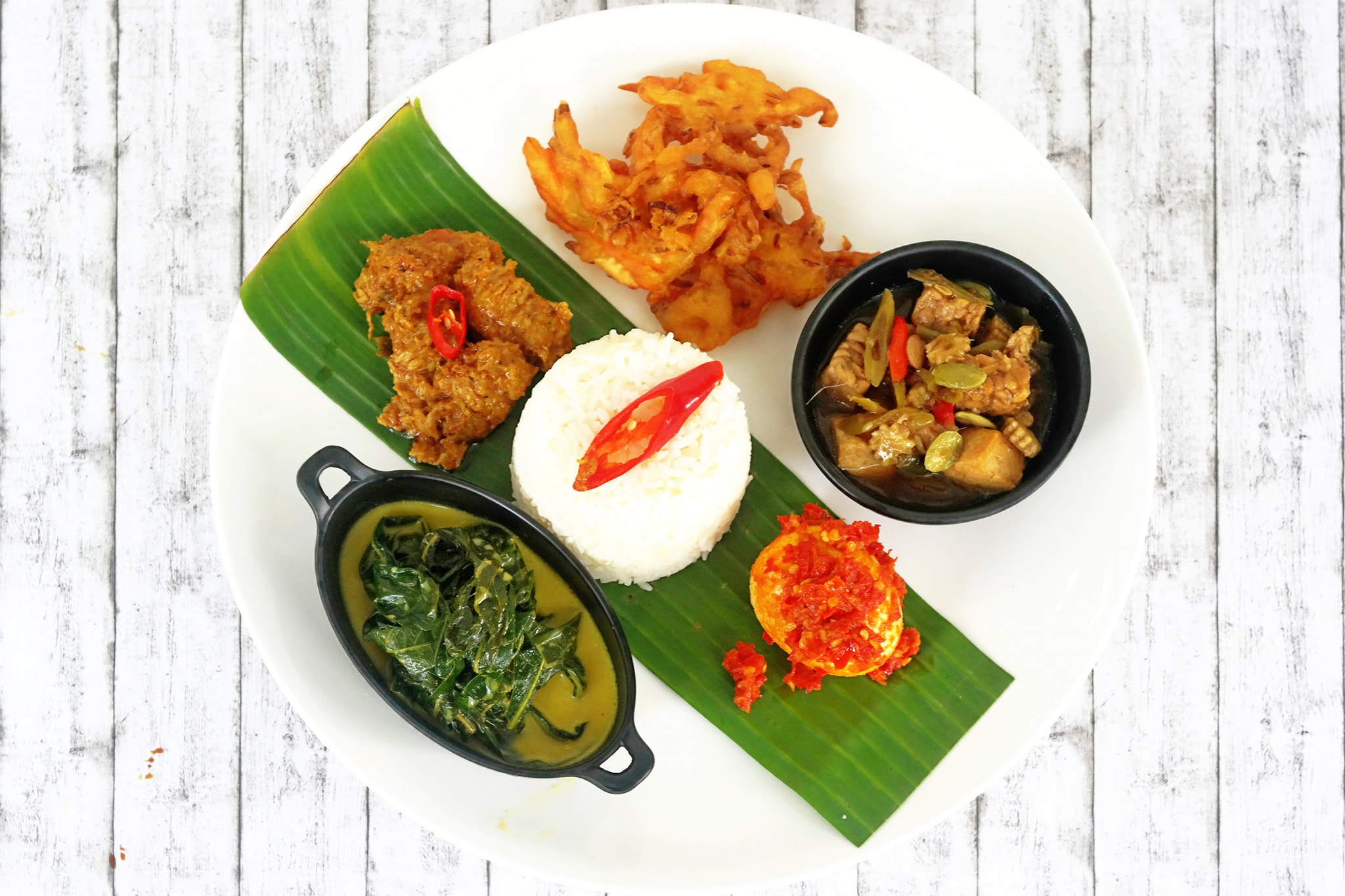 Image credit: Warung Ijo
Those looking for legit Indonesian food with a plant-based twist should visit Warung Ijo in Kampong Gelam. The Indonesian restaurant prepares all their dishes without alliums and alcohol. Some of their dishes have eggs, but you can opt to do without so your dish is vegan. The Rendang Fried Rice ($10.90) is a bestseller here, starring fried rice packed with wok hei, and rendang made with the meaty lion's mane mushrooms. They also have a range of curries and kolo mee, made with meat substitutes. 
Address: 337 Beach Road, Singapore 199565
Opening hours: Tue-Fri 11am to 3pm, 5pm to 9pm, Sat-Sun 11am to 3:30pm, 4:30pm to 9pm
Tel: 8857 8600
Website
Warung Ijo is not a halal-certified eatery.
Warung Ijo: Highly Raved Vegetarian Indonesian Restaurant In Bugis
---
Where to eat vegan food in Singapore
---
If you're interested in plant-based dining but don't necessarily want to shy away from animal produce overall, then check out our guide to the best vegetarian restaurants in Singapore and the best vegetarian bee hoon stalls instead.
Featured image adapted from Warung Ijo, WellSmoocht, and VeganBurg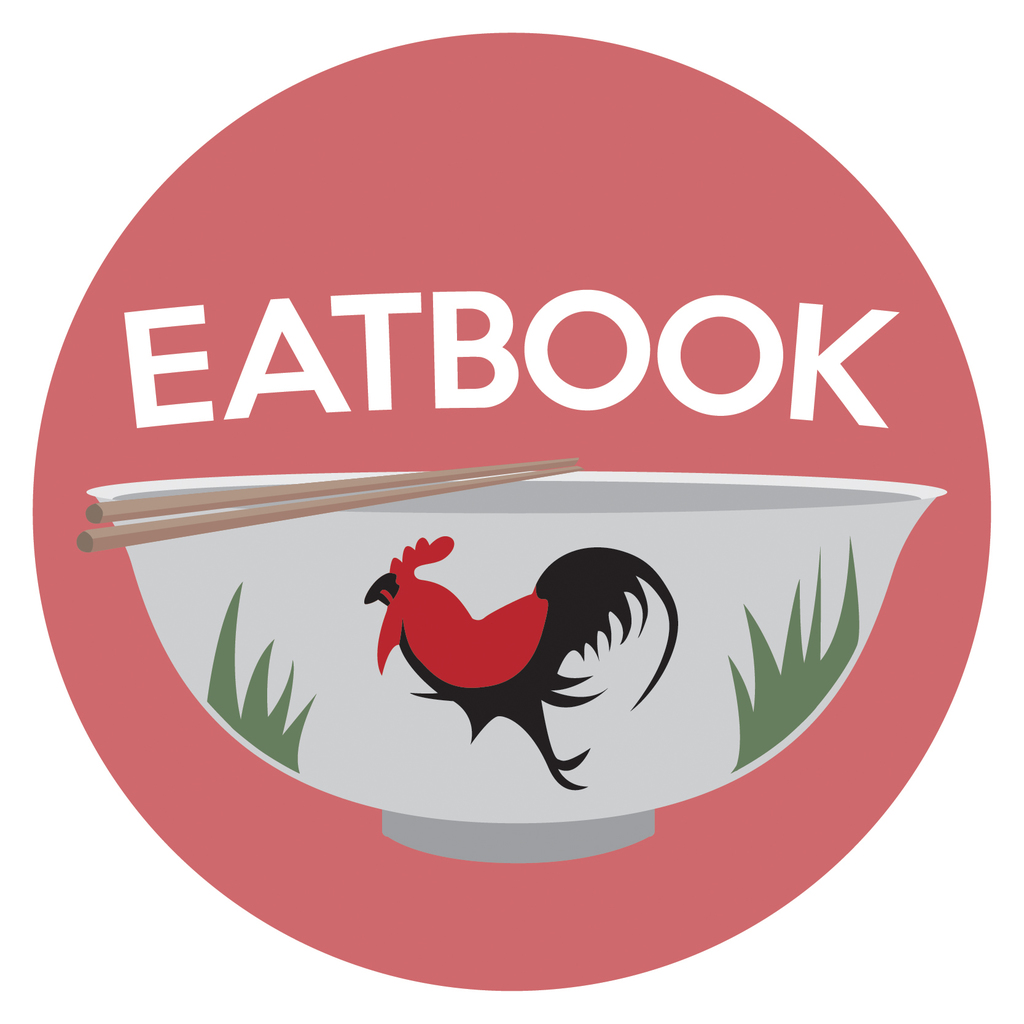 Drop us your email so you won't miss the latest news.