BHC Chicken is opening in Marina Square on 26 April 2023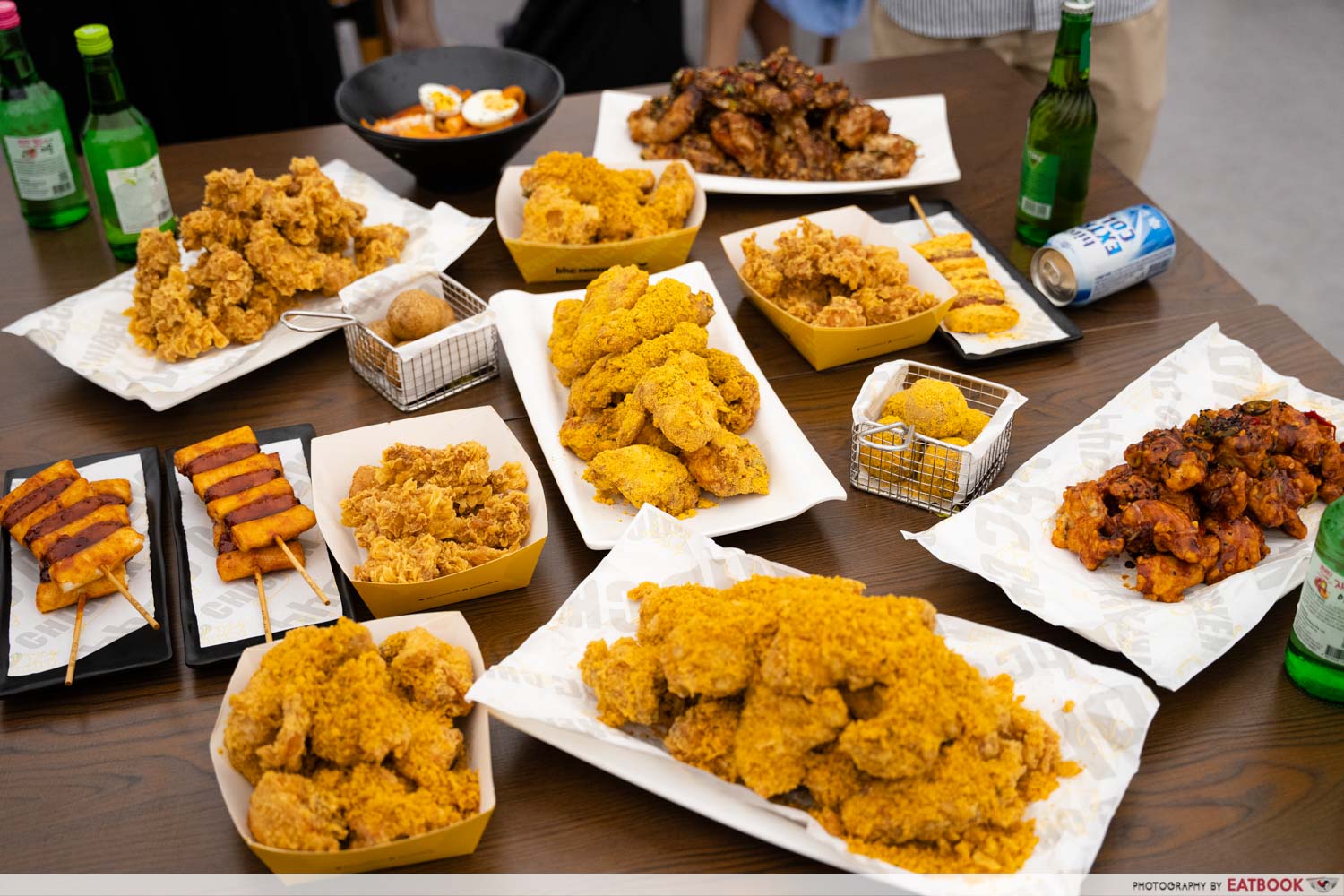 BHC Chicken, a popular South Korean fried chicken chain, is finally making its way to Singapore. They'll open their first outlet at Marina Square on 26 April 2023.
Known for its unique fried chicken, BHC Chicken has gained a reputation for being one of the best Korean fried chicken chains in South Korea, with almost 2,000 outlets to its name. This Singapore store will be its fourth internationally, after those in Hong Kong, Los Angeles, and Malaysia.
10 Korean Fried Chicken In Singapore From $1.40, Including Halal Options
Food at BHC Chicken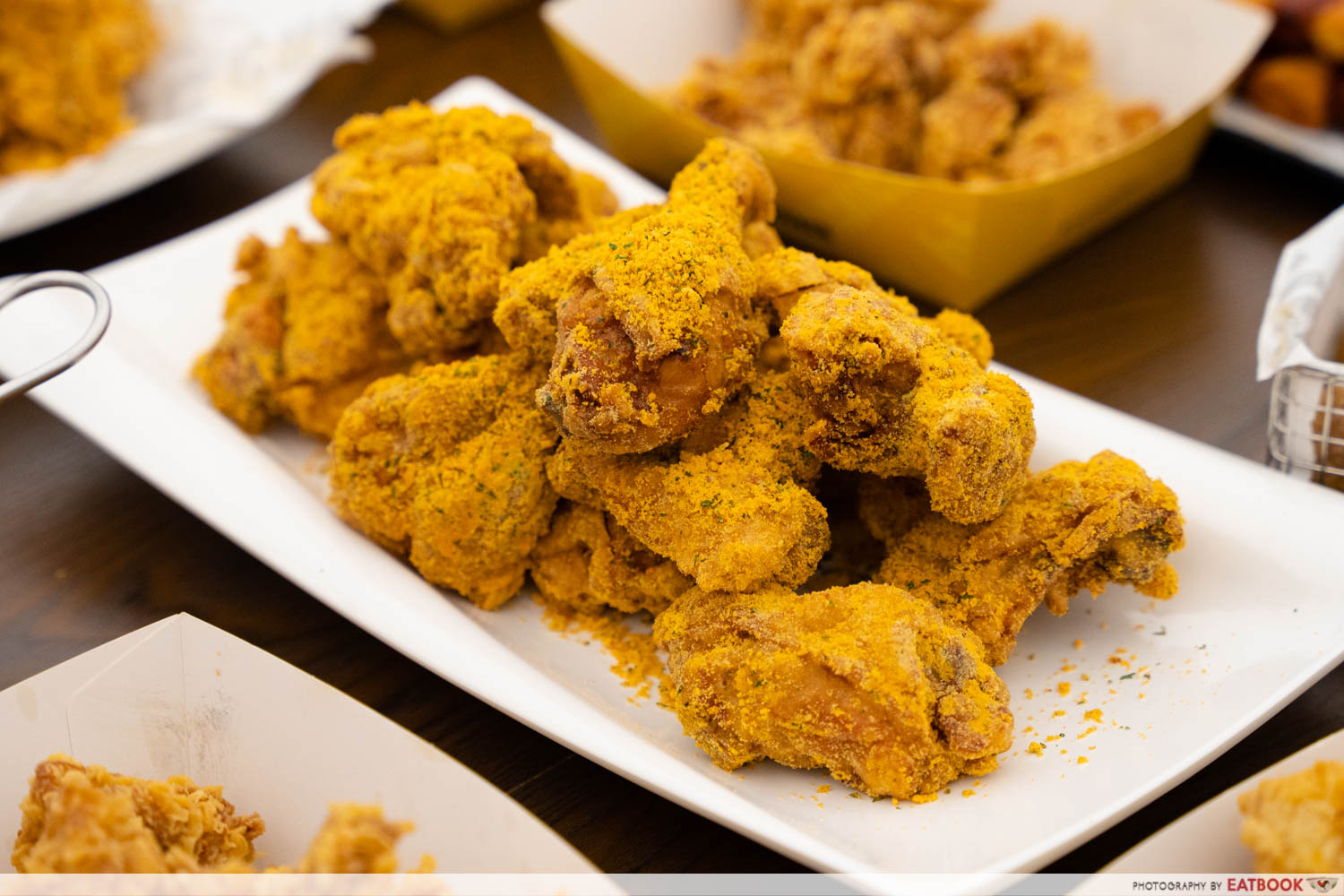 BHC Chicken's signature dish is the Bburinkle Chicken, which sees crispy and juicy fried chicken blanketed with cheese, onion and garlic seasoning. Since beer will be available at the eatery, we reckon those sharp flavours and meaty goodness would pair perfectly with a glass of booze—the classic chimaek combination.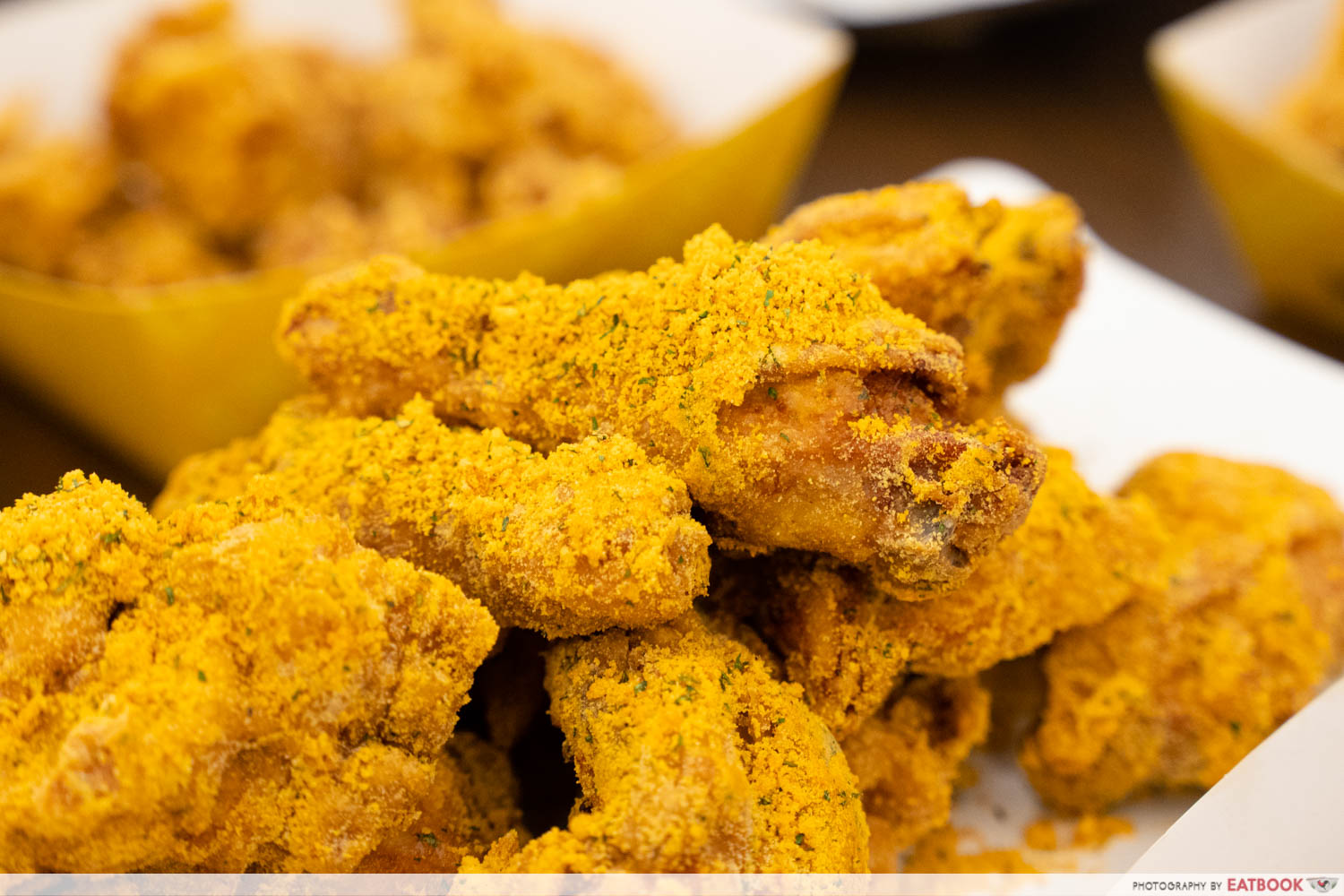 Each order of Bburinkle comes with an accompanying Bburinkle Dip: a light, creamy dip version of the powder coating each piece of chicken. Get this as a set of Wings ($23.90++), Boneless ($27.90++), or a Whole ($31.90++) chicken.
This sweet-cheesy fried chicken is also available in a Hot Bburinkle ($31.90++) edition; if not your other spicy options at BHC Chicken are Hot Retro ($21.90++/$25.90++/$29.90++) or Red King ($23.90++/$27.90++/$31.90++).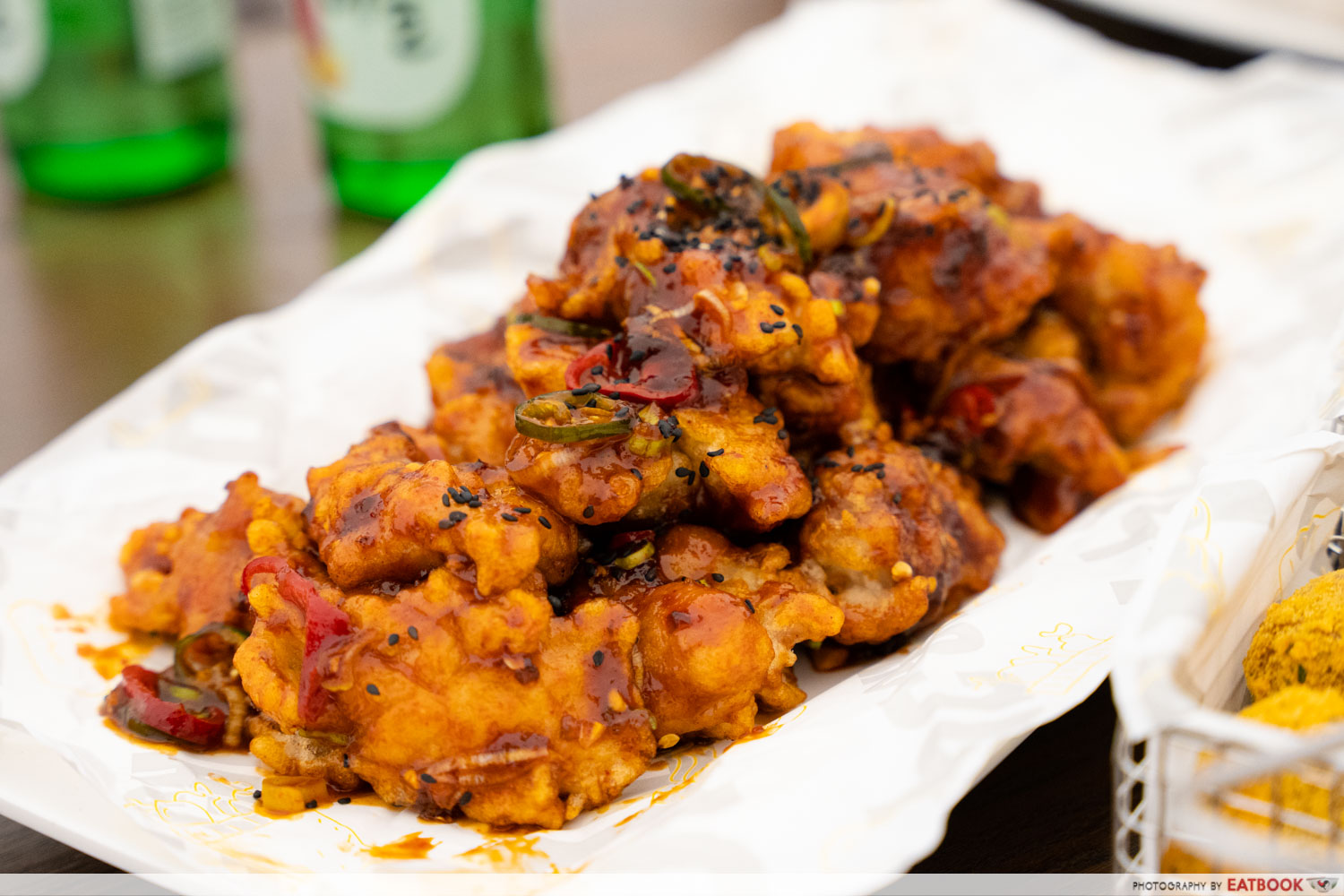 Red King, as its name suggests, is coated in a dark red, spicy sauce, laced with slices of red and green chilli peppers, and sprinkled with sesame seeds. It was my dining companion's favourite of the fried chicken variants we tried, thanks to its more-than-middling level of spiciness.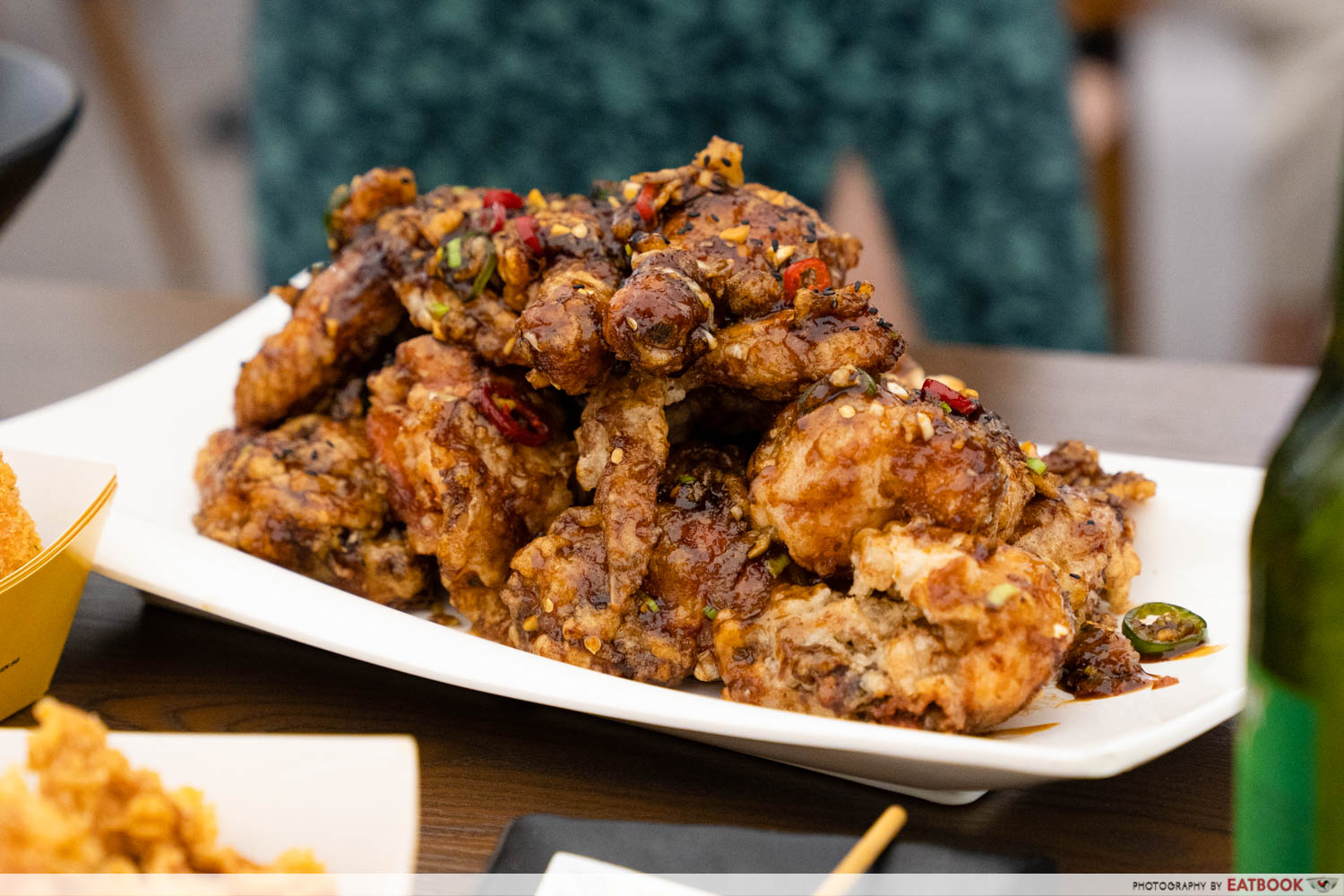 I personally found that there was too much sauce on this, but I do like my fried chicken crisp. We did have this cold, however, so the batter might have stood up to the sauce when it was, much like Macho King ($23.90++/$27.90++/$31.90++), covered in aged soya sauce and a honey-based Oriental sauce.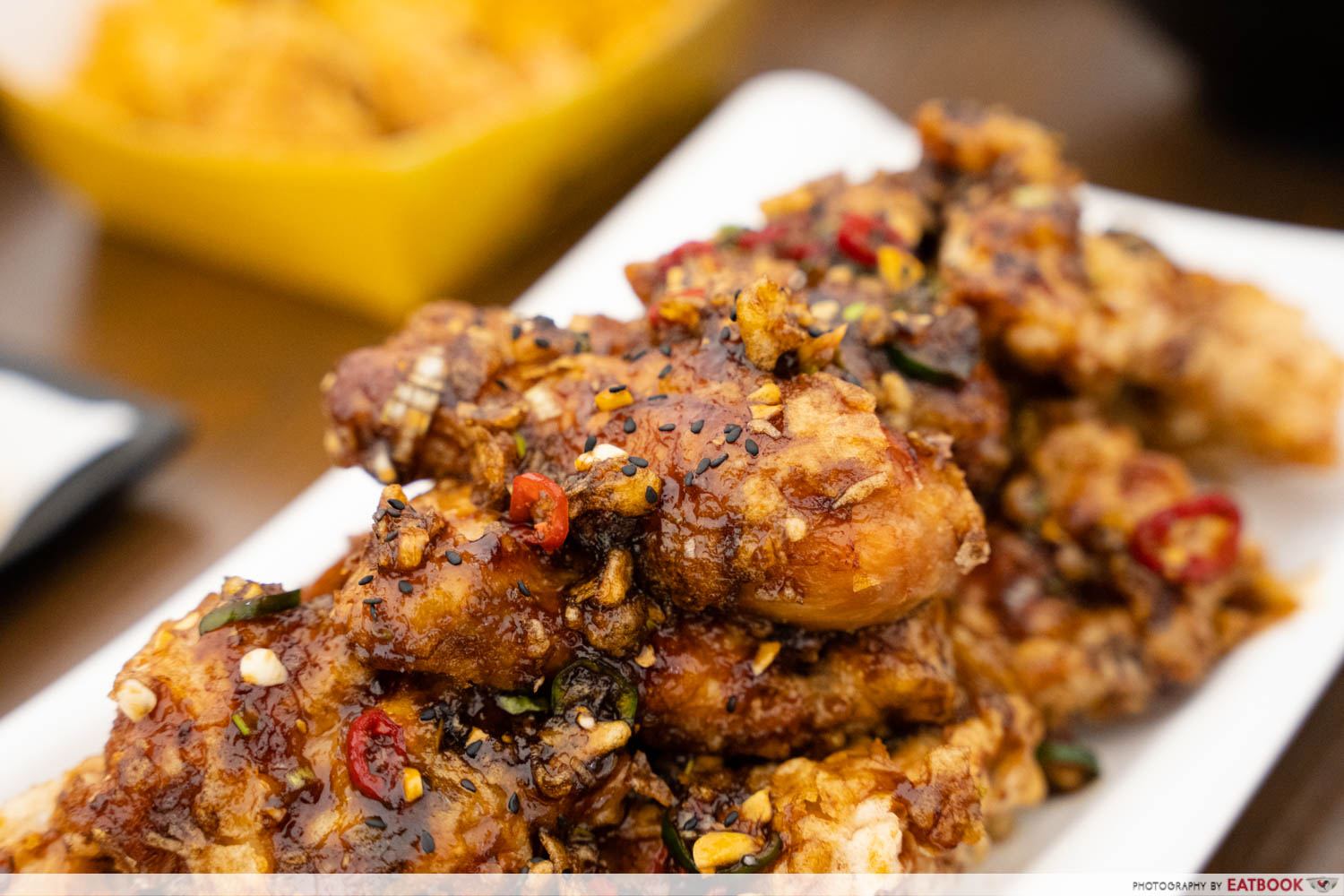 Macho King is one of BHC's hot favourites, and it's not hard to see why. We had this fresh out of the kitchen, and the thigh pieces that I had were wonderfully juicy, and still held a satisfying crunch. As with the Red King sauce, this also has a touch of sweetness.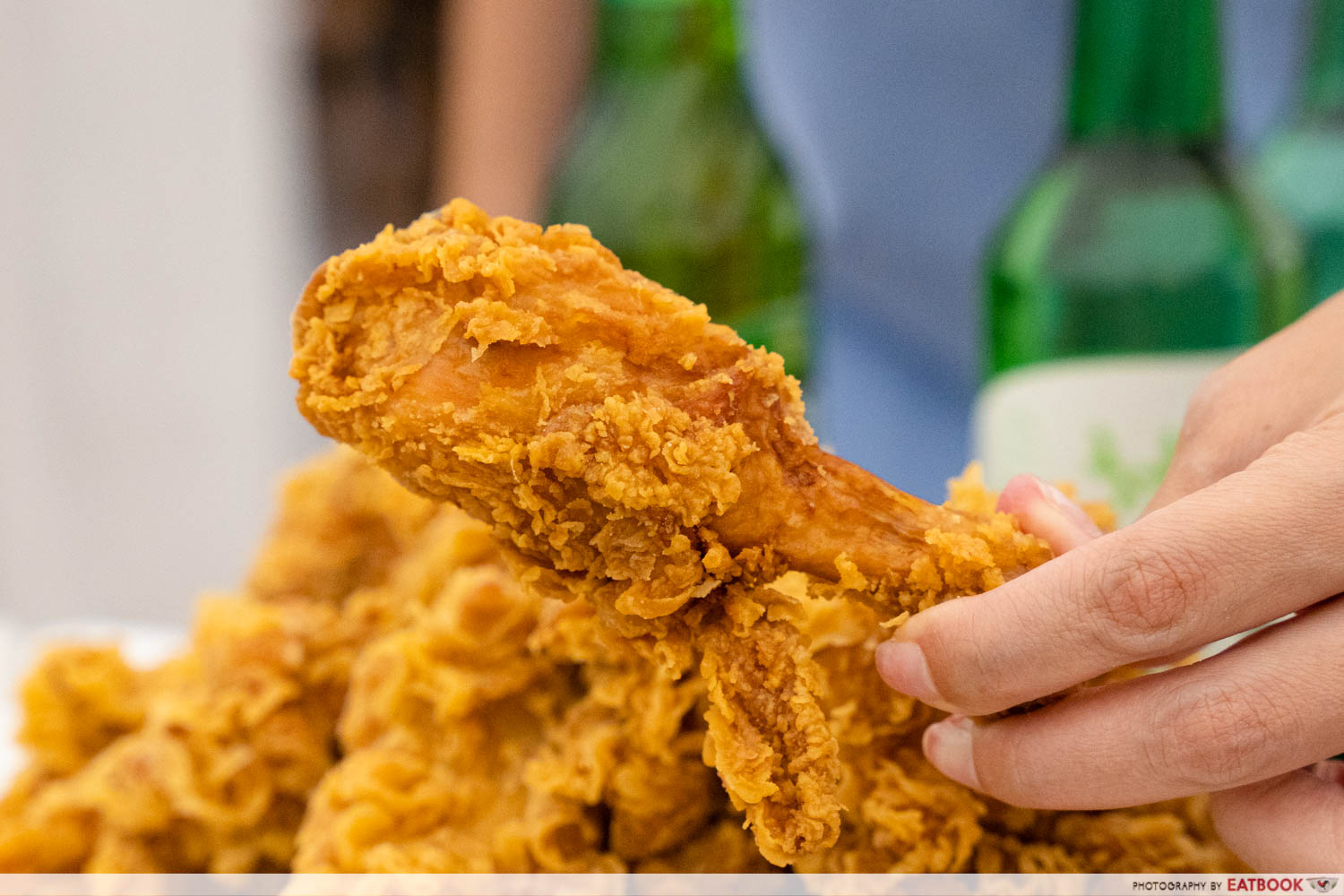 Our unanimous top pick was Retro ($21.90++/$25.90++/$29.90++), a classic fried chicken that's crunchy and just the slightest bit spicy—a little like eating KFC's Spicy fried chicken, but with less heat. This is served with a Sweet & Sour Dip, though you could easily go without.
BHC is known for the multiple flavours their fried chicken comes in, so another two you could expect here are Gold King ($31.90++), AKA coated in Korean soya sauce with sweet honey and garlic, as well as Chi-Pongdang ($31.90++), a shrimp-and-garlic-flakes-dusted iteration.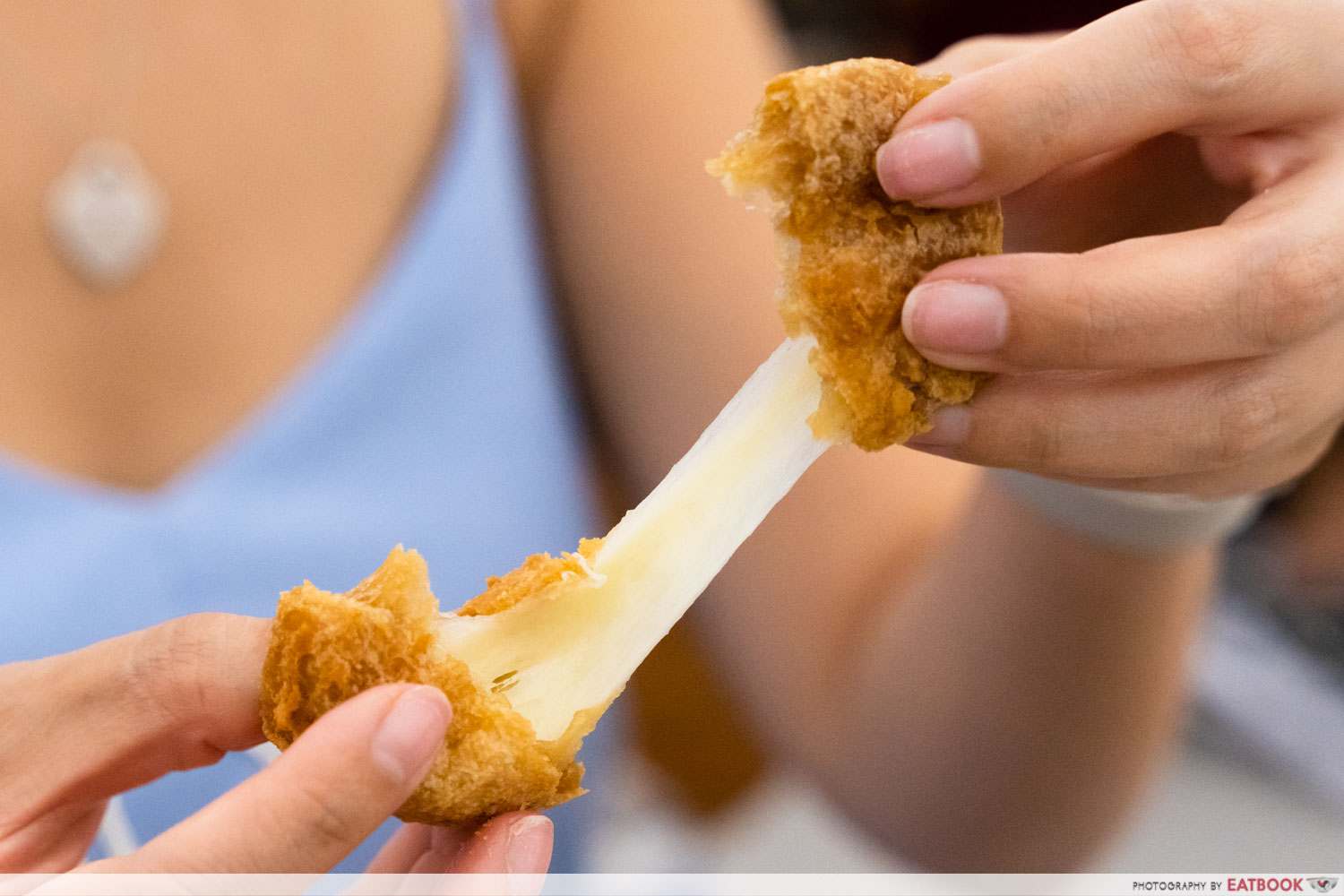 Honestly, I need little else when I have fried chicken, but for the rest of you, BHC Chicken is most known for their Cheese Balls. Choose between Original ($5.90++) and Bburing ($6.90++), where the latter takes on the same sweet, cheesy flavour profile as the fried chicken version. Eat this when it's hot!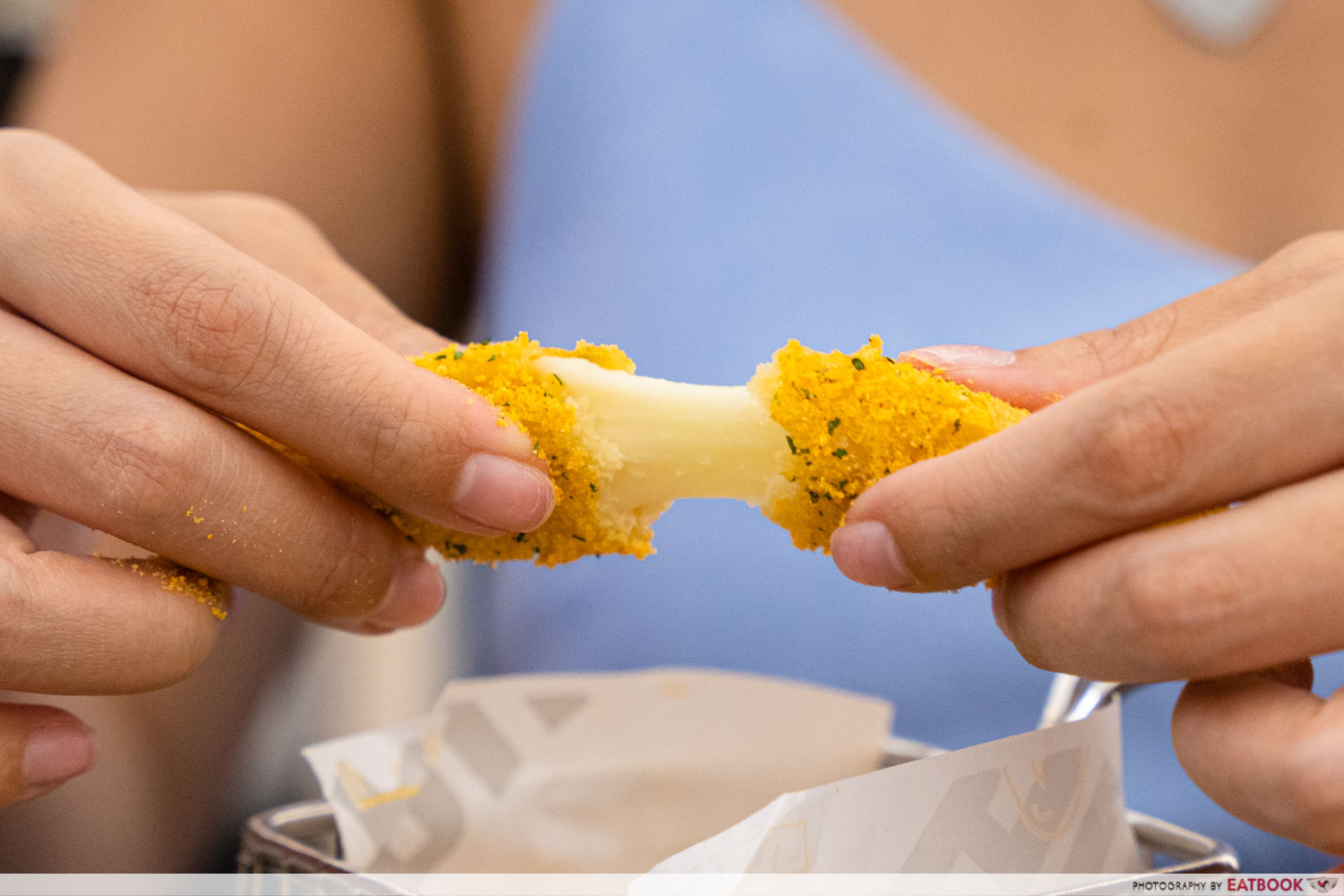 If you prefer, there's Bburing Cheese Sticks ($6.90++), which is almost the same thing in a different shape—the cheese balls have a firmer layer of batter.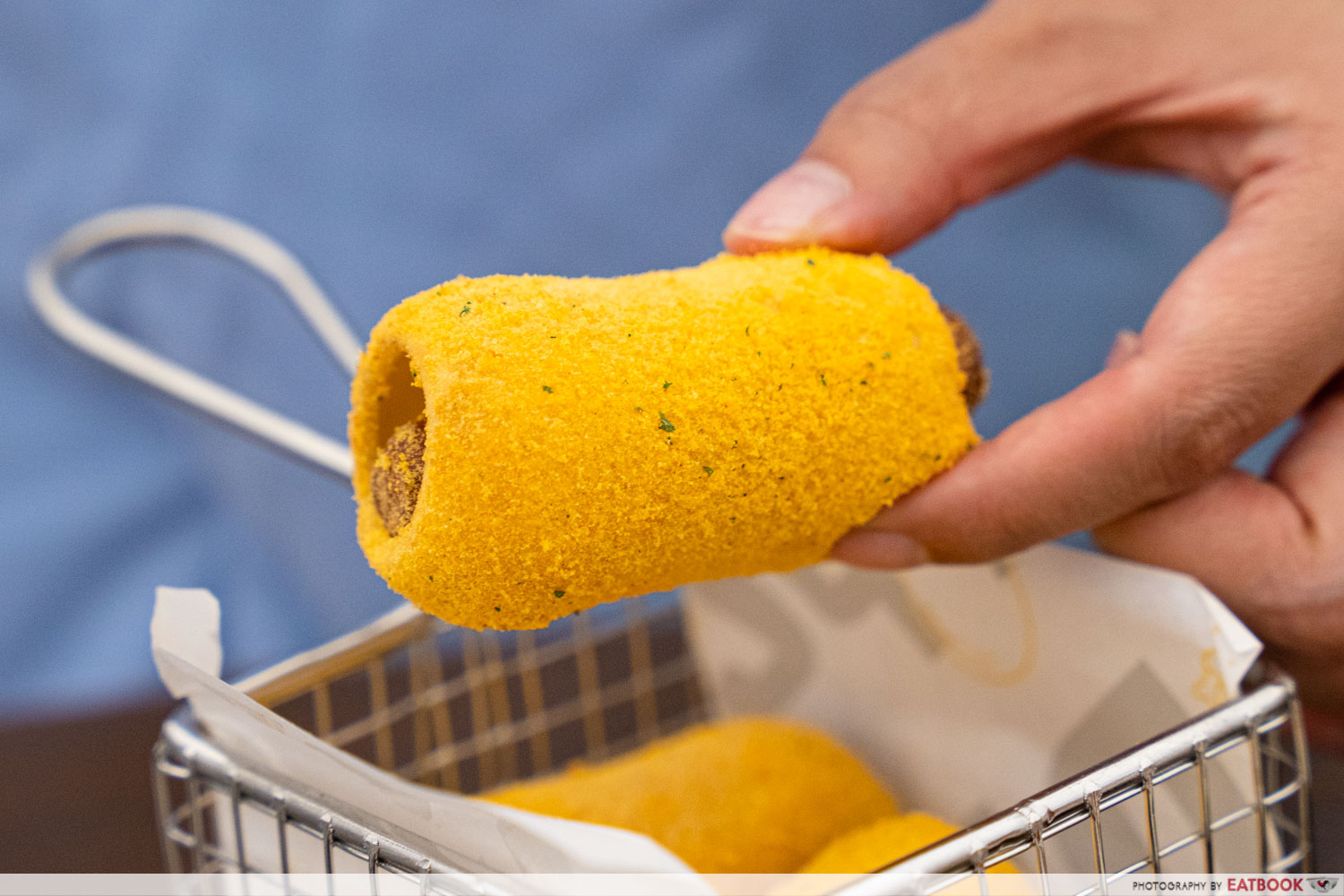 There's also mini Bburing Corndog ($6.90++), which comes in a little basket of three finger-sized corndogs, wrapped in a nicely thin layer of batter.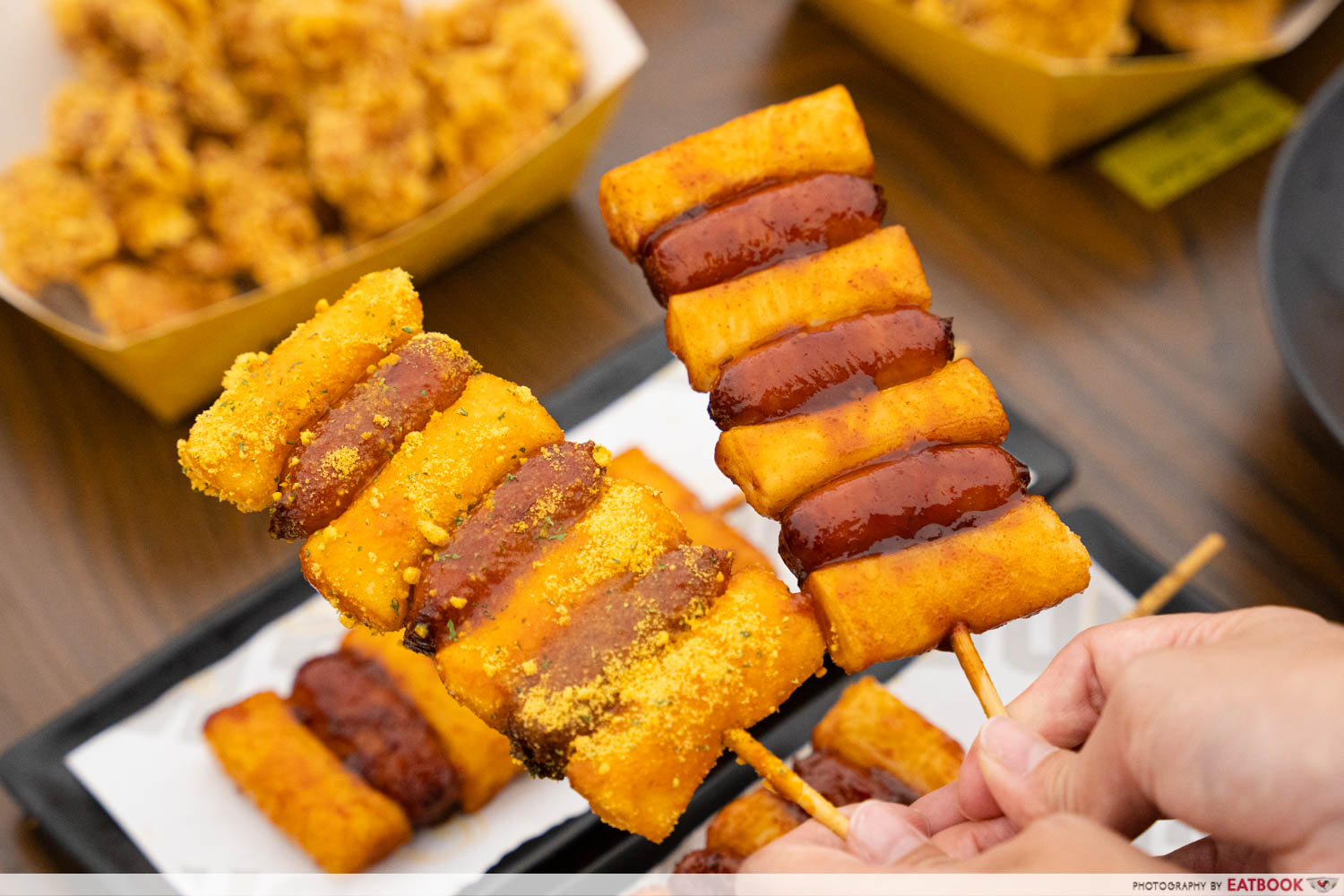 Just in case you are mad for BHC's Bburing seasoning, yet another cheesy side dish to have is Bburing Sotteok ($6.90++), where sotteok is made of the 'so' in 'sausage' and 'tteok' in 'garaetteok', or rice cake. Alternatively, go for Red King Sotteok ($5.90++), which isn't as spicy as its name sounds.
One of the reasons why BHC is so popular is thanks to the mains they've got on the menu. You can look forward to Samgyetang ($22.90++), Pork Kimchi Stew ($16.90++), and even Fish Congee ($12.90++), but a hot pick is sure to be the Rabokki ($12.90++), which has both tteokbokki and ramyeon in a single dish—it comes in a Rose ($14.90++) version too.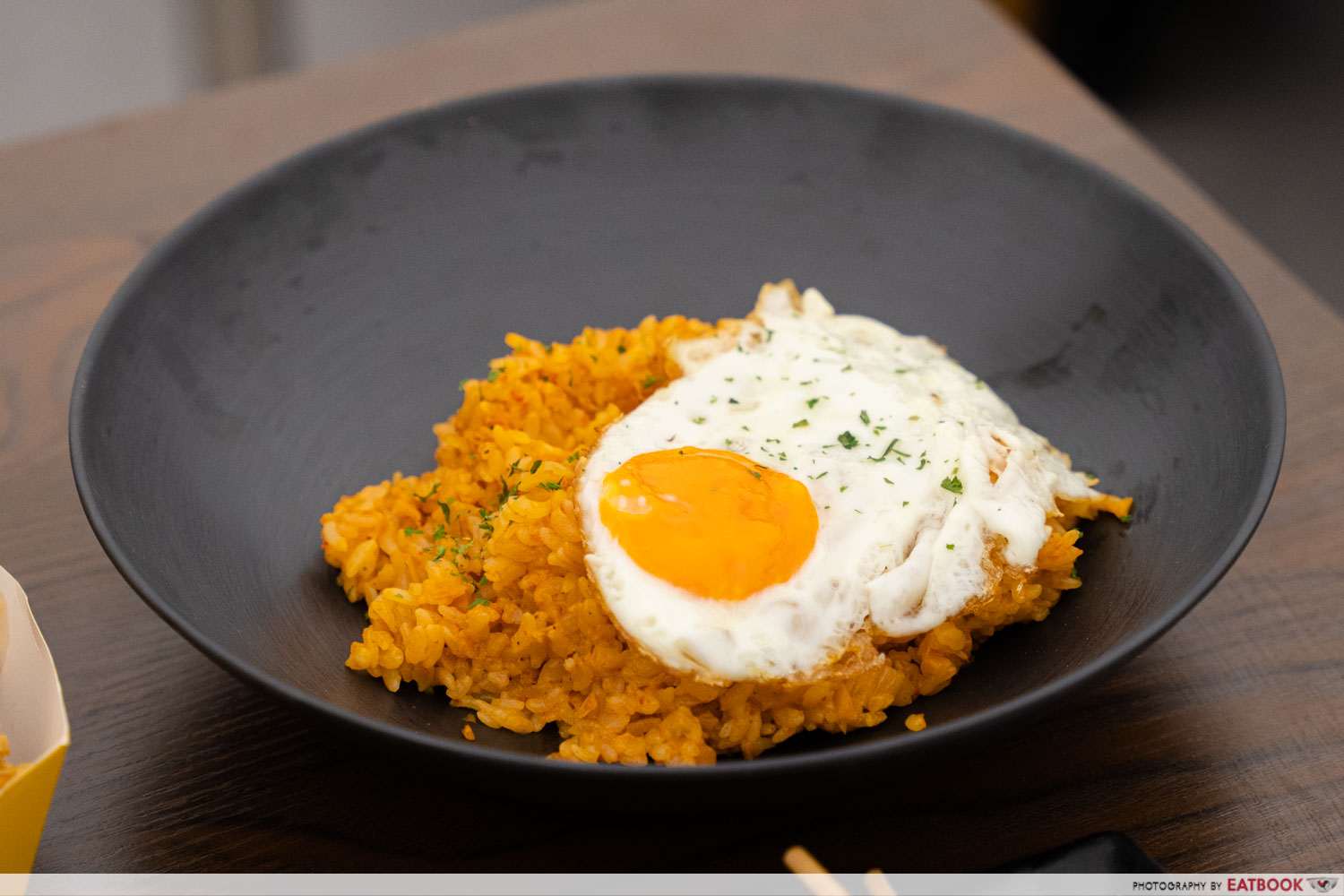 You can't go wrong with Kimchi Fried Rice ($9.90++) either. It didn't look the best, but I found myself pleasantly surprised with the flavour. I did wish it were less mushy, with more ingredients and proper seaweed garnishes though.
88 Pocha Review: Pojangmacha-style Eatery With Korean Fried Chicken And Truffle Jjajangmyeon
Ambience at BHC Chicken
BHC Chicken is located on the second floor of Marina Square, where you'll find the connecting bridge to Nihon Street at Millennia Walk. It's a 12-minute walk from City Hall MRT Station via CityLink Mall, or a roughly eight-minute walk from Promenade MRT Station—take the exit that gets you to Millennia Walk.
We were unable to see the full eatery at our preview, but it's situated in one of Marina Square's atriums, so you'll definitely not leave smelling of grease and fried chicken.
JIN Kimchi Express Review: Legit Korean Food Below $10 And Premium Banchan In Sengkang
The verdict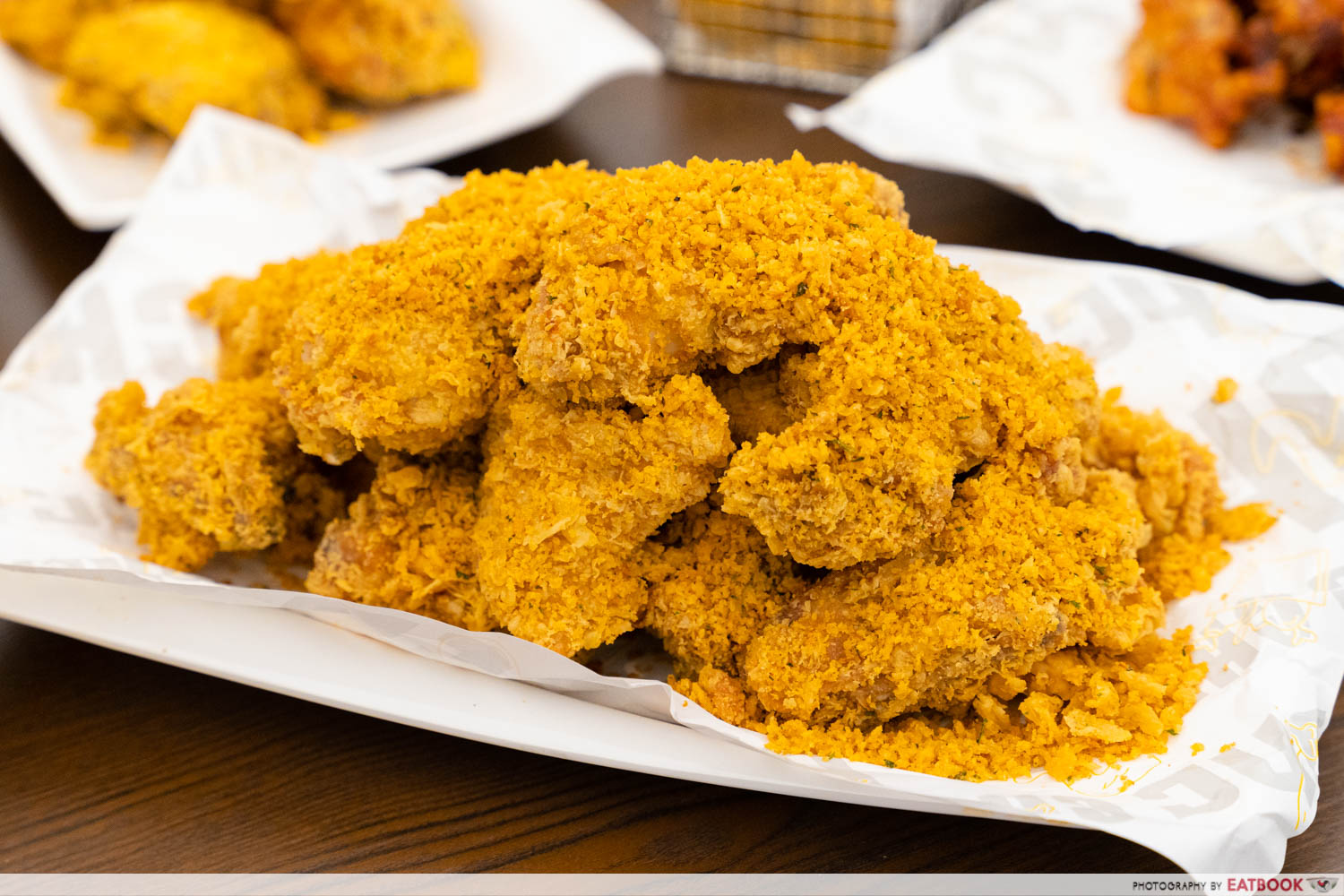 Flights seem to be costing quite a fair bit these days, so it's real lucky for us that foreign brands have been headed to Singapore—BHC being one of them. The prices here are comparable to other Korean fried chicken joints, and they've got a whole lot more flavours going for them. Fried chicken, enjoyed fresh and hot, can't go that wrong, even if I did enjoy the classic version most. I also liked how I didn't encounter any bloody, discoloured meat as I was digging into my fried chicken. So, for fans of Korean fried chicken, here's another option for you soon.
For $8 honey butter Korean fried chicken and more near Telok Ayer MRT, have a read of our Phat Fingers review. If truffle wonton mee with Iberico pork char siew in the CBD sounds interesting to you, check out our Chun Feng Man Mian review.
Address: 6 Raffles Boulevard, 02-332A/02-332F, Marina Square, Singapore 039594
Opening hours: Sun-Thurs 11am to 9pm, Fri-Sat 11am to 10pm
Website
BHC Chicken is not a halal-certified eatery
Phat Fingers Review: $8 Honey Butter Korean Fried Chicken And More Near Telok Ayer MRT
Photos taken by Melvin Mak.
This was a media tasting at BHC Chicken.
BHC Chicken Review: Famous Korean Fried Chicken Is Now In Singapore
BHC Chicken Review: Famous Korean Fried Chicken Is Now In Singapore -

7/10
Summary
Pros
– Convenient location
– Wide variety of fried chicken flavours
– A spread of side dishes and mains

Cons
– Spicy fried chicken was not spicy enough
Recommended dishes: Retro ($21.90++/$25.90++/$29.90++), Macho King ($23.90++/$27.90++/$31.90++)
Opening hours: Sun-Thurs 11am to 9pm, Fri-Sat 11am to 10pm
Address: 6 Raffles Boulevard, 02-332A/02-332F, Marina Square, Singapore 039594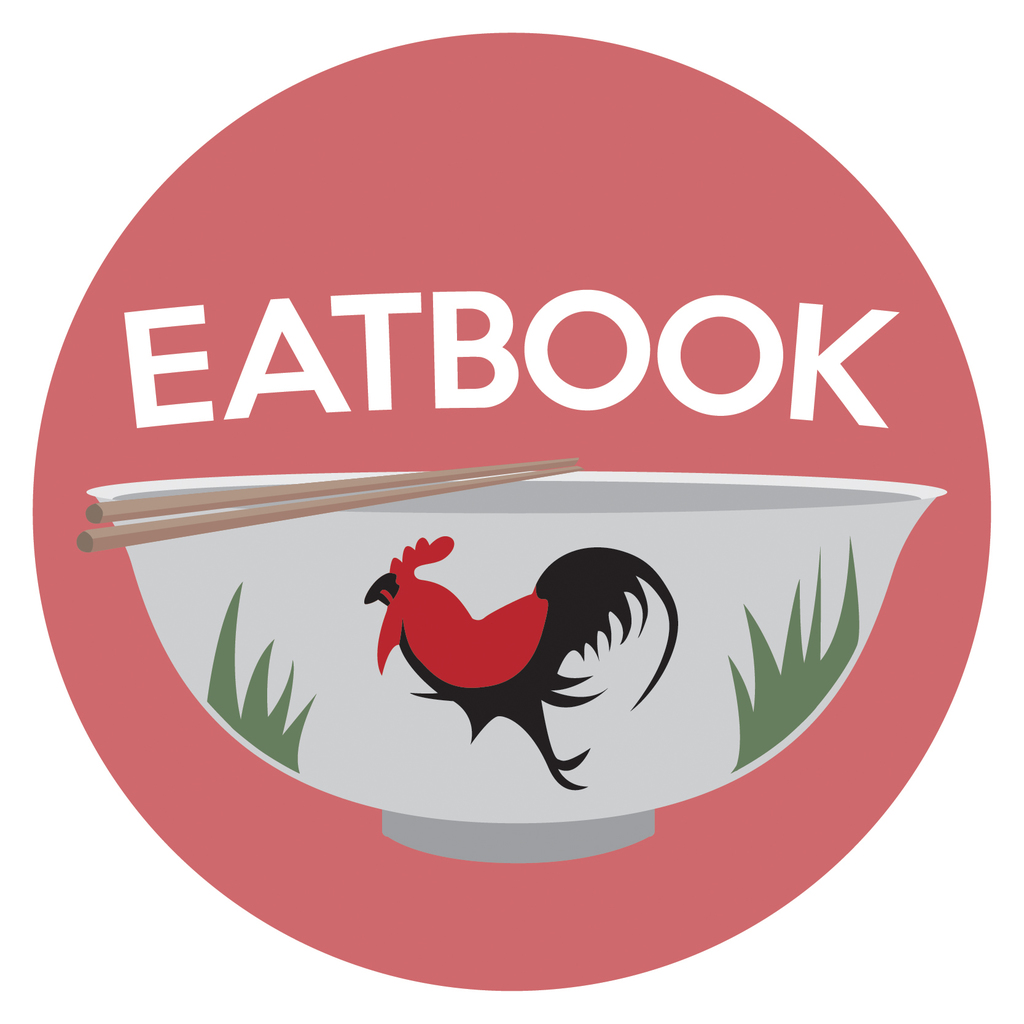 Drop us your email so you won't miss the latest news.