Black Fairy has affordable sushi and grill at Clarke Quay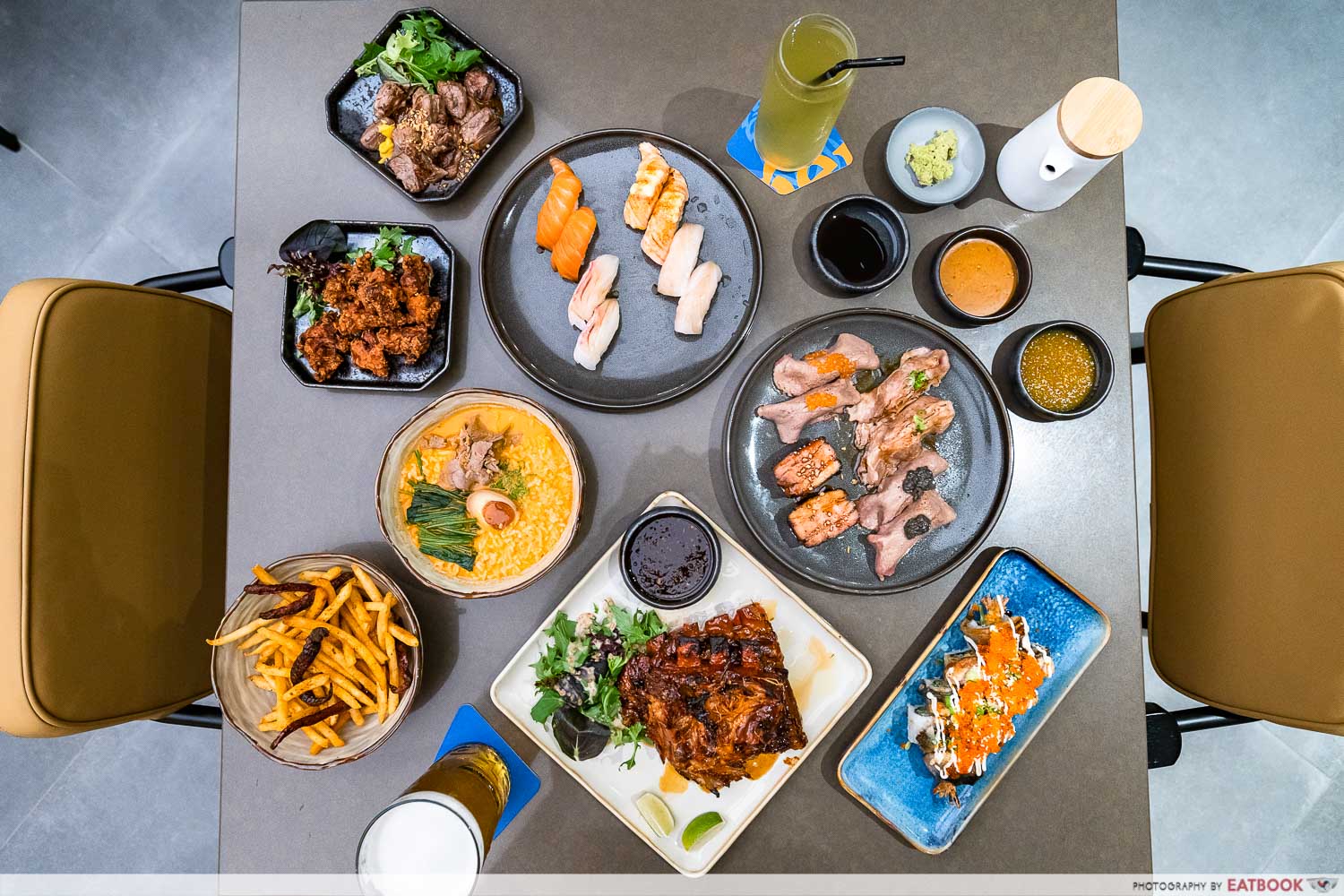 I've always been intrigued by fairies━the whimsical tales always caught my fancy as a young boy. So, when I heard about a bistro named Black Fairy, its sense of mystery was an interesting concept, and I knew I had to check this place out.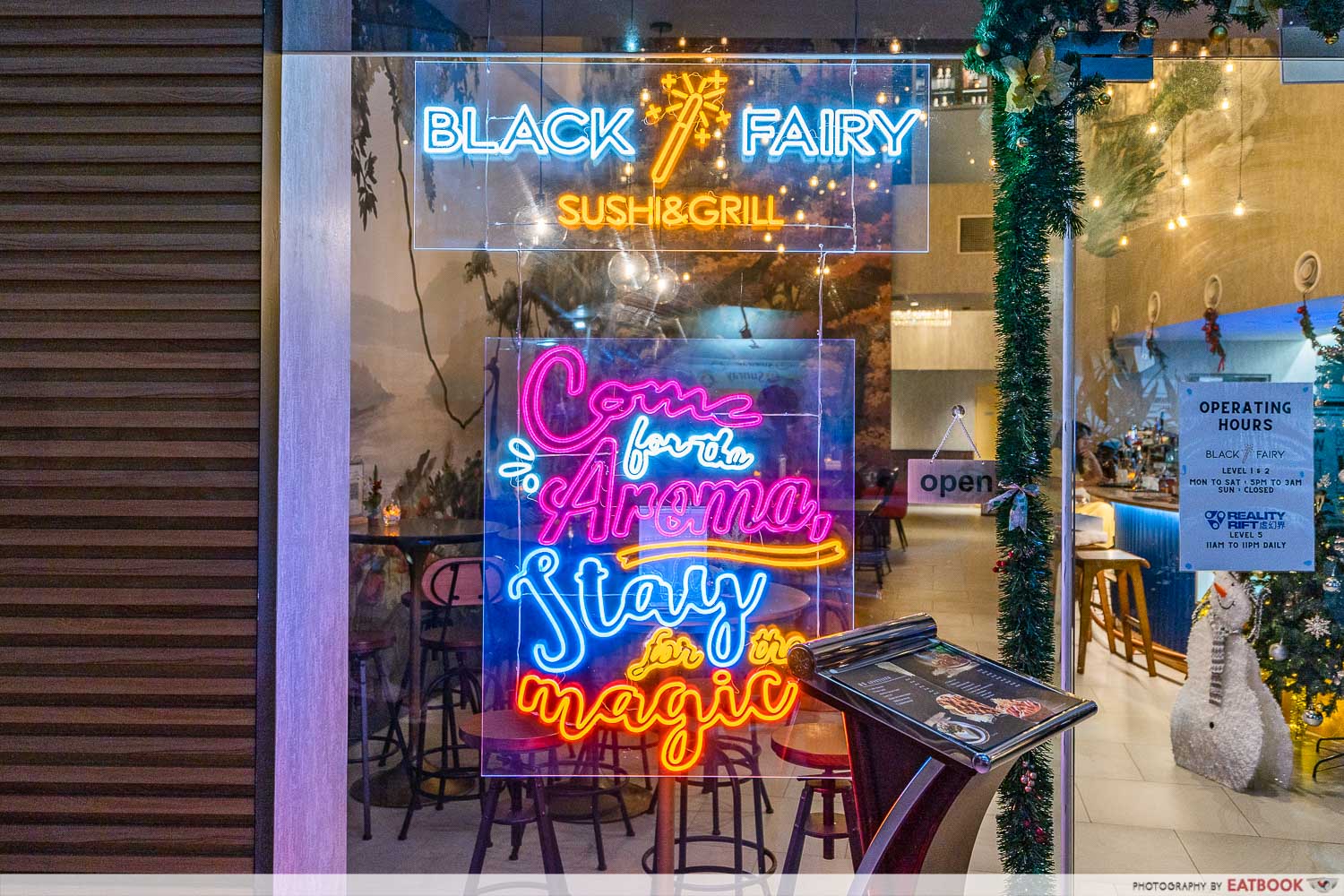 If Black Fairy sounds familiar to you, you might have encountered them along the roads of Jalan Besar, where they started out as a humble cafe in 2018, mainly focusing on coffee and grilled food. They have since expanded their business to include sushi at their new outlet in Clarke Quay.
Food at Black Fairy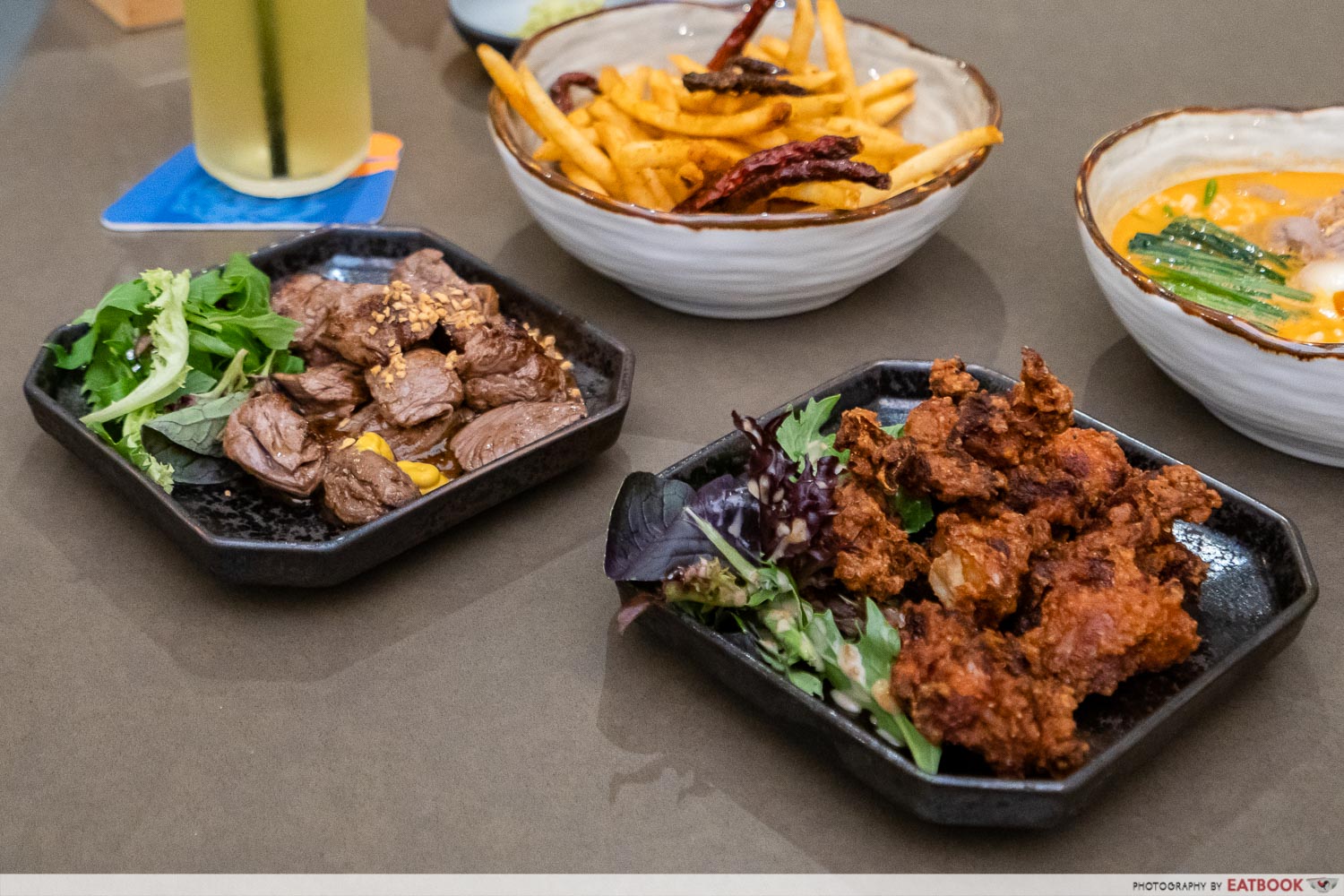 The expanded menu at Black Fairy features an extensive line-up of specialty drinks and fusion food, including sashimi, grill and more. We kicked off our meal with some appetisers━the first thing that caught our eyes were the Mala Fries ($10++). Admittedly, I'm not the biggest fan of all things spicy, but I decided to get over my apprehension and give it a try.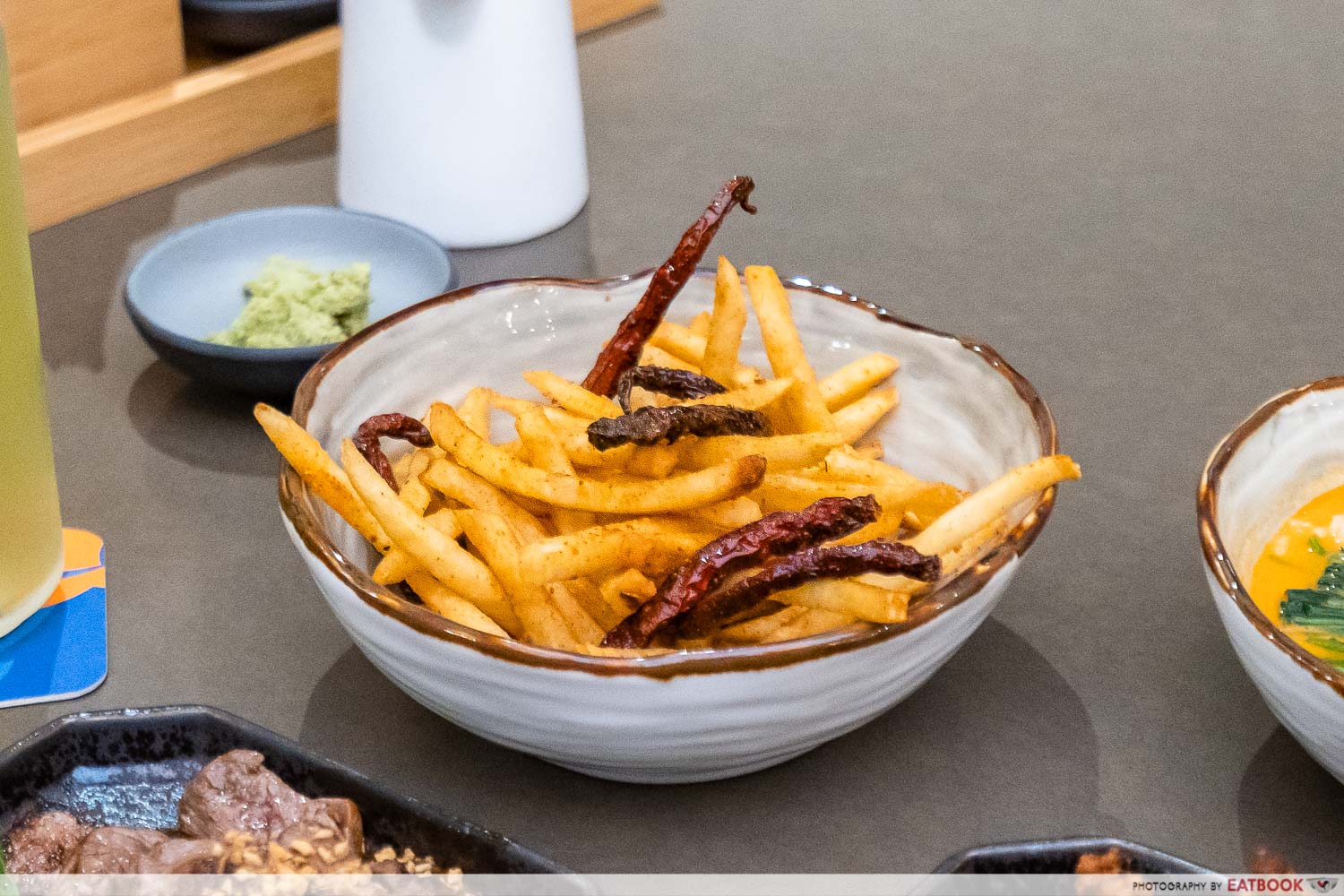 I was hit with the numbing spice of the mala seasoning first, followed by the savouriness. While the overall spice level was relatively moderate, I still found myself sipping on my green tea between each bite to temper the lingering heat.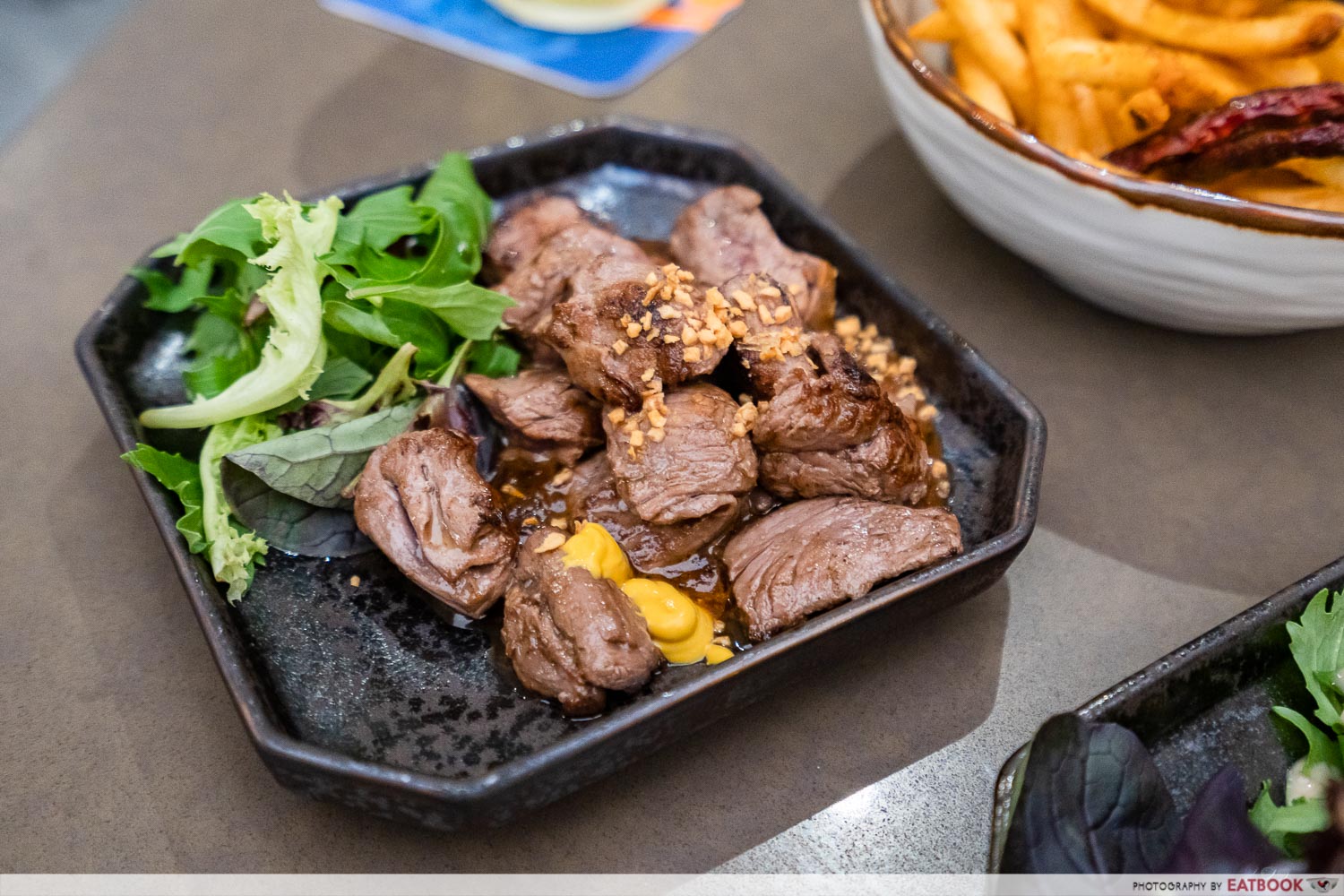 Along with the mala fries, we ordered Steak Bites ($18++), which Black Fairy incorporated hickory seasoning for a strong smoky flavour. I appreciated how it came with mustard sauce to dip the beef in, which brought tanginess to each bite. I was slightly disappointed, however, by the texture of the beef, which was too chewy and firm for my liking.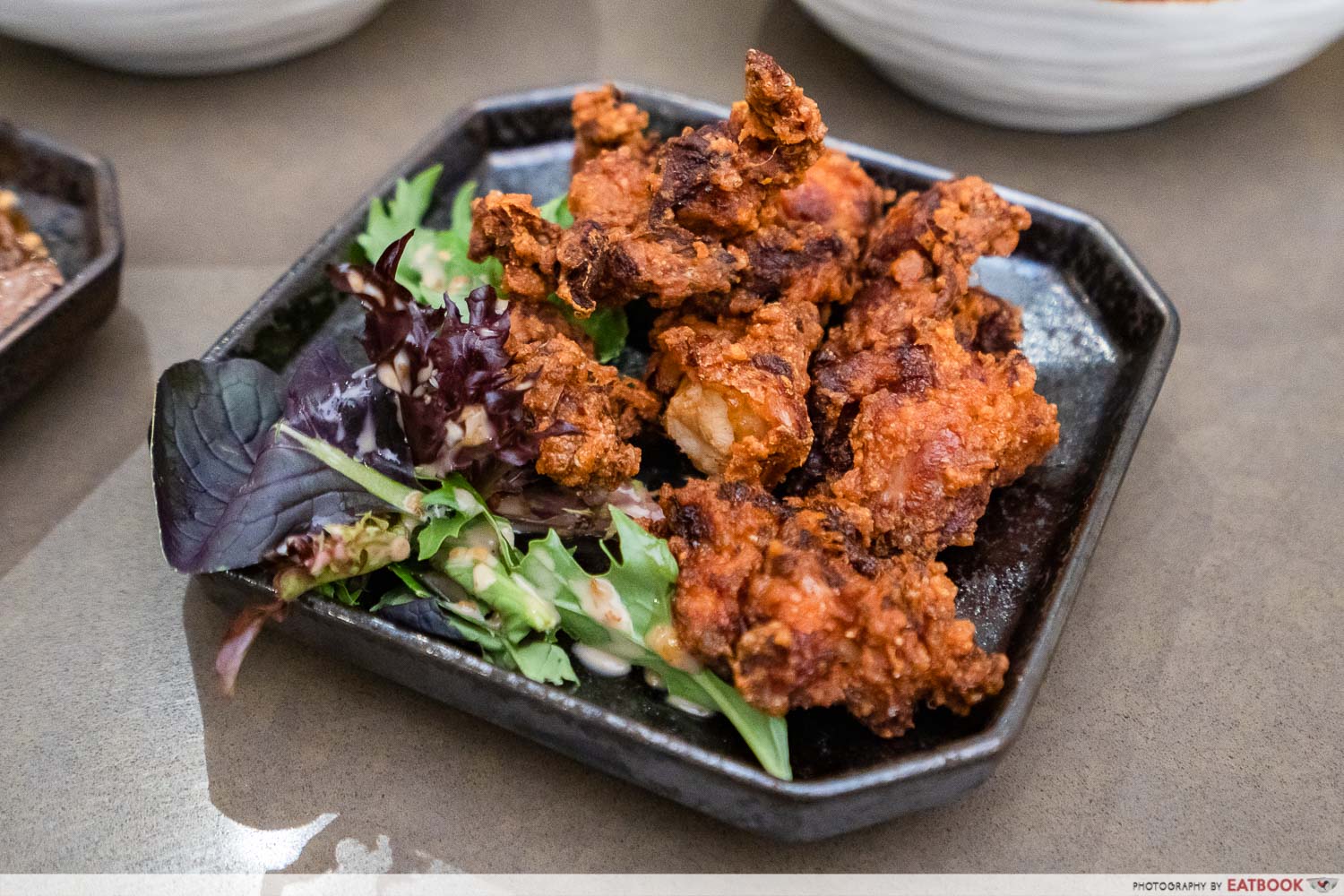 The star of the sides, though, was the Chicken Karaage ($9++), which saw juicy chicken marinated in oyster sauce and lime juice, and deep-fried in a crunchy, umami batter.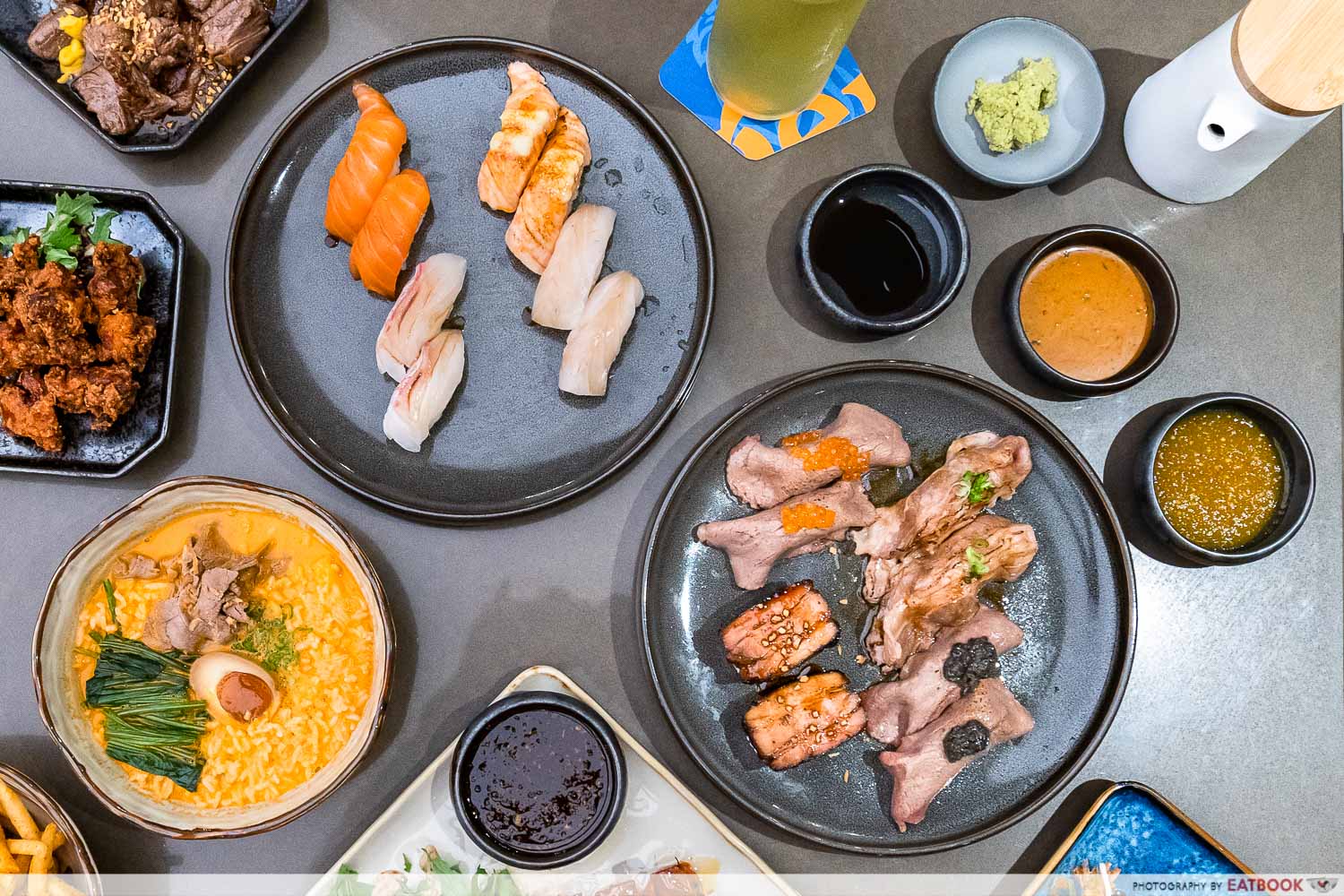 As for the main courses: we started off with two sushi platters: Nigiri Sushi Platter ($16.90++) and Meat Sushi Platter ($14.90++). I did some quick math and was pleasantly surprised that this worked out to less than $2.10++ a sushi.
I was impressed by the presentation of the dishes, especially the meat sushi platter, which came with three specialty tare sauces: Sweet Thai Sauce, Terasi Mayo and Thai Green Chilli. My personal favourite out of these sauces was the Thai Green Chilli, which added a punchy combination of sour, tangy, and spicy to the sushi.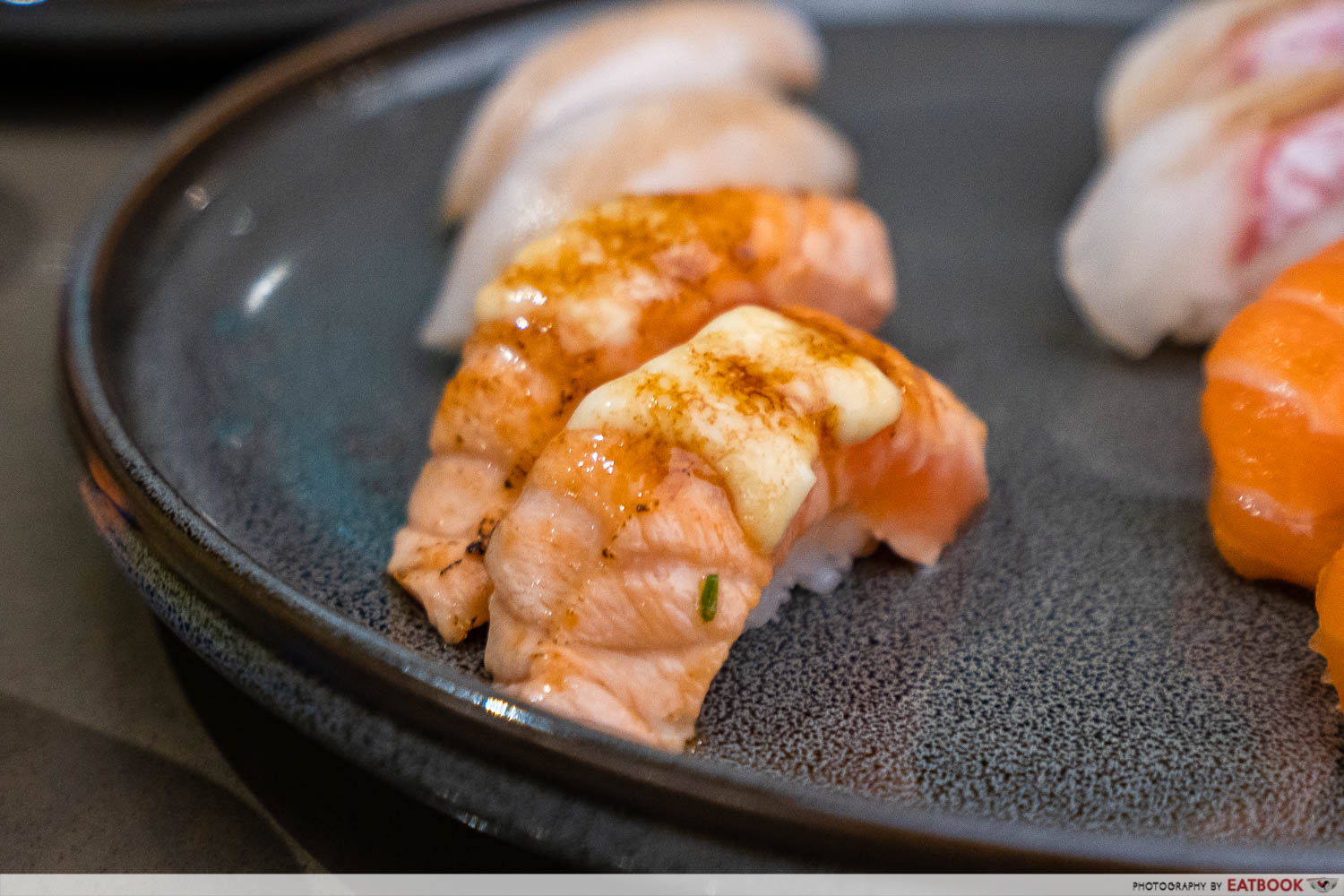 I immediately fell in love with the Caramel Salmon Nigiri, which had a melt-in-your-mouth texture in my mouth. I particularly enjoyed the caramel sauce on the salmon, which added a tinge of sweetness to the sushi. The salmon was lightly blow-torched as well, giving it a smoky taste that complemented its rich, fatty flavour.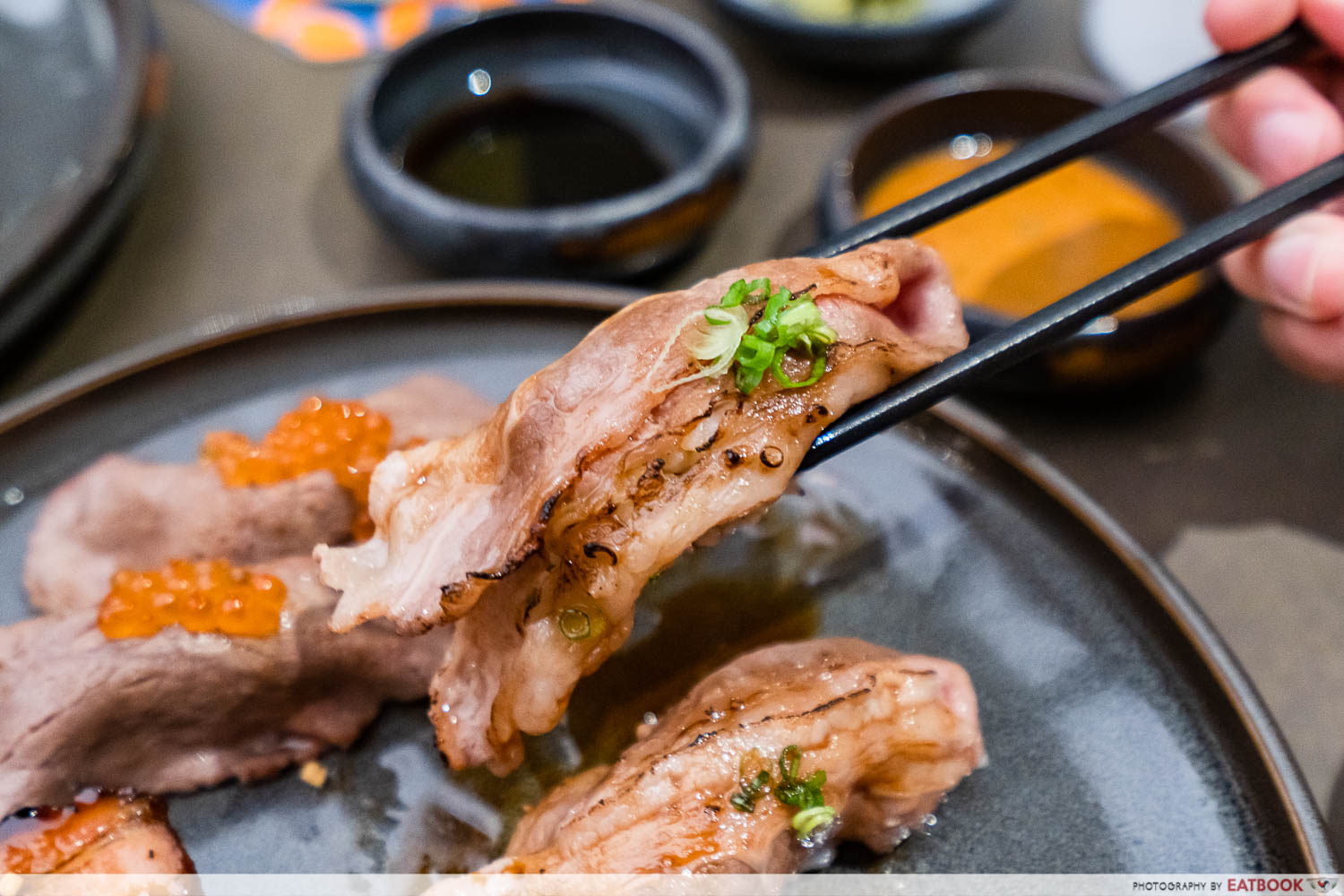 We were pleased to find that the meat-to-rice ratio in all the sushi was well-balanced. In the sushi on the meat sushi platter, this meant generous slices of meat draped over each parcel of rice. What stood out for me on this platter was the Truffle Wagyu Karubi Sushi, which was imbued with an intense earthy truffle flavour. My only gripe with this dish was that the beef could be more tender, but I can't really complain, considering its low price point.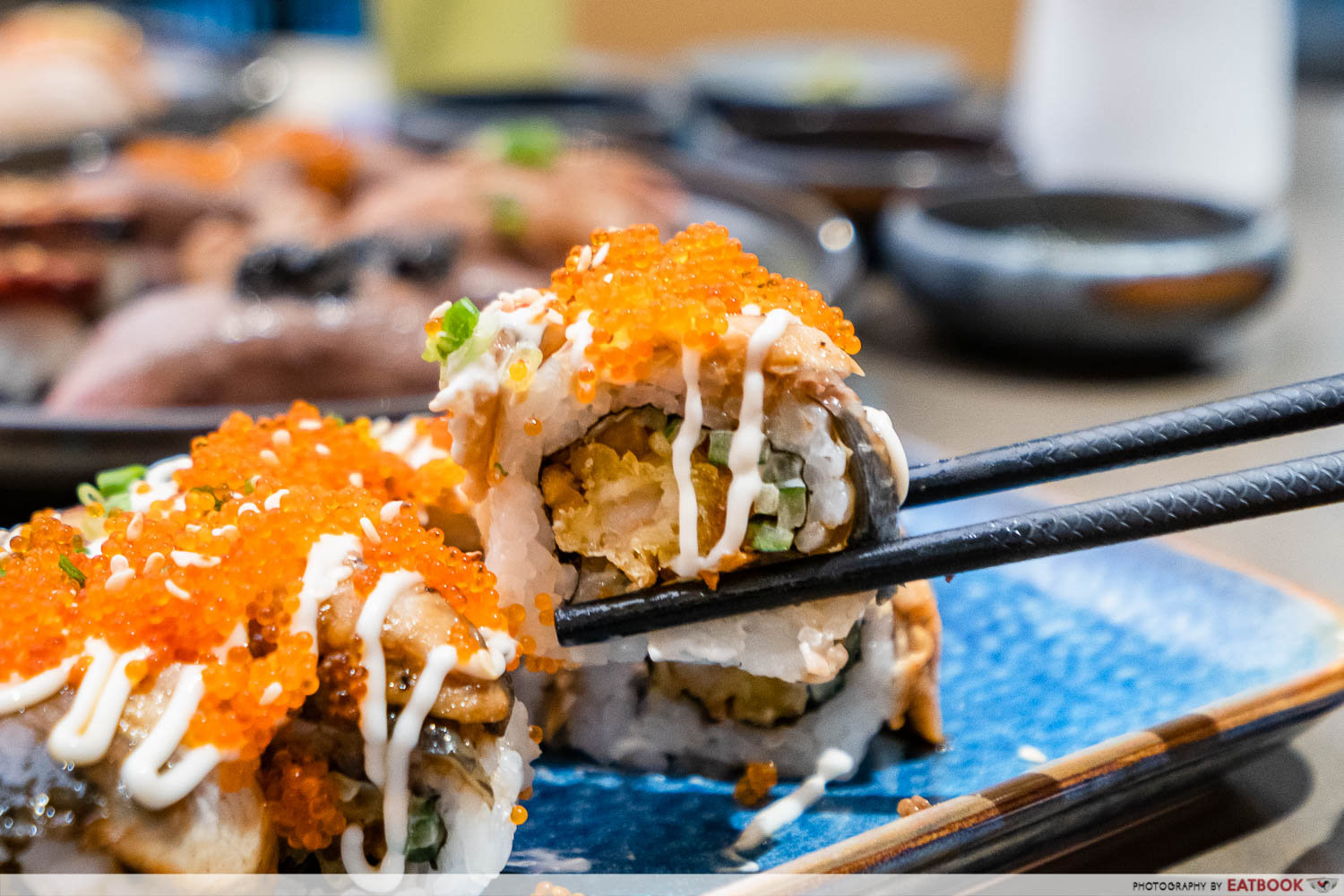 Black Fairy also prides themselves in their maki rolls, with their Dragon Ebi Roll ($20++) being the bestselling of the lot. This house special maki boasted a centre of ebi tempura, topped with tender unagi and lots of tobiko, then layered with mayonnaise and teriyaki sauce.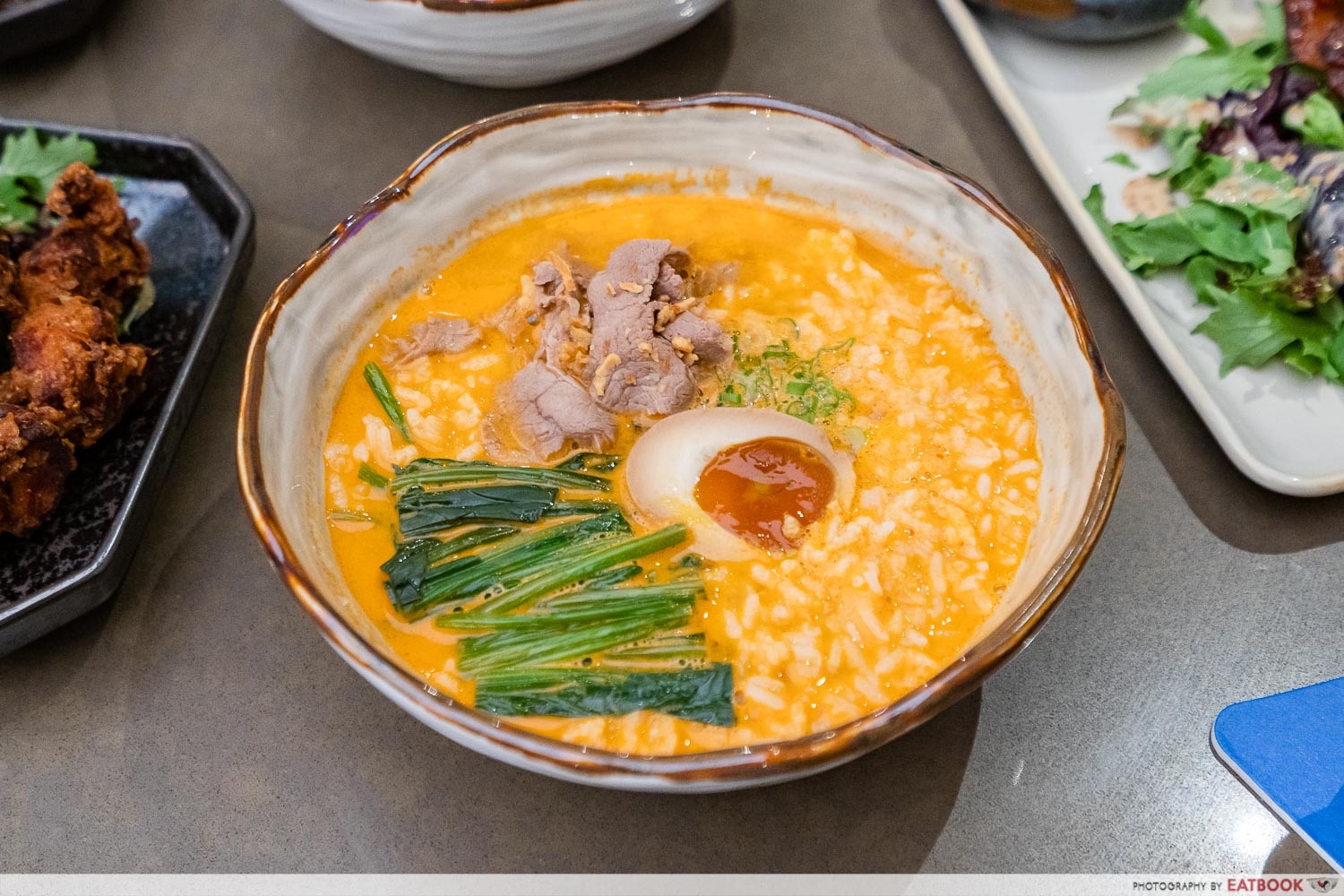 We moved on to their Beef Zosui ($10.90++), a Japanese rice soup boiled in a savoury prawn and tomato infused broth containing vegetables, thinly sliced beef strips and a marinated ramen egg. This dish immediately reminded us of pao fan, which my colleague and I are great fans of. I especially liked the broth, which was rich in flavour, yet felt light on the palate. We couldn't help but slurp this up.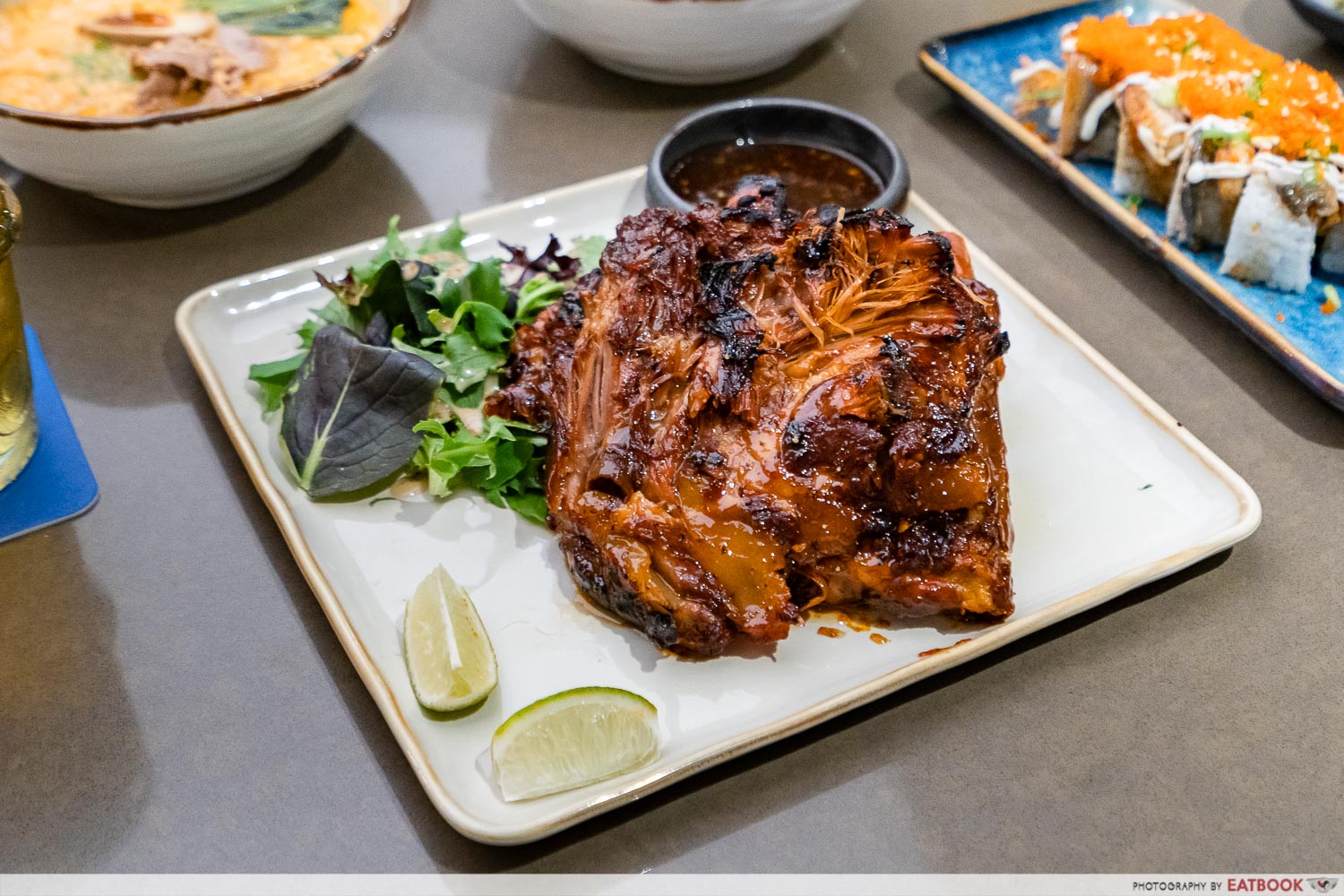 The highlight of our visit to Black Fairy was definitely their Signature Pork Ribs ($29++), which came in a generous portion that's fit for two to three to share.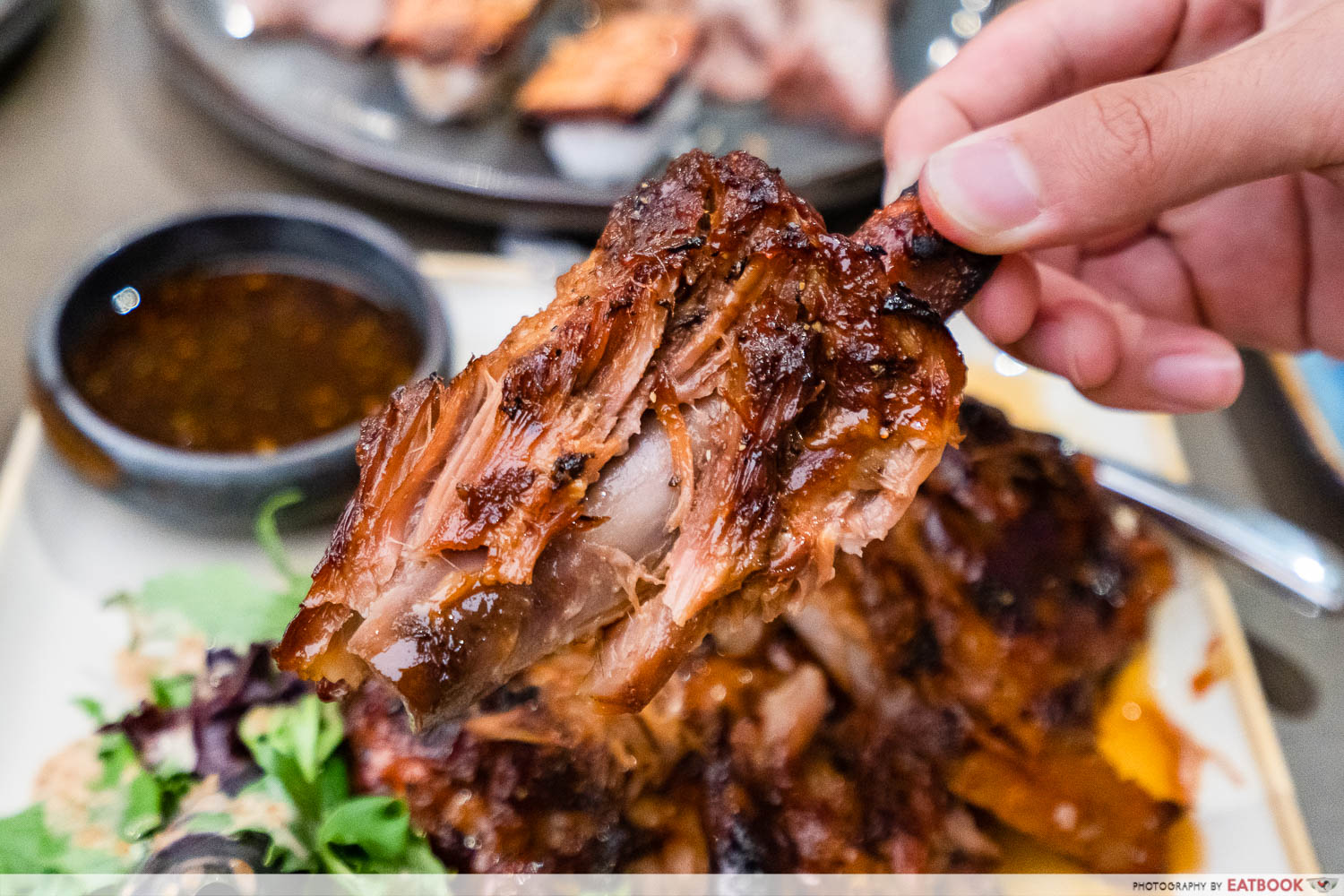 Each bite of pork was extremely satisfying, thanks to the luscious coating of barbecue sauce that boasted a balance of sweet and savoury notes. Admittedly, the meat was slightly tough, but I appreciated the rich, flavourful taste which cut through its fattiness. Moreover, the accompanying hot sauce added a spicy, umami taste to the meat, making every bite extremely addictive.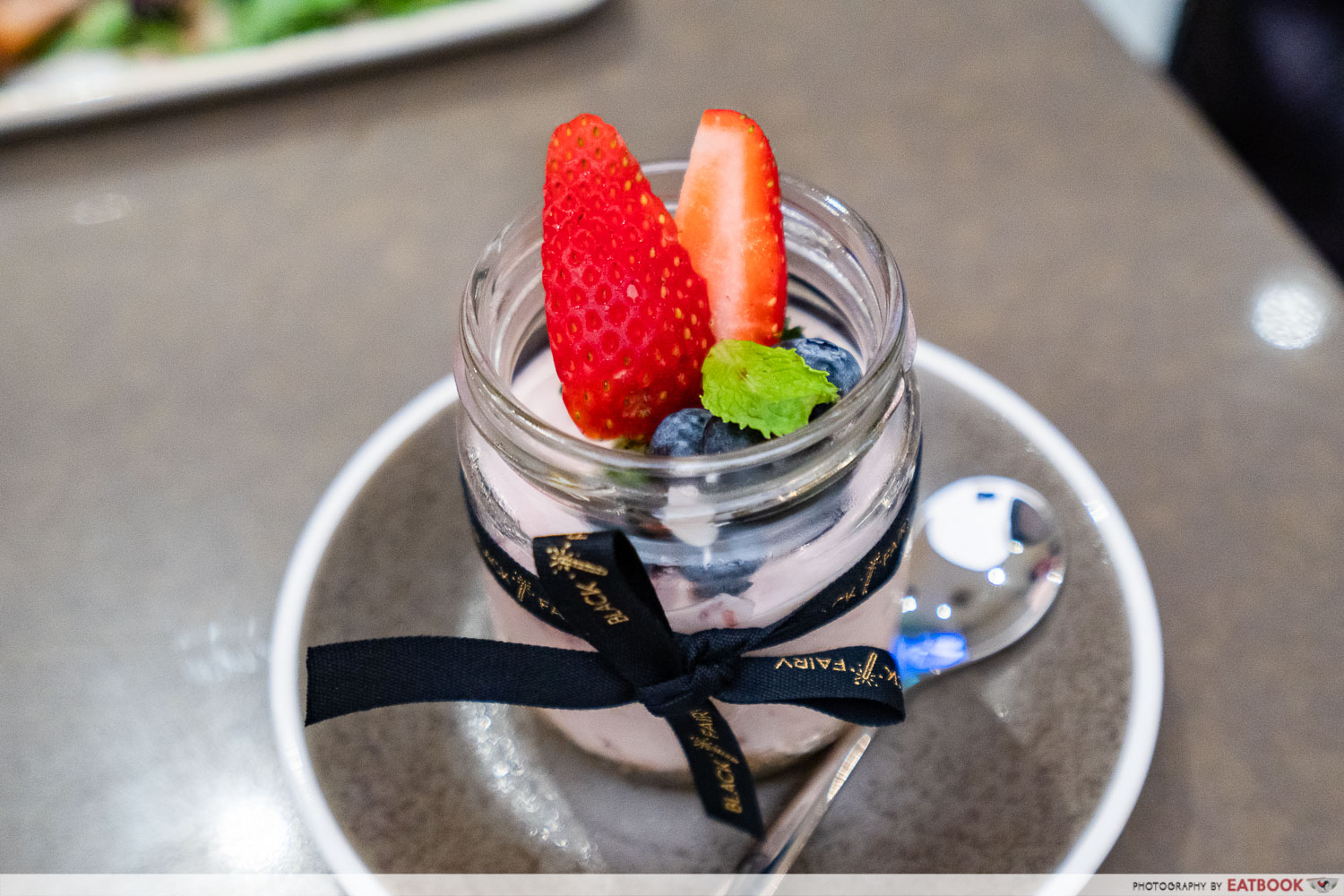 To end off our meal, we had Strawberry Cheesecake ($7.50++), comprising fragrant velvety strawberry cheesecake served in a jar, on top of a light, buttery base. Although the dessert came in a small portion, its creaminess was filling enough for us to declare our bellies satiated. 
Ambience at Black Fairy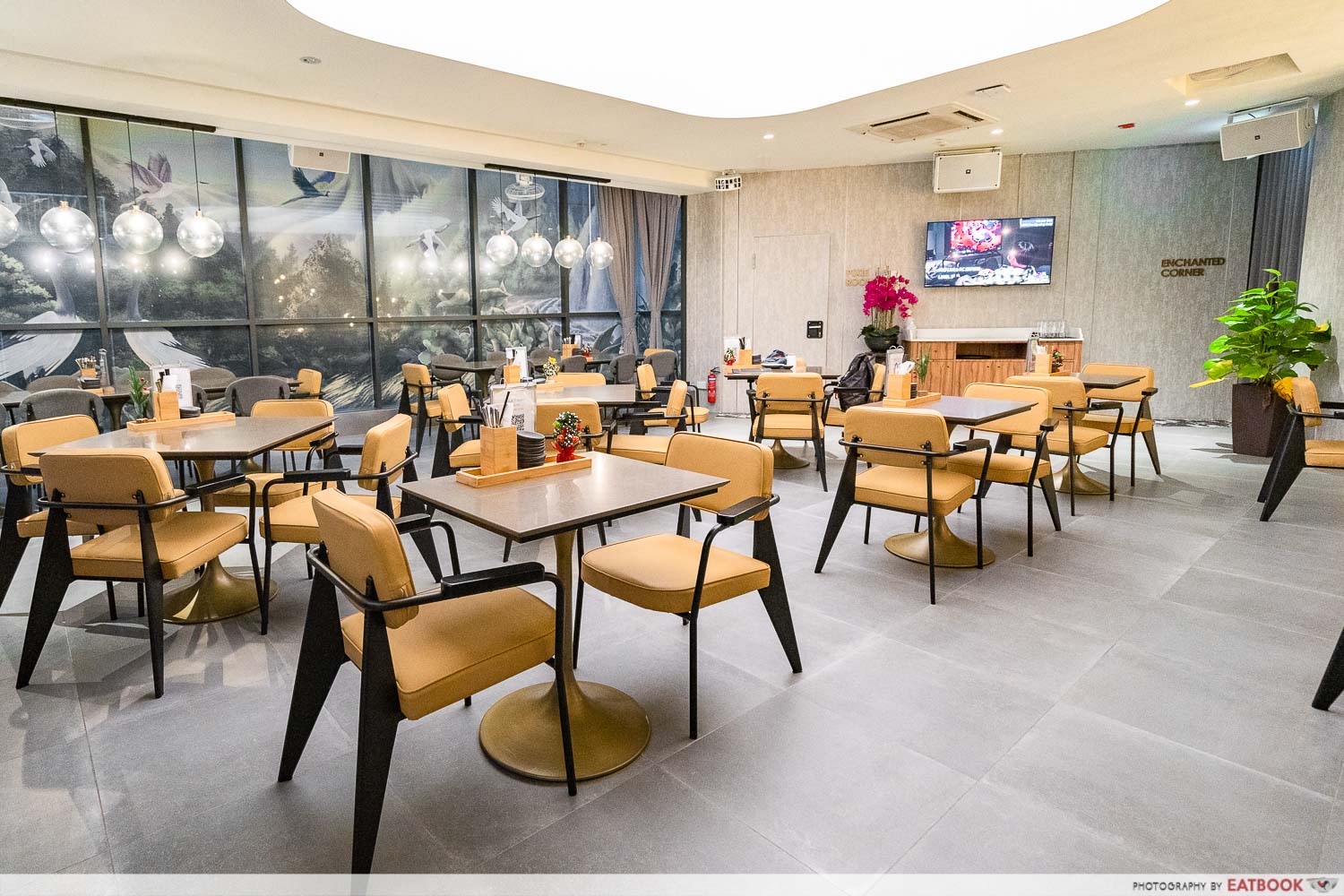 Stepping into the bistro did not quite match my initial expectations of a menacing vibe. Instead, the new outlet exuded a sense of grandeur, decked with warm cove lights which gave a homely feel. 
Black Fairy is just a five-minute walk from Clarke Quay MRT Station, making it a convenient dining location in the city area. They are generally busier from Thursdays to Saturdays during dinner hours, so you can expect some waiting time if you visit then. Thankfully, Black Fairy is open till 3am, so you can head down later at night to avoid the dinner crowd. 
If you are looking to host an exclusive event here, Black Fairy also offers private dining rooms with a special menu and karaoke sets so you can eat and sing your hearts out. 
The verdict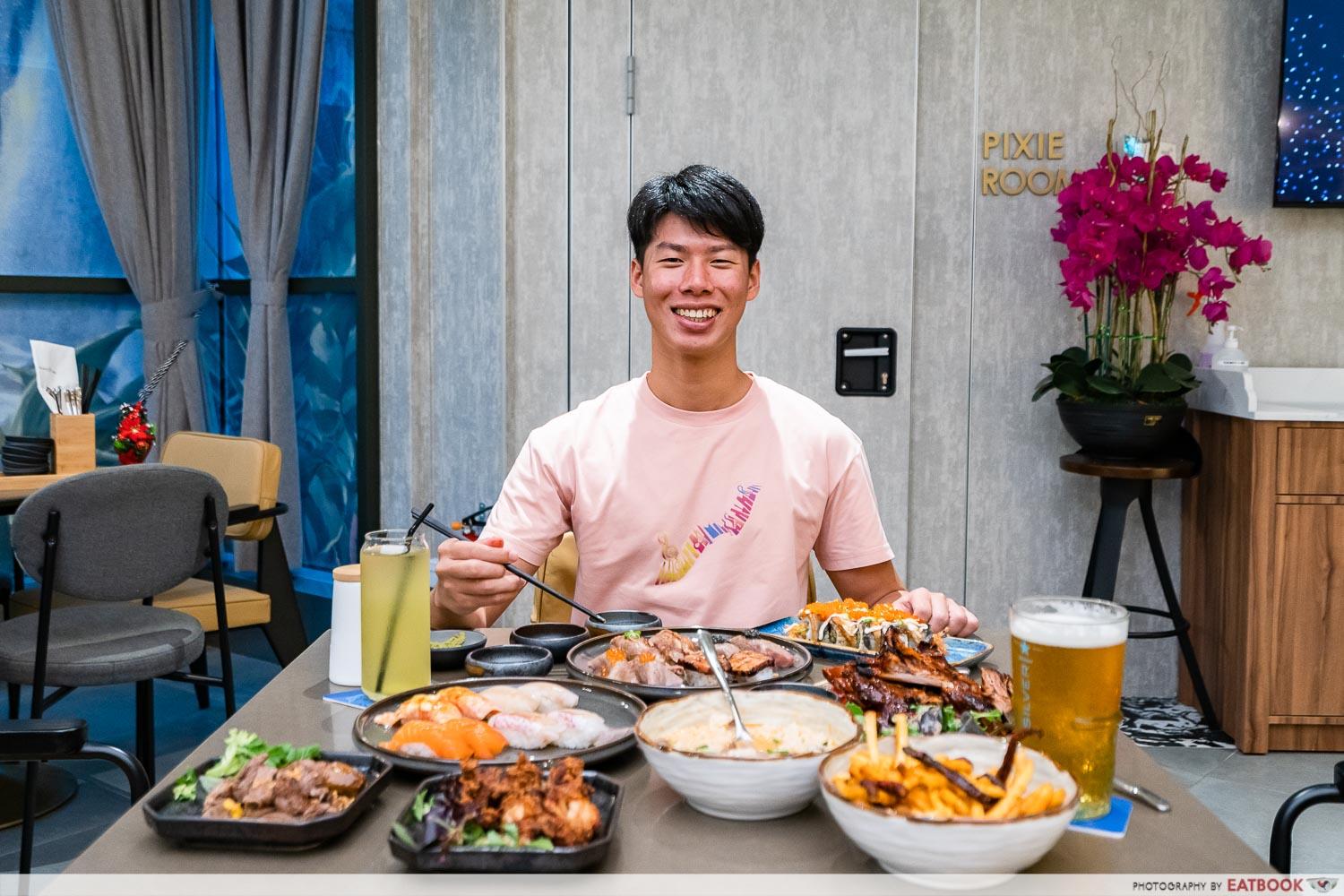 I'm aware that I'm starting to look like a glutton, but the delectable spread of food at Black Fairy makes it too difficult to control myself. Though some elements of the dishes could be improved on, the wallet-friendly prices of their food will tempt me to return for more. We didn't get to try their drinks menu this time, so that's another reason for me to visit Black Fairy again, and hopefully, meet some pixies along the way. 
For other eats in the Clarke Quay area, read our Clarke Quay food guide here! Alternatively, check out our omakase restaurants in Singapore guide if you are looking for some fancy Japanese fare.
Address: 29 Carpenter Street, Singapore 059923
Opening hours: Mon-Sat 5pm to 3am
Tel: 6988 0836
Website
Black Fairy is not a halal-certified eatery.
14 Clarke Quay Food Places To Dine At, Including A Korean Pocha And Japanese Speakeasy
Photos taken by John Lery Villanueva.
This was a media tasting at Black Fairy.
Black Fairy Review: $1.90++ Wagyu Sushi And More In Clarke Quay
Black Fairy Review: $1.90++ Wagyu Sushi And More In Clarke Quay -

8/10
Summary
Pros
– Open till 3am
– Affordable, quality sushi platters
Cons
– The Steak Bites were a tad too tough
– The Strawberry Cheesecake was slightly small
Recommended dishes: Beef Zosui ($10.90++), Nigiri Sushi Platter ($16.90++), Meat Sushi Platter ($14.90++)
Opening hours: Mon-Sat 5pm to 3am
Address: 29 Carpenter Street, Singapore 059923