Update (4 March 2021): The Hungry Caveman is now permanently closed.
The Hungry Caveman is in town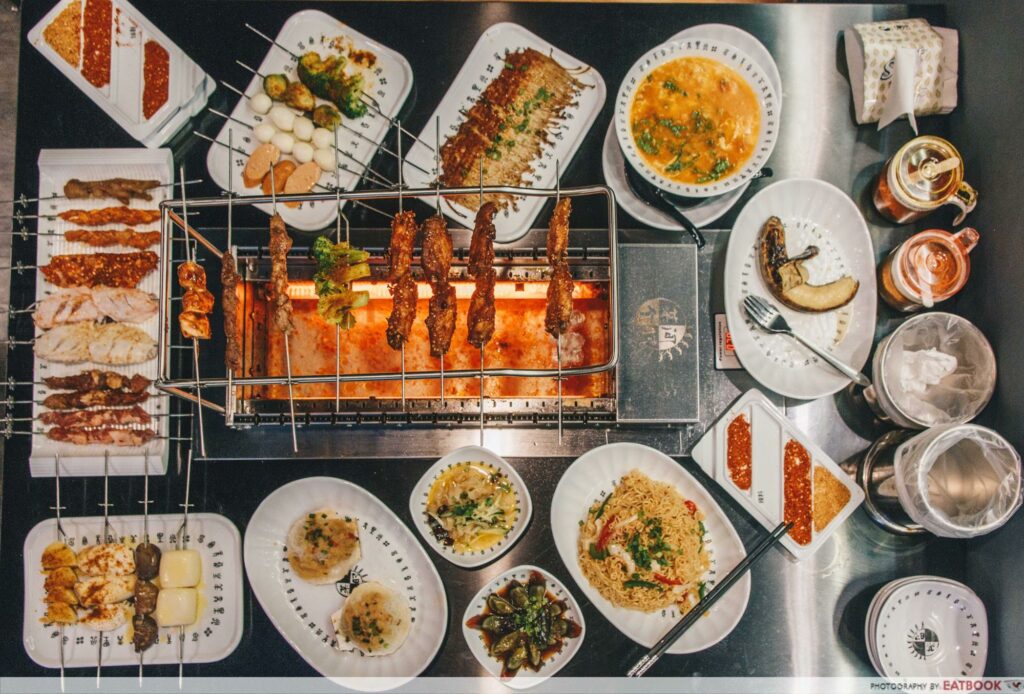 As with most people, town is my go-to place for a meet-up with friends. But instead of sticking to the usual restaurants, I enjoy looking for new or interesting places. Some ulu food gems I've found are I Want My Noodle at Shaw Centre and My Favourite Cafe at Lucky Plaza. And my most recent discovery is The Hungry Caveman at Orchard Central. This restaurant specialises in Chinese skewers, and even offers an automated grill so you can relax and chat while waiting for your food to be ready.
I Want My Noodle Review: Hidden Noodle Joint In Orchard Serving Truffle Bak Mee And Bak Chor Mee
Food at The Hungry Caveman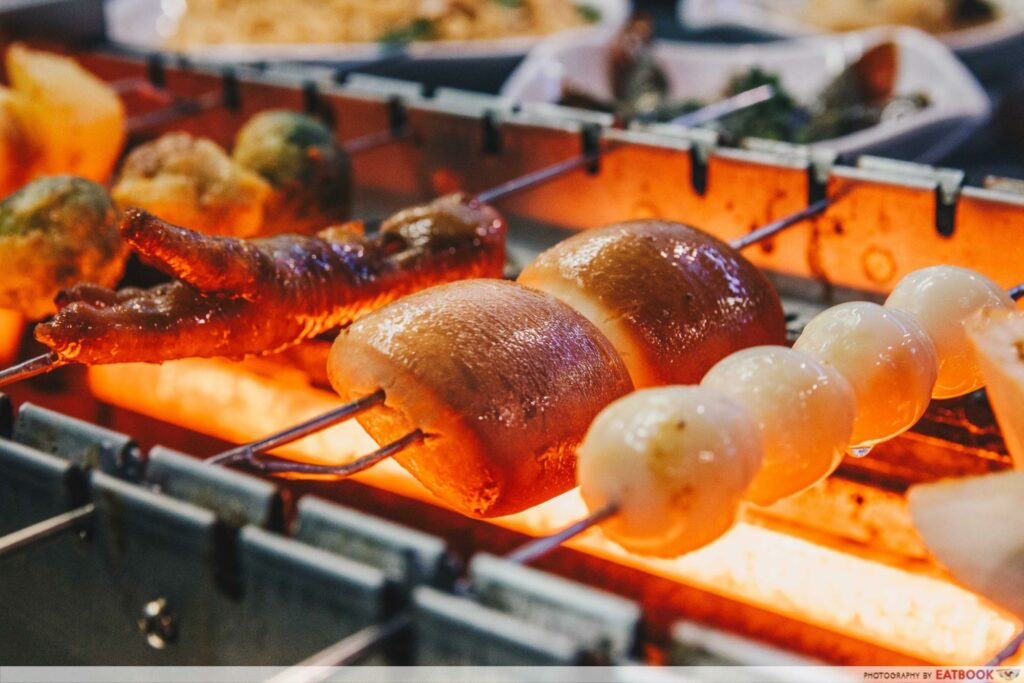 A special feature of The Hungry Caveman is their automated grills. Every table is fitted with one, and once you put your skewer on it, the grill will automatically rotate it. After your food is cooked, you can leave it to cool on a rack just above the grill.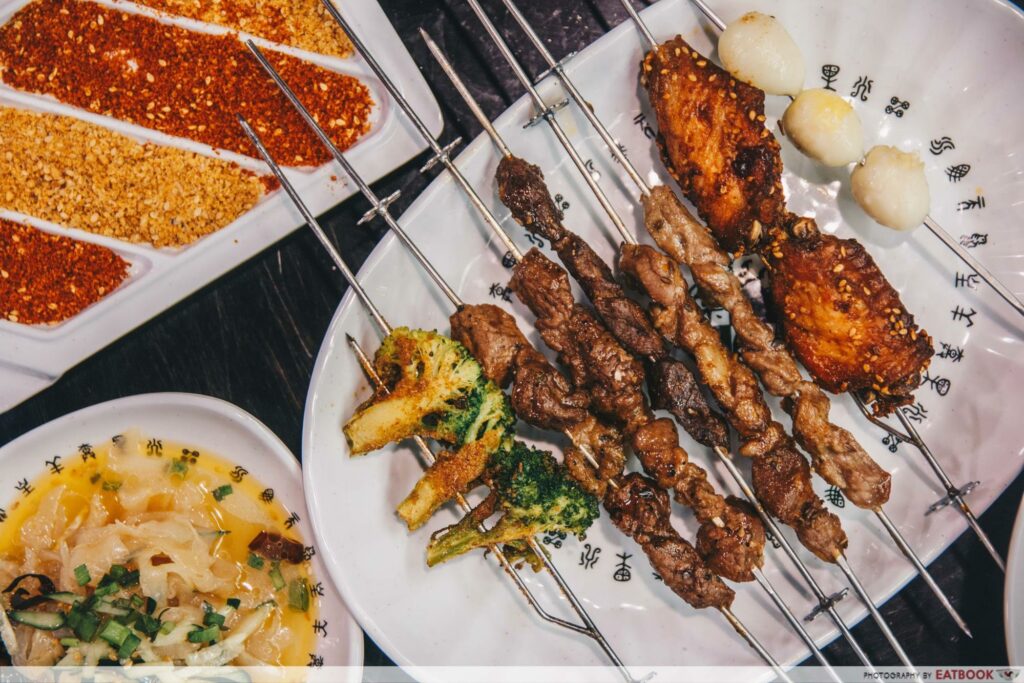 The Hungry Caveman's menu offers a large variety, ranging from meat and veggie skewers to cooked dishes. A staff member recommended the Signature Lamb Skewer ($2.20+) and AUS Grain Fed Beef Skewer ($2.60+), so we gave them a go. Both were surprisingly different in flavour. The latter leaned towards the saltier side while bearing a spicy hint from black pepper. The lamb was slightly sweeter and quite chewy.
A must-order here is their Chicken Mid-joint Wings ($2.80+ per skewer). Each skewer comes with two wings, and you can choose from six seasonings: Honey Glazed, Fragrant Garlic, Spicy Mala, Extreme Spicy, Cajun, and Xiang La. I went for the first four.
The people around me would know that da la (very spicy) is what I usually go for when I order ma la xiang guo. So with much confidence, I took a huge bite of the Spicy Mala chicken wing and just like I expected, it was bearable. However, things took a turn when it came to the Extreme Spicy wing. I felt nothing initially, only to be hit by a wave of spiciness that swarmed my entire mouth right after.
The Honey Glazed and Fragrant Garlic wings were just like what their names suggested. The former left a sweet aftertaste on my tongue while I felt a strong punch of garlic flavour from the latter.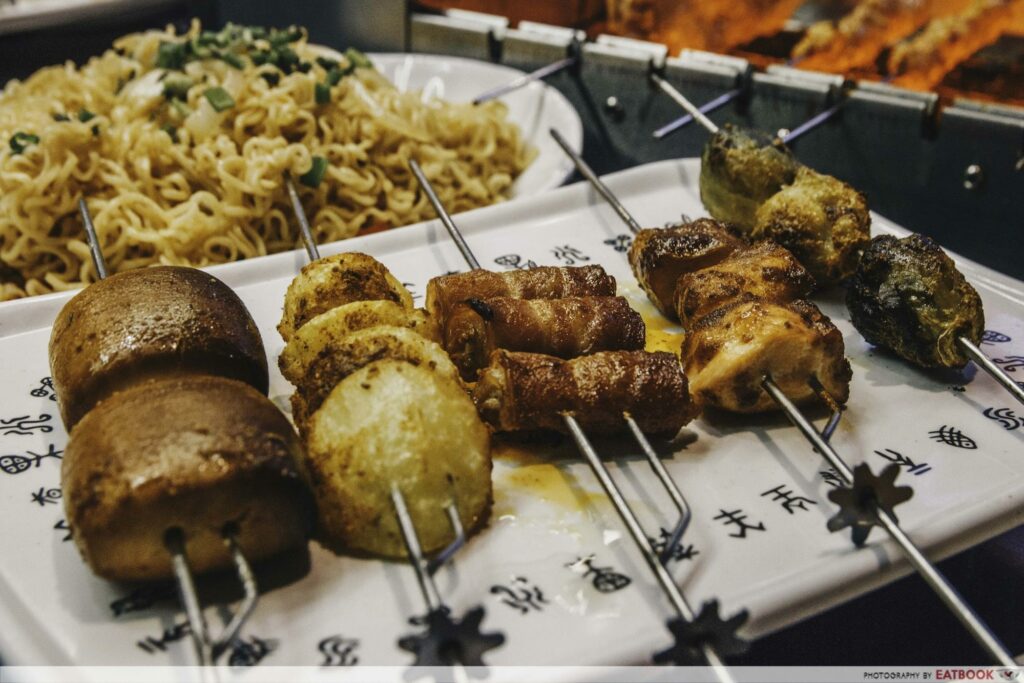 One of my favourite skewers was the Grilled Milk Man Tou ($1.60+ per skewer). It reminded me of thick toast that's drizzled with condensed milk. Carb lovers, get The Caveman Bread ($2+) as well. This is a slice of buttered white bread that's toasted till crisp, and sprinkled with plenty of sugar. It may sound simple, but it was in fact an addictive crispy bomb.
I also enjoyed their Bacon Wrapped With Enoki Mushroom Skewer ($2.80+). I loved how both ingredients complemented each other so well in taste and texture. As the mushrooms did not have much taste on their own, the saltiness from the bacon was what gave the skewer its flavour. In return, the mushrooms provided a nice crunch to each mouthful.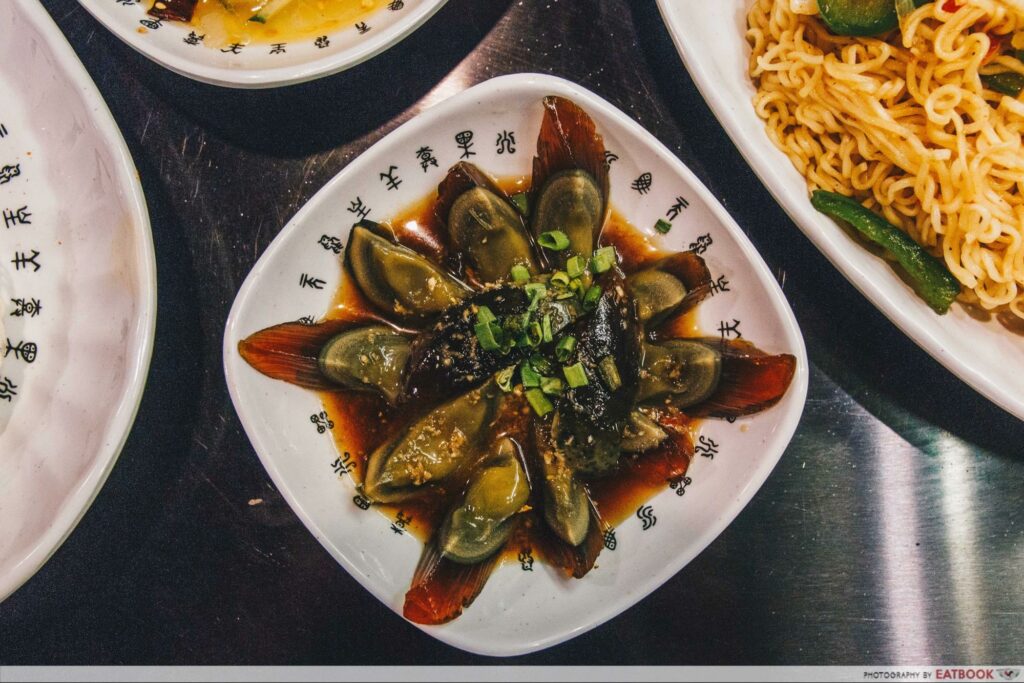 Their Century Egg With Marinated Ginger ($5.95+) was one of the many cooked dishes recommended to us. The century egg slices were drenched in a concoction of ginger, huadiao wine, vinegar, and soy sauce. There were different layers to the taste – an initial sour tang from the vinegar followed by a salty oomph.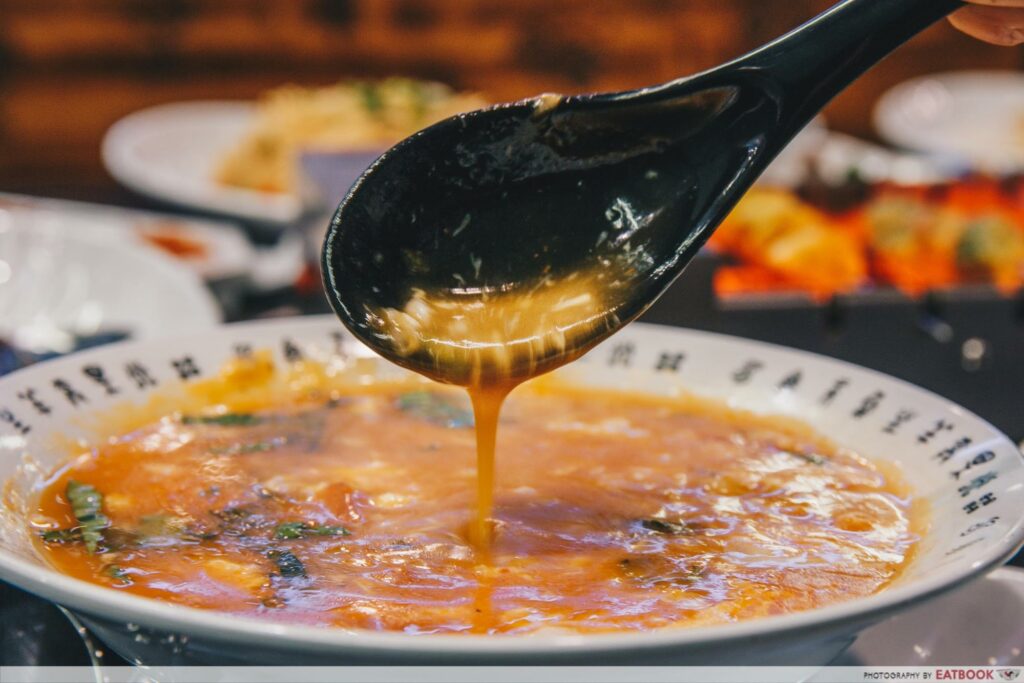 I had three bowls of their Caveman's Healthy Soup ($7.50+). Its consistency was thick like a bowl of Cantonese congee. Tomatoes, eggs, and Chinese rice cakes were its main ingredients. Taste-wise, it was very similar to that of minestrone, and the chewy rice cakes got me going back for more.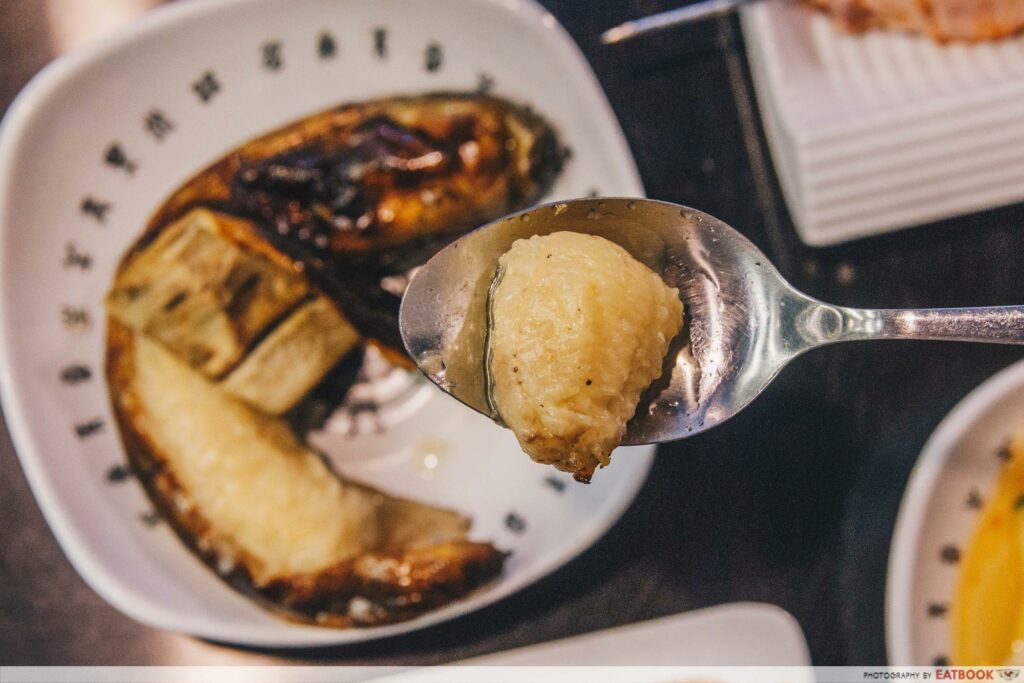 After scaring the staff members off by the amount of skewers we ate, it was finally time for a sweet change. Grilled Banana ($2+) is one of the sweet dishes on the menu, along with Grilled Pineapple Skewer ($2+) and Grilled Marshmallow ($2+).
The skin of the banana was grilled till its edges were charred. As I peeled the skin off the hot banana, the steam trapped underneath escaped into blank space almost immediately. The grilling brought out the sweetness of the banana, making every bite of this mushy fruit extra addictive. It's a lot like having just the inside of a goreng pisang.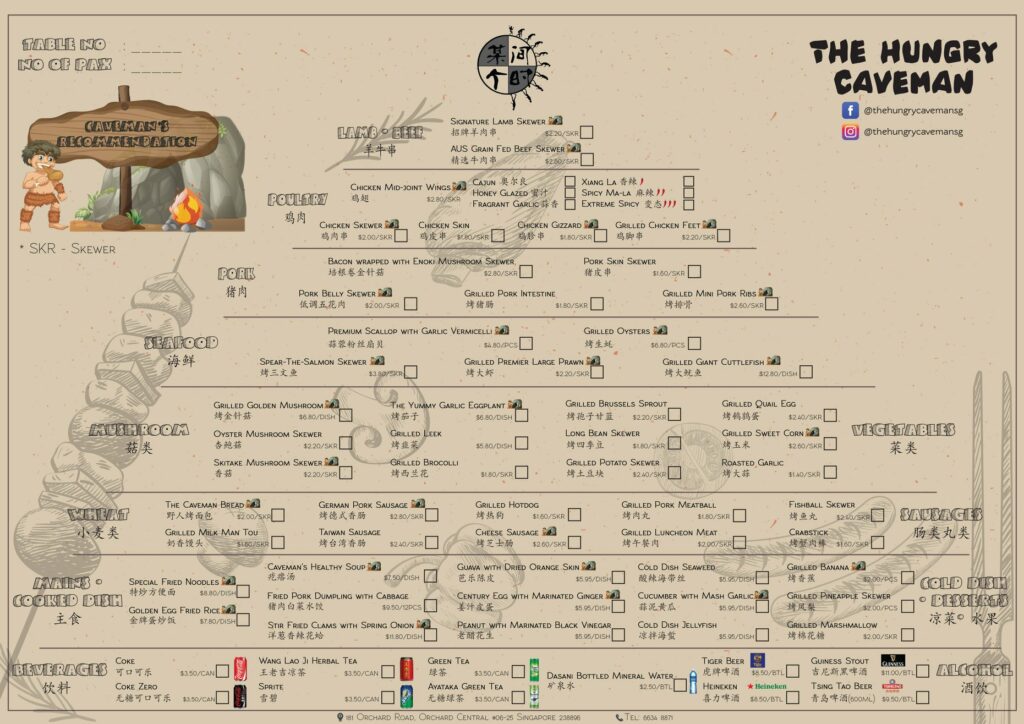 Aside from the food we mentioned, The Hungry Caveman offers many more dishes and skewers on their menu.
Ambience at The Hungry Caveman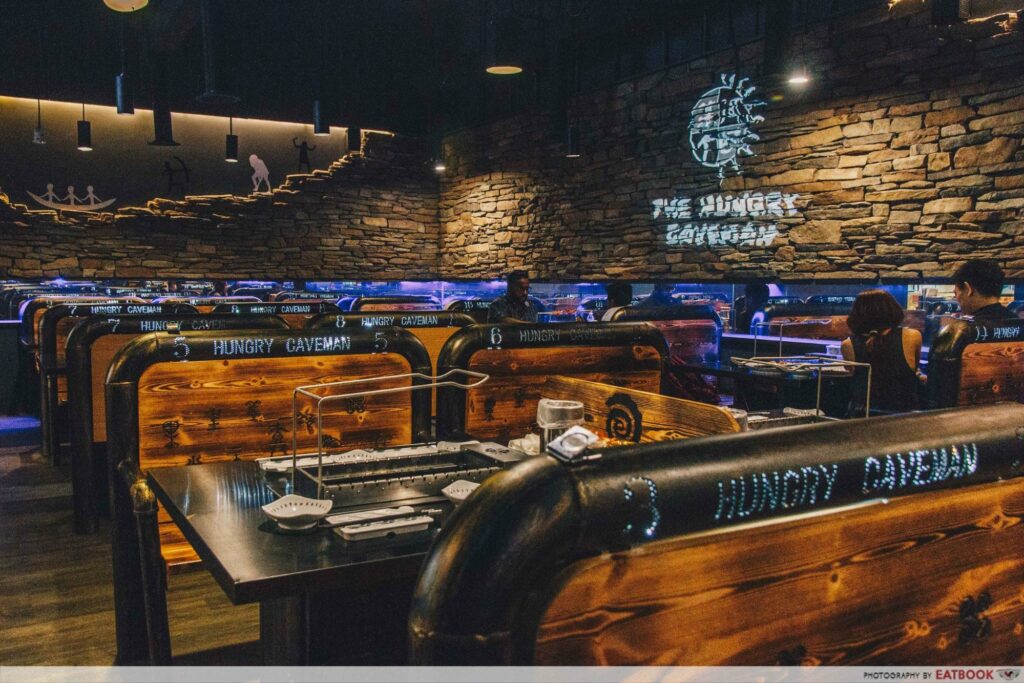 According to a staff member, the interior of The Hungry Caveman is a replica of the outlets in China. The design is aesthetically pleasing with brick walls and wooden benches. What's cool is that the rim of the bench is magnetic, so the staff members use a magnet to hold each table's orders against the bench.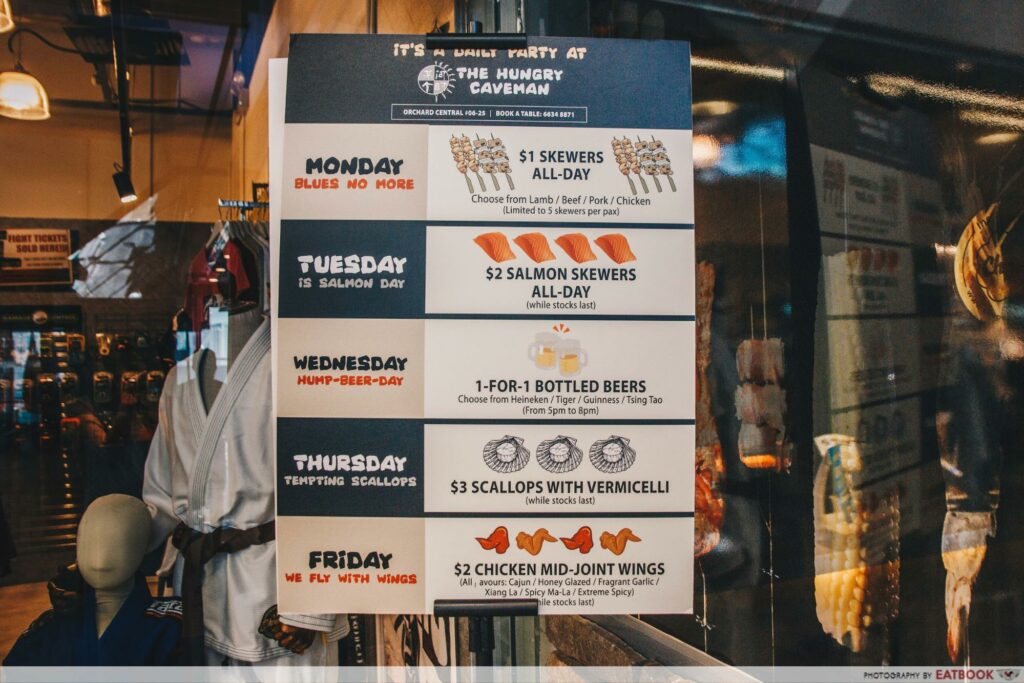 The restaurant offers weekday promotions, so be sure to come down on the day with your favourite deal!
The verdict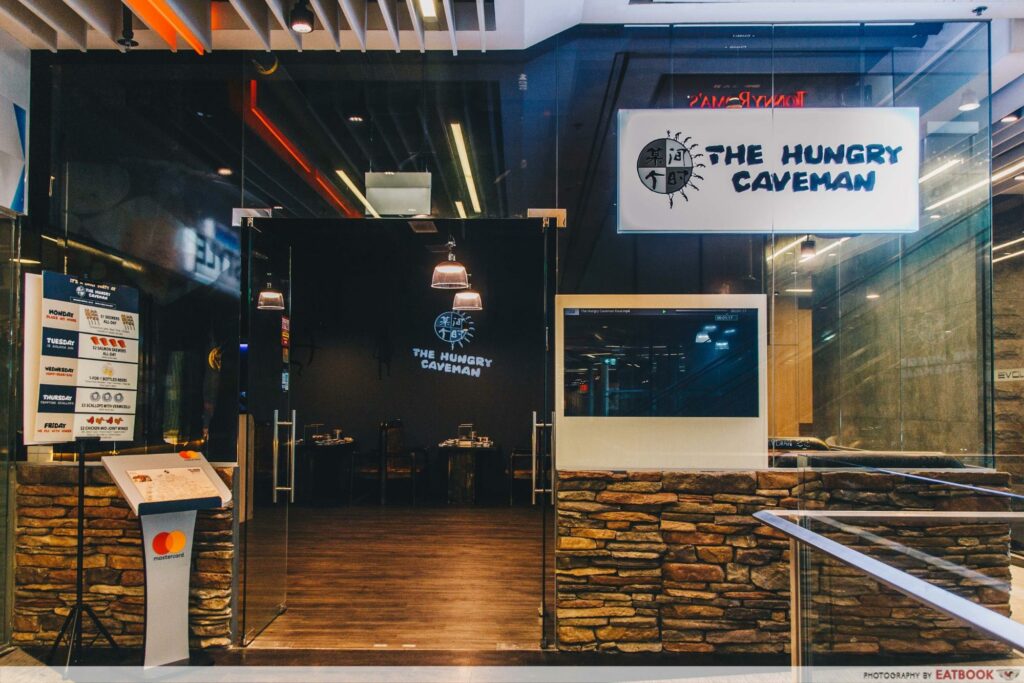 Overall, I enjoyed my experience at The Hungry Caveman. Having an automated grill saved us from the trouble of constantly monitoring our food. This is a concept worth checking out, especially if you're a fan of skewers.
Address: 181 Orchard Road, #06-25, Orchard Central, Singapore 238896
Opening hours: Daily 11am to 10pm
Tel: 6634 8871
Website
The Hungry Caveman is not a halal eatery.
This was a media tasting at The Hungry Caveman.
Summary
Pros
– Wide variety of skewers and dishes
– Unique concept
– Convenient location
Cons
– Place can get stuffy from the grill's heat
Recommended dishes: Grilled Milk Mantou ($1.50++ per skewer), Bacon Wrapped W Enoki Mushroom ($2.80++ per skewer), Caveman's Healthy Soup ($7.50++)
Operating hours: Daily 11am to 10pm
Address: 181 Orchard Road, #06-25, Orchard Central, Singapore 238896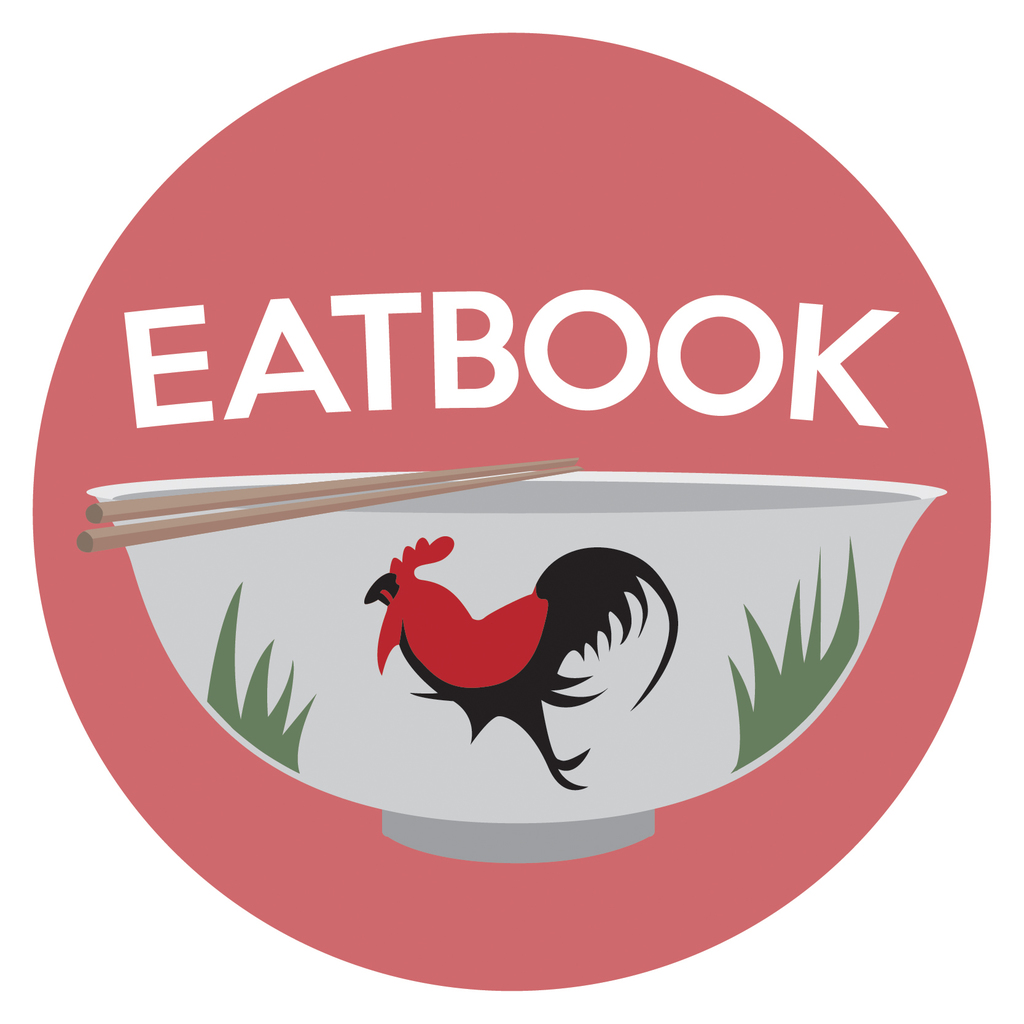 Drop us your email so you won't miss the latest news.