Cheok Kee Braised Duck Rice at Geylang Bahru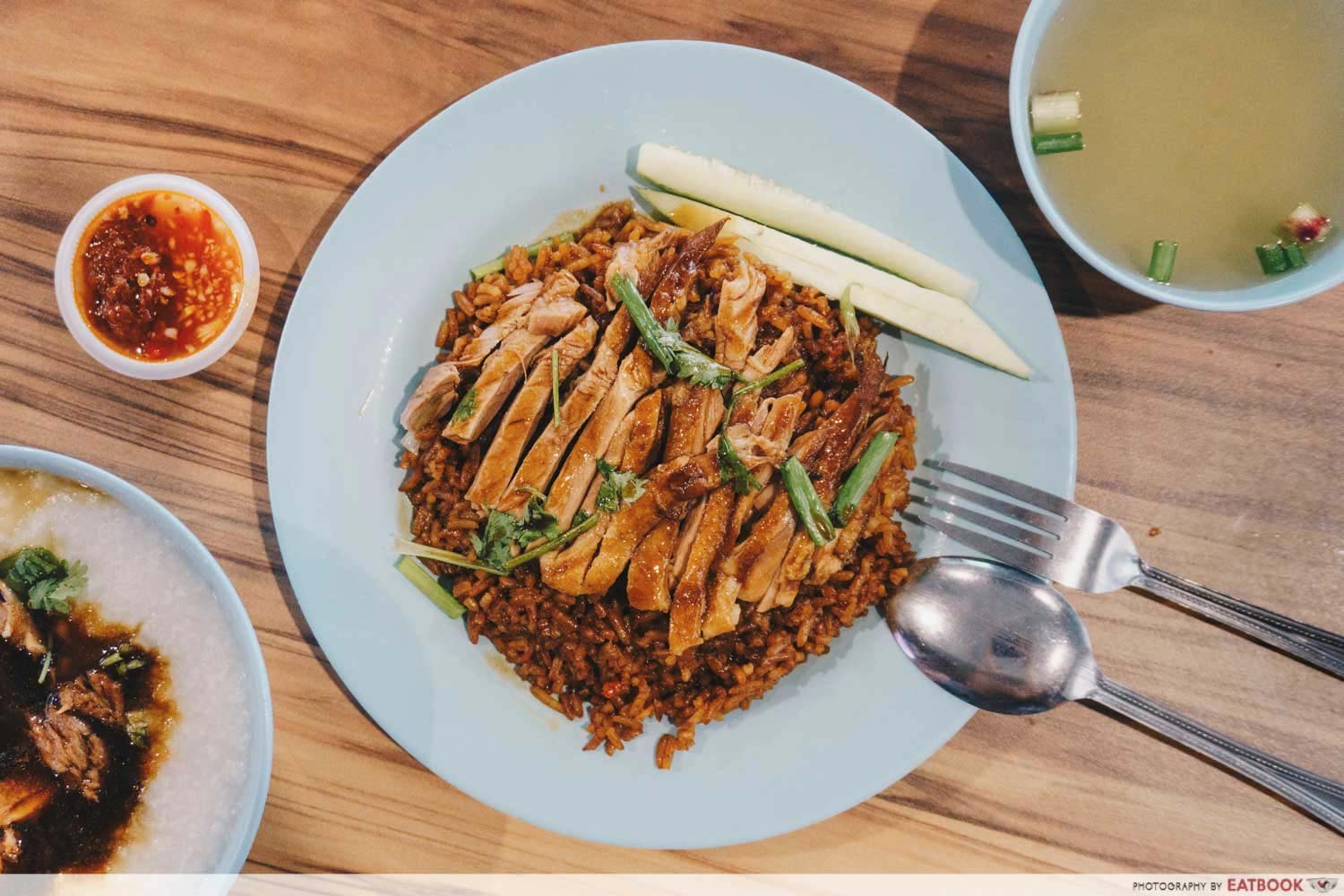 Geylang Bahru Market and Food Centre is usually packed with workers from neighbouring factories. But as it was raining and a little past 3pm when we arrived at Cheok Kee, only residents from nearby buildings were scattered around the laminated wooden tables of the hawker centre.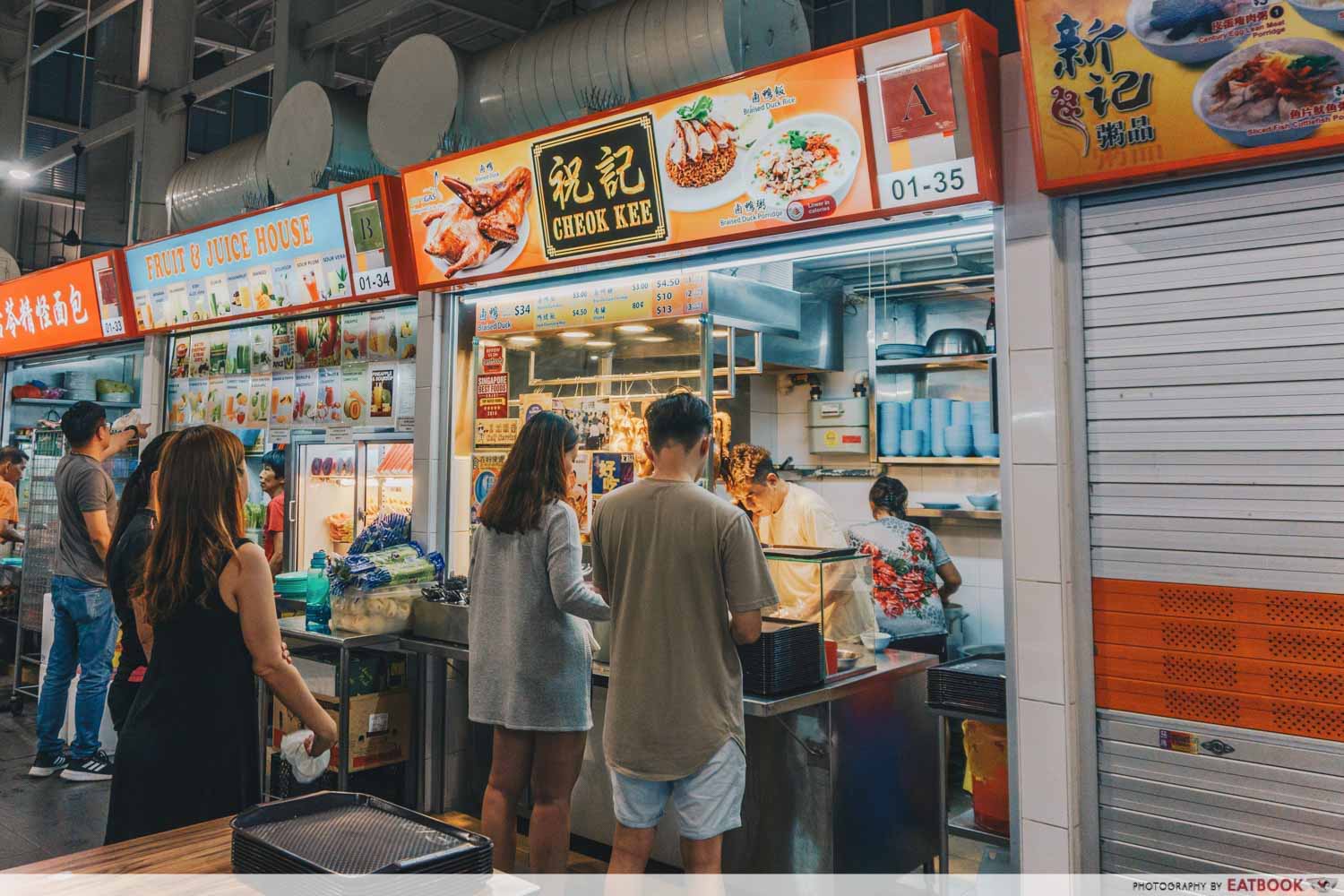 Yet, there was still a line of people waiting to get a plate of Cheok Kee's Braised Duck Rice ($3.50)—dark, fragrant rice and tender, boneless duck, doused in aromatic gravy.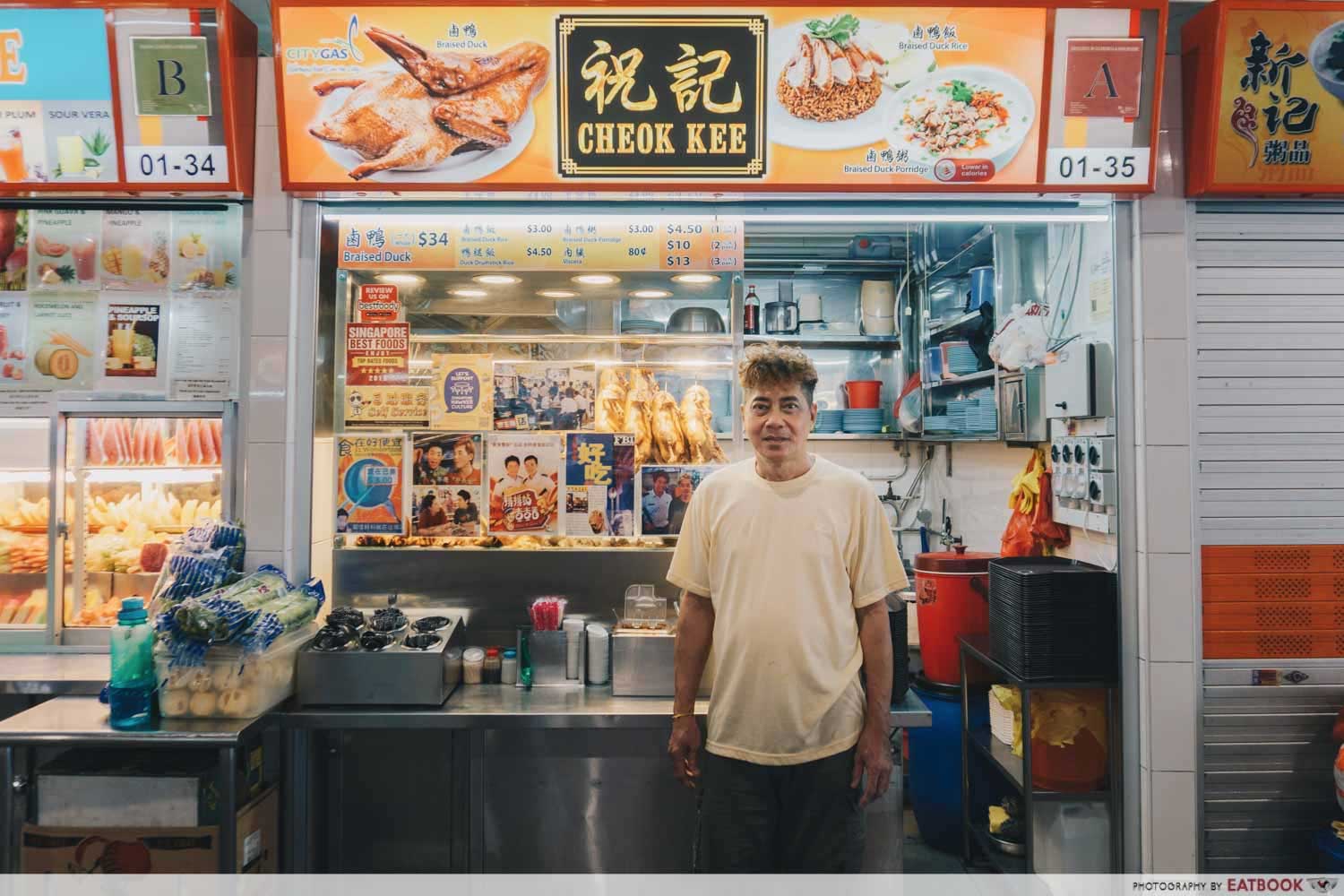 Mr Ong is the owner and chef of Cheok Kee. He has been selling duck rice since 1974 at two different hawker centres before settling at Geylang Bahru in 1990, with the perfected, secret recipe for his braised duck rice.
He manages Cheok Kee with his wife, and their experience shows in the way they operate the store. They are always ready for the lunch crowd 15 minutes sharp before the store's opening at noon. The two of them move around the small stall with ease—she greets customers and plops domes of rice on plates while he chops the duck and ladles gravy over it. 
13 Braised Duck Rice Stalls In Singapore That Your Teochew Or Hokkien Mother Will Love
Food at Cheok Kee Duck Rice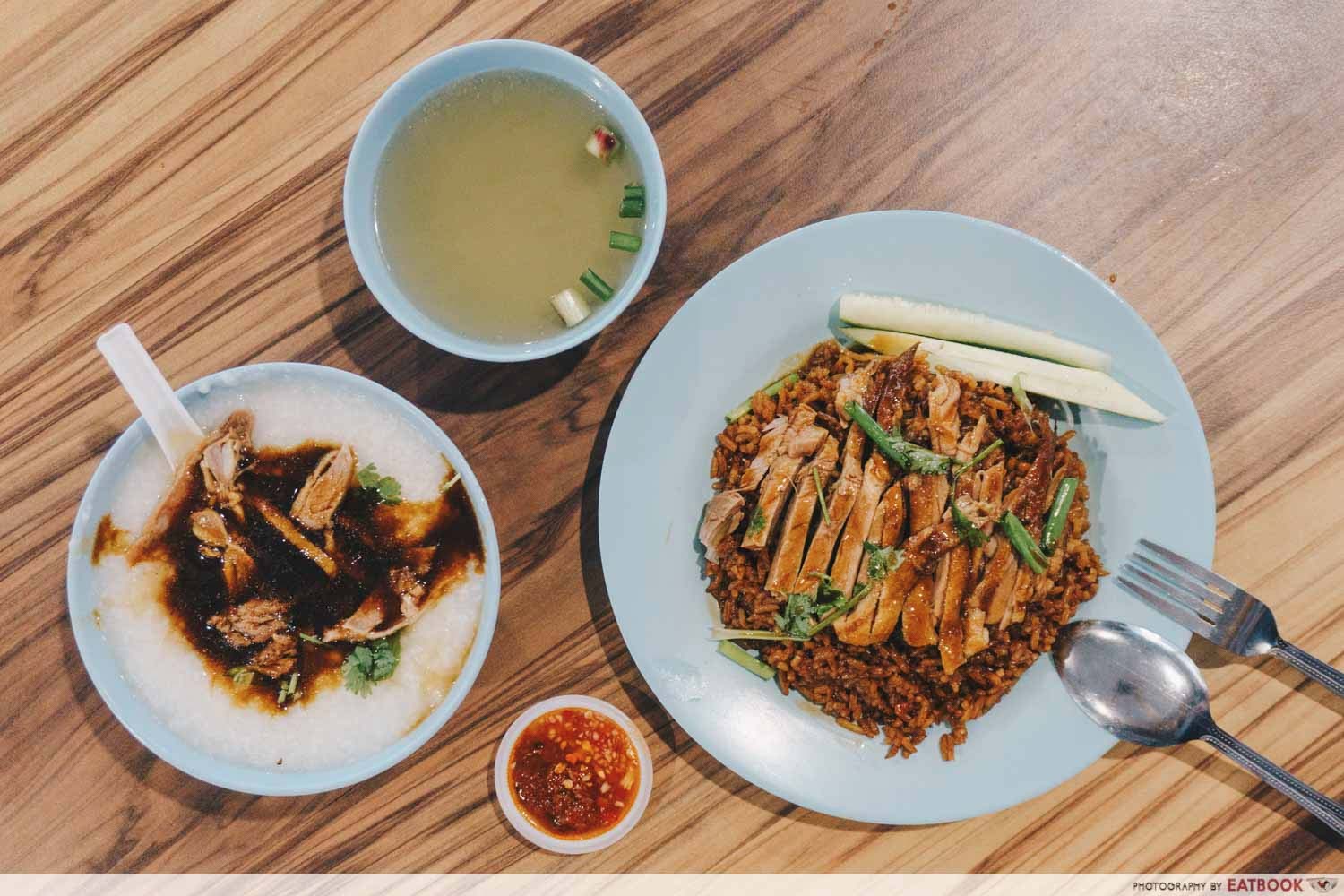 When asked what makes the dishes at Cheok Kee stand out, Mr Ong points to the braising gravy without missing a beat. The thick, dark sauce is drizzled on all three main dishes on the menu: Braised Duck Rice, Duck Drumstick Rice ($5), and Braised Duck Porridge ($3.50).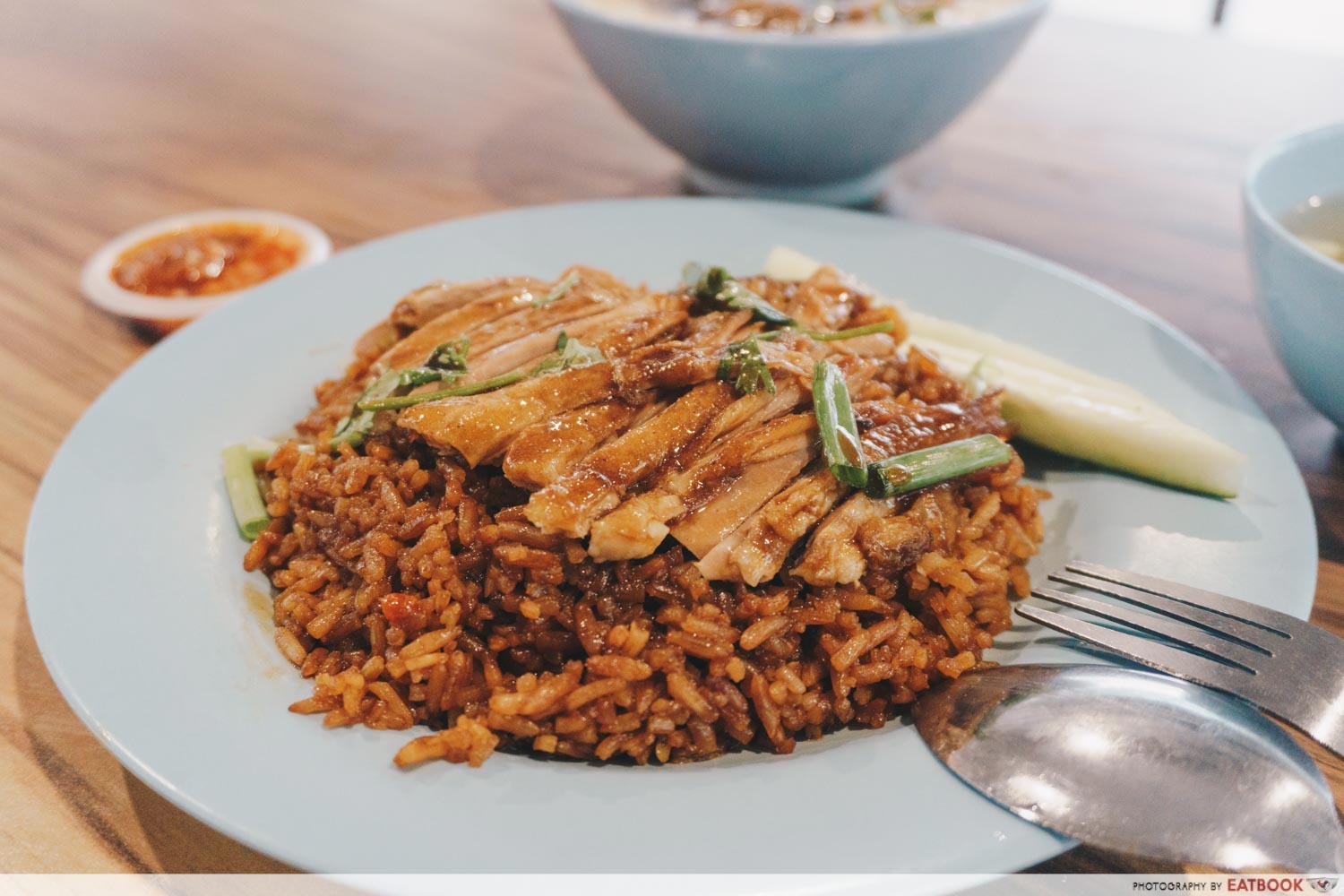 The most popular one here is the Braised Duck Rice. At just $3.50, the dish is a standout right from the moment I picked it up from the self-serviced stall after waiting in line just over five minutes.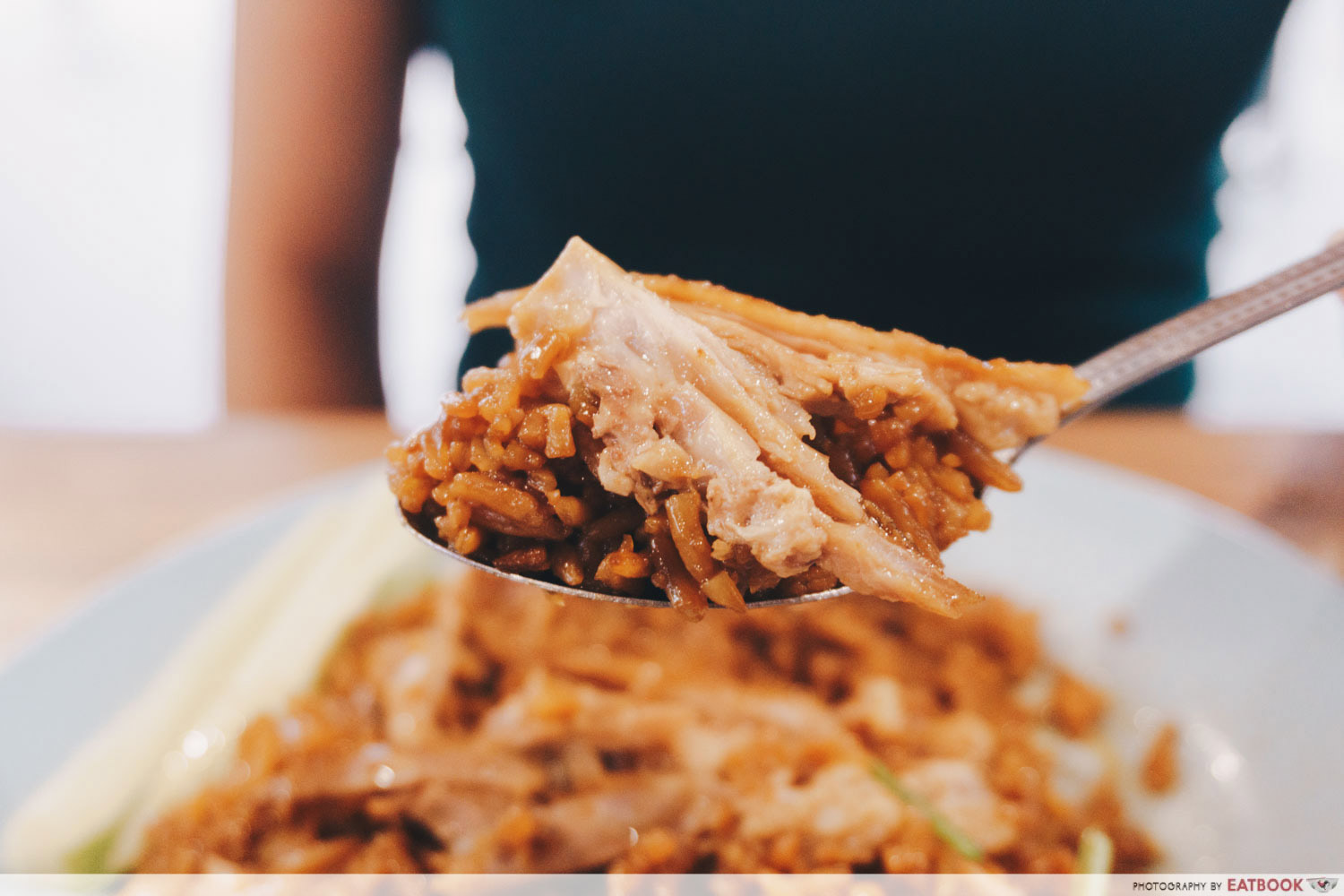 The rice is cooked with Cheok Kee's braised broth, so every grain of fluffy rice is infused and packed with soya flavour. Paired with the slowly simmered gravy that grazes the duck meat, spring onions and cucumber, every spoonful is balanced and never too salty or bland.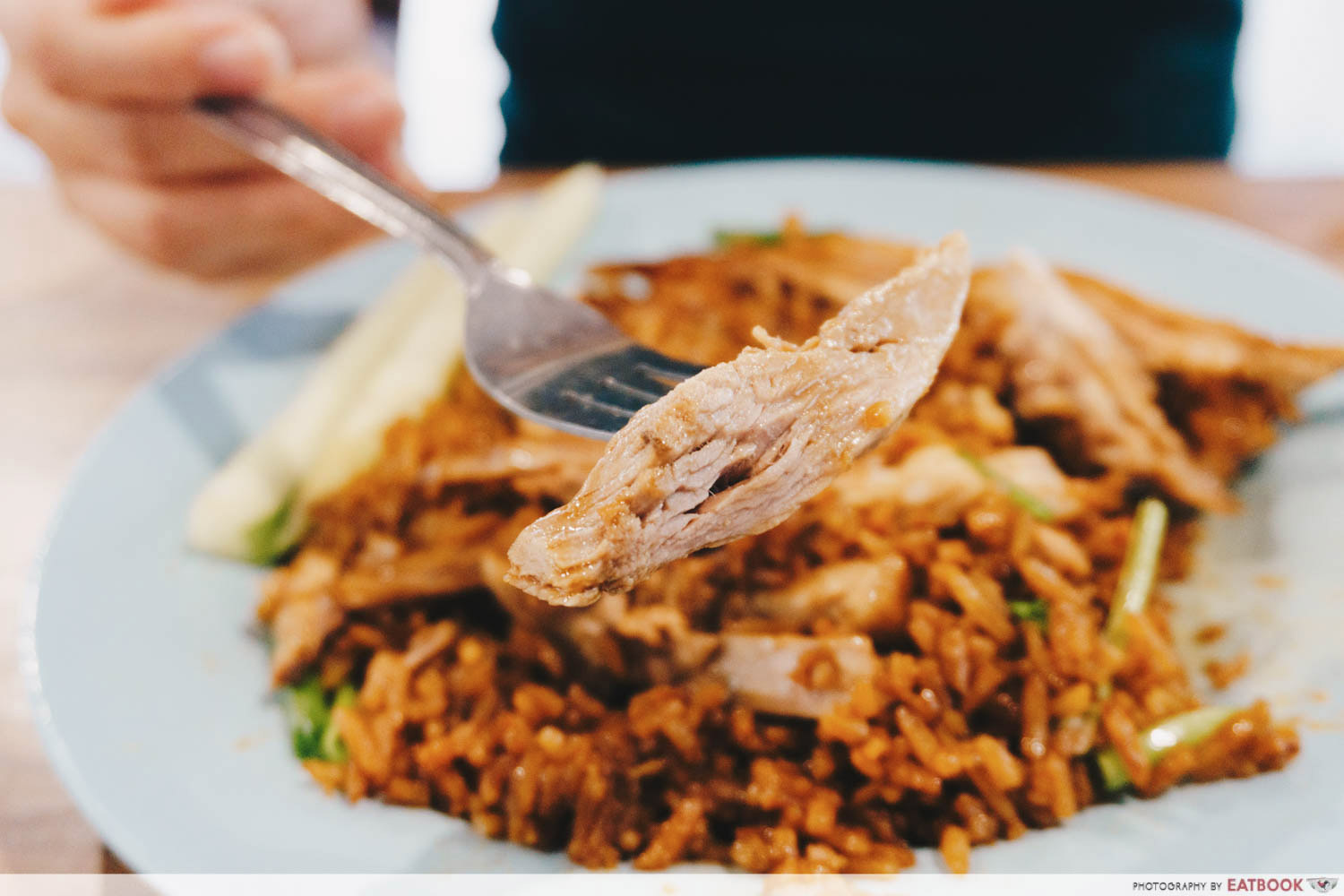 The duck meat is lean and boneless, but remains tender and soaks up the gravy well.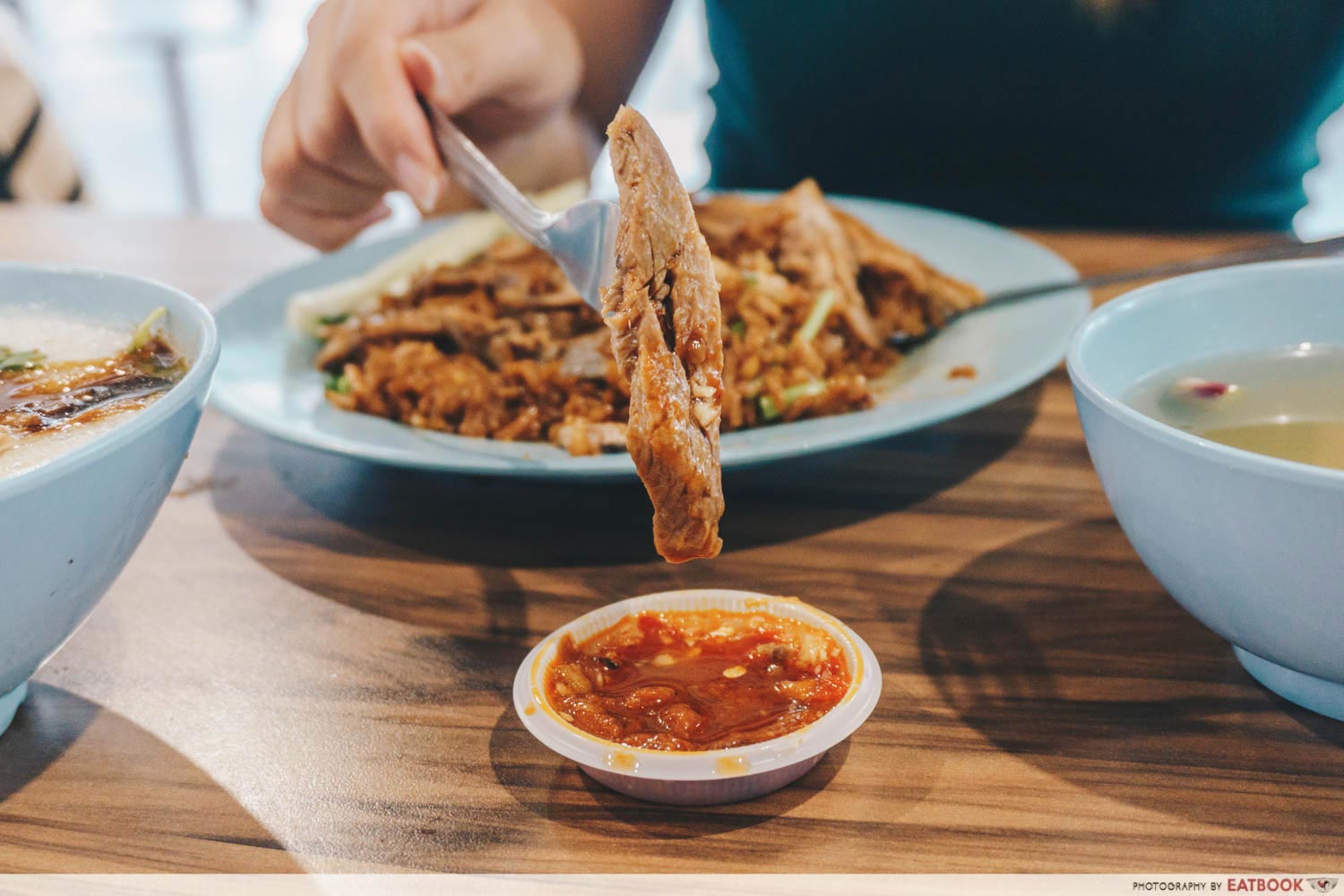 The chilli sauce—another practice-makes-perfect recipe—of Cheok Kee's, is an interesting combination of sambal and light Hainanese chicken rice-style chilli sauce. While most duck rice stalls tend to have the latter as the go-to chilli dipping, this mixture paired well with the deep soya base of the braised broth and the tender duck meat. It added a mellow, spicy kick to every bite. 
The soup that came with it, however, could have used a little more seasoning.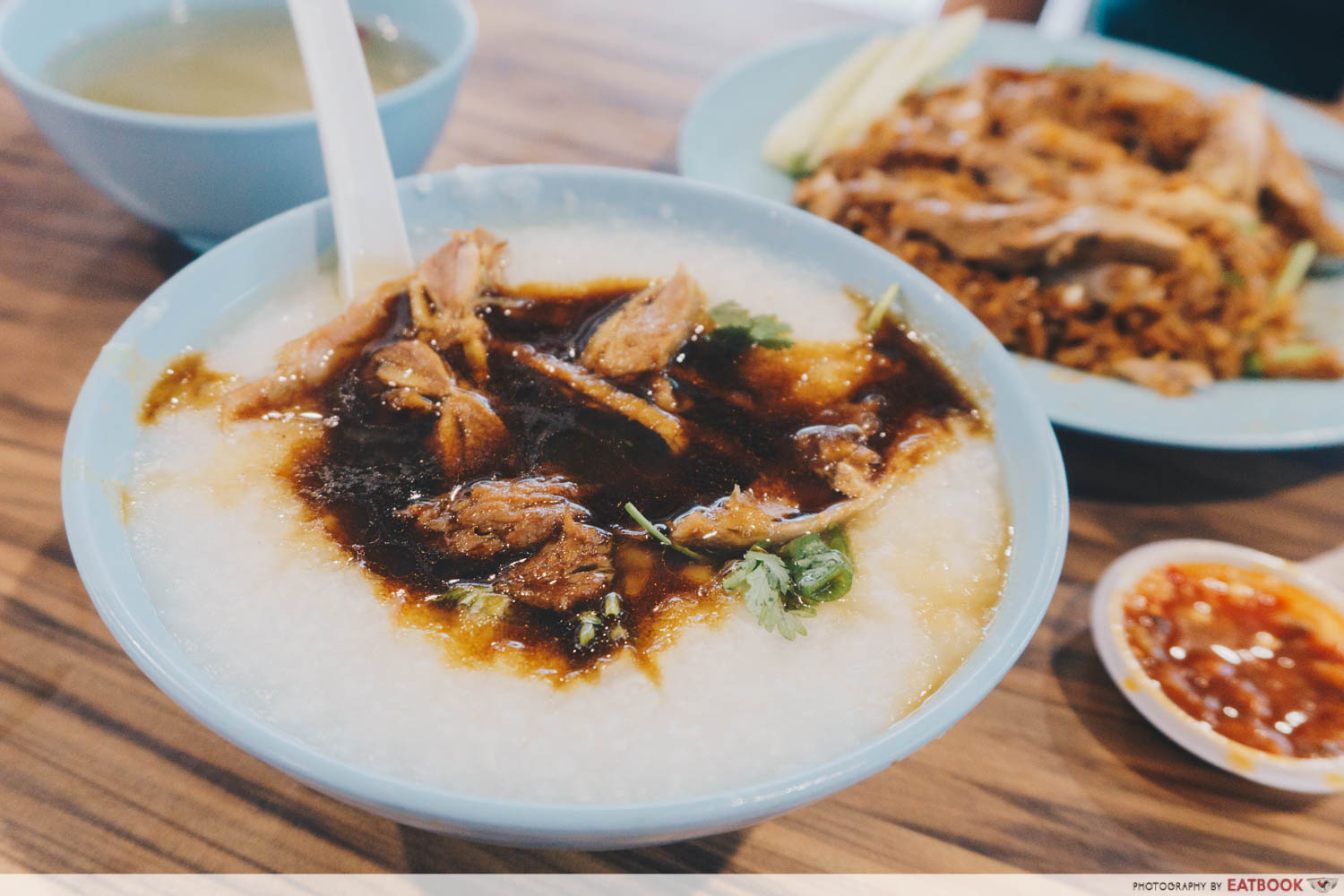 Another dish Cheok Kee offers is the Braised Duck Porridge. The porridge is smooth; a blank canvas for the thin slices of duck, bits of coriander and gravy.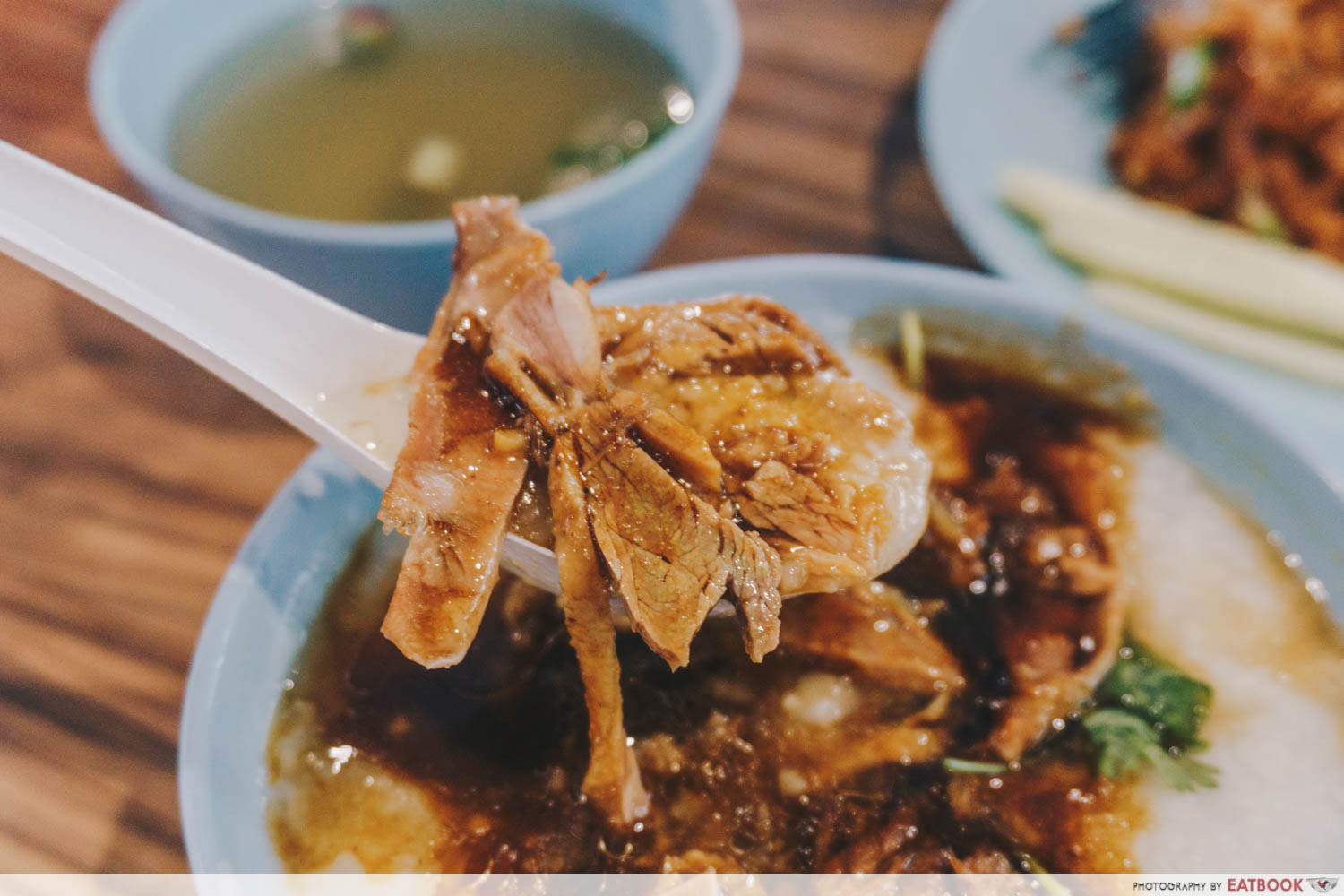 Stir well to mix in the gravy—otherwise, it'll just taste like plain porridge with duck on the side. 
I wasn't won over by this dish. The thick, glossy gravy—which was the highlight of the Braised Duck Rice dish—overwhelmed the plain porridge. The tender duck meat was the star of this dish, adding a nice chew to the silky porridge. 
Ambience at Cheok Kee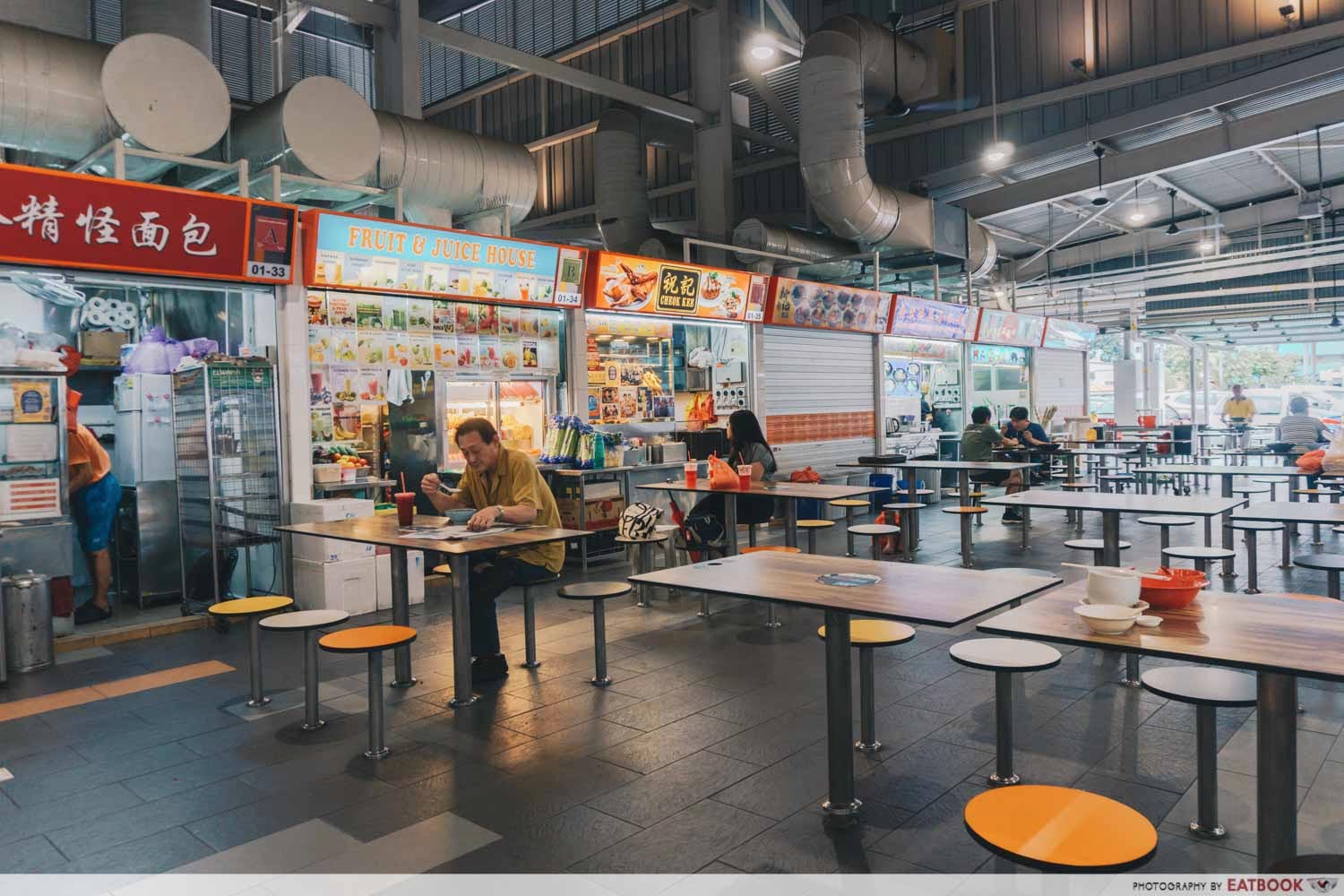 Geylang Bahru Market and Food Centre was open and airy, with sunlight streaming in from the open entrances even as the rain poured down outside. The aisles were wide as well, which means that you won't be caught awkwardly looking over someone's head while you're lining up for your meals during the usual bustle of lunchtime. 
The hawker centre is situated between residential buildings—not as obviously located as other hawker centres in Singapore. That being said, it is just a convenient two-minute walk from the Geylang Bahru MRT Station. 
Soh Food Review: Tender Stewed Duck With Fish Maw Under $6 At Farrer Road
The verdict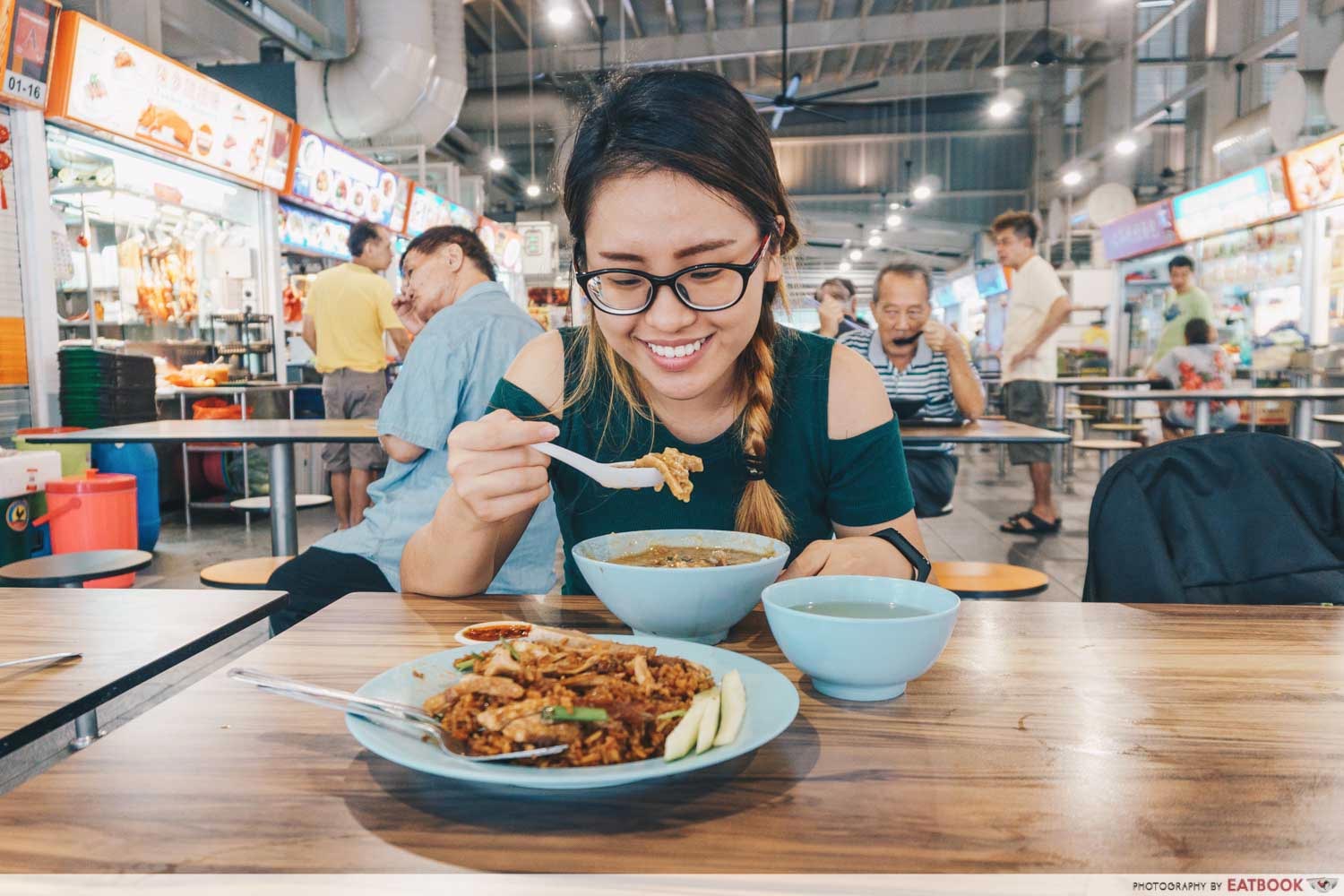 Cheok Kee's Braised Duck Rice is unlike any duck rice I've tried before. That braised broth that is infused into the rice was something I found the most enjoyable. And the boneless duck meat was tender and tasty too. Paired together, the duck rice reminded me of a less sticky version of lo mai kai with duck meat. 
I returned again on Wednesday, a day after my first visit, to get another taste of their Braised Duck Rice, but they were closed. Mr Ong had mentioned during my visit that rest days for them aren't set in stone even though he tries to arrange it on Thursdays. 
If you visit Cheok Kee's Facebook page, it states that the store closes on Thursdays or Fridays. I would say that it's safer to pop down to the stall any day between Saturday and Tuesday to make sure you don't make a wasted trip. 
Despite its popularity, the future of this 29-year-old store remains uncertain for now. Mr Ong's kids are in their 30s and are already doing well on their own, so it's unlikely they will take over the stall. He shared that he is looking to find a successor. But he's in no hurry to do so, even while we said the secret recipe will go to waste if no one takes over the reins from him. To that, he jokingly replies "If people gave me money [for my food], then it doesn't look like it's wasted [to me]."
So if you love the food here, be sure to tell Mr Ong—he might just keep operating the stall longer than he says he will.
Address: 69 Geylang Bahru, #01-35, Geylang Bahru Market & Food Centre, Singapore 330069
Opening hours: Fri-Wed 12pm-6pm
Website
Cheok Kee is not a halal-certified eatery.
Photos taken by Janet Cho.
This is an independent review by Eatbook.sg. 
Cheok Kee Review: Famous Tender Braised Duck Rice In Geylang Bahru
Cheok Kee Review: Famous Tender Braised Duck Rice In Geylang Bahru -

8/10
Summary
Pros
– Easy to access by MRT and bus
– Very affordable for generous servings
Cons
– Long queue during lunch hours
– Opening days are not set in stone
Recommended dishes: Braised Duck Rice ($3.50)
Opening hours: Fri-Wed 12pm-6pm
Address: 69 Geylang Bahru, #01-35, Geylang Bahru Market & Food Centre, Singapore 330069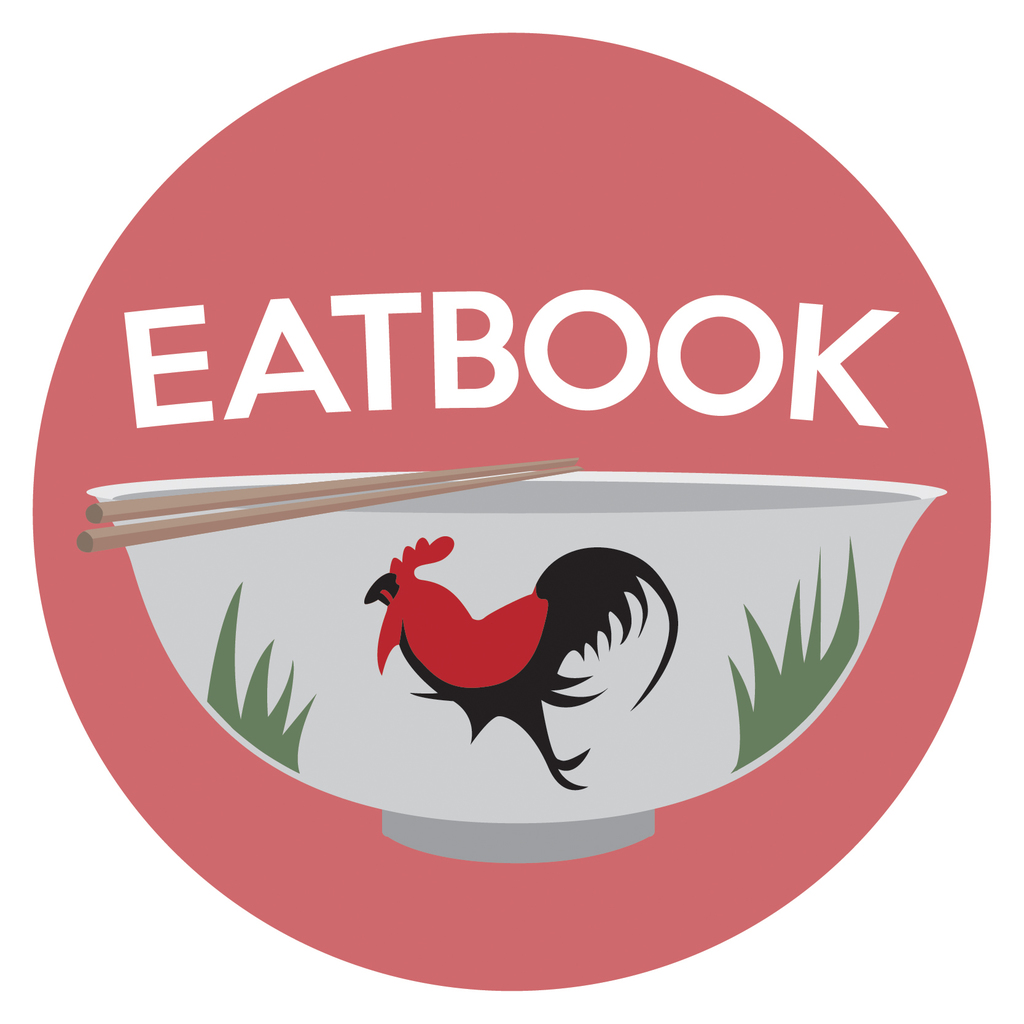 Drop us your email so you won't miss the latest news.