---
Curb your chilli crab cravings for a fraction of the price
---
There's just something about the spiciness, sweetness and subtle tanginess of chilli crab gravy that finds its way to your heart at first bite and keeps you wanting more. Not to mention those little golden, pillowy mantous you can use to mop up the leftover gravy with. If chilli crab didn't cost me an arm and a leg, I'd have it so much more often. If you're like me, here's a list of chilli crab dishes that will satisfy your cravings for it without burning a hole in your pocket!
---
1. Chilli Crab Burger
---
Chilli Crab Burger ($25) at Artistry tops this list because of the thick breaded crab cake that's  bursting with blue swimmer crab meat, sandwiched between toasted sun-dried tomato buns. But the star of this creative burger is the chilli crab gravy served on the side that's flavourful with just the right amount of spiciness. Trust me, you'll find yourself dunking everything on your plate – and everyone else's plate – into it.
Address: 17 Jalan Pinang, Singapore 199149
Opening hours: Tue-Sat 9am to 11pm, Sun 9am to 4pm
Tel: 6298 2420
Find out where else to get crazy creative burgers here.
---
2. Chilli Crab Croissant
---
With the launch of six unique croissant flavours earlier this year, Antoinette ranks high on the list of where to go for a croissant fix. Chilli Crab Croissant ($7.50++) features a flavourful chilli crab filling made from real crab meat, a secret rempah blend and homemade tomato sauce reminiscent of classic chilli crab gravy. Think of it as a modern twist on a local favourite, with buttery and flaky pastry instead of mantou.
Address: 30 Penhas Road, Singapore 208188
Opening hours: Mon-Thur 11am to 10pm, Fri 11am to 11pm, Sat 10am to 11pm, Sun 10am to 10pm
Tel: 6293 3121
Menu
---
3. Chilli Crab Rilettes
---
Thanks to Slake's Chilli Crab Rillettes ($14++ for four buns), we can now have chilli crab and mantou without getting our hands dirty. Rillettes are made from meat that has been shredded and cooked down into a spreadable, pâté-like texture, so this one's essentially an intense chilli crab paste that you can slather on the fluffy, golden mantous it comes with. If you want something more filling, go for Chilli Crab Noodles ($22++), which has a chunky chilli crab paste, pomegranate seeds and baby corn sauteed with thick rice noodles.
Address: 15 Swan Lake Avenue, Singapore 455711
Opening hours: Daily 6pm to 11:30pm
Tel: 9245 0184
Menu
---
4. Chilli Crab Coin Prata
---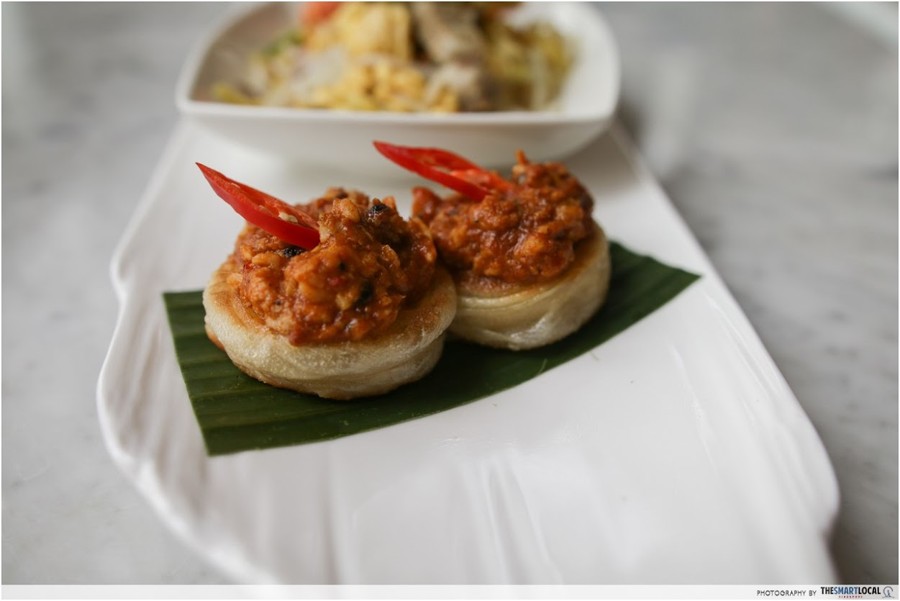 This chilli crab dish is brought to you by the same people who created waves online with their salted egg prata bomb, so you know it's going to be so sinful but so good. Big Street serves Chilli Crab Coin Prata ($28 for 9 coin pratas) with crispy little medallions stacked prettily next to a mountain of chilli crab dip that's chock full of real crab meat. Prices are a little steep, but the food here is too rich and heavy to savour alone so jio your supper kakis to share the cost and calories!
Address: 104/106 Jalan Besar, Singapore 208828
Opening hours: Tue-Sun 5pm to 5am
Tel: 6100 2661
Read our full review here.
Find out where else to get unique prata here.
---
5. Chilli Crab Pizza

---
Popular British pizza chain Pizza Express certainly knows its way into the hearts of Singaporeans. Chilli Crab Pizza ($26++) is a thin, crispy pizza crust topped with plump pieces of fresh crab, charred cubes of mantou, mozzarella, egg whites and dashes of glorious chilli oil. While the chilli crab sauce base bears little resemblance to the real stuff, I'd say it's a good attempt!
Address: 6 Scotts Road, #B1-08/09, Scotts Square, Singapore 228209
Opening hours: Daily 11:30am to 10pm
Tell: 6538 0083
Menu
---
6. Chilli Crab Fries
---
Chilli Crab Fries ($15++) at Loof makes a great companion to your TGIF drinks. As if criss-cut fries aren't yummy enough on their own, this dish makes it ten times better with a heap of chunky chilli crab dip on the side. Each fry scoops up the perfect amount of chilli crab dip for a flavour explosion in your mouth – TGIF indeed.
Address: 331 North Bridge Road, #03-07, Odeon Towers Extension Rooftop, Singapore 188720
Opening hours: Mon-Thur 5pm to 1am, Fri-Sat 5pm to 2am
Tel: 9773 9304
Menu
Find out where else to get unique fries here.
---
7. Signature Pan-seared Chilli Crab Meat Buns
---
Majestic Bay Seafood's Signature Pan-seared Chilli Crab Meat Buns ($5.50++ for 3) are literally mantou and chilli crab gravy packed into little pockets of happiness you can enjoy without the mess. The bun is studded with toasted sesame seeds, giving it a nice fragrance. Filled with sweet and mildly spicy chilli crab gravy laced with a good amount of crab meat, this is a must-try when you drop by for their cute dimsum ducks.
Address: 18 Marina Gardens Drive, #01-10, Gardens By The Bay, Singapore 018593
Opening hours: Daily 11:30am to 3pm, 5:45pm to 9pm
Tel: 6604 6604
Menu
Find out where else to get cute dimsum here.
---
8. Chilli Crab Pasta
---
Chilli crab pasta has become a common sight at cafes nowadays, but what sets Jewel Cafe + Bar's Chilli Crab Pasta ($20++) apart from the rest is the crispy golden-brown slices of deep fried mantou that adorn the bowl of pasta like the perfect accessory. The chilli crab sauce has just the right consistency with a generous amount of crab meat that clings to every strand of linguine – yum!
Address: 129 Rangoon Road, Singapore 218407
Opening hours: Tue-Thur, Sun 9am to 10pm, Fri-Sat 9am to 11pm
Tel: 6298 9216
---
9. Chilli Crab Ice-cream
---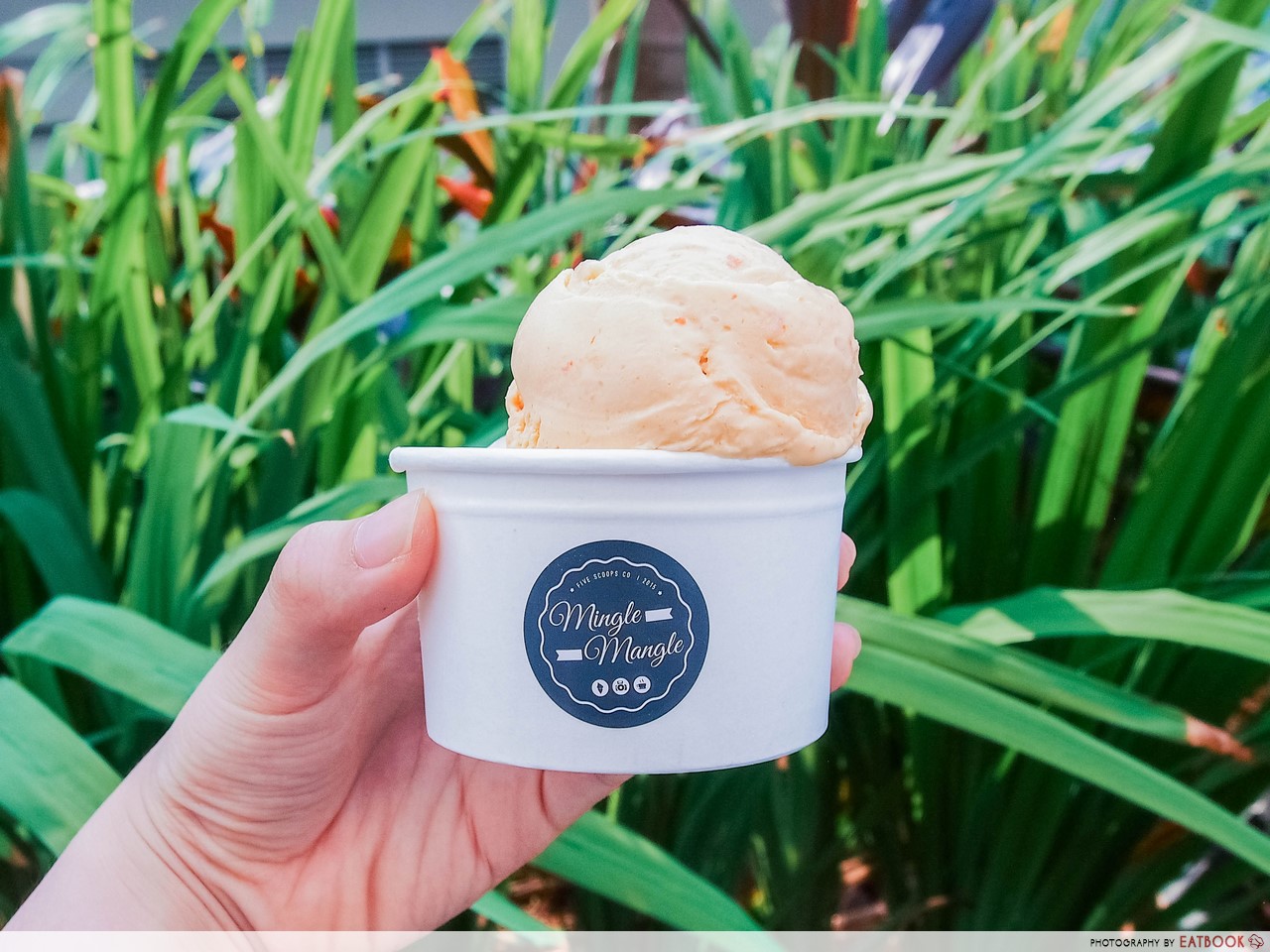 I love chilli crab and ice-cream. But both of these flavours together? My taste buds are confused. Chilli Crab Ice Cream ($4.80 for a single scoop) at Mingle Mangle is definitely an acquired taste as it carries the familiar sweetness and spiciness of our favourite local dish, except it's cold and creamy. For fans of black pepper crab or truffle, don't worry because they've got those flavours in ice-cream form too!
Address: 476 Upper Serangoon View, #02-07, Singapore 530476
Opening hours: Mon, Wed-Thur 1pm to 10pm, Fri 1pm to 11pm, Sa: 12pm to 11pm, Sun 12pm to 10pm
Tel: 9727 6111
Read our full review here.
---
10. Chilli Crab Mac & Cheese
---
The Fabulous Baker Boy gives a local twist to an American classic with a heap of spicy chilli crab ragout and crunchy herbed panko sitting atop a bed of macaroni tossed in cheesy bechamel sauce. Chilli Crab Mac & Cheese ($18++) is rich, hearty and food coma-inducing, just like how I like my mac & cheese to be.
Address: 70 River Valley Road, #01-15, Singapore 179037
Opening hours: Tue-Thur 11am to 10pm, Fri-Sat 11am to 11pm, Sun 10am to 5pm
Tel: 6694 8336
Menu
---
Chilli Crab Frenzy
---
When you're craving for chilli crab but don't have the budget for a decadent meal at a seafood restaurant, this list will fix you up with exciting and delicious alternatives for a fraction of the price. If you have any other favourite chilli crab dishes, let us know down below!