Delhi Lahori in Little India has Indian-Pakistani food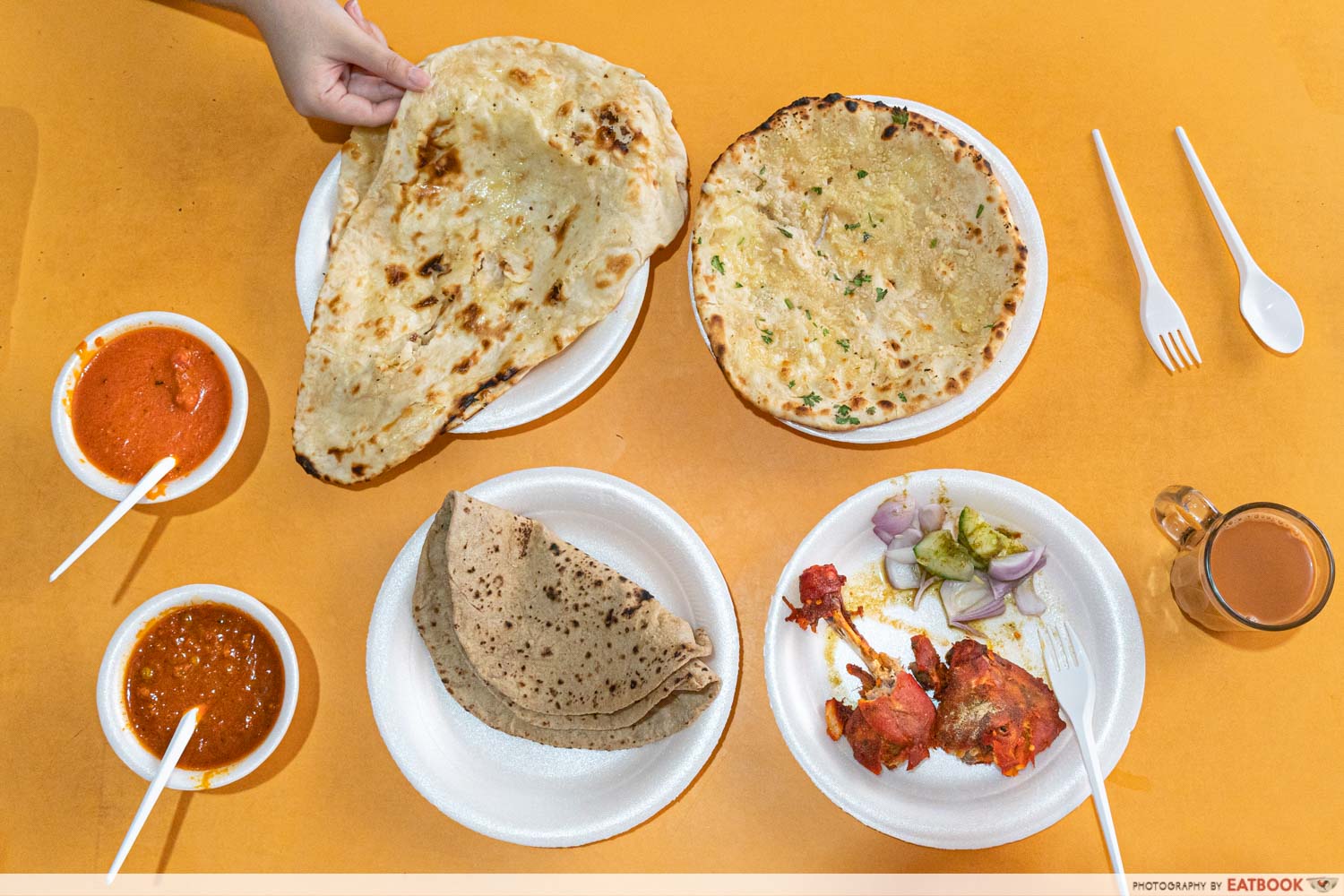 In the lovely world of flatbreads, there are so many delicacies such as roti prata and sourdough. While I haven't had the opportunity to try them all, one thing I can say for certain is that I've thoroughly enjoyed the naan that my dad's been buying from Delhi Lahori. This hawker stall specialises in Indian-Pakistani cuisine and is best known for their crispy charcoal-baked naan.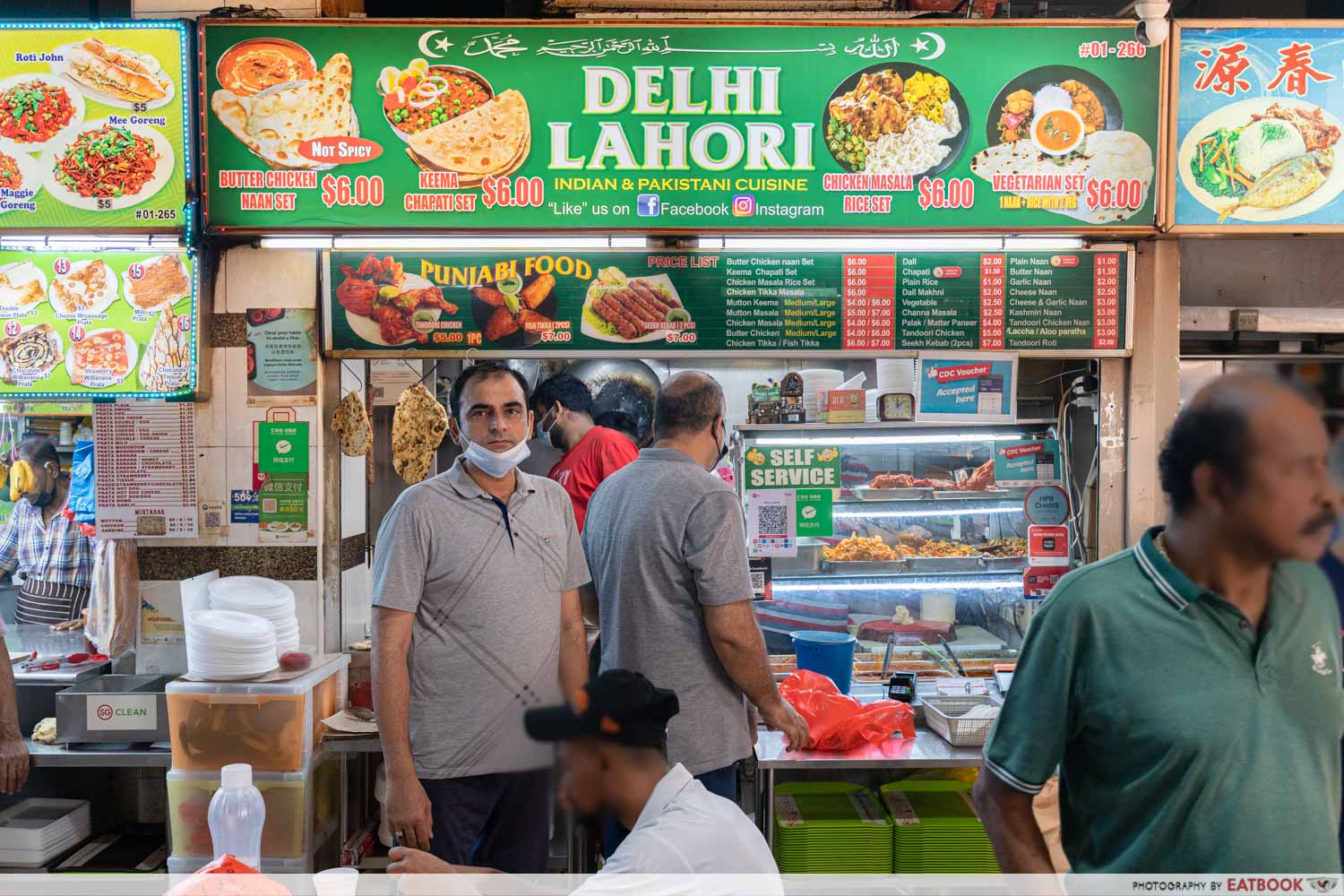 Delhi Lahori has been at Tekka Centre for six years, having previously relocated from Jurong East. They stand out from the plethora of Indian stalls in the hawker centre by baking their naan using traditional methods. This process involves rolling out the dough, flattening it, and then sticking it to the inner walls of an electric charcoal oven, AKA a tandoor. The intense heat creates air pockets in the dough as it bakes, resulting in a naan that is both fluffy and crispy. 
Here, you can also try other types of flatbreads including chapati and tandoori roti. Unlike naan, these are not made with yeast, resulting in thinner and denser flatbreads. Chapati is also usually cooked on a grill, while tandoori roti is cooked in a tandoor.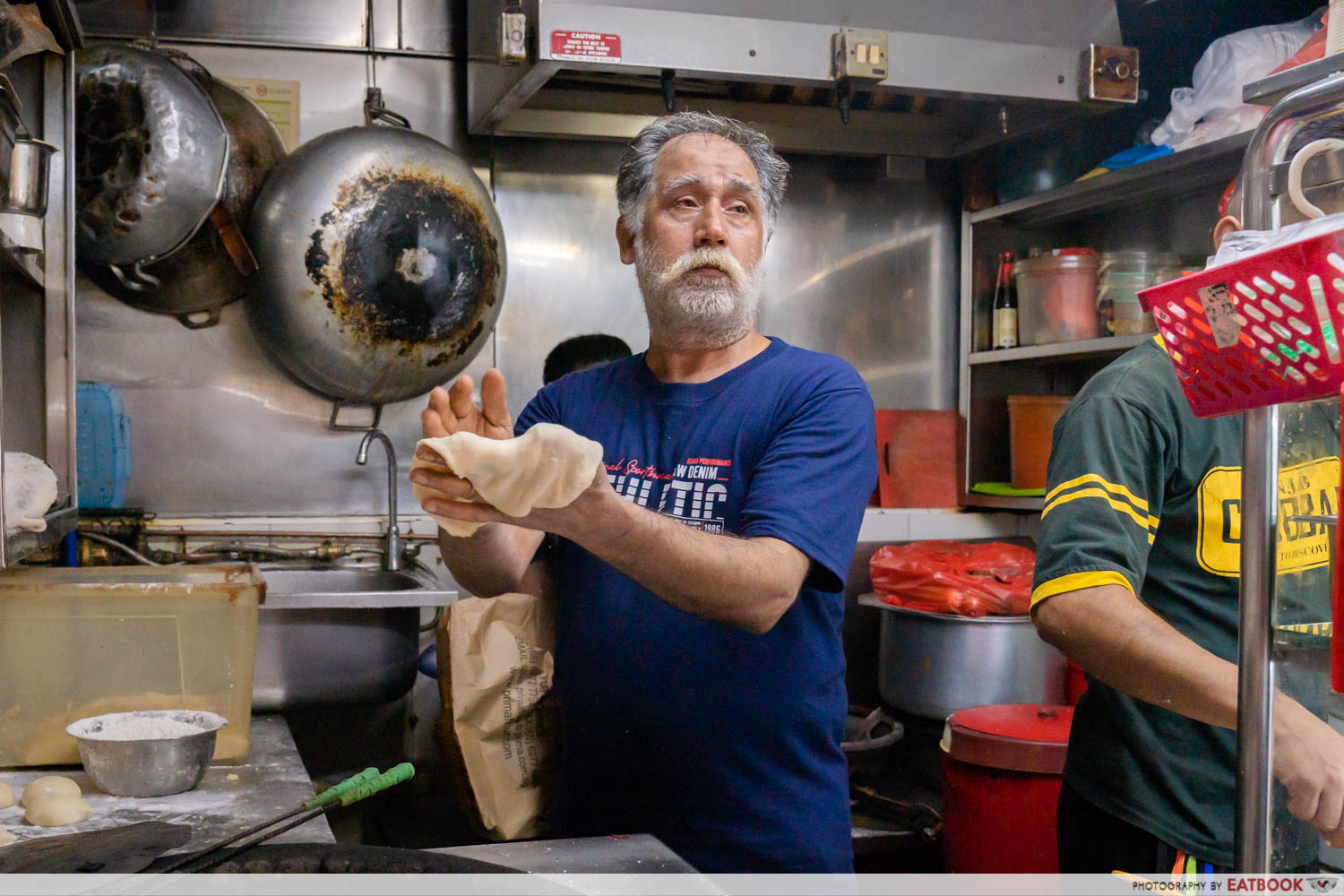 When I asked the stallkeepers how I should differentiate between the Indian and Pakistani dishes on their menu, we were told that everything on the board could also be considered Pakistani dishes. With India and Pakistan sharing a border, it's no surprise that their cuisine would see overlaps. Regardless of which country the dishes hail from, the Delhi Lahori menu offers a diverse range of options, including vegetarian-focused dishes and spice-heavy creations.
Mohamed Javed Indian Muslim Food Review: Award-Winning Crispy Prata, Nasi Briyani And More In Sengkang
Food at Delhi Lahori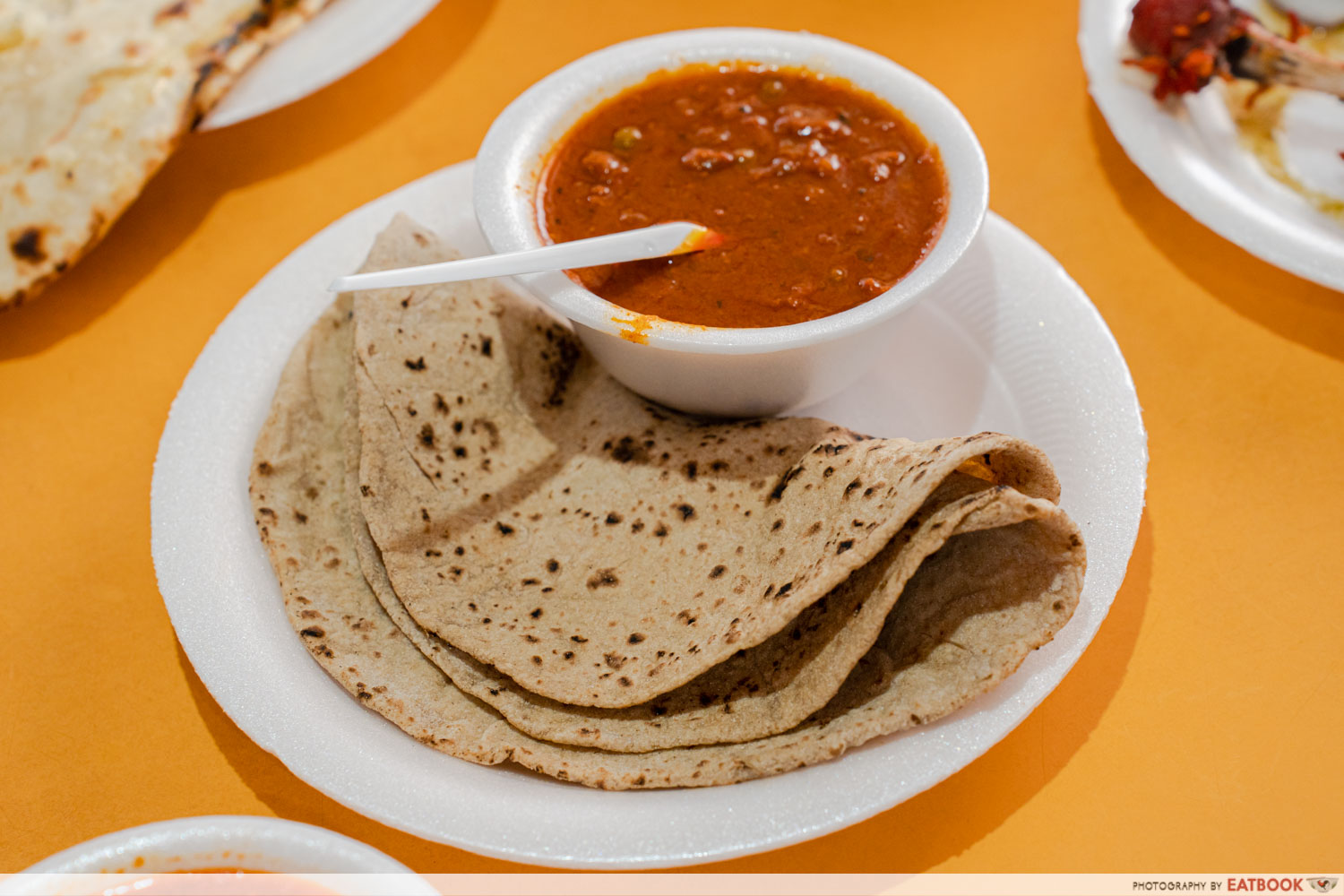 We started off with the Keema Chapati Set ($6) which features two large, traditional unleavened flatbreads and a mutton-based curry dish. Keema, which is a minced meat curry dish, is customarily prepared with minced mutton, though some stalls make it with beef. 
The mildly spicy keema dip was rich and spice-heavy, but there was a strong gamey taste that kicked in at the end. While my colleague loved this, we both agreed that the dish hardly contained a substantial amount of mutton, with only the occasional encounter of green peas. Perhaps I would enjoy keema made with beef instead, which in my experience usually turns out to be less gamey tasting.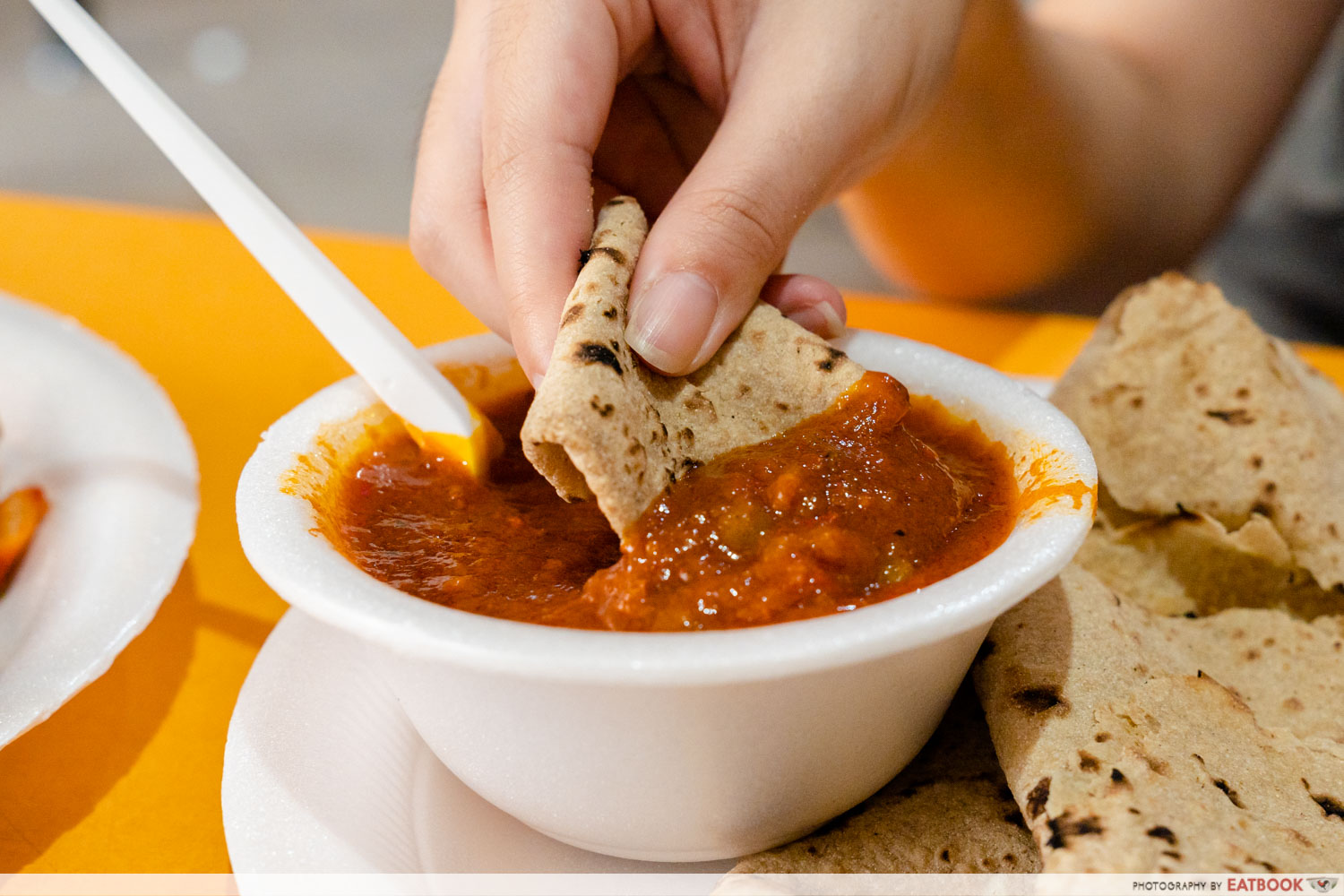 Meanwhile, the coarse chapati pieces were soft, with a slightly crisp exterior. We didn't find this particularly flavourful, except for a subtle nuttiness, but it was a good vehicle for the tasty curry.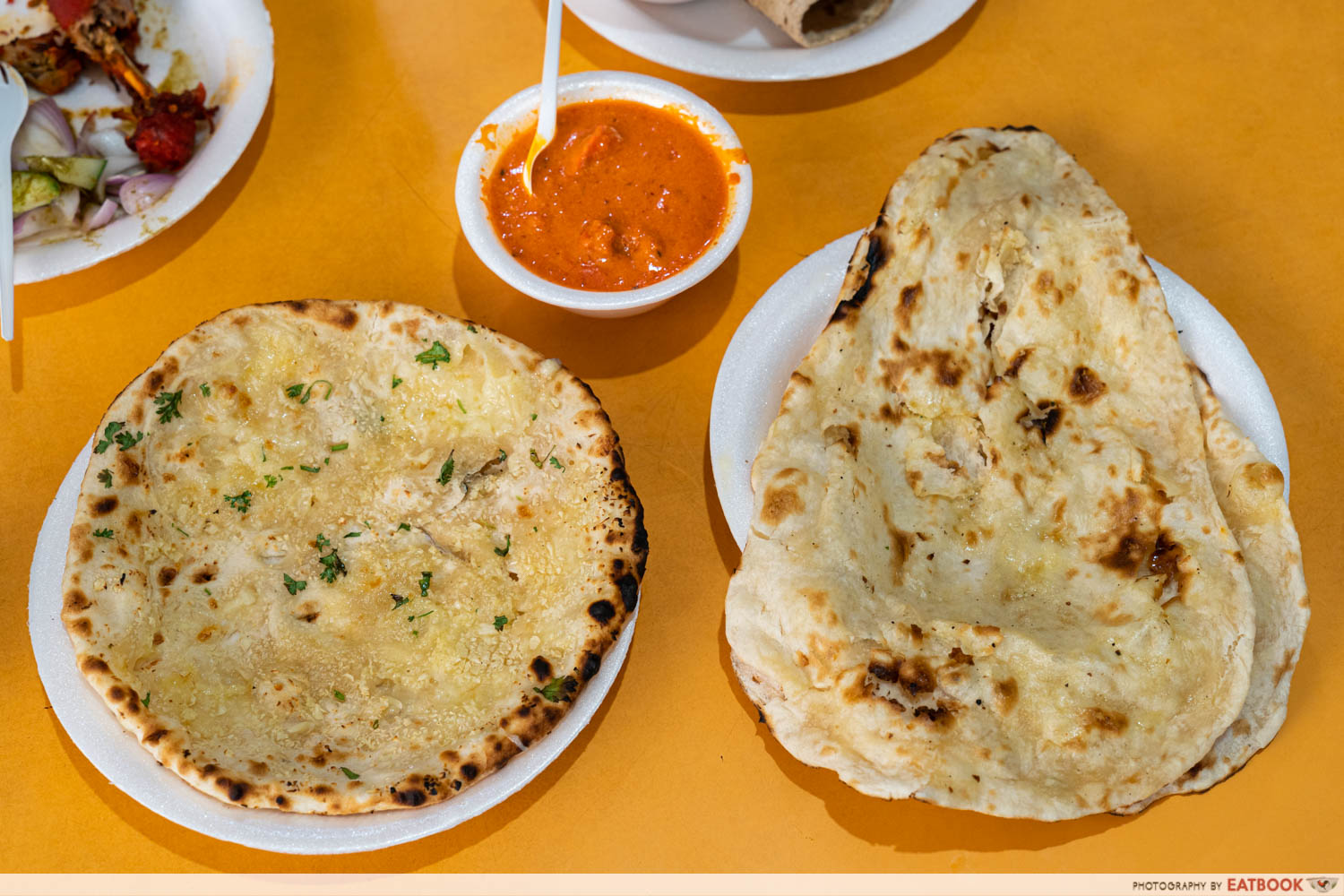 We moved on to the Butter Chicken Naan Set ($6), but we decided to swap its Plain Naan for Butter Naan (+$1), and added on a Cheese and Garlic Naan ($3).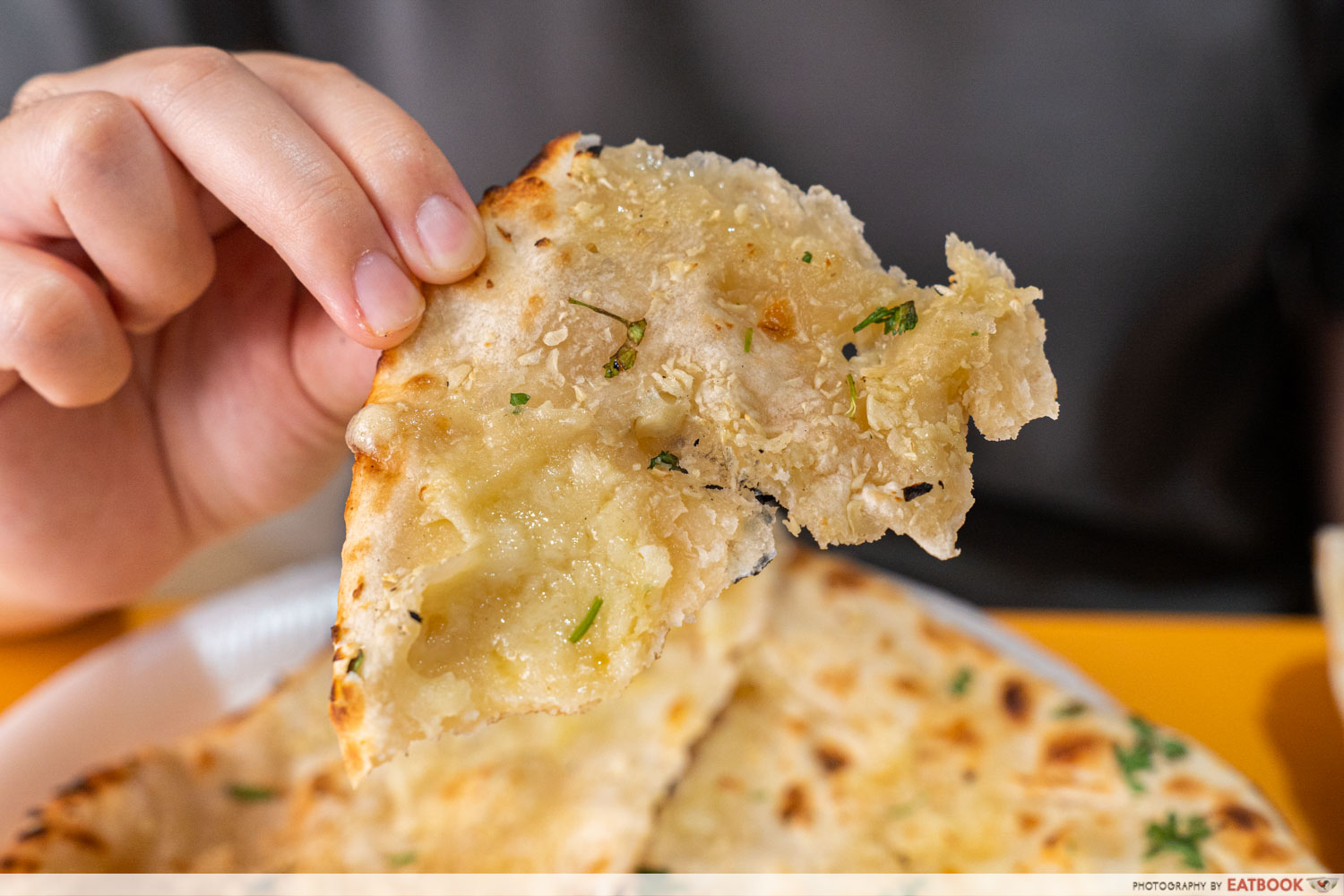 I found the cheese and garlic naan quite addictive, thanks to its tasty mix of garlicky and herby flavours, with occasional patches of cheese that made the bread even more savoury. The thin charred pieces were chewy, yet crispy on the outside, making them quite satisfying to enjoy on their own.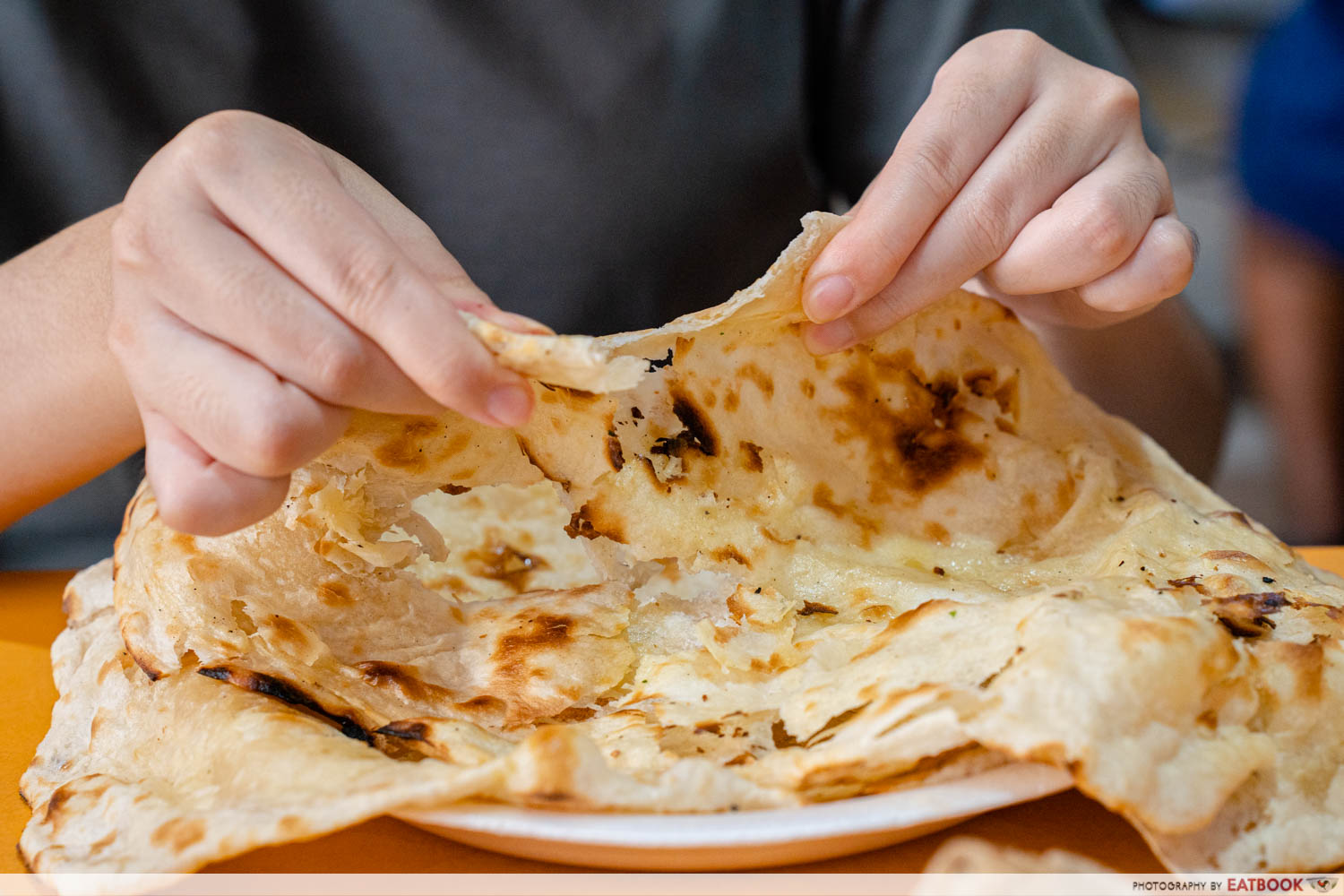 In contrast, I found the butter-slicked naan less flavourful. The parts of the naan that were not brushed with butter were also slightly dry. It was still satisfyingly crispy, however, and I found that this was more flaky than the previous naan, which wasn't a bad thing.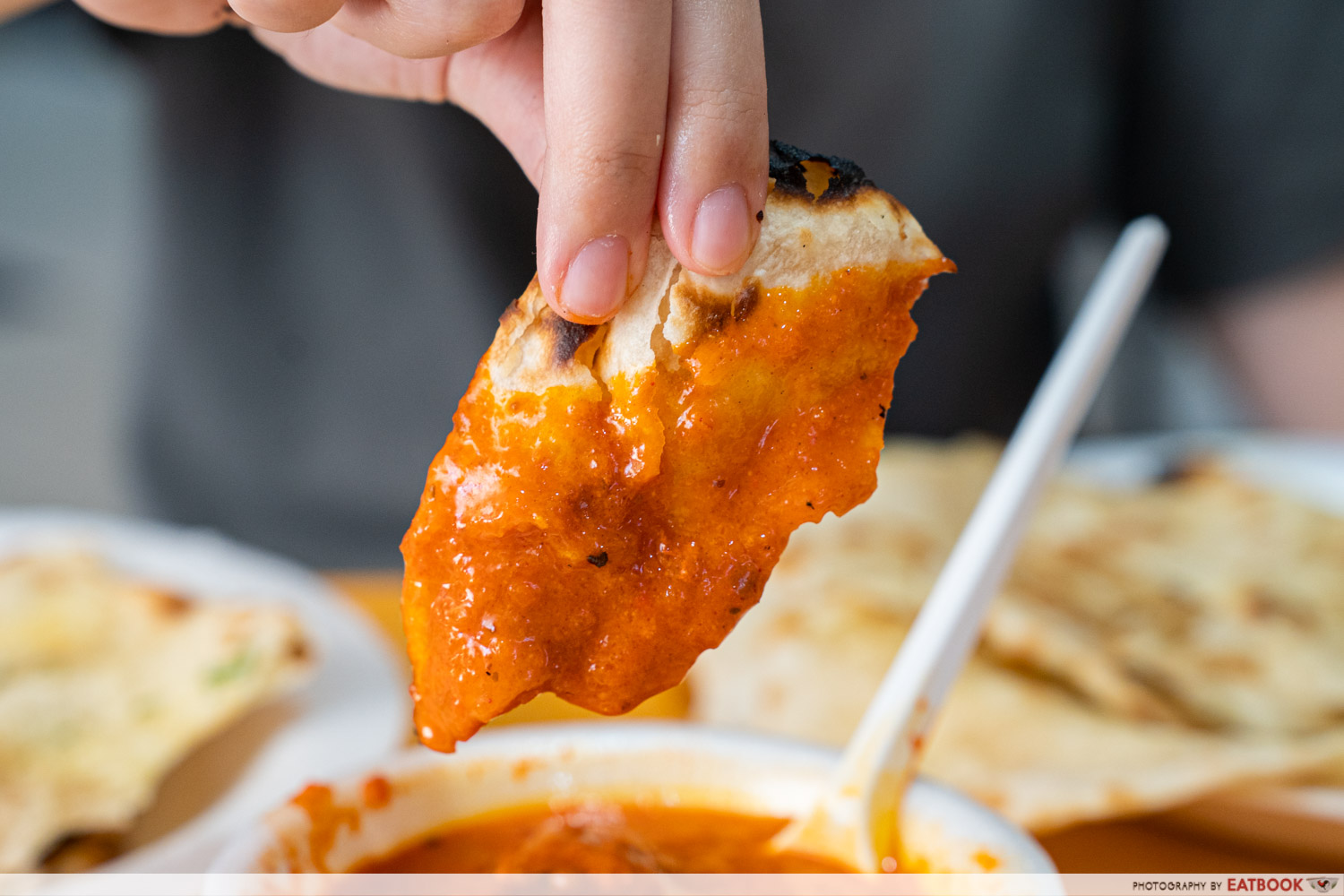 Dipping the flatbread into the butter chicken gravy definitely elevated the naan. The curry was rich in spices and paired well with the flavours of the cheese and garlic naan. It also made up for the lack of flavour in the butter naan. However, I didn't like that the curry was rather sweet, and it was not as creamy as I'd have liked it to be.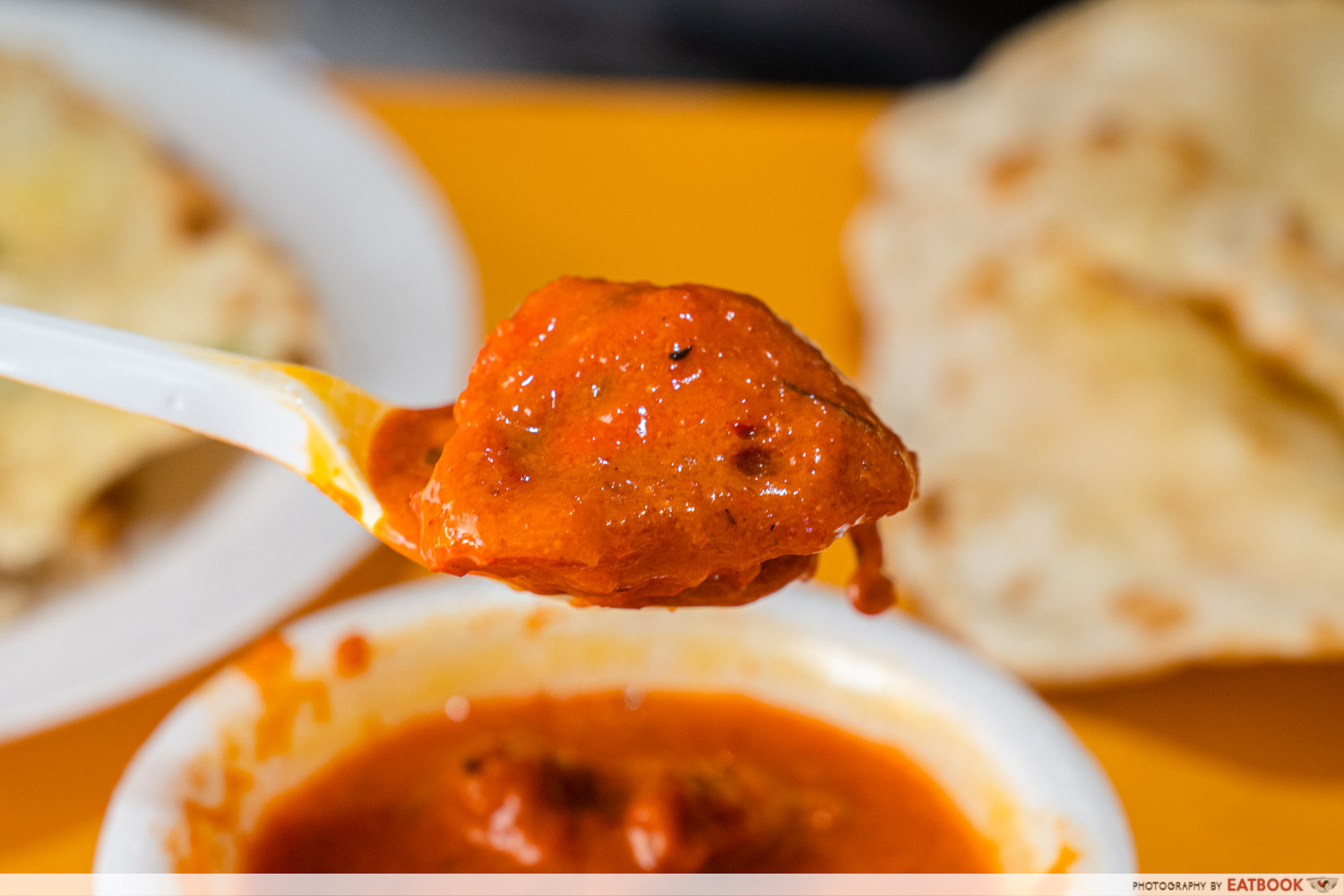 The curry featured several chunks of boneless chicken, all of which were tender and chock full of gravy, providing each bite with a burst of flavour.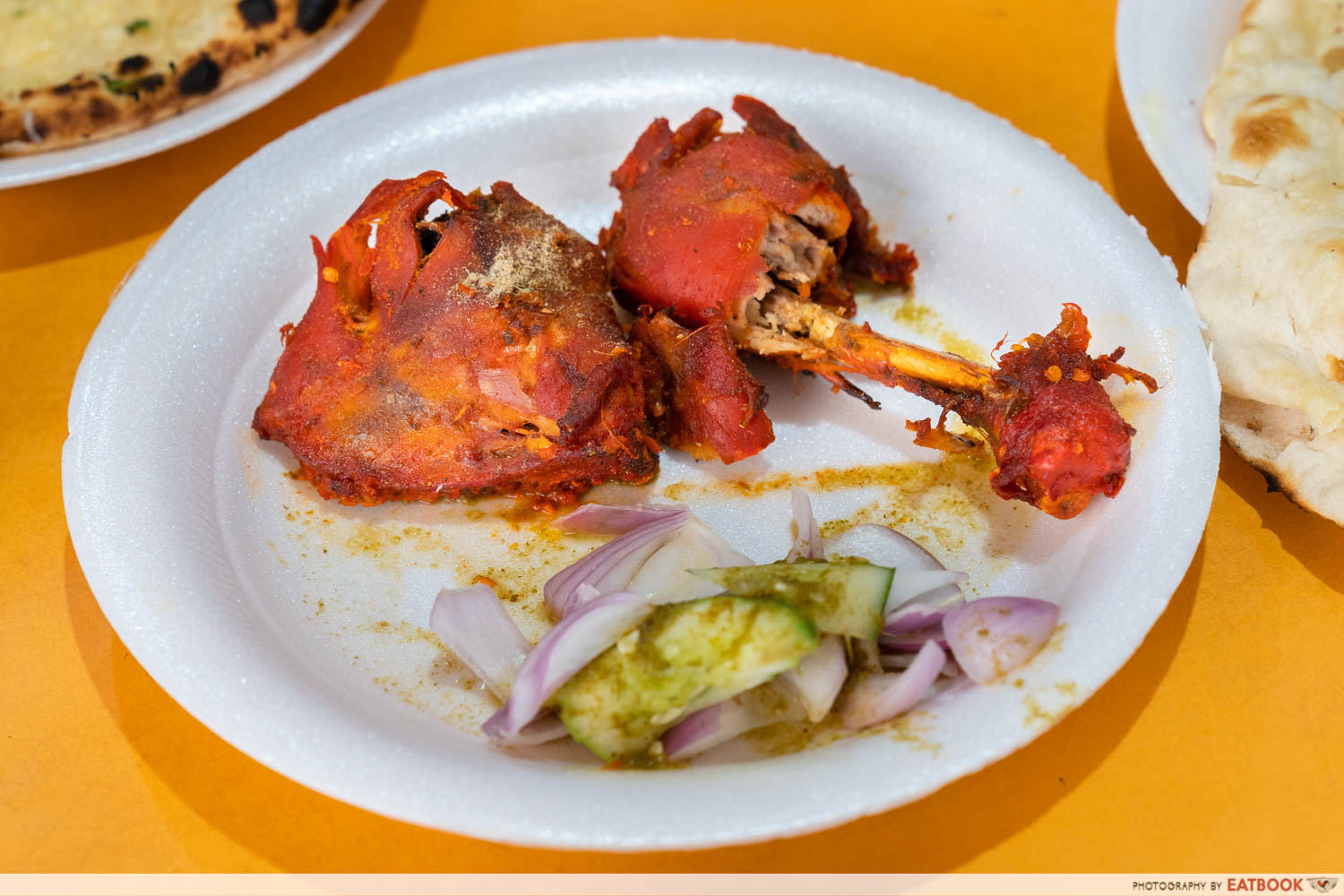 Lastly, we ordered the Tandoori Chicken ($5), a widely popular dish that's marinated in yoghurt and spices, before it's roasted in the oven.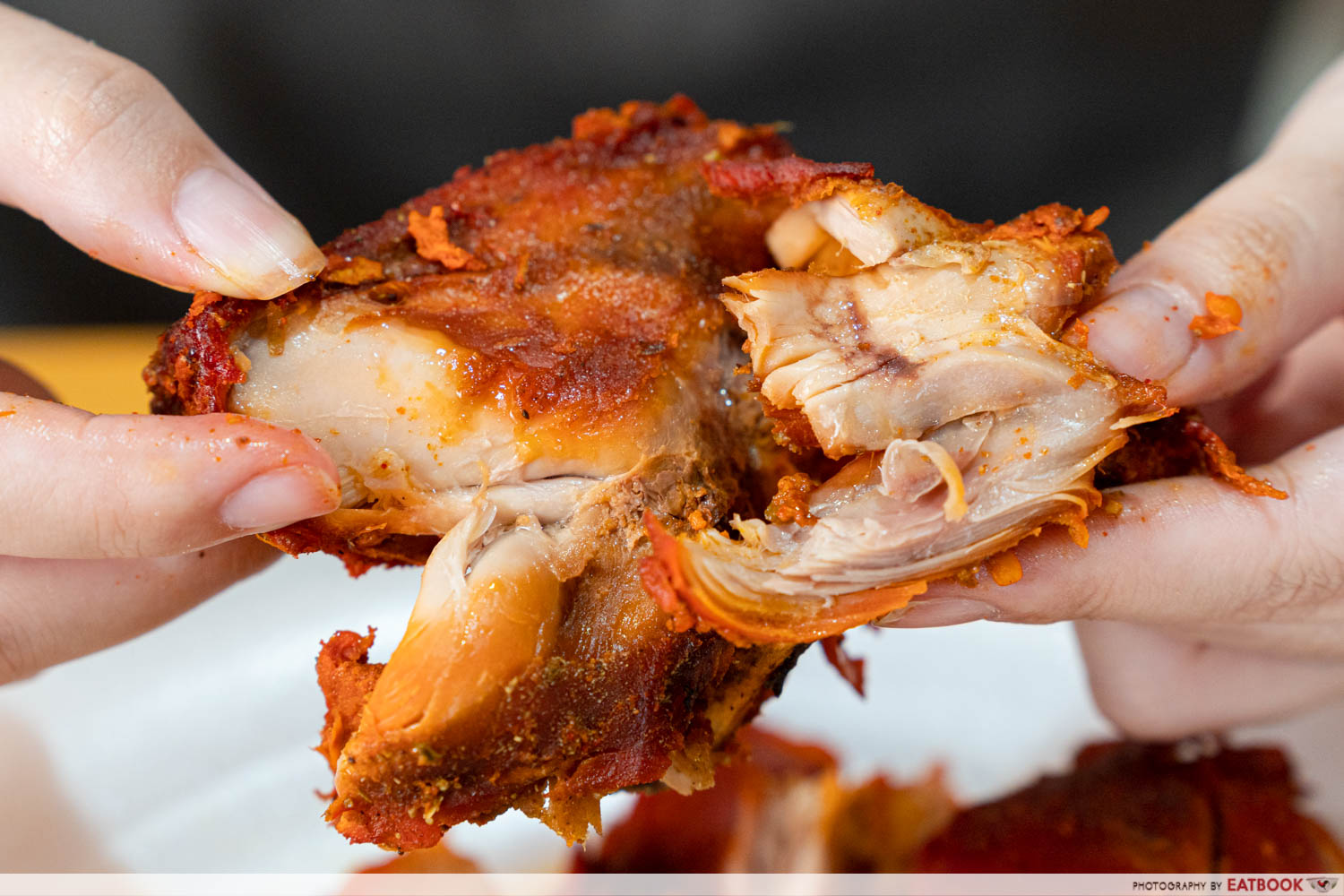 The chicken was memorable for its smoky and robust flavours. While the meat was tender, we both agreed that it was slightly dry. Nevertheless, I thought this was even more appetising than the butter chicken. 
This Stall Has $1.50 Scallion Oil Noodles And Unique Ladle Cakes At Tekka Centre
Ambience at Delhi Lahori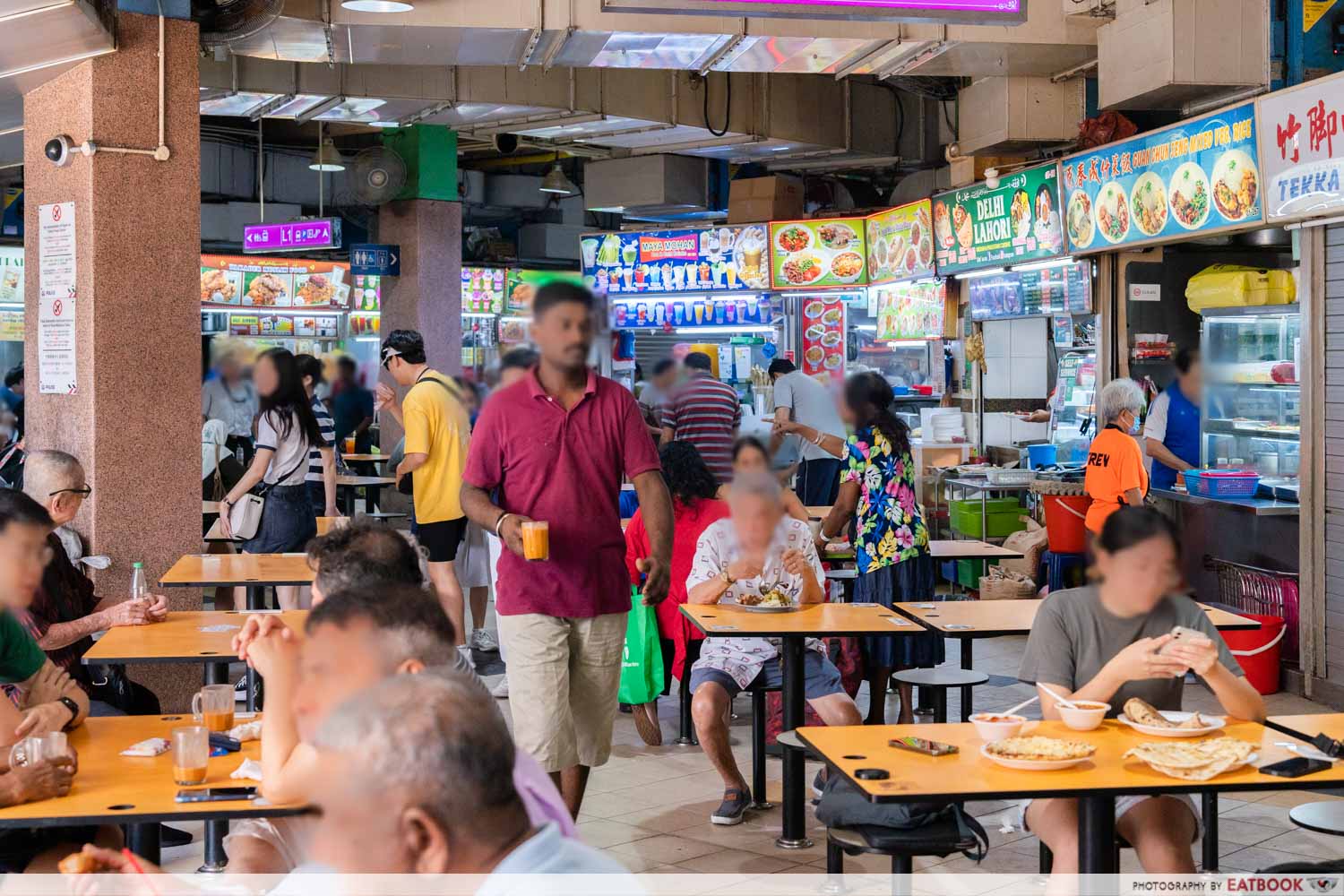 Tekka Centre is a stone's throw away from Little India MRT Station. There was quite a crowd at 11am, but we managed to secure a table among the unoccupied ones scattered across the place. 
The hawker centre is not the most polished looking but you'd still be able to dine comfortably with fans installed in different spots to help with the heat in Singapore. 
The verdict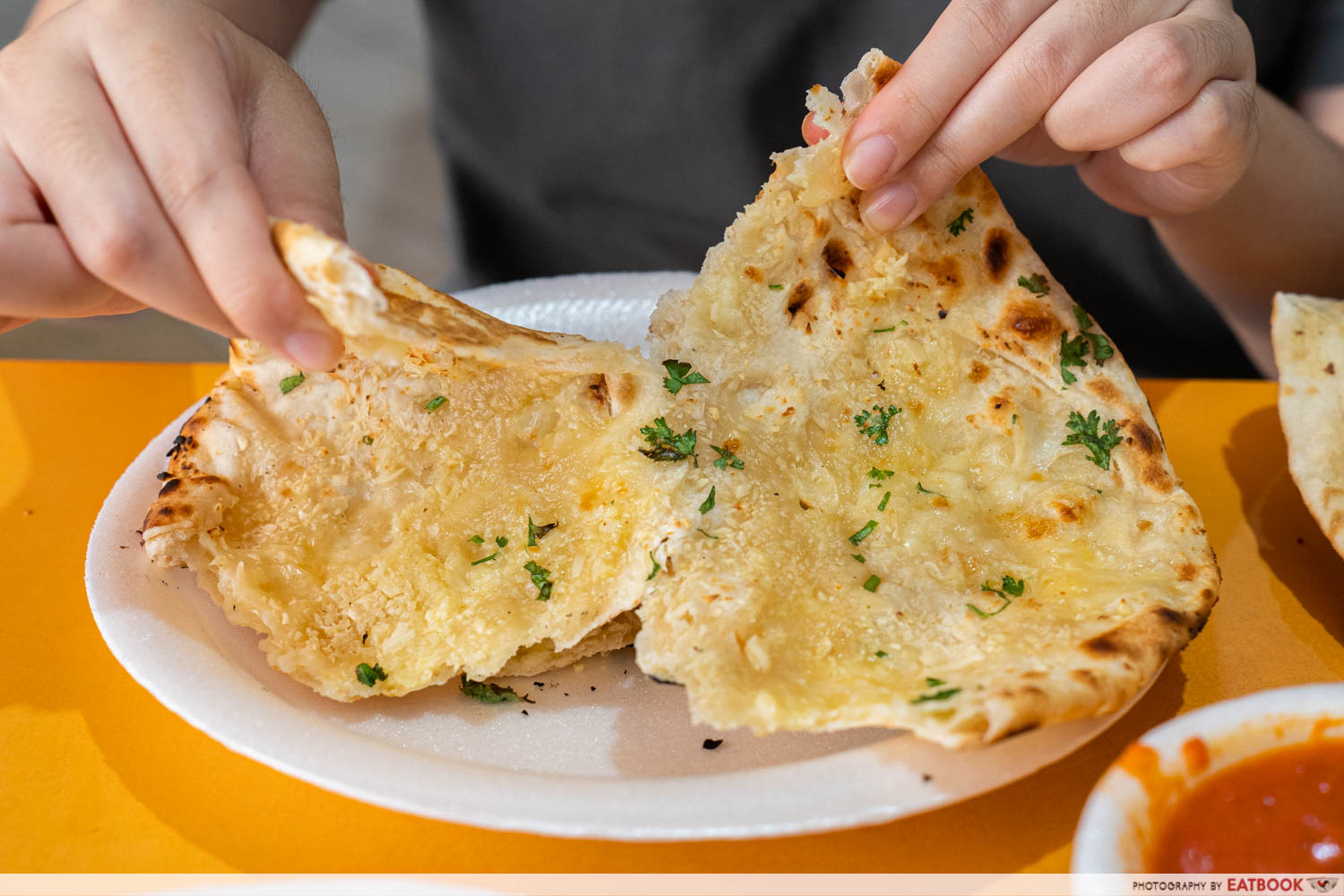 Both my colleague and I enjoyed our hearty and affordable meal here, and we'd definitely recommend this stall to anyone seeking tasty Indian and Pakistani fare. Even if it's your first visit, we encourage you to have an open mind and try the items we've recommended. Personally, I'll continue to look forward to my dad dabao-ing food from here! 
For more food options in Tekka Centre, check out Chuan's Ladle for their cheap scallion oil noodles and ladle cakes. Alternatively, you can also explore our guide to the best Indian restaurants in Singapore, with crab masala and vegetarian platters. 
Address: 655 Buffalo Road, #01-266, Tekka Centre, Singapore 210665
Opening hours: Daily 9am to 11pm
Website
Delhi Lahori is a Muslim-owned eatery.
12 Best Indian Restaurants In Singapore For Tandoori Chicken, Crab Masala And Vegetarian Platters
Photos taken by Rifdi Syahir.
This was an independent review by Eatbook.sg
Delhi Lahori Review: Handmade Naan With Butter Chicken And More From $6
Delhi Lahori Review: Handmade Naan With Butter Chicken And More From $6 -

8/10
Summary
Pros
– Most dishes are tasty and reasonably priced
– Fast service
– Convenient location
Cons
– Butter Chicken is too sweet
– Butter Naan is not that flavourful 
Recommended dishes: Cheese & Garlic Naan ($3), Butter Chicken (from $4), Mutton Keema (from $4)
Opening hours: Daily 9am to 11pm
Address: 655 Buffalo Road, #01-266, Tekka Centre, Singapore 210665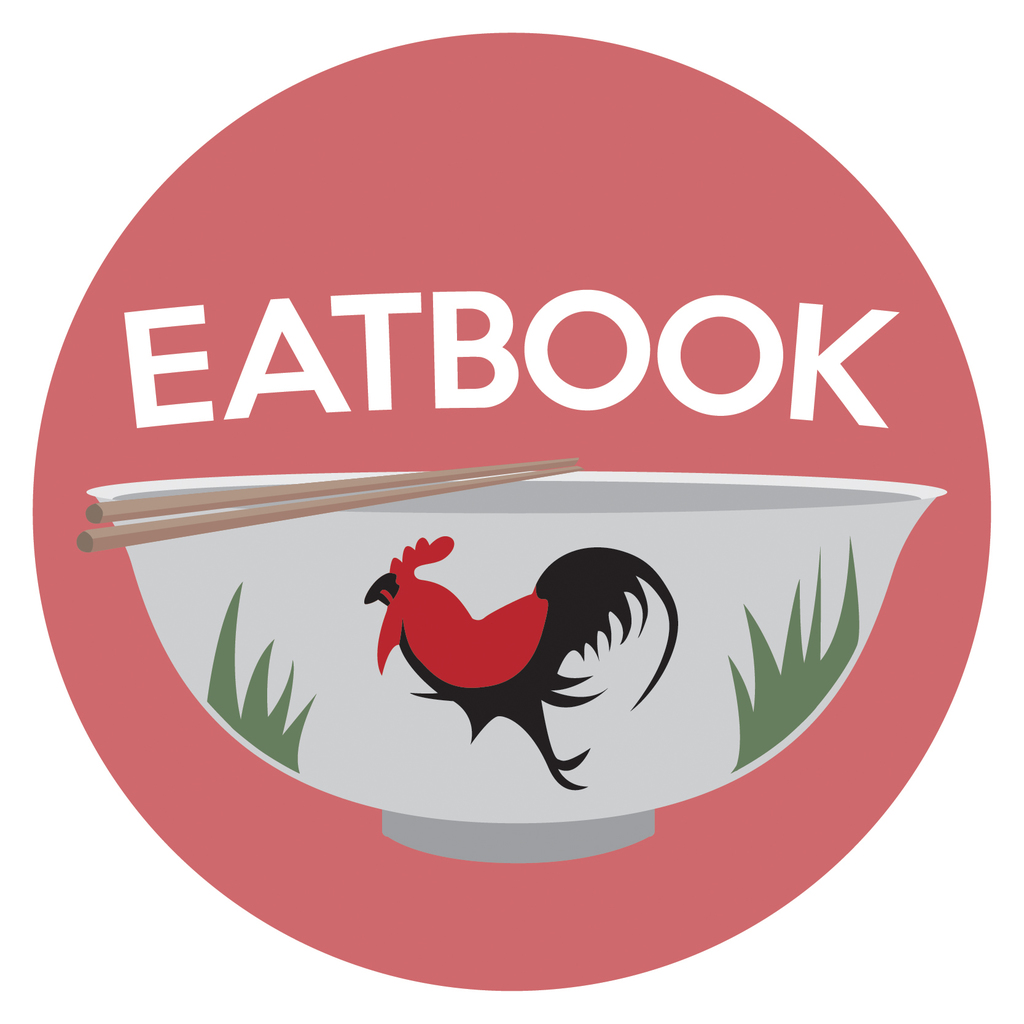 Drop us your email so you won't miss the latest news.