---
Tarts that could be your new favourite dessert
---
Singaporeans are all for a good dessert, but it's sad how tarts are underrated despite their crumbly biscuit bases, smooth fillings and adorable aesthetics. Here is a list of cafes and restaurants offering tarts that prove they deserve the same love we give cupcakes and macarons.
---
1. Mount Fuji
---
Mount Fuji ($7) from Two Bakers is a novel take on incorporating Japanese flavours into a French tart. This dessert comprises a chocolate crust, matcha white chocolate ganache, azuki beans and fluffy whipped cream. Like most Japanese desserts, this tart has delicate flavours and textures to ensure it's light on the palate. If you aren't a fan of matcha, Two Bakers also offers other flavours such as Key Lime Tart ($7) and Le Chocolat Noir ($8.80).
Address: 88 Horne Road, Singapore 209083
Opening hours: Sun-Mon 9am to 6pm, Wed-Thur 9am to 6pm, Fri-Sat 10am to 10pm
Tel: 6293 0329
Website
Menu
---
2. Peanut Butter Raspberry Tart
---
TARTE creates tarts that are picture-perfect and a great example is their Peanut Butter Raspberry Tart ($10). Though it is inspired by the homely peanut butter and jelly sandwich, the tart itself is both refined and dainty. This carefully constructed dessert is made of fluffy peanut butter mousse, raspberry jam and peanut feuilletine AKA praline-like flakes for an added crunch. TARTE also carries other flavours such as Apple Crumble ($9), Pandan Coconut ($9) and Pink Praline ($9).
Address: 1 Scotts Road, #01-12, Shaw Centre, Singapore 228208
Opening hours: Daily 10:30am to 7:30pm
Tel: 6235 3225
Website
Menu
---
3. Chicky Mango Tart
---
This Chicky Mango Tart ($7.50) from Tart Blanc looks as adorable as it is delicious. It is made of lychee mochi cake, white chocolate coconut cream filling, and glazed mango mousse. These fluffy, light components act as a contrast to the crumbly biscuit base, giving the dessert more texture. Though the looks of this dessert is incentive enough to order it, it doesn't hurt that it also packs a punch in flavour.
Address: 9 Raffles Boulevard, Millenia Walk, Singapore 039596
Opening hours: Daily 10am to 8pm
Tel: 8381 2144
Website
Menu
---
4. Bean Curd Tart
---
The signature Bean Curd Tarts ($9 for eight tarts) from Le Cafe Confectionary and Pastry are a familiar spin on egg tarts. The bean curd filling is smooth and silky, taking on the delicate taste of soybeans. This light filling balances out the rich buttery crust. They also offer an assortment of tarts in other flavours, such as Grass Jelly and Longan ($11 for eight tarts).
Address: 264 Middle Road, David Elias Building, Singapore 188990
Opening hours: Mon-Sat 10:30am to 7pm, Sun & PH 10:30am to 4pm
Bean curd tarts are only available after 1pm.
Tel: 6337 2417
Website
Full list of outlets

---
5. Tiramisu Tart

---
If you like tiramisu as much as I do, this Tiramisu Tart ($8.50++) from Pantler could be the dessert you never knew you needed. This tart is a slightly tweaked version of tiramisu, with white chocolate ganache, mascarpone cheese and espresso as its components. Instead of entirely taking on the soft, pillowy texture traditional tiramisu has, the crunchy pastry base of this tart adds another layer of goodness to the dessert.
Address: 198 Telok Ayer Street, Singapore 068637
Opening hours: Mon-Fri 9:30am – 7pm, Sat 11am-5pm
Tel: 6221 6223
Website
Menu
---
6. Lemony Snicket
---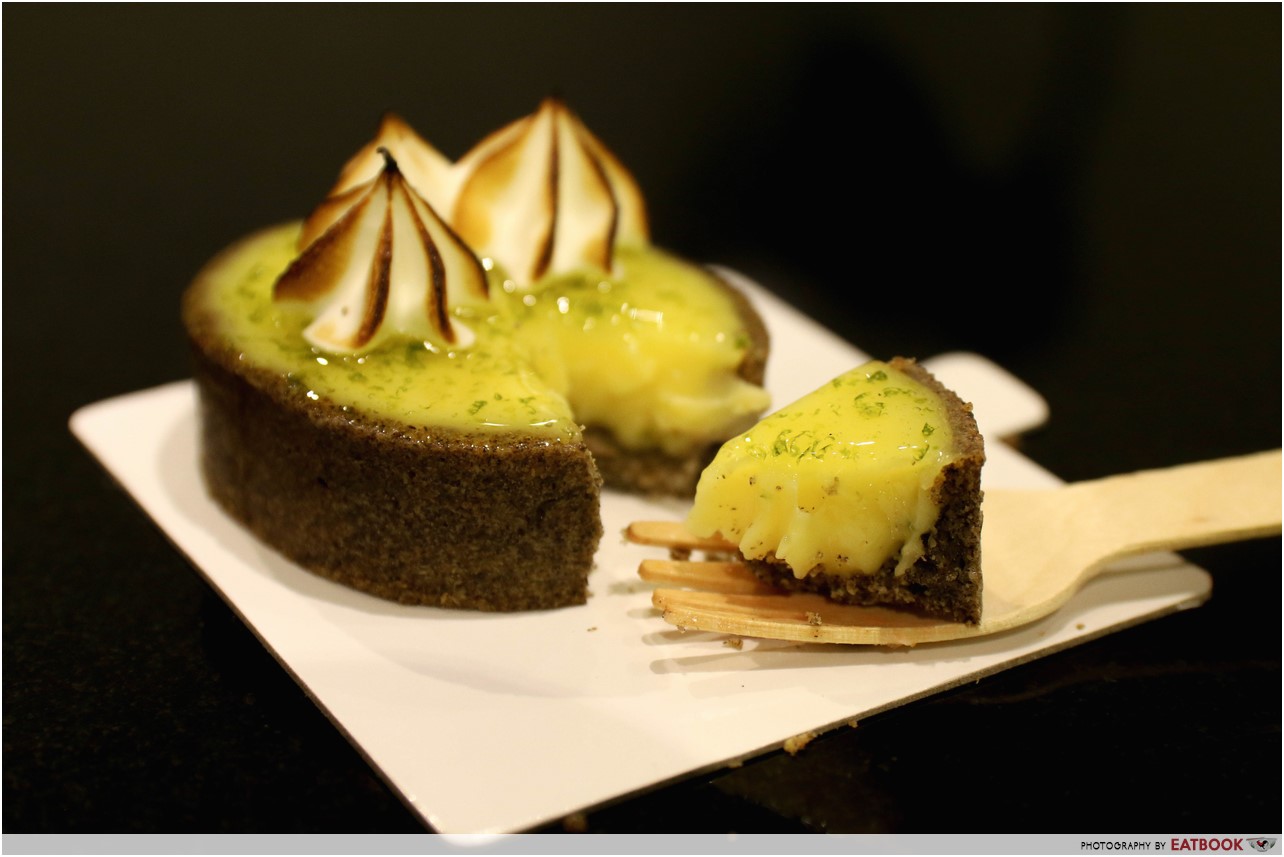 Lemon meringue is a classic tart flavour and Butterknife Folk's version is called Lemony Snicket ($8). But don't worry, contrary to its name, this tart won't be an unfortunate event. The graininess of the buckwheat tart along with its deep, roasted flavour balances out the sourness of the smooth filling. Even the thickness of this tart crust complements the potent punch of citrus well. For those who like their desserts more tart (pun totally intended) than sweet, this is for you.
Check out our full review of Butterknife Folk.
Address: 238 River Valley Road, Singapore 238296
Opening hours: Mon-Fri 10am to 8pm, Sat 10am to 9pm
Tel: 6734 7855
Website
Menu
---
7. Chocolate Sea Salt Tart With Bailey Cream / White Chocolate Durian Tart

---
Suzette offers a handful of luscious tarts on their menu, including a classic Lemon Meringue Tart ($6) as well as a rich Chocolate Sea Salt Tart with Bailey Coffee Cream ($6). Increase your budget by a little to get this White Chocolate Durian Tart ($12) made of fresh D24 durian purée, white chocolate ganache and torched meringue. The sweet meringue and white chocolate go well with the bittersweet durian filling. The cafe is also located in Esplanade Mall, which means you get to enjoy durian in the form of a durian-shaped tart in a durian-shaped building – talk about #durianception.
Address: 8 Raffles Avenue, #01-13E, Esplanade Mall, Singapore 039802
Opening hours: Mon-Tue 12pm to 7pm, Wed-Thur 12pm to 10pm, Fri-Sat 12pm to 11pm, Sun 12pm to 9:30pm
Tel: 9652 5092
Website
Menu
---
8. Key Lime Tart

---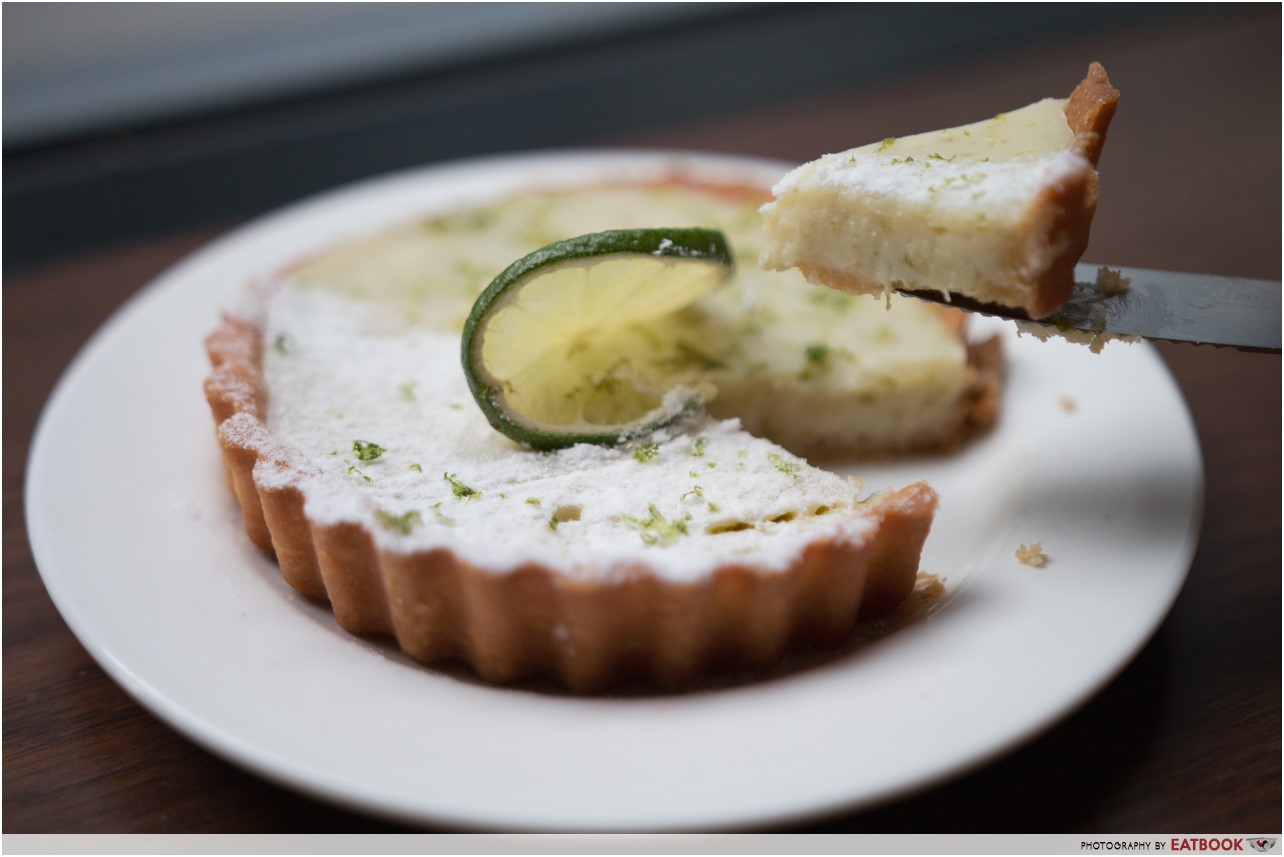 If you're getting sick of the common lemon meringue tart, the Key Lime Tart ($7) from Bread Yard is another great alternative. This dessert is made of a thick pastry crust and lime curd. The curd even has tangy bits of lime pulp to add texture. This refreshing dessert isn't overly sour, nor is it cloying. The silky filling is a good blend of sweetness and citrusy flavour, perfect for those of you who enjoy desserts on the sour side.  
Check out our full review of Bread Yard.
Address: 1 Fusionopolis Place, #01-23/24, Galaxis, Singapore 138632
Opening hours: Mon-Fri 8am to 7:30pm, Sat 9am to 2:30pm
Tel: 9773 5318
Website
Menu
---
9. Earl Grey Chocolate Tart
---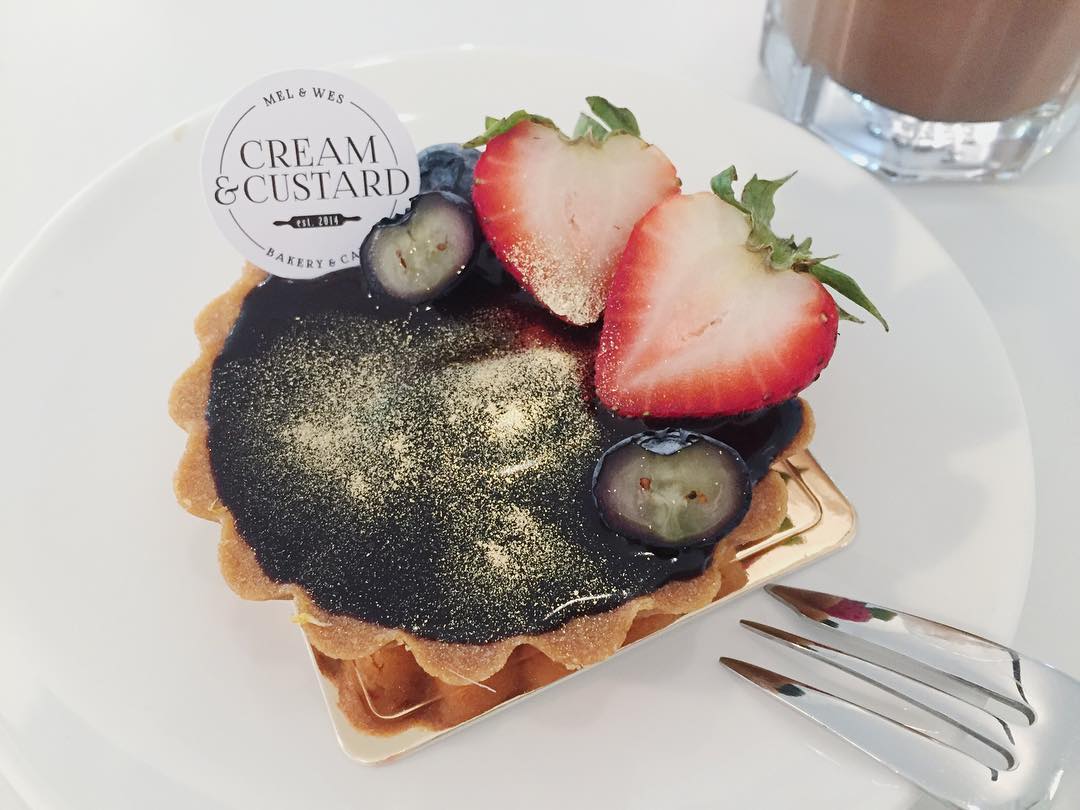 Source

Cream and Custard is known for their intricate cakes, but they offer a range of tarts as well. Their Earl Grey Chocolate Tart ($5.80) combines the earthy, aromatic flavour of Earl Grey tea with smooth Valrhona dark chocolate ganache. The tart is also topped with berries for added freshness and a pop of colour. If one tart is not enough, you can also get other flavours such as Crème Brûlée Tart ($5.60) and Salted Caramel Chocolate Tart ($5.80).
Check out our full review of Cream and Custard.
Address: 46 Jalan Bukit Ho Swee, #01-894, Singapore 160046
Opening hours: Mon-Sat 11am to 7pm
Tel: 9111 8696
Website
Menu
---
10. Gelato tart
---
At Geometry, you can take your tart experience to new heights – literally – by adding scoops of gelato ($3.20 for single, $5.50 for double, $2.50 for subsequent scoops). The tart ($9.90) itself is served warm and has a crisp outer layer encasing a chewy, buttery centre. A small ball of salted caramel floss adds more sweetness to the dessert while the creamy gelato adds richness to the buttery tart. The recommended flavours to pair with your tart are the classic Pistachio as well as the premium Earl Grey Tie Guan Yin.
Check out other creative ice-cream desserts in Singapore.
Address: 2 Jalan Bukit Merah, #01-5142, Singapore 150002Opening hours: Sun-Thur 12pm to 9:30pm, Fri-Sat 12pm to 11pm
Tel: 6255 6366
Website
---
A work of tart
---
It's about time tarts received the love they deserve. Tell us which of these adorable tarts won you over in the comments below!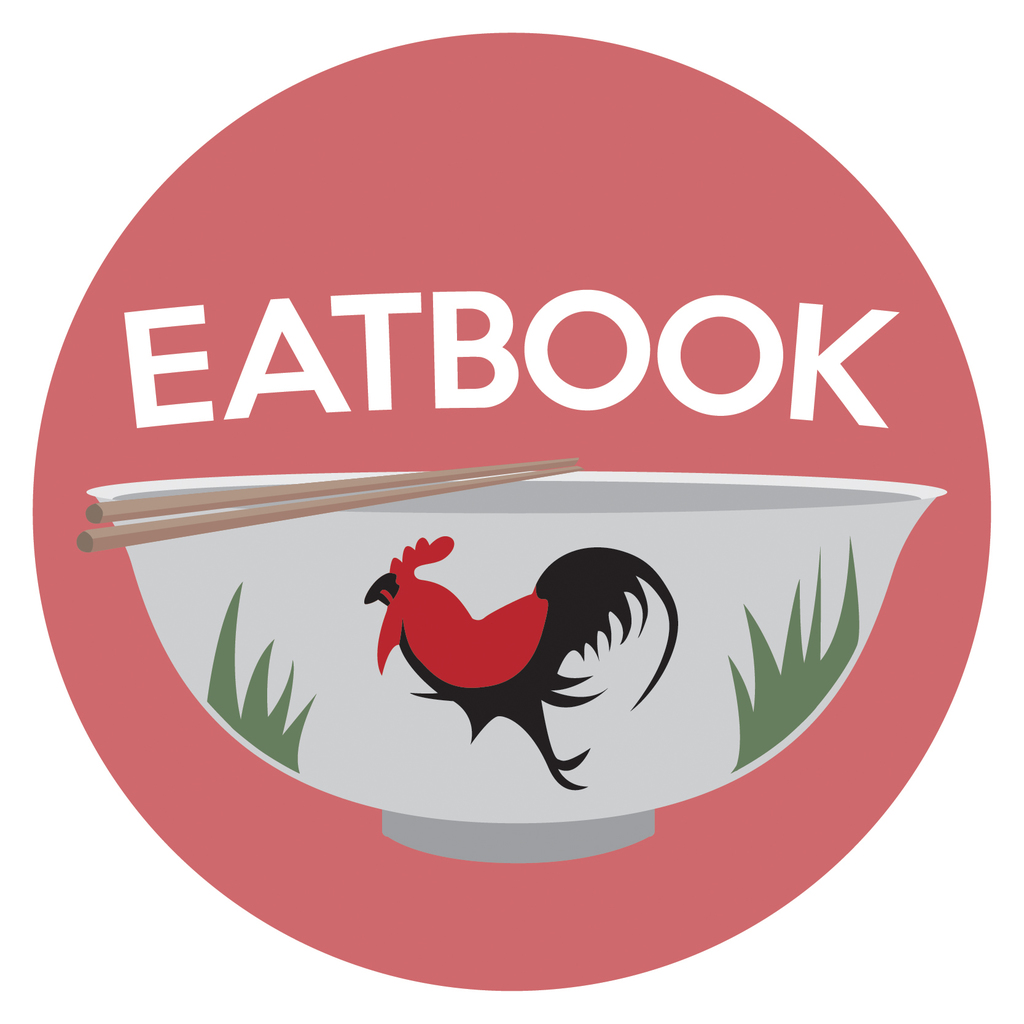 Drop us your email so you won't miss the latest news.