Din Kee Beef Noodle in JB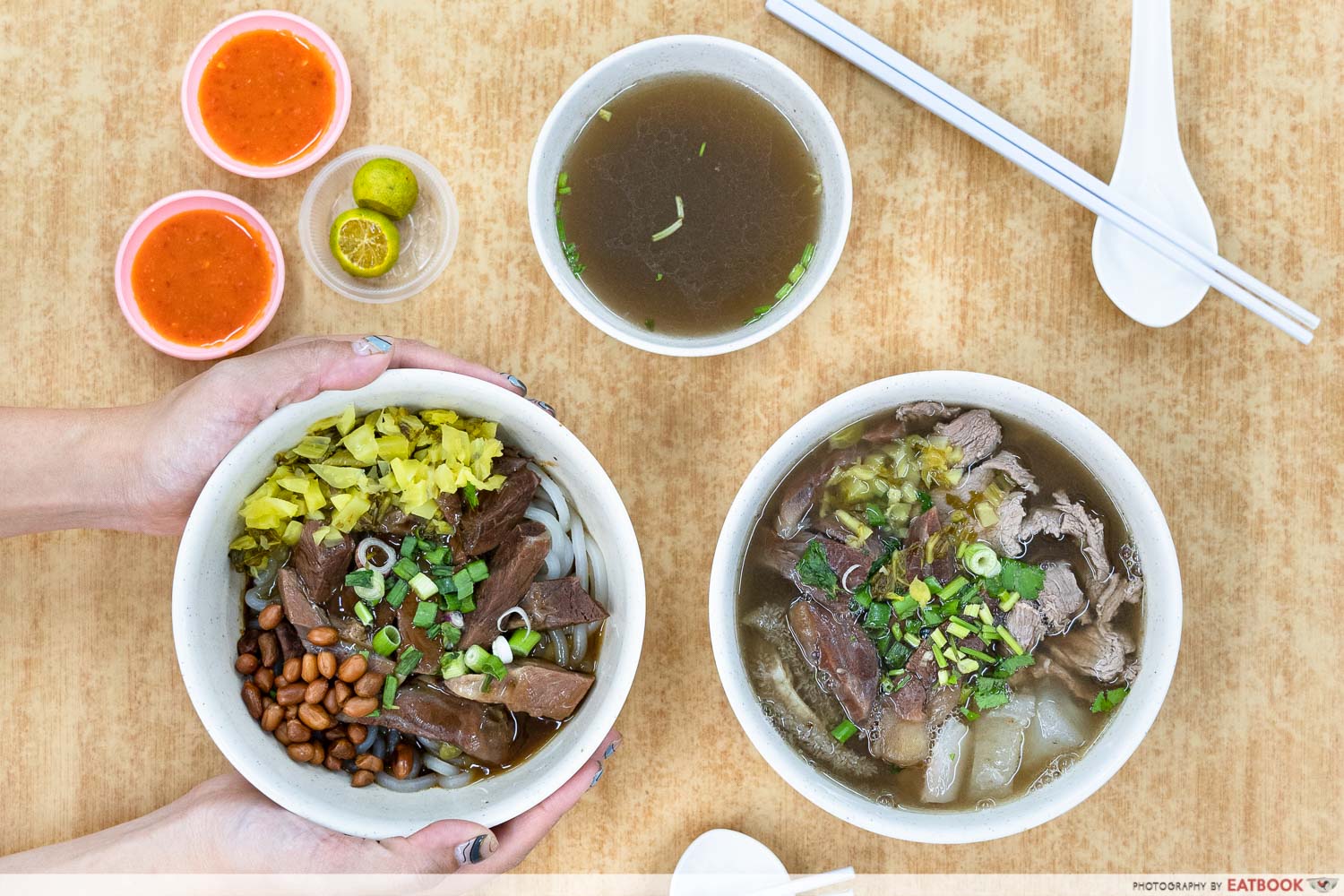 When we saw a photo on Instagram of the dry beef noodles at Din Kee Beef Noodle in JB, we knew we had to pay them a visit. Although they've not been around for that long—they only opened in 2007, or 15 years ago—they've made a name for themselves as one of, if not the best, beef noodles around, prepared with a beef broth that's boiled each day for five hours, at the very least.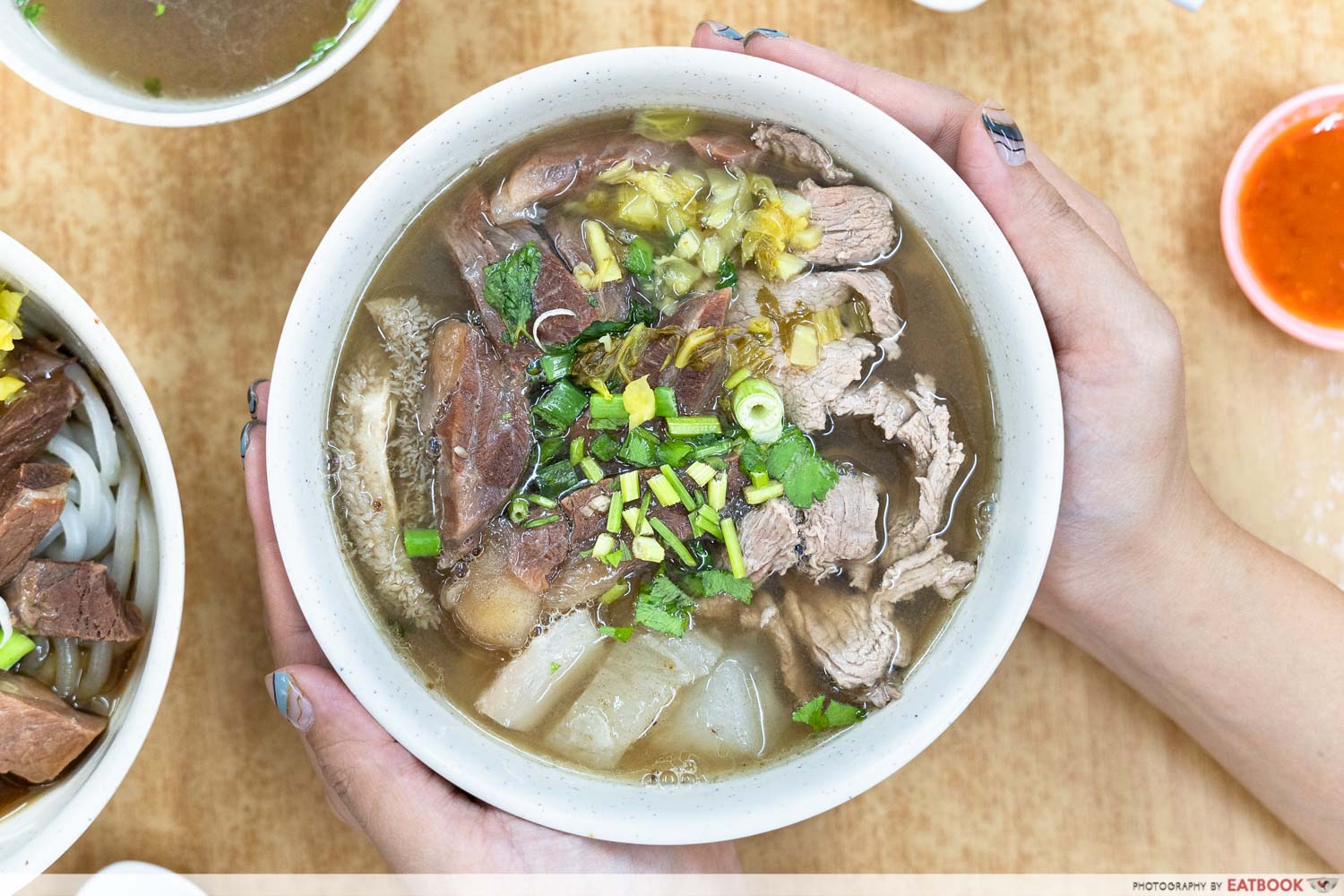 Choose to have your order in soup, or dry. Whichever you choose, it is priced according to the beef bits you pick in your bowl. Prices start from RM8.50/~S$2.80 for the simplest bowls of Braised Meat, or Braised Meat + Tripe. Do note that prices are due to be revised upwards.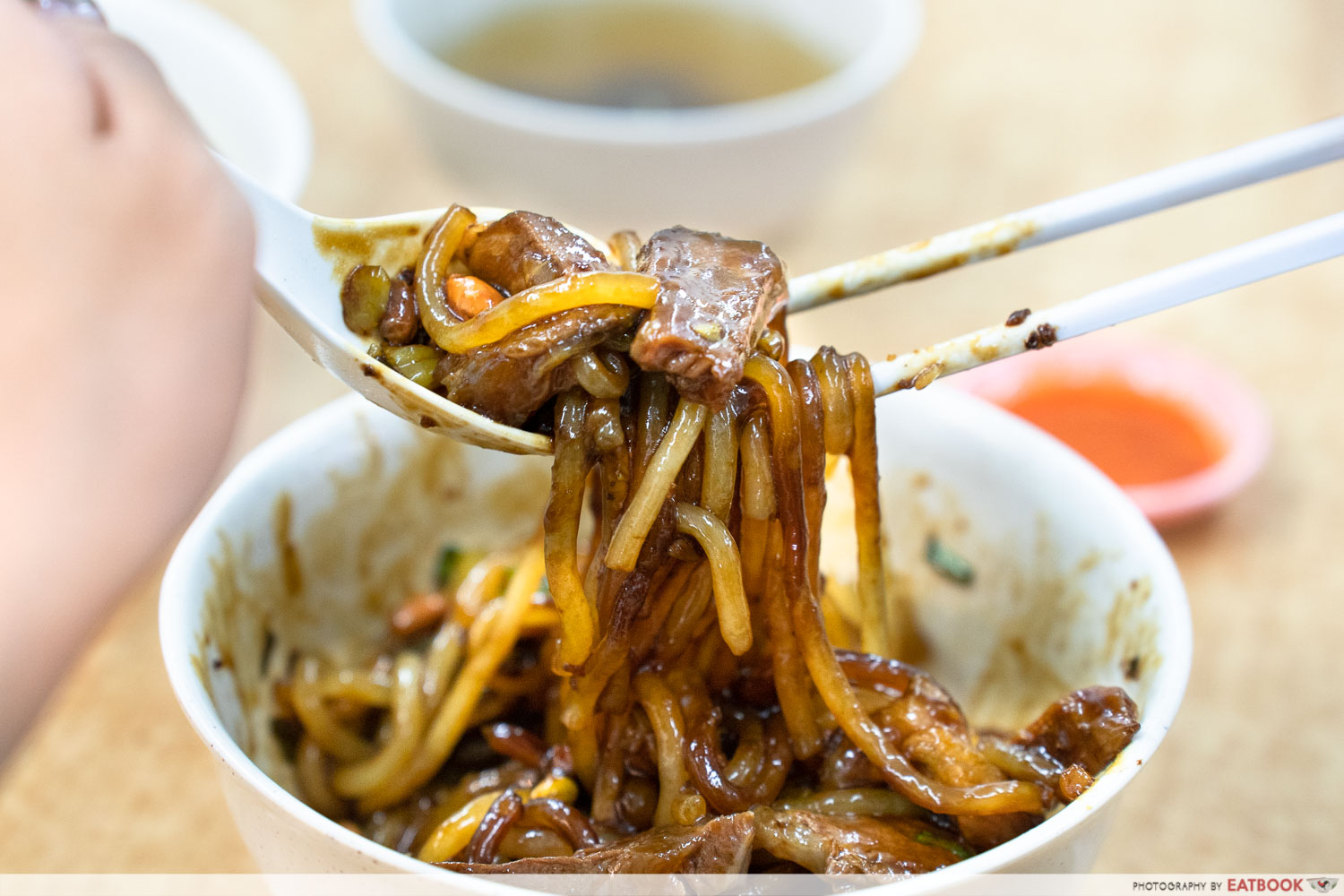 Between the two, the dry gets our vote for its extra tasty, dark soya sauce-based sauce blend. It's spiked with fragrant shallot oil, and enhanced with thick beef gravy. Cut through the richness of this with the addition of earthy, roasted Peanut (RM1/~S$0.40), Sour Pickled Mustard (RM1/~S$0.40), and a dash of fresh lime juice.
With this, we recommend the thick bee hoon. It's similar to the ones used for Penang laksa, or reminiscent of lai fun—a Sanuki udon-thick rice noodle that you'd typically get in Hong Kong or Guangdong.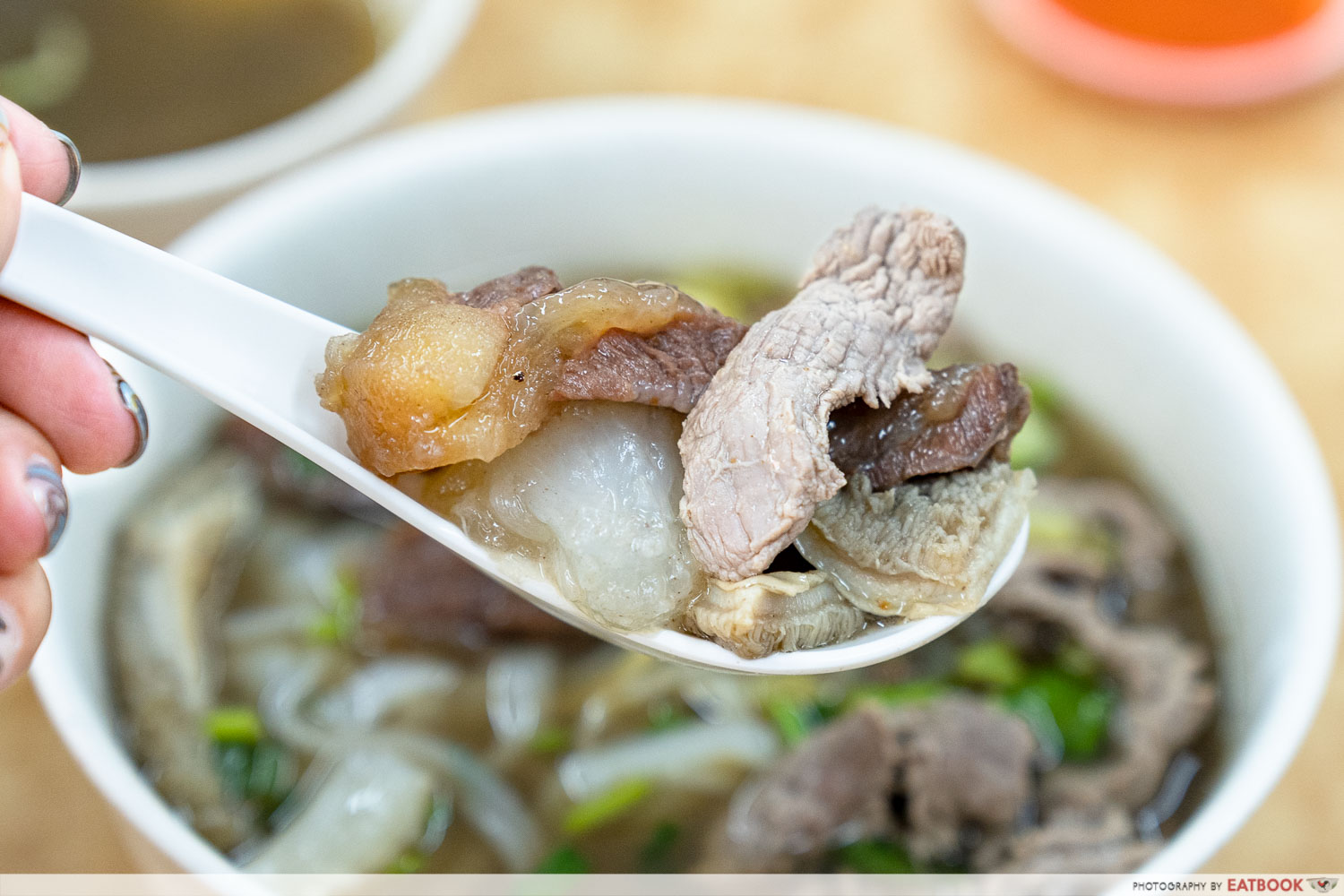 The most expensive bowl on the menu is the one that has all the possible beef parts you could have here, that is: Braised Meat + Tripe + Tendon + Fresh Meat. A bowl of this, dry or in soup, is priced at RM14/~S$4.50. In spite of the reasonably low price, there are generous servings of all the above in the bowl, alongside your choice of noodle.
18 Johor Bahru Hawker Food Stalls To Eat At During Your JB Getaway
On the topic of noodle choices, there are three besides the thick bee hoon: kway teow, yellow mee, and bee hoon.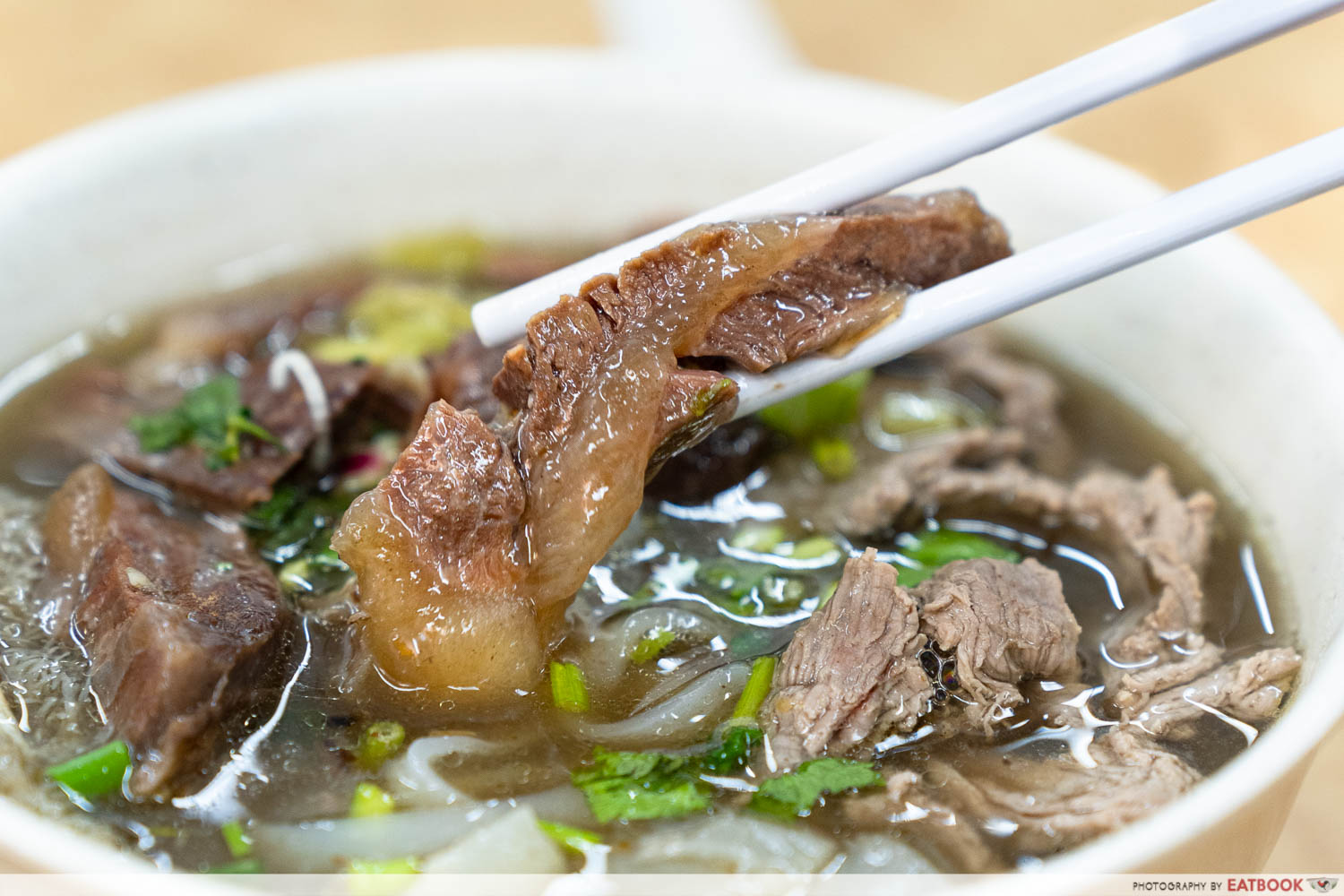 Noteworthy of the beef bits is how the offal was well-cleaned, and not overcooked. The fresh beef pieces, just lightly poached in the broth, remained tender too. The tendons and braised beef, on the other hand, were cooked till gelatinous.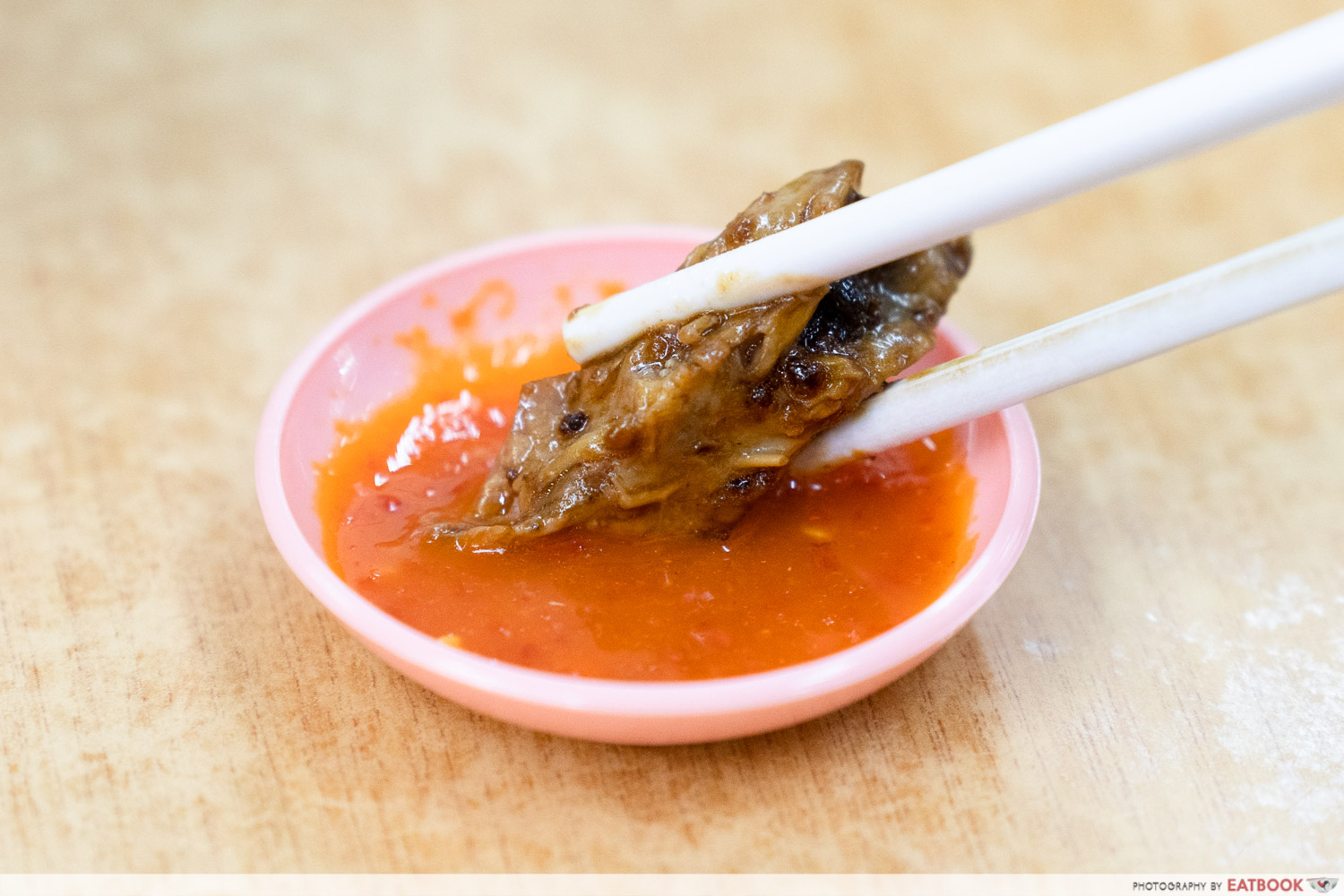 The braised beef, although tasty on its own, goes extra well with the bright flavours of their chilli dip. You could add this to the dry noodles too, if you like.
Here too, are lists of more hawker eats in JB or JB cafes you could check out on your next trip across the Causeway.
Address: 56, Jalan Indah 1, Taman Bukit Indah, 81200 Johor Bahru, Johor, Malaysia
Opening hours: Fri-Wed 8am to 3pm
Tel: +60 16-736 1522
Website
Din Kee Beef Noodle is not a halal-certified eatery
15 Johor Bahru Cafes Near Customs, Including A Concrete Cafe And A Hidden Glasshouse Dessert Spot
Photos taken by Brad Harrison Lee
This was an independent visit by Eatbook.SG