DM Chicken in Chinatown
Update (9 Mar 2018): The prices of the steamboat buffet have been updated.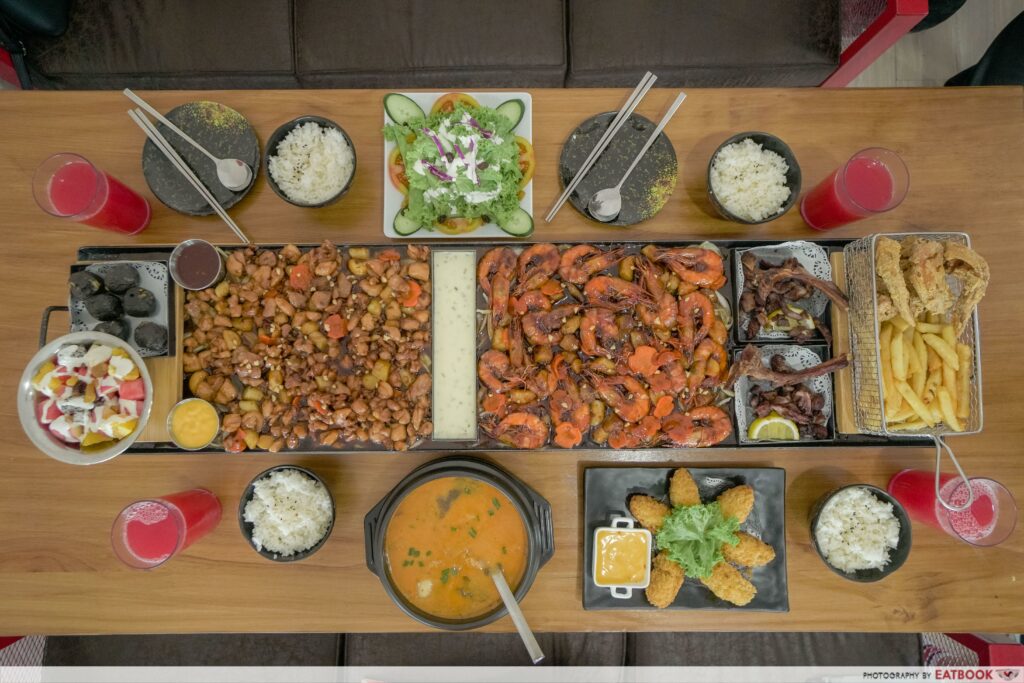 The home to many eateries and hawker centres such as Hong Lim Food Centre, Chinatown has become a stop for foodies to get their fix of good food. Opened last year, DM Chicken is raved by many for their remarkable portions and house-made sauces. It is no surprise that I was swayed by the compliments they've received and decided to head down to try this out.
Food at DM Chicken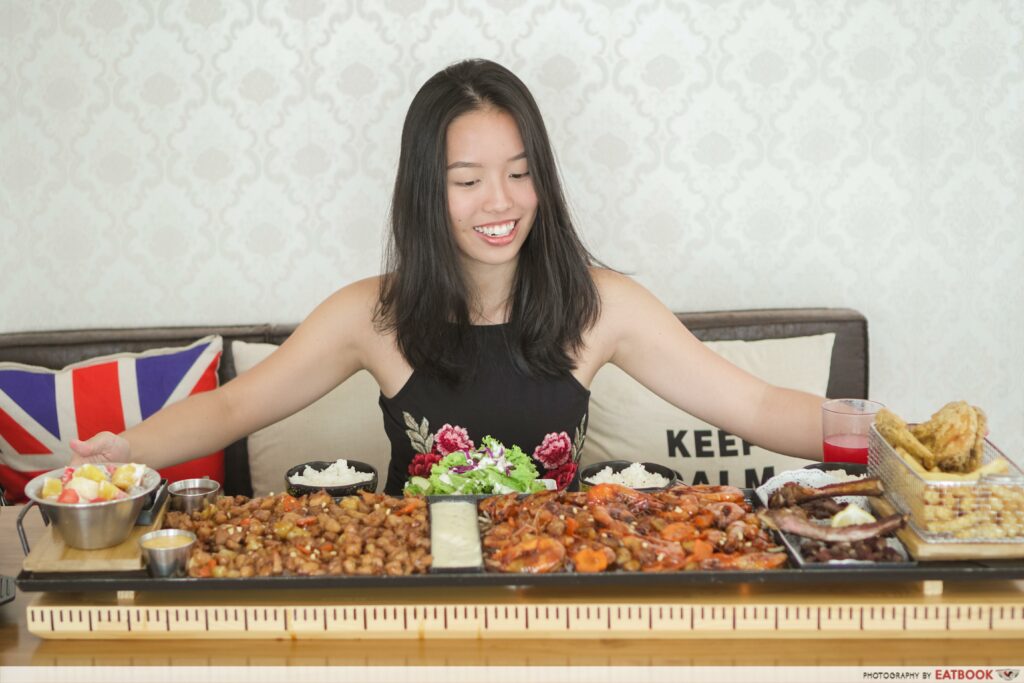 DM Chicken serves a few different platters, ranging from just chicken to a combination of chicken and varying seafood. Their platters come in three different sizes: 50cm, 75cm, and 100cm. We ordered their 100cm DM Chicken + DM Prawn ($110+) and waited patiently for our feast to arrive. Albeit being informed about its size, we were still taken aback by the amount of food on the platter when it arrived.
Diced into small cubes, the bits of DM Chicken were doused in a non-spicy sauce, and tossed with tteokbokki, carrots and potatoes. The sauce was definitely the star of the show. The brown, thick sauce reminded me of the homey and comforting meals my mum often makes for me. It made up for the shortcomings of the carrots and chicken. The tteokbokki was slightly less chewy compared to typical ones. Tougher on the exterior and stickier on the inside, it was almost as if they stir-fried the rice cakes before dunking them into the dish.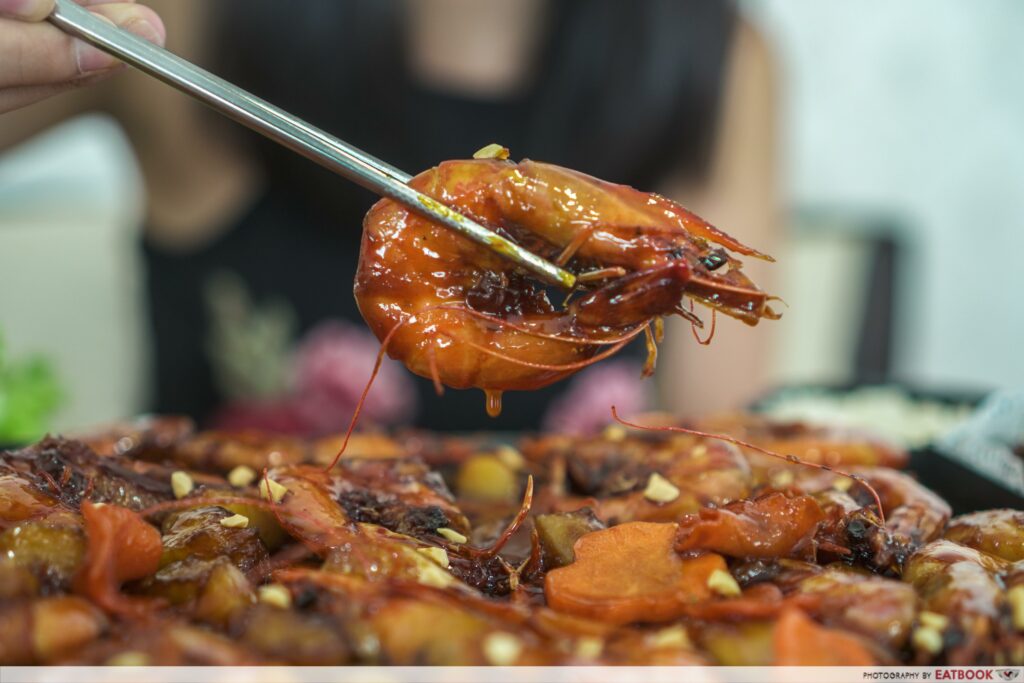 The DM Prawn, on the other hand, glistened in a fiery red sauce. While the prawns were not the freshest, most were still sweet and had a slight crunch to it. The spicy sauce enhanced the sweetness from the crustaceans, bringing this dish to a whole new level. The heat from the aromatic sauce slowly crept up on me and lingered in my mouth for a while.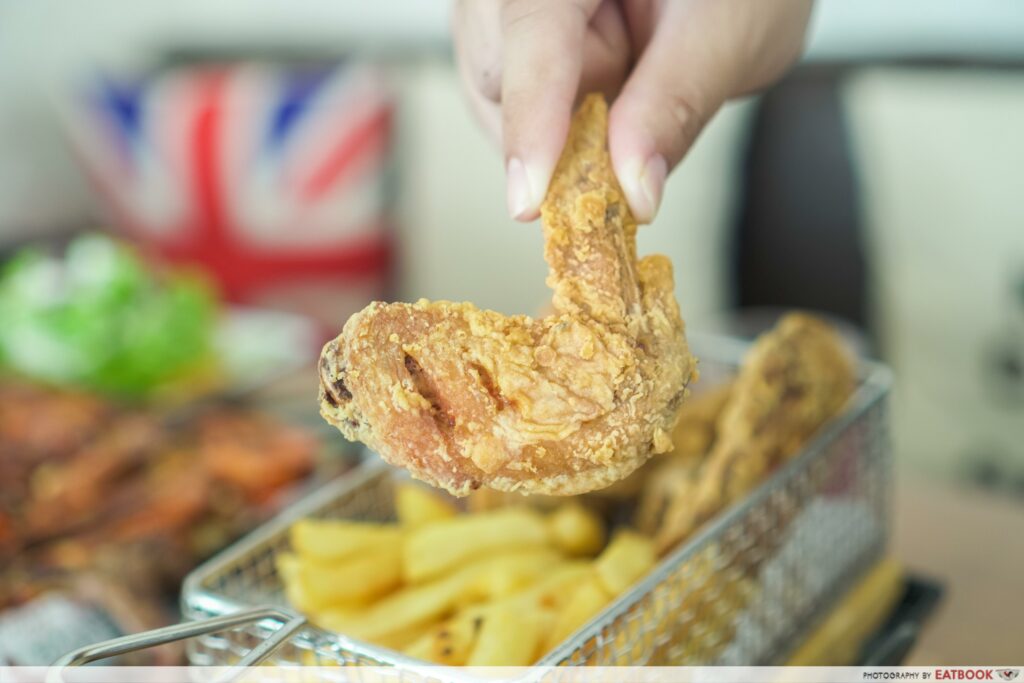 Besides the DM Chicken and DM Prawn, the platter came with a basket of fried chicken with fries, two sets of lamb chops, a plate of squid ink balls, and a bowl of fruit salad. The golden brown skin of the fried chicken crackled as I sunk my teeth into it. Strangely, this deep-fried goodness had a tinge of har cheong gai flavour in it, which I loved.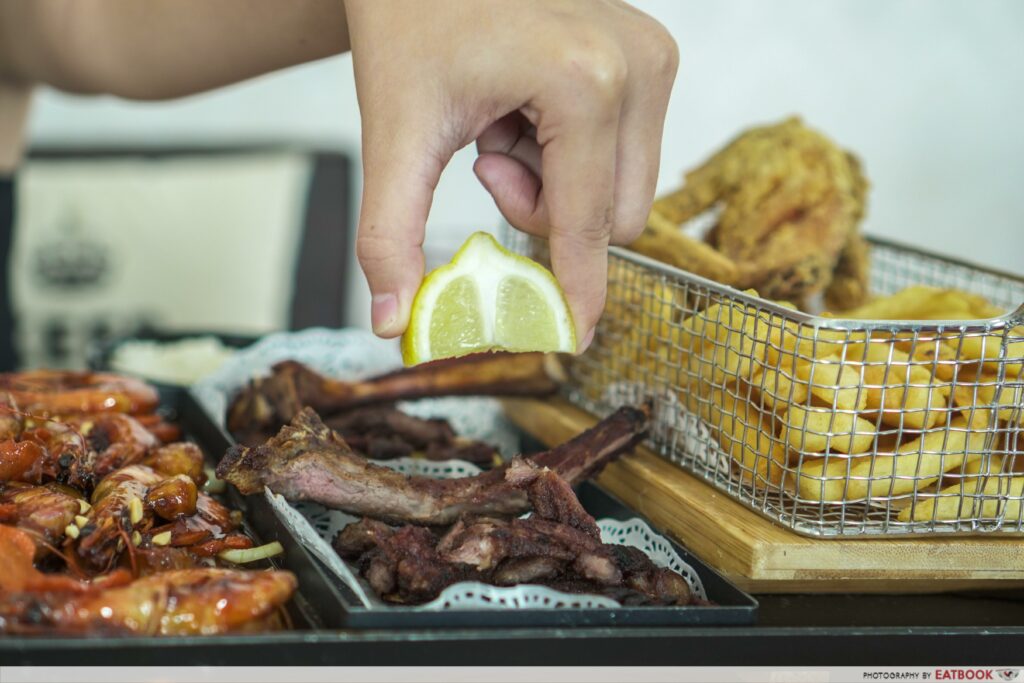 The kind folks at DM Chicken took the initiative to trim the lamb chop into small pieces for us, a kind action since we all know how difficult it is to get into the nook and crook of a lamb bone. The sourness from the lemon, which we squeezed over the lamb chops, cuts through the saltiness of the lamb, which I was very grateful for as it balanced out the flavours.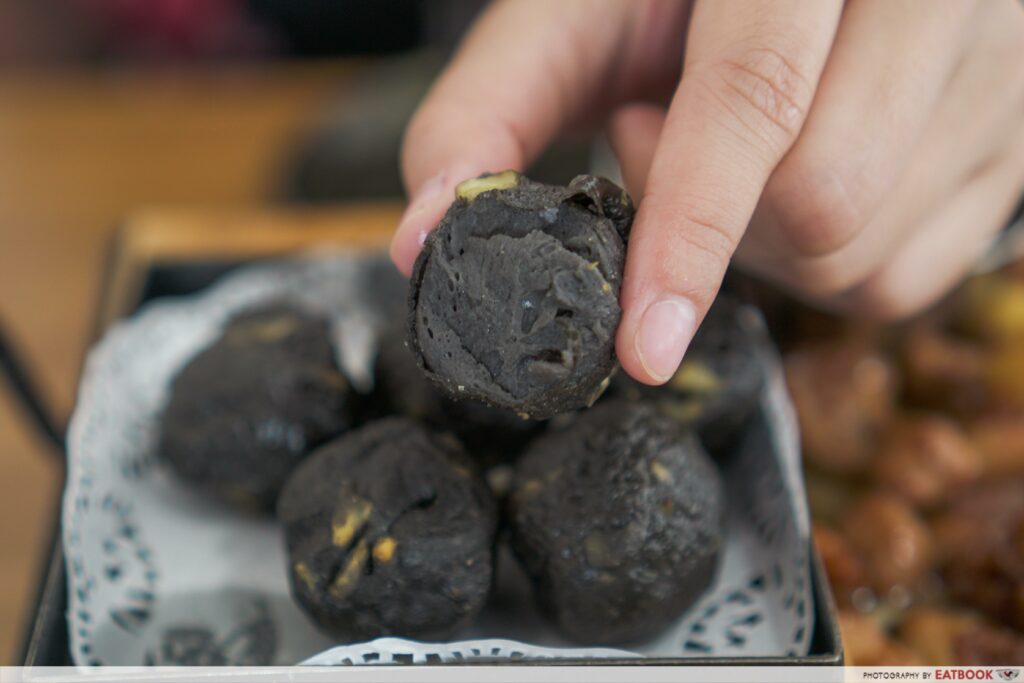 While we were all excited for the Korean Crab that we saw on the menu, we were disappointed when we were given squid ink balls instead. Nonetheless, stained with squid ink , the ball was extra Q as small crunchy bits of real squid were weaved into the making of the ball.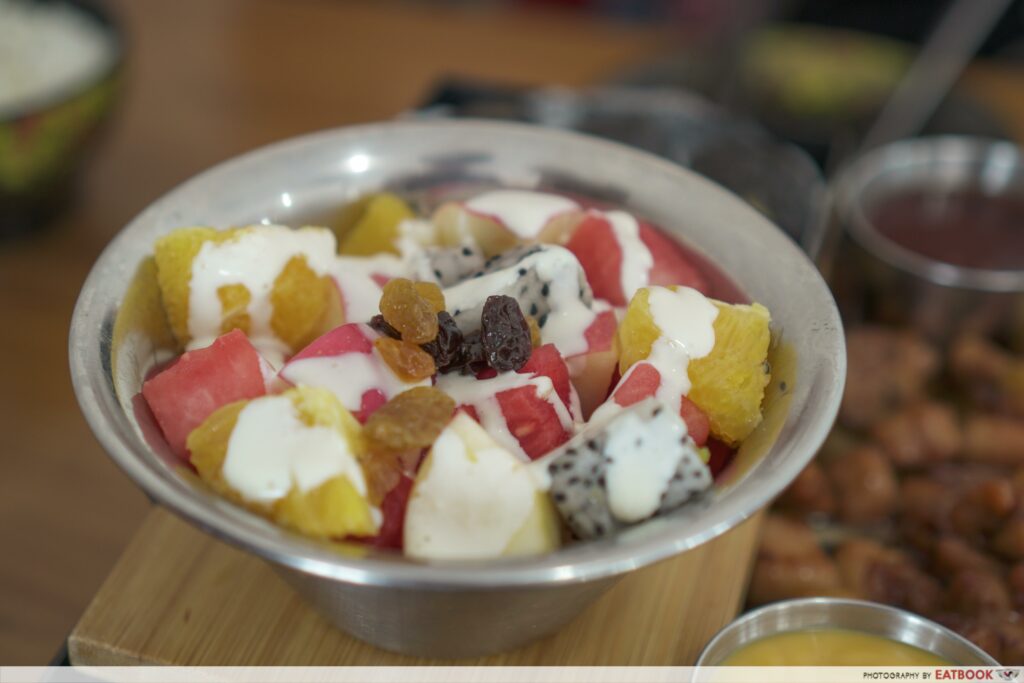 Topped off with raisins and a white mayo-like sauce, this bowl reminded me of the salad that often comes with the fried prawns at banquets. Leaving a refreshing touch on my palate, this simple bowl of fresh fruits wiped out the greasiness of the dishes that came before.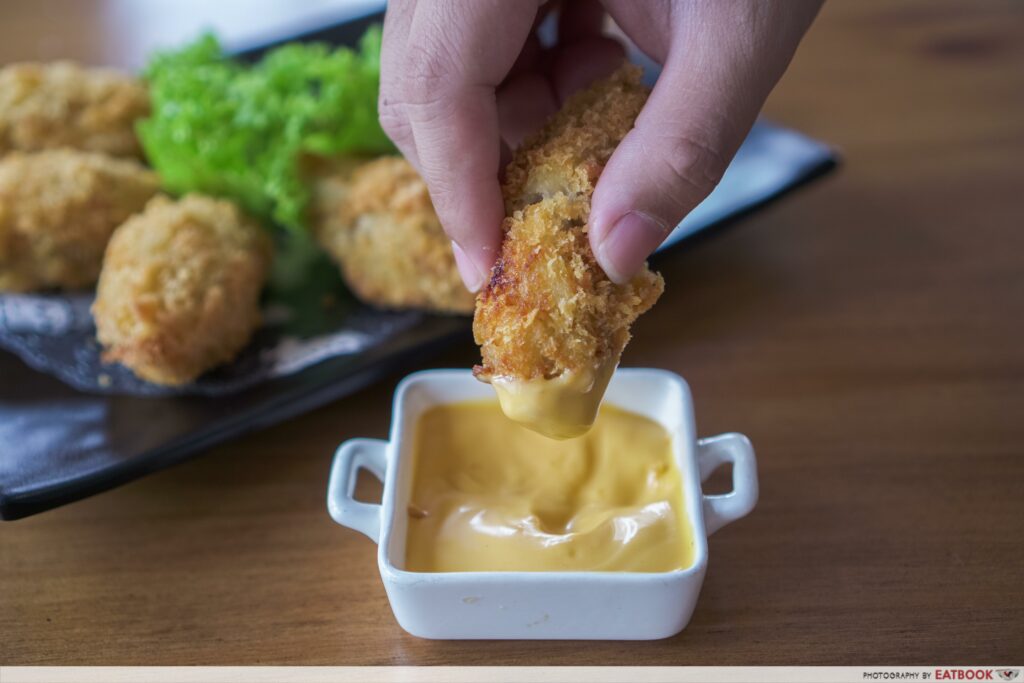 Like its name suggests, DM Chicken's Golden Oysters ($15.90+) are fried till golden brown. However, I would say skip this and just stick to the platter. The fishy taste of the oysters may be too overwhelming for most, even after pairing it with the accompanying savoury sauce.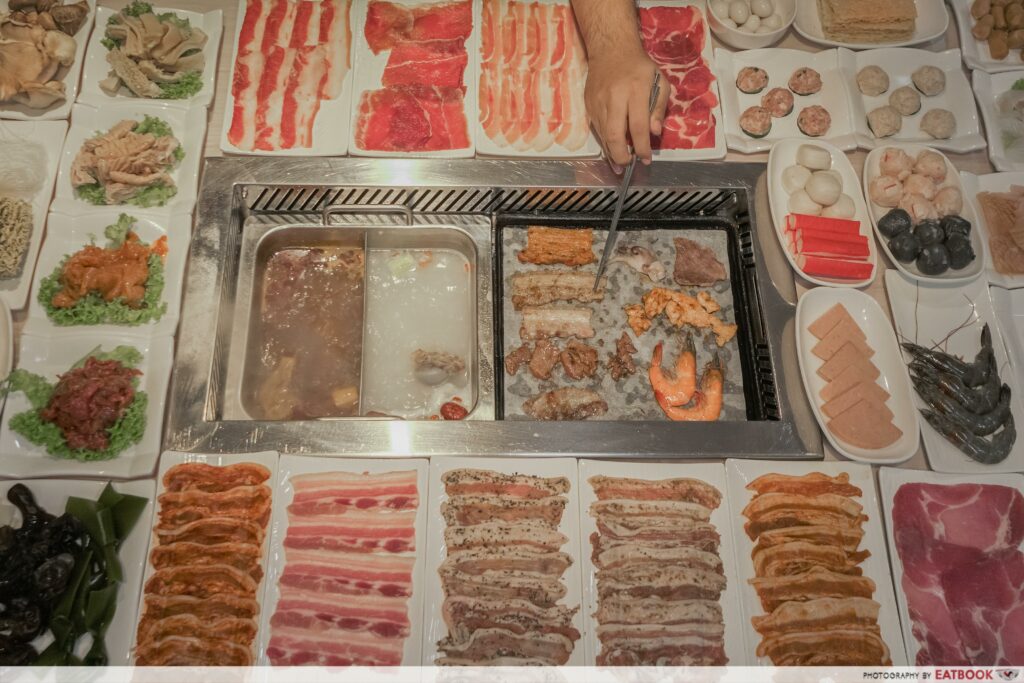 This place is great for big group gatherings as their platters are best for sharing. Alternatively, choose to get their a la carte Steamboat and BBQ buffet ($19.90+ for weekday lunch, $24.90+ for weekend lunch and daily dinner) that offers five different soup bases for you to choose from. You can get one soup base at an additional $6 and a mix of two soups at $10. With over 40 items to choose from, some side dishes and even an array of sauces, I'd say it offers a bang for your buck!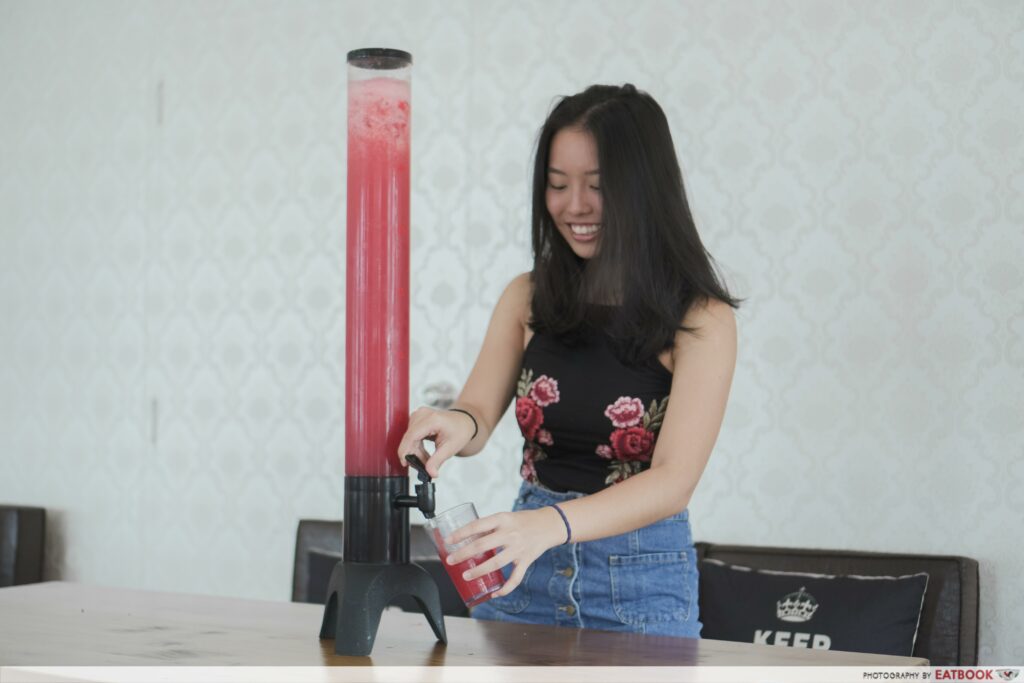 When the heat got too real for us, we ordered their Watermelon Juice Tower Big ($18.80+) and I was utterly shook. I had no idea how we were going to finish the three-litre tower. But that was before I tasted it and realised how light and refreshing it was. We ended up fighting to down every last sip of the drink.  
Ambience at DM Chicken

Along Mosque Road stands DM Chicken, a restaurant with a cutting edge theme. Don't be frightened by the intimidating figure that stands in front of the store. Walk straight past it and you shall find a shady-looking lift, which will transport you to the inconspicuous restaurant.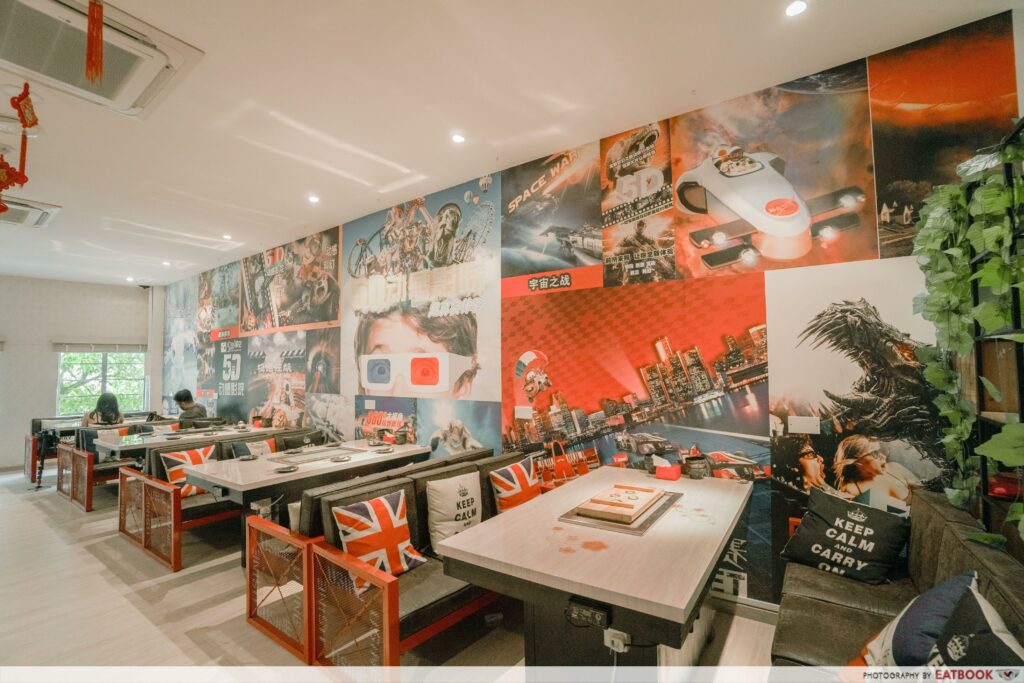 You'd be shocked, like I was, to see the cosy interior, which is a 180-degree change from the storefront. Forget about your woes while you revel in the food and embrace the uplifting atmosphere of DM Chicken.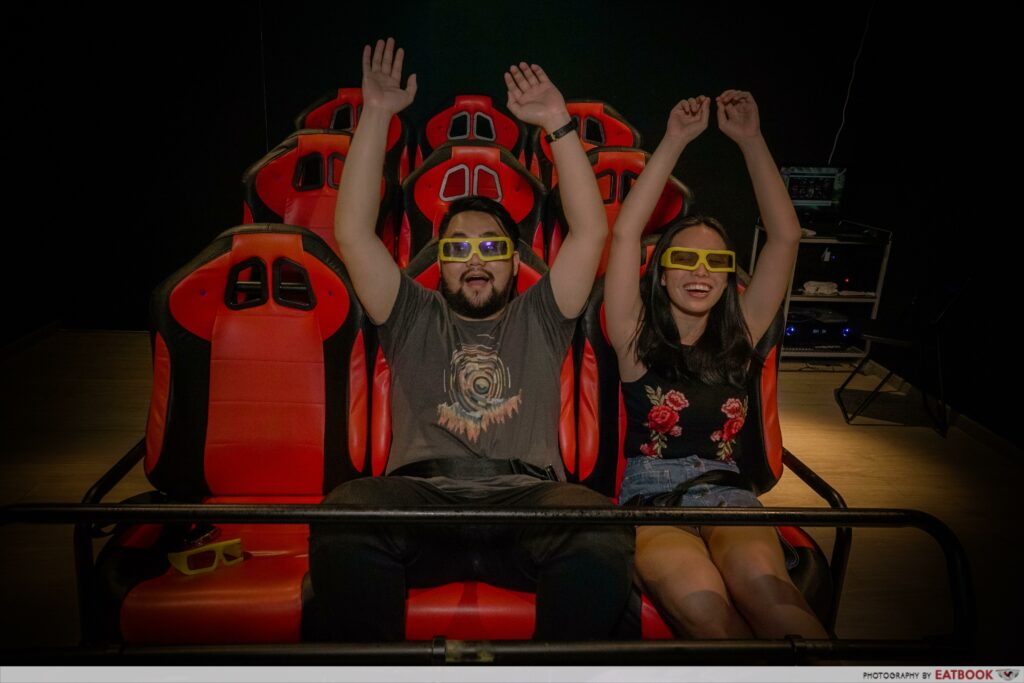 If that isn't enough to draw your attention, I'm sure their 4D theater will at least pique your interest. A spending of at least $20 per person will entitle you to a free ride in their 4D theater. I'm talking moving roller coaster seats, light and sound effects, water splashing kind of 4D.
The verdict
Located a five-minute walk away from Chinatown MRT Station, DM Chicken is definitely worth a try! For the value of the steamboat, I would definitely visit again with my family and friends. Plus, the staff members were friendly, which always makes the dining experience that much better.
For more food at Chinatown, check out Kazan Japanese Cuisine and Cantonese Delights' curry chicken noodles!
Address: 191B New Bridge Road, Singapore 059423
Opening hours: Daily 11:30am to 11:30pm
Tel: 6909 2756
Website
This was a media tasting at DM Chicken.
Summary
Pros
– Cosy ambience
– 4D theatre in the restaurant
– Reasonable prices
– Friendly taff
– Large portions
Cons
– Inconsistent quality
Recommended Dishes: Steamboat and BBQ buffet ($23.90+ for weekday lunch, $28.90+ for weekend lunch and daily dinner)
Operating Hours: Daily 11:30am to 11:30pm
Tel: 6909 2756
Address: 191B New Bridge Road, Singapore 059423