Don Lechon for Filipino food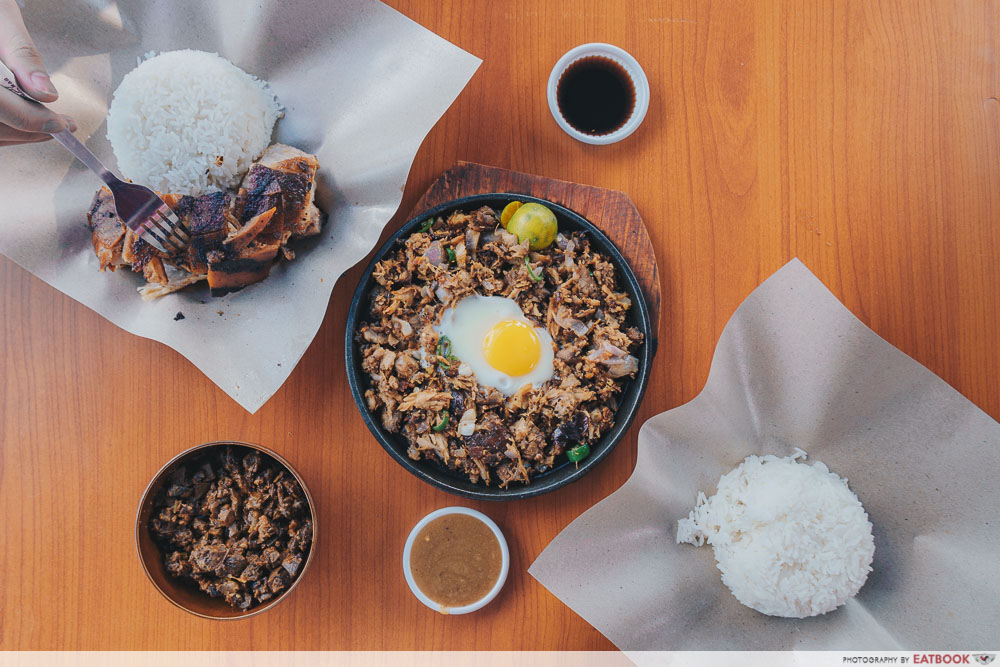 As the sun set with an orange glow, and the river sparkled an amber glitz, I walked into Don Lechon. There, the soundtrack of Elvis Presley's Can't Help Falling In Love filled the room. The staff were in joyous laughter, waltzing to the piano's gentle legato as a delicate waft of smoked pork permeated the air.
It was so romantic – a scene plucked out of a '90's romcom. The ambience was perfect. I couldn't help but fall in love with how beautiful it all felt.
Food at Don Lechon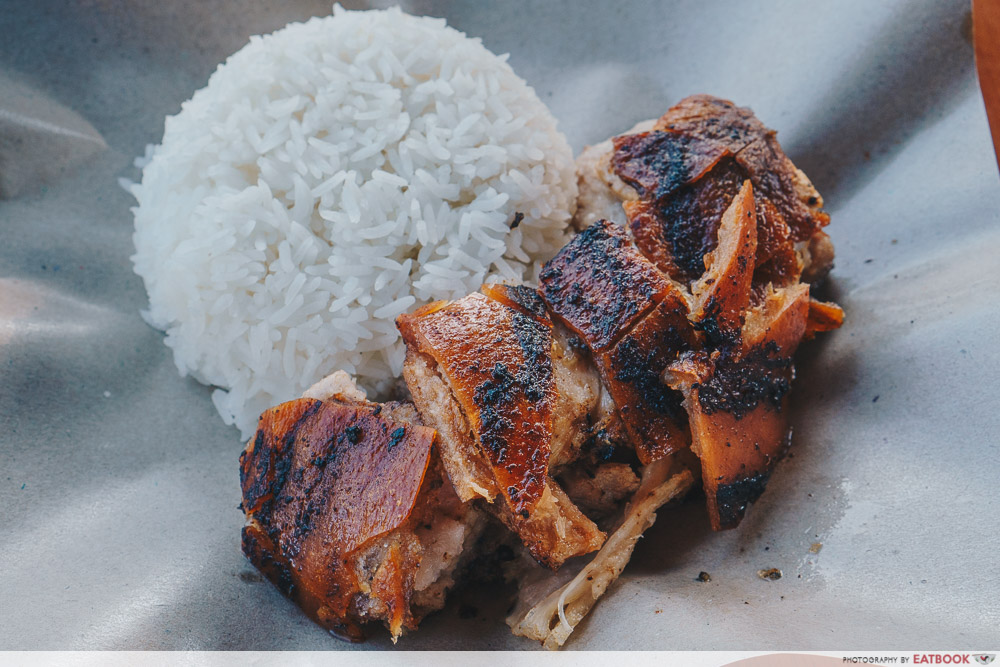 I sat under a tent perched by the river as my food was served by a chummy Filipina. One by one the dishes came, each dish looking more scrumptious than the next
Chopped Lechon ($9.50) was served with a heap of rice. Those fat and plump chunks of pork emanated a rich meaty aroma, evocative of sio bak – a much thicker sio bak at that.
I noticed the defined layers of fat that transitioned into huge chunks of meat. It was as if they were luring me into their juiciness.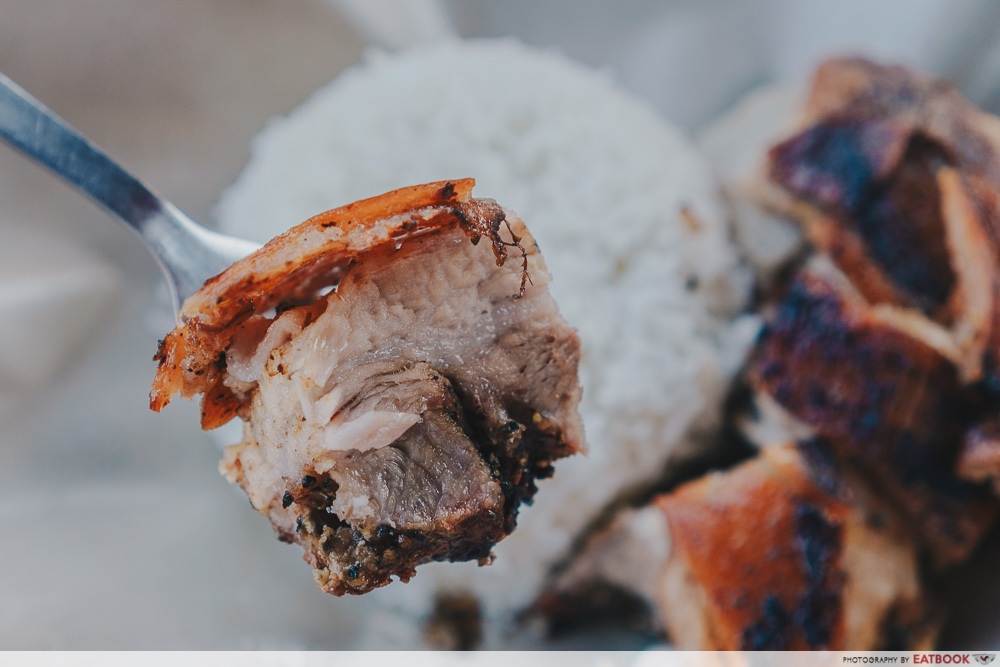 Upon biting it, the soft, pillowy pork dissolved into a luscious creaminess.
Subtle notes of lemongrass and garlic perfumed the meat, conferring a tantalising floral aroma. That provided a certain lightness to an otherwise heavy dish.
The skin was on a whole different league of its own. It shattered in my mouth, giving a melodious symphony with every bite I took.
Then, a faint, coconutty aroma crept up, layering on a medley of umami and sweetness from the soy sauce and milk marinade.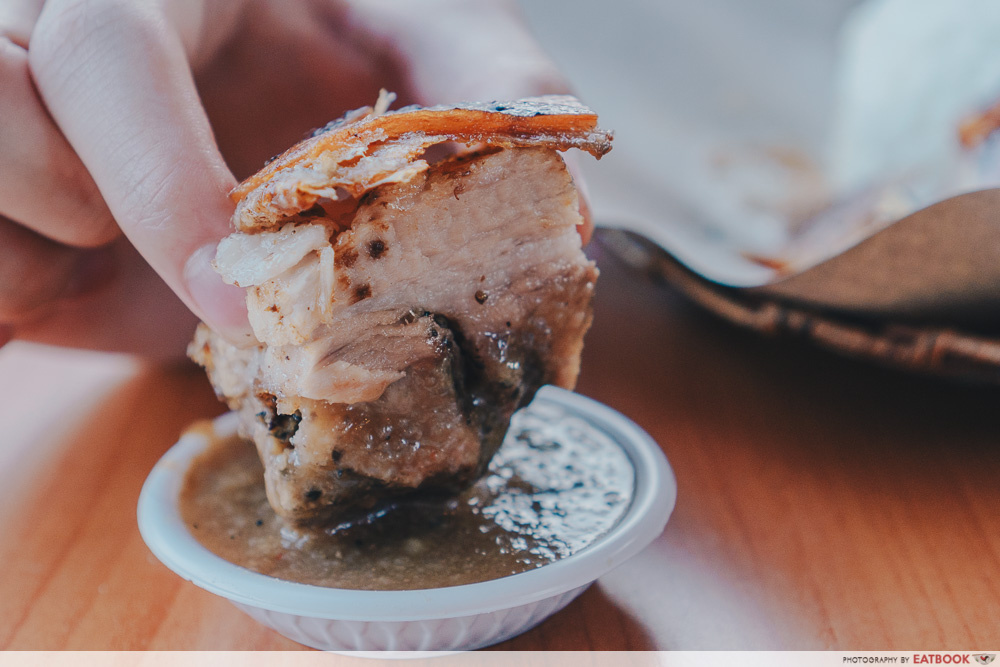 I was told that the accompanying sauce is a must-try. It had a blend of liver, vinegar, brown sugar and Asian herbs.
Eating it with the pork imparted a slightly sweeter taste, evocative of the apple sauce I would typically get with suckling pig.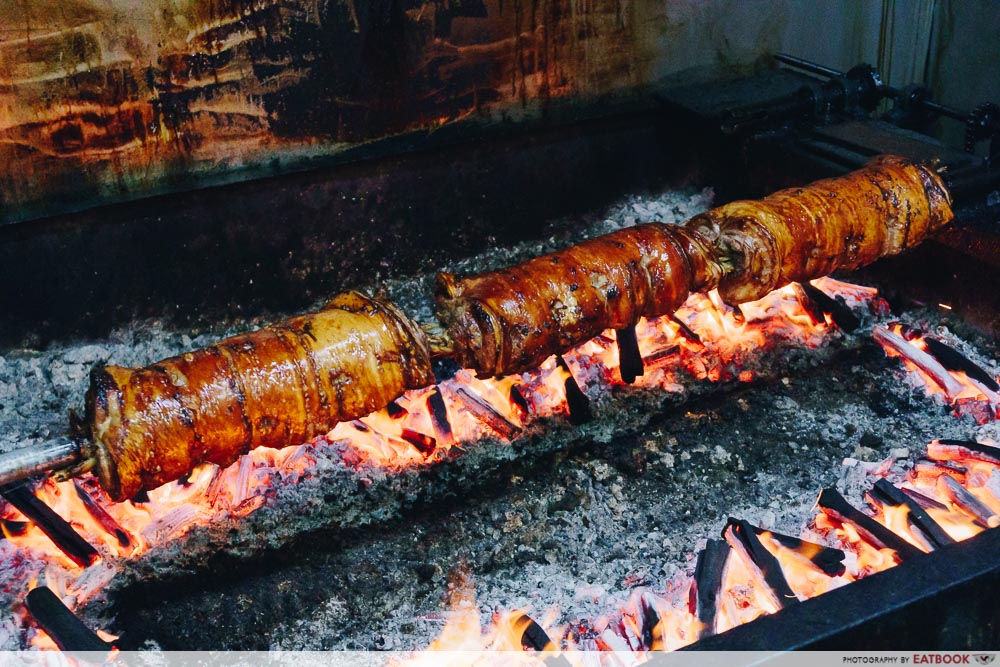 Greatly impressed by the lechon, I went into the kitchen to check out how it was prepared.
Similar to how it is traditionally prepared in Philippines, the suckling pigs were spit-roasted over a flaming wooden charcoal grill. As its fats got rendered by the immense heat, the juices constantly baste the meat, saturating these pigs in a rich meaty flavour.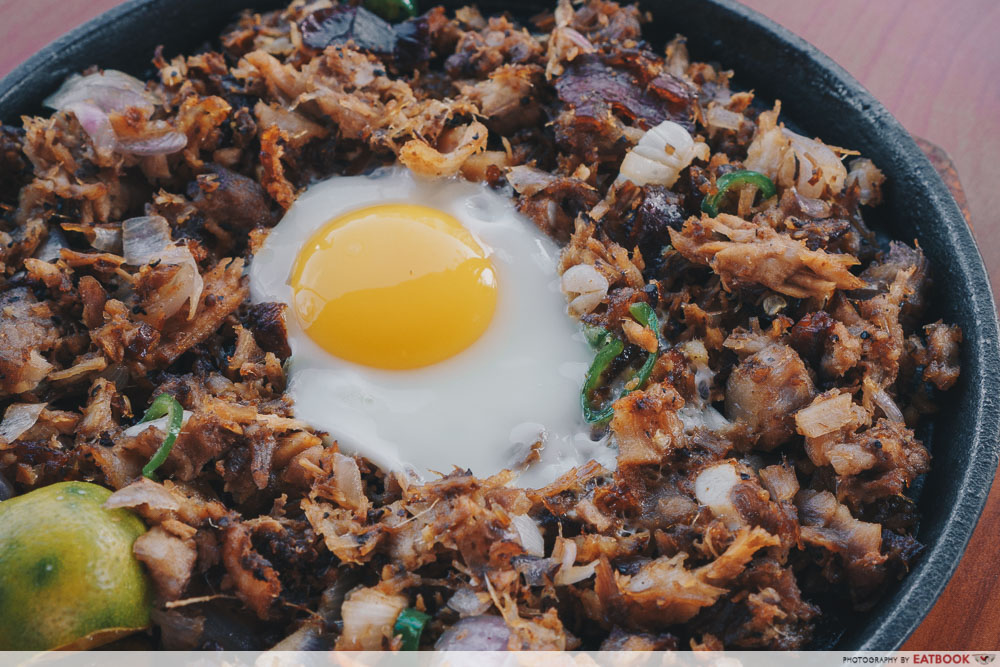 The same lechon was chopped up and fried with onions and chillies to form this Lechon Sisig ($9.50).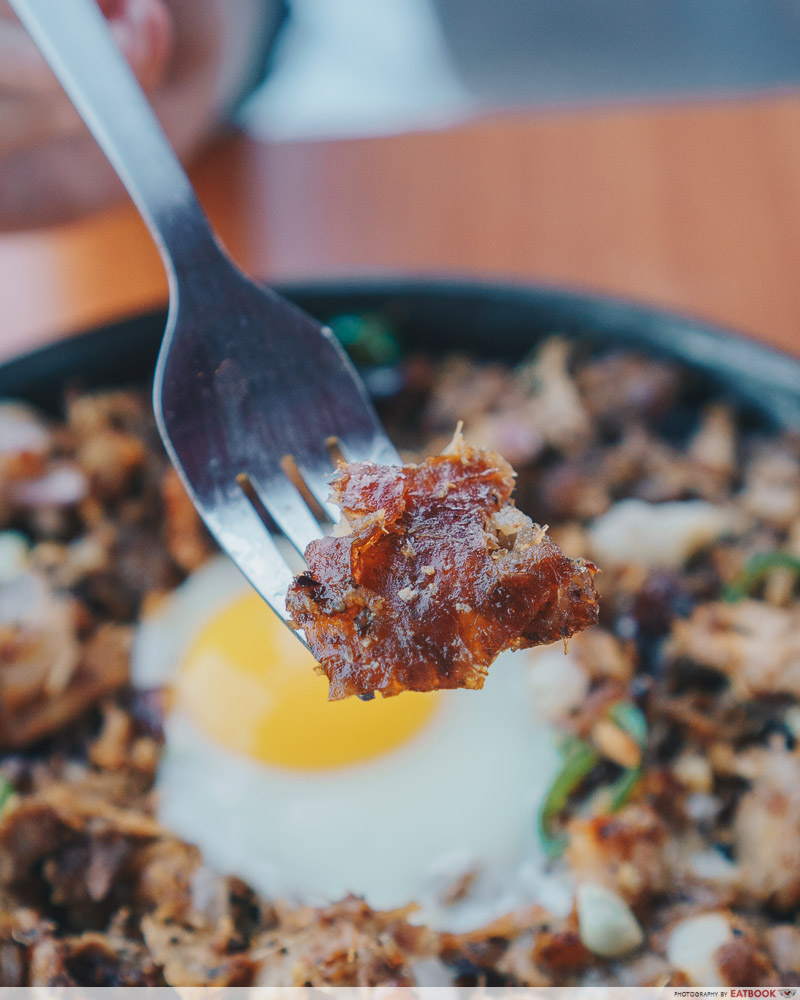 Sisig is traditionally made with the cheek. But here, lechon was used in favour for its fattiness.
I could also feel the individual bits of gooey cartilage and crunchy green chillies, which gave spikes of texture. It broke the monotony of soft, tender meat that would have otherwise been too dull.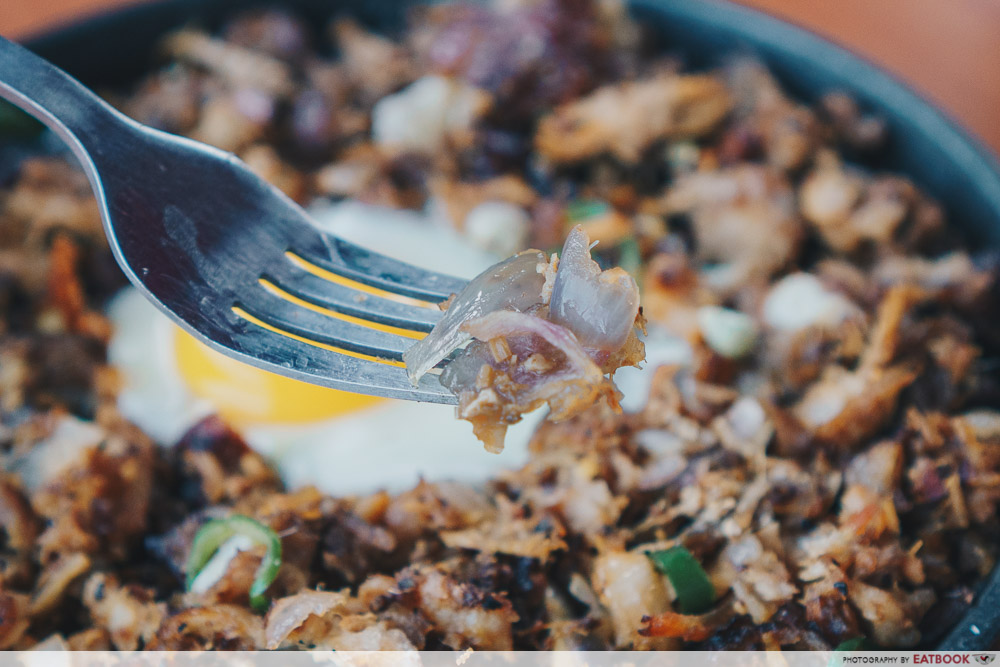 The onions were also a noteworthy inclusion, seeking to provide pockets of freshness that enlivened my palate.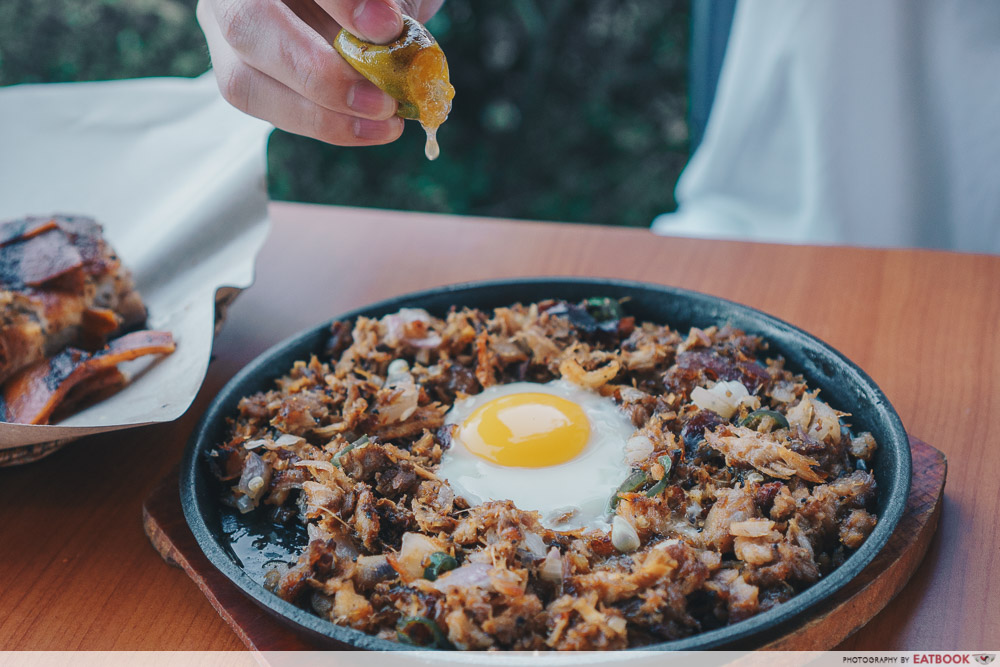 As I squeezed in the calamansi, the tart citrusy notes served to arouse my appetite further. It must have been its mellow sweetness weaving beautifully into the porky grease that felt so sublime.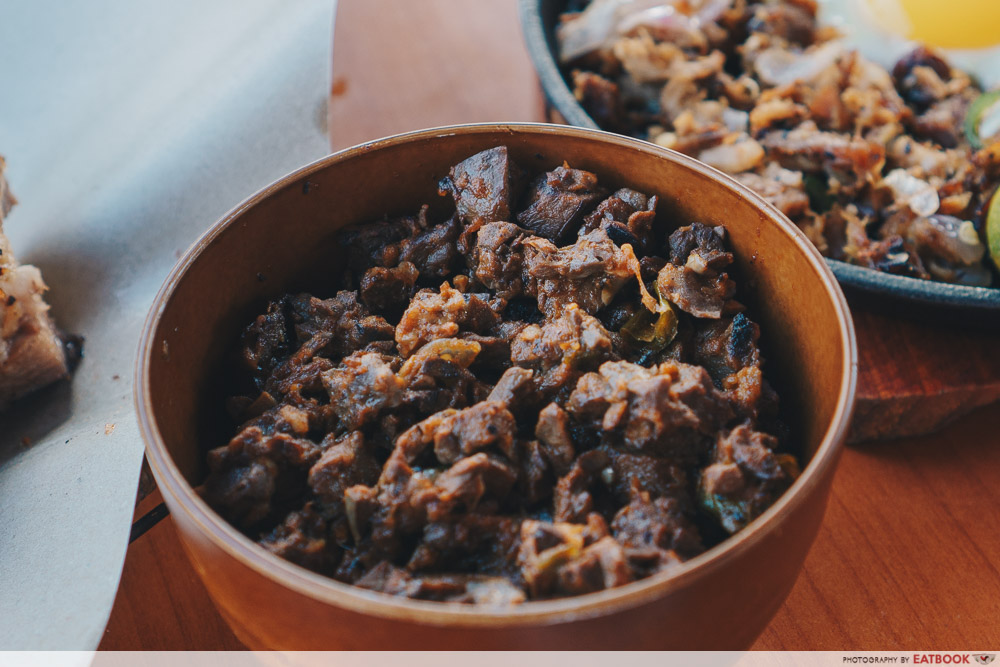 The Bopis ($5.50) is made with beef lungs and pork hearts simmered in a potpourri of herbs. Think garlic, tomatoes, onions and bay leaves.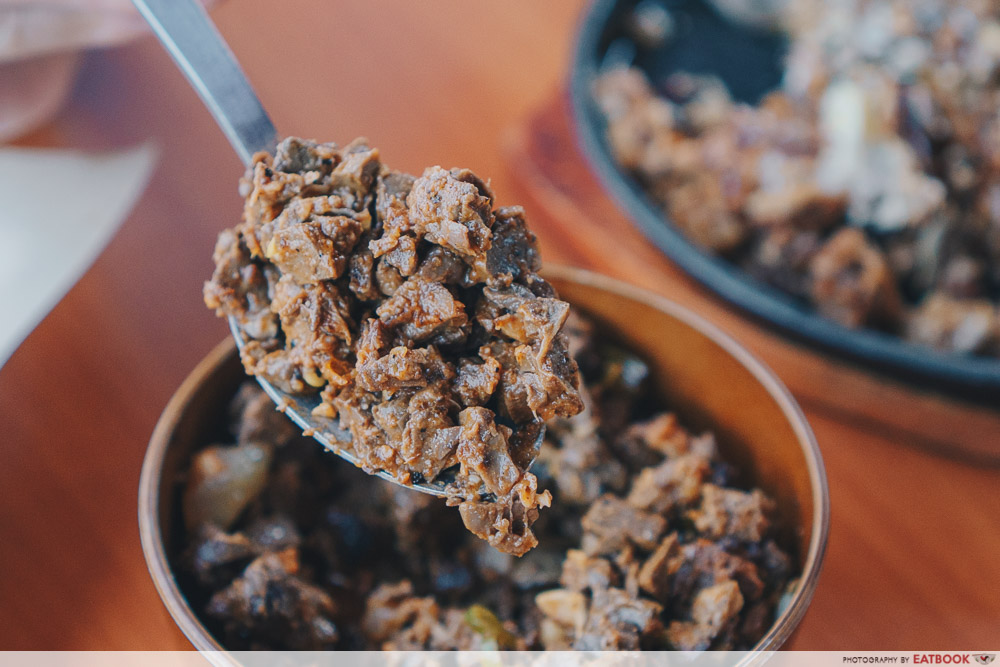 An explosion of umami goodness went off in my mouth. The use of tomatoes and garlic masked any evidence of gaminess from the offal. It felt like I was eating extremely tender, slow-cooked meat.
Is this dish for the faint-hearted? Probably not. But does the dish taste good? Heck yes!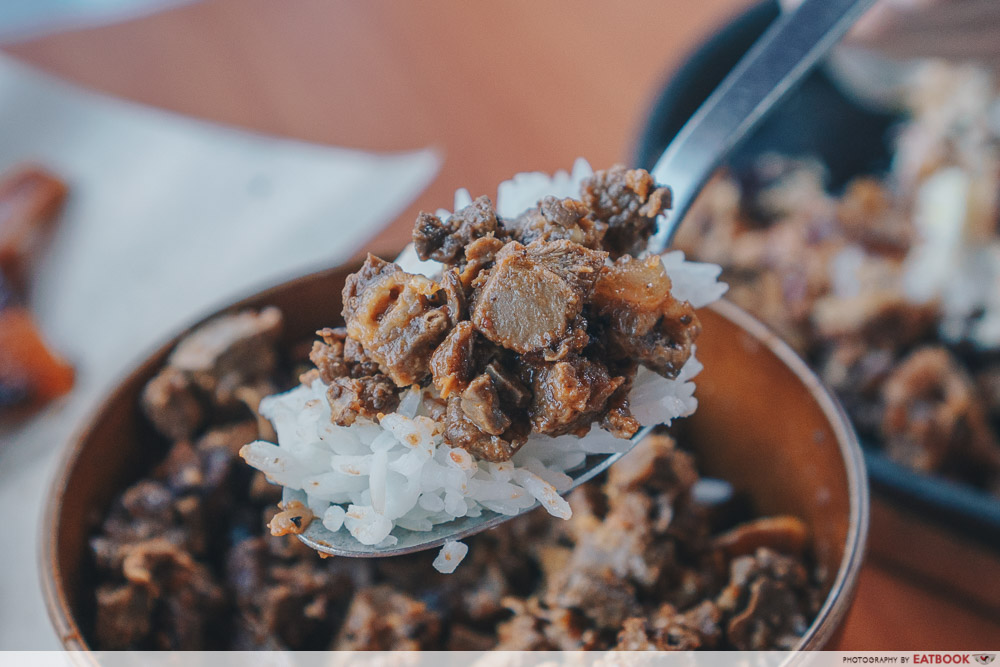 Eating it with rice allowed more subtle flavours to be evident.
A slight tartness from the vinegar danced in synch with faint herbaceous notes from the bay leaves. All these culminated in a delicate heat that lingered at the back of my tongue.
Ambience at Don Lechon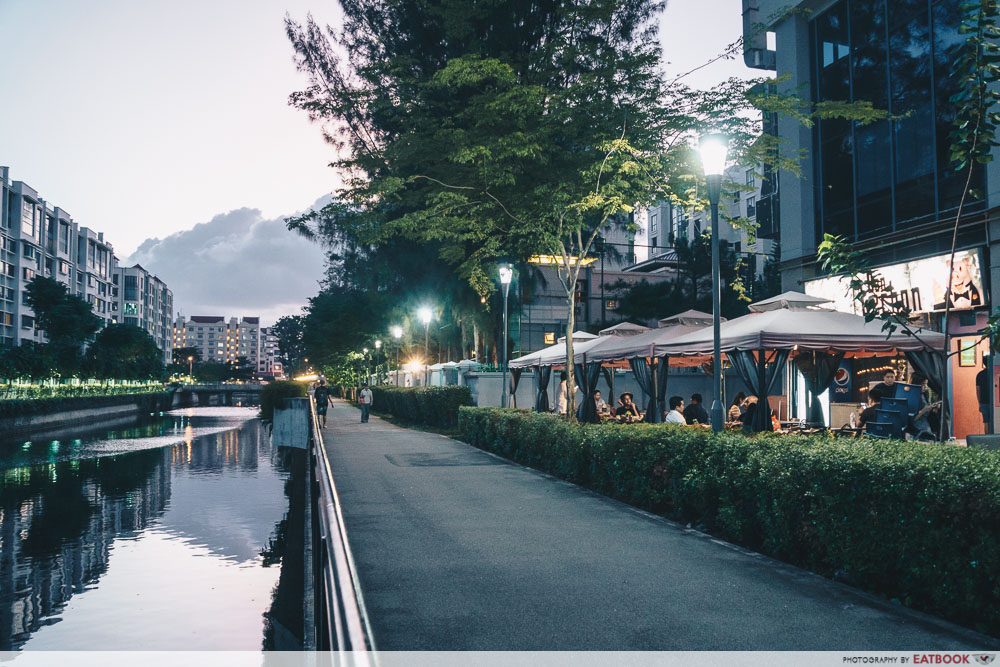 The sun finally faded into the distance as bars along the river began to open. It felt like an enclave from our restless city. It felt like I was dining in a romantic restaurant along Quayside Isle.
I finally left the restaurant, with Air Supply's Even the Nights Are Better playing through their speakers. It was a sort of prophetic song selection that echoed how I was feeling then. Indeed, my nights were made better, knowing that such a beautiful place exists in Singapore.
The verdict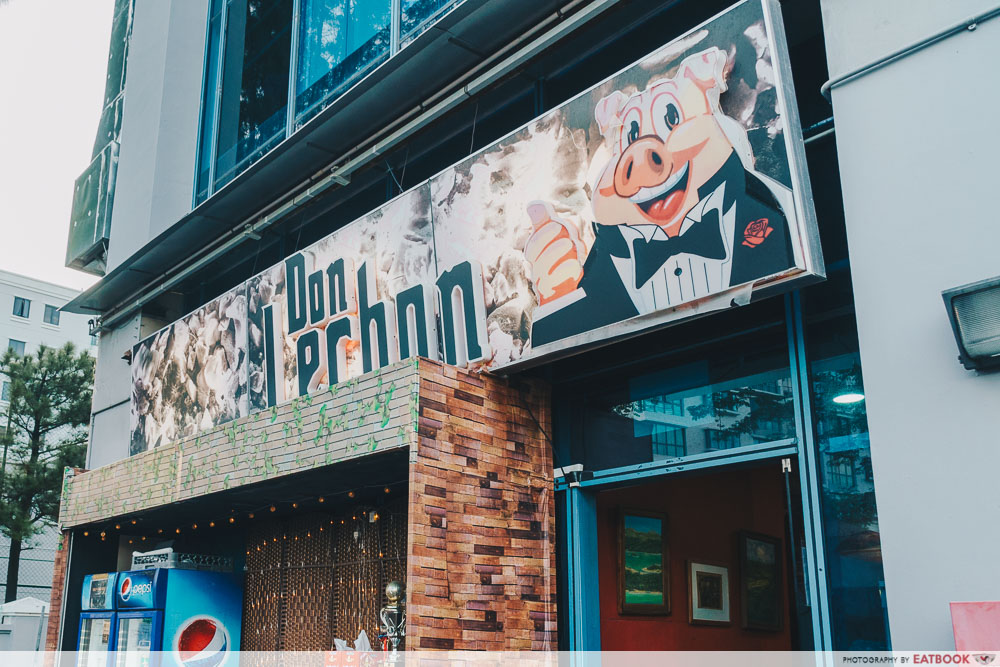 My expedition at Don Lechon taught me two things:
How much more I have yet to learn about Filipino food.

How cuisines across Southeast Asia are so similar, yet so different.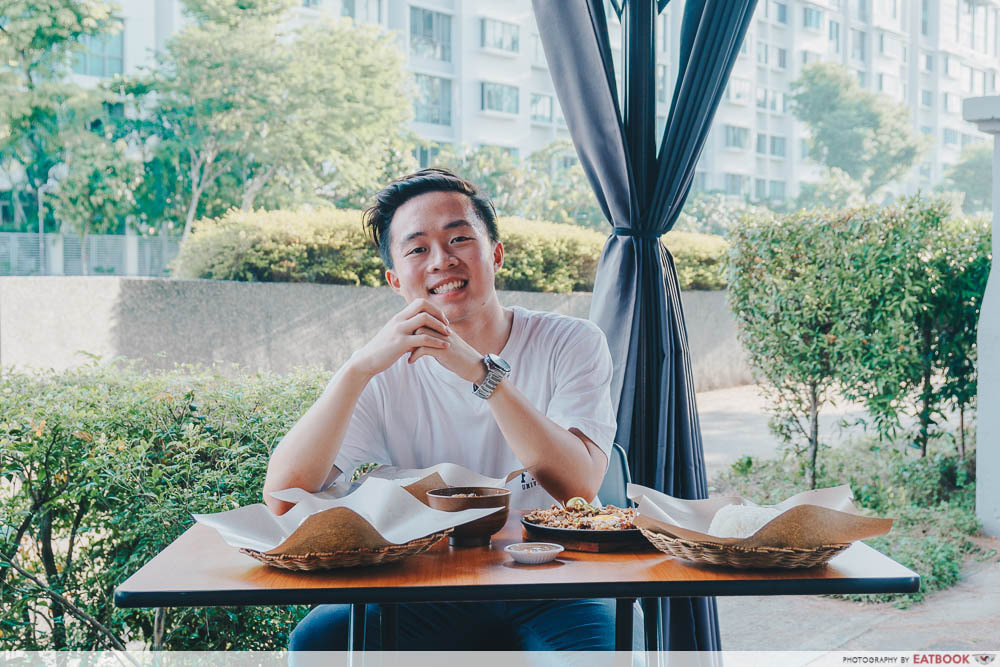 To understand food is to understand a culture, identity, colonial influences and repressions. They are all deeply embedded in the nuances of food. When we come to understand those things, we come to understand the people.
Because, just like bopis, our society is an amalgamation of many. Though seemingly different individually, we come together beautifully.
Address: 511 Guillemard Road, #01-52, Grandlink Square, Singapore 399849
Opening Hours: Daily 12pm to 10:30pm
Tel: 9778 9737
Website
Photos taken by Pichan Cruz.
This is an independent review by Eatbook.sg.
Summary
Pros
– Large portions
– Affordable prices
– Crispy Lechon
Cons
– Opens only for dinner service
Recommended Dishes: Chopped Lechon ($9.50), Bopis ($5.50)
Opening hours: Daily 5pm to 11pm
Address: 511 Guillemard Road, #01-52, Grandlink Square, Singapore 399849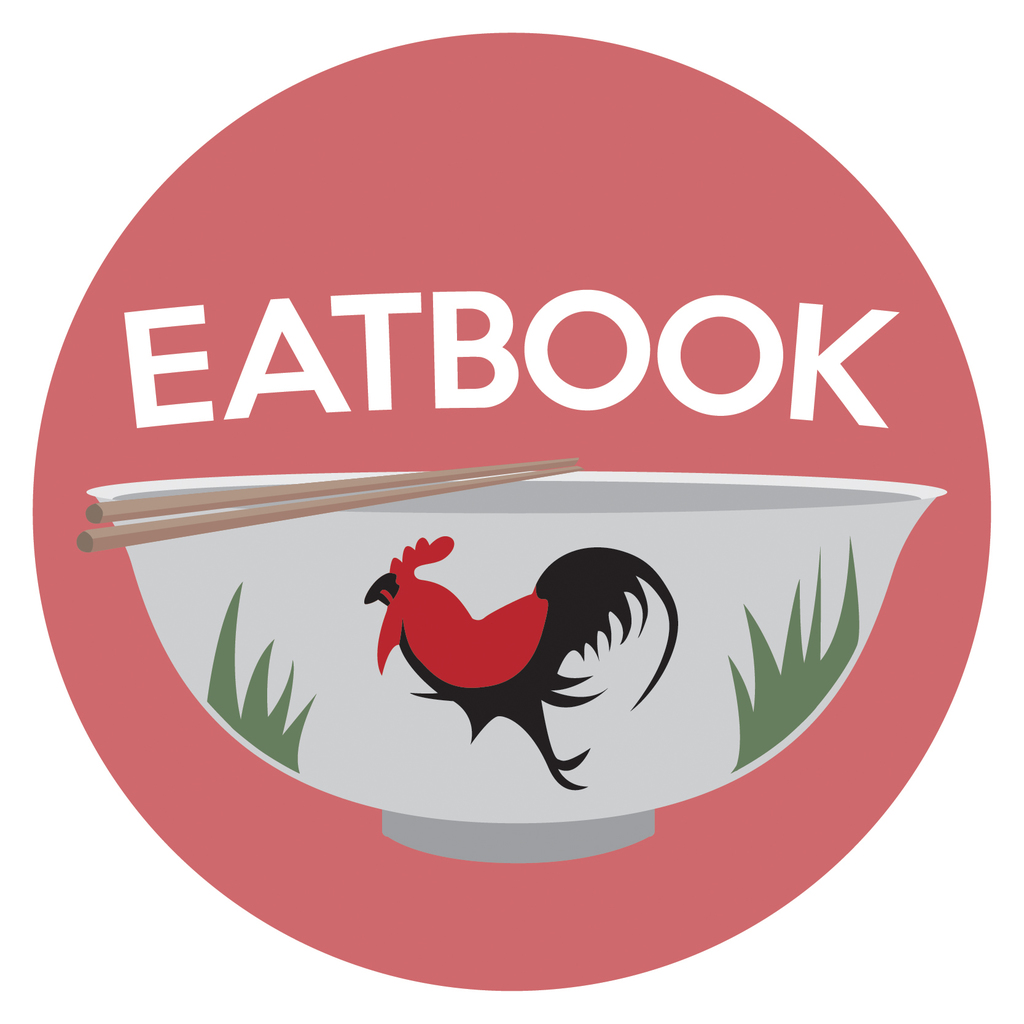 Drop us your email so you won't miss the latest news.