Donas8 opens at Great World with Korean mochi doughnuts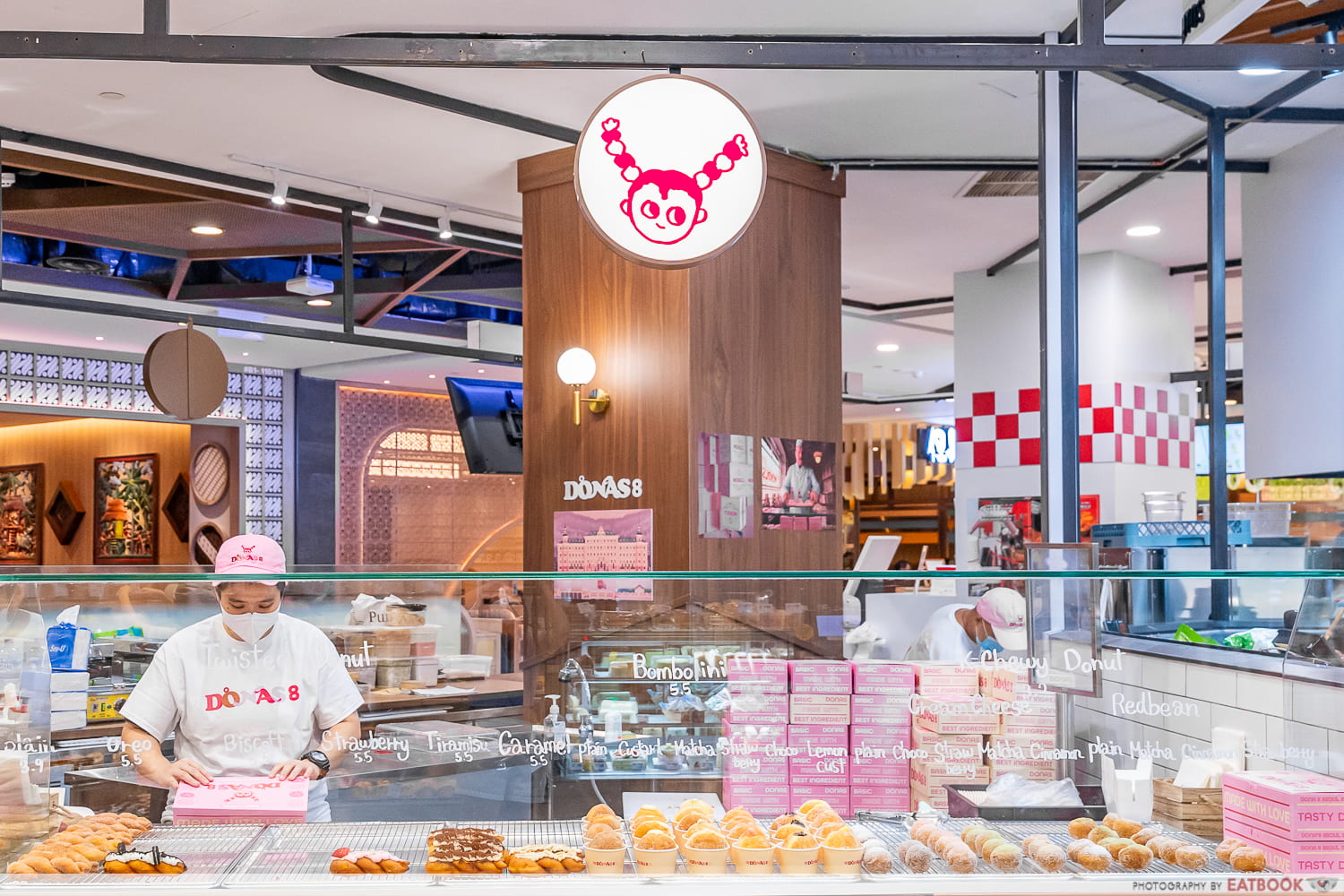 If you've been to Korea, you would have tried—or at least heard of—chapssal doughnut. Made with glutinous rice flour, chapssal doughnuts are well-loved by locals and tourists alike for their chewy and crunchy texture. Good news: you can now get a taste of it at Donas8, a store located at Great World that specialises in Korean mochi doughnuts. Better yet, Donas8 stands right next to Robert Chicken, an eatery that sells Korean fried chicken made by a robot.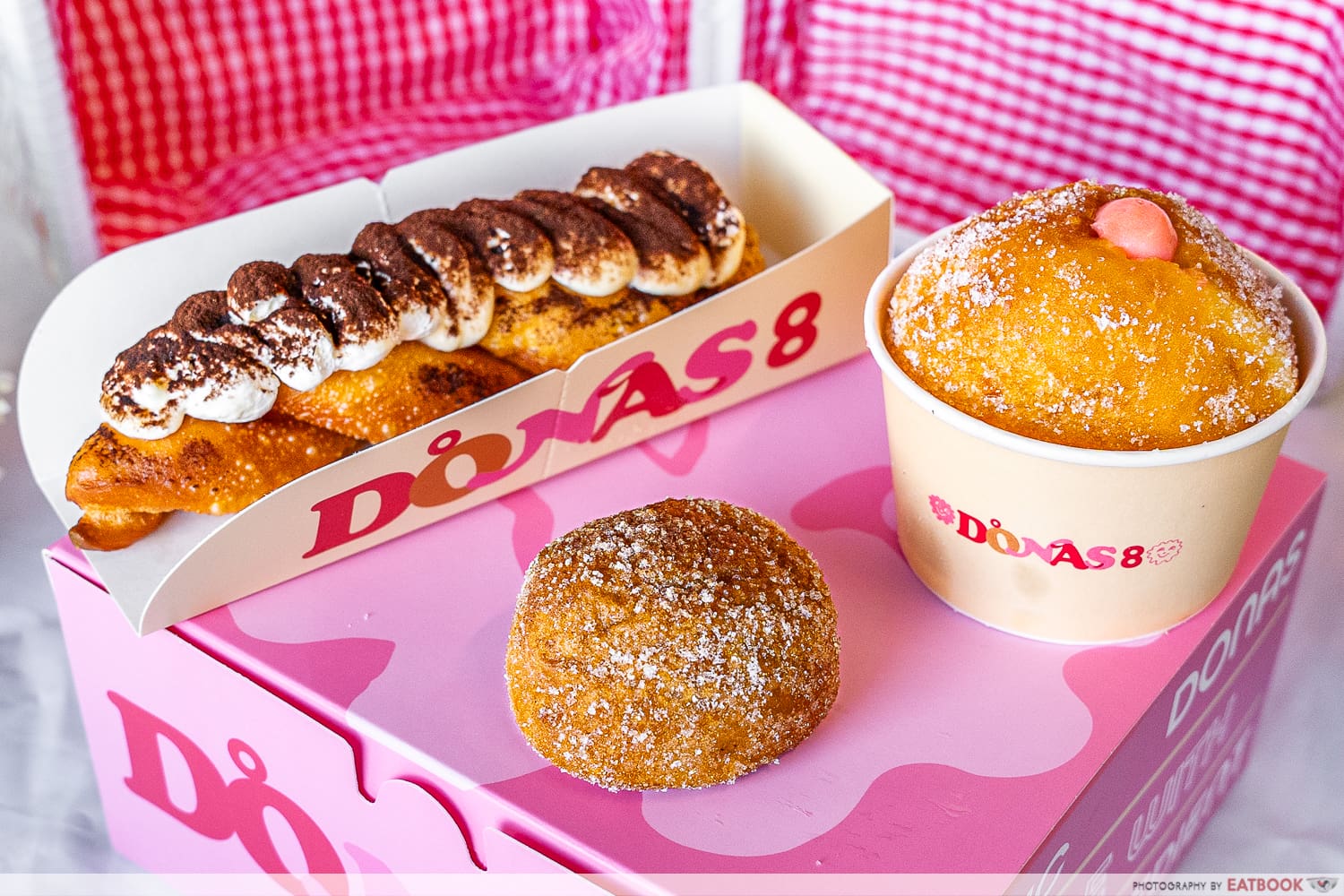 We first featured Donas8 at Market Blue, a Korean kopitiam in Singapore with a Korean-style photobooth and mini merch store. 
Here, there are three types of doughnuts to choose from: Chewy Donut, Bombolini, and Twisted Donut.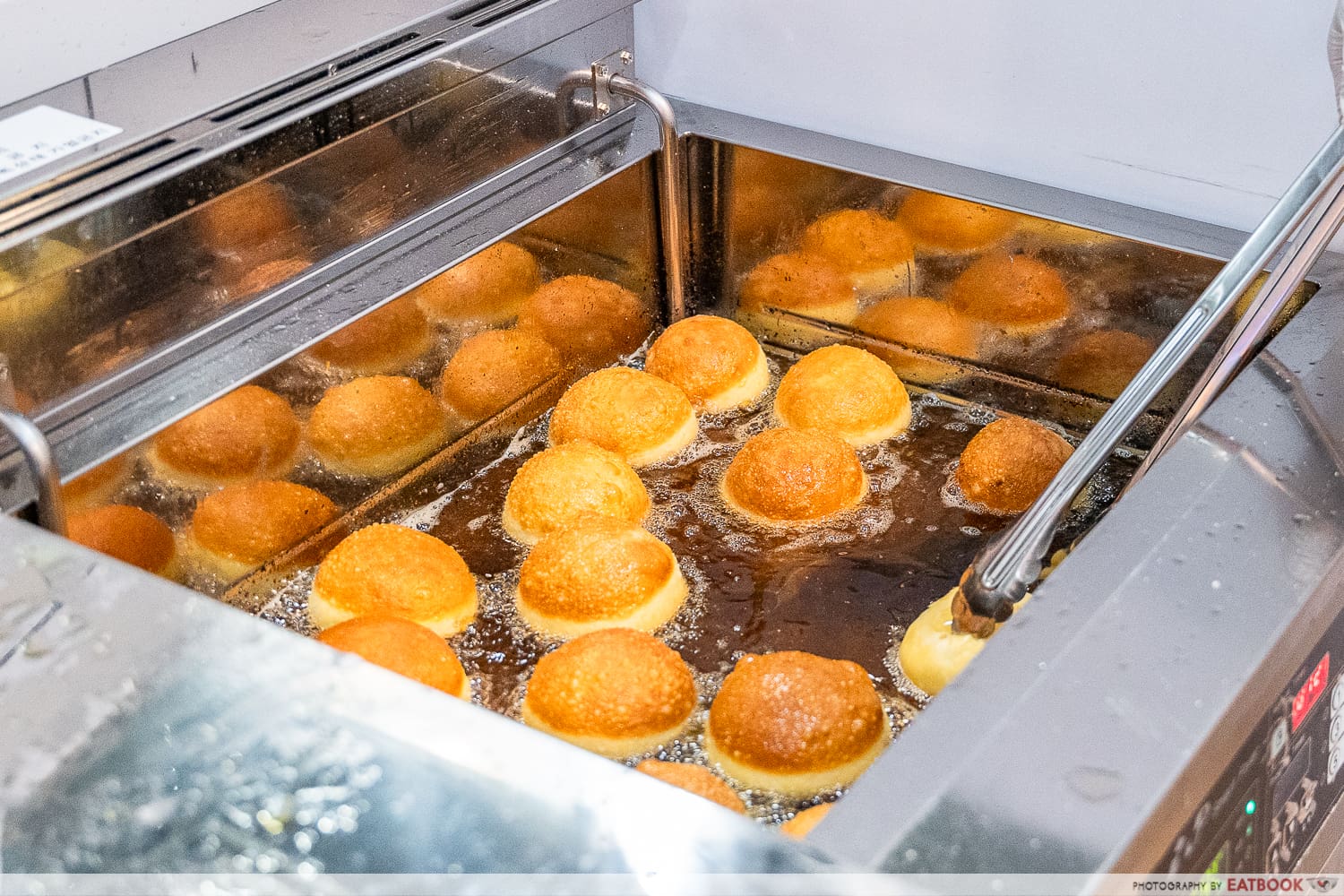 If there's one thing these doughnuts share in common, it's the fact that they are fried in piping hot oil for the optimal crisp on the outside. We were given an opportunity to take a look at what goes behind the counter, and saw that the staff was tossing and turning the doughnut pieces with speed and precision.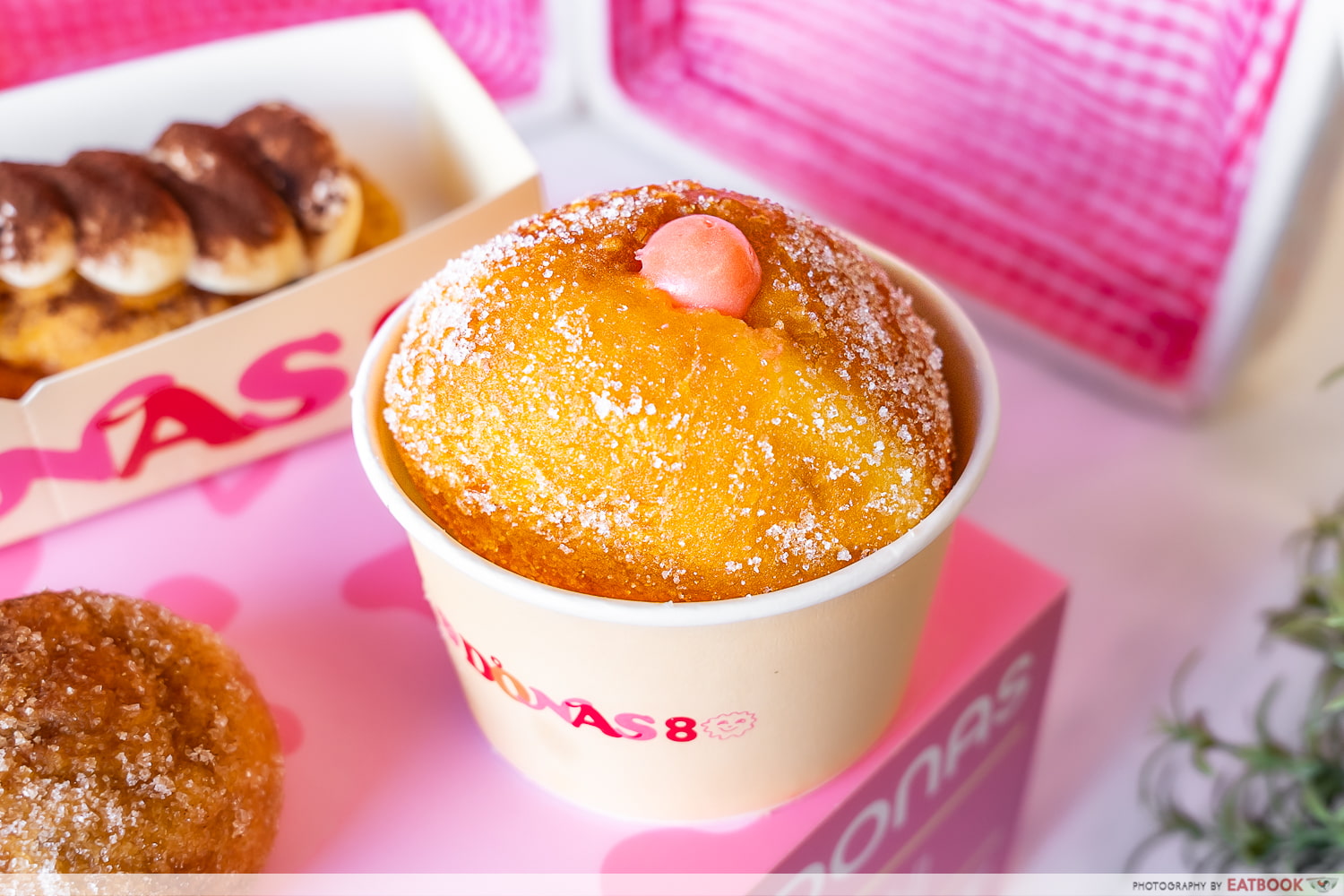 A strong contender would be the Strawberry Bombolini ($5.50), a deep-fried doughnut packed with strawberry cream filling.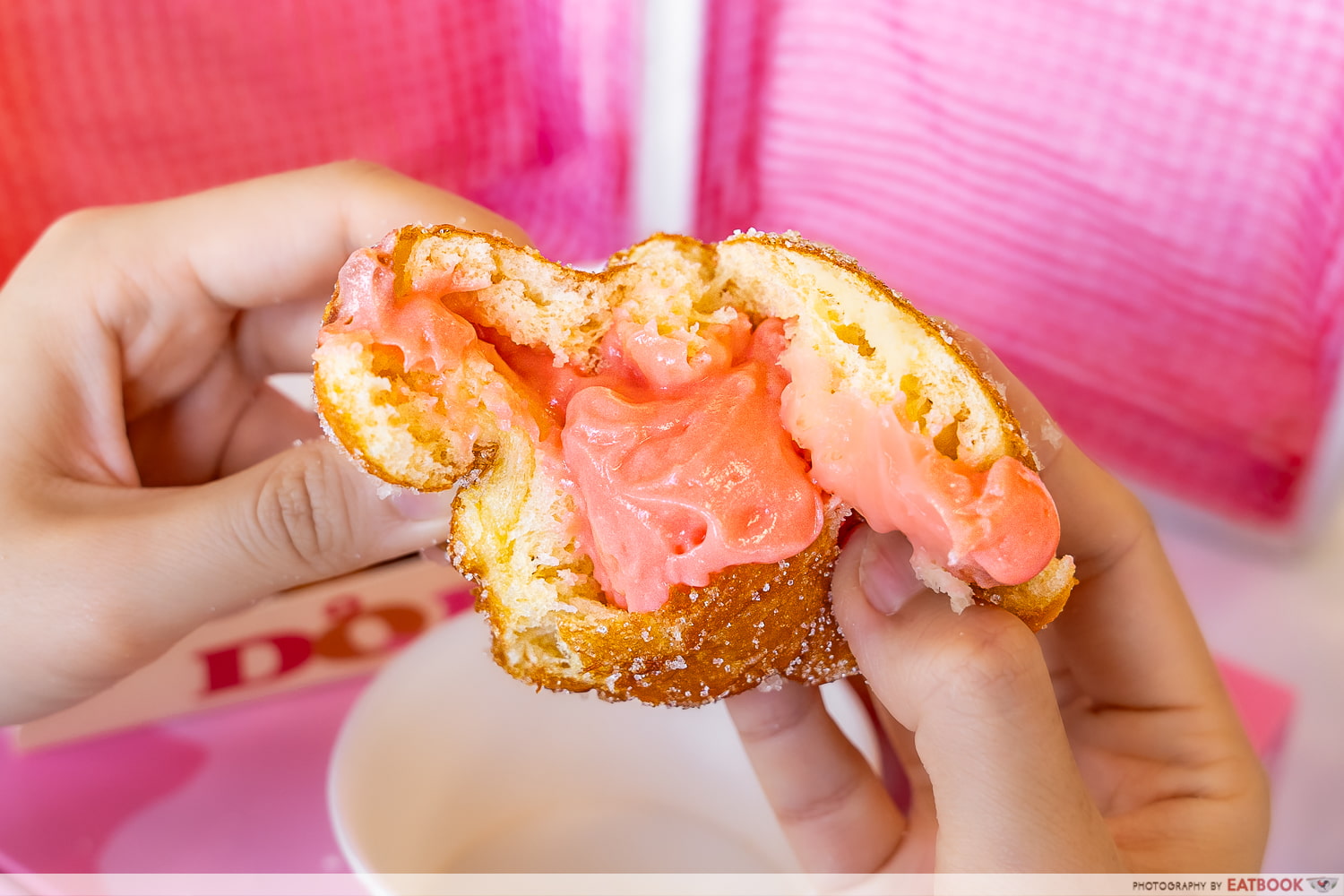 The filling tasted similar to that of strawberry milk, and we appreciated that it wasn't excessively sweet or artificially flavoured. Among the six different flavours available for Bombolini, the Strawberry and Custard flavours are said to be the most popular.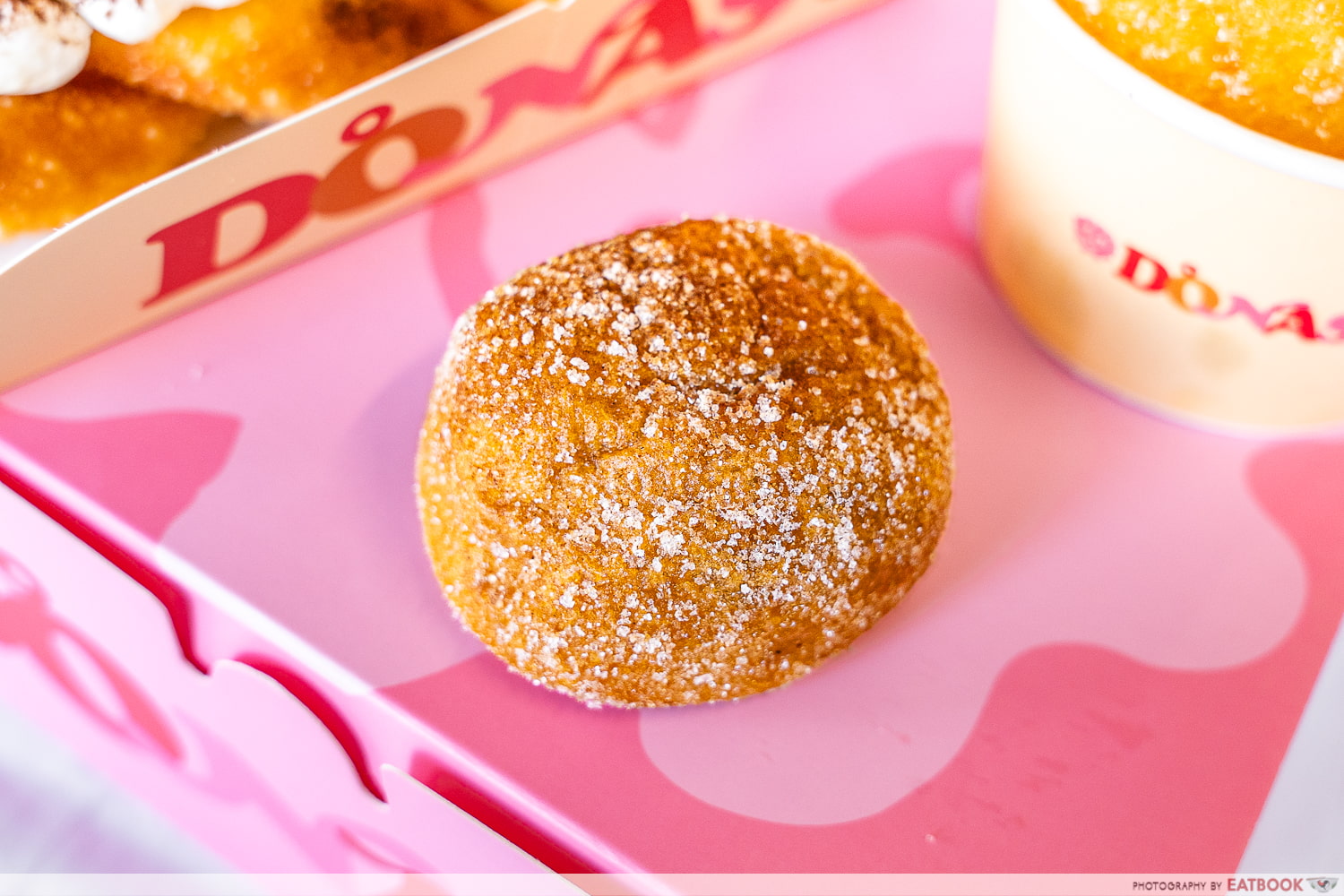 An old but gold classic has got to be the Cinnamon Chewy Donut ($3.20), which was the most reminiscent of the traditional Korean chapssal doughnut out of all the ones we tried. We enjoyed the mochi-like stretch and chewiness despite it being cold, but you should definitely enjoy these chewy doughnuts while they're still hot.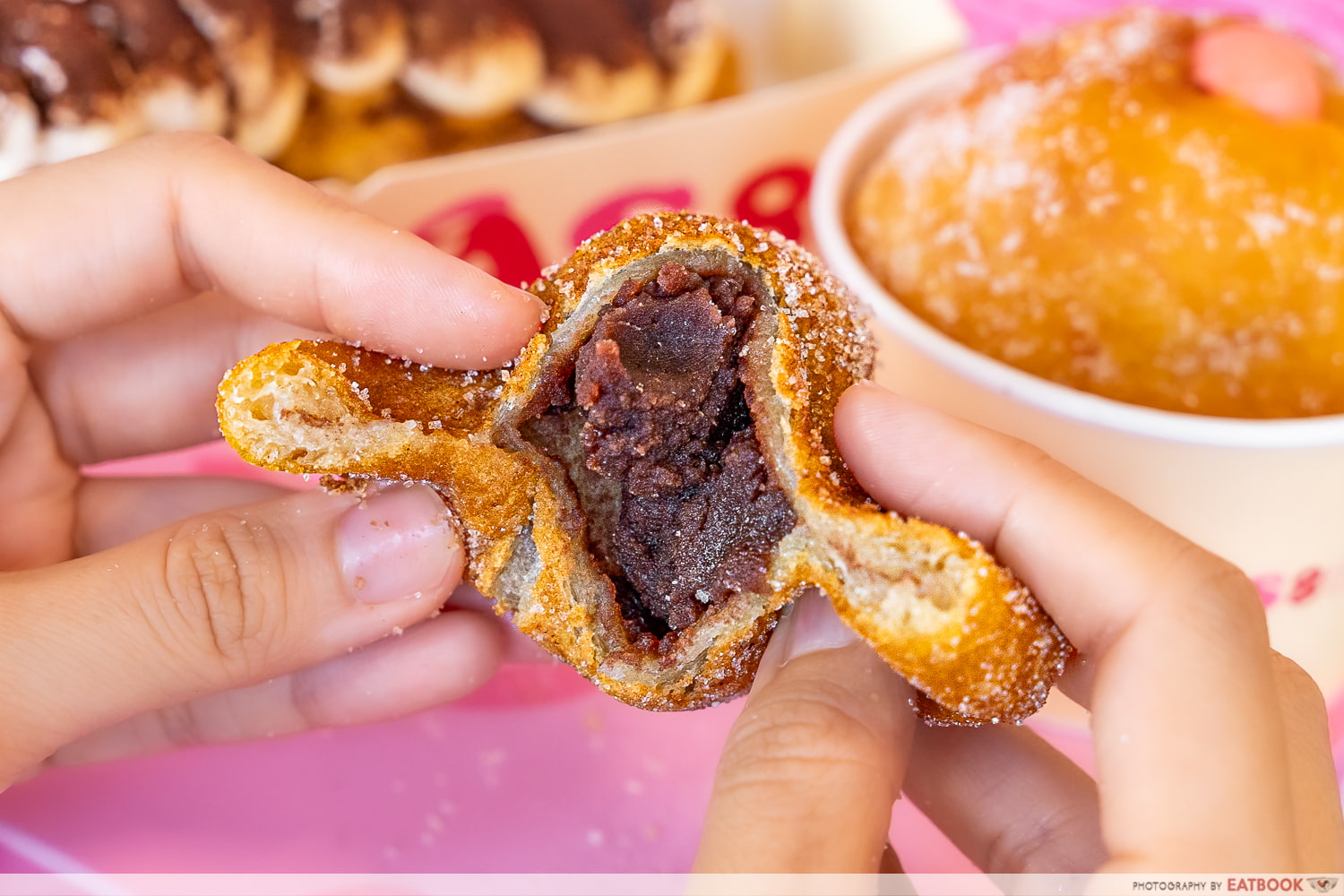 The chewy doughnuts are filled with either red bean paste or cream cheese, and the cinnamon flavour only comes from the cinnamon powder coated on the doughnuts. There are five flavours in total: Plain, Strawberry, Chocolate, Matcha, and Cinnamon.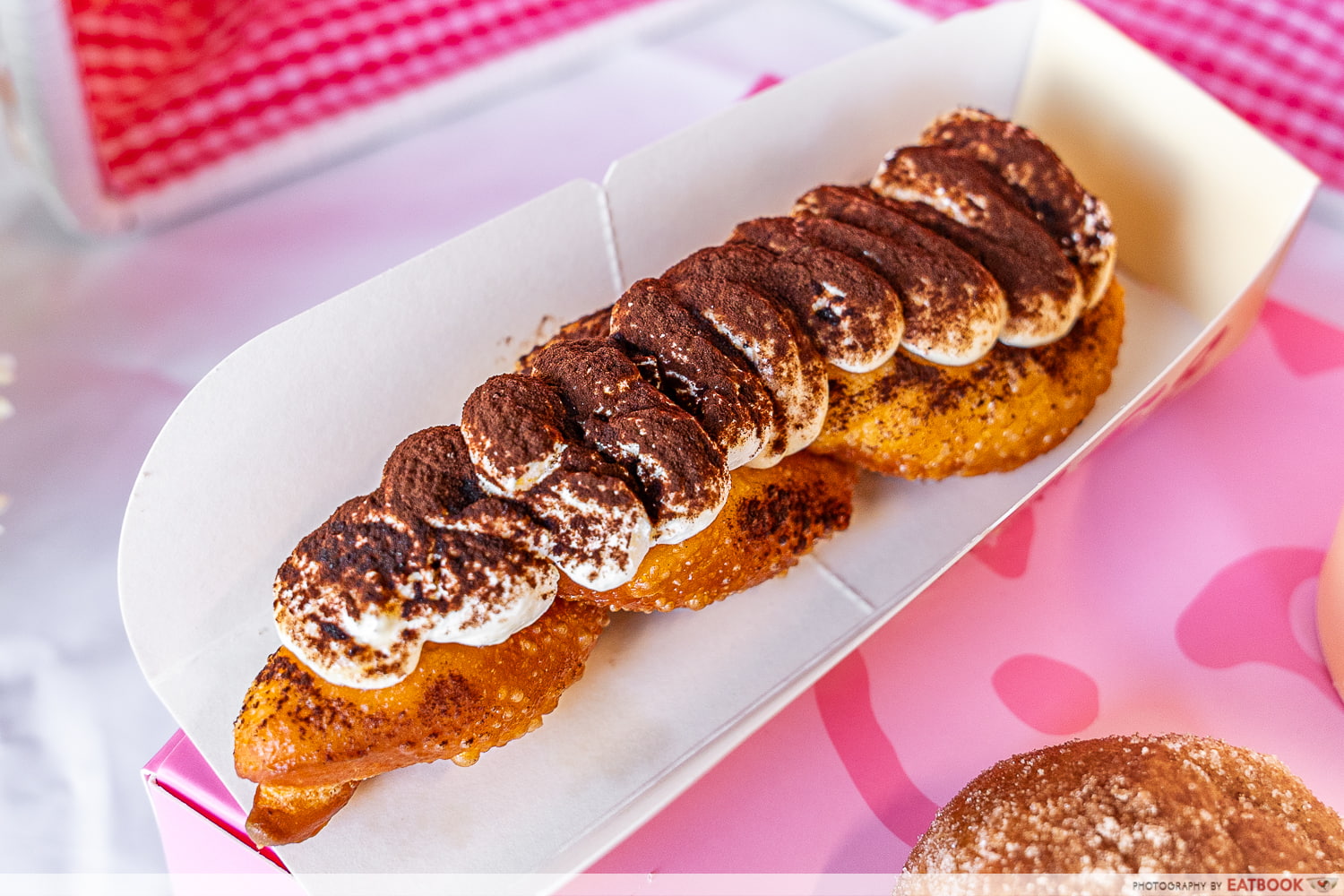 Ending our experience on a high note, the Tiramisu Twisted Donut ($5.50) was the most delectable. Kkwabaegi, which refers to twisted doughnuts in Korean, is a popular snack that can be found in traditional markets and local bakeries in Korea. The twisted doughnuts at Donas8 come with a cheeky twist as they are topped with cream and come in a variety of flavours: Plain, Tiramisu, Oreo, Biscoff, Strawberry, and Caramel.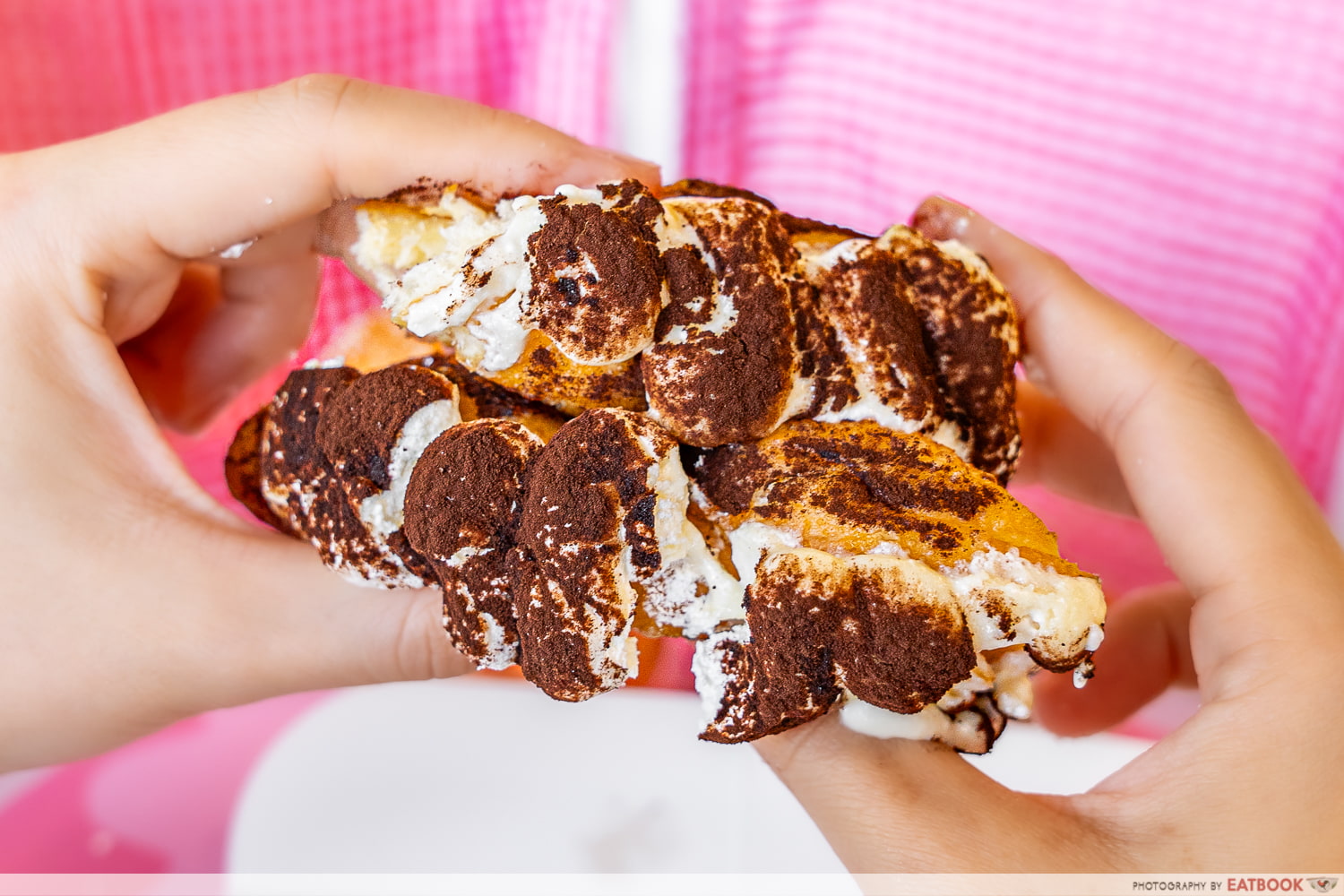 The cream was light in flavour and texture, and most importantly, it complemented the doughnut really well. It'd be helpful to note that the Plain Twisted Donut doesn't come with the cream topping. 
For more doughnut content, read our Mister Donut review. Alternatively, you can check out the best doughnut shops in Singapore, including basque burnt cheesecake and ondeh ondeh bombolini.
Address: 1 Kim Seng Promenade, #B1-K122, Great World, Singapore 237994
Opening hours: Daily 10am to 10pm
Website
Donas8 is not a halal-certified eatery.
Mister Donut Review: Famous Japanese Mochi Doughnuts In SG-Exclusive Flavours At Junction 8
Photos were taken by Lynette Goh and edited by Aldrich Tan.
This was an independent visit by Eatbook.sg.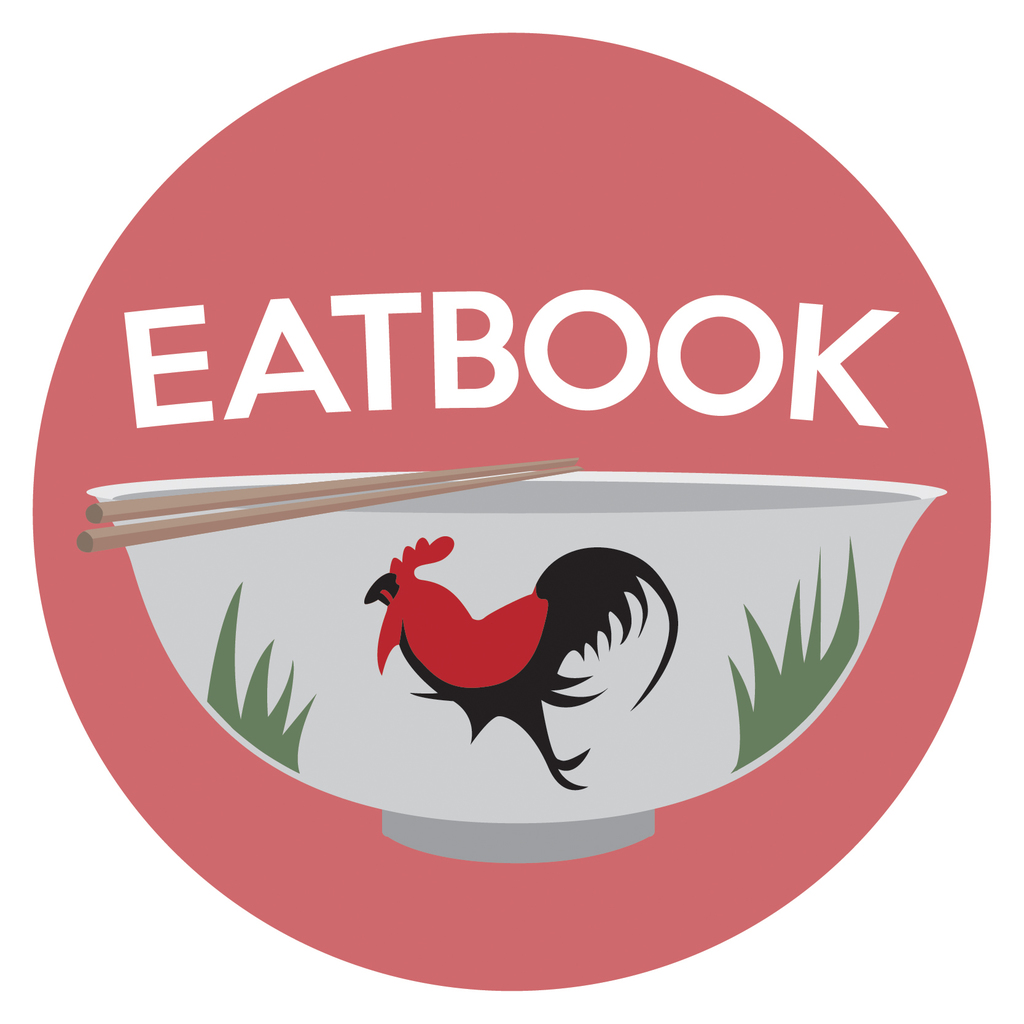 Drop us your email so you won't miss the latest news.