Lava Korean Bread At Egg Taste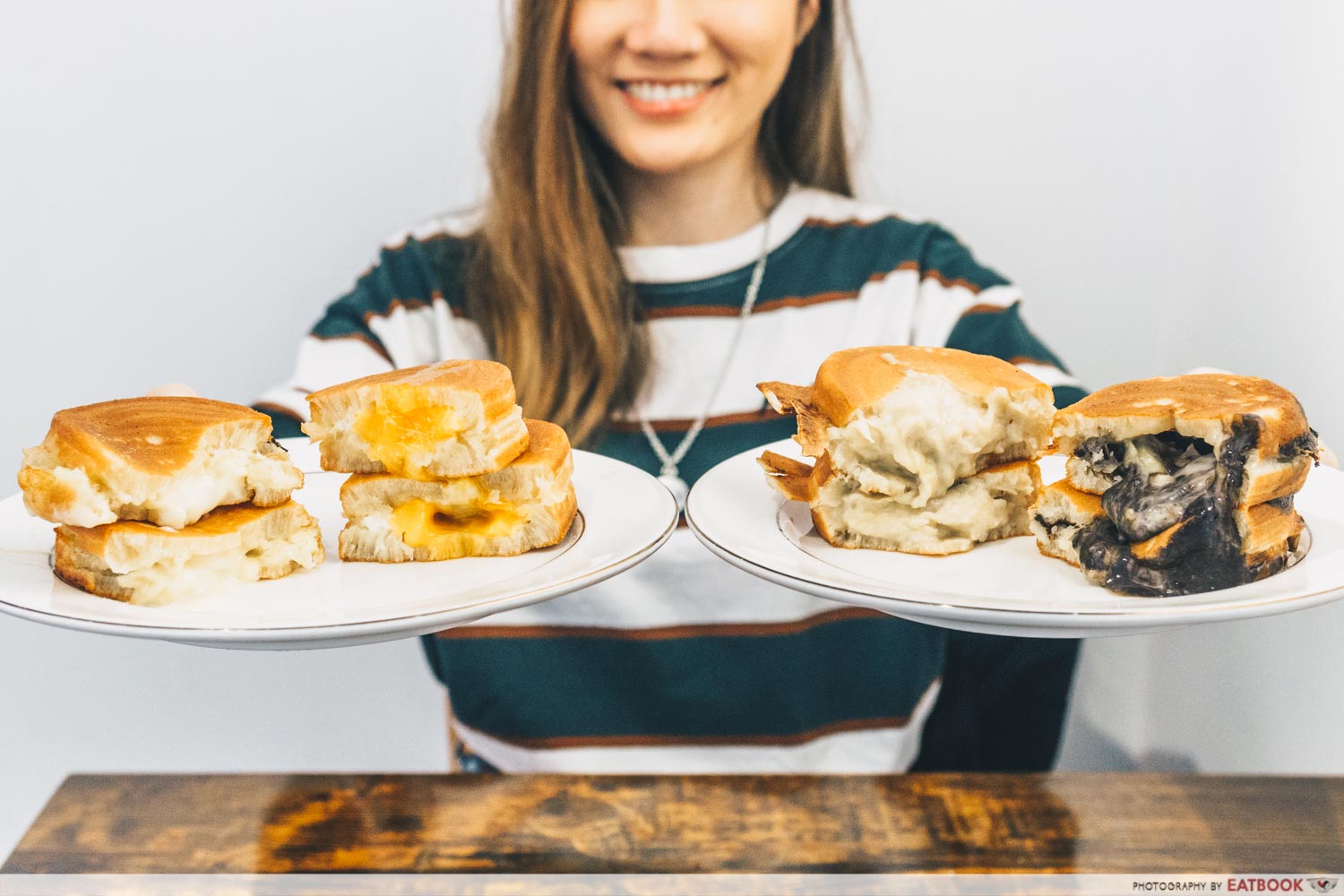 Ask me what my favourite Korean street food is and I'd say Gyeran-ppang (egg bread) without hesitation. If you have ever strolled along the bustling streets of Myeongdong, you'd know how the aroma of this freshly baked delicacy hits you at every corner. I was thrilled to find out about Egg Taste, also known as Ah Yang Cafe, in West Coast, where they serve egg bread loaded with a variety of sweet and savoury molten fillings.
4 Easy Korean Street Food Recipes That Can Rival Myeong-dong's Stalls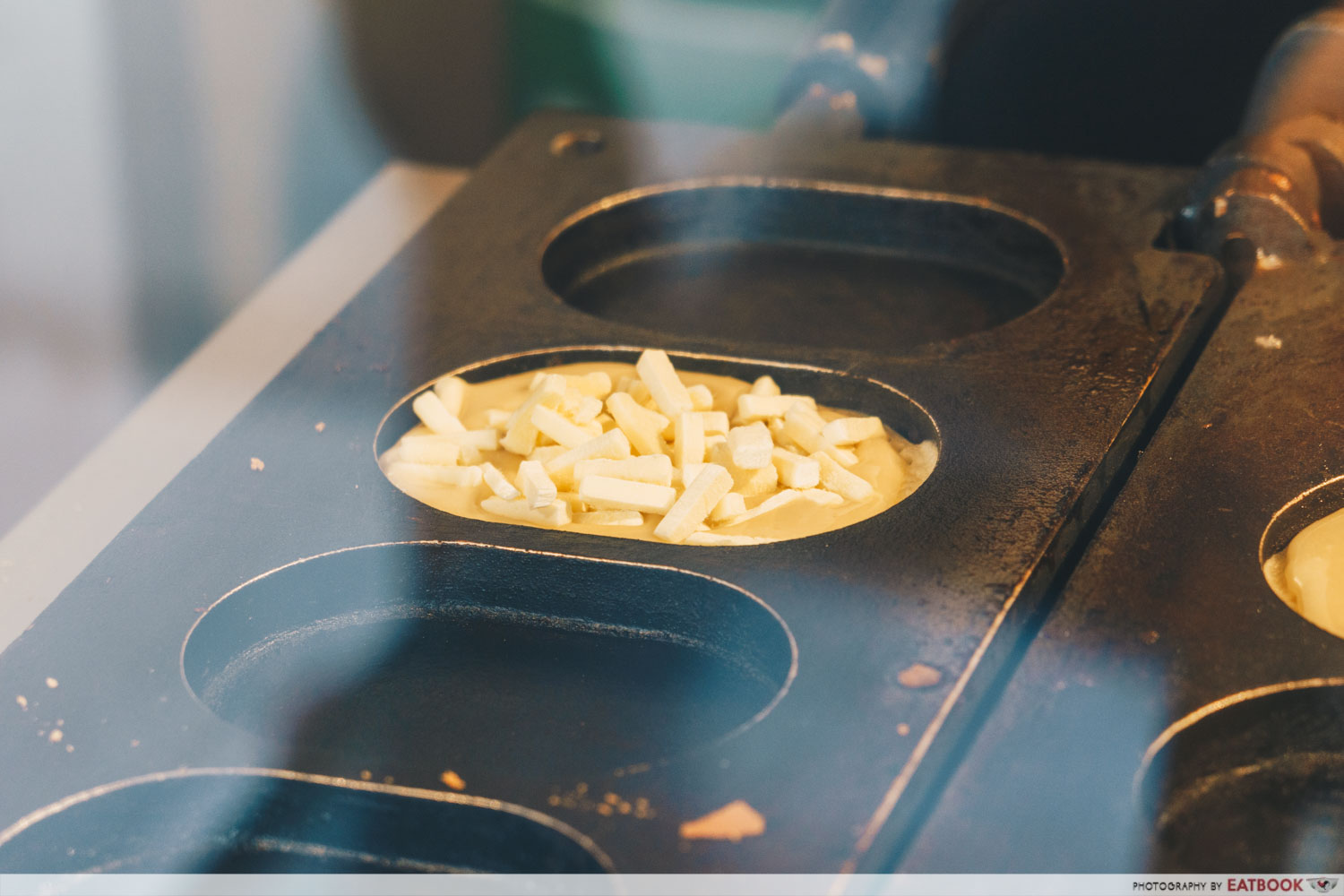 Similar to the street carts in Korea, the egg bread at Egg Taste was made right in front of us. However, instead of being baked in an oven, they were prepared directly on a grill. There was something very captivating about watching the batter slowly poof up and turn golden brown.  
Food at Egg Taste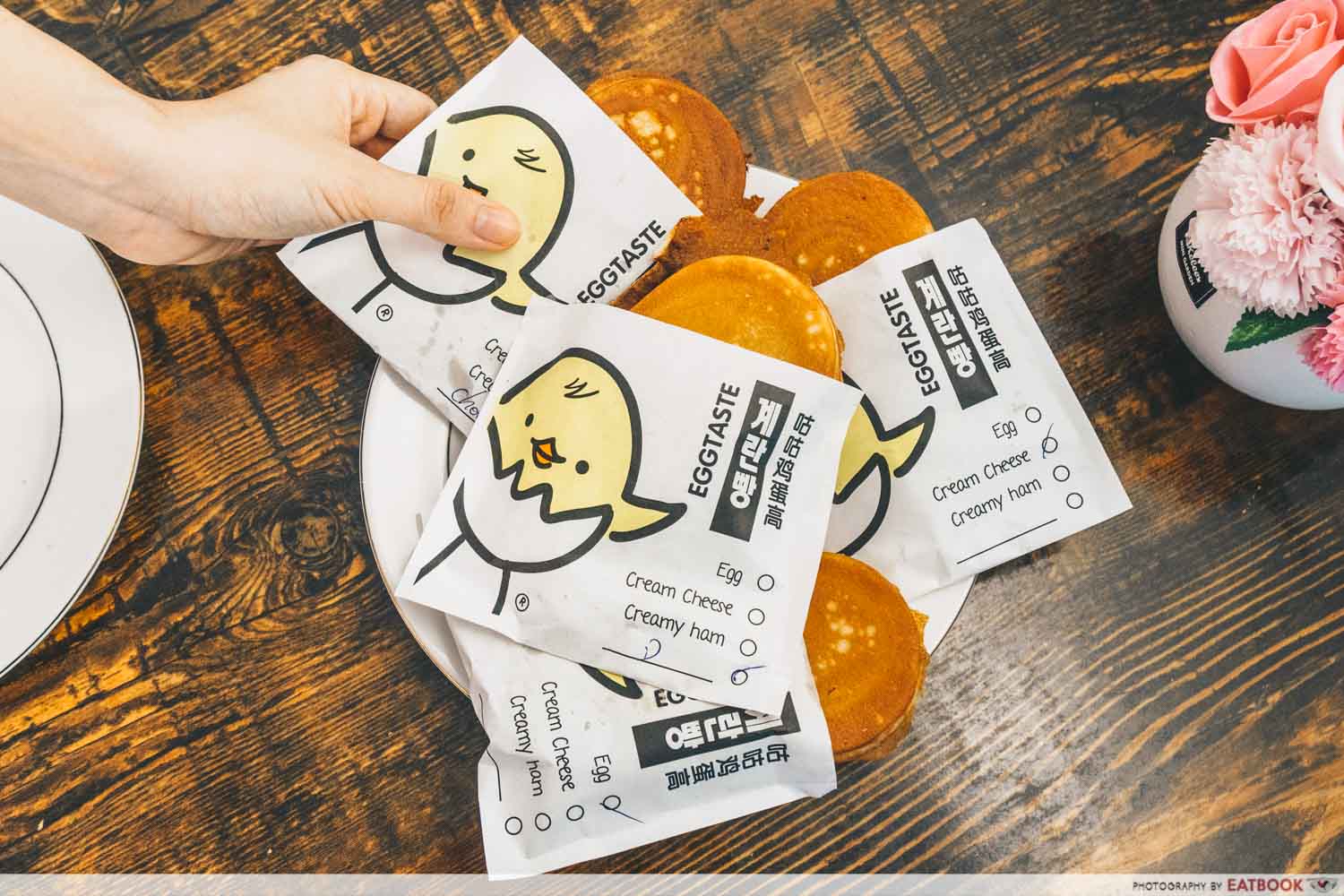 I couldn't wait to tuck into the fragrant little parcels. The egg bread itself was fluffy and dense, with a mellow, eggy taste. Though I would've preferred it to be less bland, I didn't think it would be a big issue as they were loaded with fillings inside.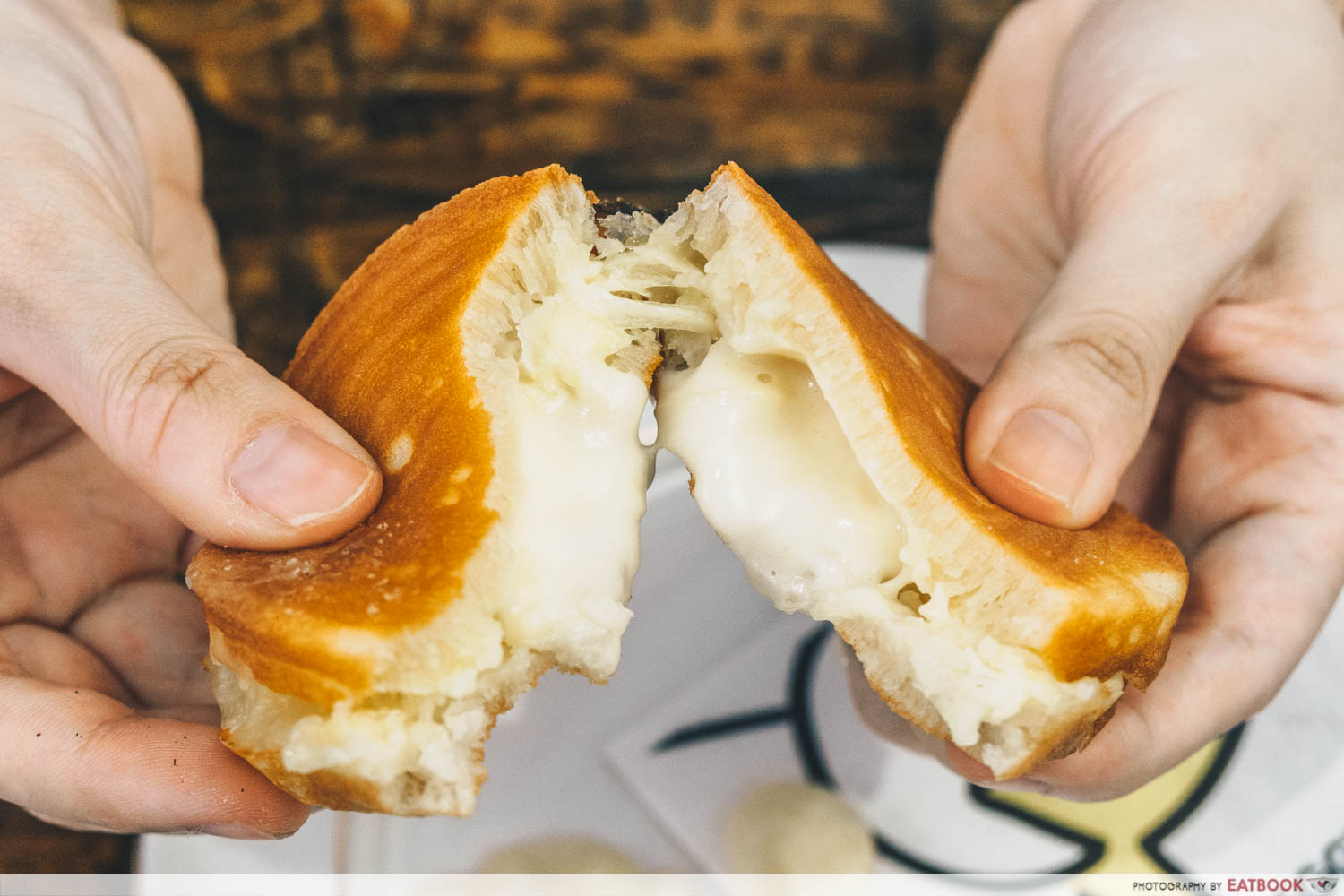 We started this brunch affair with the Creamy Cream Cheese ($5) egg bread. Instead of a cheese pull, we were greeted with a creamy filling that oozed out of the bread the moment we pulled it apart. 
The cream cheese filling was mildly savoury, but I found it was not very tasty. It tasted milky, as opposed to cheesy, which I would've preferred.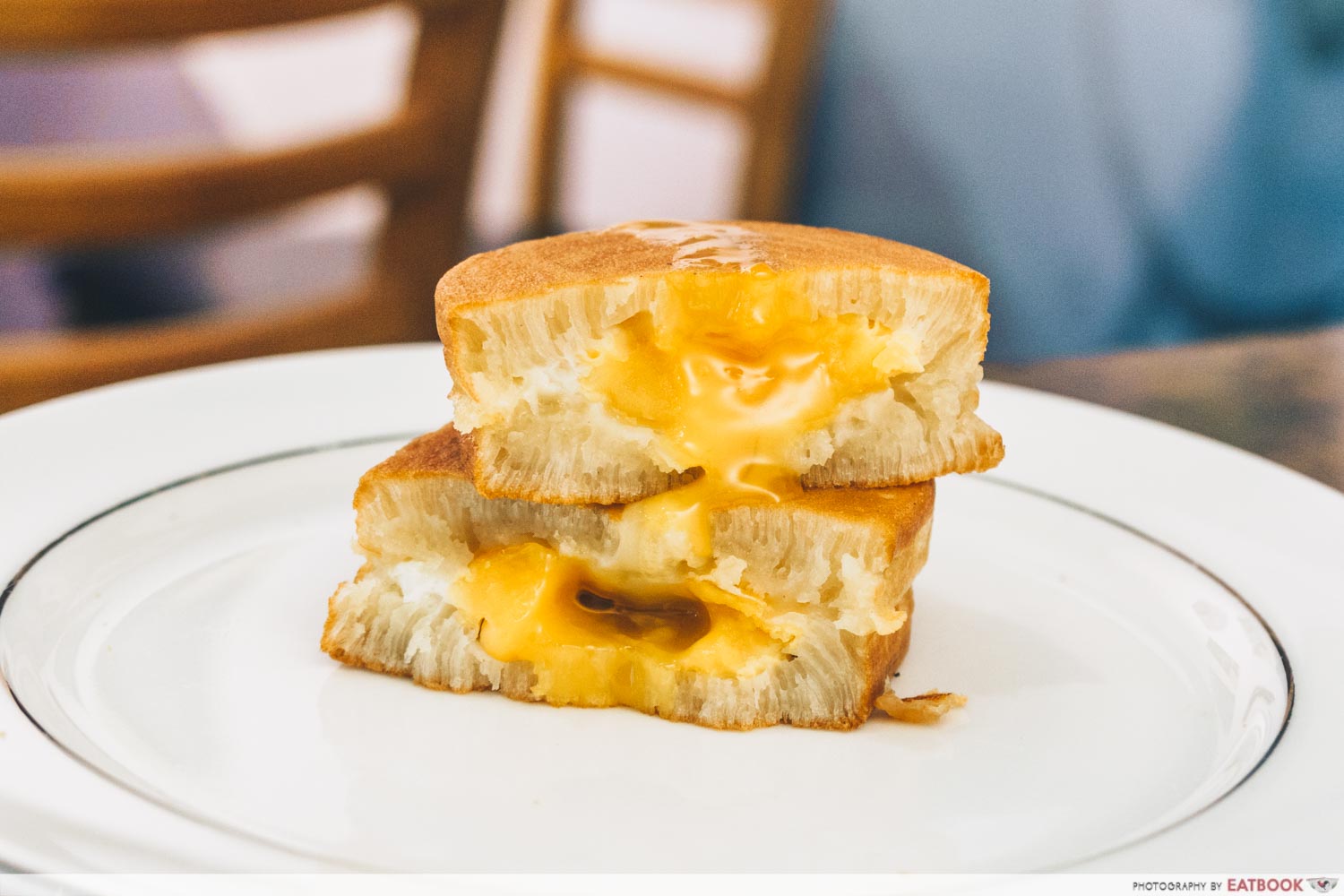 I could understand why this picture-perfect Kampung Lava ($5) is their best-selling flavour. If the tantalising runny salted egg lava hadn't won me over, the taste of the rich yolky goodness paired with the soft egg bread definitely did. 
There were also pockets of semi-melted mozzarella cheese throughout the bun that gave the Kampung Lava a touch of saltiness.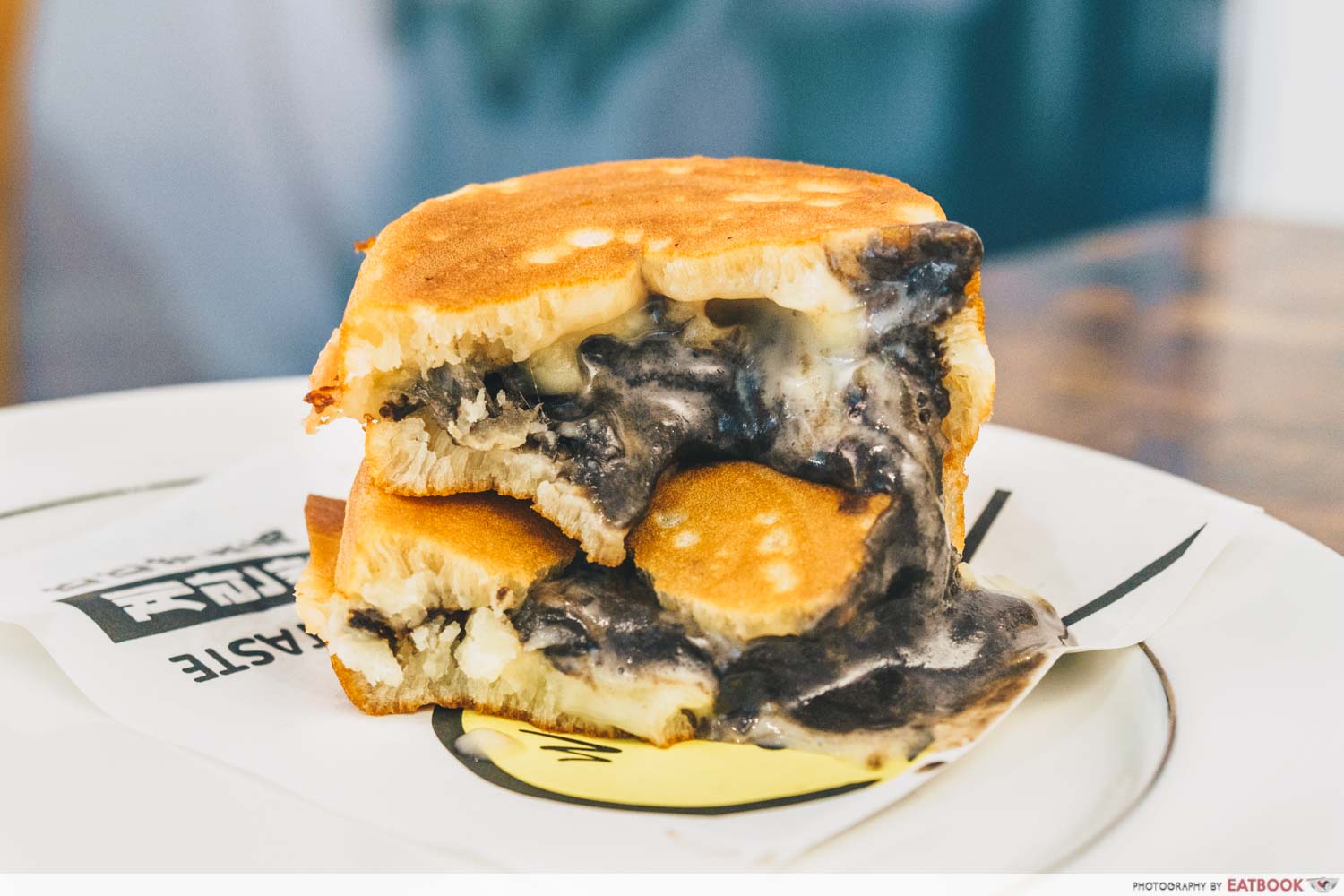 Next up, the Chocolate Cheesy ($5) egg bread was filled with a mix of chocolate and mozzarella cheese. It was as IG-worthy as the Kampung Lava or more, with its oozing black and white molten filling. 
The chocolate had a potent semi-sweet cocoa flavour. The contrast between the sweet chocolate and savoury cheese was slightly jarring for me, and a little too rich for my palate. However, I did appreciate the generous amount of filling in the bun.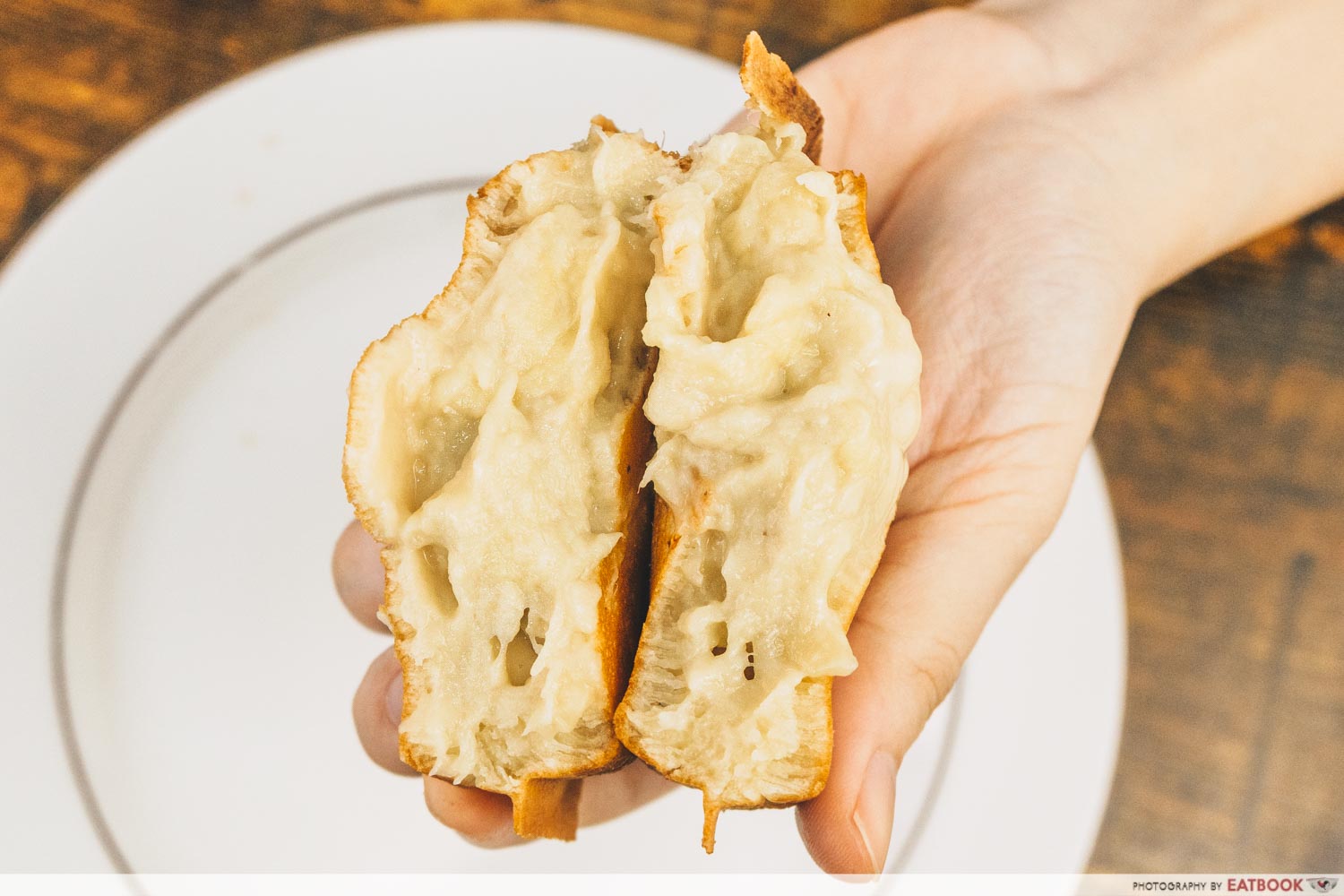 Egg Taste's Durian D24 ($6) egg bread is a nod to Singaporeans' love for the King of Fruits.
The bun was loaded with creamy D24 durian pulp. Similar to the durian pancake at Four Seasons, the sweet durian paste went well with the eggy bread.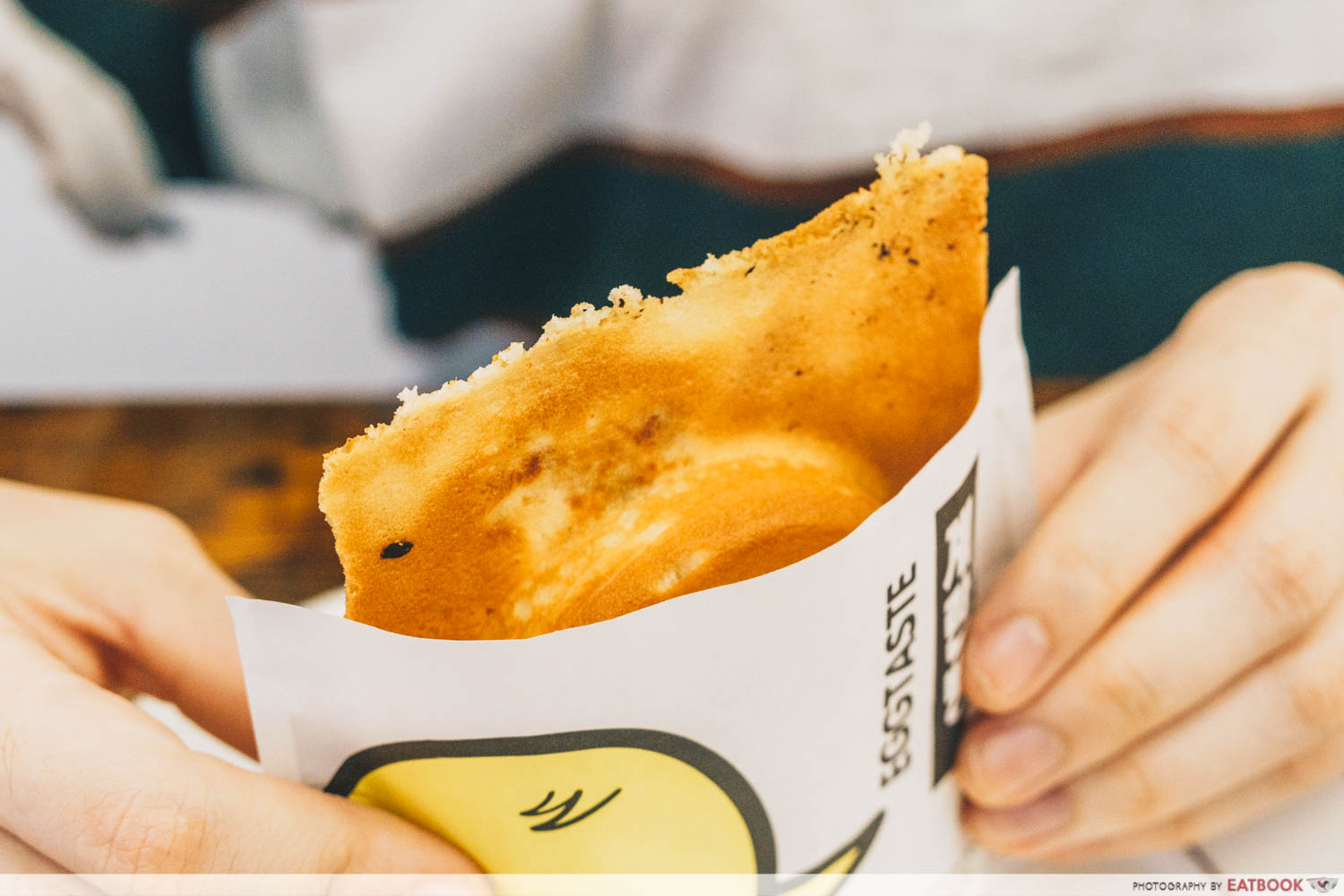 Here's a tip ─ remember to ask the lady boss to leave the crispy edges on as they are definitely the best bits!
Ambience at Egg Taste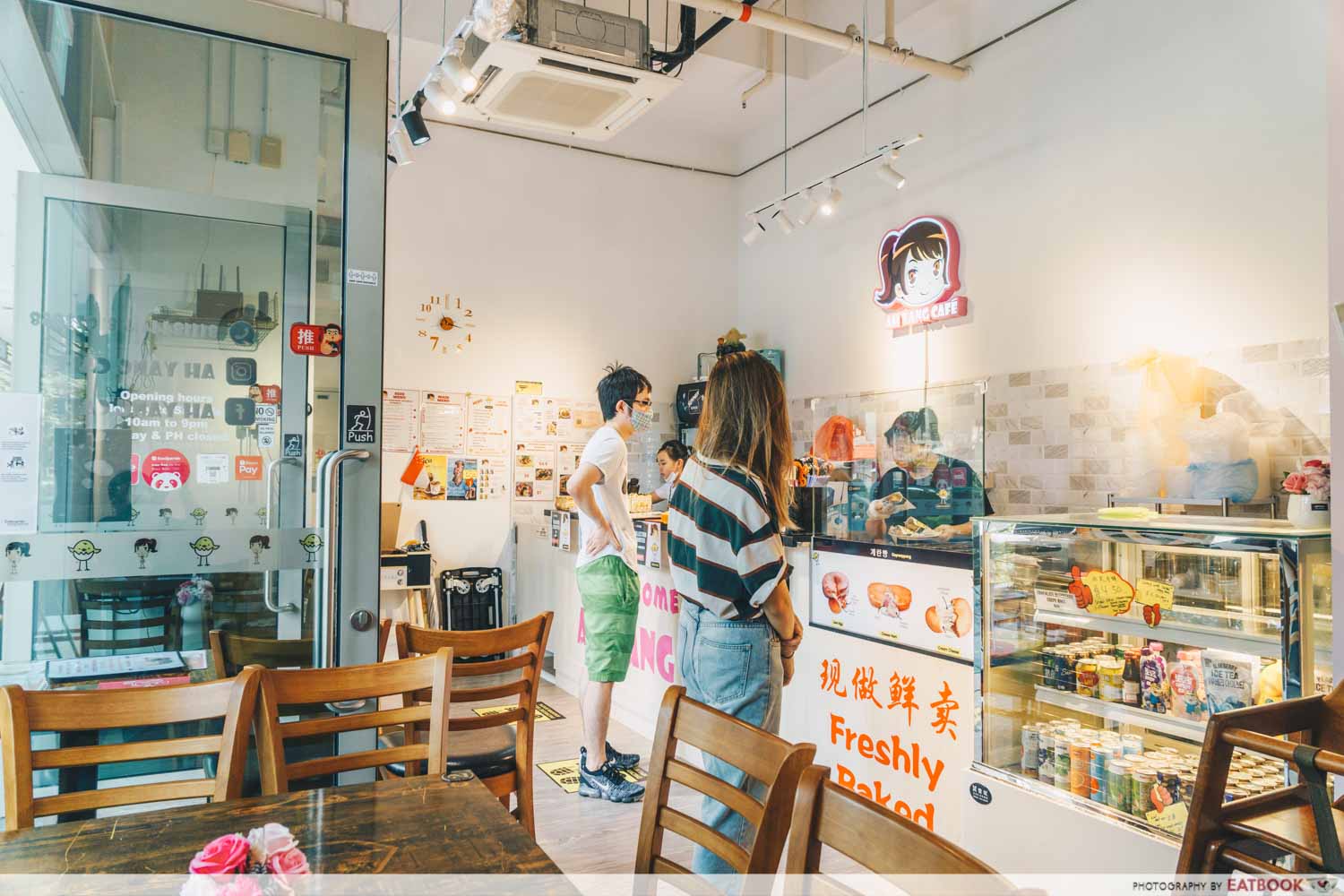 We could smell the fragrant scent of the egg bread long before we entered this little cafe. The space was small but cosy. It got a little too warm at times, but this was understandable because of the grill in their open-concept cooking space. 
The location may be slightly out of the way. If you're planning to make a trip, a 20-minute bus ride from Clementi MRT should get you here. 
The verdict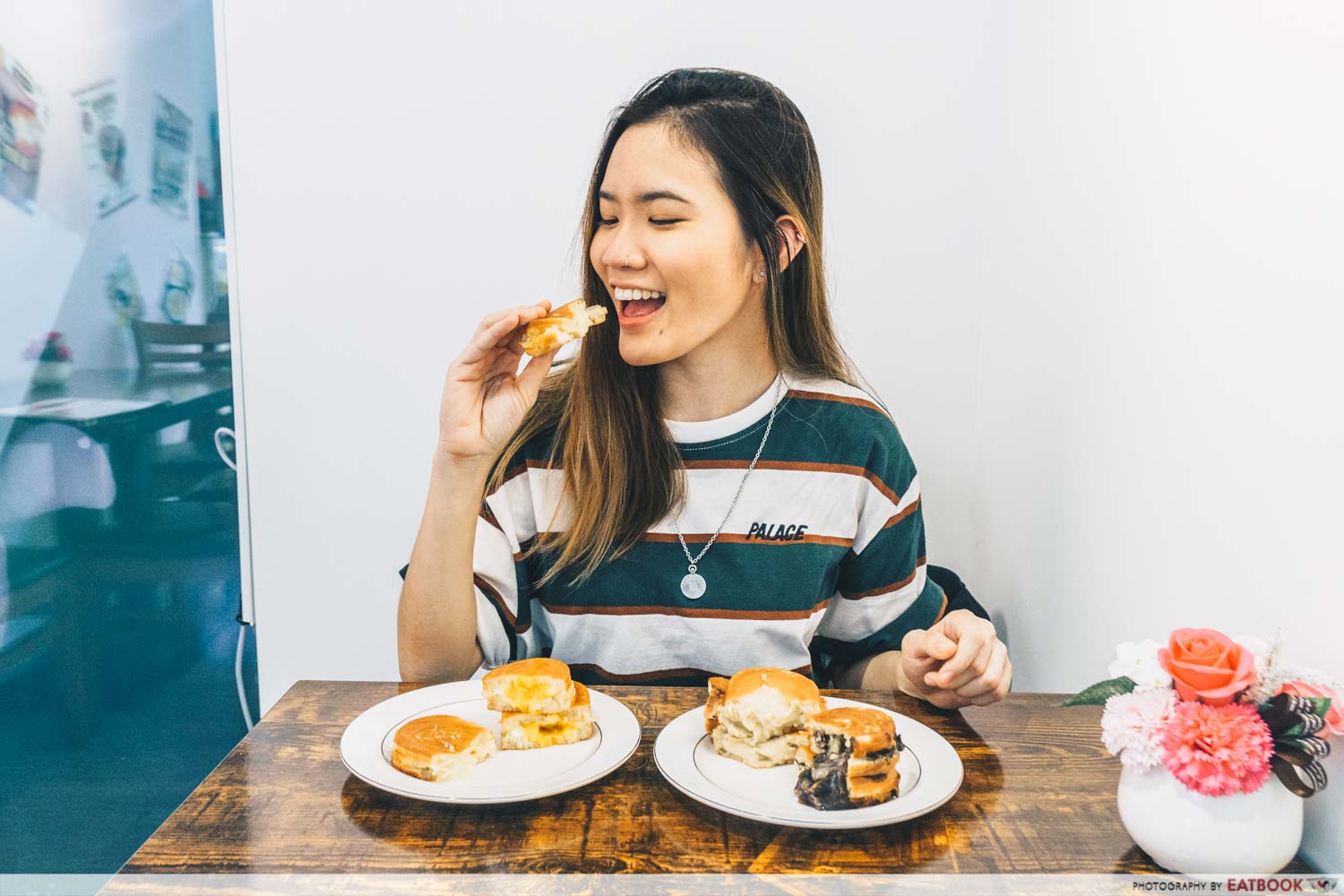 Egg Taste is generous with the fillings, although the bread was a little messy to eat. Apart from the Kampung Lava egg bread, the flavours were pretty average-tasting. However, if you're in the vicinity and craving a sweet and savoury snack, do give Egg Taste a shot.
Egg Stop Review: Korean Street Toast Shop With Scrambled Eggs In Singapore
For more similar eats, check out our review of Egg Stop for their Korean street toast with scrambled eggs. Otherwise, head over to our review of Soe Tam Jiak for their IG-worthy fish-shaped taiyaki!
Soe Tam Jiak Review: Croissant Taiyaki With Gula Melaka, Cheese And Chocolate Fillings In Orchard
Address: 1 West Coast Drive, #01-02, NEWest, Singapore 128021
Opening hours: Mon-Sat 10am to 9pm
Website
Egg Taste is not a halal-certified eatery.
Photos taken by Hay Thi.
This is an independent review by Eatbook.
Summary
Pros
– Kampung Lava Egg was delicious
– Generous filling
Cons
– Egg bread texture was a little too dense
– Some flavour combinations were not enjoyable
– Pricey
Recommended Dishes: Kampung Lava ($5), Durian D24 ($6)
Opening hours: Mon-Sat 10am to 9pm 
Address: 1 West Coast Drive, #01-02, NEWest, Singapore 128021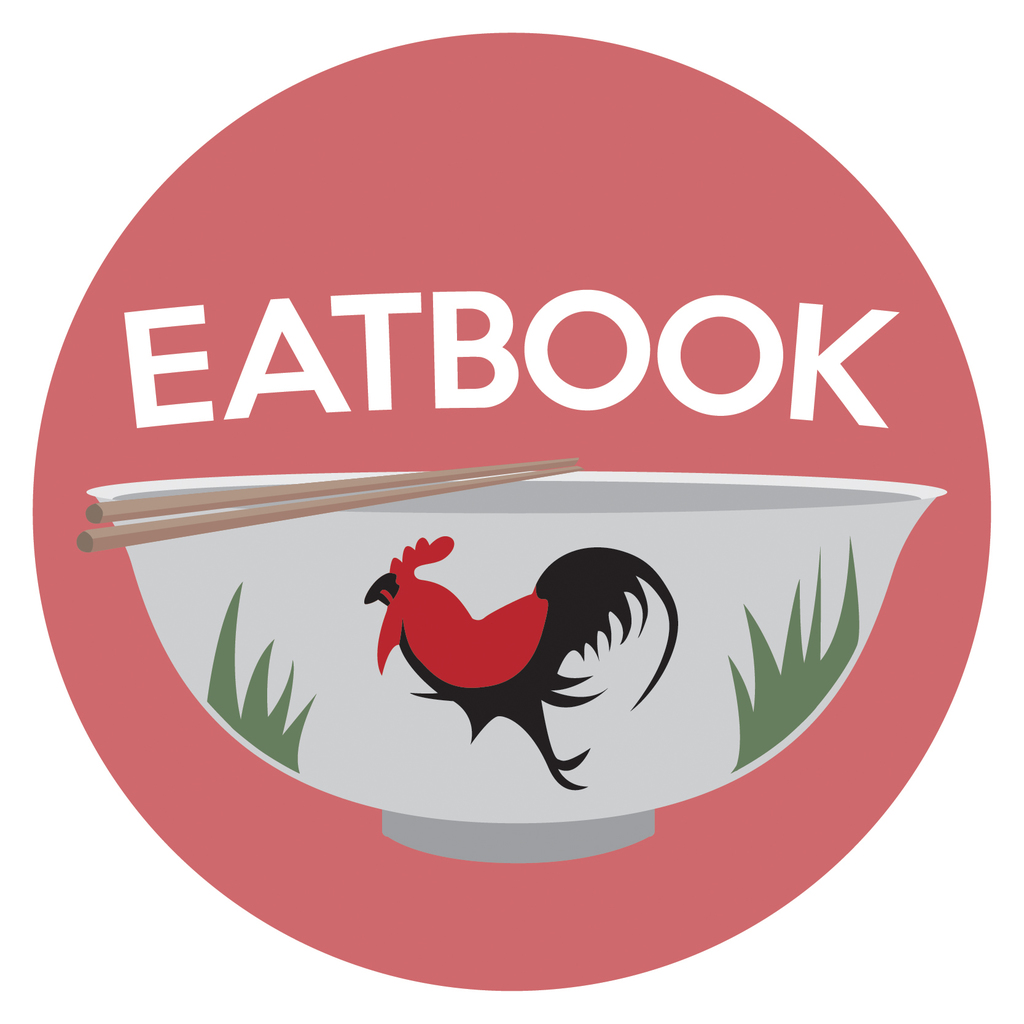 Drop us your email so you won't miss the latest news.