Eightisfy Western at Bukit Merah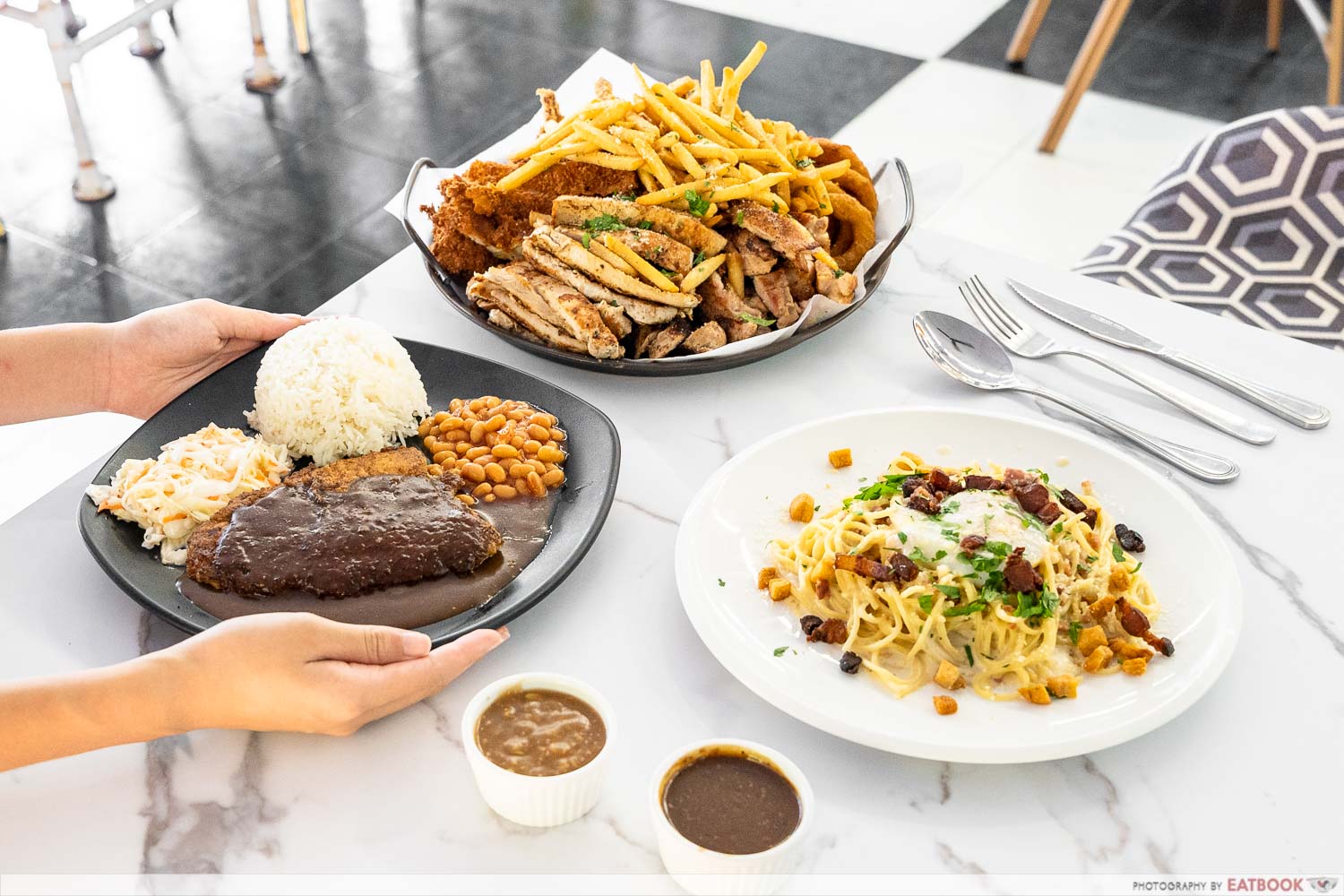 As a personal rule, I try to avoid ordering Western food in hawker centres, having had disappointing plates of chicken chop and spaghetti in the past. However, after hearing about the XXL platters and carbonara with pork lard at Eightisfy Western, I couldn't resist heading down to check them out. Rules are made to be broken, after all. 
Food at Eightisfy Western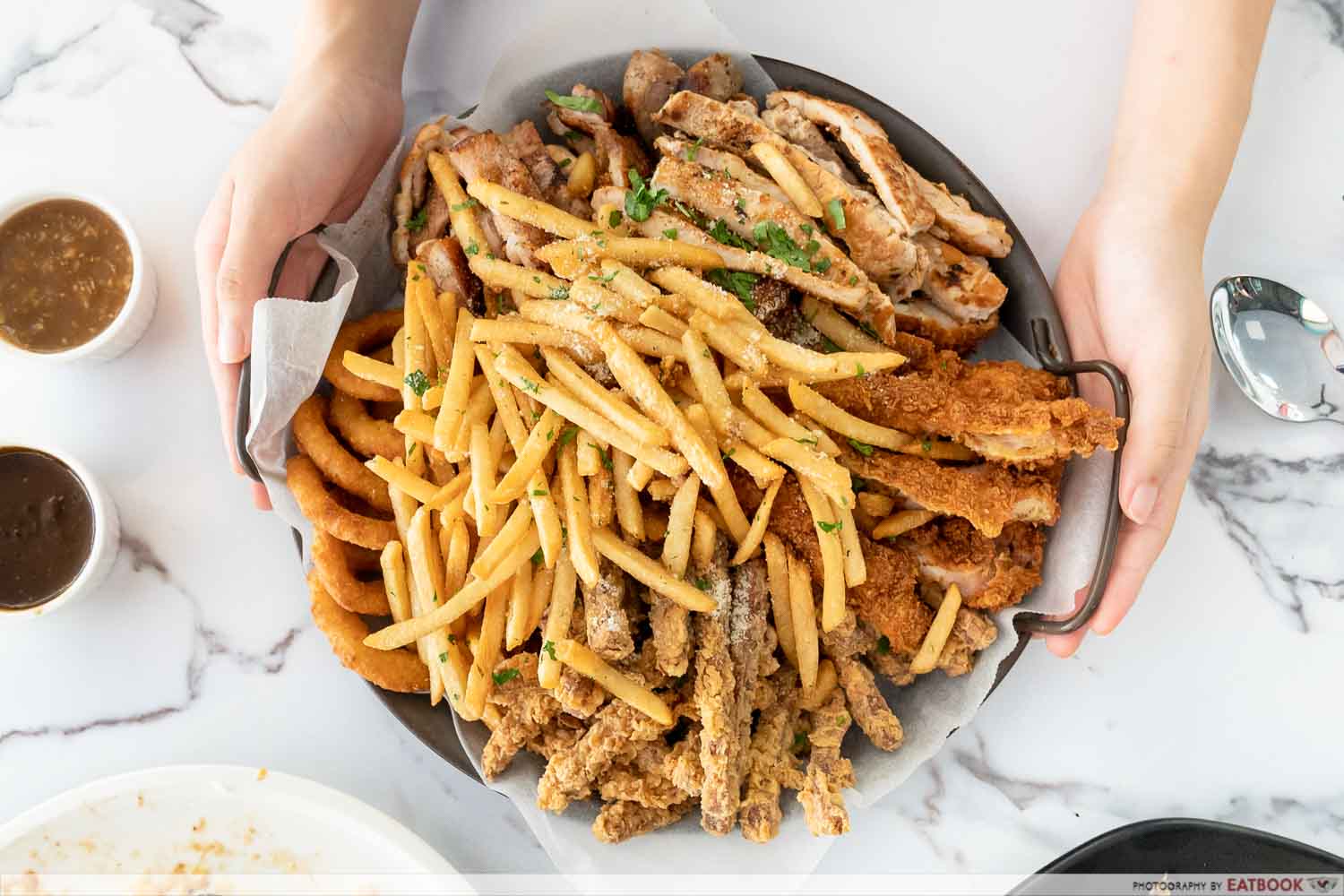 We started with the Eightisfy Platter ($38), which was truly a sight to behold. The sheer amount of grilled chicken and pork chops, chicken cutlets, Burenwurst sausages, Spam fries, onion rings, and French fries served on this platter alone scored Eightisfy Western a point in my books. 
Do note that this platter is only available during their dinner service, from 5:30pm to 9pm. The owner shared that many customers like to enjoy this smorgasbord of fried food with an order of beers from the cafeteria's very own bar—what better way to pair all that oil and salt than with a coupla cold ones.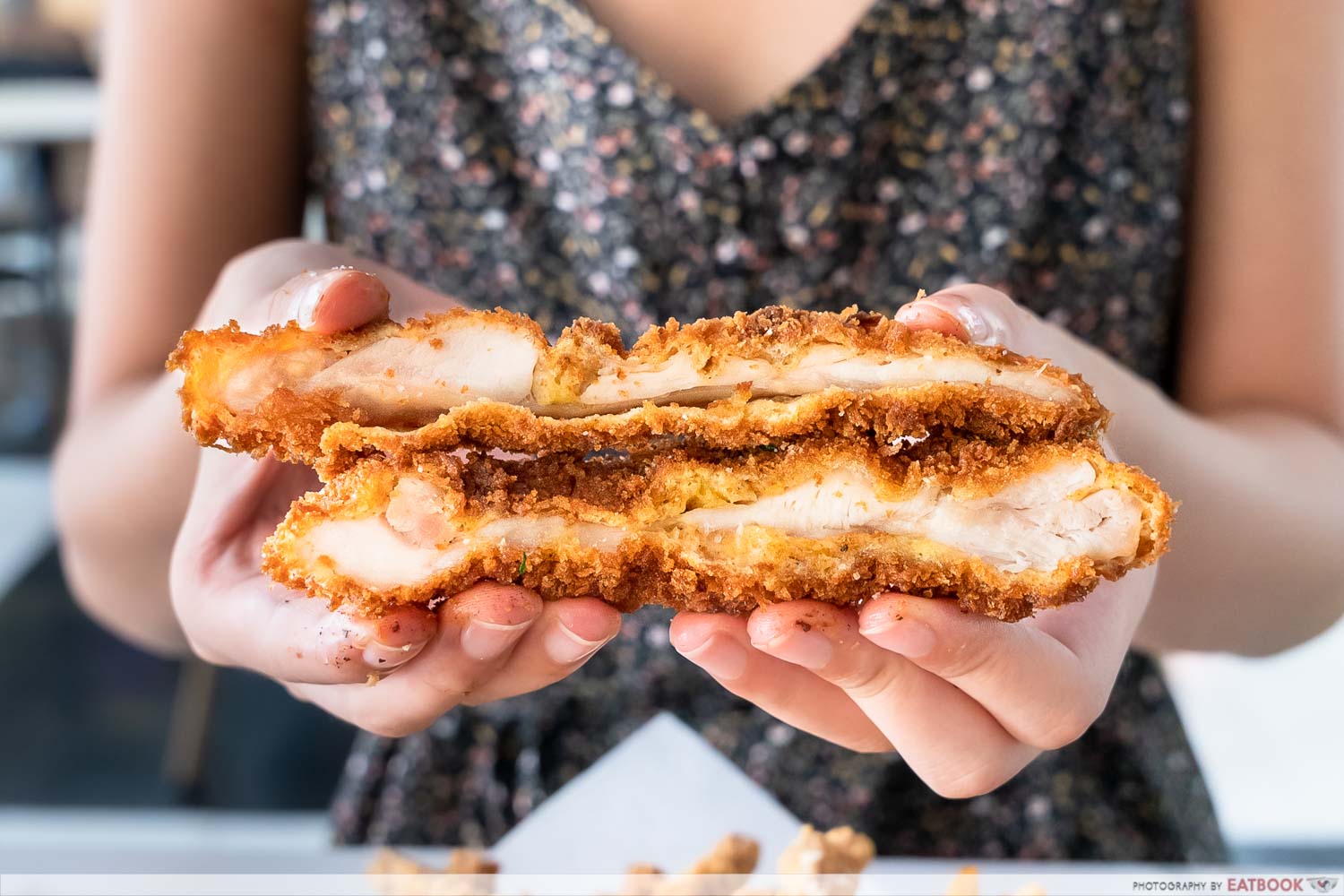 Of all the items on the platter, the chicken cutlet has to be one of my favourites. The breading on the outside of the thick cutlet was crispy and tasty, and the meat within remained juicy.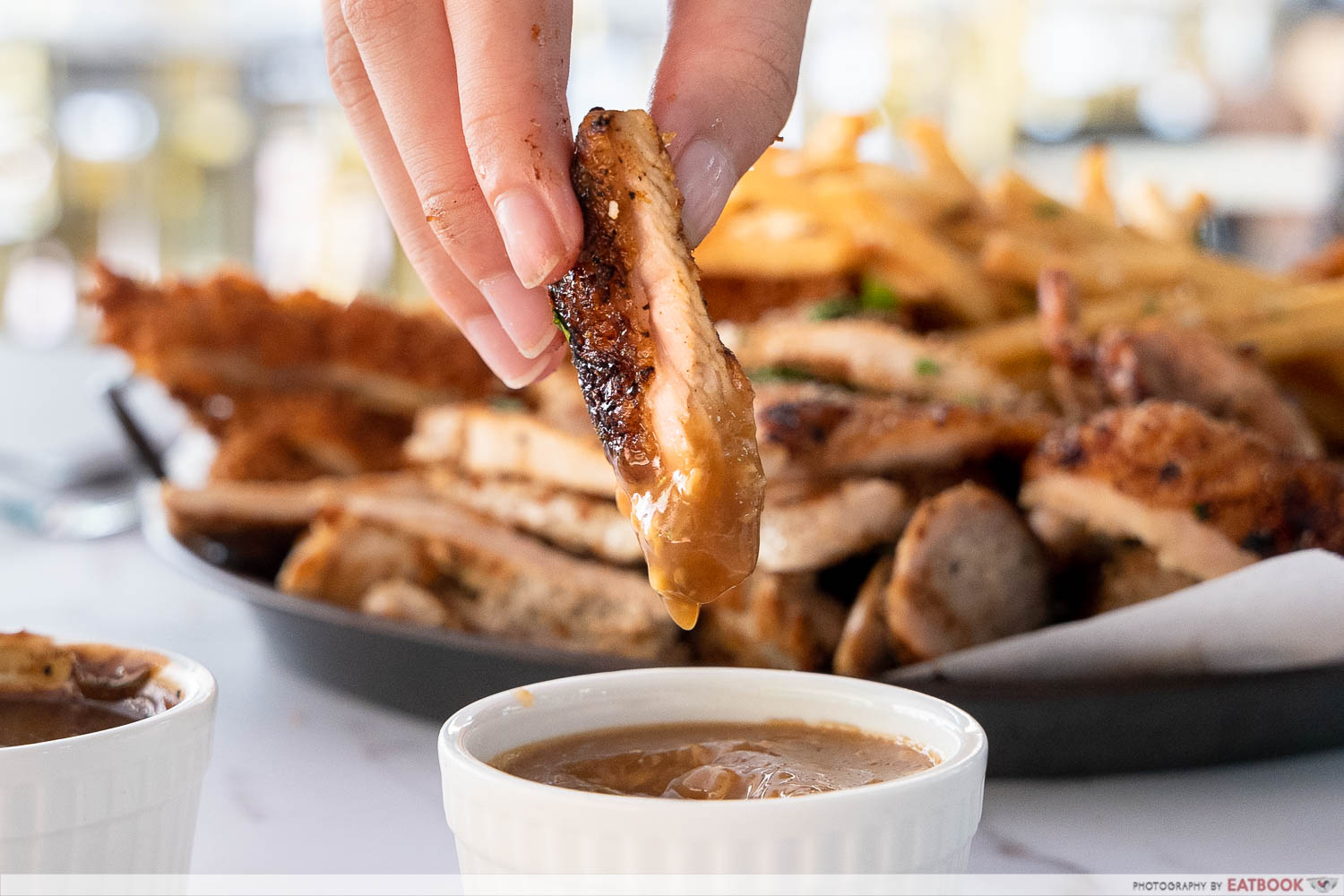 I can't say the same about the grilled pork chop though, which I would've preferred to be slightly less chewy. However, a dunk into their house-made garlic or black pepper sauce did just the trick, distracting me with their rich flavours.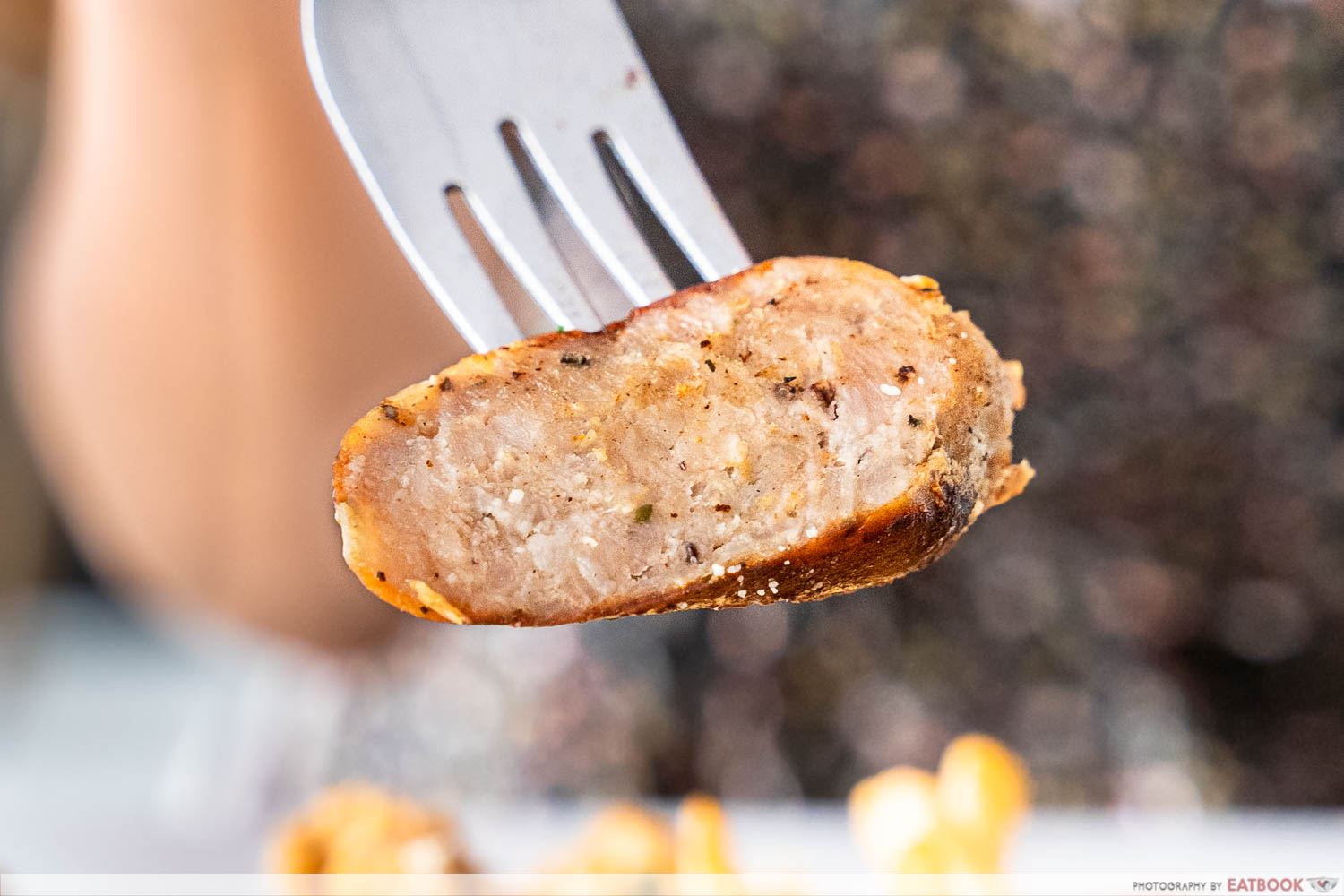 Burenwurst, otherwise known as Bauernwurst, translates to 'farmer's sausage' in German. A member of the German sausage family, each slice was packed with flavour thanks to the addition of multiple herbs and spices.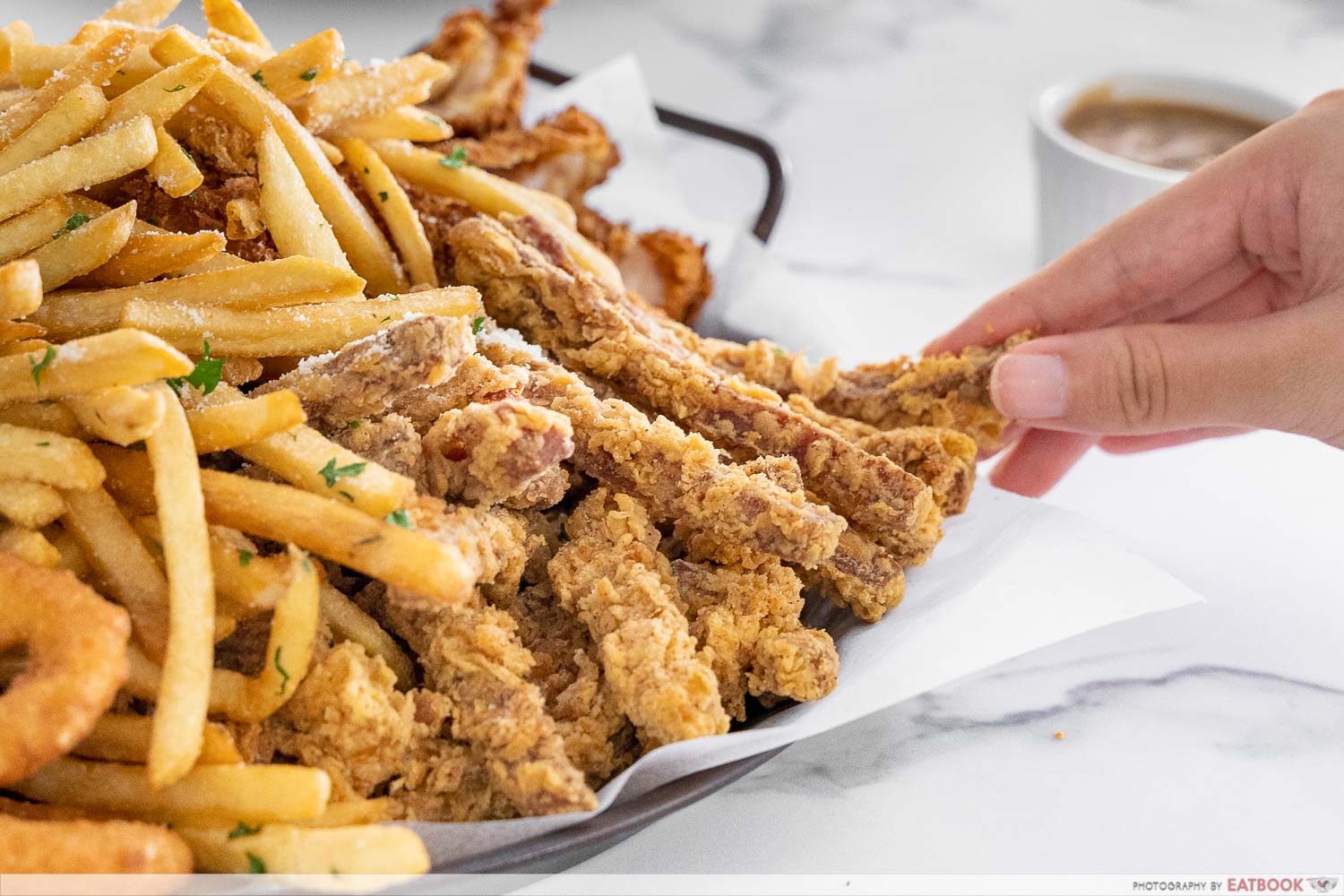 I usually prefer the breading on Spam fries to be a little thicker so as to compensate for the saltiness of the Spam itself, but I felt that Eightisfy Western might've slightly overdone it. My colleague and I found theirs too floury, and we didn't enjoy these as much as we would have liked to.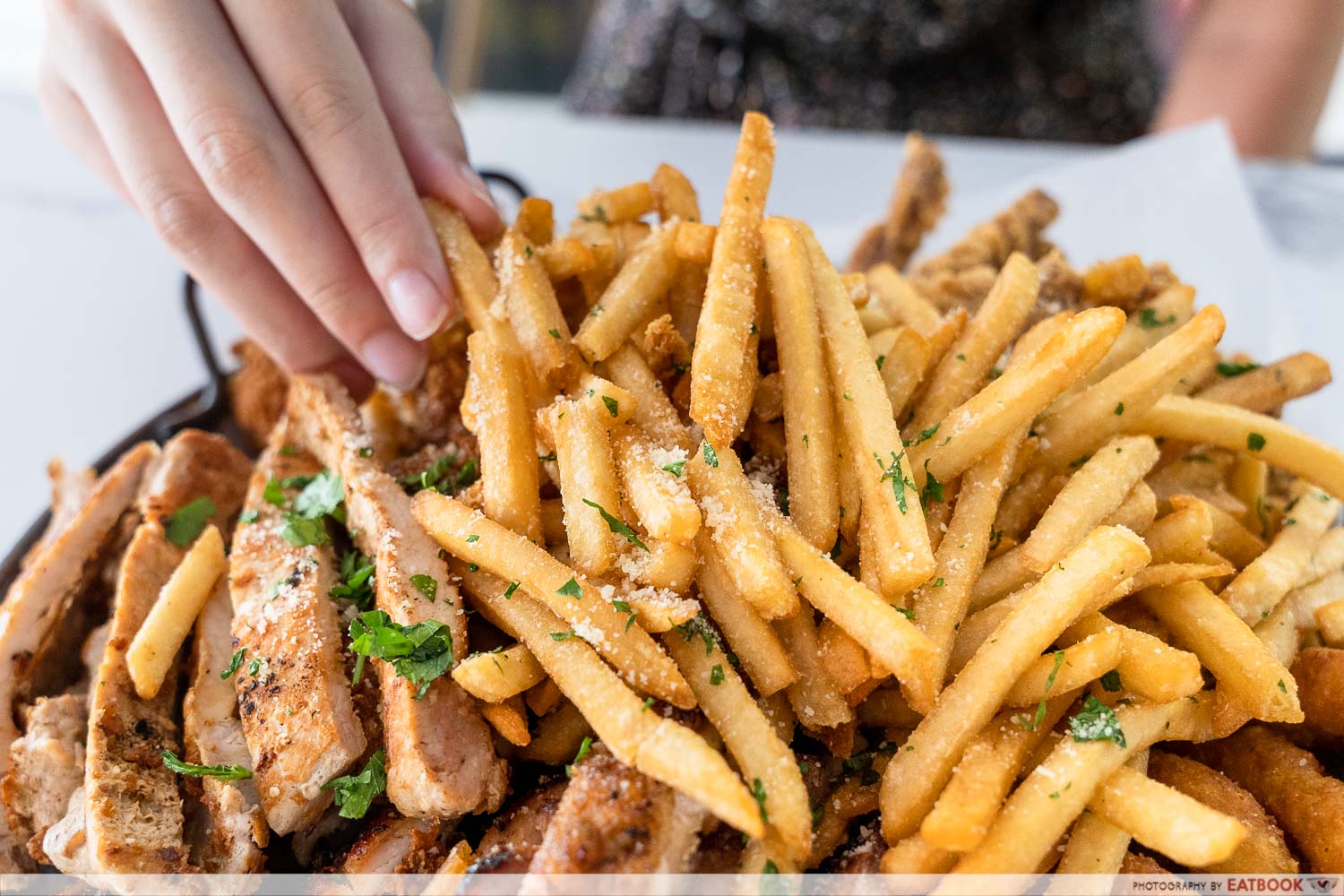 Fries are the quintessential fried food that are a must-have on platters like these, and the fries here are pretty decent ones. The sprinkles of grated Parmesan and parsley meant that it was a level up from regular fries, and my colleague and I couldn't help but pick at them even while we were shooting.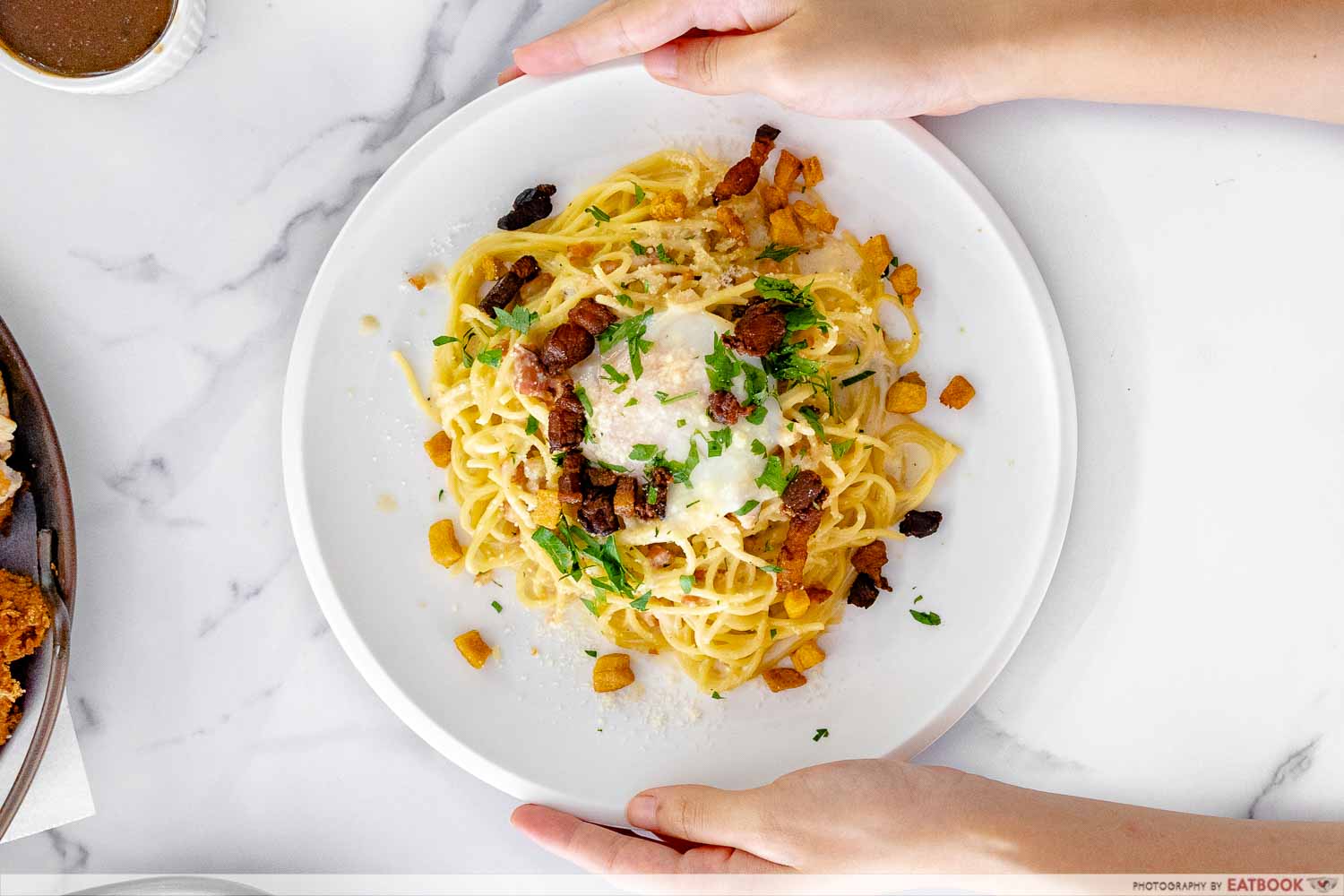 I've tried many plates of carbonara, including a mean one at La Mensa, but Eightisfy Western's local-inspired Pork Lard Bacon Carbonara ($7.80) is one that I have yet to encounter. The presentation of sprinkled pork lard, ham, guanciale, and onsen egg that sat delicately atop the spaghetti made this dish look truly mouth-watering.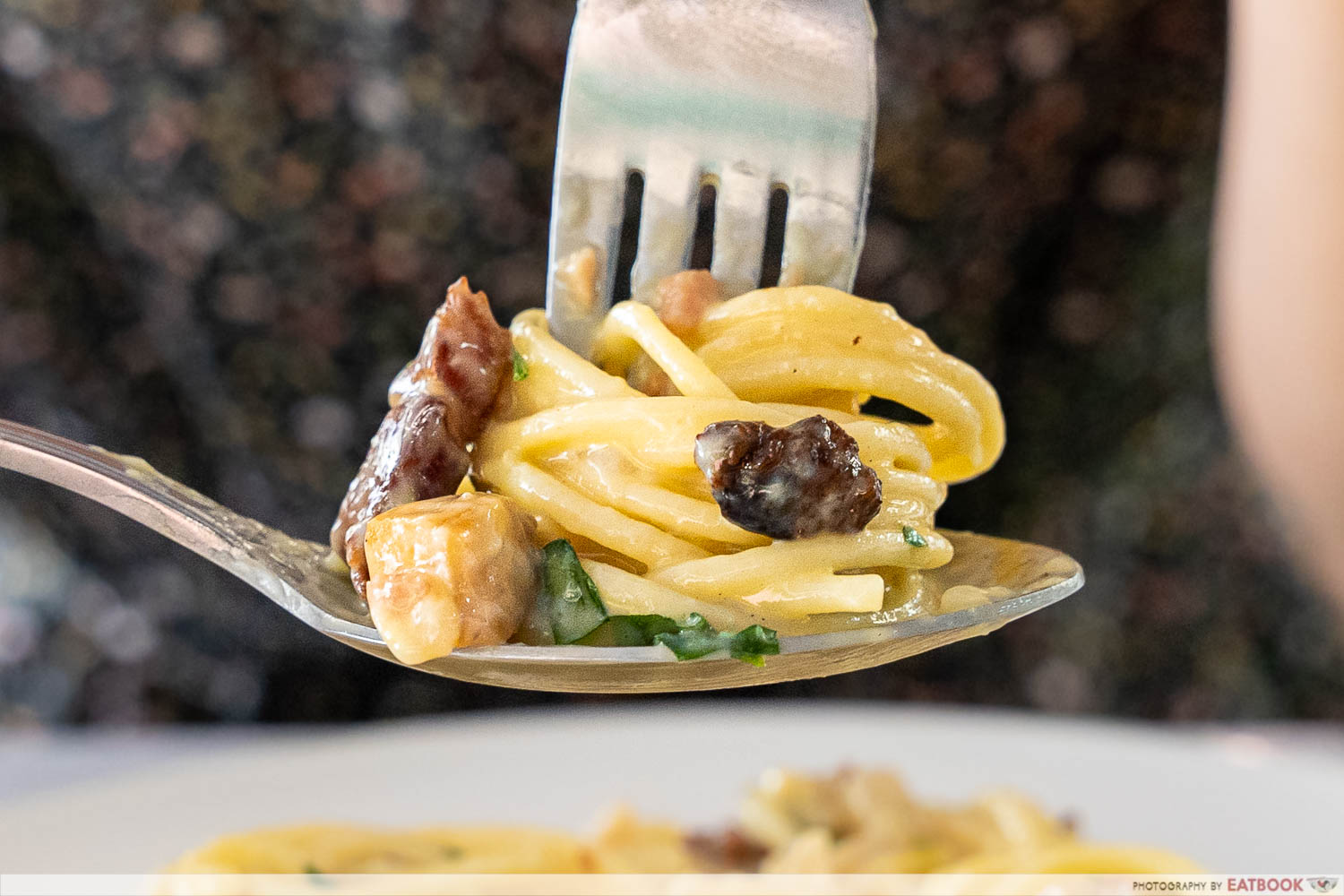 As I dug into the carbonara, I was pleased to find that Eightisfy Western was able to toe the line between indulgent and jelak with the moreish egg yolk-based sauce, which evenly coated each strand of noodles. The crispy cubes of pork lard provided a different dimension of flavour that is not normally seen in carbonara, making it incredibly easy for me and my colleague to wipe this plate clean.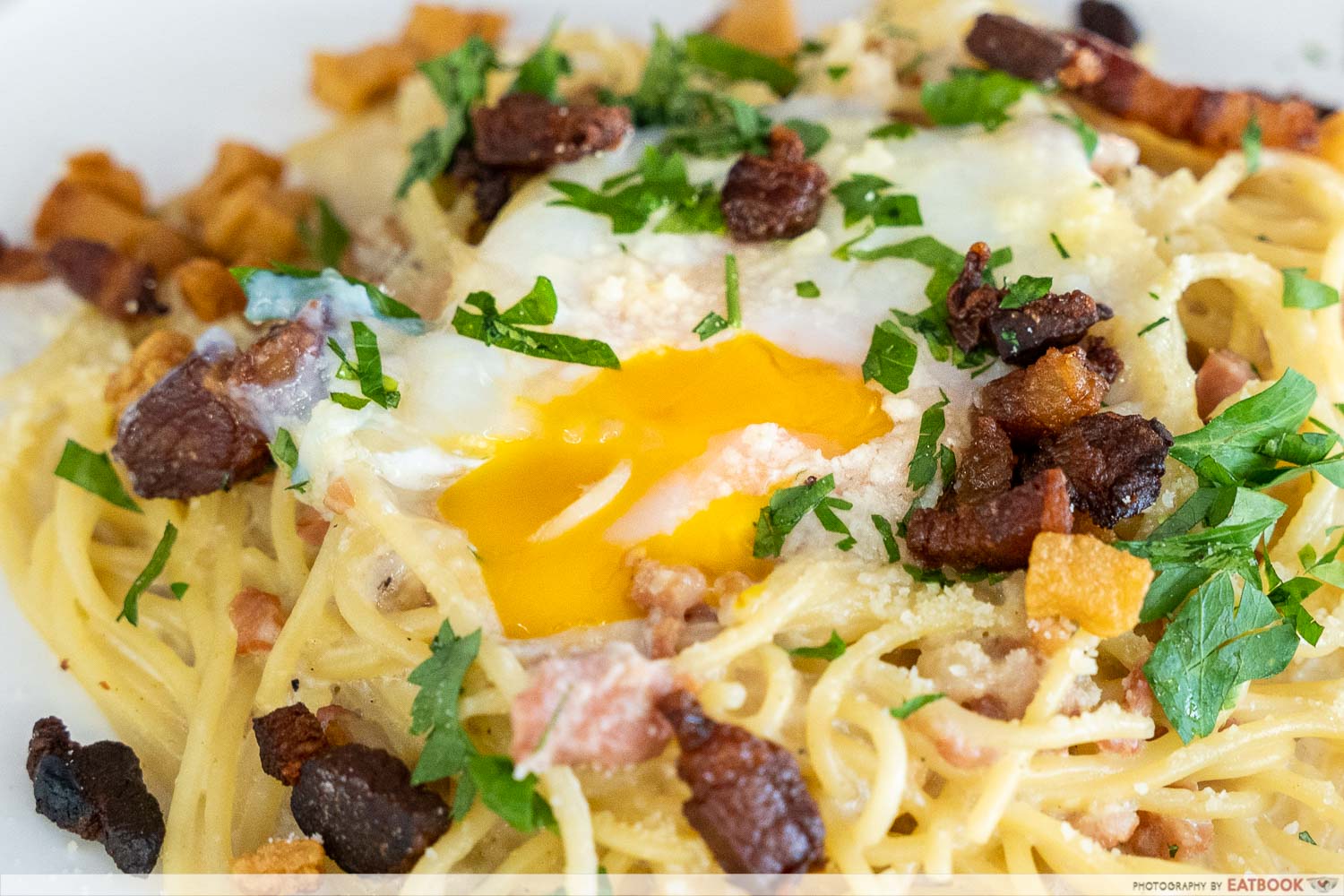 The egg was cooked to perfection too, and mixing the creamy and runny egg yolk helped to enhance the flavours of the carbonara. 
Overall, the hefty portion of noodles and the addition of ham, pork lard, and even guanciale qualified this as a value-for-money dish, but I couldn't help but miss the black pepper that is normally found in carbonara.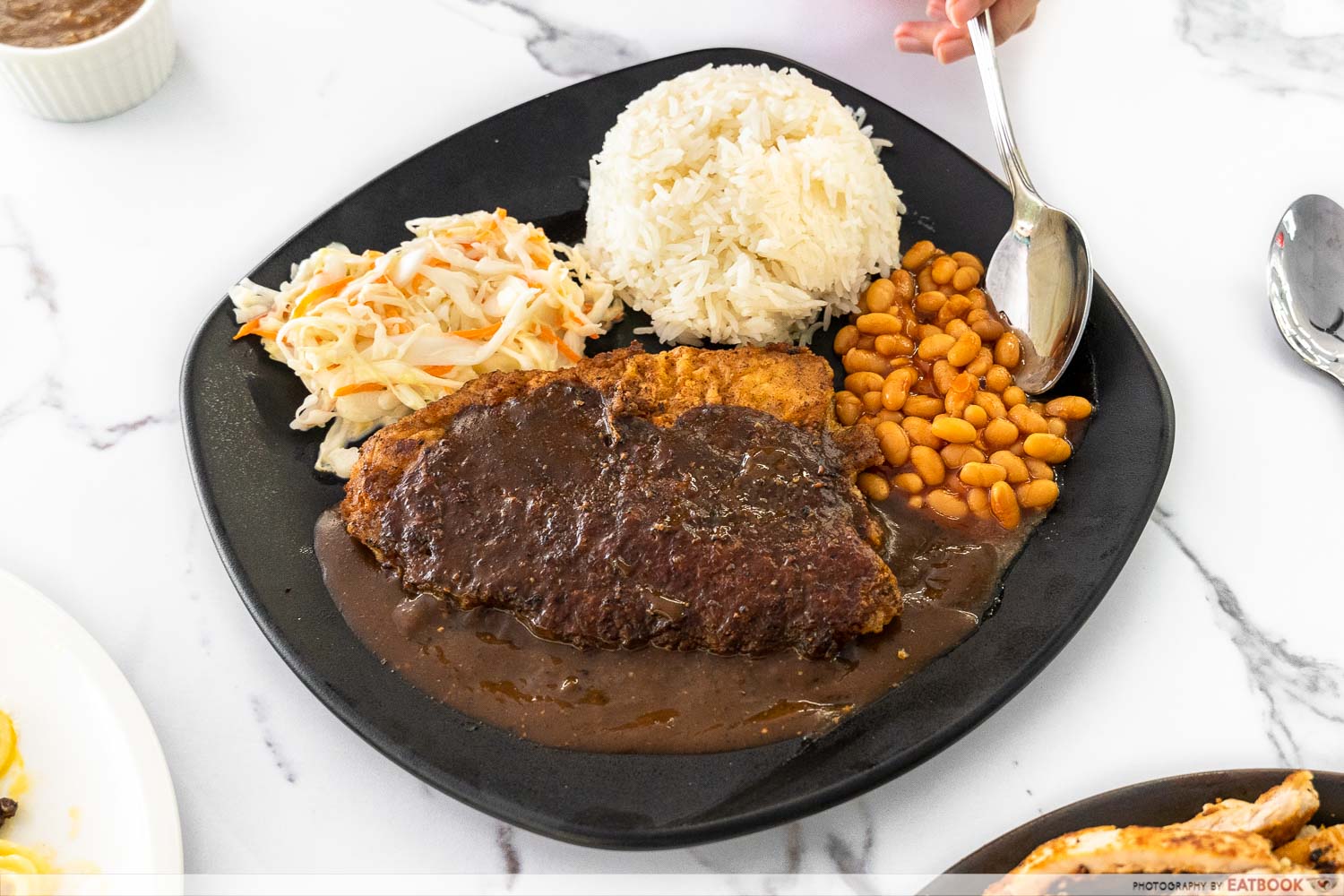 Lastly, my colleague and I decided to tick one more item off their menu and try the Black Pepper Grilled Fish ($6.80).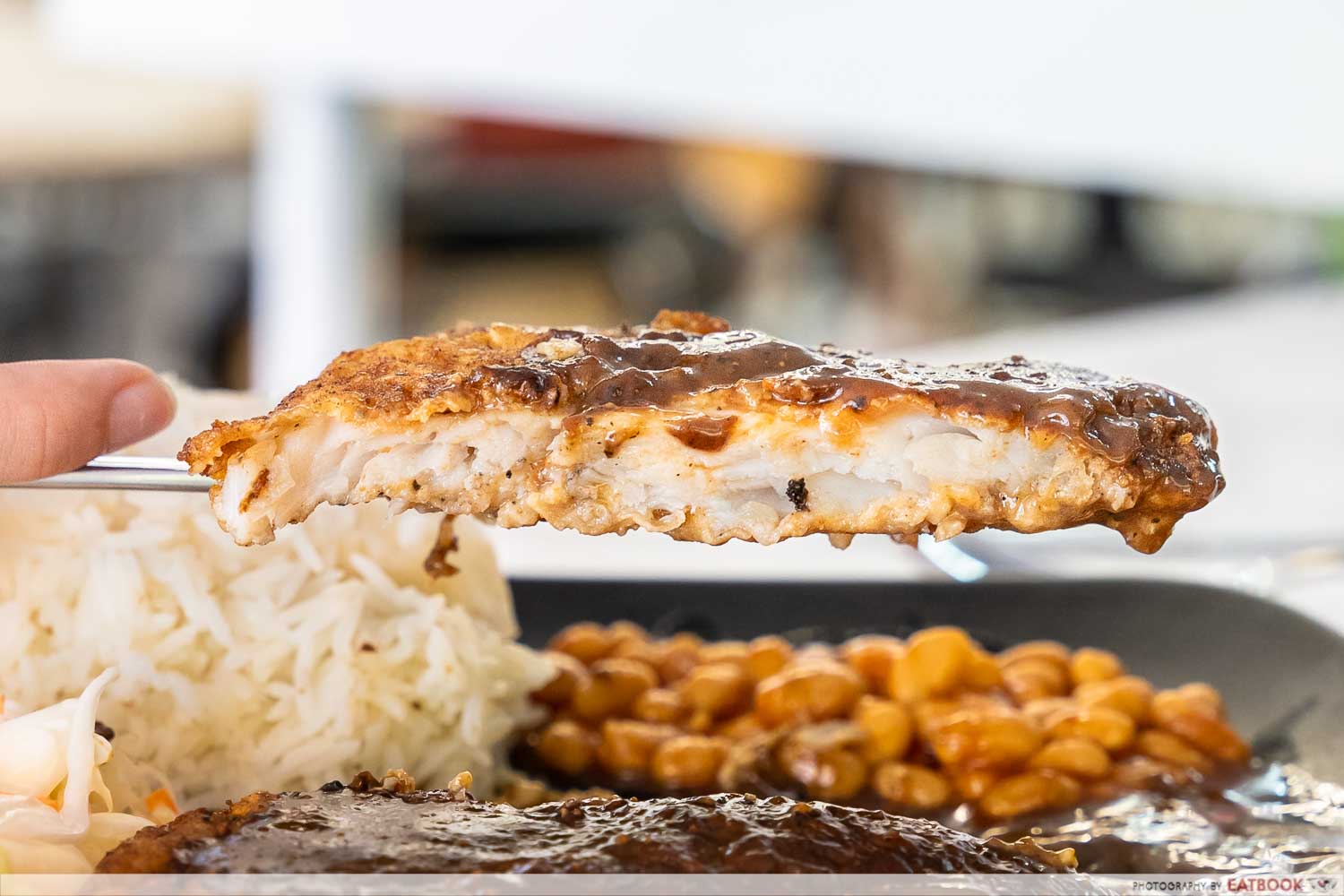 Cutting into the grilled Dory revealed incredibly soft and moist flesh. I know I still would've enjoyed the fish on its own even without the generous lashing of black pepper sauce. 
Eightisfy Western also offers this with their Garlic Sauce ($6.80), or with their Pork Chop ($7.80) and Chicken Chop ($6.80).
Saporita Review: Halal Truffle Cheesewheel Pasta and Pizzas Below $20 at Esplanade
Ambience at Eightisfy Western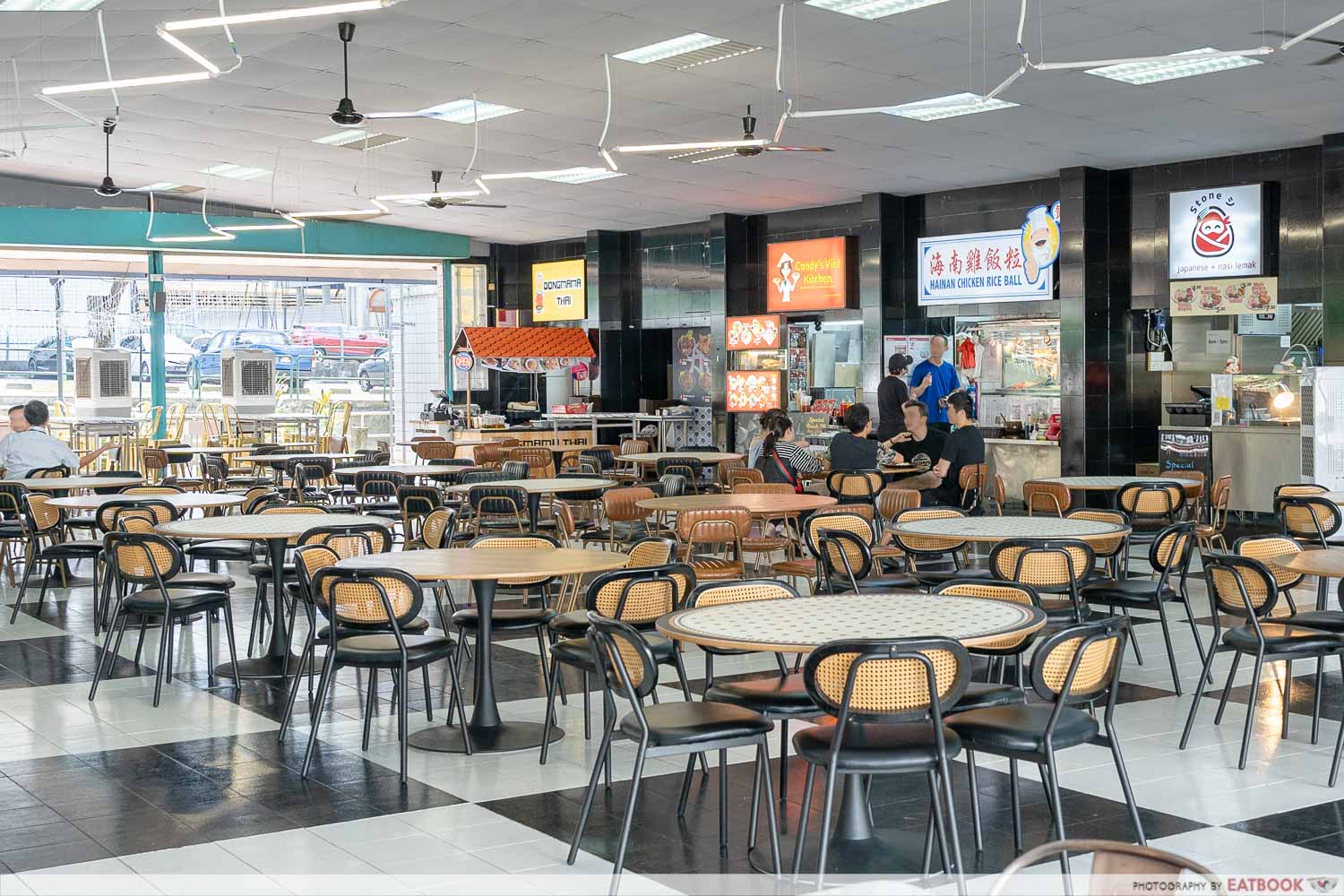 Eightisfy Western is one of the few stores located in Maddox Canteen Bar, which, unfortunately, is quite inconvenient to travel to. Located approximately one to two kilometres from both Redhill and Tiong Bahru MRT Station, I'm not sure how willing I am to take a bus, and then navigate through the buildings of business centres where Eightisfy Western is hidden. Its location in this area also means that it can get especially packed during lunch hour due to the office workers looking for a quick lunch nearby. 
The place is pretty clean though, and I can imagine that it gets pretty vibey here at night too, with the fairy lights strung over the al fresco dining seats outside. 
The verdict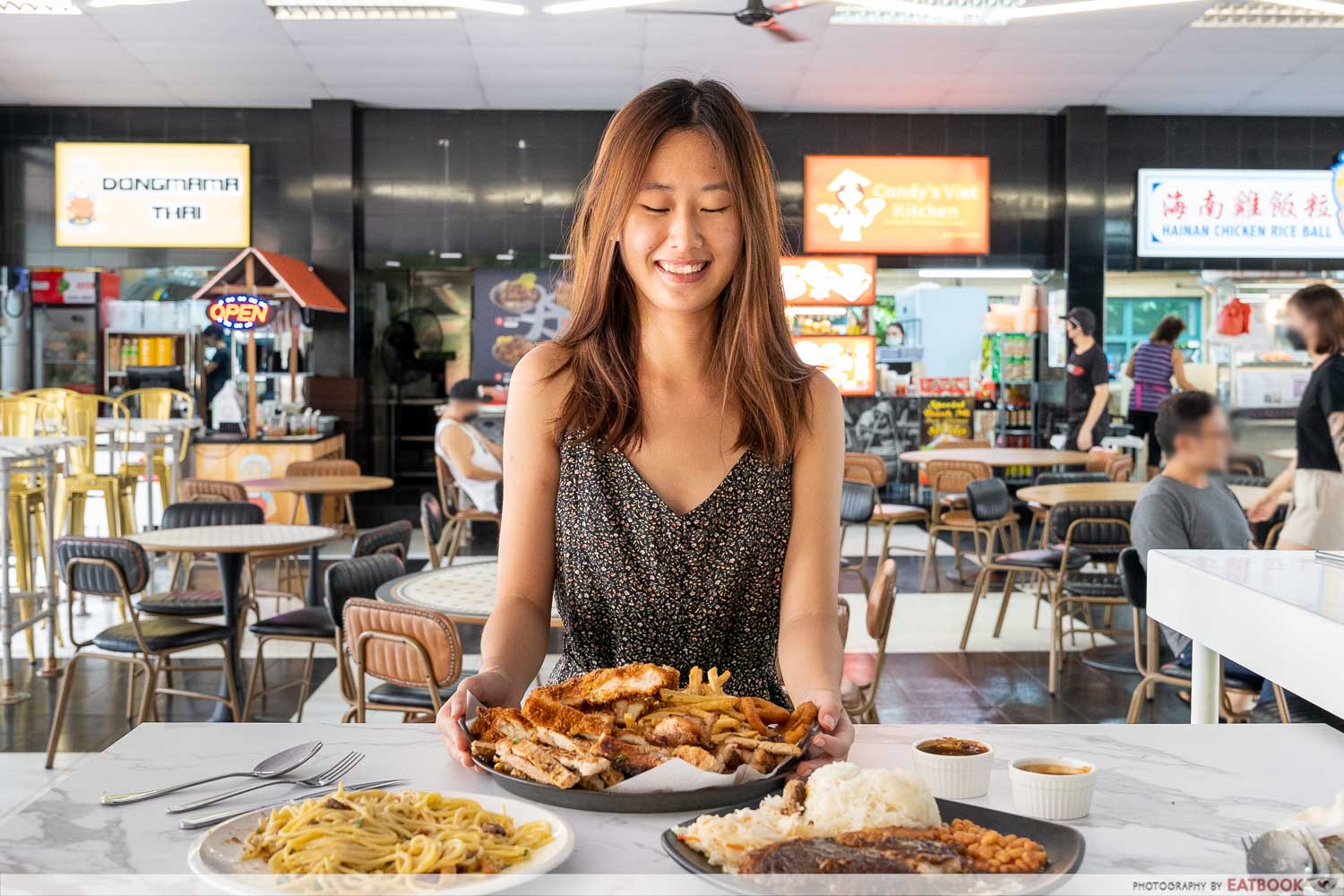 I left Eightisfy Western with a very full stomach and a resolution to only return if it's with a group of friends. Devouring the platter with a couple of beers on hand sounds like the perfect end to a long week, but truth be told, I know I'll be tempted to order their individual mains as well. Granted, it's slightly pricier than regular hawker food, but I would argue that the quality and quantity of food you're getting make it a price worth paying. 
For more Western hawker fare, check out our Spuds Shack review for $5.50 mentaiko and truffle rosti, or our Saporita review for the TikTok-famous halal truffle cheesewheel pasta. 
Address: 3752 Bukit Merah Central, Maddox Canteen Bar, Singapore 159848
Opening hours: Mon-Sat 11am to 2:30pm, 5:30pm to 9pm
Website
Eightisfy Western is not a halal-certified eatery.
Spuds Shack Review: Rosti From $5.50 At Geylang With Flavours Such As Mentaiko And Truffle
Photos taken by Tanya Tham.
This is an independent review by Eatbook.sg.
Eightisfy Western Review: XXL Platter and Pork Lard Carbonara By Ex-Cicheti Chef
Eightisfy Western Review: XXL Platter and Pork Lard Carbonara By Ex-Cicheti Chef -

8/10
Summary
Pros
– Value-for-money dishes
– Carbonara was creamy and loaded with ingredients 
Cons
– Inconvenient location
Recommended dishes: Eightisfy Platter ($38), Pork Lard Bacon Carbonara ($7.80) 
Opening hours: Mon-Sat 11am to 2:30pm, 5:30pm to 9pm
Address: 3752 Bukit Merah Central, Maddox Canteen Bar, Singapore 159848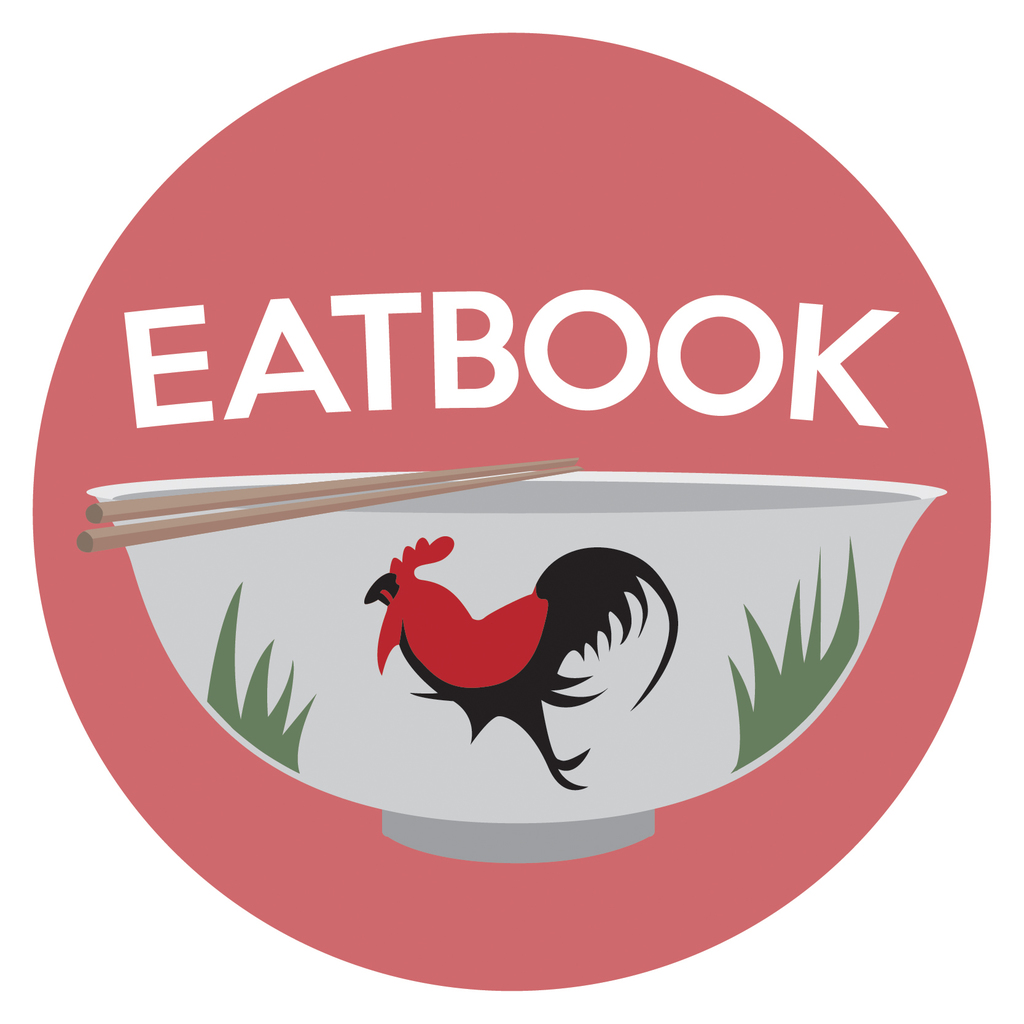 Drop us your email so you won't miss the latest news.