Fav.grillbar has KBBQ till 11pm in Outram Park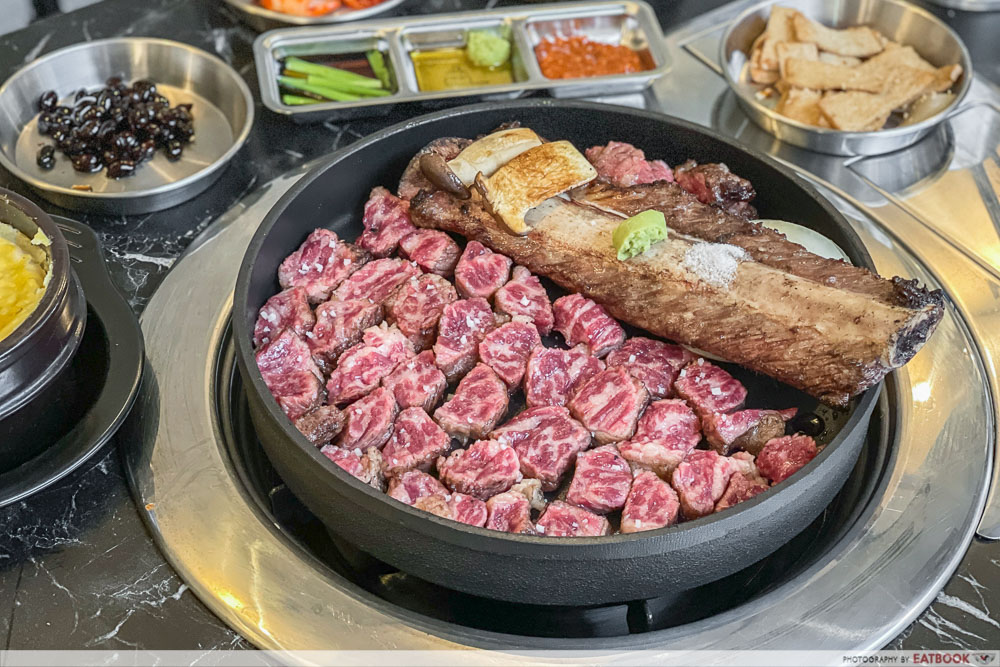 Korean barbecue restaurants are a dime a dozen in the CBD area, and it takes a lot for one to stand out from the rest. However, in comes the newly opened Fav.grillbar on Neil Road, which tempts with a selection of well-marbled short ribs and more on the menu.
18 Korean Restaurants In Tanjong Pagar And The CBD For Korean Barbecue And Army Stew
Food at Fav.grillbar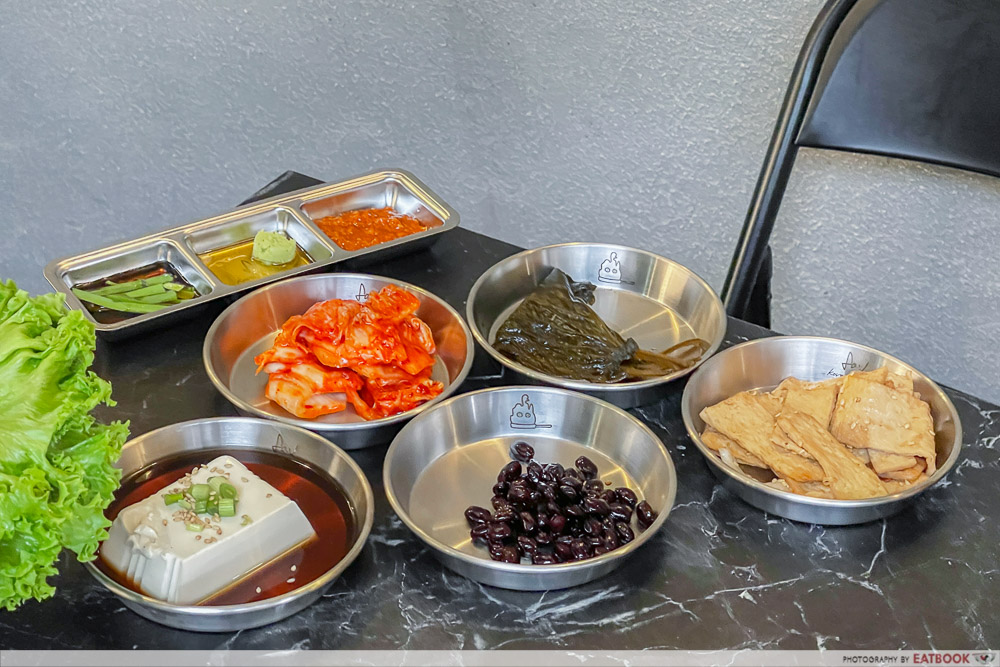 Upon seating, revel in the concise but quality spread of complimentary banchan served. Plated onto sleek metal plates with little Calcifers from Howl's Moving Castle embossed on the side fanned the Hayao Miyazaki-fangirl-flames in me. Needless to say, there's kimchi, followed by soya sauce-braised black beans, sweet-salty fish cake, and my two favourites: Korean cold tofu and pickled perilla leaves. 
The cold tofu was unlike the Chinese silken tofu that we are used to. It was more firm and had a stronger soy aftertaste. Likewise, the pickled perilla leaves were intense, with a basil-like flavour that's deliciously addictive.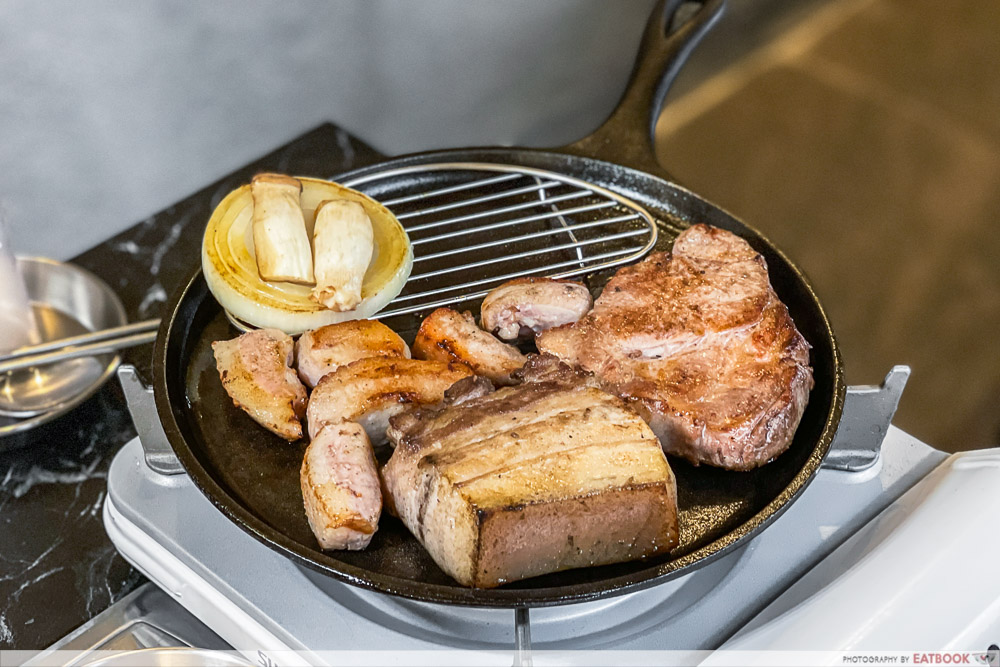 The barbecue menu here is succinct, offering only two items. The Fav Set ($98+) features beef short ribs, while the Pork Set ($65+) features a variety of pork belly, jowl, and collar.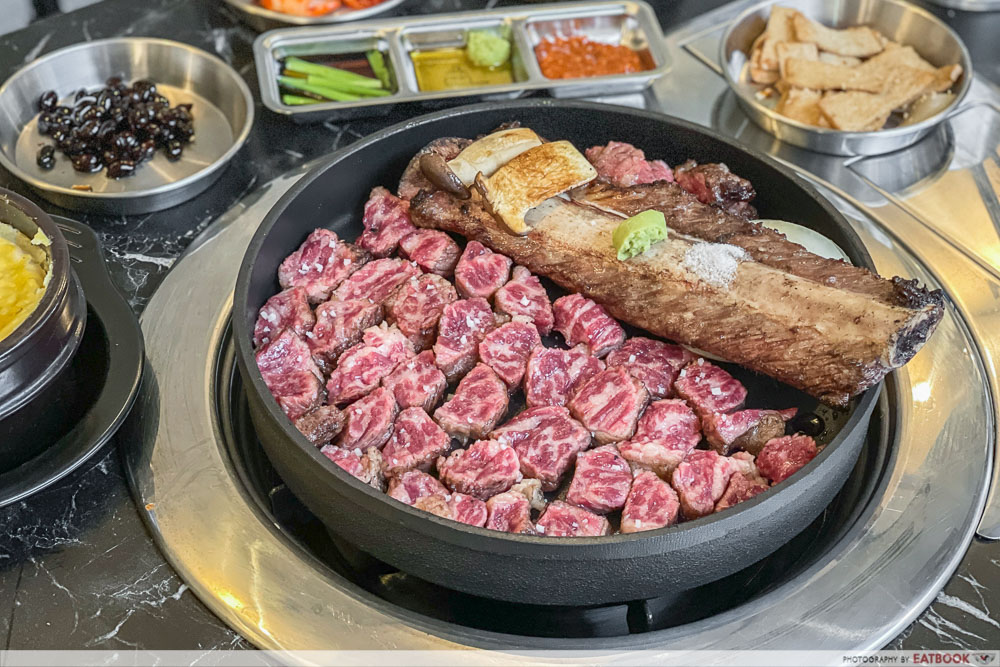 The Fav Set should be your number one go-to at Fav.grillbar. Upon order, the mammoth, and not-so-short short rib is first charcoal grilled in the kitchen, then sliced into bite-sized pieces and served to the table on the grill. 
The beef is wet-aged for a week, to enhance its tenderness. Give the pieces a kiss of heat on the grill for some Malliard browning, then relish the Wagyu-like juiciness and natural beefy flavours.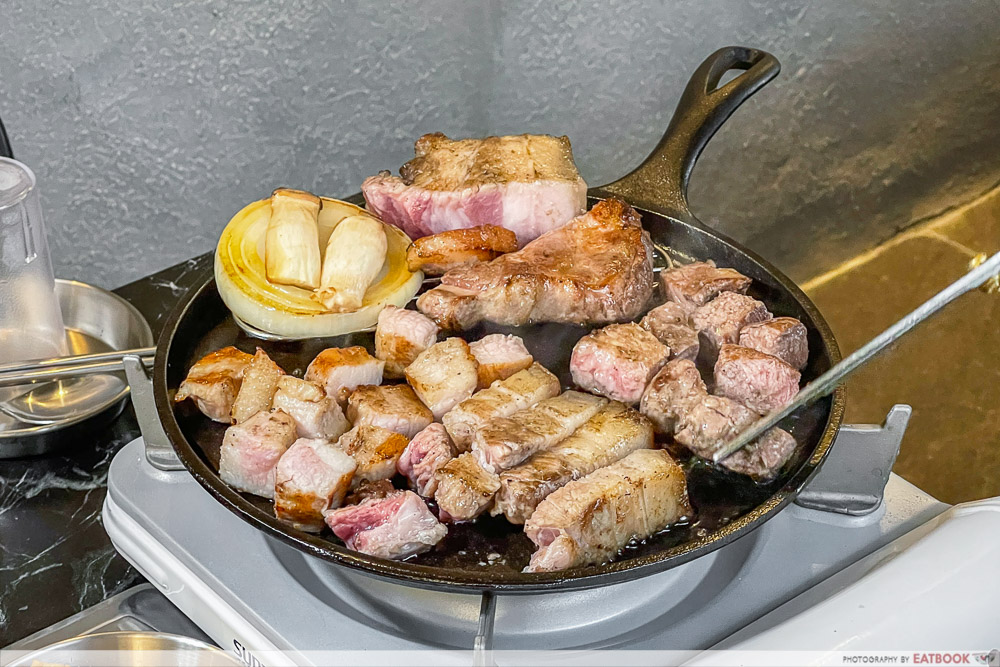 The Pork Set is also pre-seared in the kitchen, locking the juices and giving the meats a distinctive smoky char on the edges.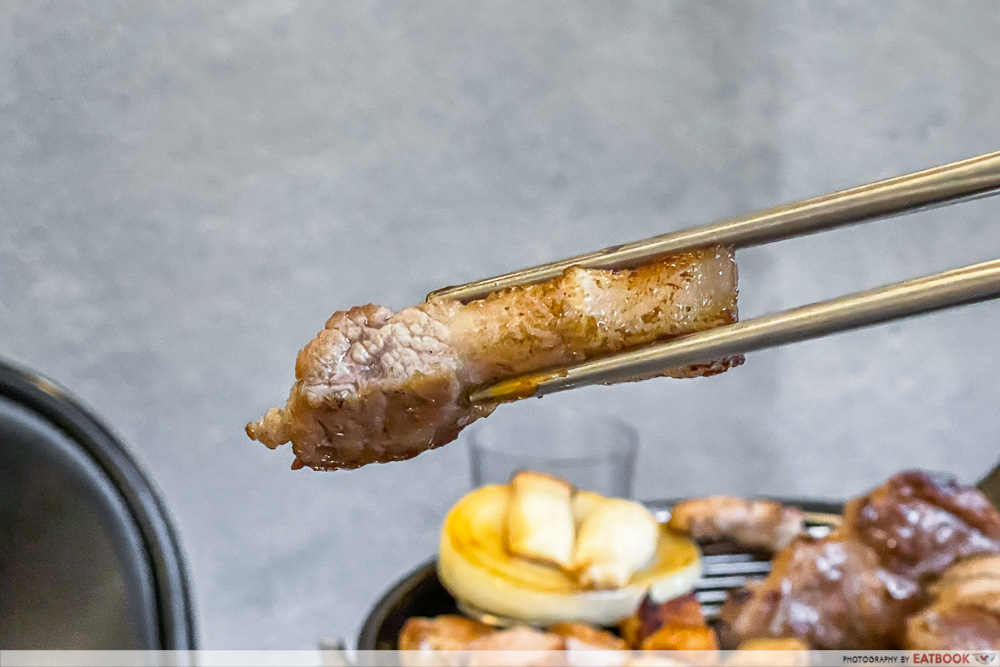 Out of the trio, the jowl emerged as the most flavourful and tender compared to the belly and collar. That being said, all three proved to be juicy, as they are Duroc pork, which is known for the high degree of marbling in its meat.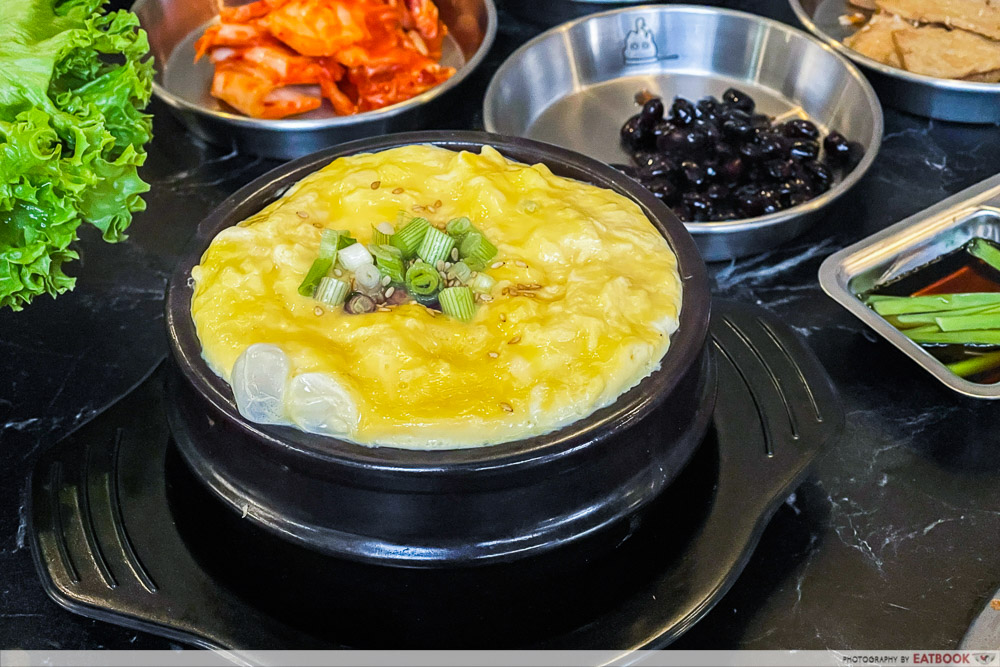 These sets both come with a free steamed egg, flavoured with soya sauce and sesame oil. This goes amazingly well with plain white rice. This is a legit dish in itself, incomparable to the typical tasteless egg mixture served on the periphery of your Korean barbecue at other restaurants.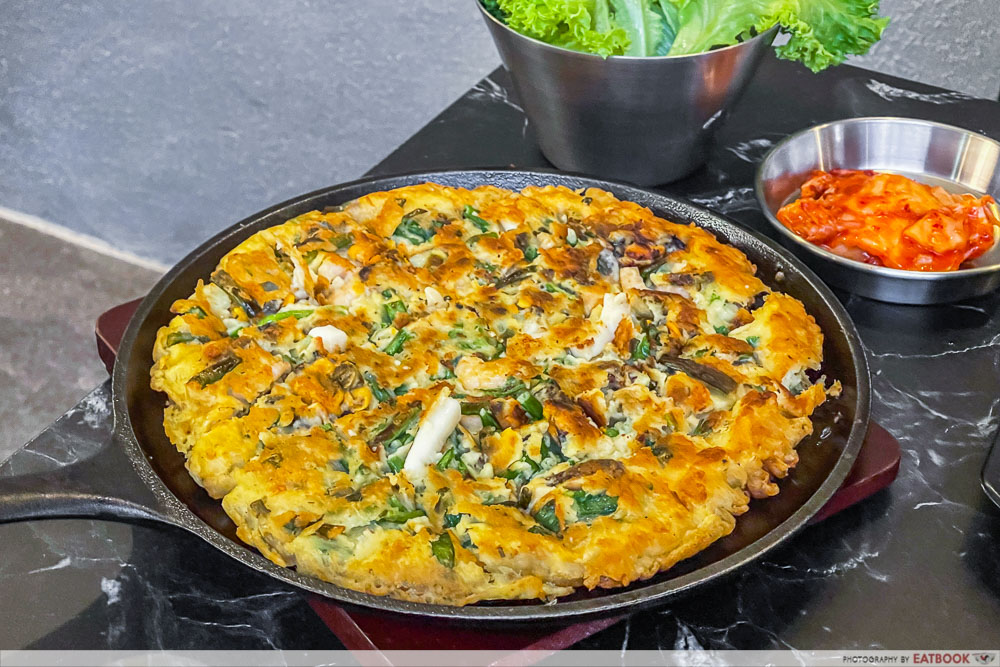 There are more items on the menu aside from the two barbecue sets, including Charcoal Spicy Chicken BBQ ($35+), Mak Guksu Noodle ($18+), Army Stew ($25+), and a Seafood Pancake ($32+).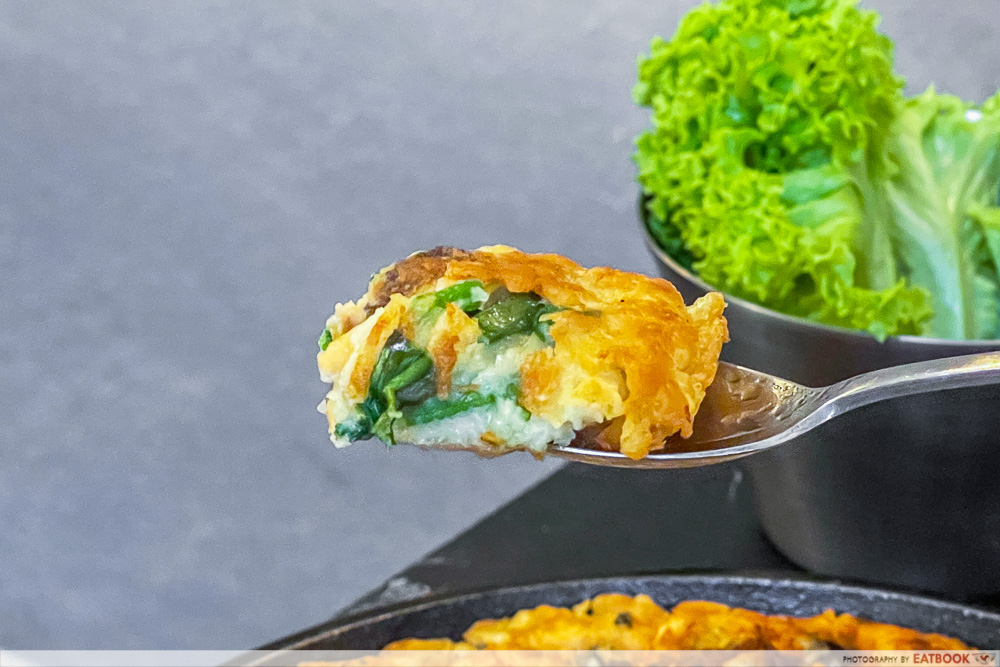 The seafood pancake is massive with well-crusted edges. Packed with aromatic spring onions and plump seafood, the centre of the pancake was unfortunately on the doughy side. 
That being said, a plus point is that the dishes are served in such hefty portions that it only makes sense to visit with a bigger group of people. Other interesting items that we did not get to try on the menu are their delicious-sounding Earl Grey Highball ($15+), Green Plum Soju Tonic ($15+), and Honey Makgulli Jug ($38+), which I will make a second visit for in the future. 
Daejim Review: Korean BBQ With Soy-Marinated Raw Crabs And Mozzarella Scallops In Tanjong Pagar
Ambience at Fav.grillbar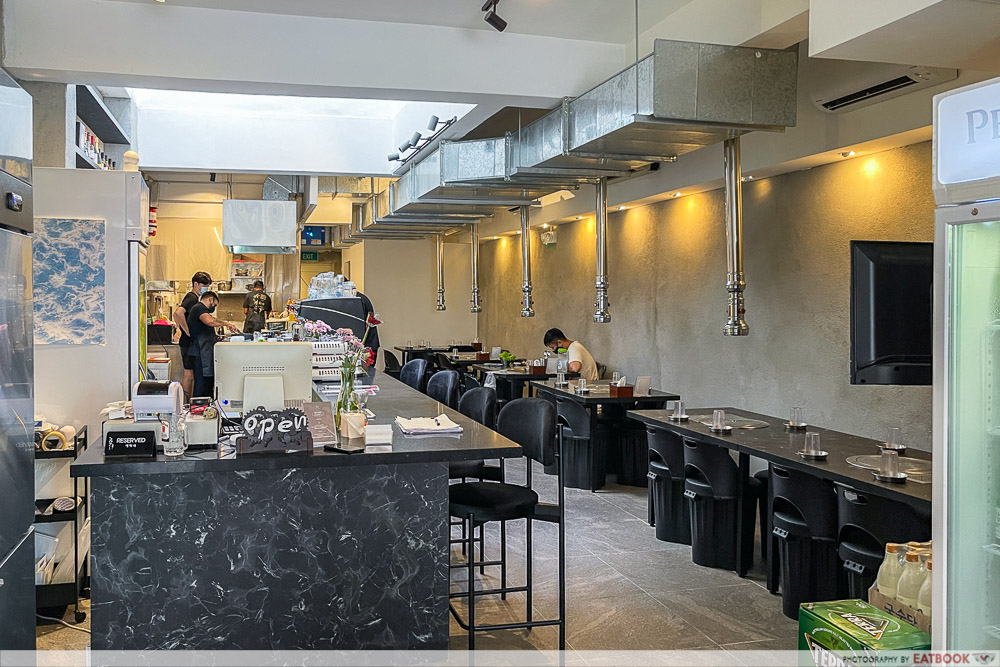 As compared to the old-school and more rustic KBBQ joints such as Wang Dae Bak that we are more familiar with, Fav.grillbar sports a more contemporary look. With exposed concrete walls, black marble table tops, and indie Korean music playing on the background, there's a more modern feel to this restaurant. There's also a fun sunroof above the bar area, which will surely serve some chill vibes on a rainy night.
Wang Dae Bak Korean BBQ Opens In Holland Village, With Angus Ribeye And Pork Belly Sets
The verdict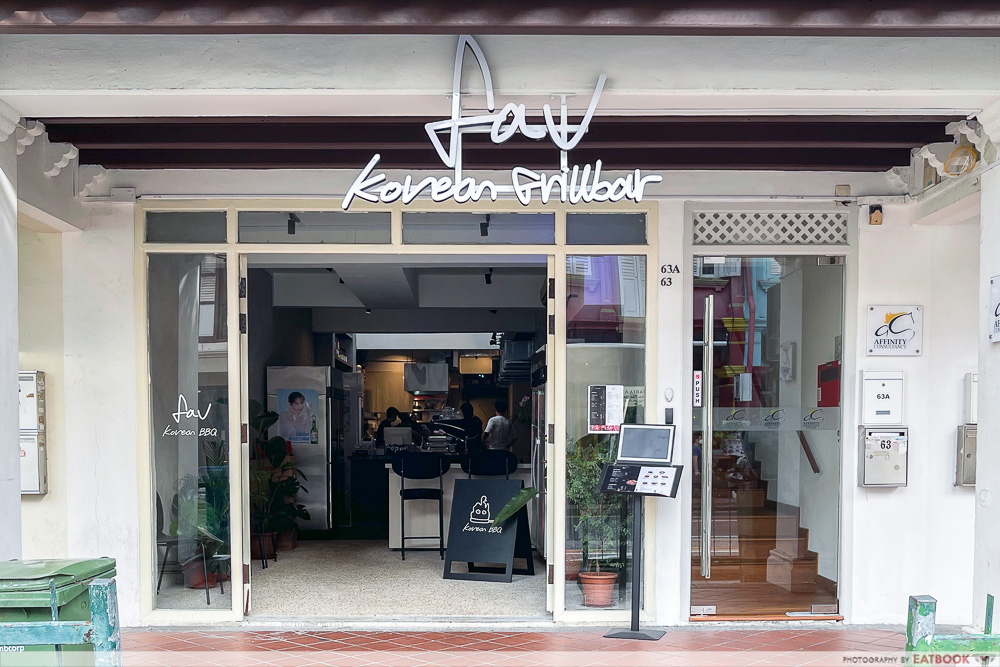 While the Tanjong Pagar and Outram Park areas are not short of Korean barbecue choices, Fav.grillbar offers a more chill and unique atmosphere for delicious, albeit slightly pricey, grilled meats. Each set serves two to three portions, and they all have me vowing to return with a larger group again.
If you're looking for desserts after the barbecue, check out our O Happi Place review for cookies and cream ice cream sandwiches, tea-flavoured gelato and more.
Address: 63 Neil Road, Singapore 088896
Opening hours: Mon-Sat 5pm to 11pm
Tel: 8922 8513
Website
Fav.grillbar is not a halal-certified eatery.
Photos taken by Chiara Ang and edited by Chew Yi En.
This was a media tasting at Fav.grillbar.
Fav.grillbar Review: New KBBQ Bar Opens Till 12am Serving Tender Beef Short Ribs And Free Steam Egg
Fav.grillbar Review: New KBBQ Bar Opens Till 12AM, Serves Tender Beef Short Ribs And Free Steam Egg -

8/10
Summary
Pros
– Tender and juicy beef and pork
– Well-seasoned dishes
Cons
– Slightly pricey
Recommended dishes:  Fav Set ($98+), Pork Set ($65+)
Opening hours: Mon-Sat 5pm to 11pm
Address: 63 Neil Road, Singapore 088896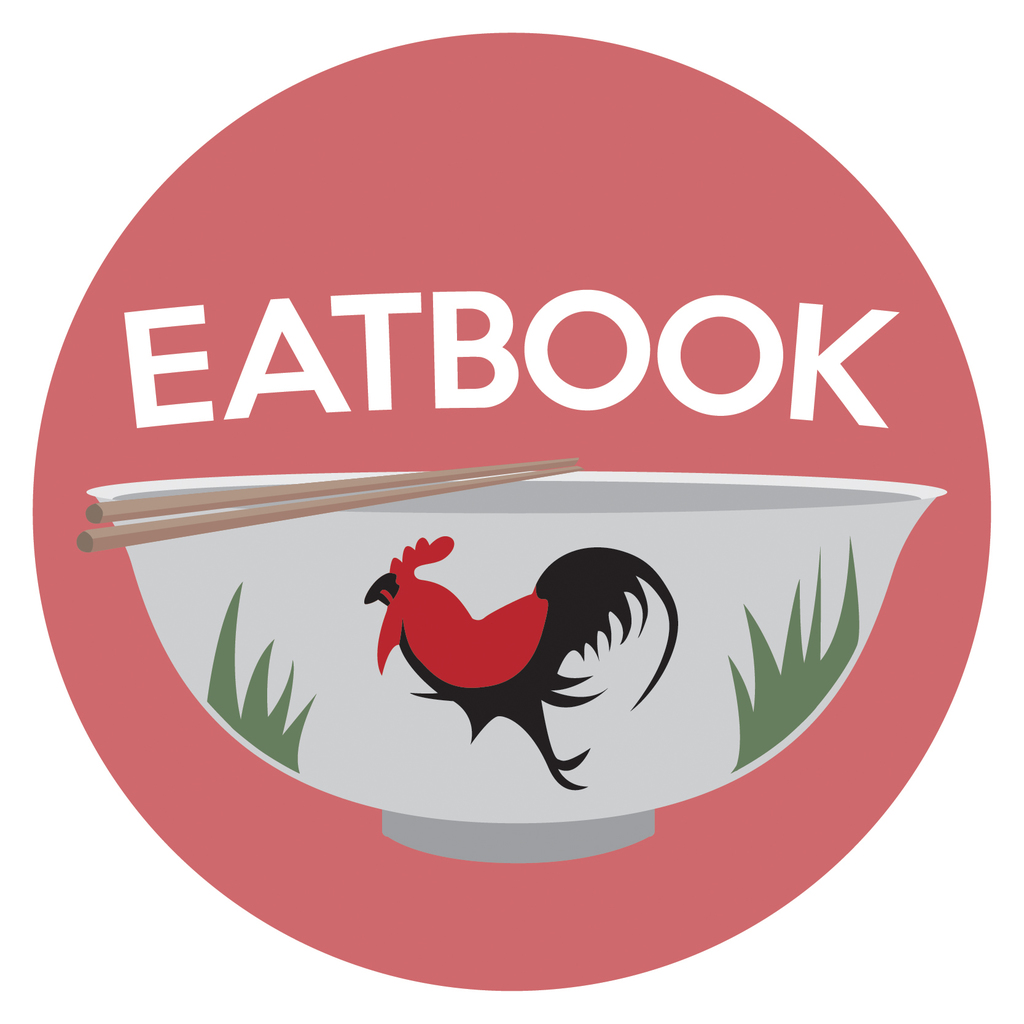 Drop us your email so you won't miss the latest news.