Fei Lou Fatt at Upper Thomson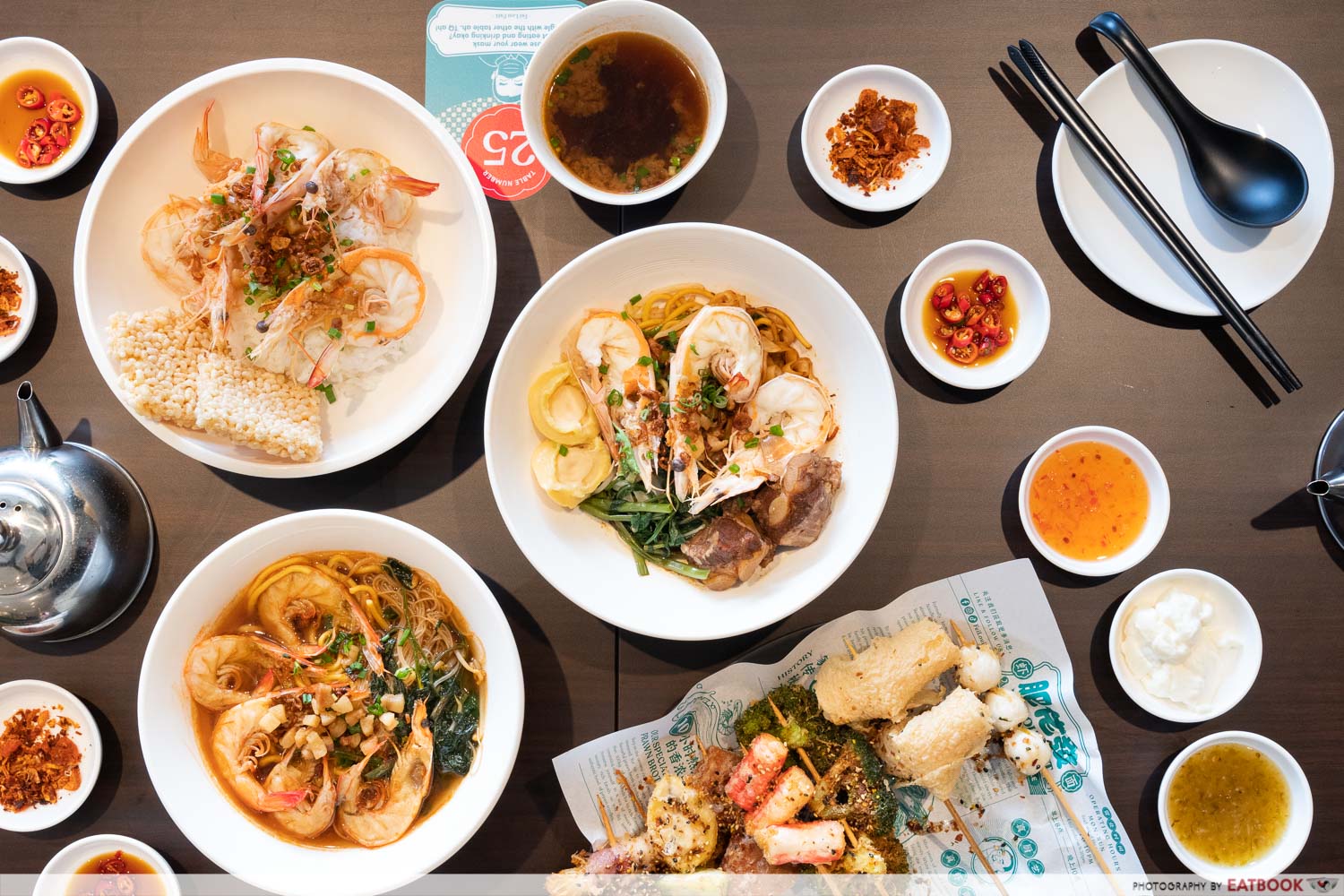 Singaporeans know and love White Restaurant, which pioneered The Original Sembawang White Bee Hoon that's so widely copied now. With White Restaurant spanning seven outlets today, founder Mr Tay King Huat's children have set their sights on a new venture: Fei Lou Fatt, a prawn mee and lok lok eatery that opens today, 8 February 2022.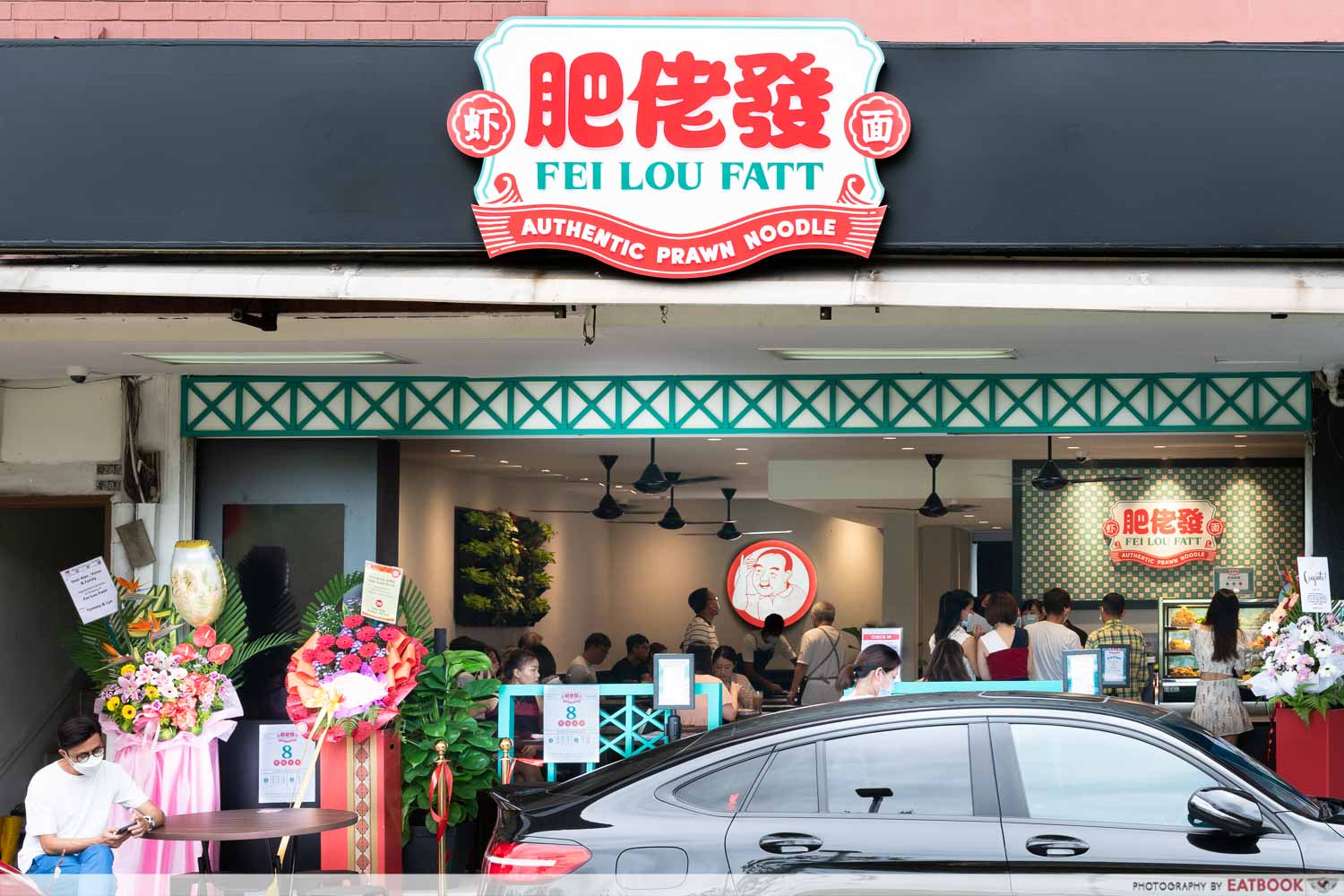 If you didn't know, the original iteration of Fei Lou Fatt was actually born way back in 2011 as Sembawang Prawn Noodles. It was located in the Jalan Tumpang White Restaurant outlet, and began because Mr Tay decided to make something of all the prawn heads discarded in the making of his famous white bee hoon.
They took a break from their prawn noodle venture in 2014 to focus on White Restaurant, but it's now reincarnated as Fei Lou Fatt. Directly translated from the Cantonese dialect, it reads as 'fat man prosper'—this moniker in fact honours Mr Tay, who also goes by this nickname amongst his friends.
DLLM Lok Lok Review: Lok Lok Stall With $1 Skewers And Salted Egg Sauce That Opens Till 4am
Food at Fei Lou Fatt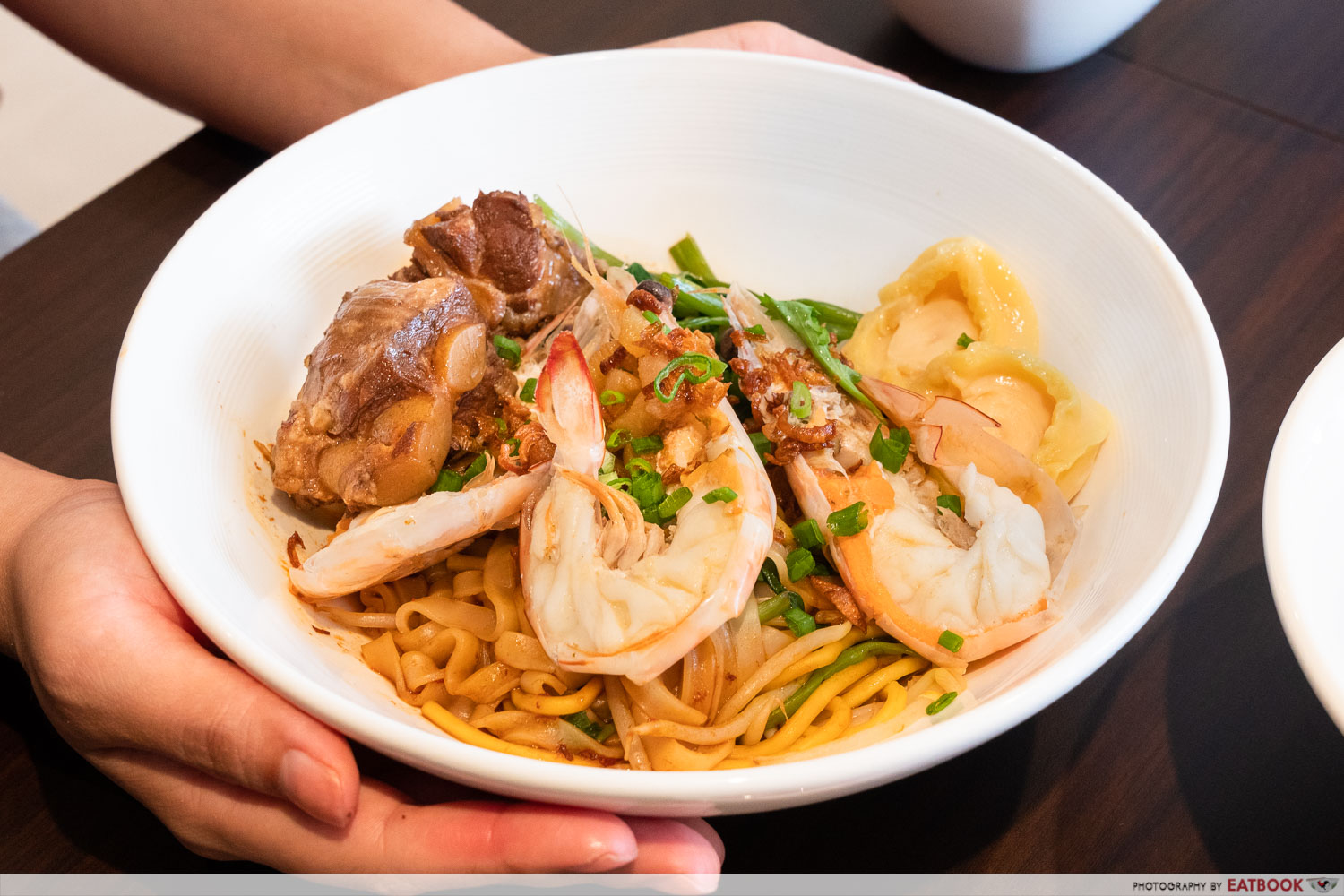 The star, and the most expensive, item on the menu here is Signature Fei Lou Noodle ($20), a bowl brimming with jumbo ang kar prawns, a pair of 12-head abalone, braised pork ribs, beansprouts, kang kong, and noodles.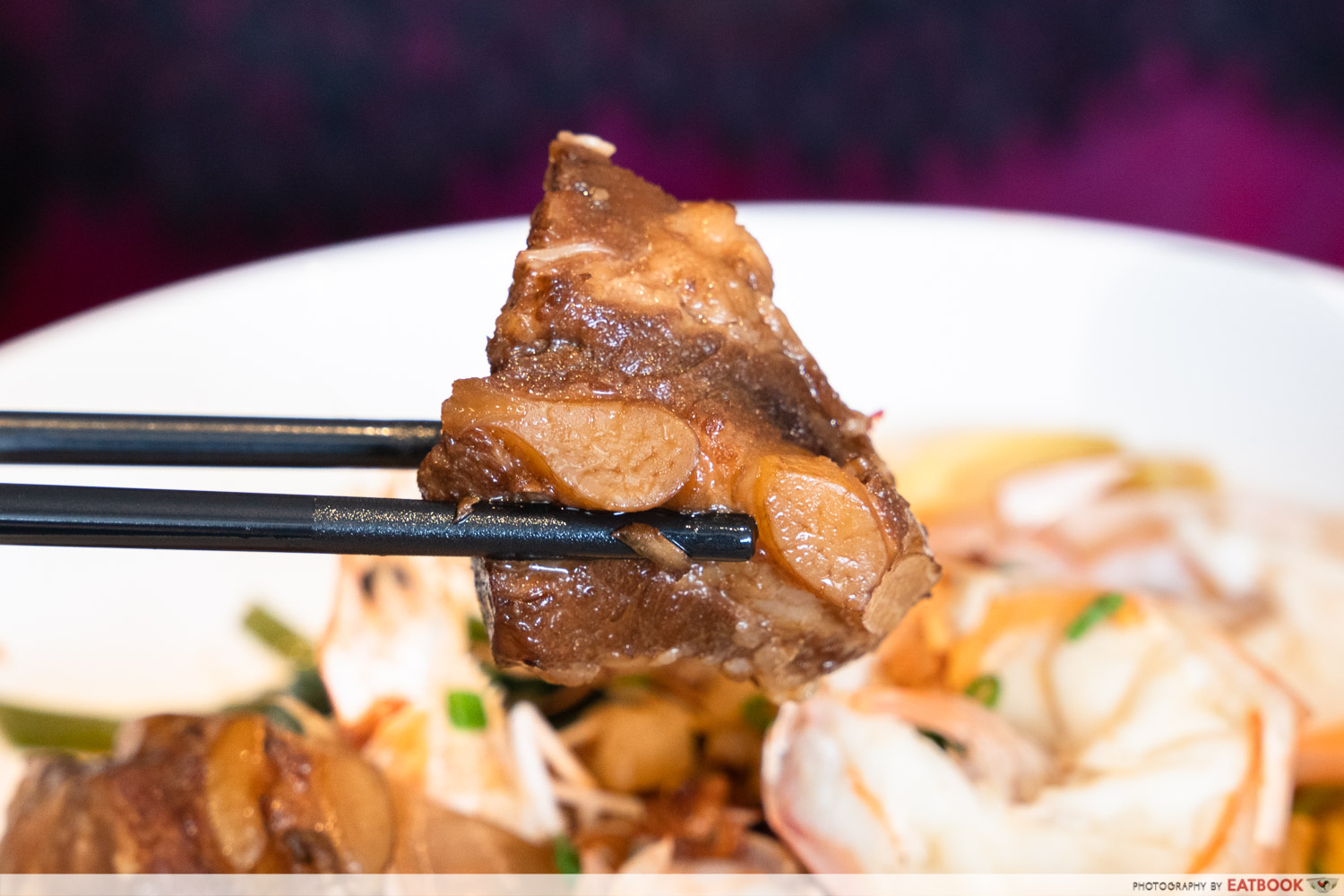 Said to be prepared with a family recipe, and braised for hours, the braised pork was laced with fat, and pieces of soft bone, which my colleague gladly chomped down on. It's tasty, but some pieces are tougher than the rest.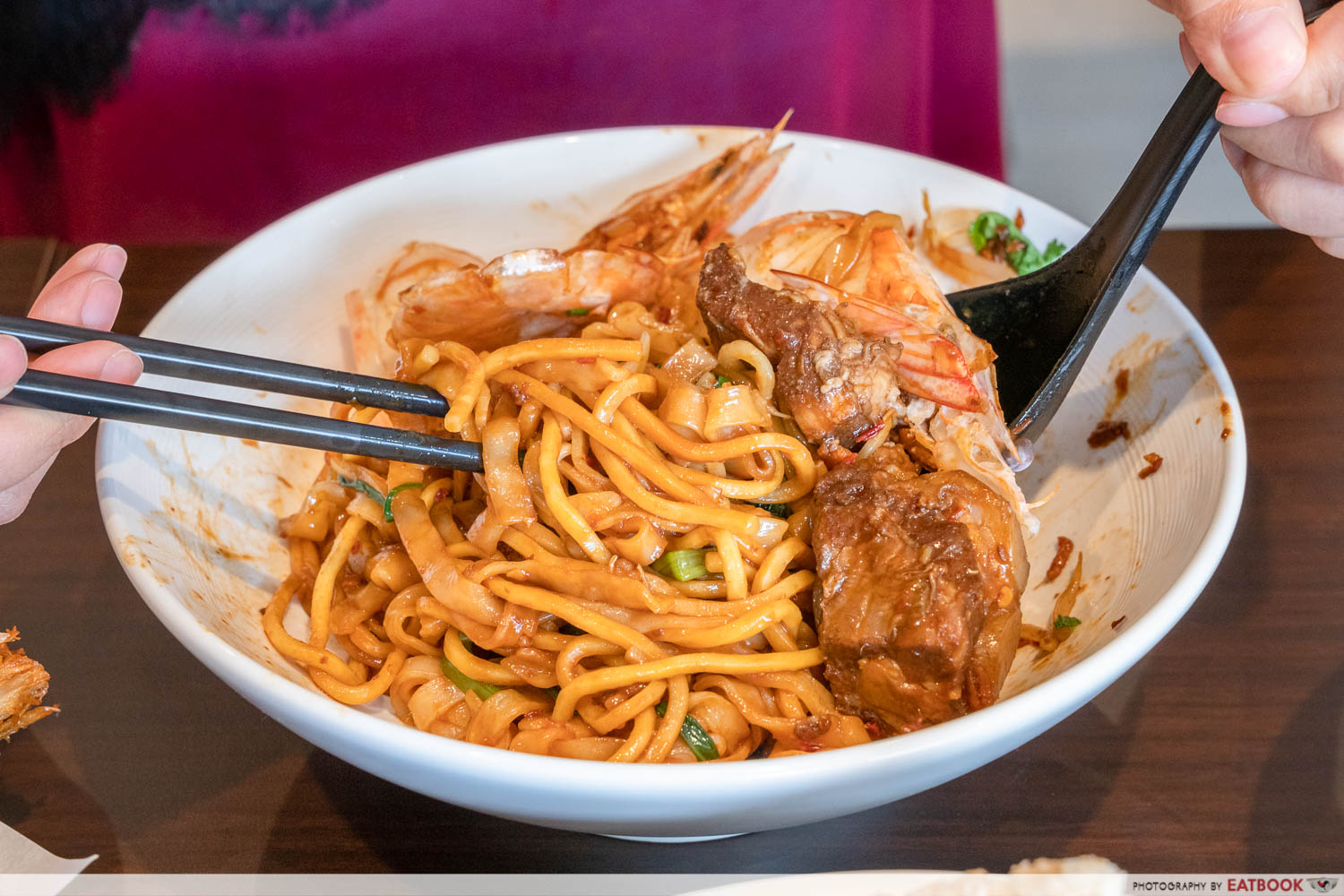 You get to choose your noodles: Bee Hoon, Thick Bee Hoon, Kway Teow, and Yellow Noodle—or a combination. Here, we went with Kway Teow and Yellow Noodles, and opted to get it dry, with a bowl of accompanying soup on the side.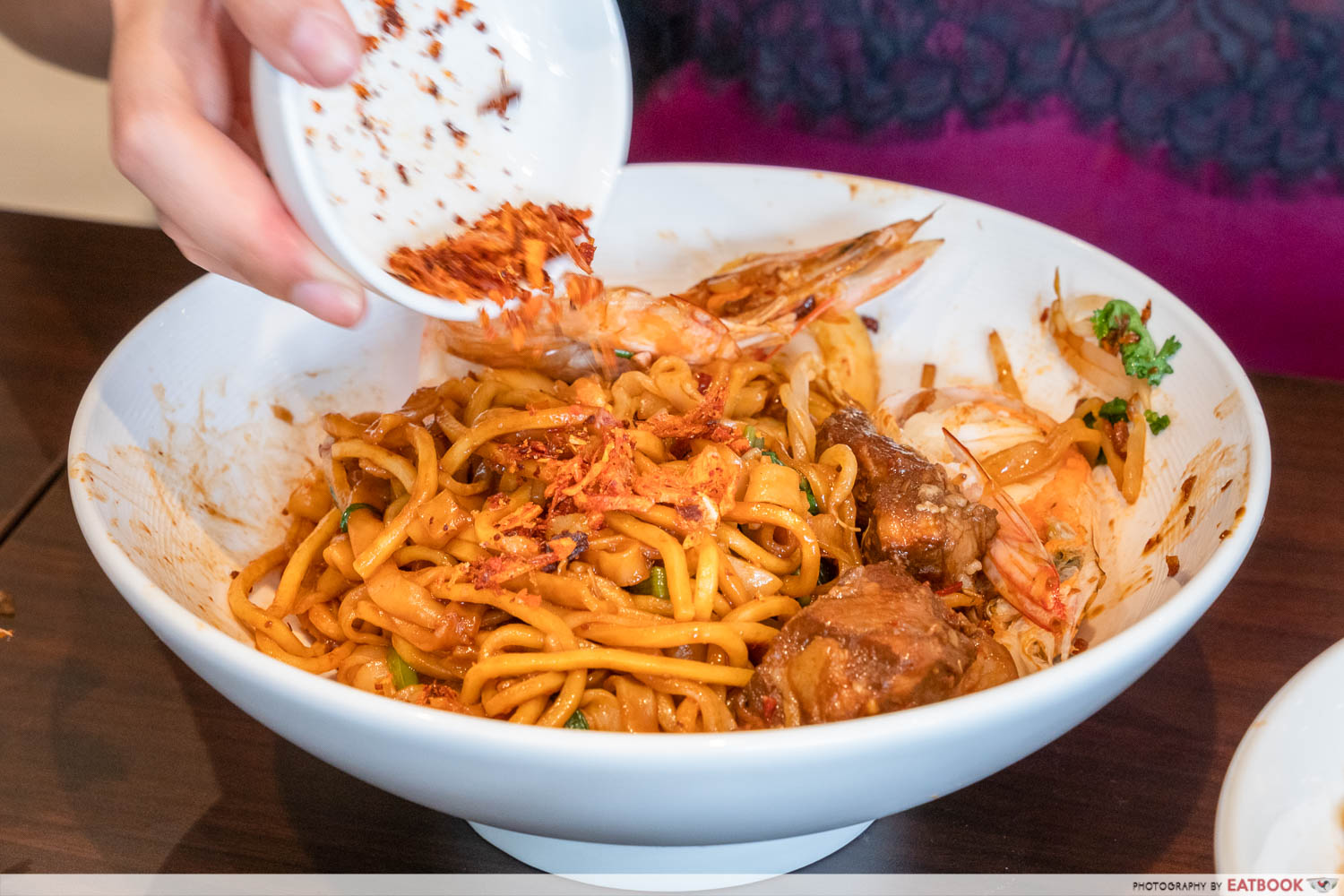 A sauce plate of house-made Hae Bee Hiam Volcano Chilli comes on the side with your order, so you can mix your noodles to your preferred level of spiciness. Otherwise, the noodles come with a thick, sweet sauce base.
While spicy and fragrant, I found the Hae Bee Hiam Volcano Chilli to be tinged with sweetness, and didn't add the same punch as when the noodles are tossed with a sambal. I personally also prefer my savoury food to be, well, savoury, so I found there was too much sugar going on.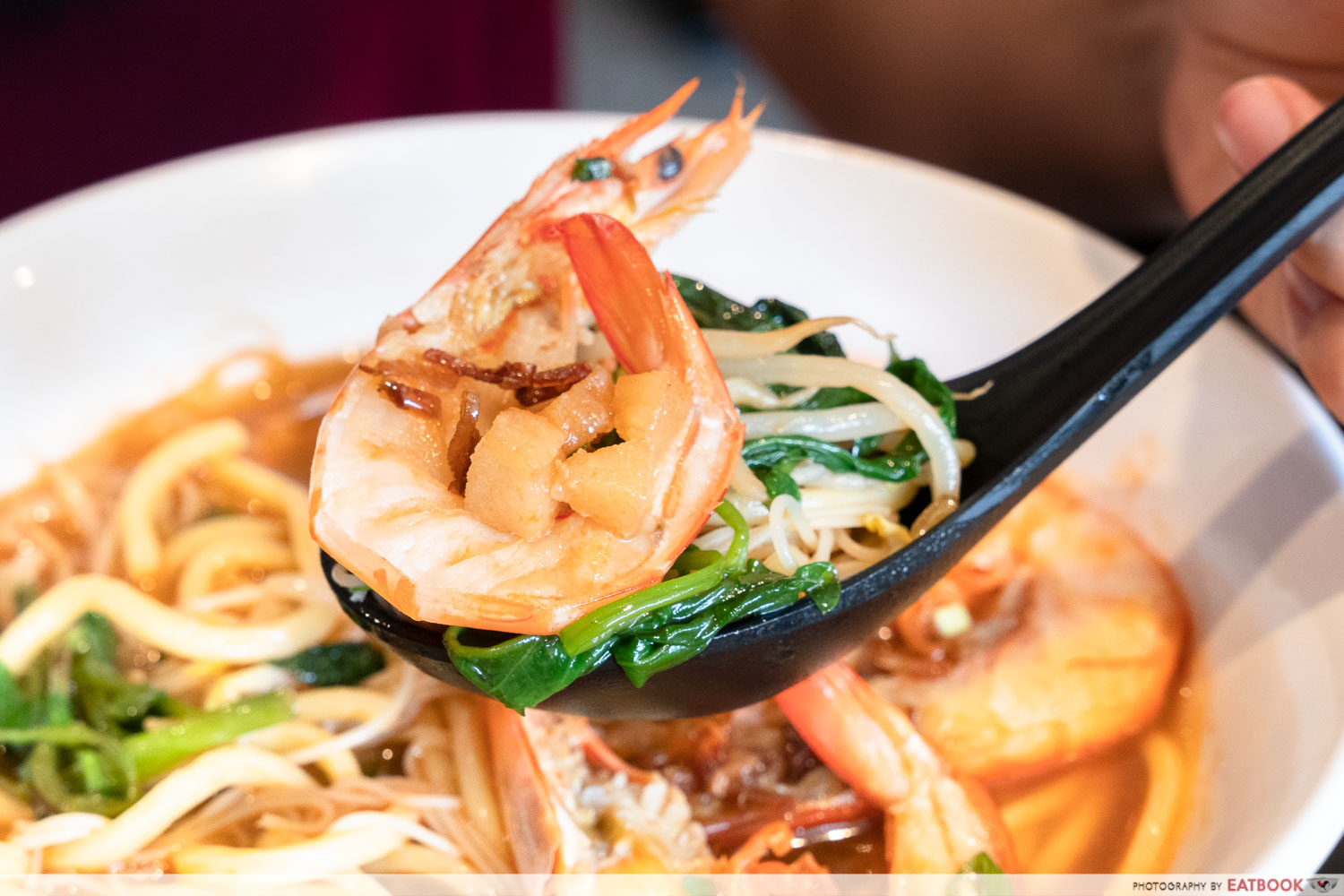 What I did appreciate, though, was the crisp, fresh-fried shallots and lard that topped every bowl that we had. There's a distinct difference in flavour when the shallots are of the store-bought variety, so kudos for taking that extra tedious step of frying their own.
The pieces of lard were pretty uniformly cut as well, in small cubes so it value-adds without you really realising they're there. They also remained crisp even after sitting in the broth.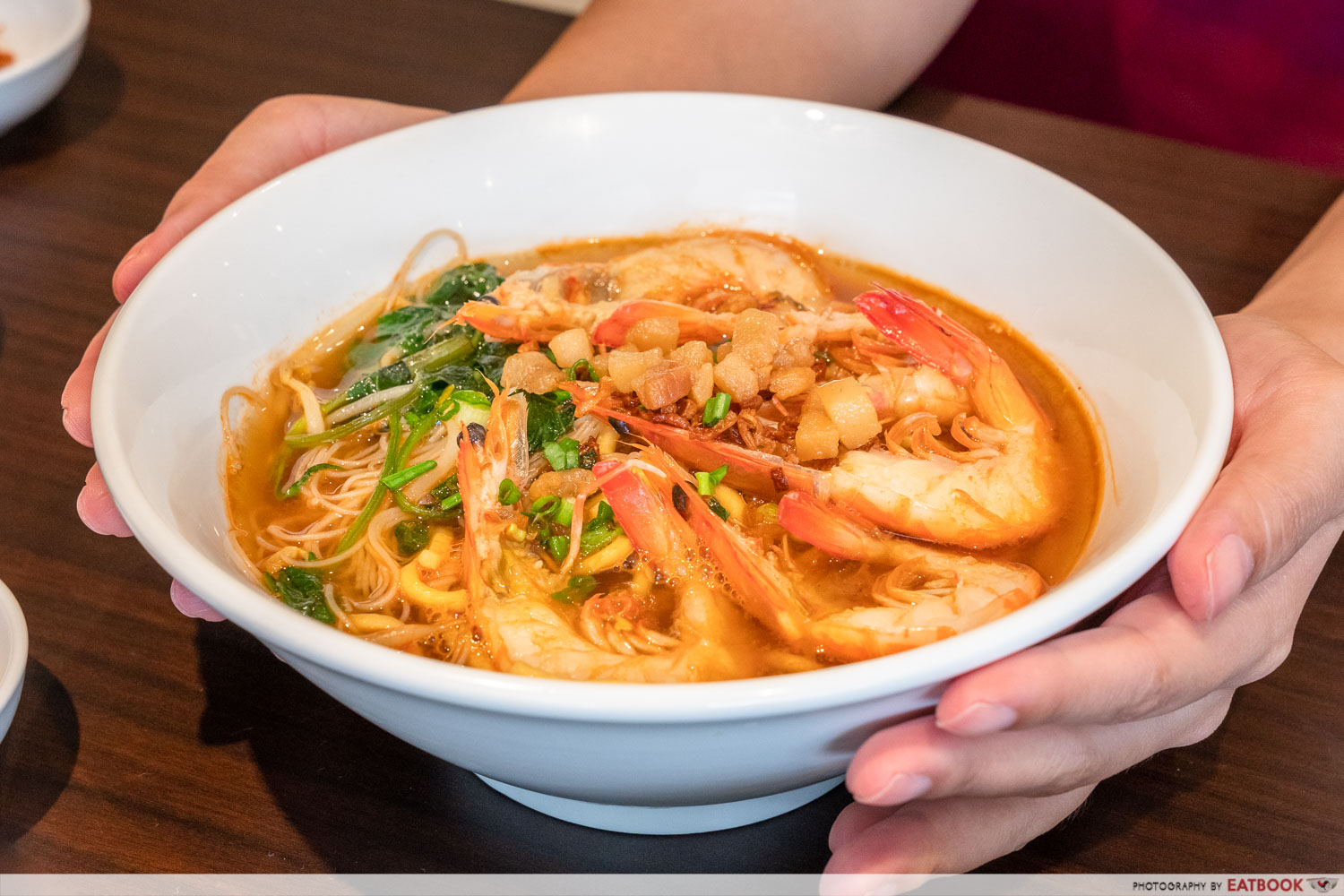 On the other end of the price spectrum is Prawn Noodle ($8/$11), where $8 is the cheapest bowl of noods you'll find here. A bowl comes with five, halved Vannamei prawns. Similarly priced are the Braised Pork Ribs Noodle, which comes without prawns, and Prawn and Braised Pork Ribs Noodle, for a little bit of both accompaniments.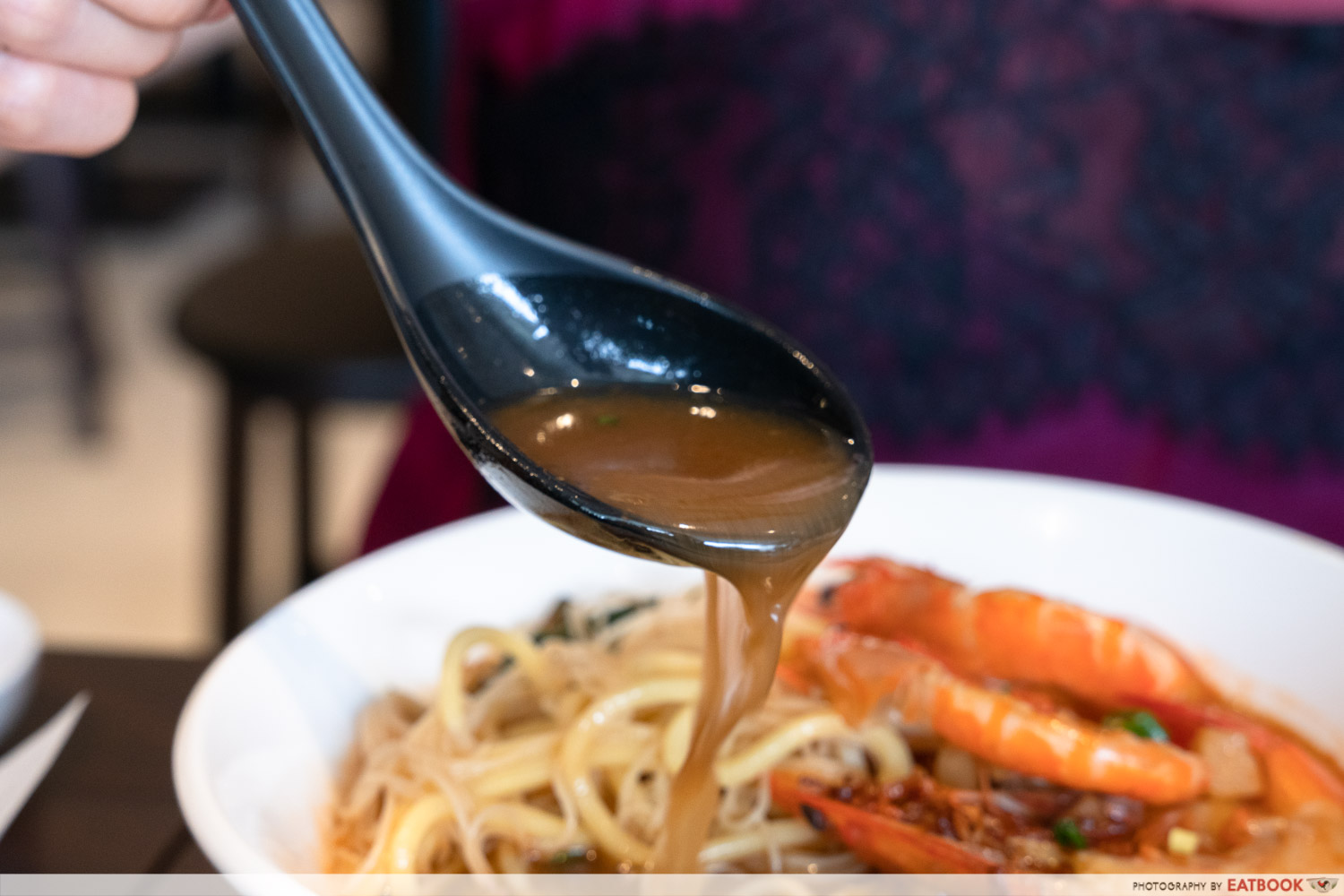 The broth here at Fei Lou Fatt is simmered for more than 10 hours, with the majority of the ingredients used being the discarded prawn heads from White Restaurant. As with the dry noodles, I found this to be on the sugary-sweet side, although I have to say it was rich and the prawny aroma intense.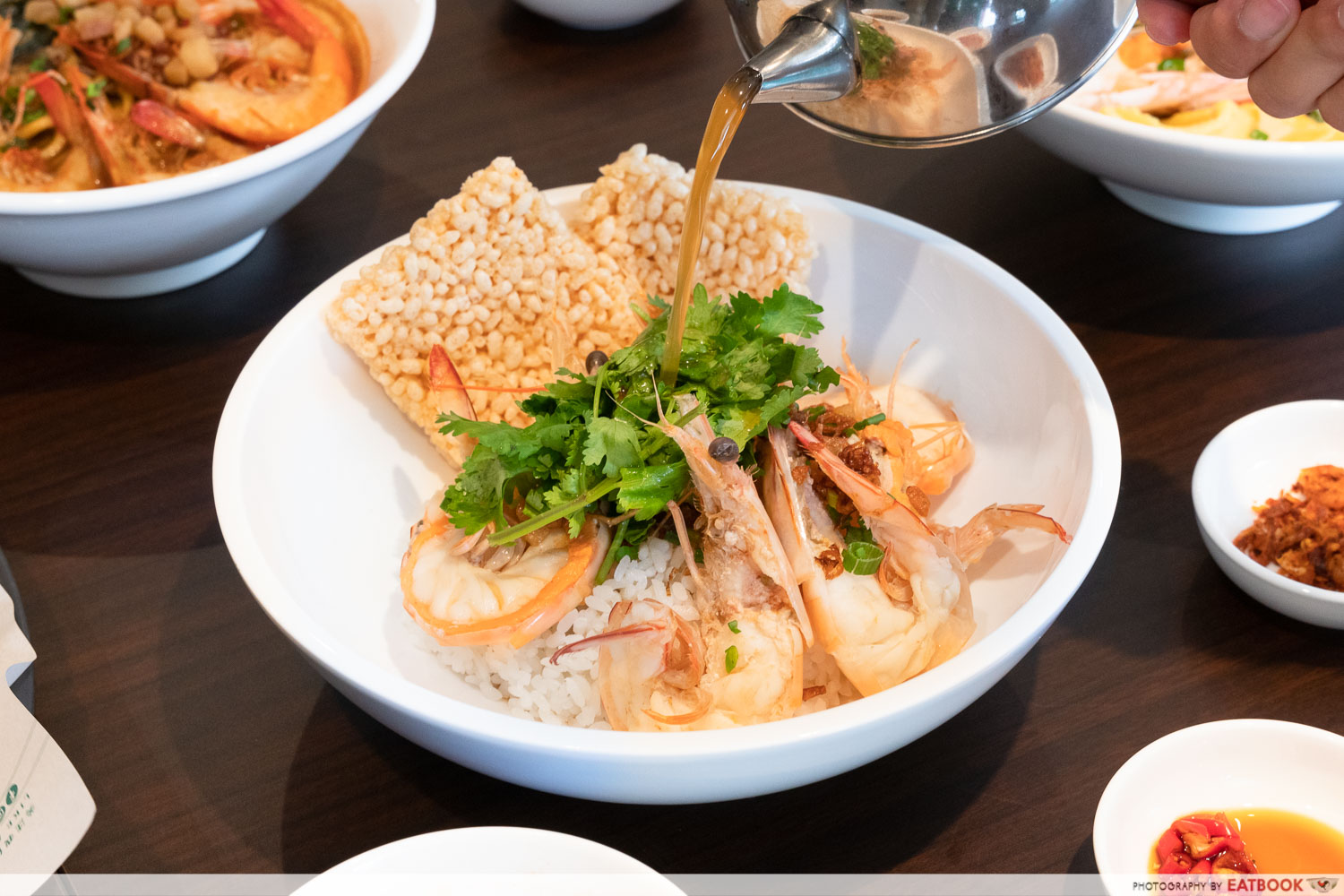 Riding on the pao fan craze is Fei Lou Fatt's take on Japanese green tea rice, or ochazuke. We tried the Big Prawn-zuke ($16), where you'll get two and a half ang kar prawns on plain Japanese rice, with house-made rice crackers.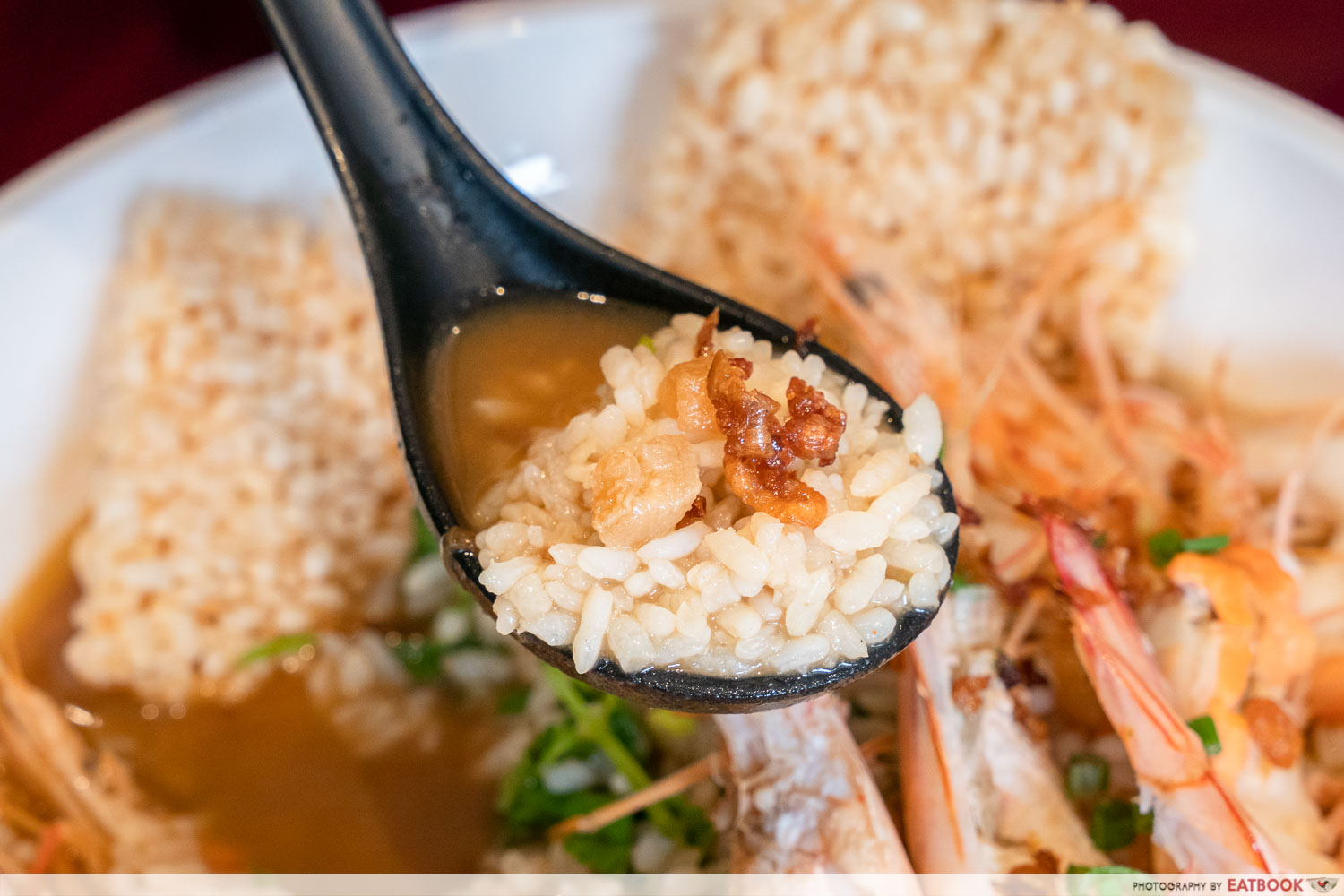 The same broth, shallots, and lard bits feature here, but I also liked the addition of copious amounts of fresh coriander, which refreshed the flavours. The portion is also generous enough for two, I feel.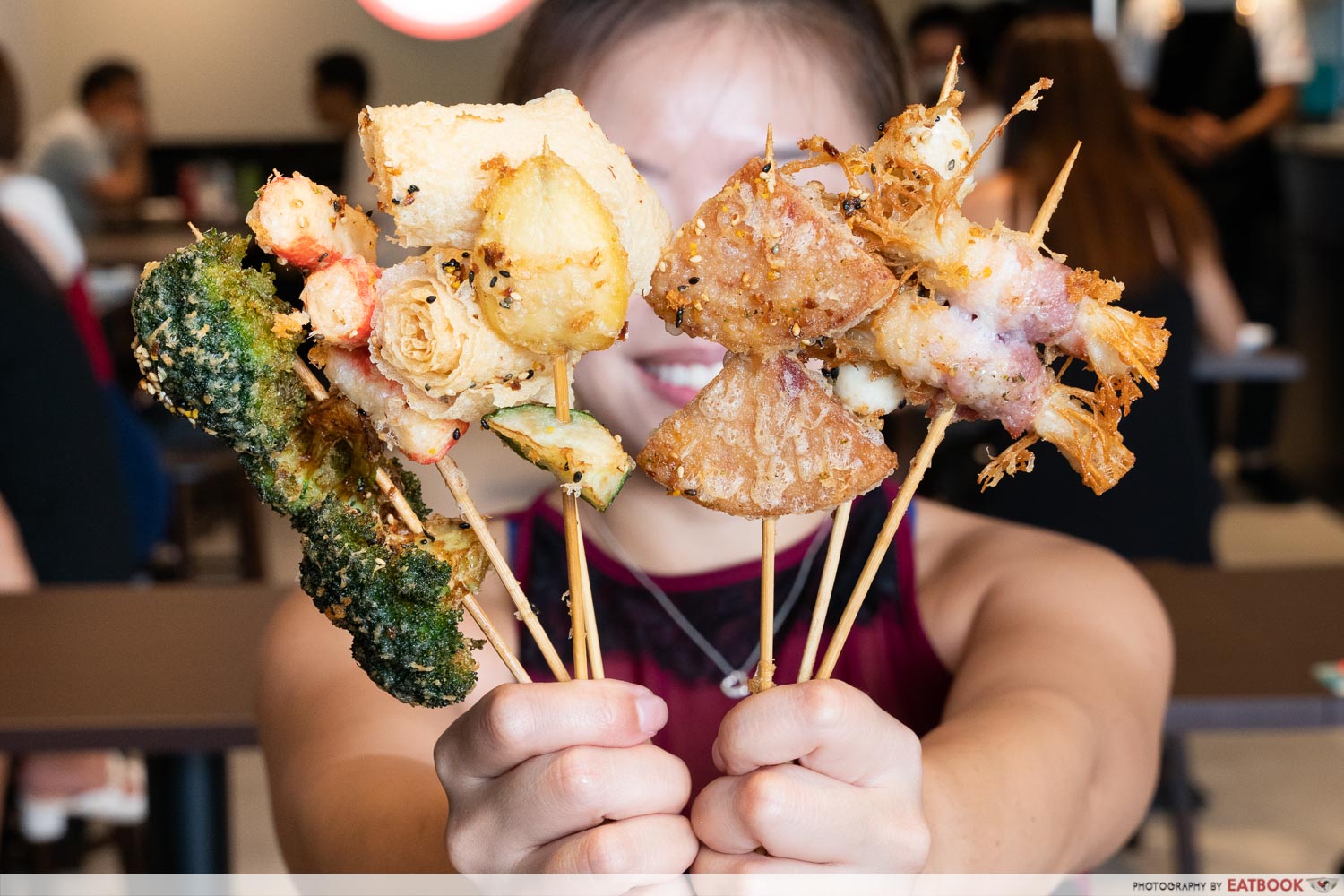 Instead of the ngoh hiang at your regular hei mee stall, Fei Lou Fatt decided to go the lok lok route, which makes dining here pretty fun. When I visited, there were close to 20 kinds to choose from, priced at $1.20, $1.50, or $3 a stick.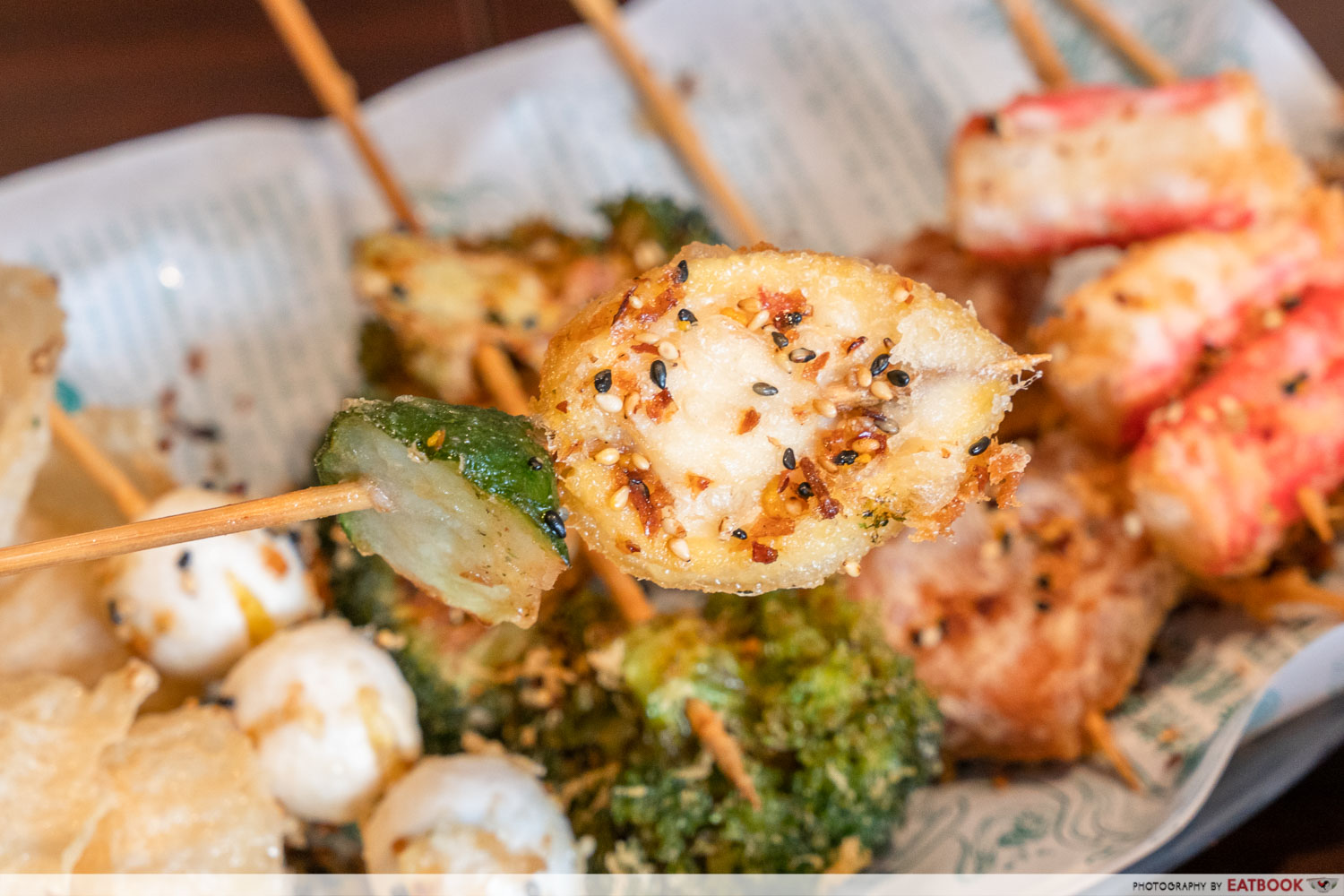 Apart from your usual broccoli, luncheon meat, crabsticks, quail eggs and such, there's also an atas Abalone ($3) lok lok that you can choose. There are four seasonings available: Sze Chuan Mala, Seaweed, BBQ, and Furikake, where Furikake is the only one you'd have to top up $1.20 for.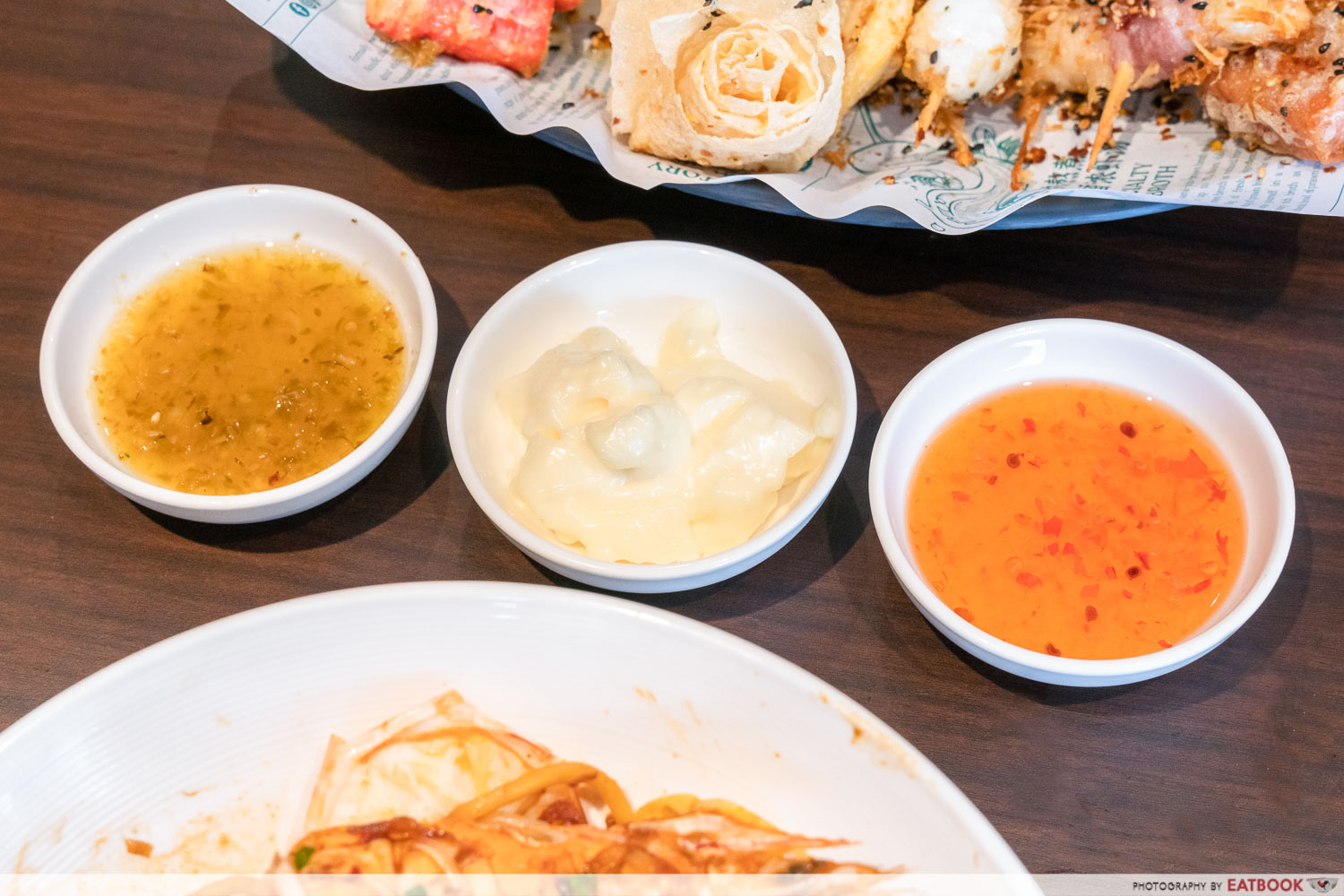 Pair your lok lok with any of the three sauces: Mayonnaise, Thai Sweet Chilli, and Thai Seafood Green Chilli—the third being mine and my colleague's favourite.
Ambience at Fei Lou Fatt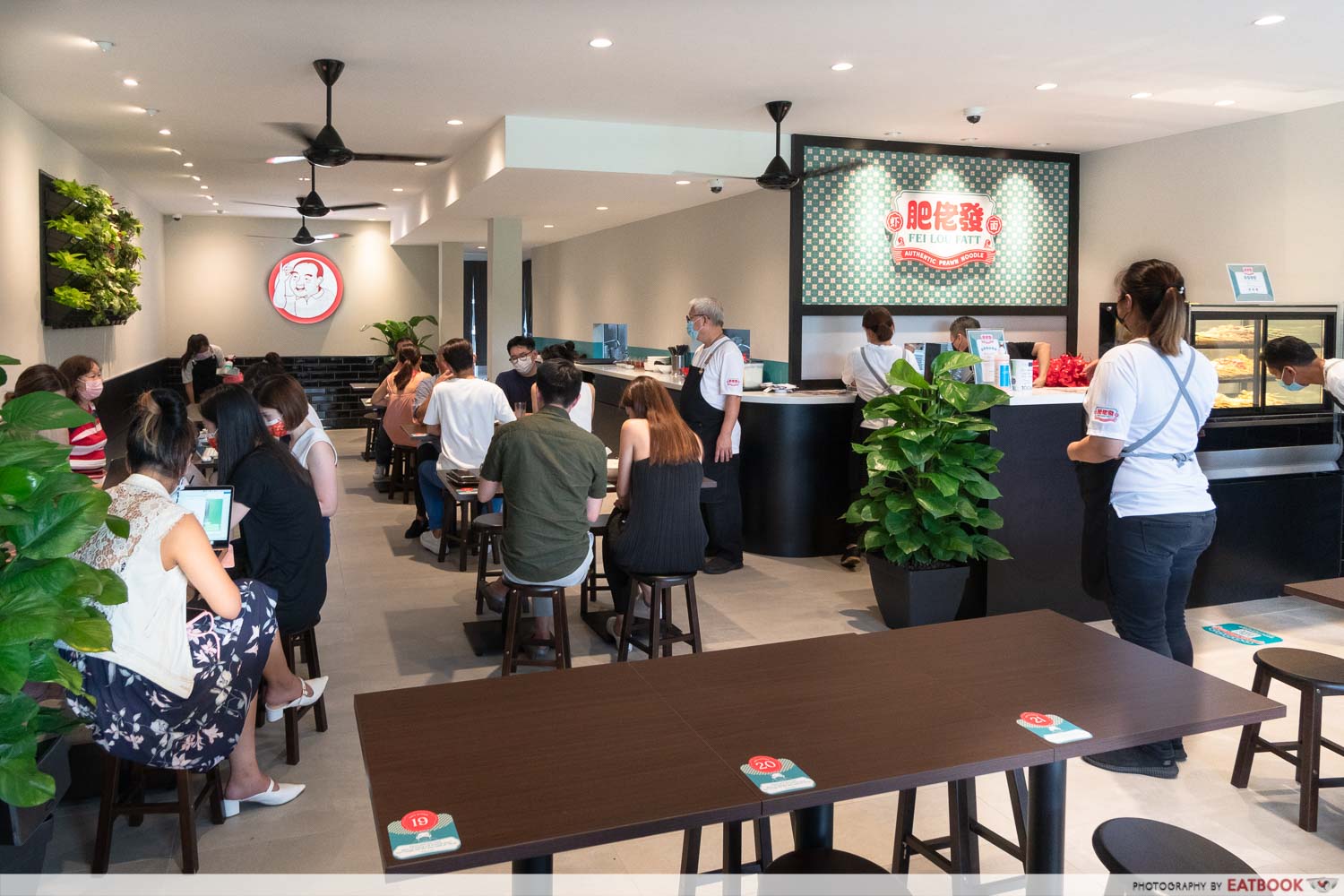 With 68 seats, there's plenty of space to go around in the Fei Lou Fatt eatery. It's new and sparkly, with bright white walls, wall-hung greens, and a cheery Peranakan-tiled sign behind the cashier. You'll also find a jolly caricature of Fei Lou Fatt himself at the back, looking over the diners. Ceiling fans keep the place well-ventilated as well.
The eatery is just outside the exit of Springleaf MRT Station on the Thomson-East Coast Line (TEL). Otherwise, it's 20 minutes by bus from Khatib MRT Station.
23 Prawn Mee And Seafood Soup Stalls In Singapore For XXL Hae Mee, Lobster Noodles And More
The verdict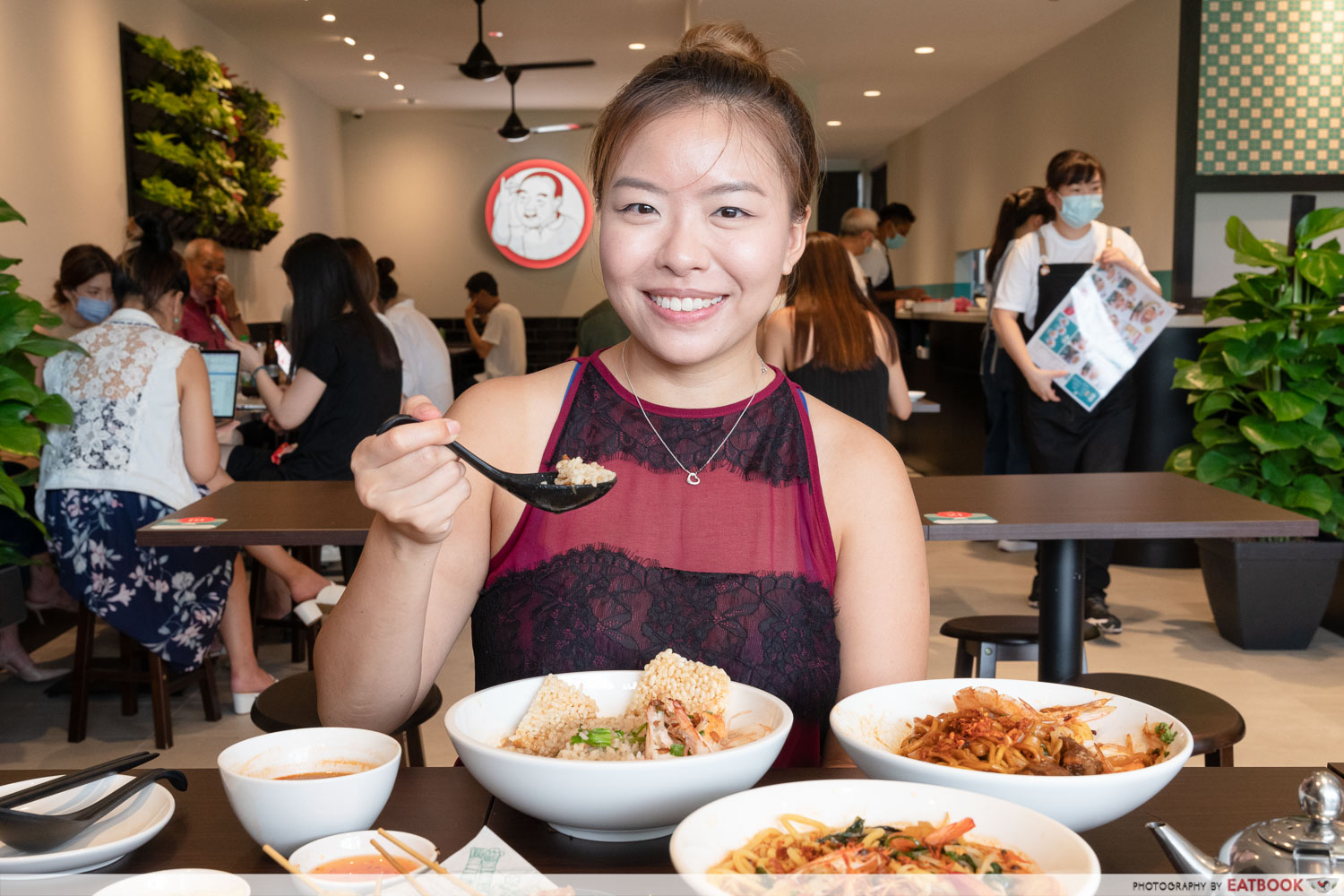 While convenient for those who reside in the Springleaf vicinity or a few stops down the TEL, the price and location made this bowl of hei mee less than ideal for me. If you enjoy a very local-style prawn mee with dark, sweetish soup, I believe you'd enjoy the noodles here more than I did. The prices aren't the cheapest, but the novelty of having lok lok with your prawn noodles, big portion sizes, and very fresh ingredients are definitely a plus point here.
If you're looking for more prawn mee options, check out our prawn mee guide to satisfy your hei mee cravings islandwide. Alternatively, Wah Kee Big Prawn Noodles is a Michelin-approved prawn mee stall with more than 70 years of history!
Address: 928 Upper Thomson Road, Singapore 787121
Opening hours: Daily 8am to 10pm (last order at 9:30pm)
Tel: 6252 3400
Website
Fei Lou Fatt is not a halal-certified eatery.
Photos taken by Melvin Mak.
This was a media tasting at Fei Lou Fatt. 
Fei Lou Fatt Review: Prawn Mee And Lok Lok From $1.20 By Founder Of White Restaurant
Fei Lou Fatt Review: Prawn Mee With 10-Hour Broth And Mala Lok Lok By Founder Of White Restaurant -

6.5/10
Summary
Pros
– Portions are generous
– Fried lard and shallots were house-made and flavourful
– Ingredients were fresh
Cons
– Location is not very central
– Pricey
– Overall flavours are quite sweet
Recommended dishes: Big Prawn-zuke ($16), Prawn and Braised Pork Ribs Noodle ($8), Broccoli Lok Lok ($1.50), Bacon Enoki Lok Lok ($1.50)
Opening hours: Daily 8am to 10pm (last order at 9:30pm)
Address: 928 Upper Thomson Road, Singapore 787121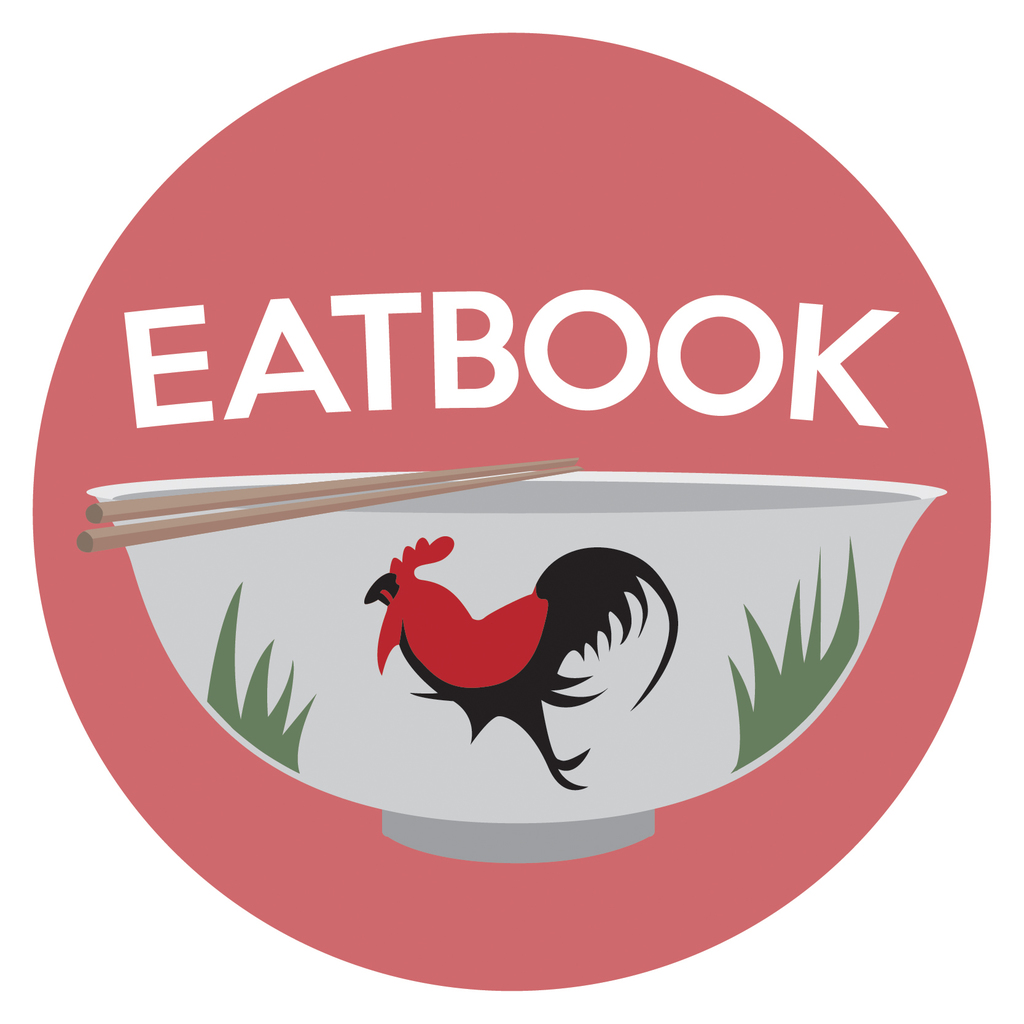 Drop us your email so you won't miss the latest news.