Wah Kee Big Prawn Noodles in Cambridge Road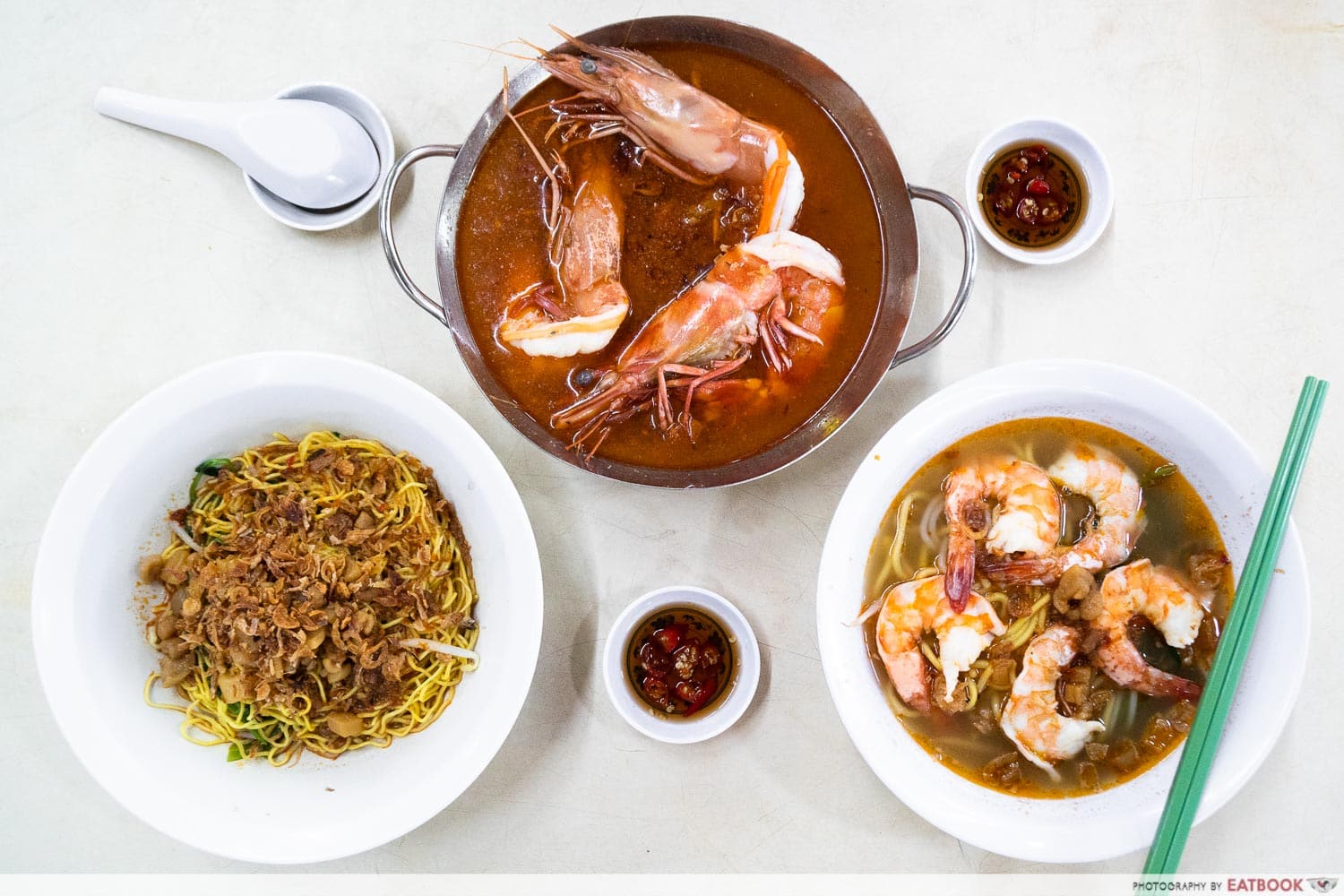 Having spent more than half of my lifetime abroad, I've had to satisfy hae mee cravings with instant options, as a quick and simple fix. Now that I'm back, I couldn't wait to get my hands on Wah Kee Big Prawn Noodles, having heard so much about them, thus my trip to Pek Kio Market & Food Centre one Thursday morning.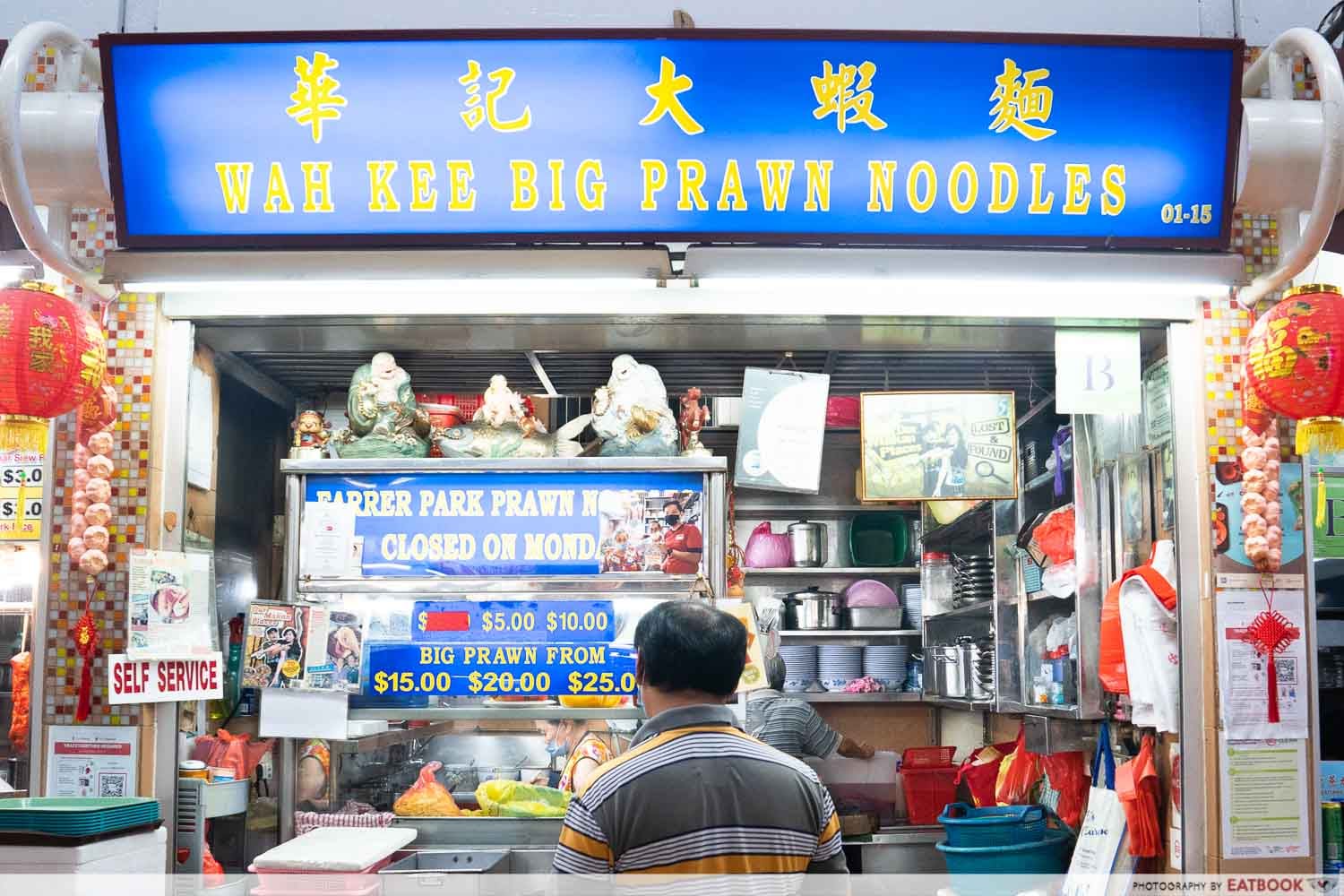 Opened in 1951, way before hawker centres were even established, Wah Kee Big Prawn Noodles has been serving their prawn noodles to loyal customers for 70 years. To date, they have been recognised by many media outlets, including being awarded a Michelin Plate, in recognition of serving an exceptional bowl of prawn noodles.
10 Pek Kio Food Centre Stalls With Cheap And Good Eats From $2
Food at Wah Kee Big Prawn Noodles 
With only one item on their menu━prawn noodles━Wah Kee's come in bowls priced between $5 and $25, increasing in denominations of $5 based on the size of prawns you opt for.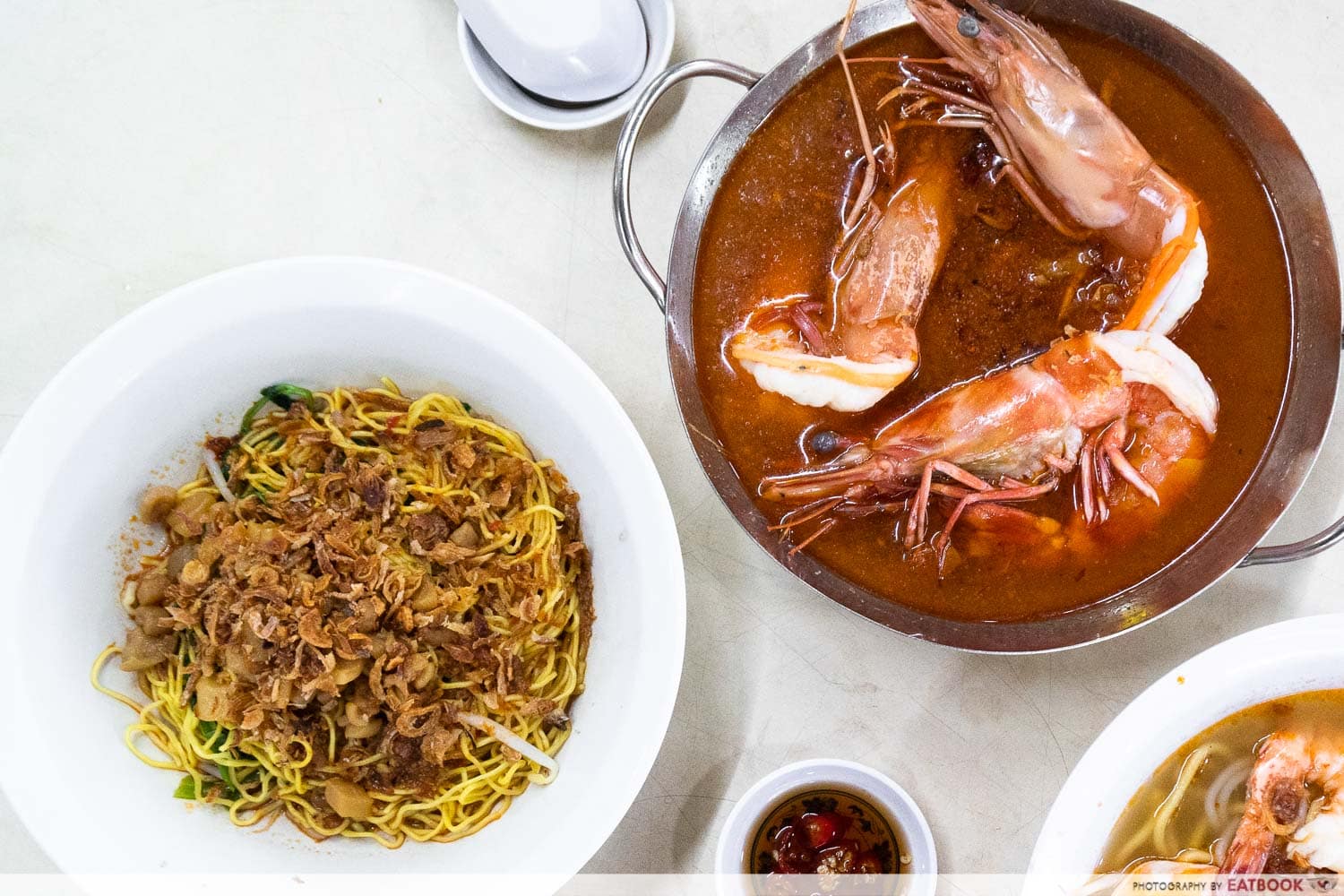 As a first-timer to Wah Kee, I took the plunge and started off my experience with Wah Kee's $25 prawn noodles.
Served in a mini wok, three half-deshelled XXL prawns sat in a stunning, deep orange-red broth. On the side was a bowl of dry mee kia with tau ghey and kang kong, showered generously with fried lard and shallots.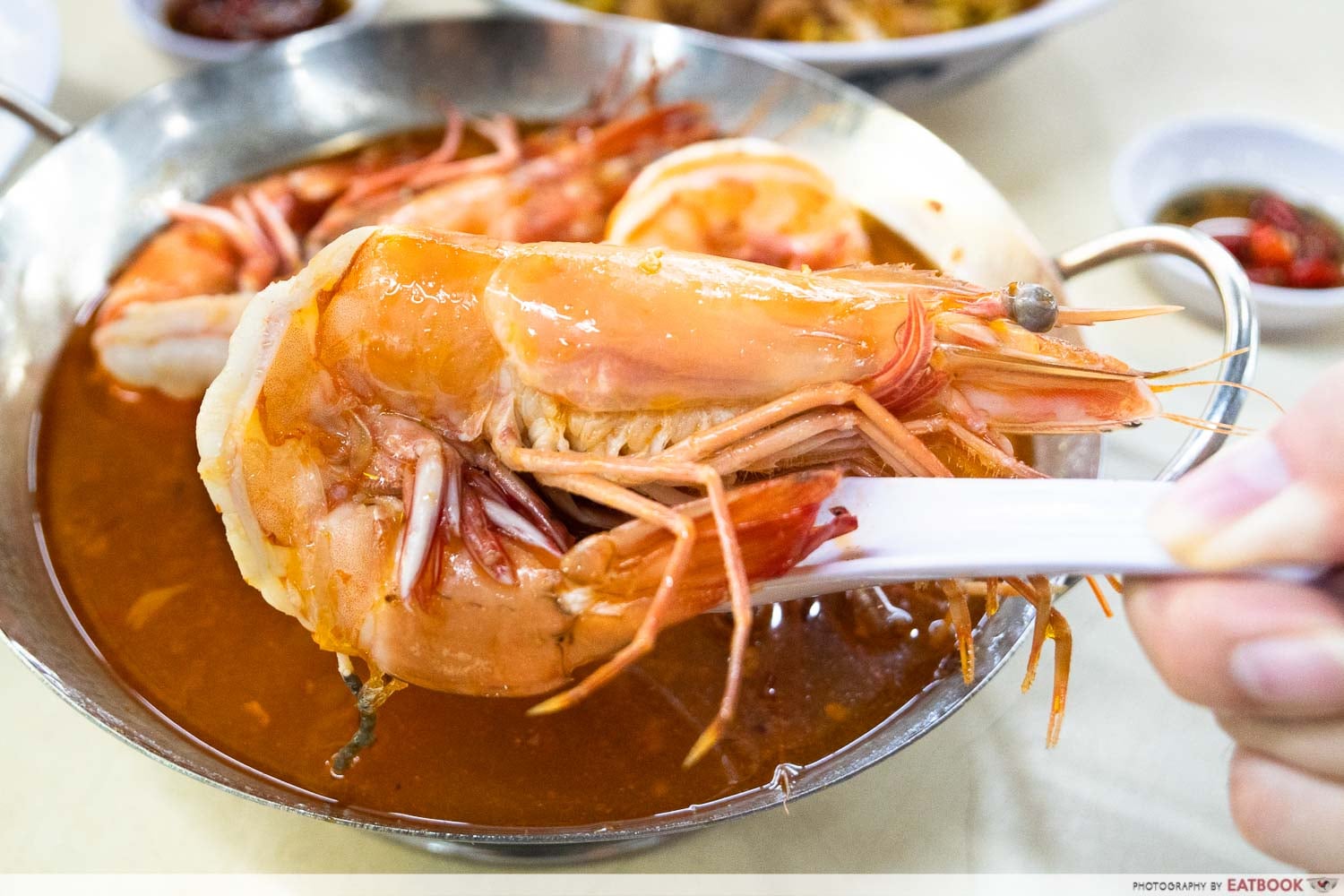 Each prawn, almost the size of my hand, was plump and succulent, without being stringy and overcooked. These were unquestionably fresh, full of juicy, briny sweetness that left my colleague and me exclaiming as we bit into them. 
I appreciated how the bodies of the prawns were de-shelled, leaving the huge heads on for those who love prawn heads. You're in for a treat if you enjoy them, because these are fresh and filled with rich, tasty innards.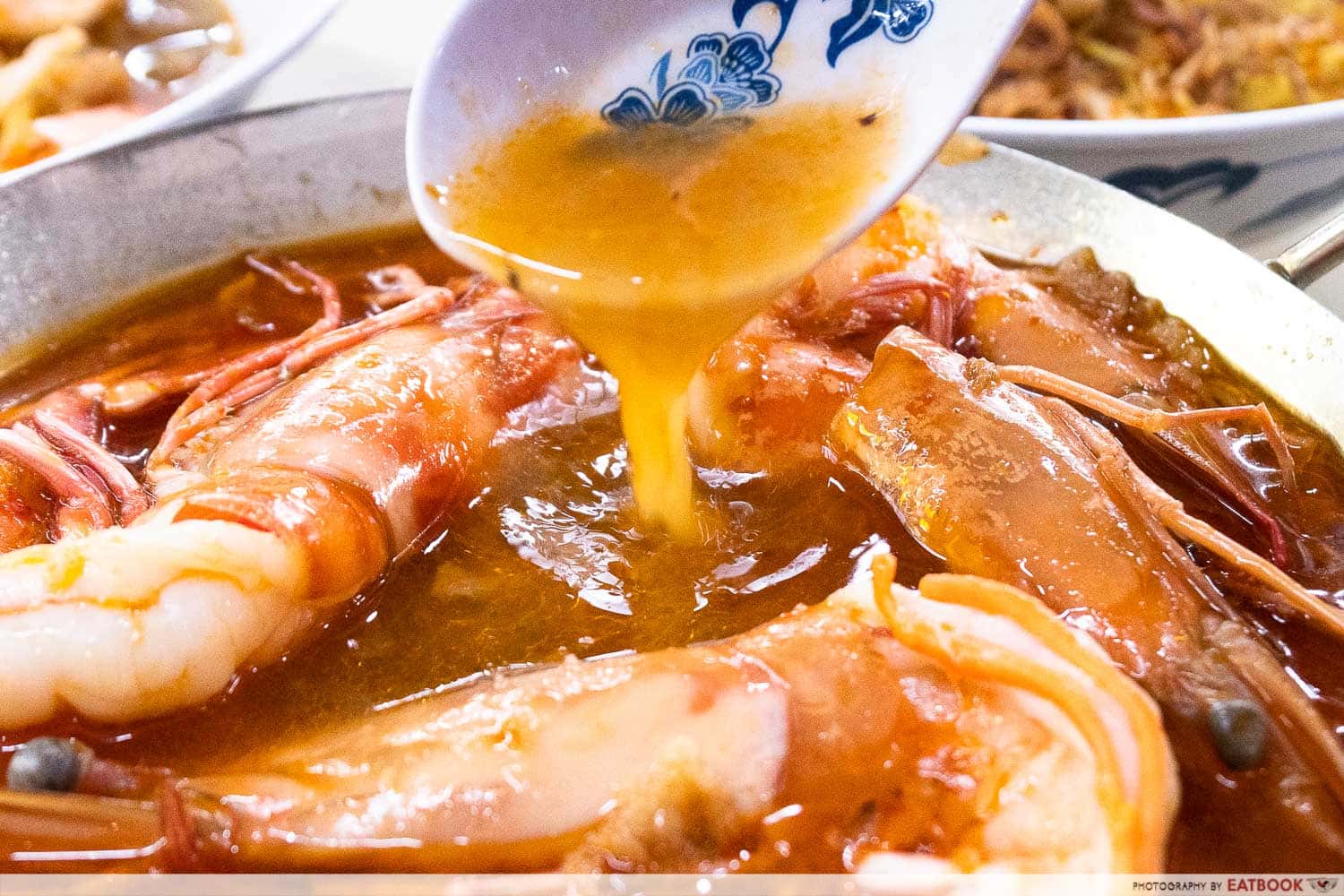 I was expecting a robust, rich-flavoured broth thanks to the colour, but this soup tasted otherwise. The slightly milky-looking broth was blanketed by a layer of red prawn oil. While this precious oil is coveted, I found it left an unpleasant feeling in my mouth, and sat heavily in my stomach. However, this is simply my personal preference, as I prefer lighter and cleaner flavours.
That aside, I found the broth light and sweet. It's boiled entirely without pork, so if you are looking for a bodied prawn soup, this may not be for you.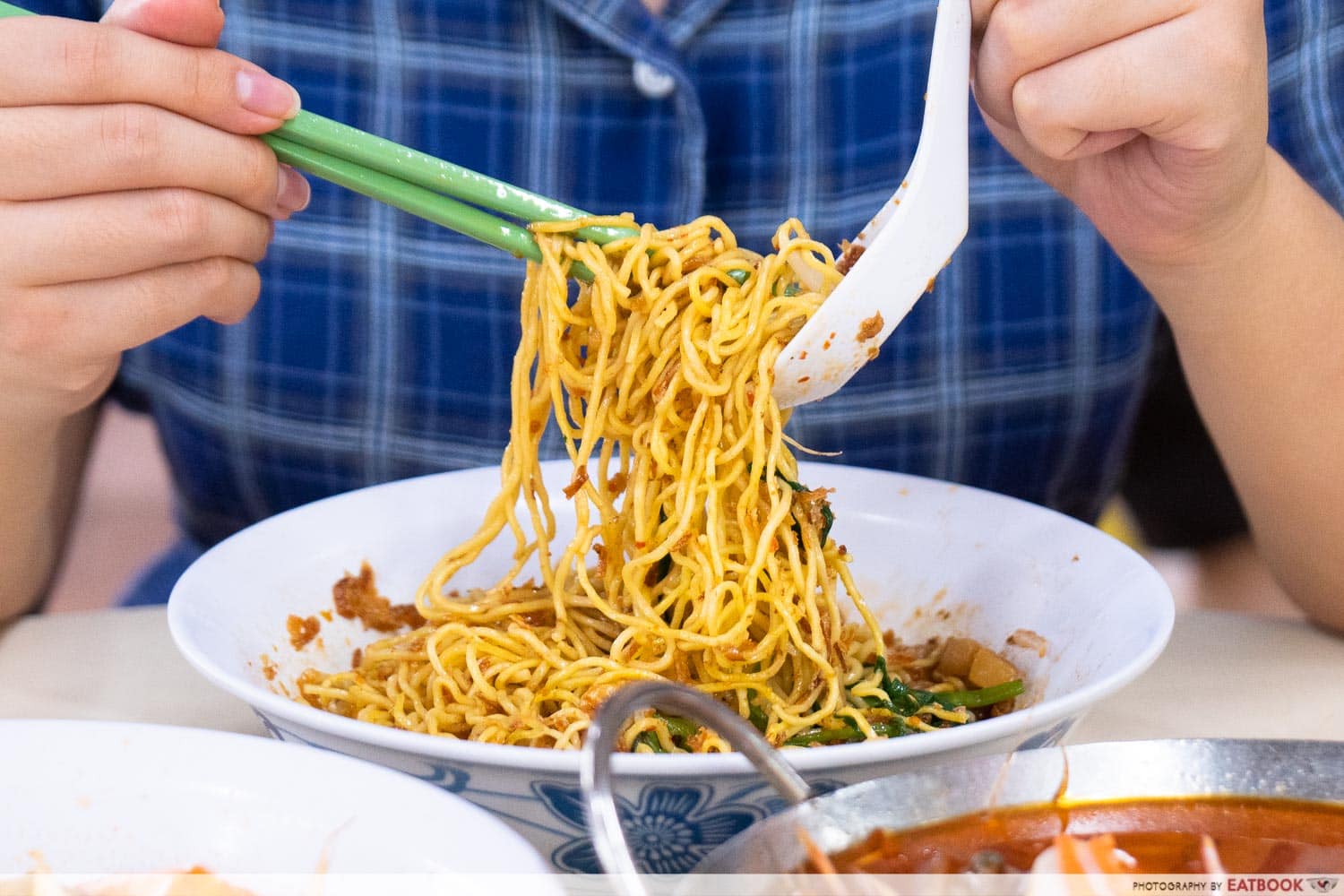 Tossed in a house-made sauce, this dry mee kia, which is said to be specially made for Wah Kee, was a slight let down, as I found it lacking in dimension, tasting predominantly of lard and shallots. However, there was an initial hint of sweetness, which most likely came from tossing in some of the prawn broth. Texturally, these noodles were smooth and springy, with a good bite.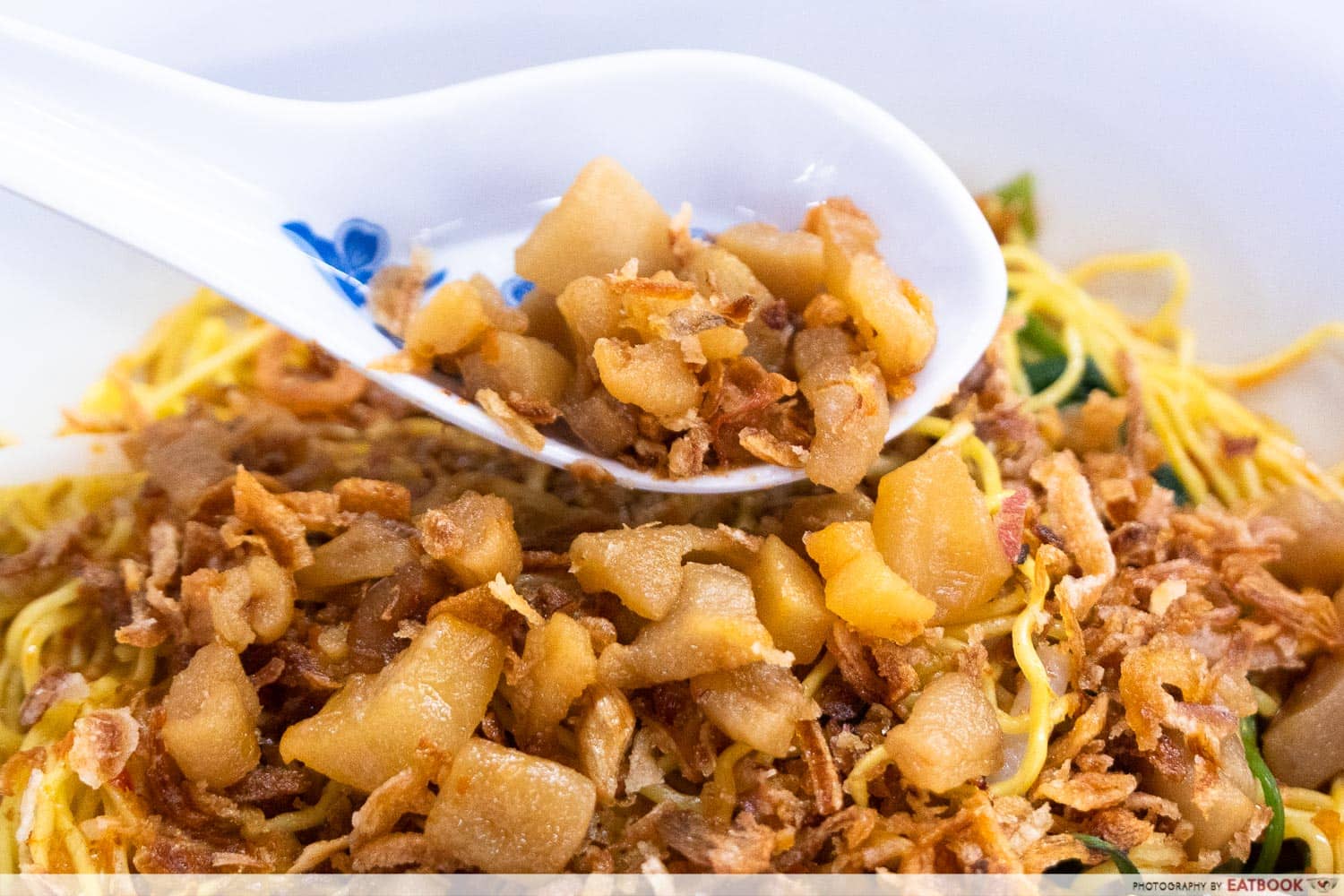 The best part of this dish were these sinful nuggets of lard. Just like popping boba, these fried pieces of lard burst in the mouth with each bite.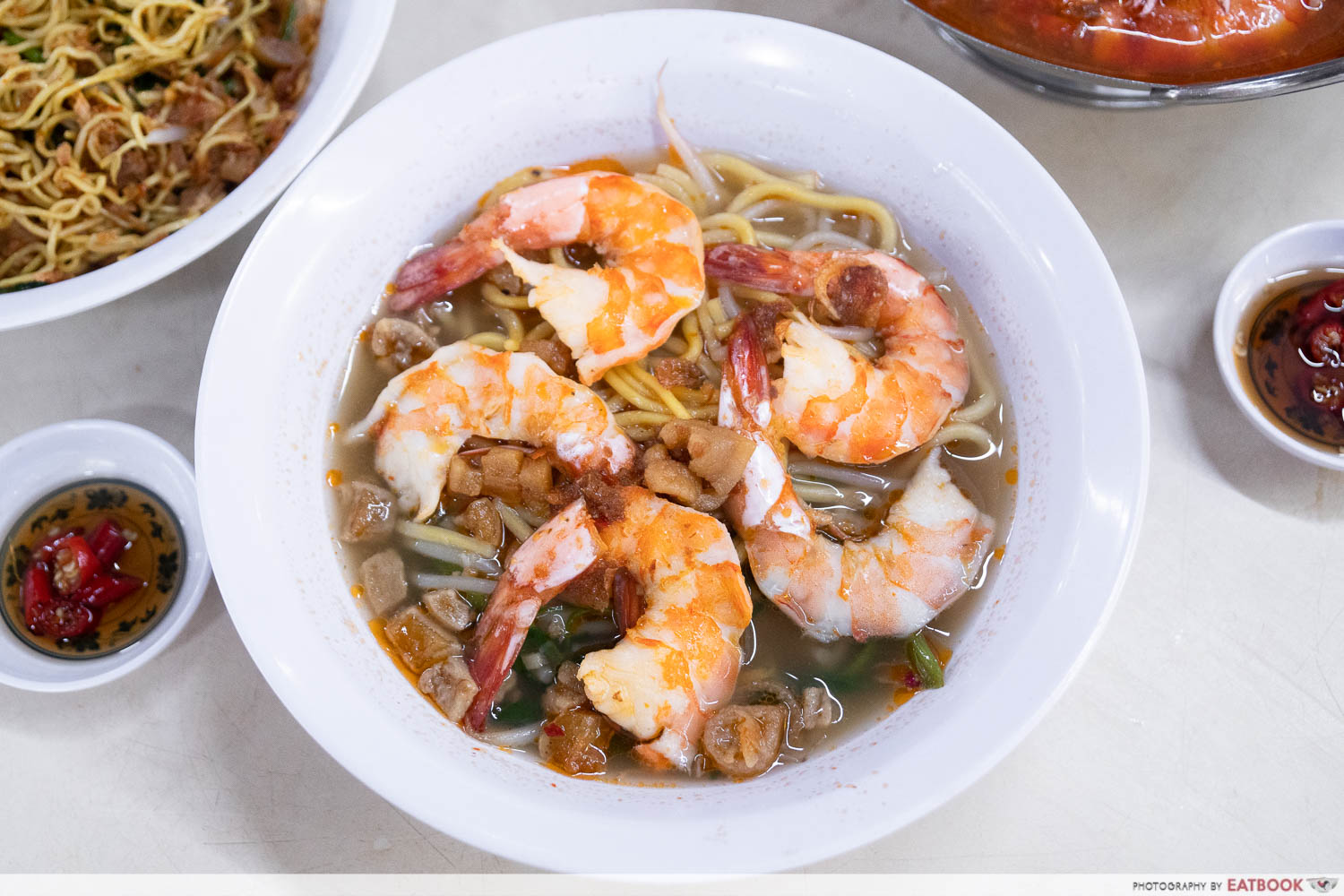 Next, we had their $10 portion of prawn noodles. Thinking that it would be a smaller portion, I was pleasantly shocked by how generous the serving was. Submerged in a clear prawn broth was a mountain of yellow noodles and thick bee hoon, as I'd chosen. It also came with five pieces of de-shelled prawns.
Compared to the previous broth, this was watered down, dotted with orangey drops of prawn oil. Expecting a diluted, tasteless mouthful, I was proven wrong, as each sip was lightly sweet and filled with umami. Although it was missing the richness of a typical hae mee broth, I found the flavour notes in this soup more prominent, making it seriously addictive.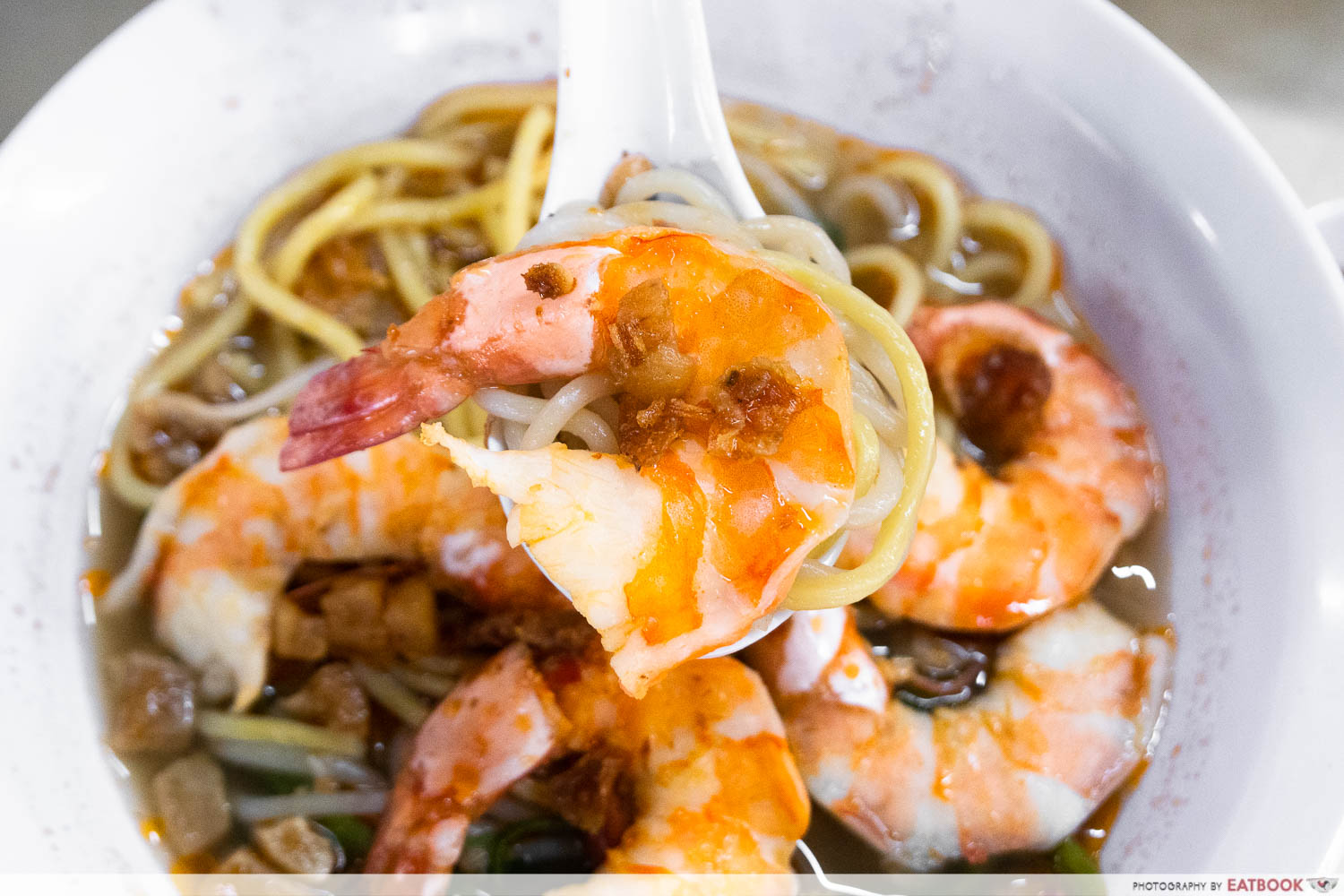 Don't judge these prawns for their size, as they were just as fresh and sweet as the bigger prawns, and similarly cooked to just the right doneness.
In contrast, I found the noodles slightly soggy, although I had admittedly left them sitting for a while as we shot the dishes. The yellow noodles did have an alkaline taste, which bled into the soup, but it's not obvious, thanks to the addition of shallots and lard.
Pin Wei Chee Cheong Fun Review: Third-Generation Hawker Selling Handmade Rice Rolls Near Farrer Park
Ambience at Wah Kee Big Prawn Noodles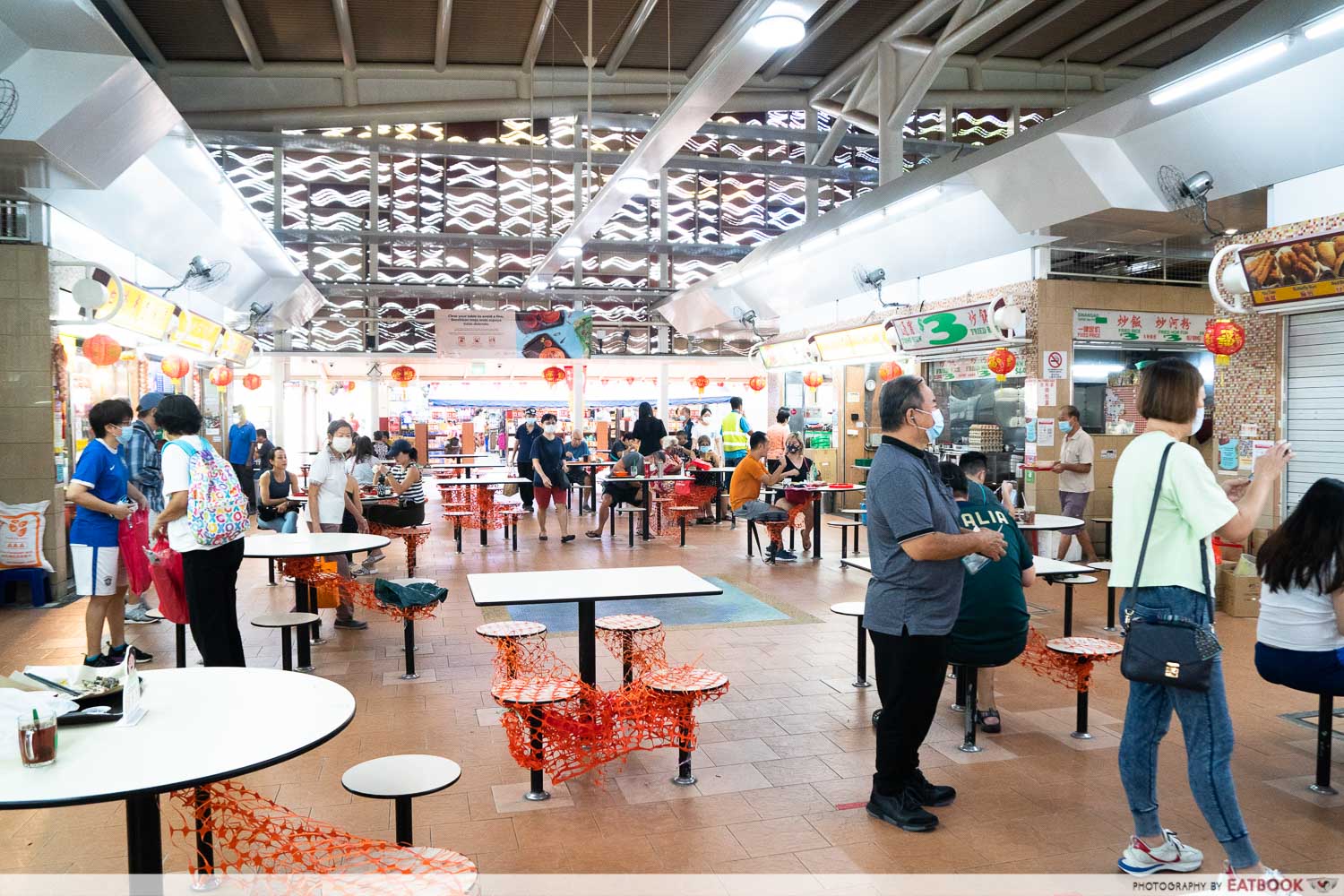 Wah Kee Big Prawn Noodles, situated in Pek Kio Market and Food Centre, is three bus stops away from Novena MRT Station. If not, you can work up an appetite by taking a 15- to 20-minute walk from the station. 
Due to the current COVID-19 situation, most of the five seater tables were closed off. Besides the limited seat availability, the food centre was rather clean and well-lit. The buzzing food market turned tranquil after 2pm, when most stalls close for the day, so make sure to come down early to grab yourself a bowl of Wah Kee's prawn noodles.
One Prawn Noodle Review: Silky Smooth Prawn Noodle Broth By Former Burnt Ends Chef
The verdict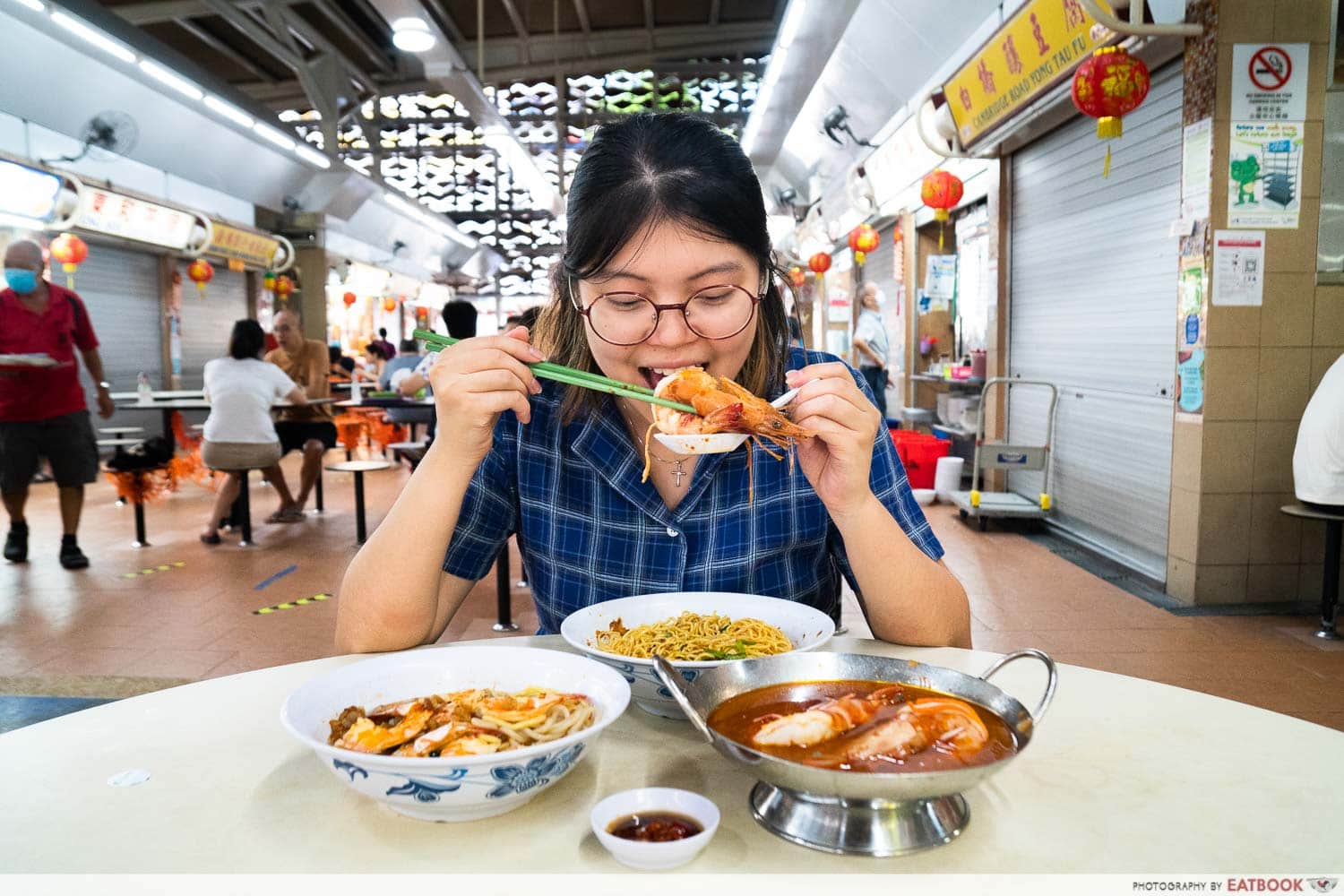 When it comes to rating a stellar bowl of prawn noodles, both the quality of the prawns, and flavour of the broth, are equally important to me. I believe Wah Kee Big Prawn Noodles has ticked both of those boxes, if I were to disregard the price. I've heard that their standard has dropped over the years, but as a first-timer here, I enjoyed the hae mee very much.
If you are a fan of seafood, and willing to pay for a bowl of quality prawns, I definitely recommend going for Wah Kee's $25 bowl of prawn noodles. As for me, I think I've found the perfect combo that I'll be ordering the next time I am back—a $15 bowl of prawn noodle soup, with thick bee hoon. 
For more prawn noodles options, check out our review on One Prawn Noodles, which serves Penang-style prawn noodles. Alternatively, you can check out our prawn mee guide to find out other hae mee options in Singapore worth trying.
Address: 41A Cambridge Road, #01-15, Pek Kio Market & Food Centre, Singapore 210041
Opening hours: Wed-Sun 8:30am to 2pm (or sold out)
Wah Kee Big Prawn is not a halal-certified eatery. 
20 Prawn Mee And Seafood Soup Stalls In Singapore For XXL Hae Mee, Lobster Noodles And More
Photos taken by Lim Yu Hui.
This is an independent review by Eatbook.sg.
Wah Kee Big Prawn Noodles Review: Michelin-Approved Prawn Mee Stall With 70-Year History
Wah Kee Big Prawn Noodles Review: Prawn Mee With XXL Prawns And 70-Year History -

7.5/10
Summary
Pros
– Big and fresh prawns
– Light, clean-tasting prawn soup
Cons
– Slightly pricey
– Dry mee kia was a bit bland
Recommended dishes: Prawn noodles ($10/$25)
Opening hours: Wed-Sun 8:30am to 2pm
Address: 41A Cambridge Road, #01-15, Pek Kio Market & Food Centre, Singapore 210041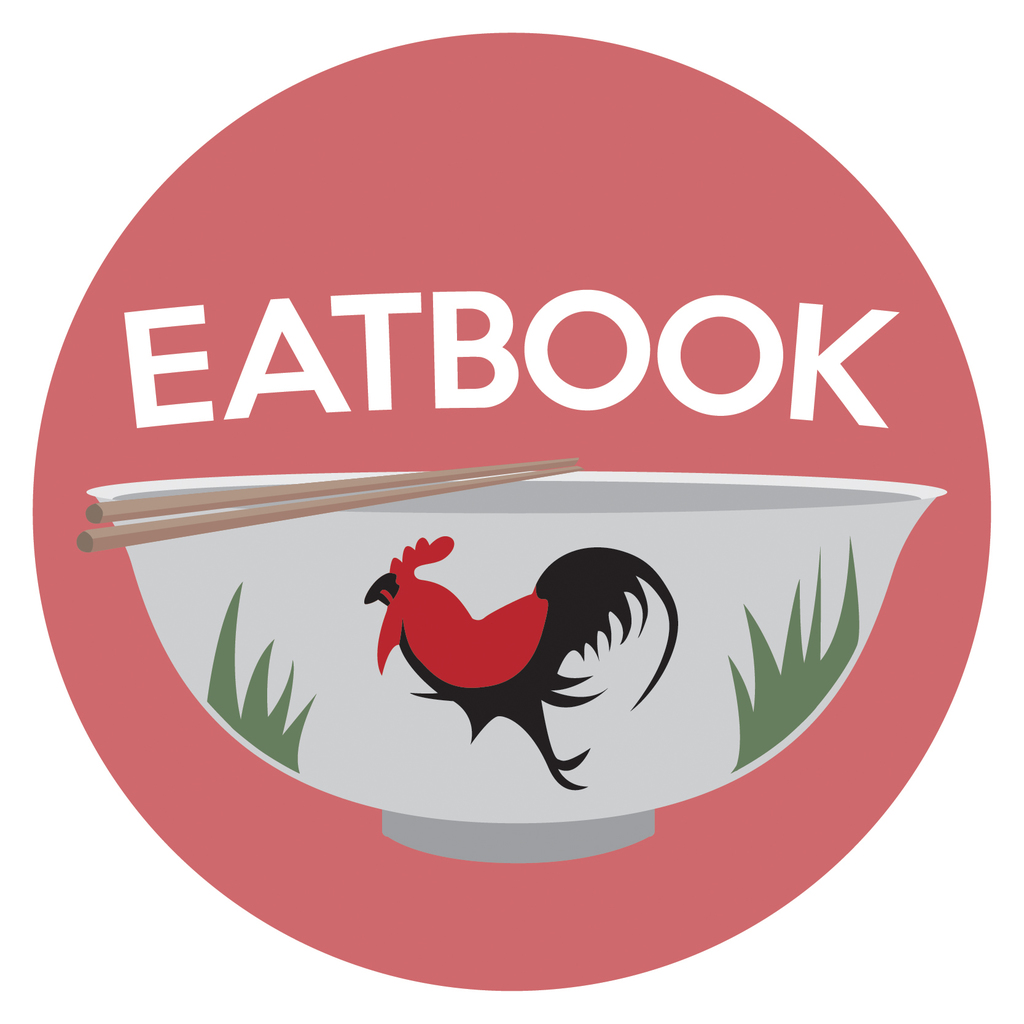 Drop us your email so you won't miss the latest news.