Fro Roll serves flower pots and volcanoes for dessert
Update: Fro Roll is now permanently closed.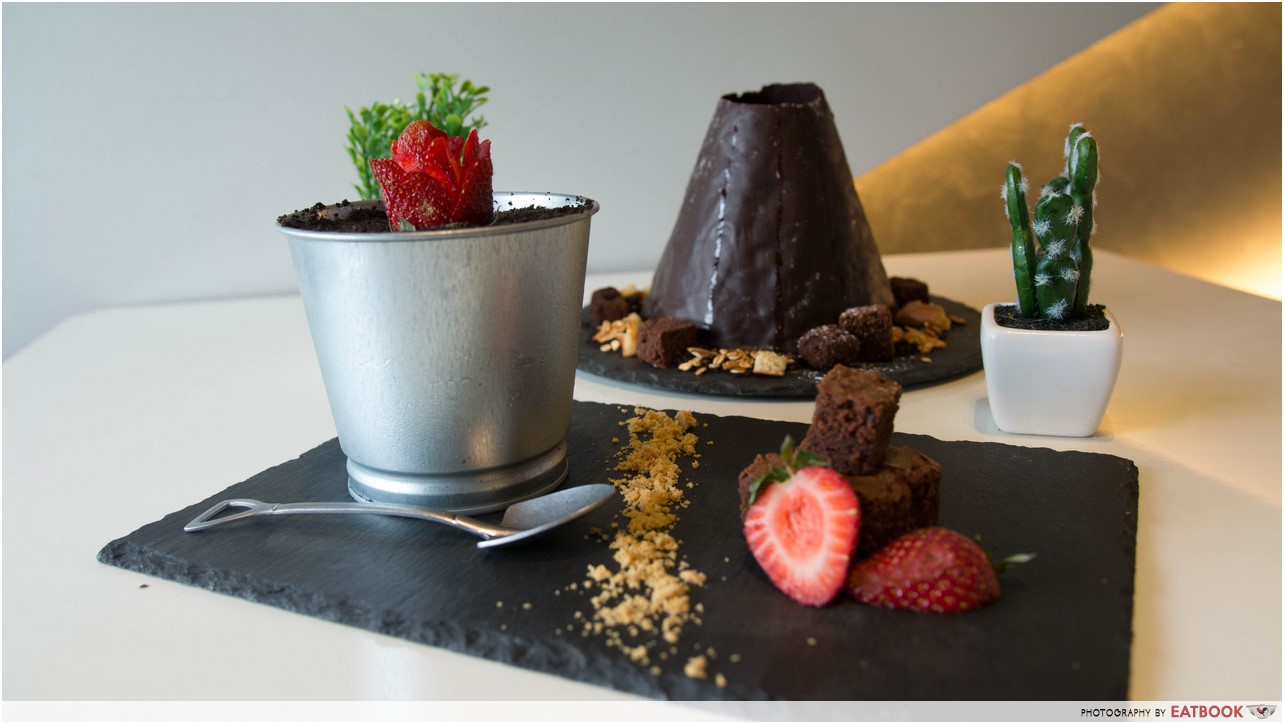 Ever since I was a kid, I've always been in awe of nature because of how beautiful yet scary it can be at the same time. One of the items on my bucket list was to see an active volcano and I managed to visit Mount Bromo last year. Although we couldn't go all the way up, taking in the gorgeous view of the volcano from Probolinggo was a monumental and breathtaking moment.
A sense of nostalgia came rushing to me when I saw this volcano-like dessert from Fro Roll. While it is no lava-spewing volcano, it is the first chocolate volcano in Singapore, and something I couldn't miss.
Desserts at Fro Roll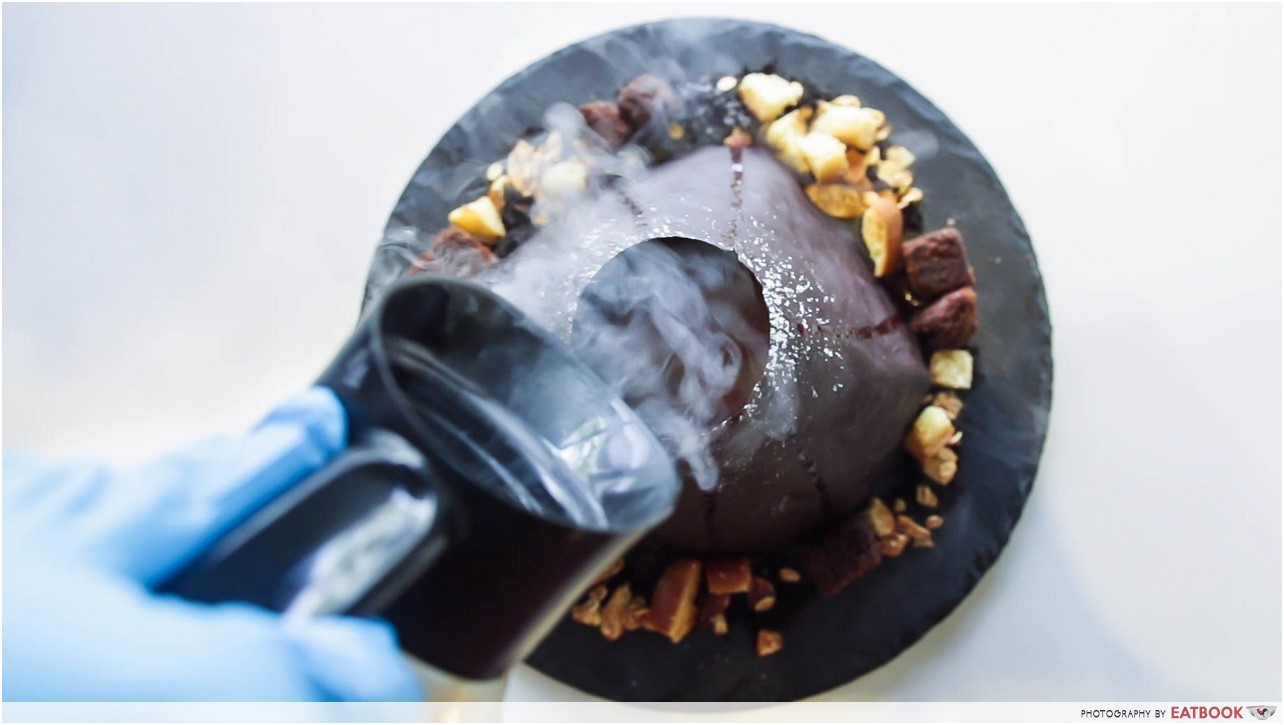 Upon opening the menu, the image of their Volcanic Avalanche ($15.80) instantly caught our attention. Served on a stone plate, the dessert consists of two components: the volcano shell and a molten lava cake. The perimeter of the volcano was littered with croutons, granola, Oreo crumbs, and chunks of brownies.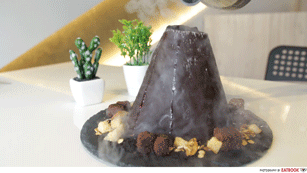 The main highlight would be the liquid nitrogen, which was carefully poured into the chocolate shell with the help of a staff member. The spewing mist made the dessert seem ethereal.
Filled with anticipation, we carefully deconstructed the shell. It was made out of a thin layer of dark chocolate so we managed to break it easily. Crunchy and slightly sweet, it wasn't as bitter as we thought it would be.
The molten lava cake was topped with two rolls of vanilla ice-cream, a florentine cookie sandwiched in-between, and drizzled with raspberry sauce.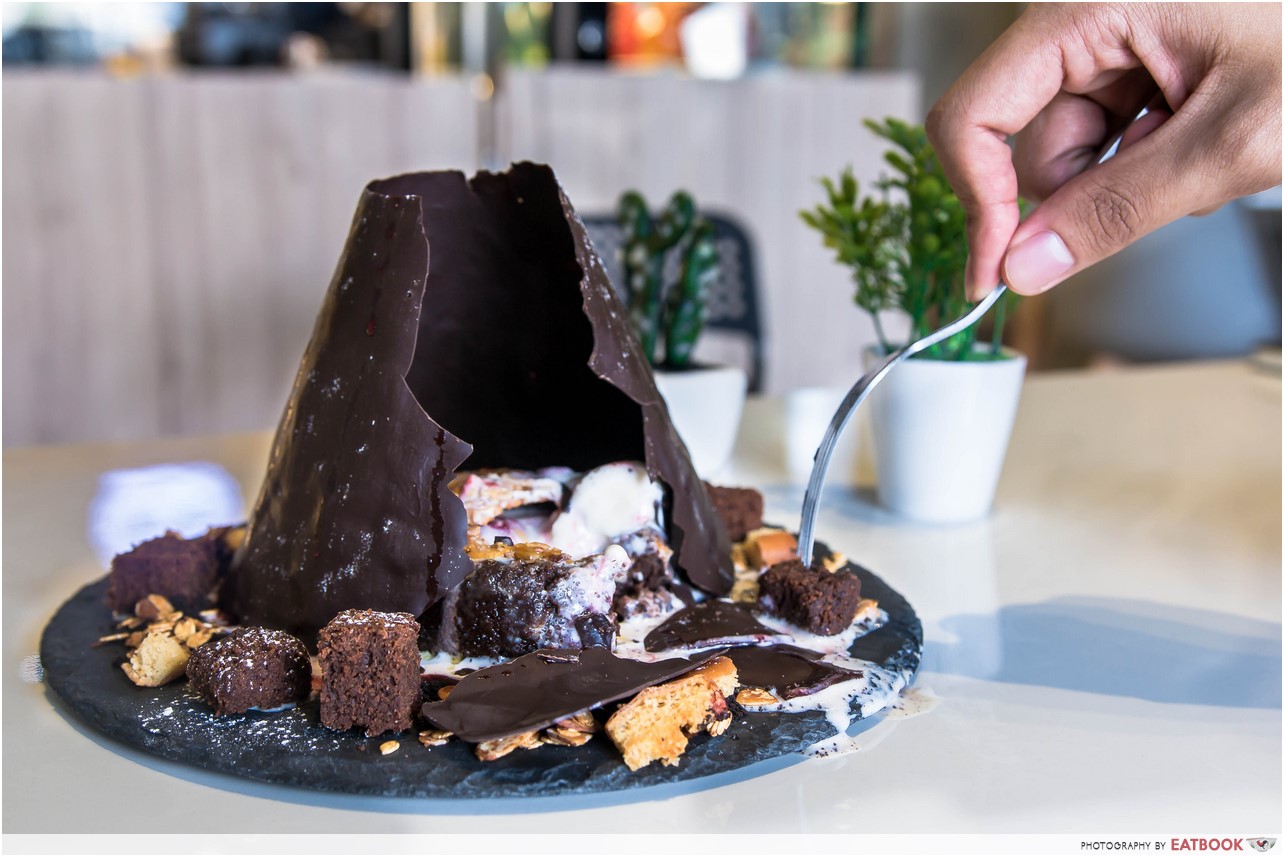 We eagerly prepared our phones to capture the moment of the lava cake breaking before we sunk our spoons into it. To our dismay, its chocolate core didn't ooze out as we expected it to. It was cold and there was raspberry paste inside as well.
The molten lava cake was moist and the chocolate core was very rich and thick. The florentine cookie gave a good crunch to the dessert as a whole. This dish would have fared much better without the raspberries, as it made the dessert too sweet. The vanilla ice-cream rolls were very refreshing and delightful amidst all the chocolatey components.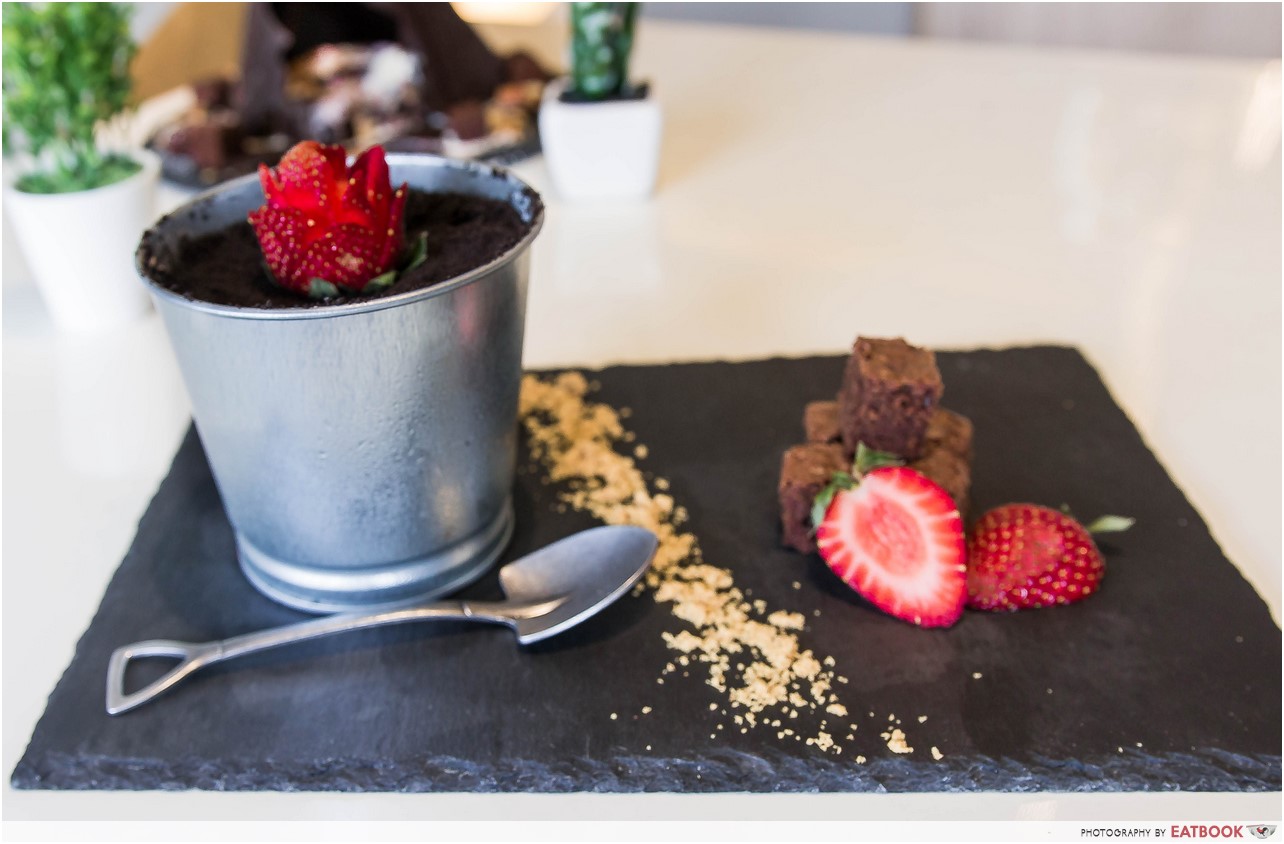 Moving on to the next dessert, we had their Berry Rosy Flower Pot ($15.80). It came in a metal flower pot on a stone plate garnished with strawberries, butter cookie crumbs, and cubes of brownies. The shovel-like spoon added a touch of whimsicality.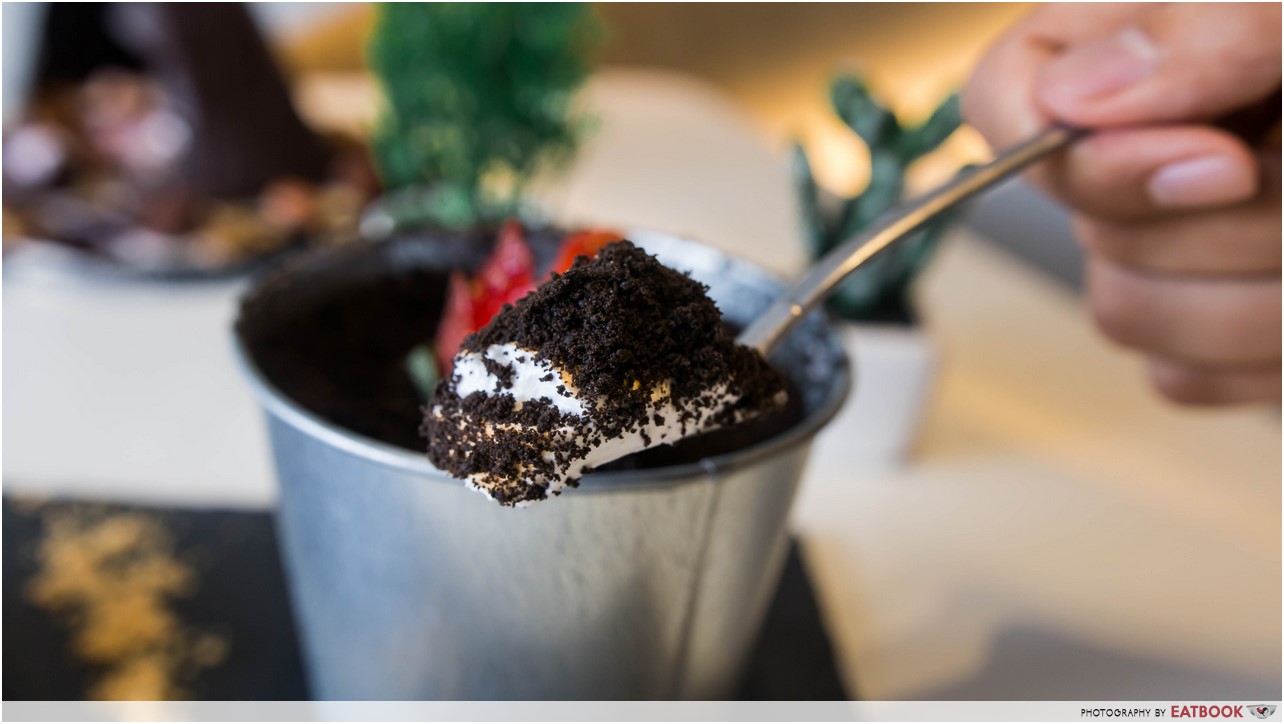 An intricately carved strawberry rose was placed atop the dessert, creating a vibrant contrast to the crumbs. Right on top is a thick gooey layer of s'mores with Oreo crumbs. The s'mores were nicely toasted, making it very light and fluffy. Paired with Oreo crumbs, the combination of textures was very delightful.
The next layer consisted of house-made strawberry compote, whipped cream, and a lime ice-cream roll. It took me by surprise as the tart ice-cream cut through the heavy layers of sweetness, making the dessert less jelak and more delectable as a whole.
At the base, they included chunks of cheesecake and their signature strawberry ice-cream rolls. The cheesecake was smooth and creamy. I was amazed that the crust remained crunchy despite soaking up the ice-cream at the bottom.
It was only at the end that we realised the presentation of this dessert differed slightly from its description in the menu. It stated that the base was supposed to be vanilla pound cake instead of cheesecake chunks. The description also mentioned a panna cotta, but we didn't see any of that in the dessert.
Ambience at Fro Roll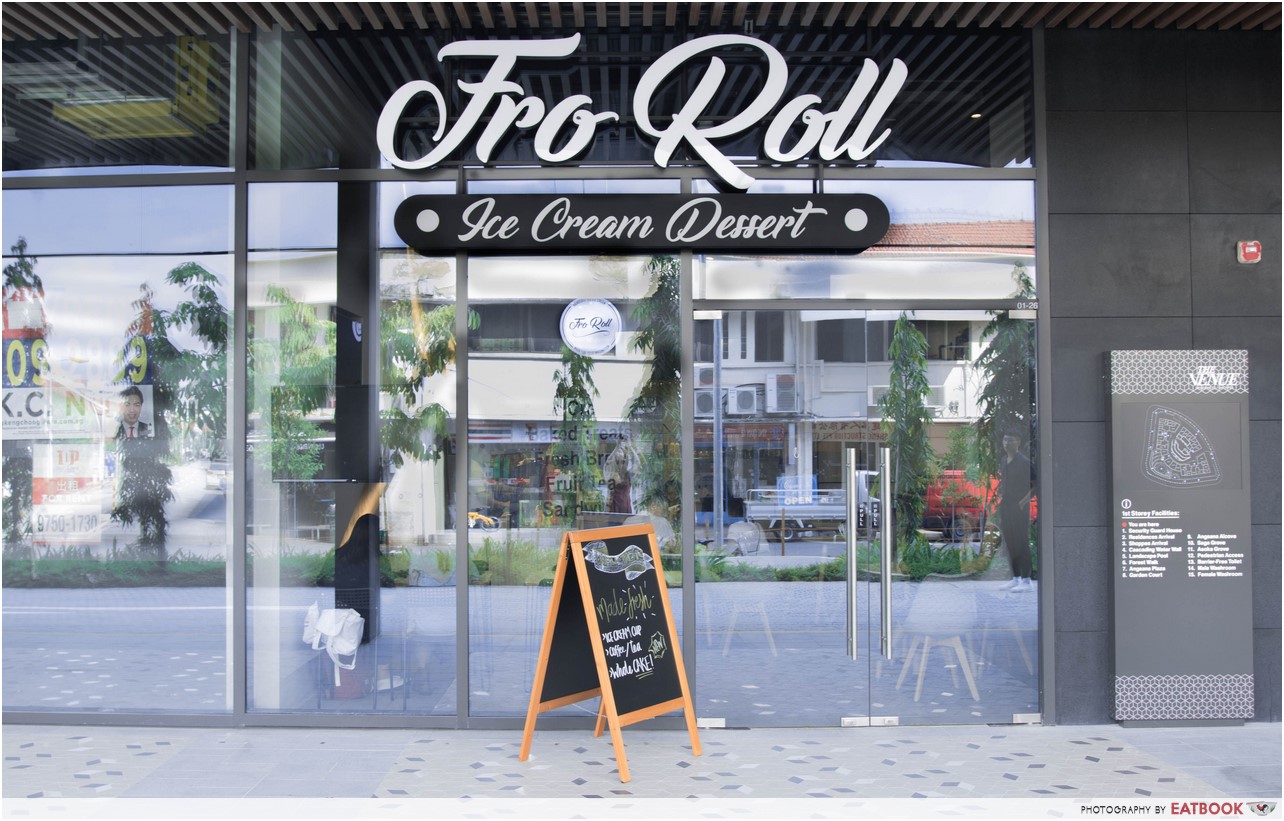 Tucked away in Potong Pasir, Fro Roll is situated at The Venue Residences and Shoppes. Fro Roll adopts an industrial concept with high ceilings, polished cement flooring, wooden interiors, and black pipes, giving it a very clean and chic vibe.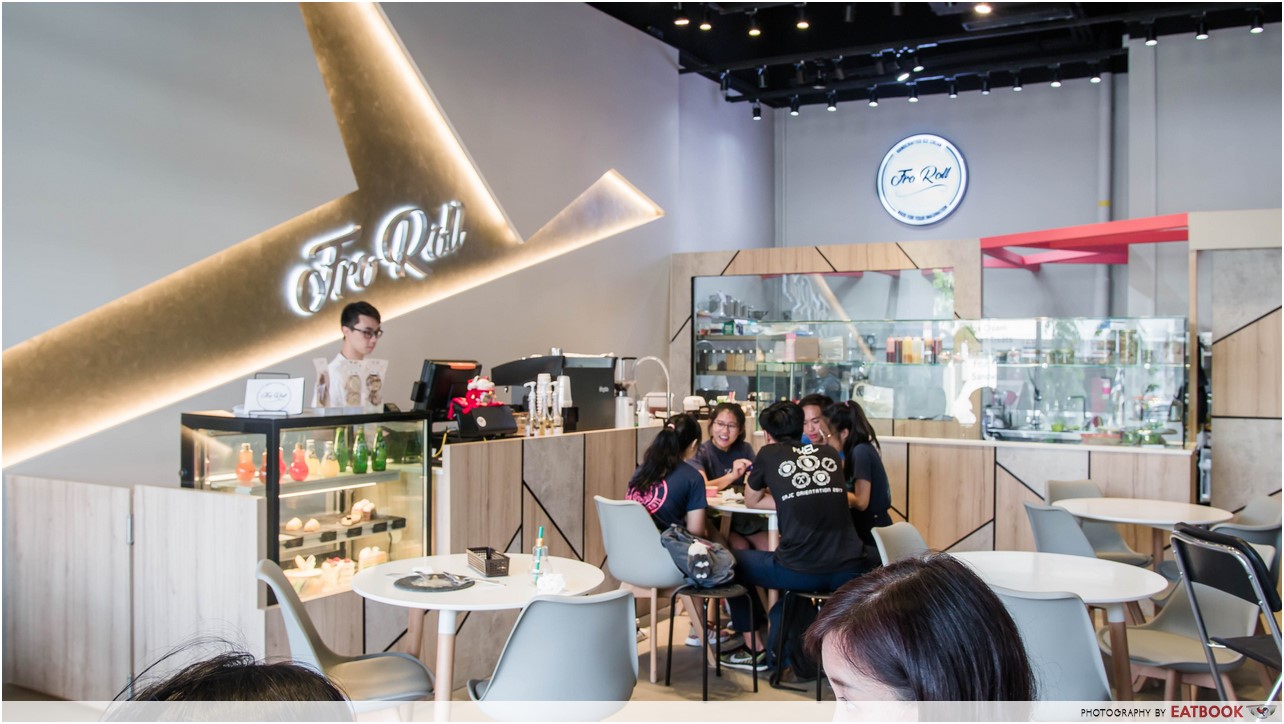 The cafe can only sit up to 30 people, so it may get a little squeezy when fully packed. It is just a three-minute walk from Potong Pasir MRT Station. With its huge signboard, it'll be hard to miss this cafe.  
The verdict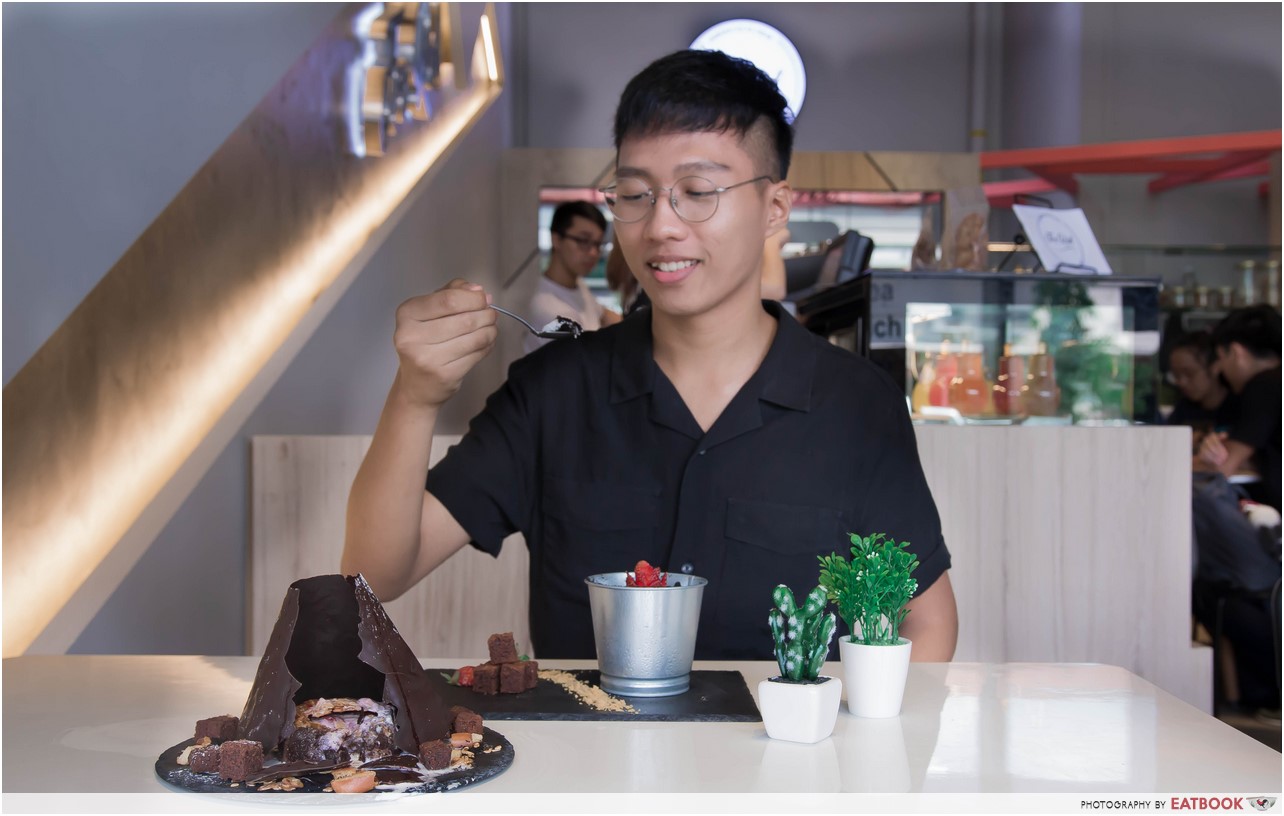 Overall, we had a great experience at Fro Roll. The staff members were really friendly and helpful in explaining the menu and ongoing promotions. You can also watch your desserts being crafted through a glass panel. Their desserts are great for sharing and I would definitely come back again with my friends or family. Check out more interesting ice-cream desserts or soft serve flavours around Singapore!
Address: 2 Tai Thong Crescent, The Venue Shoppes, #01-26, Singapore 347836
Opening hours: Daily 11am to 11pm
Tel: 9776 5727
Website
Fro Roll is not a halal-certified cafe.
This is an independent review by Eatbook.sg.
Summary
Pros
– Insta-worthy desserts
– Relaxing ambience
– Family-friendly restaurant
Cons
– Small seating area
– Ice-cream rolls melt fast
Recommended Dishes: Volcanic Avalanche ($15.80), Berry Rosy Flower Pot ($15.80)
Operating Hours:
Daily 11am to 11pm
Tel:
9776 5727
Address: 2 Tai Thong Crescent, The Venue Shoppes, #01-26, Singapore 347836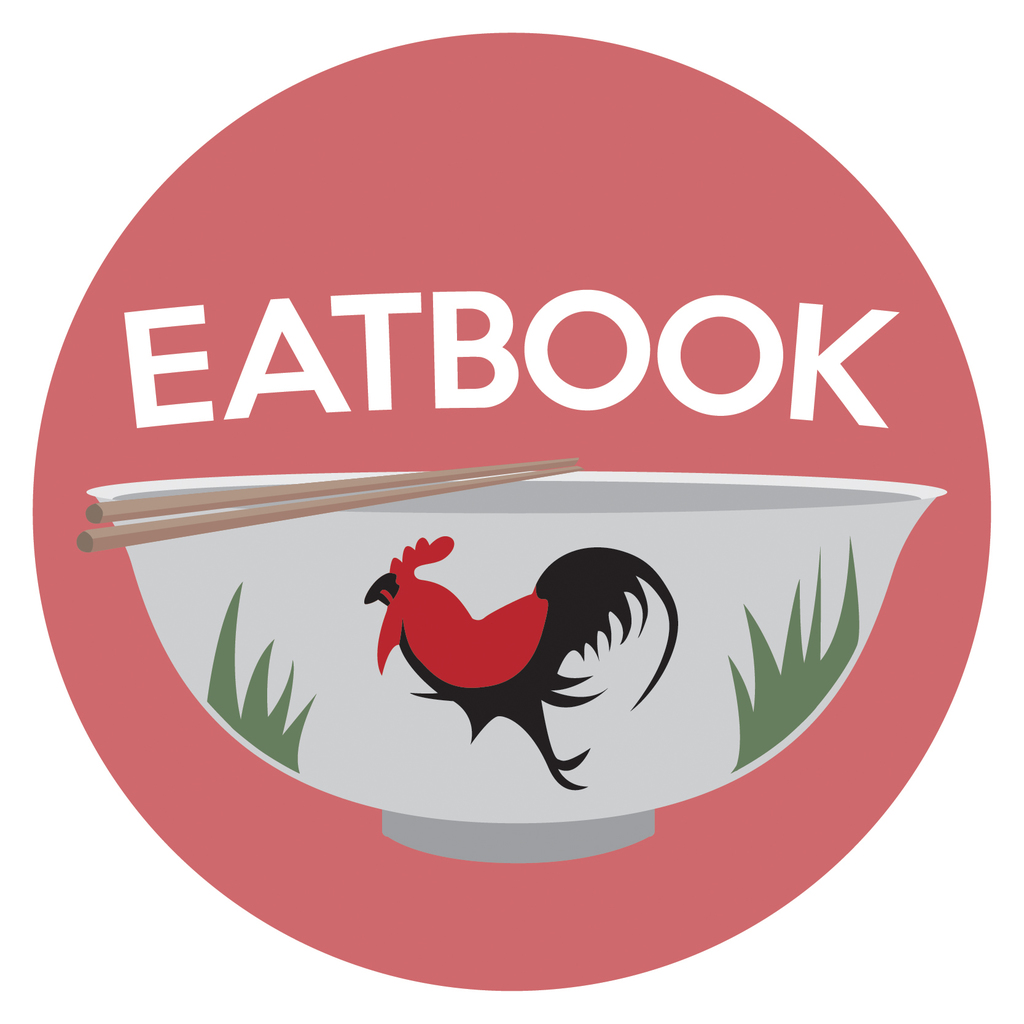 Drop us your email so you won't miss the latest news.