---
Soft serve ice-cream that will melt your heart
---
Back when my food Instagram account was still active, my friends used to comment on how I should make it an ice-cream account instead. About 80 percent of my posts were about ice-cream, or ice-cream and waffles. I tried to change it up but it was tough, considering how ice-cream makes up a good half of my diet, with the other half being Japanese food.
A resolution I set earlier this year, with the constant pestering from my close friends, was to cut down on my ice-cream consumption. I guess I've partially succeeded, since now I'm all over soft serve ice-cream, which is, well, same same but different. Friends reading this, please don't kill me.
---
1. Chendol soft serve 
---
Overrun is a Muslim-owned takeaway famous for unique soft serve flavours. Standard Chendol ($6) is their bestseller, featuring beautifully-swirled gula melaka soft serve topped with dessicated coconut, pandan jelly, and a drizzling of gula melaka syrup for good measure. You can choose to pimp your ice-cream by adding other toppings such as chocolate cookies and marshmallows for another $0.50 per ingredient. Alternatively, opt for Durian Chendol ($7), which comes with a scoop of durian pulp on top of the Standard Chendol.
Address: 18 Baghdad Street, Singapore 199657
Opening hours: Tue-Thur 12pm to 8:30pm, Fri 2pm to 9:30pm, Sat-Sun 12pm to 9:30pm
Tel: 9271 2616
Website
---
2. Cookie butter soft serve 
---
I was scrolling through Instagram when I came across Brother Bird, and immediately stopped at a picture of soft serve shaped like how I used to draw – ahem –  poop. Opened by the group of friends behind Stateland Cafe, Brother Bird focuses on soft serve and fried mochi donuts. My favourite is Cookie Butter Soft Serve ($6) served with house-made almond granola and a cookie butter biscuit. Keep a lookout on their website for other interesting soft serve flavours such as Avocado Milk-Shake ($6) and Watermelon ($7), which are offered on a rotational basis.    
Address: 32 Bali Lane, Singapore 189868
Opening hours: Tue 6pm to 10pm, Wed-Mon 12pm to 10pm
Tel: 9800 7628
Website
---
3. Japanese purple yam soft serve
---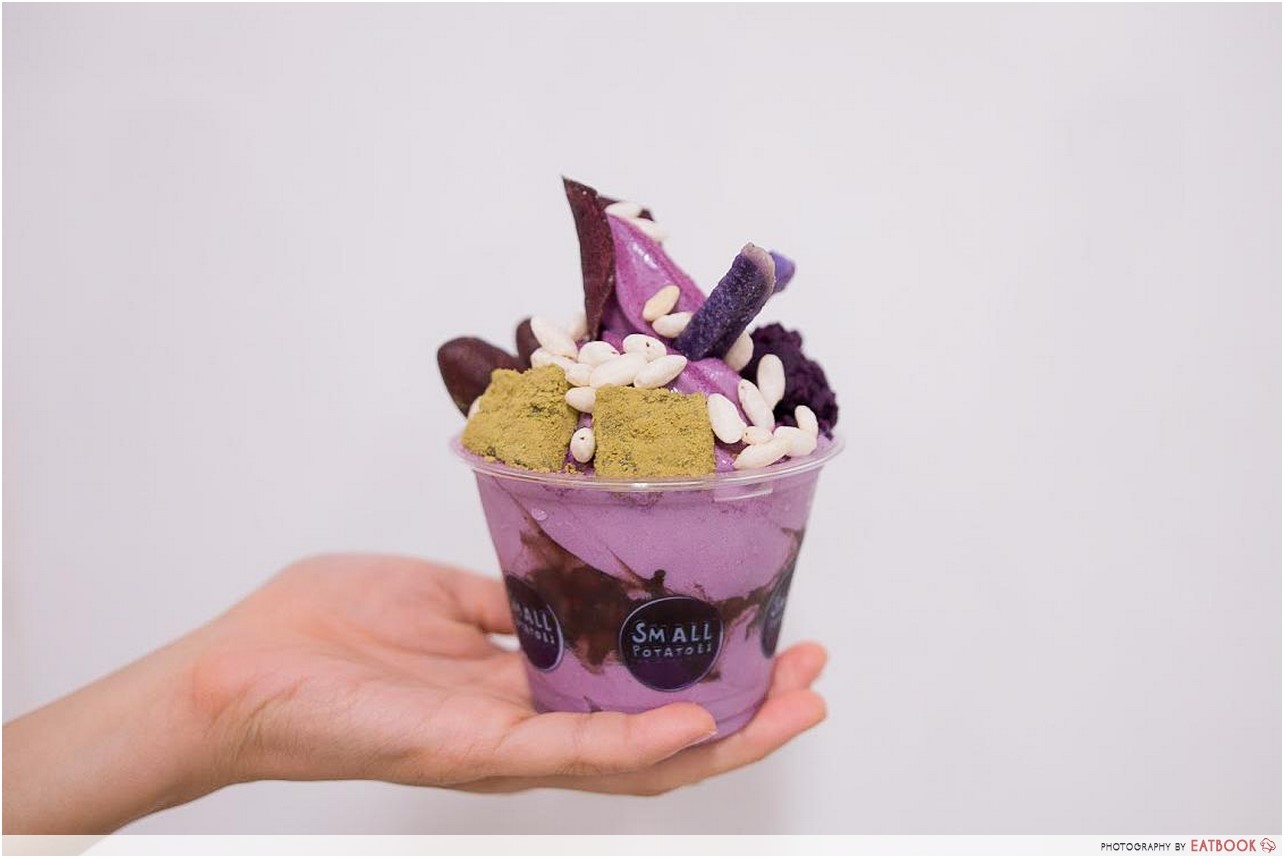 Small Potatoes Ice Creamery from Hong Kong opened its doors on our sunny shores last year. Their signature Small Potato Party ($9.50) features Japanese purple yam soft serve jazzed up with crispy rice, baby Japanese sweet potatoes, purple sweet potato paste, green tea warabi mochi and purple sweet potato sticks. Layered between the swirls of creamy ice-cream are shiratama (Japanese rice balls) and azuki beans. It melts fast, so be sure to have your camera on standby before you take this pretty purple treat in your hands!
Check out our full review of Small Potatoes Ice Creamery.
Address: 313 Orchard Road, #B3-48, 313 Somerset, Singapore 238895
Opening hours: Daily 11:30am to 10pm
Tel: 6634 3168
Website
Info on Novena outlet
---
4. Matcha soft serve 
---
I am a matcha-holic, and Tsujiri is one of my favourite places to get a matcha fix. O-Matcha Shiratama Parfait ($7.80) comes with matcha soft serve paired with shiratama, azuki paste, kinako (roasted soybean) powder and shiratama jelly. If this dessert is too heavy for you, they offer a range of refreshing floats made up of an ice-blended base topped with your choice of matcha, vanilla, or houjicha soft serve.
Address: 100 Tras Street, #01-14, 100AM, Singapore 079027
Opening hours: Daily 10am to 10pm
Tel: 6543 6110
Website
Menu
Full list of outlets
---
5. Charcoal vanilla soft serve

---
The Cold Pantry takes the classic vanilla up a notch with Charcoal Vanilla Soft Serve Ice-Cream ($6.50). Have it alone or pair it with Chocolate Root Beer Waffle ($12.50 with ice-cream) to share with your friends. If you are not a fan of that combination, or just black dishes in general, stick to 'safer' soft serve flavours such as Matcha ($6.50) and Cha Yen (Thai milk tea) ($6.50).
Find out where else to get black food in Singapore.

Address: 88 Rangoon Road, #01-01, Singapore 218374
Opening hours: Mon-Fri 4pm to 10pm, Sat-Sun 12pm to 10pm
Website
---
6. Milo soft serve 
---
At your next chill-out sesh at Lepark, be sure to try out their soft serve featuring various flavours served on a rotational basis. My favourite is their very first creation – Milo Dinosaur Softee ($8). Milo soft serve is layered with banana slices and Honey Stars, and studded with Fruit Loops, rainbow sprinkles, chocolate sauce, and a cream cracker. While you're here, remember to check out their Poached Chicken Sushi ($8 for six pieces) as well!
Check out other places in Singapore with Singaporean sushi.
Address: 1 Park Road, Level 6, People's Park Complex, Singapore 059108
Opening hours: Tue-Thur 4pm to 11pm, Fri 4pm to 12am, Sat-Sun 12pm to 11pm
Tel: 6908 5809
Website ⎸Menu
---
7. Tiramisu soft serve

---
Serving four types of soft serve, Original (Tiramisu) ($6.90), Strawberry ($6.90), Chocolate ($6.90), and Matcha ($6.90), Kiss The Tiramisu's first stall in Singapore is conveniently located at Orchard Gateway.  Each fancy gold cup holds soft serve, mascarpone cheese, crushed cookies, cocoa powder, coffee liquor and more soft serve, along with a final dusting of cocoa powder and chocolate shavings. Warning: the ice-cream melts very fast, so it is best to stay within the air-conditioned mall!   
Address: 277 Orchard Road, #01-15, Orchard Gateway, Singapore 238858
Opening hours: Daily 11am to 10pm
---
8. Houjicha soft cream

---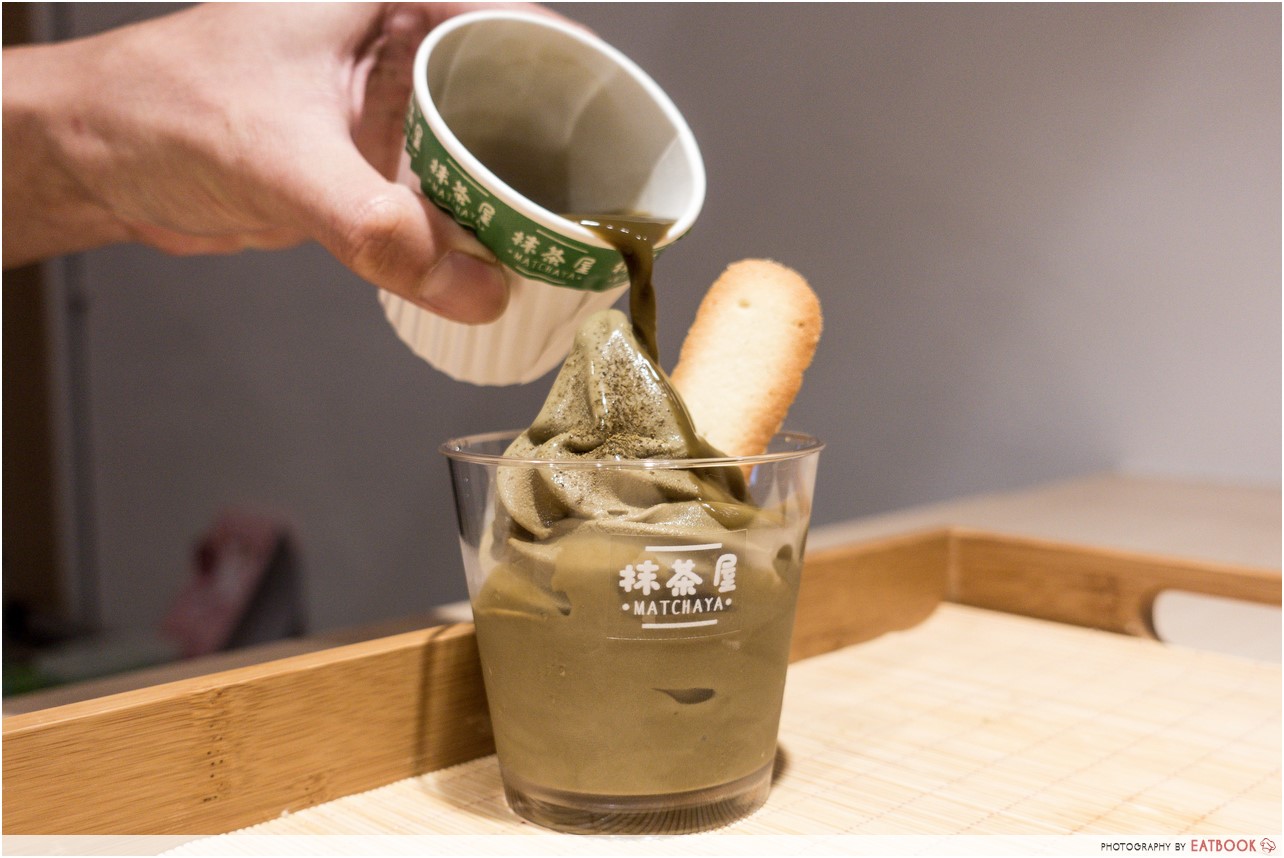 Matchaya is a matcha heaven for matcha purists. Using ingredients sourced from Japan in their desserts and drinks, even my Japanese friend gave them the thumbs up! My favourite is Houjicha Soft Cream ($5.90), which is served with house-made cat tongue cookie and dusted with houjicha powder. I absolutely adore its deep, nutty aftertaste that hits all the right spots. You can also pour in a shot of hot houjicha and have this in the form of a tea affogato.     
Check out our full review of Matchaya.
Address: 2 Handy Road, #01-08, The Cathay, Singapore 229233
Opening hours: Sun-Thur 1pm to 10pm, Fri-Sat 1pm to 11pm
Tel: 9837 3187
Website
Info on Tanjong Pagar outlet
---
9. Chimney cake with soft serve 
---
Chimney is the first in Singapore to serve a Hungarian pastry known as chimney cakes. These treats are prepared by baking a layer of dough around a metal stick to create a crusty, hollow tower. Chimney Cone with Soft Serve ($4.50) fills one of these up with either vanilla or chocolate soft serve. For those who need an extra special treat, opt for a scoop of creamy peanut butter or Nutella spread inside your cone for an additional $1!
Find out where else to get zhng-ed up ice-cream desserts.
Address: 2 Orchard Link, #02-02, *SCAPE, Singapore 237978
Opening hours: Mon-Fri 11am to 3pm, 5pm to 10pm, Sat-Sun 11am to 9pm
Tel: 9478 3164
Website
---
10. Durian soft serve 
---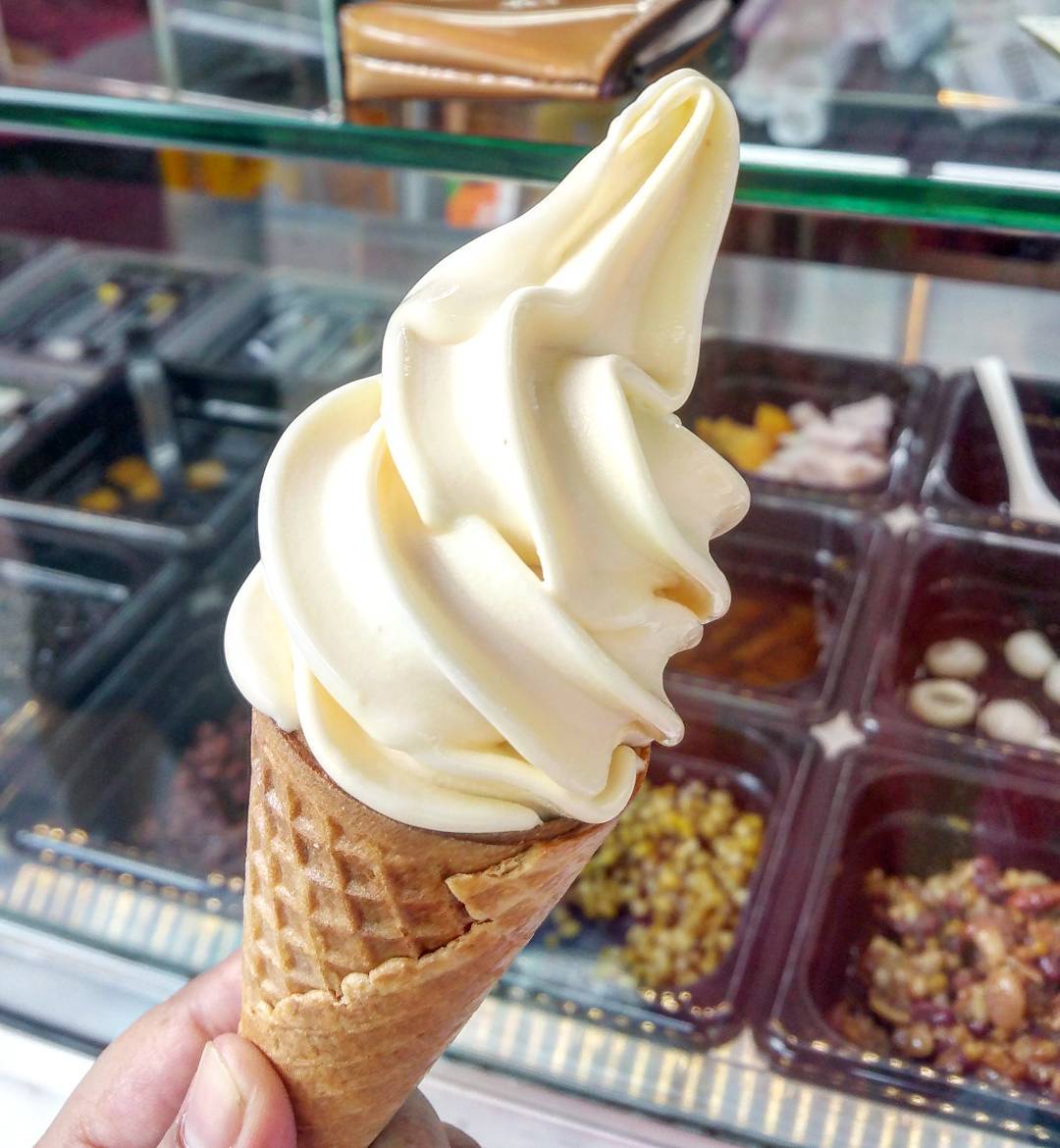 Source
All hail the king of fruits! Harvest Ice Cream serves Durian Soft Serve ($2.50) that's smooth and not cloying. Although the taste of durian can be more prominent, the fact that it is made of natural ingredients and with less sugar is enough to win my heart. Depending on the season, they also sell other flavours, such as rock melon and avocado.  
Address: 1 Park Road, #01-K99C, People's Park Complex, Singapore 059108
Opening hours: Daily 12pm to 9pm
Tel: 9621 1536
Website
---
We all have a reserved place in our stomach for ice-cream
---
There is no better way to end a meal than to dig into cold, creamy ice-cream, especially in Singapore's sweltering heat. Give these 10 soft serve flavours a go, and leave us a comment if you know of other soft serve ice-cream we should try!