Okonomiyaki and yakisoba at the new Tsuruhashi Fugetsu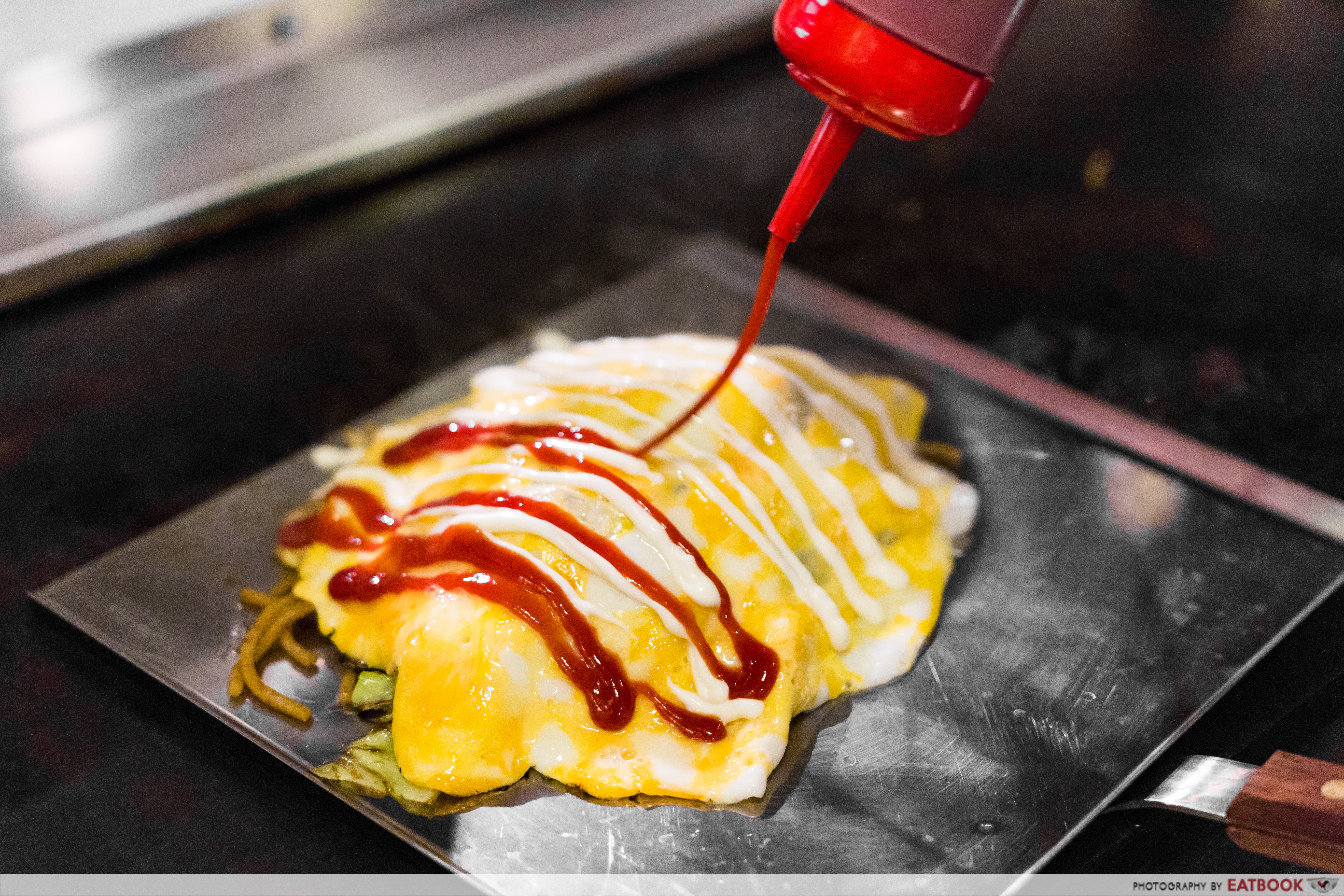 The first time I had okonomiyaki was at a Japanese food fair years ago. That one was soggy, tasteless, and soaked in mayonnaise. Though I admit I was too unforgiving, I never gave okonomiyaki a second try until a week ago when I had it at Sora's Tsuruhashi Fugetsu. That was a game-changer.
At Sora, Tsuruhashi Fugetsu was one of the six eateries found in the food hall and just last week, the famous Osaka brand opened their first stand-alone restaurant at Suntec City's North Wing. With my newfound love for this dish, my colleague and I checked the restaurant out and tried their okonomiyaki, yakisoba, and other side dishes.
Food at Tsuruhashi Fugetsu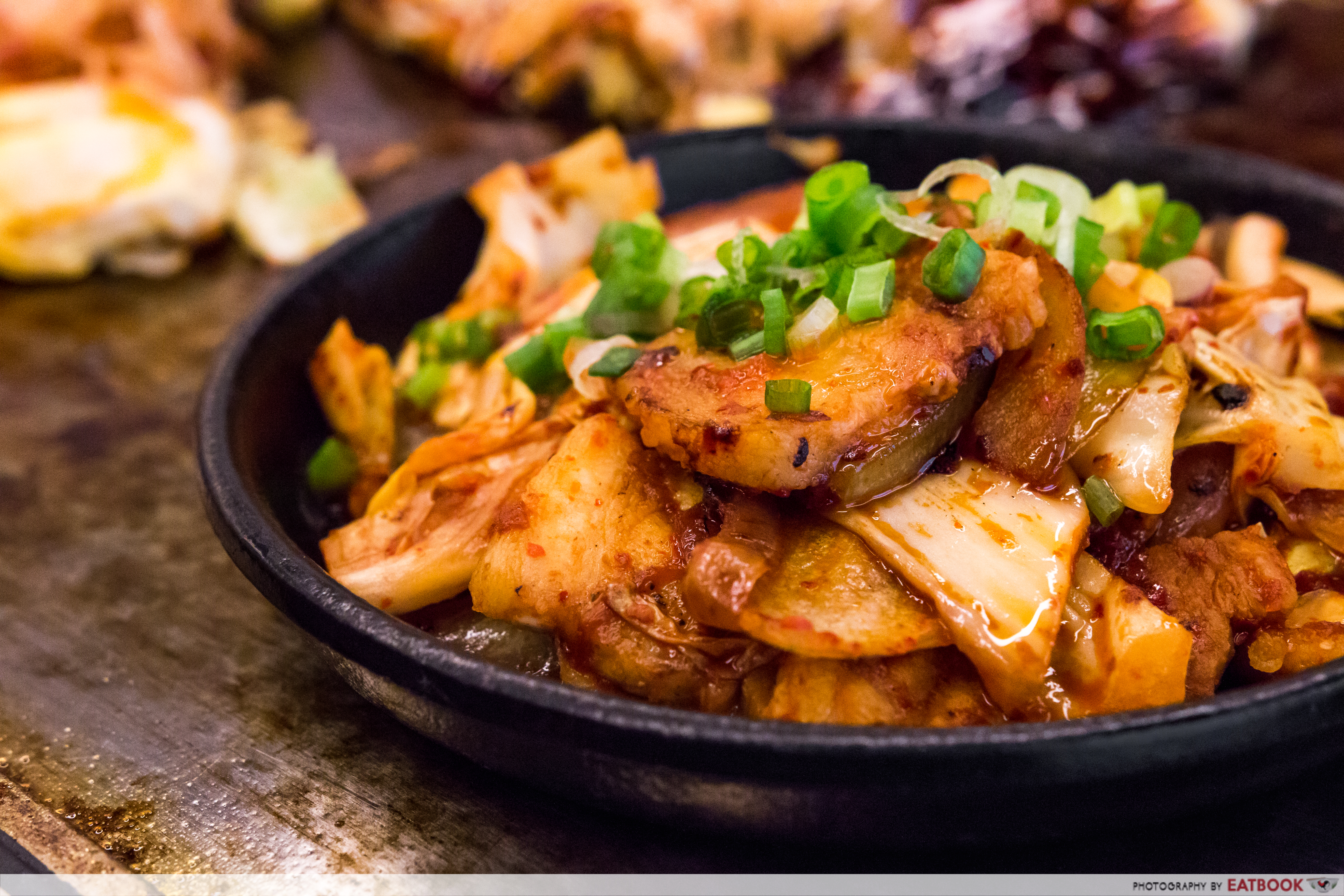 To start off our meal, we tried one of their appetisers, which was Fried Buta Kimchi ($9.80++). Served in a small sizzling pan was stir-fried pork with kimchi. When the plate arrived, I was slightly disappointed by the portion. For $9.80++, I found it too expensive for such a small and simple dish. The taste of it, however, took me by a pleasant surprise. Aside from the usual sourness and spiciness that came from the kimchi, what stood out to me most was the strong taste of sesame oil.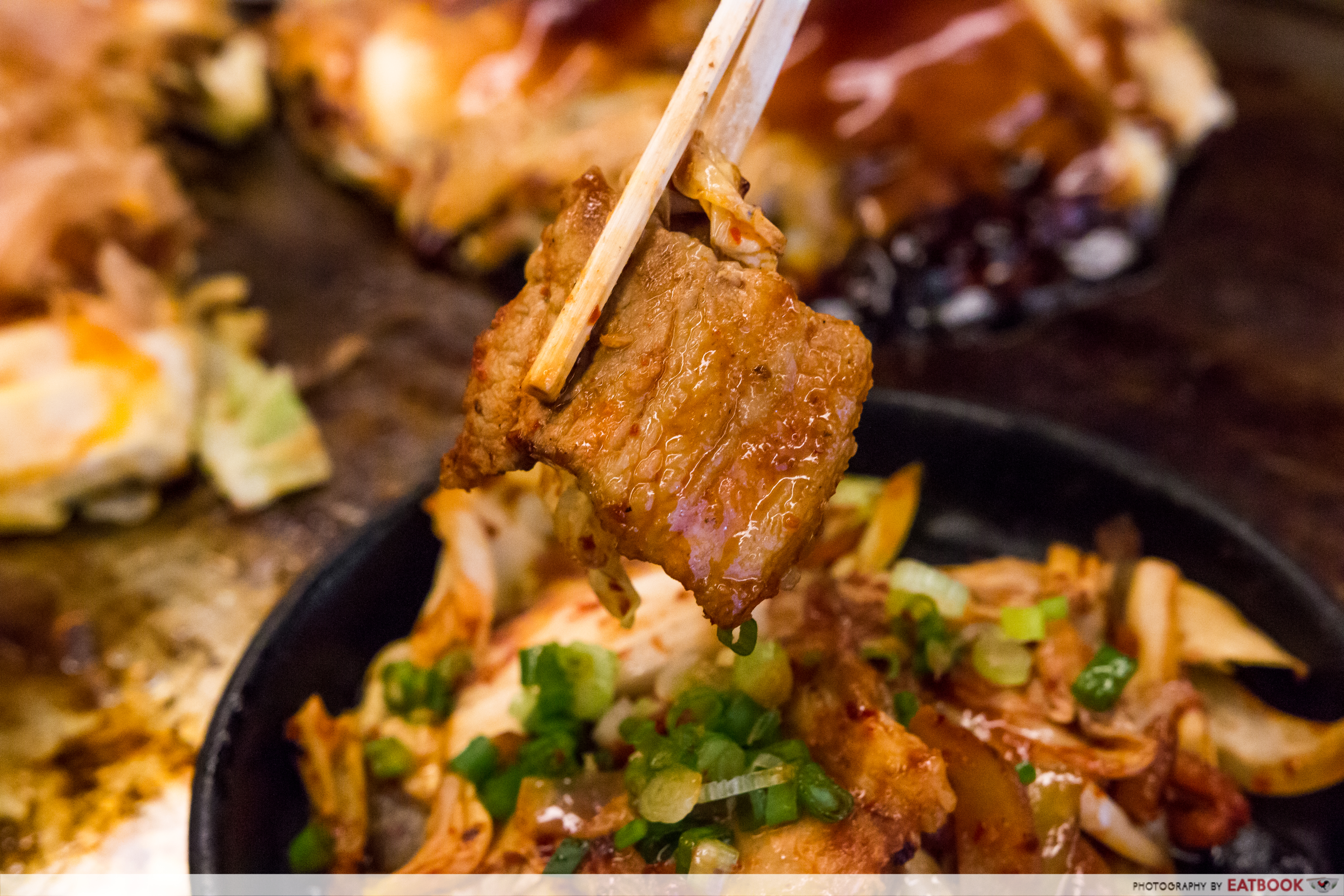 The pork slices were also lightly marinated and the thick fatty layer added a nice texture to the dish. Unlike some kimchi that are soft from soaking in the marinade for a long time, this one was crunchy and juicy. Altogether, the sizzling hot pan of kimchi and pork was a pleasant first-time experience for me.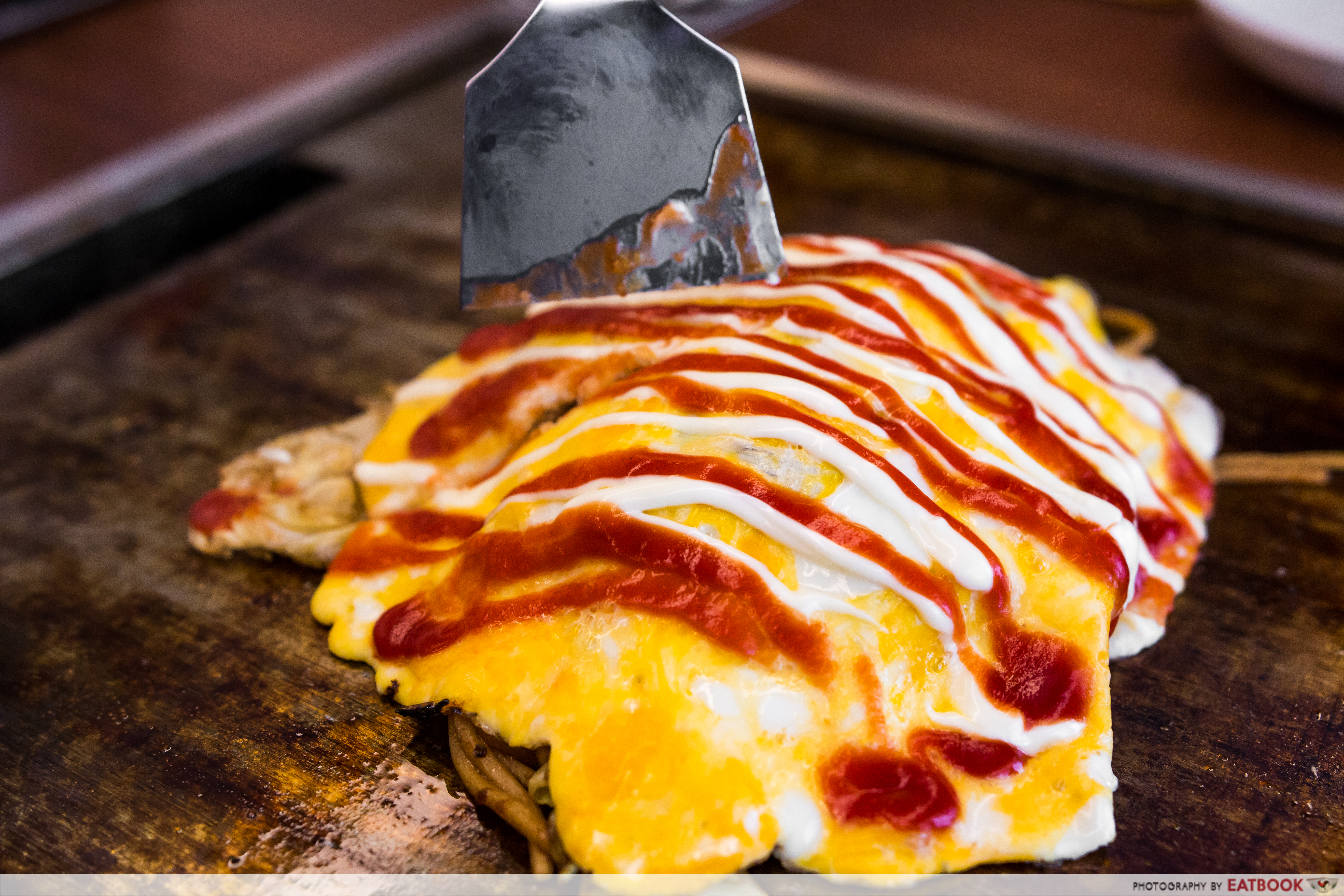 On to the mains, one of the dishes that we got was their Omelet Yakisoba ($13.80++). Stir-fried in the kitchen upon order, the dish was then immediately served onto our teppanyaki plate.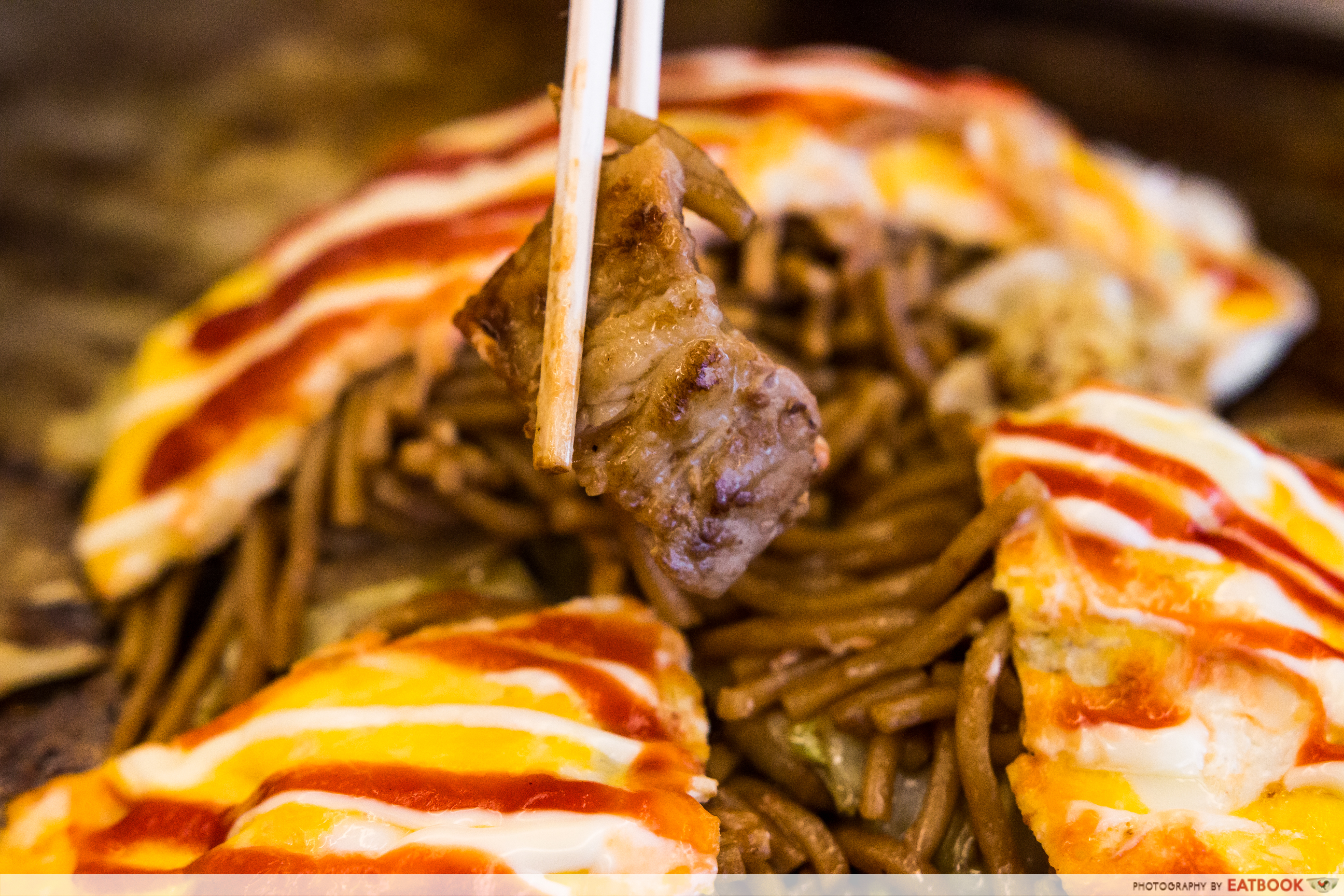 Beneath the thick layer of fried eggs, the omelette was packed with a generous amount of yakisoba, cabbage, squid, and pork slices. The portion was big enough to be shared between two people and for that I thought $13.80++ was pretty value-for-money!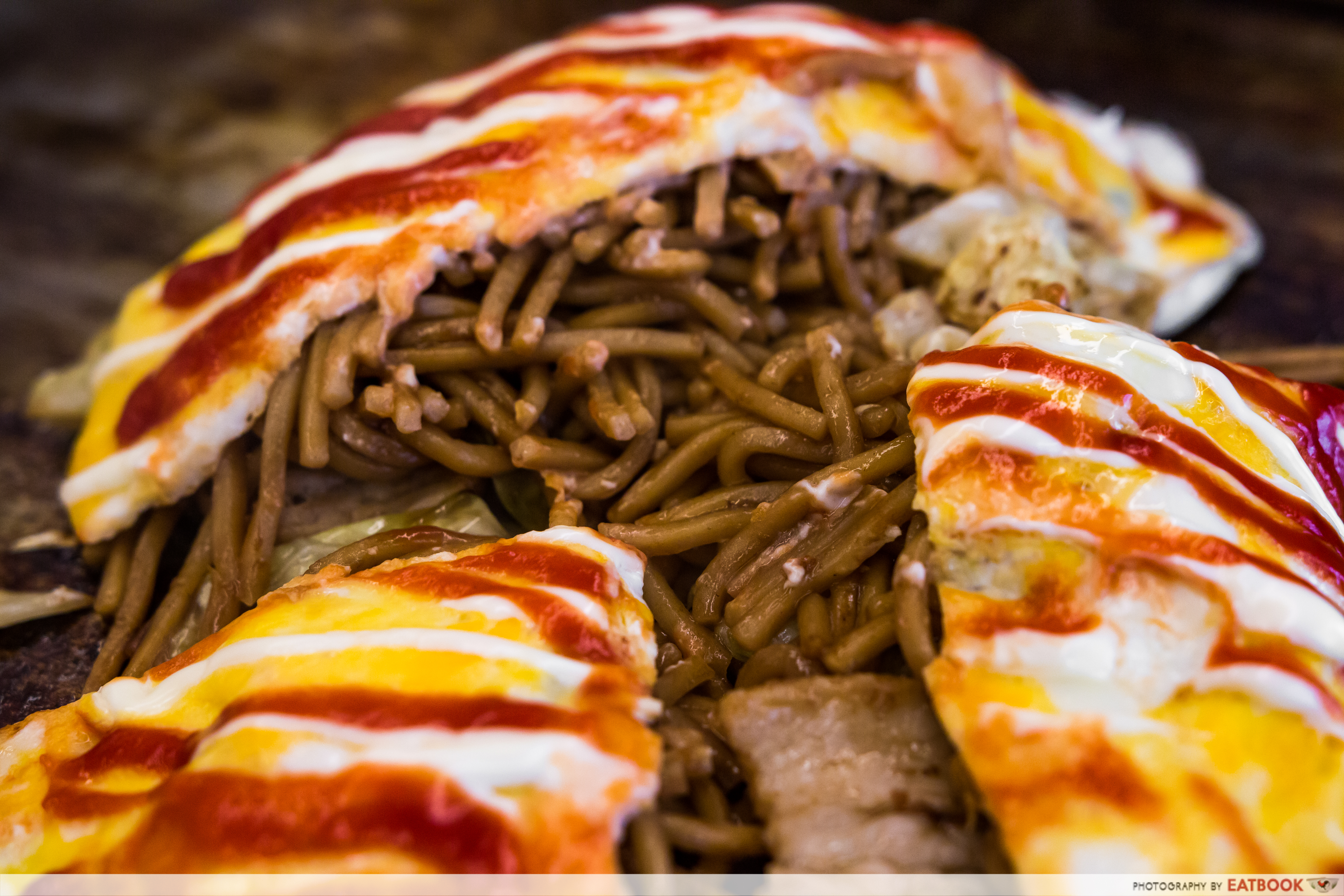 Compared to most stir-fried yakisoba in other Japanese restaurants, the noodles in this omelette was less soft. However, I preferred it that way as it gave every bite a more substantial texture. The noodles were tasty with a delightful mixture of sweet and salty tastes. The layer of egg was also thick enough to carry a distinct flavour and with the mayonnaise and ketchup on top, the condiments added to the variety of tastes.
Curious to find out how they made their noodles so springy, we spoke to the workers at the restaurant and found out that Fugetsu imports wheat flour from Japan and they make  the noodles fresh in Singapore!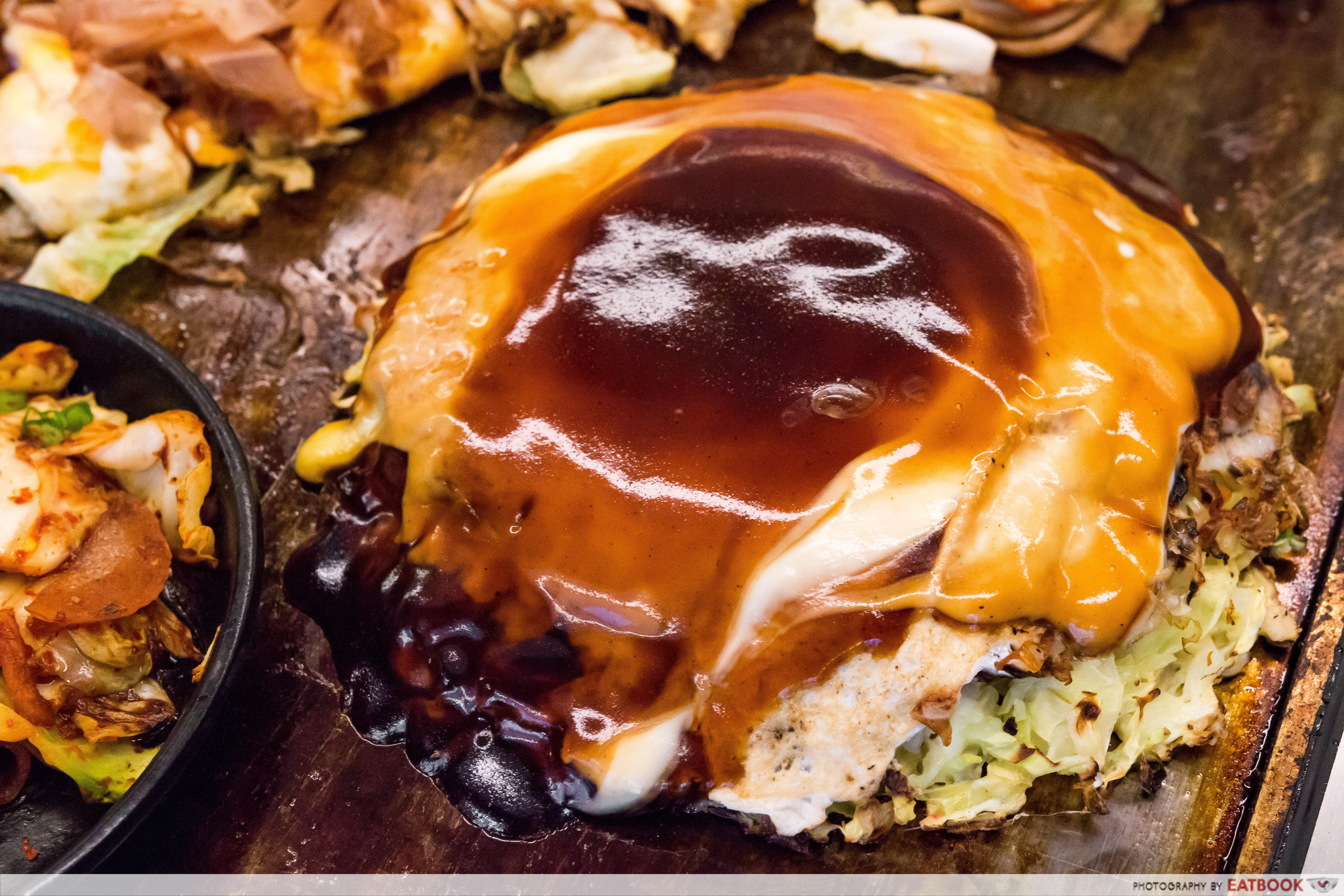 The other main dish that we got was Cheetama-Buta Tama ($14.80++), which is an okonomiyaki comprising cheese, egg, and pork slices. Though this was the dish that we were looking forward to most, the taste was less impressive than the first two dishes. Aside from those three main ingredients, the okonomiyaki also had cabbage, diced onions, and was topped with mayonnaise and Worcestershire sauce.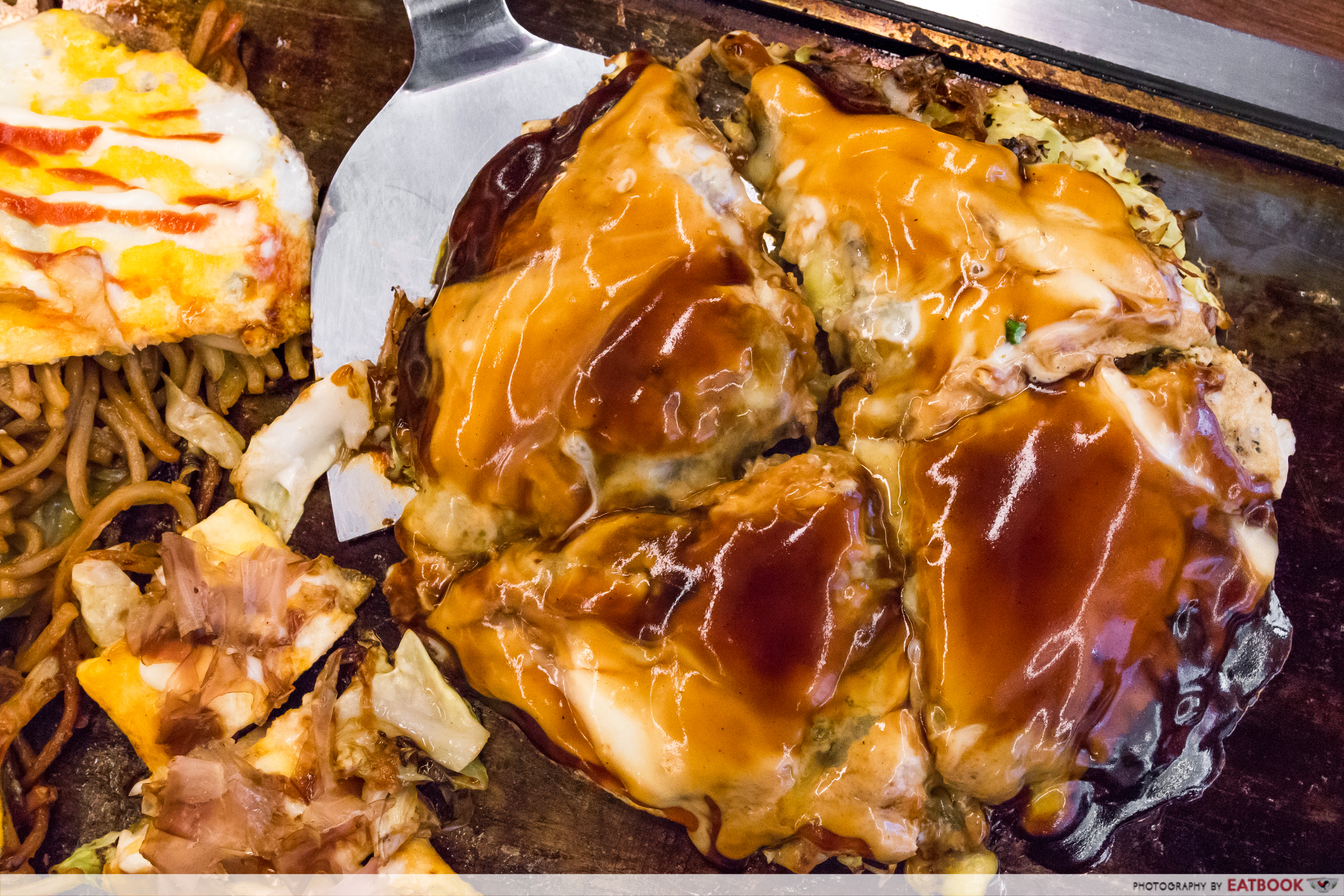 Though the pancake was held firmly together by the batter and eating it was a relatively mess-free affair, the dish lacked in texture. Other than the crispy ends, it was soft and creamy and I thought it would be better if the vegetables added some crunch.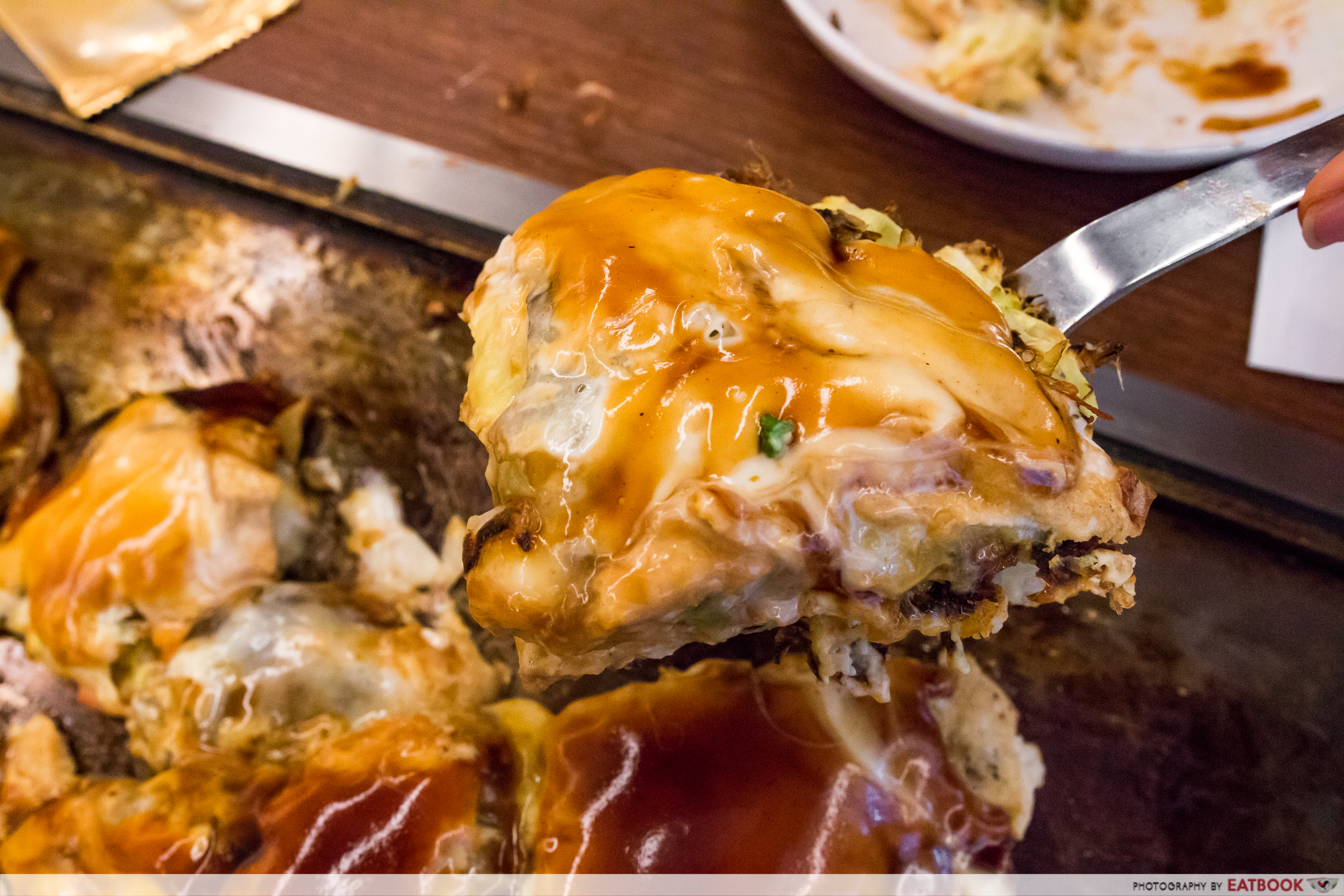 Taste-wise, the cheese in the okonomiyaki was distinct and as a whole, the savoury pancake was light on the palate. However, certain parts of the pancake were overwhelmed by the sauces on top and I would recommend adding yakisoba (+$2) into the pancake to balance out the flavour and add on to the texture of the dish.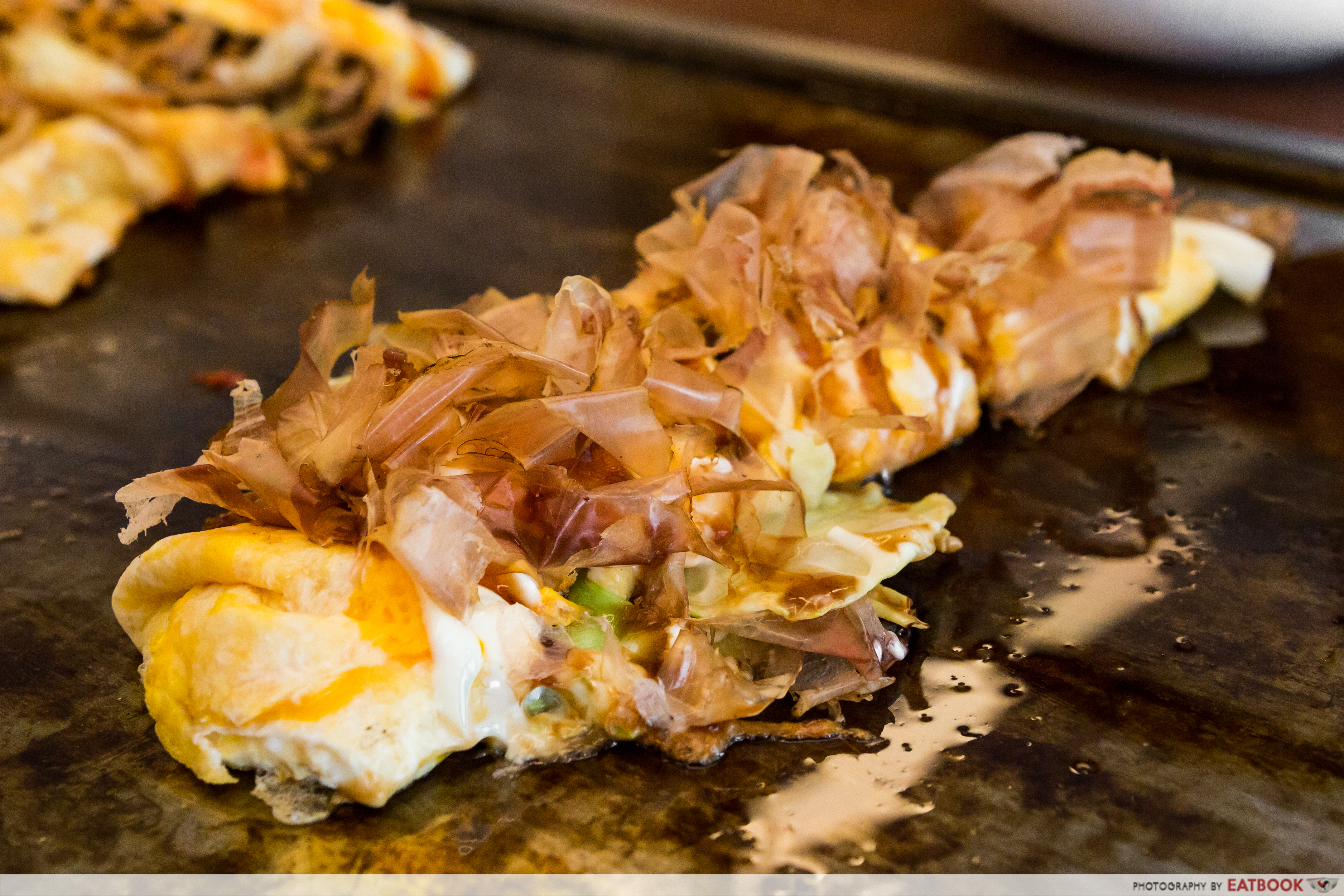 The last dish that we had was a side dish – Tonpei-Yaki ($9.80++). This is an omelette wrap with pork slices, bonito flakes, chopped scallions, and teppanyaki sauce. The dish came in a rectangular roll that was cut into six smaller pieces. Each piece had about two pork slices wrapped underneath a thick layer of omelette egg.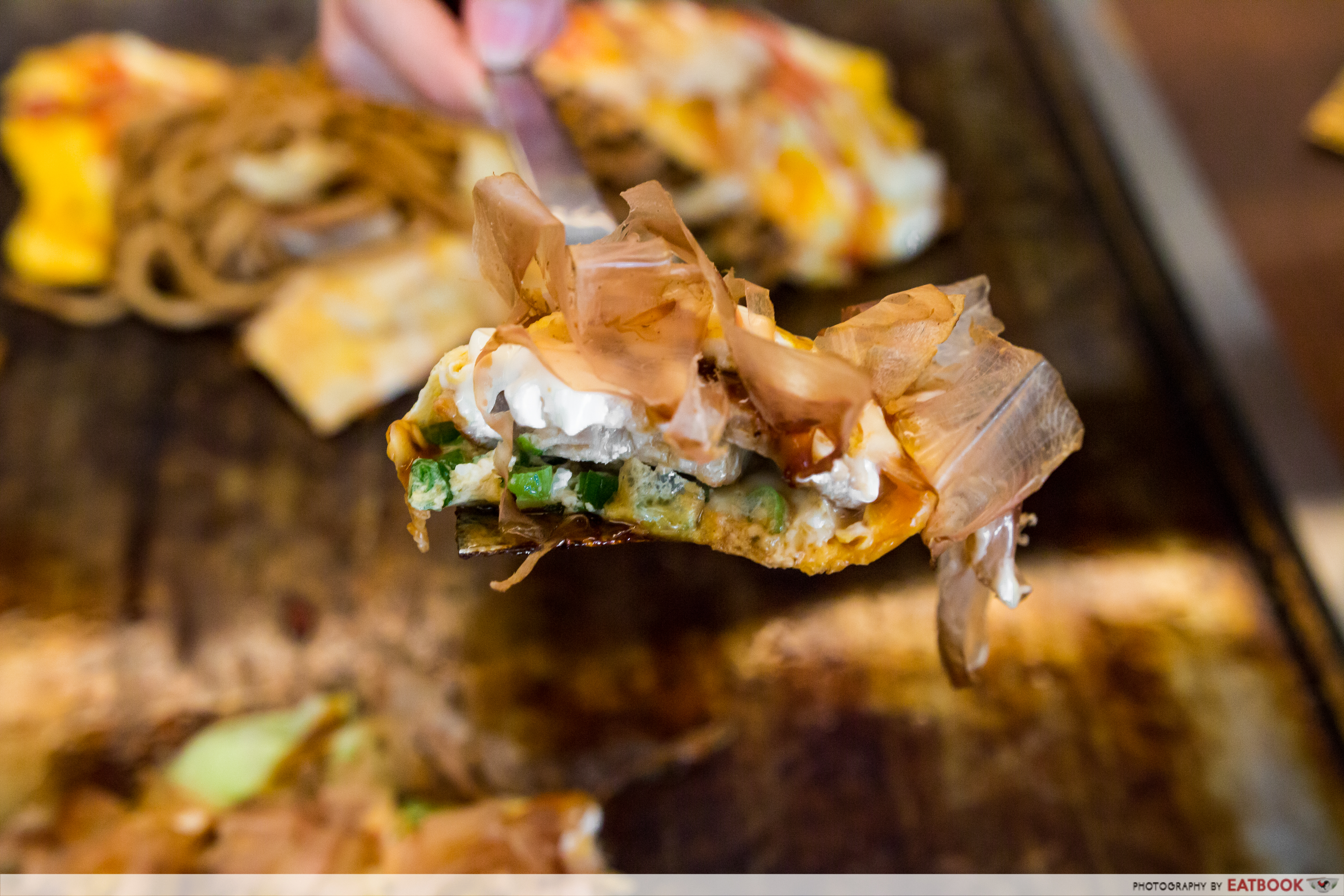 The lightly seasoned egg layer was fragrant and creamy but was nothing extraordinary. Though I was impressed by the generous amount of pork slices in the omelette, they were a little tough for my liking and I preferred those that were in the Fried Buta Kimchi. As a whole, the Tonpei-Yaki was a unique dish but probably not one that I would return for.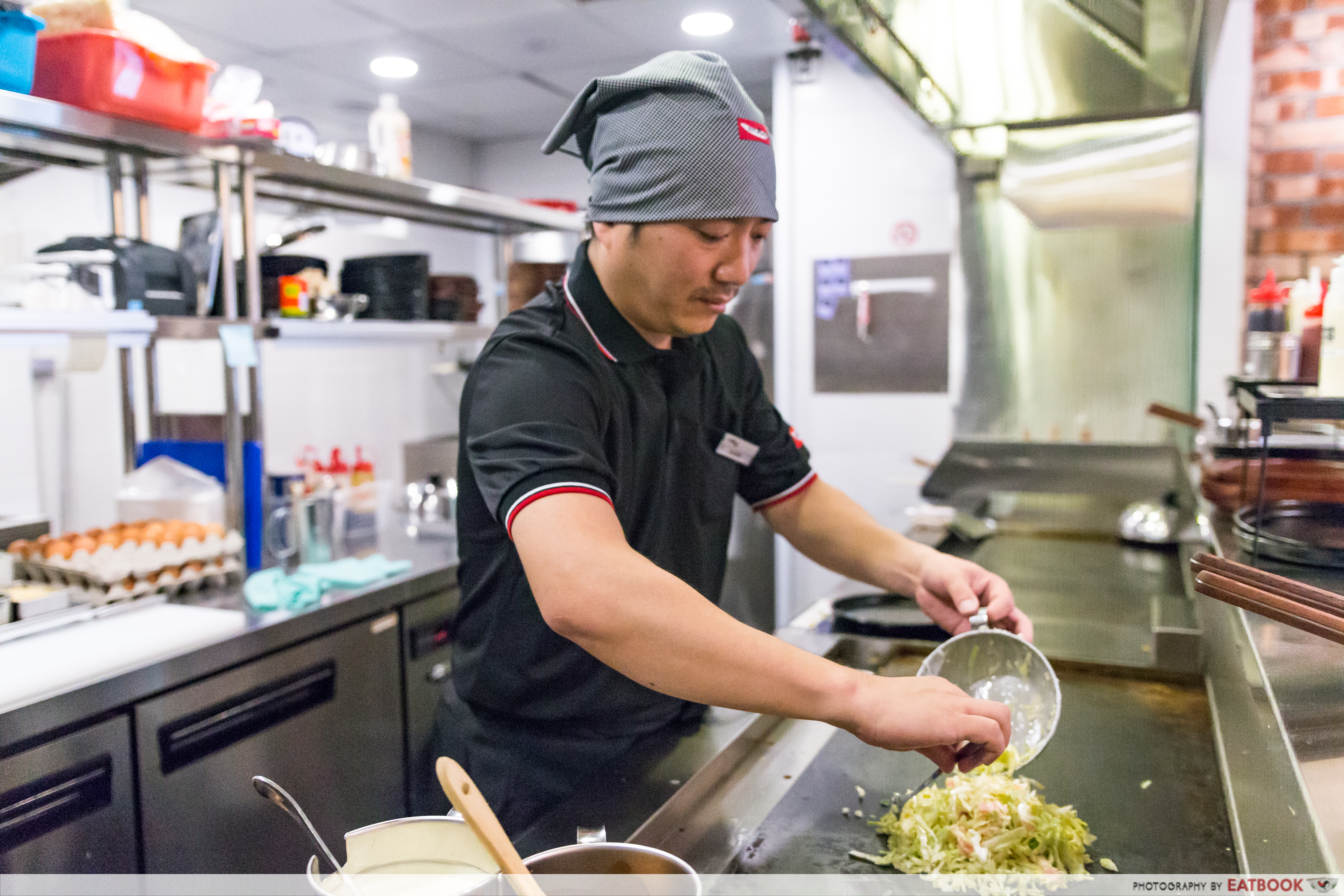 Compared to the stall they have at Sora, the menu at this restaurant was much more extensive. Besides okonomiyaki and sobayaki, the restaurant also serves many omelette dishes and sides like Edamame ($4.80++) and Gyusuji-Nikomi ($9.80), which is stewed beef tendon.
Ambience at Tsuruhashi Fugetsu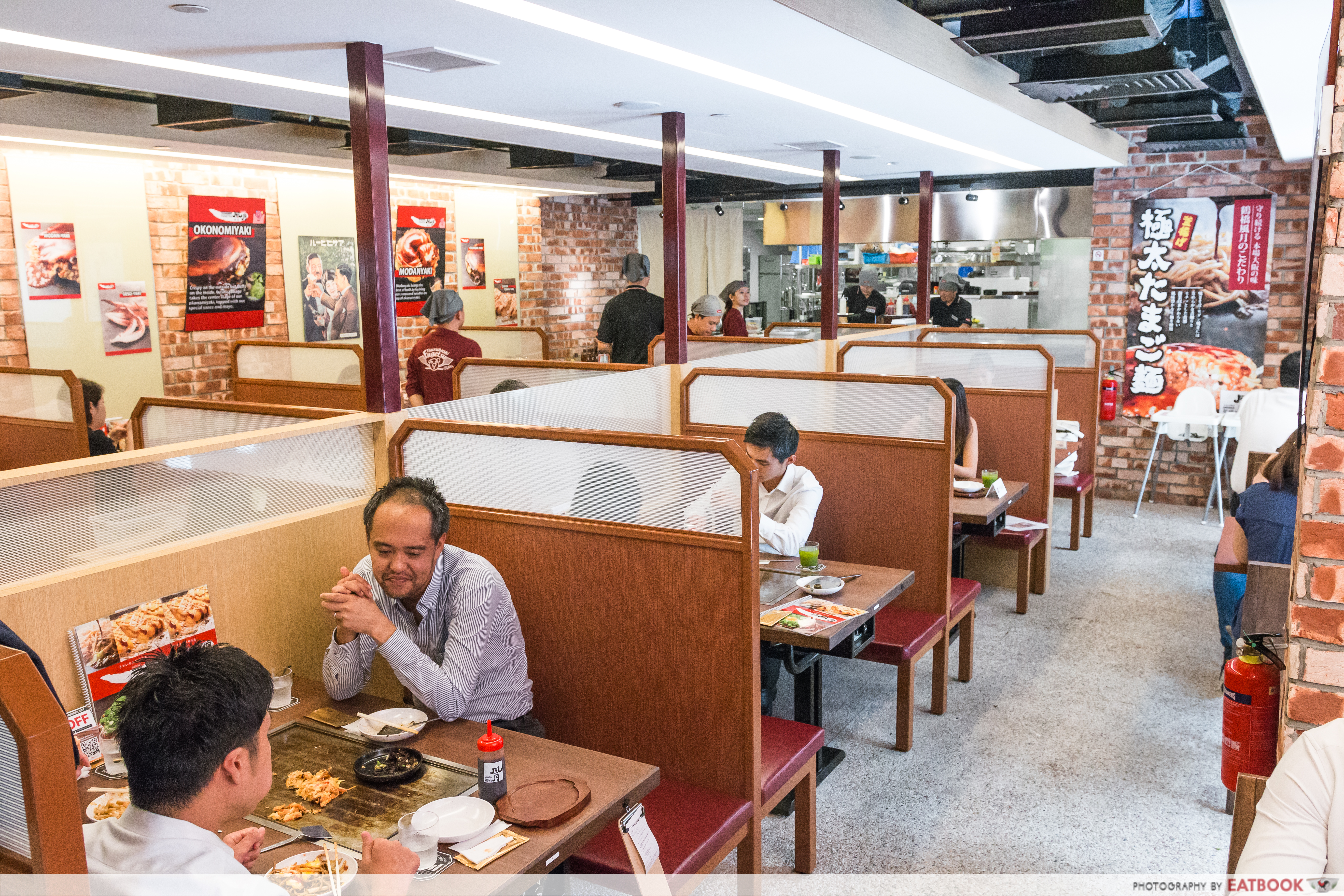 Fugetsu is one of the seven stalls at Suntec City's Eat at Seven. Located at the Sky Garden of the mall, the restaurant is a relatively small eatery with booth seats that can fit up to about 30 people in total. When we first walked into the restaurant, we were enthusiastically and loudly greeted by the servers in Japanese. That scene made me think of my experience at Mandarin Gallery's Ippudo, but a much toned-down version. The booth seats and sizzling sound of teppanyaki pans in the background also reminded me of the tiny eateries found in Japan.
While we were there, we chose the tables with the teppanyaki pans. Although we were glad that our food remained hot throughout the meal, the heat from the pan may get uncomfortable for some. For those who prefer to do without the pans, they also have regular tables. One thing I was really surprised by when I left the restaurant was that even with the teppanyaki pans, the smell of smoke did not stay on my clothes.
The verdict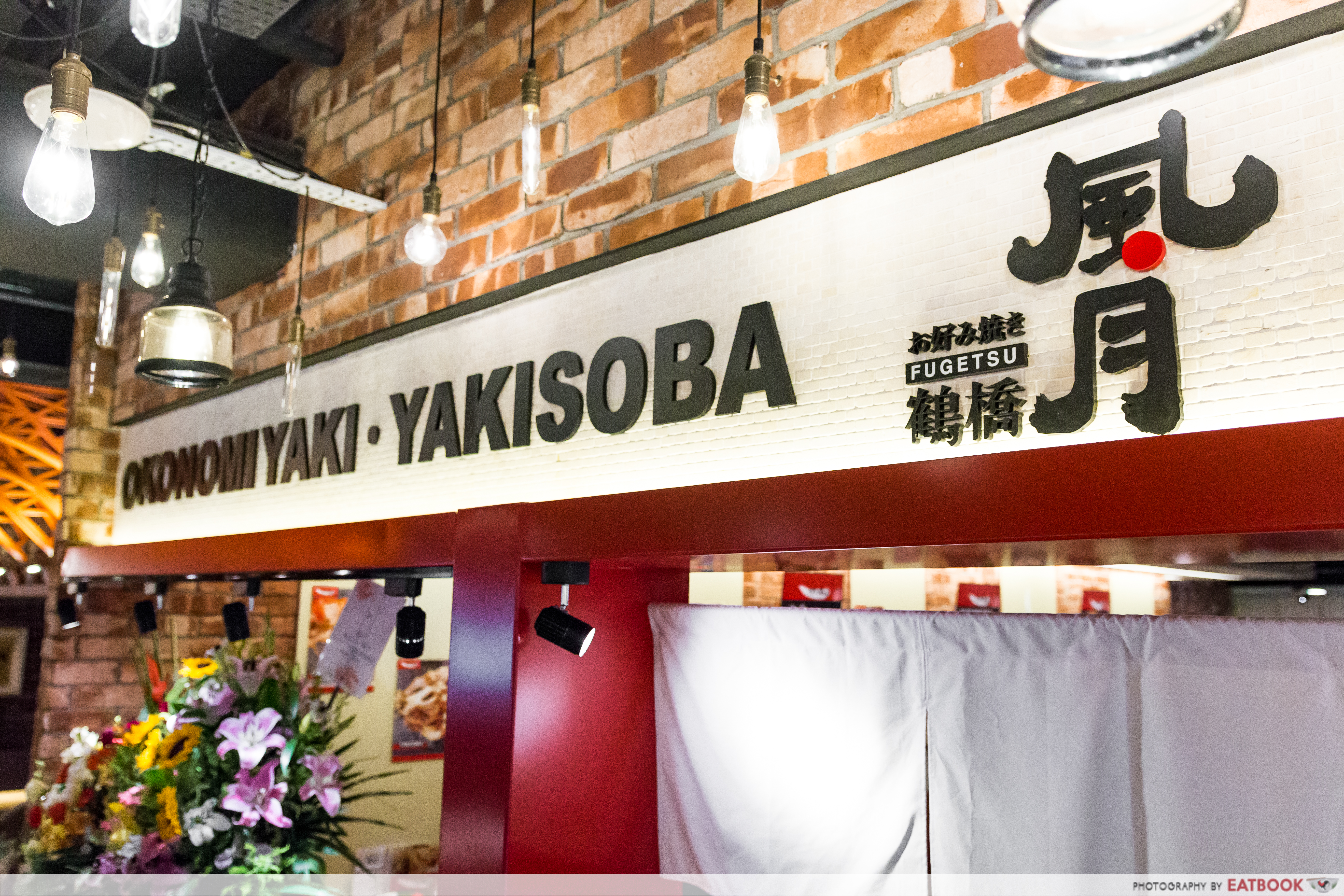 As a whole, the food at Fugetsu was not mind-blowingly delicious but there are still more hits than misses. The overall experience itself was also enjoyable and for their yakisoba alone, I am pretty certain that I will be back. Although the restaurant is located alongside many famous names like Katsudon Kanakatsu, Menya Takeichi, and Tendon Kohaku, you will not regret giving them a miss to try the food at Fugetsu!
Address: 3 Temasek Boulevard, #03-316, Suntec City North Wing (Sky Garden), Singapore 038983
Opening hours: Daily 11:30am to 3pm, 5:30pm to 10:30pm
Tel: 6560 0290
Website
This was a media tasting at Tsuruhashi Fugetsu.
Summary
Pros
– Convenient location
– Friendly staff
– Yakisoba was delicious
– Delicious food
– Food remains hot throughout the meal if you choose the seats with teppanyaki pans
Cons
– Some items are quite expensive
– Limited seats
– Tables with teppanyaki pans can get uncomfortably hot
– Okonomiyaki was mediocre
Recommended Dishes: Fried Buta Kimchi ($9.80++), Omelet Yakisoba ($13.80++)
Opening Hours:
Daily 11:30am to 3pm, 5:30pm to 10:30pm
Address: 3 Temasek Boulevard, #03-316, Suntec City North Wing (Sky Garden), Singapore 038983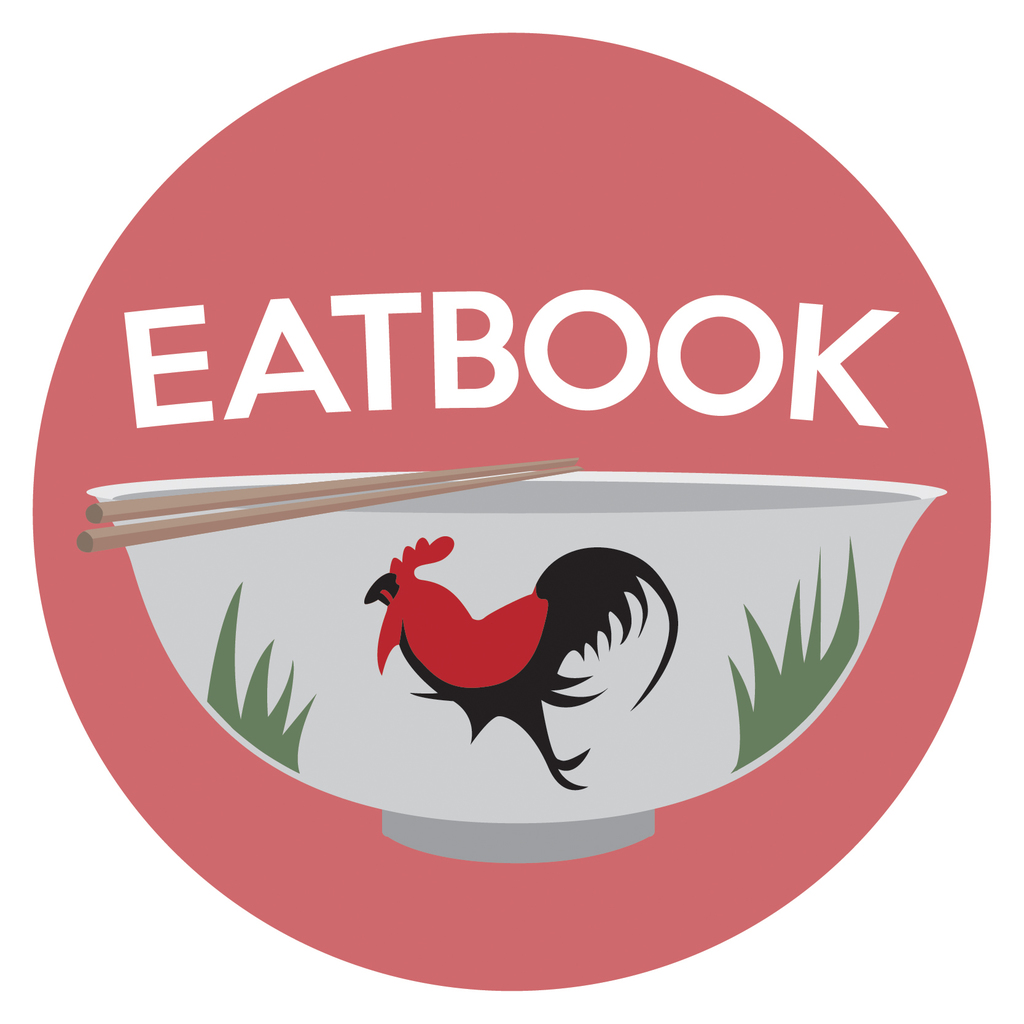 Drop us your email so you won't miss the latest news.