Ginza Rokukakutei is a deep-fried skewer paradise from Osaka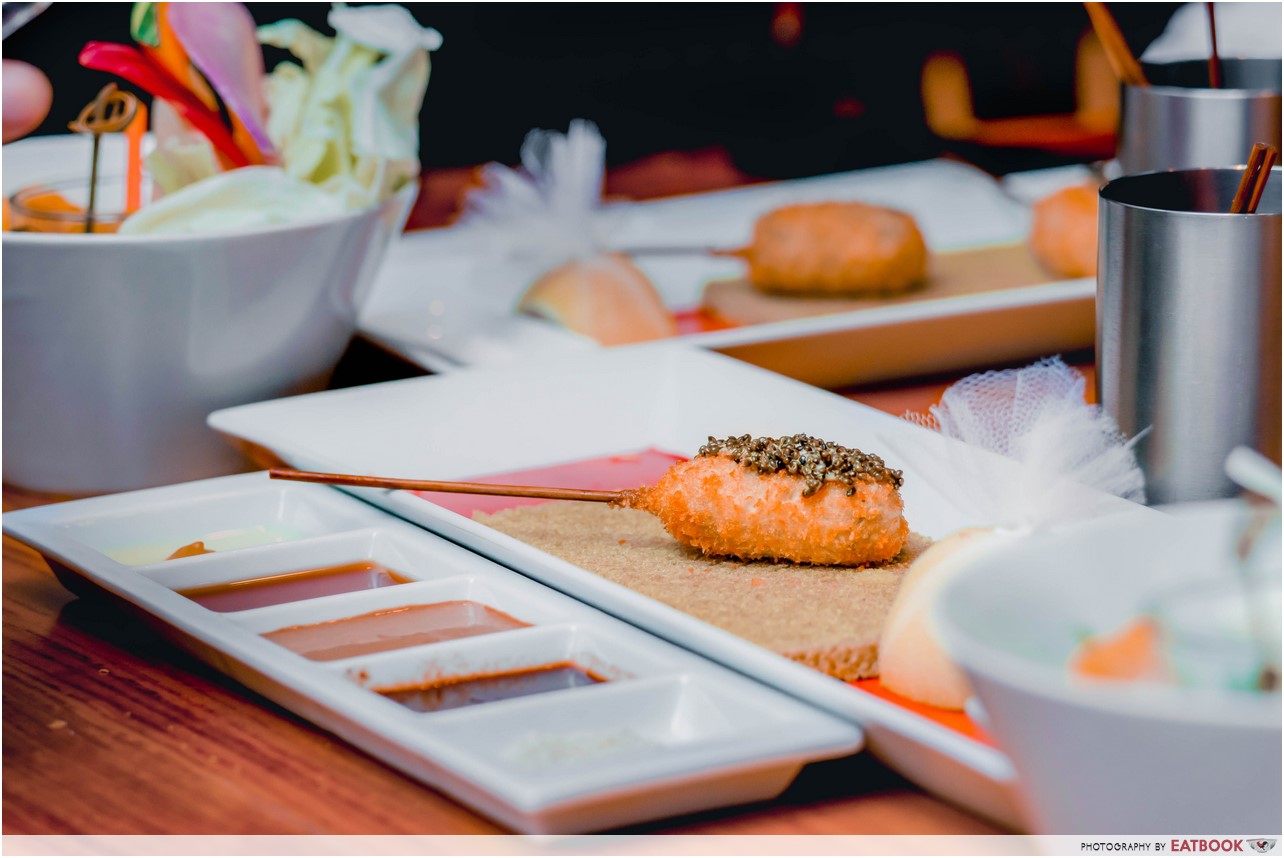 Unless you're a food connoisseur well-versed in the wonderful art of Japanese cuisine, the term "kushikatsu" might take you by surprise. Created by the Osakans and their love for food and intense flavours, kushikatsu – or kushiage – represents deep-fried skewers of meat or vegetables, that are a quintessential part of Osaka's street food culture.
For those new to the wild, deep-fried world of Japanese skewers, Ginza Rokukakutei is just the place to take your kushikatsu knowledge and appreciation from 0 to 100 in a single meal.
A new player at North Bridge Road, this restaurant, which has one Michelin star in Osaka, has elevated kushikatsu from a humble street snack to a gastronomical play on the senses in a refined dining experience fit for even the most discerning foodies.
Food at Ginza Rokukakutei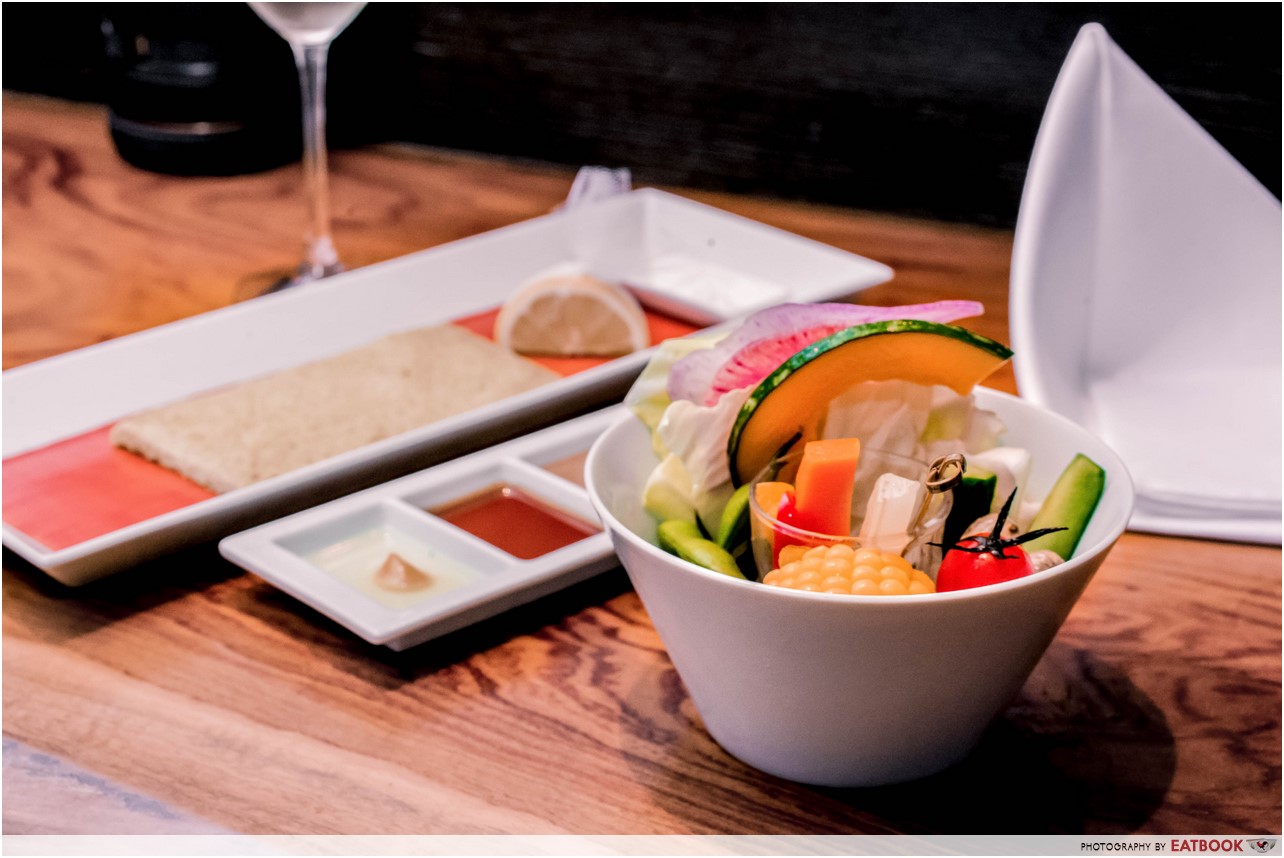 With 15 years of experience up his sleeve, Chef Hideyuki Tanaka commands the kitchen and serves up only two specially curated omakase menus.
The first, a 20-skewer showcase of prime meats, fresh seafood, and seasonal vegetables alongside a bowl of greens, house-made pickles, agar gelatin, and artisanal bread at $134++. And the second, a similar 15-skewer menu paired with two glasses of red and white wine each, followed by dessert and a single shot of Japanese espresso at $288++.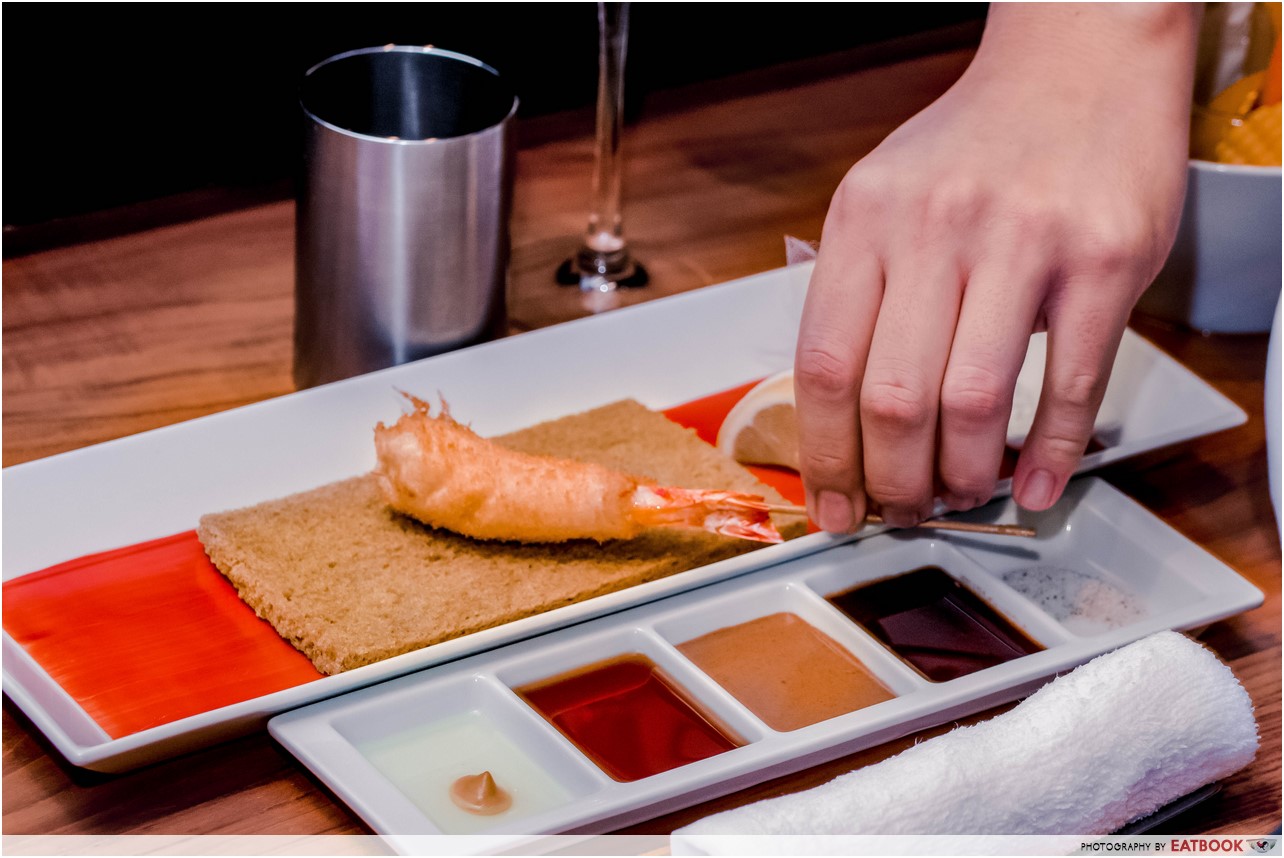 Each perfectly fried skewer is gently placed atop a piece of bread for excess oil to be absorbed, and the tail end of the skewer points in the direction of one of the five accompanying sauces, namely lemon juice and mustard, shoyu, sesame mustard, organic red wine reduction, and salt and pepper.
You'll also be provided with a dish of Okinawan salt and a wedge of lemon carefully wrapped in mesh so you won't have the problem of unwanted lemon seeds raining down on your food.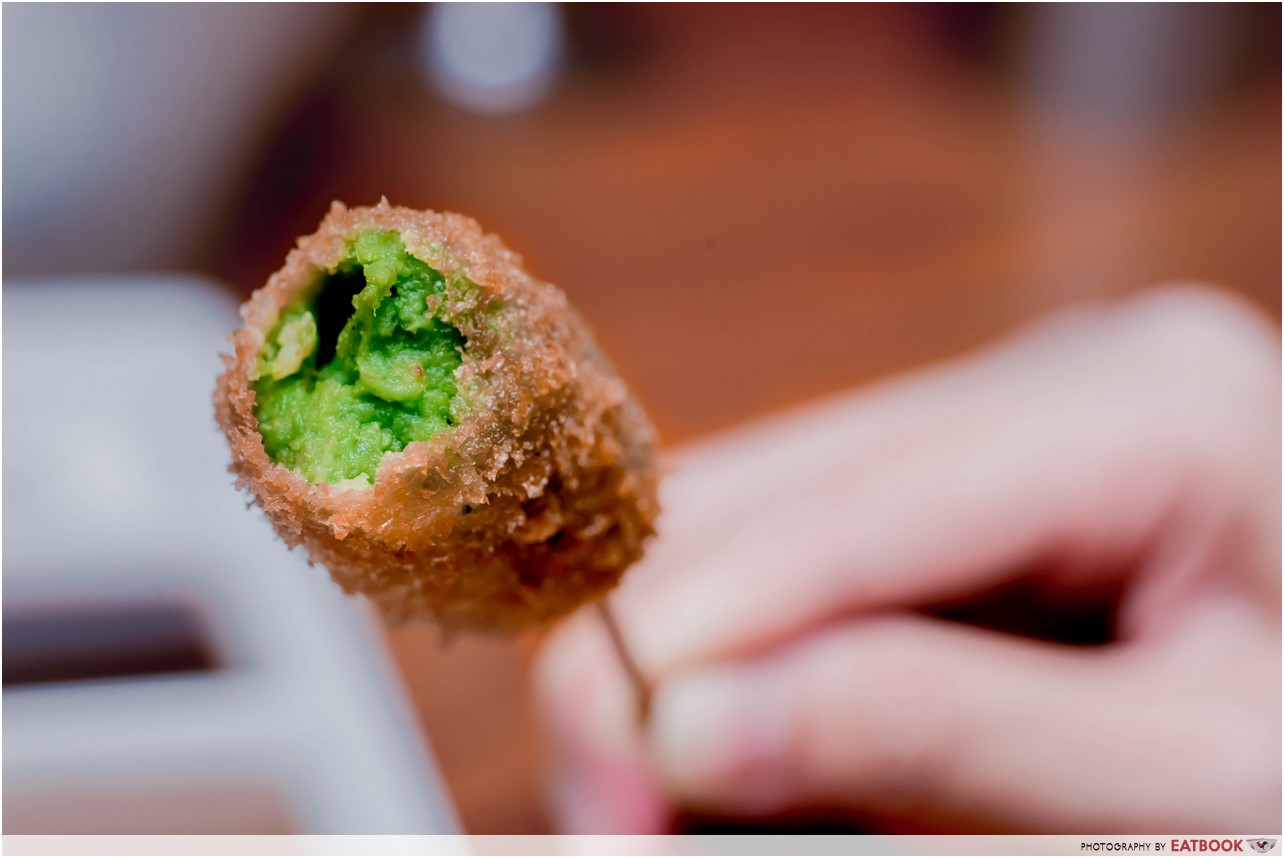 We first started the meal off with five signature skewers: Tiger Prawn, Wagyu Beef, Scallop, Green Pea Croquette, and Chicken Breast topped with "Tonburi" (mountain caviar).
All of which, I have to say were equally impressive, especially the Green Pea Croquette, which seemed the most unassuming of the lot. Even though green peas make up the bulk of this croquette, it tasted mild and sweet with just the right amount of savouriness, and a consistency so buttery, it felt like I was biting into a cloud.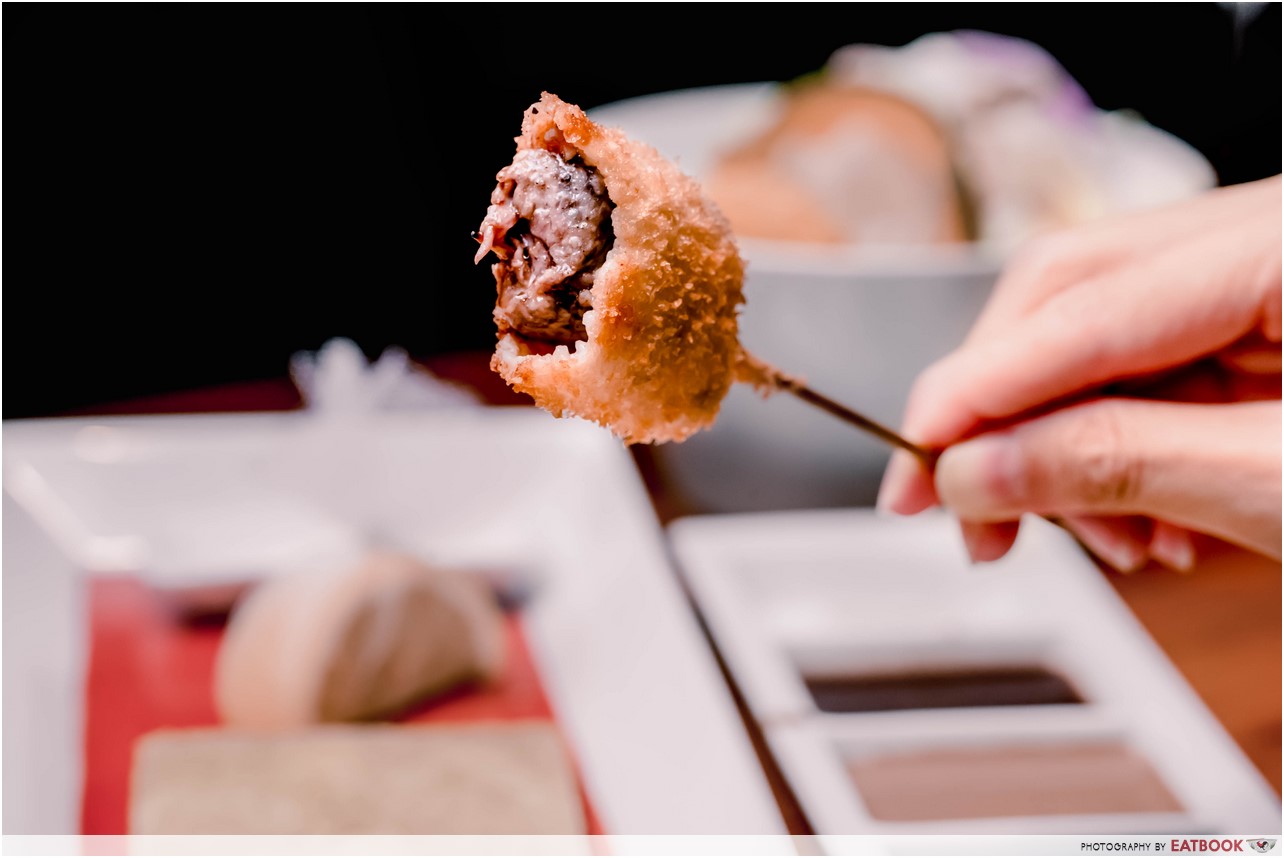 Don't judge a book by its cover. Each 'course' might arrive looking similar to the one before, but don't be fooled by the consistent golden brown panko-crusted exterior of each stick. Every first bite reveals a steaming interior packed with a medley of tastes and textures, and the respective sauces work to further complement and accentuate each creation.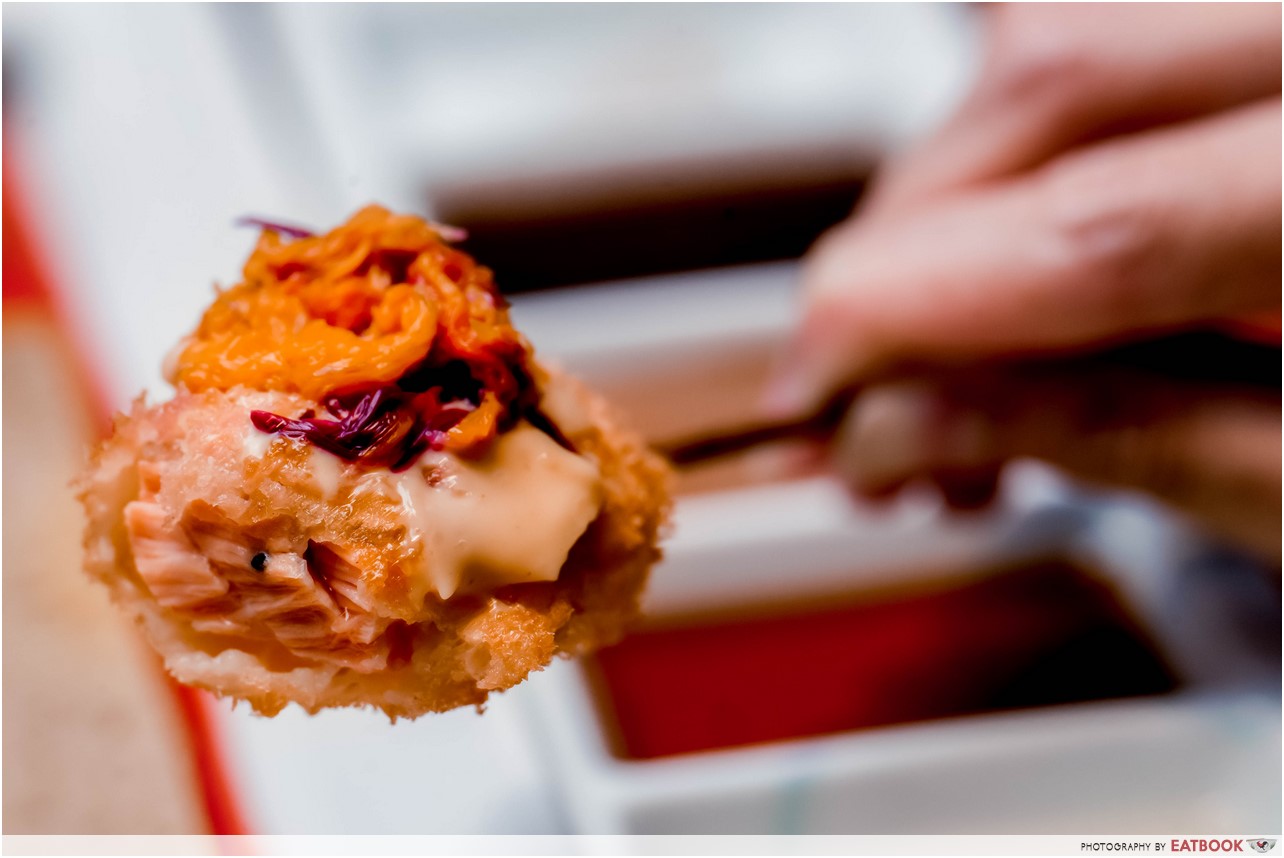 If you are a fan of pickled-anything, you'll absolutely fall in love with this Autumn Salmon with pickled chrysanthemum on top, which is a unique rendition of a salmon skewer.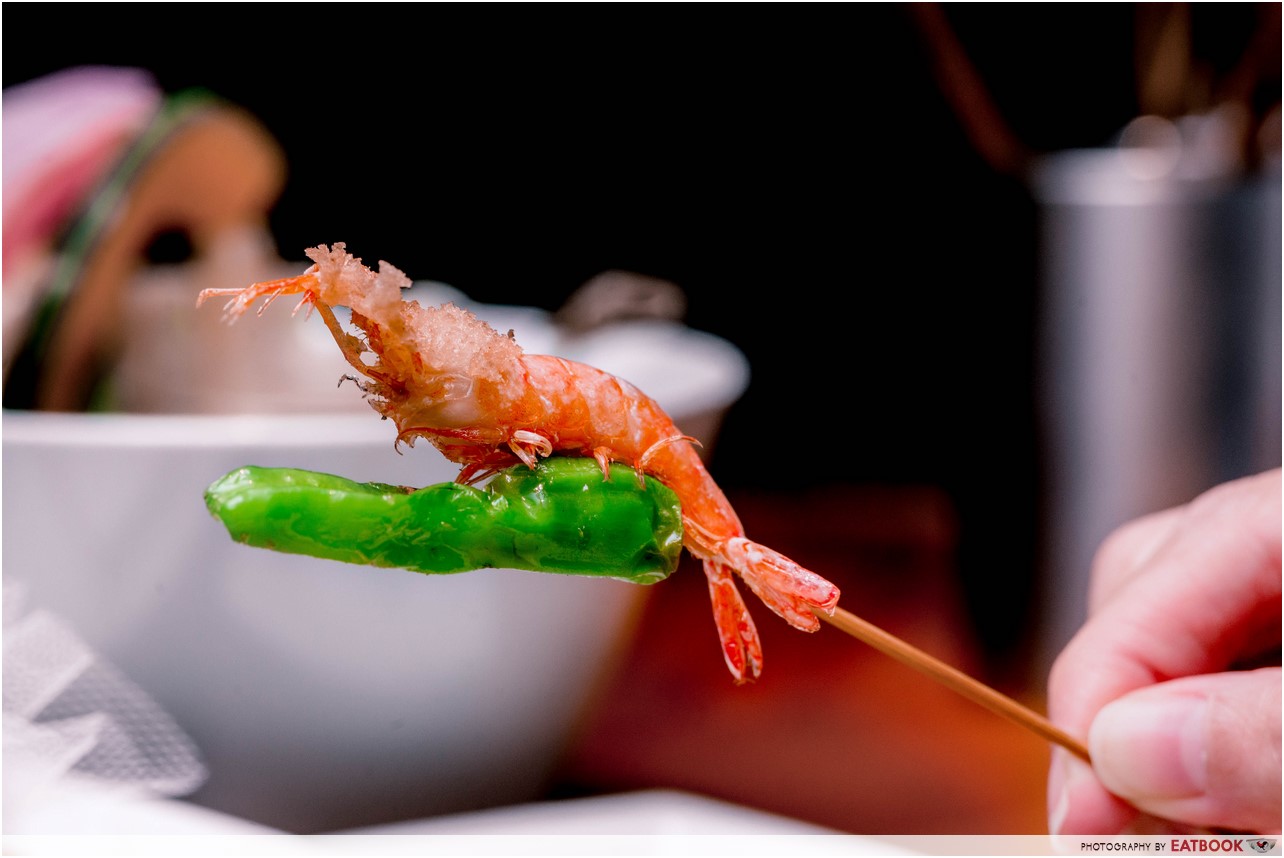 Other notable standouts were Cocktail shrimp and green pepper, Cuttlefish and herring roe on kelp topped with uni (sea urchin), and Chinese chives wrapped with pork belly.
A refreshing plum liquor granita was served midway through the meal as a palate cleanser and it definitely did the job of washing away the grease and keeping me pumped for more. Save your stomachs though, the last course of our meal was a fat fried stick of gruyere, parmesan, cheddar, and mozzarella that had just the right ratio of crunch to melted cheese. And it tasted so amazing, I would have eaten two of these had I the space to stomach it.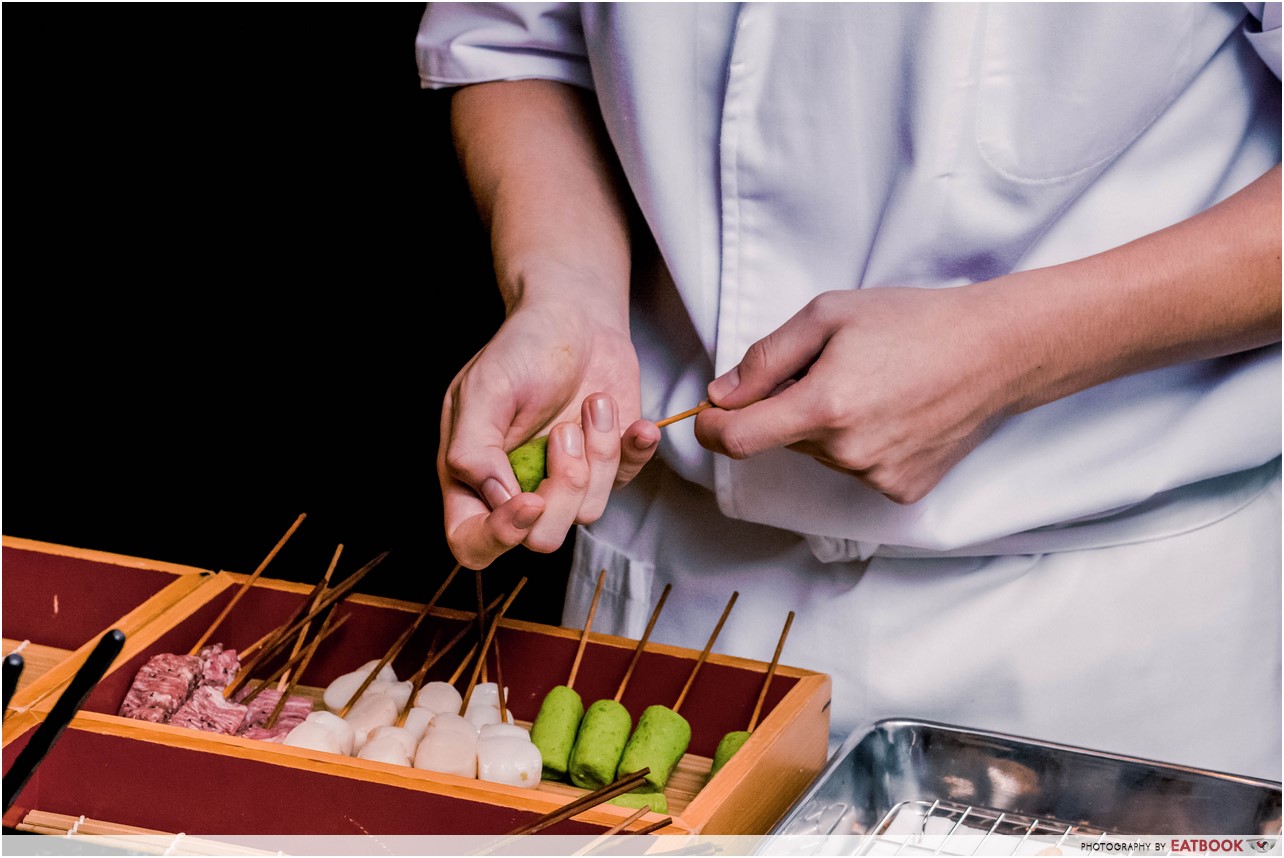 The amount of detail put into the making of each variety is commendable and all the ingredients used by the restaurant are imported from Japan, prepared meticulously in full view of the diners by the counter.
Chef Hideyuki Tanaka flash-fries each skewer and spins it immediately after to remove any excess oil – leaving each stick crisp, fluffy, and not in the least bit greasy.
The omakase menu progresses steadily from lighter bites to heavier ones like sweet potato and lotus root wagyu, but you can use the sweetness of the corn, lettuce, and tomatoes in your vegetable bowl as palate cleansers between courses.
Ambience at Ginza Rokukakutei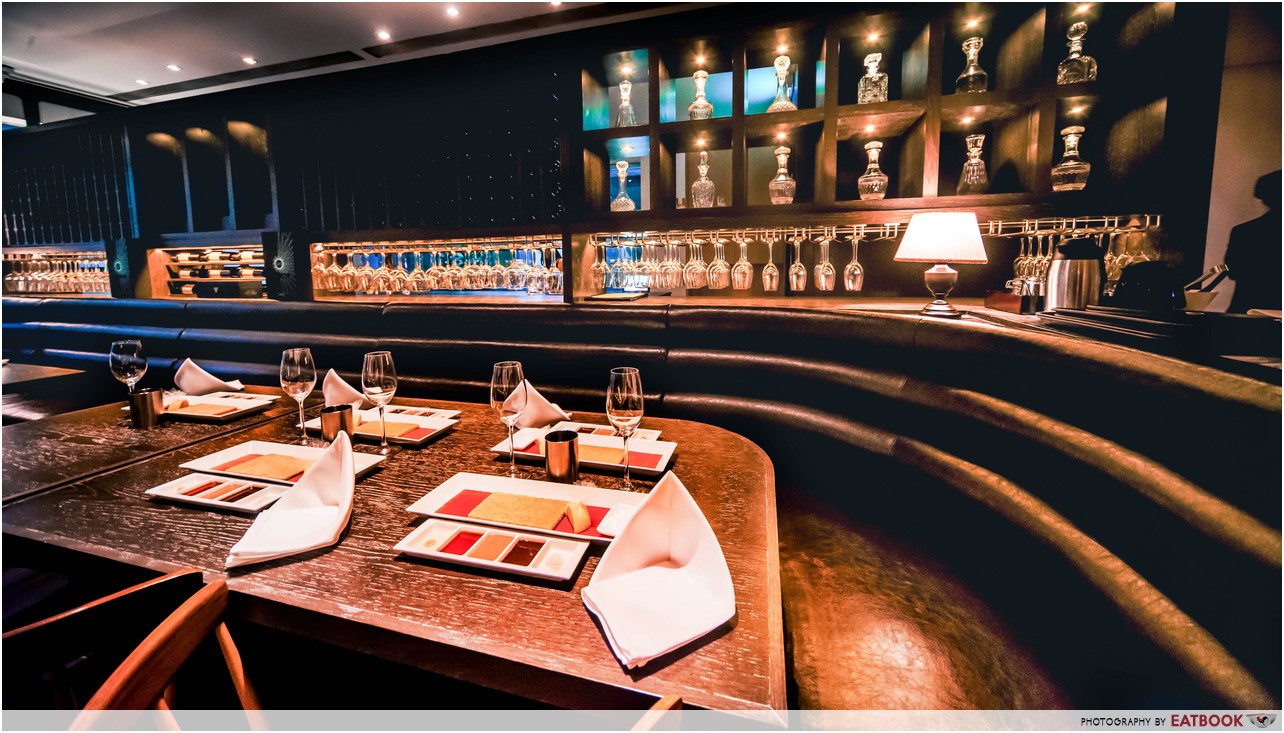 If you're all for exploring uncharted food territories, you can sit back and let the chefs at Ginza Rokukakutei take the wheel and steer you in the direction of an elegant dining experience you'll remember.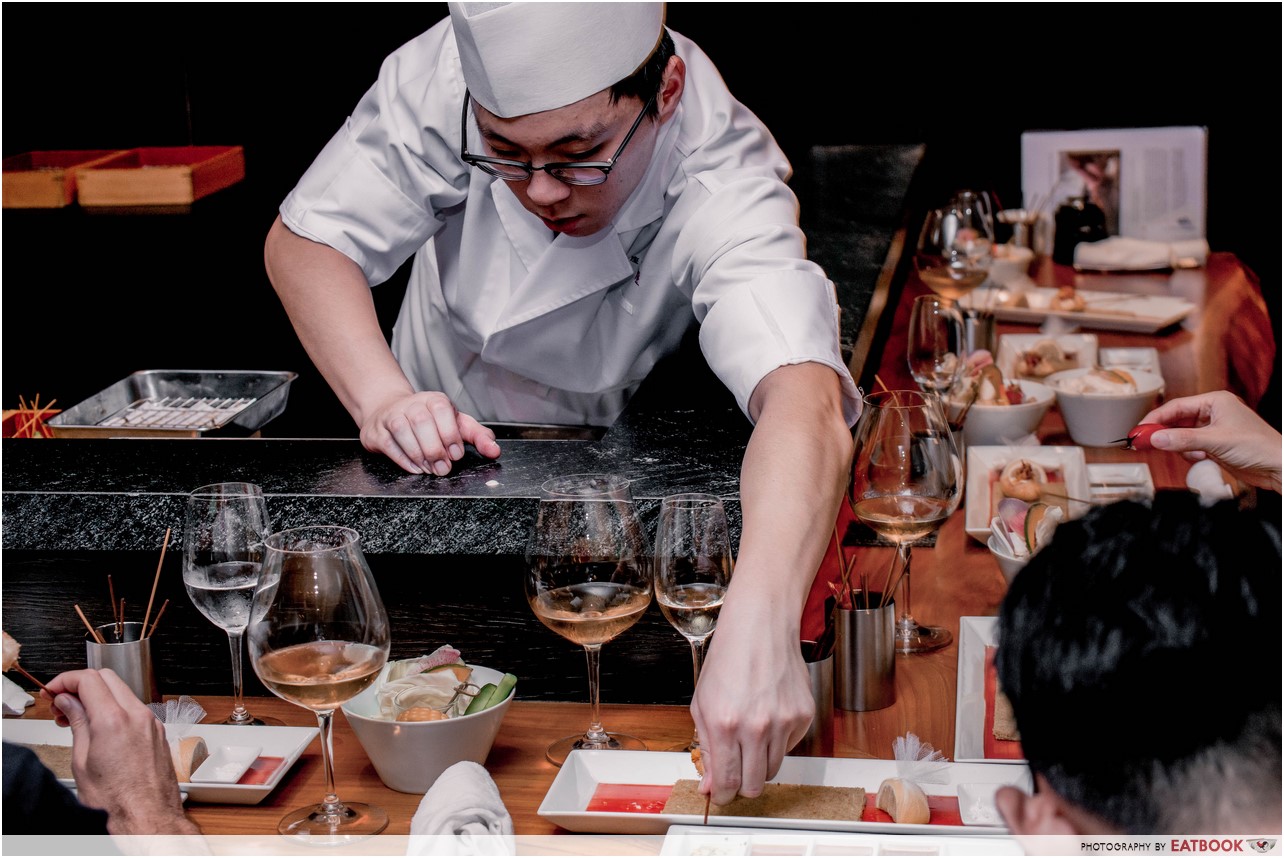 There are a couple of areas for you to wine and dine in comfort, but we recommend going for the counter seats for an unobstructed view of all the kushikatsu magic. The segmented layout of the dining hall also makes the place a great spot for intimate gatherings with small groups of friends or a rather quiet date night around central Singapore.
The verdict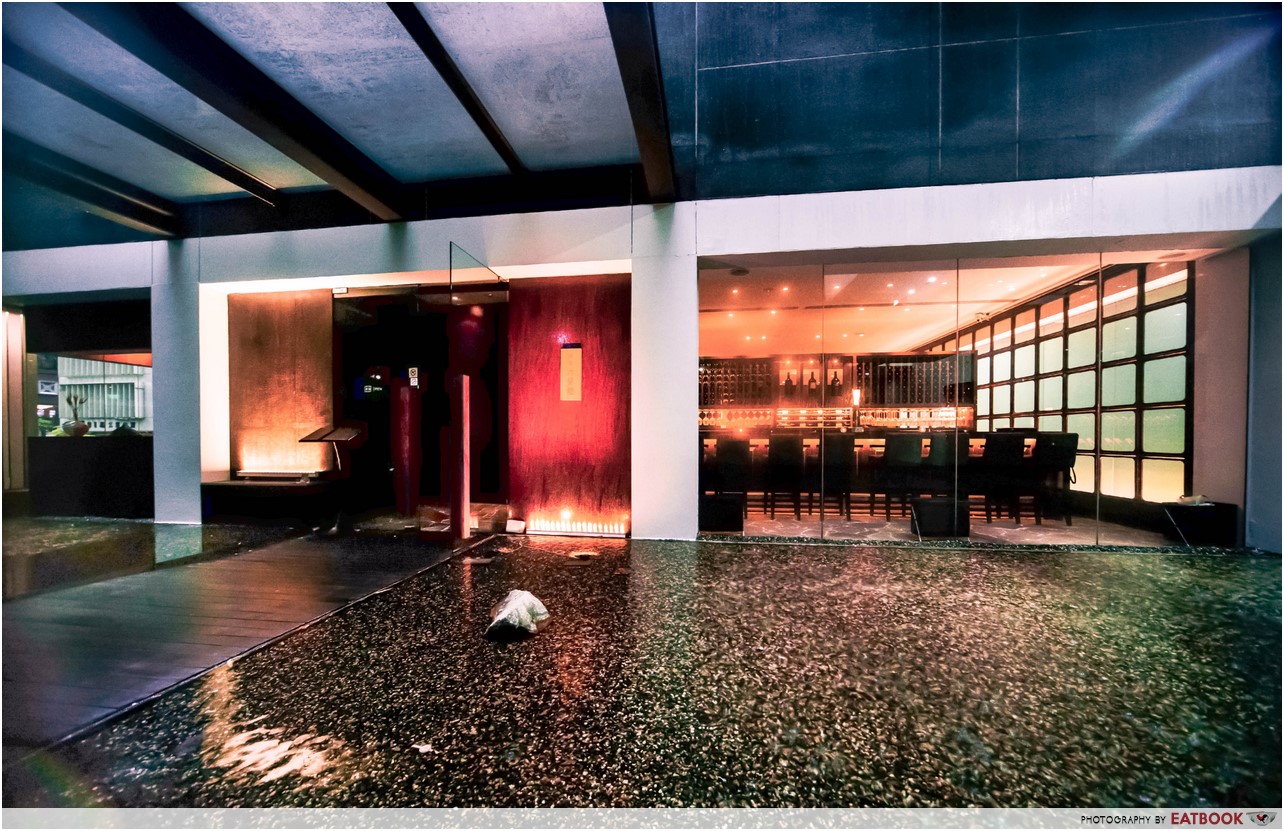 I started the meal questioning how a menu consisting only of deep-fried skewers could possibly leave me satisfied, but soon found myself in near defeat, struggling to finish the last three to four sticks served. It was a clear case of "mind says yes, but the body says no", which was a shame because each skewer bore an exciting combination of flavours I'd never tasted in unison before.
And while the meal looks and sounds overly sinful, as a self-professed 'clean' eater who often stays far away from oil-drenched foods, I would easily recommend the experience to friends looking to delve deeper into the realm of Japanese food in the opposite direction of their usual chirashi don.
The portions are surprisingly substantial, so if you consider yourself a small eater, don't worry about wastage because the chefs let you tap out at any time, and will only charge you for the sticks you did consume. It might seem a little steep, forking out more than a hundred for a meal of skewers, but the quality and finesse of the entire omakase spread is definitely an experience some won't mind paying for. For more pocket-friendly Japanese food, check out these relatively affordable beef donburi bowls below $20++ or these Japanese izakaya restaurants instead!
Address: 331 North Bridge Road, #01-04, Odeon Towers, Singapore 188720
Opening hours: Mon-Fri 6pm to 11pm, Sat 5pm to 11pm
Tel: 6266 1077
Website
Ginza Rokukakutei is not a halal restaurant.
This was a media tasting at Ginza Rokukakutei.
Ginza Rokukakutei Review: Kushikatsu Restaurant With One Michelin Star In Japan Opens In SG
Summary
Pros
– Quality food
– Unique experience
– Convenient location
Cons
– Expensive
– Limited menu options
Recommended Dishes: Omakase ($134++/$288++)
Operating Hours:
Mon-Fri 6pm to 11pm, Sat 5pm to 11pm
Address: 331 North Bridge Road, #01-04, Odeon Towers, Singapore 188720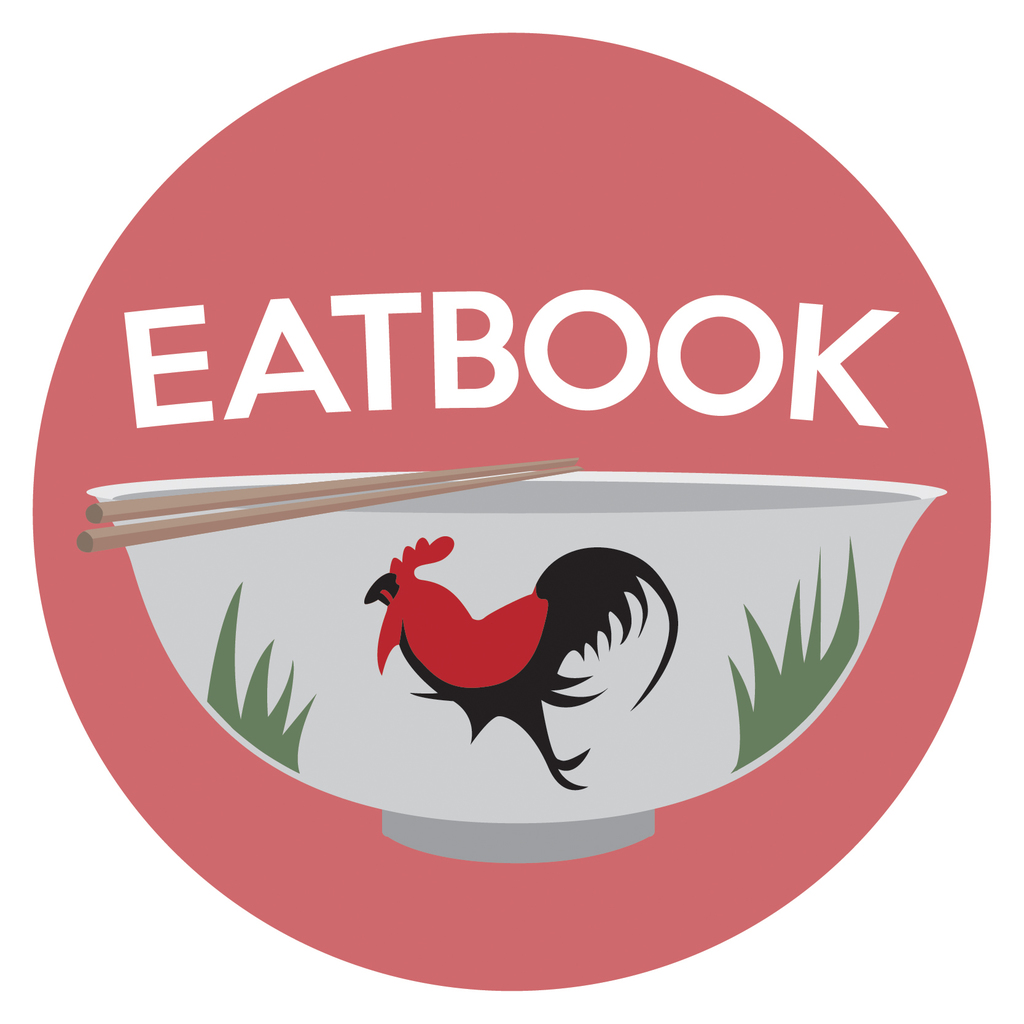 Drop us your email so you won't miss the latest news.