---
Affordable beef donburi in Singapore
---
When it comes to beef and rice in Japanese cuisine, the variations are endless. From a simple gyudon with sweet simmered sliced beef and onions, to slabs of well-marbled wagyu atop seasoned sushi rice, a meal with this classic combination can satisfy even fussy taste buds. But many Japanese beef bowls come at a premium price and not all of us can afford to splurge when the craving hits.
Well, there's no need to scrimp and save just so you can curb those beef donburi cravings. This list of affordable beef donburi is tailored for any meat lover on a budget, and over half the bowls here will set you back by less than $15!
---
1. Wagyu Round Roast Beef Set

---
A mountain of succulent roast wagyu beef atop a bed of pillowy Japanese rice for less than $20? Count me in. Sandaime Bunji's signature Wagyu Round Roast Beef Set ($19.90++ for lunch) has no less than 250g of tender sliced beef, a golden-centred soft-boiled egg, an addictive umami-sweet sauce, and sprinkle of sesame seeds. This humongous beef bowl is limited to only 15 sets a day, so get there early before they get snapped up!
Address: 9 Raffles Boulevard, #01-14/15, Millenia Walk, Singapore 039596
Opening hours: Mon-Sat 11:30am to 3pm, 5pm to 11pm, Sun 11:30am to 5pm
Tel: 6333 1516
Website
---
2. Signature Wagyu Beef Rice 
---
One hidden food find in the NUS campus is Waa Cow, which serves chirashi don and wagyu don that won't break the bank. Signature Wagyu Beef Don Rice ($9.90 for petite, $17.90 for regular) comes with slices of seared sous vide wagyu beef, a 62-degree egg, and a glistening heap of tobiko. What sets this particular beef donburi apart is the torched aburi rice, which imparts an interesting smoky flavour to the dish. If you are a staff, student, or an alumnus of NUS, you get to shave 10% off your bill!
Address: 2 College Avenue West, #01-06, Stephen Riady Centre, Singapore 138607
Opening hours: Mon-Fri 11.30am to 4.30pm
Tel: 8168 8777
Website
---
3. Noka

---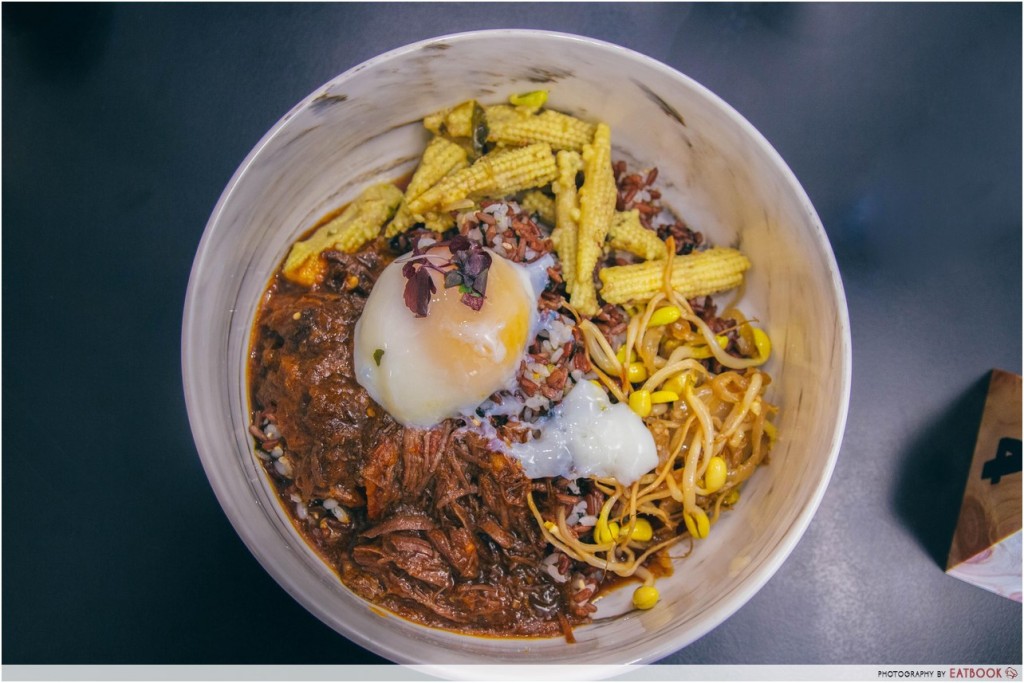 Ninja Bowl remains popular as ever with their repertoire of mouth-watering grain bowls. Noka ($14) combines tender 24-hour braised beef cheek with crisp vegetables and a wobbly onsen egg. Pair this with their signature Ninja Rice for $2 more and you've got yourself a robust, flavour-packed donburi.
Check out our full review of Ninja Bowl!  
Address: 15 Duxton Road, Singapore 089481
Opening hours: Mon-Fri 9am to 7:30pm, Sat-Sun 9am to 6pm
Tel: 6222 8055
Website
Menu
---
4. Truffled Short Rib Bowl

---
At just under $15, Grilllo's Truffle Short Rib Bowl ($14.90) is a pocket-friendly alternative to the pricier wagyu donburi. The heady combo of melt-in-your-mouth short rib slices, runny onsen egg, and crunchy garlic chips is sealed with a liberal shower of scallions and a potent kiss of truffle oil.
Address: 3 Temasek Boulevard, #01-455, Suntec City Pasarbella, Singapore 038983
Opening hours: Daily 10am-10pm
Tel: 8586 1005
Website
---
5. Wagyu Beef Rump Cap Don

---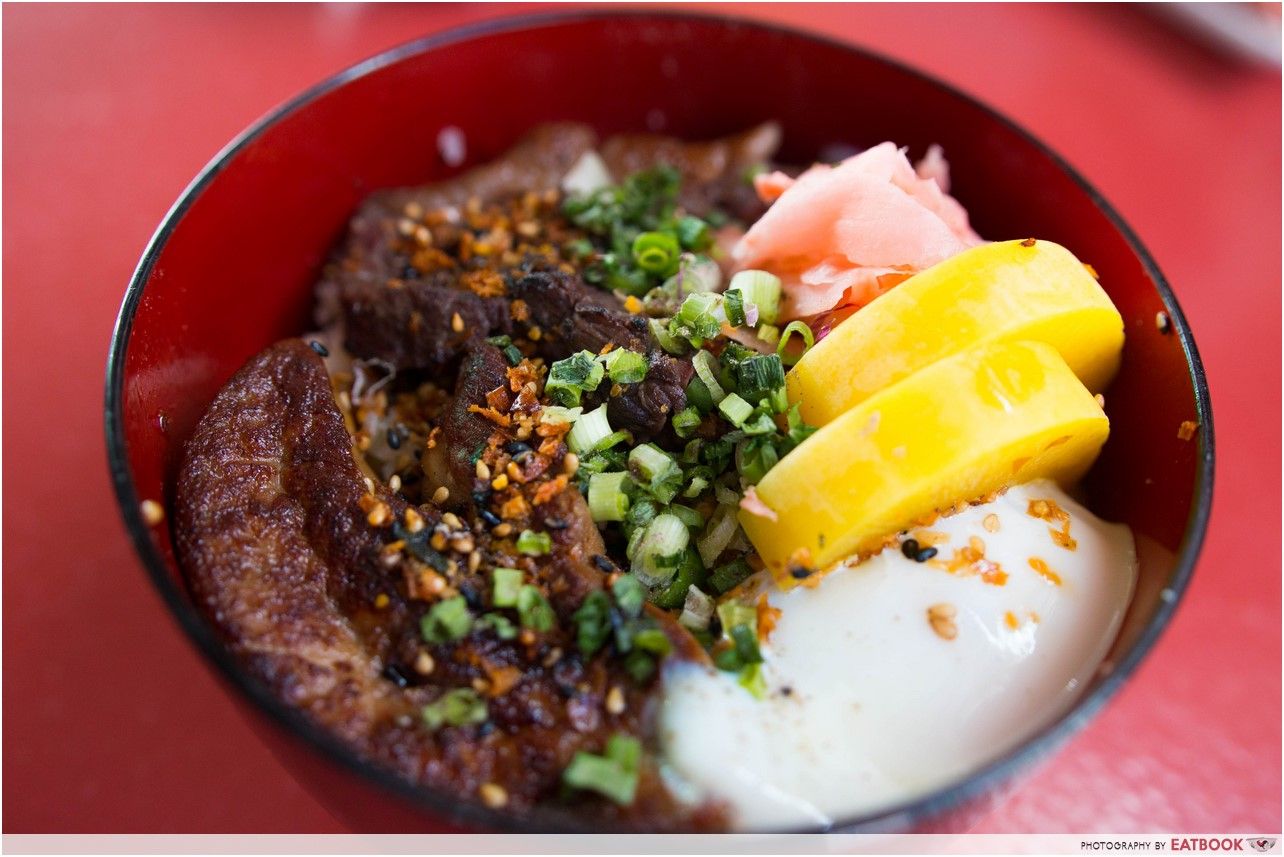 The Burning Oak's Wagyu Beef Rump Cap Don ($13.90 for a lunch set) is probably one of the cheapest wagyu donburi sets you can find in Singapore, and it's worth every penny. Each slice of medium-rare wagyu is fatty and meltingly tender, with a smoky charred edge – a wonderful complement to fluffy rice and their delicious sauce. For an upgrade to something even more premium, get their Foie Gras and Beef Don ($20), which comes with 70g of creamy foie gras.
Check out our full review of The Burning Oak!
Address: 348 Bedok Road, #02-16, The Bedok Marketplace, Singapore 469560
Opening hours: Tue-Thur 12pm to 1:30pm, 6pm to 9:30pm, Fri-Sat 12pm to 1:30pm, 6pm to 10pm, Sun 6pm to 10pm
Tel: 9873 6093
Website
---
6. Refinery Gyudon

---
For delicious beef donburi in a cafe, head to The Refinery. The star of Refinery Gyudon ($17+) is its tare-marinated thin-sliced ribeye, which pairs wonderfully with crunchy spring onions and truffle-spiked shimeji mushrooms. A runny onsen egg makes the dish extra creamy.
Address: 115 King George's Avenue, #01-02, Singapore 208561
Opening hours: Tue-Fri 12pm to 3pm, 6pm to 1am, Sat-Sun 11am to 4pm, 6pm to 1am
Tel: 6293 1204
Website | Menus
---
7. Gyuniku Donburi

---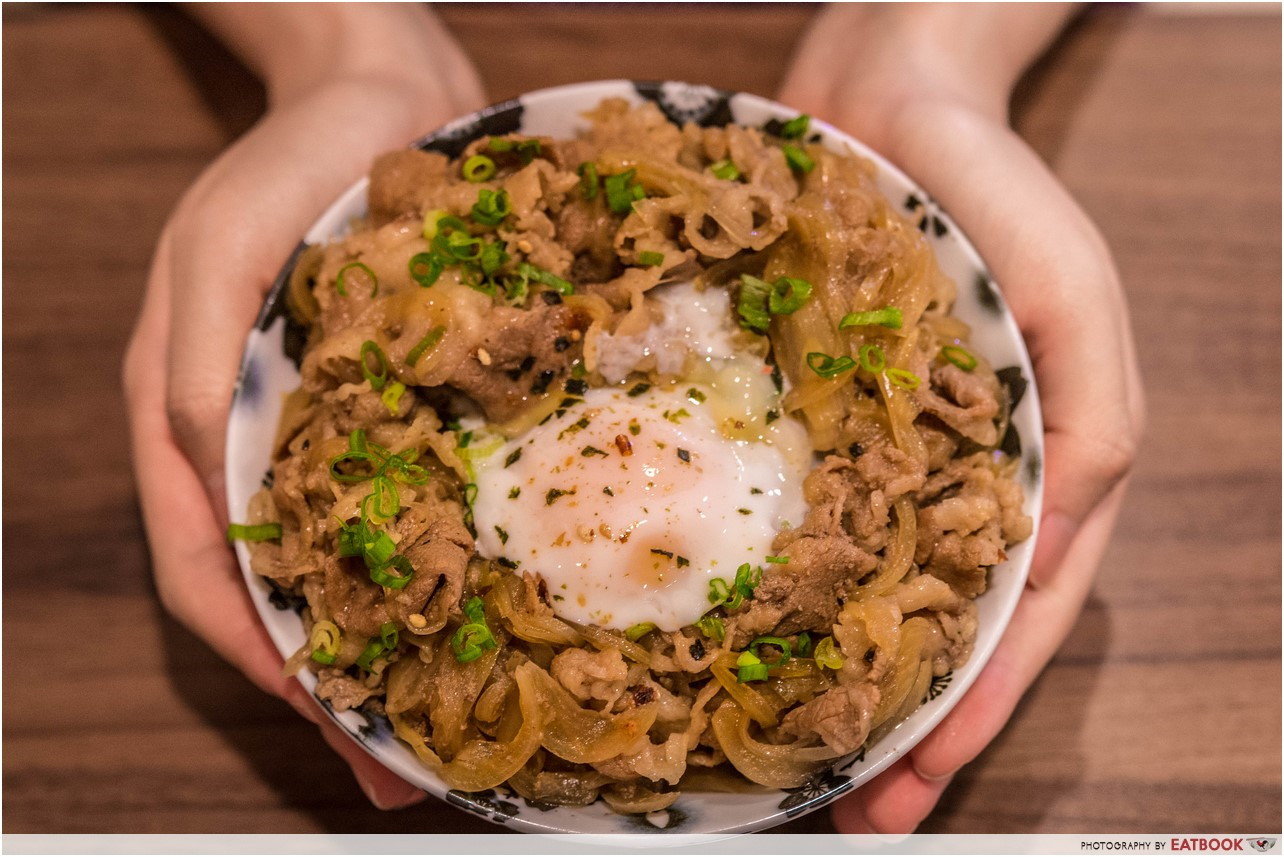 Sushiro has opened a sister eatery, Ryori by Sushiro, which serves a range of tasty donburi at affordable prices. Gyuniku Donburi ($12) is probably one of the most value-for-money gyudon around. Paper-thin slices of well-marbled beef are simmered with onions in a sweet dashi-based stock. Crowned with an onsen egg and spring onions, this is one satisfying bowl that doesn't skimp on serving size.
Check out our full review of Ryori by Sushiro!
Address: 301 Upper Thomson Road, #01-113F, Thomson Plaza, Singapore 574408
Opening hours: Tue-Sun 11:45am to 2:15pm, 5:45pm to 9:15pm
Tel: 9450 1020
---
8. Premium Steak Don

---
Kushiya Japanese Grill House is a Japanese charcoal grill restaurant tucked away in Westgate, and it serves up some of the most affordable donburi in the west side of Singapore. At less than $11, their Premium Steak Don Set ($10.80) is an absolute steal. It made up of generous slabs of juicy pink-centred beef steak atop a bowl of sticky short-grain Japanese rice, accompanied by crunchy kimchi and half a soft-boiled egg. With a drink and a bowl of miso soup to complete your meal at no extra charge, this is a meal that'll fill you up with satisfaction.  
Address: 3 Gateway Drive, #B2-K4, Westgate, Singapore 608532
Opening hours: Daily 11am to 10pm
Website
---
9. Beef Knuckle Shabu Curry Don
---
CBD folks rejoice; there's an affordable Japanese curry beef donburi along Anson Road for your beef cravings. Hipster cafe Ho-Jiak's Beef Knuckle Shabu Curry Don is comforting, hearty, and will only set you back by $9.90. Generous slices of beef shabu-shabu are served atop a bed of calrose rice, which is doused in a sweet Japanese curry sauce. They serve other proteins such as chicken leg and pork shabu, which you can add to your bowl at $3 more if you're feeling particularly ravenous.
Address: 80 Anson Road, #02-01, Singapore 079907
Opening hours: Mon-Fri 11am to 2:30pm, 6pm to 9:30pm
Tel: 9298 2896
Website
Menu
---
10. Black Pepper Beef Bowl
---
Pepper Bowl's Black Pepper Beef Bowl ($5) may be the cheapest bowl on this list, but it doesn't cut back on flavour. This hawker take on Japanese comfort food is filled with juicy slices of peppery marinated beef that are leaner than those in a typical bowl of gyudon, but still as tasty. Add $0.60 for a lava onsen egg to complete your ultimate budget beef donburi.
Address: 7 Maxwell Road, #02-102, Amoy Street Food Centre, Singapore 069111
Opening hours: Mon-Fri 11am to 3pm
---
Don't miss out on these donburi
---
Ditch the idea that a delicious bowl of beef donburi will cost a bomb. Dining out can be wallet-friendly if you know where to go, so grab your meat-loving friends and get those beef cravings slayed.
---
Featured image adapted from Instagram user jowlly's post.