---
Customisable spicy food for both amateurs and pros
---
When it comes to spicy food, I'm definitely not a pro. But my mum is the sort who needs a saucer of chilli by her bowl at every meal, so deciding on where to go for dinner every Sunday is a real headache sometimes. If you face the same problem, here's a list of places with customisable spicy food to ensure everyone is happy with their meal!
---
1. SAMA Curry & Cafe
---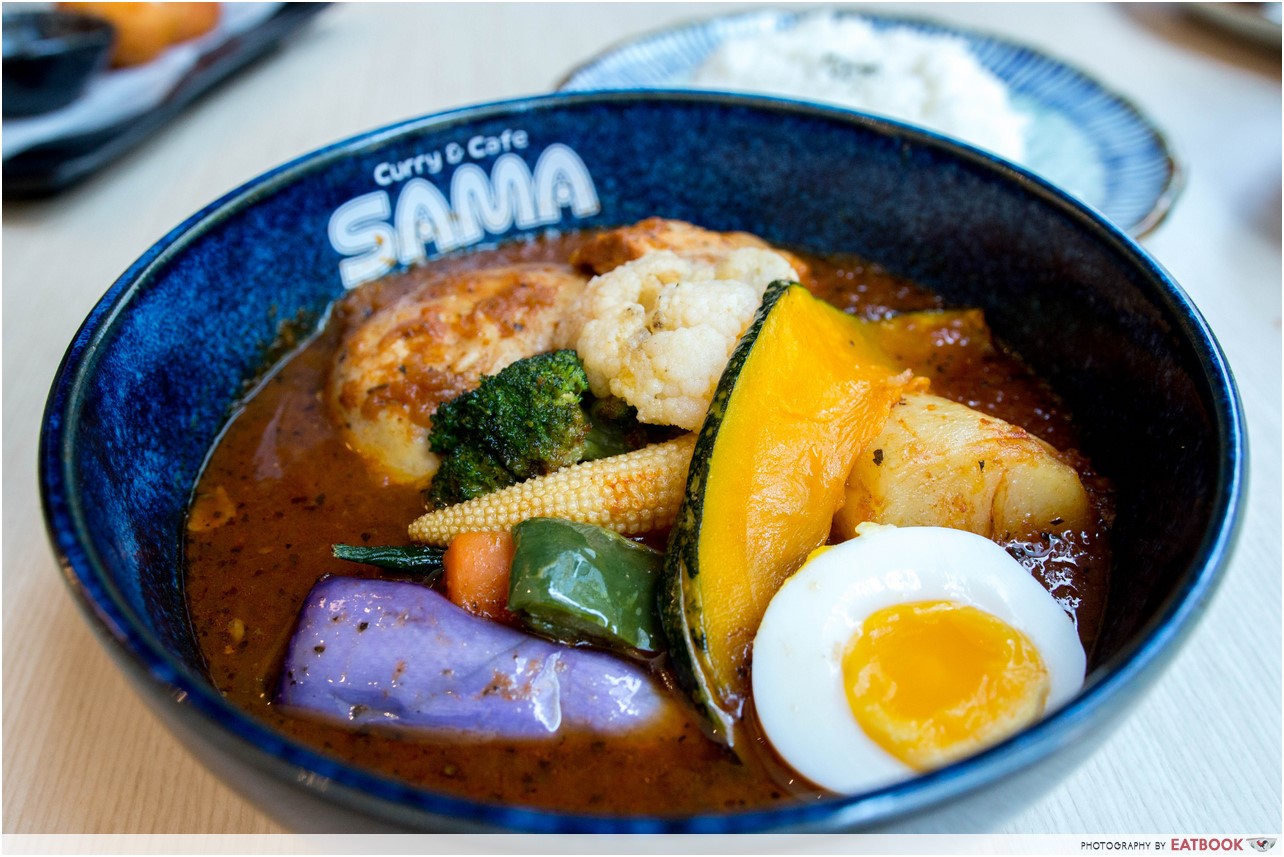 If anything, the amount of veggies served at SAMA Curry & Cafe will make my mum happy. That aside, the Japanese soup curries here are delicious, and come with 30 levels of spiciness. Meat lovers should go for their Hungry Bear ($18.90+), which comes with an entire chicken leg and a beef patty or pork chashu. Hokkaido Imomochi Cheese ($6.50+ for two pieces) is a deep-fried side worth getting for mochi lovers.
Check out our full review of SAMA Curry & Cafe!
Address: 6 Shenton Way, #03-26, OUE Downtown 2 Gallery, Singapore 068809
Opening hours: Daily 11am to 9pm
Tel: 6224 0590
Website
Menu
---
2. Tomyum Mama
---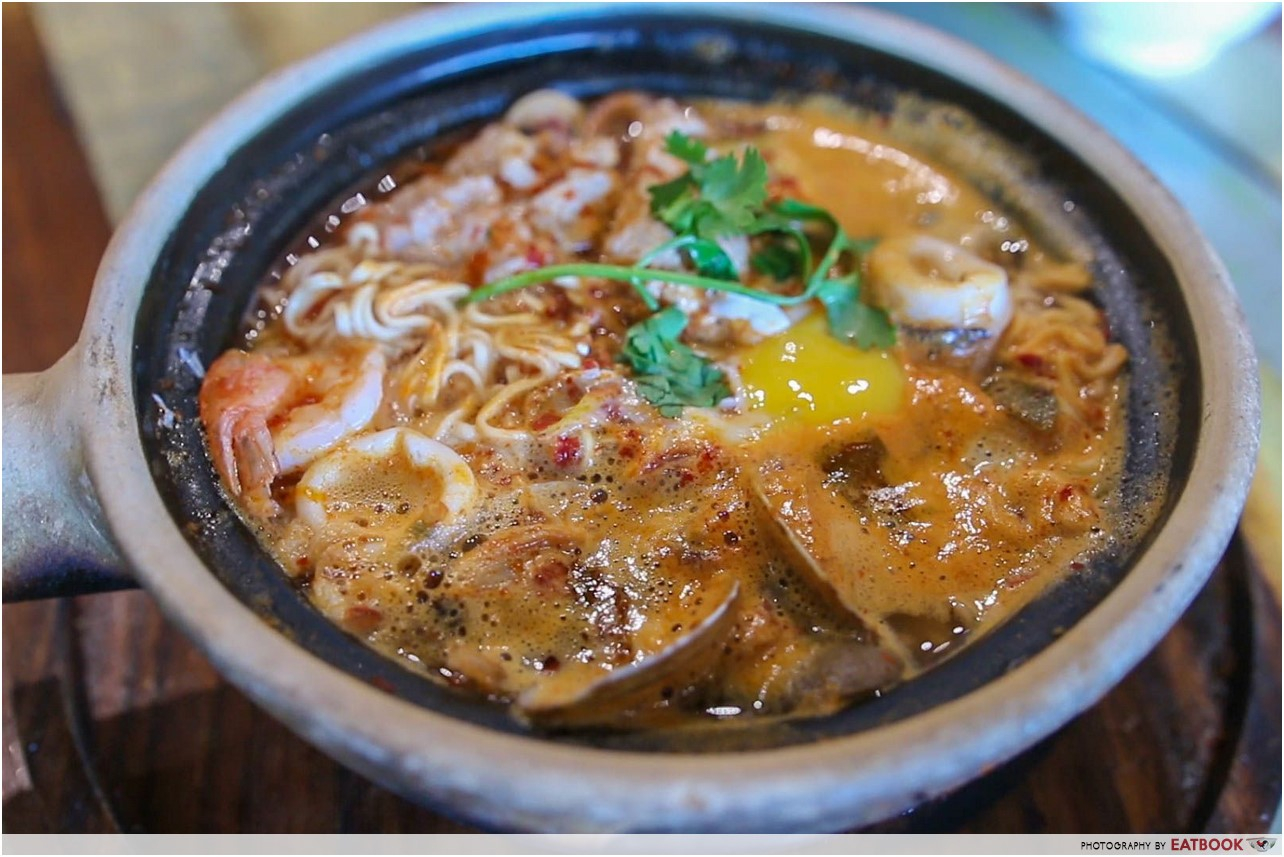 Tomyum Mama's Signature Tom Yum Mama Claypot ($12.90) is a zhng-ed up version of my favourite comfort food – instant noodles with egg. Other than these two main ingredients, this clay pot dish also has prawns, pieces of crab, squid, mushrooms, and pork. There are three levels of spiciness, with level one adding just a slight kick to every mouthful.
Check out our full review of Tomyum Mama!
Address: 244P Upper Thomson Road, Singapore 574369
Opening hours: Mon-Fri 12pm to 3pm, 5:30pm to 11pm, Sat-Sun 12pm to 11pm
Tel: 8687 9990
Website
---
3. Ikkousha Hakata Ramen
---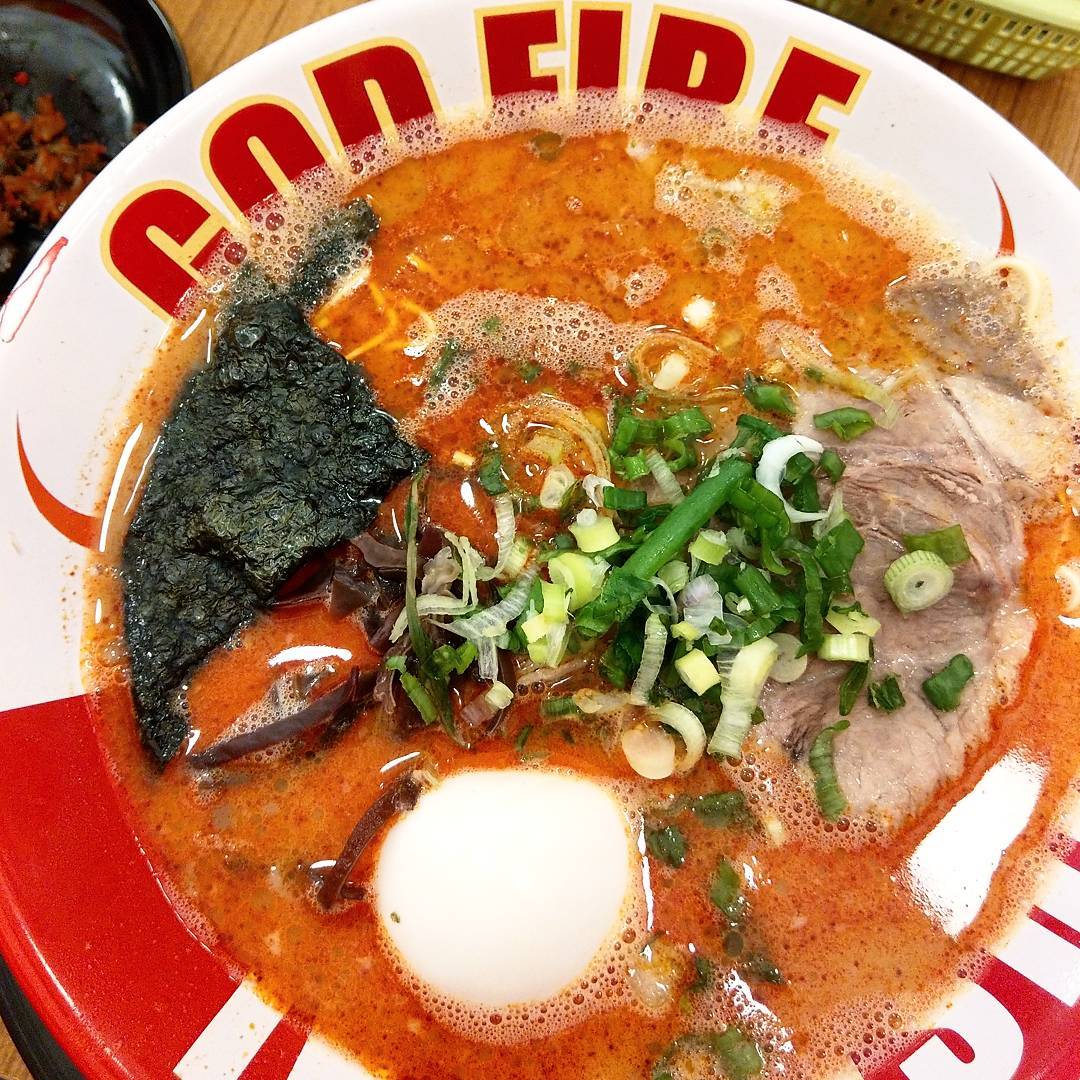 Image credit: @susanti.chandra
With a name like God Fire Ramen ($13.50++), you can be sure this bowl at Ikkousha Hakata Ramen can set your tongue ablaze. There are four levels of spiciness to choose from, and each portion comes with thin ramen noodles, cha shu, and seaweed. For those who avoid spicy food like it's the plague, their regular Tonkotsu Standard ($12++) is satisfying as well. There's also the interesting Tonkotsu Mentaiko ($13.50++) ramen on their menu, which makes this a great spot to bring your entire squad to. They have outlets at Tanjong Pagar and CHIJMES, with the former offering slightly lower prices.
Address: Blk 7 Tanjong Pagar Plaza, #01-104B, Singapore 081007
Opening hours: Daily 11:30am to 10pm
Tel: 6538 1880
Website | Full list of outlets
Menu
---
4. Kogane Yama
---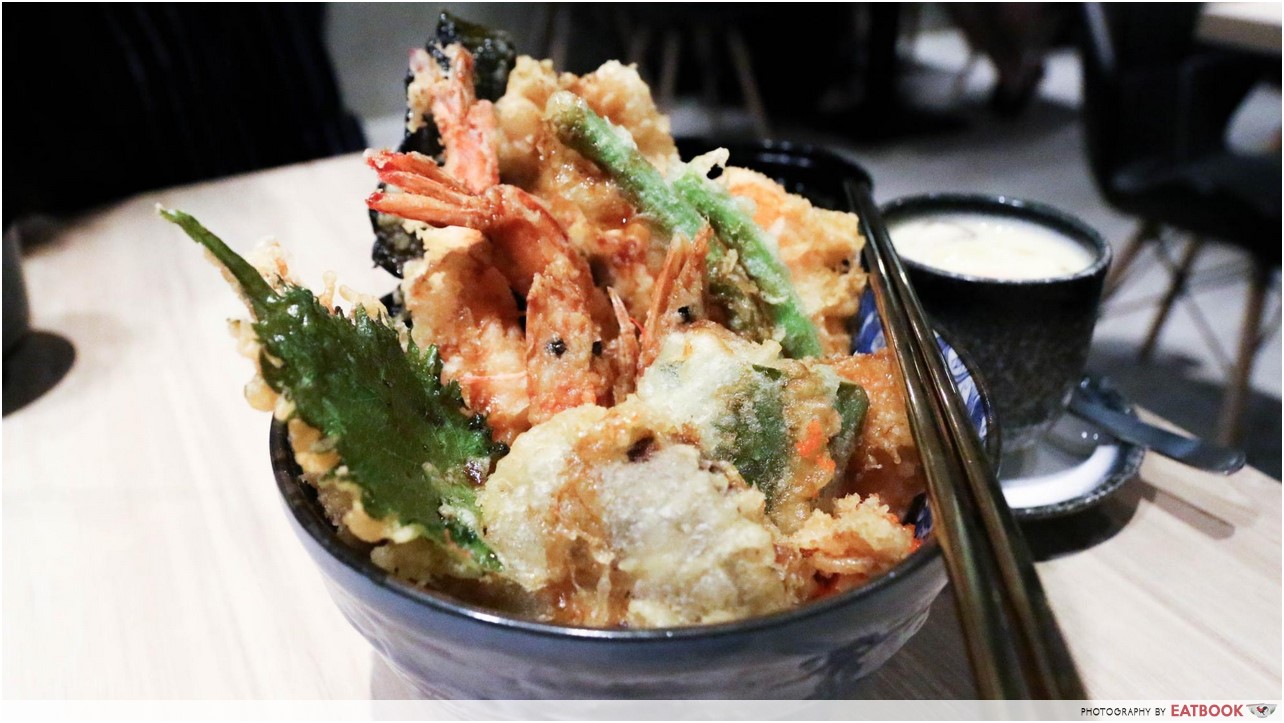 Spicy tempura don is not a common affair, much less spicy tempura don that is customisable. At Kogane Yama, you can choose from levels one to three of spiciness for your tendon. There's also a non-spicy option for those who prefer avoiding the heat. Aside from the level of spiciness, you can also pick from soba, udon, or Japanese short-grain rice for your bowl. Prices range from $11.80++ to $15.80++, with the noodles going at $1++ more.
Check out our full review of Kogane Yama!
Address: 200 Victoria Street, #02-50, Bugis Junction, Singapore 188021
Opening hours: Sun-Thur 11am to 10pm (last order at 9:30pm), Fri-Sat 11am to 11pm (last order at 10:30pm)
Website
---
5. Chong Qing Grilled Fish

---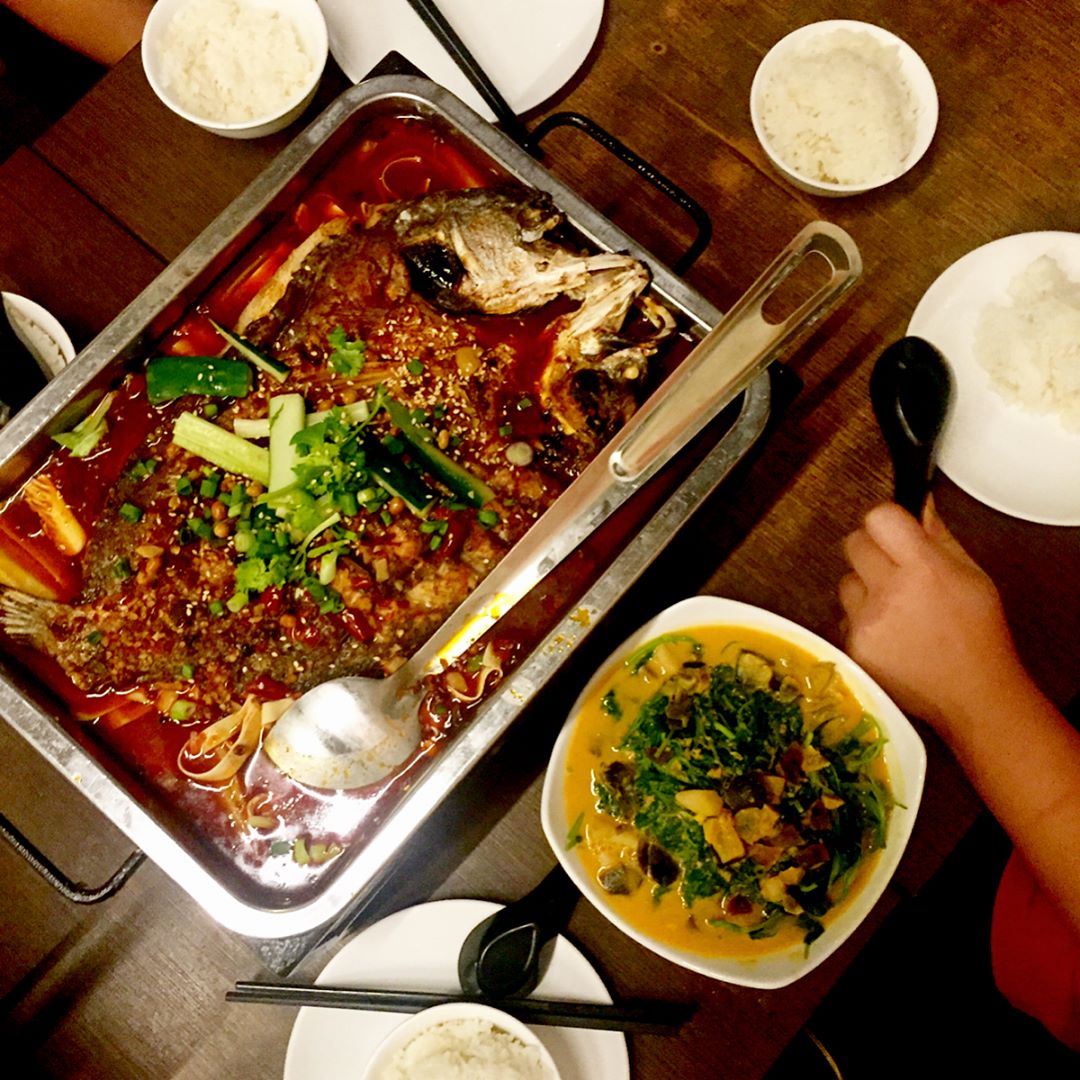 Image credit: @jennylin3030
A meal at Chong Qing Grilled Fish is definitely not for the faint-hearted. There are four flavour bases to choose from, namely Spicy Numbing, Spicy Fragrant, Hot and Sour, and Pickled Cabbage. If you pick from the first three, you can go further by choosing the level of spiciness – mild, medium, or extreme. Prices start at $32 for a regular-sized sea bass, and rise according to the number and type of sides you add to your pot.
Address: 18 Mosque Street, #01-01, Singapore 059498
Opening hours: Daily 12pm to 1:30am
Tel: 6225 0087
Website
---
6. Dookki
---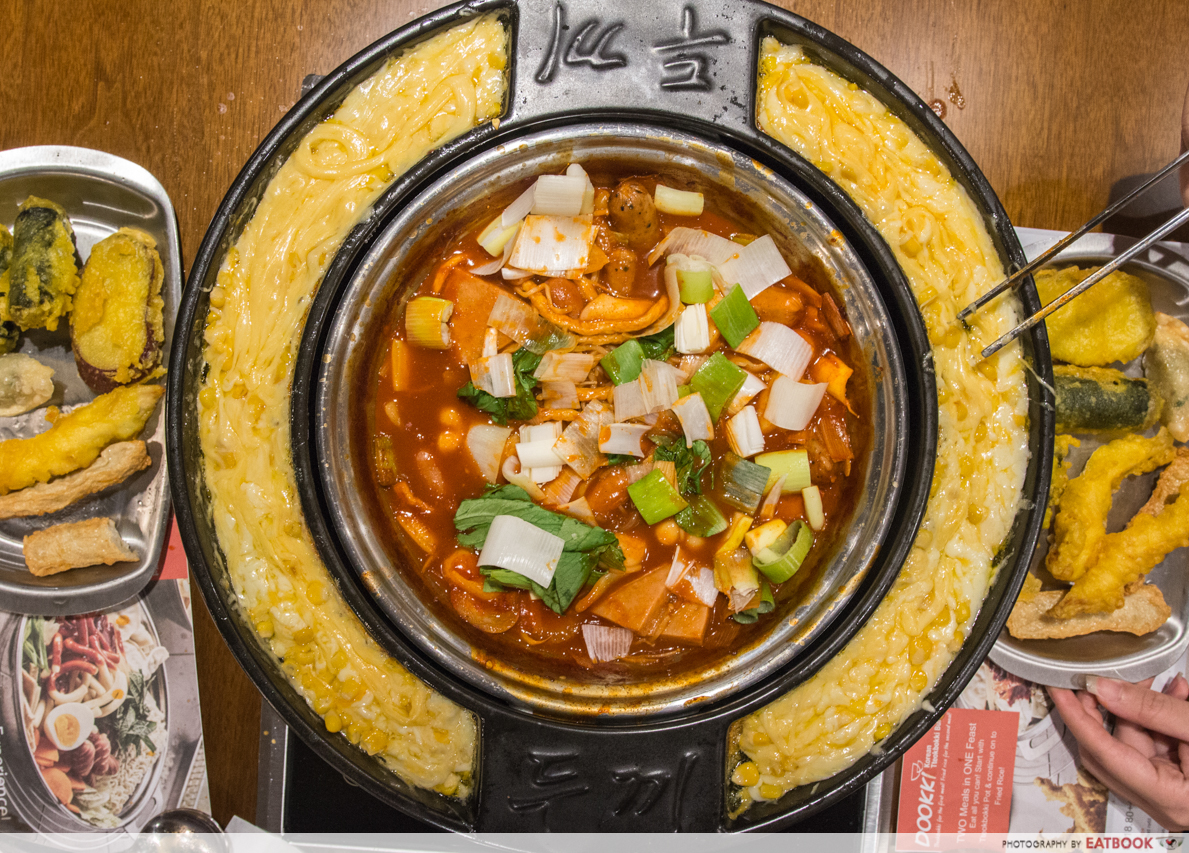 For a carb lover like me, a buffet restaurant that serves different types of rice, noodles and tteokbokki is better than Disneyland. Dookki is one such restaurant. Start off by preparing the sauce and picking the ingredients for your tteokbokki, then cook everything at your table! After finishing the tteokbokki, you can make kimchi fried rice with the remaining sauce in your pot. Everything follows a DIY concept here, so you can freely decide on the amount of spicy sauce you want in your pot. A 90-minute session here costs $18.80++.
Check out our full review of Dookki!
Address: 3 Temasek Boulevard, #B1-107, Singapore 038984
Opening hours: Daily 11am to 10pm
Tel: 6266 2425
Website
---
7. Chicken Run

---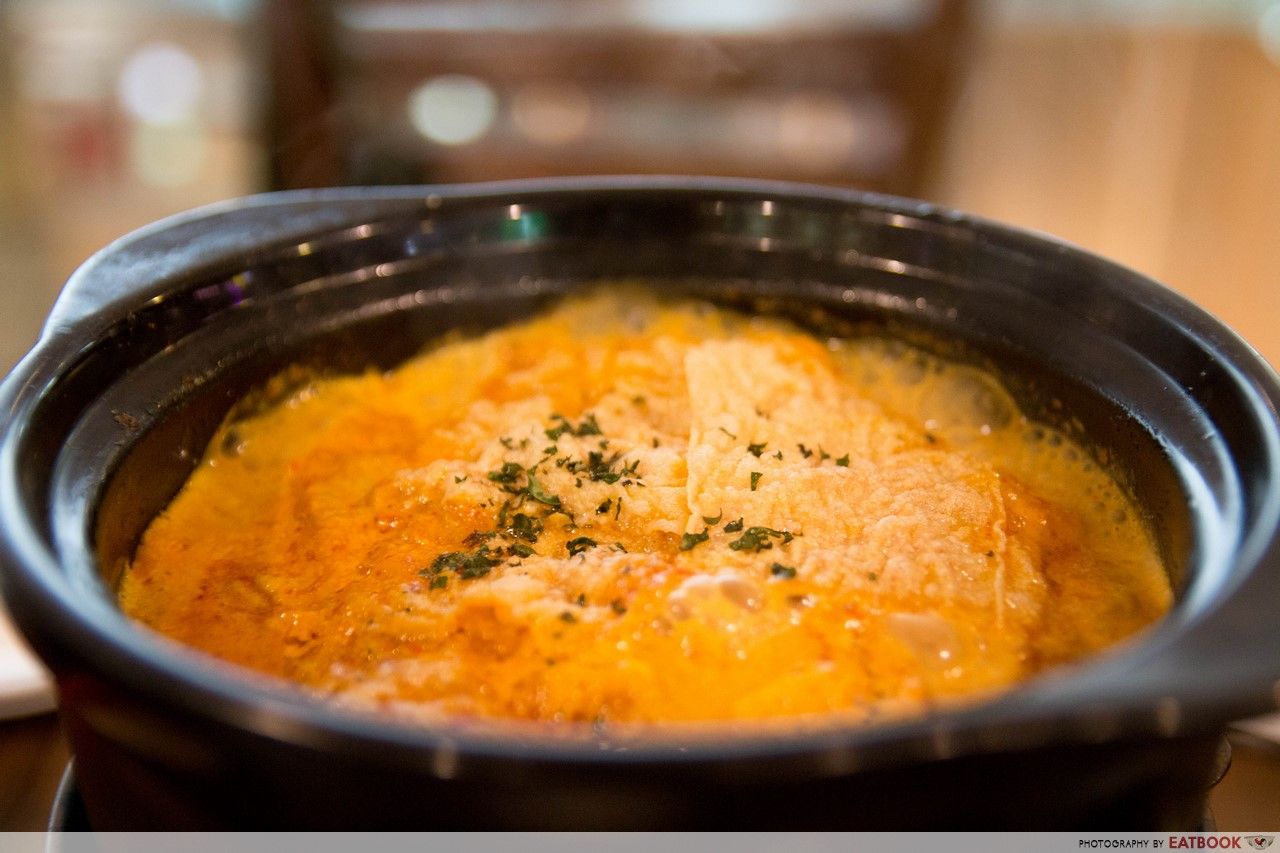 Just like Kogane Yama, Chicken Run also has three levels of spiciness for their dishes, along with a non-spicy option. This restaurant at Paya Lebar Square specialises in customisable dishes, and serves most of their food in clay pots. Laksa Pot ($17.90+/$23.90+/$32.90+) has a creamy, flavourful broth, and you can pay $1.90+ more to add some laksa noodles to it.
Check out our full review of Chicken Run!
Address: 60 Paya Lebar Road, #02-18/19/K4, Paya Lebar Square, Singapore 409051
Opening hours: Daily 11:30am to 10pm
Tel: 6702 1373
Website
---
8. Lagnaa Barefoot Dining

---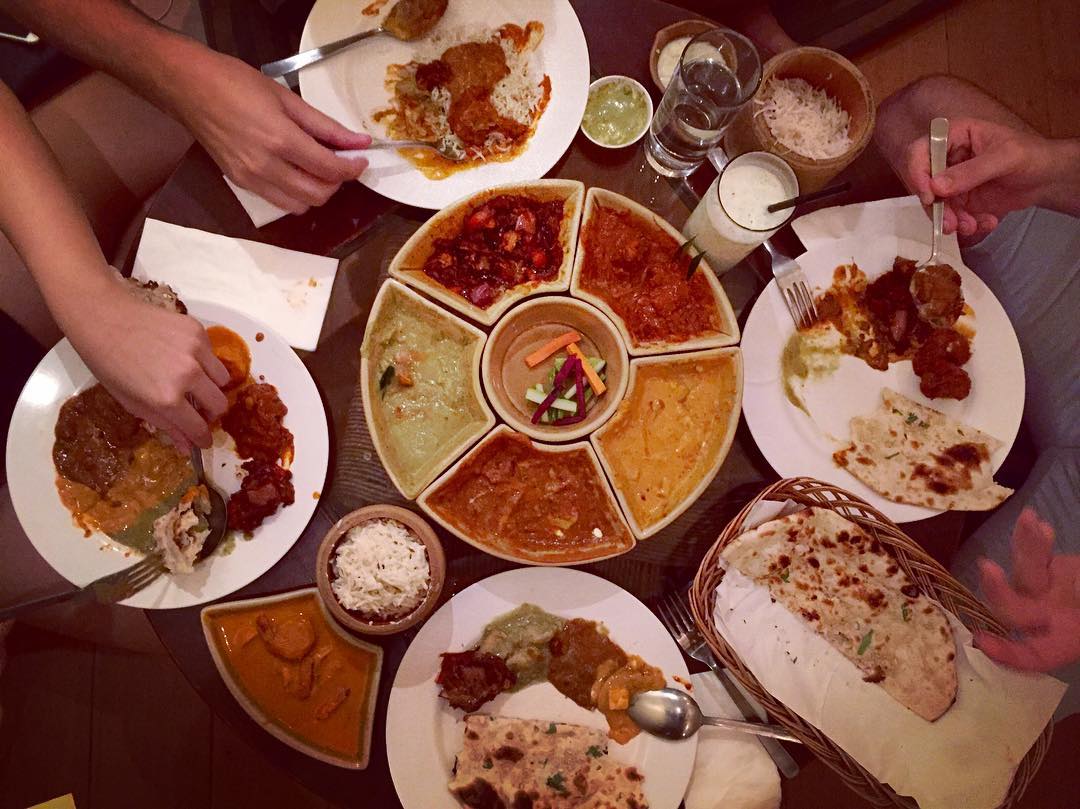 Image credit: @thayattun
Lagnaa Barefoot Dining lets you decide on how spicy you'd like your curry to be, with level six being the highest. Those who still want to enjoy their curry should stick to level three or lower, as anything more would overwhelm the flavours of the dish. For a casual, fuss-free meal, head to level two of their restaurant, where you'll be able to sit on the floor!
Address: 6 Upper Dickson Road, Singapore 207466
Opening hours: Daily 11:30am to 10:30pm
Tel: 6296 1215
Website
---
Pick your poison
---
Don't fret even if your squad doesn't eat spicy food, just pick a spot on this list! For more heat in your life, check out this list of spiciest chicken wings and spiciest restaurants in Singapore!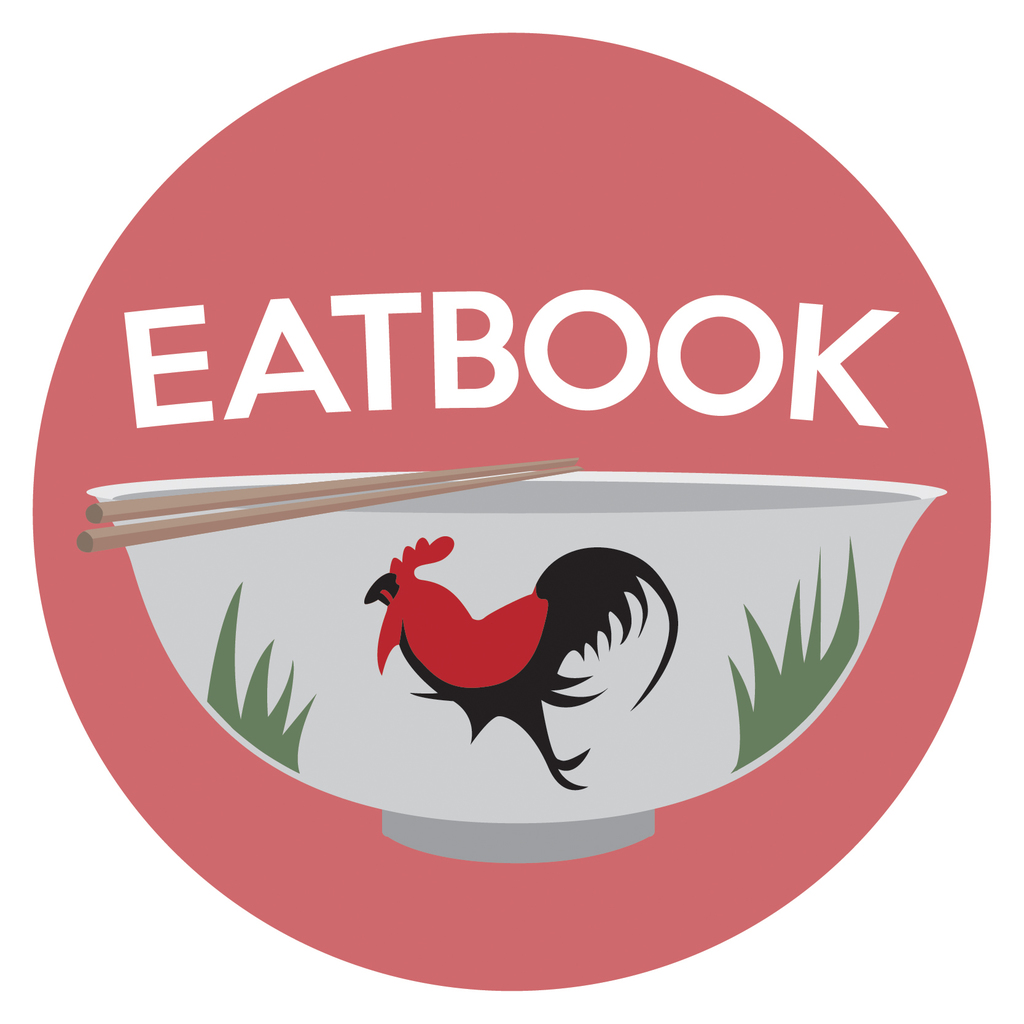 Drop us your email so you won't miss the latest news.